Olympus and Panasonic make a number of powerful micro four-thirds camera systems and a range of OEM lenses.
If you're a new micro four-thirds user and/or you're looking to delve into the macro photography genre, you're going to need one of the best macro lenses for micro four-thirds cameras.
But don't worry, we've hand-picked the best lenses for any macro photographer.
These are the best lenses to go with your micro four-thirds camera for shooting the tiny details, from insects to flowers, to anything else you can imagine.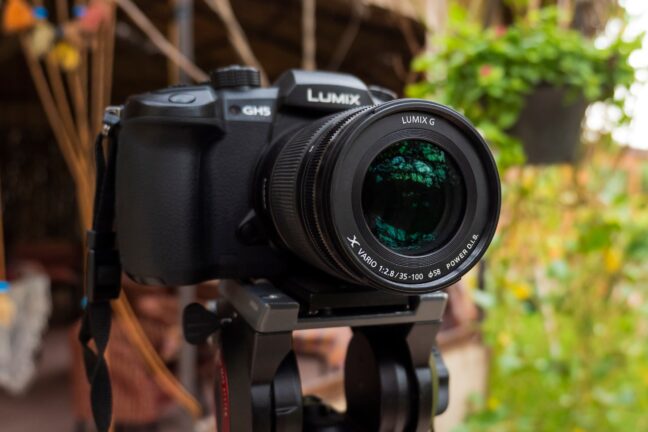 Best Macro Lens for 4/3 Cameras:
When you buy through links on our site, we may earn a commission at no cost to you. We evaluate products independently. Commissions do not affect our evaluations.
1. Samyang 100mm f/2.8 ED UMC Macro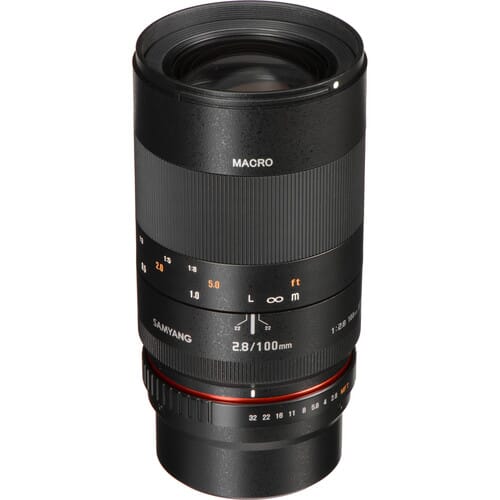 Great option for micro four thirds shooters
Long focal length lenses are definitely the best for shooting macro photography.
Pros
Effective focal length is 200mm (35mm format equivalent)
Decent build quality
1:1 Magnification
Cons
Manual focusing lens.
Let me start off by saying that the Samyang 10mm is a manual focusing lens. That means you have to learn how to trust your eyes in order to manually lock focus.
Thanks to the presence of focus peaking functionality on some micro four-thirds cameras this shouldn't be too difficult.
The advantage of manual focusing, however, is that it gives you complete control over where you want to place your focusing point. It also allows a greater degree of freedom when doing creative macro photography. Not only that, achieving focus automatically is even more challenging when doing macro photography because the subjects are so small.
With all this in mind, this is a great lens that many macro photographers using a micro four-thirds camera will love. It produces great results and is reasonably priced.
2. Olympus 60mm F/2.8 Macro Lens
Great entry level option.
This is a much cheaper and yet a dependable option for beginner macro shooters.
Pros
Effective focal length is 120mm (35mm format equivalent)
Useful for a number of photography genres.
Movie & Still Compatible (MSC) autofocus system
1:1 Magnification
Dust proof and splash proof
Cons
Image stabilization is missing.
Autofocusing speed is not the fastest among Olympus' prime lenses.
With an all-plastic construction, it is not the best in the business.
The Olympus 60mm f/2.9 Macro is a much cheaper alternative to the 100mm manual focusing lens that we just finished reading about. One difference, this has autofocus.
Having that autofocusing option comes in handy. Especially when shooting with Single-Point AF. And especially when you know precisely where your focus has to be. If the point is a high contrast one, the camera's contrast-detection (and or phase-detection) system shouldn't have any issues locking on to it.
The focal length of this lens is 60mm. Which is equivalent to a 120mm lens when used on the micro four-thirds mount. That means this is a medium telephoto prime lens.
Anything between 85mm and 135mm is considered a good focal length for shooting portraits. And in that sense, the Olympus M.Zuiko Digital ED 60mm f/2.8 is good for shooting portrait photography.
But the real fun is when you strap it on to a micro four-thirds camera and focus in close to shoot small subjects. This lens offers a 1:1 reproduction ratio. That means it is capable of capturing subjects at life-size.
The lens has internal focusing mechanism which is especially useful when shooting macro photography. Plus, the dust proof and splash proof design go a long way to ensure that the lens is useful for shooting in trying conditions.
3. Laowa 50mm f/2.8
Best option for those looking for larger than life-size images
The lens offers a mind-boggling 2x magnification. The APO design and the excellent image quality are huge pluses.
Pros
2x magnification
Apochromatic design.
Decent build quality.
Integrated CPU for EXIF data and Aperture control
Cons
Image stabilization is missing.
We include one more manual focusing lens on this list. The Laowa 50mm f/2.8 2X has a number of features that should interest you. Notwithstanding that this is a manual focusing lens.
The first is the 2:1 magnification ratio. What it means is that the lens can produce larger than life-size reproductions of small subjects. Imagine being able to capture the head of a housefly or the pollen of flowers or reflection inside dewdrops or anything else that captures your fancy using this lens.
The second aspect is the 50mm focal length. The crop factor of 2x makes the effective focal length of this lens 100mm. That is just about right for shooting portraits and a little bit of everything.
The third aspect is definitely the build quality of the lens. The lens definitely feels solid despite the fact that it weighs just about 240 grams.
Another interesting thing about the lens is the integrated CPU. This permits the lens to 'talk' to the camera body. And while doing so transfer details such as EXIF information. Additionally, unlike older Laowa lenses the lens's aperture control information is passed on from the camera body.
4. Panasonic Lumix Leica 45mm f/2.8
Fantastic option for Panasonic users in particular.
The biggest plus point of this lens is the excellent image quality. The powerful image stabilization also helps.
Pros
Excellent image quality
Powerful image stabilization
Effective focal length of 90mm.
1:1 magnification ratio.
Internal Focusing mechanism
Cons
Slightly lighter than competitive models. Feels less in terms of build quality.
The Panasonic Lumix Leica 45mm is one of those rare lenses macro lenses designed for the Micro Four Thirds system that comes with image stabilization built-in. But before talking about image stabilization let's look at the other major features of the lens.
45mm focal length translates into 90mm When compared to the 35mm format. That means the lens is perfect for shooting portraits. Of course, the lens is designed primarily for shooting macro photography.
Speaking of macro photography the lens offers a 1:1 magnification ratio. That means anything small you aim at can fill the frame at full life-size.
This lens has an internal focusing mechanism. That means the front element of the lens does not move when you focus. That is an advantage for a lens that has a minimum focusing distance of 5.9-inches.
Image stabilization is really helpful for macro lenses. Many times, you find yourself shooting hand-held. And in those situations, especially when shooting at slower shutter speeds, image stabilization comes in handy.
Oh, and one more feature, that you might actually find interesting. It is the focus limiter switch. Though the practical uses of this are limited during still shooting. It comes in handy when shooting videos. When shooting videos you can control how much depth of field to keep in your frame.
5. Panasonic Lumix G 30mm f/2.8
Excellent entry level option for Panasonic users.
The biggest plusses for this lens is the fast aperture of f/2.8 and the built-in. Image stabilization.
Pros
Built-in image stabilization.
f/2.8 Aperture.
1:1 magnification ratio.
Cons
No weather sealing.
Build quality is not the best in the business.
The last lens on this list is the Panasonic Lumix G Macro 30mm. With a reasonably fast aperture of f/2.8 ASPH, the lens can collect a decent amount of light in any situation for shooting macro photography.
The focal length of the lens in 35mm format equivalence is 60mm. That is short enough for a wide number of photography genres. You can shoot a bit of street photography, some environmental portraitures, and everything in between.
To briefly discuss the details of this lens, it can produce life-size magnification (1:1) for any subjects that may be shot from a minimum focusing distance of 4.1-inches.
You do have to get in close to get a great shot. And this is exactly the reason I recommend getting at least a 100mm lens. While this is a great lens for something getting into macro photography for the first time, for serious work this would not be an ideal choice.
The other important feature of the lens is the MEGA O.I.S. This is basically Panasonic's version of image stabilization and it allows you to get in close while hand-holding your camera to get sharp images.
Conclusion
We must agree that the overall number of choice for macro lenses for the micro four thirds mount is a bit slim. But for all practical purposes the number of choices is enough. If you are already invested in the micro four thirds system these lenses will offer your camera extended usability and the ability to extract more in terms of what they are capable of producing.
If you try out one of these lenses or have your own best micro four-thirds lenses for macro photography, let us know in the comments below!
---
Disclosure/Disclaimer: As an Amazon Associate, we earn from qualifying purchases. Certain content was provided "as is" from Amazon and is subject to change or removal at any time. Product prices and availability: Amazon prices are updated daily or are accurate as of the date/time indicated and are subject to change. Any price and availability information displayed on Amazon.com at the time of purchase will apply to the purchase of this product.