Do you want to know the best lens for product photography? Are you struggling to choose the best lenses for your product shots?
Don't worry.
Because in this article, you're going to discover the best product photography lenses out there. And don't worry; there will be something for everyone, including budget options and options for photographers with unusual shooting styles.
Are you ready to choose the best product photography lens for your needs?
Let's dive right in.
Overview (Best Product Lenses by Canon):
Product
Details
Canon 100mm f/2.8L IS Macro

Focal length is great for product photography
Image quality is outstanding
Handling is very good

CHECK PRICE
Canon EF 50mm f/1.8 STM Lens

Best for beginners
Very affordable
Good image quality

CHECK PRICE
Canon EF 180mm f/3.5L Macro USM Lens

Tack-sharp across the board
Best Canon image quality
Perfect for jewelry & small items

CHECK PRICE
Canon EF 70-200mm f/4L USM Lens

Good focal length for product photography
Nice optical quality
Manual focus ring

CHECK PRICE
Overview (Best Lenses for Product Shots by Nikon):
As an Amazon Associate we earn from qualifying purchases.
Overview (Best Third Party Lenses):
As an Amazon Associate we earn from qualifying purchases.
How to Choose the Best Lens for Product Photography
When it comes to choosing a product photography lens, there are a few big factors you should focus on.
Because here's the thing:
In product photography, some features don't matter. For instance, you could have the slowest focusing lens in the world, and it would do just fine.
Why?
Because in product photography, your subject isn't going anywhere! It'll wait while your lens hunts for focus, or while you do some manual focusing of your own.
However, some features are crucial for capturing great product images.
Here they are:
Image Quality
First and foremost, you need a lens that will give you sharp images. Commercial clients aren't very forgiving when it comes to image quality, so you want to make sure your images are razor-sharp, from corner to corner.
You should also choose a lens with minimal chromatic aberration (also known as color fringing). Chromatic aberration will make your images look plain bad. So you should aim to reduce it as much as possible.
Focal Length
The best focal lengths for product photography tend to be longer, in the area of 80mm to 200mm. This gives a nice compressed look to your photos, and it avoids any wide-angle distortion.
However, you can get away with slightly shorter lenses (in the standard 50mm focal length range).
And if you'd like to create a more unique look, and you think you'd have fun experimenting, you can also try out wide-angle lenses.
Close-Focusing Capabilities
All lenses have a minimum focusing distance. After this point, they cannot focus any closer, and the magnification capabilities of the lens will top out.
Now, you don't need serious magnification capabilities if you're going to be photographing large products (e.g., microwaves). But if you think you might want to photograph smaller objects, such as jewelry or small trinkets, you're going to need to invest in a serious macro lens–one that gives you 1:1 focusing.
(1:1 focusing allows you to magnify the product so that it's as large on the sensor as it is in real life.)
So you'll want to make sure you have close-focusing capabilities that fit your needs.
Handling
The final thing you should take into consideration when choosing a product photography lens is handling.
In particular, you want a manual focusing ring that's larger and takes a lot to shift focus through the entire range. You want manual focusing to be easy, not a struggle!
Related Post: Easy Guide to DIY Product Photography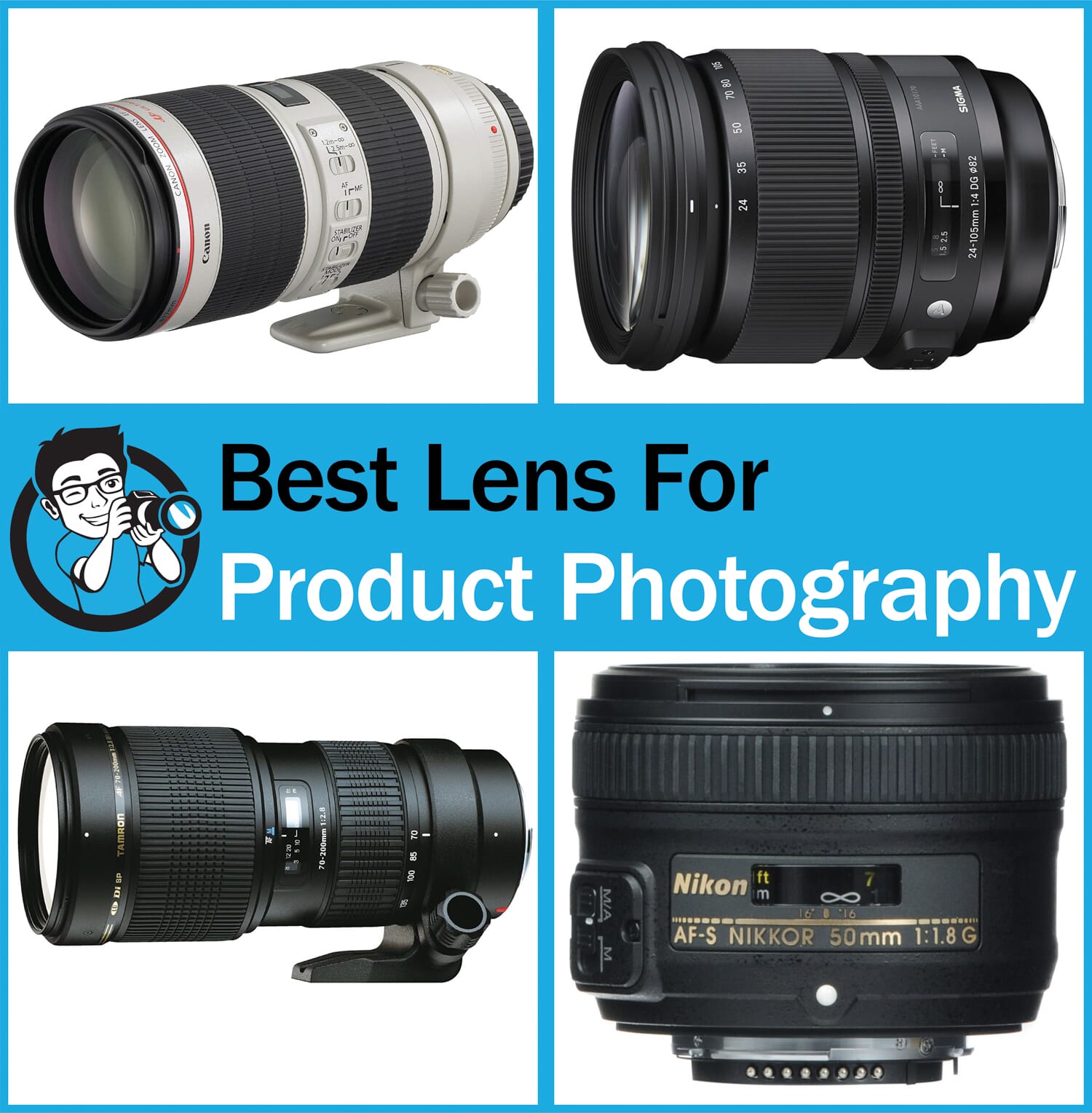 Best Product Photography Lenses in 2019
The Canon 100mm f/2.8L IS Macro (Our Pick)
The Nikon 105mm f/2.8 VR Micro (Also Good)
The Canon 50mm f/1.8 STM (Best Budget Option)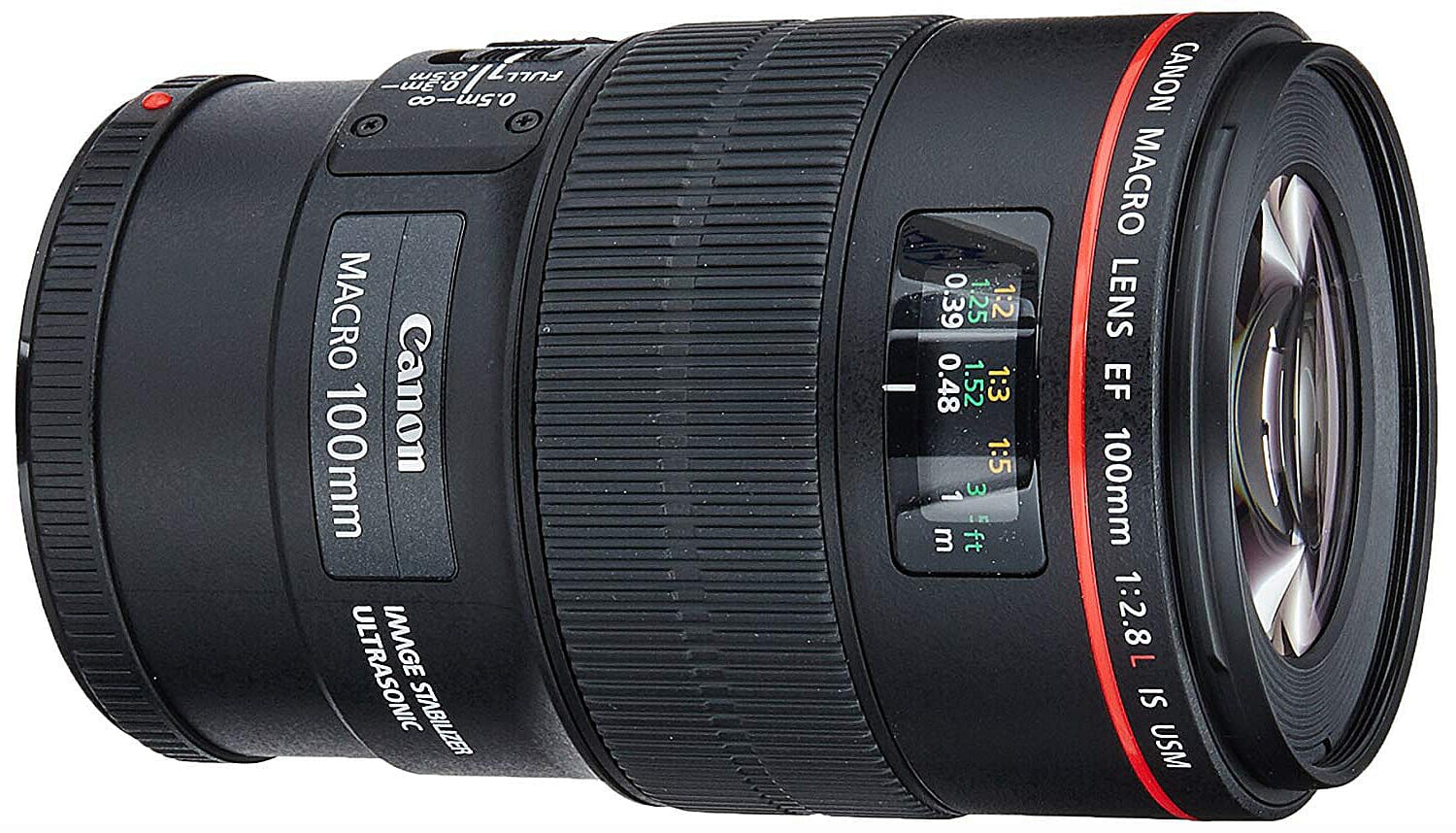 If we had to choose one product photography lens to use all the time, it would be this one:
Why?
First, the focal length is great for product photography. It's long enough for a bit of flattering compression, but short enough that it can be used easily in the studio.
Second, the image quality is outstanding. The Canon 100mm macro is one of Canon's sharpest lenses, and chromatic aberration is well controlled.
Third, handling is very good. The manual focusing ring is large and easy to use. If you haven't done manual focusing before, this is a great lens to start with.
Finally, this is a true macro lens, which means that you'll be able to get ultra-close shots of tiny products, including rings, necklaces, and other jewelry items.
This is the companion lens to our first choice, the Canon 100mm f/2.8L.
While it's not quite as incredible as its Canon counterpart, the Nikon 105mm micro is still a great product photography option at a reasonable price.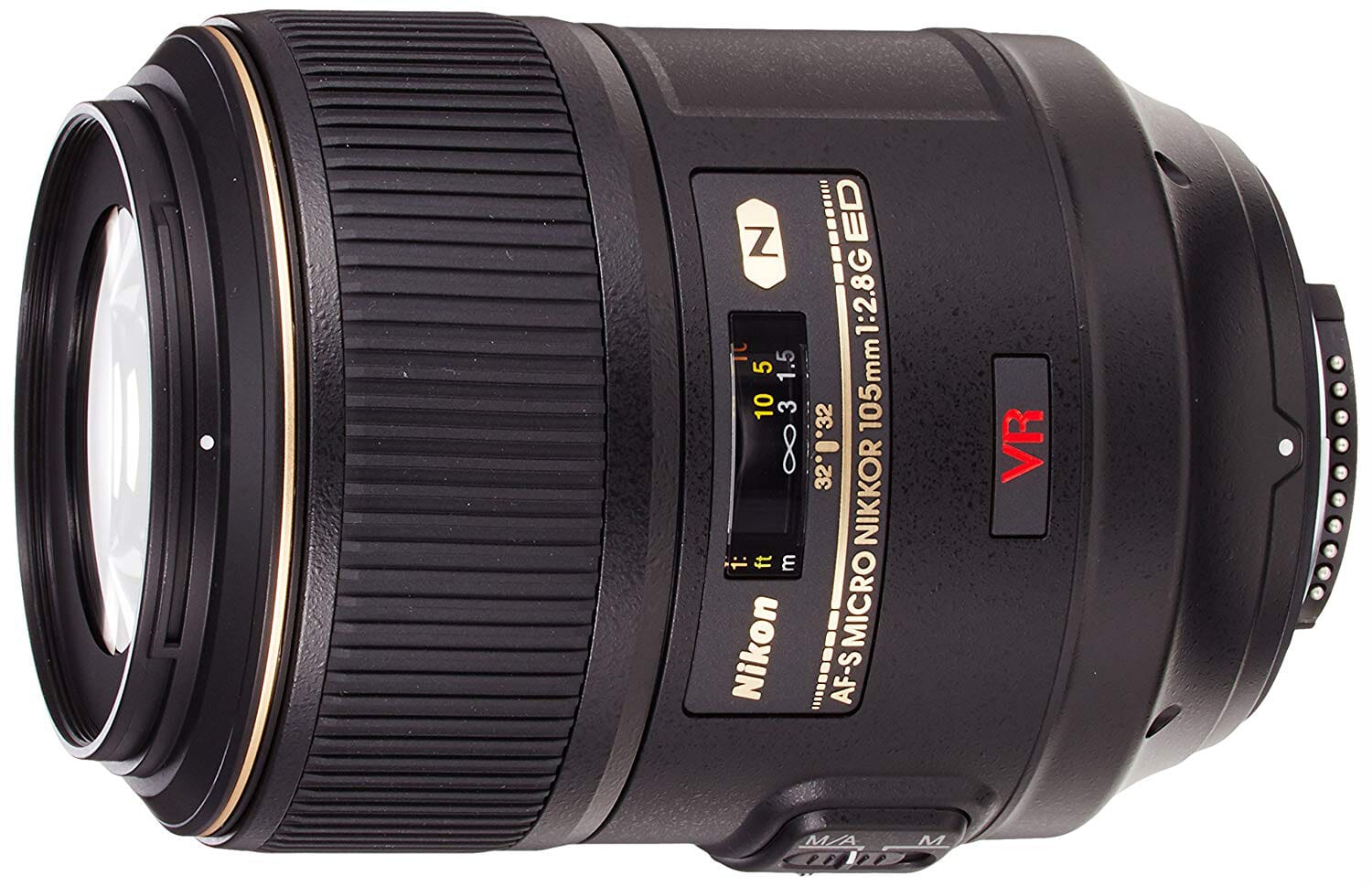 For one, it offers true macro capabilities, letting you focus all the way up to 1:1, and get those up-close-and-personal photos product photographers love.
The Nikon 105mm micro is also tack sharp with little chromatic aberration. You won't have to worry about image quality problems with this lens; it's too well put together.
Like the Canon 100mm macro, the Nikon 105mm micro has an excellent product photography focal length. You'll be able to work comfortably with your subject, but you won't feel like you're getting too close or too far away.
The one drawback to this lens is its weight (it is a bit heavy), but this doesn't matter much in a product setting. You can just pop it on a tripod and shoot for the whole day!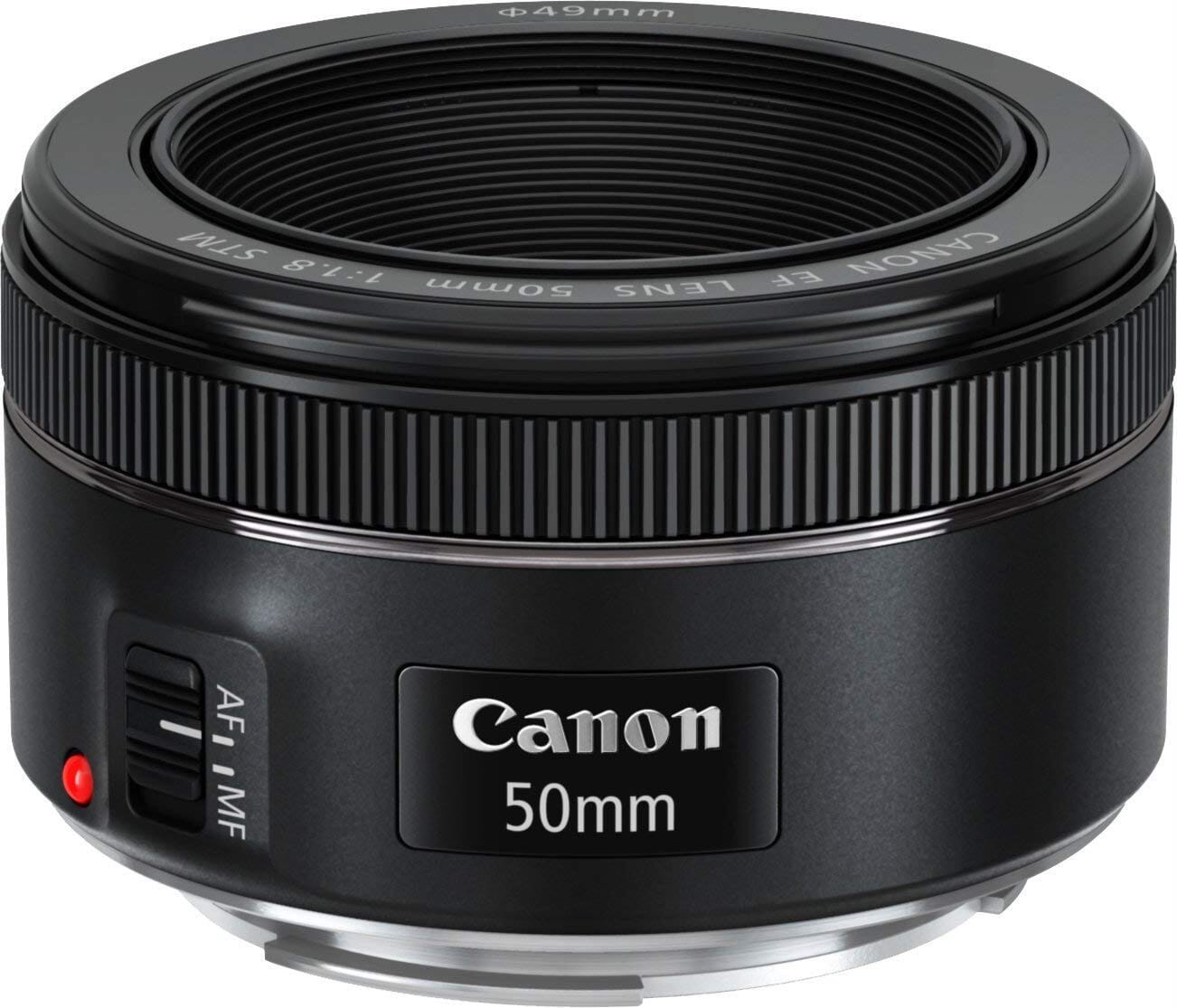 The lens is super cheap making it an affordable addition to your kit bag.
Fifty millimeters isn't the ideal focal length for product photography. But for the beginner looking get started with product shooting, this lens will do a good job–even if it's not perfect.
(Did I mention that this lens is dirt cheap? It is!)
First, image quality is good. The lens is a decently sharp wide open, but gets significantly sharper when stopped down to f/8 or so (which is what you'll want to use for product photography, anyway). Chromatic aberration is present, but manageable with a bit of post-processing.
Handling is decent. The lens is very small and plasticky, and you can feel this when you use the manual focusing ring. But it'll definitely get the job done, and–with a little practice–you'll start capturing some sharp product photos.
Finally, while this lens doesn't give you true macro magnifications, it's no slouch in the close-focusing department. You can get high-quality shots of small products and details.
So for the budget shooter or beginner, the Canon 50mm f/1.8 is an excellent option.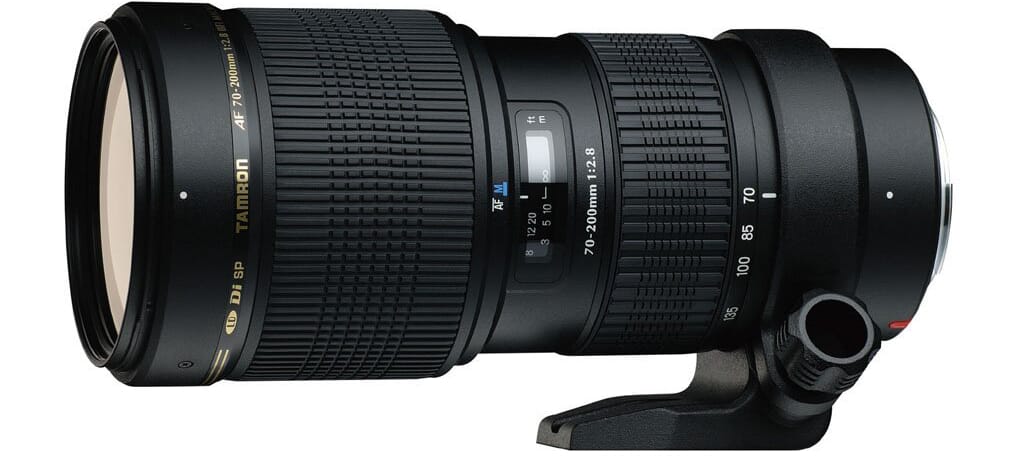 The 70-200mm range is great for product photography. The trick is finding a lens that can span those focal lengths while giving high-quality images.
Fortunately, the Tamron 70-200mm f/2.8 does exactly that.
The Tamron 70-200mm is sharp across the board, even when wide open (at f/2.8). At f/8 it's even sharper, which is perfect for your product photography needs.
The lens also has low dispersion elements to combat chromatic aberration, and it manages to pull this off, keeping chromatic aberration well-managed. There is some fringing at the edges of the frame when at the focal length extremes (i.e., 70mm and 200mm), but nothing too concerning.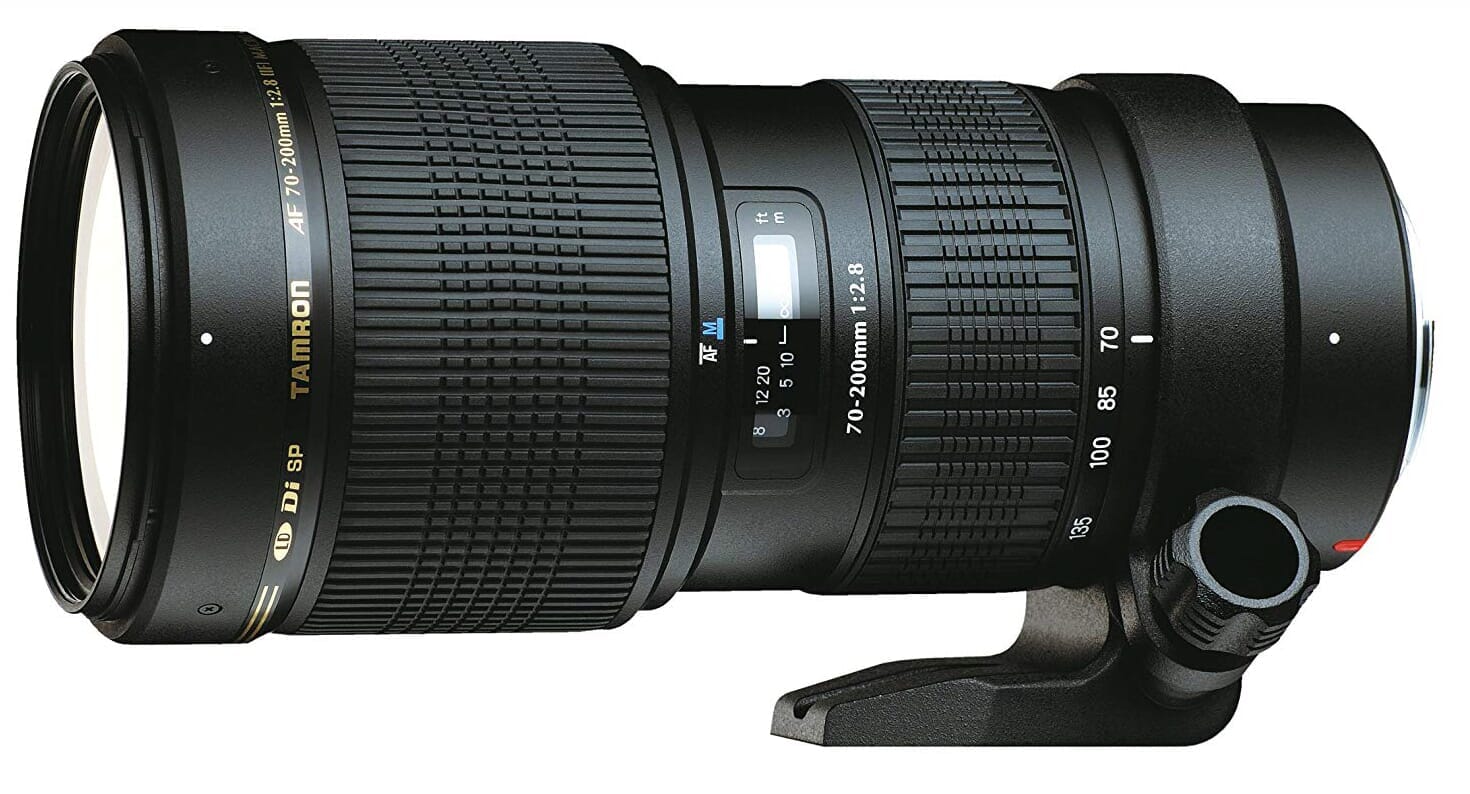 Handling is good–the manual focus ring is large, and shouldn't give you too many problems when nailing focus.
Now, the 70-200mm isn't a true macro lens, but it does focus fairly close. You'll want to be careful, however; at its minimum focusing distance, the 70-200mm performs poorly in terms of sharpness and chromatic aberration. So if you're going to be shooting a lot of close-ups, it makes sense to stick with a true macro lens, such as one of the options featured above.
But if you're looking for a high-quality lens that spans a lot of focal lengths, you should give the Tamron 70-200 macro a shot.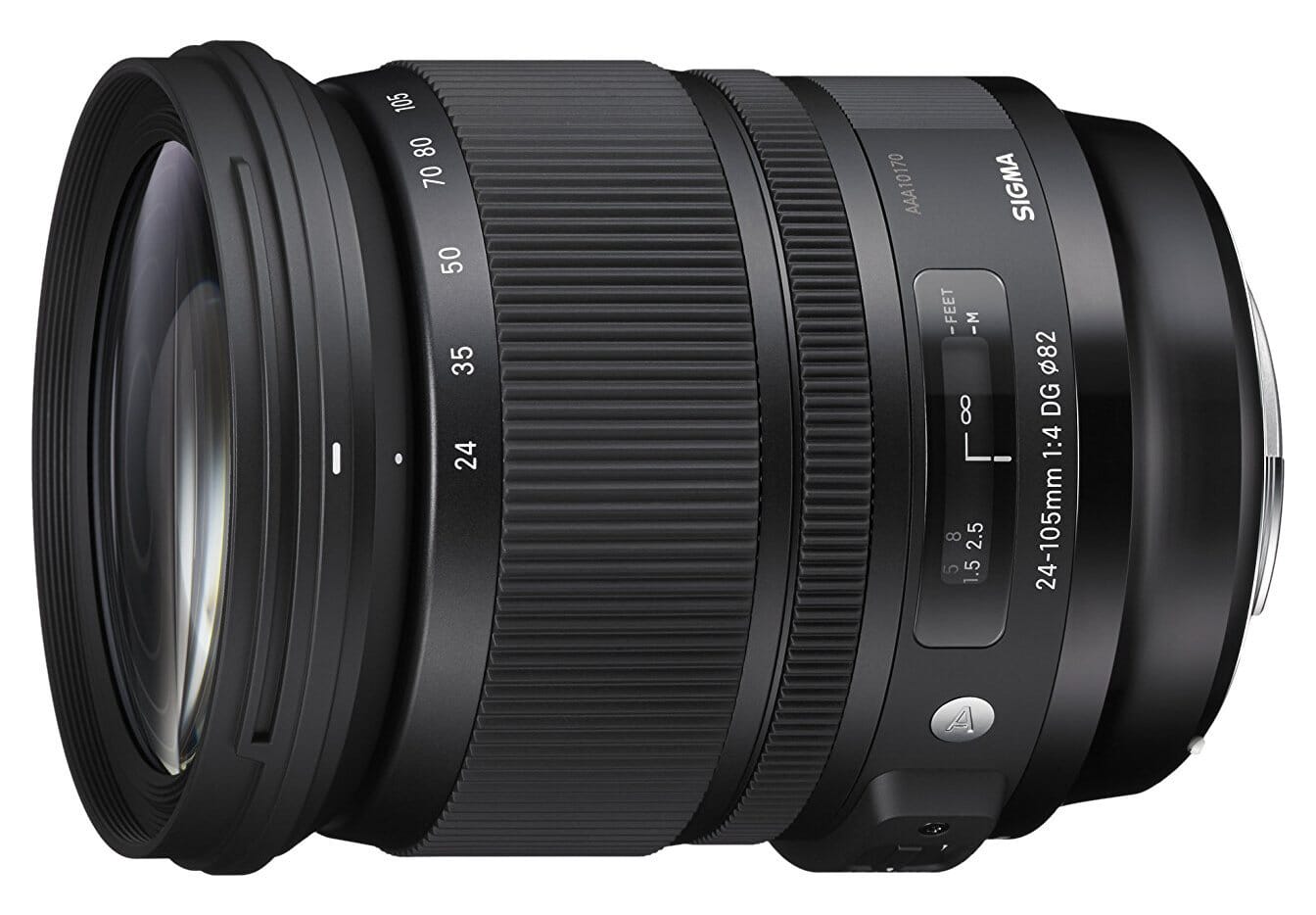 Sigma's series of ART lenses are known for their incredible optics, and the Sigma 25-105mm f/4 is no exception.
The lens offers gorgeous image quality, especially on the wider end. As you get down to 105mm there is a decline in sharpness, but this can be remedied by stopping down to f/5.6 or f/8 (and these are the apertures you'll be using for product photography, anyway!).
Chromatic aberration is something of a problem at the focal length extremes, though primarily at the edges of the frame. And this can be taken care of in post-processing, while affecting the final photo very little.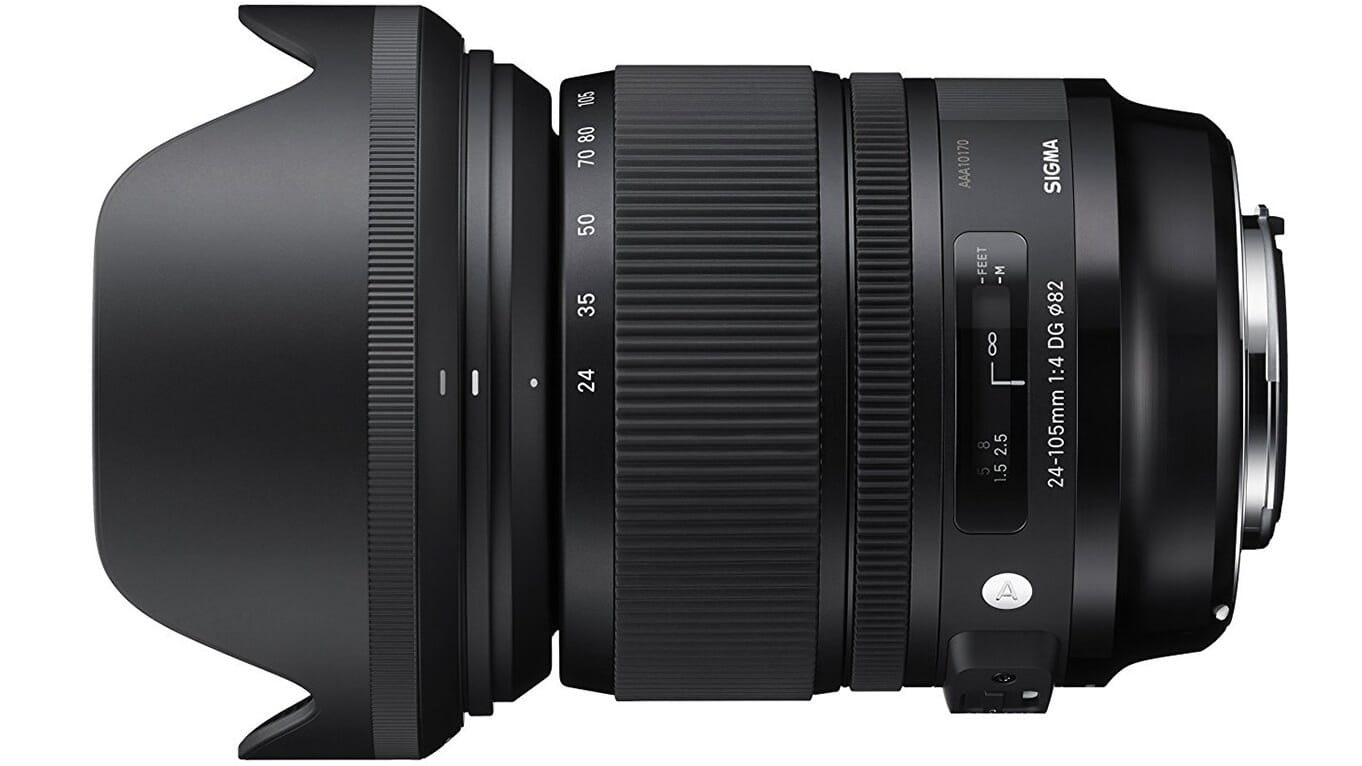 Handling is good–the manual focus ring works smoothly. You'll have no trouble focusing with this lens.
Regarding focal length:
The 24-105mm focal length range is a good choice for product photography. The longer end of the lens will allow you to get a nice compressed look, while the wider focal lengths allow you to take more experimental product photos.
All in all, this is a great lens for a good price.
I've already talked about what is arguably Canon's most versatile macro lens, the 100mm f/2.8L.
But Canon has another macro lens that is suitable for product photography:
The Canon 180mm f/3.5L.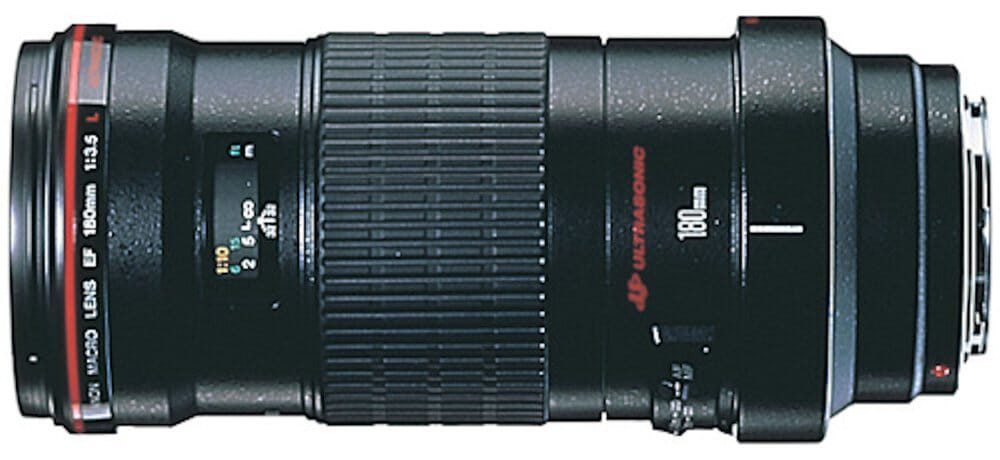 This lens is tack-sharp across the board, wide open and beyond. In fact, this lens delivers some of the best image quality Canon has to offer, and you will never worry about issues with sharpness.
The focal length is a bit long for casual product photography, but for a specialist who often shoots jewelry or other small items, this lens could be the perfect choice. The longer focal length will get you a better working distance, so you can photograph rings and necklaces without worrying about being uncomfortably close to your subject.
And handling is strong, with a large manual focus ring that you should have an easy time working with.
Unfortunately, this lens does come with a hefty price tag. But if you're the type of serious shooter who needs a dedicated, long macro lens for product photography, then it will be worth it.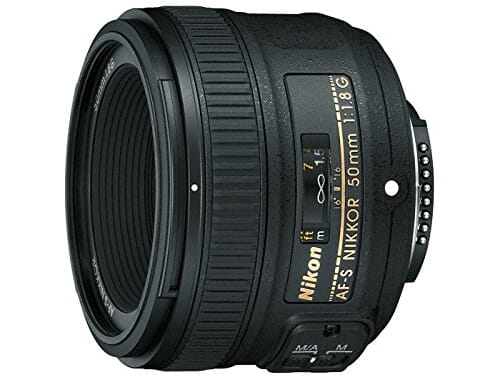 The Nikon Nikkor 50mm f/1.8G is a complement to Canon's 50mm f/1.8 STM. It's small, fast, and inexpensive. In other words, it's perfect for the Nikon shooter who just wants to get started in product photography without spending a huge chunk of change on the Nikon 105mm VR micro.
As noted above, 50mm is short for product photography. But it'll still do the job, and will ensure you manage to get images free of wide-angle distortion.
Images are pin-sharp, especially when stopped down a bit for increased depth of field.
While the lens is a bit plasticky, handling is still good. You'll be able to do fairly precise manual focusing with your product photos.
So for the more casual Nikon shooter looking to get started in product photography, give this lens some attention.
The Sigma 105mm f/2.8 macro is the cheapest true macro lens on this list. But don't let that fool you–because this Sigma produces amazing, professional-quality photos.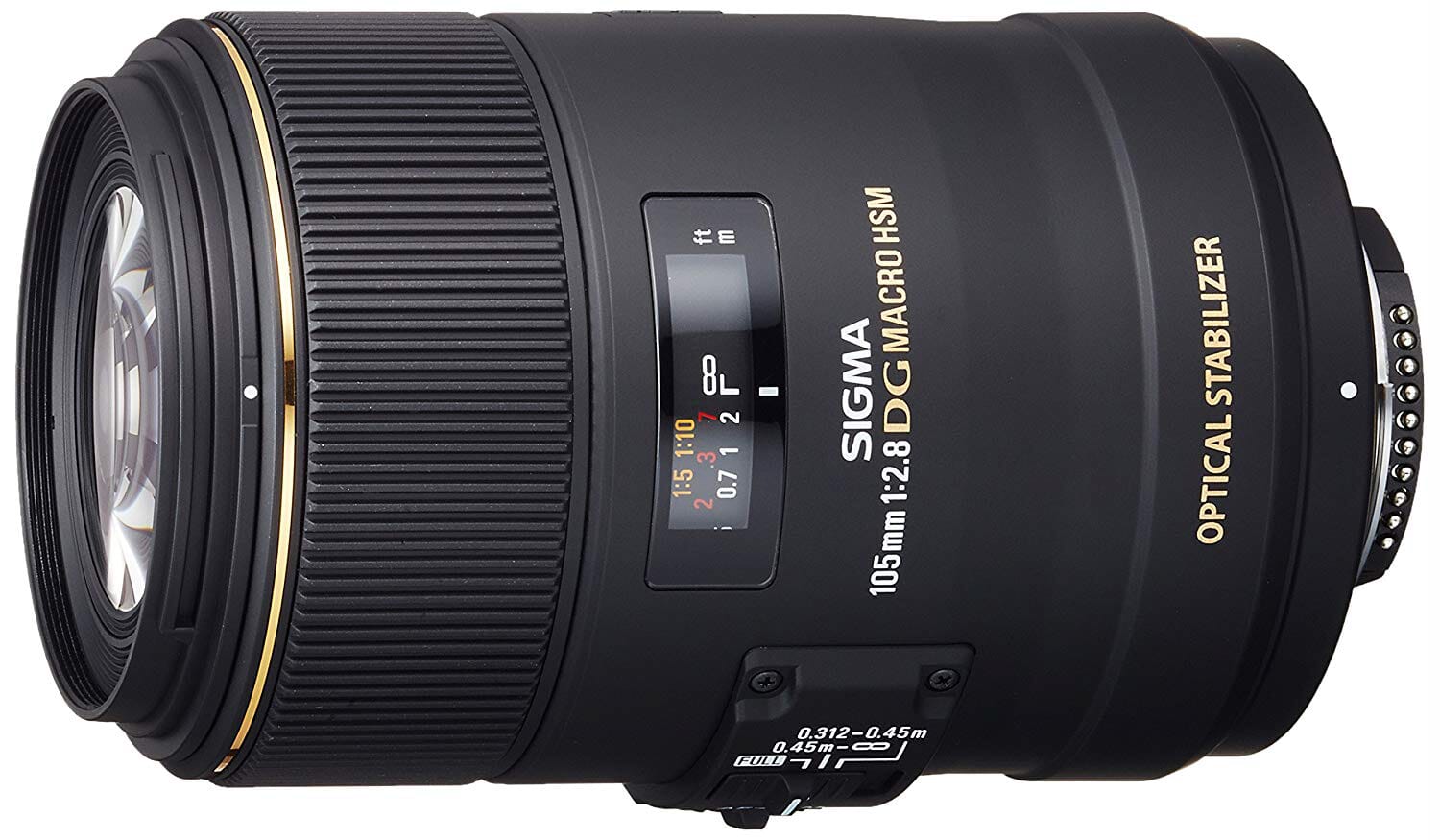 First, you'll be able to shoot consistently tack-sharp photos that suffer from little to no chromatic aberration.
You'll also be able to get extremely close to your subjects, taking shots of tiny details that are hard to see with the naked eye. And the handling is great; the lens has a large, easy-to-spin focusing ring.
In general, the Canon 100mm f/2.8L and the Nikon 105mm f/2.8 VR are better options than the Sigma 105mm, which is more aimed toward budget shooters.
But if you don't want to pay for the Canon or the Nikon, then Sigma may be the way forward.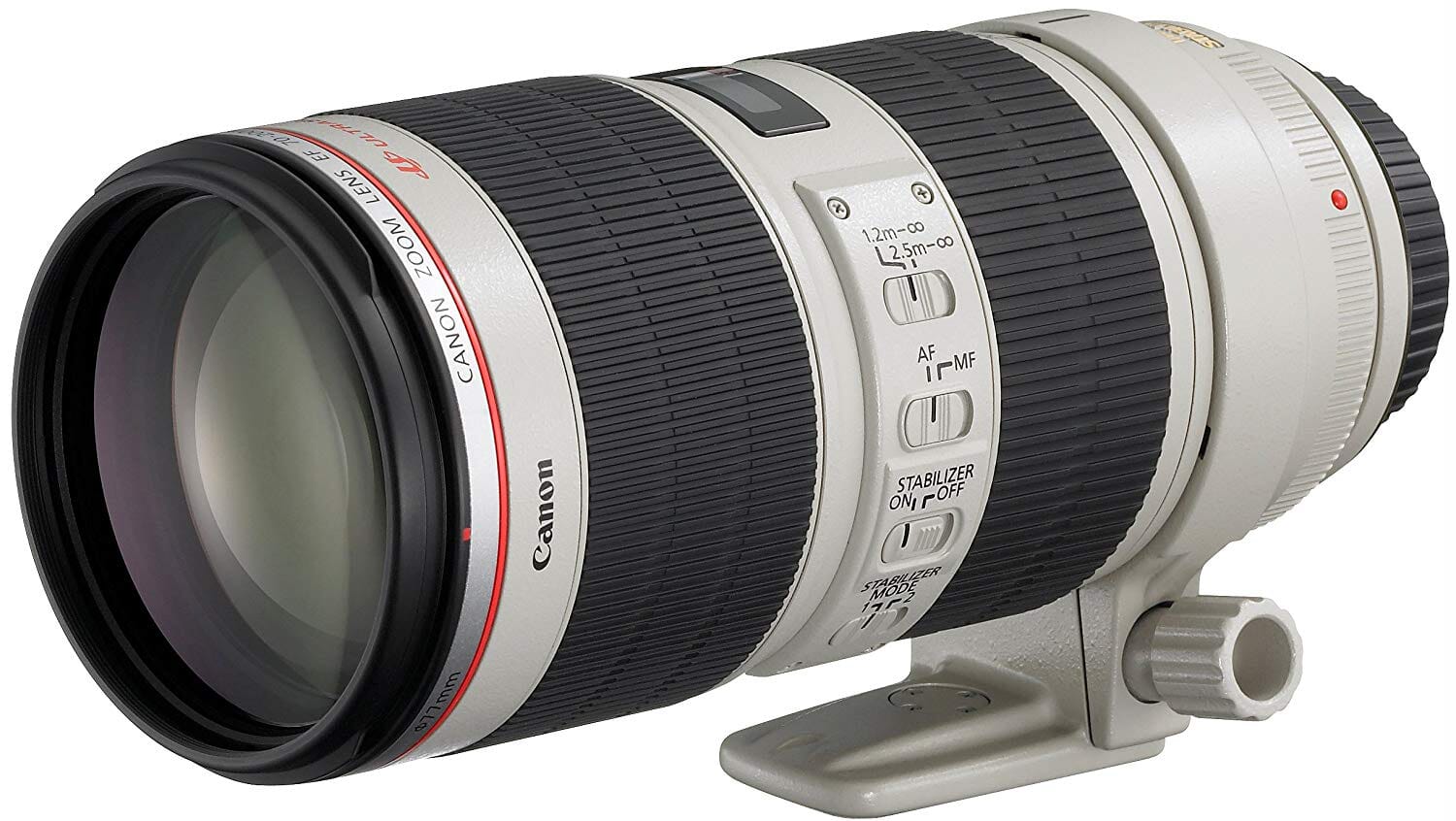 The Canon 70-200mm comes in a number of different forms, but this one is the cheapest of them all, as it lacks both an f/2.8 maximum aperture and any image stabilization.
However, neither of these features are particularly useful for product photography, which is why the less expensive Canon 70-200mm is all you need.

You'll definitely appreciate this lens's focal length, which spans the 70-110mm product photography sweet spot. And you'll love the optical quality, which is great throughout, even when shooting at the maximum aperture.
The manual focus ring is small, but nothing prohibitive. You'll be able to focus manually whenever you need.
The Tamron 35mm is a relatively inexpensive option at an unusual focal length–one that appeals to the more experimental product photographers out there.
While product photographers like to work at around 100mm, there's a lot you can do with a wide-angle lens such as the Tamron. You can create unique wide-angle product shots, which feel different than the traditional telephoto images.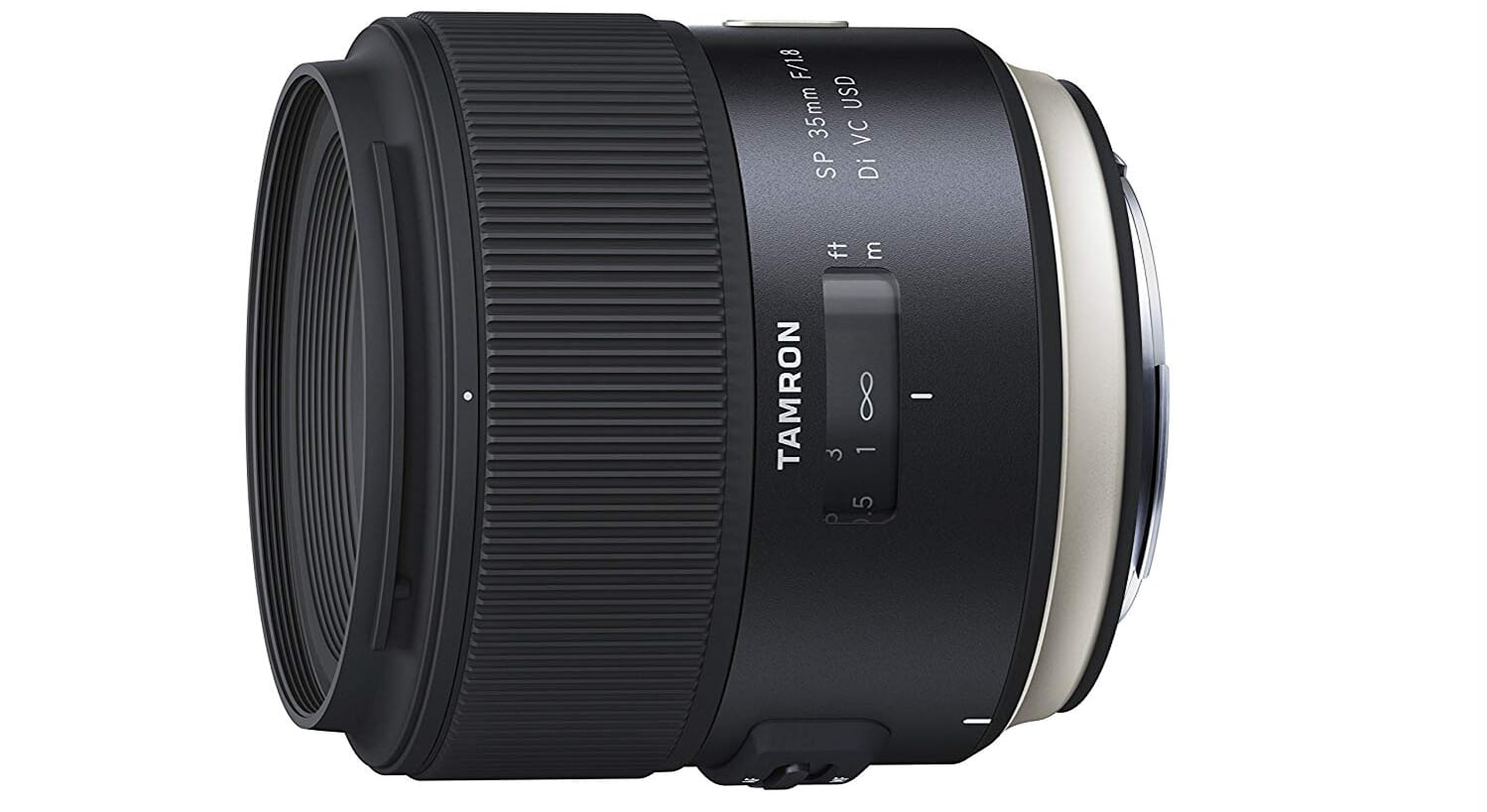 The Tamron 35mm is sharp at all apertures, though things do improve as you narrow the aperture. And you should be prepared to deal with a bit of chromatic aberration, which does plague this lens on high-contrast situations.
That said, you'll be happy with this lens, especially at common product photography apertures.
Because you'll get your sharp images–with a bit of a twist!
Related Post: Best Cameras for Product Photography
Best Lenses for Product Photography: Conclusion
That concludes our list for the best product photography lenses out there.
However, if you're still struggling to choose a product lens, remember:
Choose a focal length that fits your subject matter.
You want a lens that's tack sharp
You want a lens that handles well
And that's it!
The next step is to start shooting some products!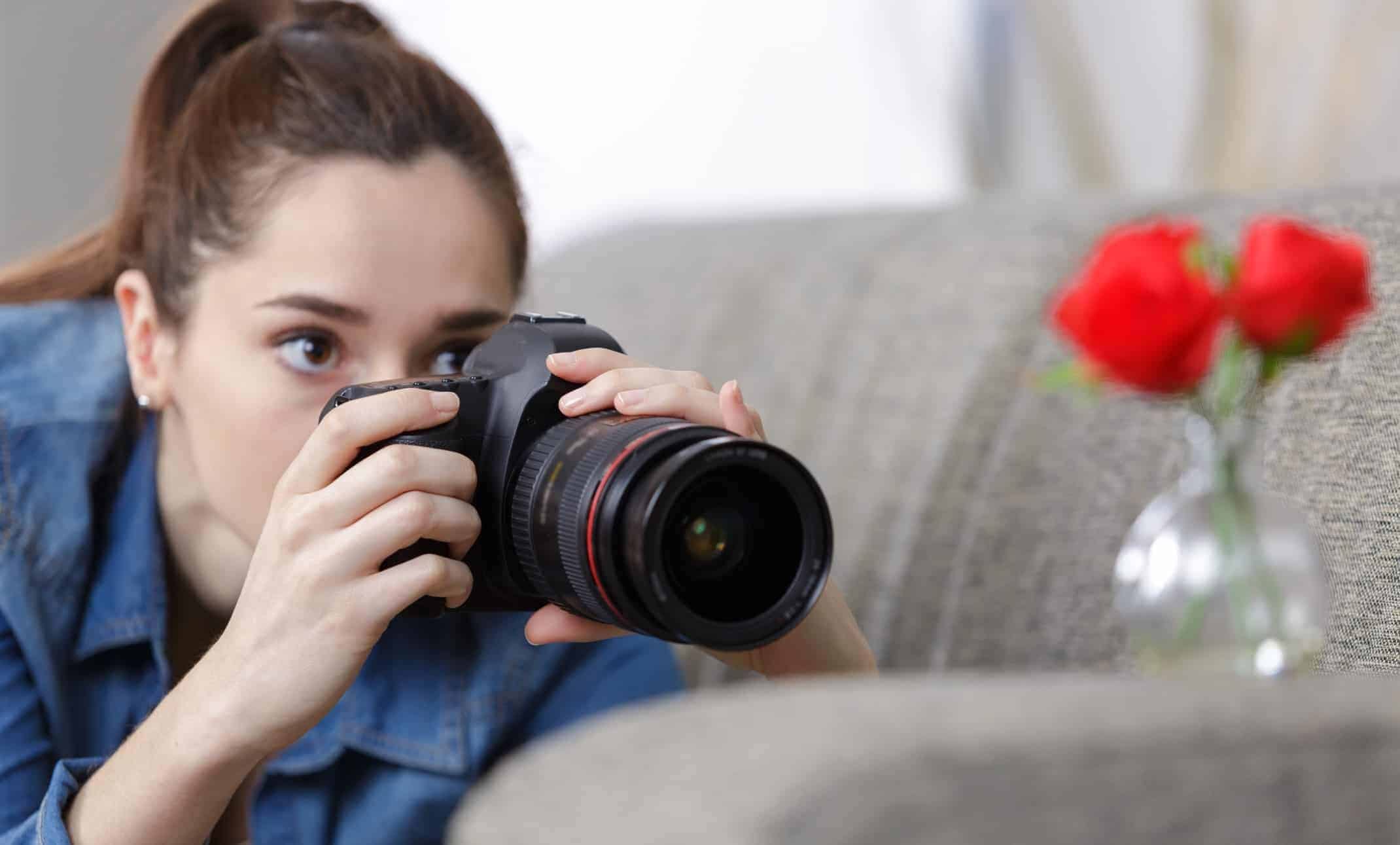 ---
As an Amazon Associate we earn from qualifying purchases. Certain content that appears on PhotoWorkout.com comes from Amazon. This content is provided 'as is' and is subject to change or removal at any time.