Do you want to know the best lens for product photography? Are you struggling to choose the best lenses for your product shots?
Don't worry.
Because in this article, you're going to discover the best product photography lenses out there. And don't worry; there will be something for everyone, including budget options and options for photographers with unusual shooting styles.
Are you ready to choose the best lens for your needs?
Let's dive right in.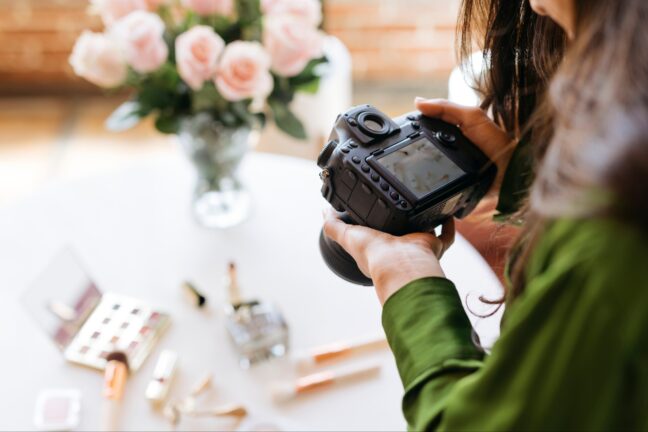 Summary Table:
Images from Amazon
Best Canon Lenses for Product Photography
In this section, we cover our top Canon product photography lenses, starting with:
1. Canon EF 100mm f/2.8L IS USM Macro
If we had to choose one product photography lens to use all the time, it would be this one:
Why?
First, the focal length is great for product photography. It's long enough for a bit of flattering compression, but short enough that it can be used easily in the studio.
Second, the image quality is outstanding. The Canon 100mm Macro is one of Canon's sharpest lenses, and chromatic aberration is well controlled.
Handling is very good. The manual focusing ring is large and easy to use. If you haven't done manual focusing before, this is a great lens to start with.
Finally, this is a true Canon macro lens, which means that you'll be able to get ultra-close shots of tiny products, including rings, necklaces, and other jewelry items.
2. Canon EF 50mm f/1.8 STM
Fifty millimeters isn't the ideal focal length for product photography. But for beginners looking to get started with product shooting, the Canon 50mm f/1.8 will do a good job — even if it's not perfect.
(Did I mention that this lens is dirt cheap? It is!)
First, image quality is good. The lens is a decently sharp wide open, but gets significantly sharper when stopped down to f/8 or so (which is what you'll want to use for product photography, anyway). Chromatic aberration is present, but manageable with a bit of post-processing.
Handling is decent. The lens is very small and plasticky, and you can feel this when you use the manual focusing ring. But it'll definitely get the job done, and — with a little practice — you'll start capturing some sharp product photos.
Finally, while this lens doesn't give you true macro magnifications, it's no slouch in the close-focusing department. You can get high-quality shots of small products and details.
So for the budget shooter or beginner, the Canon 50mm f/1.8 STM is an excellent pick.
3. Canon RF 85mm f/2 Macro IS STM
Despite the name, the Canon 85mm f/2 isn't a true macro lens – but its above-average close-focusing capabilities, outstanding image quality, and versatile focal length make it a great product photography lens for RF-mount camera owners.
If you're after a relatively affordable close-up lens in the 100mm range, the Canon 85mm f/2 can deliver; it boasts 1:2 focusing, perfect for all but the smallest of products. The telephoto field of view can easily handle standard product shots, and assuming you have space, you can also use this lens for more contextual photos.
Image quality, as with nearly all the other lenses on this list, is outstanding. Photos taken with the 85mm f/2 are tack-sharp from corner to corner – and thanks to Canon's image stabilization technology, you can work handheld at high magnifications or in low light.
Plus, the RF 85mm offers beautiful background bokeh, especially when shooting up at f/2. So if you're looking to capture more artsy, shallow depth of field product shots, this lens is a good choice.
The price isn't bad, either. You can grab the 85mm f/2 for around $600 USD, which is pretty cheap, considering the cost of Canon's other RF lenses. My only real gripe is that you can only take advantage of the 85mm f/2 if you use a Canon RF-mount camera; so if you do have the necessary hardware, I highly recommend you grab this lens!
4. Canon EF 180mm f/3.5L Macro USM
I've already talked about what is arguably Canon's most versatile macro lens, the 100mm f/2.8L.
But Canon has another macro lens that is suitable for product photography:
The Canon 180mm f/3.5L.
This lens is tack-sharp across the board, wide open and beyond. In fact, this lens delivers some of the best image quality Canon has to offer, so you'll never have to worry about issues with sharpness.
The focal length is a bit long for casual product photography, but for a specialist who often shoots jewelry or other small items, this lens could be the perfect choice. The longer focal length will get you a better working distance, so you can photograph rings and necklaces without worrying about being uncomfortably close to your subject.
And handling is strong, with a large manual focus ring you should have an easy time working with.
Unfortunately, this lens does come with a hefty price tag. But if you're the type of serious shooter who needs a dedicated telephoto macro lens for product photography, then it'll be worth it.
5. Canon EF 70-200mm f/4L IS II USM
The Canon 70-200mm comes in a number of different forms, but this one is on the cheaper side, relatively speaking, as it lacks an f/2.8 aperture.
However, a wide maximum aperture isn't particularly useful for product photography, which is why this less expensive Canon 70-200mm is all you need.
You'll definitely appreciate this lens's focal length, which spans the 70-110mm product photography sweet spot and beyond. And you'll love the optical quality, which is great throughout, even when shooting at the maximum aperture.
The manual focus ring is decently sized, so you'll be able to focus manually whenever you need. And thanks to the 70-200mm f/4L's image stabilization, you can shoot handheld, even in low light, and come away with tack-sharp images.
One of the reasons I'm a fan of this 70-200mm version, in particular, is its impressive maximum magnification; you can zoom in for detail shots that highlight all the beautiful intricacies of the product.
I said that the 70-200mm's price tag relatively cheap, and that's accurate. It's not a lens for budget-conscious beginners – but if you're after a stellar telephoto zoom that can capture a mix of standard and close-up product photos, this lens is a fantastic pick.
Best Nikon Lenses for Product Photography
In this section, we share our favorite Nikon product photography lenses, starting with:
6. Nikon AF-S 105mm f/2.8G VR Micro
This is the companion lens to our top Canon pick, the 100mm f/2.8L.
While it's not quite as incredible as its Canon counterpart, the Nikon 105mm Micro is still a great product photography option at a reasonable price.
For one, it offers true macro capabilities, letting you focus all the way up to 1:1, and get those up-close-and-personal photos product photographers love.
The Nikon 105mm Micro is also tack sharp with little chromatic aberration. You won't have to worry about image quality problems with this lens; it's too well put together.
Like the Canon 100mm Macro, the Nikon 105mm Micro has an excellent product photography focal length. You'll be able to work comfortably with your subject, but you won't feel like you're getting too close or too far away.
The one drawback to this lens is its weight (it is a bit heavy), but this doesn't matter much in a product setting. You can just pop it on a tripod and shoot for the whole day!
7. Nikon AF-S 50mm f/1.8G
The Nikon 50mm f/1.8G is a complement to Canon's 50mm f/1.8 STM. It's small, fast, and inexpensive. In other words, it's perfect for the Nikon shooter who just wants to get started in product photography without spending a huge chunk of change on the Nikon 105mm VR Micro.
As noted above, 50mm is short for product photography. But it'll still do the job and will ensure you capture images free from wide-angle distortion.
Images are pin-sharp, especially when stopped down a bit for increased depth of field.
While the lens is a bit plasticky, handling is good. You'll be able to do fairly precise manual focusing with your product photos.
So for the more casual Nikon shooter looking to get started in product photography, the Nikon 50mm f/1.8 is the way to go.
8. Nikon AF-S DX 85mm f/3.5G Micro
If you're an APS-C Nikon shooter looking for the best product photography lens, then you'll love the 85mm f/3.5G Micro, a relatively affordable, high-performing lens designed for enthusiasts.
The 85mm focal length is in that product photography sweet spot – not so long as to require extra space, but not so short that it causes distortion. At 85mm on a crop-sensor camera, you can shoot small- and medium-sized products. And thanks to the 1:1 focusing capabilities, you can get up close for detail shots, not to mention stunning photos of jewelry.
Image quality is decent wide open, then becomes progressively stronger as you stop down. By the time you've reached f/8 or so – which is where you often want to set your camera for product photography anyway – you're working with a tack-sharp lens.
While the 85mm f/3.5 isn't exactly a budget lens, the price tag (just over $500 USD) is reasonable considering the image quality and the 1:1 maximum magnification. So if you shoot small products, or need a lens that can handle plenty of detail photography, the 85mm f/3.5G is an excellent choice.
9. Nikon Z 24-200mm f/4-6.3 VR
When you think of "product photography lenses," superzooms rarely come to mind – yet the Nikon Z 24-200mm offers something special for the Nikon Z-mount product shooter.
No, it's not the sharpest lens out there. But clarity is surprisingly good, and the 24-200mm takes photos that should satisfy even more demanding professionals.
What really impresses about the 24-200mm f/4-6.3, however, is its versatility. Because while plenty of product photographers work with one or two primes, a lens like this – that can zoom from wide to standard to telephoto in a few moments – promises all sorts of exciting possibilities. You can start by taking a few wider product shots for context, before zooming in for standard e-commerce photos. And then you can zoom even further to nab a few stunning detail shots (helped by the 24-200mm's close-focusing capabilities).
If the 24-200mm has a weakness, it's the maximum aperture, which is mediocre at the wide end and subpar at 200mm. But for studio product photography, this limitation – which primarily cashes out in terms of low-light shooting – just isn't going to matter. And the 24-200mm features Vibration Compensation, so even handheld, natural-light product photography will still come out looking sharp.
Best Sony Lenses for Product Photography
In this section, we cover the best Sony product photography lenses, starting with our all-around favorite:
10. Sony 90mm f/2.8 Macro G
The Sony 90mm f/2.8 Macro offers everything you could want for product photography (and more) – making it the best Sony product photography lens on the market today.
What makes this lens so special?
As I've stressed throughout this article, that 85mm to 105mm range is perfect for product shooting; on the one hand, it'll let you capture beautiful photos of the whole product, but it'll also let you get close to record relevant details. Personally, I'm partial to the 100mm focal length, but 90mm does just fine when mounted to a full-frame camera.
The Sony 90mm, like other macro lenses on this list, offers 1:1 focusing, so you can easily get up close and personal for photos of rings, necklaces, and earrings. Image quality is just mouthwateringly gorgeous, especially when combined with the 90mm f/2.8's creamy, smooth bokeh. After using this lens, you'll never want to put it down – it really is just that good.
Also Read: Best Sony Macro Lenses
Of course, even the best lenses have their drawbacks, and the Sony 90mm f/2.8's comes in the form of a four-figure price tag. But that's what you pay for such a stunning lens, so if you can afford it, get it.
11. Sony FE 24-105mm f/4G OSS
Looking for a lens that can handle plenty of product types and varied shooting requirements? The Nikon Z 24-200mm Sony FE 24-105mm f/4G doesn't come cheap, but it can handle pretty much anything you throw at it – so for the versatile product photographer or up-and-coming enthusiast, it's a great buy.
First, the obvious: the 24-105mm f/4G offers a highly useful focal length range, spanning from wide angle (where you can capture environmental product shots) through standard (for your average product listings) all the way to mild telephoto (for a compressed perspective and beautiful detail photography). Of all the lenses on this list, only the Nikon 24-200mm covers more ground, and it can't compete with the 24-105mm f/4G on image quality or maximum magnification.
That's where the 24-105mm f/4G really shines, by the way, because images are sharp across the board; the lens also offers impressively close focusing for shots of diminutive products (plus product details). Not to mention the image stabilization, which lets you capture sharp product shots handheld at high magnifications or in low light.
Plus, the 24-105mm can easily double as a lens for walkaround photography, street photography, or travel photography – so if you're in the market for a general zoom that also works great for product photography, this is the lens for you.
12. Sony FE 50mm f/1.8G
Sony isn't known for its affordable lenses, which makes the Sony FE 50mm f/1.8G, at just $250 USD, an outstanding little find for the budget-conscious product photographer.
And the 50mm f/1.8G really is outstanding, combining plenty of great traits for a budding product shooter – such as sharp images, very nice background bokeh, and more. Close-focusing capabilities aren't great, but you should still be able to capture those intimate details that look great in a product listing.
If you're a natural light photographer, you'll love the f/1.8 maximum aperture; you can capture some beautiful product images in low light (assuming, that is, you're willing to embrace a shallow depth of field).
Some product photographers don't like the close working distance offered by 50mm lenses – but on an APS-C camera, you'll have a 75mm focal length equivalent, and even on full-frame cameras, 50mm is manageable.
Sure, if you can afford it, the Sony 90mm Macro is going to be the better buy. But the 50mm f/1.8G is a powerful lens at a much cheaper price, and it'll suit most product photography needs just fine.
Best Third-Party Lenses for Product Photography
If you're after a third-party product photography lens, then you'll love our top pick:
13. Sigma 105mm f/2.8 EX DG OS HSM Macro
The Sigma 105mm f/2.8 Macro is the cheapest true macro lens on this list. But don't let that fool you — because this Sigma produces amazing, professional-quality photos.
First, you'll be able to shoot consistently tack-sharp photos that suffer from little to no chromatic aberration.
You'll also be able to get extremely close to your subjects, taking shots of tiny details that are hard to see with the naked eye. And the handling is great; the lens has a large, easy-to-spin focusing ring.
In general, the Canon 100mm f/2.8, the Nikon 105mm f/2.8, and the Sony 90mm f/2.8 are better options than the Sigma 105mm f/2.8, which is more aimed toward budget shooters.
But if you don't want to pay for the Canon, Nikon, or Sony, then Sigma may be the right choice.
14. Sigma 24-105mm f/4 ART DG OS HSM
Sigma's series of ART lenses are known for their incredible optics, and the Sigma 24-105mm f/4 is no exception.
The lens offers gorgeous image quality, especially on the wider end. As you get down to 105mm there is a decline in sharpness, but this can be remedied by stopping down to f/5.6 or f/8 (and these are the apertures you'll be using for product photography, anyway!).
Chromatic aberration is something of a problem at the focal length extremes, though primarily at the edges of the frame. And this can be taken care of in post-processing while affecting the final photo very little.
Handling is good — the manual focus ring works smoothly. And the 24-105mm focal length range is a good choice for product photography; the longer end of the lens will allow you to get a nice compressed look, while the wider focal lengths allow you to take more experimental product photos.
All in all, this is a great lens for a good price.
15. Tamron 70-200mm f/2.8 Di VC G2
The 70-200mm range is great for product photography. The trick is finding a lens that can span those focal lengths while giving high-quality images.
Fortunately, the Tamron 70-200mm f/2.8 does exactly that.
The Tamron 70-200mm is sharp across the board, even when wide open (at f/2.8). At f/8 it's even sharper, which is the more common aperture for product photography, anyway.
Handling is good — the manual focus ring is decently large and shouldn't give you too many problems when nailing focus.
The biggest drawback to the 70-200mm is its lack of close-focusing capabilities; the maximum magnification is 0.16x, which doesn't allow for much detail photography. If you're going to be shooting a lot of close-ups, it makes sense to stick with a true macro lens, such as one of the options featured above.
But if you're looking for a high-quality lens that spans a lot of focal lengths, you should give the Tamron 70-200mm f/2.8 a shot.
16. Tamron 35mm f/1.8 Di VC USD
The Tamron 35mm f/1.8 is a relatively inexpensive option at an unusual focal length — one that appeals to the more experimental product photographers out there.
While product photographers generally like to work at around 100mm, there's a lot you can do with a wide-angle lens such as the Tamron 35mm. You can create unique wide-angle product shots, which feel different than the traditional telephoto images.
The Tamron 35mm is sharp at all apertures, though things do improve as you narrow the aperture. And you should be prepared to deal with a bit of chromatic aberration, which does plague this lens in high-contrast situations.
That said, you'll be happy with this lens, especially at common product photography apertures.
Because you'll get your sharp images — with a bit of a twist!
How to Choose the Best Lens for Product Photography
When it comes to choosing a product photography lens, there are a few big factors you should focus on.
Because here's the thing:
In product photography, some features don't matter. For instance, you could have the slowest focusing lens in the world, and it would do just fine.
Why?
In product photography, your subject isn't going anywhere! It'll wait while your lens hunts for focus, or while you do some manual focusing of your own.
However, some features are crucial for capturing great product images.
Here they are:
Image Quality
First and foremost, you need a lens that will give you sharp images. Commercial clients aren't very forgiving when it comes to image quality, so you want to make sure your images are razor-sharp, from corner to corner.
You should also choose a lens with minimal chromatic aberration (also known as color fringing). Chromatic aberration will make your images look amateurish, so you should aim to reduce it as much as possible.
Focal Length
The best focal lengths for product photography tend to be in the area of 80mm to 200mm. This gives a nice compressed look to your photos, and it avoids any wide-angle distortion.
However, you can get away with slightly shorter lenses (in the standard 50mm focal length range).
And if you'd like to create a more unique look, and you think you'd have fun experimenting, you can also try out wide-angle lenses.
Close-Focusing Capabilities
All lenses have a minimum focusing distance. After that point, they cannot focus any closer, and the magnification capabilities of the lens will top out.
Now, you don't need serious magnification capabilities if you're going to be photographing large products (e.g., microwaves). But if you think you might want to photograph smaller objects, such as jewelry or small trinkets, you're going to need to invest in a serious macro lens — one that gives you 1:1 focusing.
(1:1 focusing allows you to magnify the product so that it's as large on the sensor as it is in real life.)
So you'll want to make sure you have close-focusing capabilities that fit your needs.
Handling
The final thing you should take into consideration when choosing a product photography lens is handling.
In particular, you want a manual focusing ring that's decently large and takes a lot to shift focus through the entire range. You want manual focusing to be easy, not a struggle!
Best Lenses for Product Photography: Conclusion
That concludes our list for the best product photography lenses out there.
However, if you're still struggling to choose a product lens, remember:
The next step is to start shooting some products!
---
Disclosure/Disclaimer: As an Amazon Associate, we earn from qualifying purchases. Certain content was provided "as is" from Amazon and is subject to change or removal at any time. Product prices and availability: Amazon prices are updated daily or are accurate as of the date/time indicated and are subject to change. Any price and availability information displayed on Amazon.com at the time of purchase will apply to the purchase of this product.