In this article, we shall be looking at the best lenses for nighttime photography. Nighttime photography is a challenge for most photographers.
Often it comes down to the quality of the sensor that powers your camera and your lens' ability to pick up light. Lots of light.
Before we dive into the tech-specs of each lens, here is a summary of the best lenses for low light conditions:
If you had to choose between one, because investing in both usually means a lot of money, then choose a good lens!
I am sure some photographers who would argue that the sensor quality and its ability to produce great imagery, even at high ISO is what is needed in these situations. The thing is there are very few cameras which have this ability.
So, you would end up shooting at a low ISO and then drag the exposure to produce a well-lit photo. Therein lay the second challenge, which is an introduction of noise when you boost the exposure in post-processing.
The million dollar question is – is there any such thing as the best lens for nighttime photography?
Yes, there is. However, there are a few pre-conditions. These pre-conditions are your subject, your camera, and your budget.
Indoor Events
If you are shooting an event inside a dimly lit room with no light to go around, and you cannot use flash, then you need a very fast lens.
A very fast lens suggests an aperture of f/2.8 or wider.
You would also need probably two lenses: One tele and one wide.
For the longer lens, you need image stabilization.
Nighttime Portraits
On the other hand, if you are shooting nighttime portrait pictures you will need a lens that has a fast wide aperture along with image stabilization.
Additionally, for portraitures, you need a medium telelens. Something in the region of an 85mm (if you are on a full-frame camera).
If you are on a crop camera, you would need something like a 50mm at least, or preferably a 24-70mm while shooting at around 60mm.
Nighttime Sky
For shooting nighttime sky, image stabilization is unimportant.
You would be using a tripod.
What you need, however, is a way to capture a larger slice of the night sky. Therefore a wide angle lens is necessary.
A Better Camera
Around 2008 I was using a Canon 40D for experimental purposes shooting weddings. At that time pushing the ISO beyond 400 was a difficult decision to make. Pushing it beyond 1600 was unthinkable.
These days with cameras like the 5D Mark III and the D5's even ISO 6400 feels relatively "safe". As one can imagine, between a lens and a camera, the lens is the better choice. A better, more expensive camera would probably be ISO-invariant, and that would make lens choices immaterial, but then such cameras are well beyond the reach of most photographers.
On the other hand, a lens that has a wide aperture is cheaper to find. Plus, there are other practical reasons for choosing a better lens over a better camera.
Thus, the best solution is in selecting a lens that has a wide open aperture. Even then you will need to use a tripod whenever possible to ensure that the lens camera set-up does not wobble during the exposures.
In case you are using a tripod, a longer shutter speed is advisable. In some cases, you can also turn on long exposure noise reduction to remove 'hot-pixels' and other noise related issues in-camera.
More on such camera settings for low light photography later.
Best Options – Primes
Prime lenses come with wide apertures. Because they don't zoom in or out, manufacturers concentrate on the optical quality of the lens.
Lenses such as the 50mm, the 35mm, and the 24mm are prime candidates for great image quality even in low light conditions.
However, there are certain aspects that you have to keep in mind. At super wide apertures most lenses tend to suffer from chromatic aberrations and coma.
Coma is an effect that you would find in nighttime photography with small pointy light sources in the image. The light sources will appear distorted. This is typically seen in Milky Way or constellation photos, as well as cityscape photos, shot at night.
Chromatic Aberrations and Coma
Chromatic aberration is a lens deficiency and one that results in the different waves of light getting focused at different distances leading to an effect known as 'color fringing.' You would find the edges of your image having a lot of purple fringing.
This article deals with the best lenses for nighttime photography. Unsurprisingly, these lenses are mostly primes, or high end zooms with a fixed maximum aperture.
Thus, it is imperative that when you go about choosing the best lenses for nighttime photography, you must look at its specifications and reviews to determine whether it has any serious issues. Specifically look for chromatic aberrations or coma related issues.
Best Nighttime Photography Lenses (Top 8 Picks)
1. Canon EF 50mm f/1.8 STM
This Canon EF f/1.8 STM is a 50mm prime lens (also known as standard prime) designed for full-frame Canon systems.
The lens has a maximum aperture of f/1.8 and is powered by Canon's STM (Stepping Motor Technology). Stepping motor technology is a slower than usual auto-focusing mechanism, but the use of this technology is geared towards movie shooting where smoother auto-focus locks is the need.
The feature of importance, however, and what we need is the wide aperture. The 50mm's wide f/1.8 aperture collects a lot of light. It is almost one stop faster than traditional kit lenses and nearly a stop and a half faster than cheaper zoom lenses.
Doubling the aperture also means doubling the amount of light that is collected. In low light that essentially means you don't have to drag the shutter speed beyond the threshold that creates image blur.
The lens comes with an array of coating that takes of glares and flares.
Canon EF 50mm f/1.8 STM Lens
50 millimeter focal length and maximum aperture of f/1.8
Great for portraits, action, and nighttime photography; Angle of view (horizontal, vertical, diagonal): 40º, 27º,46º
Minimum focusing distance of 1.15 feet (0.35 meter) and a maximum magnification of 0.21x
Stepping motor (STM) delivers near silent, continuous move Servo AF for movies and smooth AF for stills
80 millimetre effective focal length on APS C cameras, 50 millimetre on full frame cameras. Lens construction: 6 elements in...
2. Nikon AF Nikkor 50mm f/1.8D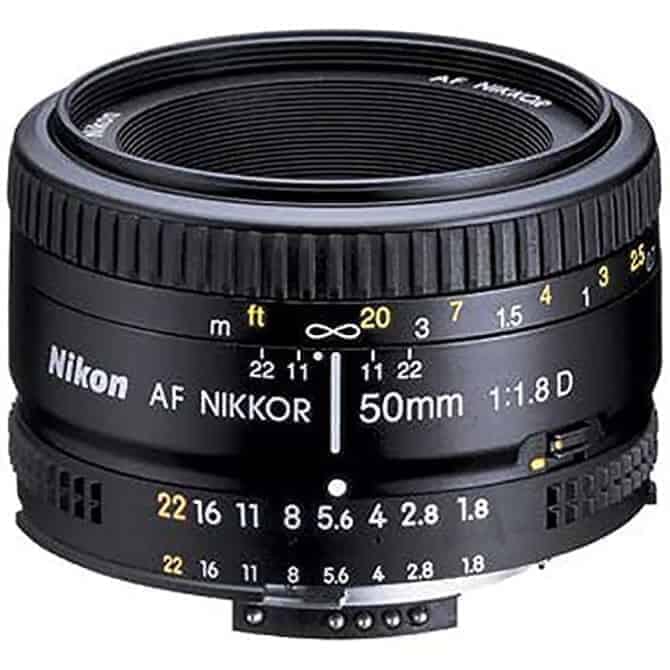 The Nikon AF Nikkor 50mm f/1.8D F-mount Lens is an all-time favorite among Nikonians. This is a 50mm prime lens with a maximum wide aperture of f/1.8. This is a D lens. The lens comes with a manual focus ring and an aperture ring and a focus distance indicator.
Super Integrated Coating on the lens takes care of flares and ghosting. The manual focusing ring on the 50mm along with the physical ring that controls aperture gives it versatility.
This is one of those rare lenses you can reverse mount using a lens reversal adapter ring and still be able to change apertures. This allows you to use it for macro photography as well.
But for the purpose of shooting nighttime photography, it's wide f/1.8 aperture is the feature that would come in handy.
3. Canon EF 24-70mm f/2.8L II USM
The Canon EF 24-70mm f/2.8L II USM is one of the best lenses for shooting general purpose photography. Mounted on an APS-C camera, this would serve as a fantastic portrait lens as well. The greatest advantage of this is the fast f/2.8 aperture and the fantastic build quality.
F/2.8 is a stop slower than the f/1.4 lenses that we detailed at the start of this article. But the Canon 24-70mm f/2.8L II comes with an array of features that makes it a great lens to shoot in low light conditions.
The lens features Ultra-low dispersion Ultra-low Dispersion (UD), Super UD and aspherical elements. These ensure that the lens does not suffer too much from distortions and chromatic aberrations. This is something extremely important for lenses that have a wide open aperture.
Additionally, the lens has lens coatings that can suppress ghosting. This lens is ideal for outdoor work, capture portraits and street shots, landscapes in almost any lighting conditions.
Fluorine coating ensures that the lens can repel smears and the general build quality ensures that the lens is not affected by the elements.
Canon EF 24-70mm f/2.8L II USM Standard Zoom Lens
24 70 millimetre focal length, 38.4 112 millimetre equivalent focal length on Canon APS C cameras
F2.8 constant maximum aperture; F22 minimum, ring type ultrasonic type AF motor with full time manual focusing
82 millimetre filters, closest focusing distance: 0.38 meter/1.25 feet
Image Stabilization : No. Focus adjustment: Inner focusing with USM. Diagonal angle of view: 84° - 34°. Weight 1.7 pound
Purchase this product between May 1, 2016 and July 30, 2016 and get 13 months of free damage protection from Canon. The...
4. Sigma 35mm f/1.4 DG HSM Art Lens
Third party lens manufacturers such as Rokinon, Tamron, Sigma, and Tamron manufacture excellent lenses that produces great results. Rokinon, for example, produces a number of excellent manual focusing lenses.
Why manual focusing? Because in low light conditions your lens is dependent entirely on the AF sensor technology of your camera. And just having an AF motor on the lens is not enough.
Thus, manual focusing lenses give equally great results if you can depend on your eyes or your camera comes with a manual focus highlighter feature.
The Sigma 35mm f/1.4 is one such lens. It produces fantastic results with its maximum aperture of f/1.4.
The lens has a floating mechanism which means close-up focusing as well as focusing throughout the rest of the focusing range is going to be better.
The lens comes with four Super-Low Dispersion glass elements and one 'F' Low Dispersion Element also known as FLD element. This element performs nearly the same as a fluorite coating. Additionally, there are two aspherical elements.
Together, these elements ensure that the lens does not suffer that much from chromatic aberrations and distortions. On top of it the lens has a Super-Multi-Layer coating. This suppresses flares and ghosting and creates a sharper and more saturated image.
5. Canon EF 35mm f/1.4L II USM
The Canon EF 35mm f/1.4 L II USM is a great 35mm standard prime that has a wide open aperture of f/1.4. The lens is composed of two aspherical elements and one Ultra-Low Dispersion element. These take care of chromatic aberrations which are common with lenses that have a wide open aperture.
Additionally, the lens also has sub-wavelength and fluorine coating to ensure ghosting and flares are suppressed. This improves image color saturation and contrast.
Make no mistake this is a formidable piece of optical tool. Fantastic weather sealing ensures that the lens can be used in almost any kind of weather.
The lens has full-time manual focusing override and focusing distance indicator. The feature, which makes this a formidable low-light shooting tool, however, is the maximum wide aperture of f/1.4.
An interesting feature of the lens is the Blue Spectrum Refractive Optics. This optics will refract the shorter wavelengths of light.
Resultantly, this will reduce the overall effects if chromatic aberrations. Color fringing will be visibly suppressed. This also improves the overall image contrast.
Canon EF 35mm f/1.4L II USM Lens, Lens Only
Focal Length & Maximum Aperture: 35mm f/1.4
Subwavelength Coating (SWC) helps significantly reduce lens ghosting and flare.Lens Construction: 14 elements in 11 groups
Diagonal Angle of View: 63°
Focus Adjustment: AF with full-time manual
Closest Focusing Distance: 0.92 ft./0.28m. Increased maximum magnification (0.21x) help expand the range of expression,...
6. Sigma 85mm f/1.4 DG HSM Art Lens
Sigma's Art lenses, different to the Sports and Contemporary lenses, are designed for professionals. The 85mm focal length is widely considered as the best lens for portrait photography. This lens works both in abundant light conditions as well as low light.
Thanks to the wide open aperture of the lens it is possible to shoot clear images in really low light without having to push the ISO or drag the shutter.
This lens is designed for the full-frame camera. The maximum aperture on this Sigma lens is f/1.4. This is what ensures that the lens captures enough light even in low light conditions in order to produce a well-exposed image.
The construction of this lens includes two Super-Low Dispersion elements and one aspherical element. This takes care of spherical and other aberrations.
Apart from that, the lens has a Super Multi-Layer Coating. This helps suppress ghosting and flares. Resultantly, the images produced are high in contrast and richer in color.
Sigma 85mm f/1.4 DG HSM Art Lens for Nikon F (321955)
The Sigma 85mm 1.4 DG HSM Art is the latest addition to the world renowned Sigma Global Vision Line
It has equipped newly designed hyper sonic motor (HSM) for nimble AF control, 1.3 times better torque of its predecessor
Compatible with the Enthusiast APS-C Nikon D7100, D7200, D500, and D3100, D3200, D3300, D5100, D5200, D5300, D5500 DSLR...
Minimum Focusing Distance-33.5inch. Maximum Magnifications-1:8.5. Angle of View (35mm)-28.6°
7. A Stabilized Option – Nikon AF-S Nikkor 24-70mm f/2.8 E ED VR
The maximum aperture of this lens is f/2.8. But what it has is image stabilization; up to four stops of correction. This allows you to use up to four stops slower shutter speed when hand holding the camera. Plus, you have full-time manual focusing override.
The construction of the lens includes an aspherical extra-low dispersion element, up to three aspherical elements and two extra-low dispersion element. Additionally, there is a high refractive index element. All of these help in suppressing chromatic aberrations and other distortions.
Lens flare and ghosting are other reasons your images will have lack of contrast and richness of color. To suppress this the Nikon 24-70mm f/2.8 E-ED VR has Nano Crystal coating along with Super Integrated Coating. Plus the application of fluorine coating ensures that the front element of your lens isn't a dust and dirt magnet.
Related Post: Nikon 80-200mm f2.8 ED Lens Review
The best feature yet of the 24-70mm f/2.8 is the constant maximum aperture of f/2.8 across its focal range. This is a critical advantage when shooting in low light situations.
With normal zoom lenses as you rock back and forth the zoom, the lens' maximum aperture tends to shoot up or drop. Not with this. Thus, you can maintain consistency across all your images.
Plus, in low light, you have that extra leverage to be able to shoot with the widest possible aperture that will ensure a lot of light is captured.
Nikon AF-S FX NIKKOR 24-70mm f/2.8E ED Vibration Reduction Zoom Lens with Auto Focus...
Fast f/2.8 constant aperture with an electromagnetic diaphragm
Sensational image quality and sharpness with virtually no distortion, Focal Length Range : 24 to 70 millimeter
Minimum Focus Distance : 35 to 50 millimeter focal length : 1.2 feet (0.38 meter) from focal plane; 24, 28, 70 millimeter...
4 stops of Vibration Reduction for handheld and low light shooting, Nonstick glass makes it easier to wipe off water, dirt...
Evolution of Nikon's legendary 24 to 70 millimeter workhorse.Type:Fmount, Type E AF S lens with built in CPU and F mount.Lens...
8. Choice for Nighttime sky photography – Canon EF 11-24mm f/4L USM
The Canon EF 11-24mm f/4L USM wide angle lens with a focal length range of 11-24mm and an angle of view of 126 ˚ 5' – 84 ˚ is designed for full-frame systems. Maximum aperture of the lens is f/4, but it more than makes it up with its build quality and sheer performance.
The lens has excellent build quality. Its weather-resistant design ensures that it can be taken anywhere you want to shoot with it
The constant maximum aperture of f/4 across its focal length means you can keep the same perspective throughout. Further, full-time manual focusing allows you to grab the focus ring at any time and tweak it manually if the camera is struggling, especially in low light or low contrast situations.
This is a lens for nighttime photography as well as for landscapes and architecture. Mount it on a full-frame DSLR and set it up on a tripod and you will have the time of your life shooting incredible pictures of the cosmos.
The lens includes one Super UD element and one UD element. Plus, it also has four aspherical elements. Together, these elements reduce both chromatic aberrations as well as other distortions down to a negligible level.
Sub-wavelength coating, as well as Air Sphere coatings, have also been applied. These significantly reduce ghosting and lens flare which is quite likely to crop up for such a wide angle lens with a wide open aperture.
Fluorine coating ensures that the lens can repel smudges and dirt and grime which is a hazard when shooting outdoors.
Canon EF 11-24mm f/4L USM Lens
L-series ultra-wide zoom lens with an impressive 11mm starting focal length
Focal Length & Maximum Aperture: 11–24mm f/4, Closest Focusing Distance : 11 in. / 0.28m
New optical design and the use of one Super UD element and one UD lens element
Subwavelength Coating (SWC) and Air Sphere Coating (ASC), Inner focusing, ring USM, a high-speed CPU and optimized AF...
Full-time manual focus allows manual focus adjustment while in AF Mode
---
As an Amazon Associate we earn from qualifying purchases. Certain content that appears on PhotoWorkout.com comes from Amazon. This content is provided 'as is' and is subject to change or removal at any time.