What is the single most important tool for wedding photography? Well, undoubtedly it is not one, but a selection of the best lenses for wedding photography.
You might be thinking that surely the camera itself is more important. However, this isn't true. Your camera will only take you as far as your lenses will. If you have a high-end camera, and low-quality lenses, your pictures will be low-quality.
Investing in a set of fast sharp lenses is a crucial step in setting your kit up for wedding photography.
While the choice of the lens tends to vary from one photographer to another, the overall consensus seems to be on a lens that offers medium zoom and a fast aperture.
In a previous discussion, we had listed the best cameras for wedding photography. The selection of the best lenses for wedding photography, that we have picked here are, to some extent, with respect to that previous selection of cameras.
List of Best Lenses for Wedding Photography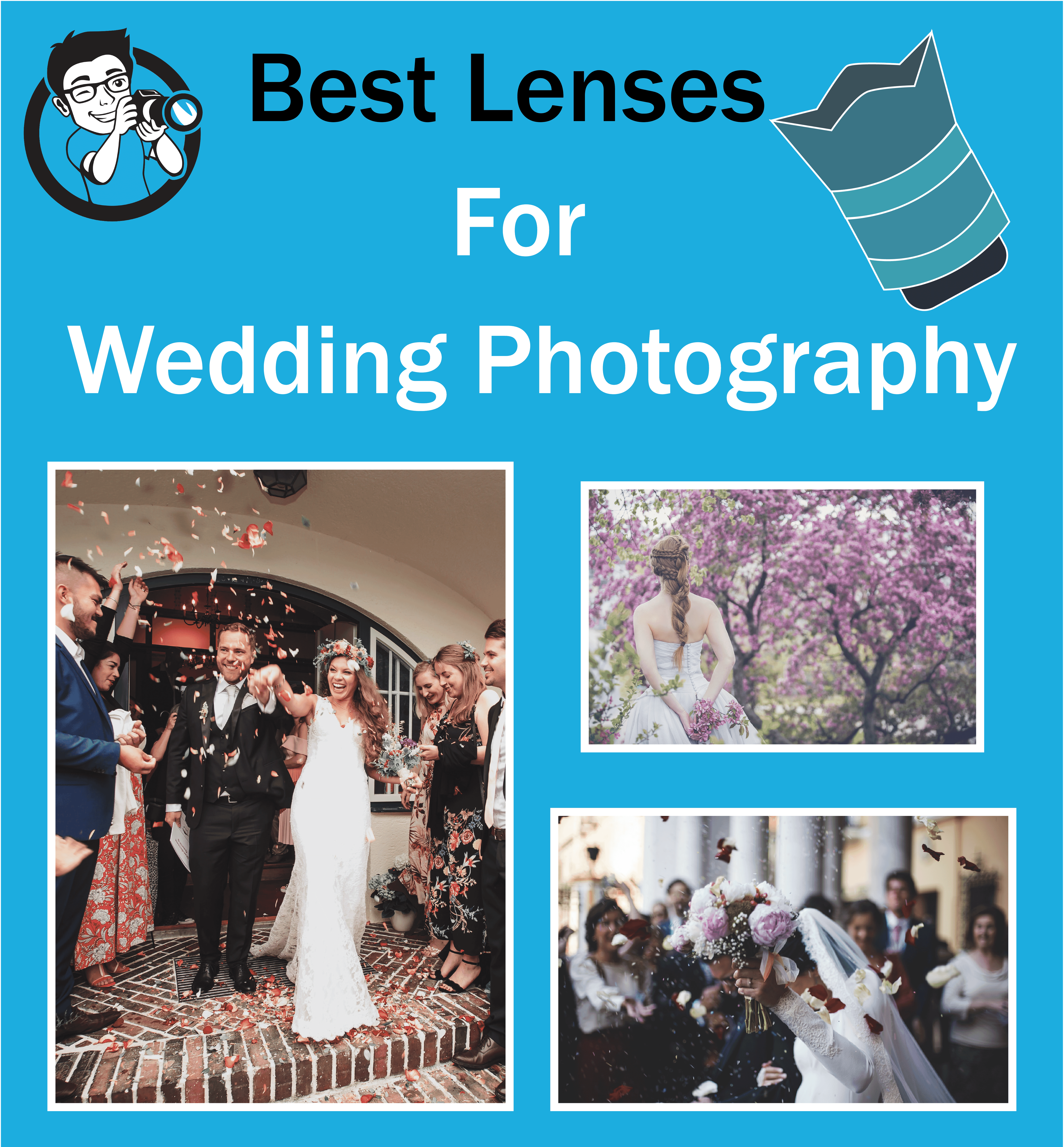 Sony E-Mount
Nikkor Z Mount
Nikkor F-Mount
Canon EF Mount
Tamron
Sony E-Mount
First up let's take a look at the best Sony E-mount lens choices we have for wedding photography.
Sony's FE 24-70mm f/2.8 lens is part of Sony's Grand Master series. These lenses are top of the range when it comes to Sony, they're well designed and produce consistently sharp images. For a wedding photographer, these are key features.
The focal length of this lens means that you're covered across most of the range required for wedding photography. Though there are some exceptions where you might require another lens, such as tight portraits where you'd require something around the 85mm mark.

Key Features
The first thing that you are likely to notice about the Sony FE 24-70mm f/2.8 GM is the build quality. This is a well-built lens. And, it comes with good weather sealing. Therefore, the lens is suitable for use in outdoor conditions as well.
Since Sony's E-mount cameras use built-in image stabilization, the lens doesn't come with image stabilization itself. However, this should not be an issue at all.
The focusing ring on the lens does not have any hard stops. Which is probably one thing that will affect someone who often prefers to focus manually at infinity. However, if you choose to use auto-focus, it is both smooth and quiet.
And now about the all-important question about lens sharpness, bokeh and light fall off.
When looking at the sharpness of the lens, it is sharp at its widest aperture. But stopping it down to f/4 improves center sharpness a little. The most noticeable difference is at the corners where it becomes visibly sharper. The sweet spot for the lens is f/8. Beyond that lens diffraction sets in and it becomes less of an advantage to stop down the lens.
The bokeh is decent but I have seen better. It is worth mentioning that the bokeh isn't bad, as such, it just isn't the most stellar.
There is a slight bit of light fall-off at the corners when shot wide open. However, this corrects out when you stop down the lens. Since the light fall of is only small, it is not a deal-breaker and can easily be corrected in Lightroom.
Image distortion is minimal for all practical purposes.
Related Post: Best Wide-Angle Sony E-Mount Lenses
Closing Summary
Overall, this an excellent lens and we would regard it as one of the best lenses you can buy. While it does fall somewhat short in some areas, it performs exceptionally well otherwise. If you do choose this lens, however, you might want to also purchase an additional lens for any detail shots.
Sony SEL2470GM E-Mount Camera Lens: FE 24-70 mm F2.8 G Master Full Frame Standard...
SONY EMOUNT LENS: 35mm full frame format, instant auto / manual focus selection, focus hold button. The minimum focus...
NATURAL, LIFELIKE IMAGERY: ED and Super ED glass elements deliver breathtaking texture and detail
REDUCED ABERRATION: Two aspherical elements and an extremely precise XA element maximize resolution
9 BLADE APERTURE: SEL2470GM lenses have a 9 blade circular aperture for a gorgeous book effect
NANO AR COATING: Allows for accurate light transmission to improve clarity, contrast and quality
Fast primes lenses are certainly something to be desired by most, if not all, photographers. And with good reason, they'll give you sharp shots, consistently. Now for a wedding photographer, a prime lens like the Sony FE 85mm f/1.4 GM is definitely something to desire. It's a perfect lens for your tighter portrait shots, and it has uses outside of the wedding photography world.

Key Features
Sony's FE 85mm f/1.4 lens is definitely a show stopper. With such a wide aperture, you'll have no problems with low-light performance. That means no noise caused by using higher ISOs. Add to that the fact that it means your shutter speed can be faster, you'll have no issues with getting blur-free images.
Sony has made a range of these 85mm prime lenses, though none of them has an aperture as fast as this lens. This causes two potential issues. The first being that this lens costs a lot more. If you're looking for a lower-priced prime, consider the other lenses. Second, you're going to have very little margin for error when it comes to focusing at the wider aperture. If you've managed to master focusing, this shouldn't be an issue though.
Speaking of focusing the FE 85mm f/1.4 GM focuses very quickly and makes no noise while it is engaged.
If you choose to operate the manual focusing ring, it should feel smooth and well dampened.
The lens also has a single focus lock button. This may not be a huge thing for a wedding photographer who is always on AF-C mode but will help someone who shoots anything stationary and from the top of a tripod.
Related Post: Best Lenses for Bokeh
Regarding bokeh, this lens has a total of 11 circular blades. The aperture diaphragm is perfectly round ensuring that the quality of the bokeh is beautiful.
Closing Summary
This lens is definitely one for those up-close portraits. If you're looking for a lens that's sharp across the board, and you have money to spare, you'll definitely want to consider the 85mm lens. It's the perfect partner to the Sony 24-70mm Lens we discussed above.
Sony FE 85mm f/1.4 GM Lens
E-Mount Lens/Full-Frame Format
Minimum Focus Distance : AF 2.79 ft, MF 2.62 ft, Maximum Magnification ratio (x) - 0.13 x, Focal-Length : 85 mm.Angle of view...
Aperture Range: f/1.4 to f/16 , Filter Diameter (mm) - 67 mm
One XA Element and Three ED Elements, Nano AR Coating
Linear SSM Focus System.Weight:820 g.Dust and moisture resistant design.Angle of View (35 mm):29°
A discussion of the best lenses for wedding photography would be incomplete without a reference to the Sony 16-35mm. The Sony FE 16-35mm f/2.8 is a wide-angle zoom.
Ideal for wedding photography because it covers the standard and group photo focal lengths. But beyond wedding photography, the FE 16-35mm f/2.8 has much wider applicability. This lens is great for shooting street photos, travel and landscape among other genres. The advantage comes from the fact that the viewing angle of the lens is 107-degrees when fully zoomed out. Therefore you can capture a larger slice of the scene in front of you.

Key Features
The 16-35mm f/2.8 has a number of advantages working in its favor.
To start off, it is very sharp even when wide open. No wonder DxOMark has rated it the highest among all FE mount wide-angle lenses they have tested.
A good background blur is definitely something that the FE 16-35mm does quite well. The maximum aperture is a perfect width to produce strong blur when it is needed.
The lens is well constructed and consists of 16 elements arranged in 13 groups. These include 2 extra-low dispersion elements which help reduce chromatic aberration. Added Nano AR coating has also been used in the lens for preventing ghosting and lens flare.
Closing Summary
This lens is a pretty good all-rounder that will serve you well as a lens for wedding photography. The wide-angle zoom is perfect for capturing group shots and gives you a little room to breathe with regards to fitting people in the frame. The overall performance is stellar.
Sony - FE 16-35mm F2.8 GM Wide-Angle Zoom Lens (SEL1635GM), Black
Designed to achieve 50 Line pairs/mm resolving power
Two XA (extreme aspherical) elements w/ high surface precision. Minimum focus distance - 0.28 m (0.92 ft). Maximum...
Constant F2.8 max aperture maintains exposure and Depth of field. Hood Type : Petal shape, bayonet type; APERTURE BLADES: 11
Uncompromising G Master design for smooth bokeh and high resolution. Angle of View (35 mm): 107°–63°
In-the-box: hood, lens front cap, lens rear cap, case, Mount: Sony E-mount
This is the first non-Sony made E-mount lens we are recommending. However, we certainly feel like the Sigma 28mm f/1.4 Art lens has a worthy place amongst the Sony lenses.
Sigma's Art series lenses are geared at more serious photographers, they're well made and their quality is on par with the Original Equipment Manufacturers lens of the same design. The only difference? Really, the price.
This wider angle lens will produce some impressive results, as long as you're willing to work with it.
Key Features
This lens definitely shines when it comes to image quality. The overall performance in the sharpness and detail departments is above average, and, frankly, mind-blowing. If you're not pleased with the image clarity from this lens, we don't know what will please you.
The focal-length is somewhat an acquired taste, if you don't like the 28mm wide-angle view, this lens isn't for you. However, in terms of image quality, it is definitely a lens you'd desire.
The lens is well constructed in order to minimize effects of chromatic abberation and also produce some good background blur.
When you get this lens in your hands, you'll know it's exceptionally well-built. However, that being said, it does mean that this lens isn't the lightest.
Closing Summary
Whilst this lens is an acquired taste, and you have to be careful with your compositions (thanks to it's wider viewing angle), you will definitely get some pleasing results.
Sigma 28mm f/1.4 DG HSM Art Lens for Sigma
The new Sigma wide-angle model stands out with its thoroughly corrected magnification chromatic aberration and sagittal coma...
t features water- and oil-repellent coating on the front lens element and its overall dust- and splash-proof structure...
The high-speed AF, thanks to the HSM (Hyper Sonic Motor) with an updated algorithm, captures the perfect moment instantly
A macro lens is a quintessential tool in the camera bag of a wedding photographer. There are moments at a wedding you wish you could have the means to step in closer and capture a frame-filling image of smaller details, like the rings of the bride and groom. With a macro lens, you can easily capture these details. If you can buy something like the Sony FE 90mm f/2.8 Macro G OSS, the highest-rated macro lens by DxOMark, then you have your bases covered.

Key Features
This lens is perfect for your wedding photography macro shots. It has a 1:1 aspect ratio, making it a true macro lens. And the minimum working distance is 28cm, meaning you don't have to get too close to get those up-close and personal shots.
The build quality of this lens, like most of the Sony E-mount lenses is pretty impressive. The lens isn't completely weatherproof, but it will manage the elements to a certain extent thanks to its weather-sealing.
The construction of the lens includes 15 elements arranged in 11 groups. These include 2 ED elements, 1 Super ED element and 1 aspherical element. These take care of image distortion and chromatic aberrations. The lens also comes with Nano AR coating, which takes care of ghosting and halo, especially when working in bright conditions. Finally, the aperture diaphragm of the lens consists of 9 rounded blades which produce interesting out of focus effects.
Closing Summary
While this lens isn't going to fit every bill in your wedding photography ventures, it will do a top-notch job in its specialist area. You can be sure you're going to get some excellent macro shots with this lens. While it's not an essential component of your wedding photography lenses checklist, it is a nice addition if you have to money for it.
Sony SEL90M28G FE 90mm f/2.8-22 Macro G OSS Standard-Prime Lens for Mirrorless...
A perfect match for α7 series, 35mm full-frame E-mount cameras, 90mm Macro with a bright F2.8 maximum aperture, Nano AR...
Minimum Focus Distance : 0.92 ft (0.28 m), Maximum Magnification ratio : 1.0x, Focal Length : 90 mm. The angle of view is 27...
Optical Steady Shot image stabilization for handheld shooting, Instant manual/auto focus selection via a sliding focus ring,...
Corner to corner sharpness w/ Advanced Spherical elements, Super ED glass w/ multi‐coating reduces flare and ghosting,...
Direct Drive SSM (DDSSM) for quiet, precise focusing; Weight: 602 g (21.3 oz)
Nikon Z mount
Nikon recently launched the Z mount camera system. While the two inaugural cameras the Z6 and the Z7 have been gathering laurels across the world, the major problem at this time is the availability of dedicated Z mount lenses. You can, however, use existing legacy lenses using the FTZ adapter. The collection of lenses will only go up as time progresses. Nikon recently launched three new lenses and one of them is the Z 50mm f/1.8 S.
There are two reasons I have included this lens in this collection of the best lenses for wedding photography. First of all, it is a standard prime – 50mm to be precise. Second, it has an overall DxOMark score of 44. Which is pretty high.
Key Features
This Z-mount lens is nothing like Nikon's previous line of lenses. The build quality is miles better than the F-mount 50mm primes, and that shows in the weight of this lens. The lens has added weather sealing, making it suitable for outdoor use without having to worry too much about damage to your gear.
One area where this lens falls short is that the maximum aperture of the lens is not the best compared to other Nikon lenses. It opens up to f/1.8 max. Nevertheless, the sharpest performance is when you stop it down to f/2.
The construction of the lens includes a total of 12 elements arranged in 9 groups. This includes 2 aspherical elements and 2 extra-low dispersion elements. There is also a Nanocrystal coating and Super Integrated coating which suppress flares and ghosting especially when working in bright sunlit conditions.
When it comes to auto-focussing, you only really have two camera bodies to test it on and the speed, in part boils down to the camera technology. Whilst this lens has a fast AF speed based on the Z-mount lenses, compared to Nikon's older F-mount lenses, it is slightly slower.
However, the manual focusing system is very impressive. Response and feedback when turning the manual focusing ring are exceptional. And the adjustment of focus is very precise. This certainly comes in handy for any still shooting or videography opportunities.
Closing Summary
This Nikon Z 50mm is certainly a great lens, there's no doubt about that. It will serve you well as a wedding photographer for portraits and some detail shots. The technology is new, which makes a big difference and Nikon have really improved their build quality.
Another of the new Z mount lenses designed for Nikon's Z mount camera systems, the 24-70mm f/2.8 S is a highly regarded new entry to the camera world. DxOMark rates this lens at 36 which is a testimony to its exceptional image quality. We definitely think it is one of the best lenses for wedding photography for the Z mount platform.
Key Features
This is a zoom lens and the focal length range is the same as the Sony FE 24-70mm f/2.8 GM discussed above. Both offer a focal length range that is ideal for shooting portraits as well as group shots. While the constant aperture of f/2.8 isn't the fastest, it certainly isn't the worst. An aperture of f/2.8 is good enough for most lighting conditions and if you need to, you can always up the ISO a little.
The construction of the lens includes 17 elements arranged in 15 groups. That includes 2 ED elements, 4 aspherical elements and a Nano coating. The last of which suppresses lens flares and ghosting. The Z 24-70mm features an internal focusing system, so the lens doesn't extend while focusing. Whilst this isn't a requirement for shooting portraits or group shots or landscape photos, it can be helpful for more discrete photography.
A unique feature of the lens is the third customizable lens ring. The lens has three adjustable rings on the body. One is for focusing, the other is for zooming, and the third one you can program to adjust exposure or even aperture. The third ring is very handy as it allows you to change settings without having to take your eye off the viewfinder.
Closing Summary
For more flexibility, this Z mount lens fares better than the 50mm discussed above. It has some impressive, unique features, including the third lens ring for easy settings adjustments. And the focal length range offers a decent amount of flexibility.
NIKON NIKKOR Z 24-70mm f/2.8 S Standard Zoom Lens for Nikon Z Mirrorless Cameras
NIKKOR Z 24-70mm f/ 2.8 is a compact mid-range zoom that is indispensable for a wide range of photo and video applications,...
With an f/2.8 constant maximum aperture, exposure is consistent across the entire zoom range
Lens incorporates an all-new Multi-Focusing System, consisting of 2 AF drive units, precisely synchronized to deliver fast,...
Nikon's Stepping Motor (STM) provides smooth, fast and quiet autofocusing, whether shooting stills or video
Extensively sealed to keep dust and moisture out, especially around all moving parts of the lens barrel, for worry-free...
Nikon F-Mount
For a dedicated portrait lens in your wedding photography kit bag, this Sigma 85mm Art lens checks all the boxes. It is, by far, the best lens for wedding photography. With the sharpest images and an amazing build. If you put this on a body like the D850, you've got an absolute winner.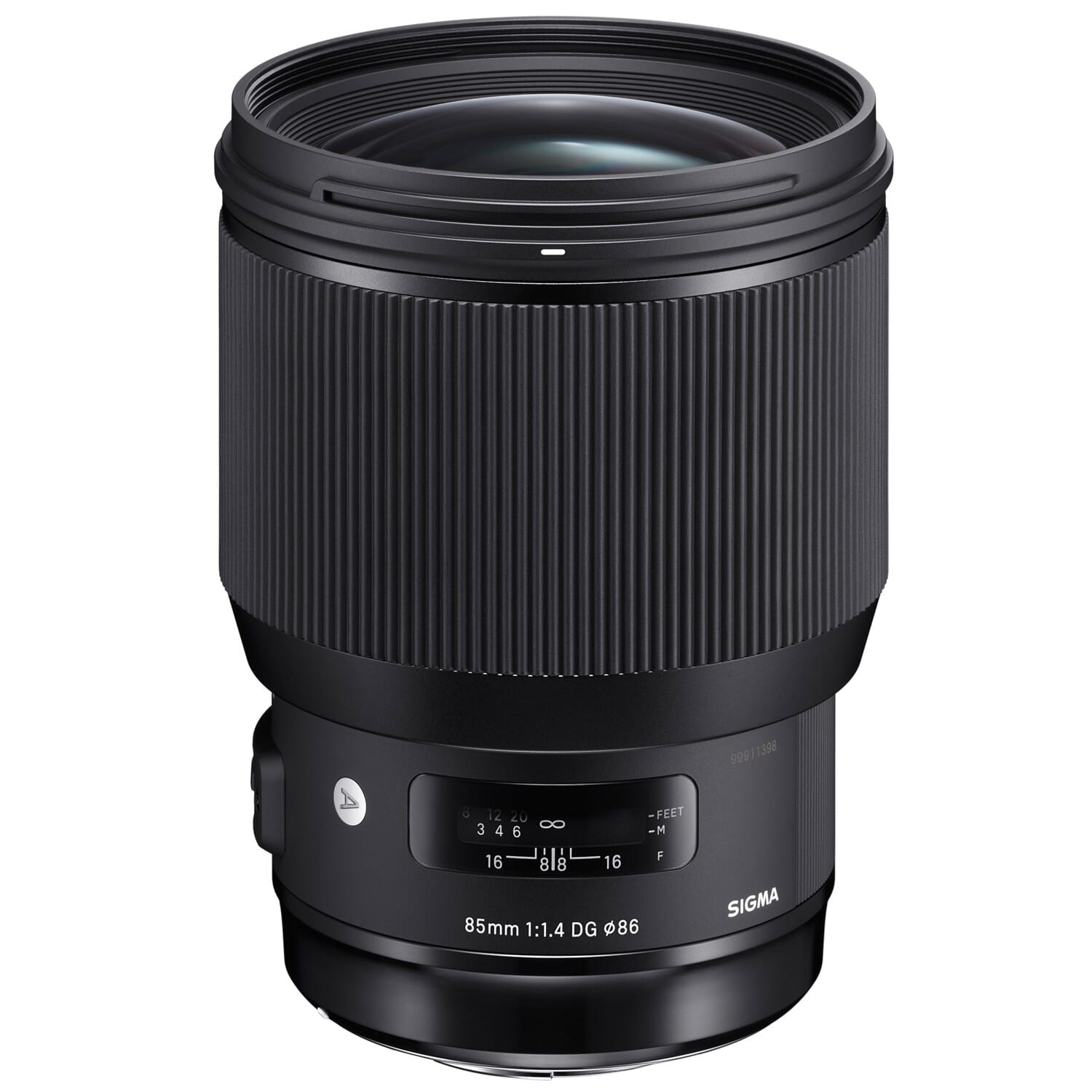 Key Features
While some lenses might struggle to perform at wider apertures, the Sigma 85mm really does not. What this means is that you're going to get consistently sharp images across the board.
The construction of the lens includes 14 elements arranged in 12 groups. This includes 2 SLD elements, 1 anomalous partial dispersion element and 1 aspherical element. These elements handle chromatic aberrations and distortions well.
In addition to these elements, the lens also comes with a Super multi-layer coating that helps in suppressing flares and ghosting. The aperture diaphragm consists of a 9 aperture diaphragm.
Though lateral chromatic aberration is well suppressed the problem with the lens is the corner vignette. There is a bit of corner vignette present. Especially, when the lens is set to f/1.4. Stopping down the lens takes care of this problem completely.
Closing Summary
This lens has only one drawback, and it's easily managed. So it's fair to say this lens is the best of the best. It performs well consistently and will get you promising results no matter what.
One thing to note is that this lens is also available as a Canon mount and can be used on the Z series cameras using an FTZ converter.
Sigma 85mm f/1.4 DG HSM Art Lens for Nikon F (321955)
The Sigma 85mm 1.4 DG HSM Art is the latest addition to the world renowned Sigma Global Vision Line
It has equipped newly designed hyper sonic motor (HSM) for nimble AF control, 1.3 times better torque of its predecessor
Compatible with the Enthusiast APS-C Nikon D7100, D7200, D500, and D3100, D3200, D3300, D5100, D5200, D5300, D5500 DSLR...
Minimum Focusing Distance-33.5inch. Maximum Magnifications-1:8.5. Angle of View (35mm)-28.6°
A 16-35mm wide zoom is quintessential when shooting wedding photos. It covers the essential group shot, as well as environmental portraits, as well as candid photography focal lengths. But beyond that, this lens has a much wider application. This is why we have included this Nikon lens in this list of best lenses for wedding photography.
Key Features
The construction of this lens includes 17 elements arranged in 12 groups. These include 3 aspherical elements and 2 extra-low dispersion elements. The lens also includes a Nanocrystal coating. The first set of elements take care of distortions and aberrations and the last item takes care of ghosting and flares.
For a nice bokeh, the lens' aperture diaphragm is composed of 9 rounded blades. These make for smooth backgrounds at wide-open apertures.
Nikon's F-mount systems don't come with body-based image stabilization. However, this shouldn't cause too many problems because the lens comes with built-in image stabilization which is rated for up to 2.5 stops of shake correction.
Whilst the lens performs well in most departments, there are two issues we have with this lens. The first is that the lens is not that sharp when compared to some of the lenses that we have discussed here. The second thing is that the lens has a maximum aperture of f/4. In less bright conditions you will have to bump up your ISO to compensate for that.
Closing Summary
Overall, this lens is pretty good for your wedding photography needs. However, you have to be aware of its limitations. Compared to some of the other lens choices, this lens won't get you super-sharp images and you're also going to find yourself restricted by the max aperture of f/4. However, if you're looking for something that will offer you reasonable flexibility, this will suit you well.
Canon EF Mount
The Canon EF 35mm is a fast standard prime lens. The maximum aperture of the lens is f/1.4. That is fast enough to tackle most lighting conditions, including the dim conditions that prevail inside a church.
Key Features
This lens' fast wide aperture has a number of usages. A fast f/1.4 aperture is ideal for subject to background separation, making for good background blur.
The 35mm focal length sits between the line that separates wide-angle lenses from telephoto lenses. You can make environmental portraits or group shots with this lens.
The construction of the lens includes 14 elements organized in 11 groups. These includes a specially designed blue spectrum refractive optics. It is these elements that take care of chromatic aberrations and color fringing that fast primes are notoriously known for.
Canon has provided Sub Wavelength coating. This element in particular, just like Nikon's Nano coating helps in cutting down flares and ghosting and produce sharper images. Making it overall one of the best lenses for wedding photography.
The 35mm f/1.4 is a workhorse when it comes to low light performance. The extra 1 stop over the f/2.8 lenses that we have discussed here means you can easily speed up your Shutter Speed by one stop and get a sharper image.
Speaking of sharper images, the fact that the lens does not have image stabilization built-in could be an issue. Especially in very dark conditions. But in moderately bright conditions the lens will not give you any trouble.
Closing Summary
If you're looking for a powerful lens that will work with your Canon camera, then this lens will certainly please. Whilst it isn't as versatile as some other lenses, the 35mm sits at a nice bridging point for shooting wedding portraits or group shots.
Canon EF 35mm f/1.4L II USM Lens, Lens Only
Focal Length & Maximum Aperture: 35mm f/1.4
Subwavelength Coating (SWC) helps significantly reduce lens ghosting and flare.Lens Construction: 14 elements in 11 groups
Diagonal Angle of View: 63°
Focus Adjustment: AF with full-time manual
Closest Focusing Distance: 0.92 ft./0.28m. Increased maximum magnification (0.21x) help expand the range of expression,...
Tamron
Whilst Tamron are not known for high-end, professional quality lenses, you can and do occasionally find a gem or two. The Tamron SP 85mm f/1.8 is one of those gems. At 85mm, this is a portrait lens and it will do that job perfectly in wedding photography too, giving you a little room to breathe around the edges.
Key Features
A lot of 85mm primes don't have image stabilization. But this Tamron lens is one of the rare 85mm primes that comes with not one, not two but three and a half stops of image stabilization built-in. What that means for you is that you can use slower shutter speeds, instead of upping the ISO in low-light conditions. This even counts for when you are hand-holding the camera.
When it comes to the auto-focusing performance, the lens has USD or Ultra-sonic Drive auto-focusing motor inside in it. The motor is smooth and quiet.
The focusing ring is dedicated and operates even in auto-focusing mode. Just turn the focusing ring and you can correct focus instantaneously. How fast is the auto-focusing of the lens? Not the fastest in the business. We have definitely seen better and faster. But it is not too bad either.
Closing Summary
While you wouldn't expect this kind of lens to get a spot on our list, when you look more closely at what it has to offer, you can see why it's a good choice. If you're on a tighter budget, and you're looking for a portrait lens, this might be the kind of thing you were looking for. One area this lens has a major advantage is in the fact that it has image stabilization built-in, this is something most 85mm lenses are lacking in.
Final Thoughts
As you can see, there are a number of lenses fitting the description of the best lenses for wedding photography. While the lens you pick may depend on your camera body and shooting preference, there are definitely some lenses which fare better than others.
Our ultimate pick would be the Sigma 85mm Art series lens. However, there are many other options to choose from, too.
Do you have a different lens in mind that is one of the best lenses for wedding photography? Let us know in the comments below!
---
As an Amazon Associate we earn from qualifying purchases. Certain content that appears on PhotoWorkout.com comes from Amazon. This content is provided 'as is' and is subject to change or removal at any time.