The Best Monopods for Your DSLR
Before we cover the 5 best monopods for DSLR cameras, let us discuss why you need a monopod in the first place.
In photography, if the tripod is considered as the three legged thing, the monopod is definitely the one-legged thing. But besides the obvious difference in the number of legs, there is more to the monopod than what meets the eye.
You have got to use a monopod to understand that it is a unique piece of camera support system! If the tripod is the king, the monopod is the queen, period.
If you are a serious photographer there is no clear choice between the tripod and the monopod. You've got to have at least one of both!
Related Post: Best Beginner DSLR Tripods
Advantages of using a Monopod
A monopod is a preferred choice in situations where you don't have too much room to set up a tripod. It's definitely the preferred tool of choice when you have to share space with dozens of other photographers.
Sports like soccer and field hockey, athletics and definitely wildlife (and bird) photography makes for great genres to try these out. You will rarely get the room to set up tripods at such places or it is going to be impractical.
Besides, a tripod has a limiting effect on your photography. You can't change compositions quickly. Your camera is locked at a certain height and that means you have to unmount your camera before you can change perspectives. With a monopod these problems are rare.
With a Monopod can tilt and sway and change angles even with the monopod attached to your camera!
In this article, we shall be looking at five top choices in terms of the best monopods for DSLR cameras that you can buy. There are no price limitations for this discussion.
The one's that make this list are picked in terms of their sale volumes, popularity and price to advantage ratio on major e-commerce platforms.
This article is all about the monopods, that are considered 'best in the business'.
5 of the Best Monopods for DSLR Cameras
1. Manfrotto 681B Professional 3-Section Aluminum Monopod

Coming at the top of this list of the best monopods for DSLR cameras is the Manfrotto 681B Professional 3-Section Aluminum Monopod.
Designed for serious photographers this 3-section monopod supports up to 26.5 lbs of camera equipment.
This is definitely a tool for professionals who use heavy (and expensive) camera and lens combo for an extended duration of shooting.
Made out of aluminum alloy material, the Manfrotto 681B Professional 3-Section Aluminum Monopod weighs just 1.8 lbs and reaches a maximum height of 63.4" when fully extended. Leaning slightly, anyone close to 6' should be able to use this monopod easily to shoot images.
The monopod attaches directly to the base of a camera. But you can optionally buy a tilt head for it and use the two in conjugation.
You can see the full range of the Manfrotto's monopods by clicking here.
2.
OUR PICK

: The Sirui P-326 Carbon Fiber Monopod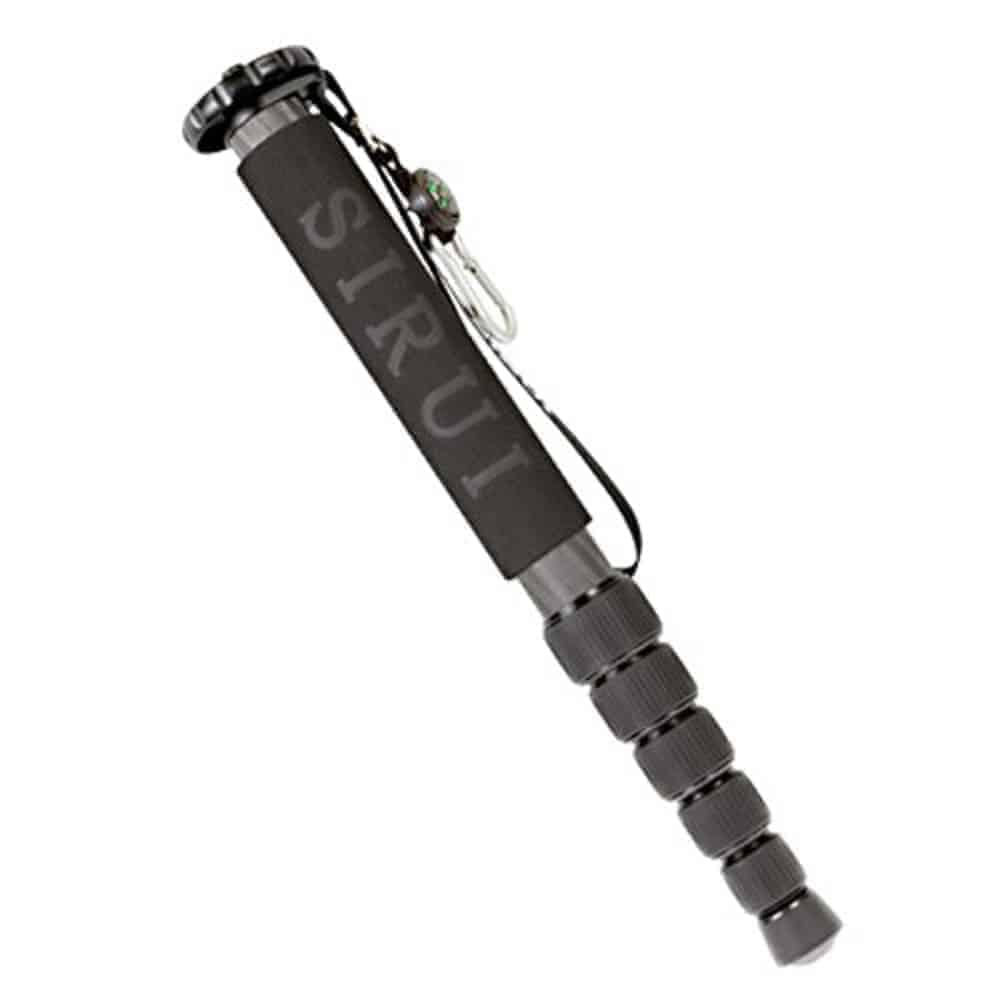 The Sirui P-326 Carbon Fiber Monopod
can carry a load of up to 22 lbs. When fully extended it reaches a height of 60.6".
When collapsed the monopod is just 15" in height and easily finds a corner in your travel bag.
Weighing just 14.1 oz it also does not eat into your international baggage limit. A tripod is probably the best overall solution, especially when you want to shoot long exposures. But in situations where you simply cannot use one, a monopod is the way to go.
The leg of the Sirui P-326 Carbon Fiber has a five stage extension. It means you can adjust the leg to its best working height for maximum convenience while shooting.
Additionally, the leg has durable silicone twist locks. However, the best thing yet, about the Sirui P-326 is that it is composed of carbon fiber composites and has a retractable spiked foot which ensures it can grab a secure hold on most surfaces you might decide to use it on.
Related Post: Best Tripods for Filmmaking
The best monopods for DSLR cameras are usually the ones that are made of a sturdy yet lightweight material. Carbon Fiber is the material of choice for both professional tripods and monopods. The Sirui P-326 fits the bill easily in that regard.
As a thoughtful move, the grips of the Sirui P-326 Carbon Fiber is made of foam. This has obvious handling advantages, especially in extremely cold temperatures where metal surfaces become an impediment for shooting.
3. The Gitzo GM5561T Traveler 6x Carbon Fiber Monopod
The
Gitzo GM5561T Traveler 6x Carbon Fiber monopod
supports a weight of
55.1 lbs
or 25 kilos. This is a really well-built monopod and comes handy when you are carrying heavy equipment and need a way to support it in tight places.
The material used to construct this is carbon fiber. Technological advancement in its manufacturing process means the material is about 25% lighter than what Gitzo was able to construct previously. Thus, the overall weight of the monopod comes down to only 1.6 lbs.
When fully extended the monopod reaches a height of 61.2" – tall enough for most photographers. The monopod also features Gitzo's revolutionary Anti-Leg Rotation System or ALR. This mechanism prevents any time lag in bringing the monopod into action.
All you have to do is turn all the locking rings at the same time and pull out the leg in one go.
You can see the full range of the GITZO monopods on their website.
4. Oben CTM-2400 4-Section Carbon Fiber Monopod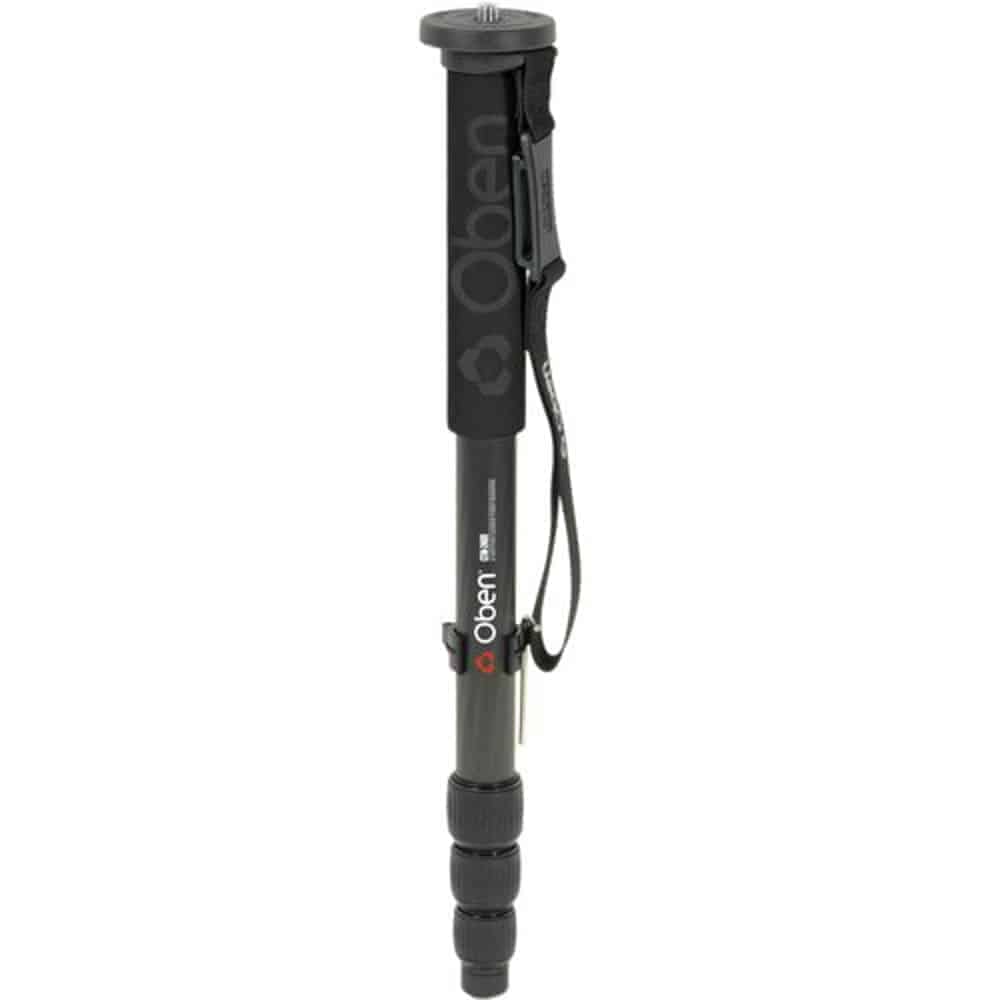 Designed for both professional and serious enthusiasts, the 6x carbon fiber construction of the Oben CTM-2400 4-Section monopod
gives it a sturdy build quality. This monopod is capable of supporting up to 22 lbs of weight.
The weight of the monopod itself is a shade under 1 lb making it ideally suited for international travels and extended use.
When fully extended it reaches a height of 59.2". When collapsed the height of the monopod is only 18.3". The base of the monopod comes with a retractable spiked foot. This allows for a secure grip on most surfaces.
For better stability and non-slip function, the Oben CTM-2400 4-Section Carbon monopod comes with twist locks and anti-rotation shaft.
Once the leg is extended and locked into place there is absolutely no chance of slipping or any kind of movement of the leg. There are reversible ¼"-20 & 3/8"-16 screw slot for attaching a camera or monopod / tiltable head.
You can see the full range of OBEN Monopods on their website.
5. Slik Pro Pod 600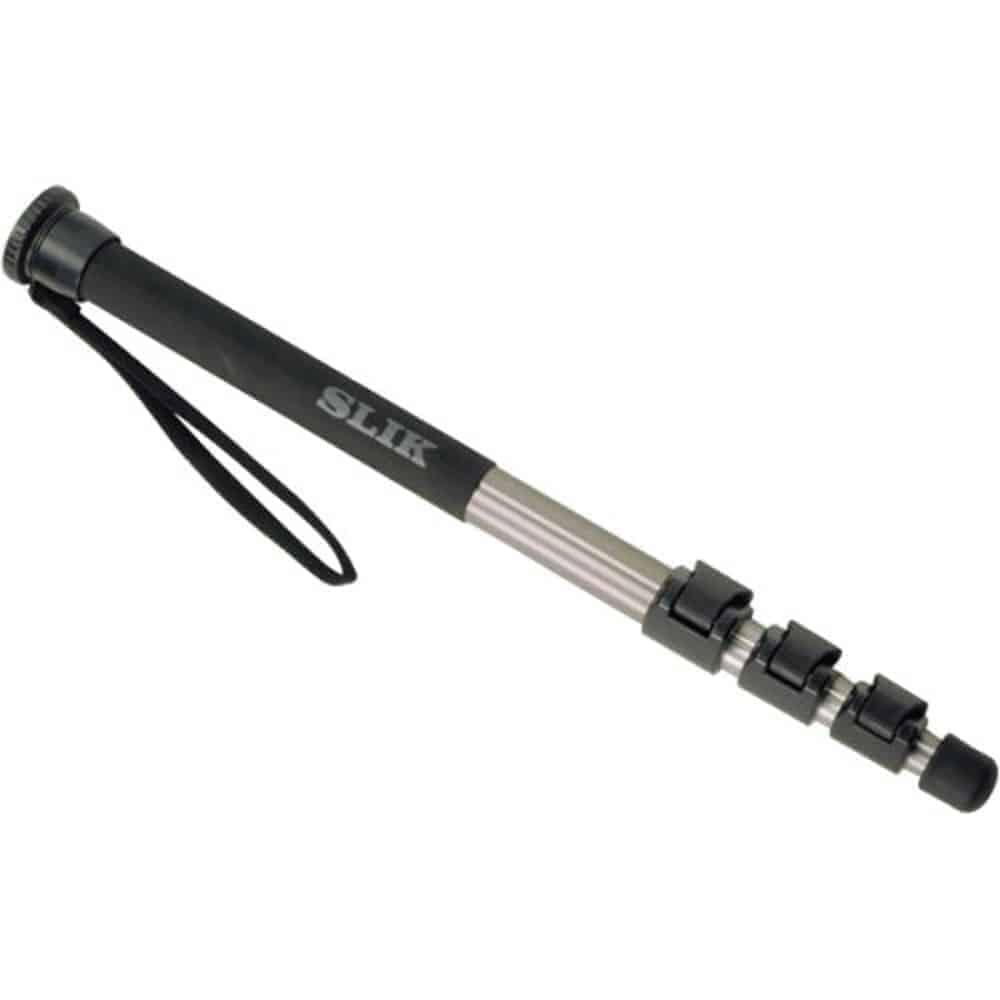 Not always does a photographer wield a big chunky professional piece of equipment. Not always does he need to support 16 and upwards in kilos of weight over an extended period of time.
Sometimes a lightweight solution for a semi-professional or even entry level equipment is all that is the need of the hour. This discussion on the best monopods for DSLR cameras would be incomplete without a reference to one such product.
The Slik Pro Pod 600
is a design that is aimed at amateur and serious enthusiasts. Weighing under a kilo the Slik Pro Pod 600 can support up to 5 kilos of equipment. Thanks to the sturdy magnesium, aluminum and titanium construction the monopod can take some serious abuse too.
The maximum height of the monopod is 63". That should be enough for most needs. When collapsed the height of the monopod is only 21".
There are 4 sections and the leg which can be locked into position using flip levers.
For more information download the full datasheet of SLIK Pro Pod 600 Monopod here.
We hope you have found your "one unipod" amongst these "best monopods" for DSLR cameras!
If you are going to also shoot videos with your DSLR, you might also want to check out our related post on the best video tripods.
---
Note: Amazon.com prices, reviews, and ratings were updated on 2019-07-23 - Product prices and availability are accurate as of the date indicated and are subject to change. Some product prices may refer to used/refurbished items. Any price and availability information displayed on Amazon sites at the time of purchase will apply to the purchase of the product. As an Amazon Associate we earn from qualifying purchases. Certain content that appears on PhotoWorkout.com comes from Amazon.com. This content is provided "as is" and is subject to change or removal at any time. For more information refer to our Affiliate Disclosure and Disclaimer.