Did you know that you can rent camera gear like bodies, lenses, and lighting equipment? This has numerous benefits.
You can test out new gear without making a purchase, save on expensive one-off purchase prices, and rent gear for specific purposes, like a photo shoot. If this sounds beneficial, we have found nine of the best places to rent camera gear in the US.
We have scoured the web and found an excellent array of rental companies. This includes a mix of online-only companies and rental businesses that also have physical stores. The companies also cover most States in the US.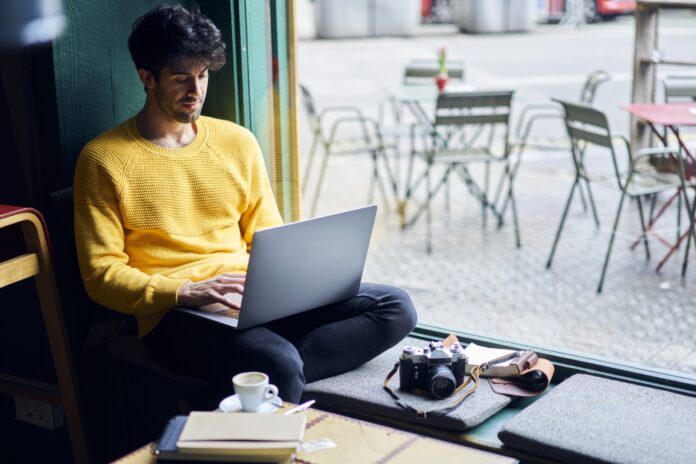 Best Places to Rent a Camera or Lens:
When you buy through links on our site, we may earn a commission at no cost to you. We evaluate products independently. Commissions do not affect our evaluations.
1. BorrowLenses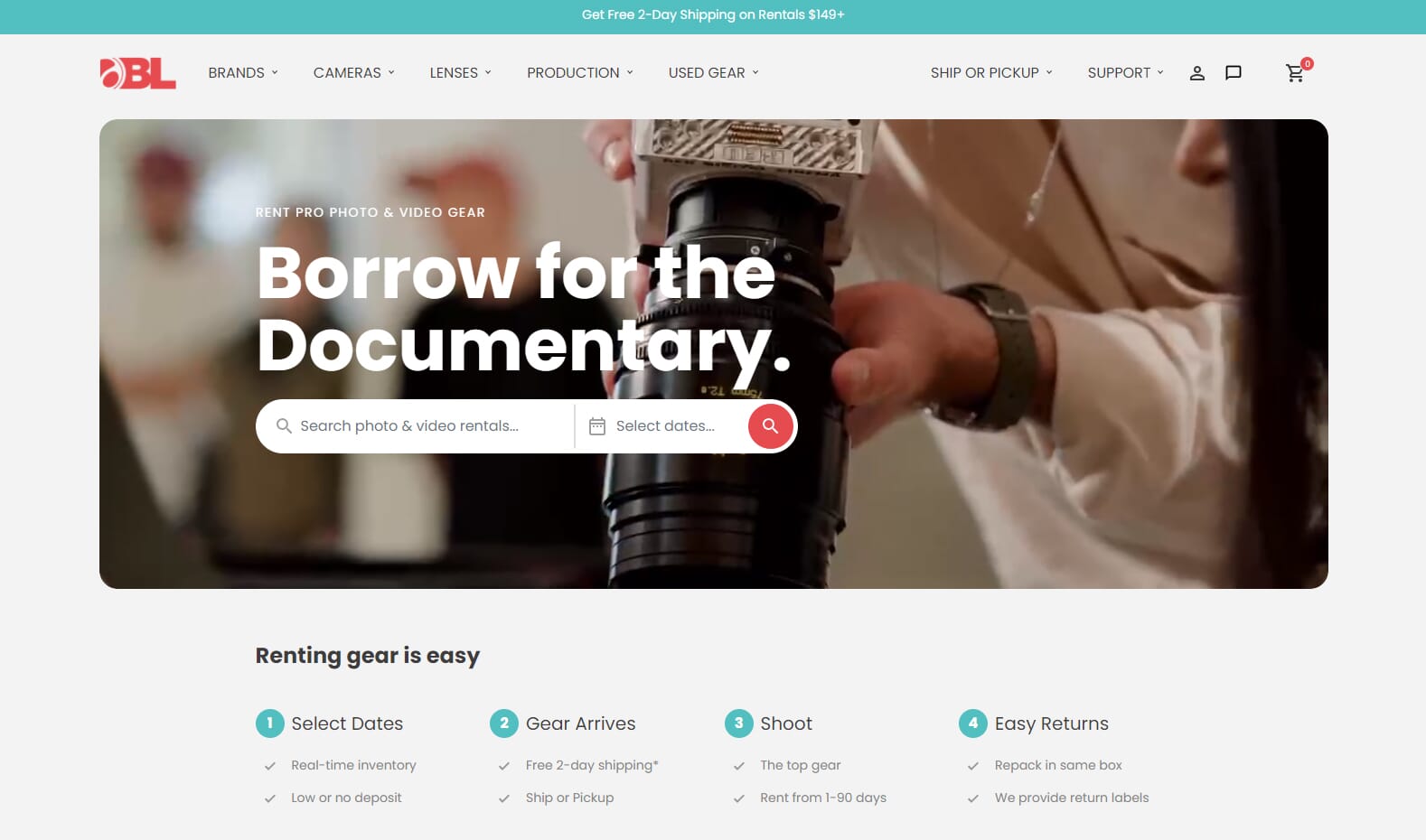 Great for wide selection
Borrowlenses.com has a great choice of lenses, bodies, tripods, accessories and more at reasonable rates and with flexible rental conditions.
Pros
The website is intuitive and easy to use
Flexible terms on rentals
Great delivery options
Cons
Limited in-store collection options
BorrowLenses is one of the best-known online rental companies for US customers. They have a thriving business and have store locations in both San Francisco and Boston.
For obtaining your rental gear, they offer several options. This includes store pickup, pickup from partner stores, UPS store pickup, or nationwide delivery. Delivery is free for 2-day rentals over a value of $149. If you want a quicker delivery, there is an additional charge.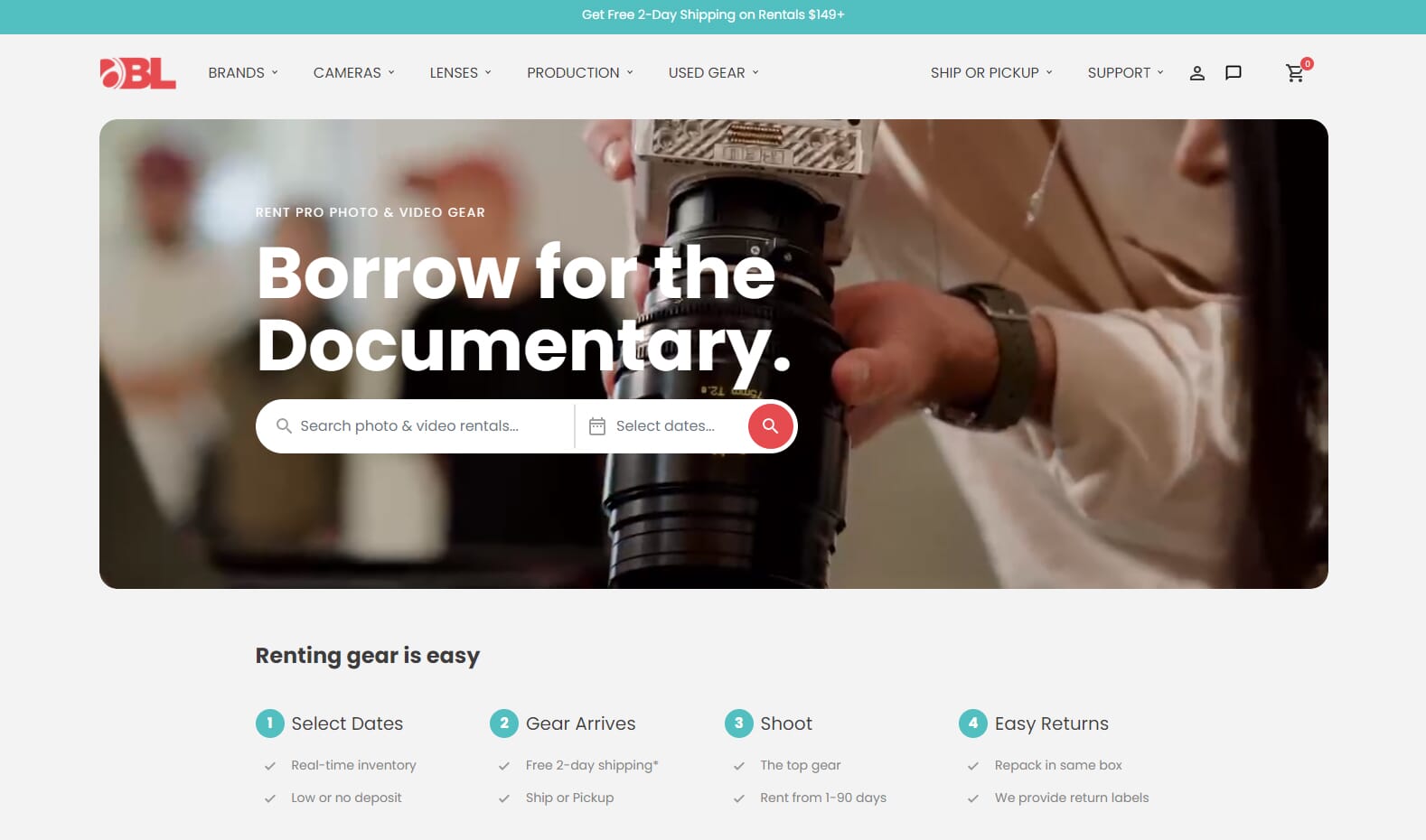 The rental terms are flexible, and they have a maximum rental period of 90 days. We also like the packaging that the gear is delivered in. They use branded security boxes that have foam padding to make sure the gear arrives in perfect condition.
Identification may be required for new customers and/or expensive rentals. Also, you can buy the GearGuard or GearGuardPro waivers that cover for unintentional damage, and additional protection.
The main rental categories available include cameras, lenses, production, and used gear. Within the production section, you can find lighting, stands, tripods, heads, gimbals, memory cards, and more. They also have a superb range of camera bodies and lenses from a wide variety of popular manufacturers.
2. Lensrentals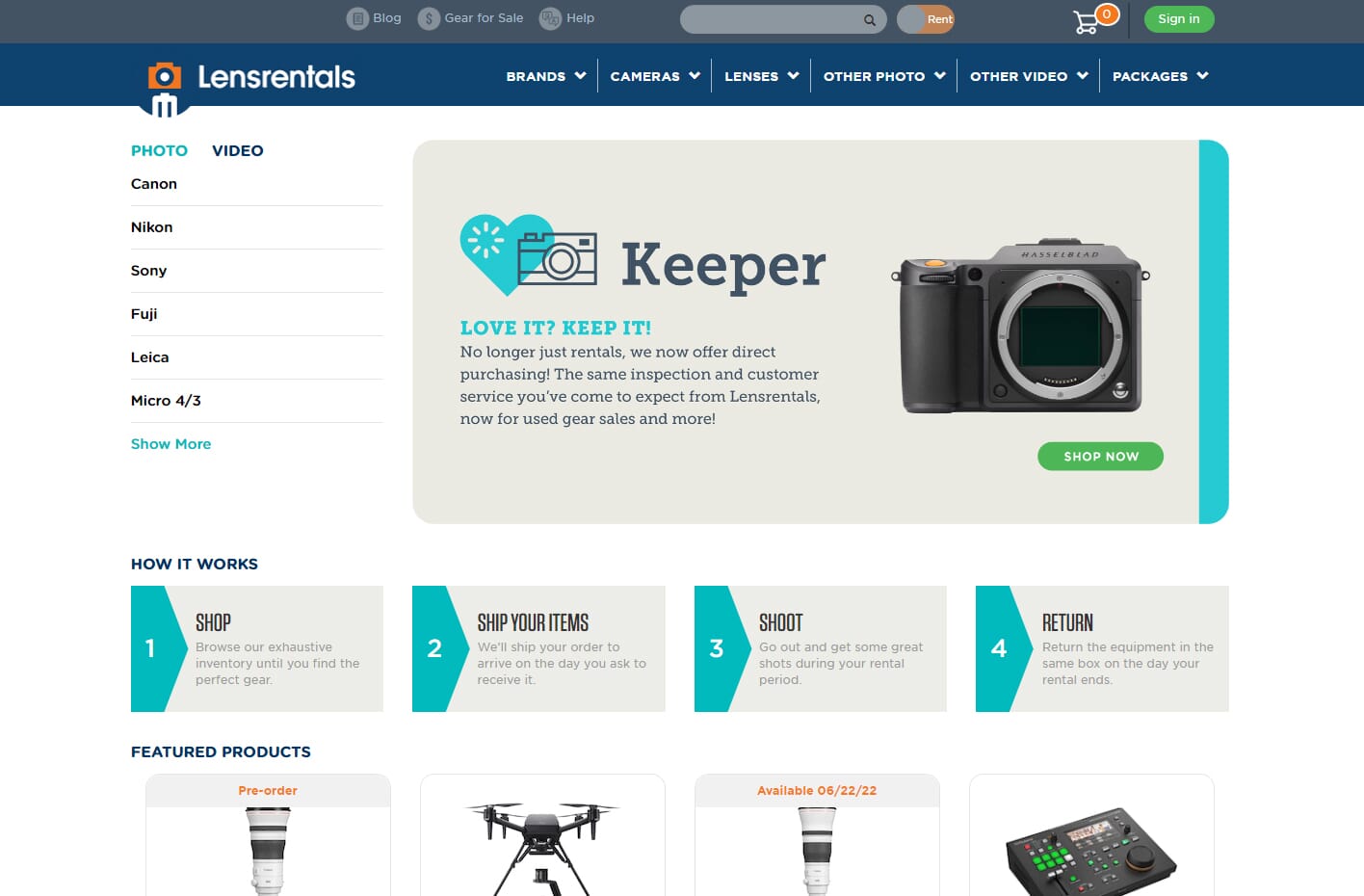 Great for specific event rentals
Lensrentals.com offers rental packages for specific purposes like weddings, wildlife photo shoots, and portrait photoshoots.
Pros
Unique rental packages for different events
Superb range of bodies, lenses, and accessories
Flexible rental terms up to 90-days
Cons
Hefty late return fees of 25% of the rental value
One of the best places to rent camera gear for photographers in or around Tennessee is Lensrentals. This company has its headquarters in Memphis, Tennessee and also has a satellite office in Nashville. They also offer delivery to all 50 US States or in-person collections.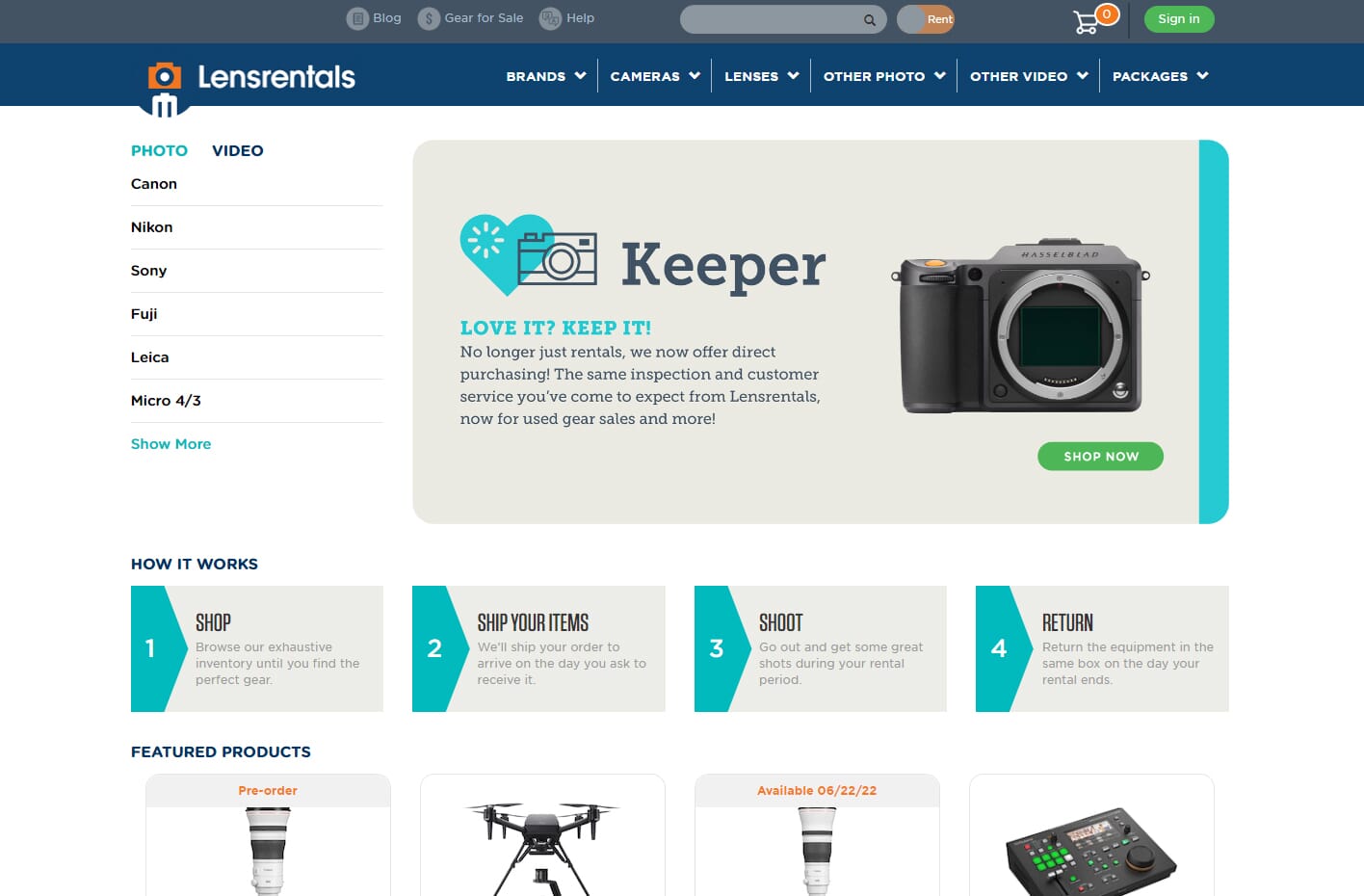 We love the excellent range of brands available to rent. Lensrentals.com has items from Canon, Nikon, Sony, Sigma, Leica, Panasonic, Olympus, and more. This includes camera bodies and lenses. Aside from this, they also rent an extensive collection of accessories and gear. This includes lighting, flashes, stands, batteries, tripod kits, monopods, and more.
To rent, a deposit may be required. You can select the day you want the item(s) to arrive, and also the length of the rental agreement. A box is provided, which you then use to return the items on the agreed return date. Late returns are penalized with a 25% charge of the total rental fee per day.
A unique feature that Lensrentals.com offers is its packages. These are specialized packages for different purposes. For example, you can rent a Canon Wildlife kit. This includes a camera, two telephoto lenses, memory cards, batteries, and a lens support stack.
3. Rentglass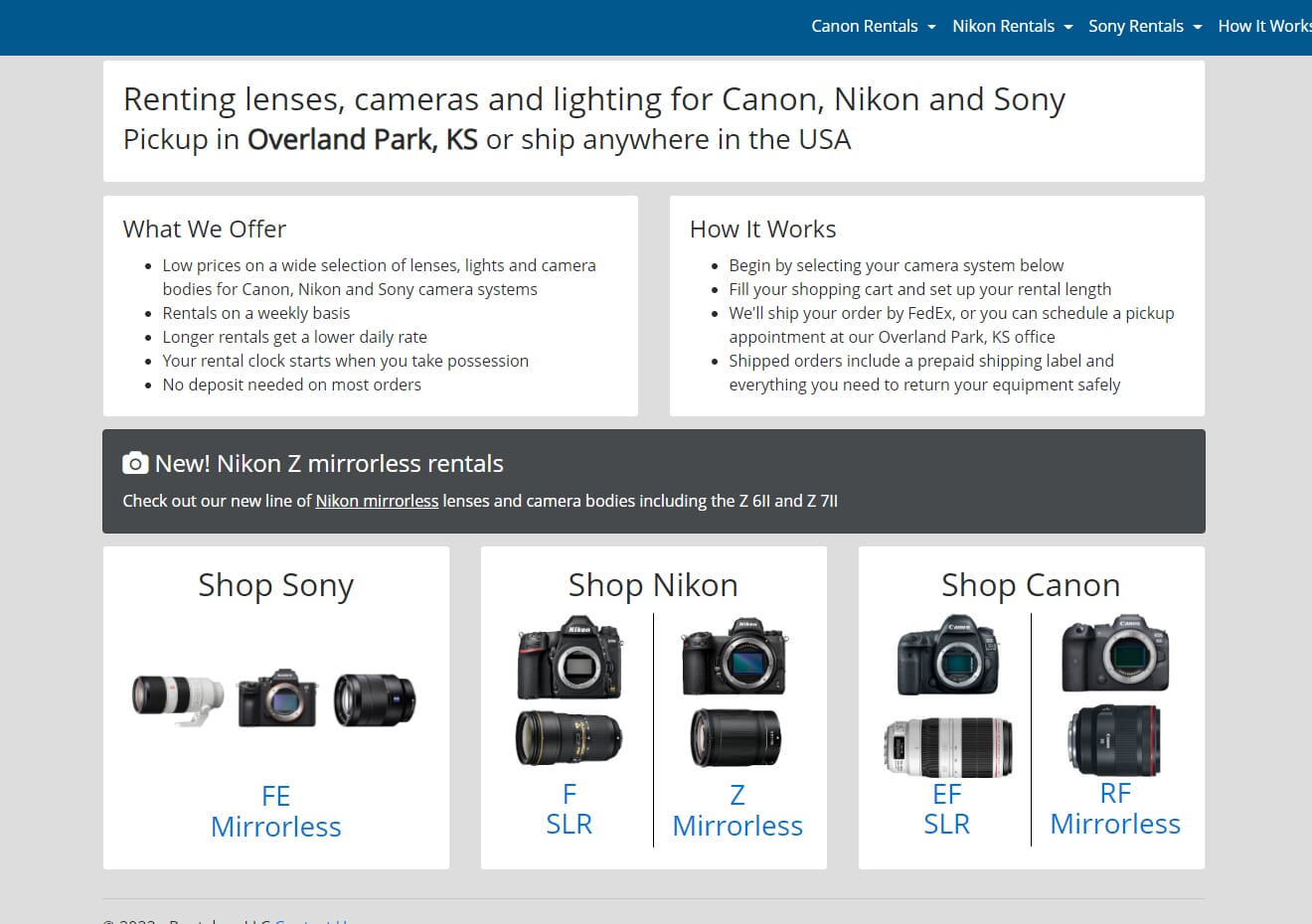 Great for Kansas citizens
Rentglass.com has a pickup service in Kansas City but also delivers nationwide. They rent Canon, Nikon, and Sony lenses and camera bodies.
Pros
Most rentals do not require a deposit
Can be flexible on later rental returns
Damage waiver for any damage from transit
Cons
Only has Sony, Nikon, and Canon products
Rentglass is a specialist rental company that offers exclusively Canon, Nikon, and Sony gear and equipment. The company is based in Kansas City, Kansas in the US, and has an excellent reputation. Rentals are available for pickup in Overland Park, Kansas City (KS), or for delivery anywhere in the United States.
The website is easy to use, and the rental section is split into the three main manufacturers. For each manufacturer, there are subcategories including wide, standard, telephoto, and bodies. They also have specialist sections for RF lenses, lighting, Nikon Z lenses, and Sony FE lenses.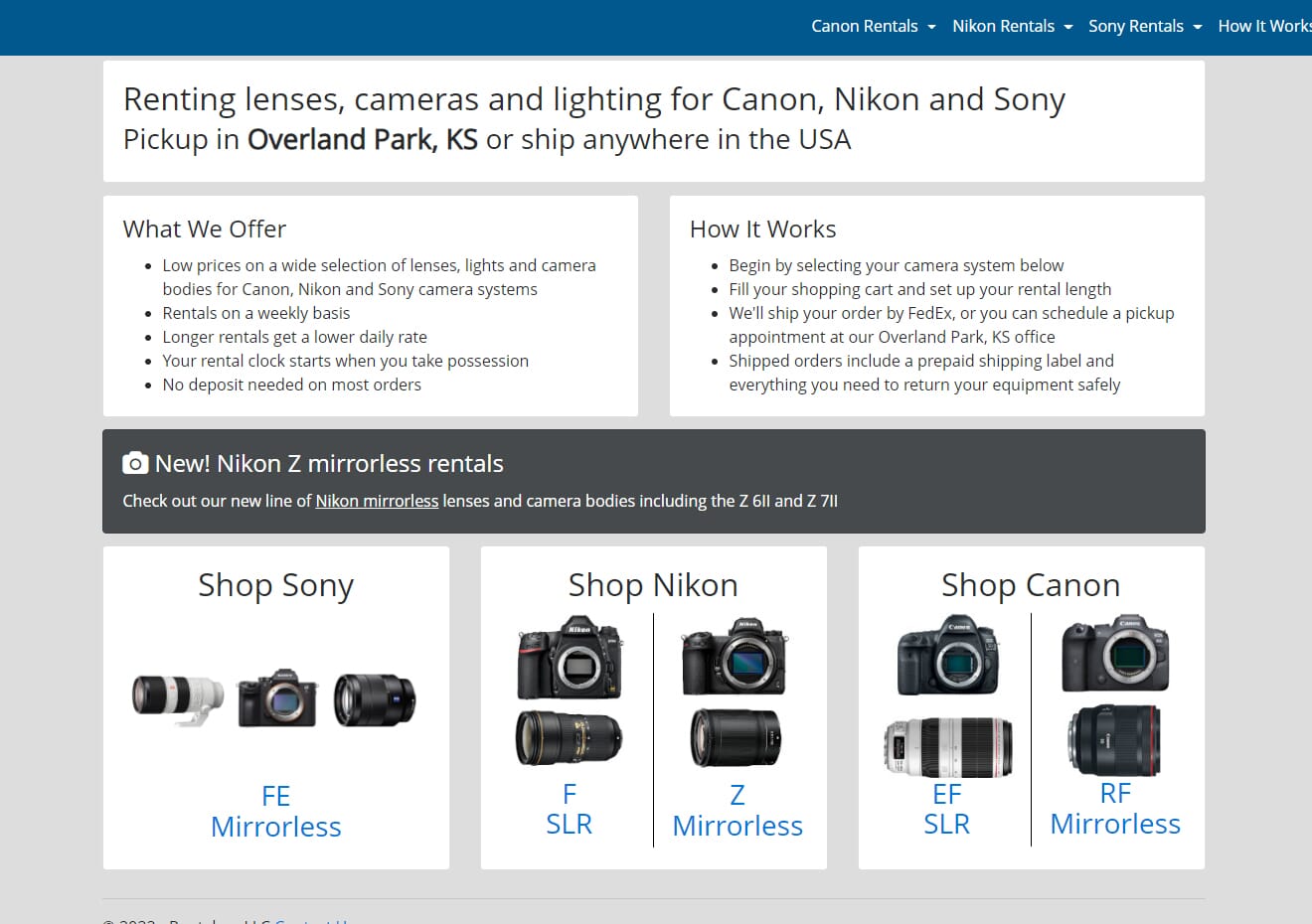 The rental term is for a minimum of 7 days. You can also get discounts on longer rental terms. In most instances, no initial deposit is required. As they have a limited stock, rentals are available on a first-come-first-served basis and you cannot reserve an item.
All rental items are kept in excellent condition and are in good working order. We also like that there is a damage waiver. This covers you for any damage to the item while in transit. This does not cover lost or stolen equipment, however. It also doesn't cover any damage you have caused while using the gear.
4. Pro Photo Rental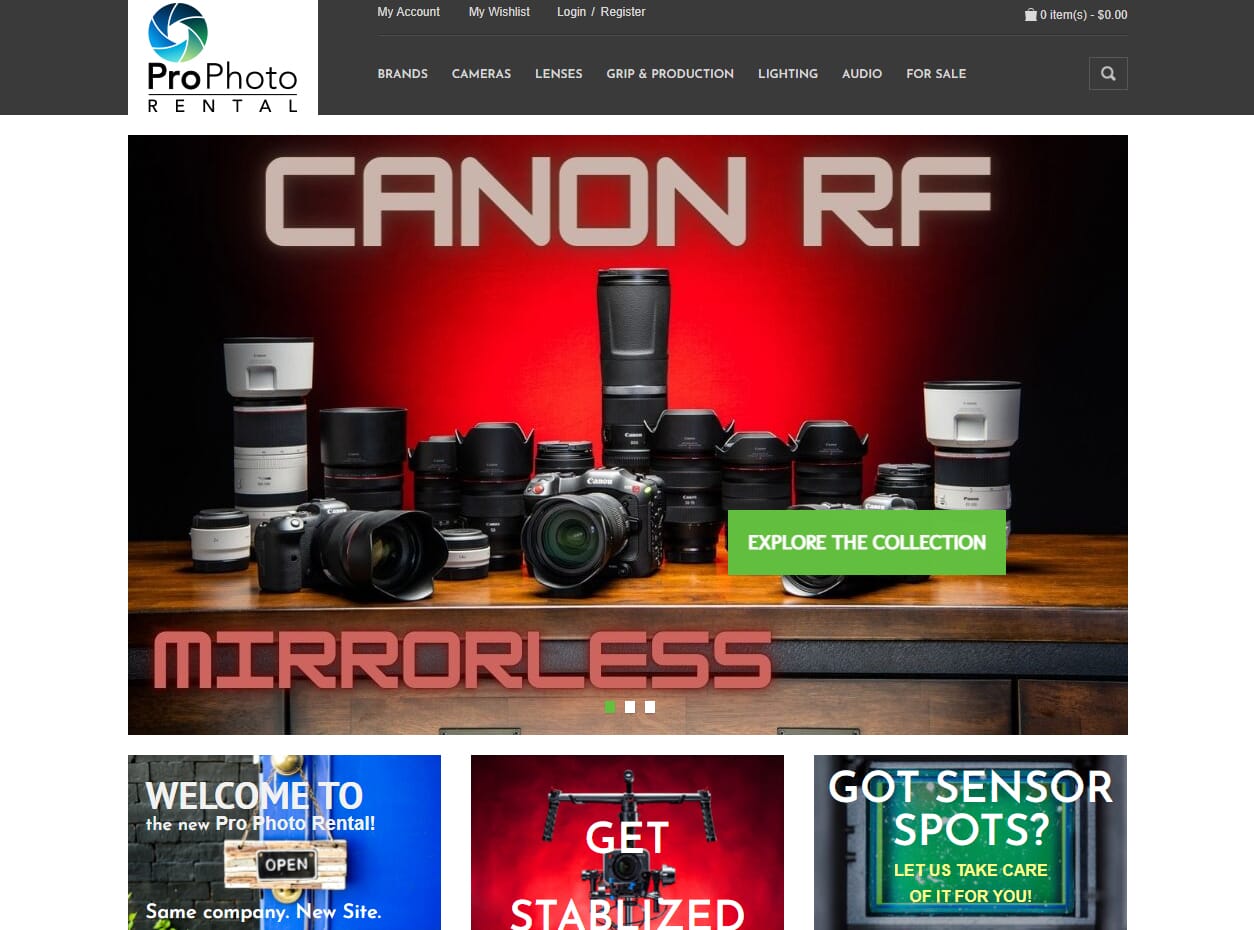 Great for lighting and audio equipment
ProphotoRental.com has an extensive range of rental equipment including studio lighting, microphones, tripods, and flashes.
Pros
Excellent range of studio accessories
Flexible rental terms – you select the rental length
Delivery nationwide, or collection
Cons
No included damage waiver – must be purchased as an extra
Pro Photo Rental has an experienced team who all have knowledge in photography and/or cinematography. They use this experience to provide an excellent rental service to US customers. The company is based in Boulder, Colorado, and they offer both a pickup service and delivery to anywhere in the States.
Prophotorental.com is one of the best places to rent camera gear for several reasons. Orders can be tracked, which gives you greater flexibility. Also, their site uses a real-time calendar so you can see exactly when the different gear is available to rent. Their prices are also flexible to reflect current market situations and trends.
From Prophotorental.com you can rent camera bodies, lenses, grip & production equipment, lighting, and audio equipment. Unlike some rental companies, they provide gear from other brands too (Not just Sony, Canon, and Nikon) including Black Magic, DJI, GoPro, Hoya, Rokinon, and Sigma.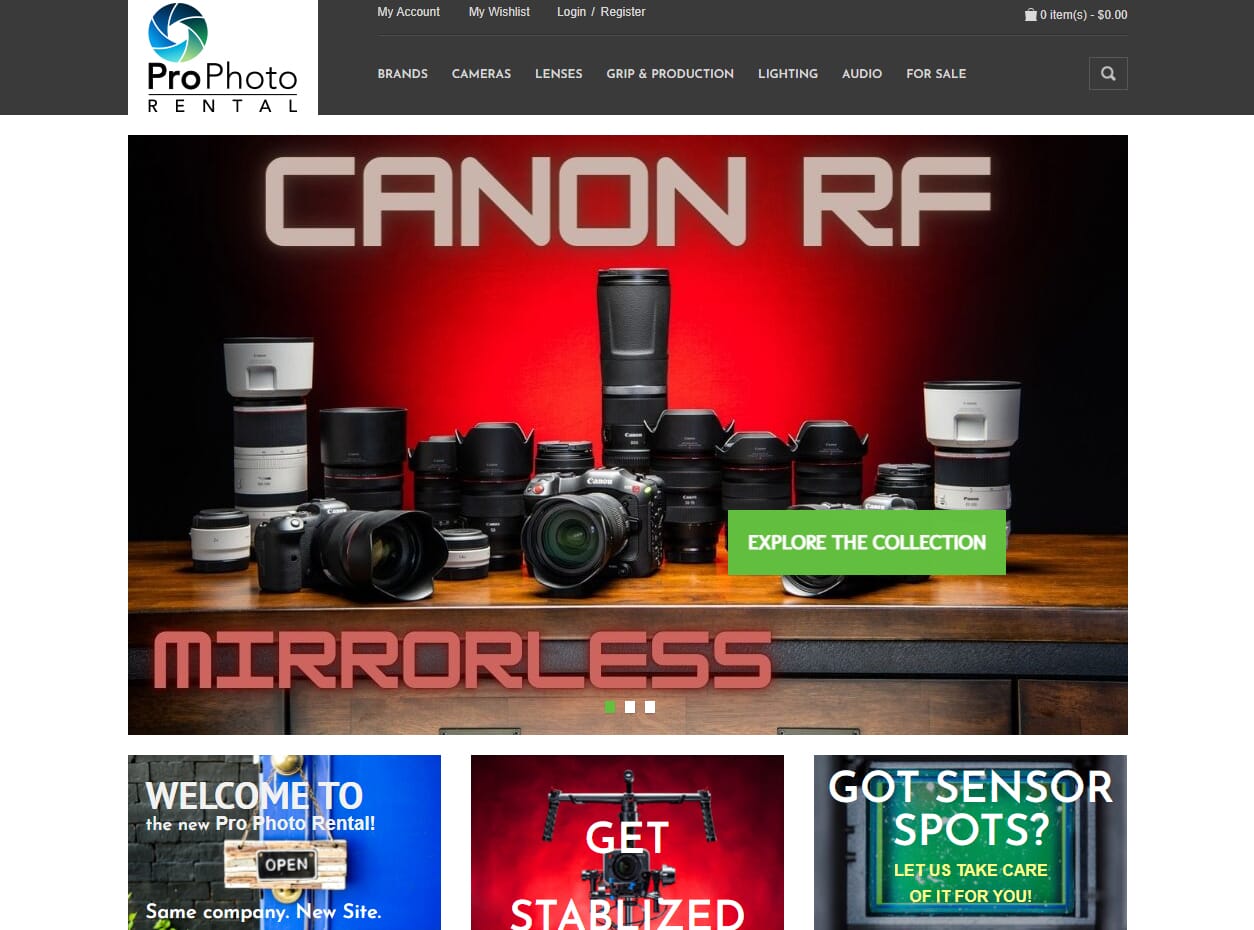 The rental terms are flexible and providing the item is available, you can choose the rental period. You can also select delivery or collection. We also like that you are not charged until the order is shipped, or you have picked it up. There is also an additional damage waiver that can be purchased with each rental.
5. Aperturent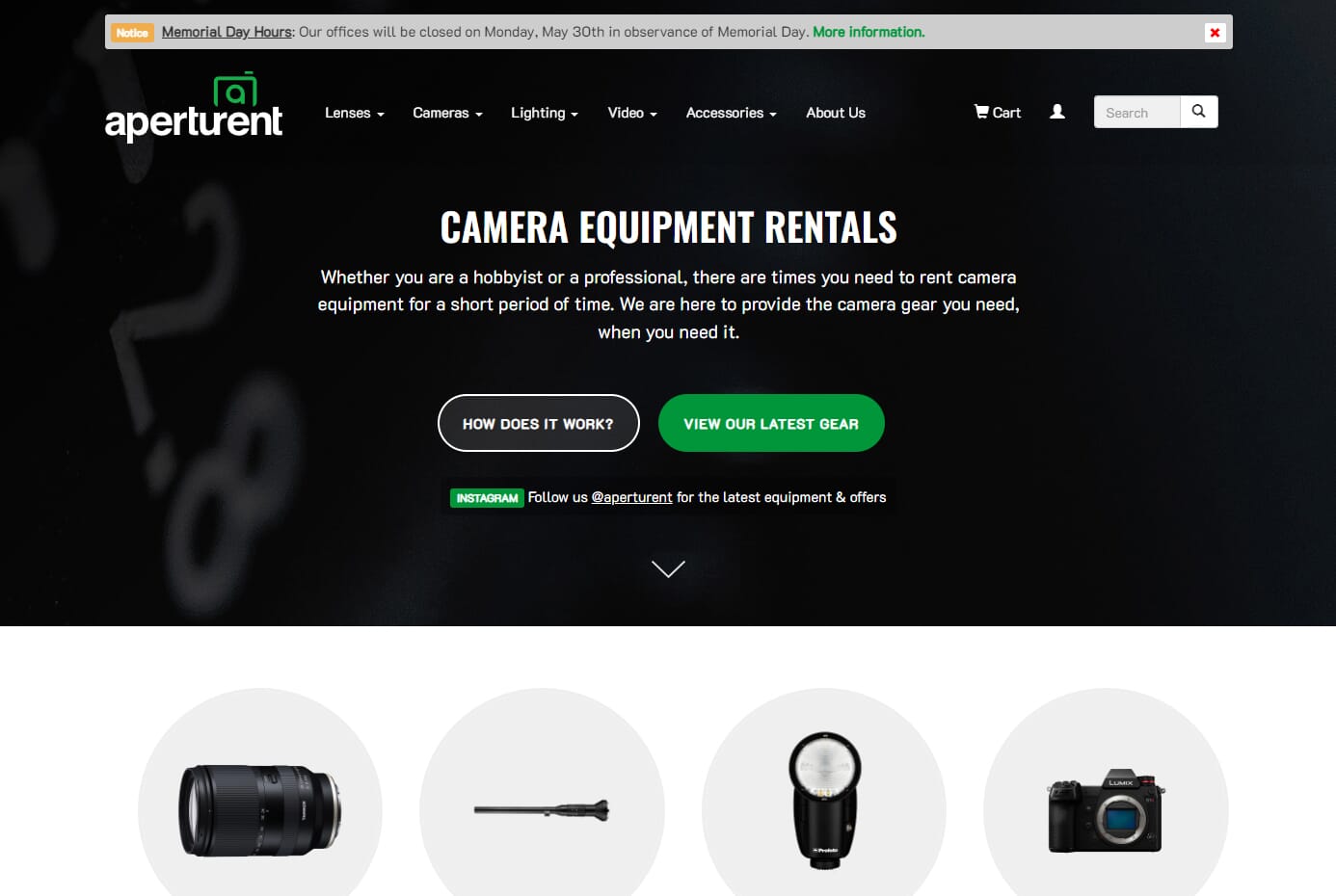 Great for East Coast natives
Aperturent.com has a store in Atlanta and Washington, which gives great rental coverage for those wanting to pick up on the East Coast.
Pros
Three different collection points available
You can choose the delivery date for the rental item
Fantastic range of brands including Canon, Nikon, and Sony
Cons
Some may not like the minimum rental period of 3 days
Aperturent.com is an excellent rental company that has several stores spread throughout the USA. This includes stores in Atlanta (Georgia), Dallas (Texas), and Washington (Washington DC).
As a result, they offer a flexible delivery service and collections from these three store locations.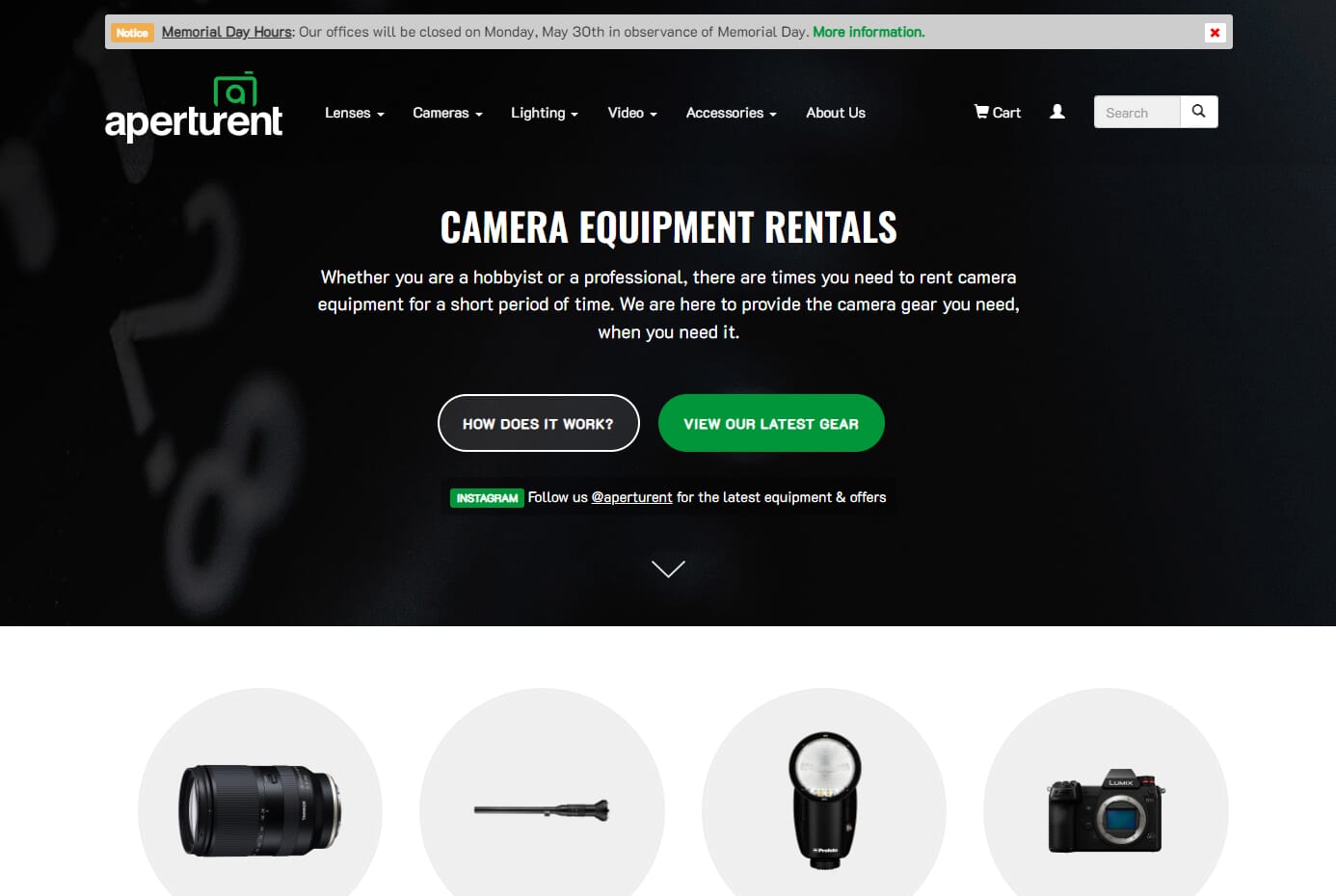 The rental terms can be chosen from 3 to 90 days. You can also select exactly which date you need the gear. For delivery, the standard delivery period is 2 days via FedEx. It is important to note that all deliveries require a signature on acceptance. Alternatively, you can simply select to collect from one of the three stores.
In terms of rental gear, Aperturent.com has a good selection. They rent lenses, camera bodies, lighting, video equipment, and accessories.
Lenses include Canon EF and RF, Nikon F and Z, Sony E, Fujifilm X and G, Micro 4/3 (Olympus/Panasonic), and Leica L. The range of camera bodies is also excellent and includes DSLR, mirrorless, cine, compact, and action.
You can also get a superb range of accessories to accompany your gear. For example, you can rent filters, teleconverters, adapters, batteries, tripods, and storage cards.
6. Adorama Rentals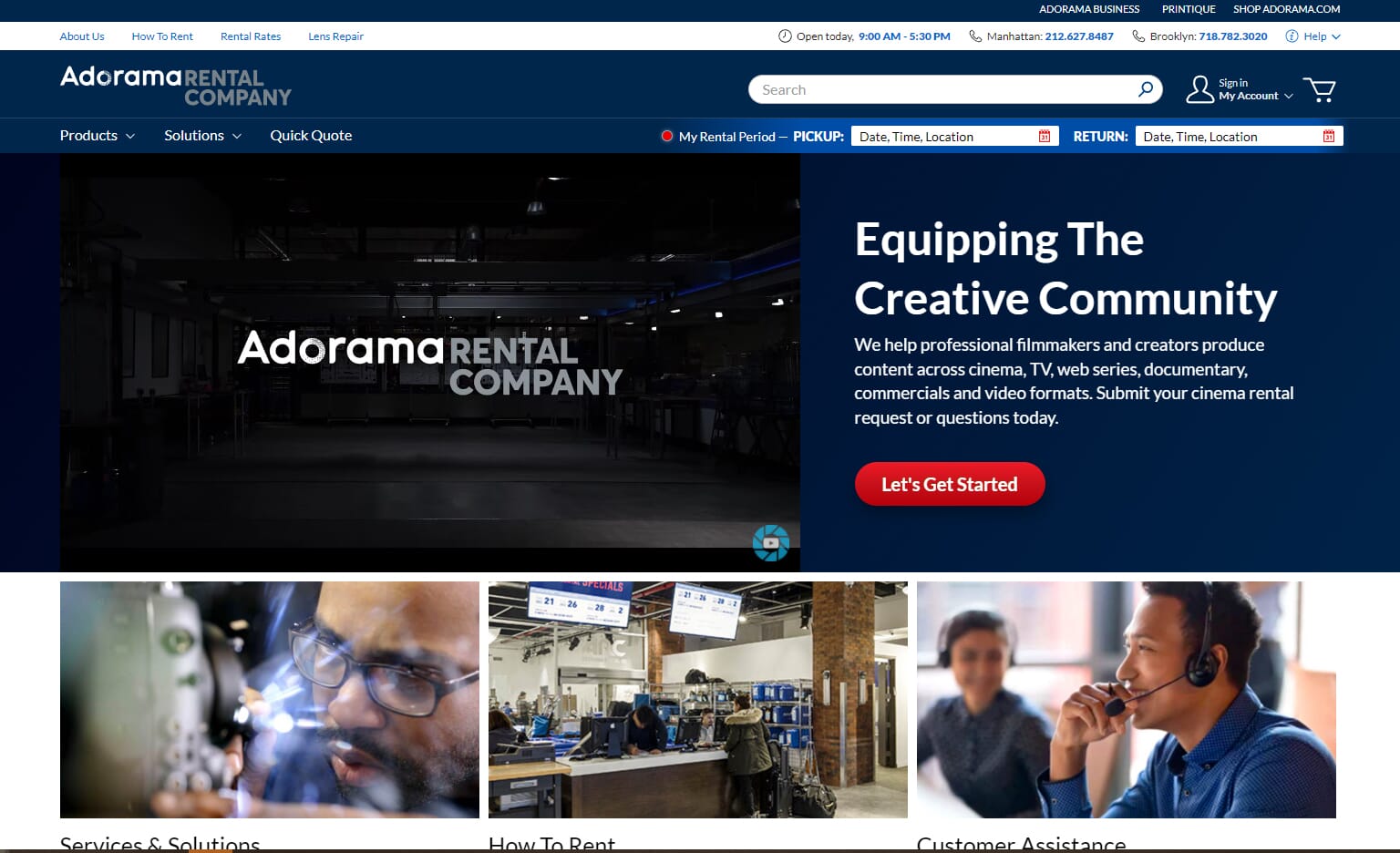 Great for New York photographers
Adorama has two store locations based in New York and has flexible rental terms and a straightforward rental policy
Pros
They provide rentals from well-known manufacturers
Two store locations in New York
Quick quoting system in several different ways
Cons
Not amazing coverage for collection outside of New York
Adorama is a renowned supplier of photography gear and they also have a dedicated rental business too – Adorama Rentals. The rental side of the business has stores in Manhattan and Brooklyn, which is perfect if you want to collect from the greater New York area. You can also get nationwide deliveries.
The online rental process is easy. First, select your desired rental period and time, and the delivery/collection method. You can then browse their online catalog to find the gear you would like to rent. If the price is available, you can process the rental, however, some items may require a tailored quote.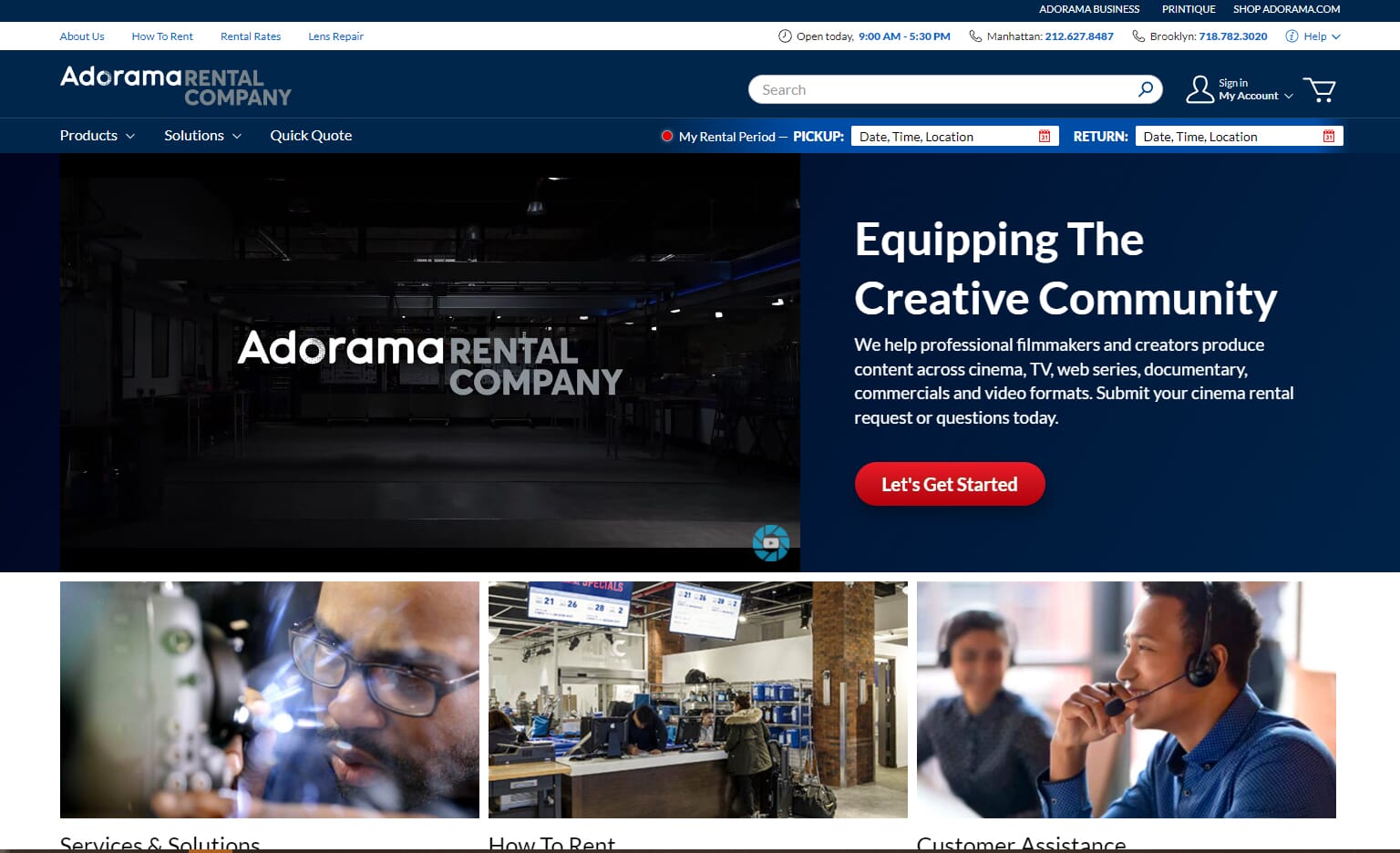 Alternatively, you can contact their sales team and get a quote, or even fill out their quotation request form. This makes it flexible and also makes it easy for complex rental requests.
We like that Adorama Rentals has a diverse range of rental rate periods. This includes a single-day rate, full-week rates, and 3-day weekend rates, for example. Adorama Rentals has a large range of products including camera bodies, lenses, lighting, computers, audio, grip, and electric. They also feature products from popular brands including Canon, Sony, Nikon, Hasselblad, Leica, and GoPro.
7. LensProToGo
Great for Massachusetts locals
Lensprotogo.com offers a collection service from their office in Concord, MA, or nationwide delivery on hundreds of lenses, cameras, and gear
Pros
Delivery, office collection, or UPS/FedEx collection point
Fantastic range of brands supported
Knowledgeable team who can provide advice and support
Cons
There is a minimum rental term on most items
LensProToGo is another fantastic rental company based in Concord, Massachusetts. The team is composed of photographers, both professional and hobbyists. This makes the rental process easier as they have a telephone line that you can ring for support and advice.
The rental process is relatively simple and, in some instances, a fully refundable security deposit may be required. The rental period starts when you received the gear, and you have full flexibility to choose your rental period. For payments, the card you used to confirm the rental order is typically charged two business days before shipping.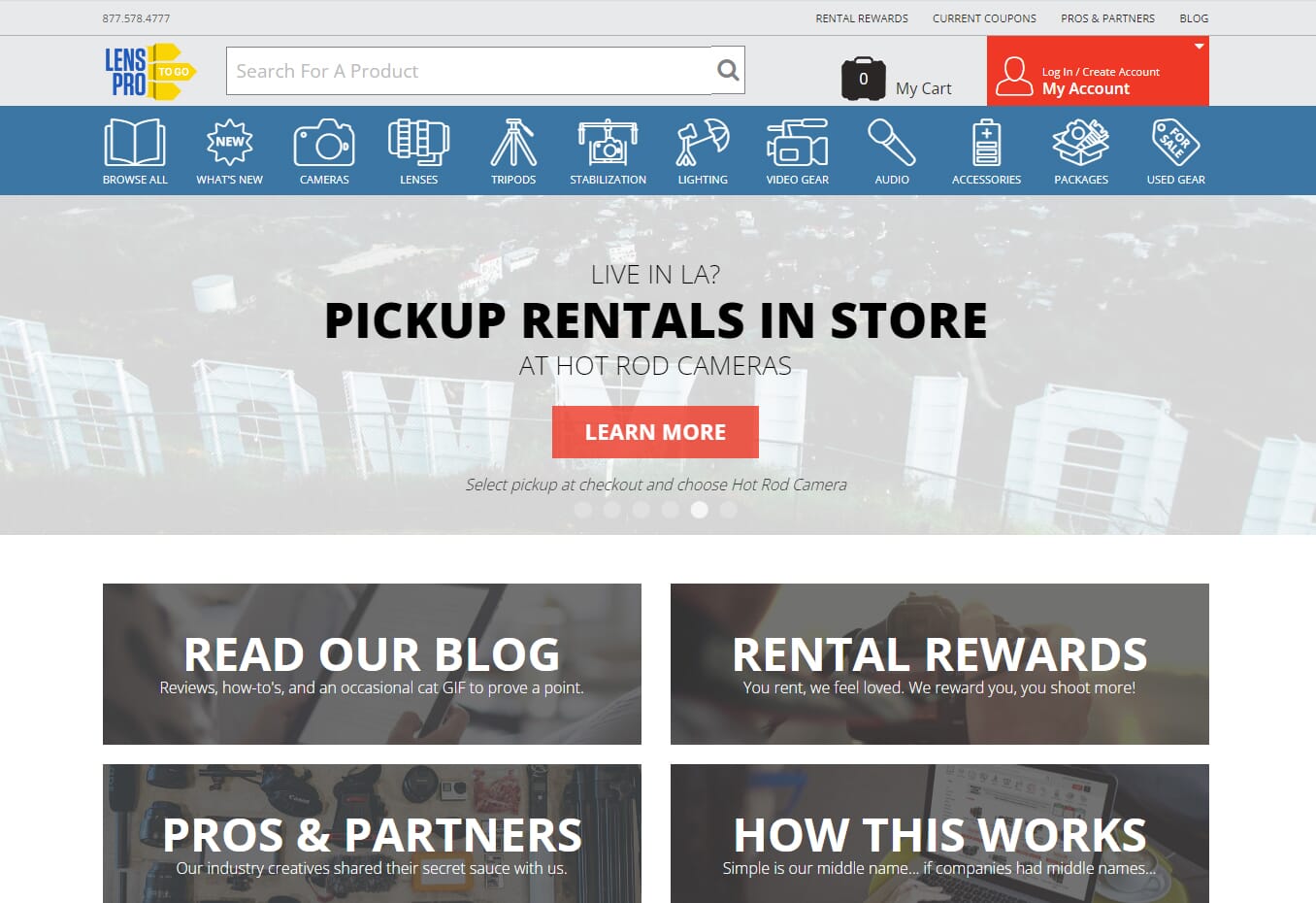 Lensprotogo.com offers one of the most extensive ranges of gear available. This makes it one of the best places to rent camera gear. This includes camera, lenses, tripods, stabilization, lighting, video gear, audio, and accessories.
We also like that they have gear from numerous manufacturers. For example, they rent lenses from Canon, Sony, Nikon, Sigma, Tamron, Fuji, and Leica. The prices are also reasonable, although there is generally a minimum rental period on most items.
Lastly, you can have the item(s) delivered, pick up from their Concord office, or even pick up at a FedEx or UPS collection point.
8. ShareGrid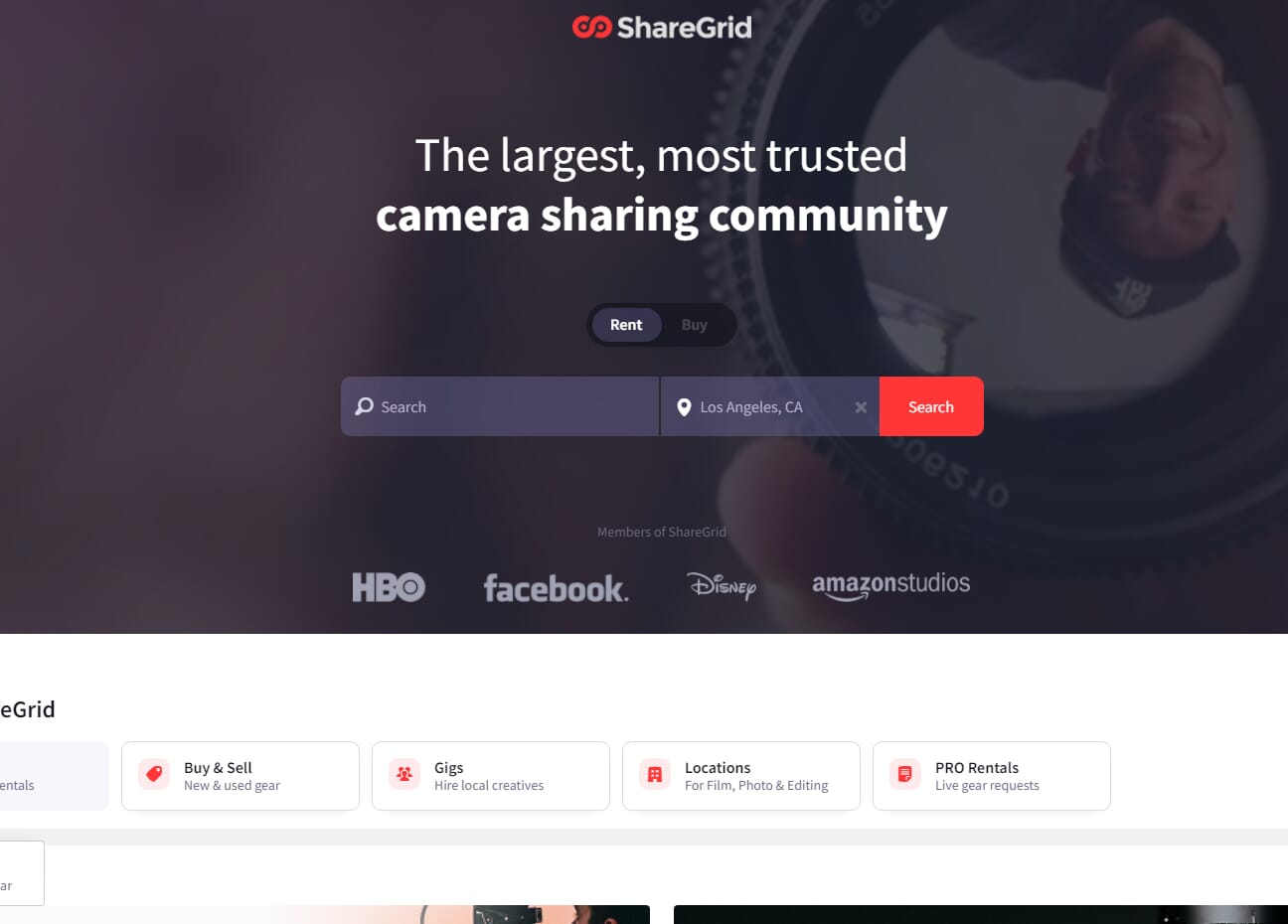 Great for P2P rentals
Sharegrid.com is a P2P rental/selling site that has excellent flexibility and allows you to easily search for rentals on camera gear, lighting, and more.
Pros
Also includes gig hiring
You can check profiles and reputation of the people renting
Has a fantastic range of photography gear for rent
Cons
Some people may be hesitant with the P2P rental model
Aside from rental companies, there are also platforms like ShareGrid that offer a different rental process. This is one of the best places to rent camera gear due to its unique setup and flexibility.
Sharegrid.com is essentially a peer-to-peer sharing community. This includes gear rentals, gear buying & selling, project hiring, and location hire. Instead of renting from the company, you are instead renting from other people.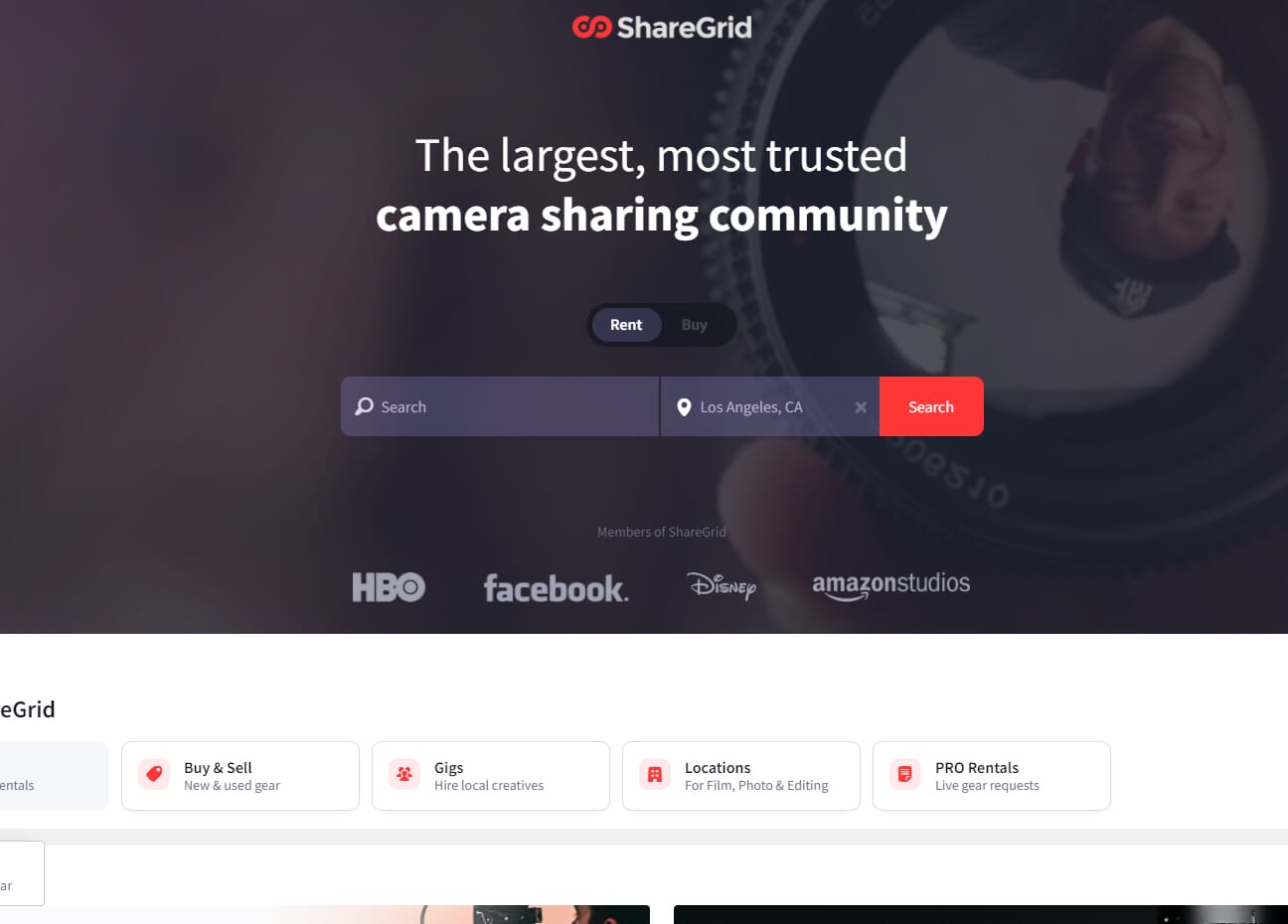 For example, person A wants to earn a little extra cash and posts their Canon 70-200mm f/2.8L lens for rent. Person B wishes to use this lens for a project and thus makes an offer on the rental listing. When both parties are happy, the rental takes place.
The site has hundreds of categories including cinema cameras, photography lenses, audio equipment, lighting equipment, and more. You can check the profiles of the people you are renting from and see their previous history.
This makes sure that you are getting a quality deal and rental items. It is an interesting concept and also great if you want to hire people for help on projects such as studio work.
9. Kitsplit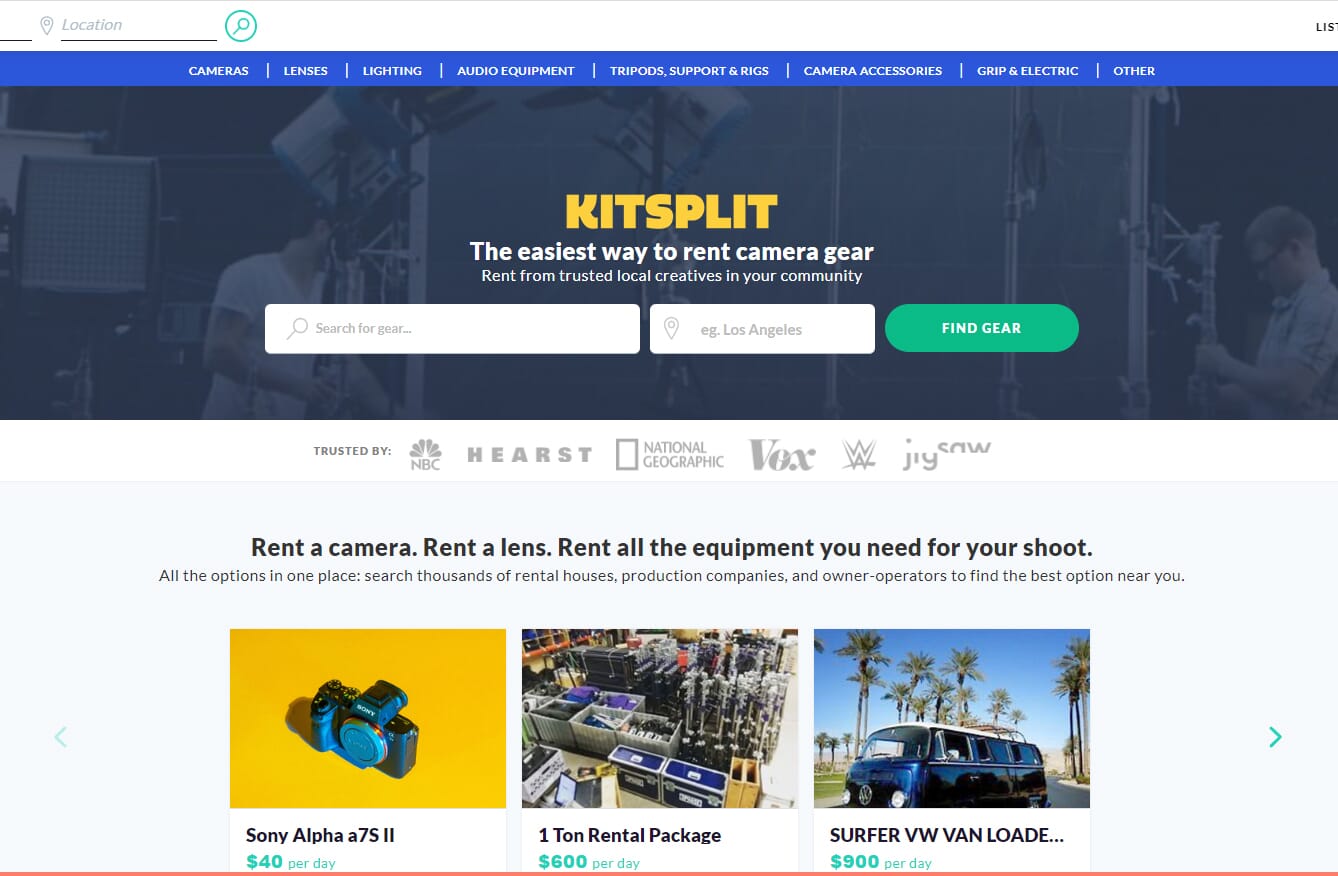 Great for peer to peer renting
KitSplit an excellent platform for those who only want to rent camera gear and accessories from local renters.
Pros
Excellent P2P renting system
Simple search functions and rental filters
They cover a range of categories including cameras, lenses, and lighting
Cons
Some people may be wary of renting from a P2P service
KitSplit is dubbed as the "Airbnb of cameras". It operates similarly to ShareGrid and is a community marketplace for camera gear rentals and camera lenses. This makes it one of the best places to rent camera gear for flexibility.
On this website, you can look for cameras, lenses, lighting, audio equipment, tripods, support rigs, and accessory rentals. Once you click on a category such as "mirrorless lenses" you are shown a US map with your current location.
It also shows the available lenses for rent in this area. There are different filters you can change, and you can search for specific items. The process is simple and it allows you to easily find local rental opportunities.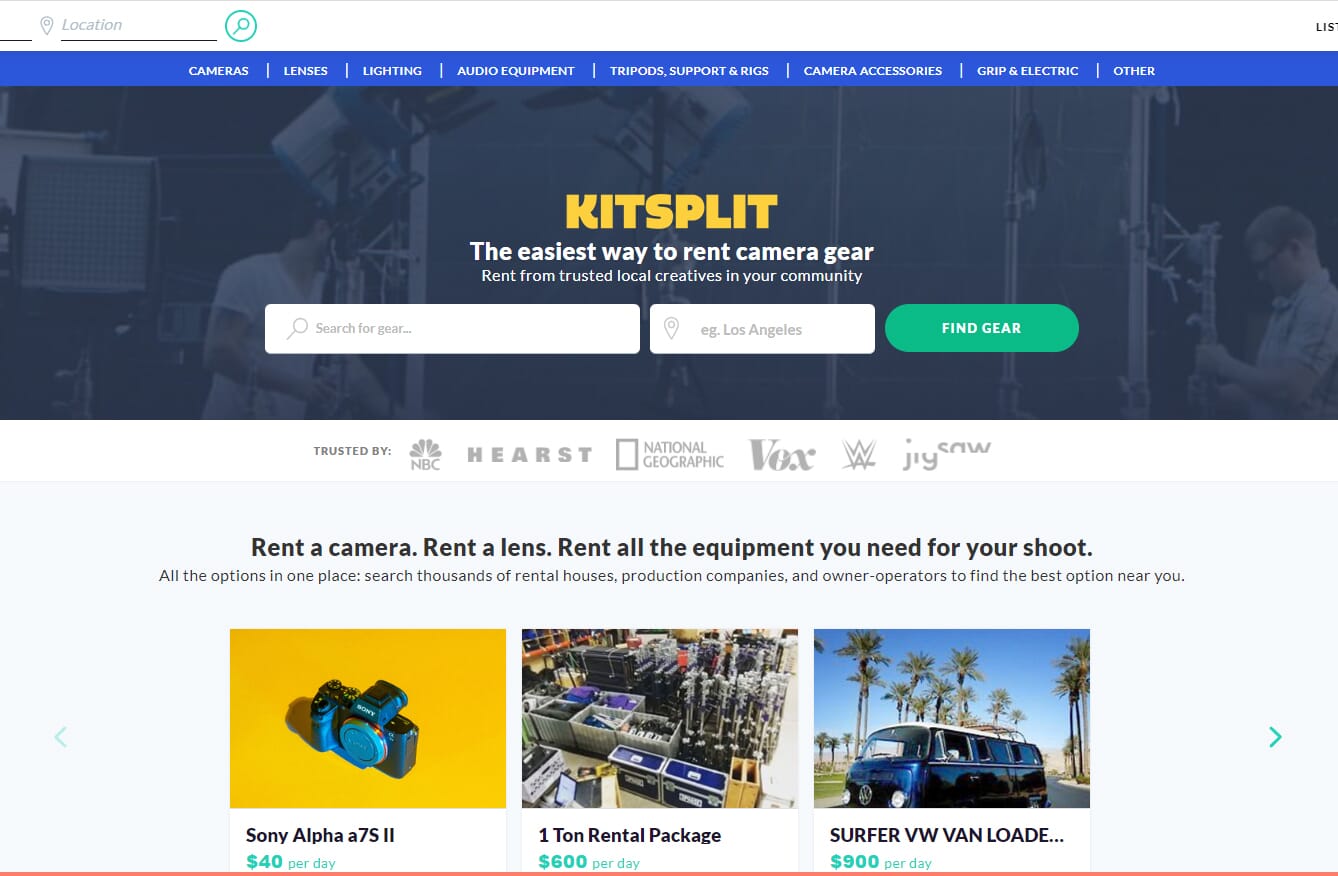 Each renter has a rating and you can check their profile and read customer reviews. You also get a convenient overview of how many items they have rented on the platform, and if they have any special tags like being a "super renter".
The concept is fantastic and we feel it gives greater flexibility than a traditional online rental company. The website essentially acts as a middleman and deals with the payment processing and rental agreement. The renter and yourself are then responsible for the exchange of the equipment.
Use these Rental Companies to Save on Expensive Gear Purchases
We hope you have found this guide on the best places to rent camera gear useful. We understand that buying new camera bodies, lenses, and gear is expensive. You can spend thousands instantly and still not have everything you need. This is why gear rental is a viable option.
If you have a specific need for a project, renting the gear could be cost-effective. Also, renting is an excellent way to test new equipment. For example, you could rent a new lens or camera body to see if it meets your expectations.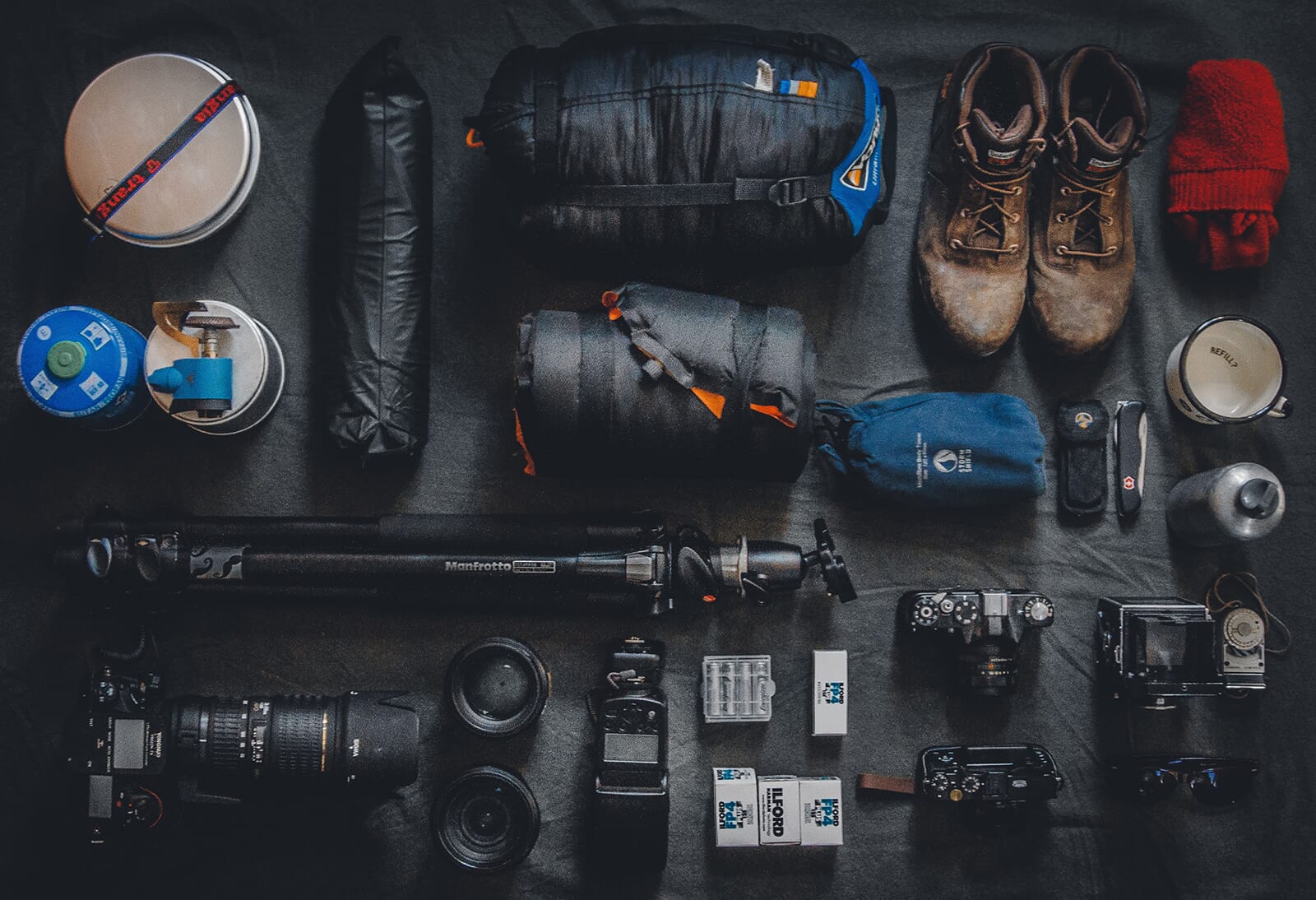 Any of the above camera gear rental companies offer an excellent service. Companies like BorrowLenses, Lensrentals, and Adorama Rentals all offer delivery services across the US and have a wide range of lenses, cameras, and equipment.
Alternatively, for specialized rentals, you could use P2P rental services like ShareGrid and KitSplit.
The options are varied, and this guide should have given you a clear idea of how and where you can rent camera equipment.