There's no doubt about it, camera equipment can be quite expensive. Buying even slightly dated lenses on the new market often sees you shelling out significant amounts of cash. The used camera market is a great way to save some money and still get a good quality lens. In this article, we look at the best places to buy used camera lenses to give you a better idea of where you're better off taking your search (and money)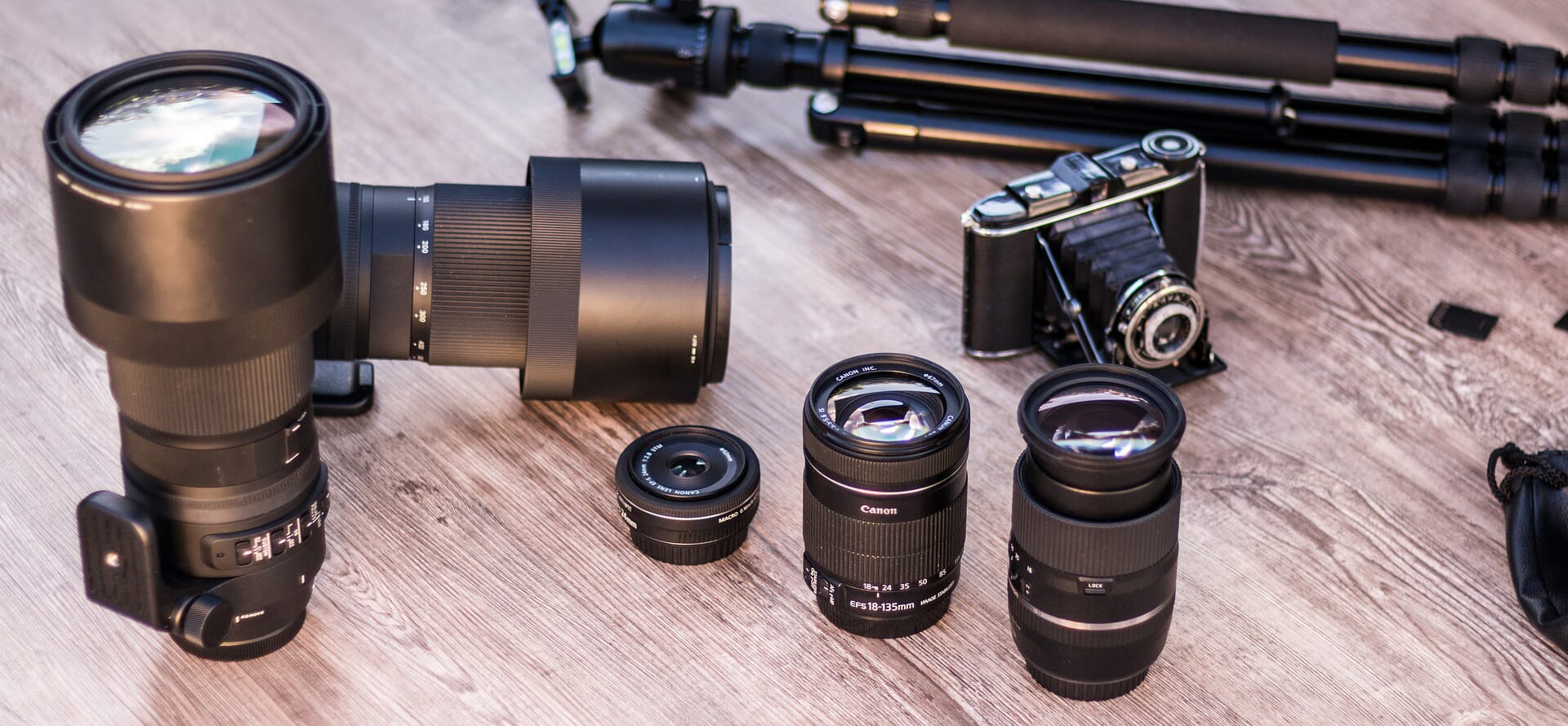 Trusted Camera Lens Retailers
Buying camera lenses locally can net you a fully functioning, well-maintained bargain. You may even be able to try the lens out in person. But this method can be hit and miss especially for the beginner. Many times you don't know the back history of a lens or if it has had an intermittent problem. Buying gear from trusted retailers means the lens has been professionally checked out and if there are any problems, the item can be easily returned.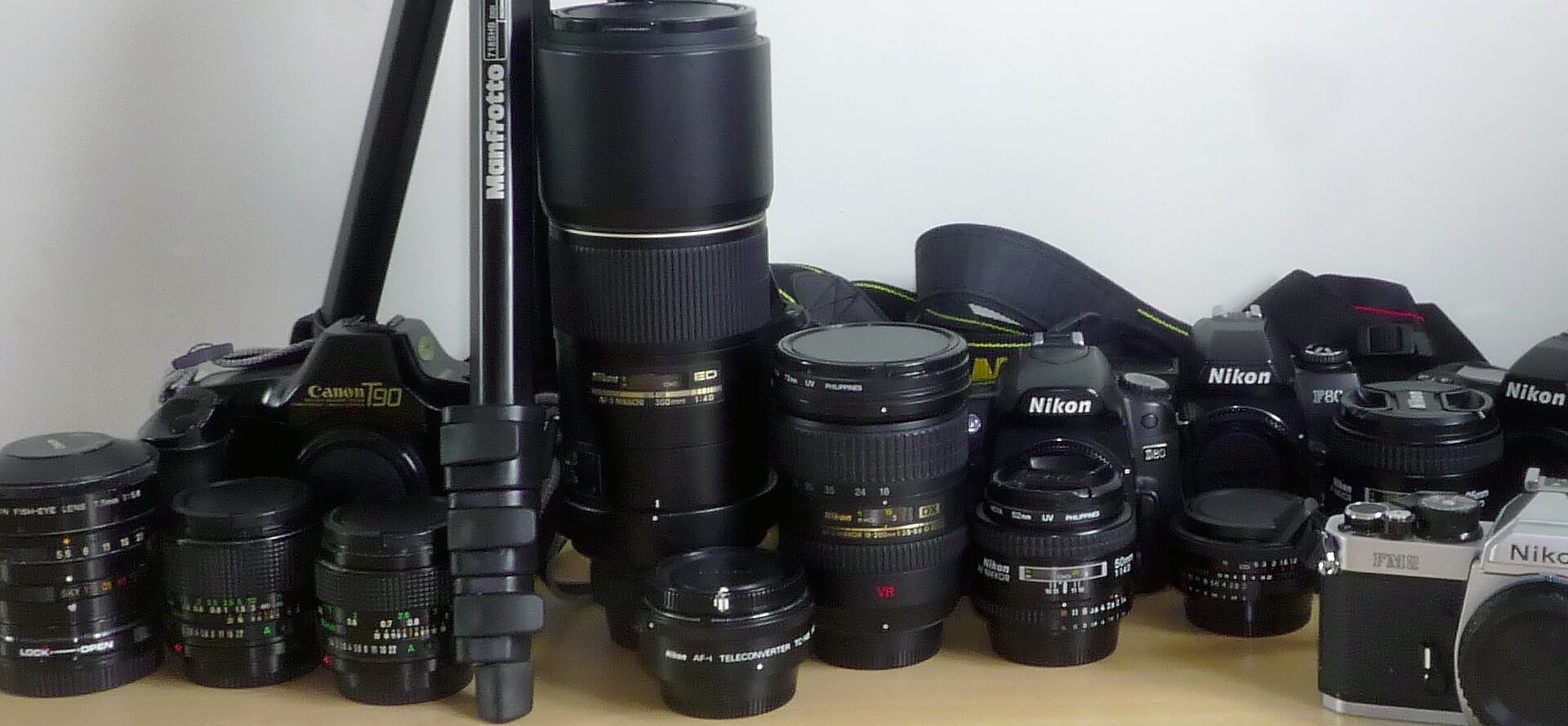 Purchasing a lens from a trusted retailer all comes down to peace of mind. There are also plenty of these guys around, with some having more specialist areas than others. Below we will dig into some of our favorite places to find used camera lenses and what they have to offer.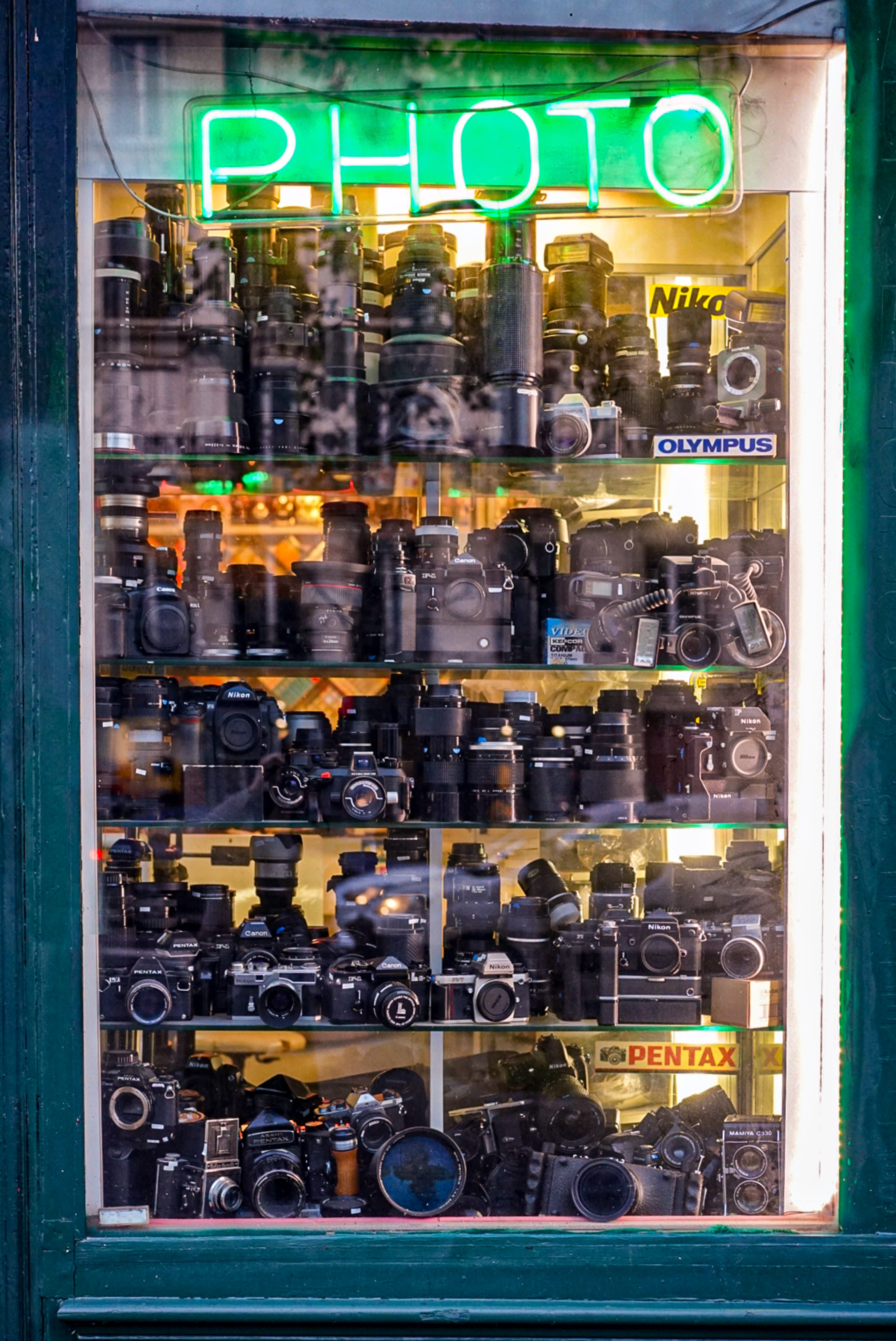 We Like KEH Camera as they not only stock a healthy supply of modern lenses, but they also have a good selection of vintage gear. It's endlessly fascinating to see all the medium and large format lenses available, ranging from the affordable to the not so much. There's also a nice mixture of new and used lenses on the website, with lots of search criteria available to whittle down a selection of camera lenses to your exact needs.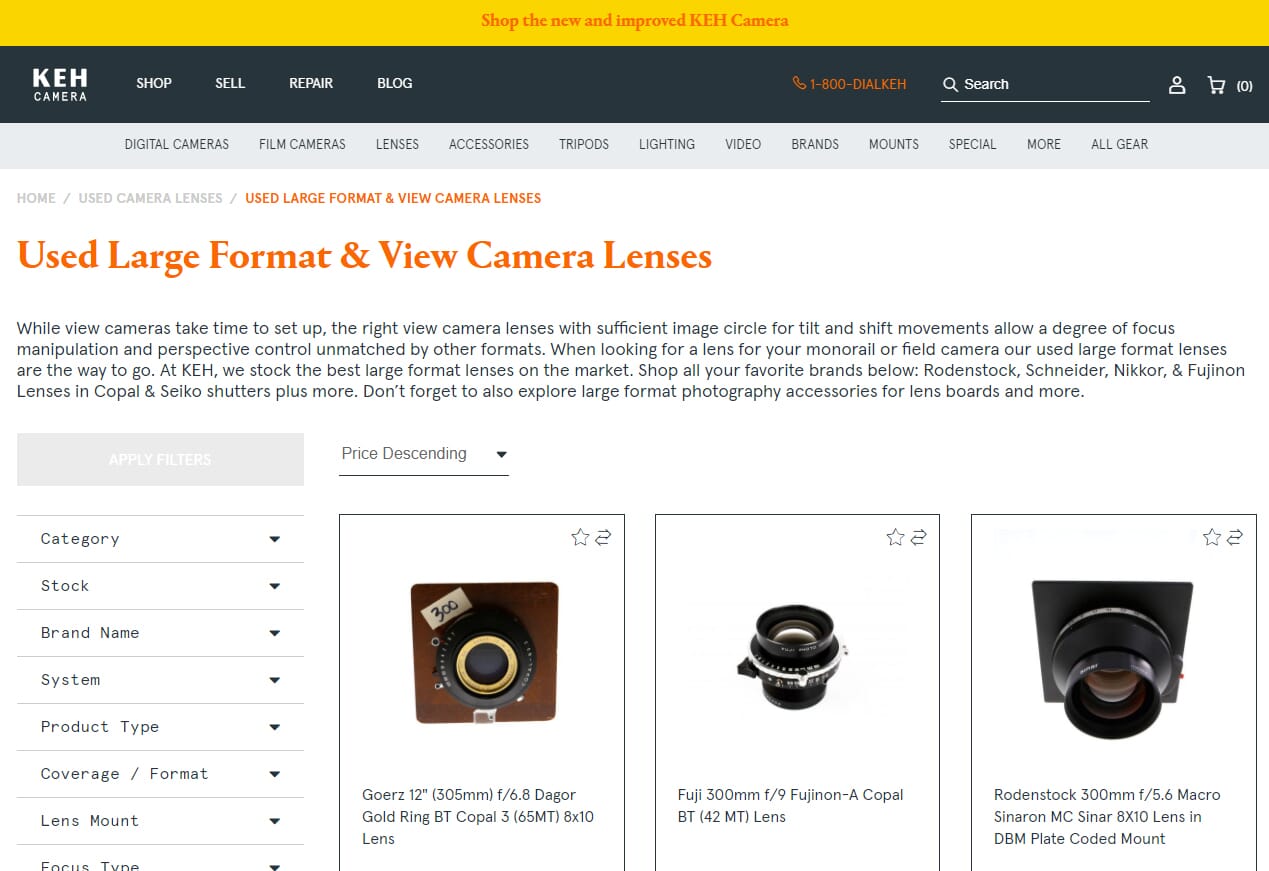 The simple menu at the top of the website allows a user to search lenses by their main category types. These include the usual suspects of SLR and DSLR, mirrorless, rangefinder, medium format, large format, and 'other' lenses.
The other handy feature in the left-hand side search menu is the 'Grade' criteria. These options are a great way to search for the different conditions and price points of gear which include, Excellent Plus, Excellent, Bargain, Ugly, As Is, and Repair. Prices usually follow the condition of an item, making these search criteria a well thought out addition.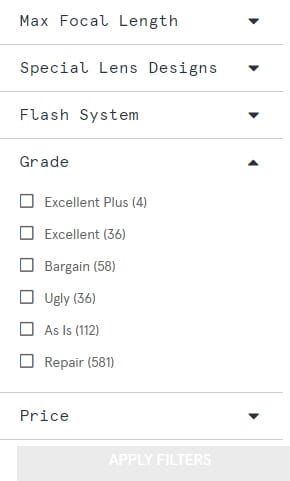 As most of us will be looking for DSLR and/or mirrorless lenses, there always is a large supply of both types on the KEH website. Generally, prices are listed at current market rates for both new and used gear, with some bargains available if you dig deep into the search criteria. Their lens inspection process is also second to none so you can be rest assured the gear your getting is the gear that's described.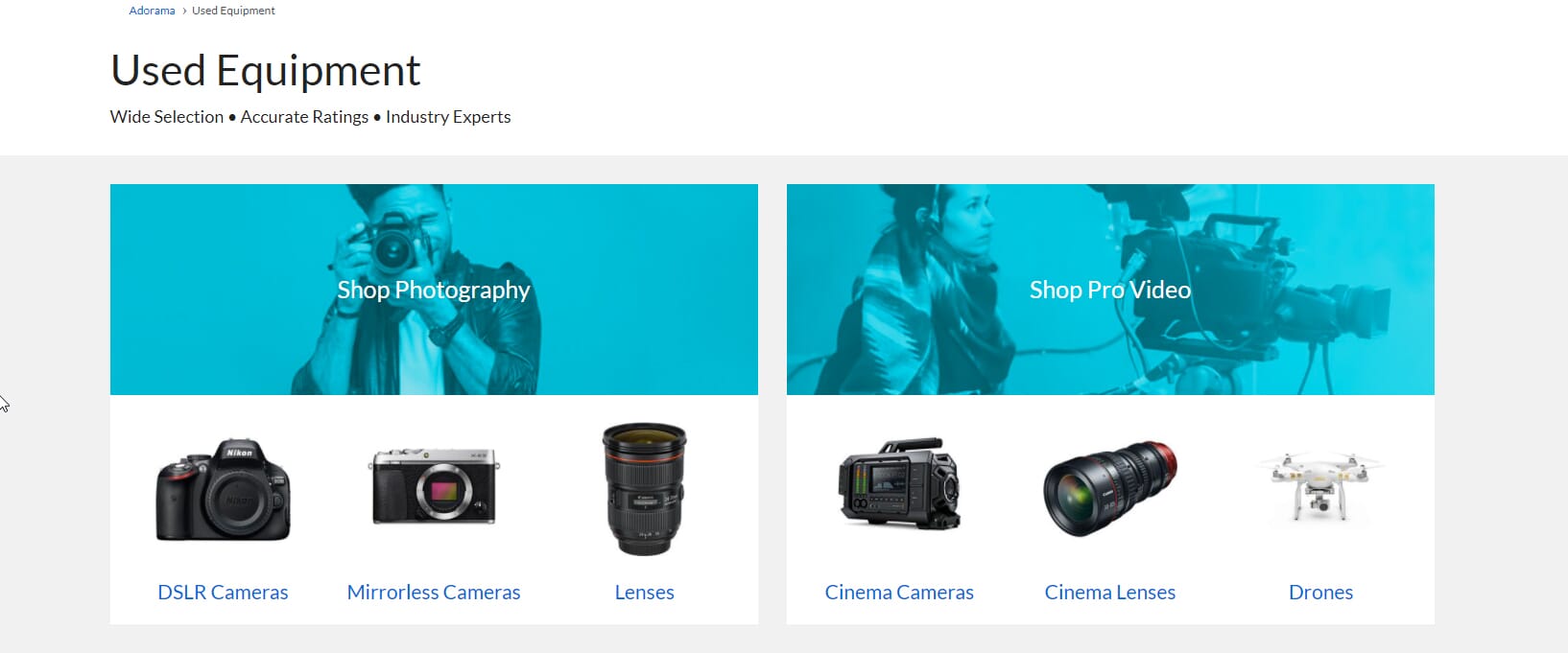 Adorama is a huge marketplace for used camera gear. At the time of writing, their used lens section lists over 1524 results, coming mainly from SLR, DSLR, and mirrorless lenses. When we checked, the website also listed 34 rangefinder lenses, 29 medium format, and four specialty lenses.
Each lens listing features an overview of the lens, specifications, and reviews from past buyers. The review section is particularly nice as it provides actual feedback from users for the pros and cons of each lens and in what areas the lens is useful.
The website also ranks used gear with a 'Condition' scale. In the search and individual listings, each lens is given a rating, for example, 'CONDITION G'. When you click on the rating, a pop-up window is revealed describing the rating type.
Lenses on the website are also covered by a return policy and different levels of warranty depending on the make and model.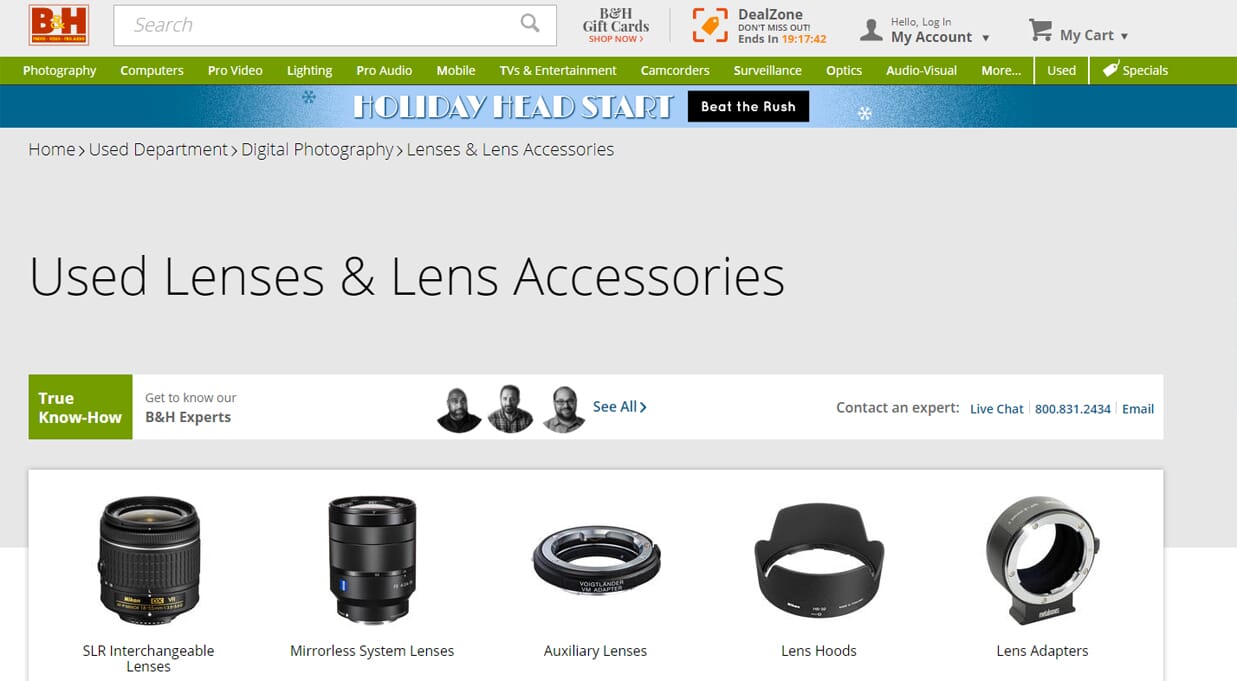 It's not hard to spend countless hours on the B&H website wading through their huge inventory of gear. B&H sell both new and used camera lenses, with their own rating system to rank each particular piece of equipment by condition.
B&H is also backed up by providing lengthy and very descriptive product overviews, specifications, and lots of other helpful information. The website always has lots of stock to choose from, along with the peace of mind that all equipment has been thoroughly tested.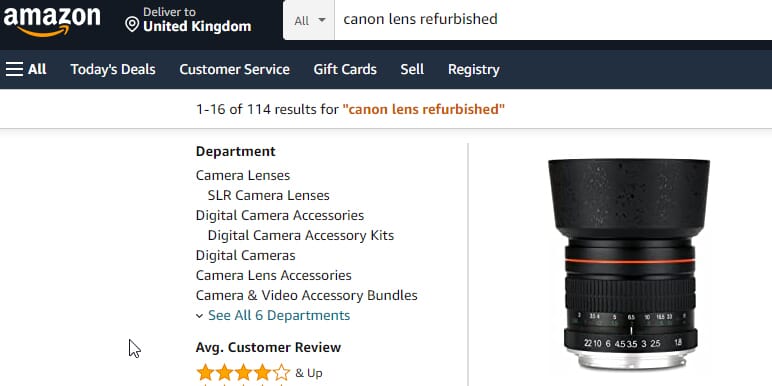 When I think of buying a camera lens from Amazon, I generally think of new products. However, there is a huge inventory of used camera gear making the website one of the best places to buy used camera lenses.
One of the main benefits of shopping on Amazon is that most people are used to the interface and search criteria. There are so many different ways to search for a particular camera lens from very specific to broad criteria. A simple way to search is by using the top search box by inputting the lens brand and then the word 'refurbished', e.g. 'canon lens refurbished'.
Another simple search method is scrolling down the left menu to where it says 'Condition' then clicking the word 'Used' for any type of lens.
The other benefit to Amazon is that a lens listing can have multiple sellers with different price points. This method is a good way to compare and contrast the current used prices.
Camera Marketplaces With Personal and Shop Sales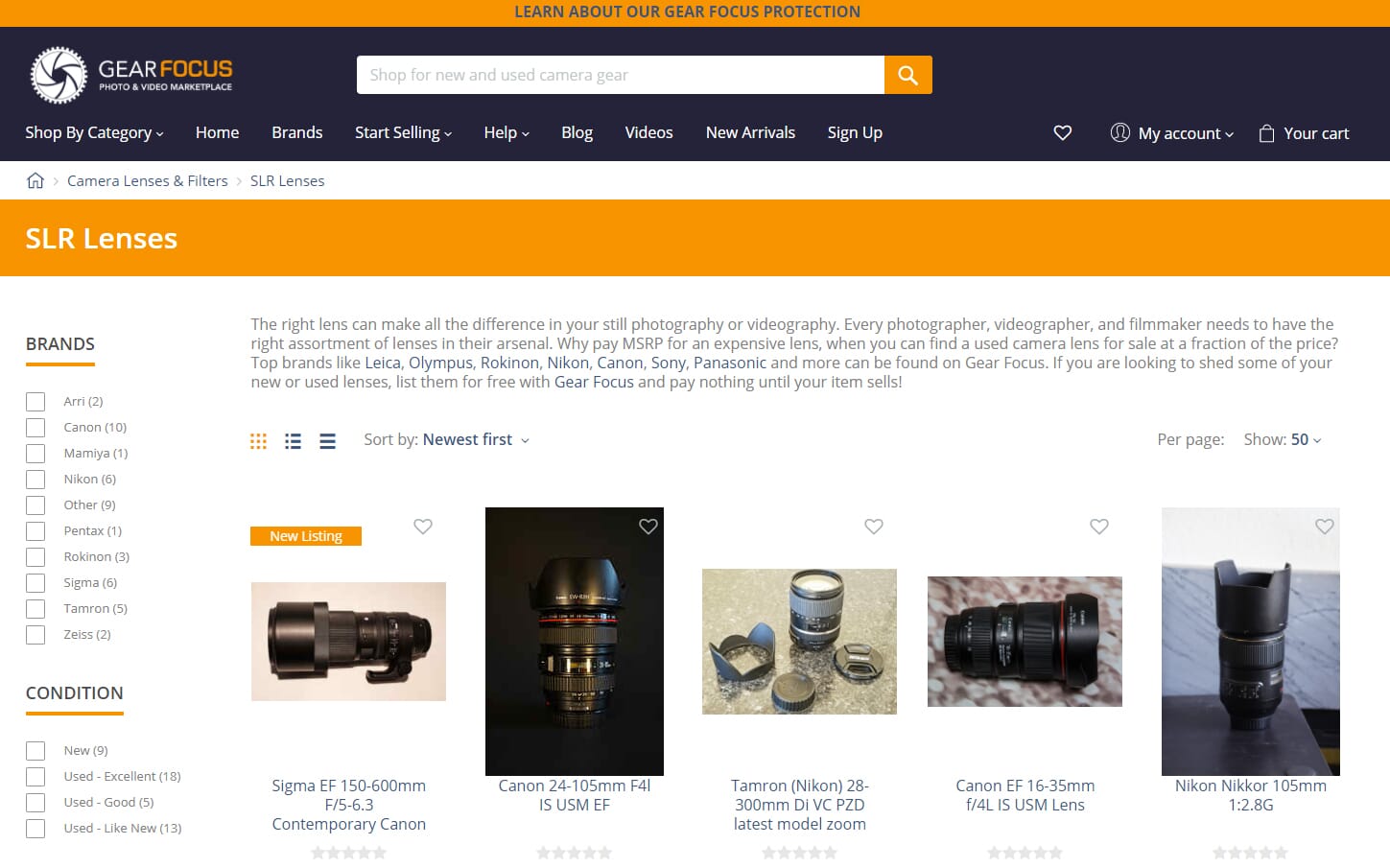 If you can't find what you're looking for from the providers above, there are dedicated camera marketplaces online such as GearFocus. These marketplaces are generally websites with listings from individuals, but are also photography focused. This means that although you are buying off individuals, the websites do tend to attract like-minded and dedicated photographers.
GearFocus is one such marketplace for buying used camera lenses, with more of a community feel. The good thing to note is listings have a return policy, with methods for refunds.
The search criteria on the website aren't as extensive as the options above. There are basic criteria to search by brand, four types of conditions, and a price range, which should help narrow down your search. Feedback about the dealings on the website are generally very good and we have never had a problem with buying a piece of used lens gear that was supplied as described in the advert.
One distinct advantage of this type of website is that your chances of bagging a bargain are much more likely. Especially when a seller is keen to sell an item. However, lenses purchased by this method generally don't have the rigorous pre-checks that are performed by dedicated stores. Thus, purchases can be more of a leap of faith, but you can also land on your feet with a very well priced bargain.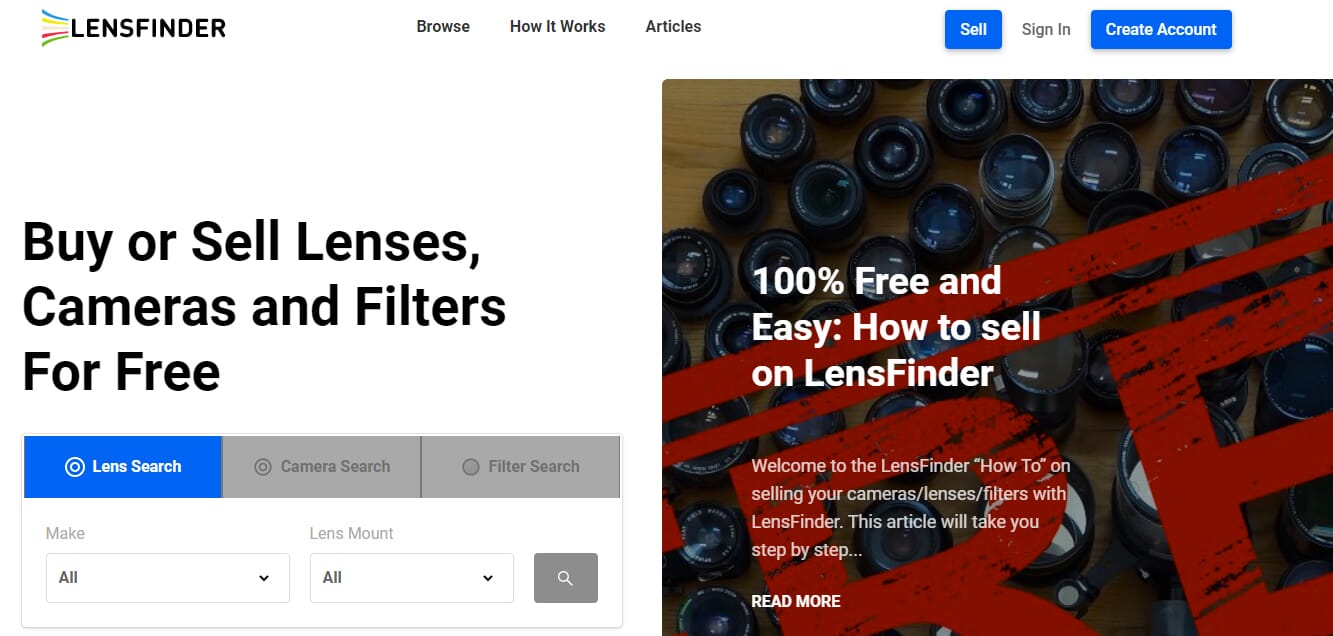 Lensfinder.com is another website where individuals can buy and sell camera lenses. While the inventory may not be as extensive as other websites, the clean and simple interface makes browsing very easy.
Most of the inventory seems to lean towards modern camera lenses from the most well-known lens manufacturers. They also list lenses that can come from other websites such as eBay and Amazon, or even lens rental websites. In many ways, you can use the lens finder website to gain a baseline reading for the cost of a certain lens, before embarking on an extensive bargain hunt.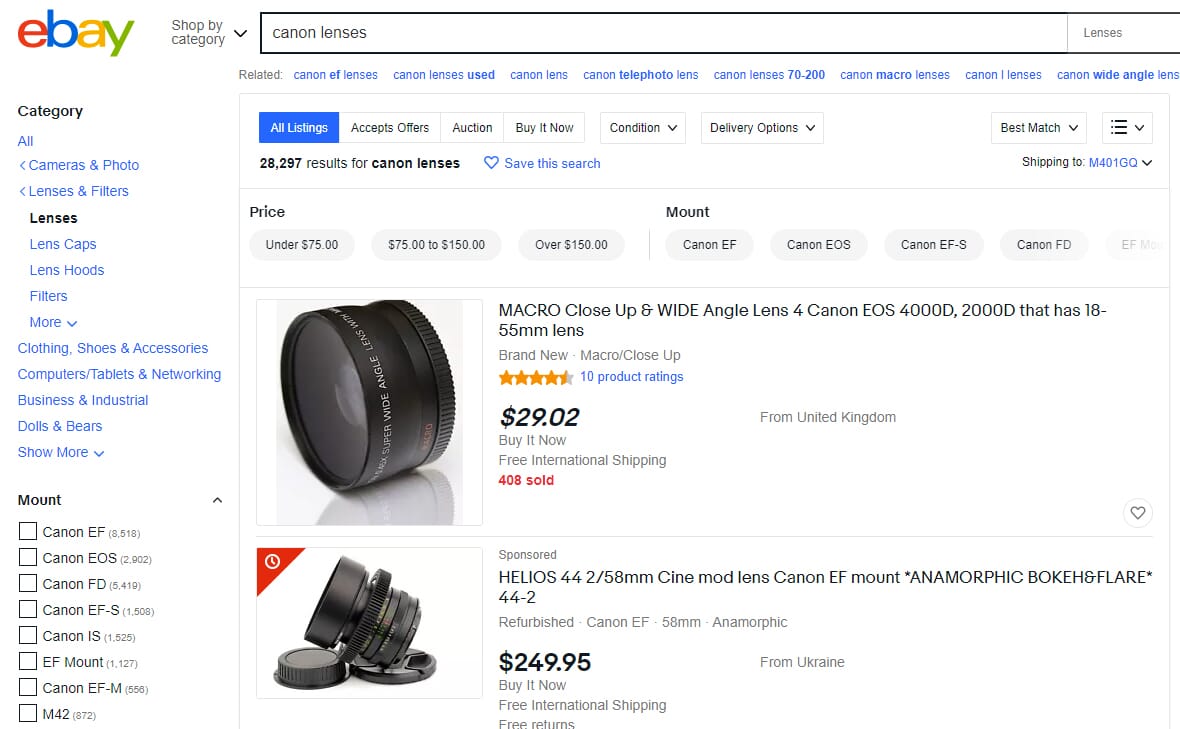 eBay is a classic when it comes to buying on the used market. With individual sellers and businesses making listings, their website offers a vast array of used camera lenses at varying conditions and price points. eBay provides lots of search criteria for a given lens, which should make narrowing down your selection that little bit easier. Depending on who you buy from and your chosen payment method, there should be moneyback guarantees in place and potential return policies. Always check first with the seller to make sure you are covered.
One area of eBay I like is that you can message a seller very easily. Especially when it comes to expensive items, I will message a seller as standard to gauge the feedback of response. If they respond quickly and in an informative way, it is a good initial sign. If you don't get a message back or they take a week to reply, they may not be the most reliable of sellers. The star ranking system on eBay is also generally very good indicator of a seller's reliability, as is user feedback.
eBay can snag you a great lens bargain if you search hard and long enough. But you also really need to know the ins and outs of what you are looking for.
Camera Marketplaces with Personal Sales
It's worth mentioning a few marketplaces that exclusively sell from one individual to another. Generally speaking, if you can't find what you're looking for from the top outlets above, it's worth keeping an eye on the websites below. From time to time, some choice picks pop to the surface, but this route is riskier than the rest.
Although the websites have selling history and show previous ads from a seller, it's still a hundred percent up to you to evaluate a particular lens listing. Many of these websites are enthusiasts selling to other enthusiasts, but you also have to put in your due diligence. This involves communicating with the seller, checking all the details are as reported, and there are lots of high-quality images of the product.
For those who like to wade through a forum-type website for juicy lens morsels, FredMiranda.com has lots of listings available. You generally have to go through the pages of listings until you find what you are looking for. But this method of searching also allows you to trip over other interesting things for sale.
SportsShooters.com has a classified ads section which may not be very extensive, but can list bargains from time to time. If you have started the hunt for a particular lens, this website is worth checking on an occasional basis.
The classified section of NaturePhotographers.net used to list a lot more camera equipment. But with the larger platforms being the main focus these days, listings are now few and far between. However, it's worth checking out the classified section sporadically, which can also list some handy tips on certain items that have dropped in price.
What Are Used or Refurbished Lenses?
Used and refurbished camera lenses are two distinct categories. A lens that is advertised as 'used' has had one or more humans play with its workings for an unspecified amount of time and maybe in different environments. In this case, you need to find out as much about its present condition, from the quality of the optics, lens barrel and inner and outer workings. A 'used' lens can also have been used for any length of time without any type of servicing.
A refurbished lens has all the attributes of the 'used' variety, but has also been serviced. This can be as simple as a general check to make sure the lens is in working order to the fitting of new parts. Refurbished lenses generally come from dedicated camera outlets, with a degree of peace of mind that they have been thoroughly checked and are in very good working order.
Always Test a Lens
Even when you buy brand-new, it's worth performing some general checks to make sure a lens is in perfect working order. Below are some key points to bear in mind with any lens acquisition. Note – always inspect a lens in natural daylight, ideally next to a large window on an overcast day. Inspecting a lens last thing at night with a dim desk lamp isn't always the best way to go.
Check the lens barrel for any signs of marking or scratches.
Check the front and back elements for any surface scratches. Hold the lens up to natural light and view the front element from lots of different angles.
Make sure the lens mount show no signs of wear along with the filter thread.
Look through the lens and check for any signs of internal dust or fungus.
When the lens is mounted to the camera, make sure there aren't any error messages. Simply shoot a few shots at different apertures to test basic functionality.
Auto focusing and image stabilization systems should be tested with all settings.
Make sure any zoom or manual focusing rings turn smoothly and fully. Test all switches in all positions.
Where Are the Best Places to Buy Used Camera Lenses?
If you want the most peace of mind with your next lens purchase, you can't go wrong with our first four listings. These outlets have a good list of lenses on a regular basis and come with guarantees and return policies.
If you want to be more adventurous, then the personal listing websites can sometimes save you a few dollars. But you also have to be aware that you could be buying a camera lens that has a fault that doesn't rear its ugly head until you've used it a few times. At the very least, there are plenty of options to choose from online where you pick up your next prized lens.