Buying new camera lenses can be expensive. Fortunately, there are plenty of online gear marketplaces, and many of them offer absolute bargains on used gear.
The gear is often in great condition, too. You see, hobbyists and professionals photographers often sell their lenses to these retailers when they're ready to upgrade, and the retailers then repackage them for online purchase. Everyone's a winner; the previous owner can get value from their old gear, and the retailer can benefit from extra sales.
Then there's you, of course, who can purchase great lenses for reduced prices!
But what are the best places to buy used camera lenses online? Below, we share our top 10 favorite options!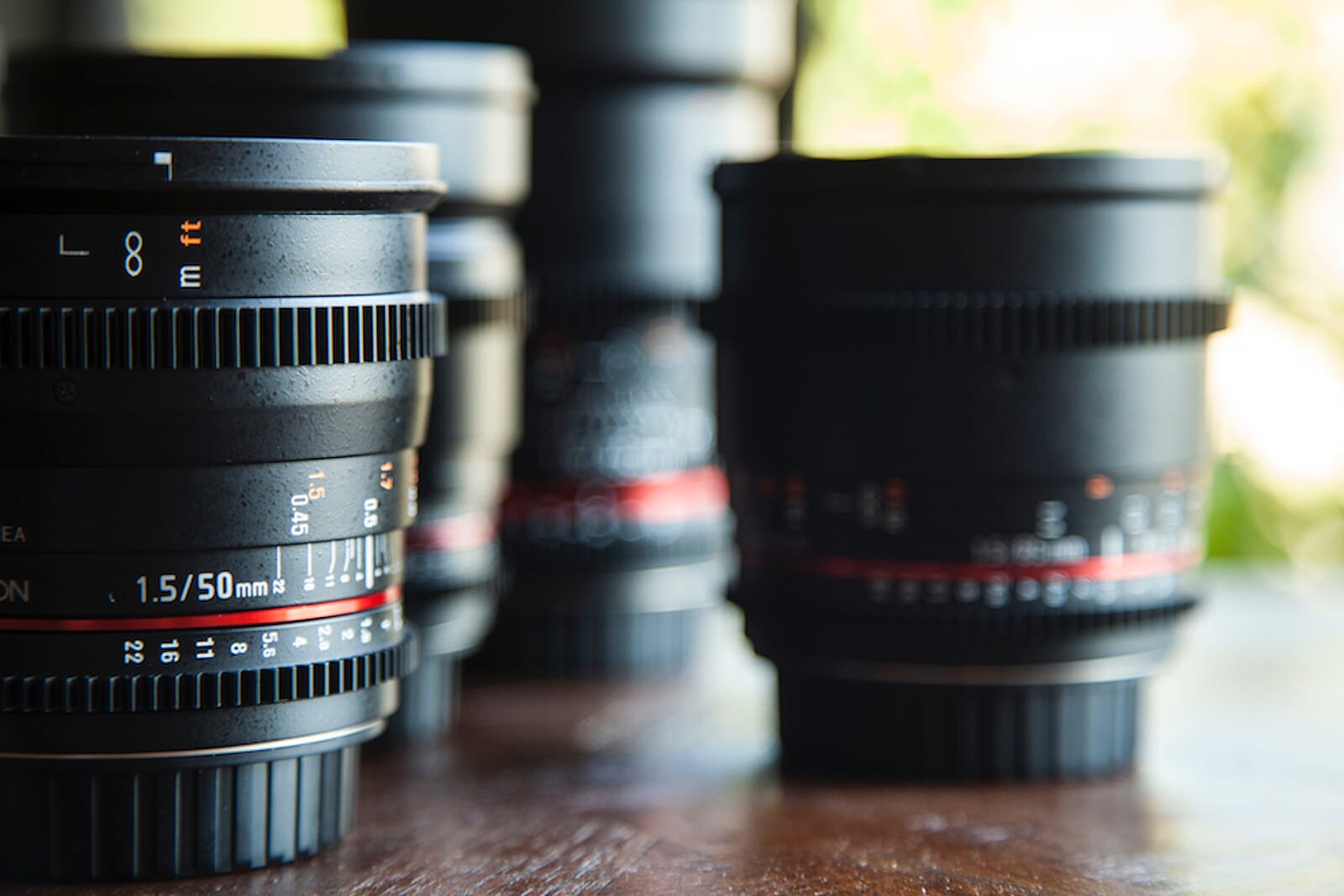 Best Online Stores to Buy Used Cameras in 2023:
When you buy through links on our site, we may earn a commission at no cost to you. We evaluate products independently. Commissions do not affect our evaluations.
1. KEH Camera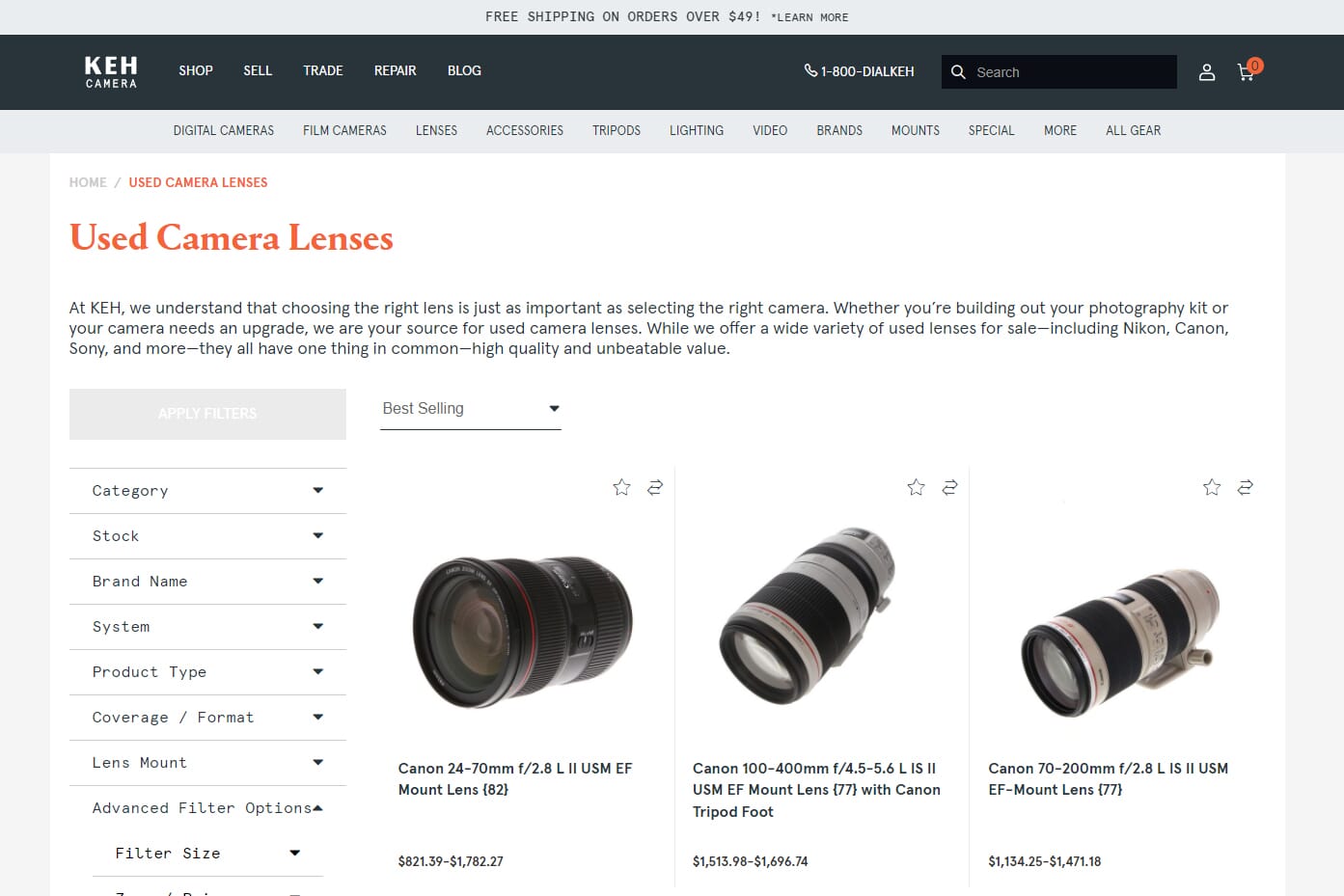 Great selection of used lenses
KEH Camera is a well-known photography retailer that offers tens of thousands of used lenses (available for both US and international customers).
Pros
Thousands of used lenses available
Clear grading system for lens quality
Easy-to-use website
Cons
International delivery fees may not be the best
One of the best places to buy used camera lenses is KEH Camera. The company was founded in 1979 and has one of the most successful online photography stores in the US. They offer international shipping, and you can even send your used lenses to KEH (provided that the value is over $300).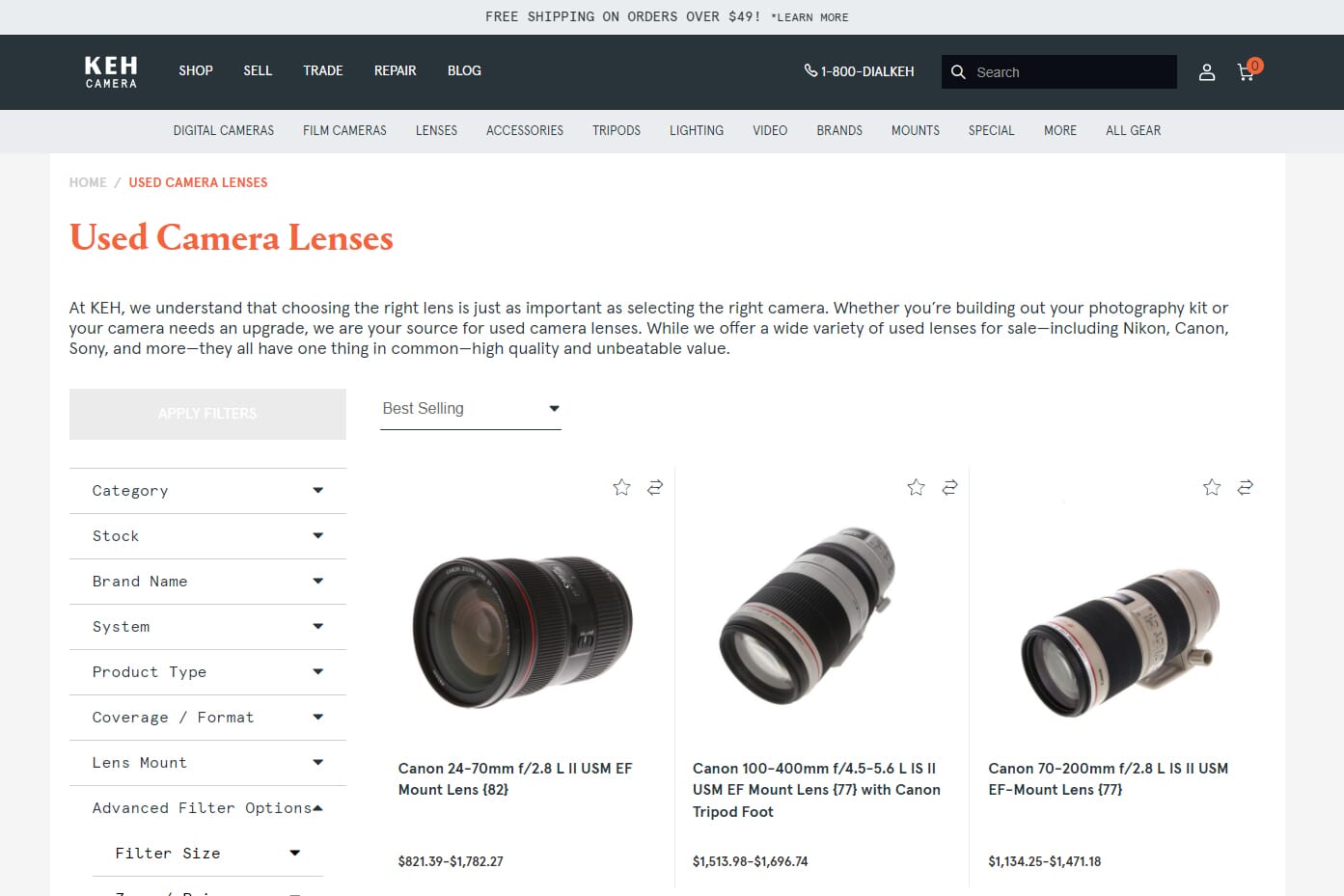 The KEH used lens section is split into four categories: mirrorless camera lenses, medium-format lenses, SLR & DSLR lenses, and large-format lenses. Currently, KEH has over 10,000 used lenses available.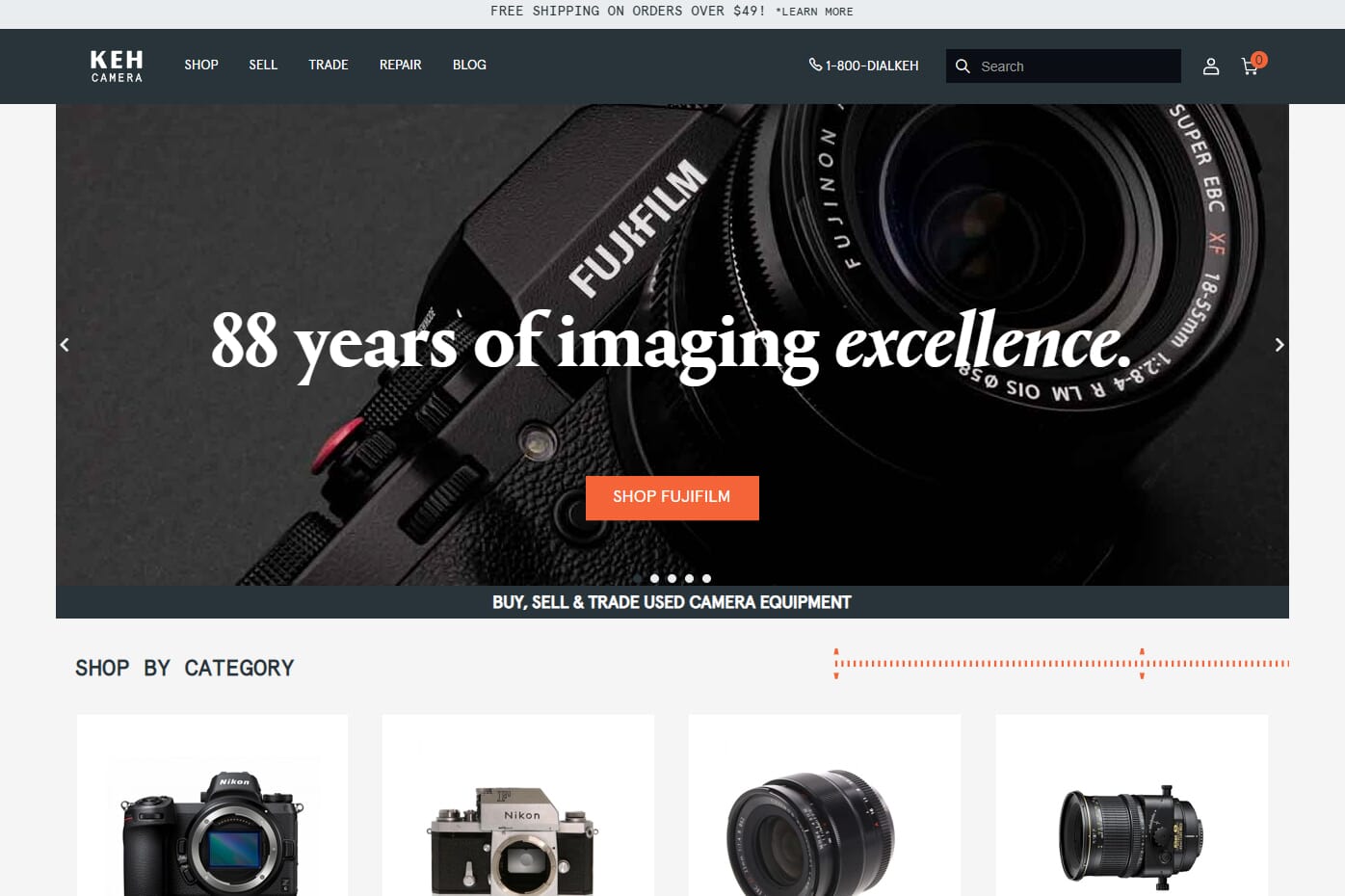 We also like that KEH Camera has a detailed grading system for used lens conditions. This includes a percentage rating. For example, a "Like New" KEH lens is 97-99% of a new quality product.
2. MPB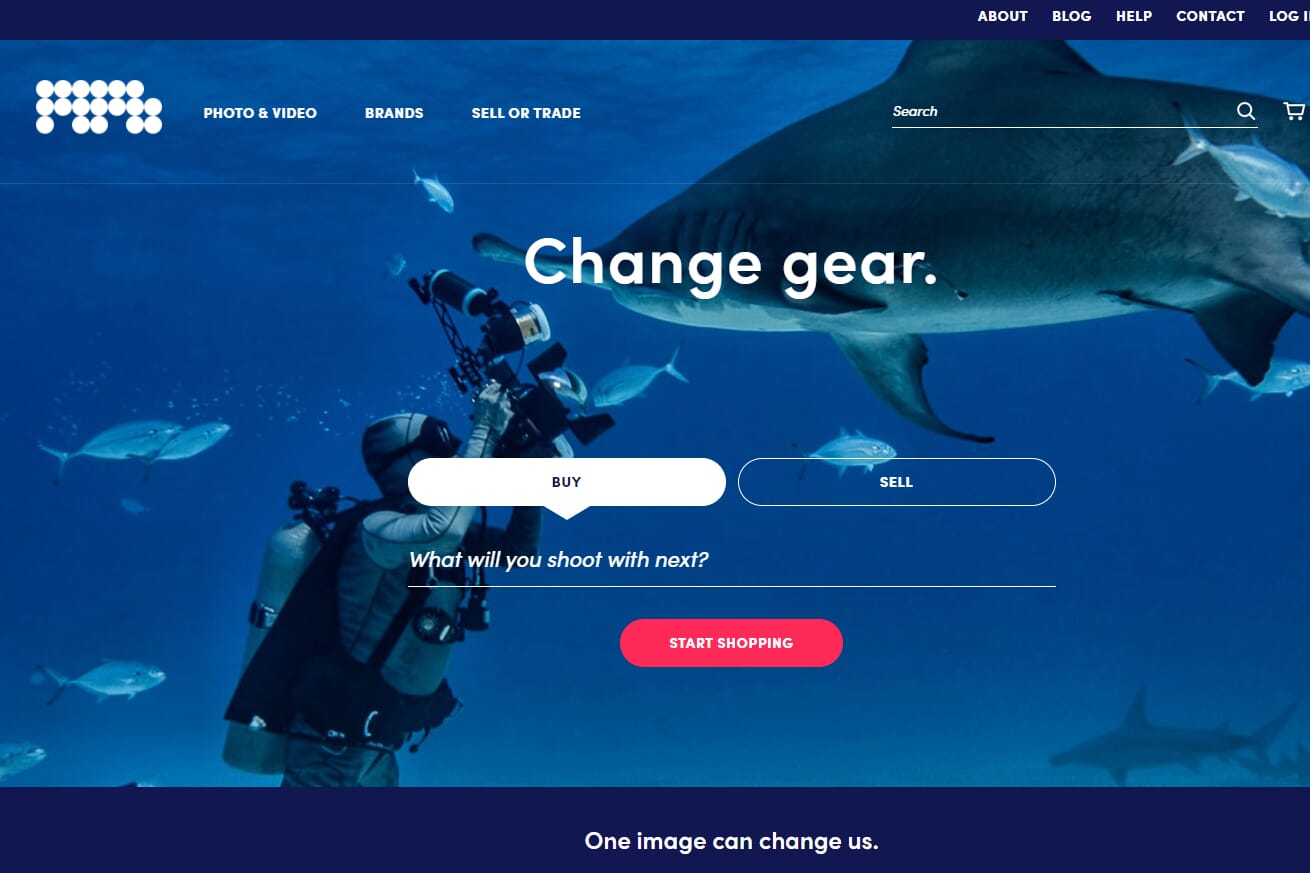 Great for Canon used lenses
MPB has an outstanding selection of Canon used lenses (including excellent EOS M options!).
Pros
Great choice of used lenses
Thousands of Canon used lenses available
Has a clear rating system for the lens condition
Cons
Doesn't always show actual photos of the used lens
MPB is a photography specialist that deals extensively in used gear. This includes cameras, lenses, lighting, and more. Their lens range is extensive, and you can easily find lenses by Canon, Nikon, Sony, Panasonic, Fujifilm, Hasselblad, Leica, and Olympus. They offer a particularly large selection of great used Canon lenses (with over 2600 items available!).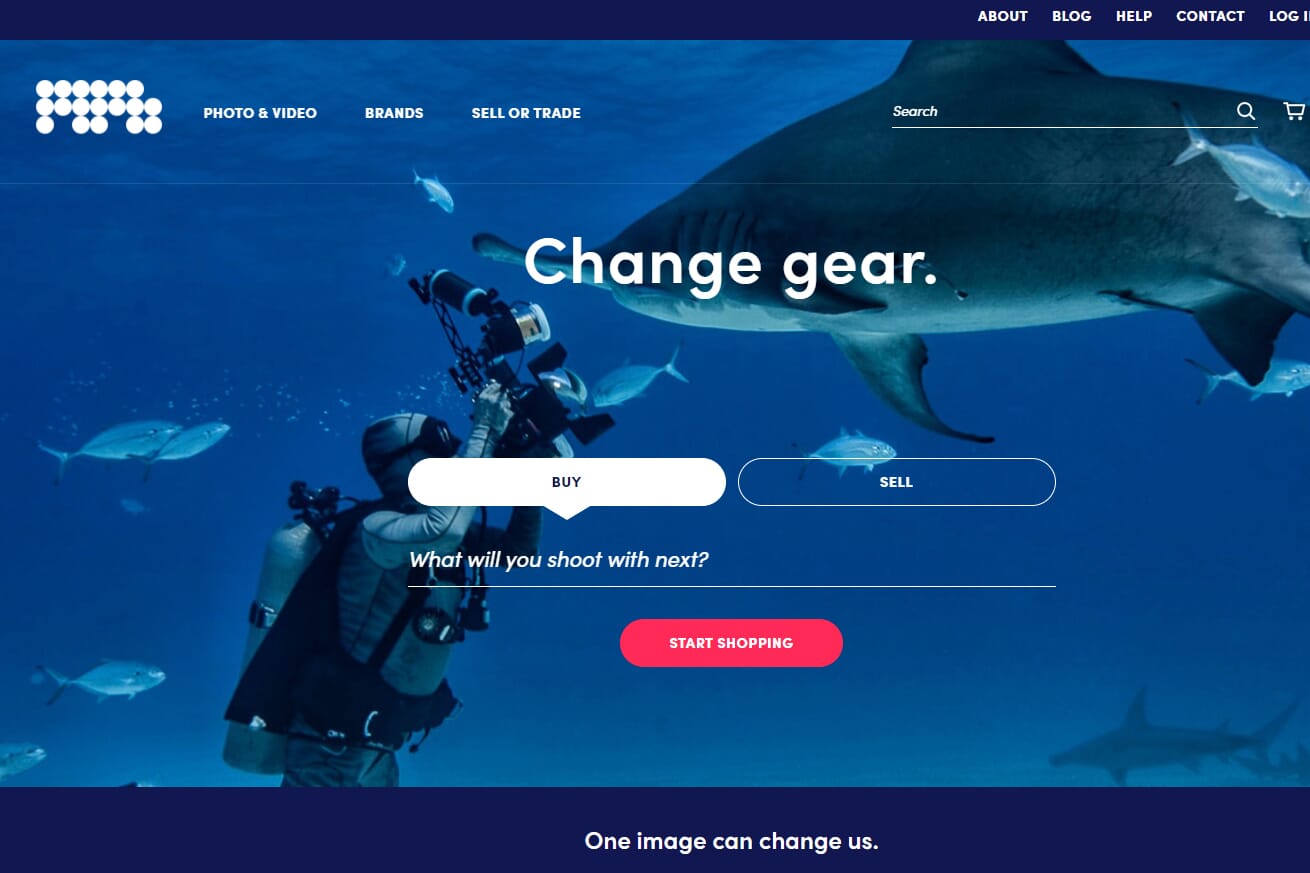 We like that every lens is given a clear condition rating. Plus, the prices are cheap and far below the new price. MPB has locations in the UK, Germany, Austria, France, and the USA for delivery or collection.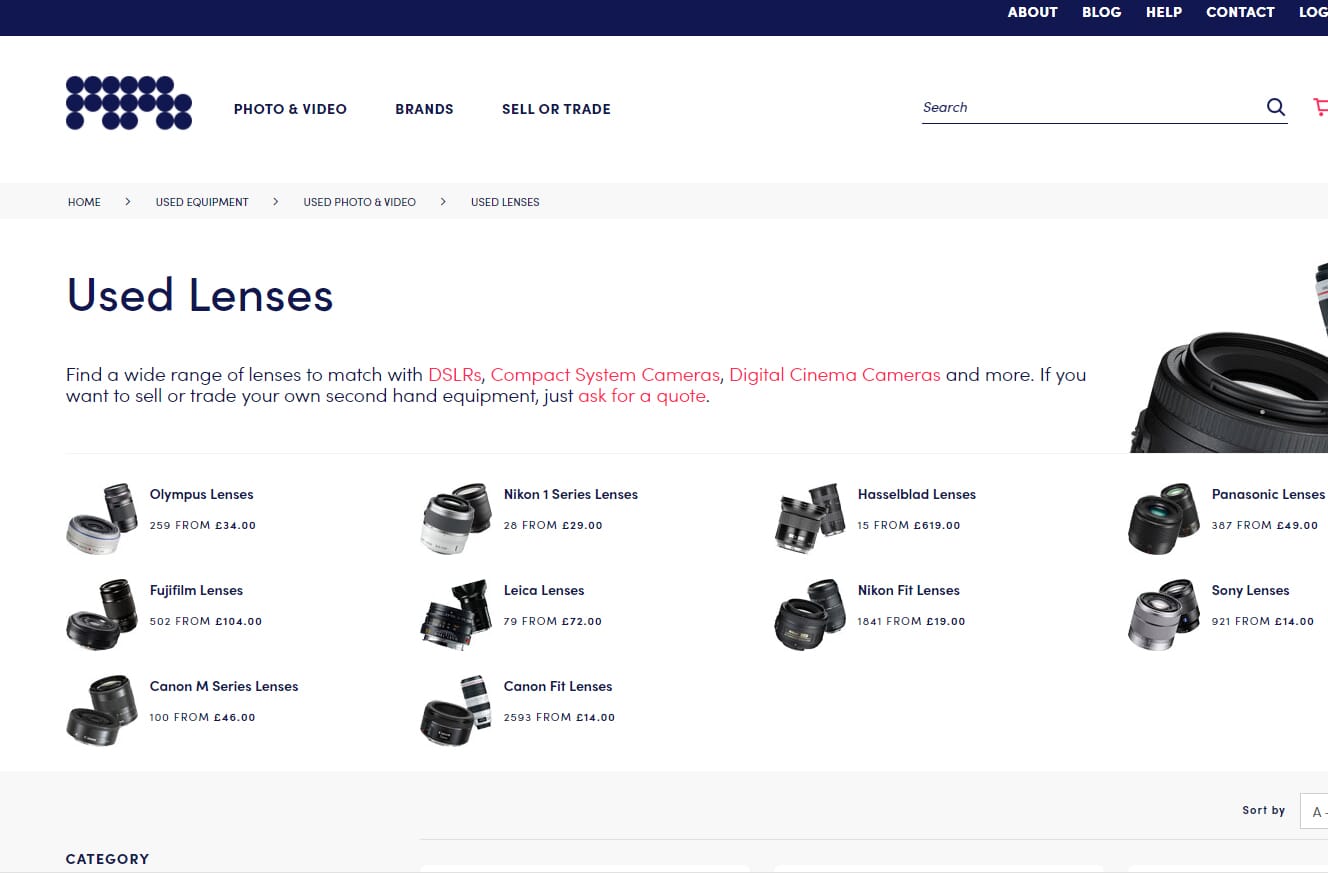 3. Adorama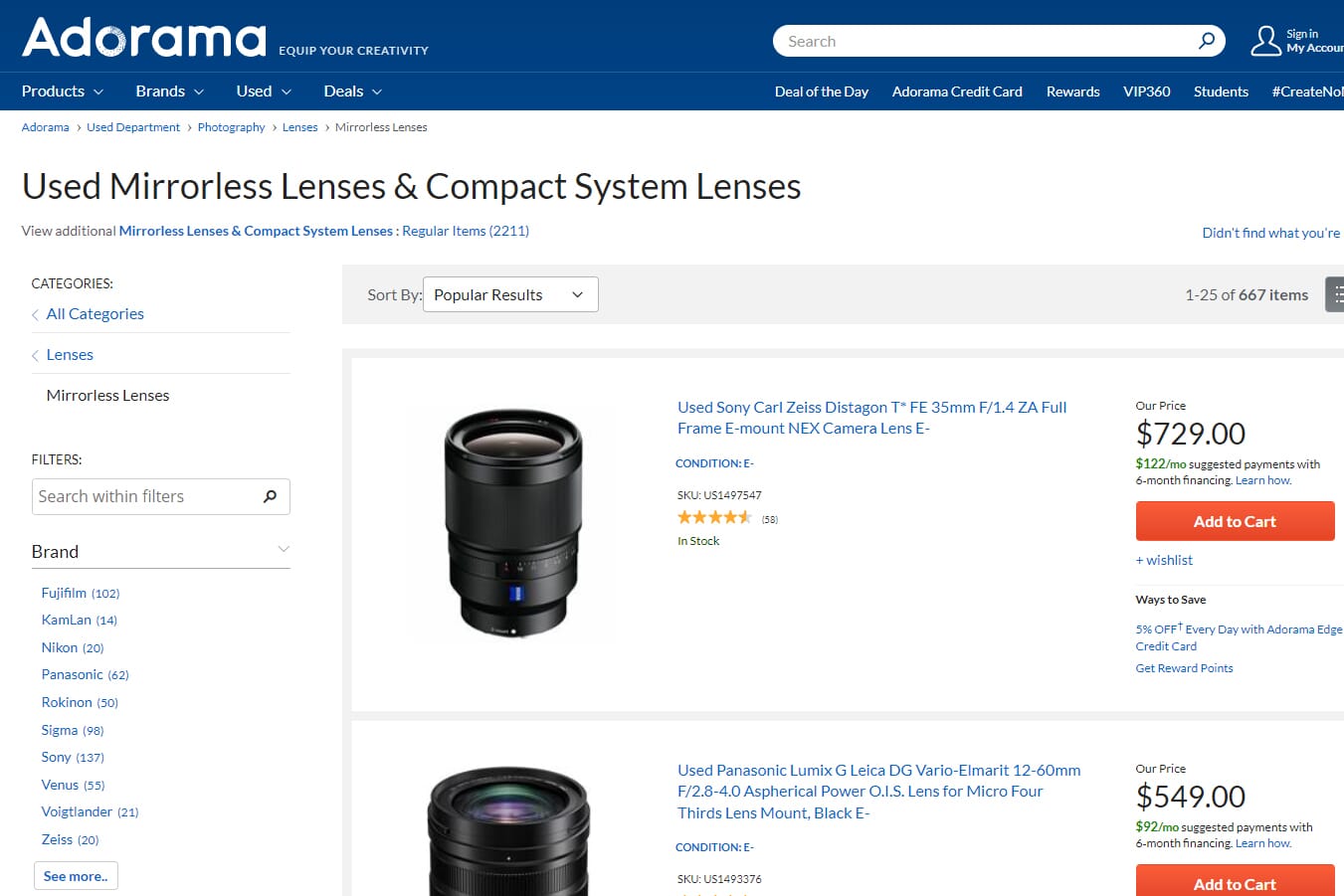 Great for professionals
Adorama has thousands of used lenses for sale including both popular and specialist options.
Pros
Great selection of used lenses
Simple and clear rating system
International shipping to 200+ countries
Cons
May not have the fastest shipping times
Adorama is a photography retailer with both a store in New York and an extensive online store. The company has a great reputation and also offers some useful services (e.g., their Adorama Credit Card).
Adorama's online store features a dedicated used lens category, though they also sell a large selection of additional pre-owned goods, including cameras, computers, games consoles, drones, and video recording equipment.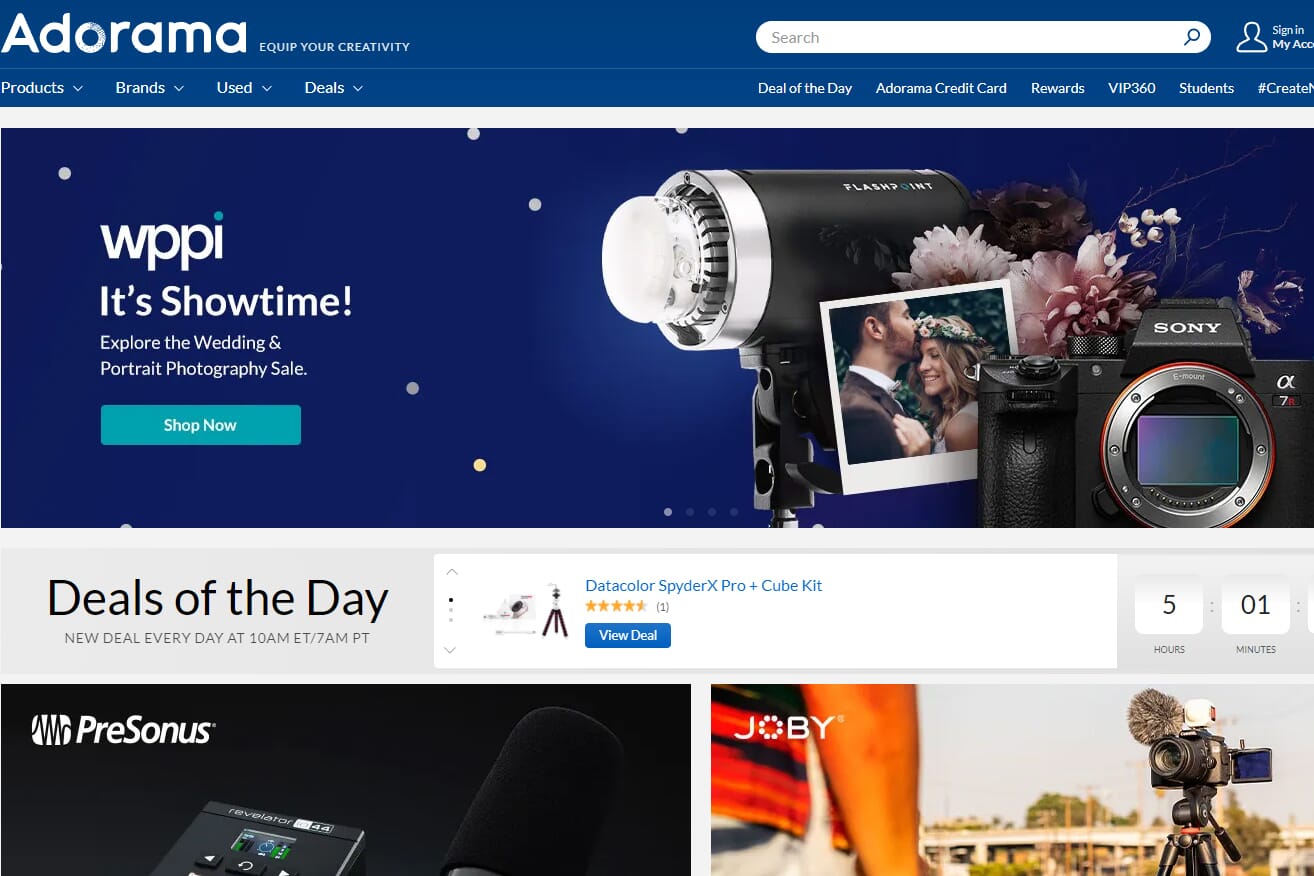 Aside from eBay and Amazon, Adorama has possibly the largest selection of used lenses on the market today. At the time of writing, the store boasts over 2000 used lenses, many of which are made by popular manufacturers such as Canon, Nikon, and Sony. Others are made by specialist manufacturers like Bronica, Blackmagic Design, and Metabones.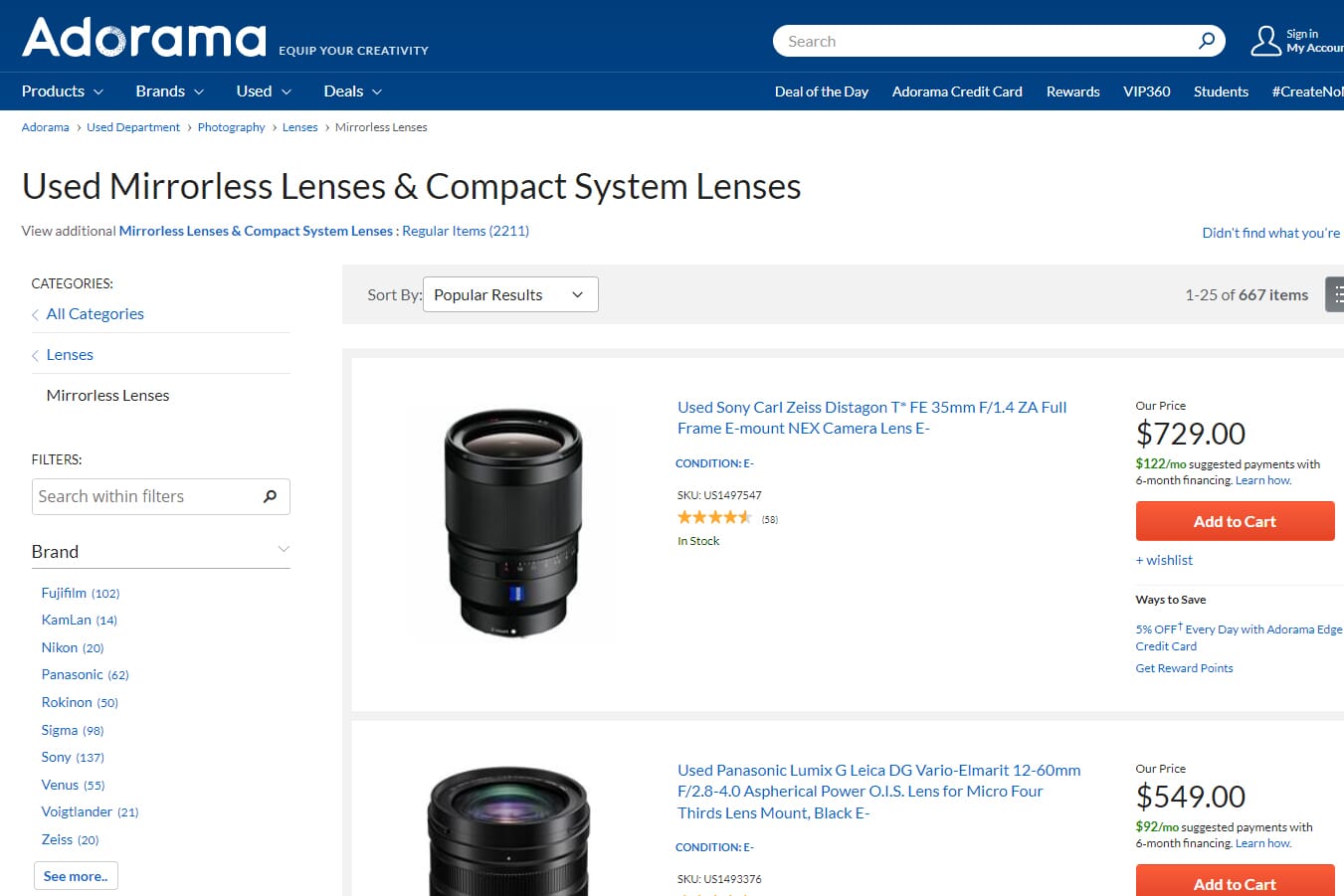 Each lens has an Adorama used rating, which clearly indicates lens quality (including any defects). We also like that international shipping is available to over 200 countries.
4. B&H Photo Video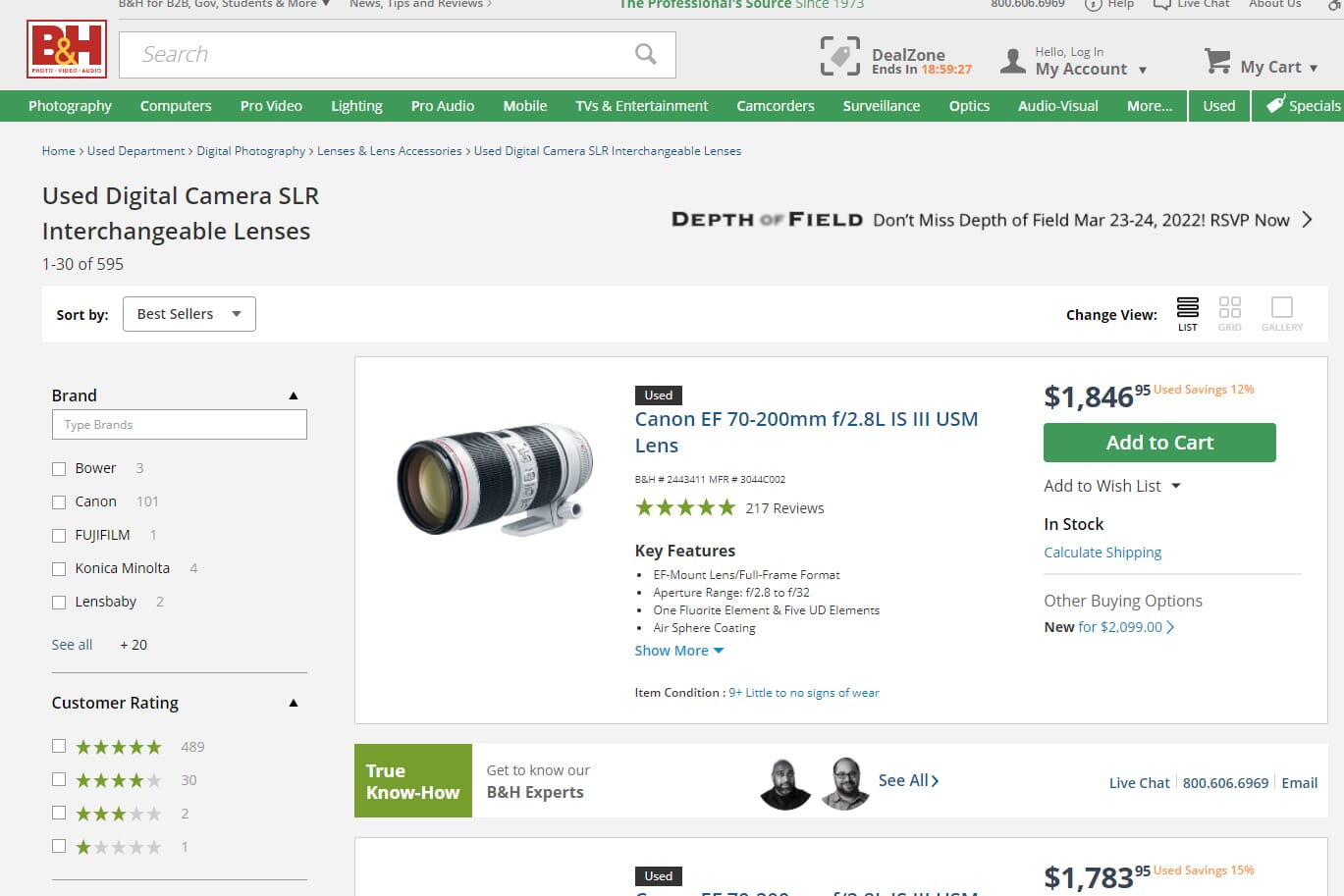 Great for mirrorless lenses
B&H Photo Video has an intuitive website and a dedicated section for different types of used lenses.
Pros
Excellent website with multiple search filters
Good reputation and quality service
They sell both DSLR and mirrorless lenses
Cons
Does not have a huge choice of used lenses
B&H Photo Video is one of the best places to buy used camera lenses online; the company features a dedicated website section that displays different used lens categories. This includes DSLR and mirrorless lenses, as well as lens accessories.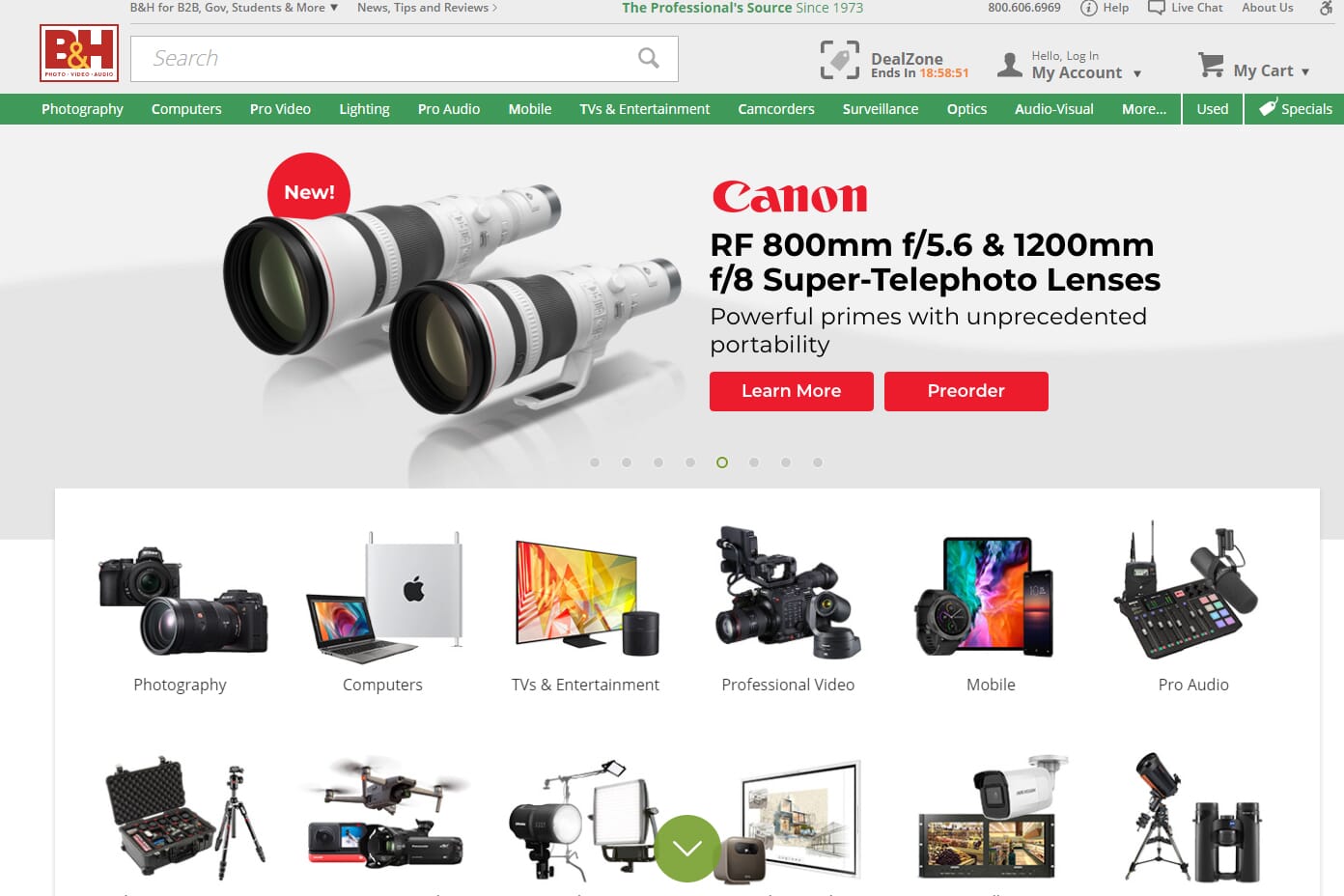 The selection of lenses isn't the largest, but we like that you can find many recent releases. For example, at the time of writing, B&H offers a Canon RF 50mm f/1.8 STM used lens. The used lens filters also make products easy to find. You can filter by manufacturer, customer rating, price range, and more.
If you intend to regularly buy lenses from B&H, you may benefit from the B&H Payboo Credit Card, which offers two different bonuses on B&H purchases.
Related Post: B&H Payboo Card Review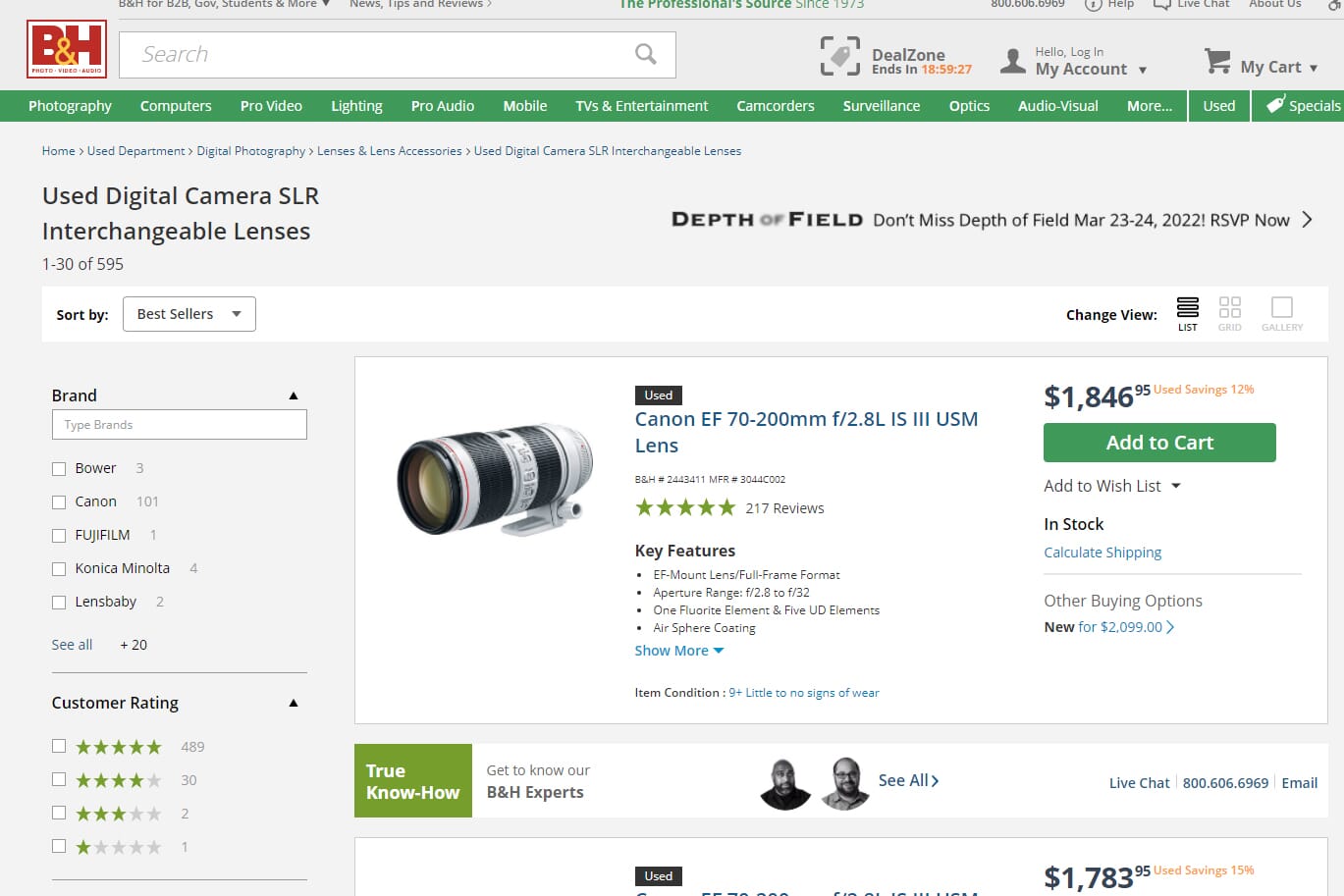 5. Amazon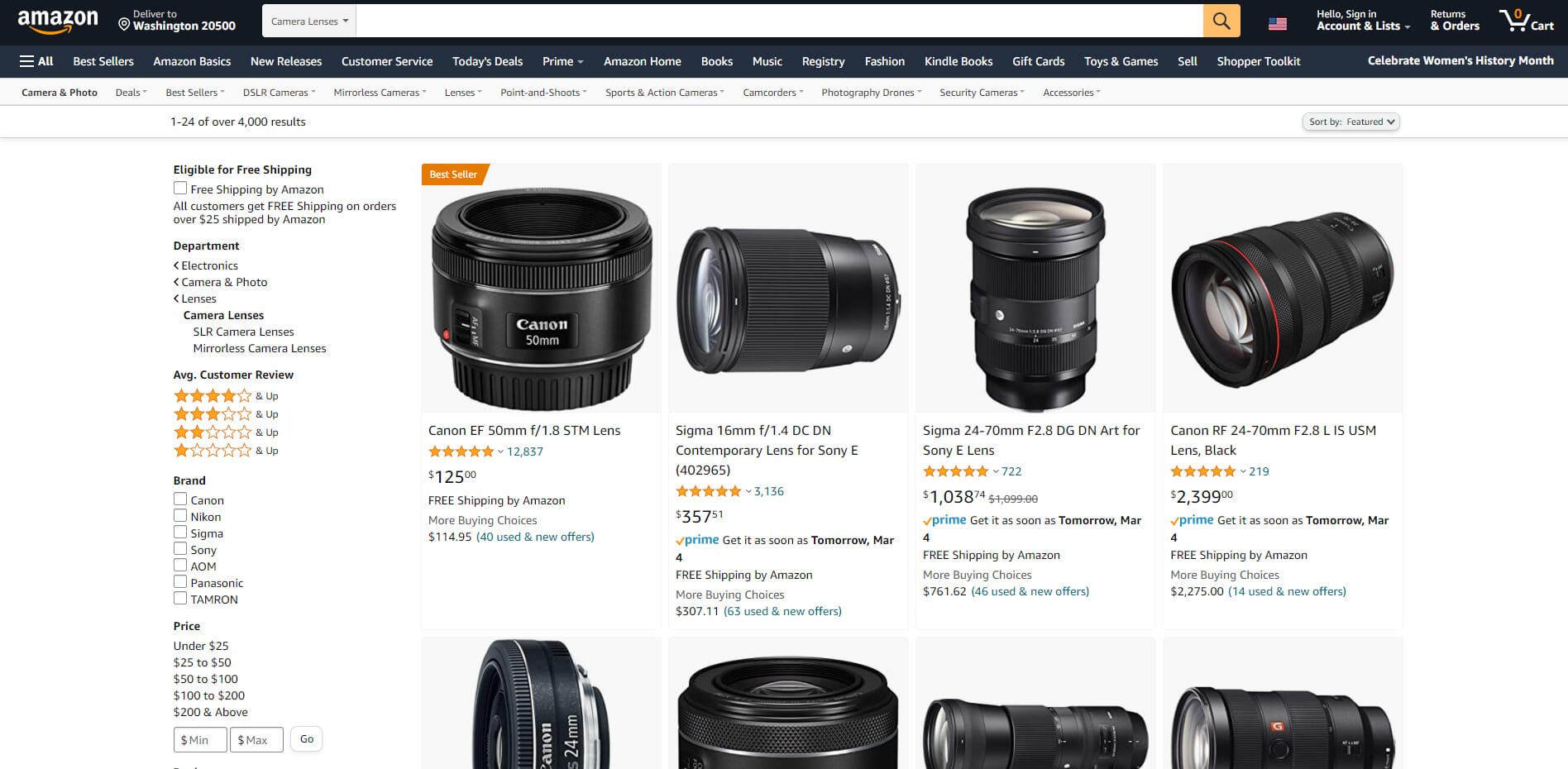 Best for international buyers
Amazon's customer reviews and star ratings make it easy to understand the pros (and cons) of particular lenses.
Pros
Worldwide coverage for deliveries
Has a huge range of used lenses
Great lens information for buyers
Cons
Limited info on used lens quality
If you live outside the US, Amazon is an outstanding place to buy used camera lenses. Amazon operates in many countries and has an extensive delivery network that offers some of the fastest delivery times and prices on the market.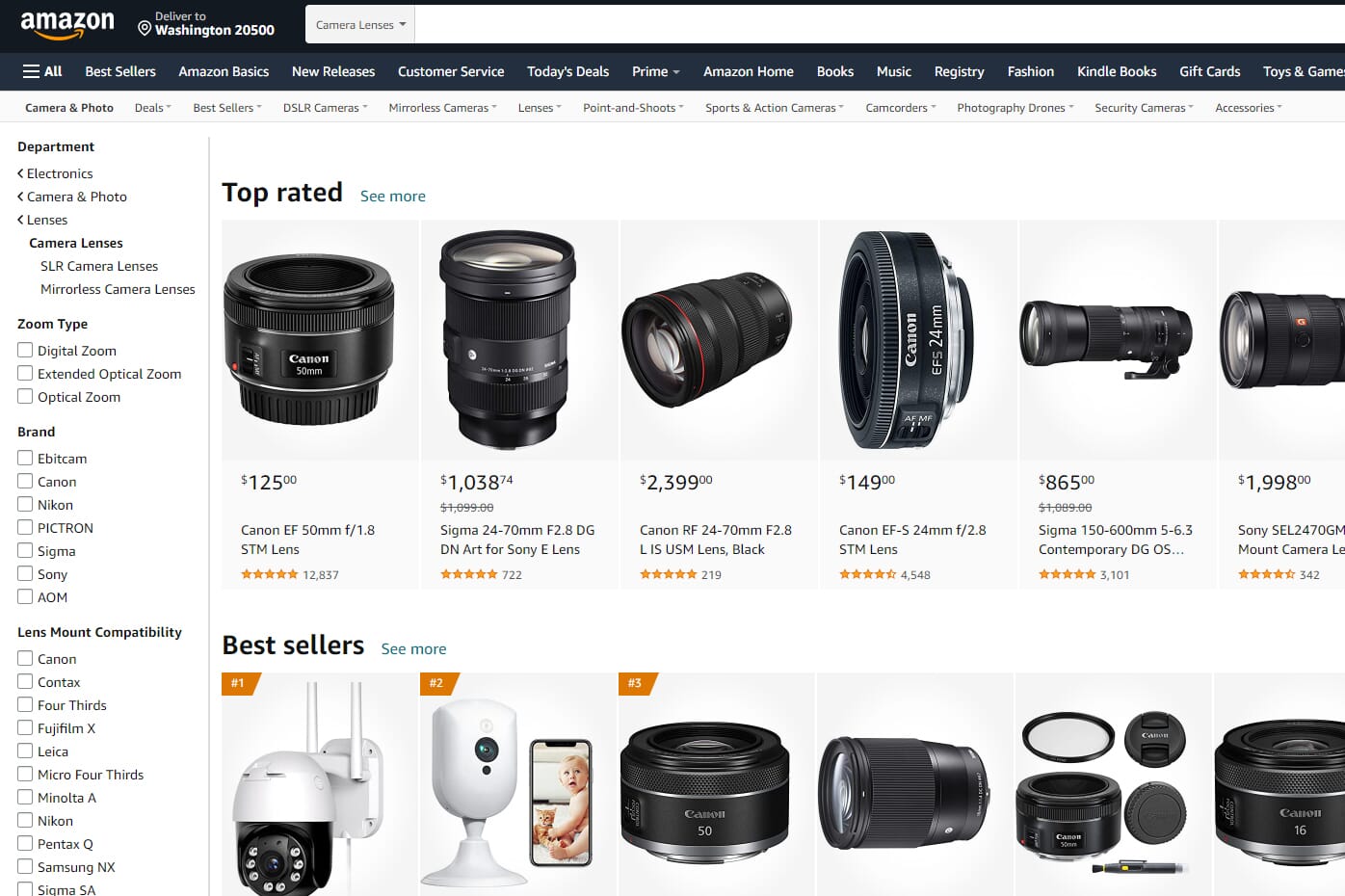 Every photographer will appreciate Amazon's huge range of used lenses and photography gear. You can find virtually any type of lens, including Canon, Sigma, Tamron, Nikon, Panasonic, and Sony options.
Each product has a star rating, and you can easily read customer reviews on both the seller and the lens. There's only one downside to buying used off of Amazon: there often very little information regarding the condition of the lenses.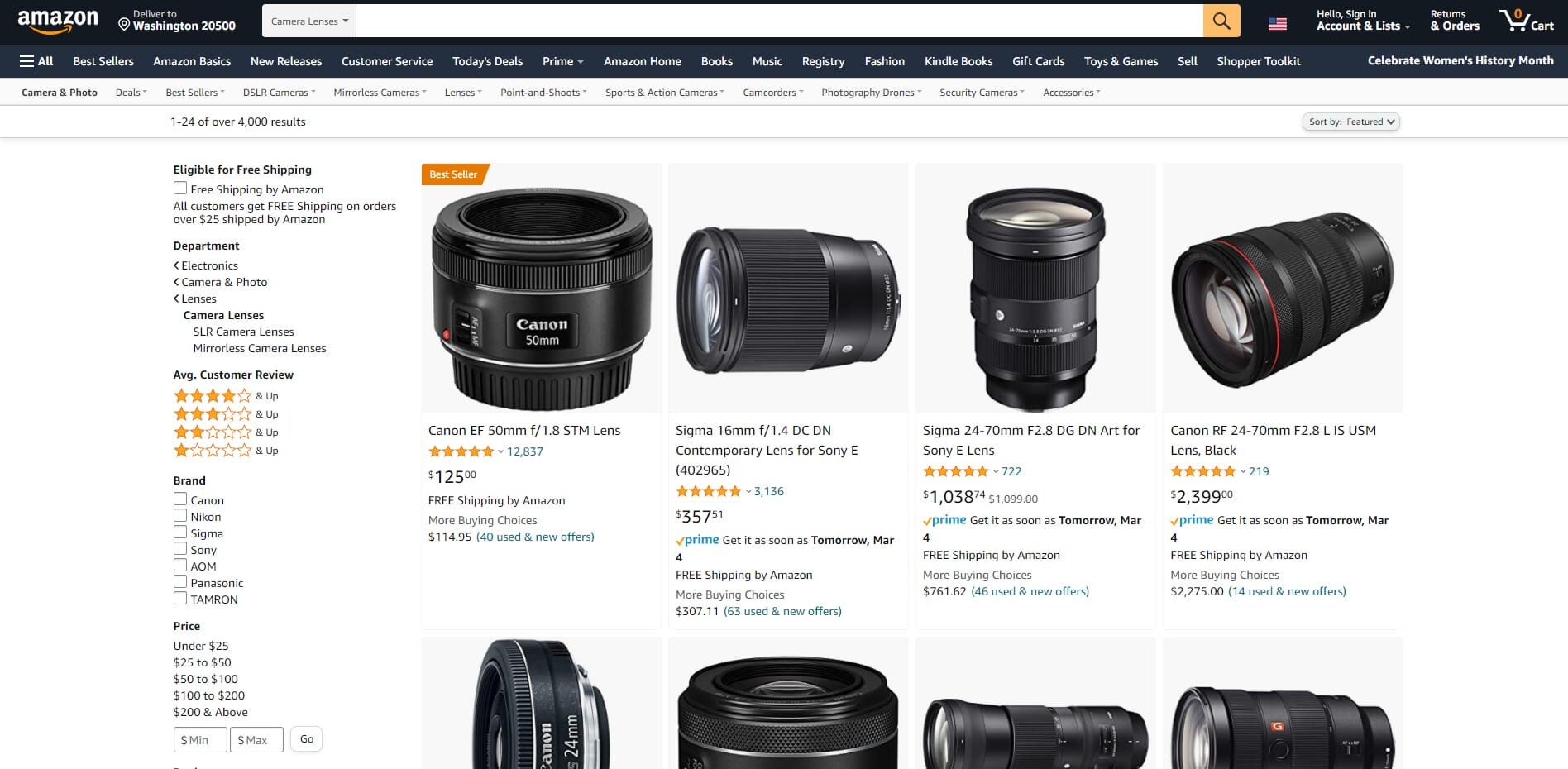 6. Jessops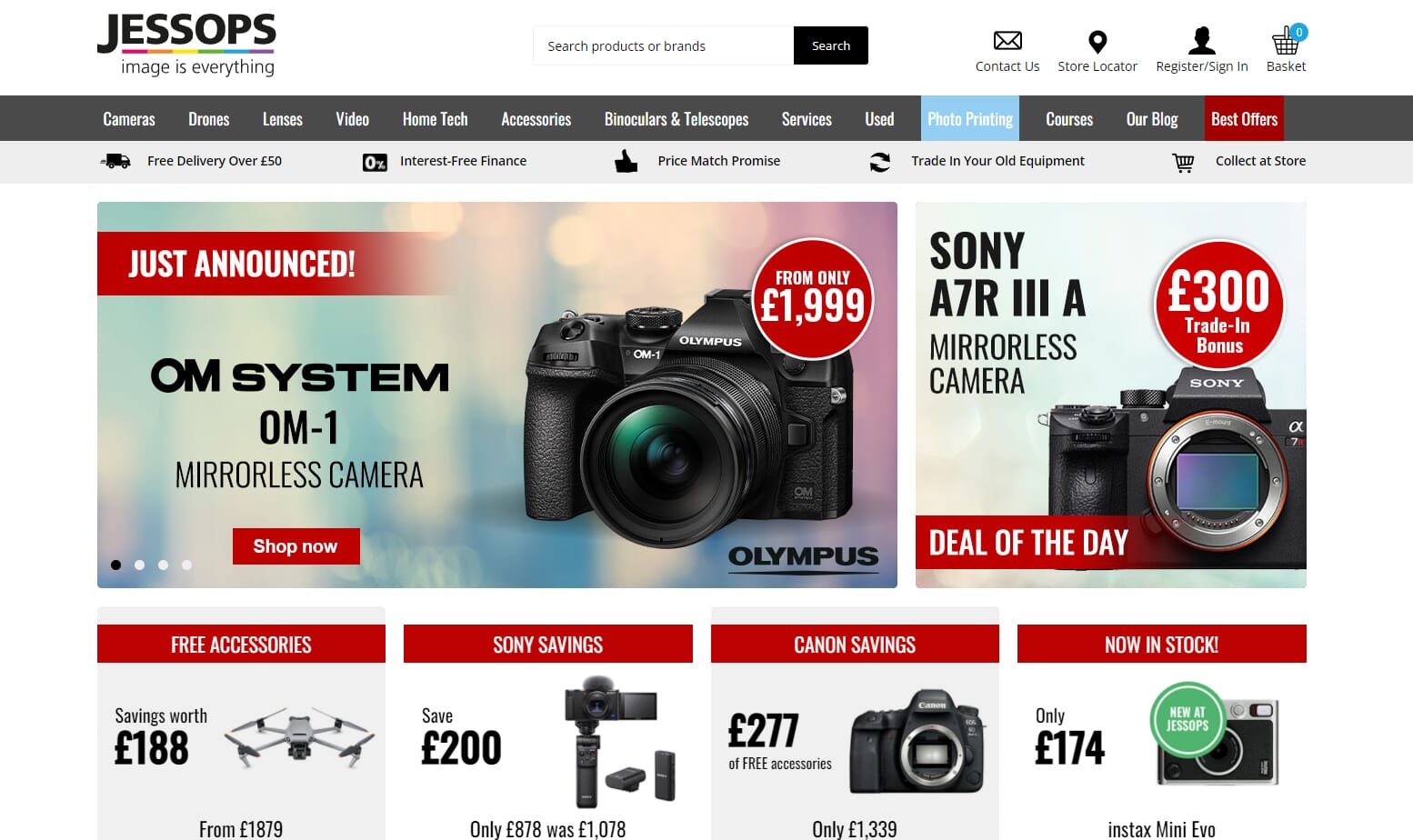 Best for UK customers
Jessops is one of the best UK used lens retailers; they maintain an online store and various physical store locations.
Pros
Great reputation and prices
They offer both delivery and collection services
The used lens section of the website is easy to use
Cons
Doesn't have as large a collection as other retailers
One of the best places to buy used camera lenses for UK customers is Jessops. The company is one of the best-known photography retailers in the UK and offers physical store locations as well as an extensive online store.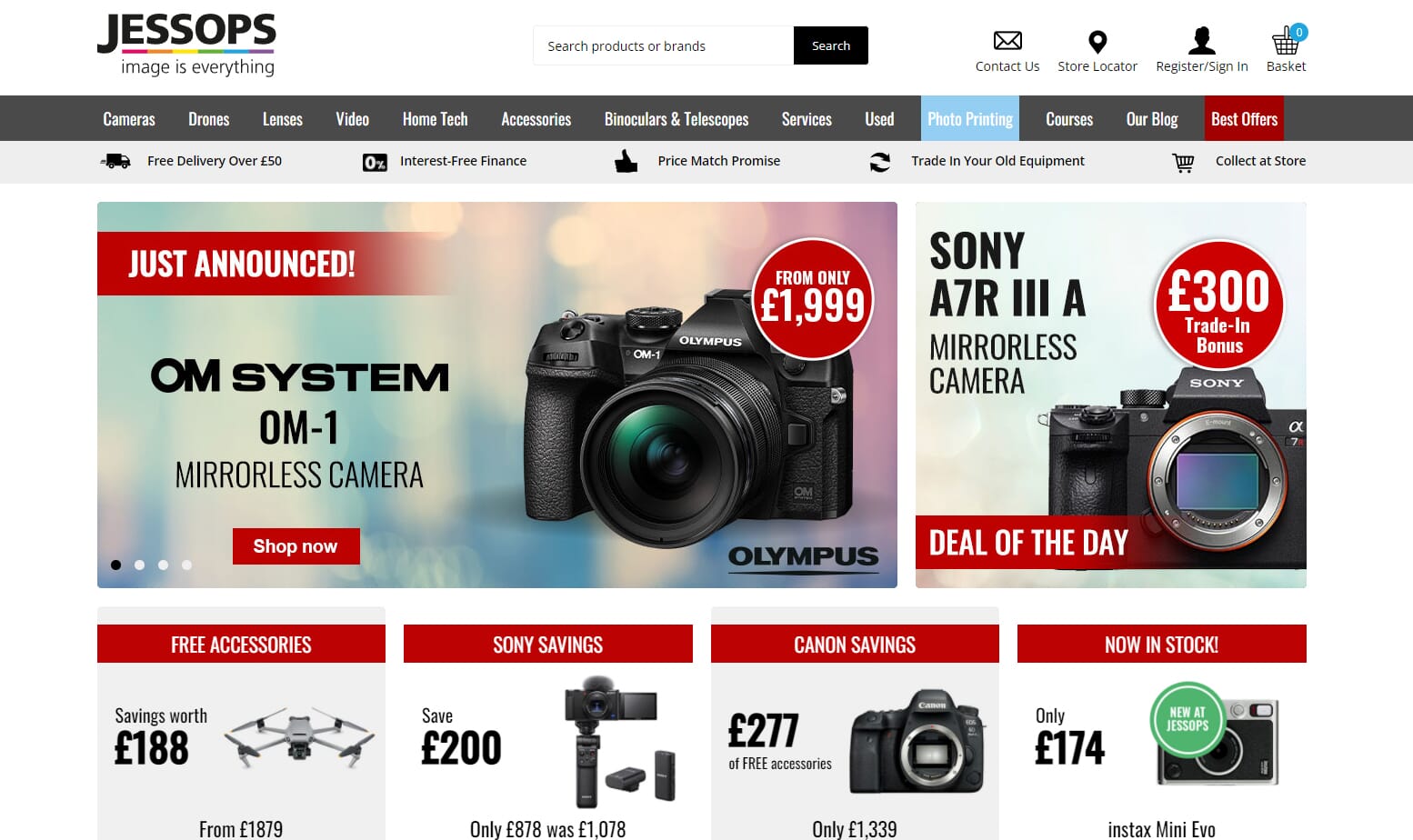 The Jessops online store has a dedicated used lens section that offers numerous filters, including "Used Mint," "Used Excellent," "Used Good," and "Used for Spare Parts or Repair." At any one time, you can expect to find 100+ different used lenses from Nikon, Canon, Sigma, and Sony.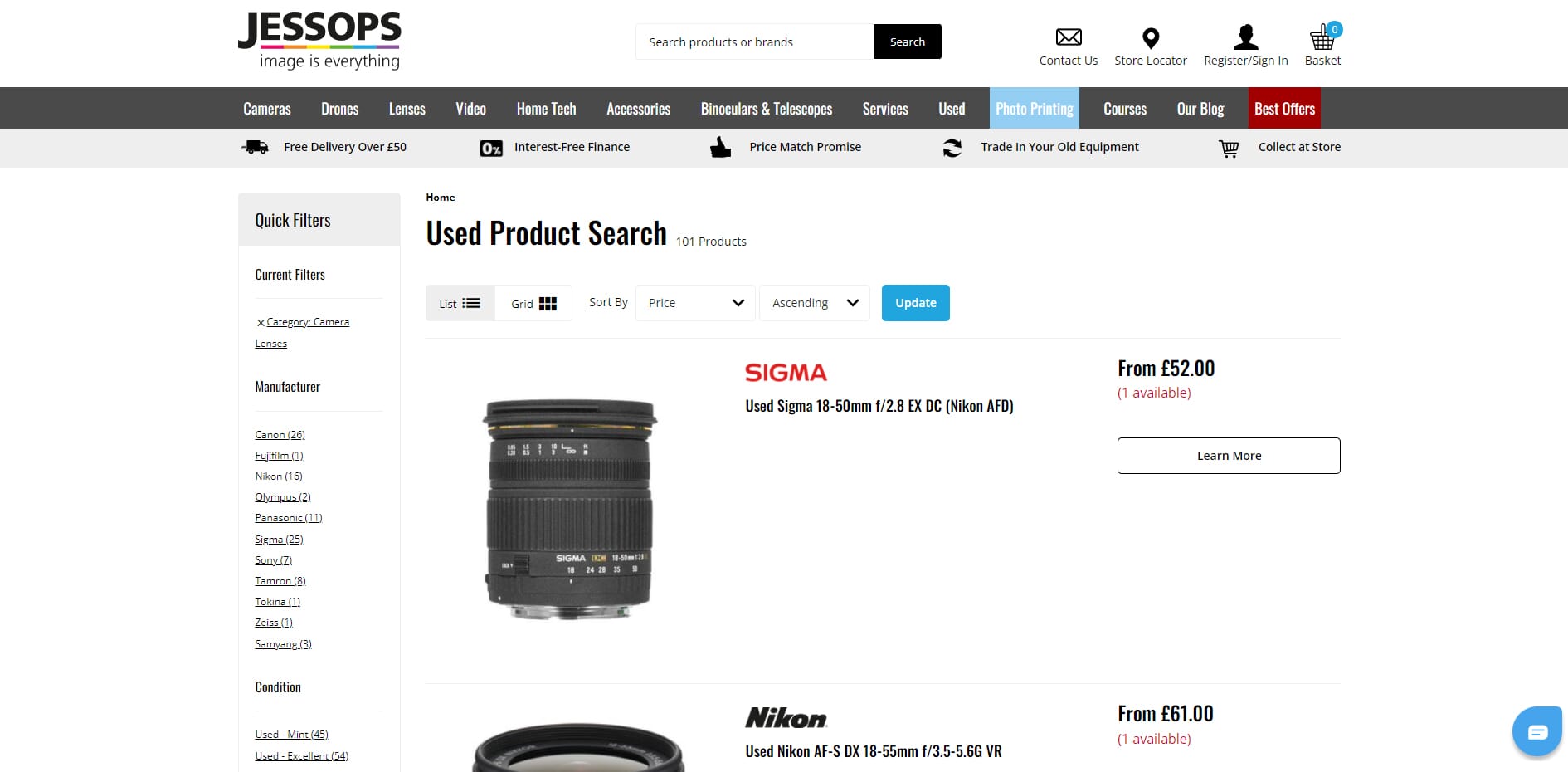 You get free deliveries on orders over £50, though you also have the option to do in-person pickup. Current UK store locations include London, Bath, Shrewsbury, Sheffield, Leeds, Preston, Glasgow, and Belfast.
7. eBay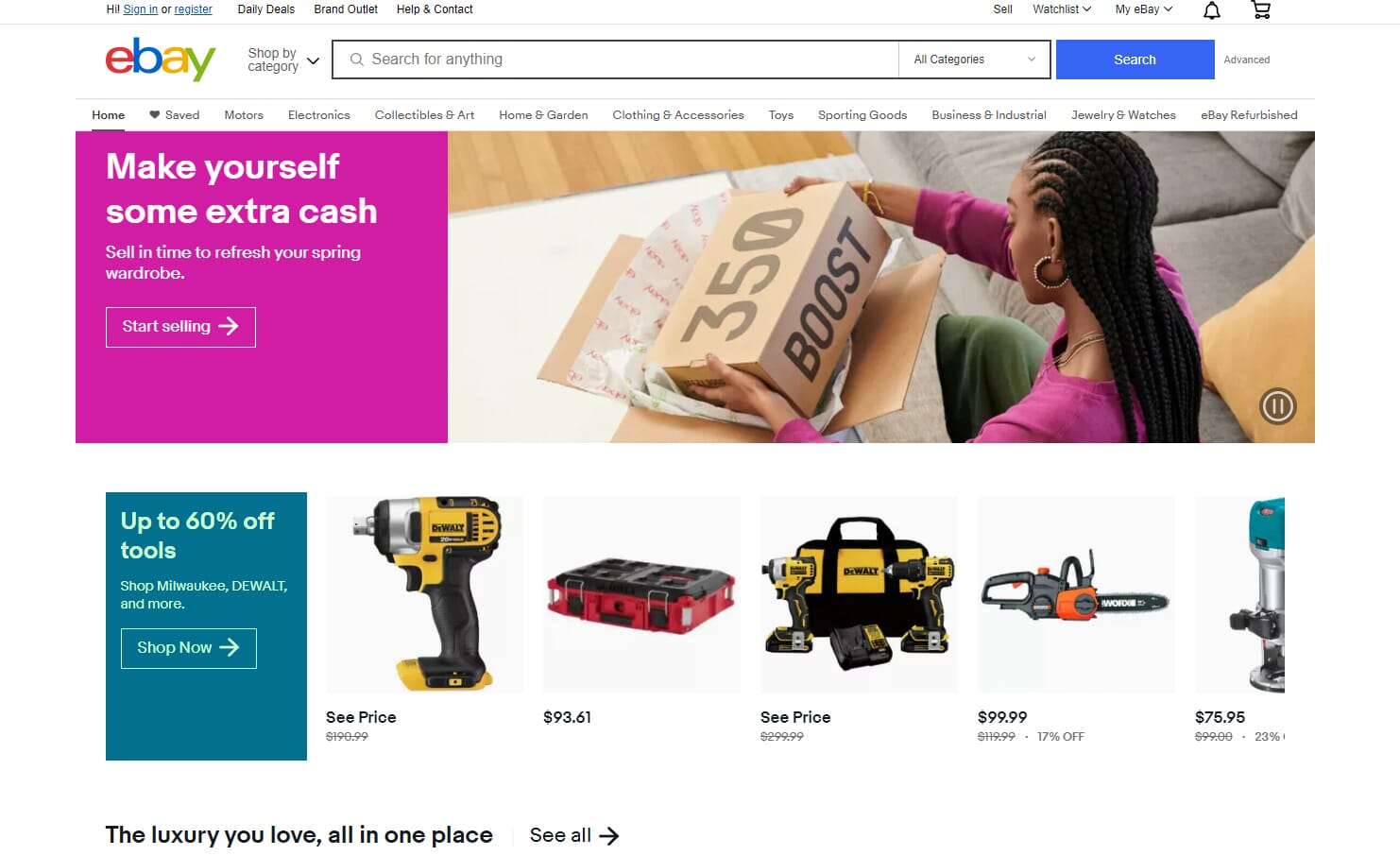 Great for lens variety
eBay has tens of thousands of used lenses available across the globe.
Pros
Fantastic variety and volume of used lenses
Reasonable prices
Reputable website
Cons
No guarantee of the lens quality
One of the best-known used-goods websites is eBay, which lets you buy practically anything – including a vast array of electronics and camera equipment.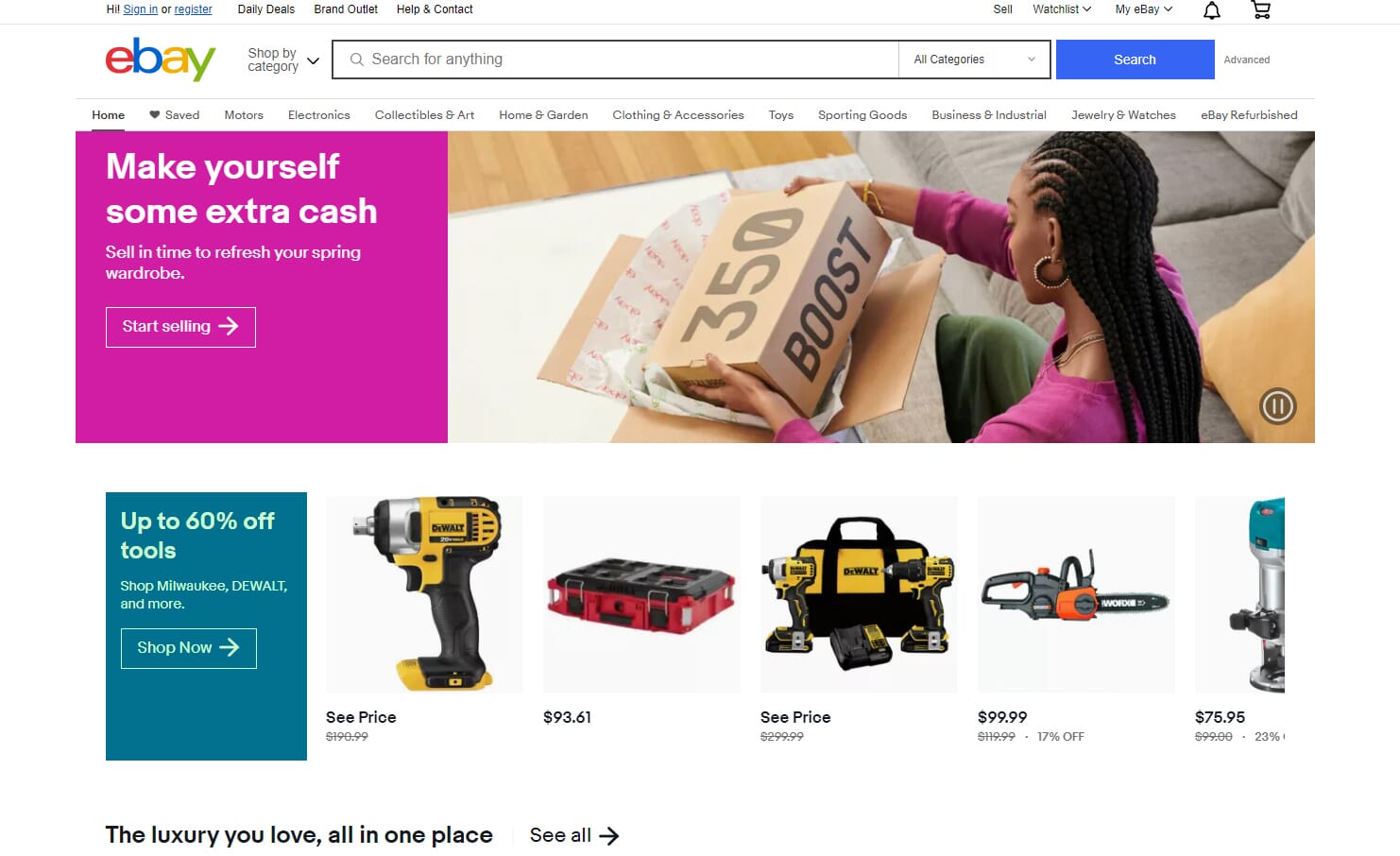 eBay has a huge selection of used lenses. For example, if you look for Canon lenses, you'll find over 19,000 different listings. It doesn't matter what kind of lens you want; you can find it on eBay.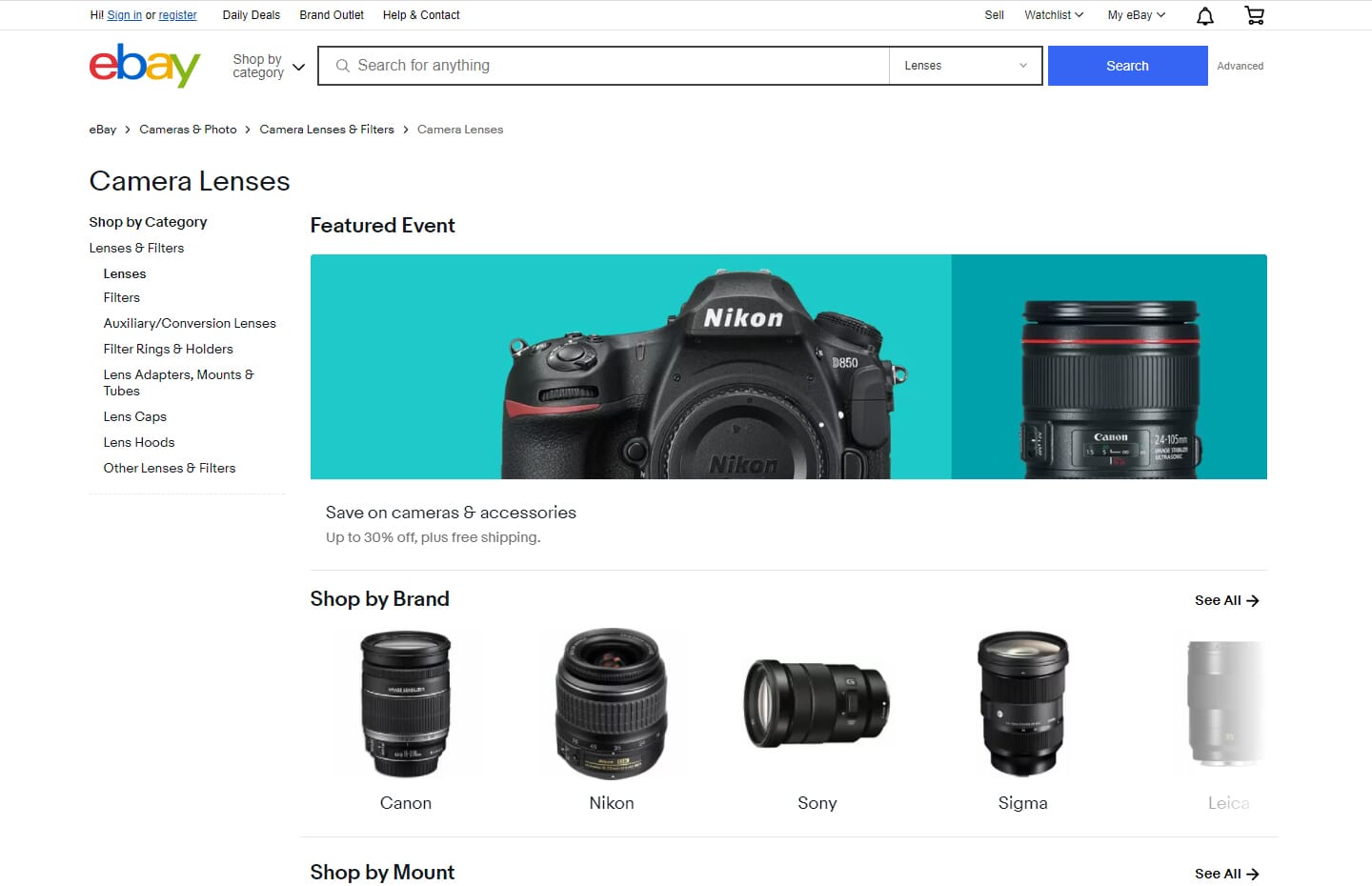 The risk is that people have been known to use fake photos or give fake product descriptions. So only buy from top-rated sellers!
8. UsedPhotoPro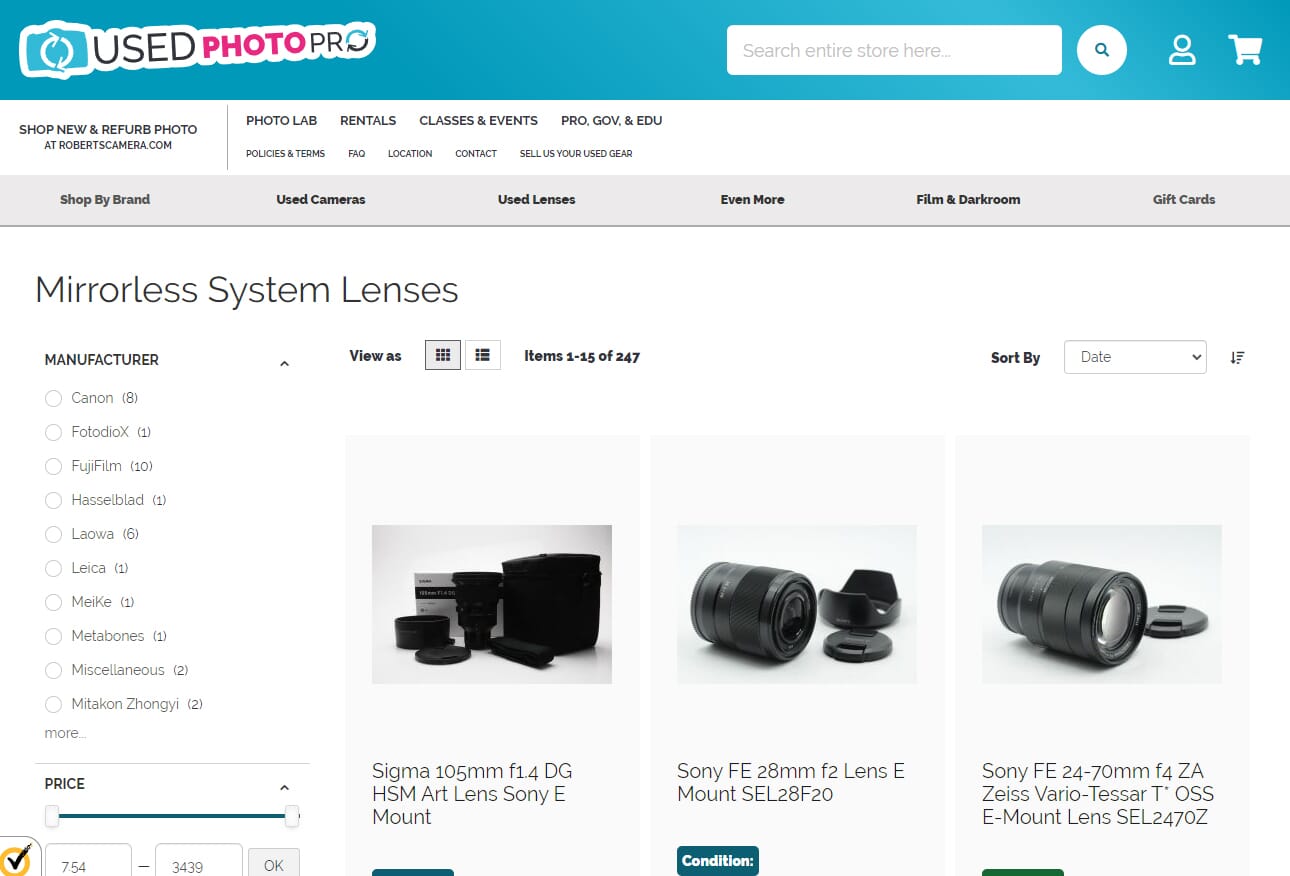 Great for Canon and Nikon owners
UsedPhotoPro has a large selection of used Nikon and Canon lenses. They offer detailed condition reports and flexible delivery options.
Pros
Detailed rating system for lens conditions
Both national and international shipping available
Solid selection of Canon and Nikon lenses
Cons
Lens quality appears to vary greatly
Roberts Camera is a photography gear retailer with a physical store in Indiana. They also have a fantastic online store that sells used lenses: UsedPhotoPro. The website is well designed, intuitive, and very easy to navigate.
Used lenses are split into categories so you can select from mirrorless, large format, and rangefinder options. UsedPhotoPro has an especially impressive range of Canon and Nikon lenses.
All lenses are given a five-point condition rating (from "Poor" to "Mint"), and additional details are provided so you know exactly what you're getting.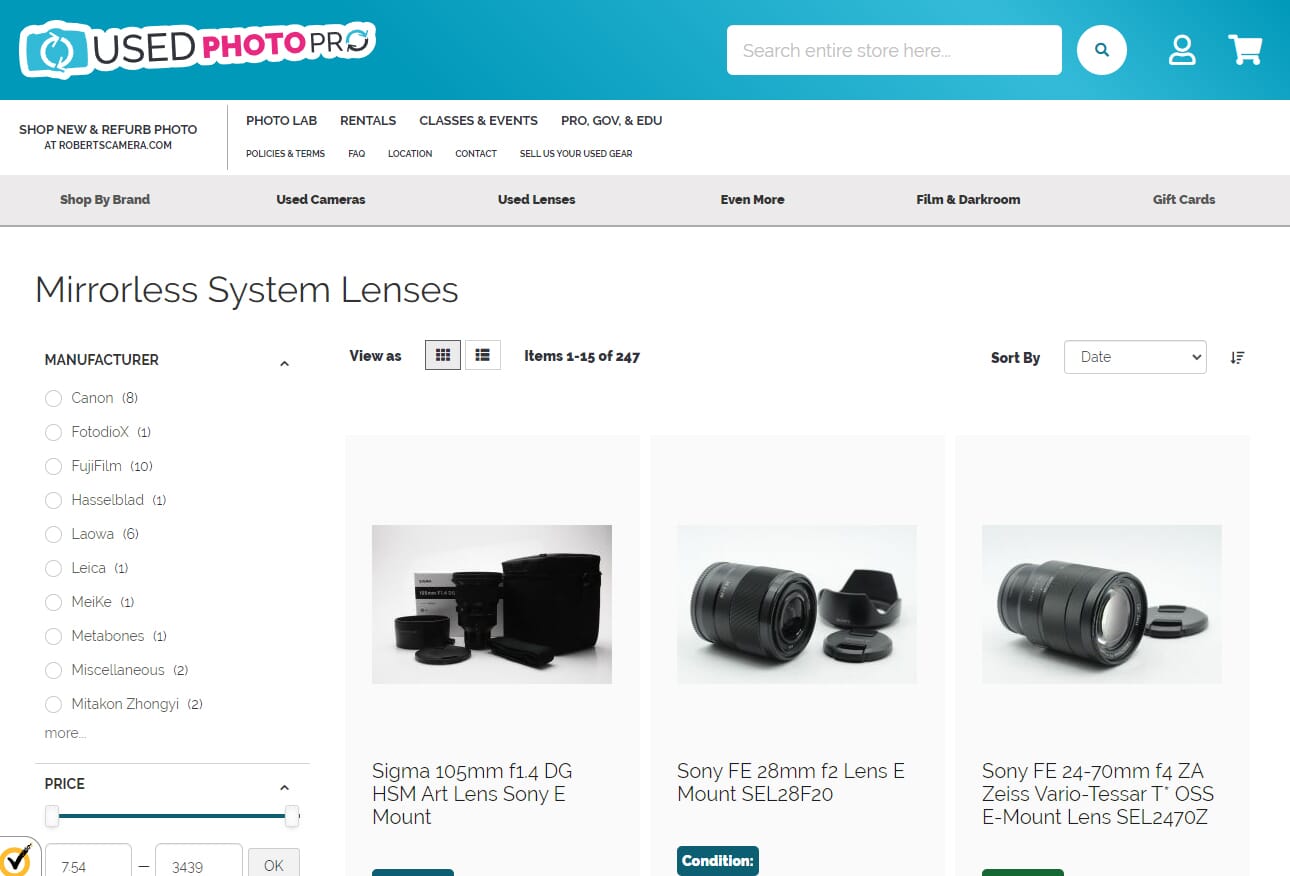 Used lens prices are reasonable, and Roberts Camera has a host of excellent reviews. They are also Shopper Approved and offer free shipping to 48 US states (as well as variable-cost international shipping).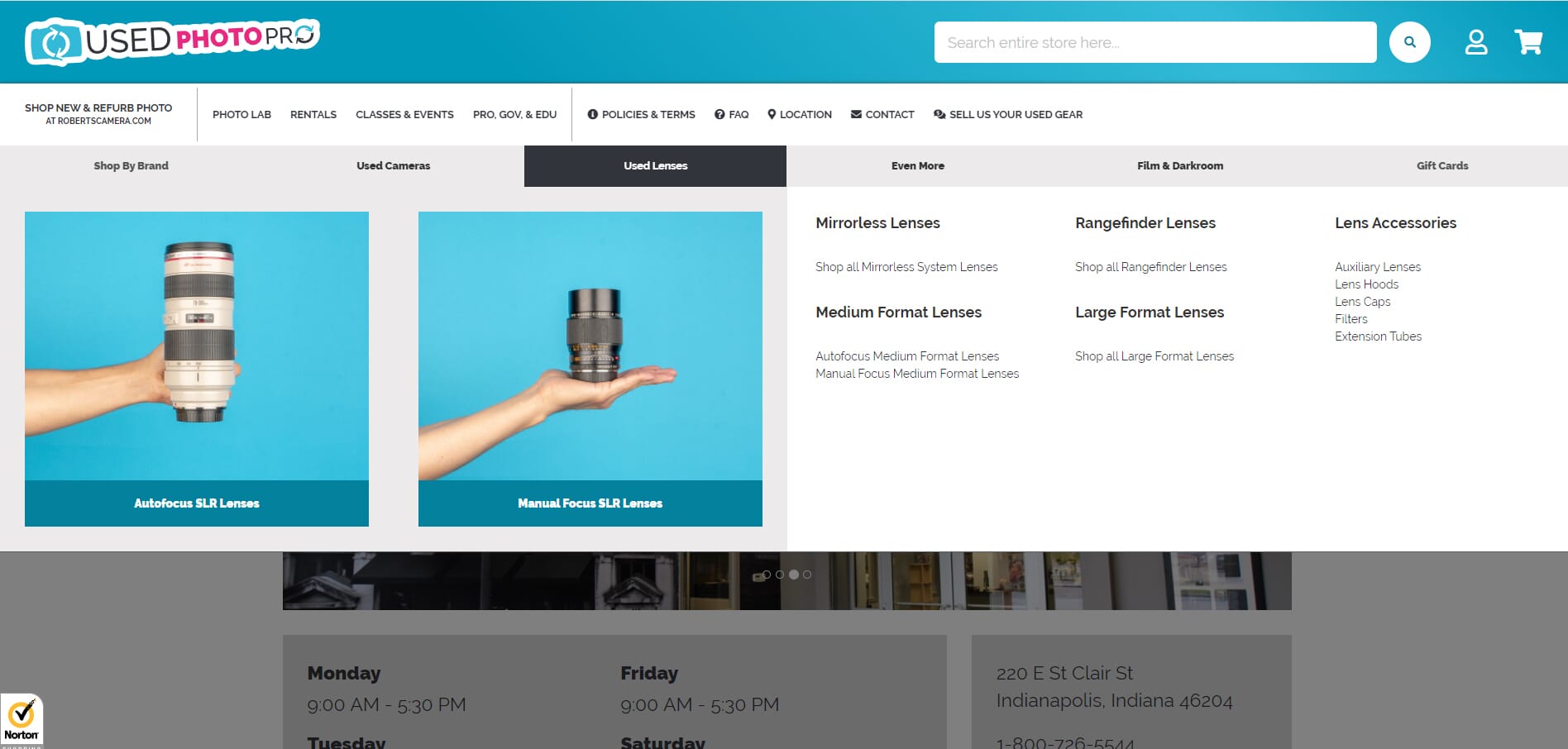 9. BorrowLenses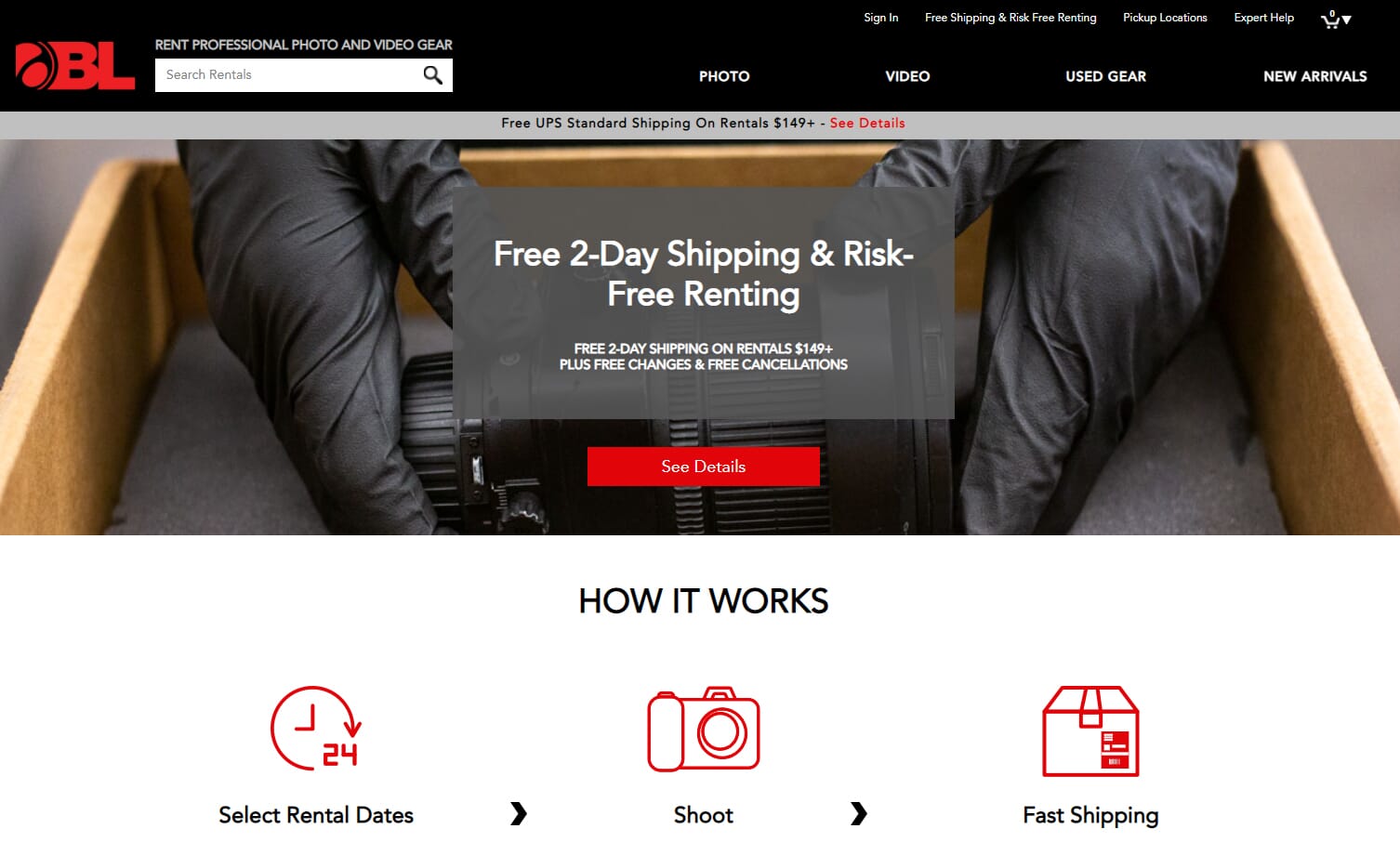 Great for used lens rental
BorrowLenses is a US company that has a decent selection of used lenses and photography rental units available.
Pros
Used items have a comprehensive rating system
Offer collection or delivery
Reasonable used lens prices
Cons
Collection points are limited to the US coasts
If you're interested in either renting used lenses or buying them outright, BorrowLenses is a good choice. This online retailer specializes in photography rentals, including still cameras, lenses, lighting, and video cameras. And BorrowLenses also has a section of its website dedicated to purchasing used lenses.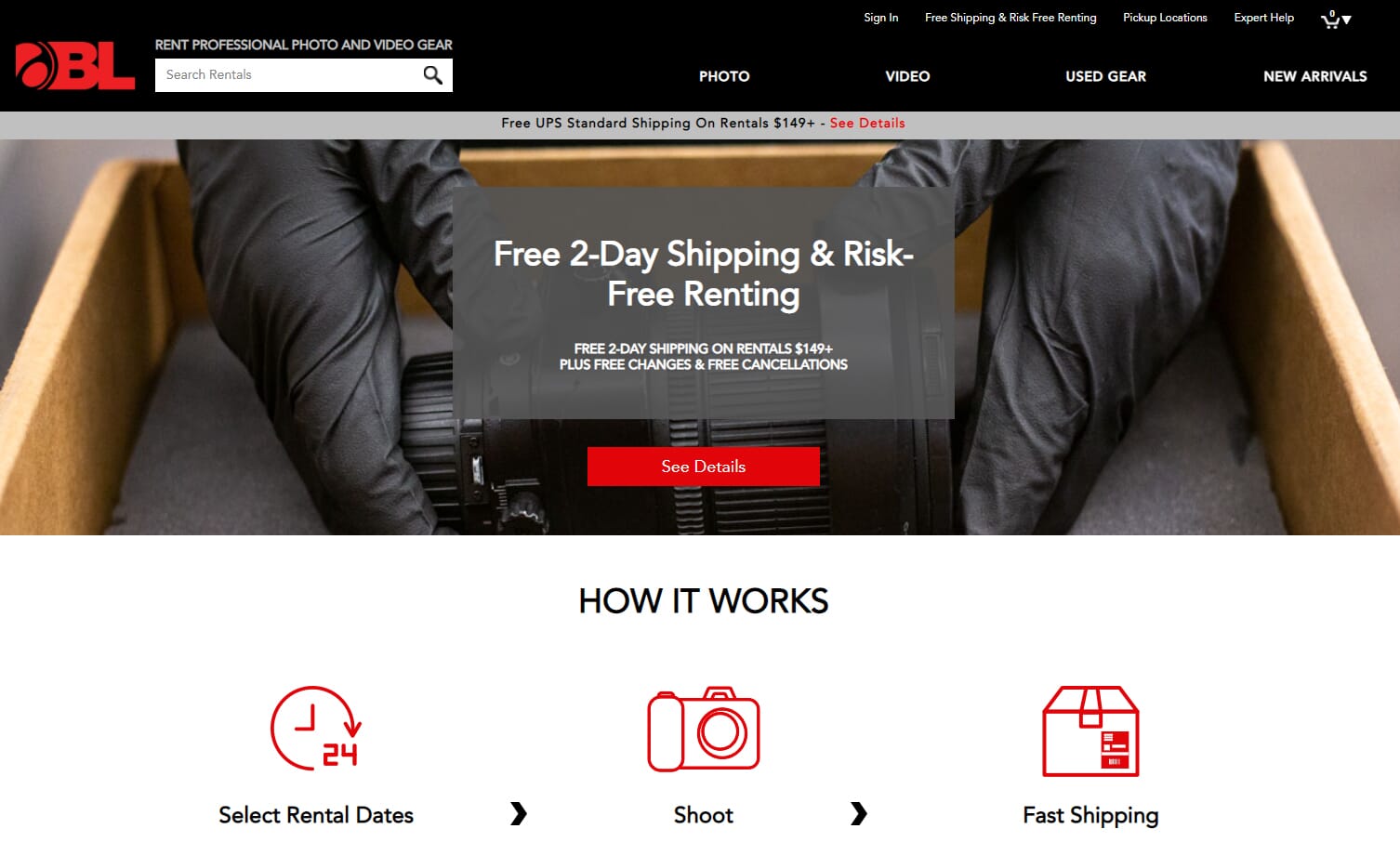 BorrowLenses is a US-based company, and they do have pickup locations in Massachusetts, Philadelphia, Long Beach, San Francisco, Seattle, and more. The only downside is that they don't have any collection points in the Midwest. However, they do offer a free delivery service for orders over $149.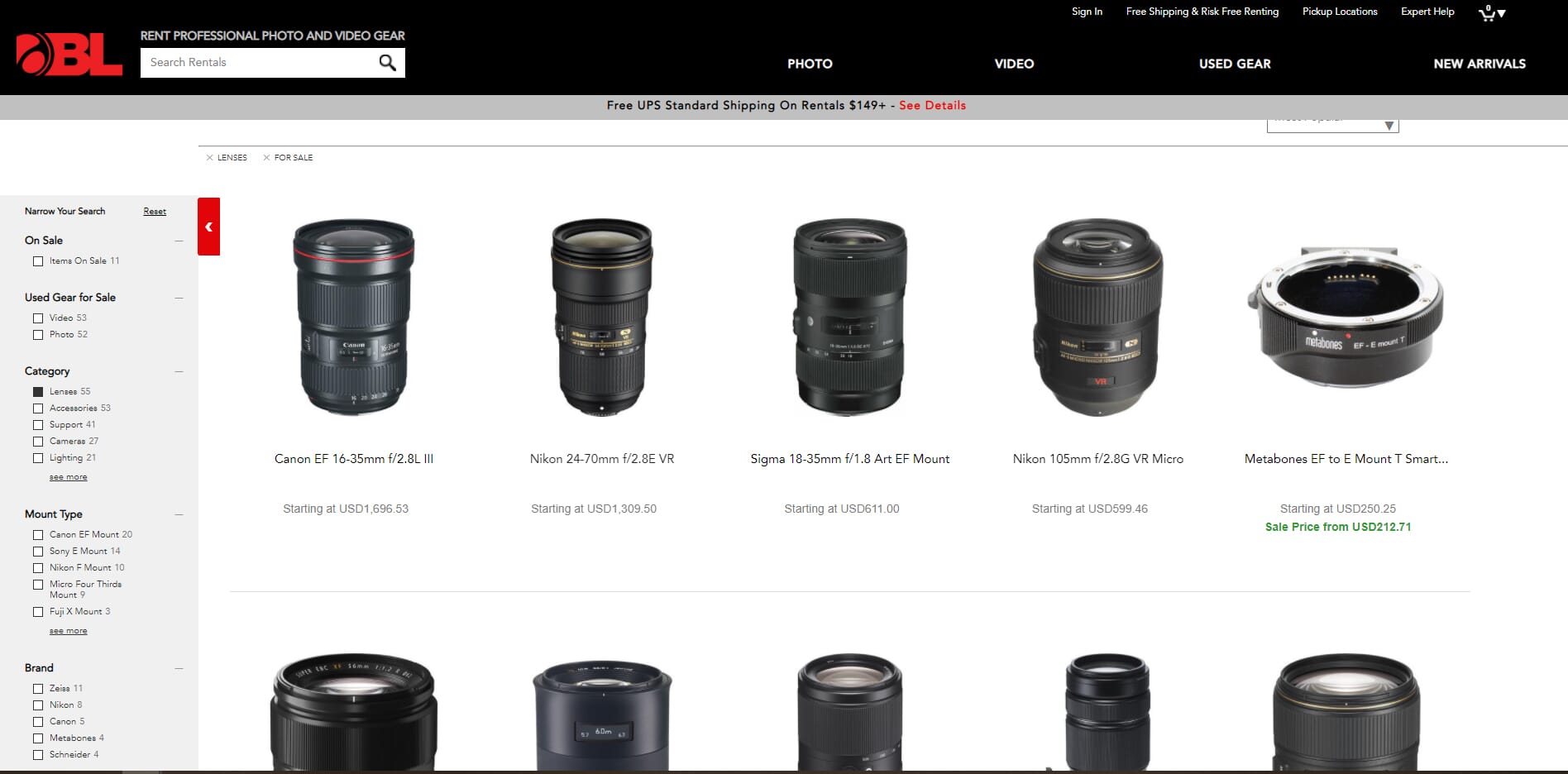 The used lens section has 50+ models, including models from Canon, Sony, Nikon, and Fujifilm. We also like that each used item has a BL Used Gear Rating; this includes a score out of ten for cosmetics, the front element, and the rear element.
10. Gear Focus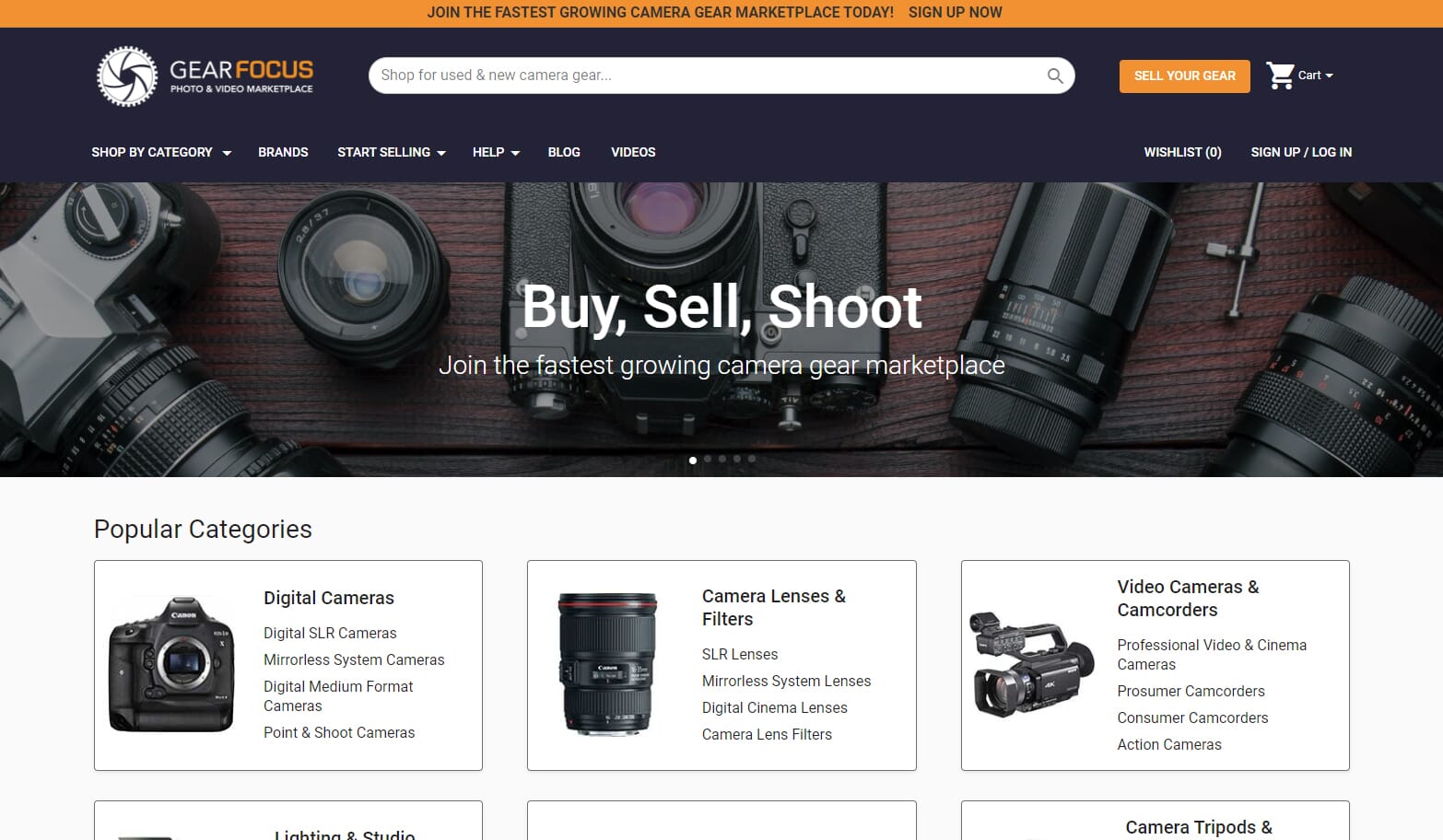 Great for actual lens previews
Gear Focus shows actual photos of its used lenses so you know what to expect.
Pros
Displays real photos of the used lenses
Lenses have detailed descriptions
Easy-to-use website
Cons
The seller may not necessarily accept your offer
Gear Focus is a rapidly expanding online photo and video retailer. The company sells both used and new photography equipment, including lenses, cameras, video cameras, accessories, and general electronics. And while Gear Focus is headquartered in the US, it offers shipping to the UK, Canada, Australia, Switzerland, Italy, China, and several other countries.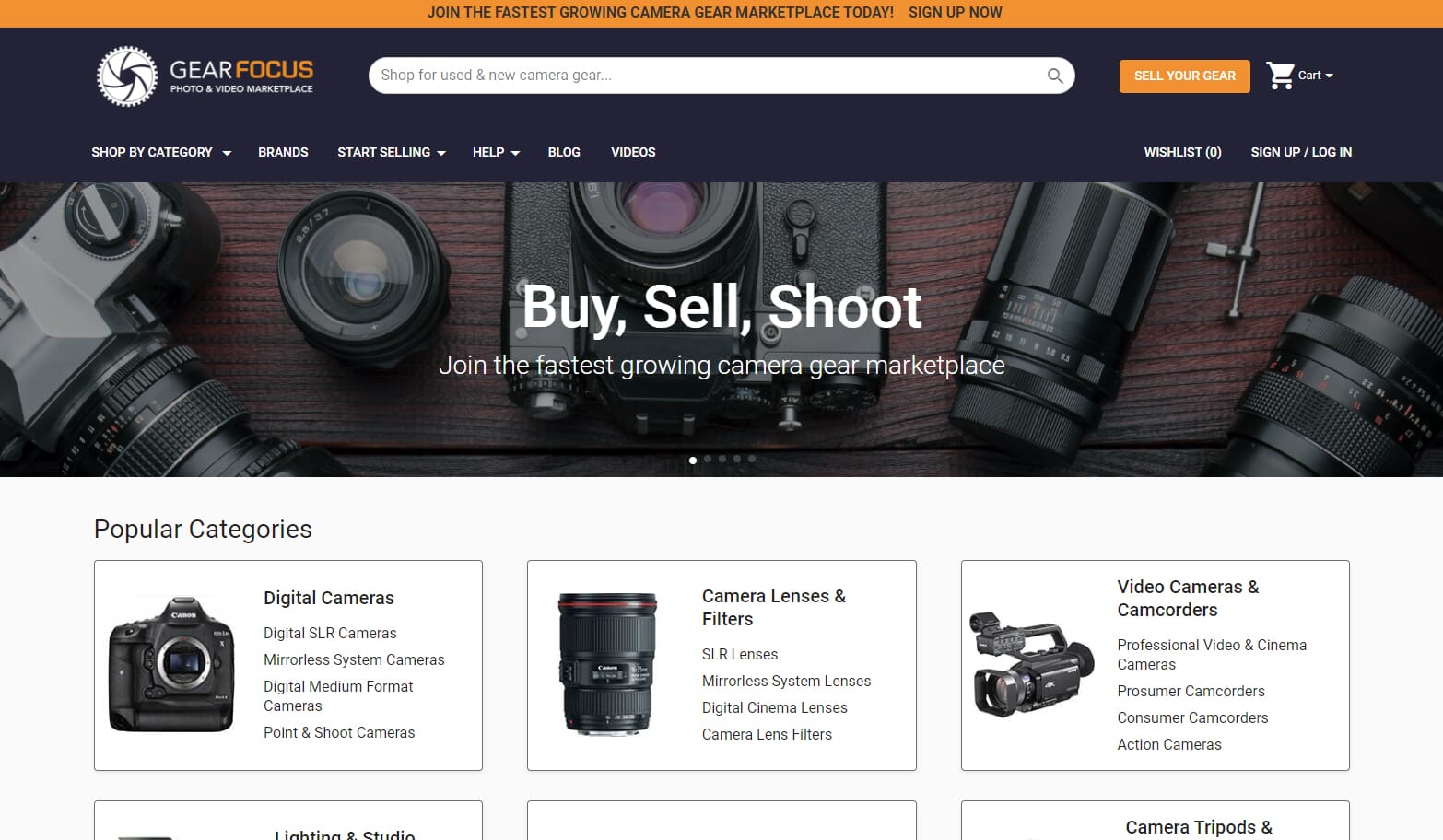 The used lens section of the Gear Focus website is comprehensive. Over 250 used lenses are offered at present, including models by Canon, Sigma, Nikon, Panasonic, Sony, and Tamron.
Unlike some used lens retailers, Gear Focus actually displays photos of the lenses instead of generic press photos. This means you can gauge the quality before buying. Each lens also has a description that lists any defects or imperfections.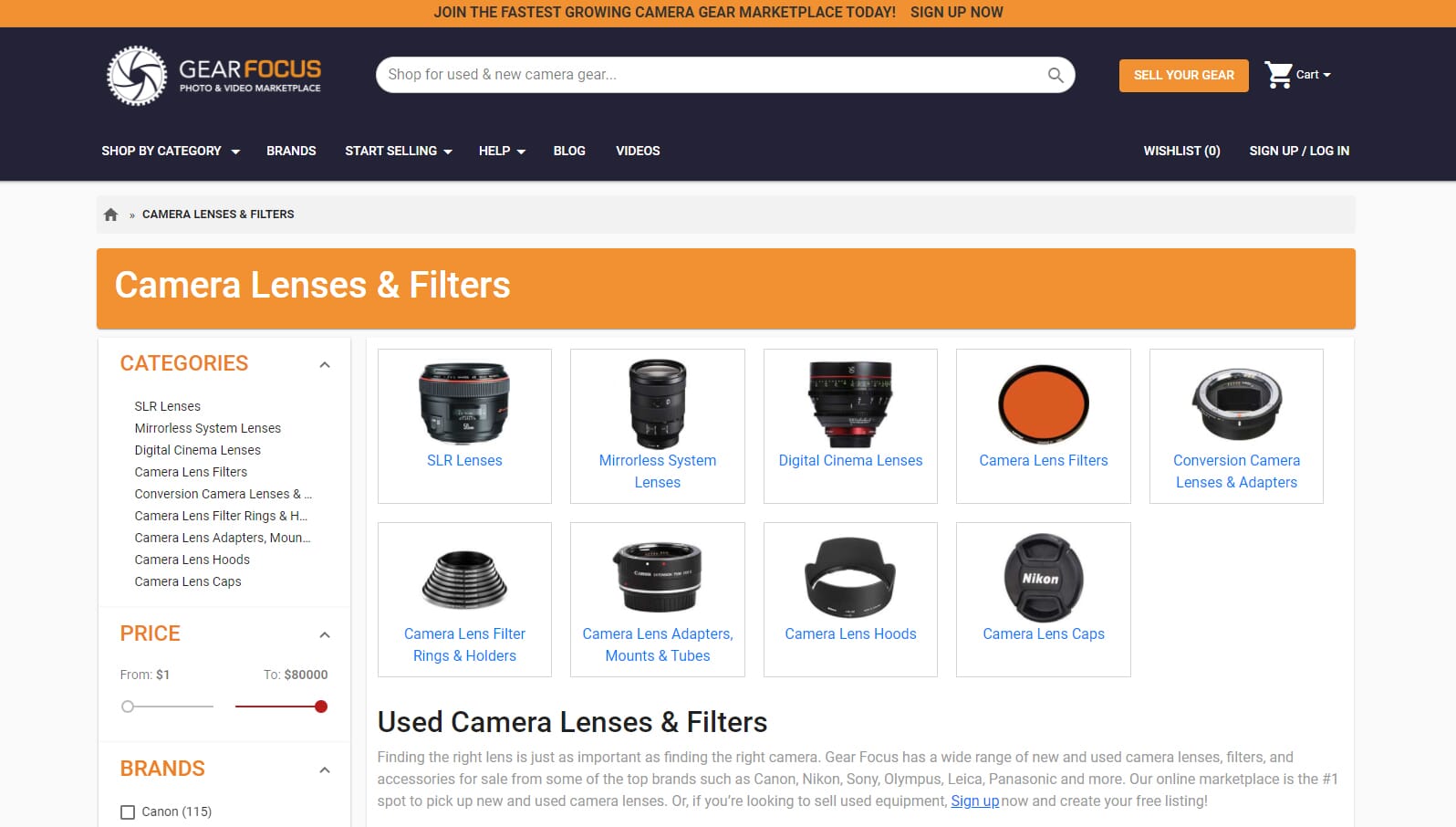 How to Choose a Used Lens
Before purchasing a used camera lens, you should keep a few items in mind.
First, what is the condition of the lens? In most cases, the provider will explicitly state the condition. This could be based on a star rating system or a worded system. It is important to understand how the lens you're buying differs from a new model. Does it have any defects? Does it have external damage?
Second, with lenses, it is vital to determine which accessories are included. A used lens will generally come with the front and rear lens caps – which are important! – but this isn't always the case, so be sure to check. Other accessories to look for are lens hoods, carry bags, and filters.
Lastly, always compare the used price to the current new price! You can perform a simple Amazon search to find this out. How much does the new price differ from the used price? Are you saving a significant sum of money? Or is the used price not worth the reduced condition?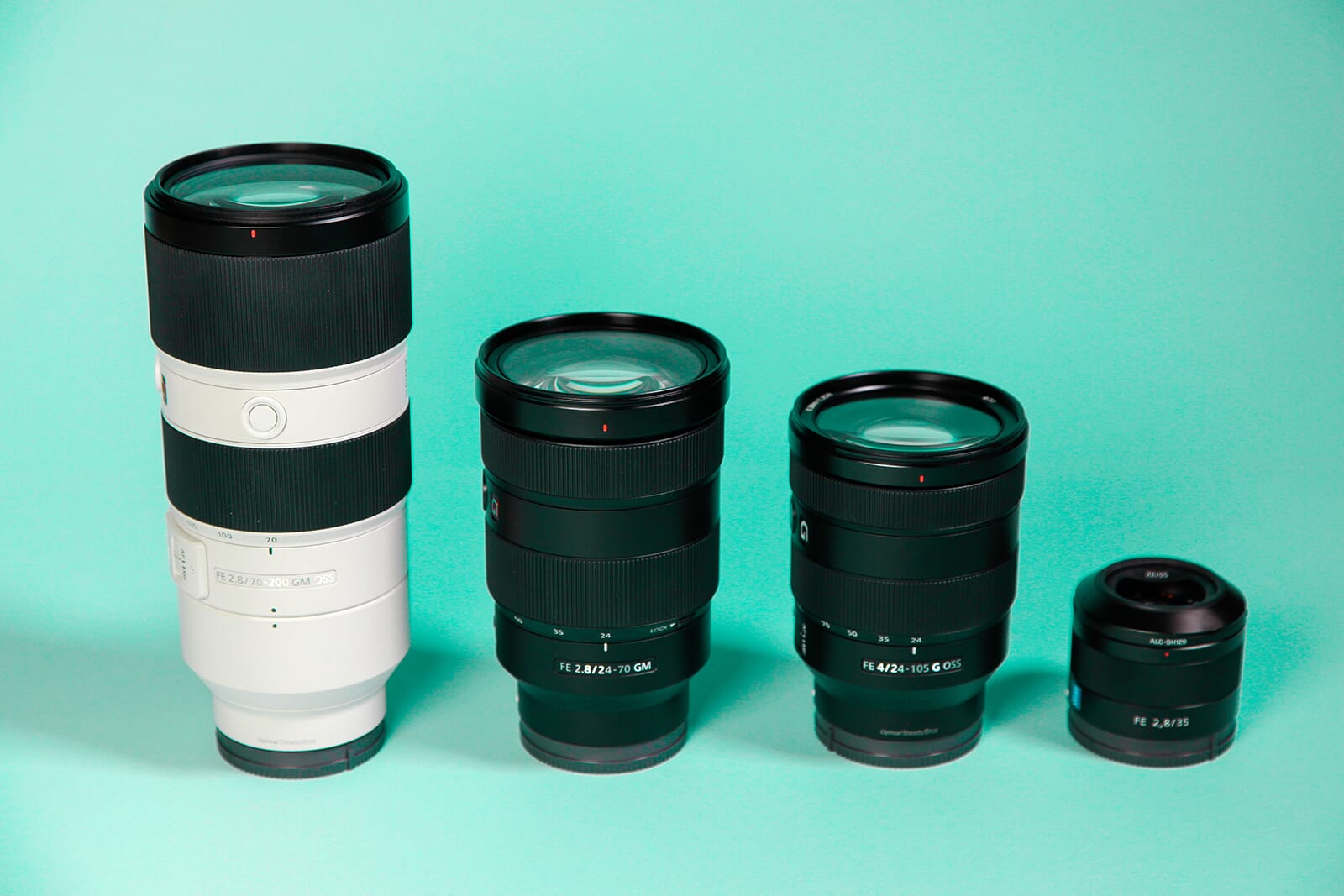 Pick a Retailer and Grab Your Used Lens!
We hope you found this guide helpful! There are plenty of great lens retailers, and if you don't mind buying used, you can easily save lots of money (and get some great gear in the process!).
So, what's the best place to buy used camera lenses?
We recommend reputable online photography stores like KEH Camera, B&H Photo Video, Adorama, and MPB.
Though, you shouldn't forget eBay, which is always a great place to pick up older or more niche gear.