If you want to upgrade from a point-and-shoot camera but aren't quite ready for a DSLR or mirrorless model, then a bridge camera is an excellent choice. These cameras are usually easier to operate than advanced models but still have great features such as high-resolution sensors and versatile zoom lenses.
With a bridge camera on hand, you can learn the basics of photography and eventually progress to more advanced techniques, but you'll never feel overwhelmed. You won't have to spend money on interchangeable lenses, either.
To help you get started, we've selected seven of the best bridge cameras available in 2023, including models that fit a variety of purposes and budgets.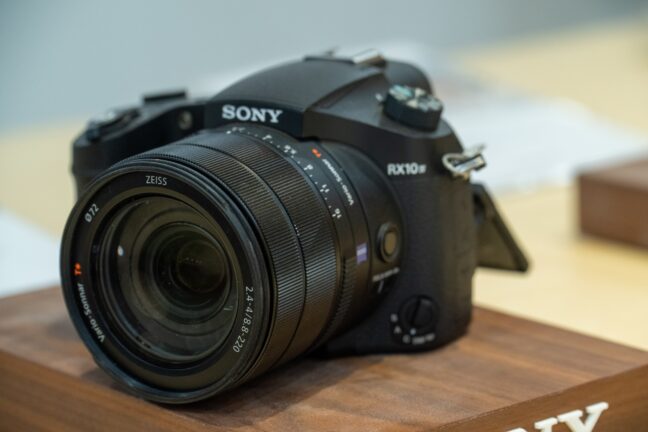 7 Great Bridge Cameras to Buy in 2023:
When you buy through links on our site, we may earn a commission at no cost to you. We evaluate products independently. Commissions do not affect our evaluations.
1. Sony RX10 IV
Our Pick
Great for tracking subjects
The Sony RX10 IV has fast autofocus so you can easily track moving subjects, and it also boasts image stabilization for low-light shooting.
Pros
High-quality zoom up to 600mm
Fast and accurate AF
24 FPS continuous shooting
Our favorite bridge camera is the Sony RX10 IV. It's on the expensive side, but for the price, you gain a fantastic camera with a wealth of features. To start, the RX10 IV has a 20.1 MP sensor, which will allow you to capture high-quality images.
It also has great zoom capabilities thanks to the 24-600mm lens. The ZEISS Vario-Sonnar glass means you can expect outstanding sharpness, and the focal length is great if you want to pursue wildlife and sports photography.
Don't worry about tracking moving subjects, either; this bridge camera has a superb autofocus system. The 315 phase-detection points give you great accuracy, and you can focus on subjects in as little as 0.030 seconds. You should be able to photograph moving wildlife and people with relative ease.
Related Post: Sony RX10 III vs IV Comparison
The camera also boasts in-body image stabilization. As a result, even if you have unsteady hands or don't have access to a tripod, you can capture sharp shots in low light. The RX10 IV is definitely a step up from previous models and offers plenty of versatility!
2. Panasonic LUMIX FZ1000M2
Also Great
Great for beginners
The Panasonic LUMIX FZ1000M2 has an ergonomic design and a fully rotatable touchscreen so you can easily view photos and change settings.
Pros
4K/30p video
400mm super-telephoto zoom
20 MP sensor
Cons
Settings menu can be confusing
The Panasonic LUMIX FZ1000M2 is one of the top bridge cameras on the market and is reasonably priced, too. If you want a cheaper alternative to the Sony RX10 IV that doesn't sacrifice much, it's a great option.
In terms of image quality, the FZ1000M2 has a 20.1 MP sensor that allows you to take beautiful RAW photos in every scenario. The optical image stabilization also means you can still use this camera handheld even if you're unsteady.
Regardless of the type of photography you want to specialize in, the 25-400mm Leica lens is perfect. At 25mm, you can take epic landscape shots; at 50mm, you can shoot portraits; and at 400mm, you should be able to capture gorgeous images of animals and distant objects.
The camera body is very ergonomic due to the textured grip on the right-hand side. The ease of use is enhanced by an LCD touchscreen display, which helps if you need to make quick settings changes or preview your photos in the field.
3. Nikon COOLPIX P950
Great for wildlife photography
The Nikon COOLPIX P950 has a 24-2000mm zoom lens so you can photograph distant animals in all their glory.
Pros
Awesome zoom
Built-in image stabilization
4K/30p recording
Cons
Loses sharpness at maximum zoom
The Nikon COOLPIX range of cameras includes some excellent models, such as the superb Nikon COOLPIX P950. This bridge camera sits in the midrange price bracket and offers one of the best zoom lenses available.
The lens's effective focal length range is 24-2000mm, which means it's ideal if you're a wildlife enthusiast. At 2000mm, you can capture amazing fur and eye detail of various animals, so I certainly recommend the P950 for safaris and any other scenarios where you can't get physically close to the wildlife.
It's also a top option if you are unfamiliar with DSLR controls as it gives you a simple set of options and a rotatable LCD screen. Additionally, the textured grip and ergonomic shape make the camera easier to hold during those long hours spent shooting wildlife.
4. Canon PowerShot SX70 HS
Great for trying different photography genres
The Canon PowerShot SX70 HS gives you the chance to try out different photographic genres so you can really identify what interests you.
Pros
Can record 4K video and 4K time-lapses
20.3 MP sensor
65x optical zoom
Cons
Doesn't have amazing continuous shooting
If you want an affordable camera to try before (potentially) upgrading to a mirrorless or DSLR model, the Canon PowerShot SX70 HS is a great choice.
It's an amazing PowerShot option and has a 21.1 MP CMOS sensor that gives you DSLR-quality files without the price tag. Combine this with the DIGIC 8 processor, and your photos will look consistently sharp and feature both superb contrast and gorgeous colors.
If you don't know what type of photography you want to specialize in, the 21-1365mm optical zoom lens will give you plenty of creative freedom. You can try your hand at pretty much anything, from street photography and close-up portraits to wide-angle shots and abstract work.
5. Panasonic LUMIX FZ80K
Great for portability
The Panasonic LUMIX FZ80K is a compact and lightweight bridge camera perfect for travel by plane or train.
Pros
Up to a 60x optical zoom
Built-in Wi-Fi connectivity
Can record 4K video
Cons
Not the best zoom quality
If you want to upgrade from your basic point-and-shoot camera but aren't quite ready to commit to something especially expensive, the Panasonic LUMIX FZ80K is certainly worth a look.
The DC VARIO lens offers great optical quality, so you won't have to use photo editing software to handle sharpness and distortion issues. The 20-1220mm focal length also gives you the flexibility to explore multiple photographic genres.
If you need to travel light and don't have much room for a bulky camera and a handful of lenses, the lightweight body and compact design of this model will make a huge difference. You should easily be able to store the camera in your backpack or carry it at your side with a camera strap.
6. Leica V-Lux 5
Great for action photography
The 12 FPS continuous shooting makes the V-Lux 5 a great choice for action and other fast-paced photography.
Pros
Excellent lens quality
Durable and robust build
Quality screen and viewfinder
Leica is renowned for creating high-quality cameras, and the Leica V-Lux 5 is no exception. If you want something that will last for many years and can stand up to vigorous travel, the V-Lux 5 is a perfect pick.
The f/2.8 constant maximum aperture of the DC Vario-Elmarit lens gives you lots of creative freedom, and you should be able to produce professional bokeh effects. The wide aperture also makes it easy to capture sharp low-light photos, which will come in handy if you want to take stunning night street shots.
To make sure you don't miss any action, this bridge camera has a continuous shooting rate of 12 FPS. You can set it to its continuous shooting mode, fire away, and confidently capture once-in-a-lifetime moments. This makes the V-Lux 5 a great camera for sports photography beginners (though you'll also appreciate the fast shooting if you like to photograph events or wildlife).
7. Nikon COOLPIX P1000
Great for both photo and video
The Nikon COOLPIX P1000 has built-in image stabilization and can record beautiful 4K video, so it's the perfect option for a budding content creator.
Pros
Awesome 3000mm zoom
4K UHD video recording
Built-in image stabilization
Cons
Quite heavy and bulky
Slight softening at extreme focal lengths
The Nikon COOLPIX P1000 has the longest focal length of any bridge camera, which makes it an amazing option for telephoto photography. There is some softening at the extreme focal lengths, but the detail you can capture is amazing. You can photograph animals and people from a safe and respectful distance due to the 3000mm of reach.
You can also work with video as the P1000 records in 4K and has built-in image stabilization. As a result, you can track actors and objects and still keep your framing steady as you capture high-quality footage.
Plus, this camera boasts outstanding ergonomics. You get a very nice grip so your hand doesn't get tired after shooting for hours on end, and the shutter button is perfectly placed. The P1000 also includes a fully articulating screen, so you can keep track of your framing even as you record vlogs!
Use a New Bridge Camera to Improve Your Photography
As you can see, there are some superb bridge cameras that'll give you a gentle introduction to photography while allowing you to develop your skills and eventually use advanced techniques. But which model is best for you?
If you want to specialize in wildlife or action photography, bridge cameras with a large zoom lens like the Nikon COOLPIX P1000 and the Nikon COOLPIX P950 are fantastic options.
Alternatively, if you'd prefer a midrange zoom lens for more conventional shooting, models like the Sony RX10 IV, the Panasonic LUMIX FZ1000M2, and the Canon PowerShot SX70 HS are all excellent picks.
Best Bridge Camera FAQ
Are bridge cameras good for beginners?
Yes! If you only have a small amount of experience with photography, a bridge camera can be a great way to learn more.
What is a bridge camera good for?
That depends on the model. However, the best bridge cameras are usually versatile and can be used for various types of photography, including wildlife, portrait, and landscape shooting.
Which is better, DSLRs or bridge cameras?
That depends on your needs! Bridge cameras are easier to use, while DSLRs usually offer better image quality and more advanced features.
---
Disclosure/Disclaimer: As an Amazon Associate, we earn from qualifying purchases. Certain content was provided "as is" from Amazon and is subject to change or removal at any time.