If you're looking to upgrade from a point-and-shoot or start out your photography ventures with a leading edge, having one of the best bridge cameras to hand is a great choice.
With impressive zoom capability and typically impressive resolutions, you're going to love some of these top picks.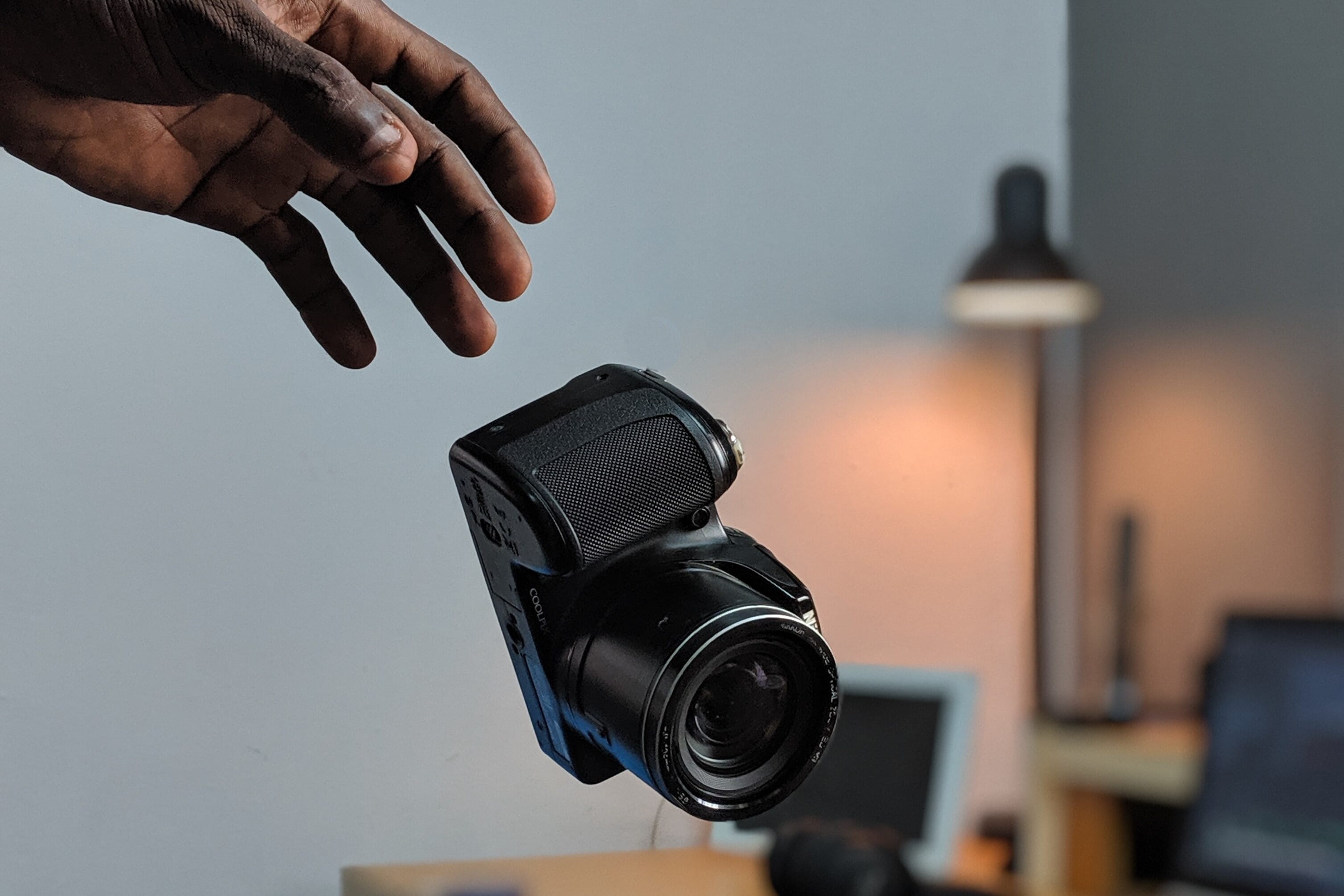 When you buy through links on our site, we may earn a commission at no cost to you. We evaluate products independently. Commissions do not affect our evaluations.
The Best Bridge Cameras
1. Sony RX10 IV
Our Pick
A powerful 20.1MP sensor and zoom
The Sony RX10 IV is an incredible bridge camera that boasts a 20.1MP sensor, and super-telephoto capabilities up to 600mm.
Pros
High-quality zoom up to 600mm
Fast and accurate AF
24FPS continuous shooting
Resolution: 20.1MP
Size: 5.25×3.4×5.75 inches
Weight: 2lbs 6.7oz
Zoom: 8.8-600mm effective
Our top pick is the incredible Sony Cyber‑Shot RX10. This bridge camera might be a little expensive, but for that price, you gain a fantastic camera with a wealth of features. To start, the RX10 IV has a 20.1MP sensor which will allow you to capture great quality images.
It also has fantastic optical zoom capabilities via its telephoto lens. The ZEISS Vario-Sonnar T ultra-zoom lens has an effective focal length of 24-600mm which gives you super-telephoto capabilities. This means the camera is great for wildlife shots. The ZEISS glass is also superior quality and ensures great contrast, colors, and clarity from your photos
As one of the best bridge cameras, the RX10 IV also has a decent autofocus system. It has 315 phase-detection points and can focus on objects within 0.030 seconds (giving it some serious potential for wildlife photography). Finally, when using the large optical zoom, you can benefit from built-in image stabilization which will help when tracking moving subjects. If you can afford to pay a more premium price, the Sony RX10 IV is an excellent bridge camera.
2. Panasonic LUMIX FZ1000 II
Also Great
4K video and a Leica lens
The Panasonic FZ1000 II is a great bargain and offers 4K video recording, a powerful 24MP sensor, and a LCD touchscreen display.
Pros
4K video at 30p
Up to a 400mm super-telephoto zoom
Large 1-inch 20MP sensor
Cons
Settings menu can be confusing
Resolution: 20.1MP
Size: 5.36×3.83×5.18 inches
Weight: 1.79lbs
Zoom: 9.1-146mm
The Panasonic LUMIX FZ1000 II is one of the best bridge cameras that Panasonic currently makes and it is reasonably priced too. If you want a cheaper alternative to the Sony RX10 IV without sacrificing too much quality, this is a great option.
In terms of raw quality, this bridge camera has a 20.1MP 1 inch MOS sensor that allows you to take brilliant quality RAW photos, even in low-light situations. To help focus and create sharp photos, this camera also has built-in optical image stabilization that will actively compensate for hand movements and shake when using the zoom lens.
Speaking of the zoom – the LUMIX FZ1000 II has a Leica DC VARIO ELMARIT 16x optical lens. This lens has an effective range of 25-400mm which gives you great flexibility for anything from wide-angle landscapes, to detailed telephoto shots. It also has a decent aperture range with a maximum aperture of f/2.8 which means you can create photos with a beautiful bokeh effect.
The camera body also looks great. It has a textured finger grip on the right-hand side that should make it easy to hold. For ease of use, it also has a touchscreen display that can be rotated and tilted.
3. Nikon COOLPIX P950
Best super-zoom
If you want amazing telephoto capabilities, the 24-2000mm capabilities of the Nikon P950 are sure to impress.
Pros
Awesome 24-2000mm zoom
Built-in image stabilization
4K UHD recording at 30p
Cons
Loses sharpness at maximum zoom
Resolution: 16.0MP
Size: 5.6×4.4×5.9 inches
Weight: 2lbs 3.5oz
Zoom: 24-2000mm
The Nikon COOLPIX range of cameras has some excellent models including the superb Nikon COOLPIX P950. This bridge camera sits in the mid-range price bracket and offers one of the best zoom lenses available in this category. The lens has an 83x super-telephoto zoom which provides a ridiculous focal length of 24-2000mm! However, at the extreme focal distances, images will lose some of their sharpness.
Also consider that this bridge camera does have a lower MP resolution at 16.0. However, it is still capable of creating sharp images will excellent contrast. With a maximum ISO of 6400, it performs OK in low-light situations but is not amazing. However, when using the zoom lens, it has subject tracking in its autofocus and VR image stabilization.
The Nikon COOLPIX P950 does look a little dated, however, it has an ergonomic design. At the rear, you can benefit from a fully rotatable and tiltable LCD screen, and a minimalistic set of buttons. It also feels robust and has a comfortable hand grip and a textured casing for extra purchase. If you want to experiment with wildlife and zoom photography, this is one of the best bridge cameras available.
4. Canon PowerShot SX70 HS
Best budget option
This advanced bridge camera utilizes the DiGiC 8 processor and can record 4K time-lapse footage.
Pros
Can record 4K video and 4K time-lapses
Large 20.3MP CMOS sensor
Up to a 65x optical zoom
Cons
Doesn't have amazing continuous shooting
Resolution: 21.1MP
Size: 5×3.5×4.5 inches
Weight: 1lbs 5.5oz
Zoom: 21-1365mm effective
Canon doesn't have an extensive range of bridge cameras as it concentrates on either its point-and-shoots or larger DSLRs. That being said, the Canon PowerShot SX70 HS is a great option and is one of the cheapest bridge cameras featured in this list from the PowerShot range.
For raw image quality, it has a 21.1MP CMOS sensor and utilizes the DIGIC 8 image processor. This may not be the latest version, but you can rely on consistent image quality, nonetheless. The PowerShot SX70 HS also has a decent 65x optical zoom which translates to an impressive focal distance of 21-1365mm. When using the zoom, you can benefit from the image stabilization – this provides up to 5-stops of camera shake reduction. This should make it easier to focus on moving objects when zoomed in.
We also like the build of this bridge camera. It has a high-quality EVF, but users can also utilize the LCD screen for composition. The screen also flips outward and can be rotated 180-degrees – this makes it useful for recording video from unusual angles. Incidentally, it can record video at 4K, and more impressively, it can also record 4K time-lapses! As with other Canon cameras, it can also be turned into a webcam if you download the EOS Webcam software.
Related Post: Best Compact Cameras with Viewfinders
5. Panasonic FZ82
A great budget option
The LUMIX FZ82 is a great introductory bridge camera for those who want advanced features without spending a fortune.
Pros
Up to a 60x optical zoom
Built-in WiFi and Bluetooth connectivity
Can record full 4K UHD video
Cons
Not the best zoom quality
Resolution: 18.1MP
Size: 5.13×3.71x.469 inches
Weight: 1.36lbs
Zoom: 20-1200mm effective
If you want an upgrade from your basic point and shoot camera, but aren't quite ready to commit to something expensive, the Panasonic Lumix FZ82 is one of the best bridge cameras available. This is an older model but it offers a good set of features, and impressive zoom, and an ergonomic design.
For zoom photography, the FZ82 has a versatile lens that provides a focal range of 20-1200mm. It is the LUMIX DC VARIO lens and also contains several aspherical elements that will help reduce distortions and boost image quality.
This bridge camera also has a great design and is one of the smaller and lighter models available. For example, it is nearly half the weight of the Sony RX10 IV. For composition, it has a live viewfinder and a 3.0-inch LCD display that has touchscreen capabilities. If you want to quickly access your photos or download them, the FZ82 also has full WiFi connectivity. This is a great entry-level bridge camera and will certainly provide a substantial step-up from a simple point-and-shoot camera without breaking the bank.
6. Leica V-Lux 5
Fantastic build quality and features
Leica are renowned for quality and the V-Lux 5 s no exception with a great zoom, high quality lens, and myriad of useful features.
Pros
Excellent lens quality
Durable and robust camera build
Quality screen and viewfinder
Resolution: 20.9MP
Size: 5.3×3.8×5.15 inches
Weight: 1.7lbs
Zoom: 25-400mm effective
Leica are renowned for creating high-quality cameras and the Leica V-Lux is no exception. This is a durable and well-built bridge camera that sits at the upper end in terms of price. However, despite its steeper price tag, it offers impeccable quality and usability.
The lens is a DC Vario-Elmarit ASPH. 16x Zoom lens which provides an equivalent focal distance of 24-400mm. It also has a great maximum aperture of f/.8. This should give ample flexibility for photography and allow you to take anything from macro shots and portraits to wildlife photography and landscapes.
For wildlife photography or event photography, the V-Lux 5 also has a decent continuous shooting rate of 12fps. This means you should easily be able to capture your subjects and track them effectively and get the clear shots you want. As you would expect from a Leica camera, the V-Lux 5 is also well-built. It has a stylish design but is comfortable to hold and has a high-quality LCD screen and LED electronic viewfinder. We accept this model is more expensive, but it is undoubtedly one of the best bridge cameras available.
7. Sony RX10 III
A cheaper alternative to the RX10 IV
This bridge camera offers a brilliant 24-600mm zoom lens, 4K movie capabilities, and a sharp LDC display screen.
Pros
Excellent 24-600mm lens
4K recording capabilities
Quality LCD display screen
Cons
Older software than the RX10 IV
Resolution: 20.1MP
Size: 5.25×3.75×5.75 inches
Weight: 2lbs 5.1oz
Zoom: 24-600mm effective
If you can't quite afford the Sony RX10 IV, why not get the Sony RX10 III instead? This is the previous model of this popular bridge camera and it still holds up well in today's standards. You can benefit from an excellent quality ZEISS Vario-Sonnar T* lens which provides an effective focal range of 24-600mm. This means you can comfortably compose for various photography types.
It also has a fast and accurate AF system that can focus on subjects in 0.09 seconds. Therefore, you should easily be able to track moving subjects and still get sharp photos. To help this, the RX10 III also has a continuous shooting mode of 14fps.
For connectivity, this bridge camera also has both WiFi and Bluetooth. As a result, you can instantly connect to your smartphone or computer to download and access your photos on the go. Like the RX10 IV, this camera is a little heavy, but it is relatively comfortable to hold and has ergonomic controls and a button layout.
8. Nikon COOLPIX P1000
Super zoom capabilities
The P1000 offers an even larger zoom range than the P950 up to 3000mm.
Pros
Awesome 3000mm zoom
4K UHD video recording
Built-in image stabilization
Cons
Quite heavy and bulky
Resolution: 16.0MP
Size: 5.8×4.7×7.2 inches
Weight: 3lbs 2oz
Zoom: 24-3000mm effective
The Nikon COOLPIX takes zoom photography one step further than the P950 and has an immense 24-3000mm effective focal range! It is currently the most powerful zoom lens ever put on a COOLPIX camera and is brilliant for super-telephoto photography. However, at that extreme distance, you must expect some softening and reduction in quality.
Also, due to the larger zoom, this bridge camera is considerably larger and heavier. However, it is still great to use and offers fantastic image quality with its 16MP sensor. It is also capable of recording full 4K UHD videos, and has built-in VR image stabilization to help with recording, and when using the immense zoom lens.
Conclusion
We hope you have found this guide on the best bridge cameras useful. As you can see, there is a great range of affordable bridge cameras available. If you want superzoom capabilities for wildlife photography, the Nikon COOLPIX P950 is a great option with its 2000mm telephoto lens.
Alternatively, if you want a budget option to introduce you into the world of photography, the Panasonic Lumix FZ82 could be a great bargain with its 18.1MP sensor and simple controls. Finally, if you want excellent quality and versatility, the Sony Cyber‑Shot RX10 may cost a little more, but it is easily on par with many quality DSLR and mirrorless cameras.
The Best Bridge Camera FAQs
Are bridge cameras good for beginners?
Yes! If you only have a small amount of experience with photography, a bridge camera can be a great way to learn more about the hobby.
What is a bridge camera good for?
This depends on the model. However, the best bridge cameras are usually versatile and can be used for various types of photography including wildlife, portraits, and landscape photography.
Which is better – DSLR or Bridge Camera?
This depends on the user's perspective. However, DSLR cameras usually offer greater raw image quality, advanced features, and a much wider choice of interchangeable lenses.
Are bridge cameras better quality than point and shoot?
Usually, yes. In terms of image quality and resolution, there may be little difference. However, bridge cameras generally offer greater flexibility and have much more powerful lens capabilities.
---
As an Amazon Associate, we earn from qualifying purchases. Certain content was provided "as is" from Amazon daily and is subject to change or removal at any time.