Having a versatile travel lens is essential if you want to see the world and take epic photos. In this article, we look at the best travel lenses in 2020. We have selected the best lenses for different manufacturers and camera types – from Canon full-frame to Sony E-Mount, and great third-party lenses.
What Makes the Best Travel Lens?
A travel lens should offer three things – portability, versatility, and quality.
Portability is key. If you're on the move all day with a camera around your neck, you don't want to carry a huge lens around for all those hours. Something light and small is definitely preferred
Versatility somewhat relates to the idea of having to haul around multiple lenses. Your travel lens should cover all of, or at least most of, your bases. You don't want to have to change lenses out in the field. For this reason, all the lenses suggested are zoom lenses.
For any photographer, image quality is vital. Travel photography is no exception. Your lens should allow you to take high-quality photos with minimal distortion and rich colors.

The Canon EF 24-70mm f/2.8L II USM is one of the best Canon zoom lenses available. It is also one of the best travel lenses available for Canon full-frame DSLRs. It has a good focal distance of 24-70mm which allows you to shoot both wide-angle and portrait photography.
This is complemented by the great consistent aperture of f/2.8. For detailed travel shots, you can create amazing bokeh effects. The only downside of this lens is that it doesn't have image stabilization. If you want image stabilization, you'll have to purchase the next model up which is the Canon EF 24-70mm f/2.8 IS III USM. This lens is considerably more expensive.
Regardless, as an L-series lens, the quality is fantastic. It is durable, relatively compact, and can be used to create excellent travel photos.
Related Post: Best Canon EF Mount Lenses
Best travel lens for Canon full-frame cameras
This lens has a brilliant consistent aperture and great autofocusing
The Canon EF-S 17-55mm f/2.8 IS USM is a great lens for APS-C cameras like the Canon EOS 90D, and Canon EOS Rebel T8i. The smaller focal distance of 17-55mm equates to approximately 27-90mm at full-frame. This gives great variance and allows you to cover many photography types on your travels.
We rate this as one of the best travel lenses due to its great design and features. It has built-in image stabilization and Canon's USM autofocusing technology. This makes it easy to use and you can take high-quality photos with it.
The lens is also relatively lightweight and compact – it measures just 4.4 inches long and weighs only 22.8 ounces.
Best travel lens for Canon APS-C cameras
The EF-S 17-55mm is compact and benefits from IS and a great f/2.8 max aperture
Unless you use a lens adapter, the Canon EF-M 15-45mm f/3.5-6.3 IS STM is the best travel lens for EOS M cameras like the M10. It is incredibly small and lightweight and also has a locking mechanism to keep the zoom tucked away when not in use.
We also like the 15-45mm focal distance. It is equivalent to 24-90mm based on the crop factor. This means it is great for wide-angle landscape shots, but also street photography too.
The lens also benefits from image stabilization which corrects for up to 3.5-stops of camera shake. The USM autofocusing motor is also quiet and fast allowing you to focus on moving objects quickly.
Best travel lens for Canon EOS M cameras
This lightweight lens is the ideal travel partner for EOS M devices
The Nikon AF-S FX NIKKOR 24-70mm f/2.8G ED is an amazing quality lens. It is one of the best travel lenses for Nikon's full-frame cameras by far. The consistent maximum f/2.8 aperture makes this lens perform excellent in low-light situations, but also gives control over depth of field.
In addition, it has a range of optical improvements and a low-dispersion lens element. This superior lens element helps reduce distortion and flare. Your travel shots will look brilliant with excellent colors and contrast.
With a maximum length of 5.24 inches and a total weight of 2.36lbs, this lens is still relatively easy to use and carry when traveling. In terms of compatibility, it can be used on both Nikon DX and FX cameras.
Best travel lens for Nikon full-frame cameras
The consistent f/2.8 aperture and durable design make this an effective travel lens
The Nikon Z range of cameras is growing and some powerful models are being added to the line-up. To complement this, you have one of the best travel lenses available – the Nikon Z 24-70mm f/4 S. This lens is relatively inexpensive for the quality and versatility it provides.
It has a great constant aperture of f/4 and performs well in low-light situations. The focal distance of 24-70mm also provides great variance. It can be comfortably used as your standard travel kit lens and also be used for anything from landscapes to street photography.
This lens also has a customizable control ring which you can program with a selection of functions. It also has built-in image stabilization that corrects up to 5-stops of camera shake. As one of the best travel lenses, this is a great affordable option for Nikon Z cameras.
Best travel lens for Nikon Z cameras
This lens is stylish, lightweight, and highly functional
The Sony FE 28-70mm f/3.5-5.6 OSS is a highly functional travel lens. It has a great focal distance of 28-70mm. Although the minimum focal distance of 28mm is wider than other lenses, you can still create excellent wide-angle photography.
The maximum aperture range of f/3.5-5.6 is also great. It enables you to control the depth of field, but also shoot effectively in low-light situations.
We like the relatively low cost, too. It is an inexpensive lens and great for those who don't want to spend a fortune. Furthermore, the FE 28-70mm has Optical Steady Shot technology. This is Sony's image stabilization and enables smoother and sharper handheld photos.
This lens can be used with cameras like the Sony a7 and Sony a7R III.
Best travel lens for Sony full-frame cameras
With OSS stabilization and a decent aperture, this is a great travel lens
The Sony E 16-55mm f/2.8 G is a great lens specifically for Sony crop-sensor cameras. It can be used with some of the top Alpha cameras like the Sony a6600 and the Sony a6100.
It has a smaller focal distance of 16-55mm, but this is still excellent and provides variation for your travel photography. At 16mm, you can create stunning ultra-wide-angle shots. Whereas at 55mm, you can capture portraits or beautiful street photography.
It also has a maximum aperture of f/2.8 which is consistent through the zoom levels. The lens also has an XD linear motor that provides fast and quiet autofocusing.
We like that you can quickly switch between manual and autofocusing with a single button, too.
This Sigma lens is one of the best travel lenses available. It is part of the Sigma Art range and sports a range of extra design features. The lens is amazing and offers a compact and lightweight design. It weighs just 2.00lbs and has a maximum length of 4.20 inches.
The focal length range is perfect for travel photography. The constant f/2.8 aperture is also a great feature and provides precision control.
The Sigma 24-70mm f/2.8 DG OS HSM also has several features to improve its usability. First, it has the HSM Hyper Sonic Motor. This provides excellent autofocusing capabilities. Secondly, it has Optical Stabilization which is Sigma's image stabilization technology.
This is a brilliant lens and is available for Sony, Nikon, and Canon DSLR cameras.
Best Sigma travel lens
A high-quality lens with excellent features
Similar to the Sigma 24-70mm, the Tamron 24-70mm f/2.8 G2 Di VC USD is another excellent third-party travel lens. It offers a great mix of quality and functionality. In terms of portability, it weighs just 1.98lbs and has a maximum length of 4.30 inches.
It also has an array of useful features such as VC and USD. VC is Tamron's Vibration Compensation – this is an effective image stabilization feature. In addition, the USD motor gives quick and accurate autofocusing.
Best Tamron travel lens
A fantastic lens, perfect for creating quality travel shots
Buying Guide – How to Choose the Best Travel Lenses?
We hope you have found this guide on the best travel lenses in 2020 useful. To conclude, we have provided some buying advice to help you choose a suitable lens. Firstly, always check the lens mount and compatibility.
Different lenses are compatible with different DSLR cameras. For example, you could not directly use the Canon EF 24-70mm f/2.8L II USM with a Canon EOS M camera. However, you could use it with an EOS M camera and the EF lens adapter.
Also, third-party manufacturers like Sigma and Tamron usually produce the same lens for Canon, Nikon, and Sony cameras. If you do purchase a third-party lens, ensure it is for the right camera! In addition to these tips, we have listed some other main considerations below.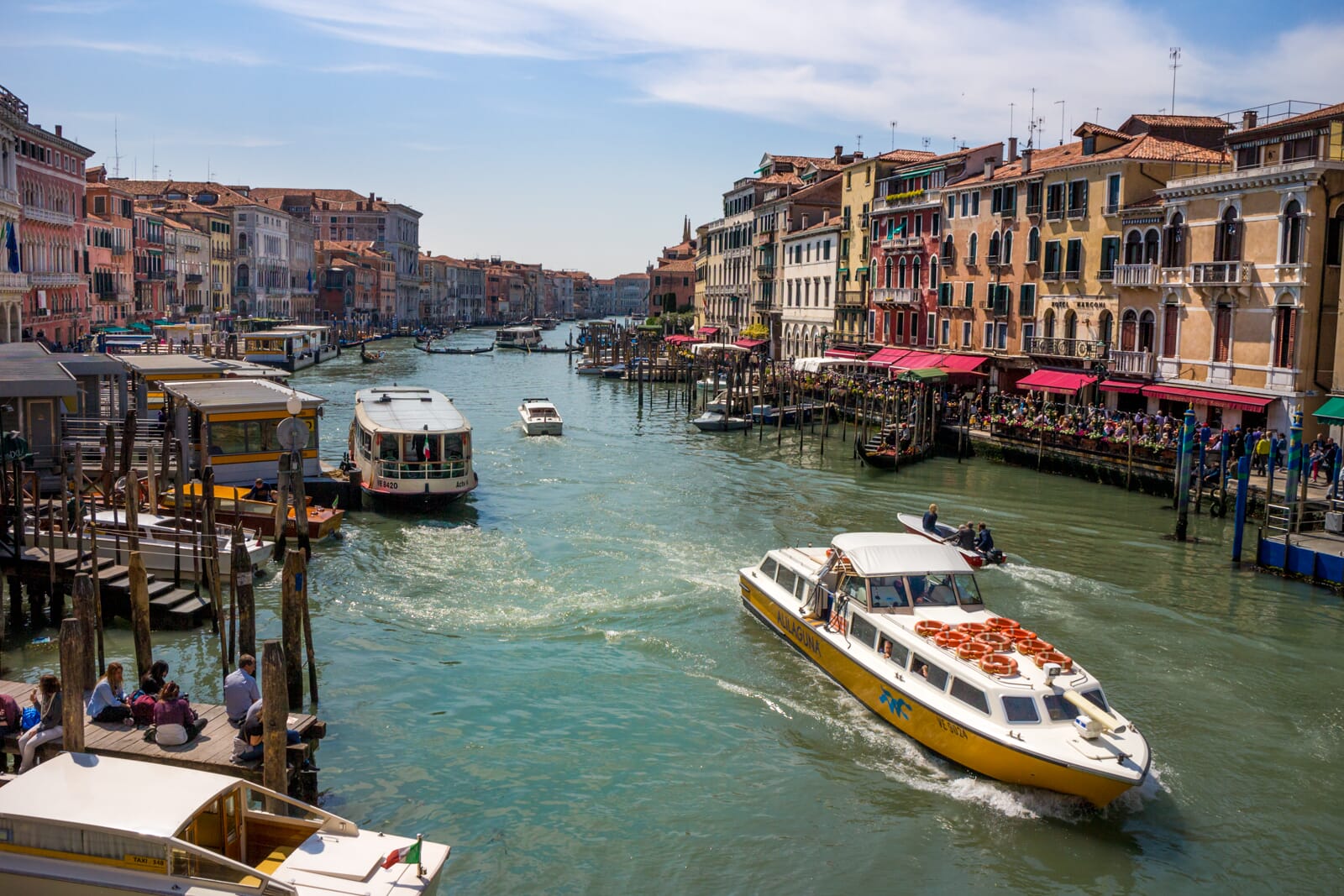 Focal Distance
The focal distance is the zoom range. This will directly affect your compositions and how you can frame your travel shots. Ideally, you want a variable focal distance that covers a range of photography types.
This is why we have generally chosen lenses with focal distances between 15 – 70mm. At 15-24mm you have wide-angle capabilities. This is ideal for creating beautiful landscape shots of the different places you visit. Alternatively, at the other end, we have 45-70mm. This is ideal for producing street photography, portraits, and more detailed shots.
Think about what type of travel photography you usually take, and pick a focal distance that fits.
Aperture
The maximum aperture range is important as this helps you control the depth of field and exposure. The larger the aperture, the more control you have. Also, at larger apertures like f/2.8, you can create beautiful bokeh effects for your backgrounds and create some artistic travel shots.
Image Stabilization
Most modern lenses have some type of built-in image stabilization. This helps reduce camera shake and as a result, ensures your photos are sharp and in focus without motion blur.
If possible, always choose the best travel lenses with image stabilization. It will improve your photography and help create sharper photos.
Autofocusing
Aside from image stabilization, autofocusing is also important. The best travel lenses all have some form of advanced autofocusing system.
An efficient autofocusing system allows you to track moving targets, and quickly focus on objects. This is essential for travel photography when you are constantly moving when exploring a city, for example.
Size & Weight
Finally, portability and compactness are obviously important. A travel lens should be relatively lightweight. Your lens should not take up too much space in your luggage or be too bulky to carry around. Check out the overall dimensions of the lens, and how much it weighs.
---
As an Amazon Associate we earn from qualifying purchases. Certain content that appears on PhotoWorkout.com comes from Amazon. This content is provided 'as is' and is subject to change or removal at any time.