A few years ago Yongnuo announced the launch of its 14mm f/2.8 auto-focusing lens for the Canon mount.
The launch of that lens is closely followed by the rumor of a similar 14mm f/2.8 autofocusing lens from another third party lens manufacturer – Samyang.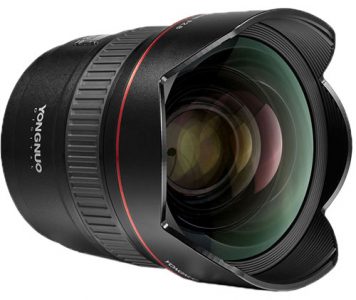 When that lens receives the official stamp of announcement it would be the first auto-focusing lens from Samyang for Canon mount.
The timing of the Samyang lens couldn't have been more auspicious. That forces us to take a look at the lens that has been announced already.
Of course we are eagerly waiting to see what Samyang does with their lens. But at the moment we are going to take a look at the lens in hand – the Yongnuo YN 14mm f/2.8 lens for Canon.
These are the specs of the lens as shared by Photo Rumors:
Focal length 14mm
Maximum aperture f/2.8
Angle of view of 114 ˚
UD aspherical and aspherical elements
Anomalous Dispersion and UHR elements
Multiple lens coating
7 blade aperture diaphragm
Focus distance indicator
DC Auto-focusing motor (yes! This is an auto-focusing lens)
AF/MF switching button
12 elements arranged in 9 groups
Metal mount
Weighs about 780 grams
Comes with micro USB ports for firmware upgrade
The Yongnuo YN 14mm f/2.8 is an EF mount lens. Meaning, it is ideal for use with full-frame Canon cameras. Having said that you can use this lens with APS-C Canon cameras as well, albeit with the crop factor.
The lens comes with an Abnormal Dispersion lens element. This element is instrumental for the purpose of suppressing dispersion related issues that are common with ultra-wide angle lenses. Along with these glass optical elements have been used.
Plus, multilayer coating ensures suppressing of ghosting and glares which are common issues when shooting wide open with wide angle lenses. It also helps in improving light transmittance.
YONGNUO YN14mm F2.8 Ultra-Wide Angle Prime Lens for Canon DSLR Cameras
The diagonal angle of view is about 114°. For YN14mm F2.8 helps to collect the vast landscape and giant structures, it's...
Ultra-low Dispersion Lens and Aspherical Lens, Precision-machined Abnormal Dispersion Lens
YN14mm F2.8 supports auto focus and manual focus. The focus mode can be selected according to practical requirement.
It has 7pcs of diaphragm leaves, which helps to take picture of circular defocused spots or helps to reduce the aperture and...
It adopts glass optical lens and multilayer coating technology to effectively increase light transmittance and minimize...
The maximum aperture of the lens is a bright f/2.8. The lens can stop down to a minimum of f/22. This is an ultra-wide angle lens ideal for the purpose of shooting landscapes, seascapes, architecture, astrophotography, group and street photos. Pretty much everything that you will come across on an everyday basis and some pretty demanding photography scenarios. Barring, portrait shots.
I wouldn't necessarily discount portraits completely from its dossier because in one of my previous articles I had mentioned that it is possible to make portrait shots with a wide angle lens as long as you keep the subject near the center of the lens.
Wide angle lenses distort facial features because they tend to stretch things near the fringes of the frame (this is due to barrel distortion). But anything near the center of the frame remains largely unaffected.
The lens comes with a built-in micro USB port. This allows the lens to be connected to a PC for firmware upgrades in the future. This is thus, a futureproof lens.
Why this Lens Should Excite You?
At the time of writing this review the Yongnuo YN 14mm f/2.8 is listed as the cheapest auto-focusing 14mm prime.
All other 14mm primes that are cheaper than the Yongnuo YN 14mm f/2.8 are manual focusing lenses (including the Samyang).
There are not many third party options in terms of auto-focusing 14mm primes. Sigma has a great 14mm f/1.8 Art lens for both Nikon, Canon and their own SA mount systems. Apart from that all other options are manual focusing or proprietary. So, if you are looking no proprietary options now you have one more option to choose from.
---
As an Amazon Associate we earn from qualifying purchases. Certain content that appears on PhotoWorkout.com comes from Amazon. This content is provided 'as is' and is subject to change or removal at any time.