Making a slideshow of your photos? Want to know what the best photo slideshow maker program is? You're in the right place!
There's a myriad of programs available such as Animoto, Movavi and Icecream Slideshow Maker that make slideshow creation simple.
We know you're too busy taking photos and don't have a ton of time to research the best slideshow makers. That's why we've done it for you.
When you buy through links on our site, we may earn a commission at no cost to you. We evaluate products independently. Commissions do not affect our evaluations.
Why Use a Slideshow Maker?
Using a slideshow program can speed up the process. Instead of using complicated editing software or a third-party company, the best slideshow makers do the hard parts for you. That alone should be enough to use one of these programs.
In most cases, you simply upload your images, add some text, and the application will do the rest of the work.
You can create slideshows for your travel pics, events, such as weddings, or even business presentations – the possibilities are endless. So let's cut right to the chase and look at our top picks!
Best Photo Slideshow Makers
1. Animoto


Key Information
Price – Free & Paid versions ($60.00 per year for personal subscription)
Available Platforms – Web browser application
Export Options – CD / DVD / Dropbox / YouTube / Google Drive
Notable Feature – Choose from a myriad of templates for quick creation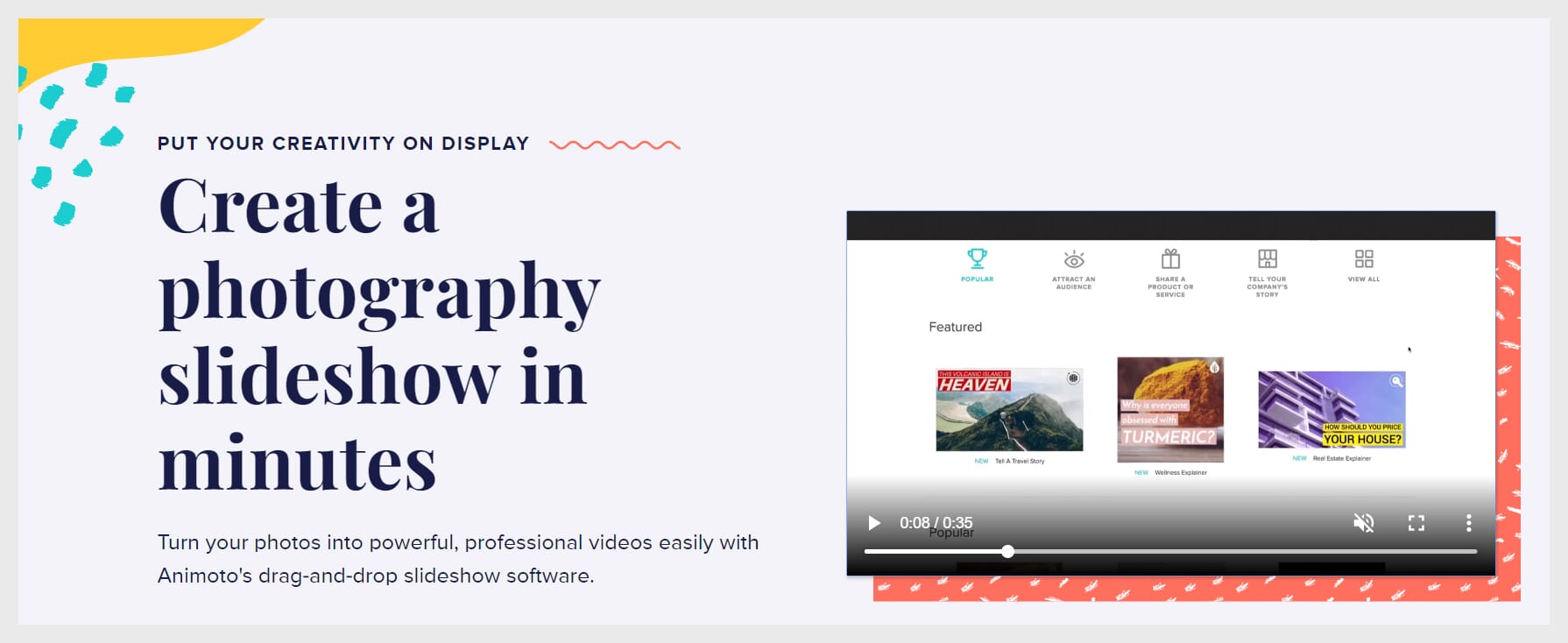 What Makes This One of the Best Slide Show Makers?
Animoto is a web-based browser application with fantastic control and slideshow creating features.
The browser application uses a simple and clean interface, which we loved. It's also suitable for touch-screen devices with drag and drop mechanics.
Which we loved even more! 👉🏼📱=👍🏼
When creating a slideshow, Animoto works on the premise of blocks. Each new block can contain media such as an image or video. Moreover, each block can then be edited.
For example, text and graphics can be inserted. And, you can change the crop and rotation of images.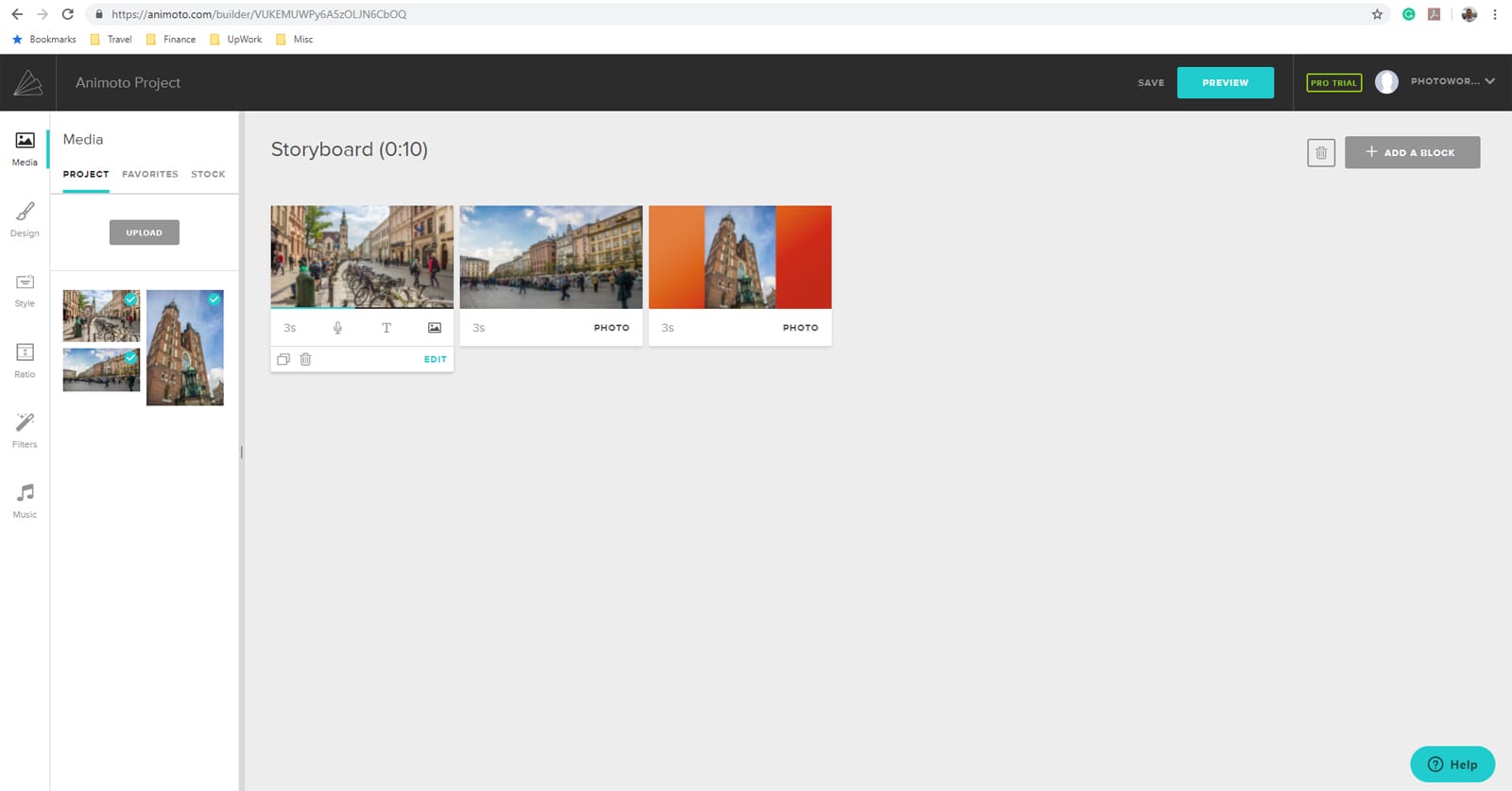 In the basic free versions, it is not possible to add transitions. However, you can add image filters to give your photos a retro look, for example.
We like that the video can be uploaded to Facebook. Moreover, it can also be embedded into web content.
🙌 We received an exclusive code from Animoto 😊
The code is PHOTOWORKOUT and is good for 15% off annual professional and business plans.
2. Movavi Slideshow Maker


Key Information
Price – $79.95 (Free trial version available too)
Available Platforms – Windows & MAC
Export Options – MP4 / MOV / MPEG-1 / Tablet / Smartphone / TV for Photo Slideshows / DVD
Notable Feature – Adjustment features available such as color and crop

Getting Down to the Details…
The Movavi Video Suite has a multitude of features, including video editing and slideshow creation. This is undoubtedly one of the best photo slideshow tools available.
The actual quality of the slideshows is incredible.
When using the program, it gives a split-screen view. The top half shows a preview and upload options, while the bottom gives the slideshow timeline. Moreover, there are additional tools on the left-hand side.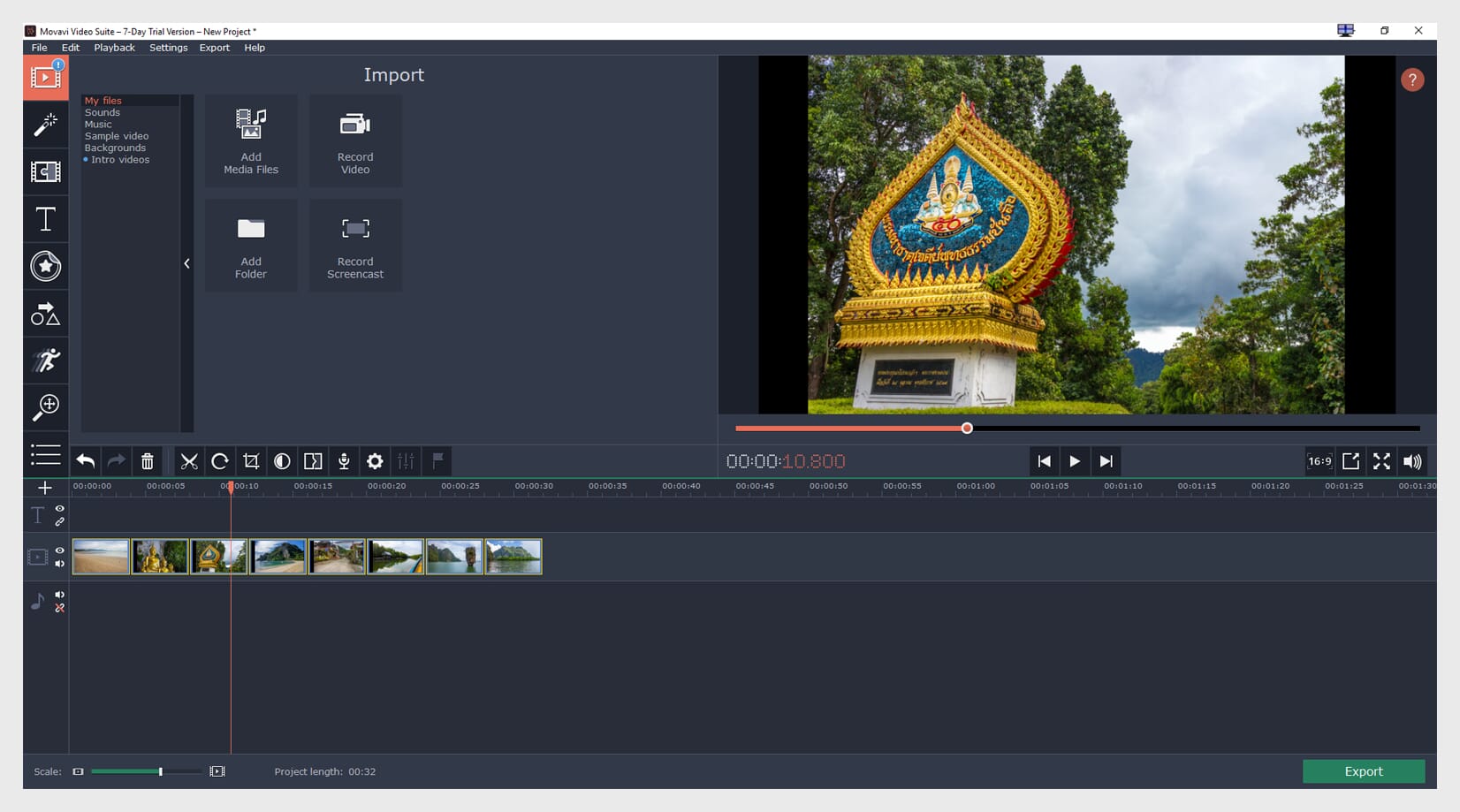 But don't let all the tools scare you into thinking it's too complex to use! Creating a slideshow using Movavi is simple.
You can easily insert images and add transitions in between the photos. Moreover, the transitions are fantastic. Examples of animations include blinds, blur in, and circle out.
This program offers a high level of control. You can even add animations and zoom your images. In addition to this, you can insert cool text overlays and a remarkable range of pre-made graphics. Finally, we also found you can add different filters such as a vignette and texture overlays.
This is a great way to go for users who want a little more than a basic slideshow.
3. Icecream Slideshow Maker


Key Information
Price – Free
Available Platforms – Windows
Export Options – CD / DVD / DropBox / YouTube / Google Drive
Notable Feature – Ability to change transitions and insert audio files
What's Under the Hood?
Icecream Slideshow Maker is a downloadable program. The file size is minimal, and the installation process is easy.
We found the application itself to be fast and without delays (even when opening large volumes of images). We really like the simplicity of this application.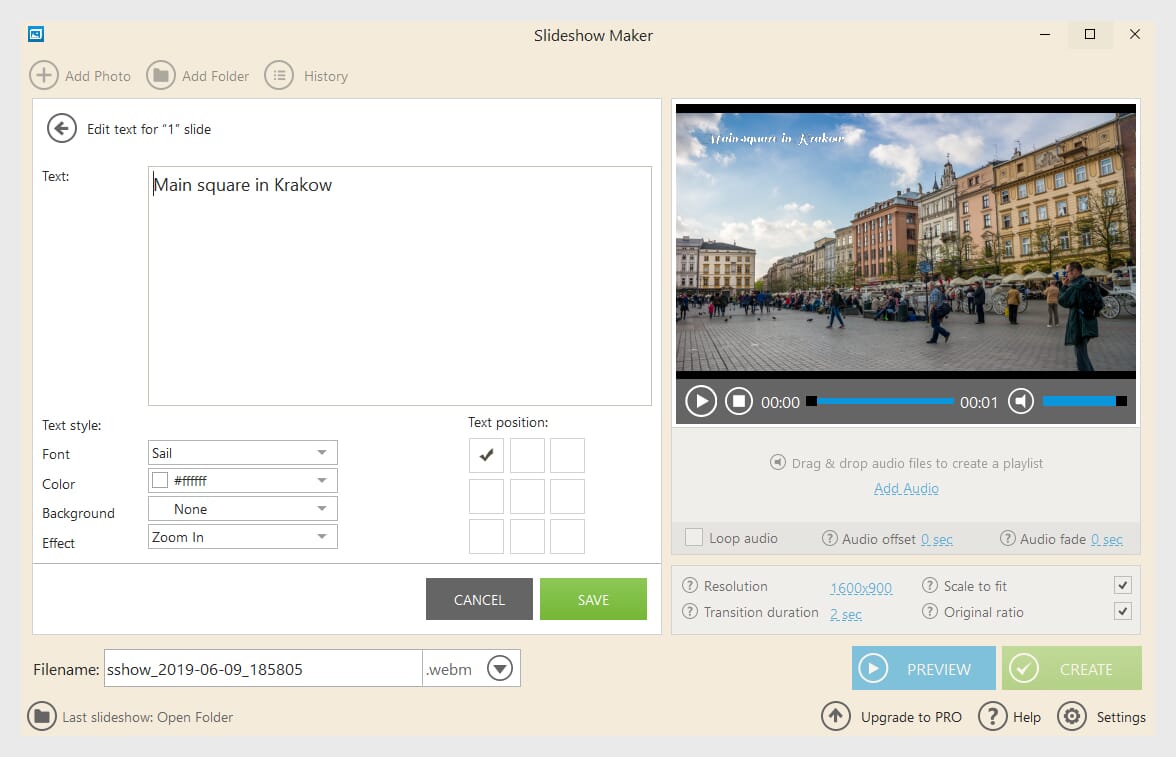 It also offers fantastic customization for your slideshows. In addition to this, the layout was easy to grasp – we understood how to add transitions and change the slide lengths in a matter of seconds.
Once you've inserted the images, you can add transitions, text, and alter the slide timing. Plus, there's a host of cool transitions to choose from if you want to get design-y. 🎨
What we thought really makes this one of the best slideshow maker programs is the control you have. I'm talking great control over the positioning, size, and color of any overlay text.
We also like being able to preview each slide directly in the application interface. Upon completion of your slideshow masterpiece, you can then export it in several file formats, including .mp4 and .avi.
Try Icecream Slideshow Maker for Free
4. Adobe Lightroom
Key Information
Price – Subscription from $9.99 per month
Available Platforms – Windows & MAC application download
Export Options – Export as PDF file or an MP4 video
Notable Feature – Include photo ratings and other information from your Lightroom catalog
Wait, What's Lightroom Doing on This List?
Surprise! Lightroom actually has a built-in slideshow maker.
This program is one of the best photo editing tools available and is widely used by photographers. To that end, the Lightroom slideshow creator is packed with useful tools and features.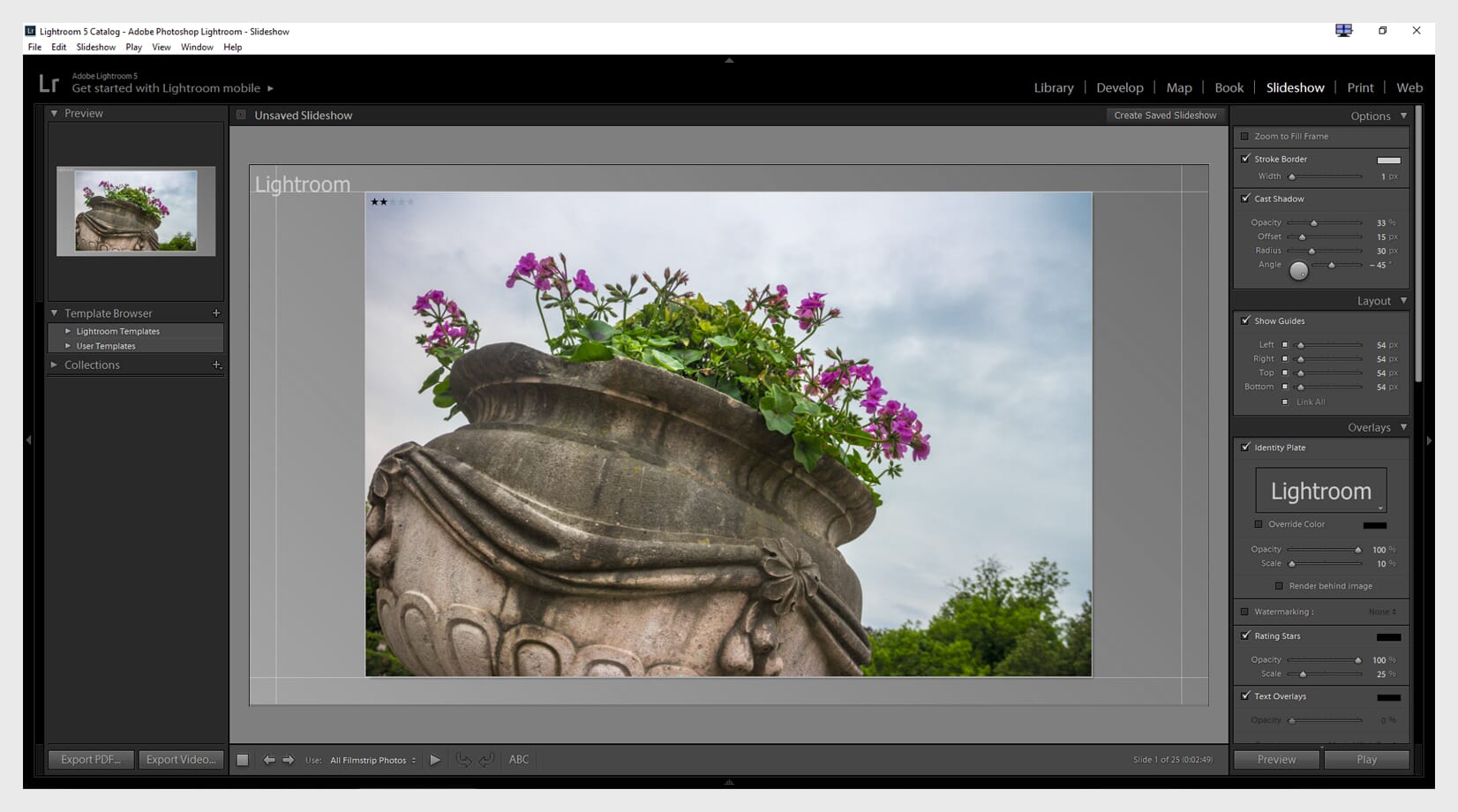 To create a slideshow, select the desired photos from your image catalog. Once selected, click on "Window", and choose the slideshow option.
This automatically places all the selected images into a slideshow. It's possible to add different features such as a star rating for each photo and text overlays.
Additionally, you can add background gradients, an introduction slide, and also audio clips. The only downside we found was the lack of export options. It's only possible to export a Lightroom slideshow as an MP4 or a PDF.
5. Canva Slideshow Maker
Key Information
Price – Free (Pro upgrade with more storage available)
Available Platforms – Web Browser
Export Options – MP4, GIF
Notable Feature – Thousands of graphics and text to insert
Why Is Canva Slideshow Maker a Great Option?
Canva Slideshow Maker is a free-to-use web-based app that offers excellent customization and high-quality photo slideshows. If you want to quickly create photo slideshows with additional elements like text overlays and artwork, this is a great platform to use.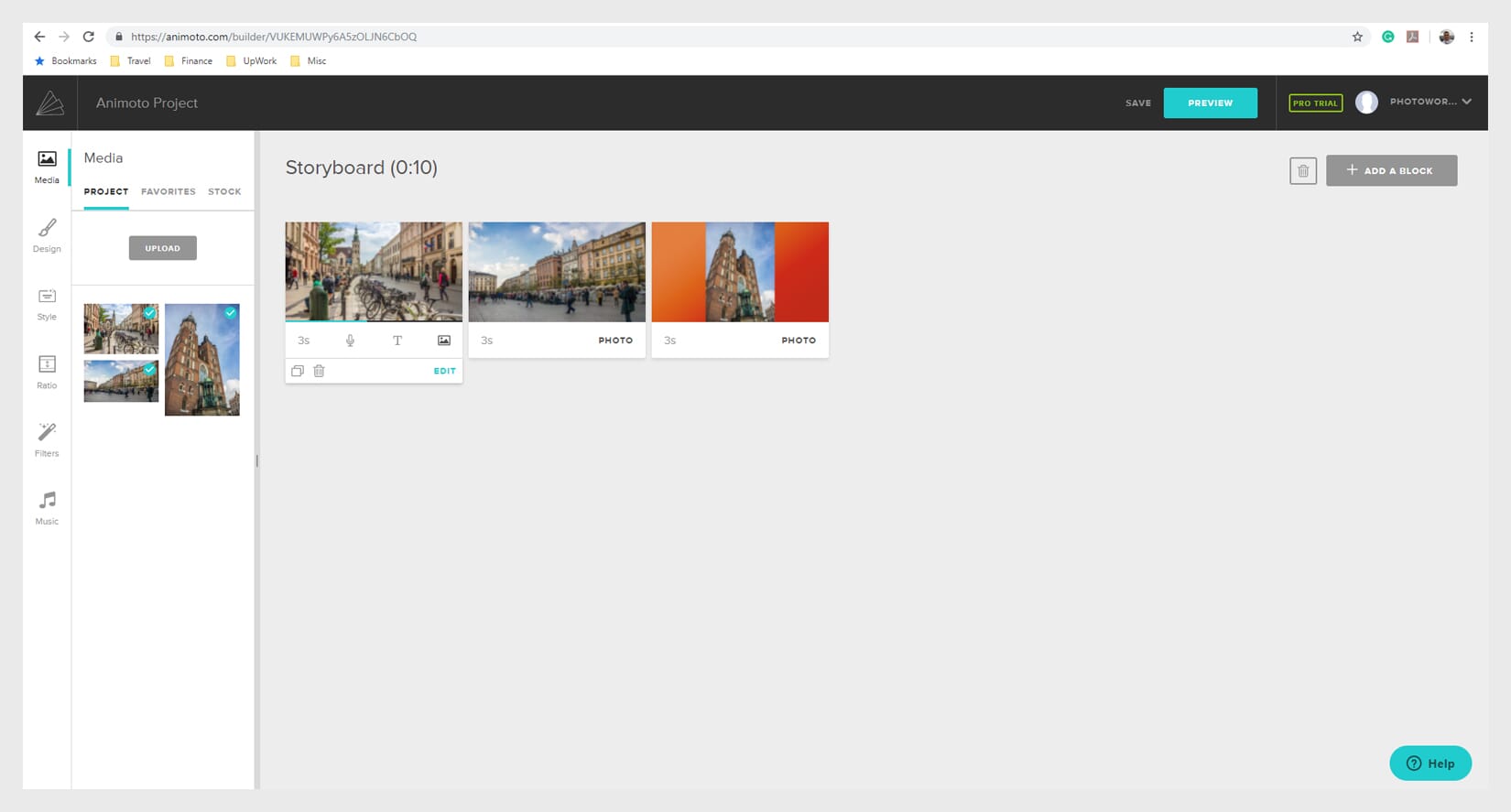 It has an extensive library of graphics and text to make your slideshows look stylish. Also, it has a minimal selection of music tracks and hundreds of different templates and backgrounds. You can also add a handful of decent transitions to your slides.
The final product can be downloaded as either an MP4, or a GIF, but you can also share the slideshow using a simple share link. This is one downside, as some other photo slideshow makers in this list do provide a much greater variety of export options.
5. Kizoa

Key Information
Price – Free (Must create an account to gain full access)
Available Platforms – Web browser application / MAC app
Export Options – Email / File Download / Facebook
Notable Feature – Hundreds of transitions and effects to choose from
What Makes Kizoa a Great Slideshow Software?
Kizoa is a fun web browser application that enables the easy creation of slideshows. The interface does admittedly look a little dated, but the end product is fantastic.
It certainly benefits from the huge array of templates, animations, and pre-built slide styles offered.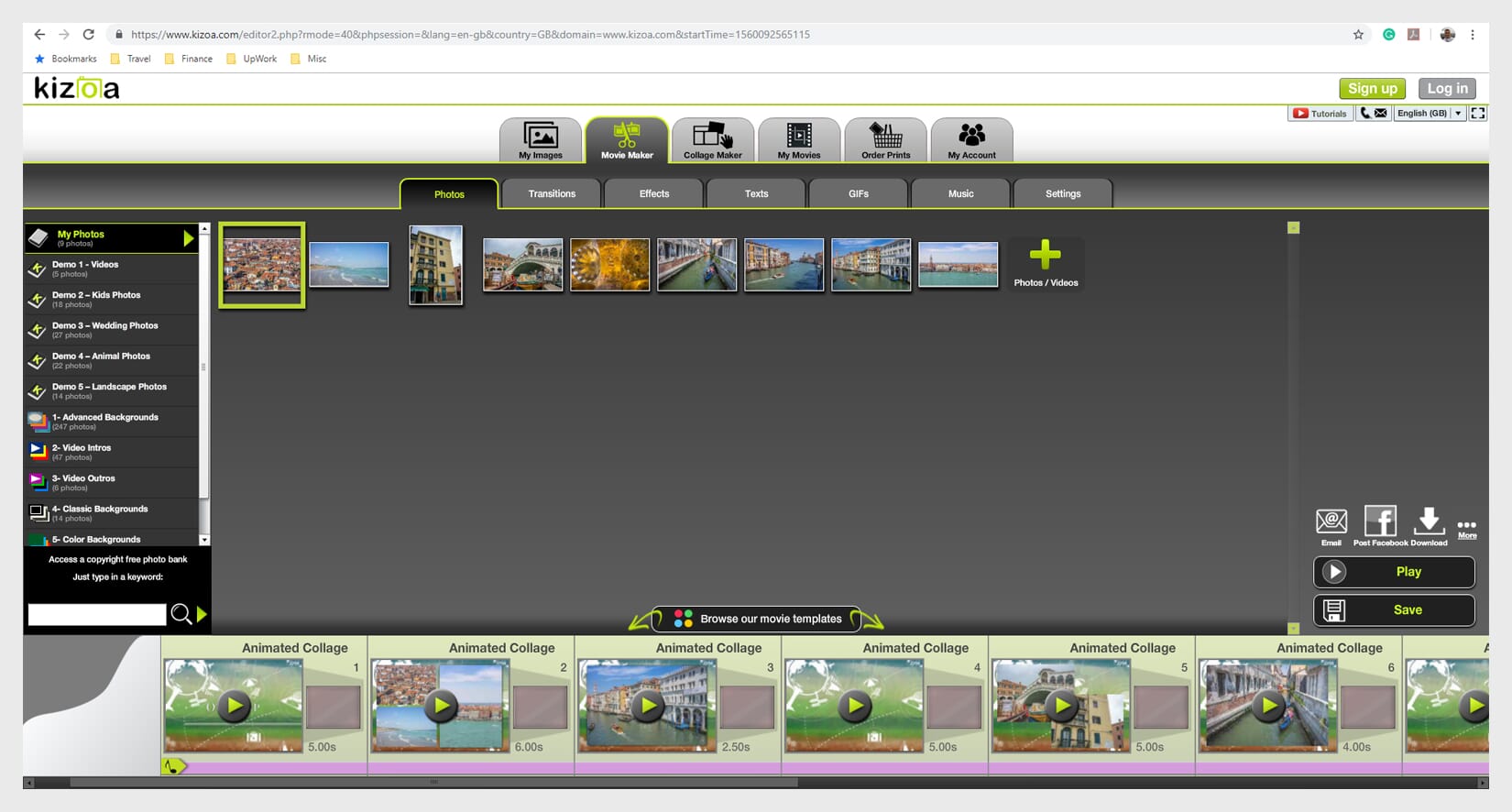 This application not only allows you to build slideshows, but also gives you the ability to create collages and movies. Additionally, once you've created your slideshow, you can purchase prints or export it in a number of ways.
7. NCH PhotoStage Slideshow Software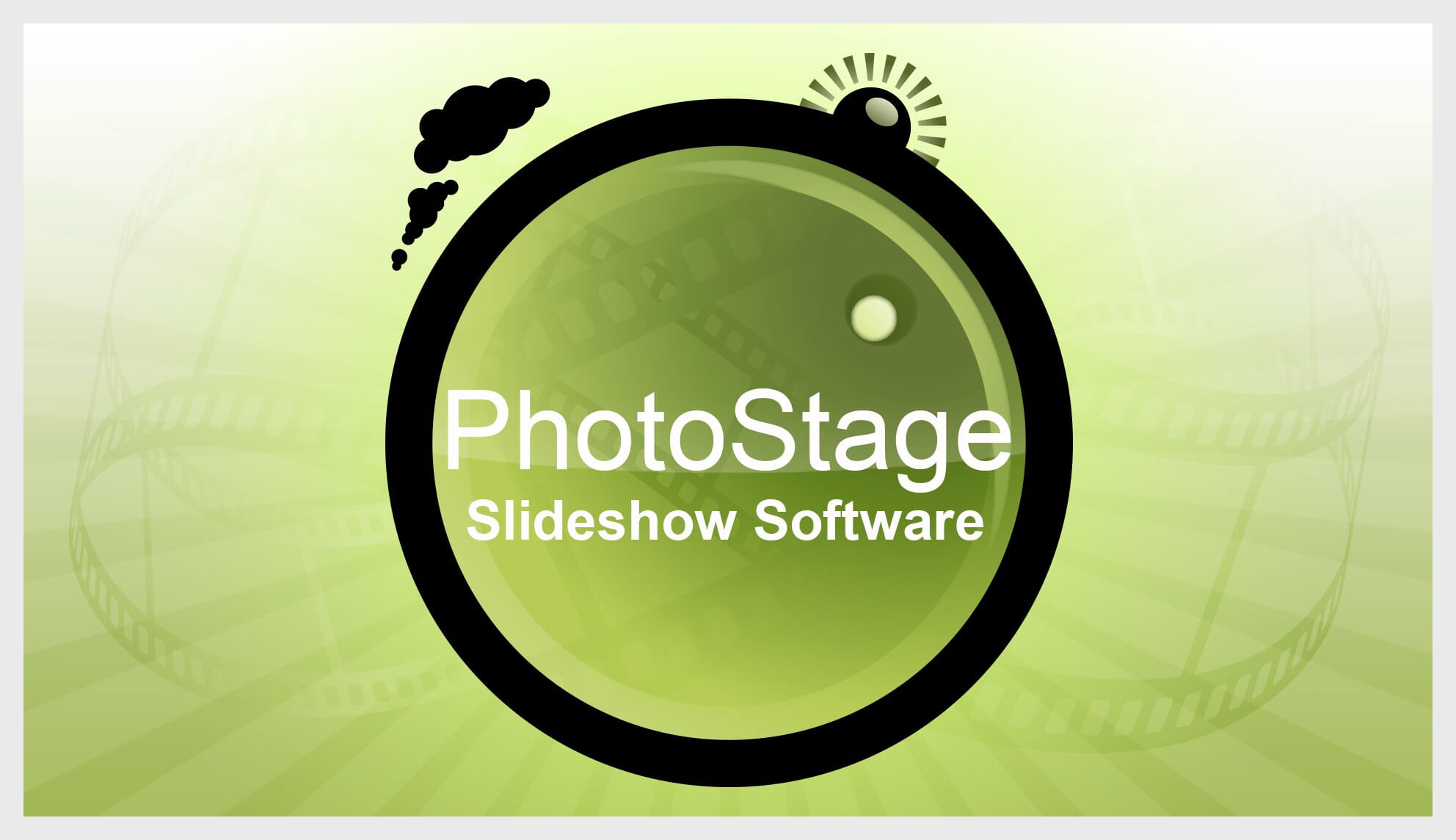 Key Information
Price – Free (Pro upgrade available)
Available Platforms – Downloadable Software for Windows & MAC
Export Options – Blu-ray / DVD / Flickr / Dropbox / One Drive / YouTube
Notable Feature – Full control over slideshow process including transitions and audio
Here's What We Liked About PhotoStage:
PhotoStage by NCH offers complex slideshow creation. This is one of the best slideshow maker tools if you want greater control and features.
Each image is inserted into a timeline at the bottom of the program. From here you can edit the timings and also add transitions between the slides. There is a handy playback feature and you can view the slideshow in a real-time preview.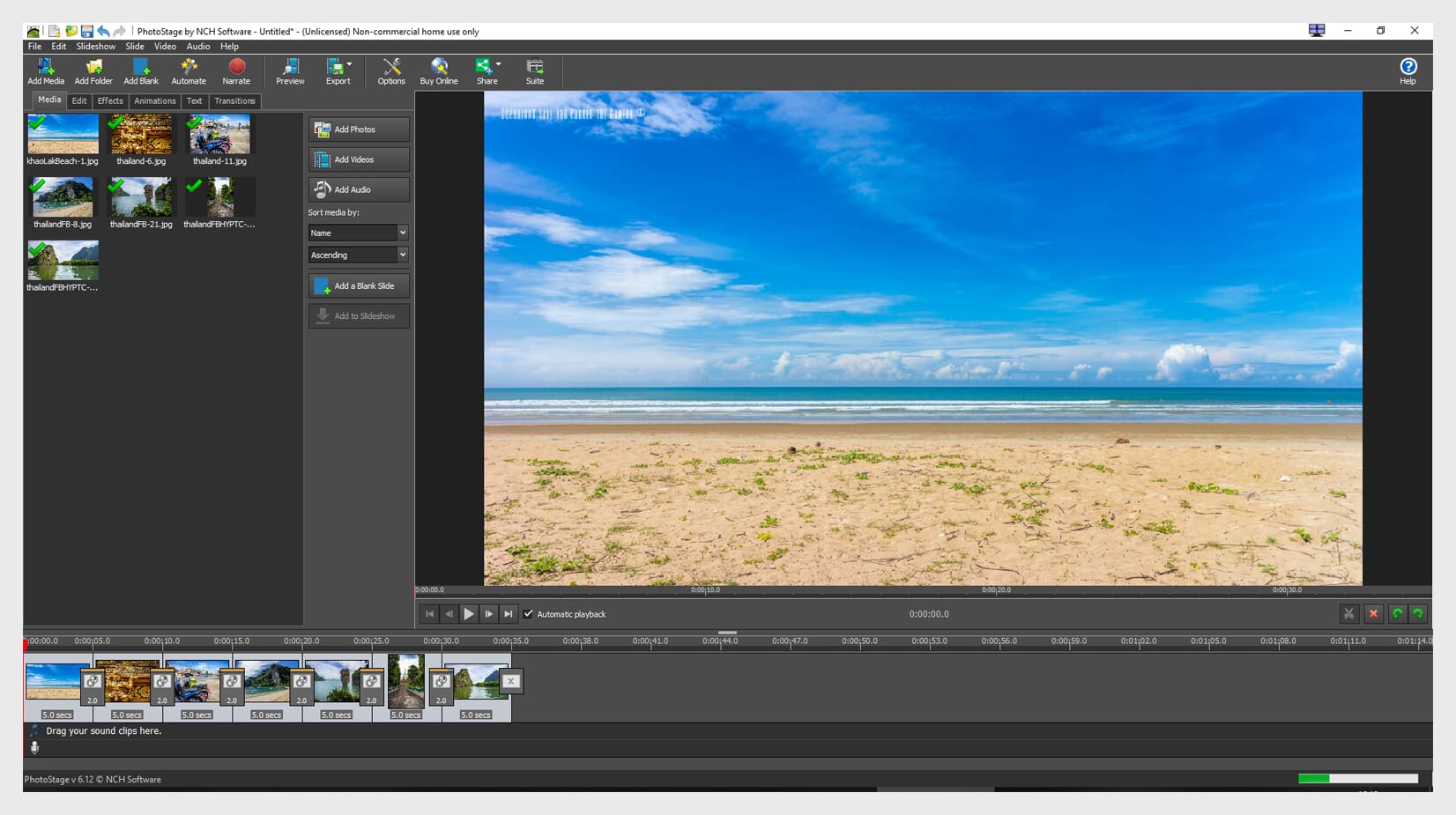 We really like the different export options PhotoStage has. You can export to DVD and Blu-ray.
Furthermore, it supports a myriad of social media platforms and websites such as YouTube, One Drive, and Dropbox. The combination of great control, awesome transitions, and lots of export options make PhotoStage one of the best slideshow creators we've tested today – especially for more advanced users.
8. Adobe Express (formerly Spark)
Key Information
Price – Free version available, but slideshows have an Adobe watermark / $10.10 per month for the upgraded version
Available Platforms – Web browser application
Export Options – Download as MP3 file or share on the Adobe Express website
Notable Feature – Ability to create split-screen slideshows with text and images
Does Adobe Express Compare to the Other Best Slideshow Makers?
We think it does. As you'd expect from Adobe, Express is a fun and complete web browser application with many features.
To use Express, you have to have a registered Adobe account. No big deal if you use their other products such as Photoshop and Lightroom.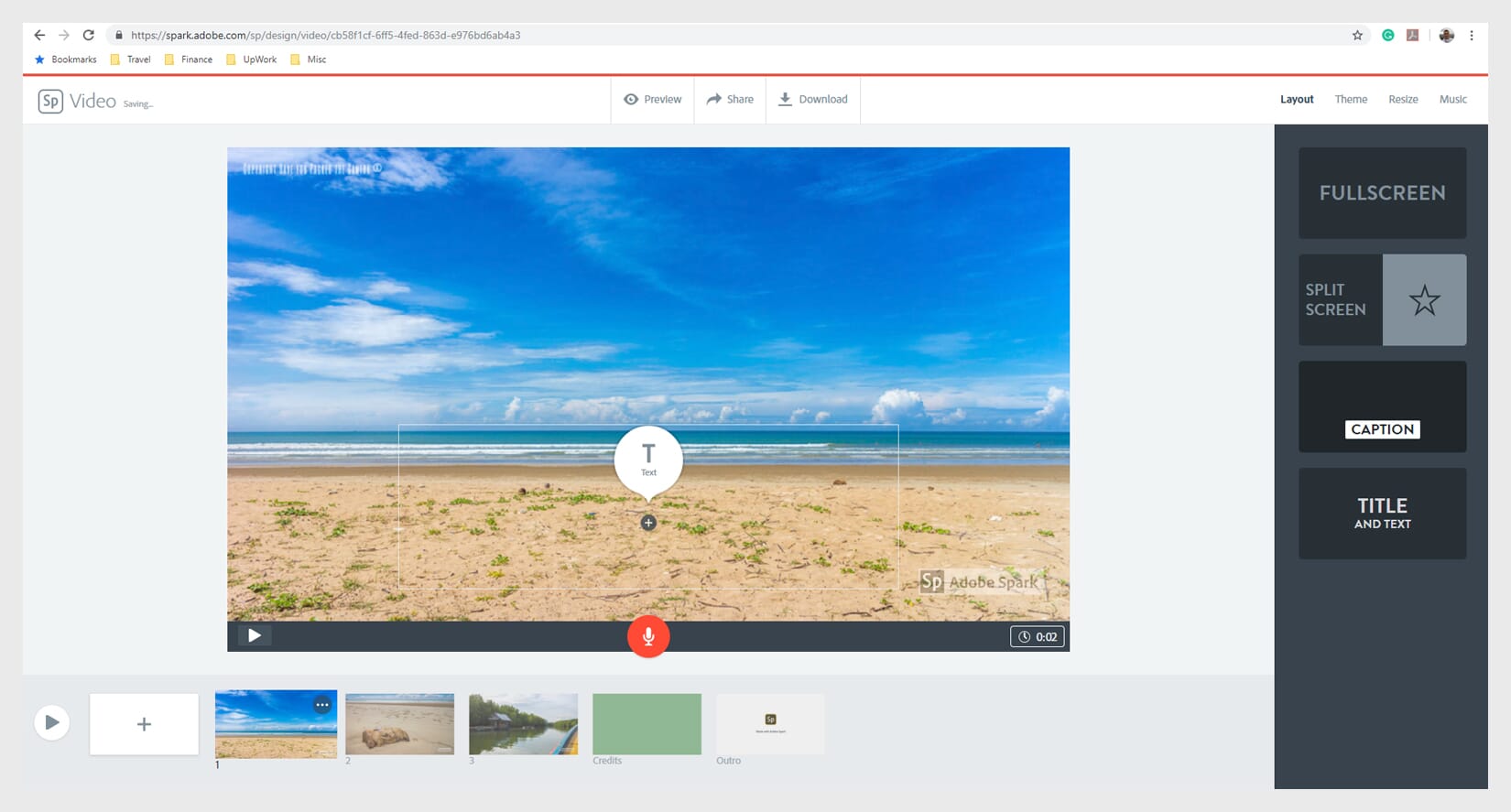 Now, here's the deal – when using Express, you actually create a video instead of a slideshow. There is a range of slideshow templates you can use, however. Each image is inserted separately and you can add text and captions.
RELATED POST: Adobe Express Review
Moreover, you can change your slideshow to a split-screen view if you want to include a higher amount of text.
This is a great service for those who already have an Adobe Creative Cloud account, as Express is included in the basic Photography Plan.
9. 4K Slideshow Maker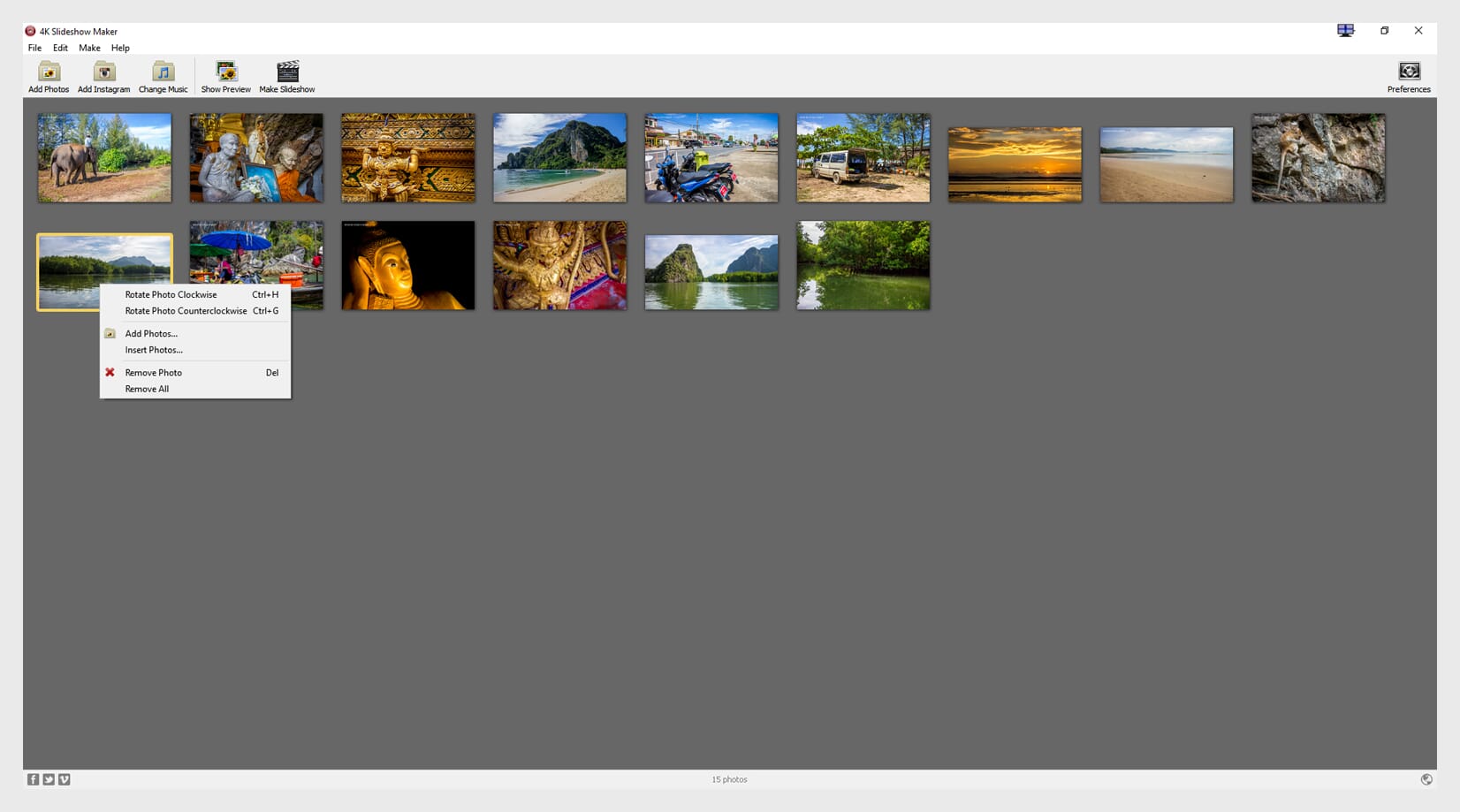 Key Information
Price – Free
Available Platforms – Windows & MAC application download
Export Options – Download as a media file
Notable Feature – Download photos directly from Instagram
Looking for an Easy-to-Use Slideshow Creator?
4K Slideshow Maker has to be the easiest application to use on this list. It's a downloadable program that is available for free. Hard to beat that!
When using 4K Slideshow Maker, we found the program itself to perform exceptionally. It has a simple interface. There isn't really much to it except a top menu and four creation buttons.
Even when we loaded 20+ images to create a slideshow, the program still ran quickly and processed the show in minutes.
As mentioned, this program is simplistic.
All you can create using this program is a simple slideshow that uses randomized transitions between each photo. But, if that's all you need from a slideshow maker, this one does it very well.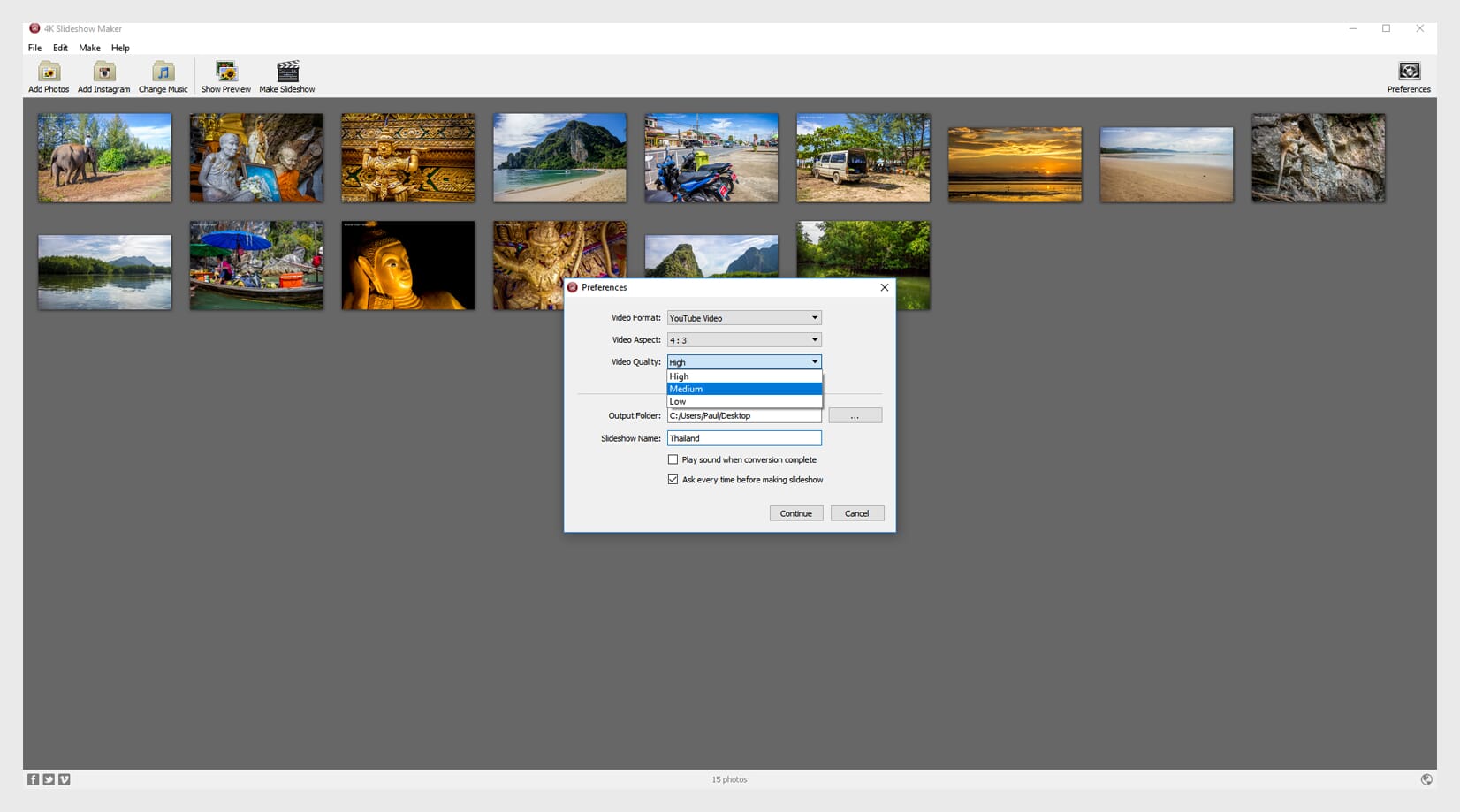 The end quality is fantastic, but customization is non-existent. Simply upload your files (from your computer or Instagram) and press the "Make Slideshow" button.
From there you can choose the aspect ratio, filename, and location. Whilst 4K Slideshow Maker may not allow creativity, it does offer speed and quality.
That being said, if you're looking for something complete with transitions, this might not be the best slideshow maker for you. You may want to look at one of the other options on the list.
Closing Thoughts
Let your imagination run wild using one of these programs and share your photos uniquely. Don't forget to include cool transitions, sounds, and text to add extra character and meaning to your photos.
Forget about boring Facebook photo albums or single Instagram pics. Why not try one of the best slideshow maker applications today and see what you can create? Share your creations in the comments below!