If you have an amazing photo that you want to hang on your wall but the dimensions aren't large enough to create a big print, then photo enlargement software is just what you need.
Photo enlarger programs let you resize photos without losing quality. Instead of merely increasing the size of the file (and making the images look pixelated in the process), these programs use advanced algorithms to maintain image quality even when you increase an image to 200%, 400%, or even 800% of its original size.
I spent the last few weeks analyzing a variety of programs in order to identify the absolute best photo enlargement software available today. Below, I share my top picks – both free and paid – and I report on each program's quality, ease of use, and performance. That way, you can easily determine the program that's right for you.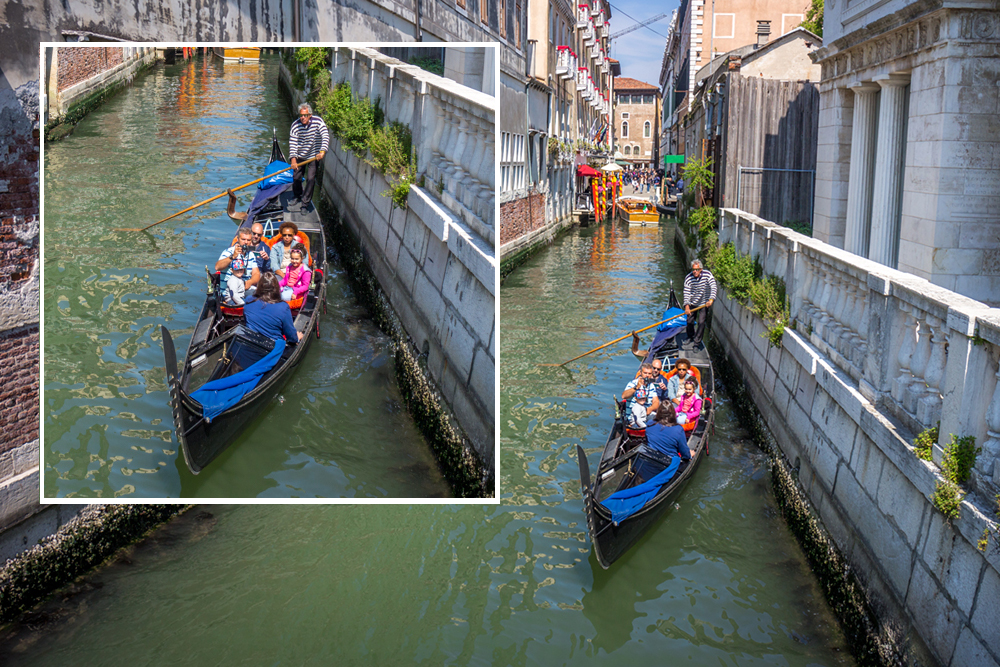 Best Photo Enlarger Programs in 2023:
When you buy through links on our site, we may earn a commission at no cost to you. We evaluate products independently. Commissions do not affect our evaluations.
1. Topaz Labs Gigapixel AI
Our Pick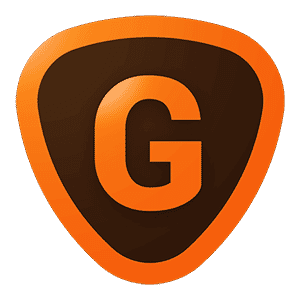 Great for bigger enlargements
If you need to substantially enlarge photos by a large multiplication, Gigapixel AI provides excellent results. Additionally, the AI models are helpful when dealing with certain types of photos (e.g., architecture).
Pros
Amazing enlargement quality even at 600%
AI models give better results for specific photography types
Simple to use
Cons
1.9 GB storage needed for the AI models
Image previews can be slow to load
Topaz Labs Gigapixel AI is my top enlargement choice, and it's a clear winner in terms of image quality. The other options are great, but if I were a professional and needed the best results when making large prints, I would go with Gigapixel AI. I tested various images starting at 1024×683 px, and the file quality remained nearly perfect even up to a 600% enlargement.
At 600%, I couldn't see any pixelation or reduction in detail, which is pretty incredible. You can see in the screenshot below the original photo on the left and the 600% enlargement on the right. I like how you can select an enlargement multiplier (I prefer this to specifying exact pixels).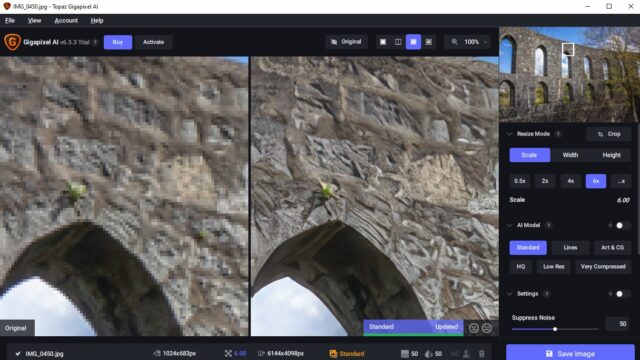 The AI models are really useful, although I don't like how you have to download them separately the first time you open the software. This adds another 1.9 GB of storage requirements, so if you don't have a powerful desktop PC for editing or plenty of hard drive space, it could be an issue.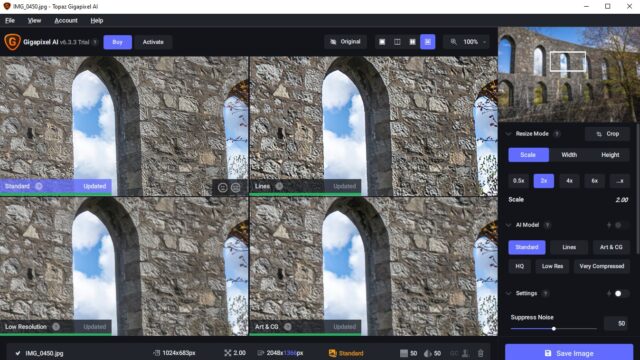 I tested the different AI models, and the results do seem to be better than just using the standard (non-AI) model. For example, with some of my architecture shots from Scotland, I used the Lines model, which is recommended for architecture with straight lines. There was certainly an improvement, although the standard model worked well, too.
The only minor gripe I have is that whenever you try to view a different area in the photo preview, the AI model has to be reloaded, so it's not the easiest program for actually looking at the detail in your images.
2. ON1 Resize AI
Also Great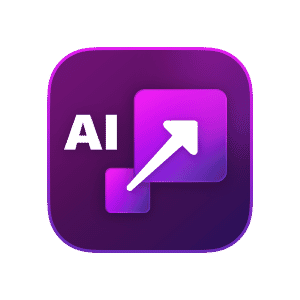 Great for precision
ON1 Resize AI gives you complete control over the enlarging process and allows you to specify exact pixel dimensions or choose from a range of printer presets.
Pros
Pixel precision for the enlarging process
Additional sharpening tools
Printer manufacturer preset sizes
Cons
There is no enlarging percentage option
It's sometimes not clear when the image has been resized
ON1 Resize AI is a spinoff from the popular ON1 Photo RAW photo editor and is a dedicated resizing program. It's available as a standalone product or as a plugin for Lightroom and Photoshop, and you can get it for a one-off purchase price. I think the price is okay for what the program does, but it isn't the most cost-effective option.
Regardless, as I detail in my ON1 Resize AI review, the program is easy enough to understand and use. You can't really get it wrong, and I like the simplistic interface. You are prompted to open a photo upon opening the software, and then a preview is loaded. I like how on the right side you have the resizing options, and you can collapse any panels that you don't want to use to give you more workspace.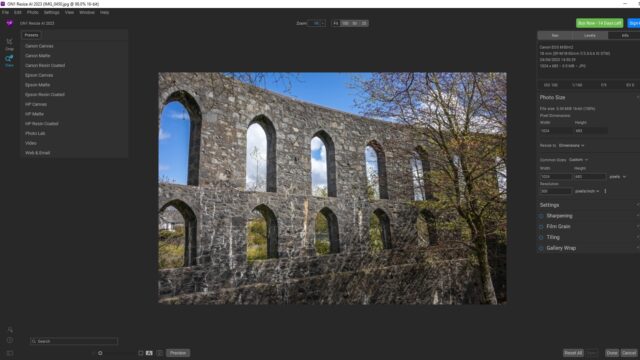 In terms of the actual enlarging process, I like how you are given full control. You can enter new pixel dimensions that you want the image enlarged to or select from a range of preset formats and ratios like 16:9. I favored the Long Edge option, where you enter the new dimensions for the longest edge of the photo and the program automatically calculates the other edge to keep the same aspect ratio.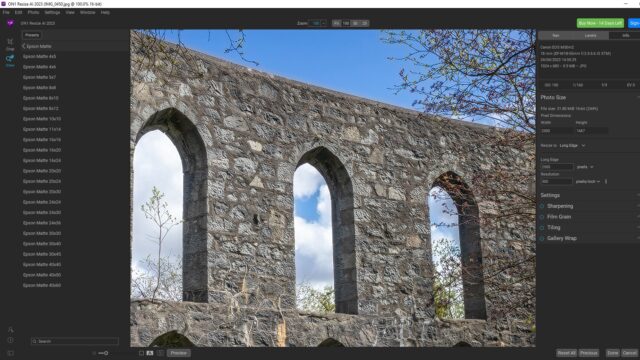 I tested various 1024×683 px images and enlarged them to 2500x and 5000px wide. The results were consistent and the image quality was maintained, so you don't have to worry about producing a pixelated mess. I did notice some haloing effects and a little softening, but you can tweak these using the built-in sharpening tools.
I don't personally print photos often, but I can see the usefulness of the preset print enlarging options. On the left side, you have a range of presets from different manufacturers like Epson and Canon, and when you select one of the sizes, a grid overlay appears on your photo so you can see how it will be cropped.
3. Adobe Photoshop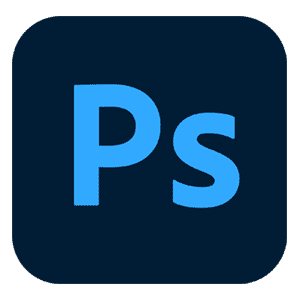 Great for convenience
If you already have Adobe Photoshop, you don't need to install or invest in other software to enlarge your files, and the enlargement quality is reasonably good.
Pros
Simple enlarging process
You can choose from various resampling options
Multiple editing tools available for further adjustments
Cons
Not as powerful as dedicated enlargement software
At 4x and above the quality is reduced
Maybe you don't even want to use separate photo enlargement software and just want to use the tools you have. In this case, Adobe Photoshop presents a simple and convenient option for photo enlarging – even if it can't quite compete with dedicated programs like Gigapixel and ON1 Resize.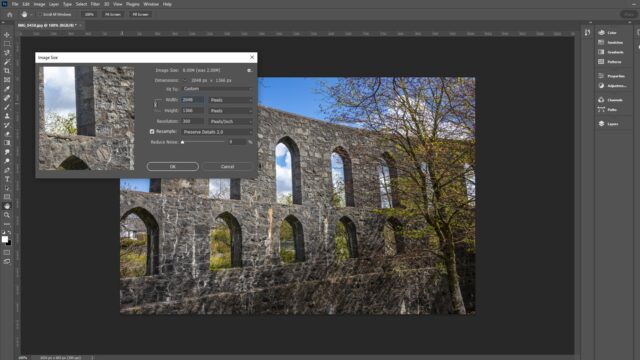 If you have Photoshop, you already have photo enlargement capabilities. You've probably seen the tool and used it often! It's called Image Size, and I've used this thousands of times. All you have to do is change the pixel dimensions while making sure to tick the Resample box. You can then choose from various resampling options to retain detail when enlarging your photos.
I'd recommend the Preserve Details 2.0 resample algorithm – it always gives me the best results and the sharpest photos. In my experience, a 2x enlargement works pretty well. Things get a bit smoother and muddier at 4x and above, but the results are still usable. I've also found that running additional sharpening after a 4x enlargement can help.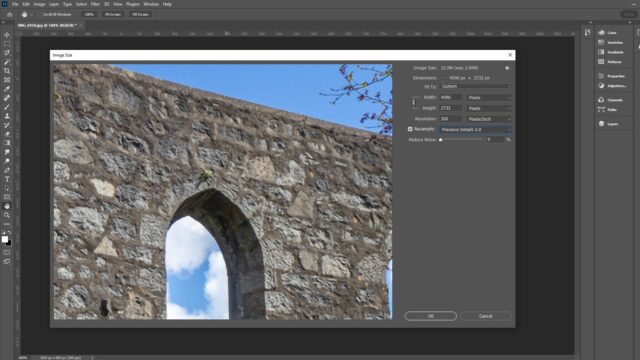 It's really helpful that Photoshop shows the new image size once it's been enlarged, as this allows you to determine how much storage space it'll require. For convenience and occasional 2x-4x enlarging, Adobe Photoshop is a viable choice, but it's not as powerful as dedicated enlargement software or the best photo resizer apps.
4. InPixio Photo Maximizer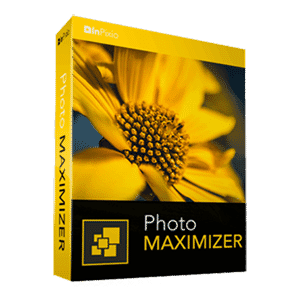 Great for additional editing
InPixio Photo Maximizer has excellent enlarging tools, and you can also apply RAW adjustments to really make your photos pop.
Pros
The Maximizer tool is easy to use
Nice range of RAW editing tools
Fast processing and smooth editing
Cons
There is a slight lack of sharpness over 400% enlargements
I've ranked InPixio Photo Maximizer high on my list due to the additional tools and features it has. It's essentially a photo enlarger with a mini photo editing suite built-in, so I could see this program being useful if you prefer to edit and enlarge in one place instead of jumping between two different software programs.
Of course, I don't think the editing tools compare to something like Lightroom or Affinity Photo, but many of the tools come from InPixio Photo Studio and give you decent power and control. I was able to enlarge my test photos easily and then alter basic parameters like contrast, saturation, and highlights, which I found really useful.
Related Post: InPixio Photo Studio 12 Review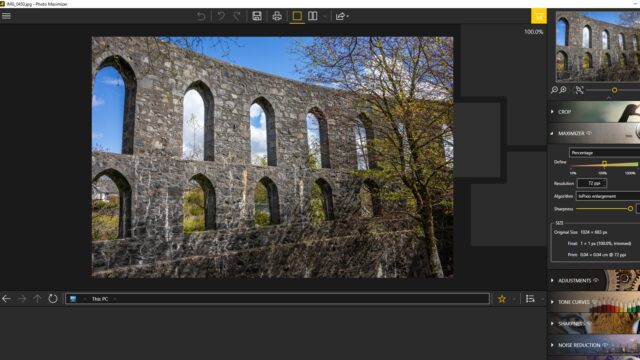 It took me a few minutes to realize how to enlarge photos – you need the Maximizer tab. This has some great controls, and I like the percentage slider so you can enlarge your photo from 50% to 1000% in fine increments. I think enlarging works best at between 200-400%; over 400%, I did notice some softening and distortion.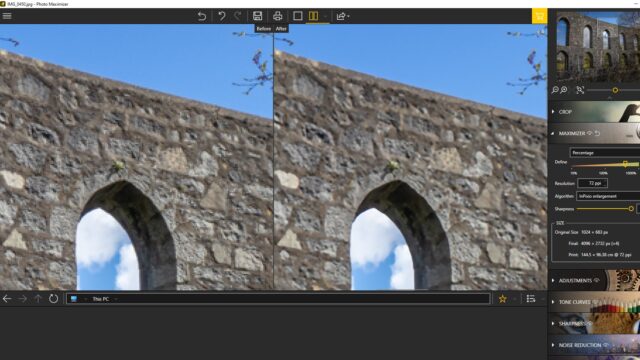 You can change the AI algorithm used for the enlarging process, which gives you more control and can come in handy when processing different types of photos. I like that you can add sharpening after, and I also appreciate that underneath the tools, it shows both the original and final image size in pixels together with the print size.
5. A Sharper Scaling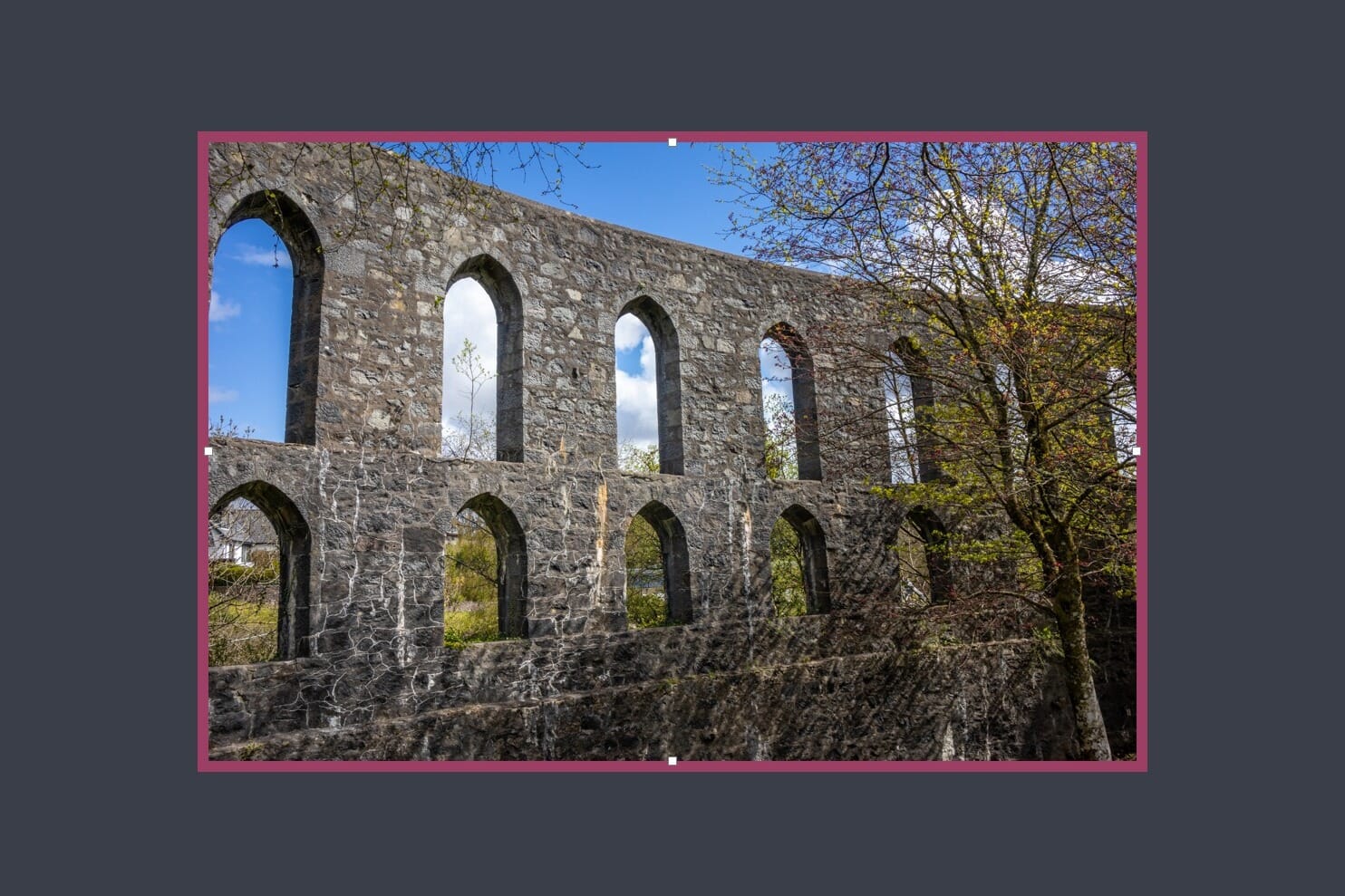 Best free enlargement software
The simplicity of A Sharper Scaling is perfect for first-time software users and those who are learning the basics of photo editing and resizing.
Pros
Requires minimal system resources to run
Incredibly easy enlarging process
Consistent end results
Completely free
Cons
No additional tools or functionality
The comparison with other enlarging methods is pointless
If you are new to photo editing and don't have much experience with this type of software, A Sharper Scaling is a great starting point. It's free to use and available for Windows devices, and I found the installation process quick and easy.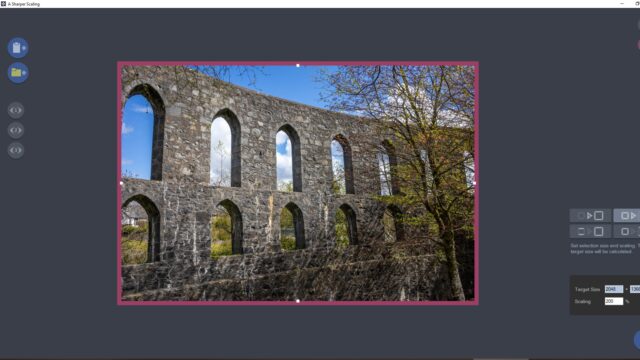 Compared to some other options on this list, the software is pretty bare-bones, and I don't like that there aren't any additional tools like sharpening or cropping. However, the enlarging process is easy. I enlarged several images to the maximum supported size of 400%, and in each case, I got a sharp result.
The program does show a comparison of the final enlarged image with other potential enlargement approaches. I don't really see the point of this, and I'd be fine if it weren't included as it doesn't improve the functionality in any way; the end result stays the same regardless.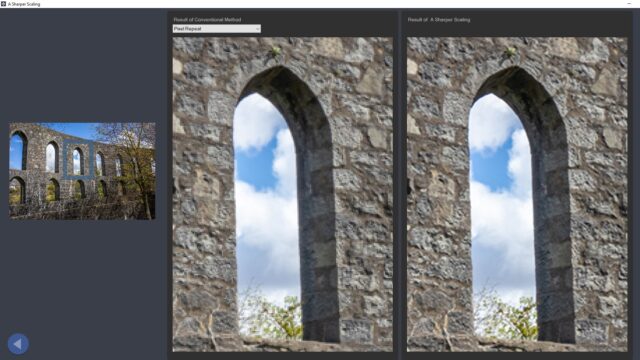 There isn't much else to the program. It works, and it works well! It's definitely one of the better free options available and could be a good starting point if you're unsure whether you want to invest in image enlargement software or not.
6. Softonic SmillaEnlarger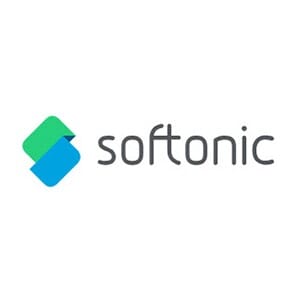 Great for a fast workflow
SmillaEnlarger doesn't require many system resources and offers a quick enlargement solution with simple tools.
Pros
Easy to use once you learn the tools
Great performance
Automatic renaming option
Cons
Can initially be confusing
A little distortion over 400%
Softonic SmillaEnlarger is another simple, free photo enlarger program. You don't have to install it; you just extract the files and open the EXE file from the folder. The first screen seemed difficult to understand, but once you get used to it, it works really well.
The main area you want to focus on is the top left corner where the program states the output dimensions. This is what I used to enlarge my test images, and you can specify a range of parameters, including width, height, and zoom percentage.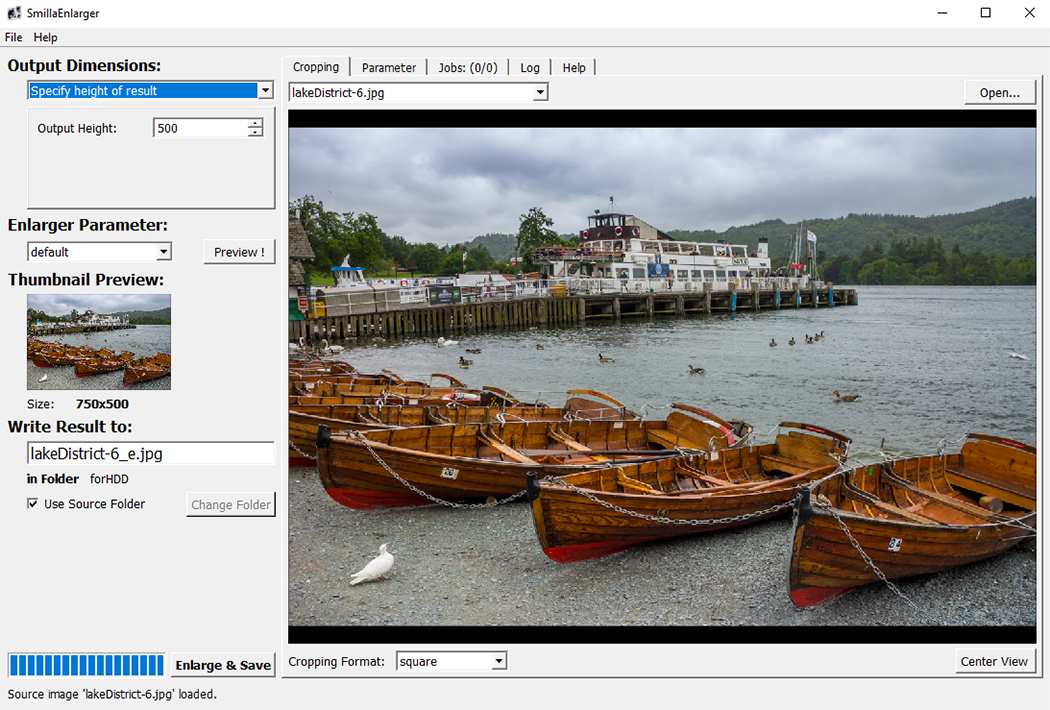 I found the enlarging to be quite effective: 200% looks great with barely any visible difference in quality, and 400% looks okay (though there is a little softening). I like that you can go all the way to 3000% if you want, though the results at such extremes are varied.
It's got an automatic renaming process, which is handy, and I like that you can specify the destination folder for the enlarged images.
7. Wondershare Fotophire Maximizer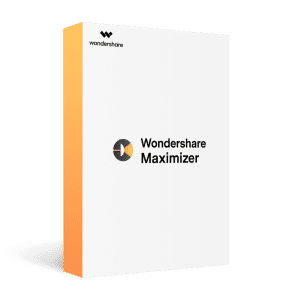 Great for cropping beforehand
Fotophire Maximizer gives you editing capabilities, including cropping tools, so you can reframe your images before resizing them.
Pros
Additional editing tools
Can enlarge up to 1000%
Runs smoothly with great performance
Cons
Some degradation of quality over 400% enlargement
Wondershare Fotophire Maximizer is easy to use and has an incredibly similar interface to InPixio Photo Focus. If you're familiar with the InPixio program, you'll easily be able to use this photo enlarger without any issues. I don't want to say that it's been copied directly, but it uses essentially the same toolbar layout and graphics.
Fotophire Maximizer is more than a simple enlarging tool and offers a range of other features. For example, you can make basic edits to photos like contrast, clarity, and saturation. You can also remove background noise, add sharpening, or apply stylish film grain.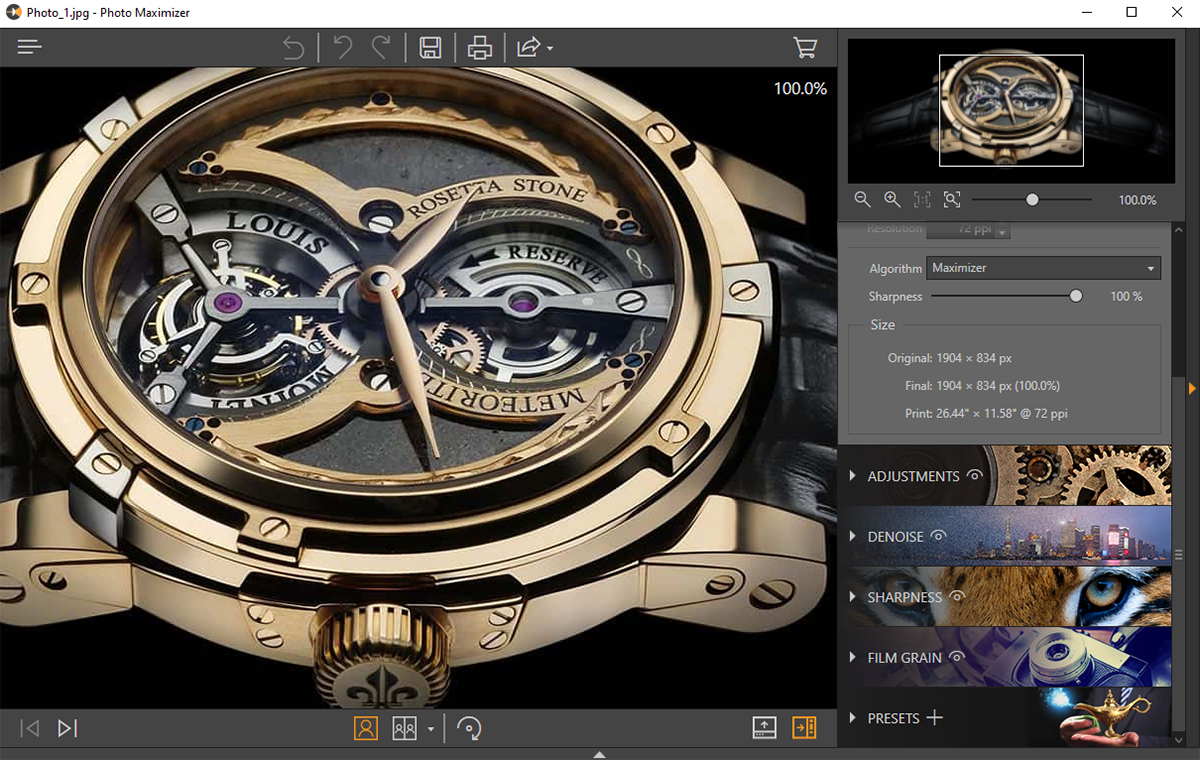 I like the simplicity of the enlarging process as you can select the desired output size and choose from a range of resampling algorithms. As a result, the end results are great. You can enlarge photos up to 1000%, but I noticed that over 400%, there is a slight decline in quality.
8. BenVista PhotoZoom Pro 8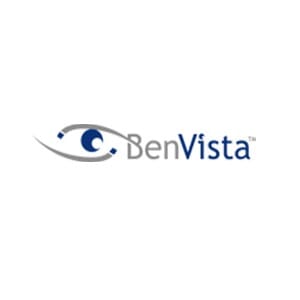 Great for advanced enlarging
PhotoZoom Pro 8 gives you plenty of control, and if you're familiar with different enlarging methods, you'll love the impressive range of presets and enlargement types.
Pros
Multiple enlarging methods
Fantastic batch processing tools
Fast processing and smooth performance
Cons
Beginners might find the options confusing
If you have an in-depth understanding of photo enlarging, BenVista PhotoZoom Pro 8 will certainly let you apply your knowledge. While I certainly know my way around enlargement software, the list of different enlarging options was so huge that I felt a little lost.
Regardless, I found the comparison view highly useful, as you can choose a different enlarging method on both panes. I was then able to simply pick different options until I found the best result.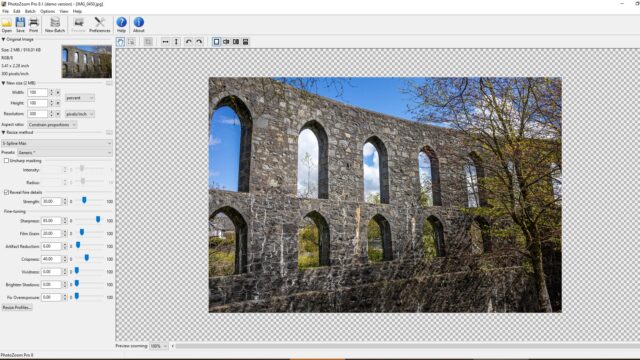 The enlargement process is quite easy, too, and I like that there's a simple box where you enter the new width and height. You can lock the aspect ratio, and you can specify your desired dimensions as percents, pixels, or another common measurement. I used the percent option for my testing to keep things easy.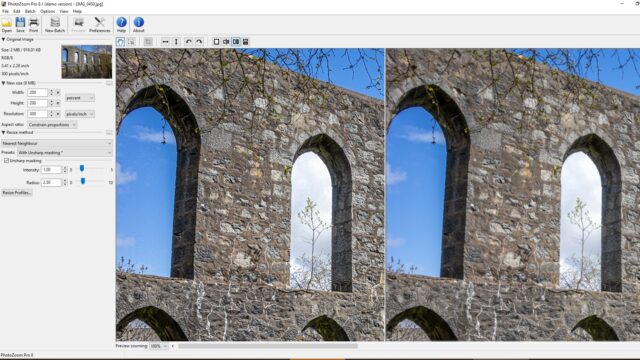 The end results at 200% were impressive, and there was hardly any data loss. You may notice softening at 400% and beyond, but the images are still usable. The program boasts a pretty cool batch processing tool, too. I like how you can easily add an entire folder of images, press the Select All button, and then enlarge them in a single operation.
9. Reshade Image Resizer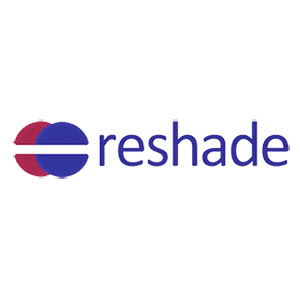 Great for batch processing
Reshade Image Resizer is a fantastic free option, and it excels at batch processing so you can enlarge multiple photos to the same size.
Pros
Doesn't require many system resources
Excellent batch processing tools
Ratio lock to make resizing easier
Cons
The interface looks dated
No enlarging multiplication option
If you can't afford to buy expensive software or simply won't use it enough, a free option like Reshade Image Resizer is a good choice. I really like that this software uses virtually no processing power, and when I tested it, I had Lightroom, Photoshop, WordPress, and Skype running simultaneously without issues! If you only have a budget laptop for your photo editing, you should still be able to run it smoothly.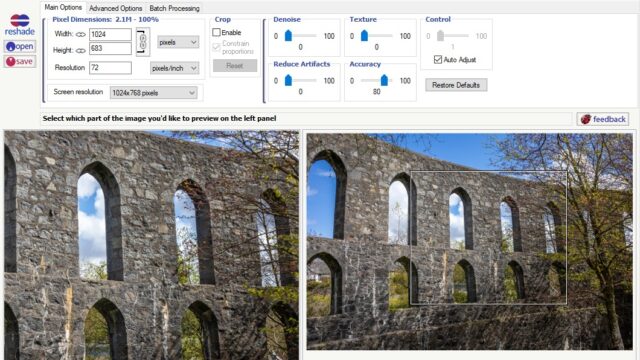 Don't let the design of this software fool you, either. It looks pretty dated and seems like it was made in the early 2000s, but the functionality is what really matters. I enlarged a variety of images to roughly 200% and 400%, and the quality is decent. I did notice a little softening, but the overall image quality is still there, and I could easily make improvements in Lightroom afterward.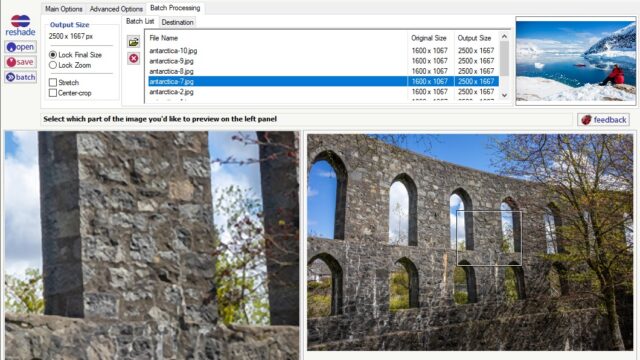 I like how the program locks the aspect ratio of the image so if you enter a new pixel width, the height automatically changes to keep the same ratio. I also found it handy that you can select from a range of preset resolutions; that way, you can always be sure you have the resolution you need for printing.
However, what makes this program really stand out for me is the suite of batch processing tools. I took a handful of test images at 1024×683 px and ran them through the batch processor; the software took virtually no time at all, and it gave me a nice breakdown showing the original size and output size. I think this is a great free option, and outdated interface aside, it can certainly compete with the top paid options.
10. AI Image Enlarger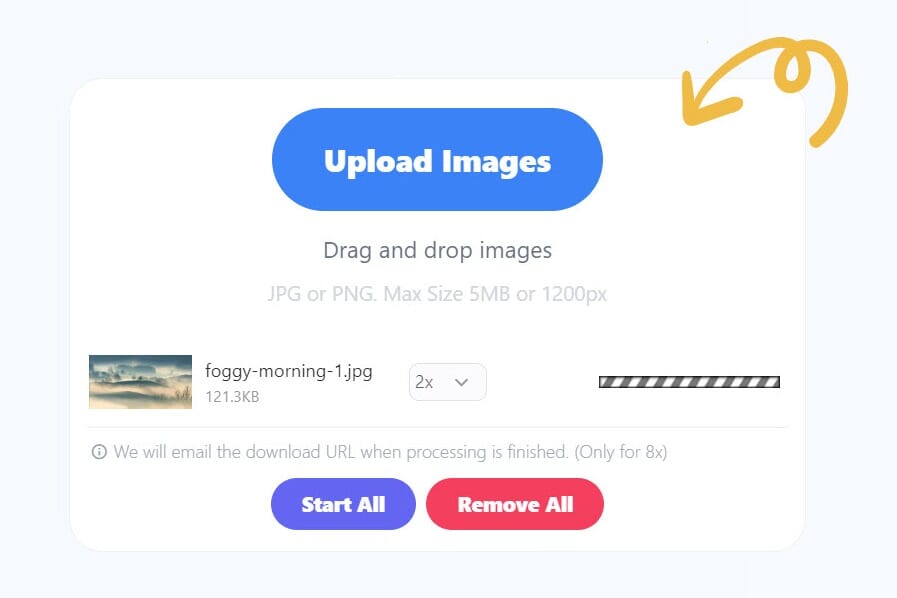 Great for limited storage space
If you have limited storage space, AI Image Enlarger works from your browser (and therefore doesn't require any software installation).
Pros
Simple enlarging process
Excellent end results with no pixelation
The free plan gives you a few enlargements
Cons
The premium subscription is expensive
There is no option to specify pixel dimensions
Some people don't want to go through the hassle of installing software, or they may not have space on their storage drive. If so, AI Image Enlarger could be a great pick. It's a web-based photo enlarger, so all you have to do is open the website, register for a free account, and upload your photos. It's incredibly simple, and I've even bookmarked the site for fast access.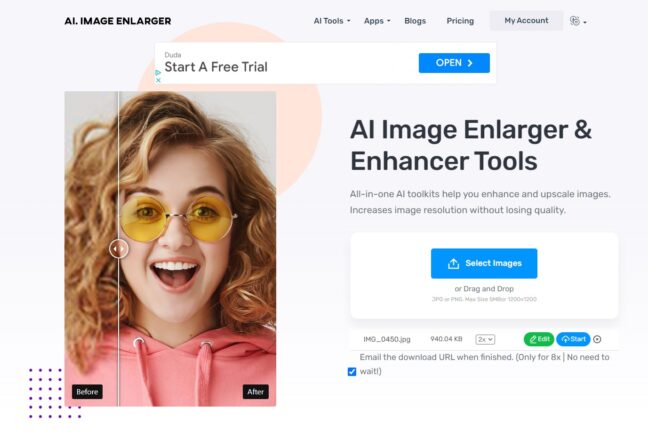 It's an especially good option if you only need to enlarge images occasionally, as the free version gives you 10 enlargements per month at 2x or 4x. On the other hand, unless you are a professional and need to enlarge photos frequently, the $9/month subscription is too much; if you're going to pay, I'd really just recommend buying dedicated software.
Related Post: Imglarger Review
I found the process easy; all you have to do is upload your image(s), select an enlargement multiplier of 2x or 4x, then click Start. The enlargement is fairly quick, and you can see a progress bar, too. The only thing I don't like about the website is the various banner ads, which can feel a little obtrusive.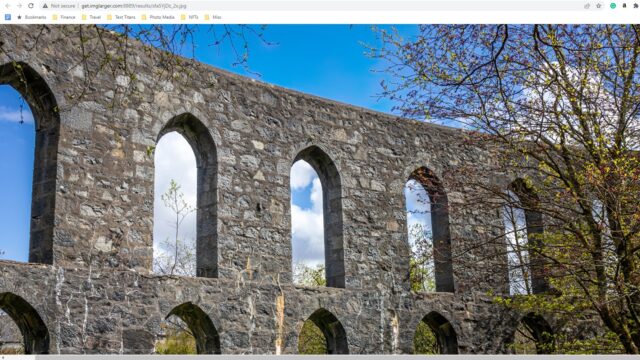 When the process is finished, you can download the image. I found the enlarging quality to be excellent. The 2x enlarging works really well, and as you can see from the screenshot above, the original image detail is preserved, and there really isn't any haloing or pixelation, either.
Enlarge Your Photos with Powerful Software
I spent hours testing the best photo enlargement software, and I have a few top choices for different scenarios. For professional work where you need to enlarge photos and get the best end results, Topaz Labs Gigapixel AI is the best option, with ON1 Resize AI coming in a close second. Gigapixel AI consistently gave me the best results, even at higher enlarging percentages such as 800%.
For beginners and those who will only use enlarger software once in a blue moon, I'd rate A Sharper Scaling as the top choice. It's free, and anyone can understand how to use it.
Lastly, if you are a hobbyist photographer, the other options are all great. Adobe Photoshop is the most convenient choice if you already own it, and Reshade Image Resizer is my top recommendation for upscaling multiple photos at once.