Printing photos is a process that is often overlooked. You may have spent hours editing your photos and creating a beautiful collection of snaps. But what can you do with them now? How can you print them to create a stunning album or framed photo collection? To do this you need the best photo printing software.
There is a range of software available that has photo printing functionality. Firstly, we have photo editing software that also has advanced printing utility. Secondly, we have dedicated photo printing software. Either type of software allows you to print photos, but also alter parameters like print size, resolution, and even use printing templates.
In this guide, we look at the 10 best photo printing software programs/services available. From Adobe Photoshop Express to Fotor Photo Editor we have selected the best programs with print functionality.
Supported Platforms: Windows, Mac, iOS
Price: Free
Direct Printing Services: No
Great editing features
Extensive print options
No direct printing services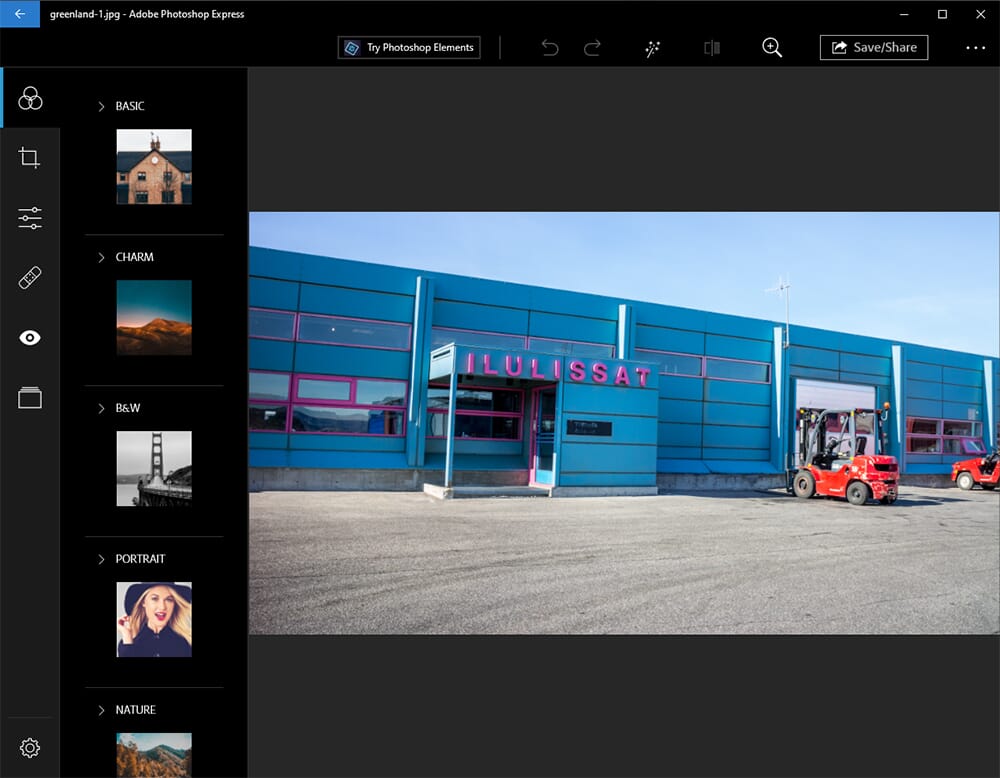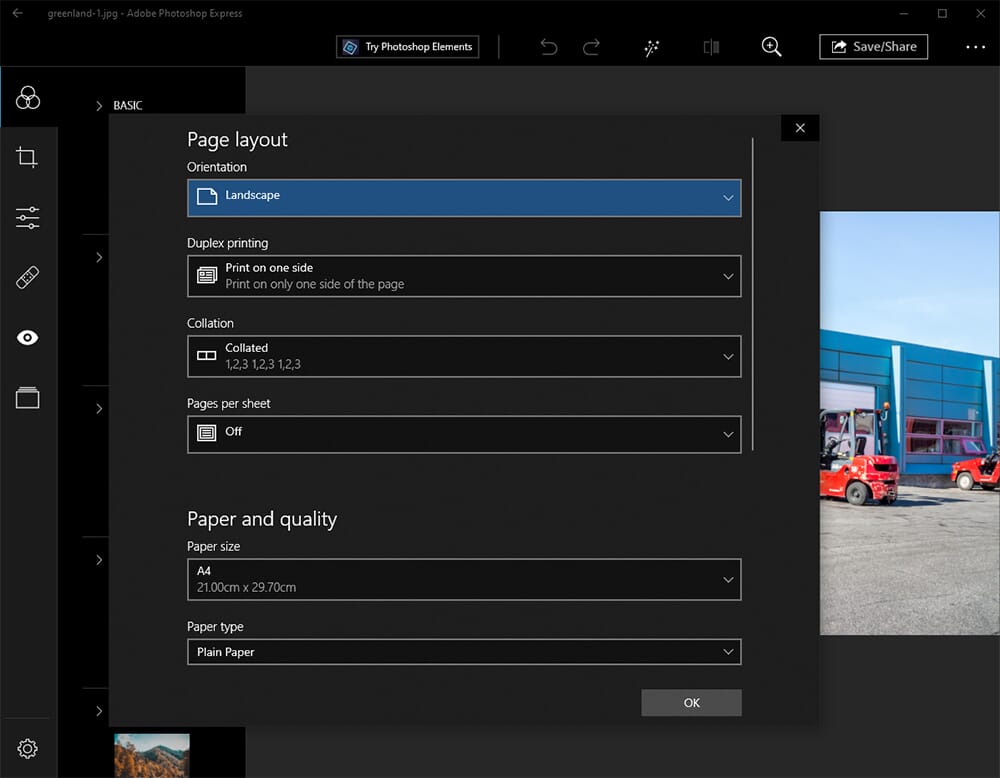 Adobe Photoshop Express is a free editing and printing software. To use this program, you must either have an Adobe account, or you can sign-in using Google or Facebook. This is one of the best photo printing softwares available due to its features and simplicity.
Before printing, you can utilize the great editing tools. You can crop and rotate your images, and also make full corrections to things like contrast and exposure. There is also the opportunity to apply filters and preset enhancements.
Related Post: Printing Photos from Photoshop
In terms of printing, Adobe Photoshop Express has a detailed print menu. You can use the simplified version which lets you control the color scale and orientation. Alternatively, you can use the advanced settings which provide greater control. Here you can choose paper size and have more input into fine-tuning the print quality.
Supported Platforms: Web browser or mobile app
Price: Free
Direct Printing Services: Yes
Synchronizes with other Google services
Directly print photo books
Limited printing templates and options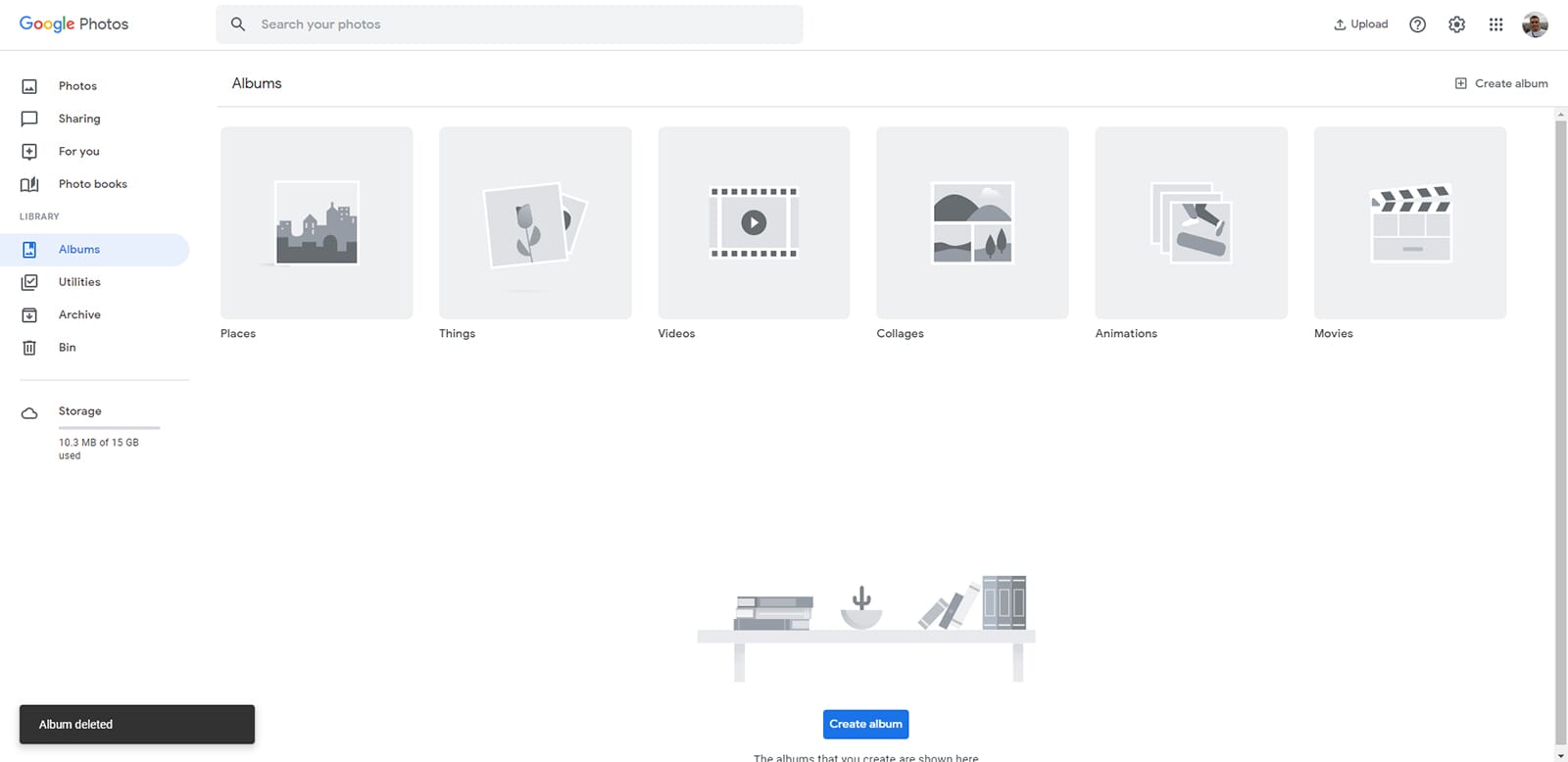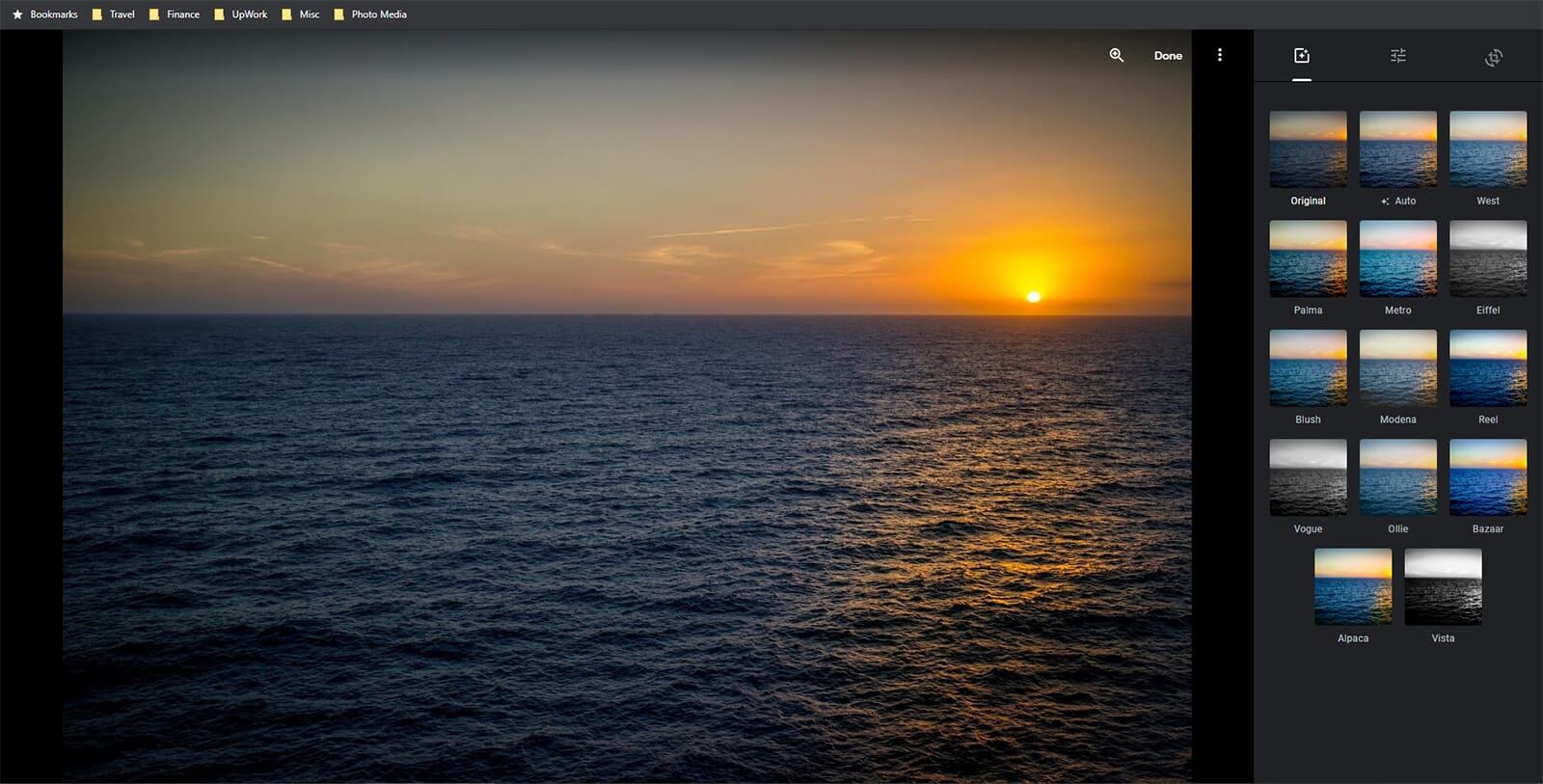 Google Photos is a great basic tool for sharing, uploading, printing, and editing photos. You can store 15GB of photos for free which is more than most people will ever need.
Using this software you can create photo albums and manage your images easily. Most importantly, you can process them ready for print. There is also a basic editing section where you can transform your images and apply a selection of filters. If you want to edit your photos further, you can use Google's Snapseed Photo Editing app, too.
If you like simplicity and want an easy way to print, Google Photos offers a photobook and print printing service. You can create a photo album using your stored images and order it directly for print and delivery. Google Photos does not have the most extensive printing options, but it is a handy program to use if you want to quickly print and edit your images.
Supported Platforms: Windows, Mac, iOS
Price: Free
Direct Printing Services: No
Touchscreen friendly interface
Great printing control and options
Only works with HP printers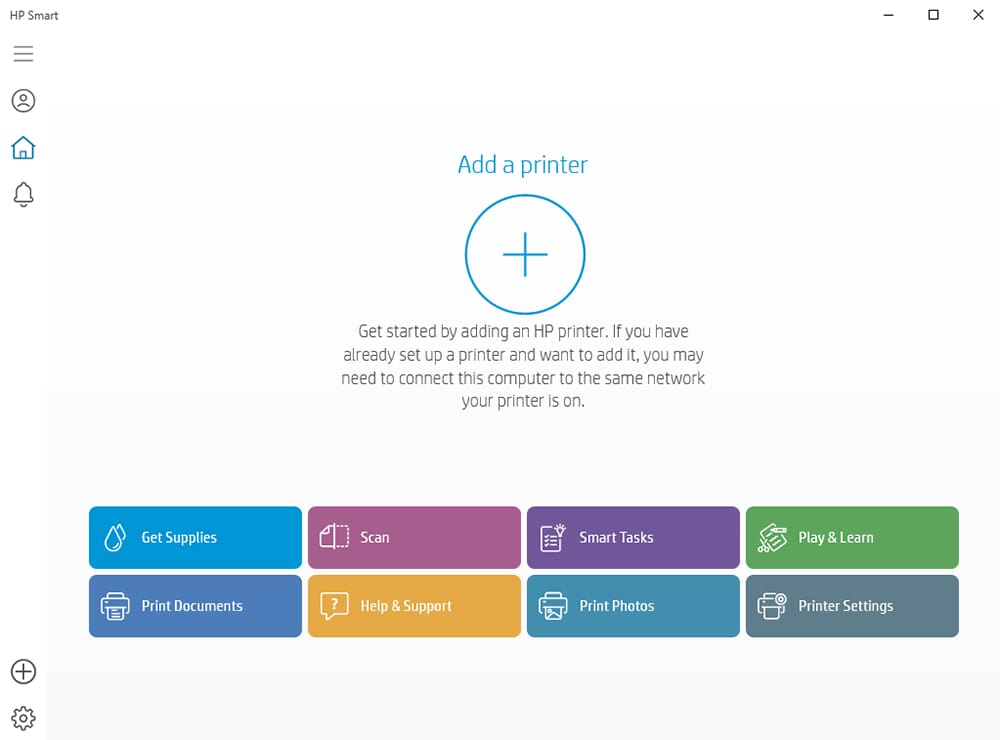 HP Smart is the dedicated software for HP printers and one of the best photo printing softwares available. Note that this will only work with HP printers. Once you install the program, you are asked to install a printer. If it does not detect an HP printer, you will not be able to use any of the features.
The print photos options are easy to use and allow you to quickly print your images. It has support for various pre-determined photo sizes and templates. It also offers great color management and resolution options.
If you own an HP printer, this is the ideal software to use. It is convenient and works great with HP printers.
Supported Platforms: Web browser
Price: Free
Direct Printing Services: Yes
Great web application interface
Ability to create collages
Have to create an account to print
Excessive ads on free version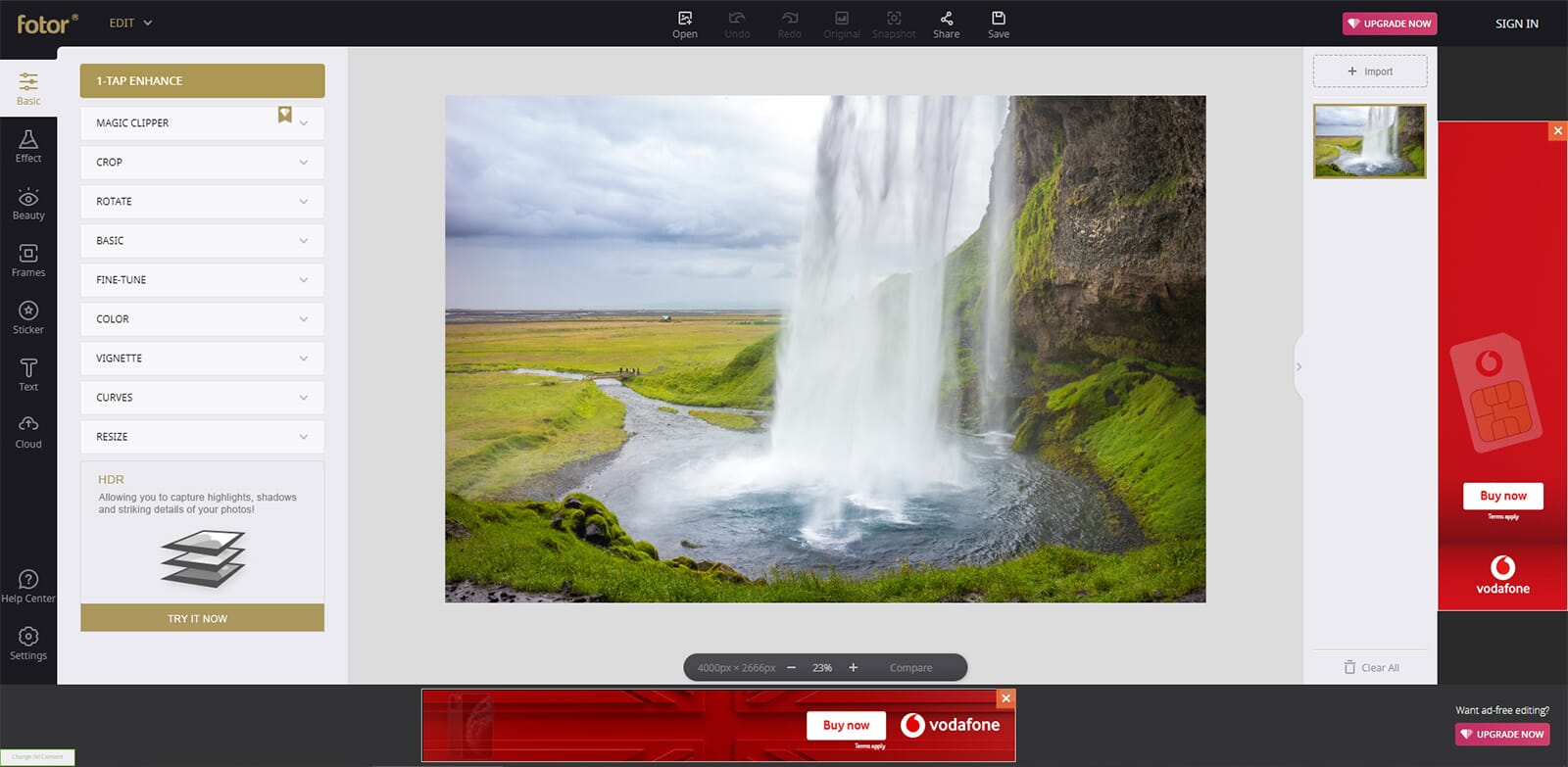 Fotor is one of the best photo printing software web applications available. It has an extensive array of features and you can create photo albums and collages using the app.
To print photos, you must either save the edited photo on your computer and print it yourself or purchase prints from their online store. The store is great and has some excellent printing options at reasonable prices. You can also edit your photos and add a host of fun items like frames, text, and stickers.
The collage creation option is a great feature. This is a whole other section that allows you to create detailed collages ready for printing. One downside to Fotor is that unless you upgrade to the premium version, you will have to put up with the adverts.
Supported Platforms: Windows, Mac, Linux
Price: Free
Direct Printing Services: No
Extensive photo editing tools
Doesn't have the same utility as some other programs
GIMP is much more than an open-source image editor. It also has print functionality. We like GIMP because it is completely free to use. If you don't want to purchase a photo editor like Lightroom or ON1 Photo RAW, GIMP is a great alternative.
This is complemented by a variety of printing features. You can quickly print your photos and use a range of templates for different print sizes. It also allows you to change the print quality and print whole albums relatively quickly.
Supported Platforms: Windows, Mac, iOS
Price: Free
Direct Printing Services: No
Easy to use
Excellent pre-defined settings
Works best with Epson printers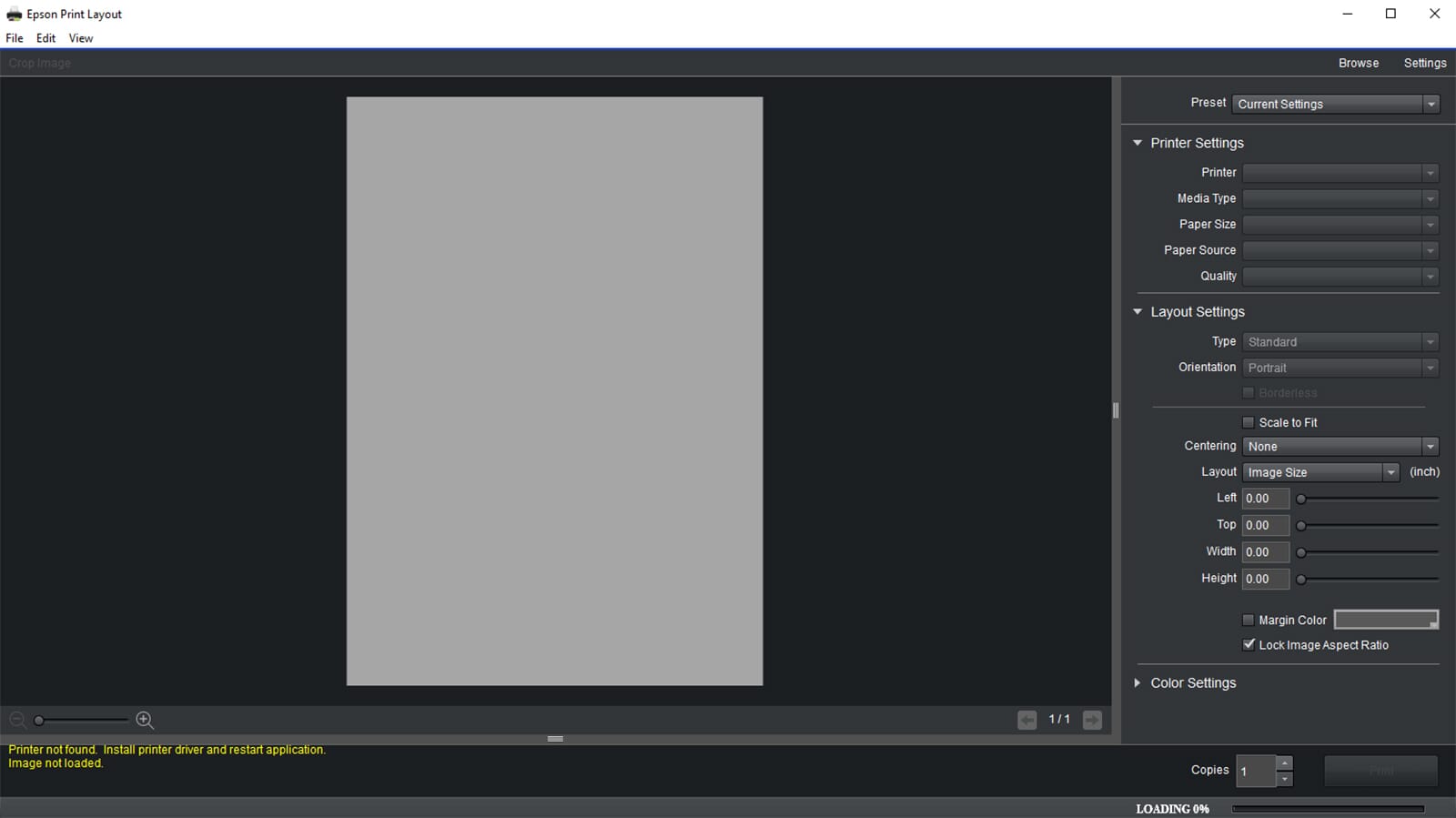 Epson is one of the best-known printer manufacturers in the world. It stands to reason, therefore, that it has one of the best photo printing software programs available too. Epson Print Layout is an advanced printing program that can be used to create professional photo prints.
It is available on Windows, Mac, and iOS devices and is quite easy to use.
This software is best used with Epson printers, but you can use it with other devices. There is a detailed layout section that allows you to select from various pre-defined options. Alternatively, you can customize your own settings and also save printing presets for future use. You can also select different color options including sRGB and Adobe RGB.
7. Photo Lightning
Supported Platforms: Windows
Price: $42.23
Direct Printing Services: No
Lacks finish and looks outdated
Slow performance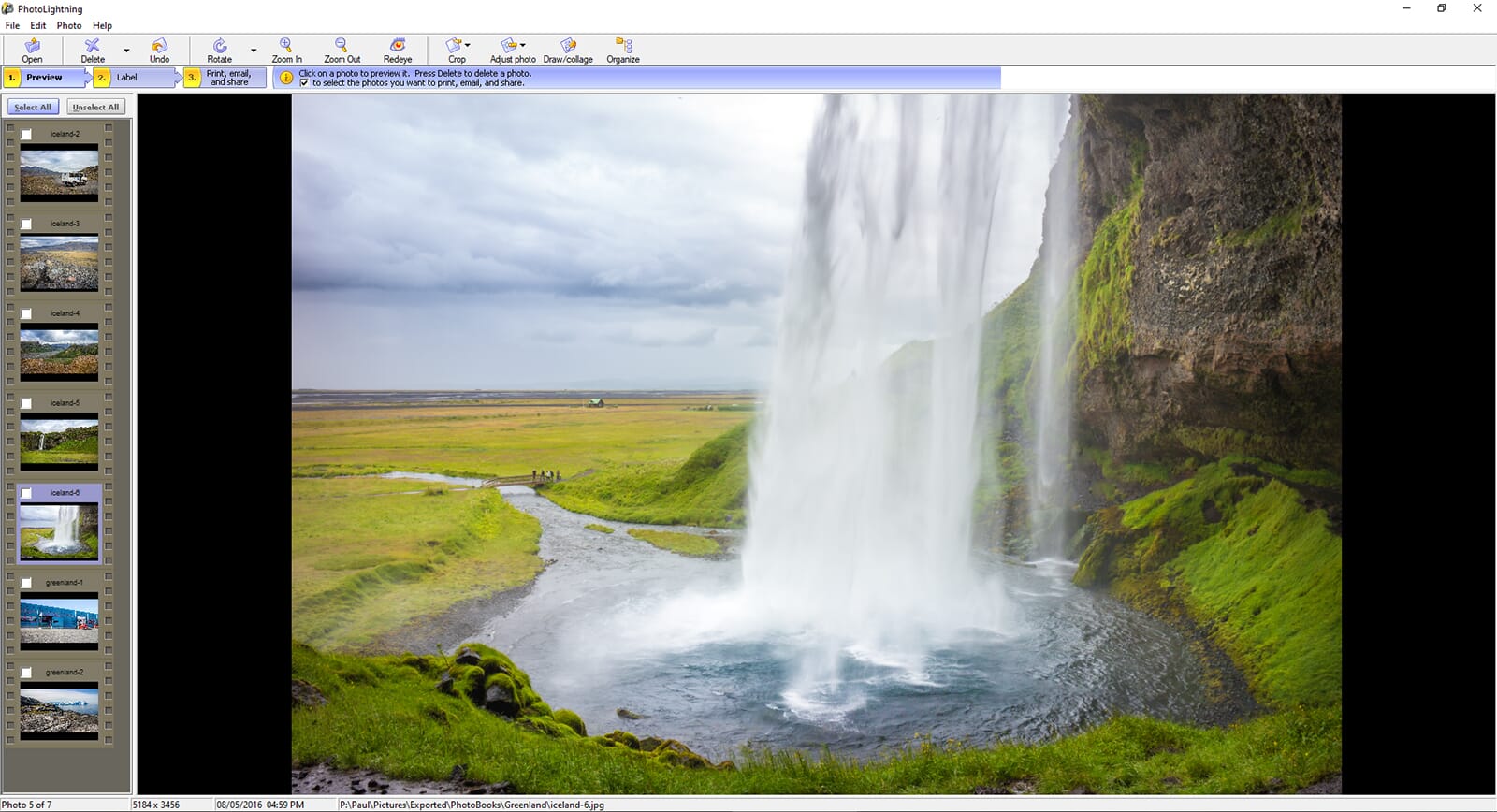 If you want a dedicated printing program, Photo Lightning is a decent choice. It has a free trial version, put to use the software freely you must purchase it for $42.23. It's not too expensive, but this may put some people off.
The software itself is easy to use. It provides a step-by-step printing process that is easy to follow. Also, it has various print options including printing directly from a network printer or your own created photo collages and slideshows.
The print dialogue box is also well-developed. It features a great selection of preset templates including a visual image of the template size. You can easily change the print settings and choose to print information on the photos like date and time stamps.
Supported Platforms: Web browser
Price: Free
Direct Printing Services: Yes
Easy to use
Relatively inexpensive prints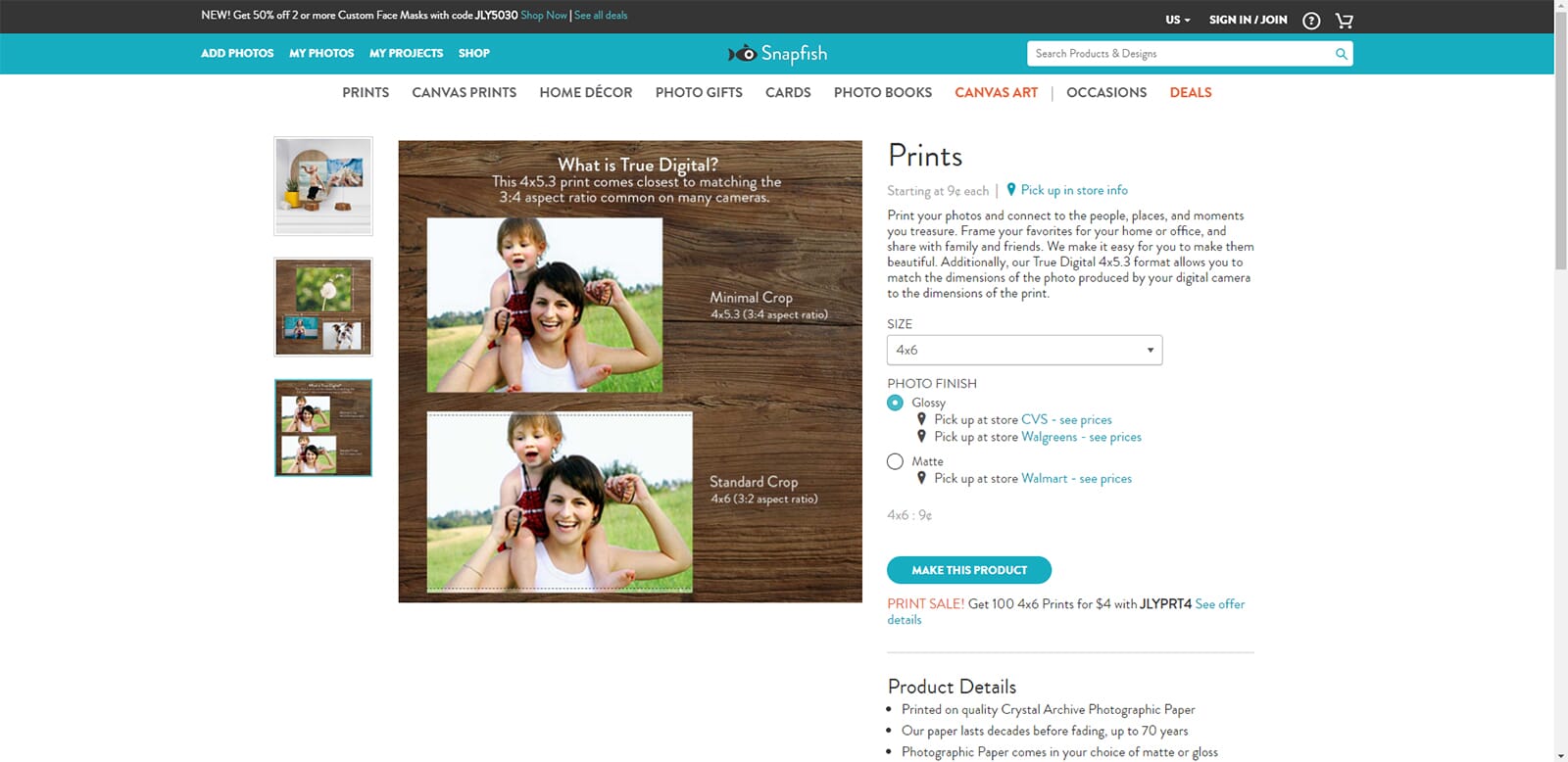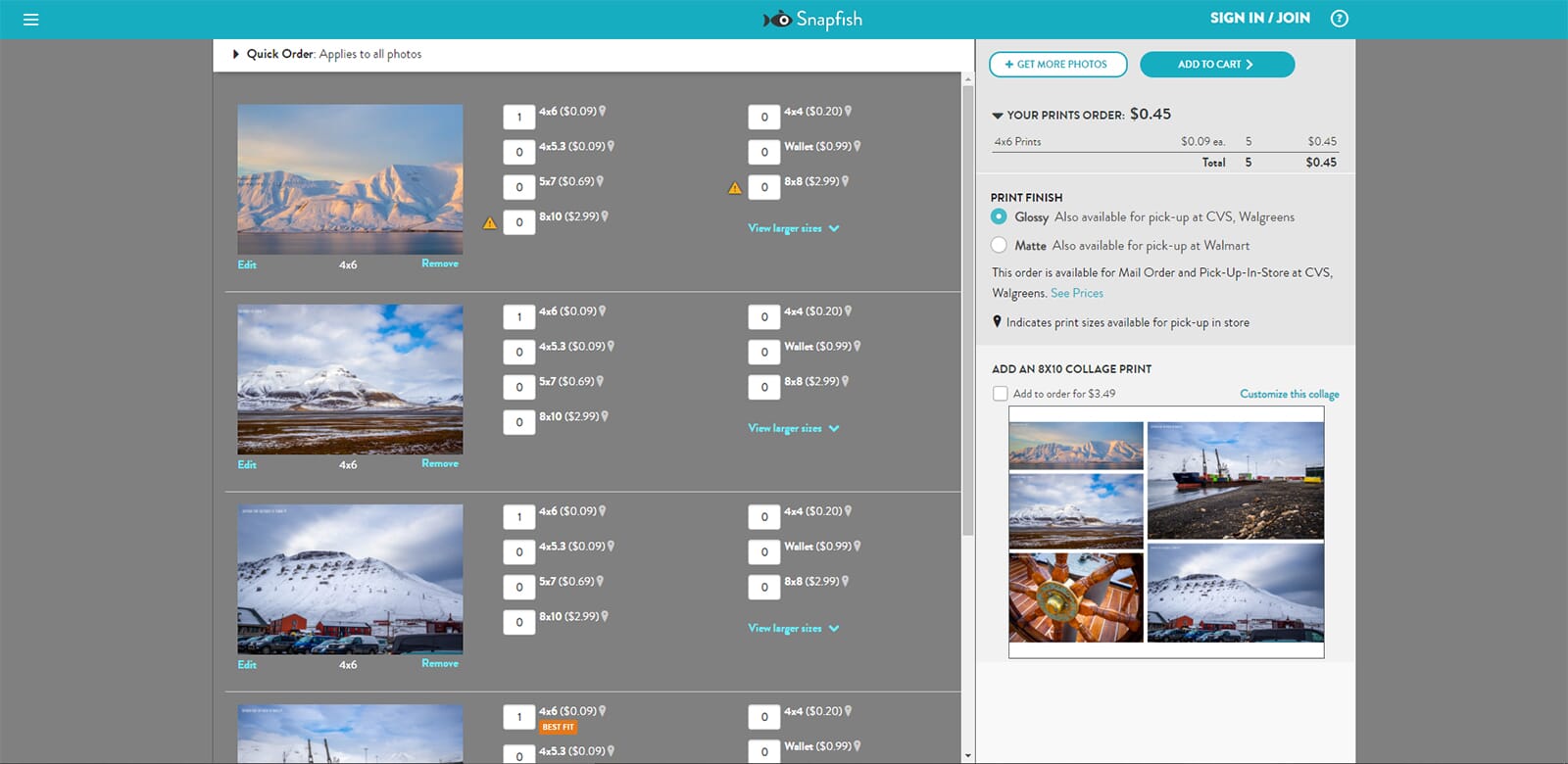 Snapfish is one of the best-known online photo printing services available. If you want a no-hassle printing software, this is one of the best choices available. You can print photos in a range of different sizes including 6×4, 4×4, and 8×10.
To use the service you simply select which photo type you want to purchase and then head to the Snapfish developing area. This is a fantastic web application that is easy to use. You can upload photos directly from your computer or use external cloud services like Google Photos and Facebook.
Related Post: Best Canvas Prints
You can then select different printing options like the print finish, size, and quantity. Also, you can create photo collage prints that combine together multiple individual photos
9. ArcSoft Print Creations (No more available)
Supported Platforms: Windows
Price: Free Trial
Direct Printing Services: Yes
Simple step-by-step process
ArcSoft website is temperamental
Must purchase the software to order prints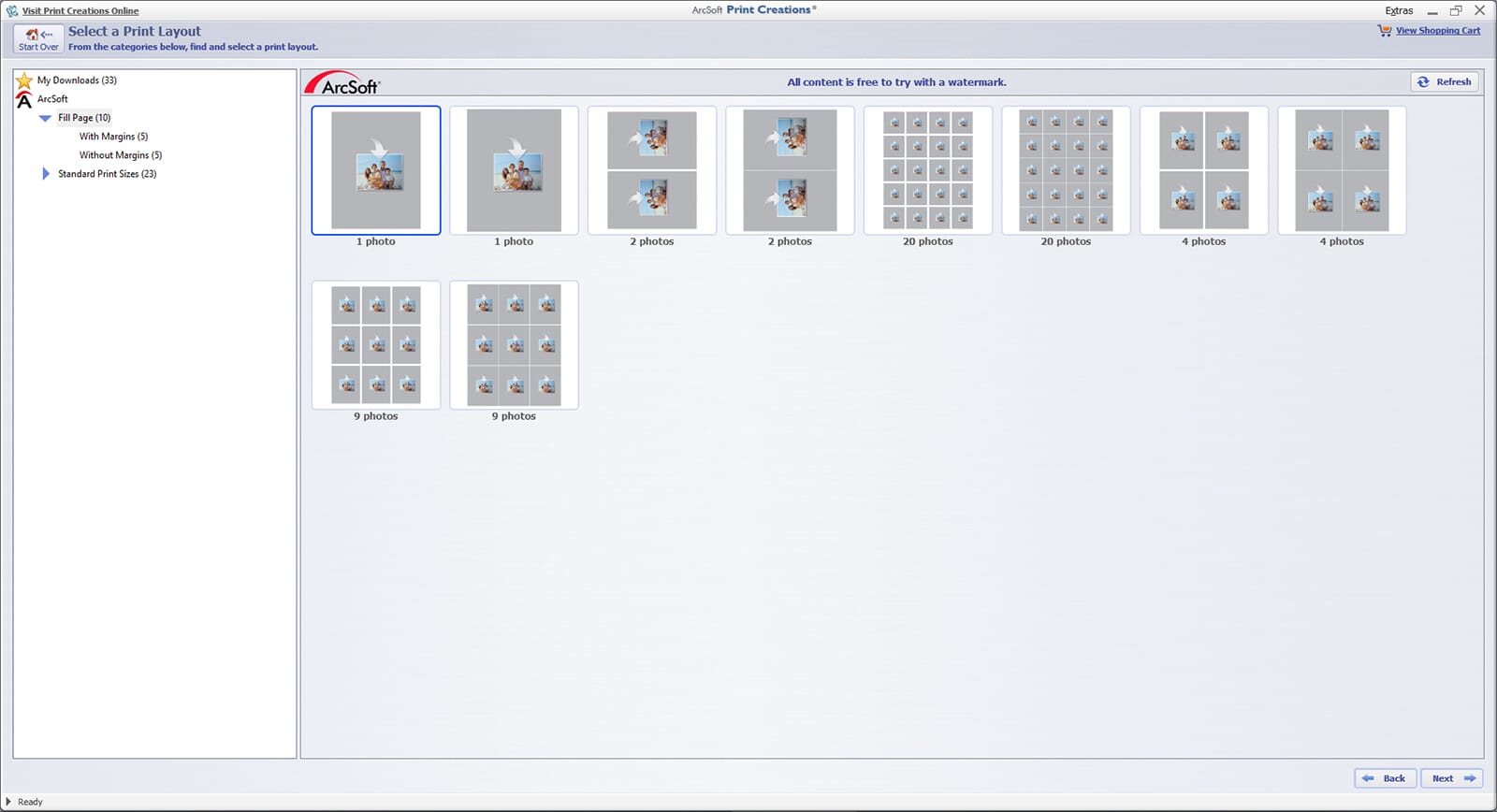 ArcSoft Print Creations is an interesting program that has a selection of useful printing options. The website and download page are quite temperamental and you may find it difficult to purchase and install.
Regardless, it has a great step-by-step process that takes you through each stage of printing. You can quickly select multiple photos or albums and select different print sizes. You can then change print layouts and utilize a range of pre-determined paper sizes.
If you want to print multiple photos quickly, ArcSoft Print Creations is one of the best photo printing software tools available.
10. Photo Elf
Supported Platforms: Windows
Price: Free (Premium version also available)
Direct Printing Services: No
Great customization options for prints
Automatically rotate photos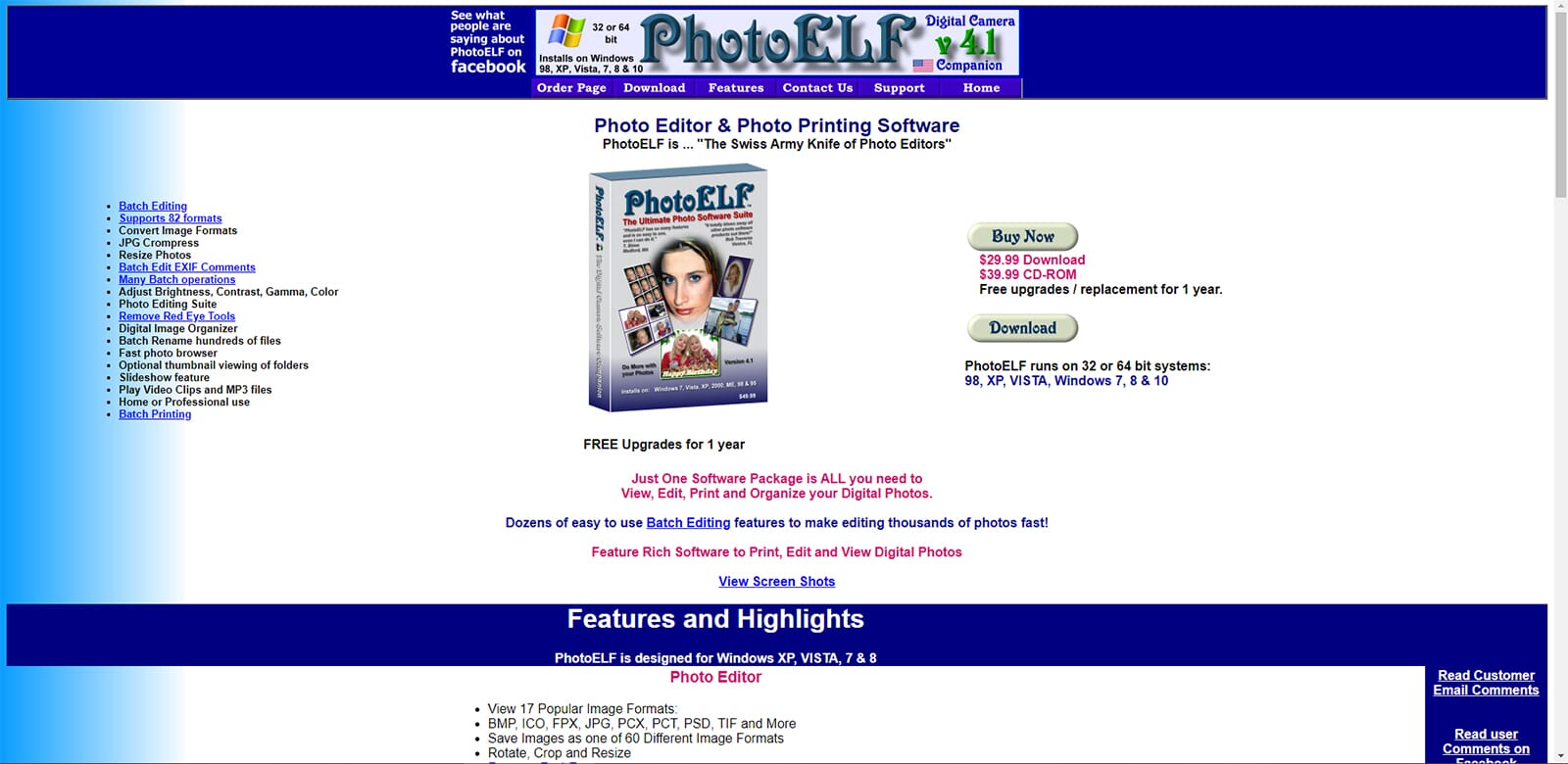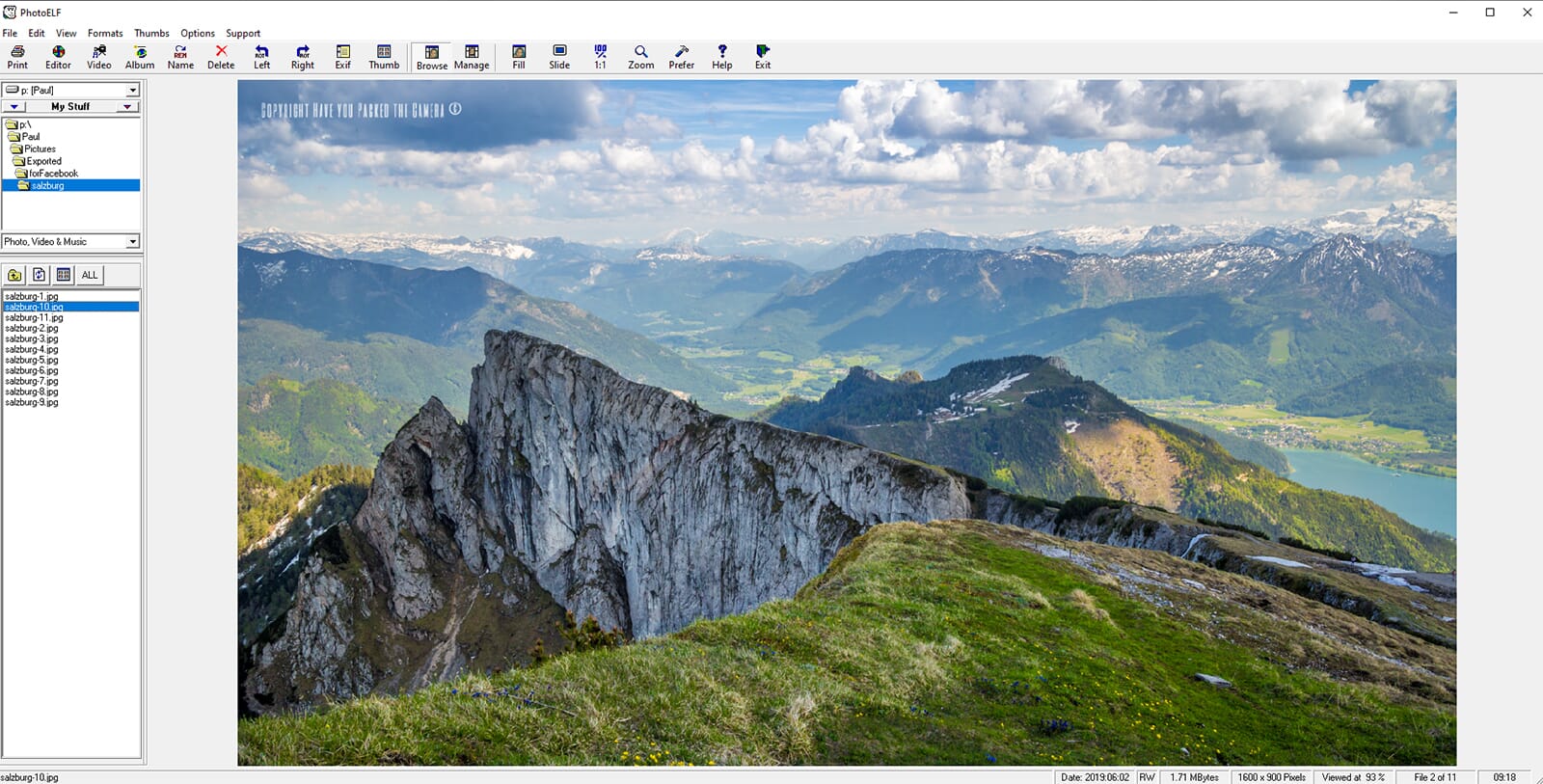 Photo Elf is a basic but effective photo printing software. On the first inspection, you may be put off by the extremely dated interface. However, if you can look past that, you can find a selection of useful print features.
Firstly, you can create HTML photo albums that you can then use for other printing services. Also, there is an extensive print dialogue box with many options. It has lots of pre-defined print sizes for common photo sizes like 6×4 and 5×7. Also, you can easily define the print margins.
Photo Elf also has the ability to add text and borders to your prints. Finally, it offers basic editing functionality too and you can crop and rotate your photos.
Factors to Consider
When choosing any software, there are always going to be some important things to think about. This applies to choosing the best printing software, too.
The following are some considerations you should make:
1. Supported file formats
2. Photo templates
3. Supported printers
4. Availability of direct printing services
Your photos can often be saved as a selection of different file formats. It is therefore important to ensure that the software you use supports those formats. Most photo printing software will support common image formats like JPEG, PNG, and TIFF. You may want to print RAW photos, for example, or PSD files – check to see what file types the software supports.
If you want to print photos with relative ease, you may benefit from printing templates. Most of the best photo printing software programs above have templates for printing. This makes the process easy and will automatically fit your images onto these templates.
If you are printing the photos yourself, you should also look at whether your software can support your specific printer. Different printers may use varying color profiles or resolution settings. It is important to see if the software has any native support for your printer. Programs like HP Smart and Epson Print Layout will have excellent support for their own manufactured printers, for example.
Finally, if you don't have your own inkjet photo printer, you will need software that has direct printing services. Options like Snapfish allow you to order your photo prints and have them delivered direct to your house. The other way of getting around this is by choosing a photo printing company separately and sending your saved edited prints to then be uploaded to the printer's website.