HEIF/HEIC is a powerful image format; currently, however, it is only supported natively on Apple devices. As a result, Windows users and Android smartphone users cannot easily view, edit, and access these files.
That's where this article comes in handy. We've scoured the internet for the absolute best HEIC to JPG converter – and we've come up with eight fantastic options. This includes a combination of downloadable software for Windows computers and online converters for smartphone users.
Therefore, if you need to view and edit HEIC files, you can do so with minimum effort – regardless of the device you're using!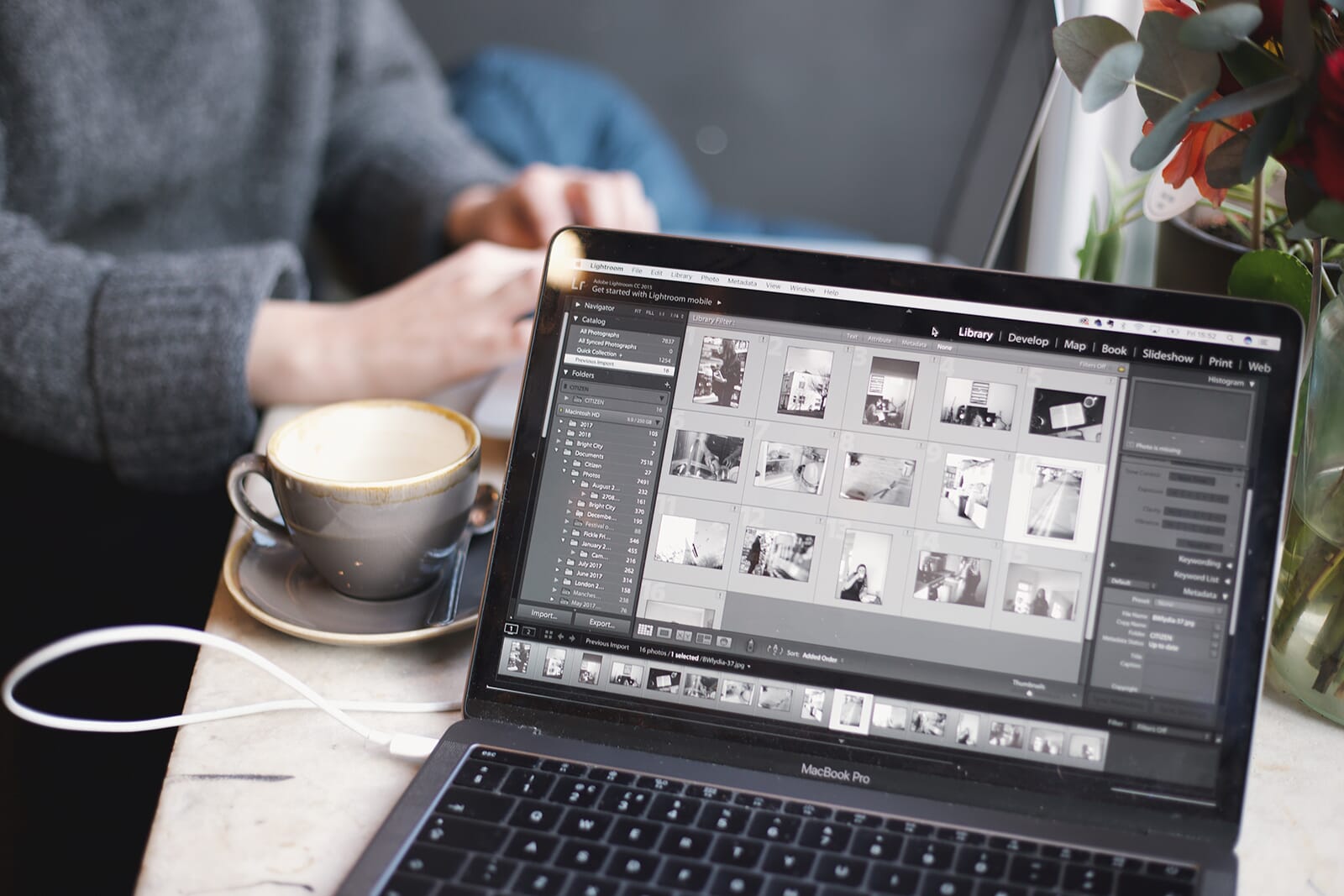 Best HEIC to JPEG Converter:
When you buy through links on our site, we may earn a commission at no cost to you. We evaluate products independently. Commissions do not affect our evaluations.
1. iMazing HEIC Converter (Software)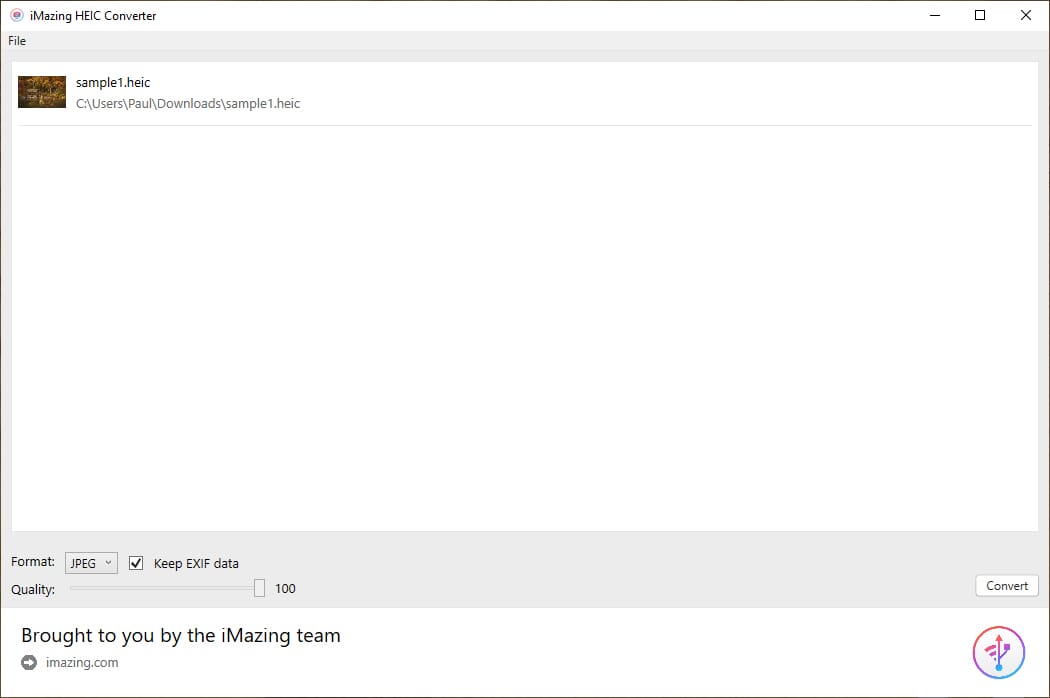 Great for fast batch conversions
iMazing HEIC Converter is simple to use and offers one of the best batch conversion features.
Pros
Requires minimum system resources
Easy to understand
Fast conversion process
Cons
No advanced settings or features
Our pick for the absolute best HEIC to JPG converter is iMazing HEIC Converter, a free app available for both Windows and Mac devices. The interface is minimalistic, and no one should have problems learning how to use it.
When you open the software, you are presented with a large upload box. You can either drag photos into the box or use the browse feature to select specific files and folders. There is no limit on the number of files you can add, and this makes the iMazing converter highly useful for processing entire albums.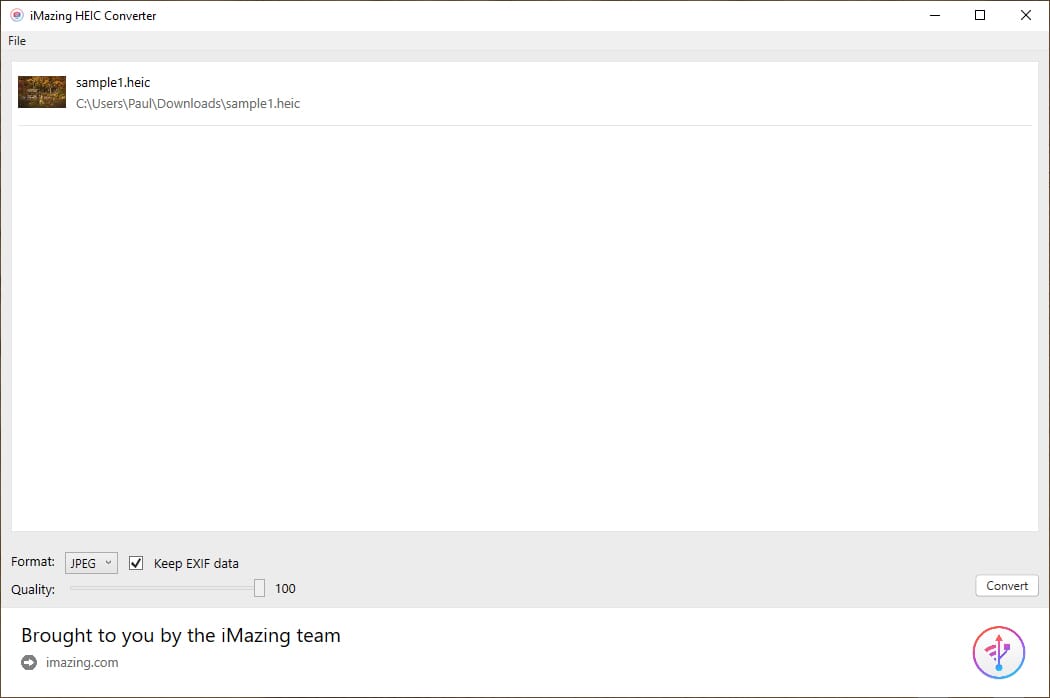 Once you have selected the files, they are displayed in a list format with a thumbnail. You can select the output file format (JPG or PNG), the image quality, and whether to keep EXIF data. Finally, press the Convert button; you can then select a folder where you want the JPG files to be saved.
This really is a simple program to use! The conversion process is also quick and reliable.
2. Apowersoft HEIC Converter (Online)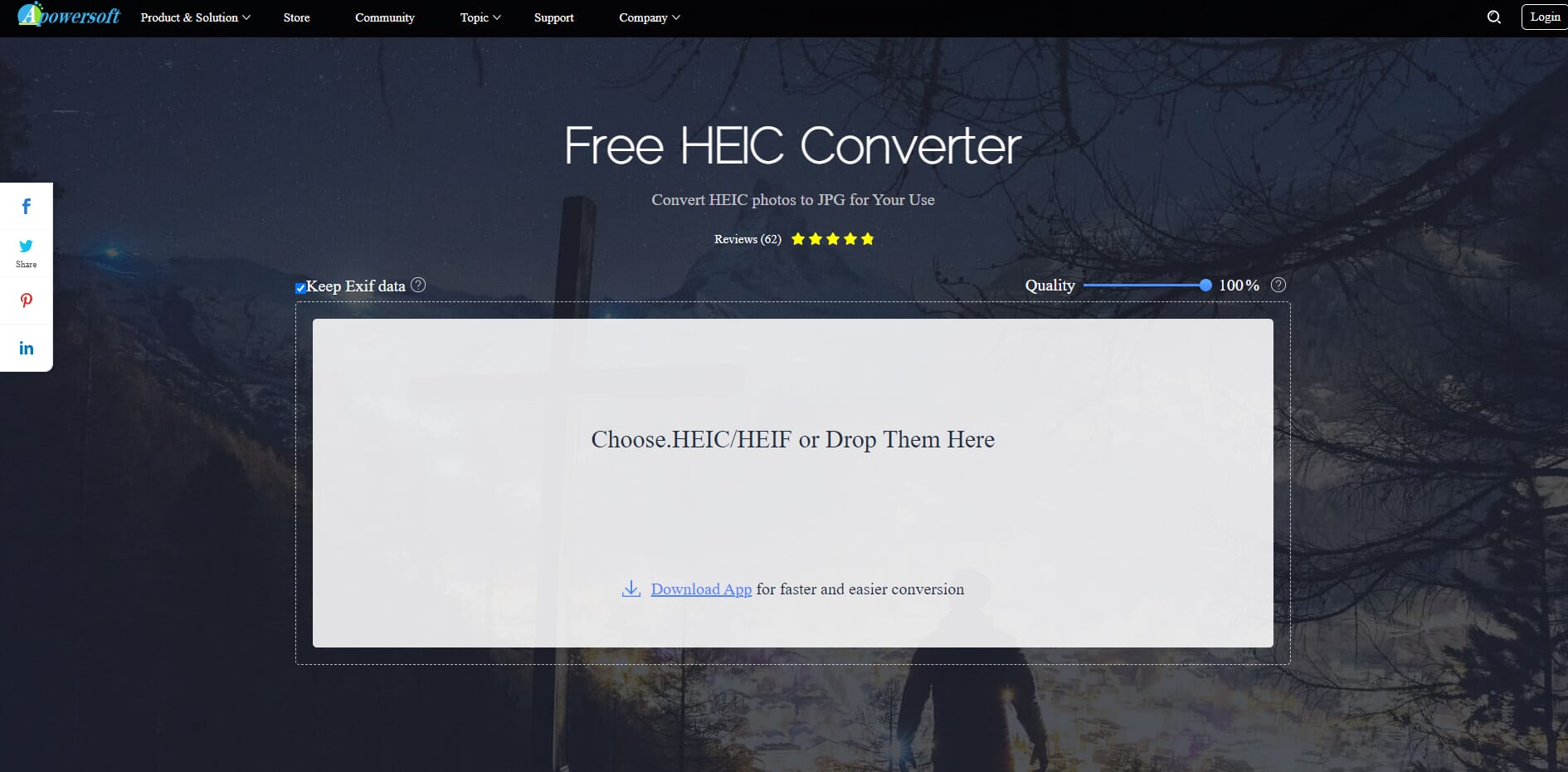 Great for multiple conversions
Apowersoft provides a simple converter that allows you to upload entire folders of HEIC files at once for conversion.
Pros
Can batch upload files
Can also change the output quality
Quick conversion process
Cons
Sometimes the conversion process does not work
If you're after a simple online converter, check out Apowersoft, a free tool anyone can use via a web browser. There is also a downloadable version for smartphones for quicker conversions.
The website looks relatively basic, but it is easy to use and offers a no-fuss approach to HEIC conversions. In the center, there is a large box where you can either drag or upload HEIC files. We like that you can upload multiple HEIC files for batch conversions.
Once the files are added, the conversion starts and you can see a progress bar of each individual file beneath the original upload box. Apowersoft also allows you to download all of the converted files at once; this makes the process that much quicker, as some converters make you download each file individually.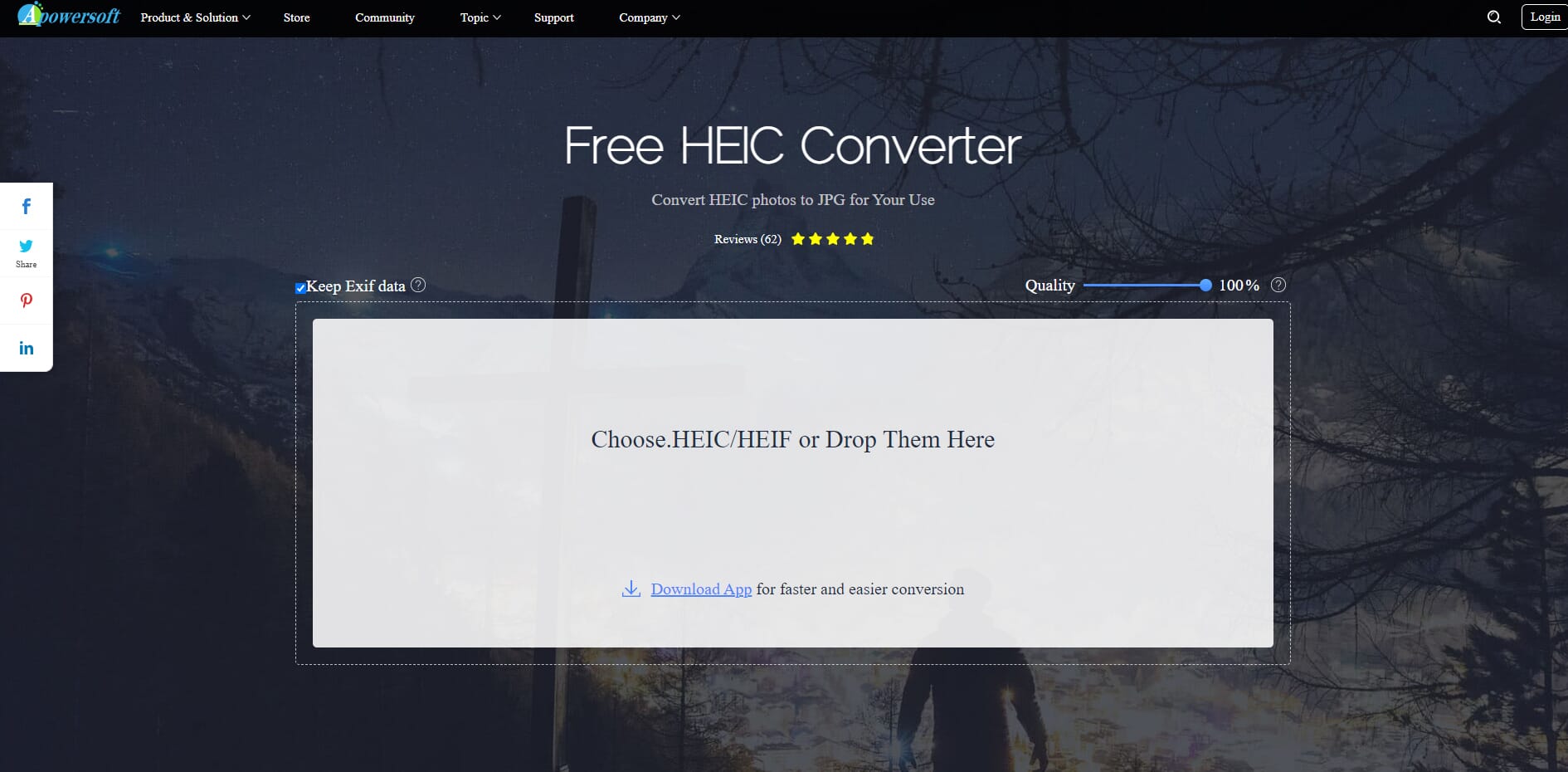 You can also set the quality of the output JPG using a slider bar and choose whether to keep the EXIF metadata.
3. NCH Pixillion Image Converter (Software)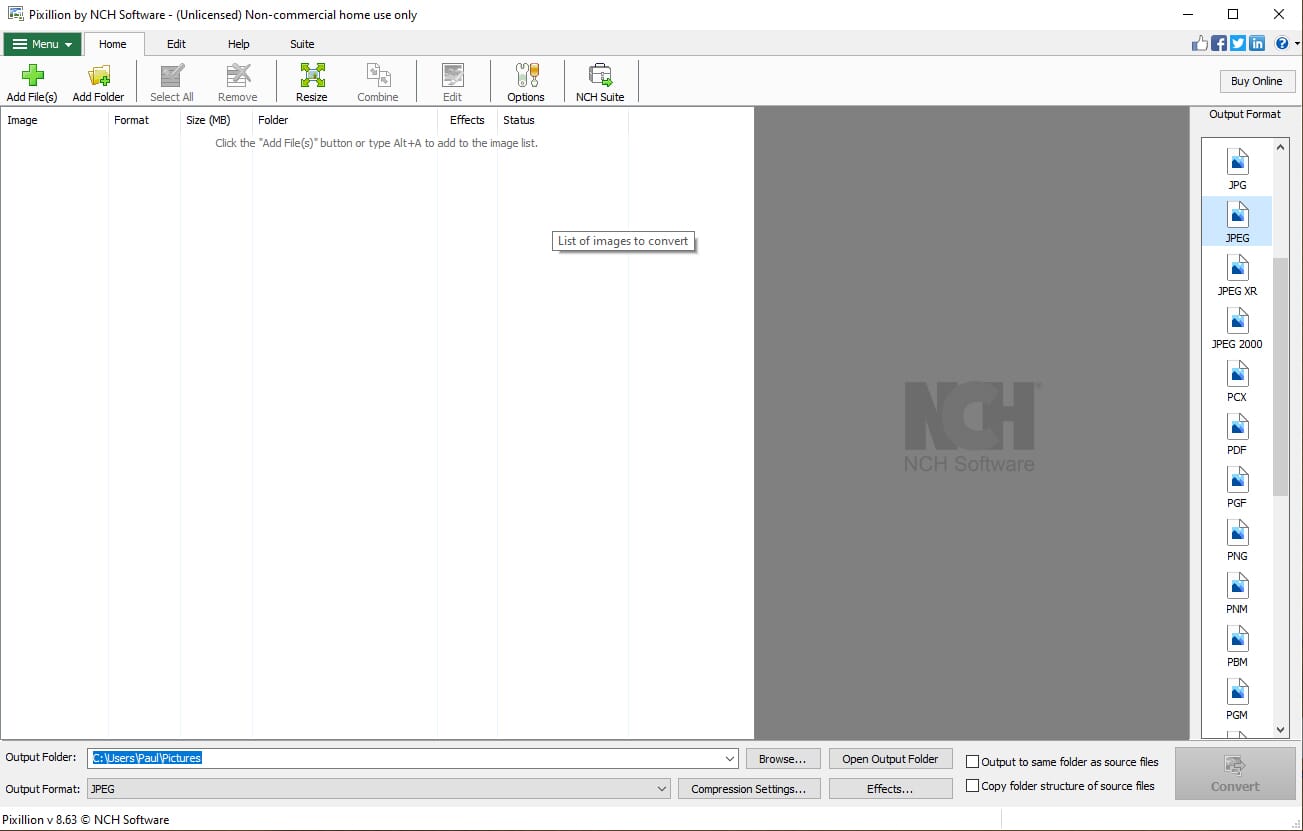 Great for advanced conversions
Pixillion Image Converter offers advanced conversions, and even changes the rotation and crop of the HEIC images.
Pros
Excellent conversion tools
Great for batch conversions
Can edit photos beforehand, too
Cons
The software looks relatively dated
Pixillion Image Converter is a multi-faceted program that can be used to convert various file types, including RAW to JPG and HEIC to JPG. It also supports a wide range of output formats, including PDF, JPG, PNG, BMP, and GIF.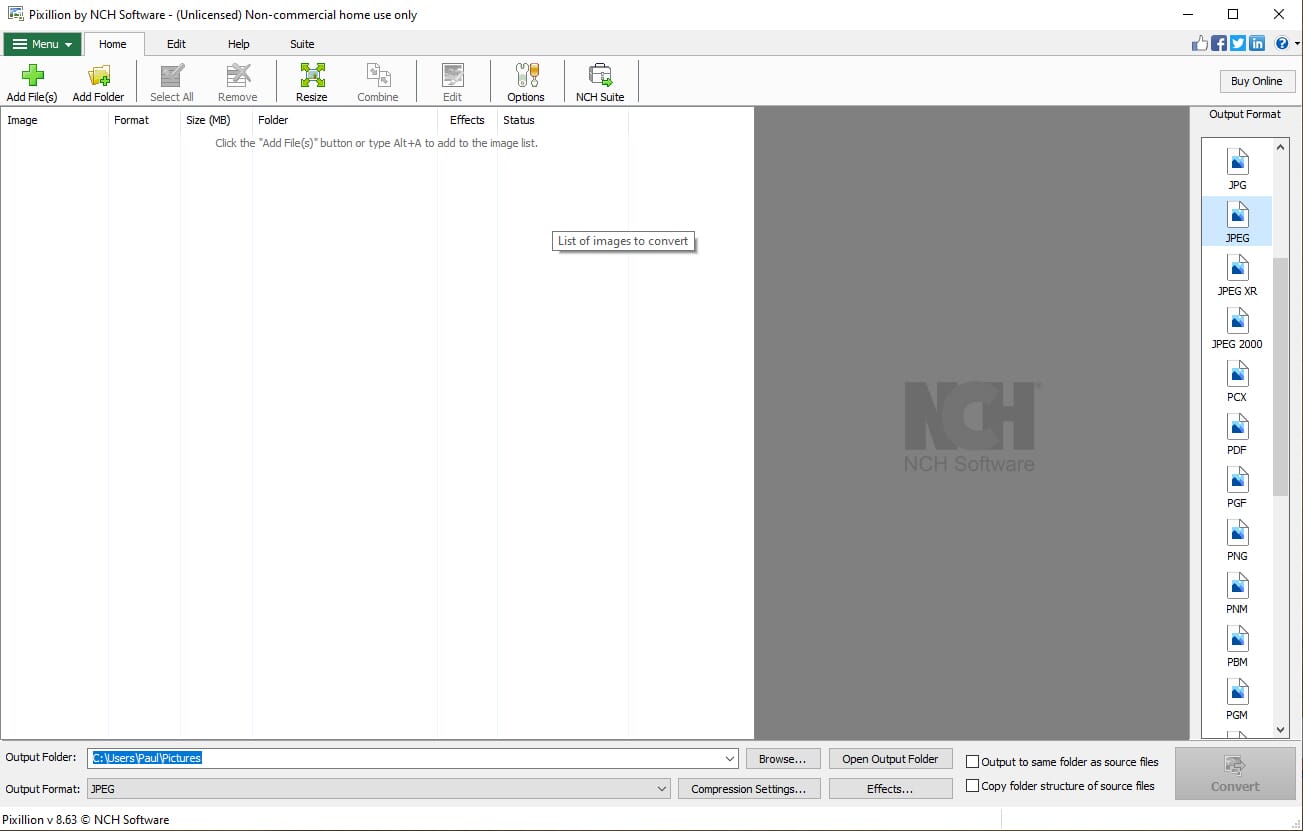 The interface may look a little dated, but Pixillion packs brilliant functionality and is one of the most advanced HEIC to JPG converters on this list.
The main screen has a toolbar where you can add single files or an entire folder of HEIC images. You can also resize your HEIC images and even edit them using the PhotoPad software. Click on a file and press Edit to automatically install the PhotoPad software (essentially a full photo editor from NCH Software).
Pixillion Image Converter also features a range of effects you can apply to each HEIC image during conversion. You can change the rotation and crop of the image, and even add watermark text or images. If you want advanced control over your HEIC conversions, this is the best HEIC to JPG converter available.
4. Ezgif.com (Online)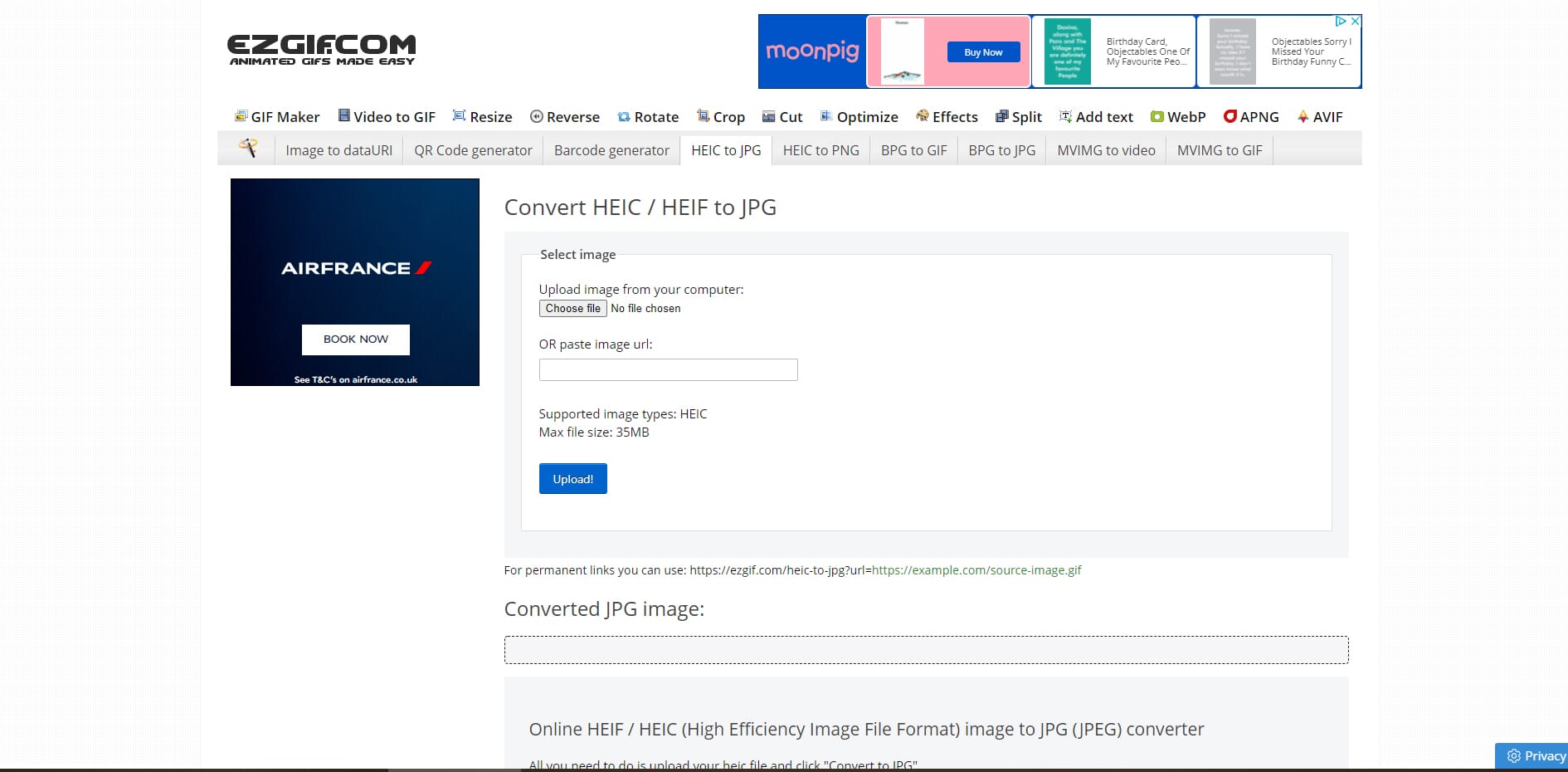 Great for editing and conversion
Ezgif.com has a range of useful tools so you can edit your HEIC file before conversion.
Pros
A great set of editing tools
Easy-to-use interface
Quick conversion process
Cons
File size limit of 35 MB
Ezgif.com has a range of conversion tools, although their specialty is a GIF maker. On the Ezgif website, you can convert various image file formats, including HEIC to JPG or PNG. Honestly, the website itself isn't pretty to look at, thanks to a scattered layout and large ads that take up much of the screen.
However, the functionality of the HEIC converter is fantastic. It is also one of the more well-developed online HEIC converters and provides you with a range of tools to use prior to conversion, including an image cropper, image resizer, image rotation, and even text. The only downside to these tools is that sometimes the preview does not display properly.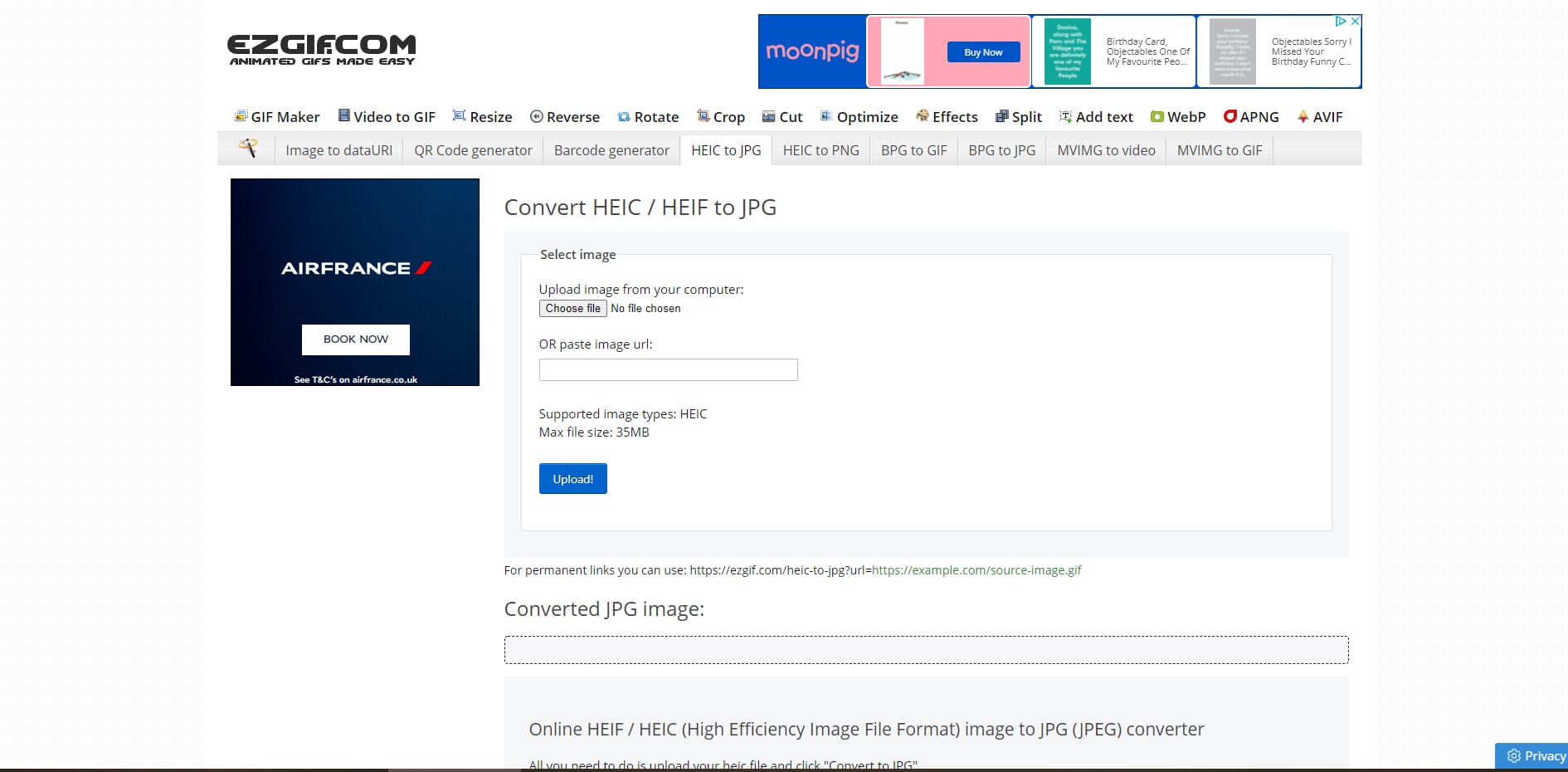 Once you have finished with the tools, you can convert to JPG or PNG. Alternatively, you can simply convert the files upon accessing the website – the other tools are optional. For the conversion process, you can select the JPG image quality and the background color. The process is quick, but it has a maximum file size of 35 MB and you can only upload one image each time.
5. FonePaw HEIC Converter (Software)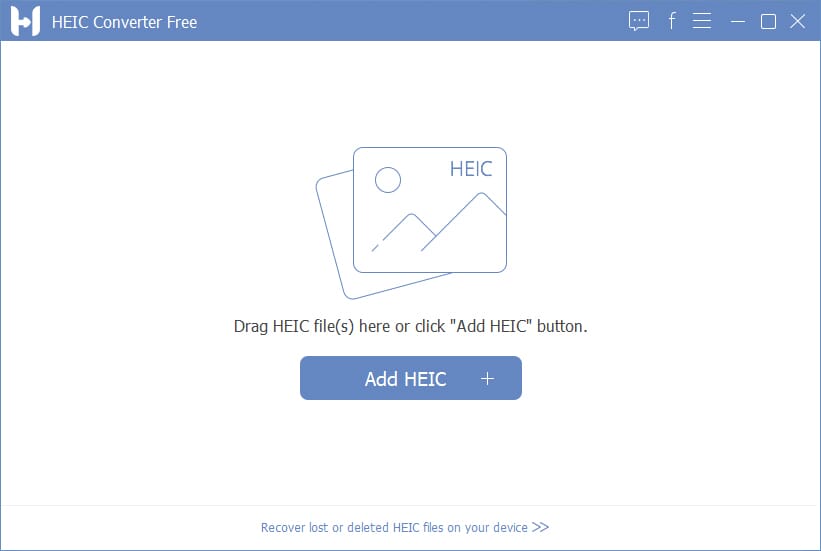 Great for Mac users
FonePaw offers a simple solution for both Mac and Windows users, plus it features a solid batch conversion tool.
Pros
Modern and stylish interface
Free to use
Fast batch processing
Cons
Sometimes the conversions may not work
FonePaw is another simple, easy-to-use software solution available for both Windows and Mac devices. This software is free to use and requires minimal system resources to run. It should comfortably install and run on any device, regardless of its specifications.
The program features a modern, stylish, user-friendly interface. The main screen shows a clear box and button where you can drag or upload HEIC files. Once you've uploaded the files, it swaps to a file-browser style window that shows your files in a list format.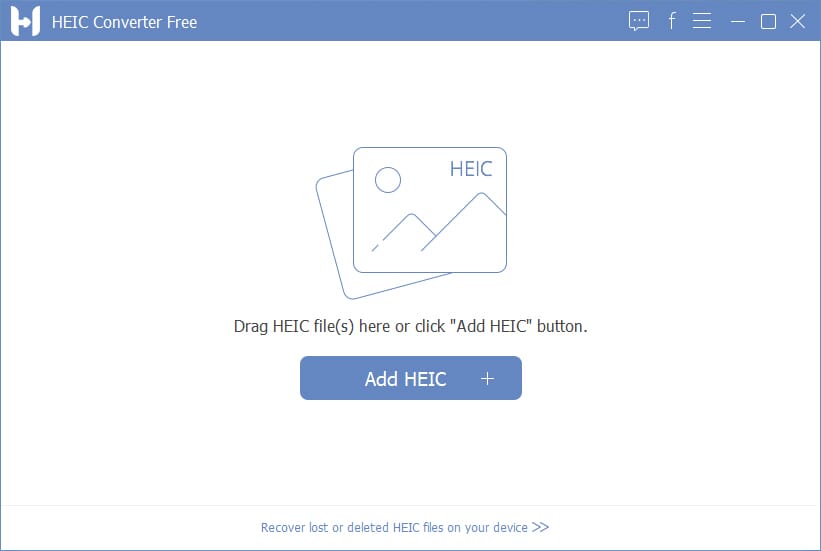 Here, you can change the conversion settings, including the file format (JPG or PNG), file quality, EXIF data, and the output source location. The conversion process will then run, and a pop-up box will show once it is finished.
This software is another great option for those who aren't especially computer-literate. It is also fantastic for bulk conversions, as you can select as many files as you wish to convert simultaneously.
6. JPEGmini HEICtoJPEG (Online)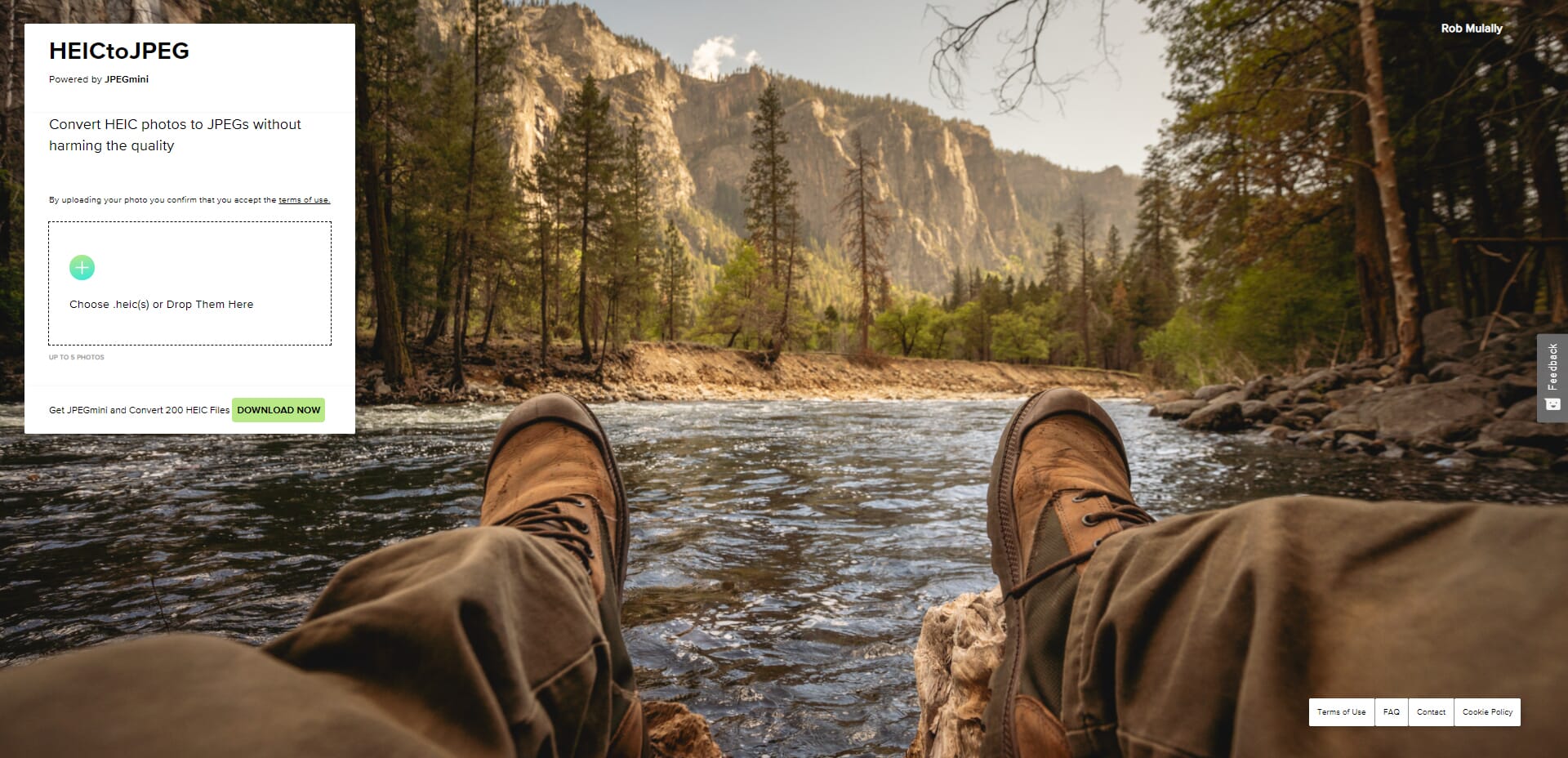 Great for smartphone users
HEICtoJPEG.com offers a quick and simple solution for those who don't need to change the image settings.
Pros
Incredibly quick conversion process
Simple interface
No limit on daily file uploads
Cons
No option to change any settings
If you want a no-fuss approach to HEIC conversion, JPEGmini's HEICtoJPEG is one of your best choices. This is the best HEIC to JPG converter for smartphone users, thanks to the fast loading times and simple conversion process.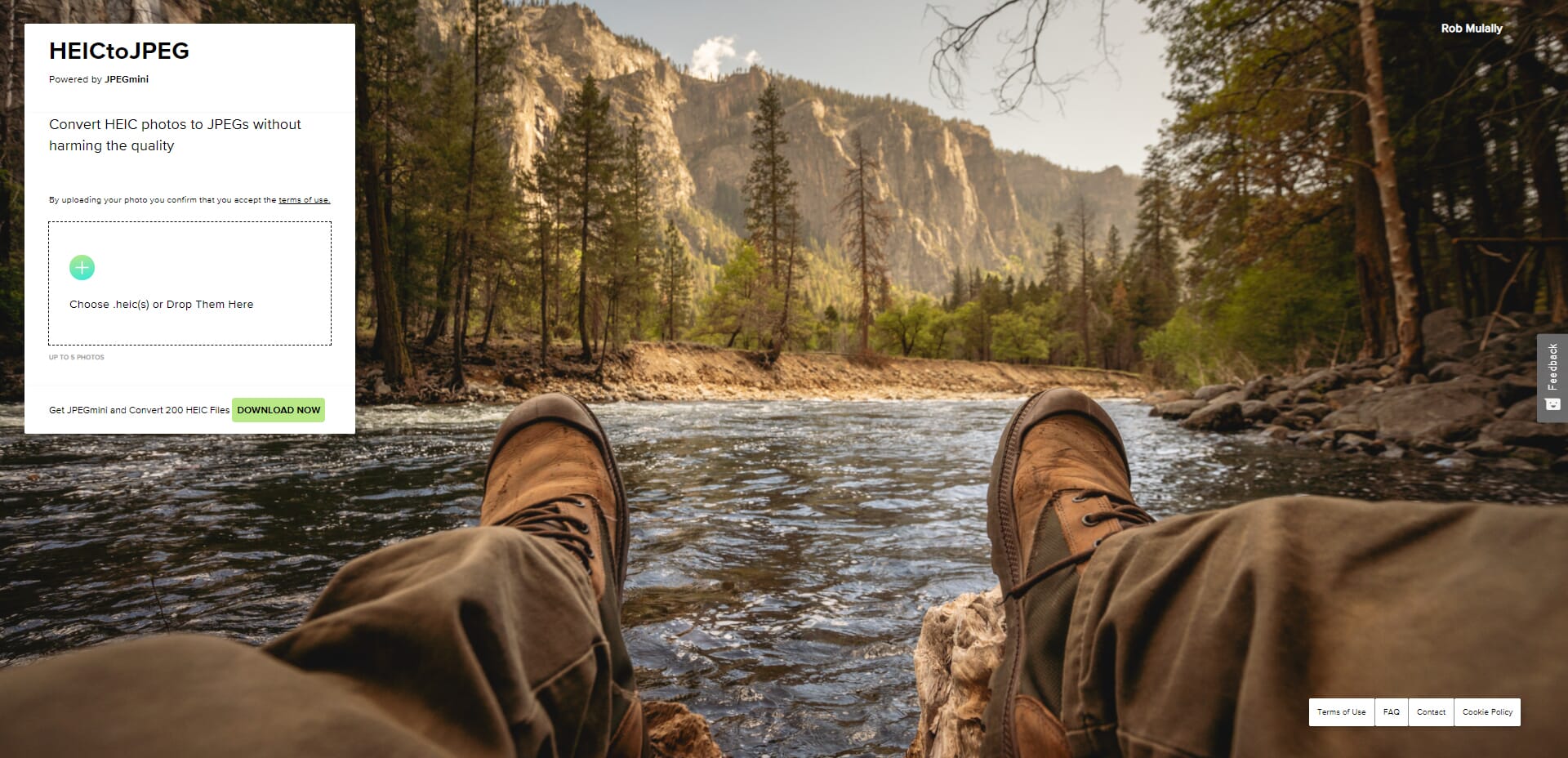 If you don't want advanced features and you simply want to convert files, HEICtoJPEG is a top option. Open the website, and you will see the conversion tool in the left-hand corner. You can only upload a maximum of 5 photos at once; however, there are no limitations on daily usage.
Simply press the Plus button and add your files. Then a new tab will open, and you can see the progress bar of each HEIC file. When the conversion is finished, click the download link to download and save the file.
There is one drawback: You cannot change any settings. For example, you cannot change the output quality or the size of the converted image. As a result, HEICtoJPEG may not be suitable for professional use.
7. CloudConvert HEIC to JPG Converter (Online)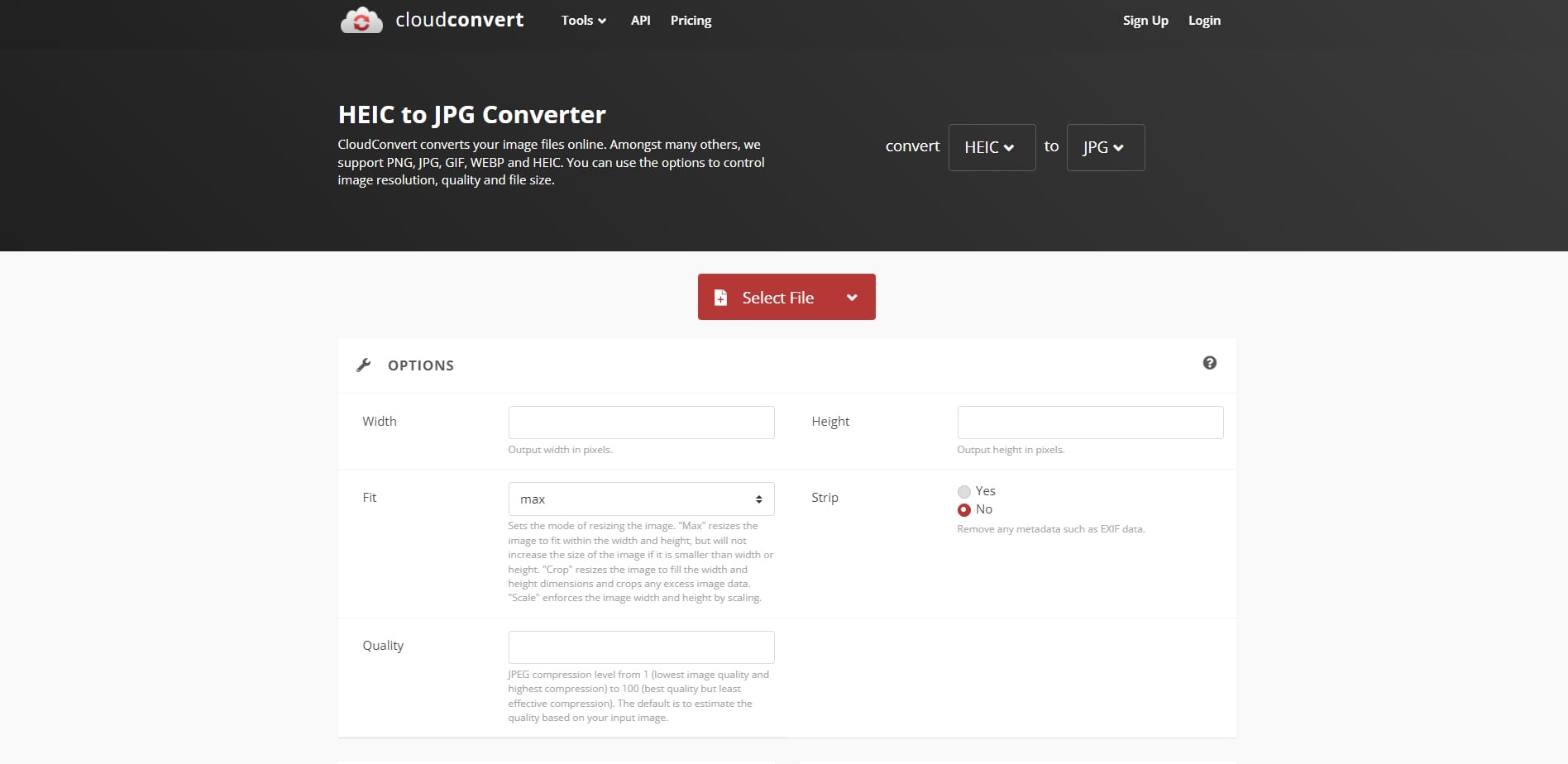 Great for batch conversions
CloudConvert offers a streamlined and reliable online conversion service with the ability to convert multiple files at once.
Pros
Can change various file settings
Has a batch processing option
The conversion process is quick
Cons
Free version is limited to 25 conversions per day
Next, we have another easy-to-use online service from CloudConvert. This is an online provider of various conversion services including a CAD converter, spreadsheet converter, and vector converter. Happily, the company also offers a powerful HEIC to JPG converter.
This online converter is free to use, but there is a limit of 25 conversions per day. You can buy additional conversion minutes if you wish, starting from 500 conversion minutes for $9.00 USD. This is essentially the equivalent of 500 conversions, as the site states that each conversion should take approximately 1 minute.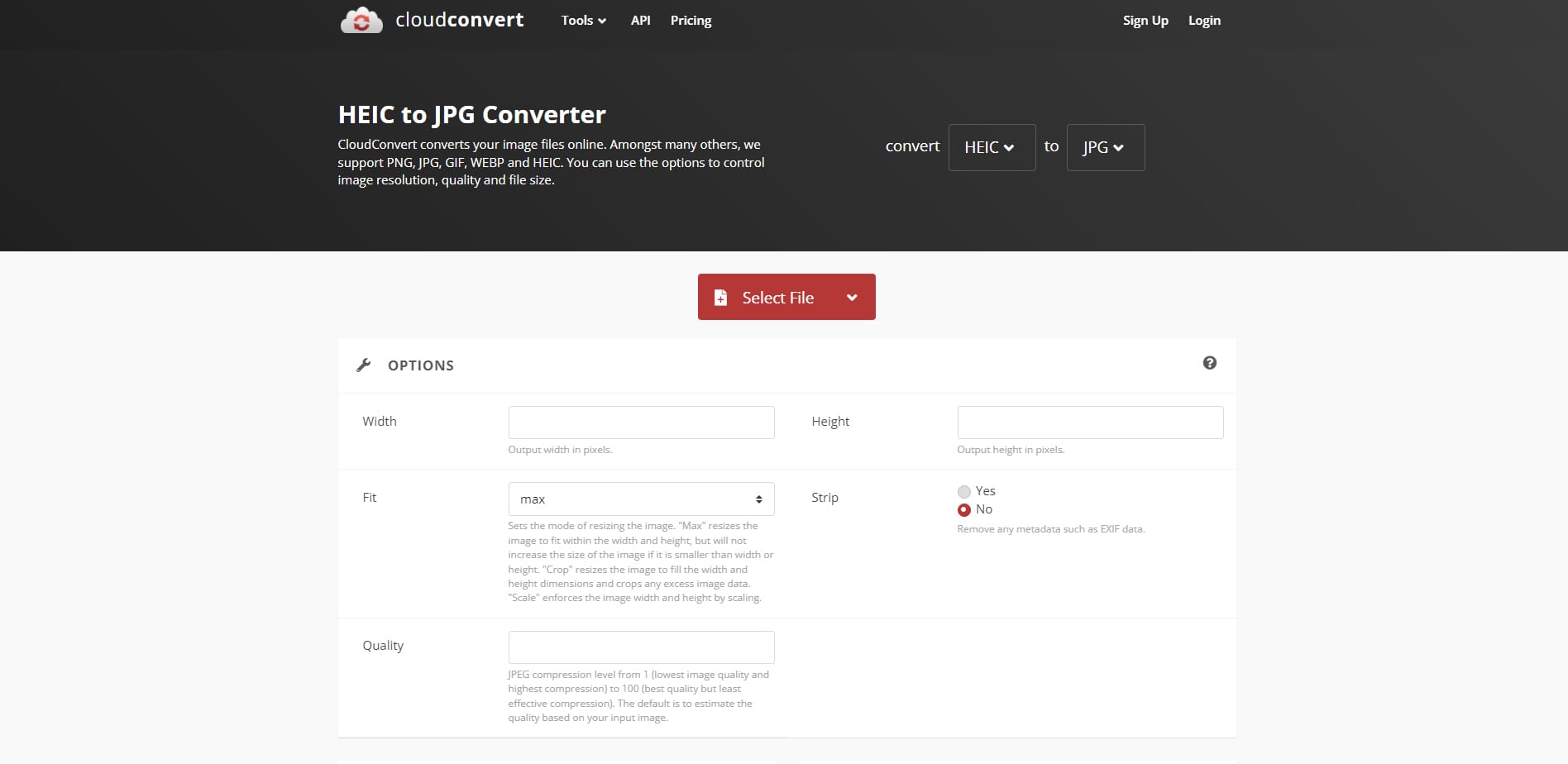 The converter itself is simple to use. First, use the Add File button to add images – you can convert multiple files at once. Next, select the output image type. There is also a wrench icon that allows you to access (and adjust) the settings.
Settings include the output resolution, quality, and an option to strip metadata from the file. We like the ease of use of this converter, and it is a fast option if you want to convert multiple HEIC files at once.
8. Wondershare PDFelement (Software)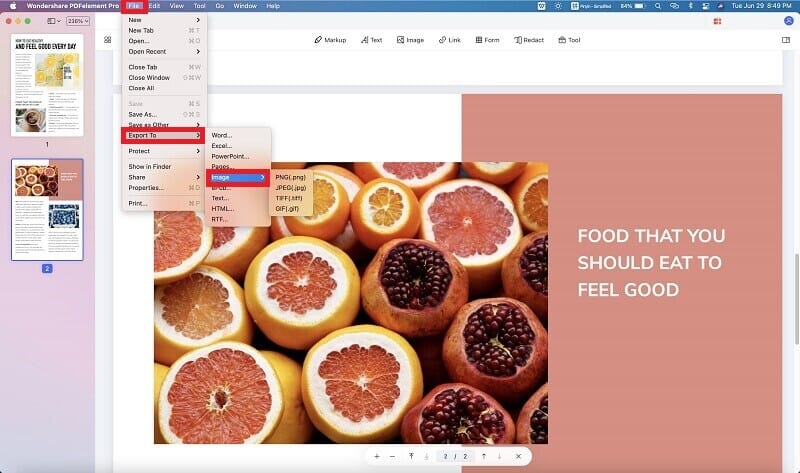 Great for high-volume batch conversions
Have large volumes of data to convert? PDFelement is a great option.
Pros
Simple interface and menu system
Excellent batch conversions
Has other utility aside from HEIC conversions
Cons
Relatively expensive
Our last pick is Wondershare PDFelement. It's primarily a PDF converting software but can also convert HEIC images, though note that this feature is only available in the Pro version and not the free version.
PDFelement Pro is available for a one-off fee of $129.99 USD. This might seem expensive, but it has a range of different features and is much more than a simple HEIC converter.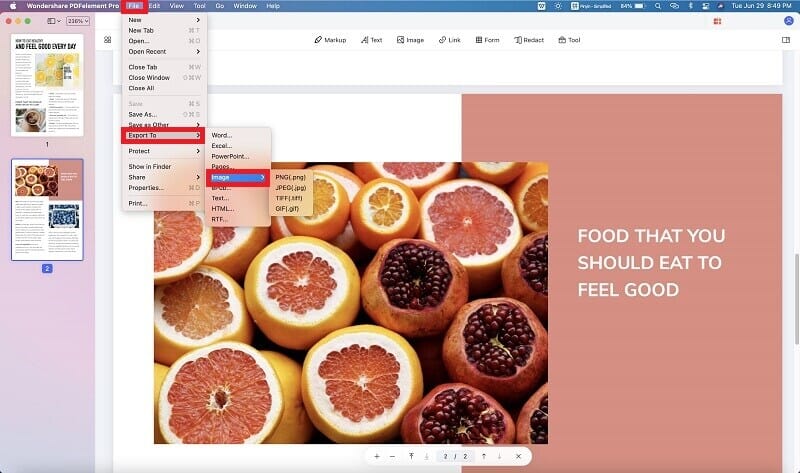 The software features a modern interface, and you will quickly get to grips with the layout and menus. Using the menus, you can add HEIC files for conversion. Also, PDFelement has one of the best batch conversion tools available, so you can easily convert an unlimited number of HEIC files to JPGs simultaneously.
Which HEIC to JPG Converter Is Right for You?
Eventually, HEIC/HEIF support will be widespread. Both Microsoft and Google have stated their intent to support this file on new versions of their operating systems. However, until then, you can use the best HEIC to JPG converters as suitable alternatives!
Any of the above HEIC converters are great picks and will work well. For example, iMazing offers a quick and easy solution to batch convert large quantities of HEIC files on Windows devices. Alternatively, online converters like Apowersoft and Ezgif.com allow smartphone and tablet users to convert HEIC files without downloading software.