If your images are looking noisy, blurry, or out of focus, it might be time for an upgrade – from a crop-sensor camera to a full-frame model.
Because while APS-C and other crop-sensor units can be effective, they just don't offer the same low-light performance, high resolutions, and autofocus speeds as most full-frame cameras.
When using an APS-C model at night or indoors, your files will often be plagued by high-ISO noise or blur due to camera shake. When photographing sports or other action subjects, you'll struggle to maintain focus on your subject. And when you crop your nature photos, you'll end up with unpleasant and pixelated results. It can be pretty frustrating, to say the least.
Fortunately, there is a solution: Canon's full-frame lineup, which boasts a handful of outstanding products packed full of incredible features, from next-gen sensors and ergonomics to jaw-dropping burst modes and futuristic AF technology.
But full-frame cameras don't always come cheap, and picking the right model is no easy task. Fortunately, I've spent over 20 hours searching for the best Canon full-frame cameras, and I share my top picks below – including recommendations for landscape snappers, wildlife photographers, sports shooters, and more.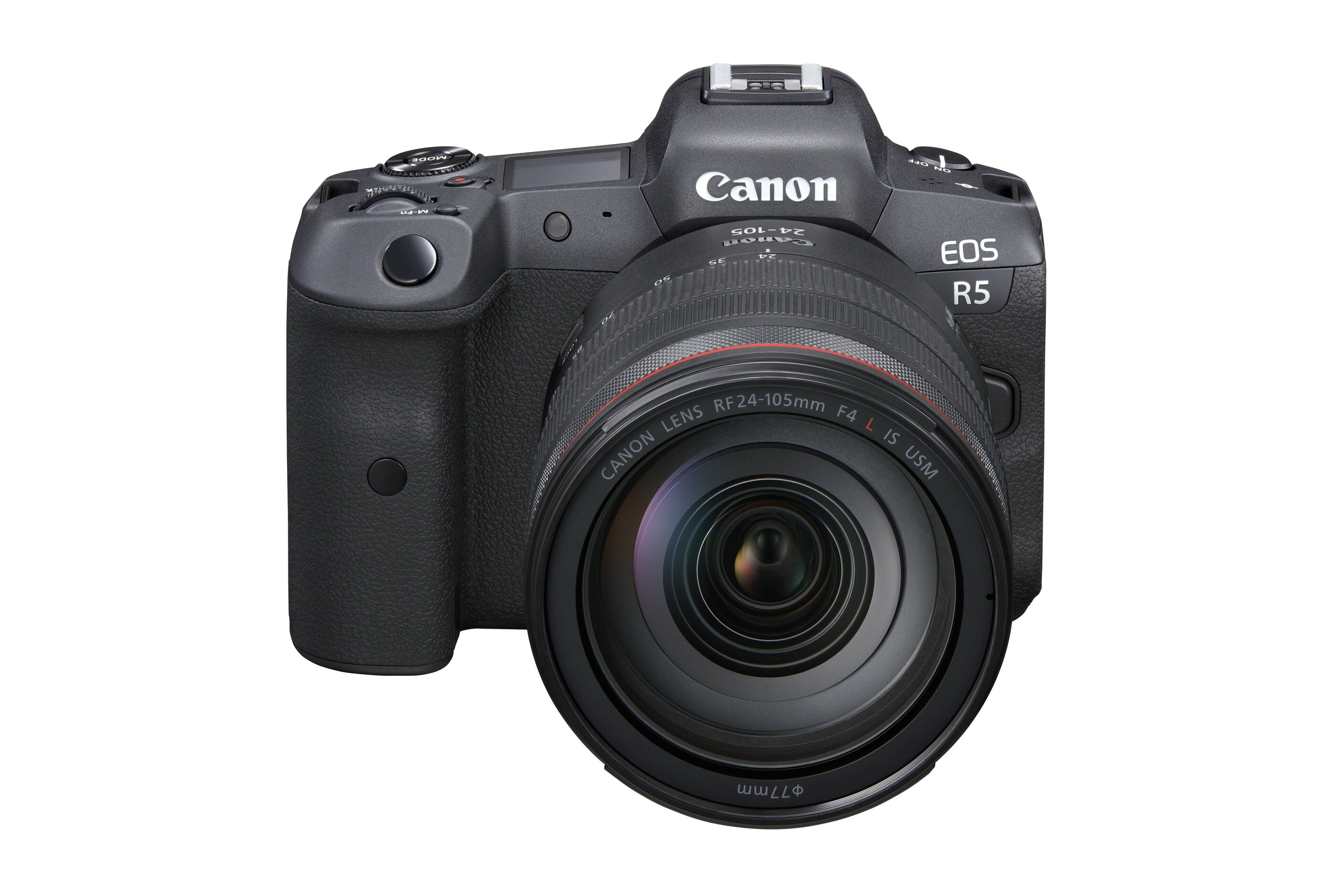 Best Canon Full Frame Cameras in 2023:
When you buy through links on our site, we may earn a commission at no cost to you. We evaluate products independently. Commissions do not affect our evaluations.
1. Canon EOS R5
Our Pick
The best Canon full-frame camera
The Canon EOS R5 is insanely capable thanks to its 45 MP sensor, class-leading autofocus, and 8K video.
Pros
45 MP resolution
8K video
Fast autofocus
Great ergonomics
For serious photographers, the Canon EOS R5 isn't just the best Canon full-frame camera; it's one of the best (if not the best) full-frame cameras available in 2023. Of course, you get what you pay for, so the EOS R5 is far from cheap – but for experienced photographers, it's absolutely worth the cost.
What makes the EOS R5 so special?
First, there's the autofocus, which is jaw-droppingly good and can track moving subjects all day without a hitch. If you like to shoot sports, you're going to love the EOS R5's Eye Detection, and if you're a wildlife photographer, the Animal Eye AF is surprisingly useful.
Then there's the image quality. Canon has packed in a whopping 45 MP of photographic goodness, which you can turn into huge prints or use for extensive cropping. The EOS R5 is the highest-resolution camera on this list, so if you're looking to capture detailed landscapes, shoot pro-quality product photos, or create other commercial images, the R5 is your best option.
Canon EOS R5 Full-Frame Mirrorless Camera (Images from Amazon)
High-ISO performance is truly excellent. You can work indoors or outside after dark and come away with noise-free photos, which is why the EOS R5 is a great pick if you like to shoot events, wildlife, or even astrophotography. And the EOS R5's in-body image stabilization takes this to the next level, allowing you to photograph handheld in even the trickiest conditions.
Honestly, aside from the price, it's tough to criticize the EOS R5. In addition to the features mentioned above, you get a fully articulating touchscreen (for low-angle shooting and easy vlogging), dual card slots, a beautiful electronic viewfinder, plus 8K video (albeit with some much-discussed overheating issues).
So if you're a serious photographer or videographer looking for an amazing full-frame mirrorless body, the EOS R5 is a stellar choice.
2. Canon EOS RP
Budget Pick
Canon's best budget full-frame camera
The Canon EOS RP is cheap, it's powerful, and it's fun to use. If you're after a budget full-frame camera, the EOS RP is a great pick.
Pros
Beautiful images
Great price
Fully articulating touchscreen
Cons
Mediocre autofocus
If you're after a budget mirrorless camera that packs a punch, look no further than the Canon EOS RP.
It's on the older side (it debuted back in 2019), but for around $1000 USD, the EOS RP is an absolute bargain, offering beautiful image quality, top-notch ergonomics, and decent autofocus all rolled into one.
In fact, the EOS RP is one of my all-time favorite full-frame cameras, especially for travel photography, walkaround photography, and street photography. For one, the RP is pretty darn compact, so you can slip it in your bag or backpack without any trouble.
Canon EOS RP Full-Frame Mirrorless Interchangeable Lens Camera + RF24-105mm Lens (Images from Amazon)
And I'm a huge fan of the fully articulating screen, which allows you to capture shots at all sorts of odd angles (imagine shooting skyscrapers and other buildings without having to bend your neck!). Videographers, too, will love being able to tilt the LCD when recording, and for vloggers, this is a necessity.
Autofocusing is good without being great. The EOS RP is certainly snappy enough when focusing on still subjects, and it does a decent job with moving subjects, but it's not on the same level as the Canon EOS R5 or the EOS R3. So if you're hoping to shoot action, the RP is not the right choice – but if you're a landscape photographer, street photographer, or portrait photographer, the RP will suit you just fine.
As for the image quality: You get beautiful 26 MP files (a resolution that, incidentally, sits in that sweet spot between storage-hogging files and subpar detail). The RP isn't a low-light powerhouse, but high-ISO performance is decent and will keep you shooting even indoors or at night without issue.
Finally, the RP does offer 4K/24p recording, but it comes with a notable crop. This isn't a huge deal for most videographers – you can always use a wide-angle lens and account for the crop factor – but it'll cause problems if you need to record landscapes and other wide-angle scenes.
Overall, the EOS RP is an excellent little full-frame camera, and I highly recommend it for photographers after a mirrorless model at a reasonable price. It'll even work for vloggers and videographers, provided you don't require full-frame 4K recording.
3. Canon EOS R3
Best for professional action photographers
The EOS R3 is blazing fast, insanely rugged, and offers Canon's best low-light performance to date. If you're a serious action shooter and you have $6000 to spend, it's a no-brainer.
Pros
Amazing AF capabilities
30 FPS continuous shooting
6K video
Outstanding build quality
Cons
Expensive
Only 24 MP
The Canon EOS R3 is Canon's biggest, heaviest, and most expensive mirrorless camera – but if you're a professional sports or wildlife shooter in need of top-notch speed and autofocusing, then it's worth every penny.
Thanks to an outstanding Dual Pixel AF system bolstered by intelligent tracking algorithms, the R3's AF capabilities outstrip every other model in Canon's full-frame mirrorless stable. The camera packs a host of fancy AF modes, including eye tracking, face tracking, and vehicle tracking, so you should have no problem following players as they race across the field or cars as they zoom across a racetrack.
Canon EOS R3 Body (Images from Amazon)
What's even more exciting is the camera's Eye Control AF, which senses eye movement and adjusts the R3's AF point accordingly. In other words, you merely need to notice your subject to lock focus, which is insanely convenient and should come in handy for action photographers of all stripes. Combine this with the R3's 30 frames-per-second continuous shooting and you'll be able to capture consistently sharp photos of any subject you can imagine, including birds, wildlife, pets, cars, and sports players.
While the full-frame sensor size is limited to 24 MP, image quality is predictably outstanding; the R3 offers class-leading low-light capabilities and can shoot up to ISO 102,400. Mount a fast lens to the R3, and you can comfortably shoot indoor sports games, wildlife at dusk, low-light concerts, and more.
But the EOS R3 isn't designed solely for still photographers. The camera packs impressive 6K video recording, which allows you to produce wonderfully crisp footage, and it also boasts 4K/120p video recording for capturing stunning slow motion. The R3 is a great choice for hybrid shooters or even dedicated videographers (though serious videographers should also consider the EOS R5, listed above).
The EOS R3 offers a handful of additional features worth mentioning, including dual card slots (essential for professional work), in-body image stabilization (so you can capture sharp handheld shots in low light), a beautiful 5.76M-dot electronic viewfinder (for a lifelike EVF experience), and a fully articulating screen (ideal for standard videography, vlogging, and low-angle photography). Then there's the ultra-rugged body, which sports – in a Canon mirrorless first – an in-built vertical grip, so you can switch rapidly between portrait and landscape orientation while on the job.
Given the EOS R3's eye-watering price tag, it's not a camera I recommend for the casual user or even the standard professional. But action photographers and videographers – and especially sports professionals – should consider taking the plunge.
4. Canon EOS 5D Mark IV
The best Canon full-frame DSLR
The Canon 5D Mark IV might be getting on in years, but it's still a great all-around camera for enthusiasts and professionals.
Pros
30 MP resolution
Decent autofocus
4K video
Cons
High-ISO performance could be better
The Canon EOS 5D Mark IV is the best Canon full-frame DSLR on the market today. It doesn't offer ridiculously fast burst modes, nor does it offer superb high-ISO performance – but it's an amazing all-around option, especially for photographers who prefer the clarity of an optical viewfinder.
Canon EOS 5D Mark IV Full Frame Digital SLR Camera Body (Images from Amazon)
The Canon 5D Mark IV is a full-frame camera that packs a big punch. It's capable of shooting:
30.4 megapixel JPEG and RAW files
4K video footage (at 24 fps and 30 fps)
Its video capabilities are bolstered by the addition of C-Log. This feature didn't initially come with the Canon 5D Mark IV but has become very popular; it boosts the dynamic range of the Mark IV and offers expanded post-processing options.
Another feature that stands out is the Dual-Pixel RAW technology. This allows for subtle adjustments after an image has been recorded. You can make small corrections in terms of sharpness, bokeh, and reduction of halos.
Oh, and did I mention that the Canon 5D Mark IV offers dual-pixel CMOS autofocusing? This is an autofocus technology that's perfect for working in Live View and video modes. It's designed to create a smooth autofocus experience so you can easily focus in the field.
And speaking of autofocus:
The 5D Mark IV offers the same 61-point autofocus system as Canon's former flagship model, the EOS-1D X Mark II. When using a single autofocus point, the autofocus performs well. Unfortunately, the same cannot be said about the Mark IV's new autofocus tracking feature, iTR AF. While iTR is designed to improve autofocus tracking, the opposite often occurs: tracking is slowed down substantially.
But all in all, the 5D Mark IV is a superb all-around camera. You can shoot virtually anything with it, including events, landscapes, and travel scenes.
5. Canon EOS R6
Best for action photographers on a budget
The R6 may not be as flashy as the R3, but it's a capable sports and wildlife camera for a reasonable price.
Pros
Outstanding AF
20 FPS continuous shooting
Beautiful image quality
Portable design
Cons
Only 20 MP sensor
The Canon EOS R6 often gets overshadowed by the more powerful EOS R5, but don't be fooled. The R6 has a lot going for it, including impressive AF, amazing image quality, and a surprisingly palatable price tag.
The R6 is the best Canon full-frame camera for serious hobbyists and even professionals who desire speed – for sports, wildlife, and bird photography – but don't require high-megapixel files. In fact, the EOS R6 packs just 20 MP, making it the lowest-resolution camera on this list and Canon's lowest-resolution full-frame mirrorless body to date.
And it's true: A 20 MP camera will marginally limit your cropping and printing capabilities, so I wouldn't recommend the R6 for commercial or landscape photographers. Yet a lower megapixel count offers several key benefits worth considering, including a superior high-ISO performance (which ensures low-noise images even when shooting indoor sports games and events) and more reasonable file sizes (handy when you need to transfer over entire SD cards to meet a deadline).
Canon EOS R6 Full-Frame Mirrorless Camera (Images from Amazon)
As you'd expect from an action-centric mirrorless camera, the R6 boasts outstanding AF speed and high-level tracking abilities. It's not on the same level as the R3, but the R6's AF can handle professional sports and fast-moving wildlife with ease. And thanks to the whopping 20 frames-per-second continuous shooting speeds, you can confidently capture even the most fleeting of moments, such as winning goals and split-second interactions between wildlife.
The R6 is equipped with dual card slots for extra peace of mind, and its in-body image stabilization makes it easier to capture sharp handheld shots in low light. While the body is plenty rugged, it remains small and lightweight, which makes the R6 a great choice for on-the-go photographers and those who frequently work in adverse weather conditions.
Hybrid shooters will be impressed by the R6's recording capabilities. No, you won't find 8K or 6K video, but 4K/60p footage should be enough to satisfy serious videographers and vloggers. And the price – just $2500 for a pro-level full-frame camera – only sweetens the deal.
So if you're a serious photographer or hybrid shooter who frequently does fast-paced work in low light but whose budget won't stretch to the R3, the EOS R6 is a worthy pick.
6. Canon EOS 6D Mark II
The best Canon budget full-frame DSLR
The Canon 6D Mark II isn't especially flashy, but it offers beautiful image quality and a great shooting experience at a reasonable price.
Pros
26 MP
Fully articulating touchscreen
Great price
Cons
Mediocre autofocus
I'm going to state it up front:
The EOS 6D Mark II cannot compete with most of the other options on this list. The Canon 5D Mark IV is a superior full-frame DSLR, while the EOS RP is a more capable mirrorless model.
That said, the Canon 6D Mark II is an excellent camera, and it can help DSLR-lovers capture stunning, professional-quality photos without breaking the bank.
Let's start with the good:
Powering the camera is a 26.2-megapixel full-frame sensor. This is ample resolution for prints and enlargements. You can also do significant cropping without loss of image quality.
Canon EOS 6D Mark II Digital SLR Camera Body – Wi-Fi Enabled (Images from Amazon)
The Canon 6D Mark II offers 6.5 fps continuous shooting. While this can't beat the Canon 5D Mark IV (at 7 fps), it'll let you shoot reasonably fast and makes the 6D Mark II a decent model for sports photography beginners.
Finally, the Canon 6D Mark II, unlike the 5D Mark IV, includes a fully articulating touchscreen. This is a great advantage when shooting from a very low angle or from high overhead. The screen real estate, however, is smaller than that of the 5D Mark IV.
Now, the Canon 6D Mark II only has 45 autofocus points, and it doesn't shoot 4K video – only full HD at 60 FPS. Plus, the Canon 6D Mark II viewfinder only shows 98% of the view captured by the lens.
In other words, the Canon 6D Mark II has some drawbacks. And it's not as capable as its (more expensive) rivals. But it still offers some impressive features, and at the end of the day, it's a great pick – especially if you're looking to save money and you prefer DSLR technology over mirrorless.
Pick the Perfect Canon Full-Frame Camera
Choosing the right Canon full-frame camera can be tough, but this list hopefully provided some much-needed guidance.
If you're looking for an incredible full-frame camera that combines power, image quality, and video capabilities, the Canon EOS R5 is the way to go – assuming you can afford the premium price tag.
But the Canon EOS RP is an excellent budget pick and offers reasonable image quality and autofocusing plus a nice electronic viewfinder. If you're after great images but don't have much to spend, you can't go wrong with the EOS RP.
Finally, the Canon EOS 5D Mark IV is Canon's best consumer full-frame DSLR. Buy it if you like the size and weight of DSLRs and require pro-level image quality.
---
Disclosure/Disclaimer: As an Amazon Associate, we earn from qualifying purchases. Certain content was provided "as is" from Amazon and is subject to change or removal at any time.