Urban photography is one of the most popular types of photography for hobbyists. It's highly accessible, it's interesting, and anyone can do it when exploring their local town or city.
But what is urban photography? What makes an urban photo? Are there different styles of photos and different techniques you can use? Read on to find out everything you need to know about urban photography!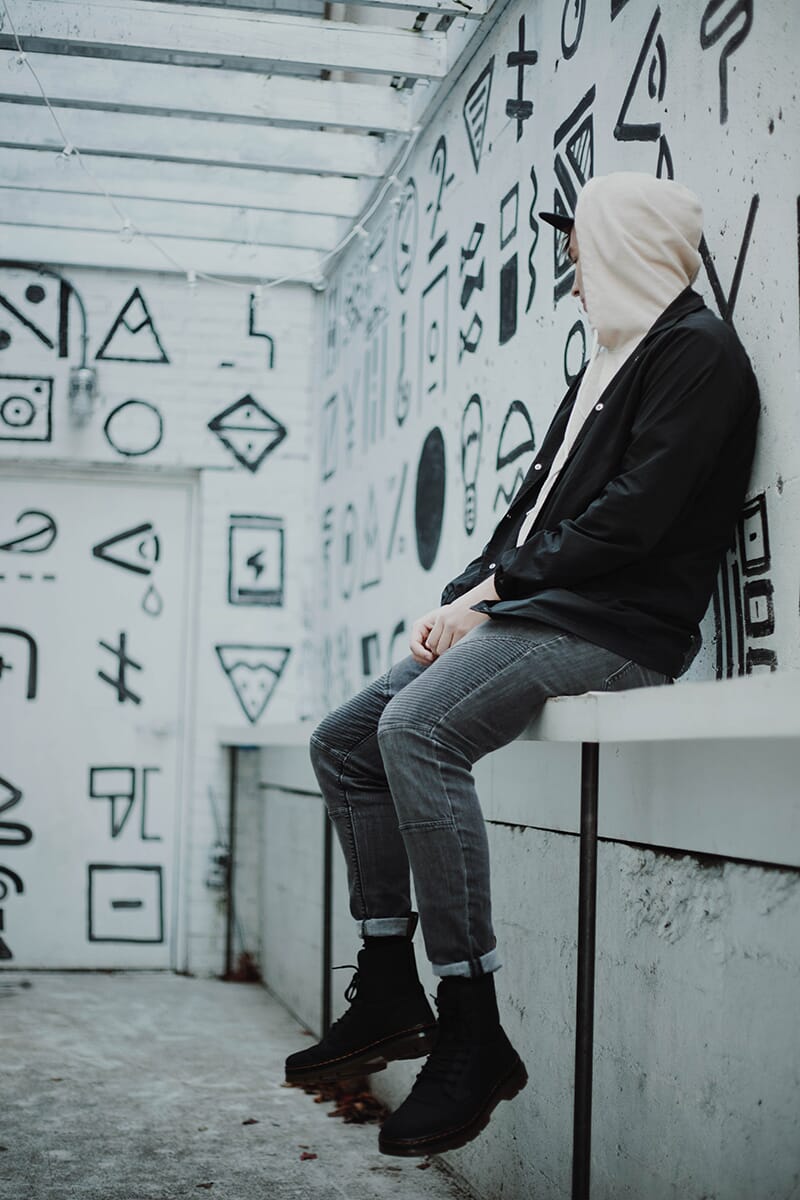 What Is Urban Photography?
Urban photography concentrates on objects and features in urban environments. The emphasis is on the setting, surroundings, architecture, and people. You could also define urban photography as a documentation of urban spaces.
But what is an urban environment? An urban environment is a built area. It is inhabited by humans. It contains architecture and is a place where people live and work.
Urban photography, therefore, is closely linked to towns, cities, and huge metropolises.
Different Styles of Urban Photography
Urban photography is a broad genre that includes a host of subgenres and styles, such as:
Candid Urban Photography
Candid urban photography is one of the most common subgenres. It is often referred to as street photography.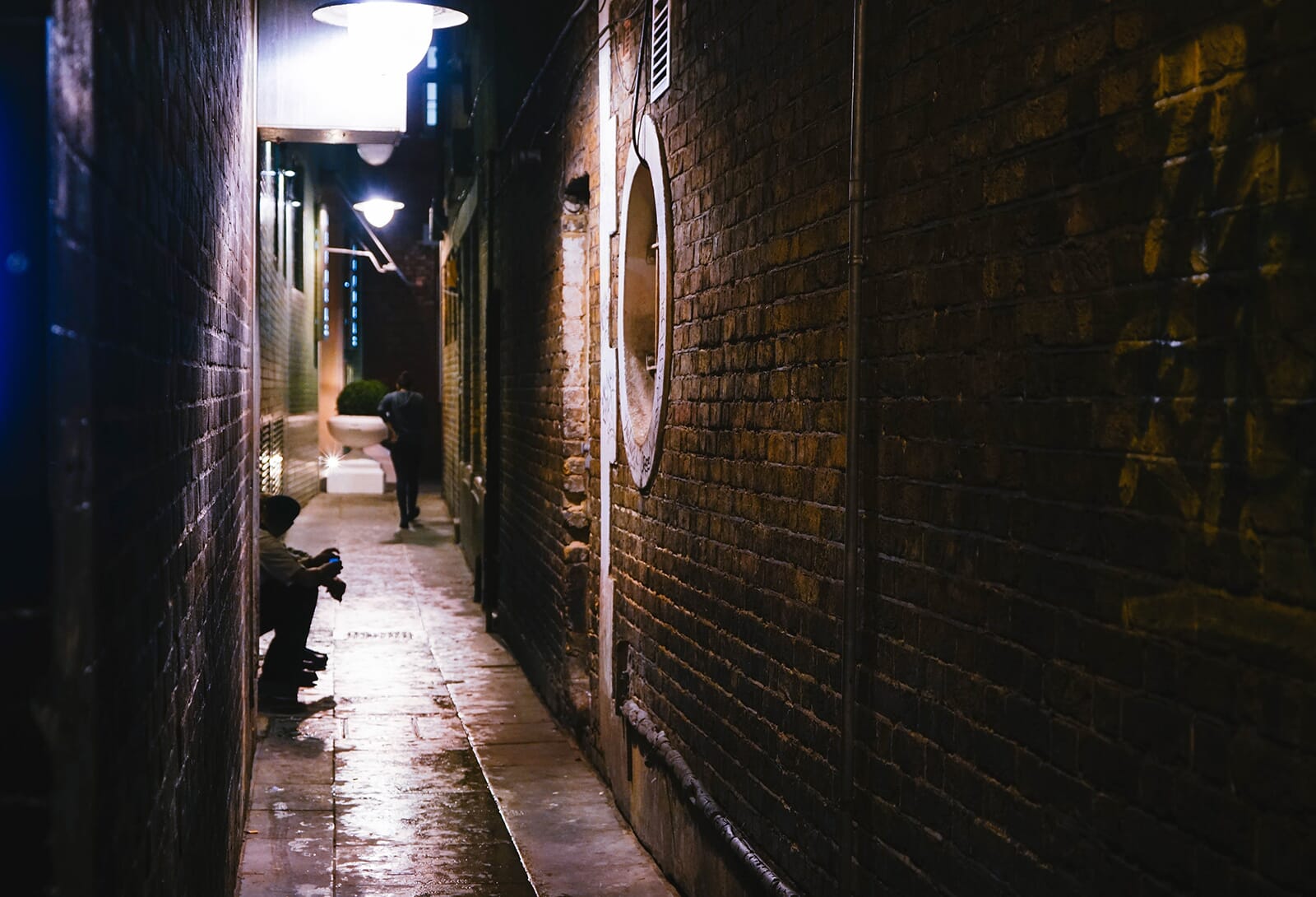 Candid urban photography is essentially everyday life captured in an urban environment. The key is that the subjects are unaware of your presence, so their natural actions are not affected by your camera.
Therefore, the two elements that define candid urban photography are:
An urban setting
Candid human elements
The shot below demonstrates this. The street, signs, and shops provide the urban setting. The woman and the people in the street provide the candid element. They are simply walking and browsing the storefronts.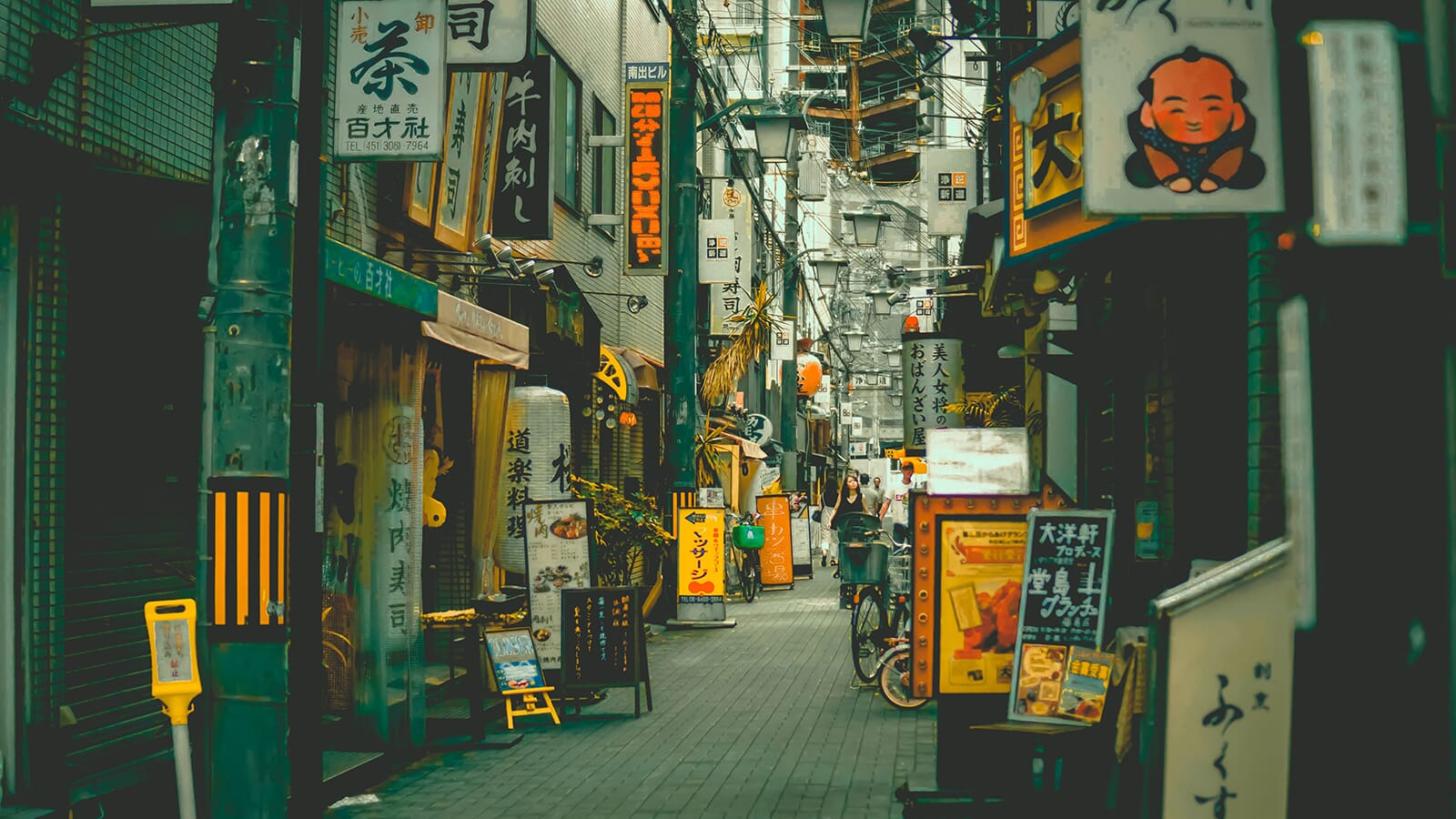 Geometric Urban Photography
Geometric urban photography concentrates on the shape, patterns, and color of urban architecture. Most geometric urban shots completely lack human presence.
Urban environments such as city centers are packed full of geometric patterns and shapes. You can capture these features to create unique, striking, and often abstract photos.
In the image below, we see the perfect geometry of four skyscrapers. The buildings form a distinct cross pattern of the sky. The many gridlines of the windows add to the repetition and patterns.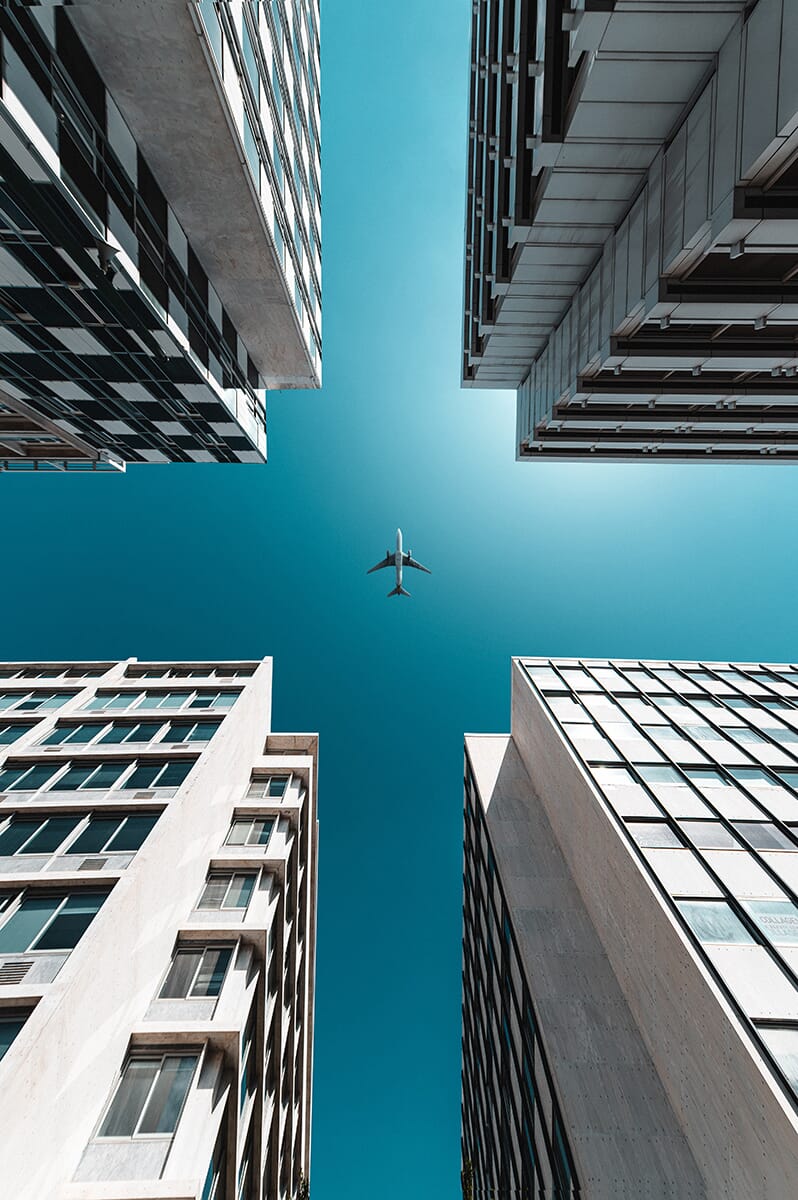 Urban Portrait Photography
Urban portrait photography is similar to candid urban photos, but with one key difference: the photos are pre-planned and staged. These shots again have two main elements:
An urban setting
Closeups of people in a staged pose
The person in the photo must be the focal point of the composition. Capturing a person in an urban setting is the main point of this type of urban photo.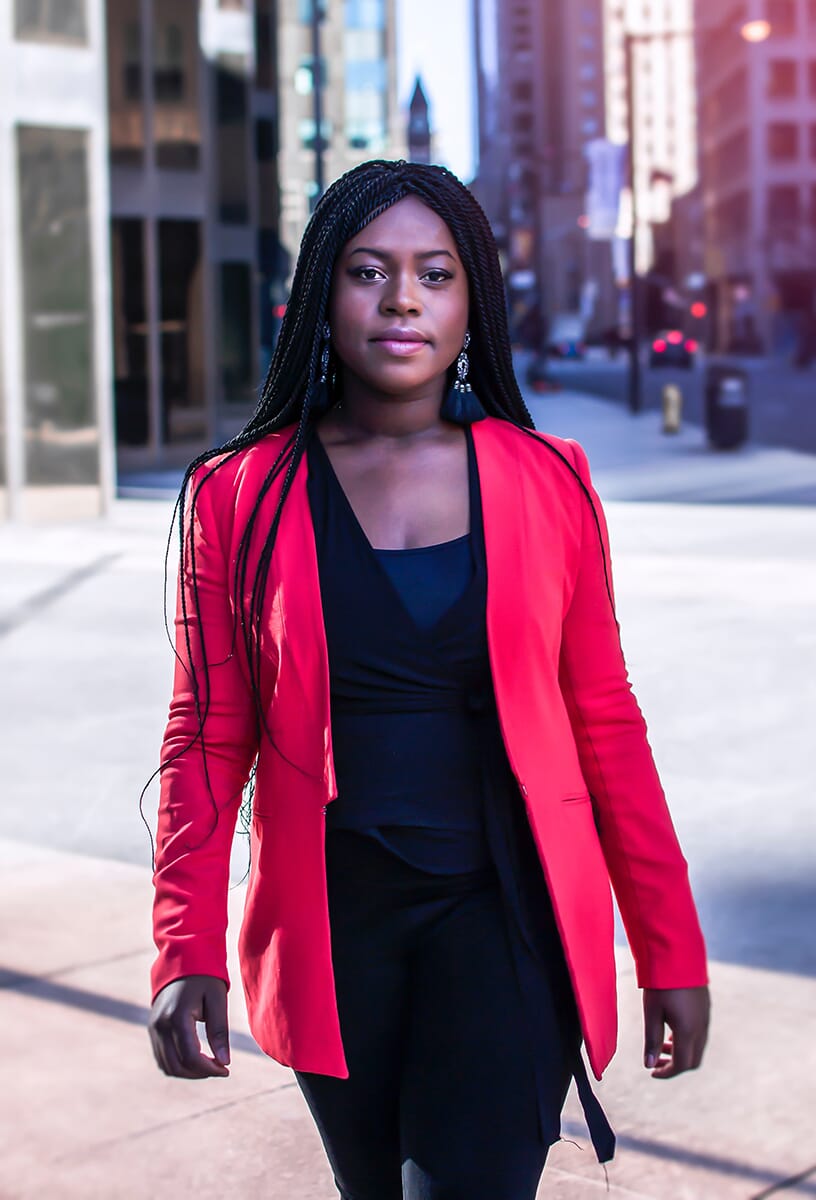 These photos are often planned. You can take a model to a specific location, or you can simply ask a random person in the street for a quick portrait. Regardless, the key is that the person is fully aware. They are posing specifically for your photo.
In the photo below, the woman is the central focus. She is striking a pose and is surrounded by a group of city buildings.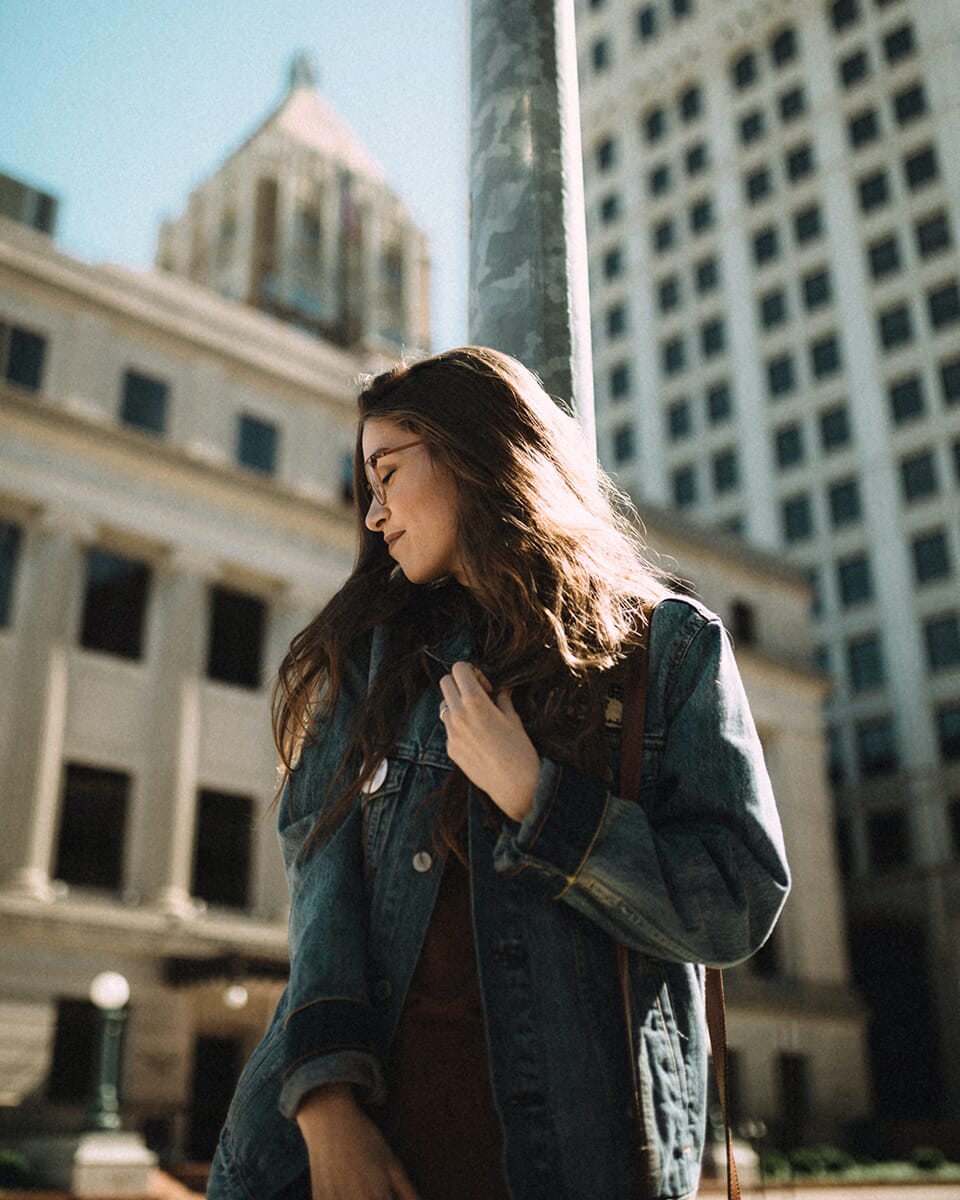 Nighttime Urban Photography
Many people choose to specialize in nighttime urban photography, which can overlap with any of the above genres.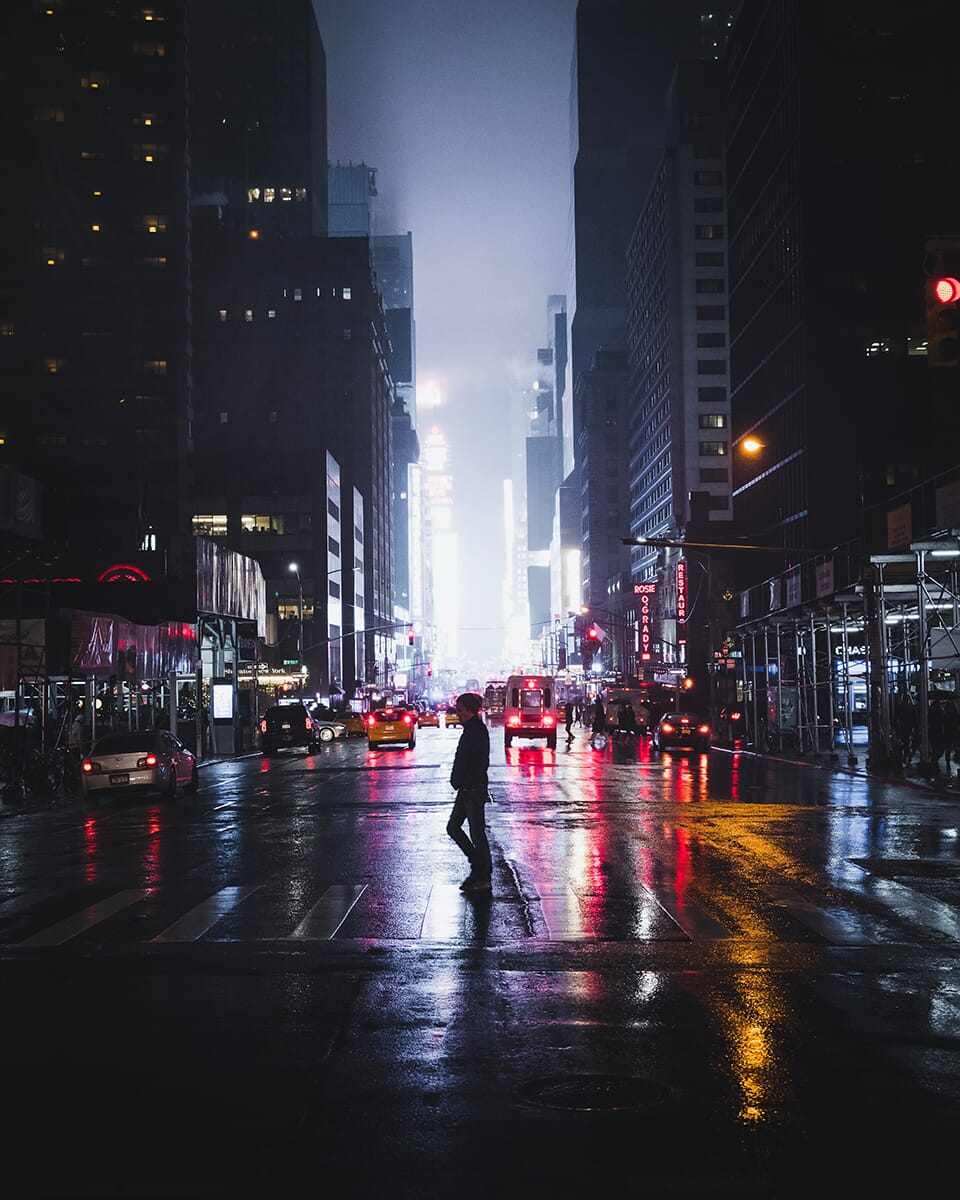 Cityscapes and urban environments can make for fascinating photos at night. In the photo below, we see Shanghai. The bright lights of the buildings and traffic create an impressive, futuristic feel.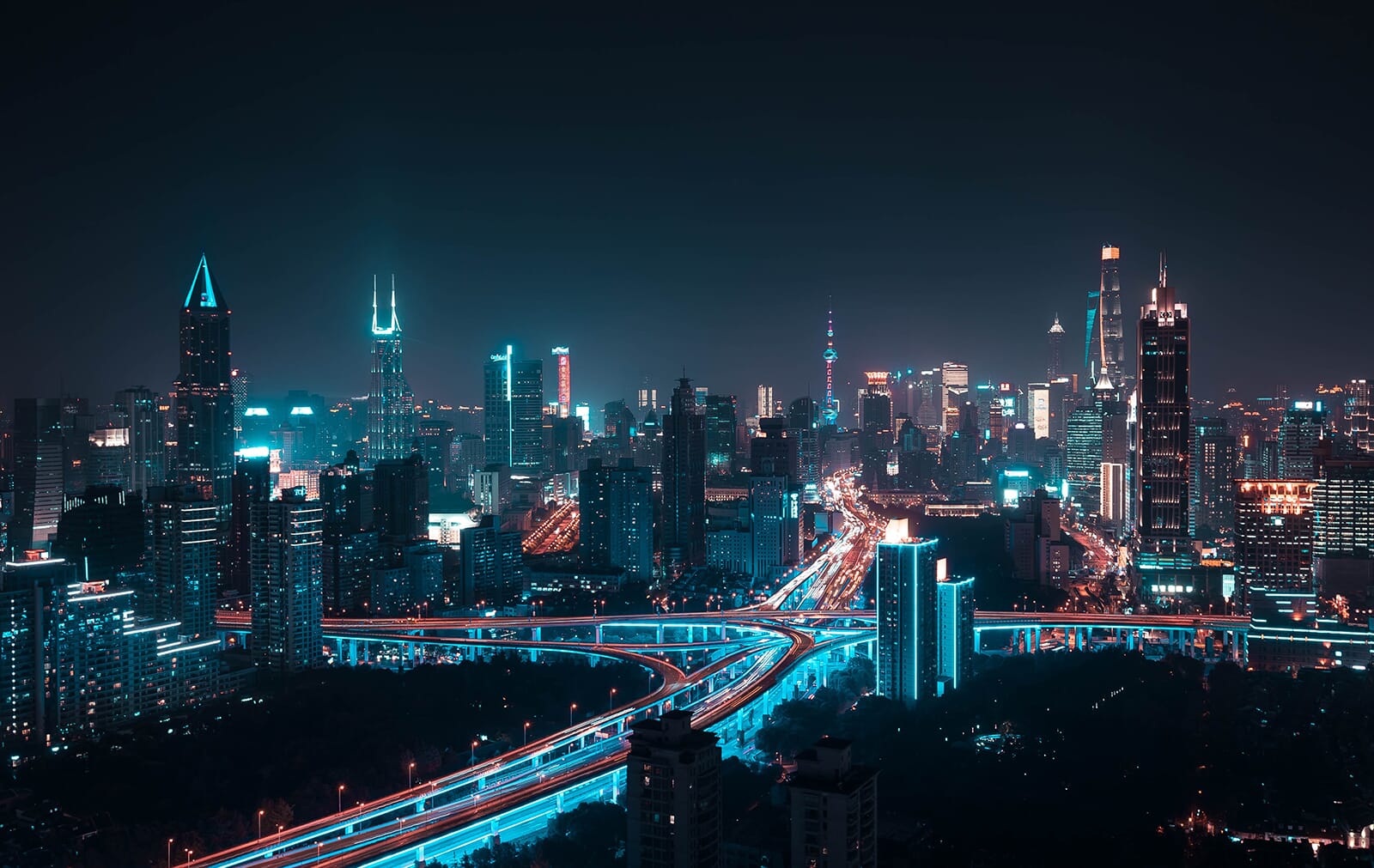 Nighttime urban photography usually requires specialist equipment and settings. For example, a lens with great low-light capabilities is very helpful, and a tripod is essential for long-exposure photos. This allows you to capture pin-sharp images even with poor lighting. It also allows you to create long-exposure photos that feature stunning effects, such as light trails.
Urban Photography Tips
How can you capture stunning urban shots of your own? Below, we share some useful tips!
1. Look for Shapes and Patterns in the Architecture
Buildings tend to feature patterns and repetition. Use this to your advantage and create beautiful urban geometric photos.
Cities with skyscrapers and modernist buildings are the best for this type of work. In immense cities like New York, Tokyo, Shanghai, and Hong Kong, you can find geometric patterns and shapes around every corner.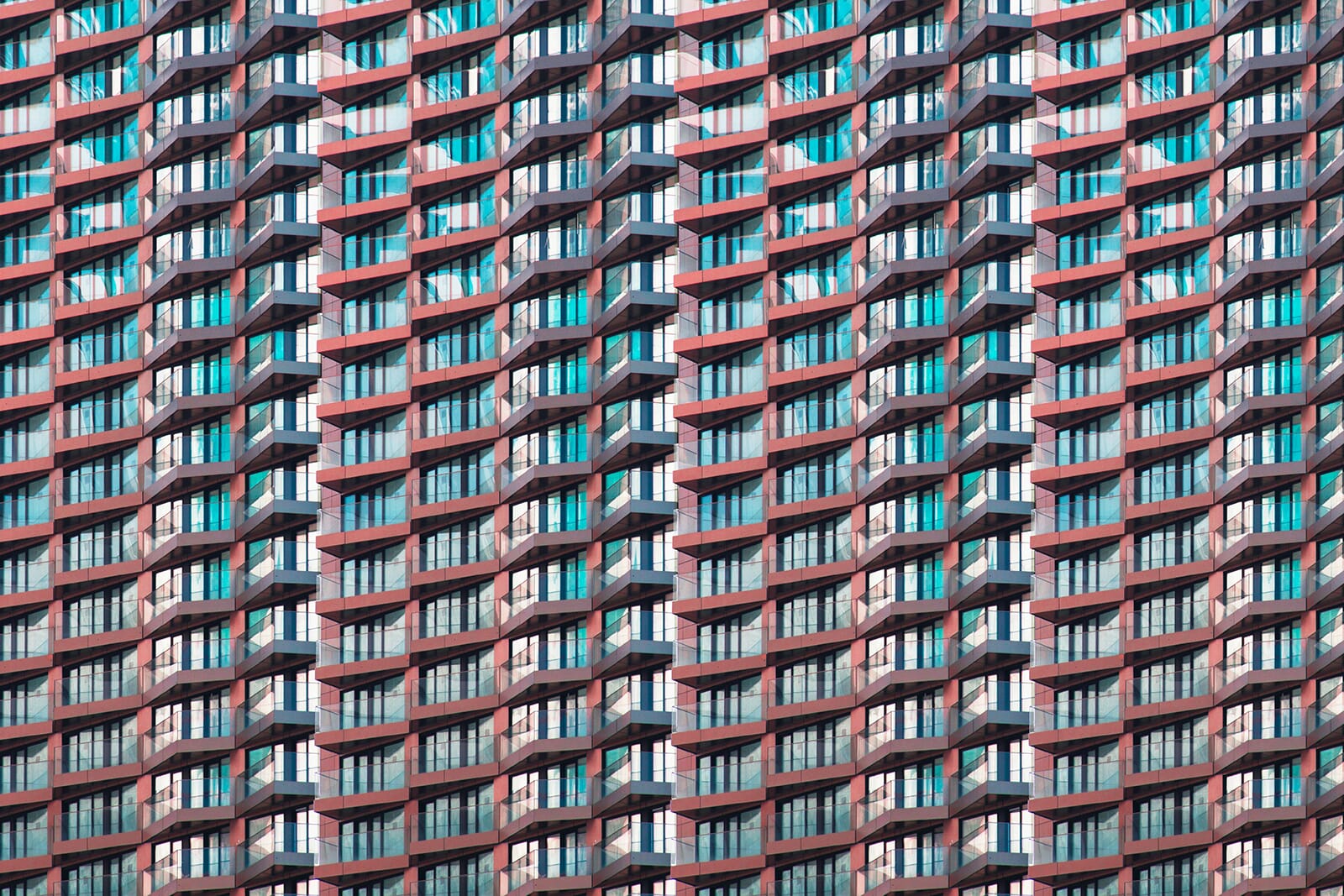 The above example is a building on Canary Wharf in London. The endless glass windows and frames create an amazing repeating pattern (and make for a powerful photo!).
2. Use People to Tell Stories
While buildings create patterns and geometry, people create stories.
As you explore a city, look at the people. What are they doing? Where are they going? How are they interacting with their surroundings? To study people and create stories, consider staying in a specific location.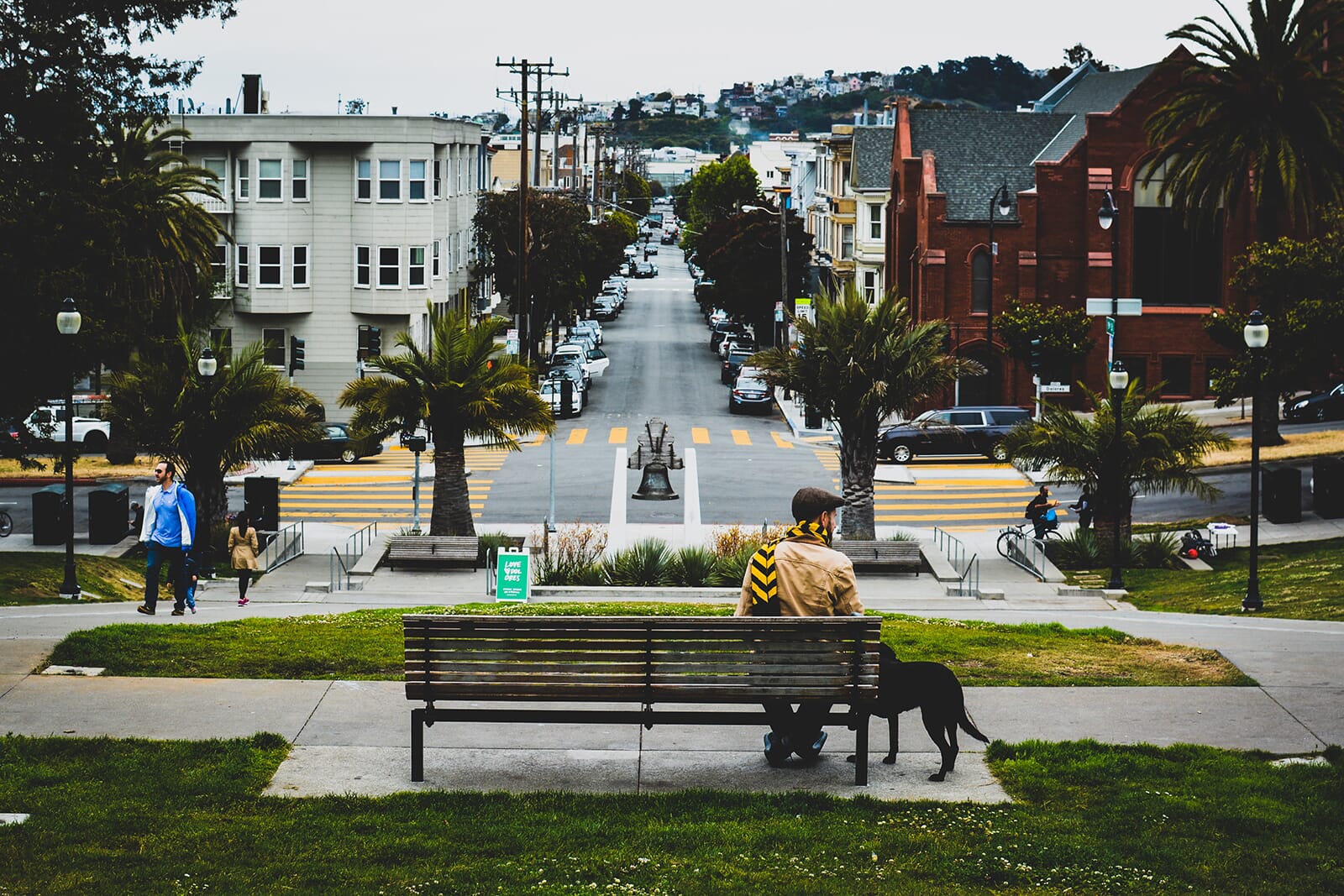 For example, you could sit outside a café or in a city park. As you sit, look for photographic opportunities and watch as potential stories unfold. In the shot above, we have a candid urban photo of a man and his dog. It's a simple photo, but it asks many questions: Who is the man? Does he walk his dog in this park every day? What made him choose to wear that striking yellow and black scarf?
3. Use Google Maps to Plan Walking Routes
A little planning will instantly improve your urban photos. Here, Google Maps is a great tool. Use this app to look for potential walking routes.
Study the streets and layout. What roads have interesting features? Where is the largest concentration of skyscrapers? Are there any interesting elements you can see using Google Street View?
Plotting a route will give you focus and purpose when shooting. It'll also stop you from getting lost in a place you may not have explored before!
However, don't feel compelled to stick to your route. Part of the fun of urban photography is exploring the unknown. If you see an interesting side street or route feature, don't skip it!
4. Capture the Relationship Between People and the Urban Environment
We mentioned above that people create stories. People also have unique relationships with urban environments. These relationships can produce immersive and interesting candid photos.
A great idea, therefore, is to choose an interesting location and wait. Wait for the right person to appear.
Beginners tend to think that any random person makes for an interesting urban photo. That's not always true! Some people fit better than others. Wait for that perfect person to walk past before tapping the shutter button.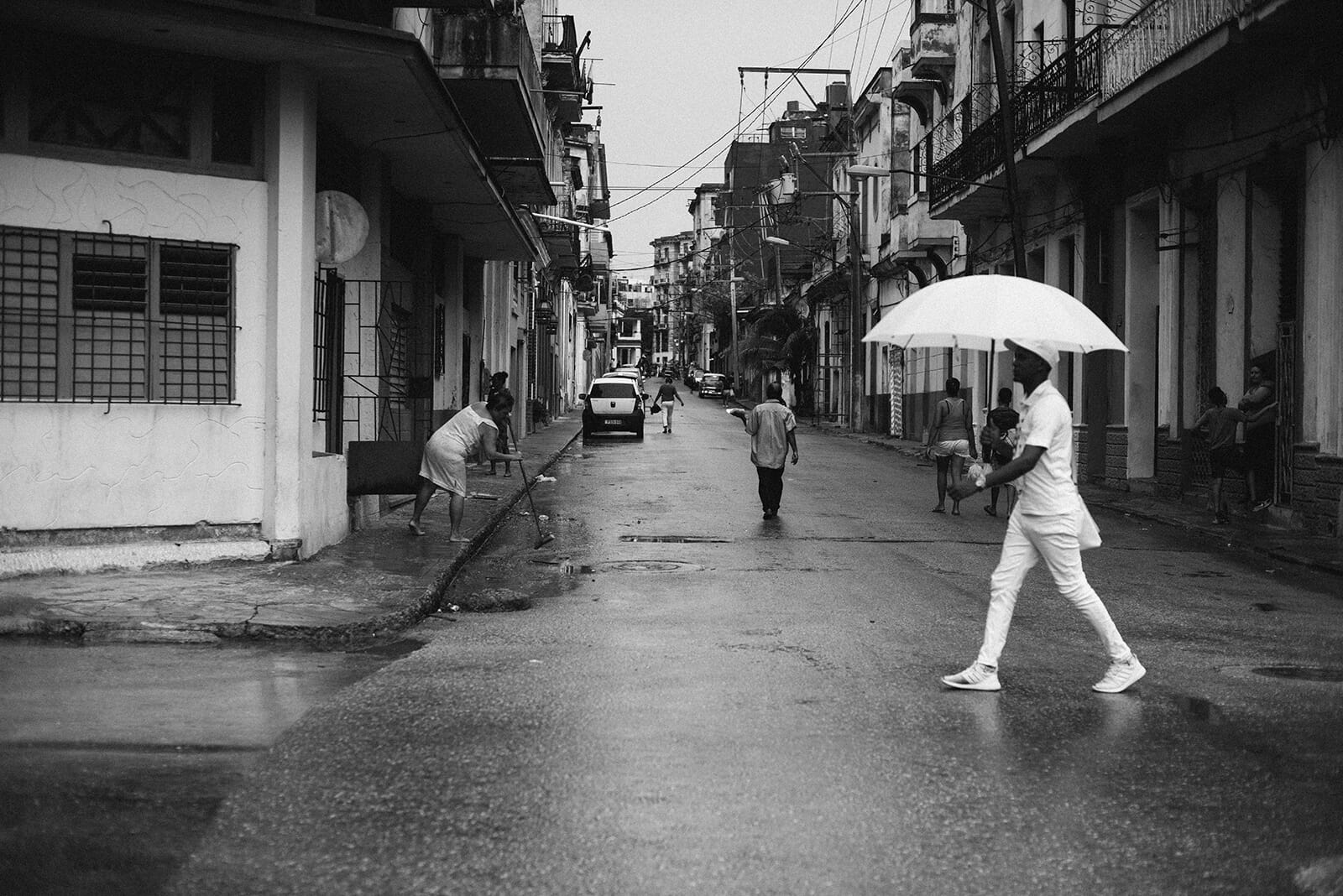 In the photo above, we see a prime example. This black and white urban composition is fantastic – purely because of the man dressed in white with his white umbrella.
The sheer brightness of the man contrasts with the rain and the bleak look of the street. Any other person wouldn't have made the same impact!
5. Take Photos in All Weather Conditions
Urban photography doesn't have to be done in fine weather.
The best urban photos utilize weather to create atmosphere, no matter the conditions.
Different weather conditions affect urban photography. Use this to your advantage.
Bright weather and sunshine improve lighting and create shadows. Bright weather also makes colors bolder and gives urban landscapes a warmer, happier feel.
Rain, storms, and overcast weather create a completely different mood. They can give an urban landscape a brooding and even foreboding feel. As you can see in the below photo, rain can also be used to create amazing reflections.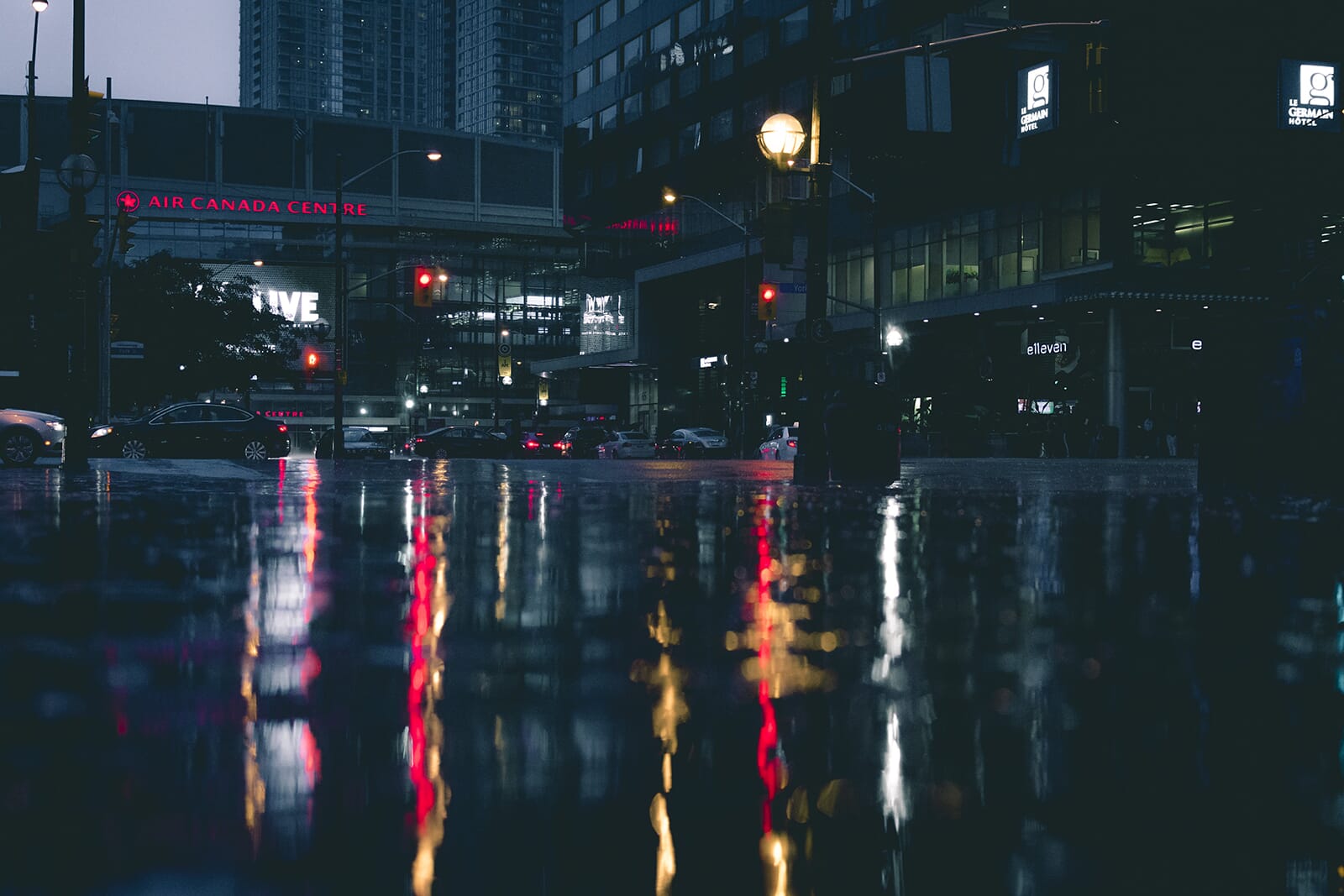 6. Photograph Everyday Objects
Urban landscapes are packed full of everyday objects.
Most of the time, we don't give these objects a second thought. They are simply there. But by using different angles and perspectives, you can make these objects interesting.
Would you consider a streetlight to be interesting during the day? Not really! However, look at the below photo. The composition makes the streetlight interesting and even a little bizarre. This is achieved with a low angle that emphasizes the curved shape of the arms.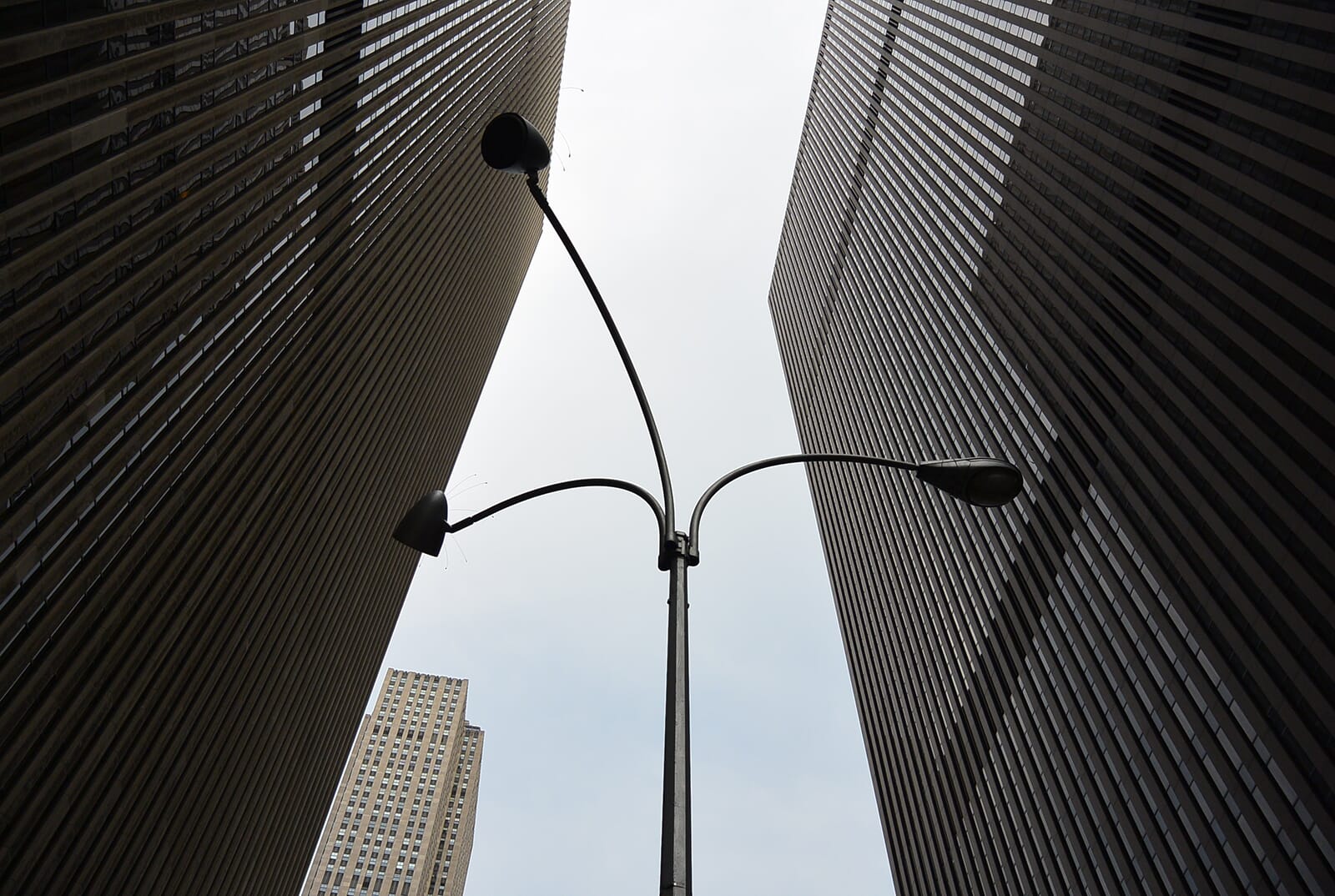 The position of the streetlight between the immense skyscrapers also helps. The angle almost makes it look like the streetlight is as tall as the buildings, like a three-tentacled monster!
7. Always Ask Permission When Photographing People
The urban environment can be dangerous, and people are not always receptive to having their photo taken. They can become angry if they feel their privacy is being invaded.
So whenever possible, ask permission.
Sometimes this isn't feasible. For example, if you are taking candid urban photos that happen to include people, asking permission will destroy the natural feel of your shots.
In contrast, if you are taking a close-up portrait of a single person, asking permission is necessary.
8. Consider Different Color Palettes
Color completely transforms the way we look at urban photography.
Use color palettes to your advantage. Get creative. Look for patterns in colors, and look for colors that complement each other in the architecture and the people.
Also, consider shooting in select color combinations. Black and white tones, for example, work incredibly well in an urban setting. Below, we see the sprawling skyscrapers of New York. The use of black and white creates contrast and emphasizes the building shadows.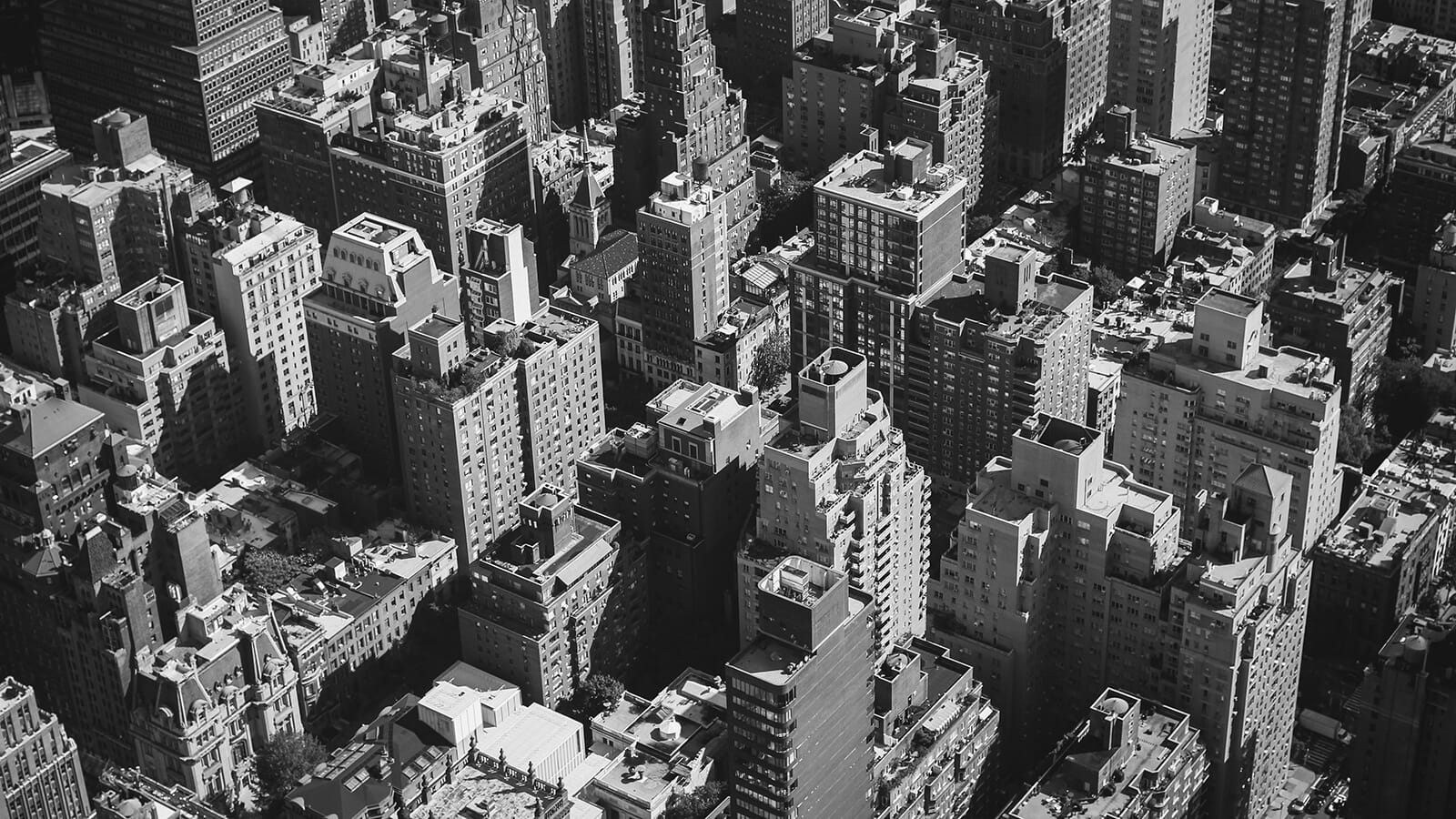 In contrast, this urban photo from Dubrovnik (below) simply wouldn't work in black and white. The photo is striking because of the bold shades of orange present in the terracotta roof tiles.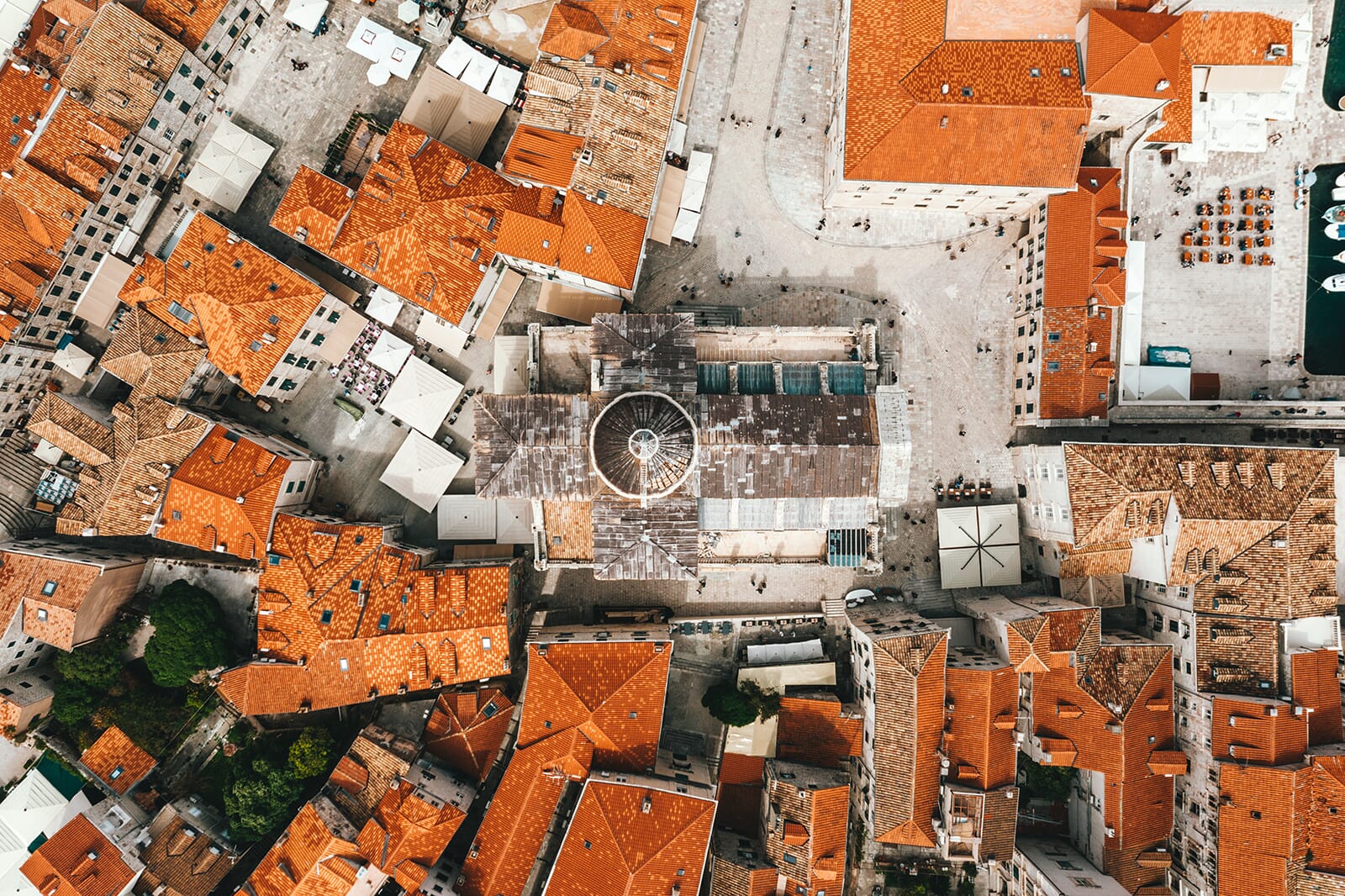 Urban Photography Gear
Anyone can take beautiful urban images. For the most part, specialist gear is not required. You can capture stunning shots with a great point-and-shoot camera.
For the best results and optimal flexibility, however, some cameras, lenses, and accessories are worth considering.
Cameras
Any camera can be used for urban photos.
Some cameras, however, excel in these scenarios. Features to look for include strong low-light performance, decent resolution, and fast autofocus.
Great low-light performance is essential. This is because urban settings often have less ambient light. Also, you may want to shoot nighttime photos.
A fast autofocus system is essential for focusing on moving subjects like people. And a high-resolution camera will help you capture all sorts of tiny details.
Note that cameras for urban photography can be split into two categories: professional and intermediate.
Professional cameras are expensive. They offer the best in terms of resolution, autofocus, and low-light capabilities. If you want to take professional-quality urban photos, one of these cameras will be a huge help.
Intermediate cameras for urban photography still get the job done. These include some compact cameras with built-in lenses and some mid-level mirrorless cameras. If you want to take urban photos as a hobby, a camera like this is a great choice.
Here are a few recommendations:
Professional Cameras for Urban Photography
Intermediate Cameras for Urban Photography
Lenses
For the most part, urban photography is up close and personal. As a result, telephoto lenses are generally not suitable.
The best lenses are wide-angle and standard zoom lenses. Wide-angle primes and zooms (typically 16-28mm focal length) allow you to capture more of the scene.
Standard zoom lenses (typically 24-70mm) offer versatility. They allow you to cover a range of urban photography types. Also, they help you adapt to different scenes and compositions.
Lenses with a larger maximum aperture and image stabilization are ideal, as they'll help you cope with low-light situations.
These are some suitable high-quality lenses:
Wide-Angle Lenses for Urban Photography
Standard Zoom Lenses for Urban Photography
Accessories
Generally, accessories are not needed for urban photography. The key is to utilize your camera settings and adapt to the different circumstances.
The only accessory you might consider is a tripod. A tripod is essential for nighttime urban photography, especially if you want to create long exposure photos. You don't need to break the bank, however, as there are plenty of great tripods under $200.
Explore Your City and Dive into Urban Photography Today!
You should now clearly understand what urban photography is and how it's done. It's a wonderfully accessible genre of photography; in most cases, you can simply walk out your front door and head into your city or town.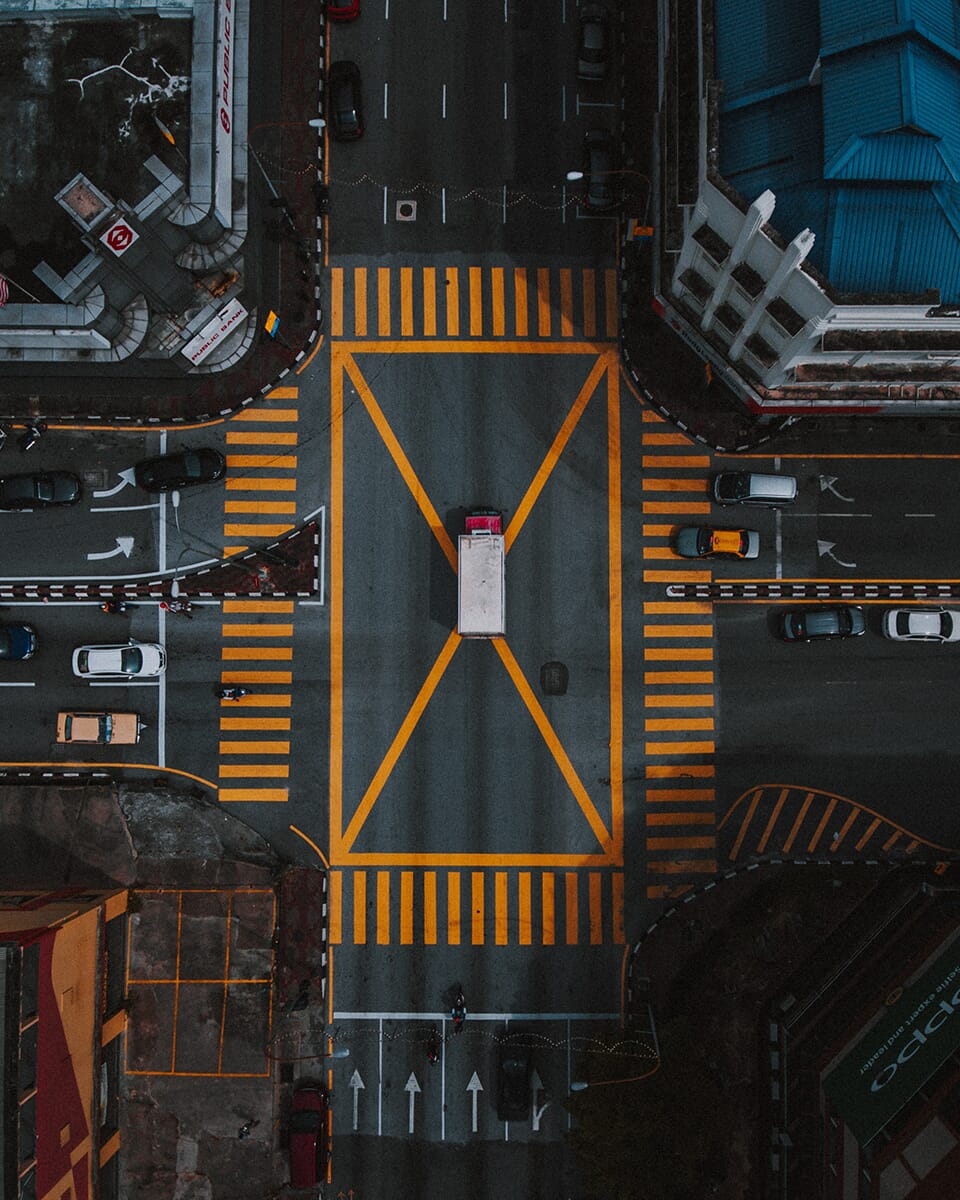 With a little exploration, you'll find plenty of photo opportunities. These could be candid shots of everyday urban life. They could also be abstract shots showcasing the strange geometry of urban environments. You might even capture the people of urban cultures in portrait shots.
However, you choose to do urban photography, have fun and be imaginative. Also, stay safe, respect others, and obey the law!
---
Disclosure/Disclaimer: As an Amazon Associate, we earn from qualifying purchases. Certain content was provided "as is" from Amazon and is subject to change or removal at any time.