If you were around during film photography's prime, then you're sure to know about Minolta, a leading camera manufacturer that influenced much of our modern photographic technology. Minolta cameras are a gem to use, and so if you're looking for a great film camera, a Minolta is a fantastic choice!
Here is our guide to the best Minolta film cameras you can still buy in 2023. And trust me: They're worth the search!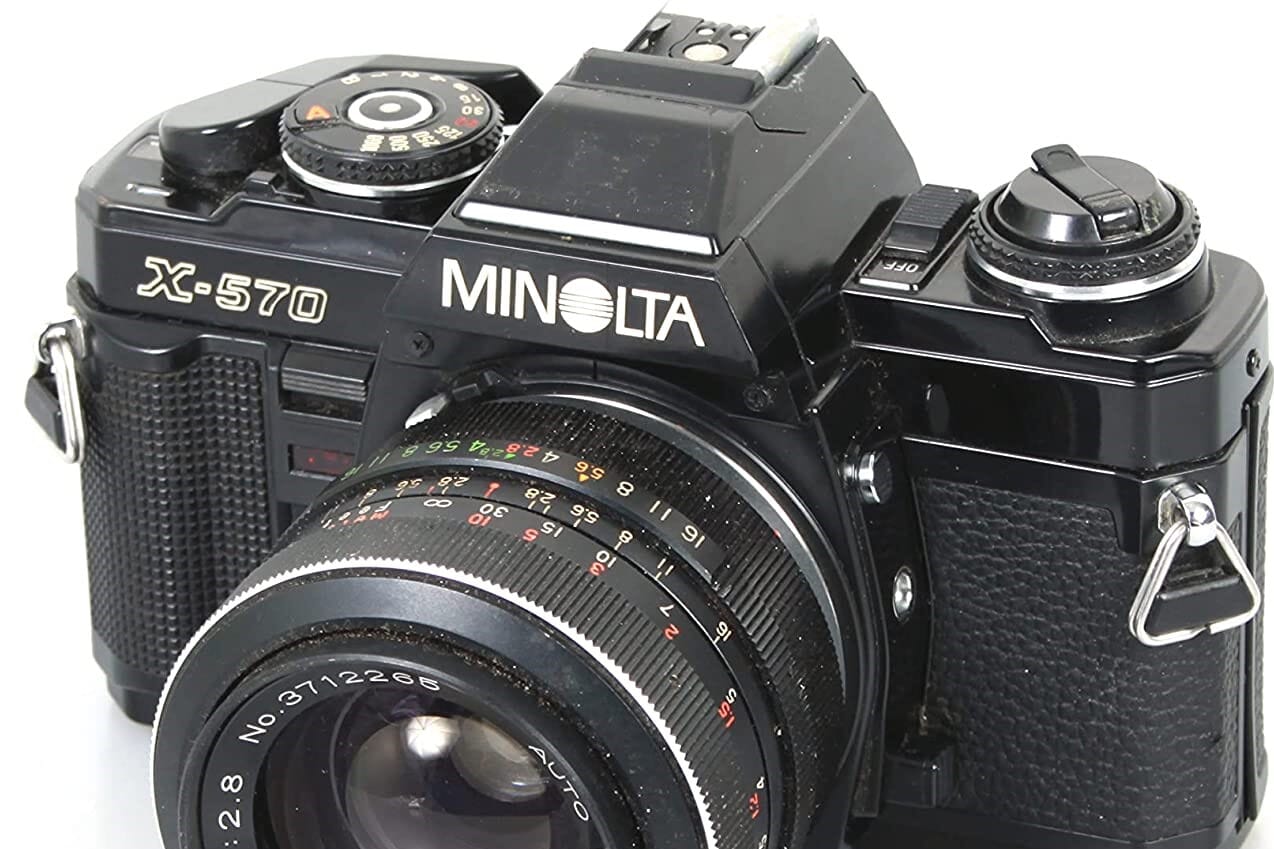 When you buy through links on our site, we may earn a commission at no cost to you. We evaluate products independently. Commissions do not affect our evaluations.
Why Choose Minolta?
For photographers looking to delve into film, a Minolta camera is a perfect choice. Not only was Minolta once one of the leading film camera brands, but modern-day Sony lenses can fit on old Minolta mounts! This is because Sony purchased much of Minolta when launching their digital cameras.
Minolta actually pioneered a lot of our digital camera technology used today. From autofocus and Shutter Priority mode to in-body image stabilization, Minolta led the way in innovation. So Minoltas aren't just great to use; they're cameras that have a special place in history.
(This remains true of Minolta's lens lineup, too. It's still very sought after!)
The cameras featured below feel like hybrids. On the one hand, they do have some digital technology. On the other hand, they're primarily pieces of manual equipment. When using a Minolta camera, you make your own exposure and settings adjustments, but digital tools will aid you along the way. That should be especially comforting for photographers who are new to the film photography world.
The Best Minolta Film Cameras
1. Minolta X-570
Released in 1983!
If you are lucky, you can still find the Minolta X-570 as a second hand camera.
Considered the best introduction to Minolta, the Minolta X-570 is a mighty fine piece of imaging equipment. The Minolta X-570 came to fruition in 1983, but it's still relatively easy to find in 2023.
The X-570 features Minolta's Shutter and Aperture Priority modes, which offer a little touch of digital elegance in an otherwise manual camera. They also make film photography less overwhelming. The auto-exposure lock aids in capturing multiple images at a similar exposure, and the 3200 maximum ISO is plenty high for many shooting situations!
The added depth of field preview button is a great asset for shallow depth of field photographers and will help you create beautifully artistic results. The shutter speed goes up to 1/1000s – quite fast for technology from the 80s.
2. Minolta XD-11
Also Great
Best for serious film shooters
Professionals who need more features than the X-570 offers will appreciate the XD-11.
Pros
All of the features of the X-570 plus many more
Better ISO than other models
Excellent exposure metering
Can be used without a battery
Cons
Not as user friendly
Parts for maintenance can be really hard to find
For the professional shooters out there, the Minolta XD-11 is a masterpiece. The well-constructed metal body is lightweight, so carrying the camera long distances is a breeze, and the camera sports a nice metallic finish for a bit of stylistic flair.
Out of all the Minolta cameras on this list, the XD-11 has the best ISO range. Its metering capabilities are tremendous and will help you achieve perfect exposures with far greater ease than other film cameras.
The Minolta X line was one of the first camera series to feature Shutter Priority and Aperture Priority modes. All of the automatic modes do require the battery in order to work, but if the battery has died on you or you've accidentally misplaced it, you can still use the entire camera if you operate it manually!
3. Minolta Maxxum 600si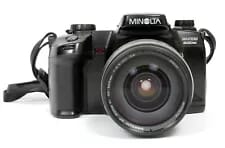 Best for outdoor film photography
Looking for a durable film camera? The Maxxum 600si will be your best friend.
Pros
Amazing steel body with durable and reliable weather sealing
Lots of digital features packed into a film camera
Whopping 1/12000s shutter speed
Cons
Harder to find than other models
Quite heavy
Very loud
The Minolta Maxxum 600si was first released in 1999, and its design is similar to today's DSLRs. It also packs some great professional features.
The body is completely weather proof and exceptionally durable. The chassis is made of steel, so the camera can easily handle some bumps and even rain without issue. Many of the components and buttons have locks to prevent accidental clicking while shooting. And the controls light up in the dark.
The metering system is superb and offers highly accurate exposure calculations. The shutter speed is no laughing matter, either; it can reach up to 1/12000s. And there are lots of DSLR-esque features packed into the Maxxum 600si, which should make the transition easier for digital users.
4. Minolta X-700
An amazing professional camera
Packed to the brim with features, the X-700 is another fantastic introduction to Minolta.
Pros
All of the same feautes as the X-570 but with Program mode included
Offers a depth of field preview button
Uses through-the-lens metering
Includes exposure compensation
Cons
Can be hard to find
Expensive
In 1981, the Minolta X-700 was considered a top-of-the-line SLR model. Note that it's very similar to the X-570 (listed above), though it does feature a Program mode (which the X-570 lacks).
The reason this model isn't higher up on the list is that it's tough to find in 2023 (though it's certainly not impossible, as our Amazon link shows)! The lack of supply is, however, reflected in the price.
Features include through-the-lens metering, depth of field preview, exposure compensation, a self-timer, an exposure lock, a film safe-load indicator, a frame counter, and so much more. This camera's compact build makes it very portable and quite inconspicuous compared to larger models.
5. Minolta CLE
A Leica-Minolta fusion masterpiece
This stunning rangefinder camera plays beautifully with Leica's assortment of gear, though it is quite pricey.
Pros
Lots of modes and features to choose from
Leica-style body
Such a great build
Photos look stunning
Cons
Extremely expensive, especially for such an old model
Tough to find a repair shop
1600 maximum ISO
The Minolta CLE is the most expensive film camera on our list, and to be fair, it has quite the reputation. The CLE is a rangefinder camera, which means that the focus will be impressive due to rangefinder technology.
The camera features fully manual modes as well as digital modes like Aperture and Shutter Priority, so there is no excuse for bad photographs! The viewfinder is very large, making it easy to compose your shots.
As an M-mount camera, the CLE is compatible with a limited selection of older lenses, though the ones it does work with are truly outstanding. Leica produces M-mount lenses, so you'll certainly find some great options.
Pick the Right Minolta Film Camera
These days, Minolta cameras are rare. But the five models listed here bring something wonderful to the table. They're worth both the price and the effort it takes to procure them.
Our overall favorite camera is the Minolta X-570 as it combines accessibility, a decent price, great features, and a lovely design into one amazing package. Our second-place model is the Minolta XD-11; it, too, packs highly advanced features.
---
Disclosure/Disclaimer: As an Amazon Associate, we earn from qualifying purchases. Certain content was provided "as is" from Amazon and is subject to change or removal at any time.