To use a DSLR for video, you need a suitable lens. In this article, we look at the best video lenses for Canon mount cameras. We also look at how to choose the right lens, and why a DSLR is the perfect tool for shooting video.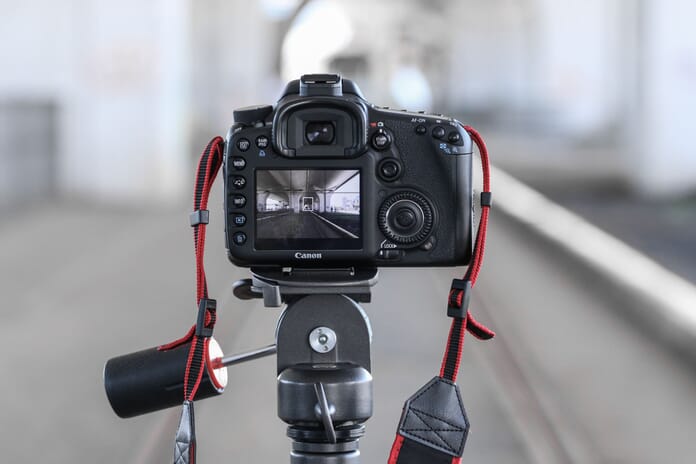 Why Do You Need The Best Video Lenses for Canon Mount Cameras?
Good question! We're going to get to that next.
First, let's look at why you should use a DSLR for video. Would a video camera not be more suitable and provide better end results? Surprisingly not. A DSLR offers many benefits for video photography:
The large sensor provides greater control over depth of field
Ability to use different focal length and zoom lenses
Easier to carry and handle than a large video recorder
Less noticeable and doesn't draw as much attention
Much cheaper
Multi-purpose use
Better low-light performance
The video industry has evolved greatly and DSLR cameras now play an important role. Anyone with skill using a camera can easily create high-quality video footage. Most modern DSLR cameras will have HD and even 4K recording abilities. Their smaller design and greater flexibility really help the video recording process.
RELATED POST: How to Make Great Videos (with Your DSLRs or Mirrorless Cameras)
Choosing the Best Video Lenses for Canon Mount Cameras
When choosing the best video lenses for Canon mount cameras there are a few things you need to know.
Not every lens is suitable for video making!
Some lenses are better suited for photography. Other lenses can be used for both purposes.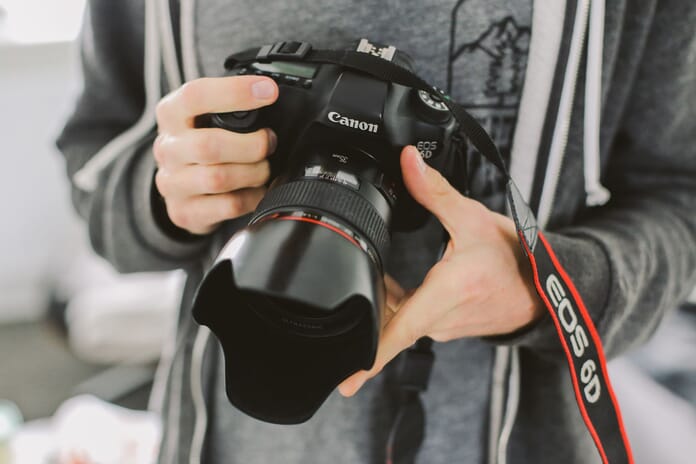 Maximum & Minimum Aperture
Aperture is important. The aperture range you require depends on what style of video you're shooting. For example, you'd need a different aperture range if you're shooting a landscape video, then if you're recording a wedding.
Look at the type of footage you'll record and consider what aperture range is suitable. Do you need a shallow depth of field? A larger aperture, like f1.8, is best suited for that. Or do you need a larger depth of field to focus on whole landscapes? If so, you can get away with a smaller aperture such as f5.6.
Image stabilization
Image stabilization (or, IS for short) is an absolute must. Some lenses have built-in image stabilization features. This means they have internal mechanisms to prevent shaking.
When recording video, if you don't have built-in image stabilization, the quality of your files may suffer. To that end, we 've only included the best video lenses for Canon mount cameras that have IS.
Sensor Format
Finally, the sensor can make a difference in the quality and size of your videos. Canon cameras are available in both crop and full-frame formats. Crop sensor cameras have a smaller sensor and are magnified.
You'll need to know whether your camera a crop sensor or a full frame. When choosing a lens, ensure you know which type of camera it's suitable for. Full frame lenses will work on a crop sensor camera but will give you added magnification. Crop sensor lenses will not work on a full frame camera.
RELATED POST: Best Monitors for Video Editing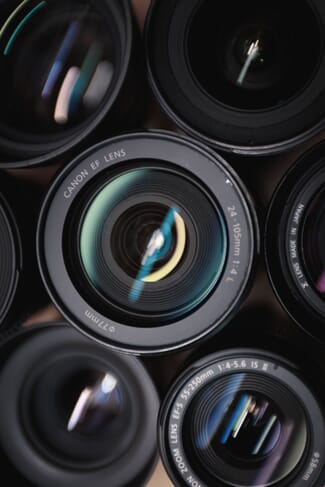 Zoom & Focal Length
Two other important aspects are zoom and focal length. A lens can either have a fixed focal length or zoom capabilities. Fixed focal length lenses cannot be zoomed. To change the focal length you have to physically move closer or further away from the subject.
Why Is Focal Length So Important When Choosing The Best Video Lenses for Canon Mount Cameras?
If you're recording a football game, for example, you'd have to use a zoom lens. You wouldn't be able to physically move closer to zoom in on the individual players. Which means a fixed focal length is out of the question.
So, consider your typical type of video, and think about which focal length or lengths are suitable.
The Best Video Lenses for Canon Mount Cameras
We've gathered 6 of the best video lenses for Canon mount cameras. Any of which are suitable for video. Just remember, before purchasing a lens, always check that it's compatible with your camera!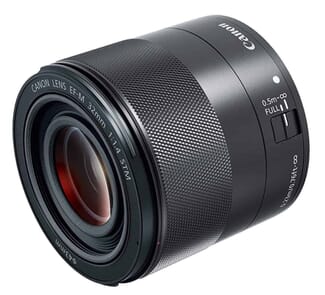 Focal length – 32mm (51mm equivalent)
Maximum aperture – f/1.4
Weight – .52 lbs (235g)
The mighty EF-M 32mm is one of our top options. It's a high-quality lens that provides fantastic recording quality. It features the Canon STM motor and image stabilization that allows you to take superb video with ease. When using this lens, remember it's a crop sensor model.
RELATED POST: How to Sell Video Clips Online (5 Tips + 27 Part Course)
The build quality is everything you'd expect from an official Canon lens. Including a well-made feel.
This lens excels for landscape videos.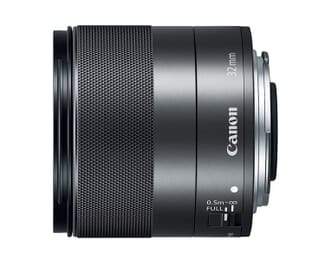 The large maximum aperture of f/1.4 gives you excellent flexibility. You can shoot close-up videos with a shallow depth of field. Or take wide-angle shots for outdoor and nature-based recordings. The EF-M 32mm has stand-out reviews on Amazon. It's a solid choice for both hobbyists and professionals alike.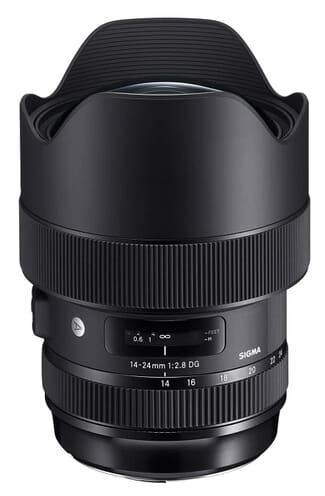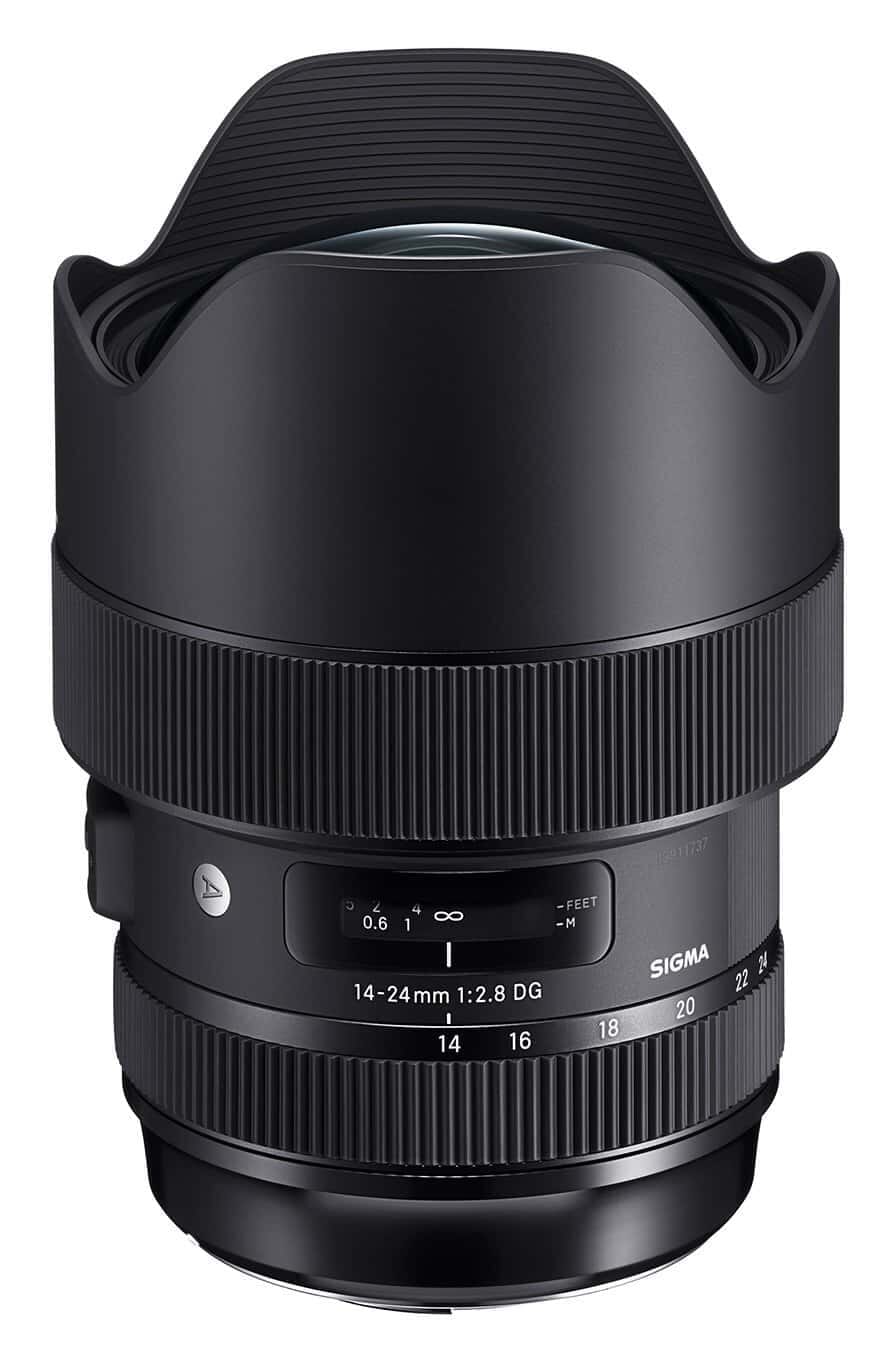 Focal length – 14mm – 24mm
Maximum aperture – f/2.8
Weight – 2.5 lbs (1133g)
SIGMA is well known for producing high-quality third-party lenses. The SIGMA 14-24mm f/2.8 is a perfect example of why. This is an ultra-wide angle lens produces awesome panoramic recordings and sweeping shots.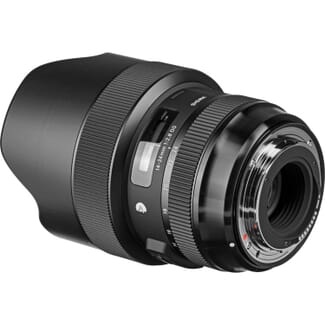 Here's the deal…
This lens actually has a built-in hood which some people don't like. They prefer the freedom to choose for themselves. That being said, the hood doesn't interfere with the quality of the video. The quality of the lens makes up for the lack of choice in the hood department. There is no video distortion even at f/2.8. The precision glass and aspherical element give superb quality footage.
One thing to consider is the lens is quite heavy. At 2.5 lbs it's a bit of a load to carry. Amazon reviews comment on the fantastic built quality and stability of the lens. They also mention the speed and quality of the focusing.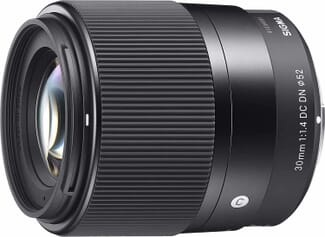 Focal length – 30mm
Maximum aperture – f/1.4
Weight – 0.95 lbs (263g)
The second SIGMA entry in our list of the best video lenses for Canon mount cameras is the 30mm fixed focal length. This prime lens from SIGMA is one of the most affordable on our list. Despite its budget price, it still offers exceptional quality for video. This lens is quite compact and weighs just under a pound.
As you'd expect from a SIGMA lens, the build quality is brilliant.
The fixed focal depth of 30mm is great for video. It doesn't offer the same wide-angle capabilities as the 14-24mm, but 30mm is a great compromise.
If you're using your camera to take action shots such as at a skate park you can move in and around the subjects, using the 30mm focal length to your advantage. Furthermore, the lens still performs well for wide-angle landscape videos.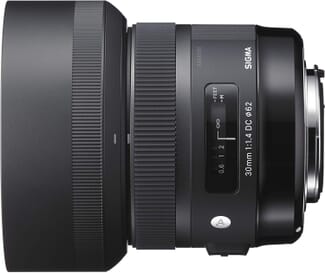 Customers on Amazon have commented on the lightweight design and the middle ground this lens occupies. They feel it's an excellent multi-use choice. Many customers also like the relatively cheap price compared to lenses with similar specs.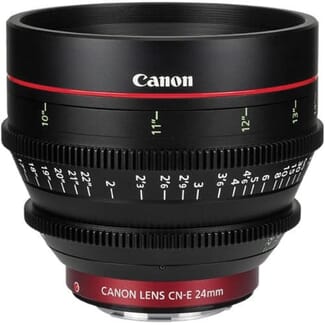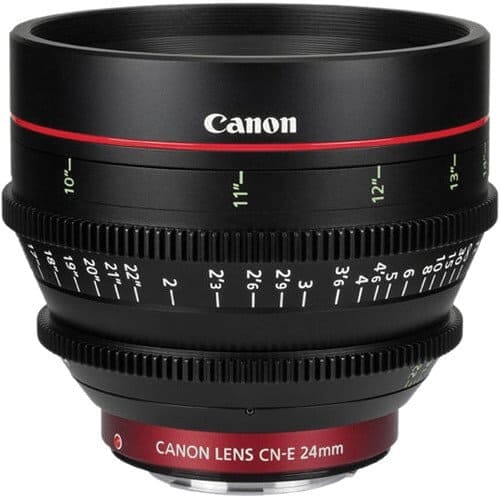 Focal length – 24mm
Maximum aperture – T1.5
Weight – 2.6 lb (1200g)
If you want the highest quality 4K video, there's no other choice than the CN-E 24mm Cine range lens. Canon actually produces a variety of lenses specifically built for video. The Cine range offers astounding quality but also comes with a hefty price tag. This lens is only feasible if you intend to use it for business purposes as part of your work. It's certainly not a lens a hobbyist would consider.
RELATED POST: Best Video Tripods
The first thing you'll notice about this lens is the unbelievable build quality – it weighs a ton but is virtually indestructible. The 4K quality this lens offers is exceptional, furthermore, the T.15 aperture gives you excellent flexibility.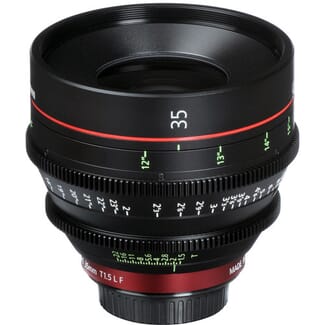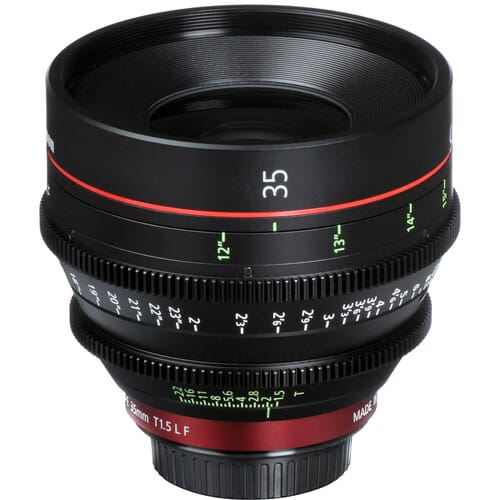 Canon has created the best video lenses for Canon mount cameras. This Cine lens can be used on both full-frame and cropped sensor cameras. And it works well in low-light situations.
Now, if you don't want to fork out $3500+ for the lens, there's always the option of renting the lens. Many companies offer lens rental, especially on high price tag models such as the CN-E 24mm.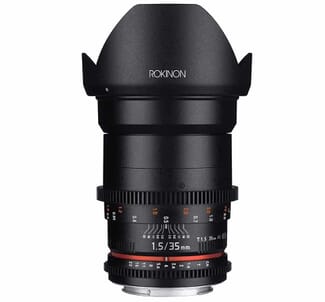 Focal length – 35mm
Maximum aperture –T1.5
Weight – 1.68 lbs (725g)
Rokinon is not as well-known as SIGMA but also manufacture fantastic quality prime lenses. The Rokinon 35mm Cine lens is a 2nd generation model that's part of the CINE DS line of products.
The focusing mechanisms and build of the lens allow for extremely smooth focus pulls. You can easily switch focus and maintain clear picture quality. Furthermore, when changing the focus during recording, bokeh remains clear and smooth.
As with other Rokinon lenses, the 35mm Cine has been built to last. Many Amazon users comment on the quality, saying it looks and feels better than Canon equivalents.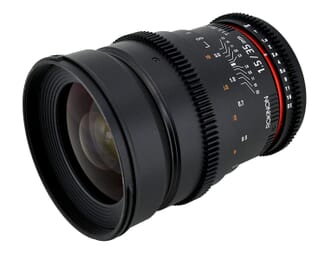 Furthermore, this lens has several small features that make it easier to use. Traction ridges, for example, allow you to easily grip the lens for additional stability.
Finally, the price tag is quite reasonable for such a well-built prime lens. You may find it a little heavy, but for cinematography, it's a great choice.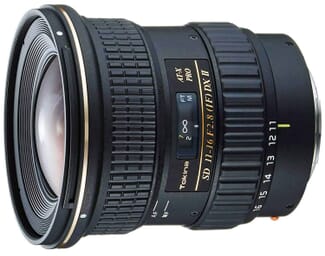 Focal length – 11-16mm
Maximum aperture – f/2.8
Weight – 1.2 lb (550 g)
Tokina is another relatively well-known manufacturer of lenses. If you're looking for an alternative to Canon or SIGMA then this Tokina could be a great choice. The last (but not least!) of our best video lenses for Canon mount cameras.
It features the widest angle focal length. At 11-16mm, you can expect sweeping videos that look almost panoramic. The aperture range of f/2.8 to f/22 gives you excellent flexibility and allows you to shoot a variety of different recording styles.
RELATED POST: Best Gimbals for Mirrorless and DSLR Videographers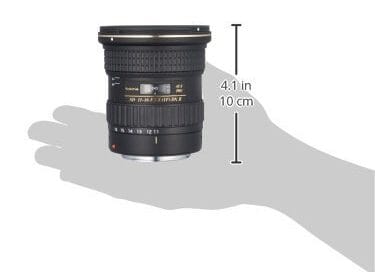 The lens does come with a hood but it's detachable. Although, some users commented it can be difficult to remove.
Both the colors and focus this lens provides are fantastic. There is some slight distortion at the far limitations of the lens. Luckily, this can be corrected using video editing software.
Final Words On The Best Video Lenses For Canon Mount Cameras
There are other lenses available that are suitable for recording video. In reality, any lens can be used to capture video. The above products, however, will provide excellent quality and are much better suited for video recording.
If you have any experience with these products then leave a comment! Alternatively, if you know of any other fantastic lenses that we on our list of best video lenses for Canon mount cameras, give us your recommendations!
---
Note: Amazon.com prices, reviews, and ratings were updated on 2019-08-25 - Product prices and availability are accurate as of the date indicated and are subject to change. Some product prices may refer to used/refurbished items. Any price and availability information displayed on Amazon sites at the time of purchase will apply to the purchase of the product. As an Amazon Associate we earn from qualifying purchases. Certain content that appears on PhotoWorkout.com comes from Amazon.com. This content is provided "as is" and is subject to change or removal at any time. For more information refer to our Affiliate Disclosure and Disclaimer.