Whether you're scrolling through Facebook, Twitter, or Instagram, chances are high that you'll run into a few dozen short videos. Capable of telling quite a bit in a small amount of time, the slideshow video has become a popular conduit for marketers and everyday image-makers alike. As such, video editor Animoto rose up in popularity to be an excellent option for creating these useful videos!
Intended to make video creation more user-friendly, Animoto is touted as an easy-to-use content editing program and application to bring all of your moving picture dreams to life. But is this fact? Let's find out in our Animoto review!


When you buy through links on our site, we may earn a commission at no cost to you. We evaluate products independently. Commissions do not affect our evaluations.
Animoto Review: A Quick Overview
An online video editor founded back in 2006, Animoto was one of the first creations of its kind. In short, the service combines video clips, photographs, and music into elegant slideshows. Just one year after YouTube.com first went live, Animoto got started on their video editing platform. One might say they got ahead of the game before it even started!
Today, Animoto remains one of the top online video creators. Constantly molding and adapting with the times, they've shifted to suit the needs of all social media content creators. Often used by individuals and companies, the goal of Animoto is to make creating videos as simple as drag-and-drop. What makes this app really superior is that it's an in-web application and doesn't require a download!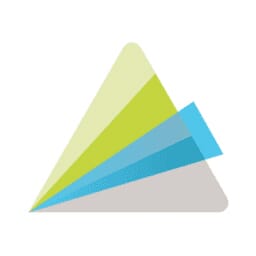 A nifty video creator with lots of features
Want to make a professional-looking video but don't want to fiddle with complicated programs? This online video creator has you covered!
Use Code ANNUAL10 for 10% OFF on the Annual Plan
Pros
Lots of fantastic features included
Very easy drag and drop interface
Incredible music library collection, stock image options, and font options
In-web application, so no download required
Cons
Some can consider the pricing to be a bit much, especially if you're not a professional
There are some creative limitations
What's New in Animoto 2021?
If Animoto were to be in the dictionary, "a video creation app with what-feels-like a million features" would certainly be the definition! Essentially, everything you could dream of when it comes to video creation exists in this online editor. But, with the launch of Animoto 3, and constant updates to the feature list, your capabilities are endless.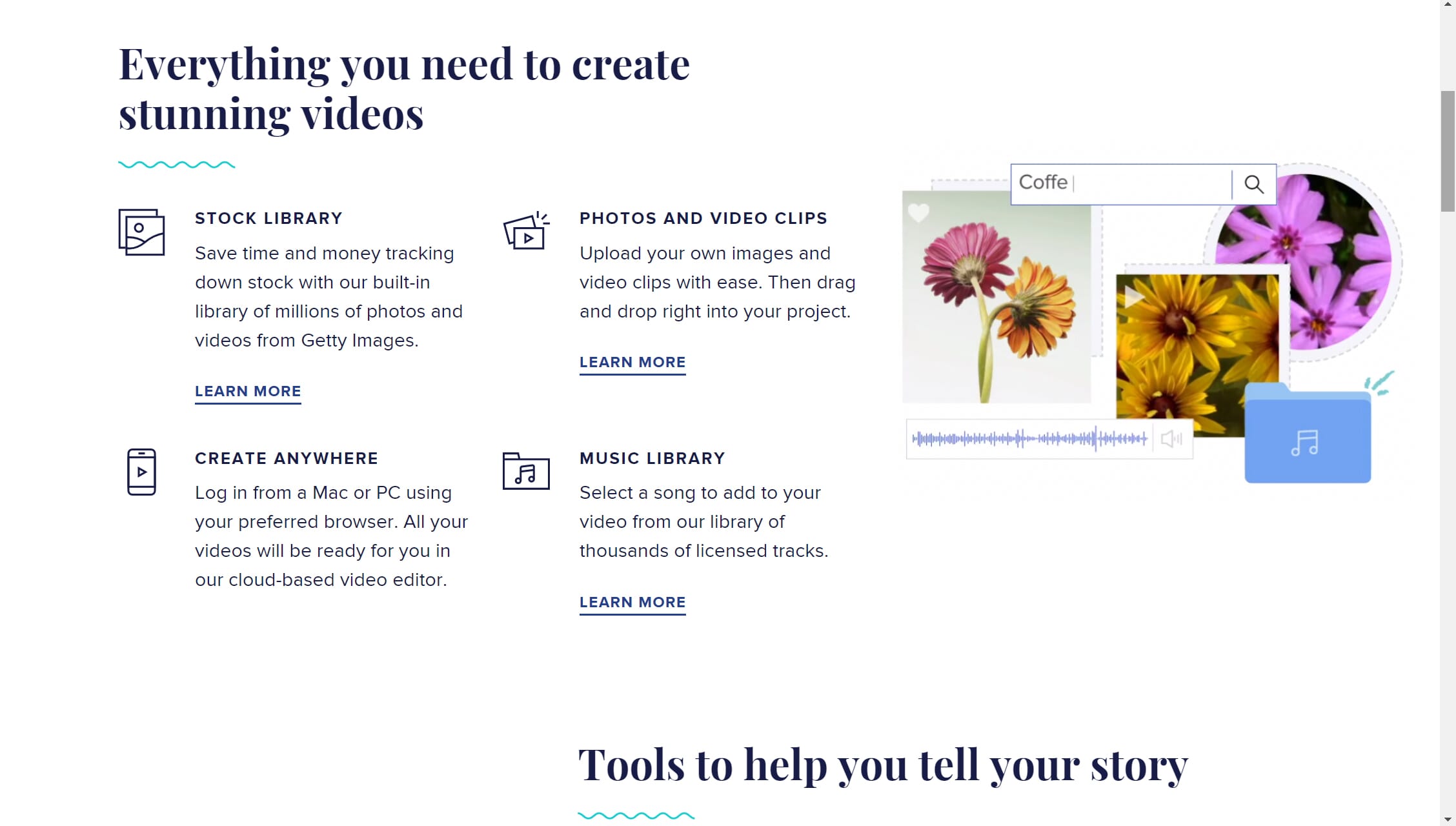 Notably, the biggest differences between Animoto 3 and the former Animoto 2 include updates to aspect ratios for social media (such as vertical videos for Instagram and even TikTok), plenty of new video styles and media layouts, and text animations! In terms of actual capability, Animoto added convenient undo and redo options, auto-save (so no need to stress about a flaky internet connection), and video templates that are ready to produce in mere seconds by just dragging and dropping your content.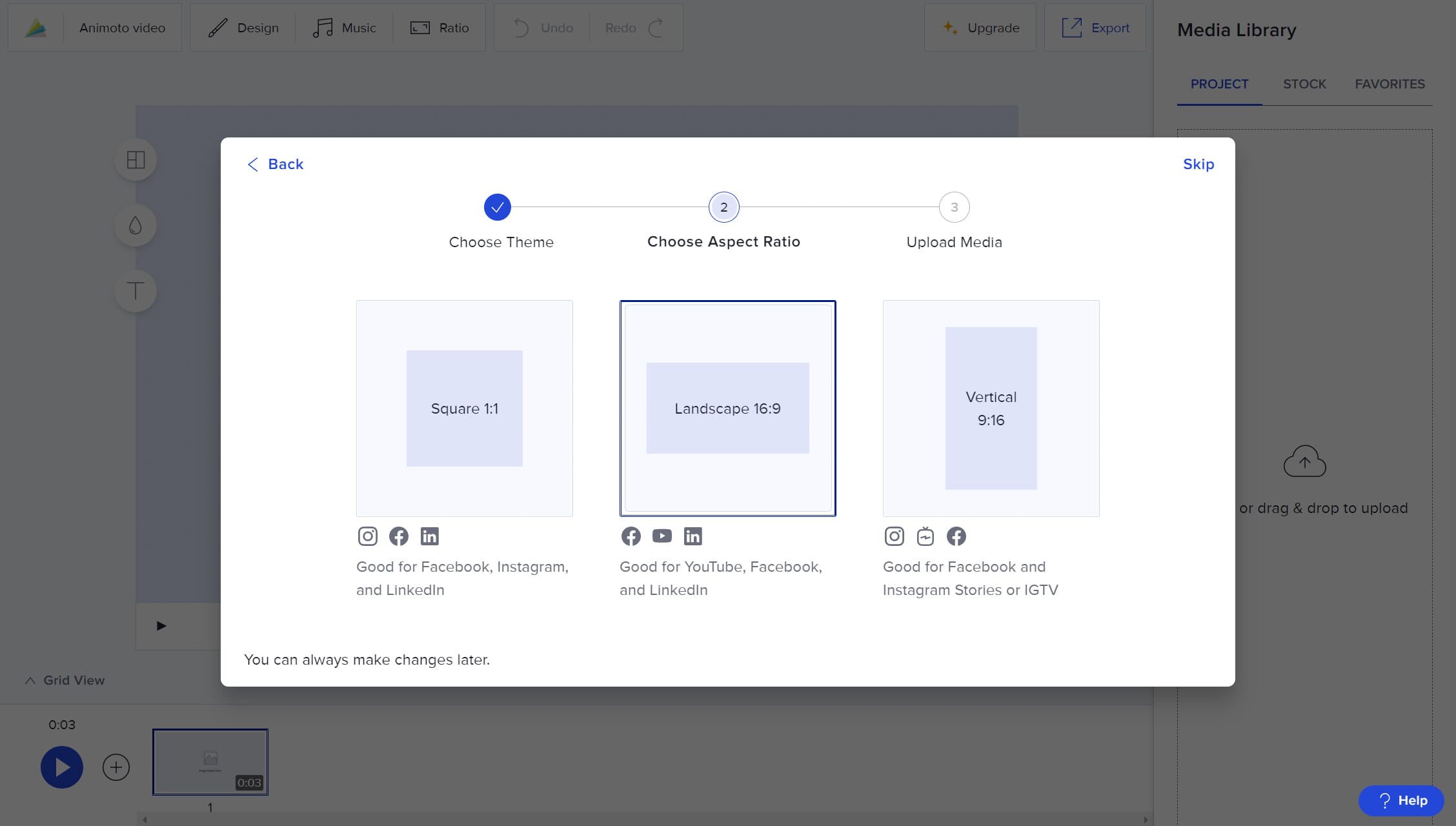 The company really wanted to redesign and advance its existing program. By listening to feedback and checking out the competition, Animoto was able to recreate itself into something even more amazing.
The Website
First impressions are important, and Animoto pulls you in immediately. As this is a web-based program, the website holds the most significant impression as this is where you'll be spending all of your time. If the design wasn't good, you certainly wouldn't trust the program, would you? Ha!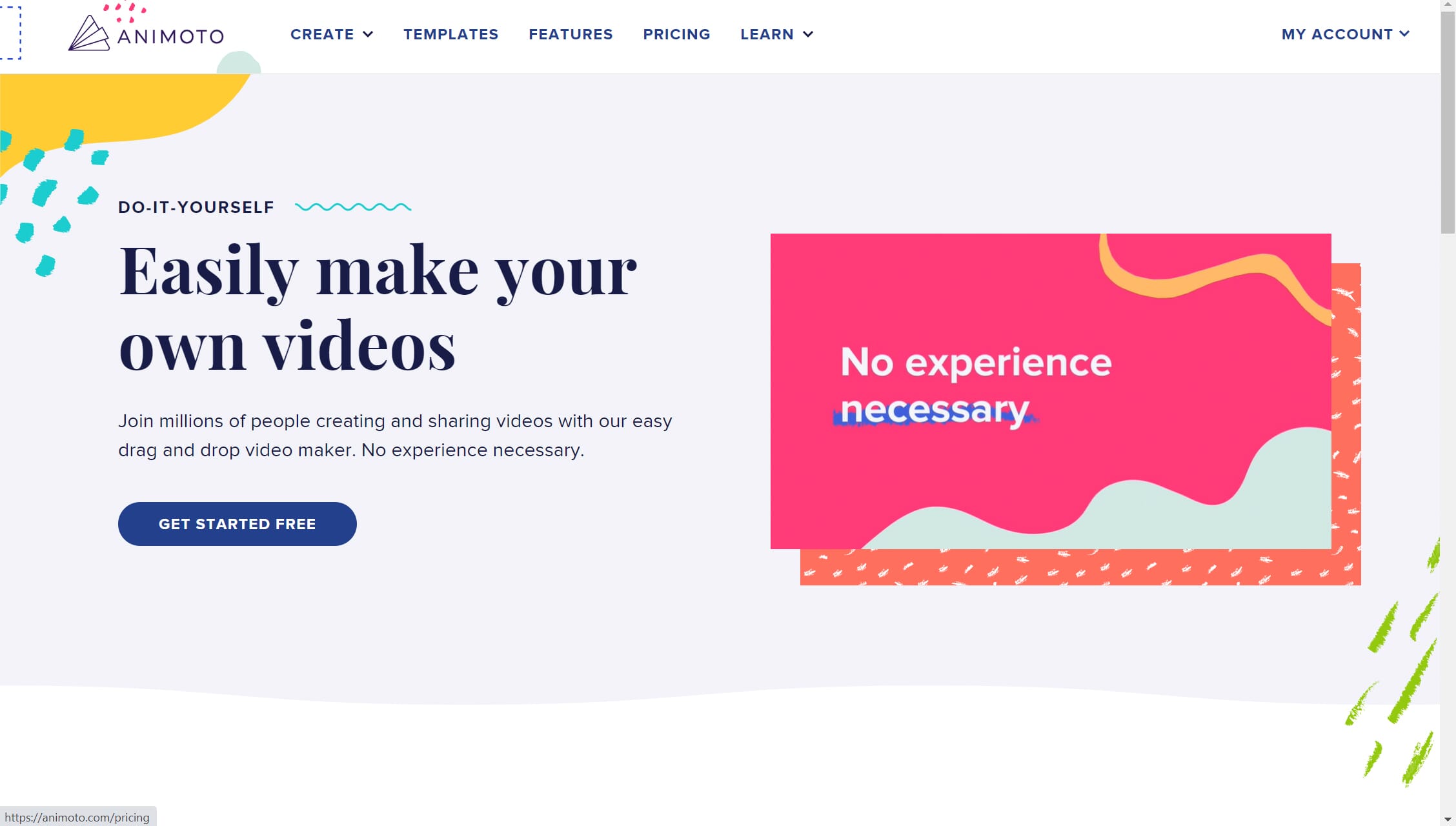 Animoto makes sure to hit the ground running with their website thanks to the various extra features you have located at the top of the website. You can jump right into creating the video you need by clicking the Create or Templates tabs.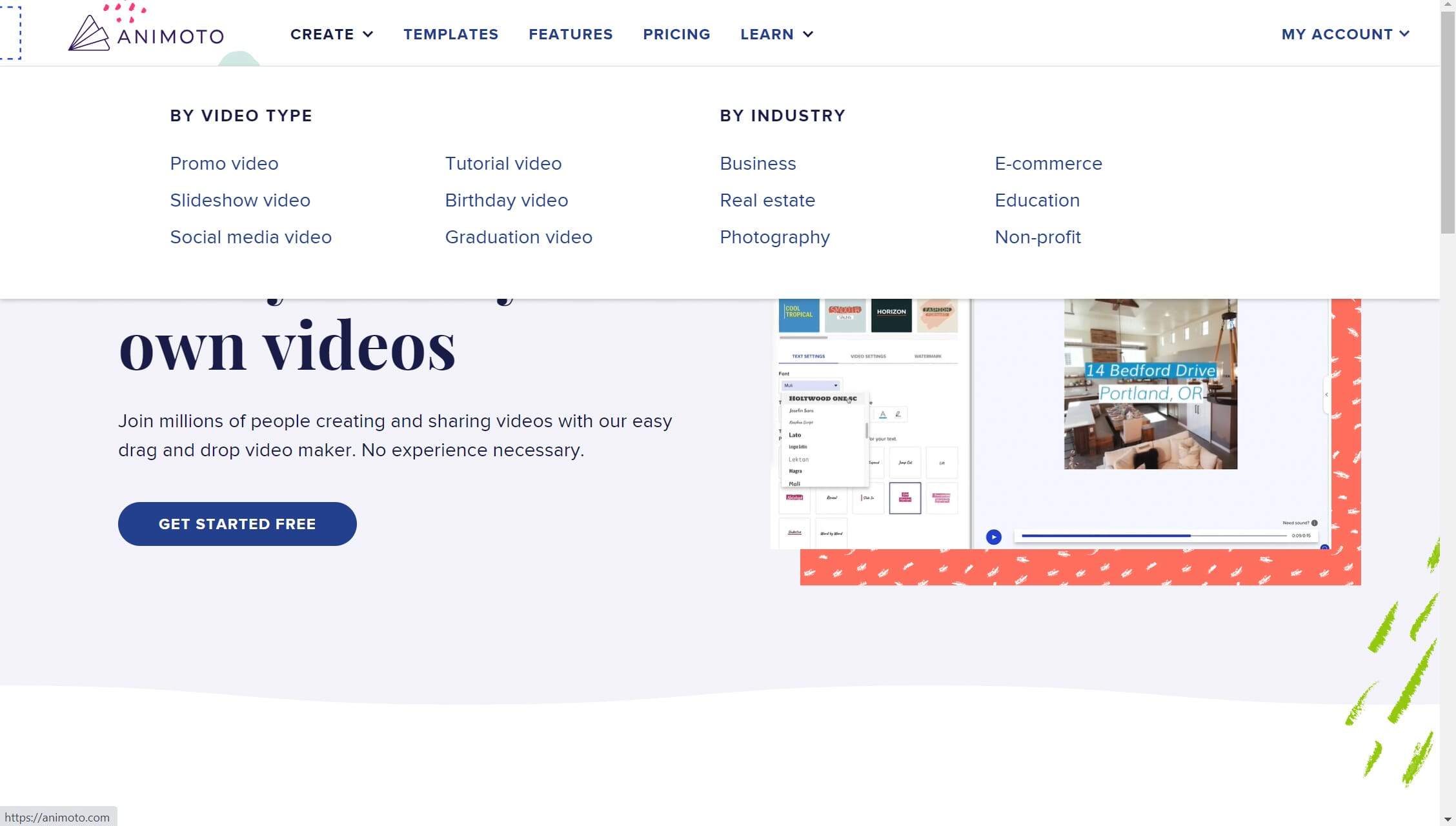 The Learn tab brings up Animoto's tutorial video, which is great, by the way. And if you want to learn more, there are tons of articles to help you bring your video visions to life. Not many in-web programs go this far, and it is much appreciated by the users.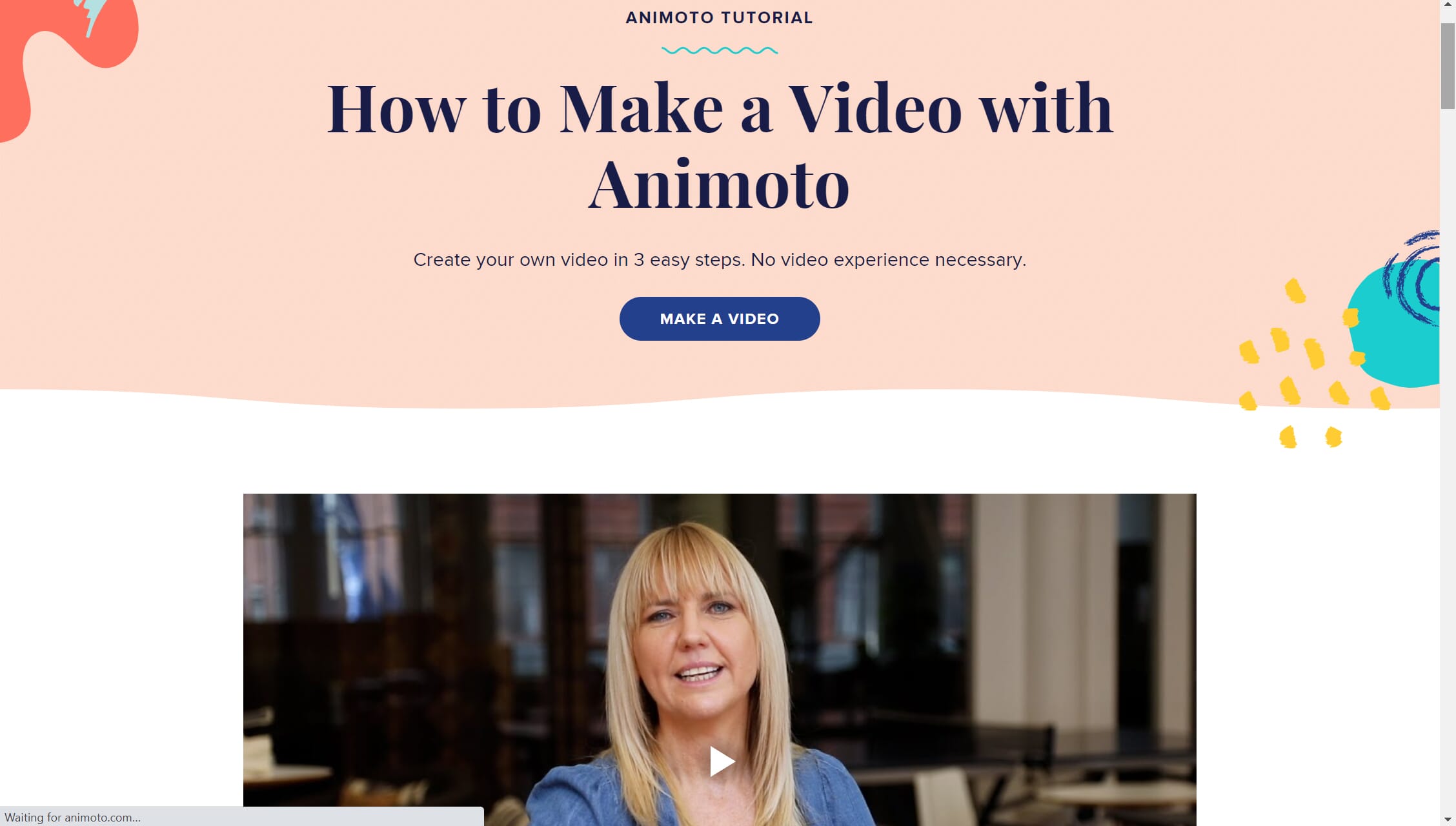 Ease of Use: The Ultimate Animoto Review Criteria
So, what can you expect when you log onto Animoto for the first time? From the moment you click create, the site will guide you through the entire process of making a personalized video slideshow with music.
To test out the site's capabilities, I uploaded some images of Alaskan Klee Kai puppies I took earlier this year. To my surprise, it took less time to create the video than it did to find and download the images I used for the slideshow!
Right away, I was provided with plenty of pre-made storyboards to choose between. These expertly designed templates allow you to swap out existing sample content and add your own videos, images, and text. But, for those who prefer the DIY approach, it is possible to build an entirely new project from scratch.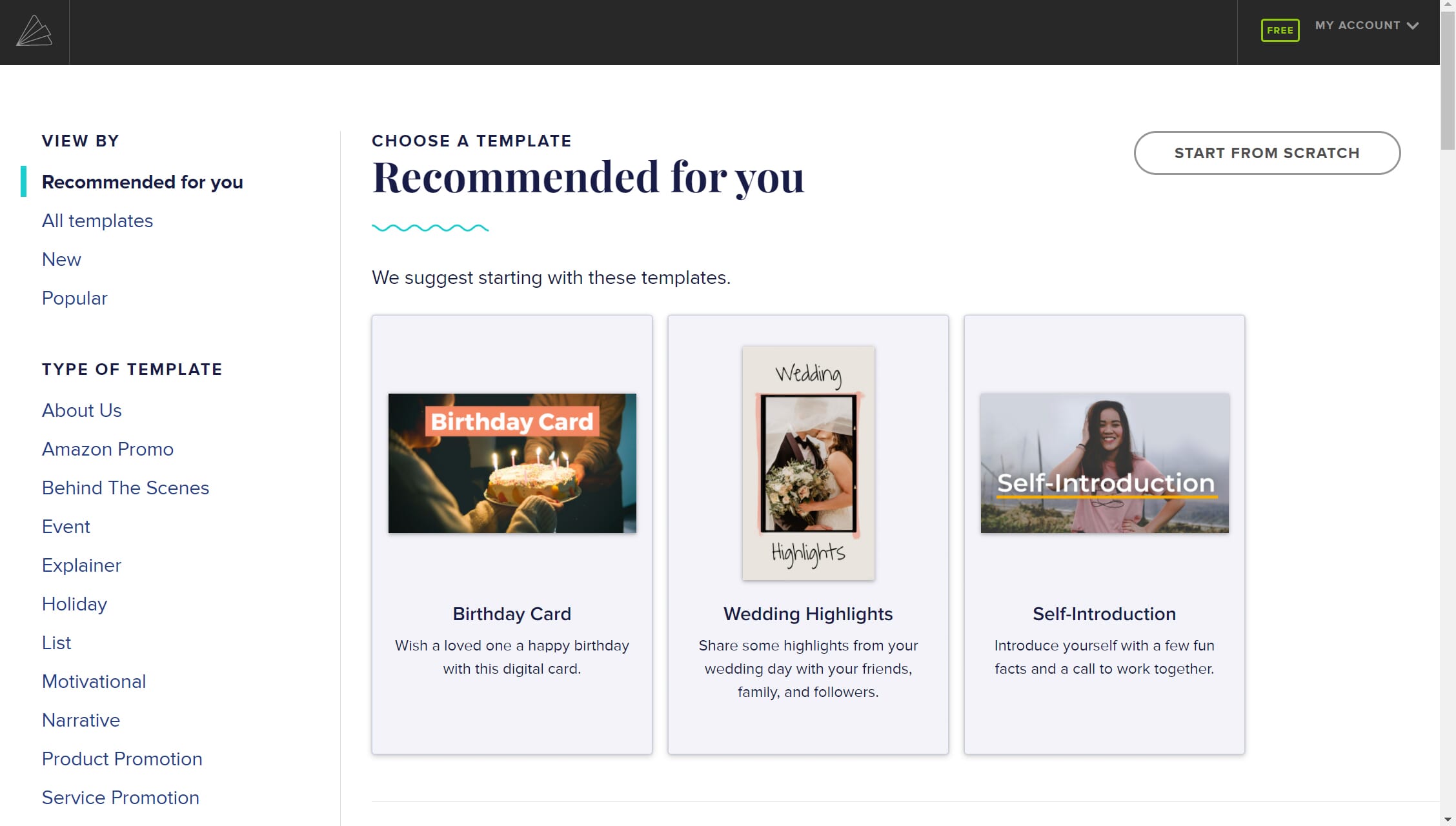 I took the DIY approach when making my video! Thankfully, this was just as simple, and adding new video slides took the click of a button. I played with different types of slide options, all of which were fantastic. Drag and drop features saw me through start to finish, easy peasy!
Aside from written descriptions, users can see a style in action by simply hovering their mouse over the preview boxes. These styles only serve as templates. Once a style is set, users may go in and adjust finer details such as colors and fonts to their liking.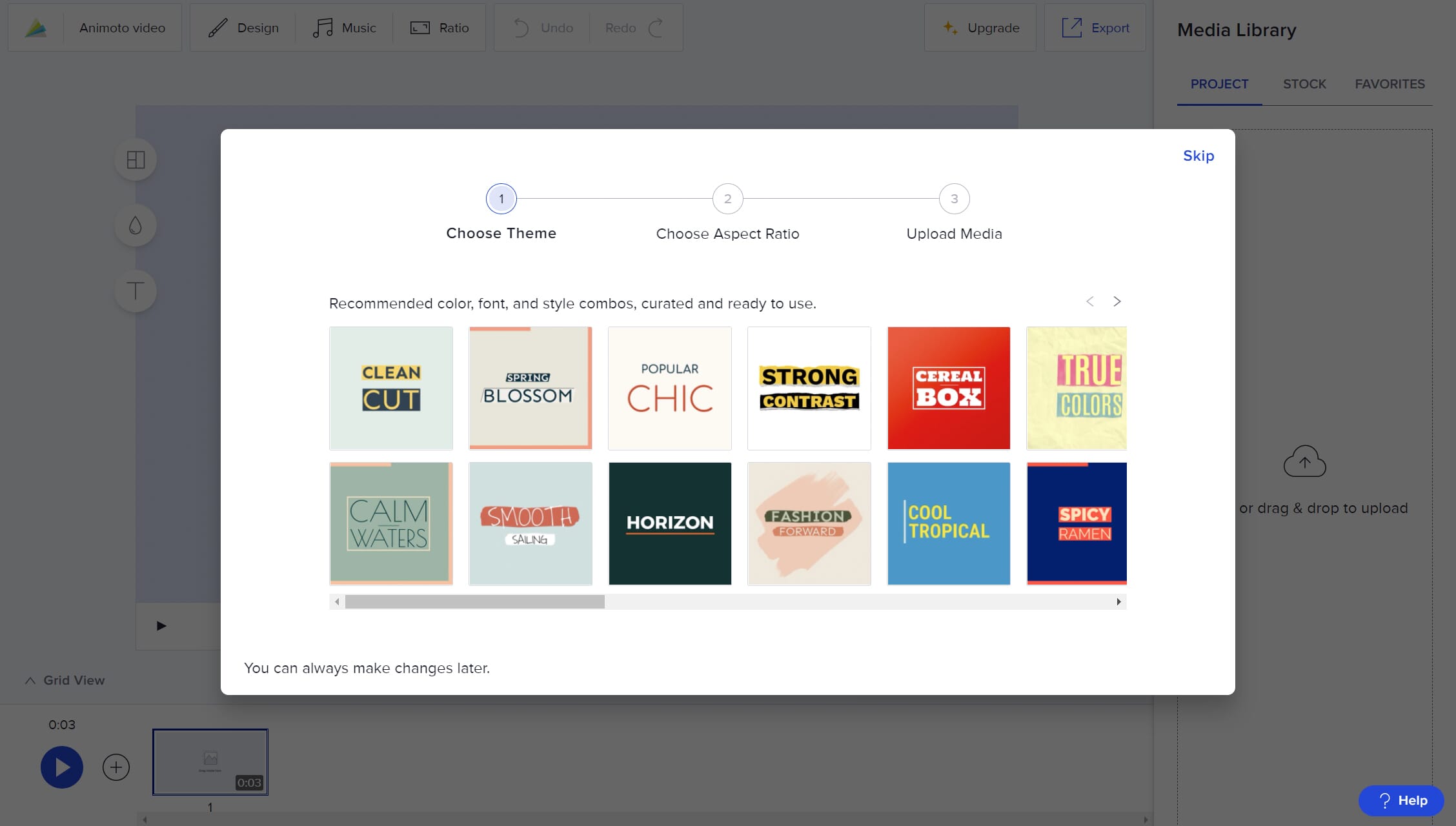 A convenient media dock keeps all uploaded images and videos at hand. From there, it becomes a matter of simply dragging and dropping files onto an interactive storyboard. The app makes it painless to arrange and add content, as well as, control just how long each slide plays for.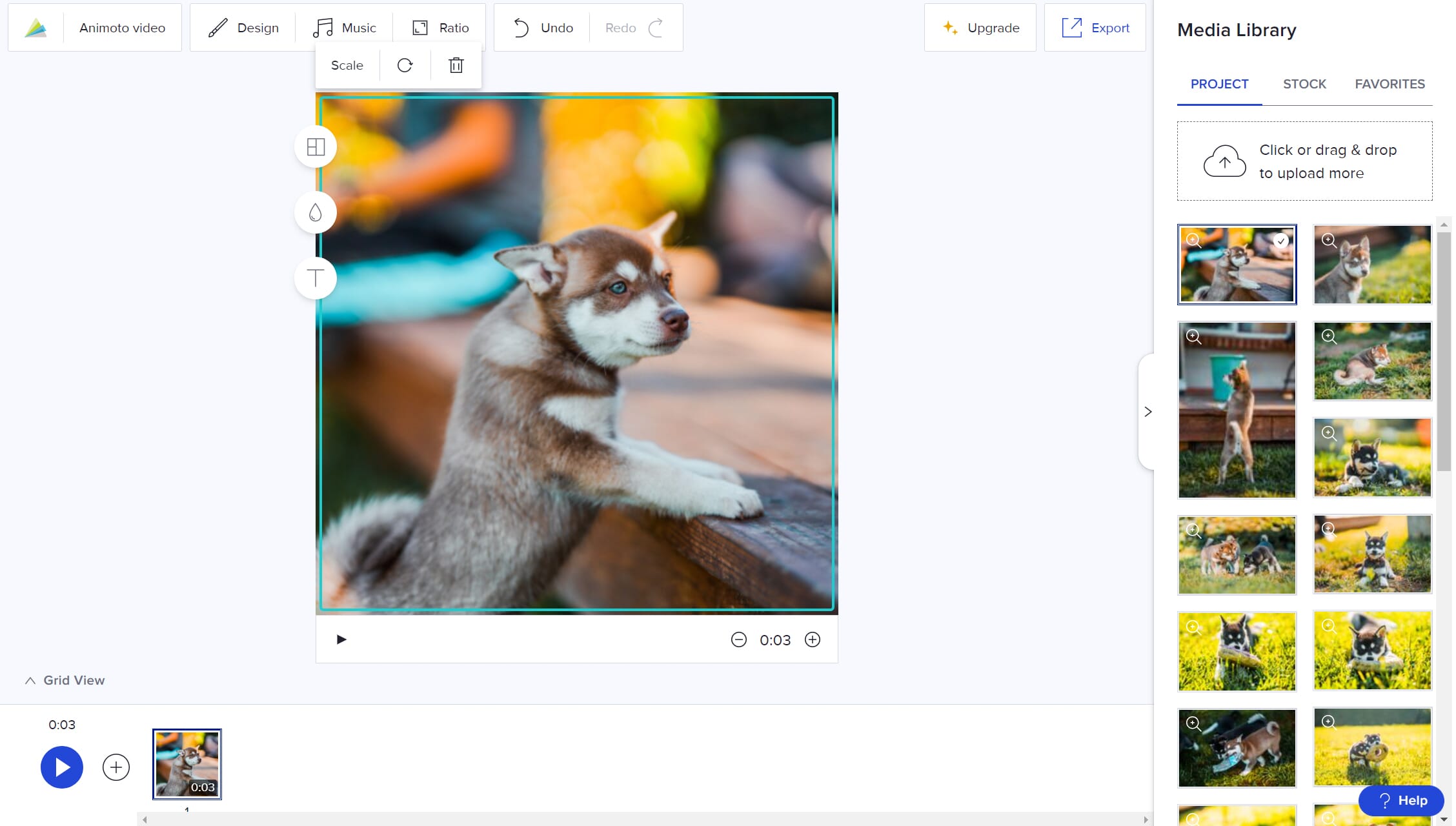 The left-hand side menu allowed me to scroll through, add, and adjust a whole slew of characteristics of my video. From transition adjustments to slides, it was all there at the drop of a hat. You can even change the aspect ratio after the fact, which was pretty neat. Great for indecisive individuals or those who want the same type of video visible on multiple platforms (all of which have a different aspect ratio requirement).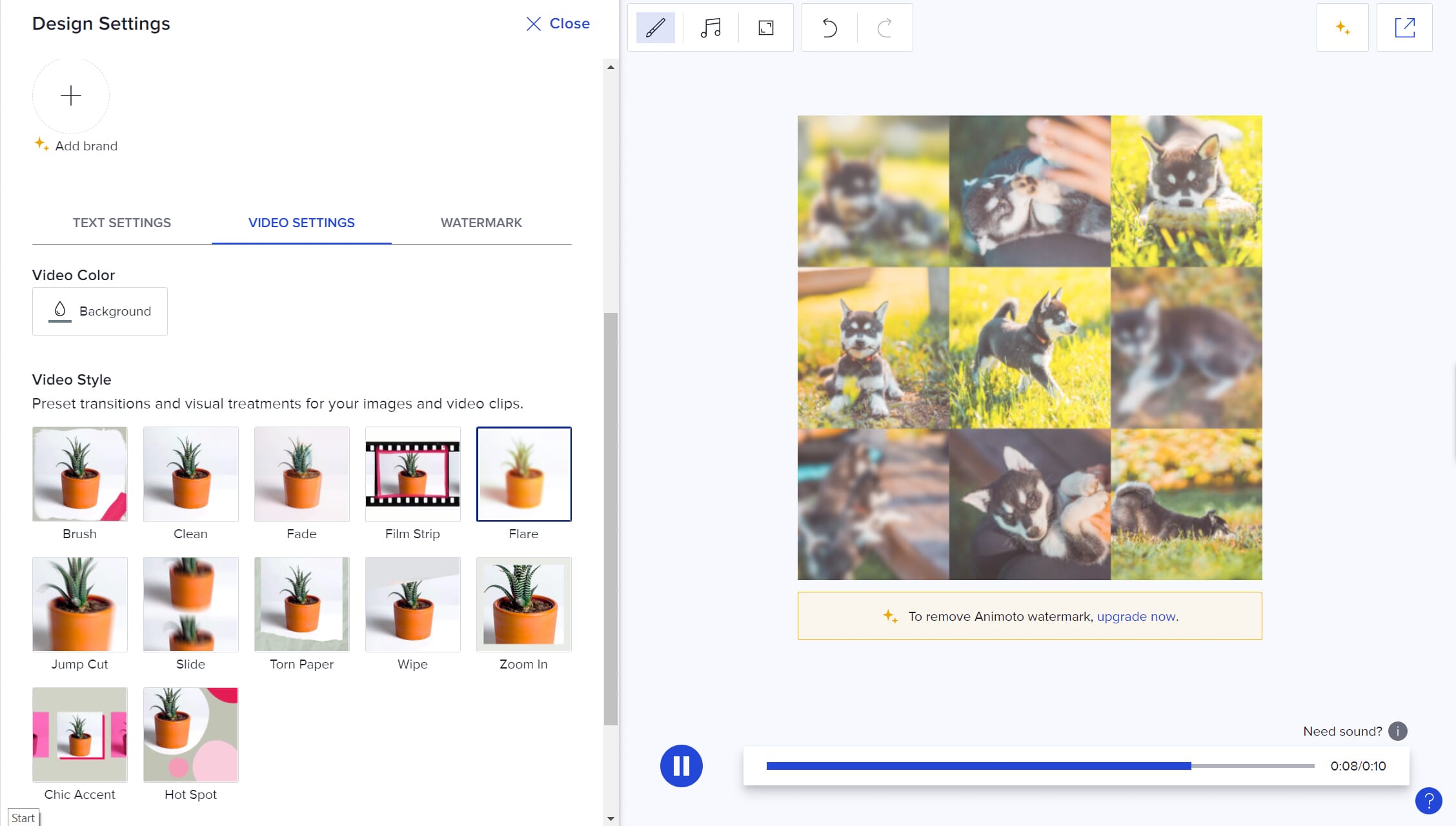 Once the slides were in place, I was able to grace my slideshow with music. The site provides a list of high-quality, free audio files. Those files can be applied automatically to videos and photographs. Carefully organized, it's possible to filter through the music library based on the mood you'd like to evoke or the occasion the video is being made for.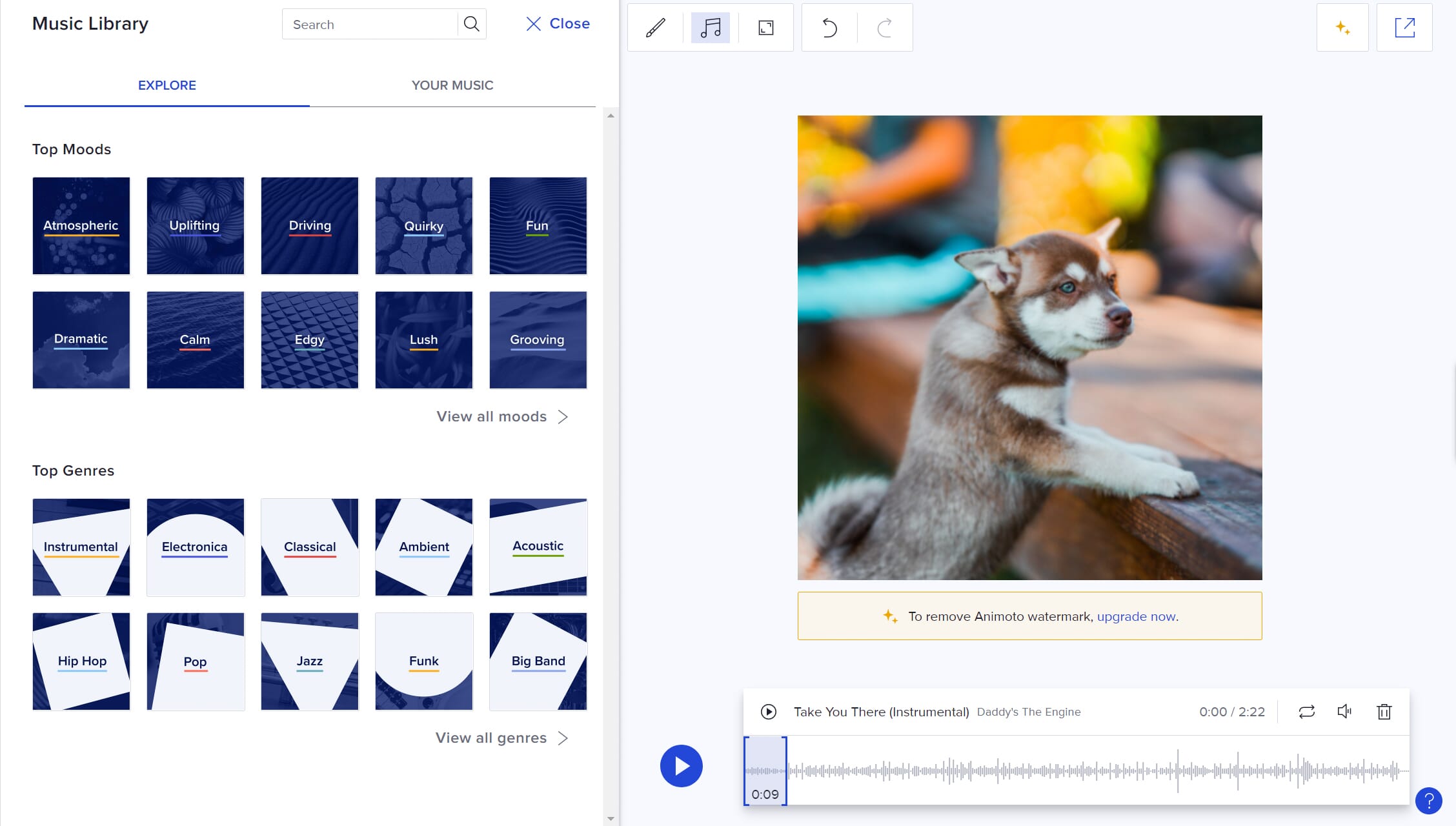 Once you've applied your content and customizations, Animoto handles the dirty work of compiling all of the components into one beautiful video. Ease of use is definitely a 10 / 10. All of this being said, there are restrictions on the creative front that don't exist in professional editing software – but really, this isn't intended to replace Final Cut or Adobe Premiere. You won't be using Animoto to make a blockbuster feature film anytime soon.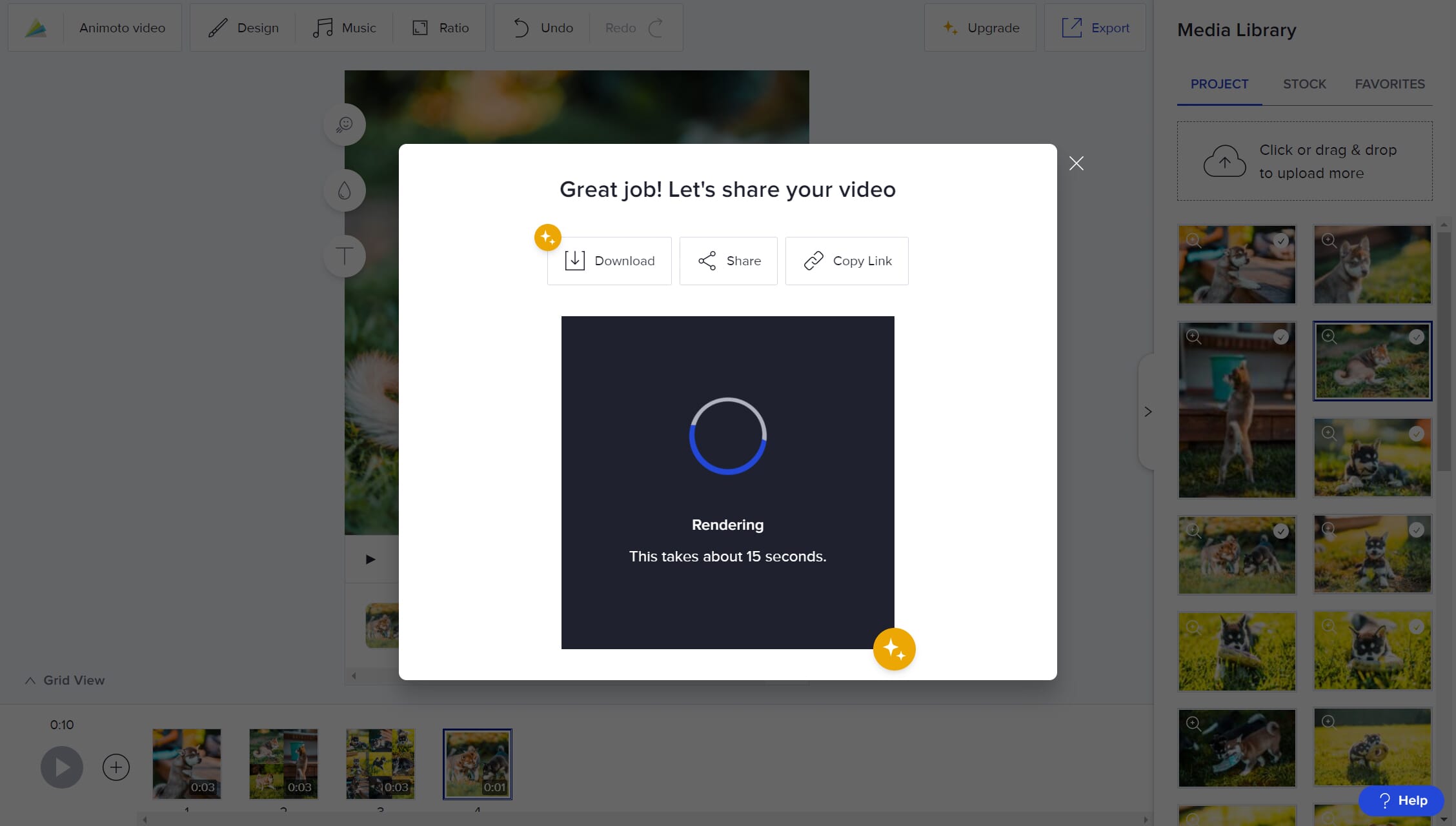 Ease of use and speed aside, I was pleased that my video appeared to be remarkably smooth and professional-looking. It's hard to talk down about the look of Animoto's end product.
Quite frankly, I found that the piece was on par with commissioned pieces from experienced video artists. Topped with an intuitive platform that's easy to navigate, it's worthy of consideration from any individual looking to churn out video presentations.
Pricing
Animoto certainly has some appealing features, but they aren't entirely available for free. Those interested in using Animoto's services may opt into the platform with annual or monthly subscriptions. The price isn't terrible at all and tends to run less than some popular competitors.
There are three separate price brackets for users to choose between:
Personal (Free):
Animoto's base plan allows users the ability to create an unlimited number of videos, with a lot of nifty features. Some of the perks include no limits to the number of times users may share or download their creations, over 160 templates to choose from, and access to the mobile app. Users may also access the site's music library and collection of pre-built storyboards and styles.
However, consumers should keep in mind that this free plan includes the Animoto watermark, and the only way to get rid of this is with the paid tiers.
Professional ($15/month):
Those who choose to upgrade to Animoto's professional plan increase their production quality and may create high-definition video clips. The professional plan also removes all Animoto branding from video creations. You also have access to a million stock images from Getty and well over 3,000 licensed music tracks (so no take-down issues with YouTube or Facebook!).
Additionally, the Professional plan adds in over 40 professional fonts with the ability to upload your own font. You can also save all of your branding information (limited to one brand) to have easy access when creating content for your business!
Professional Plus ($39/month):
Professional Plus accounts receive access to the entirety of the platform's collection of audio clips, templates, fonts, Getty stock, and colors. Perhaps most significantly, professionals receive the licensing rights to sell and distribute videos made through the platform to various consumers. The Professional Plus account allows access for up to three separate users, creating a venue for collaboration. You can save multiple brands on your one account, making it easy to manage different businesses. Even better, a 30-minute consultation with a video expert is also included with this subscription option.
Alternatives to Animoto
The first set of alternatives to Animoto that pop to mind includes Adobe Premiere and Final Cut Pro, both industry standards in the creative space. However, Animoto lacks the complicated tools and intricacies of advanced editors like Adobe Premiere or Final Cut Pro, making the cloud-based service a perfect choice for those that want to make something beautiful but may not have the technical know-how to create something from scratch.
DaVinci Resolve is another alternative, with its base editor being entirely free. This is likely the biggest competitor against Animoto in the video space, as it's an advanced program that doesn't cost a dime (unless you want some very fancy professional features). However, Resolve is just as complicated for the average user as Adobe Premiere, so Animoto may still have the upper hand for the layman user.
Is Animoto Right for You?
For a relatively low price, Animoto offers the tools and guidance it takes to bring videos to life. With its very easy interface, you don't need to be a video or technical expert – everything revolves around a user-friendly drag-and-drop model! As such, everyone can benefit from trying out Animoto.
Whether you're creating a birthday slideshow to play at your grandfather's 80th to a professional advertisement to launch on Instagram, Animoto makes the process quick and painless! The best part? No download required.