Affinity Photo and Adobe Lightroom Classic are two competing post-processing programs. Both are popular photo editing programs and are well-known for their quality and features. But which one is the better option? Is there a clear winner when comparing Affinity Photo vs Lightroom?
To create a fair comparison, both programs have been extensively tested and key details have been thoroughly researched. From pricing and system requirements to other important factors like performance and photo management features. If you are looking for a quality photo editing program, this Affinity Photo vs Lightroom comparison is definitely worth a read!
When you buy through links on our site, we may earn a commission at no cost to you. We evaluate products independently. Commissions do not affect our evaluations.
Price
While price shouldn't be the determining factor when it comes to choosing an editing program, everyone finds themselves managing a budget that sets restrictions on what can and cannot be afforded. Purchasing software subscriptions is a popular option that allows users to continually receive updates and pay for the software at a more affordable rate.
When it comes to Affinity Photo vs Lightroom, one offers an outright purchase whereas the other requires a subscription service.
Affinity Photo
Affinity Photo is a one-off software purchase. A single (and affordable) fee, no monthly subscription, and no strings attached. Some people may prefer this and may not want to be committed long-term to a software subscription plan.
The price for Affinity Photo varies based on the device:
Mac: $48.99
Windows: $48.99
iPad: $19.99
These one-off prices are rather affordable and a great deal considering the editing power you get. In the Affinity Photo vs Lightroom battle, Affinity Photo is certainly the cheaper option.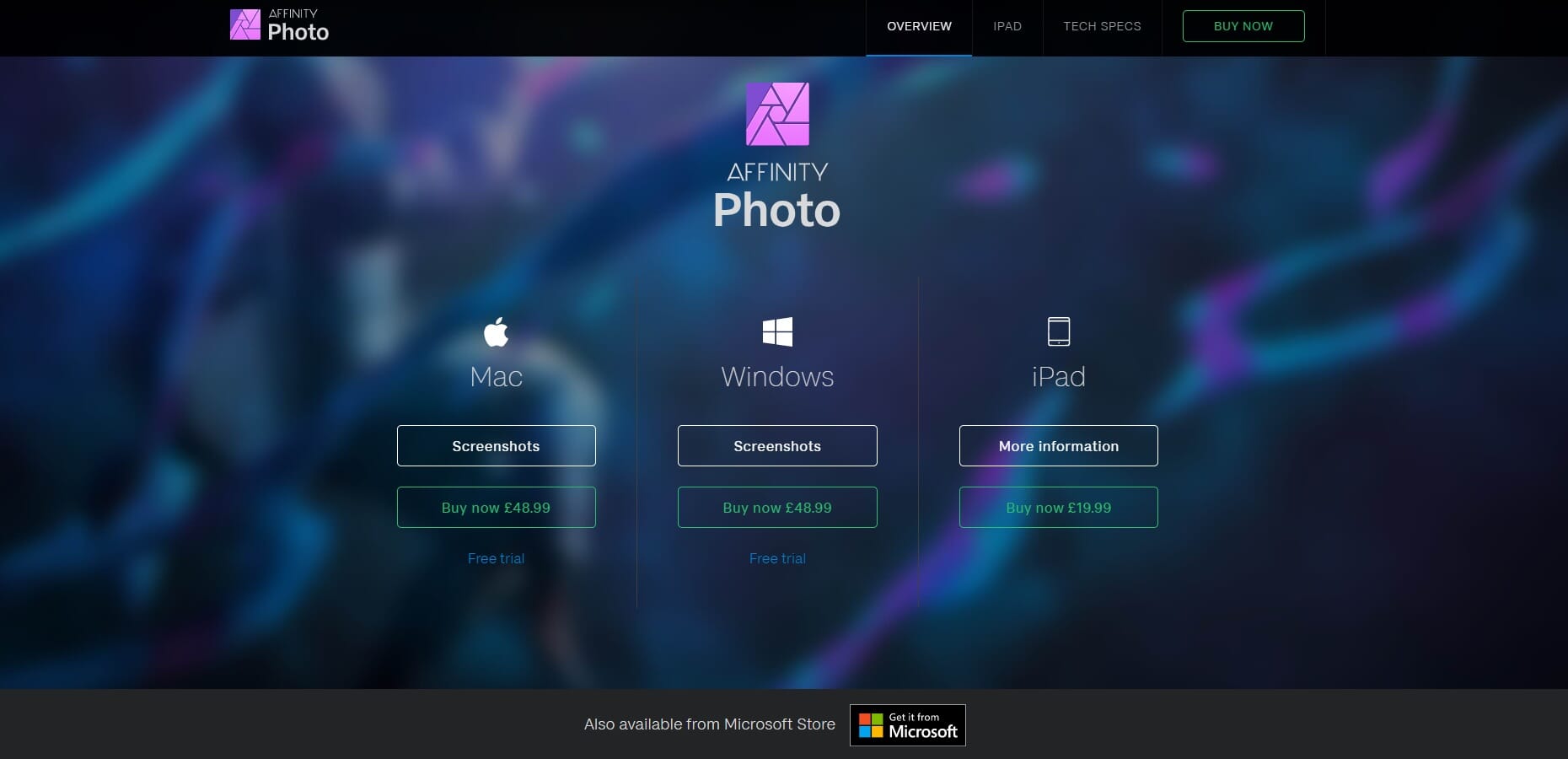 Adobe Lightroom
In recent years, Lightroom and all Adobe software have moved to a subscription price plan. While this isn't a problem for some people, it is not for everyone's tastes.
Comparing the price of the monthly subscription to the one-off Affinity Photo fee, it's obvious that you save more with an Affinity Photo software purchase.
Two popular plans for photographers include:
Lightroom Plan: $9.98 per month
Photography Plan: $9.98 per month
These basic plans are relatively affordable but I would always advise purchasing the Photography Plan. For this, you get both Lightroom and Photoshop, plus 20GB of storage. If you need more storage, you can upgrade to the 1TB plan which is $19.97 per month.
System Requirements and Performance
When looking at software, you should always check the system requirements. Overall performance is also a factor you want to consider. Nobody wants to use editing software that is slow and unresponsive.
Affinity Photo
Operating System: Windows 7 or later
Memory: 2GB RAM minimum
Graphics: DirectX 10-compatible or better
Display: 1280×768
HDD: 670MB of storage space
Lightroom Classic
Operating System: Windows 7 or later
Memory: 4GB RAM minimum
Graphics: DirectX 12-compatible or better
Display: 1024×768
HDD: 2GB of storage space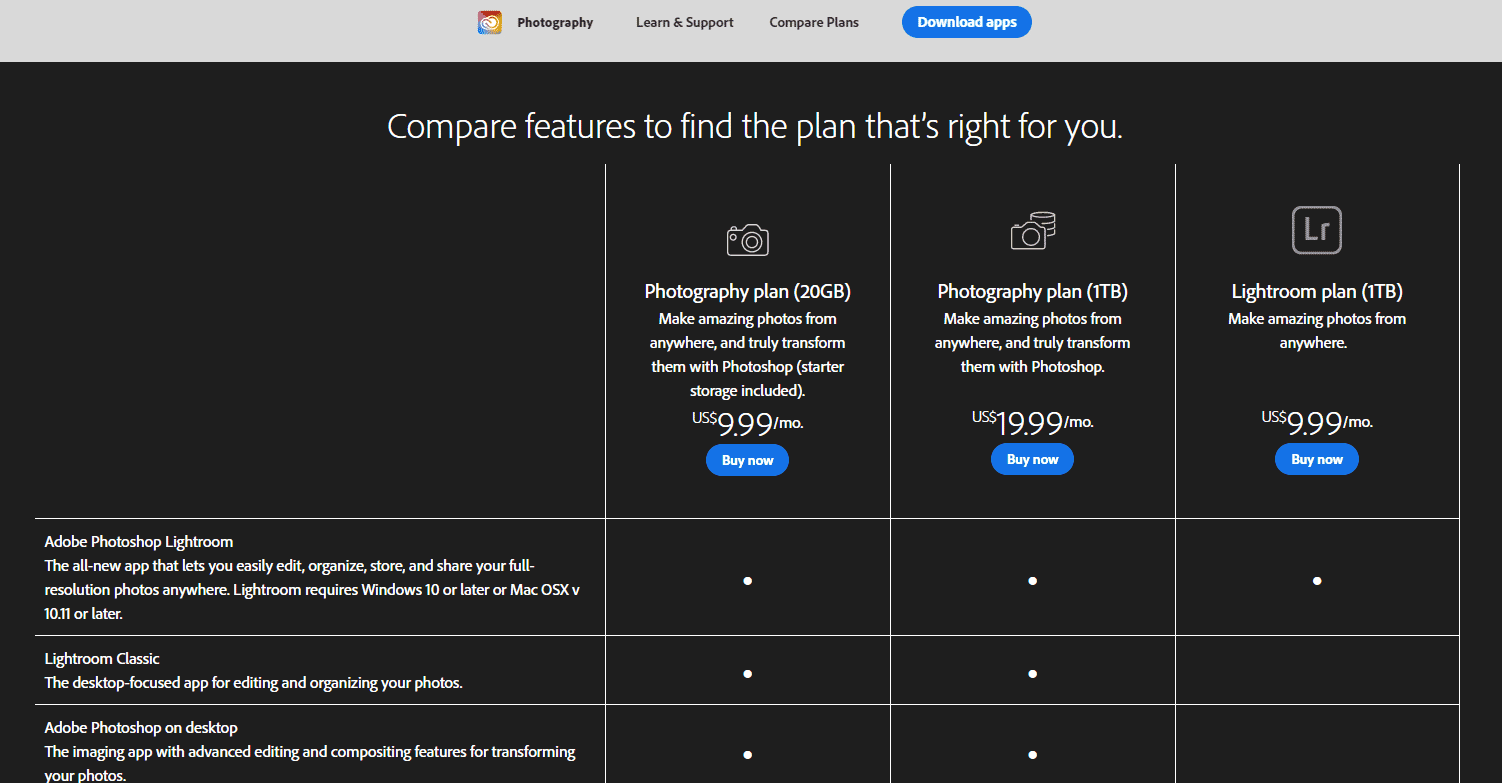 Affinity Photo vs Lightroom – System Requirements Comparison
Affinity Photo is definitely the less process-intense option. If you have a basic computer or laptop, that doesn't have decked-out specs, it could be the better option.
The minimum recommended RAM for Lightroom is 4GB, and truthfully, even that this is insufficient – especially if you have a huge catalog of RAW photos. Lightroom is more suitable for those who have a powerful computer either for gaming or software usage.
Affinity Photo vs Lightroom – Performance Comparison
After spending time using both programs to edit and manage a catalog of RAW photos, it was easy to draw up some conclusions. On my computer, both software performed well. There were no noticeable performance issues when applying basic edits.
I do, however, feel that Affinity Photo does perform better. It has much lower system requirements, and it is not as process intense. I had no issues using Affinity Photo, whereas Lightroom had minor lag when navigating an immense photo catalog of 10,000+ RAW images.
Layout and Usability
After considering the performance, it's time to check the basic layout and how easy the program is to use. At a first glance, Lightroom Classic appears to be the more advanced program that concentrates on photo editing. On the other hand, Affinity Photo has a simpler layout that can be used for both photo editing, and raster graphics projects.
Affinity Photo
Affinity Photo has a simple main layout similar to Adobe Photoshop. On the left, there is the main toolbar, whilst in the center is the image preview. On the right, there are additional toolbars and layer management options. Overall, it is a simpler interface than what Lightroom offers.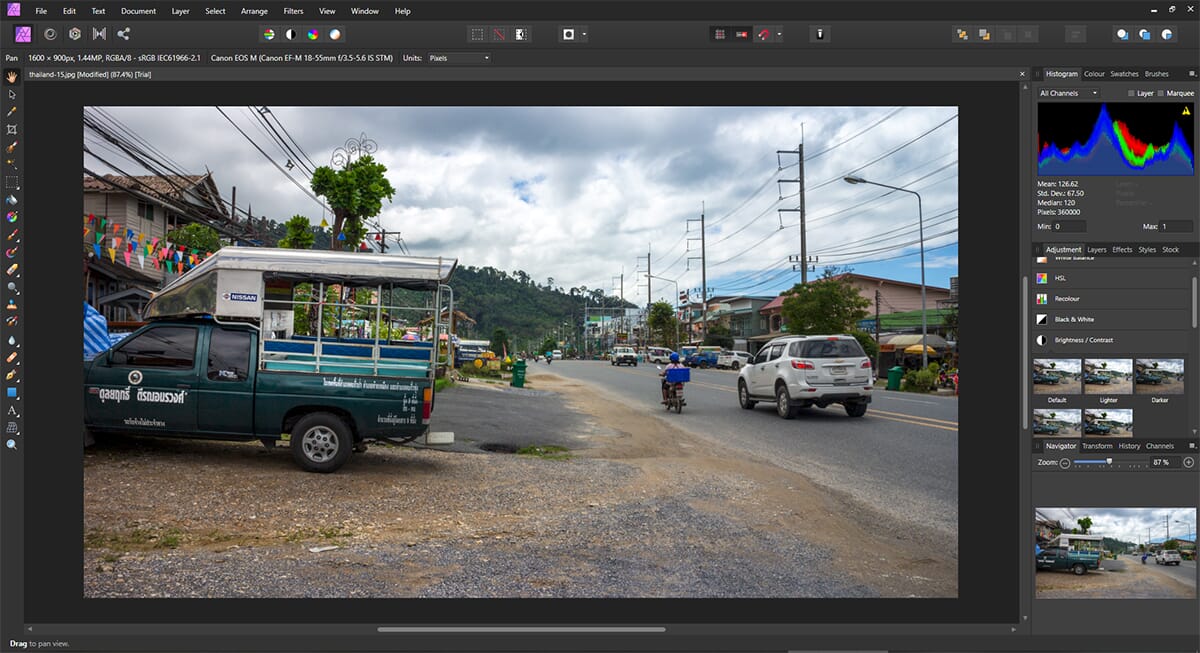 It also features five different "personas". These are like Lightroom's panes and provide different functions. These include Photo, Liquify, Develop, Tone Mapping, and Export. Each persona has its uses, but for photo editing, the Photo, Tone Mapping, and Export panels are the most relevant.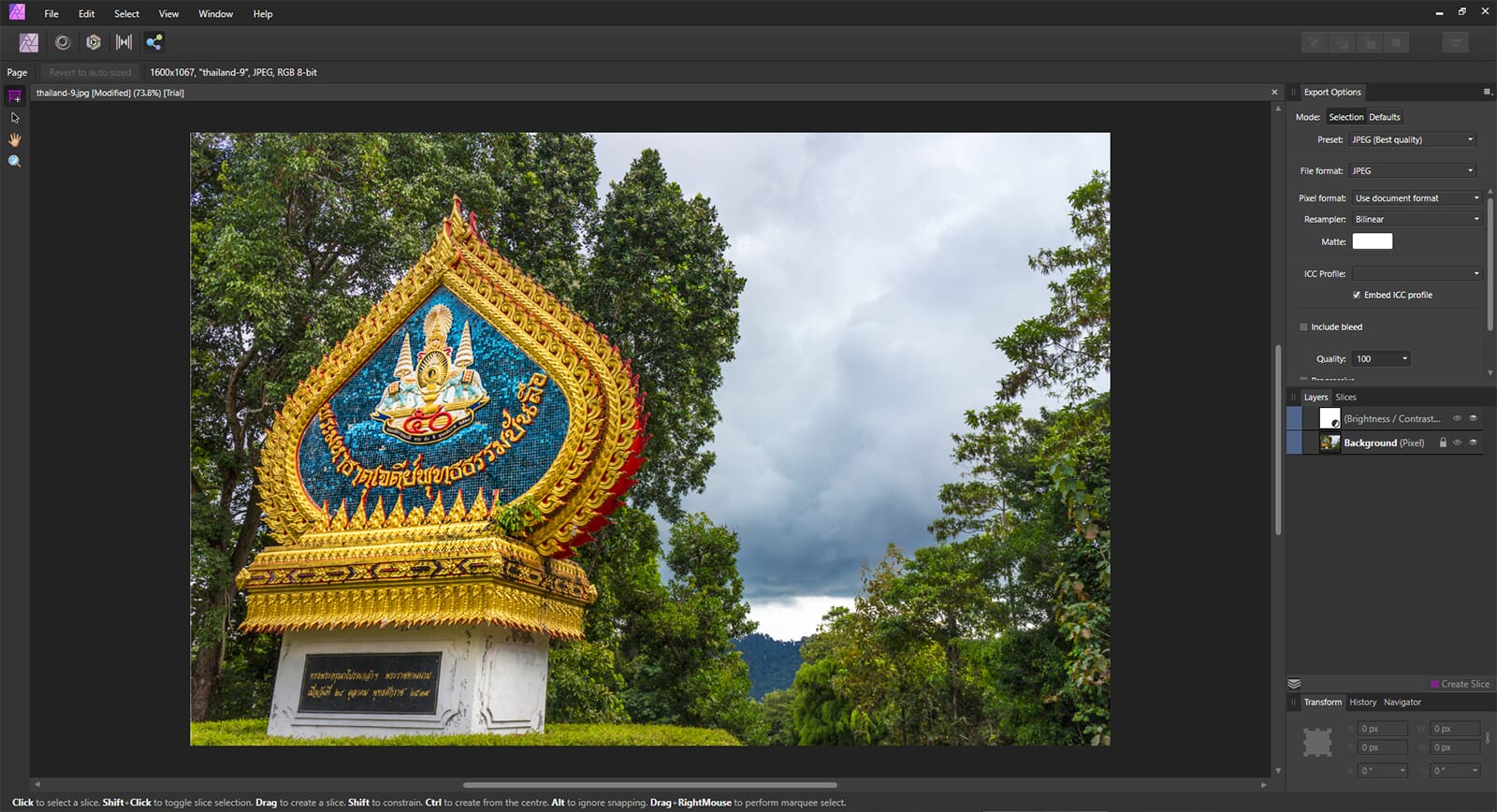 Affinity Photo is relatively simple to grasp, and you can quickly understand how to edit image parameters or create raster graphics.
Lightroom Classic
Lightroom has a simple layout that is split into different workflows. I like this as you can easily work through the editing process. You start in the library and organize your photos. Then you choose an individual photo and process it in the develop pane. When you're happy with your edit, you can then export to different media if you wish like books, print, and slideshows.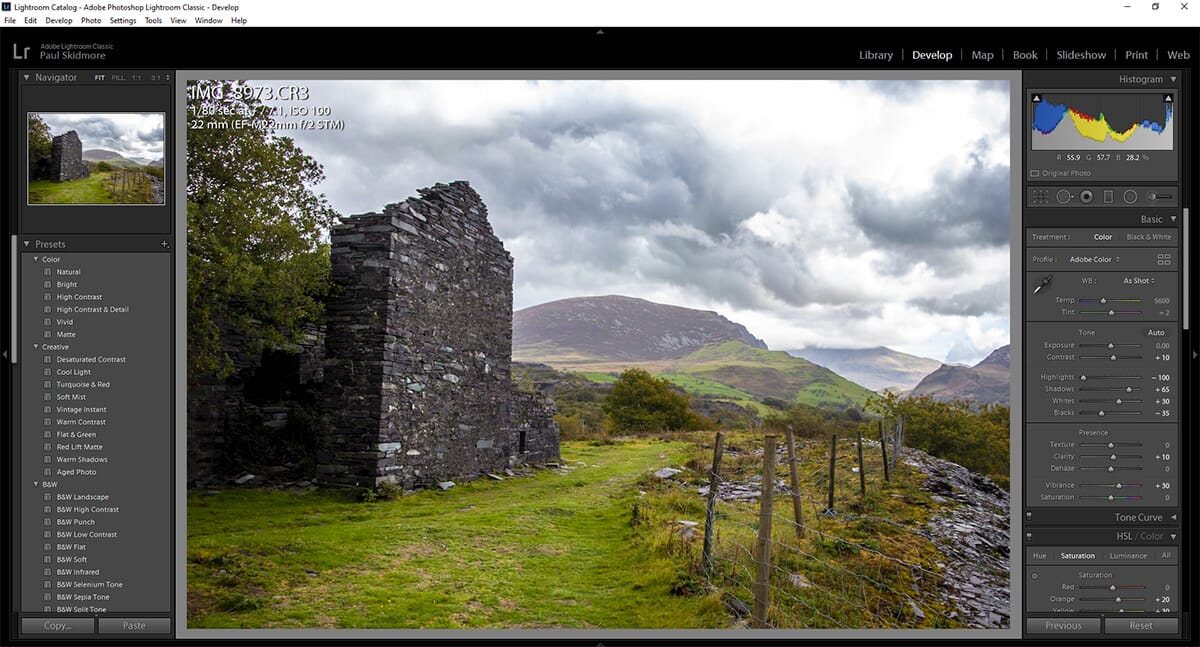 I also like how each pane is split into three main sections. Everything is organized and clear. You can also customize the layout to suit your needs. This is great for professional photographers who want to maximize their workflow or maybe want to spread their work across dual monitors.

One of the downsides of the Lightroom Classic layout is that there is a lot of it. It is an advanced program, and some people may find a huge array of tools, sliders, and features overwhelming. I feel it certainly has a steeper and harder learning curve than Affinity Photo.
Photo Editing Features
Affinity Photo
Affinity Photo has a great set of post-processing features, but it also has a full set of raster graphics tools similar to Photoshop. To that end, you can create beautiful photos, but also create digital artwork and web graphics too. This is something you cannot do with Lightroom.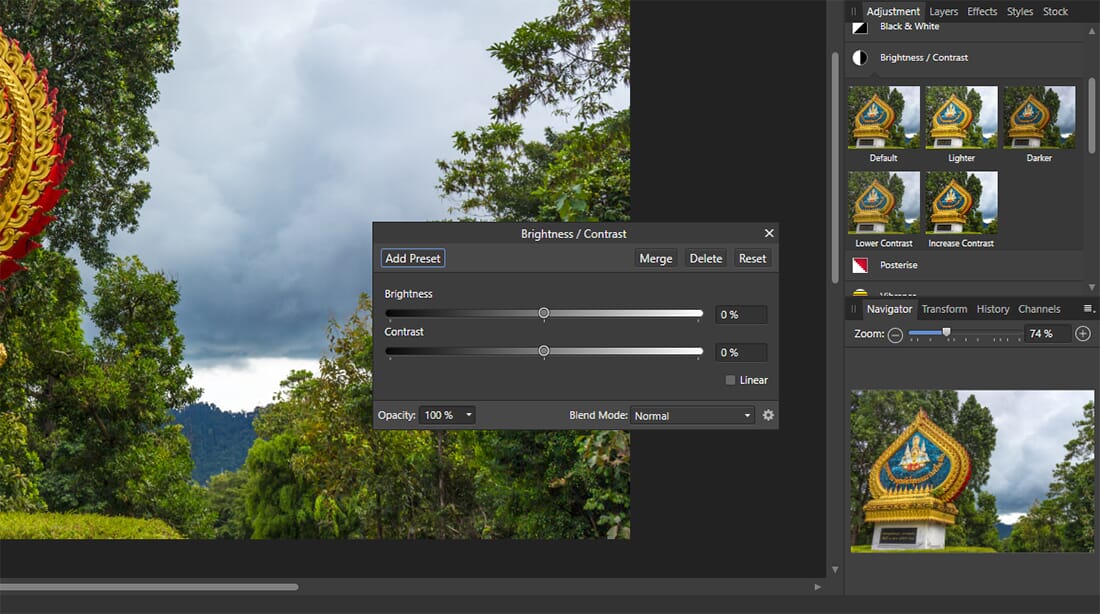 The post-processing tools give you complete control over the image and you can easily edit parameters like HSL, brightness, vibrance, and white balance. You can also add layers and apply edits to different layers which gives greater control over your images.
Affinity Photo also has a great range of effects and filters, although these are more like transformation tools, as opposed to the artistic filters Lightroom has. For example, you can apply a liquify effect, or add sharpening passes to your photos. I feel that Affinity Photos features are geared more towards digital artists' needs, than pure for post-processing purposes.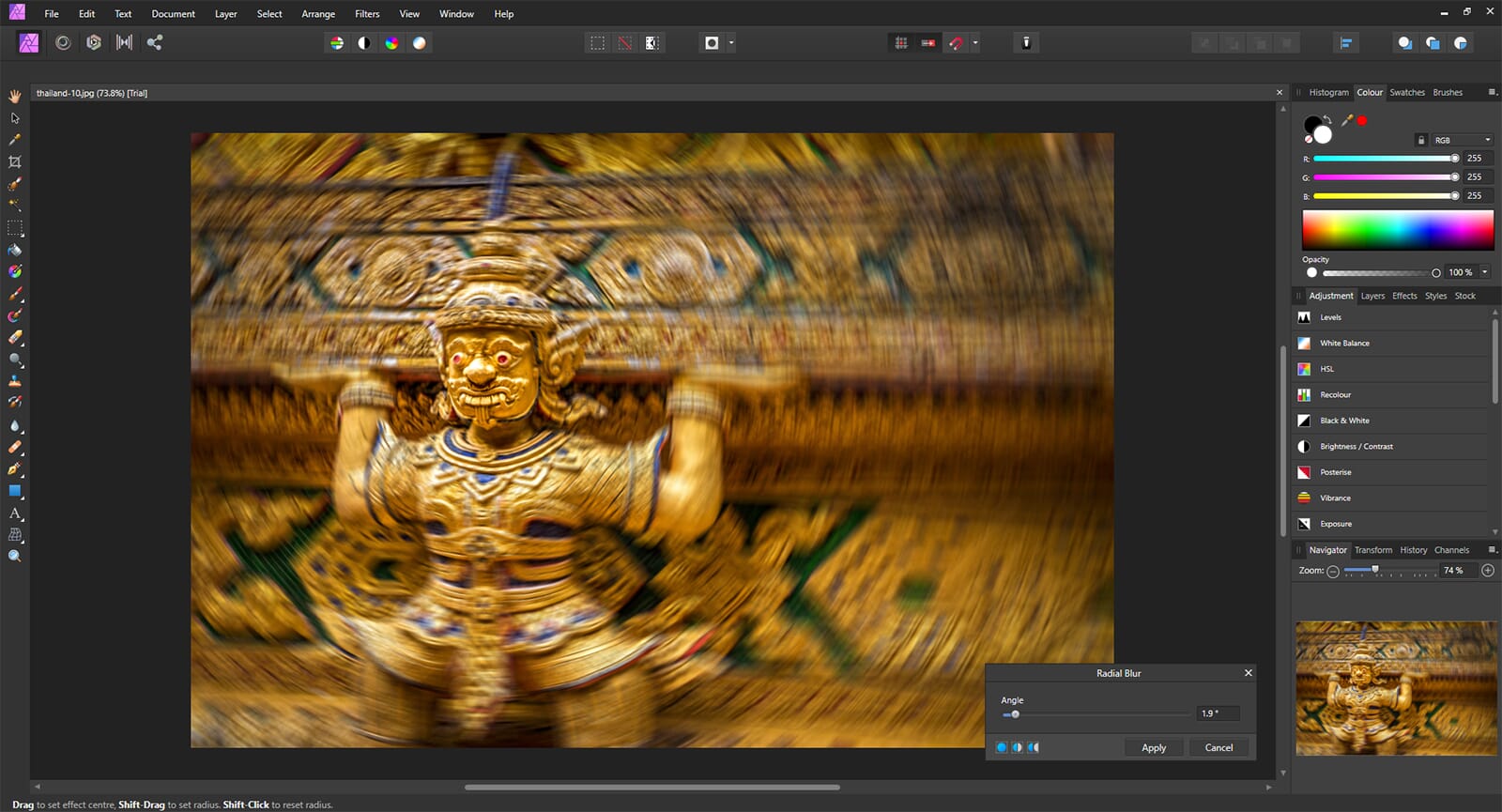 Lightroom Classic
I love the editing features of Lightroom. Essentially, you can fully edit RAW photos and alter every parameter. The RAW editing tools are easy to use and provide advanced controls for post-processing. You can easily turn your photos into masterpieces.
Lightroom also has a host of useful features to speed up the editing process. This includes edit presets – you can save edit presets and apply them to multiple photos instantly. Also, it has a decent range of artistic presets, including black and white shots and different lighting settings.
The basic editing tools include exposure, contrast, vibrance, crop, transformations, and effects like vignettes. Also, Lightroom automatically detects your camera make and model and can apply automatic profile corrections. I also love the radial and graduated filters and the adjustment brush. These give an excellent degree of control and allow you to edit specific parts of the photo in a non-destructive manner.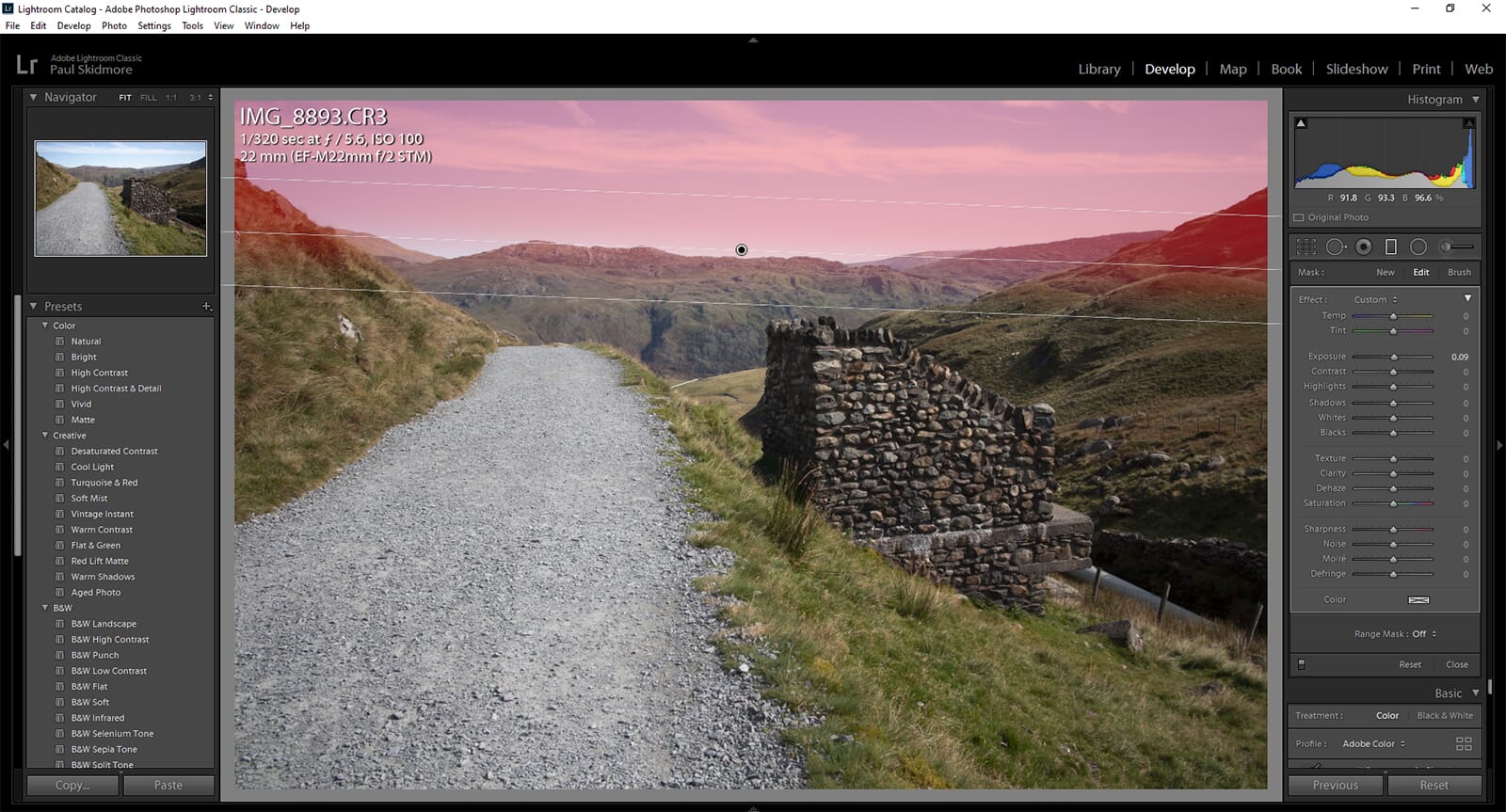 Photo Management
Having a vast collection of photos makes photo management a necessity. If you don't need photo management then feel free to skip this section!
Affinity Photo
Affinity Photo does NOT have any photo management features or library sections. For me, this is the main drawback. You can simply open photos and files using the basic file manager and create folders within that window. If you want photo management, you must use a compatible photo management app.
I did like the export feature and it has a separate viewing pane. You can change all the details you would expect including file type, image quality, file name, and also apply final sharpening. There is also a detailed batch exporting option and batch editing feature.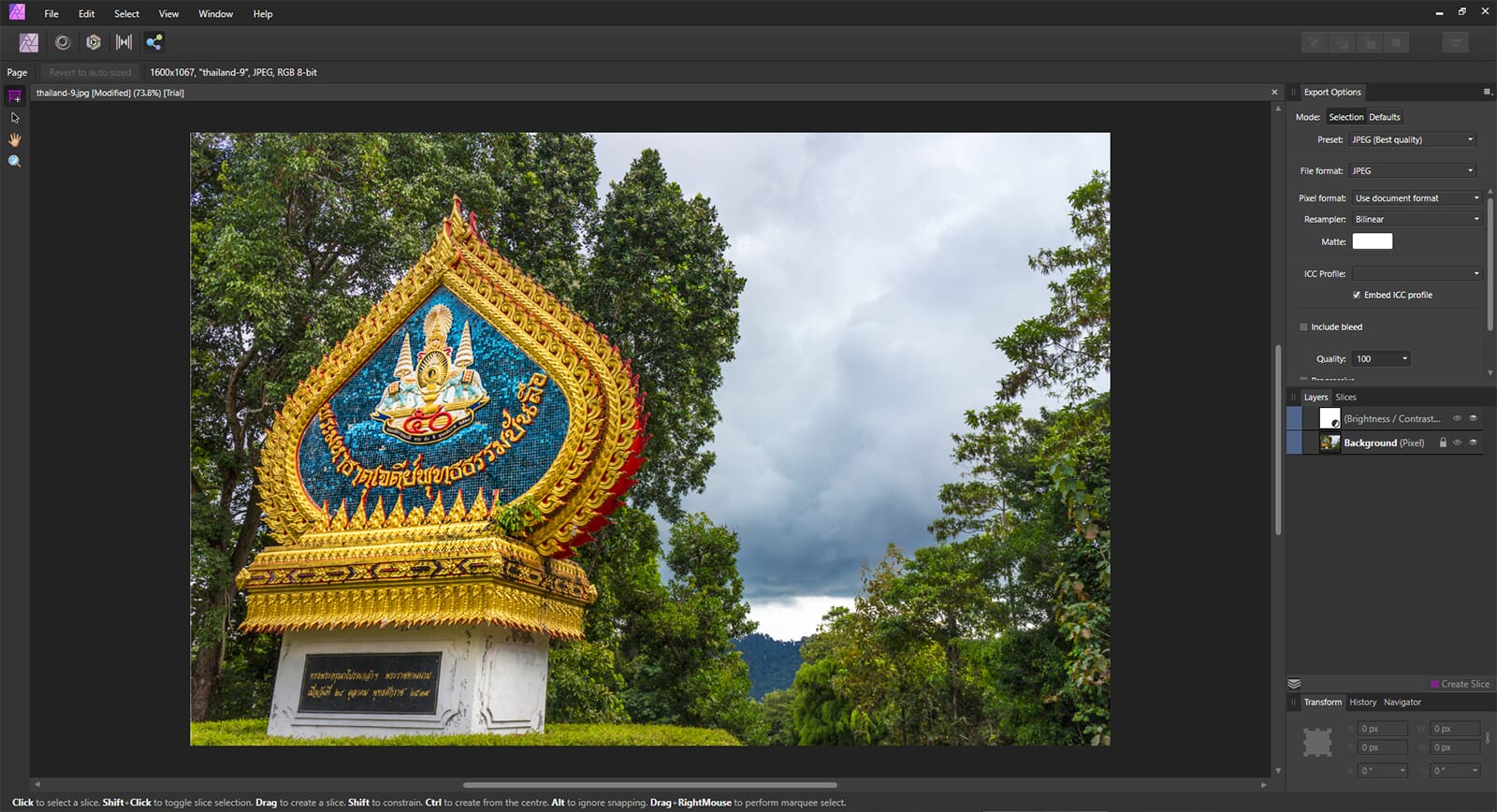 Lightroom Classic
In terms of photo management, Lightroom Classic is the clear winner. It has an extensive photo management system which is mainly contained within the library pane.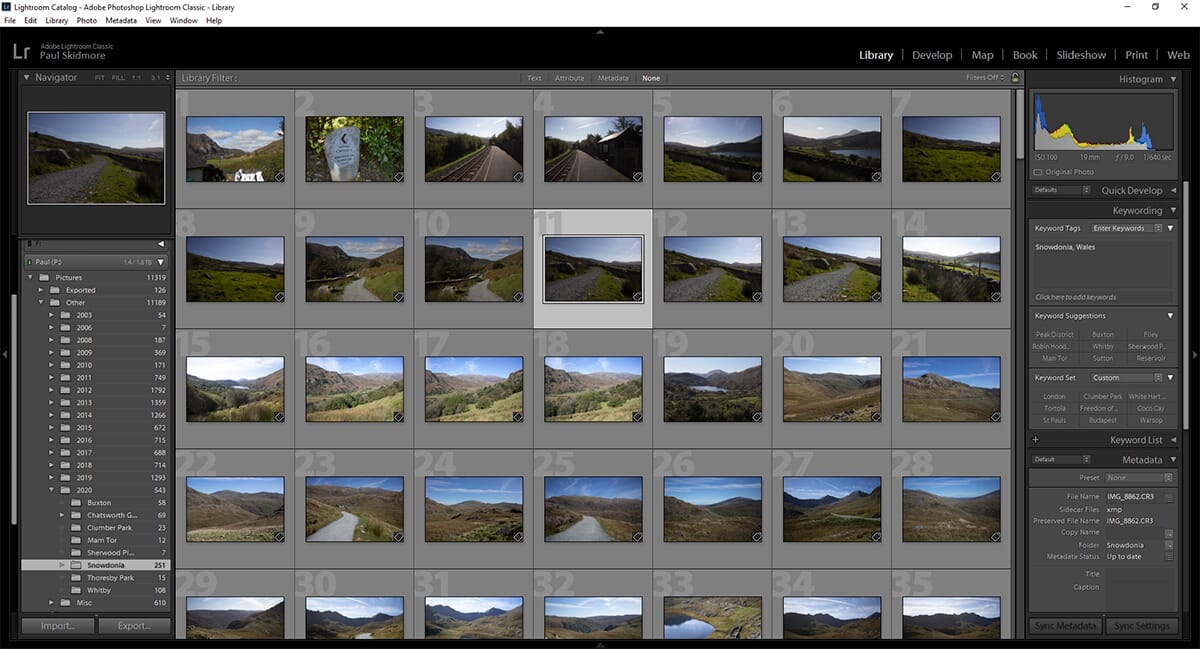 Here you can view all your photos as thumbnails, and you can fully manage your photo folder hierarchy. You can also assign ratings to your photos including colors, and stars. I use this feature regularly as it helps me identify which photos I still need to edit.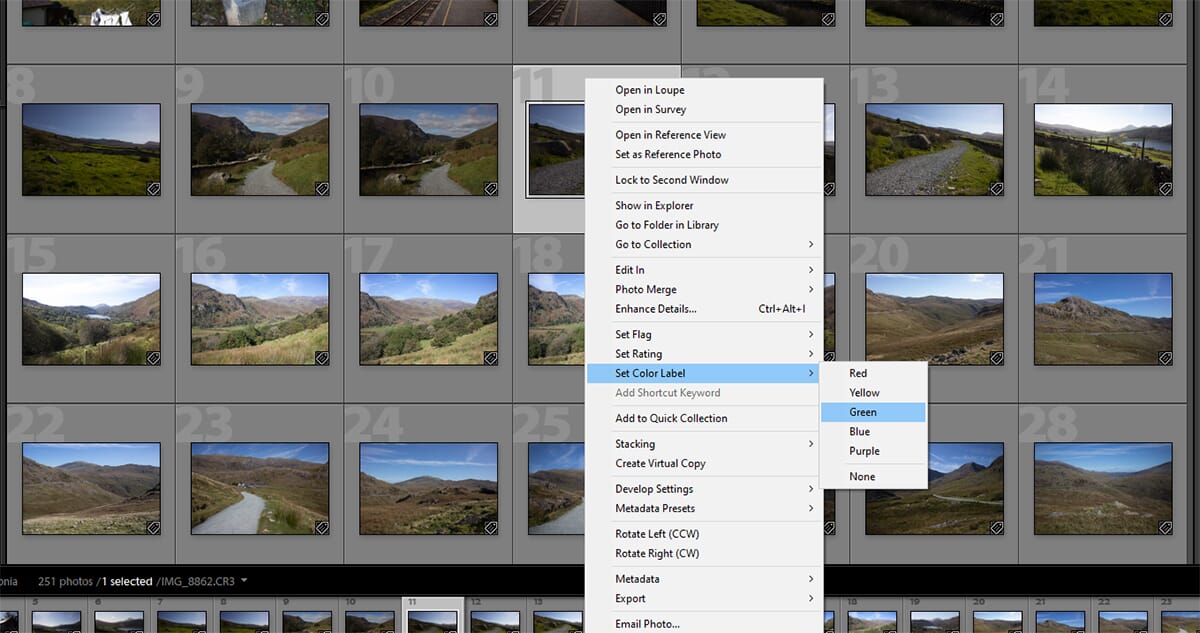 Lightroom Classic allows you to edit photo metadata and assign keywords to your images. Using this information, you can then create photo collections and easily search through your photo catalog using different parameters. For professional photographers that have thousands of photos, this is an indispensable tool.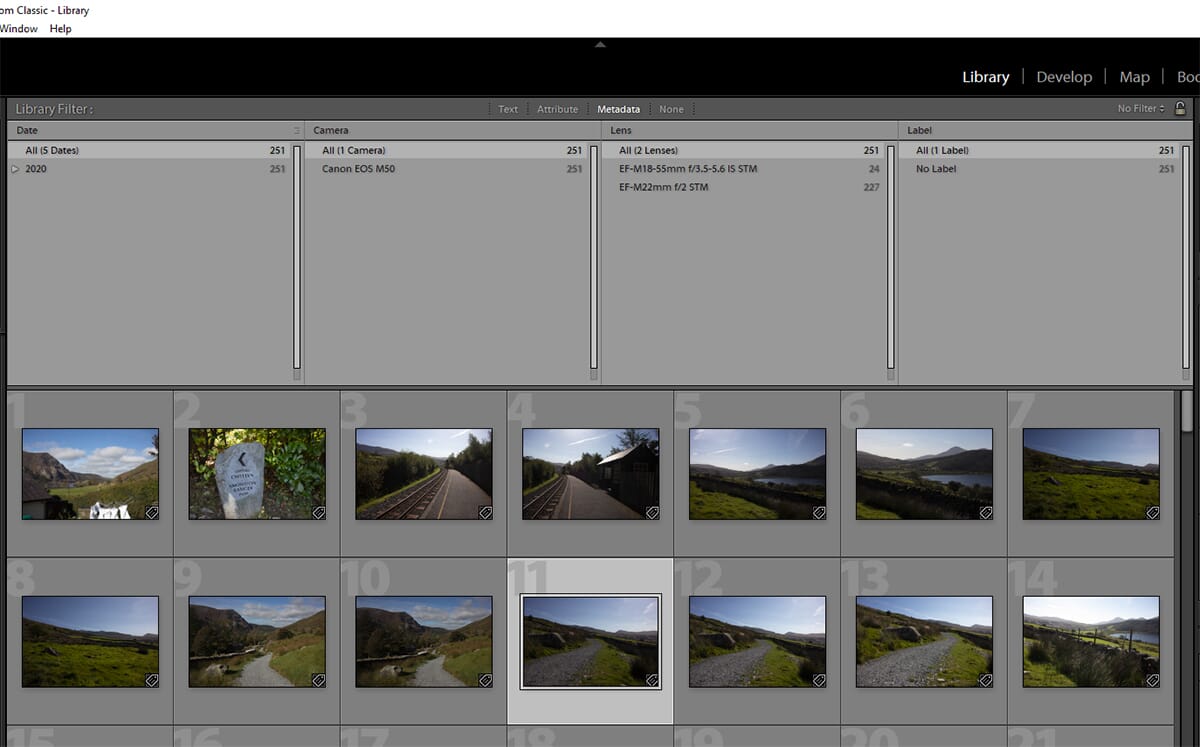 If you need both photo editing and photo management, Lightroom is definitely the better option.
Affinity Photo vs Lightroom – Which is the Better Choice?
So which program is the better choice in the Affinity Photo vs Lightroom battle? I do not feel there is a clear overall winner as each program has a slightly different target audience. You can see my final thoughts on each program below:
Affinity Photo
From my experience, I feel that Affinity Photo is a program for digital artists, web designers, and those who need to produce digital artwork. It has a great set of post-processing features, but I think these are secondary to its raster graphics tools and artwork features.
If you want to create stunning raster graphics and incorporate photos into your work, Affinity Photo is a great choice. You can easily improve the basic quality of your images, but also use the tools to create things like web banners and product images.
Pros
Simple layout
Excellent raster graphics tools
A solid range of post processing tools
Cons
No photo management
Not the same depth for post processing
Lightroom Classic
In contrast, when looking at Affinity Photo vs Lightroom, it is clear that Lightroom Classic is the best choice for pure photo editing. This is what it does. Professional photographers or hobbyists who want a robust photo editing program with excellent photo management features would choose Lightroom.
It offers much greater depth in its post-processing features. Also, it has a host of useful tools to allow for the effective editing of large volumes of photos. It may not have raster graphics tools, but it is a behemoth for pure photo editing.
Pros
Superb photo management tools
Hugely detail post processing tools
Batch editing and exporting
Keyword and Metadata editing and searching
Cons
Requires a more powerful computer
More expensive