Aurora HDR is the flagship HDR software created by Skylum. Skylum has created other popular software like the post-processing program Luminar 4. This particular program offers powerful HDR image creation and an excellent set of post-processing tools. We have created this Aurora HDR review so that you can see exactly what this fantastic software has to offer.

There is a limited trial version available and the full version is available for purchase at a reasonable price. Read on to find out about the features, quality, and ease of use of Aurora HDR.
Aurora HDR Review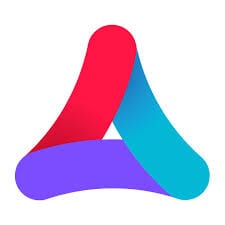 Name: Aurora HDR
Description: The award-winning software used by the most recognized HDR photographers around the globe.
Offer price: 99
Currency: USD
Operating System: Mac, Windows
Application Category: Multimedia
Author: Skylum
Layout

Ease of Use

HDR Quality

Post Processing
Summary
Aurora HDR is an excellent program – one of the best we have reviewed. There aren't any negatives about this program except the loading times – there is sometimes a delay during the image processing.
Pros
Fantastic HDR quality
Excellent post processing tools
Easy to use interface
Cons
Performance is sometimes sluggish
When you buy through links on our site, we may earn a commission at no cost to you. We evaluate products independently. Commissions do not affect our evaluations.
System Requirements & Basic Features
To start this Aurora HDR review, let's look at the basic features and system requirements. Skylum software has a reputation for being process-intense – Aurora HDR follows this trend. To use this program effectively, you need a decent spec computer as you can see from the minimum system requirements below:
System Requirements
Windows – Windows 7 or later
Screen Resolution – 1024 x 768
Memory – 8GB of RAM
CPU – Intel Core i5 or better
HDD – 10GB of free storage
MAC – macOS 10.11 or later
Screen Resolution – 1024 x 768
Memory – 8GB of RAM
CPU – Intel Core i5 of better
HDD – 10GB of free storage
These are the minimum requirements – we recommend using 16GB of RAM – we noticed when testing this program that 8GB of RAM was sometimes insufficient. We didn't notice any huge problems, but we feel that 16GB of RAM would help load images quicker and apply filters smoothly.
Basic Features
Supported file formats – JPEG, PNG, TIFF, JPEG2000, PSD, PDF
Automatic lens correction
Automatic ghost removal
Automated HDR merging
Tone mapping
Advanced retouching options
AI-enhanced post-processing tools
Basic image transformations
Preset image effects
Batch processing
The list of basic features is impressive – more impressive than many of the other HDR programs we have reviewed. We feel the best feature is the advanced post-processing tools and AI-enhanced tools. Essentially you are getting an HDR merging program that has the editing features of a fully-fledged post-processing program.
Layout
The second part of this Aurora HDR review is to look at the layout of the software. Despite the vast array of features available, the layout remains simple and easy to understand. Once you have created an HDR image, the program is split into three main sections – viewing pane, presets pane, and editing pane.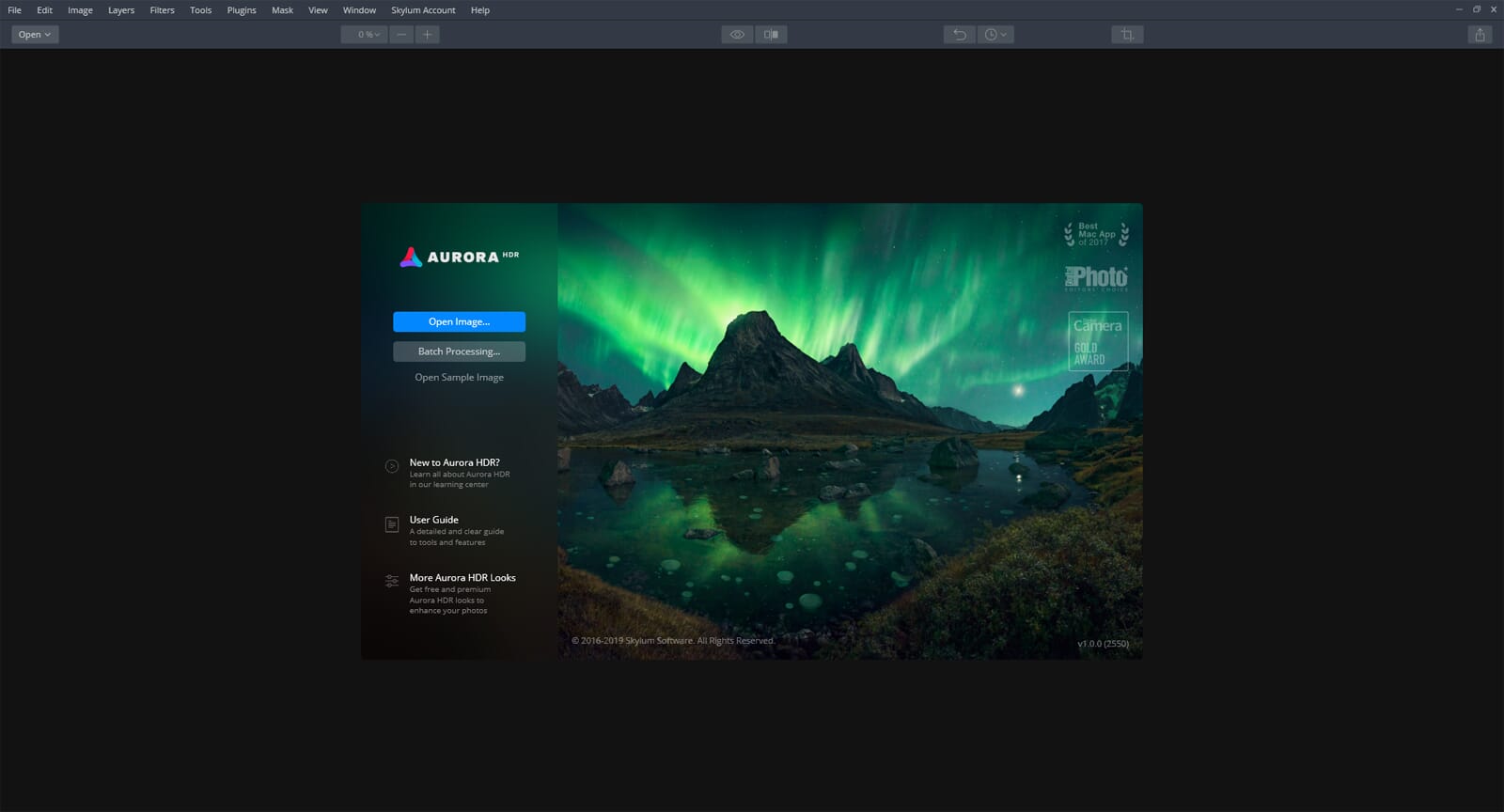 Each of these panes can be adjusted, and you can minimize them if you wish to make the preview pane larger. In addition, there is a useful before and after view that splits the preview in half as shown below: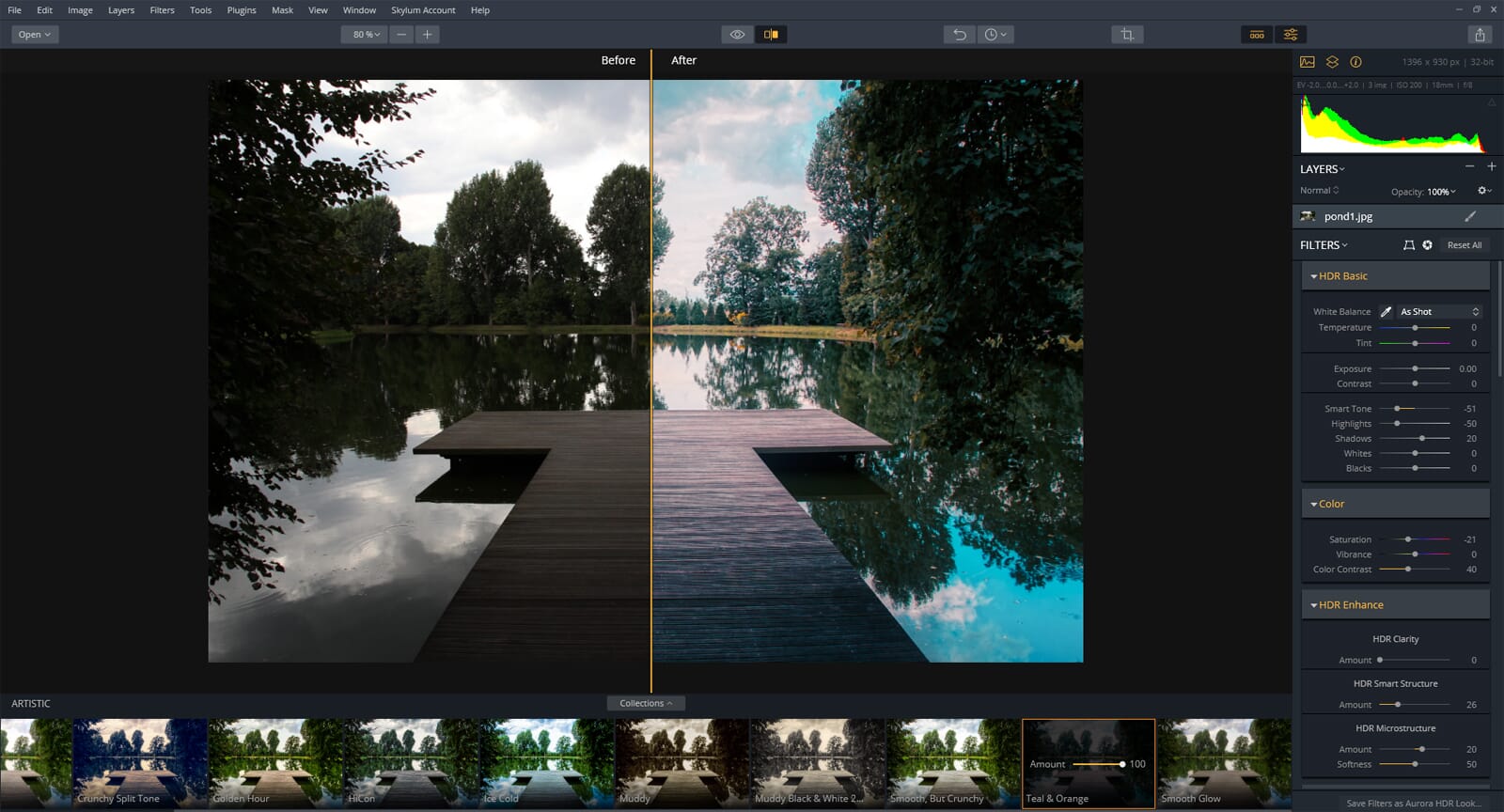 Although the editing pane does have a lot of different tabs, each tab can be collapsed so that the title shows only – we found this useful and it allowed us to easily find the different editing tools.
The presets panel is also logically created – click on the "collections" button, and a pop-up box appears showing the different categories of presets. It is easy to use and unobtrusive.
The export dialogue box is also well-designed. As you can see in the screenshot below, it has a variety of options including file type, file name, size, resolution, quality, and sharpening options. Essentially, the whole program has an excellent layout that is intuitive and user-friendly.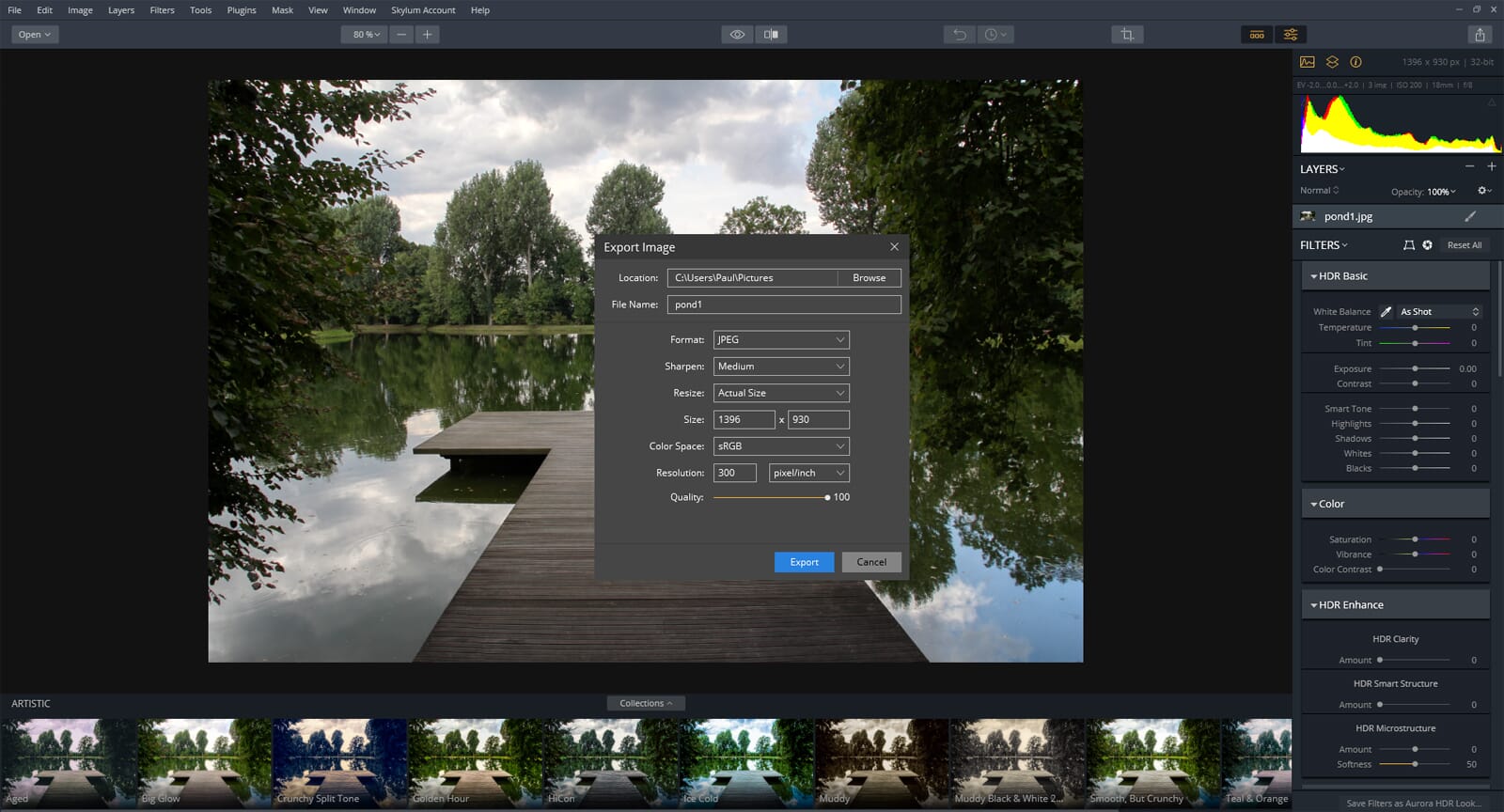 Ease of Use
We found this program amazingly easy to use. On opening the program, a dialogue box appears that prompts you to start the HDR process of batch processing. From there, as you will see in the sections below, the HDR process itself is quick and straightforward.

This ease of use continues in all aspects of the software. When creating this Aurora HDR review we had fun using the different features and nothing require much thought or explanation. The post-processing tools are applied using sliders and the presets have simple thumbnails.

The only downside we found concerning ease of use was the processing times. Some of the processes were admittedly sluggish. There was not a huge delay, but we did notice a delay and lag when applying large edits and during the initial HDR processing. This was not a big problem, but it became apparent that a higher spec computer would run this software more effectively.
HDR Process
The HDR process is one of the easiest we have seen. On opening the program, simply click the open HDR image option and you are given a load file dialogue box.

Once you have loaded the bracketed images, a pop-up box appears in which you check the different exposures, and select the options you want to include like auto-alignment, and auto-ghosting. There is also a feature to remove chromatic aberration which we found useful.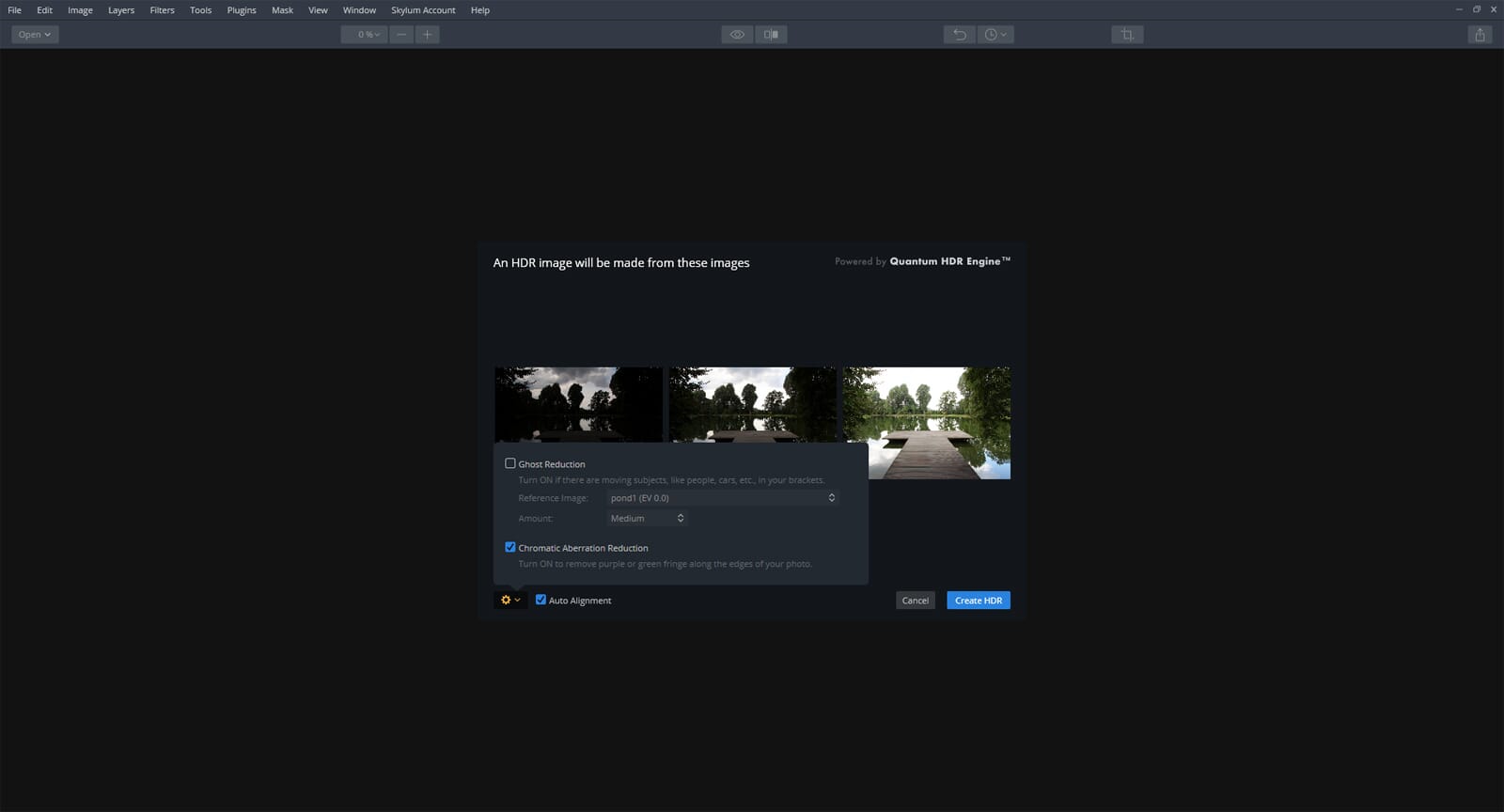 After these options have been checked, the HDR image is created and you are taken to the basic editing screen as shown below.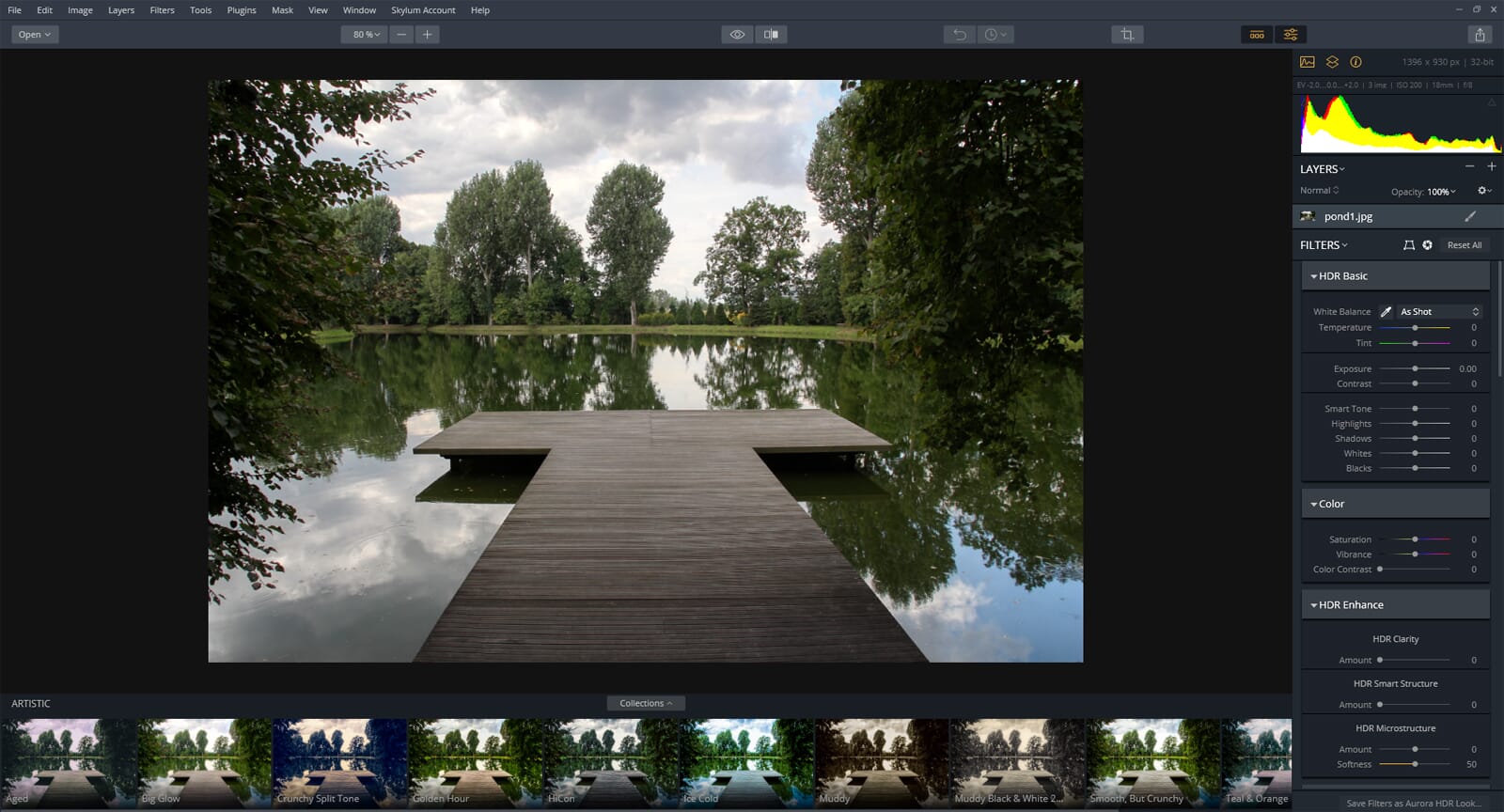 Effectively, creating an HDR image takes a few minutes and minimal effort. We could not fault this process at all. There is also a batch processing option too which is just as easy to use. Simply select the different files you wish to include and the general HDR settings and the program runs through each file.
HDR Quality
An important aspect of this Aurora HDR review is to look at the HDR image quality. From the offset, we could see that the quality was fantastic. The image processor is intelligent and the raw results of the HDR merging process were excellent. The images were aligned perfectly, and the detailed retained was fantastic. This program creates high-quality HDR composites.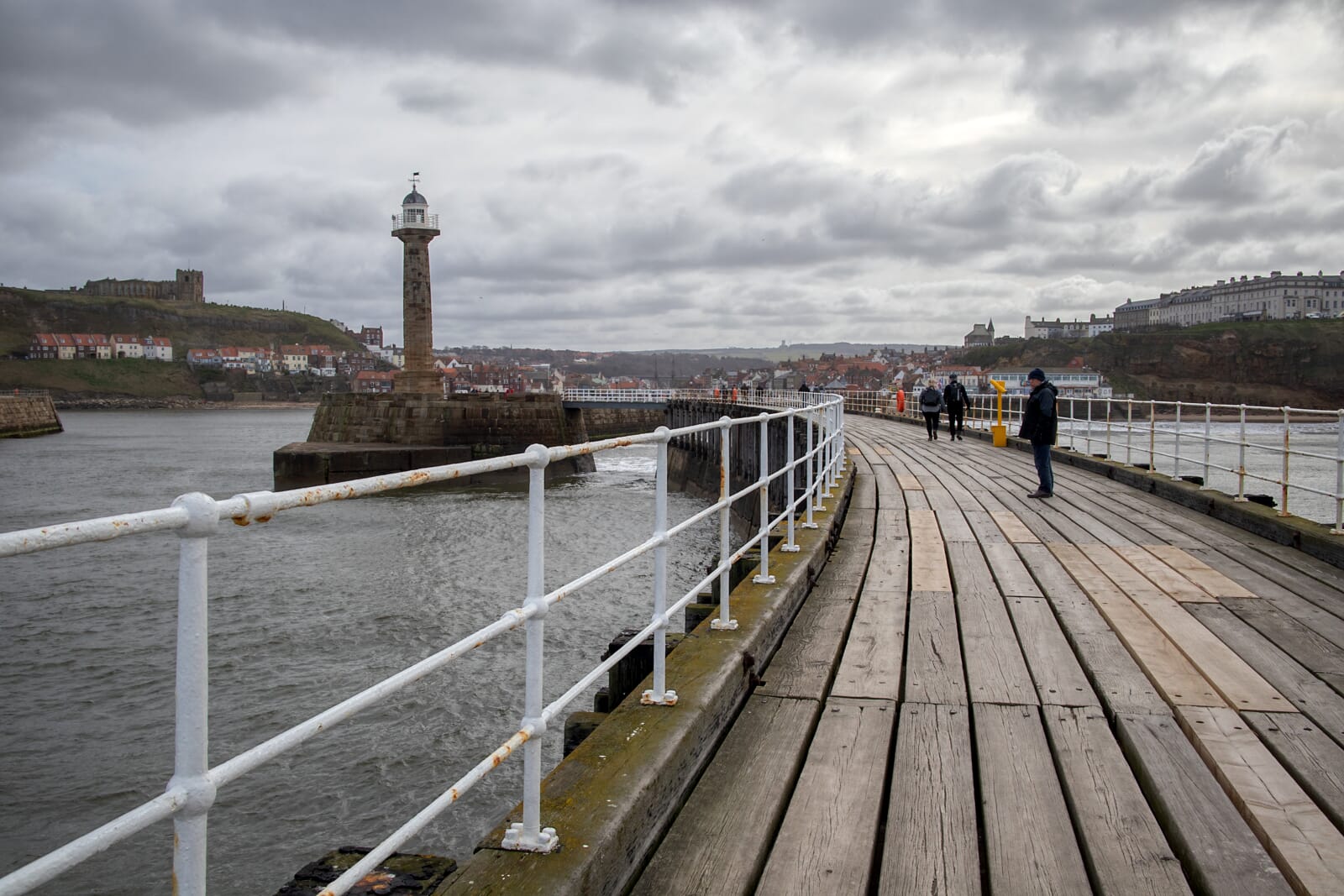 The processing time was a little slow, but still acceptable. Furthermore, the different post-processing features really allow you to create some detailed and beautiful HDR images. The different filters like HDR Enhance, HDR Clarity and HDR Smart Structure really boost the overall quality and provide excellent flexibility. The below image is one that we edited using the various post-processing features: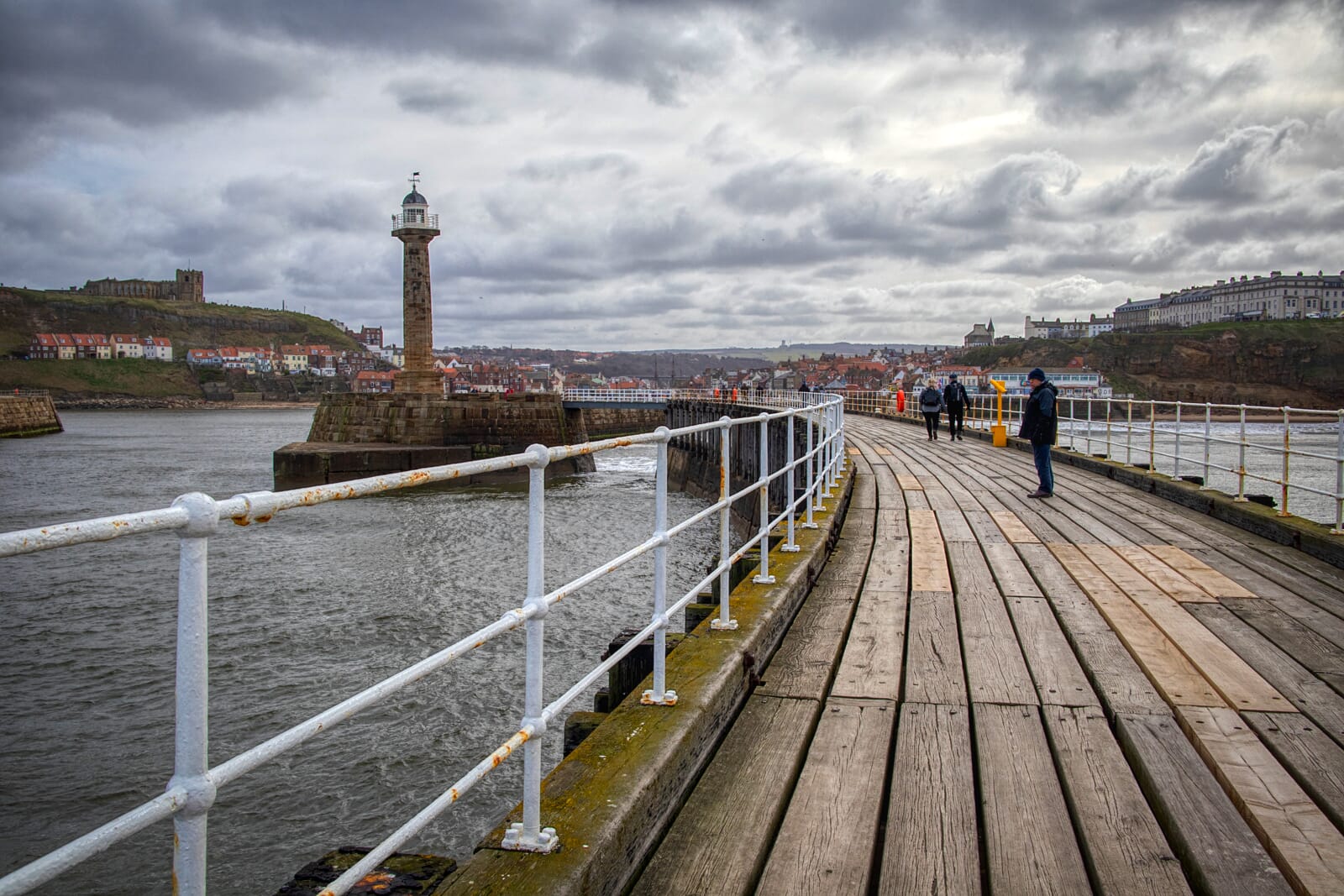 Compared to the other HDR programs we have reviewed like EasyHDR and Nik's HDR, the quality of Aurora HDR is superior.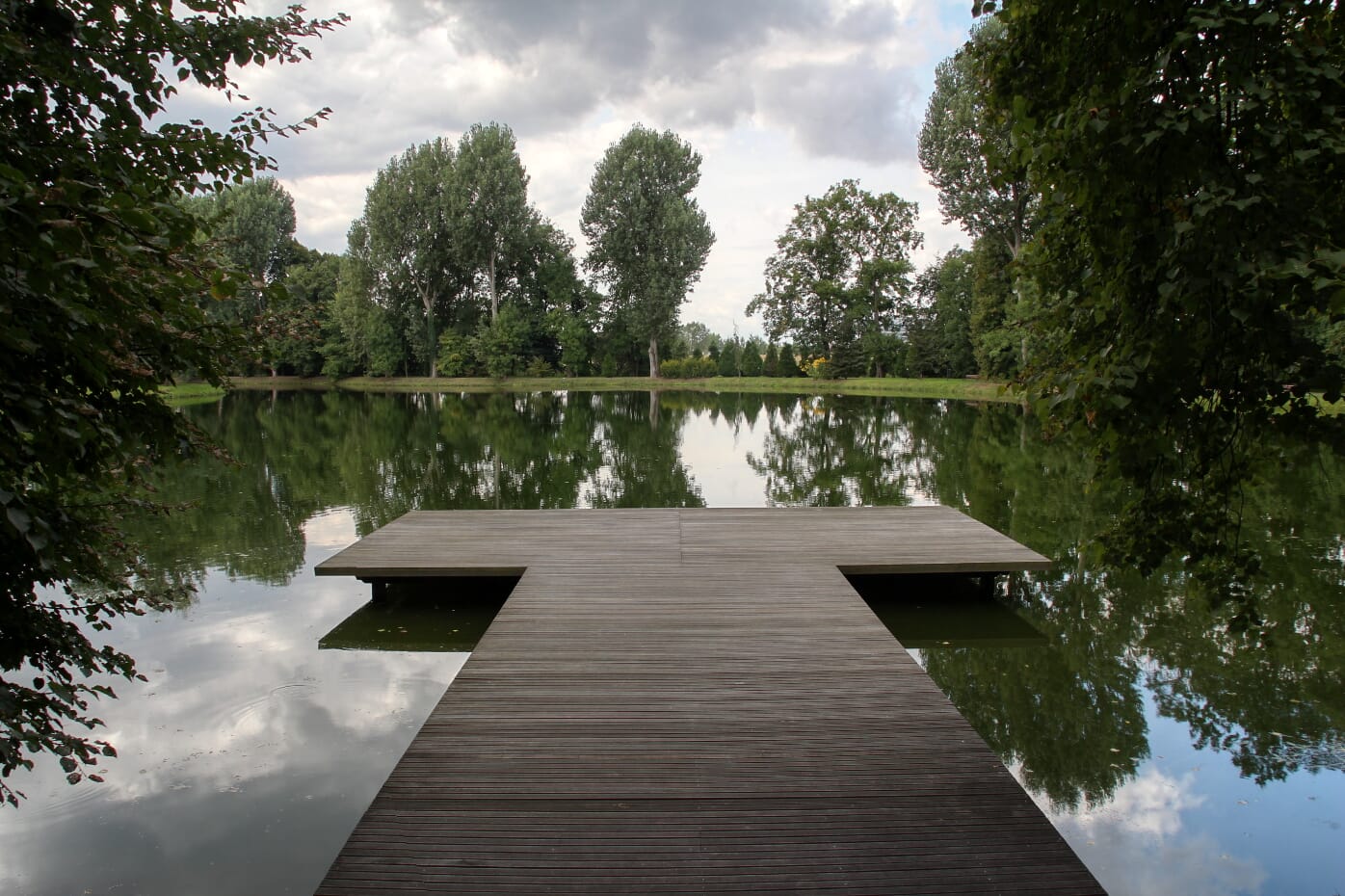 Post Processing Features
The post-processing features are one of the best aspects of this Aurora HDR review. Using Aurora HDR you can use the following post-processing tools:
Basic color enhancements
Basic clarity and contrast
LUT mapping
Layers & Masks
Crop, rotate, and distort
Tone Curves
Color Toning
Vignette
In addition to this comprehensive list, there is also a fantastic range of AI enhancement tools. Skylum is well-known for utilizing AI technology to great success. Aurora HDR offers the following AI tools:
HDR Clarity
HDR Smart Structure
HDR Microstructure
These tools are highly advanced – they analyze your HDR image and apply smart filters based on the results. We tested these AI tools and were impressed with the results. The image you see below was created using several of these AI tools – the effect looks fantastic, without being too overpowering: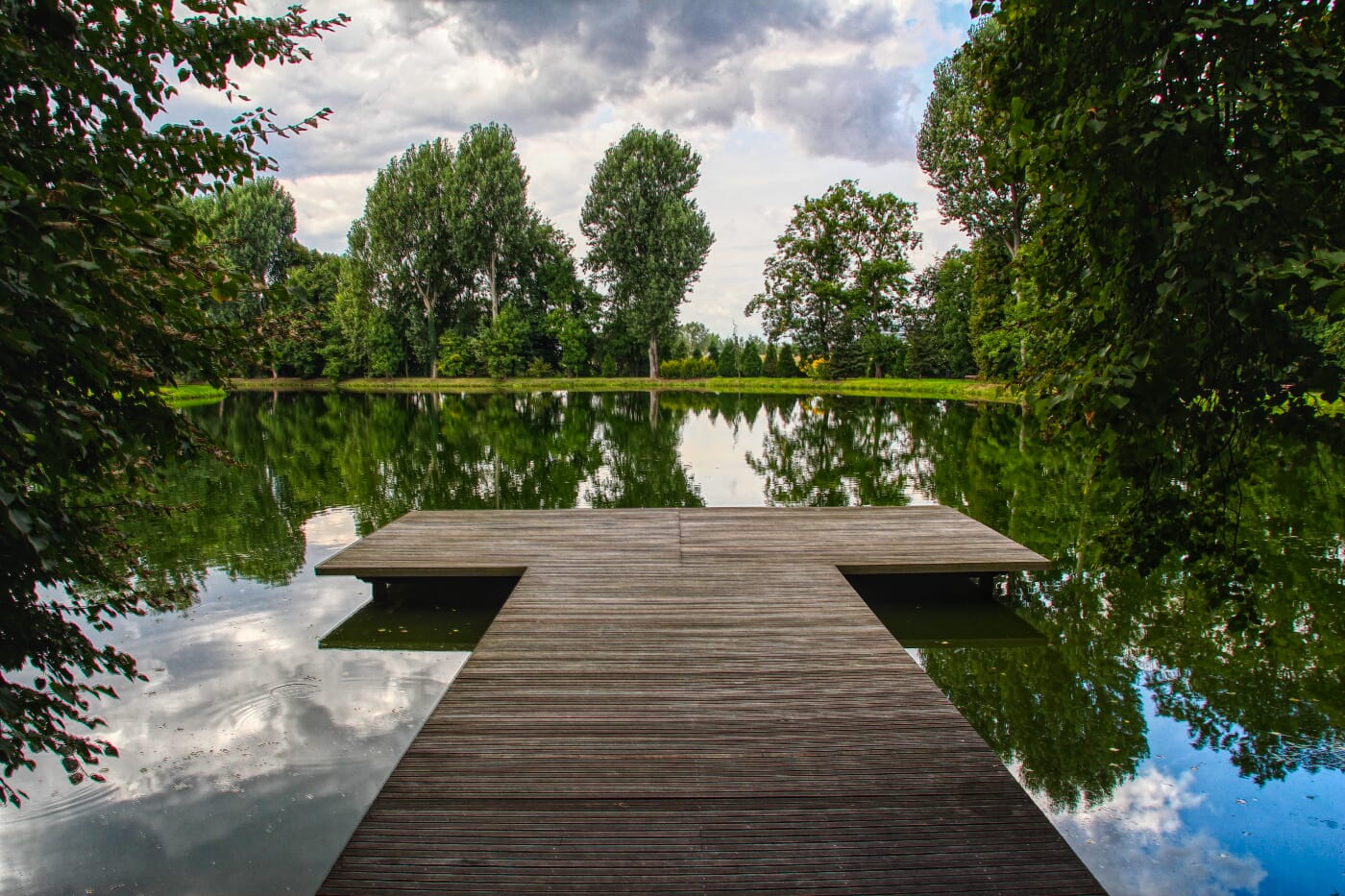 There is also a range of transformation tools including a crop tool: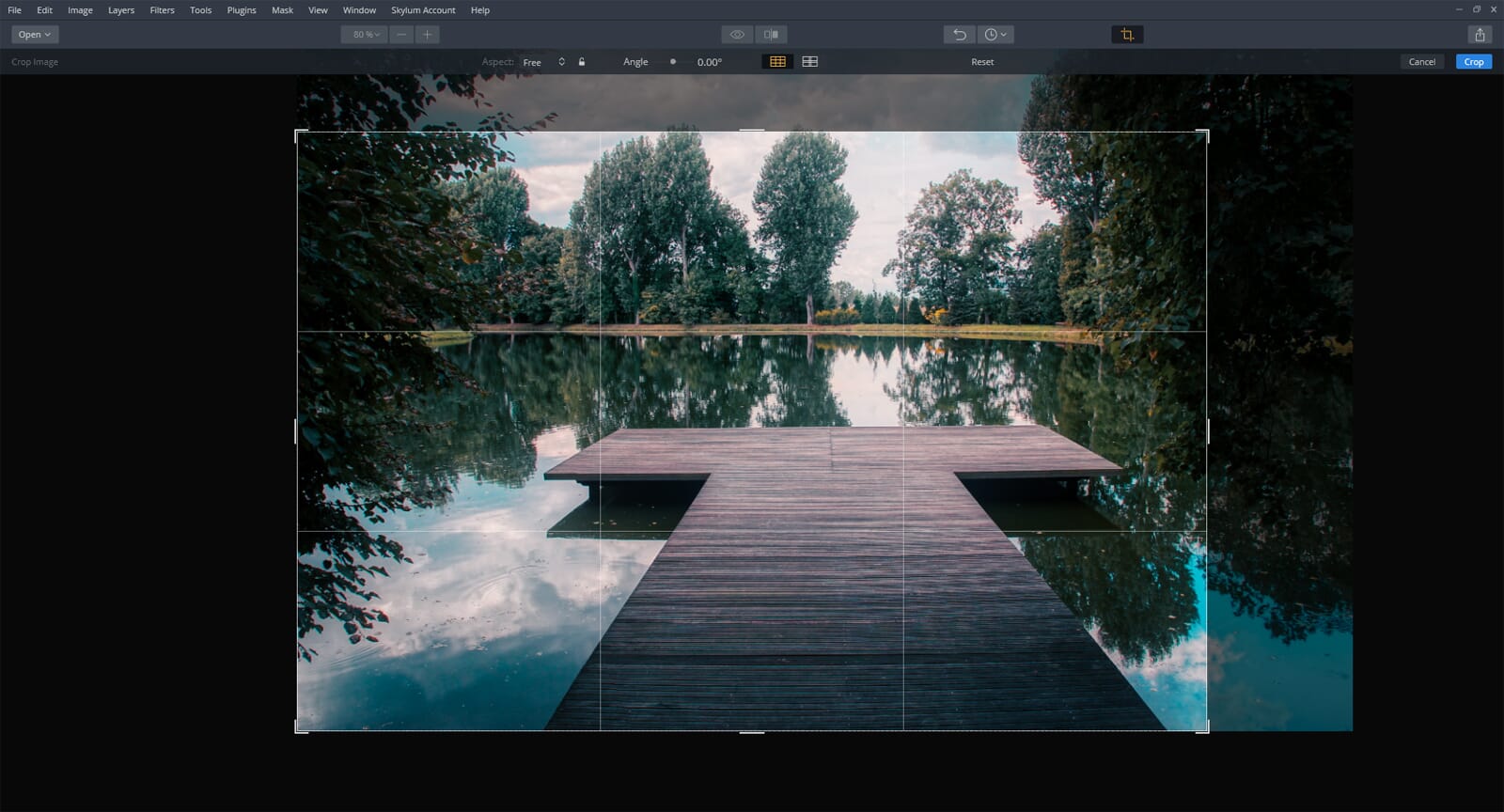 In addition to this, there is a fantastic batch-processing option too – this allows you to process multiple HDR files simultaneously. You can also apply preset edits to the multiple HDR files and copy your post processing settings across the selected files.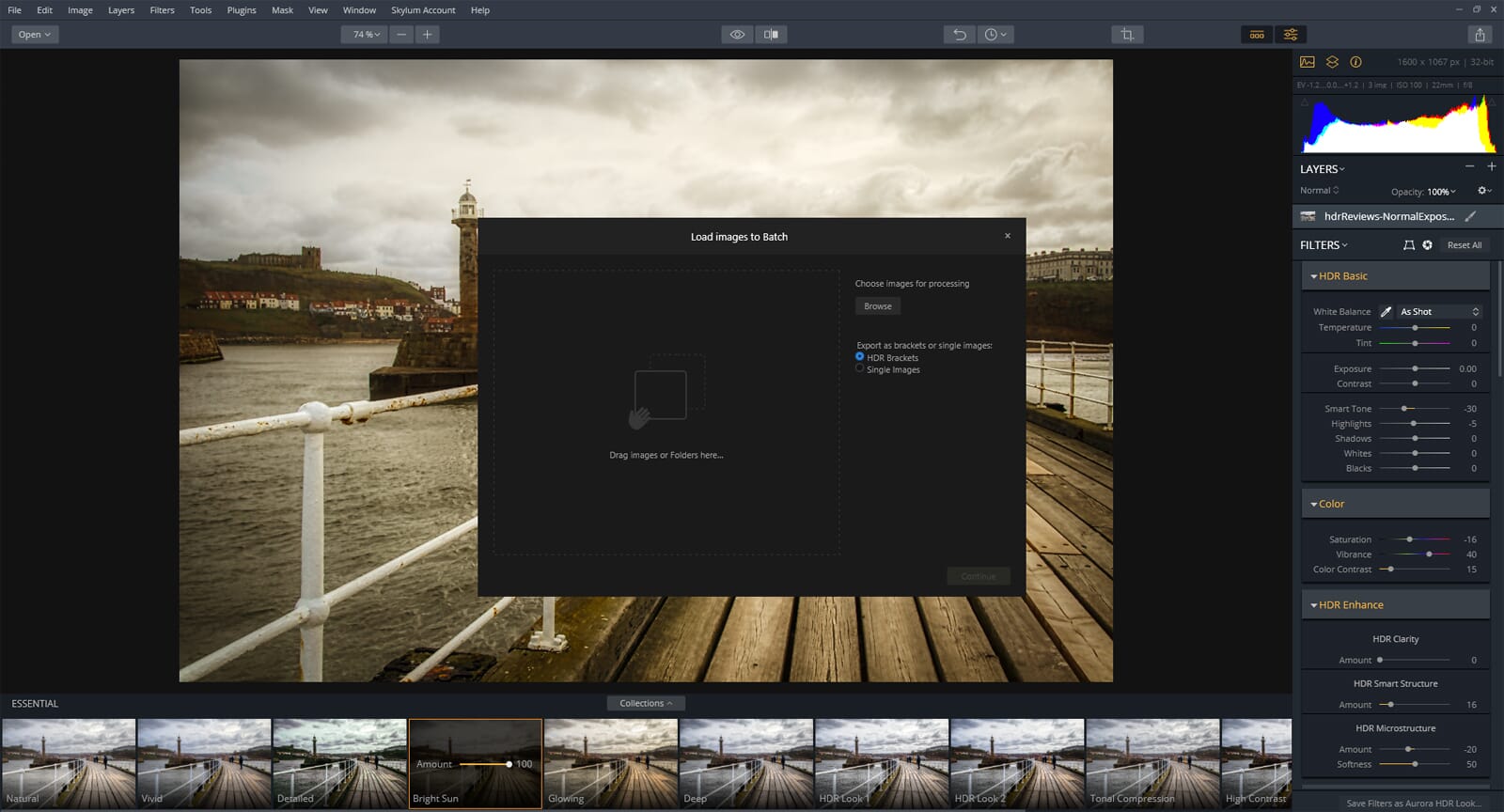 Finally, you can utilize a myriad of Photoshop tools and filters within Aurora HDR itself. There is a plugin menu – this allows you to access different filters and apply them to your images. If you select a Photoshop filter like gaussian blur, for example, the HDR image is temporarily exported into Photoshop where you can apply the filter – it is then re-imported into Aurora HDR ready for further editing.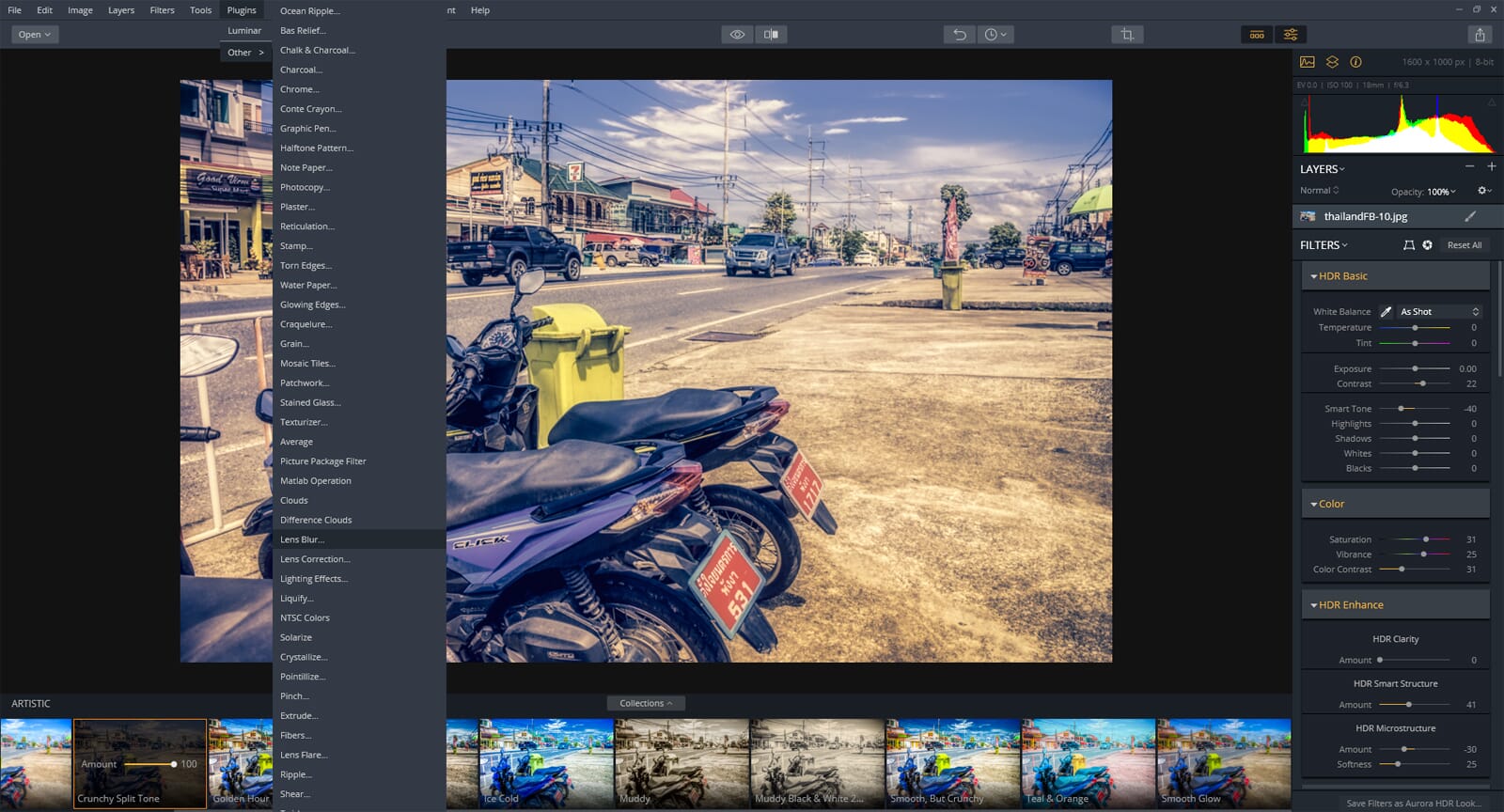 Presets
Aurora HDR has many presets to choose from. This includes a combination of standard presets to improve the basic quality of your HDR images, and artistic presets. The quality and variety of presets is excellent. Categories include – essential, landscape, architecture, dramatic, and artistic.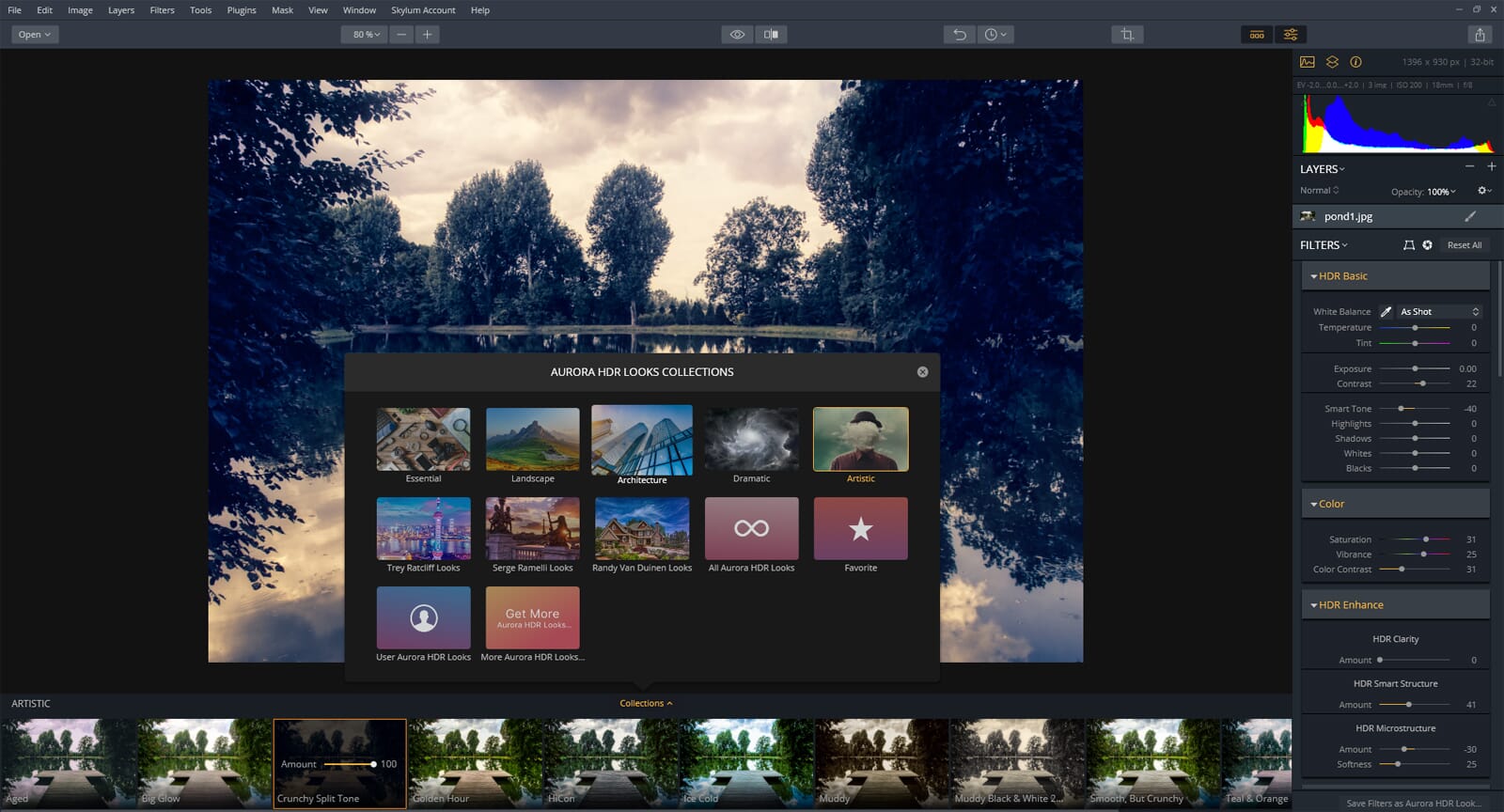 In addition, Aurora HDR has an interesting set of presets from renowned photographers – Trey Ratcliffe, Serge Ramelli, and Randy Van Dunien. These presets have been created with input from the photographers and offer a host of creative options.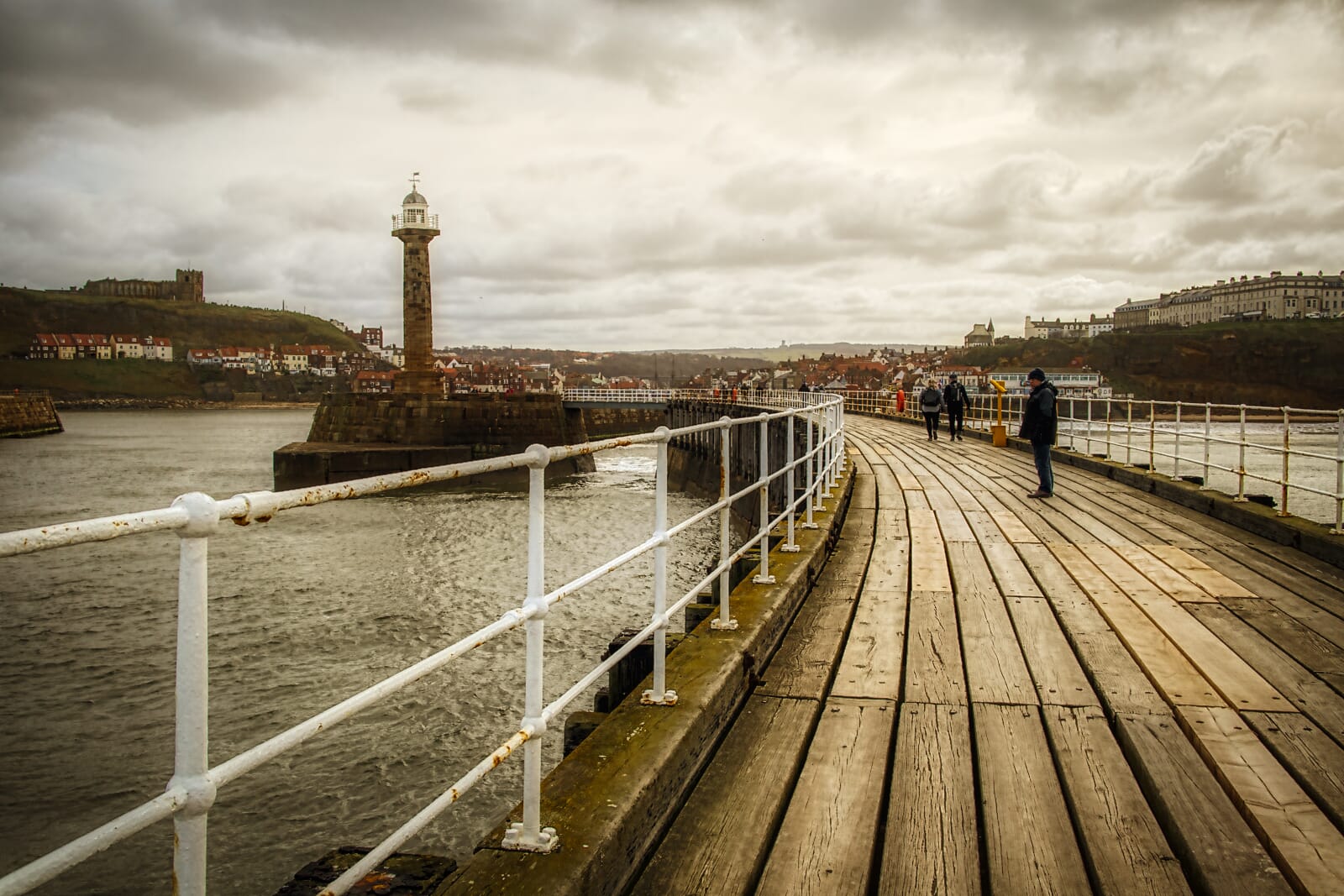 HDR Examples
To finish this Aurora HDR review we have developed a multitude of examples created using this program. We experimented with the basic post-processing settings. Moreover, we tested many of the different presets to see what effects we could create.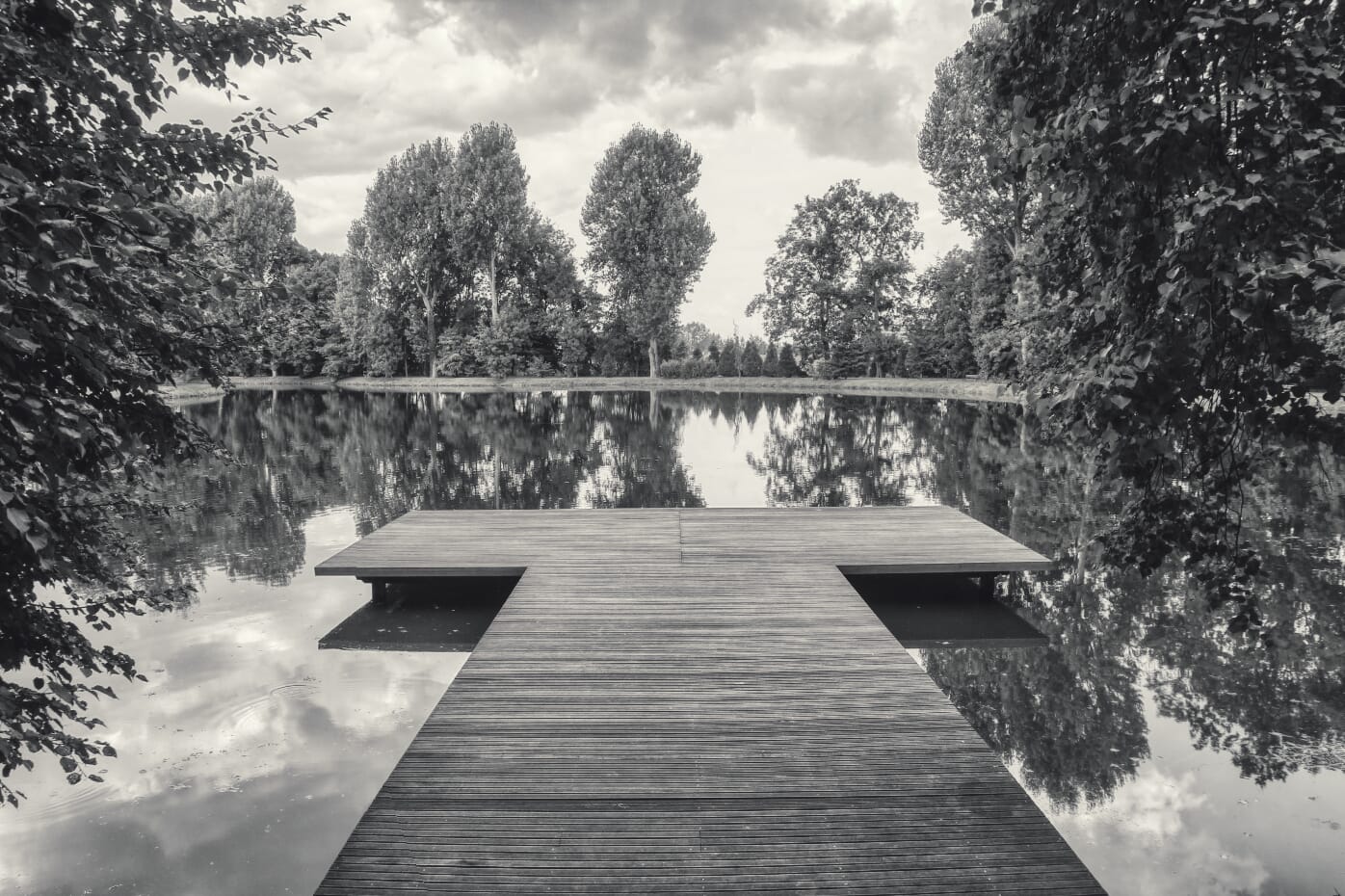 Don't forget to check out our other HDR reviews like ON1 HDR 2020 and HDR Projects 7, so you can compare the quality of the HDR images.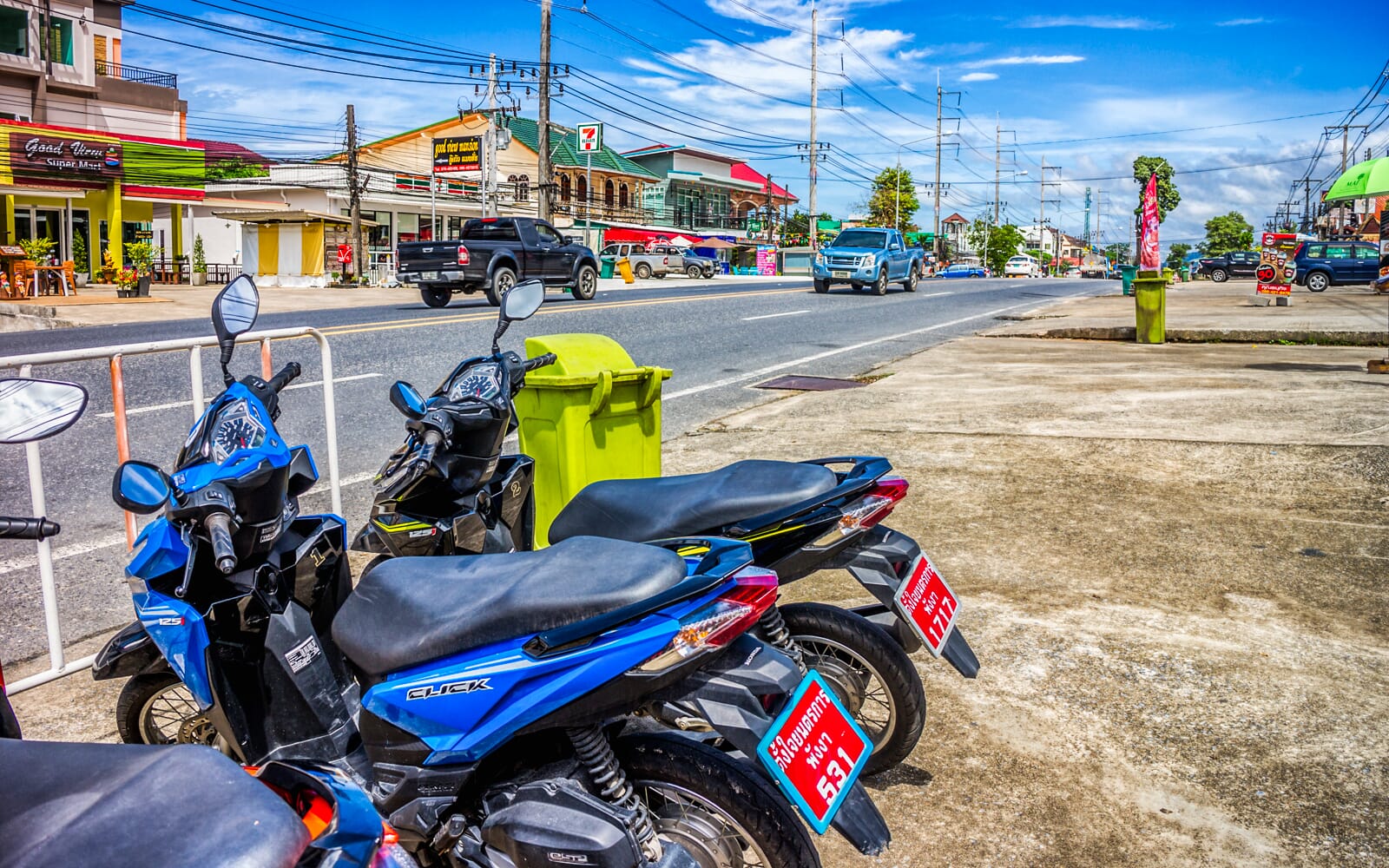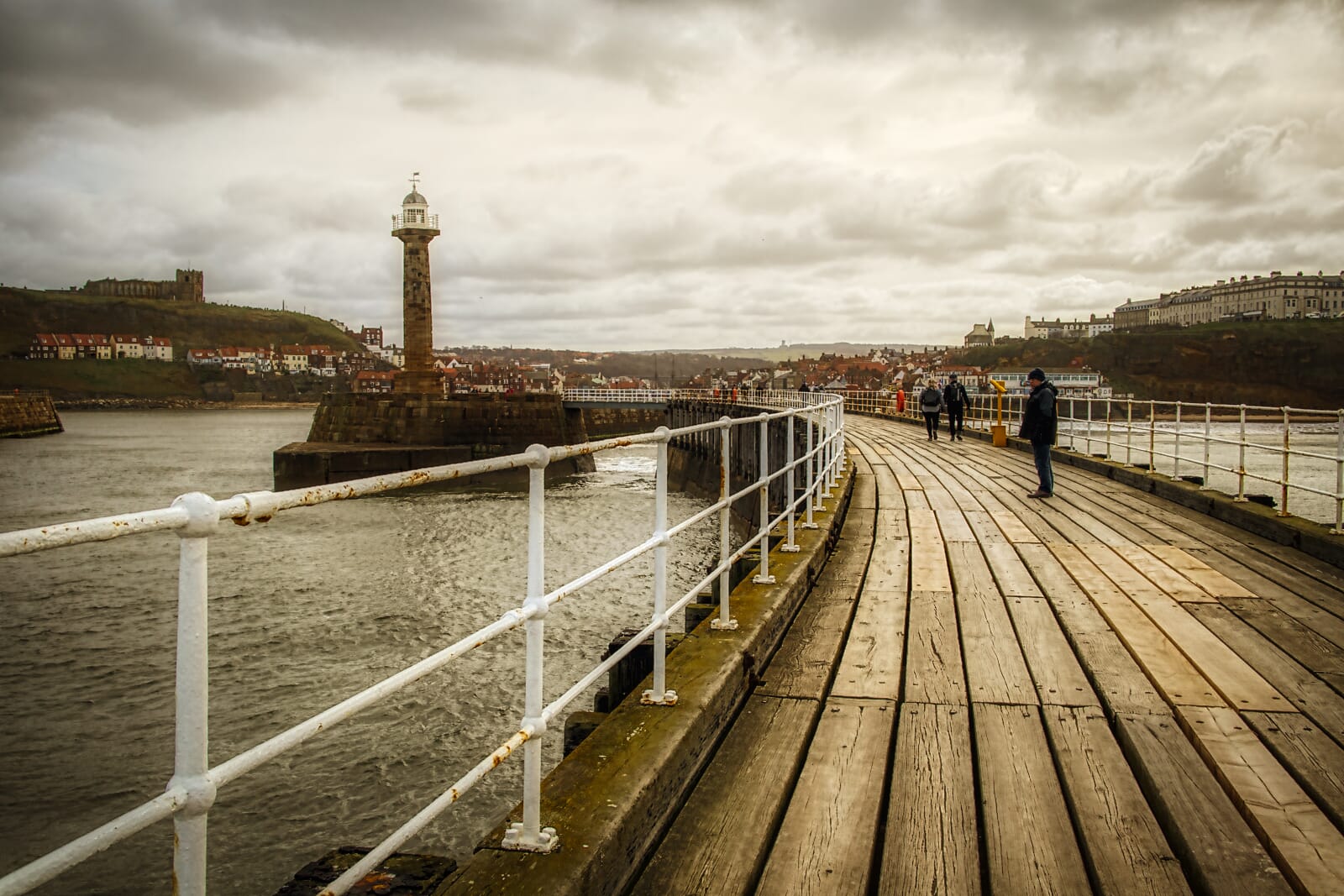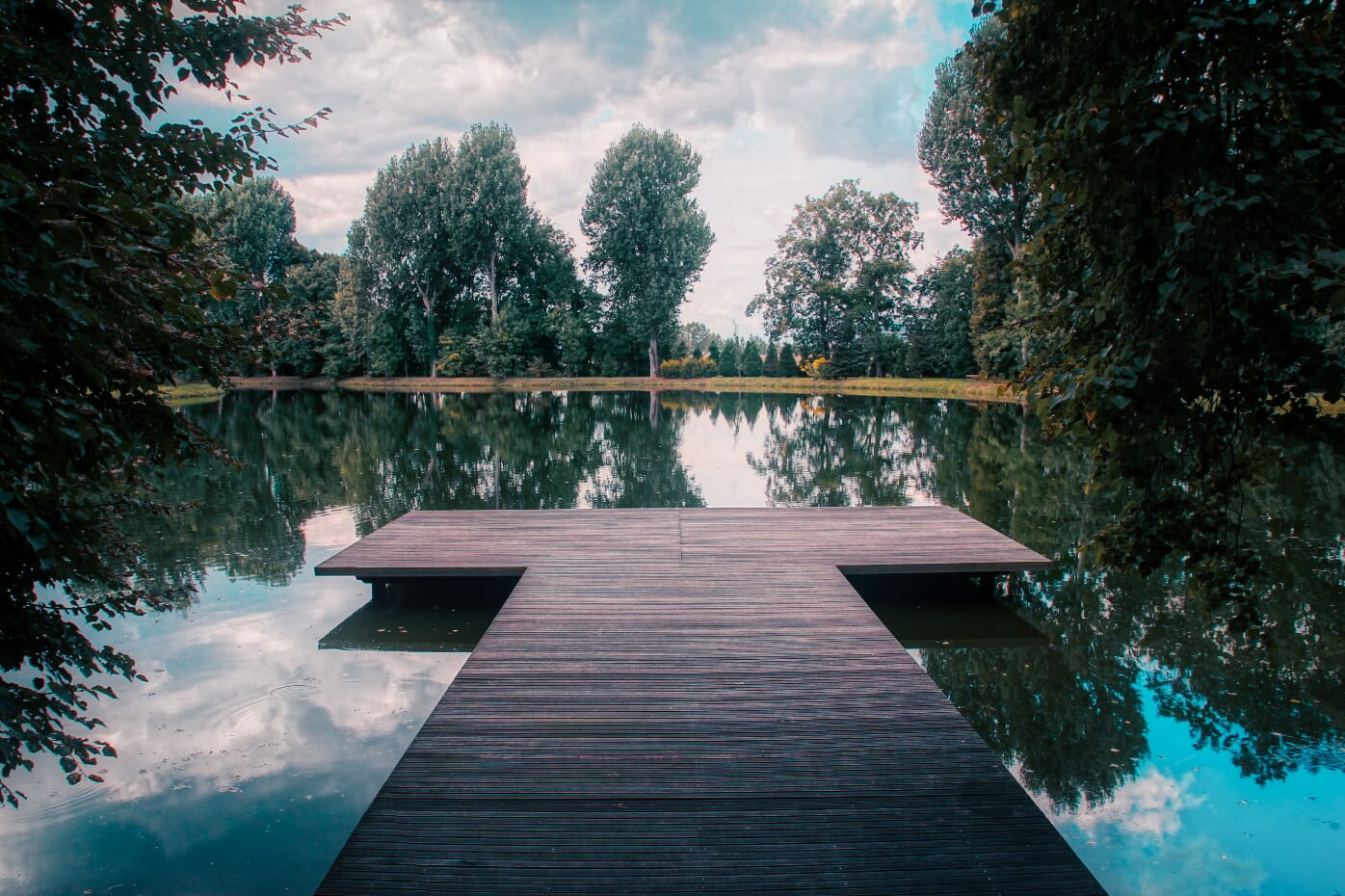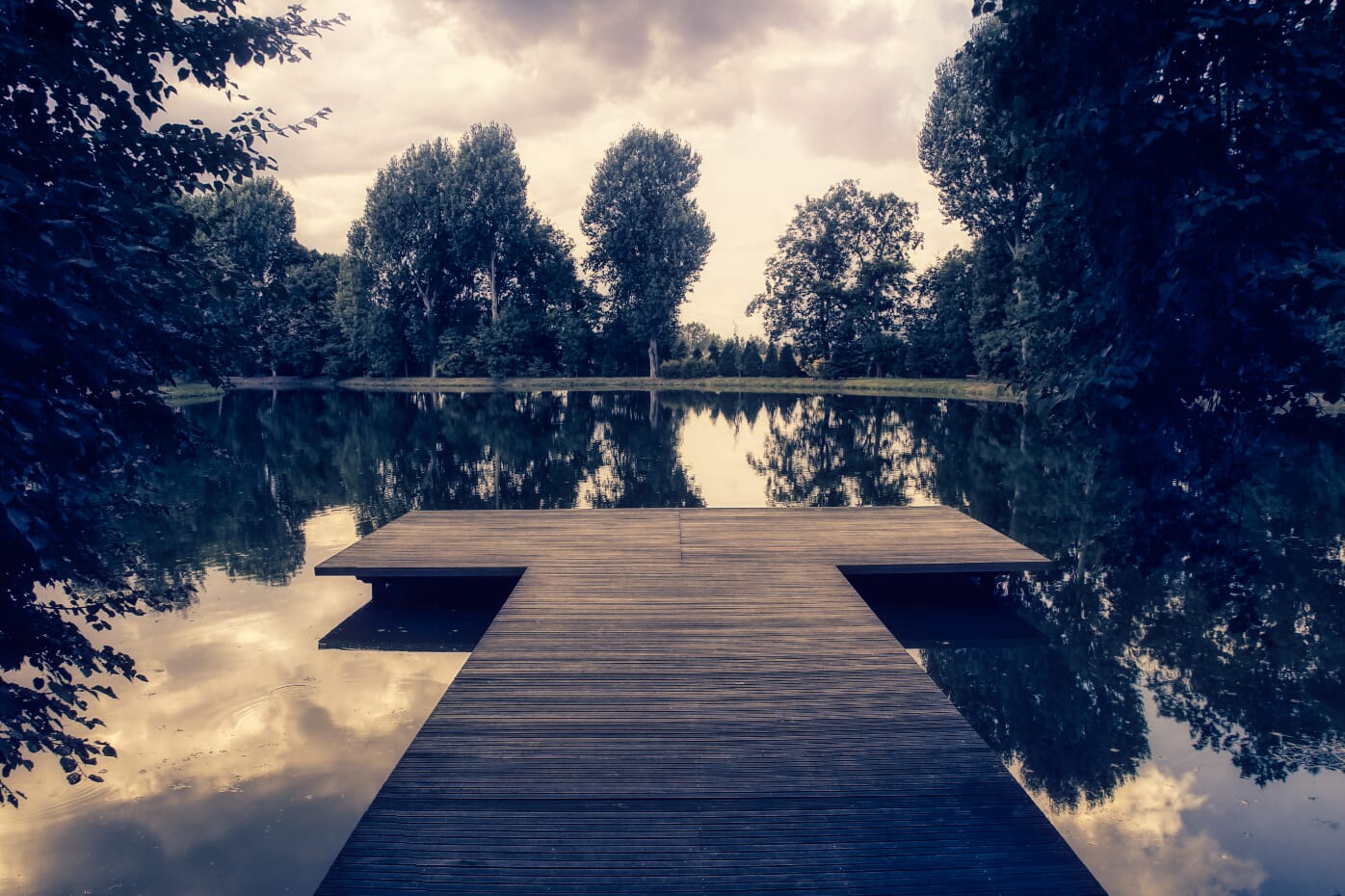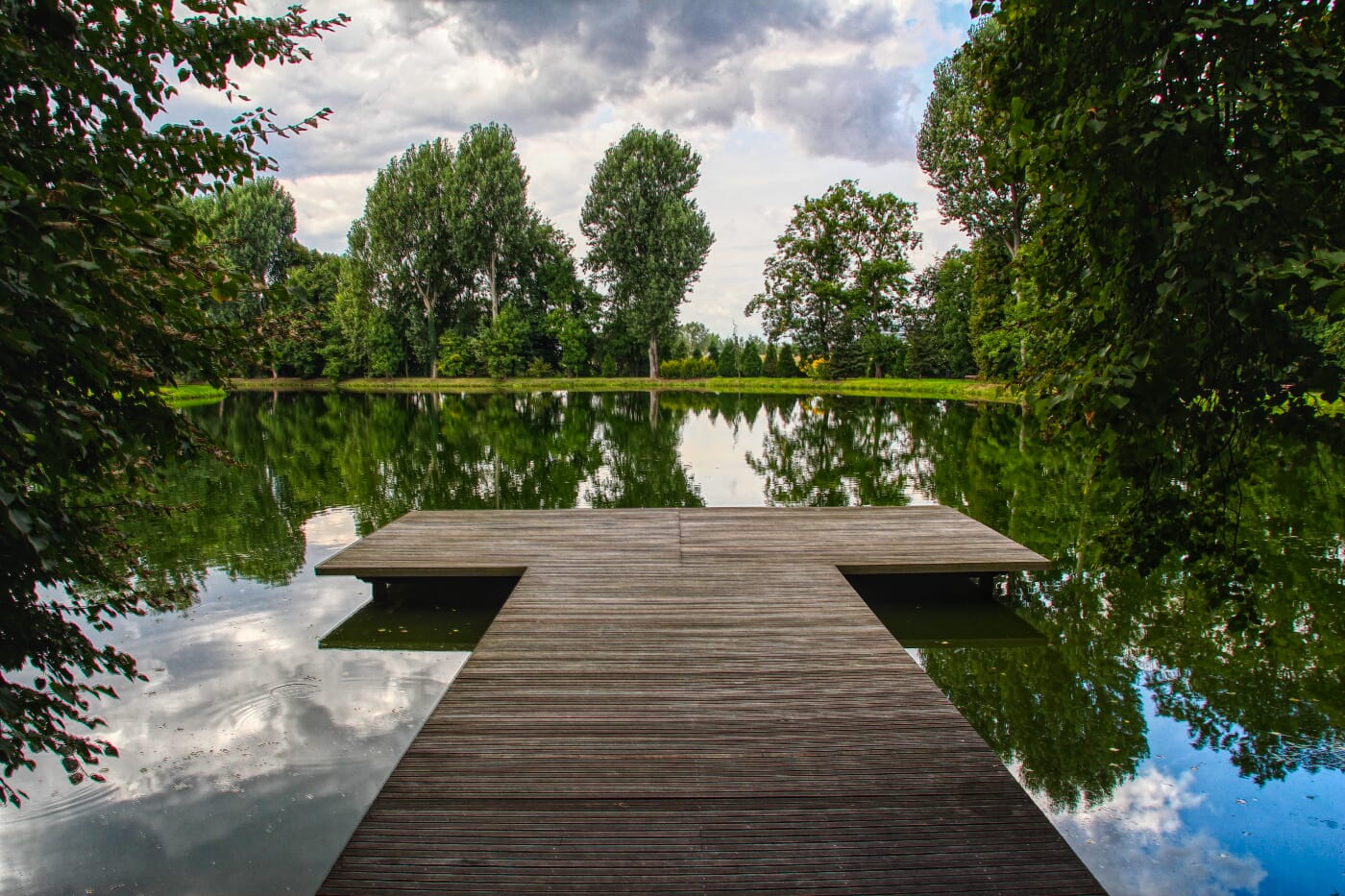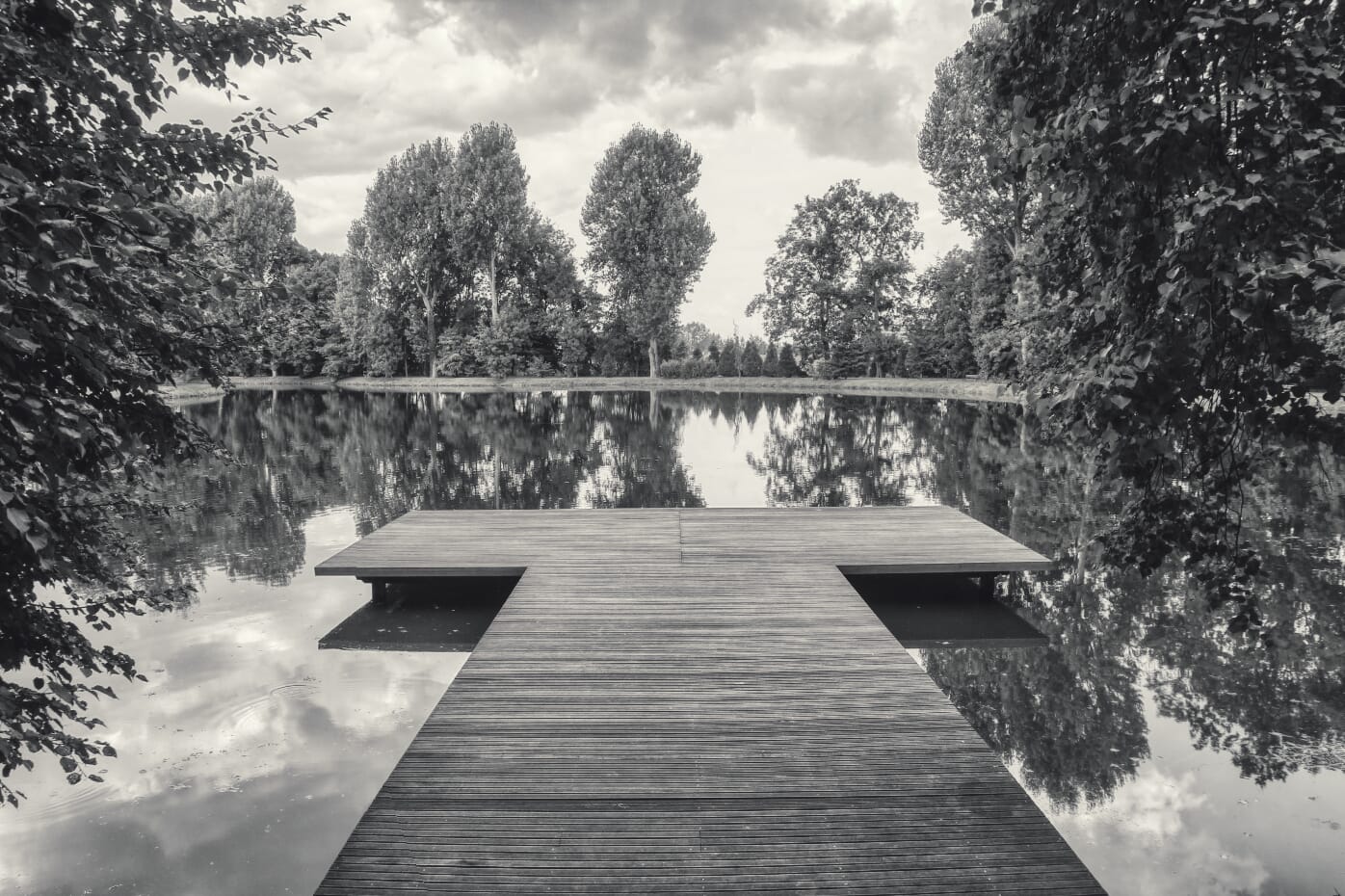 FAQs
If you have an older version of Aurora HDR can you upgrade?
Yes, you can upgrade to the latest version for a reduced price.
Does Skylum offer any type of money-back guarantee?
Yes, they have a limited 30-day money-back guarantee if you are not satisfied with the product.
Does Aurora HDR have support for RAW images?
Yes, it supports RAW images and you can combine together RAW images to create HDR composites.
Aside from the standalone version, how else can Aurora HDR be used?
Aurora HDR is available as a plugin for Lightroom, Photoshop, and Apple Photos.