With the daily expansion of information on the Internet, there has never been a better time to access the plentiful resources and tools for learning a new skill. In the creative industry, the interest in developing and strengthening one's photography skills is one of the largest topics covered online.
Taking note of this massive audience of beginner, amateur, and advanced levels of photographers, online blogs have been developed to teach artists everything they need to know to further develop their skill set and insight into the world of photography.
Whether you are just starting out or looking for continuing education and practice in the field, there is a photography blog that is perfect for you. To kickstart your journey, we have accumulated the top eight best blogs for learning photography.
Best Photography Blogs for Beginners
Our first photography blog is Digital Photography School. This blog is one of the most popular and longest-running publications on the web about photography.
It was founded by Darren Rowse, a photography enthusiast who wanted to create a site to share tips for photographers on how to effectively use their cameras. Digital Photography School was established in 2006 and currently has a readership of over 2 million.
This is a great source for learning about photography as the writers share tips and techniques to help readers improve on all aspects of their photography. All of the information on the site is free and if you want an additional level of education, there are courses and ebooks you can purchase for a fair price.
The blog features articles on photo tips, gear, and post-processing. It has everything you need to start or further your journey in photography.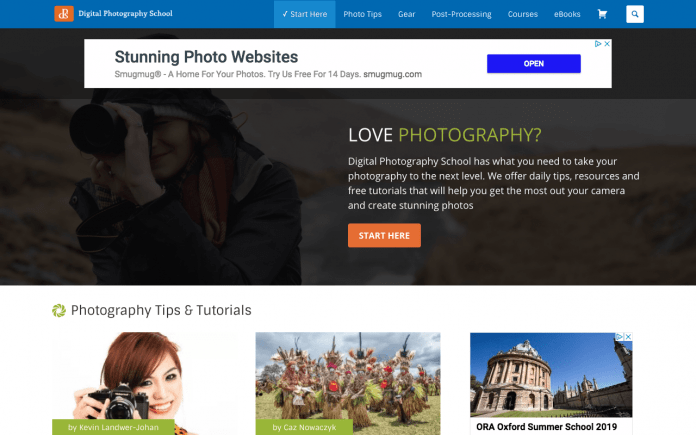 Our second photography blog is The Photo Argus. This is a blog for photography inspiration and resources. They bring you useful information, beautiful pictures, tips, photographer features, and more.
According to their website, "No photographer is an island. To keep learning and growing, we believe every photographer needs helpful information and inspirational examples. That's why we created The Photo Argus to bring you fresh ideas, useful tips and techniques, and a positive community to connect with."
This is a beneficial space to further your photographer skills as they offer free resources and valuable tips for any kind of visual creator. Some example articles include:
Winter Photography Tips for Landscape Photographers
Simple Tips for Shooting in the Rain
Surf Photography Tips: Learn the Basics of Taking Great Photos in the Water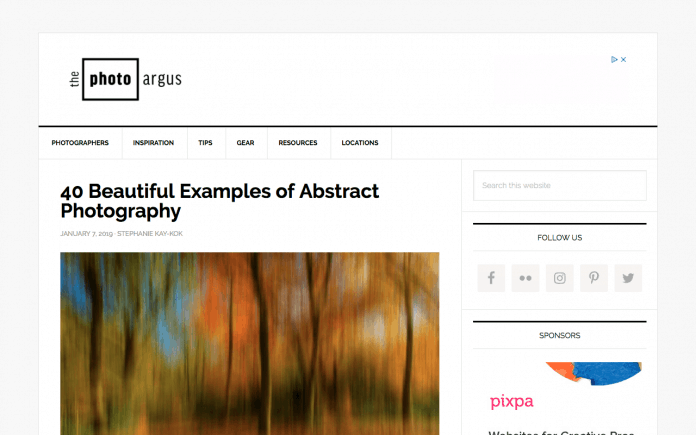 Our third photography blog is Fstoppers. This is a community-based photography news website featuring the latest industry news and original articles from photographers and videographers.
Related Post: 10 Best Photography YouTube Channels to Follow
The blog was created in 2010 by founders Patrick Hall and Lee Morris. Since then, it has grown into one of the top resources for photography lighting, gear reviews, business tips, behind the scenes, and industry news.
Articles that are currently trending on Fstoppers include:
My Favorite Trick in Photoshop When Editing Landscape Photographs
Dramatic Lighting Setups for Photographing Athletes
Ten Guidelines for Using a Tripod
The website can be effectively utilized to learn and educate its readers through their in-depth articles, tutorials and community that can be referenced for any photography-specific questions.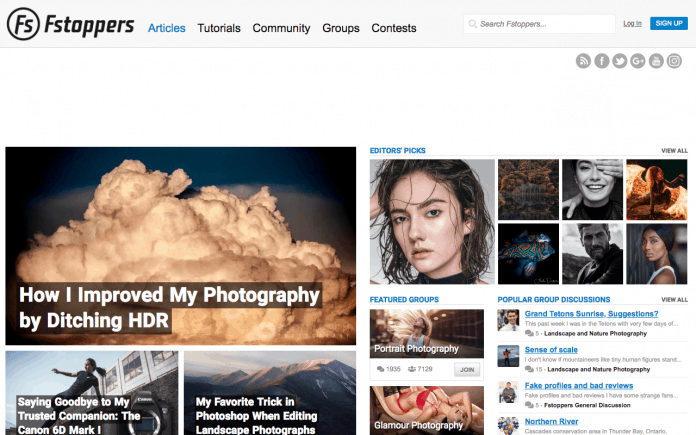 Our fourth photography blog is Photo Focus. This blog provides original content from the most accomplished photographers and leaders to help you become inspired for visual storytelling.
Photo Focus is an educational resource for aspiring and professional photographers. "Our goal is to assist in your success as an artist. We're here to make sure our audience gains insight into original and educational content from our team of experts, authors, and guest contributors."
Some of the example articles currently published on Photo Focus include:
Using Diffusers or Silks to Soften Light
The Advantage of Auto ISO
Photography Marketing: Five Resolutions for the New Year
Photo Focus is a genuine resource for learning photography as it covers a range of topics from tutorials, business, photography inspiration, software, personal opinions, and gear.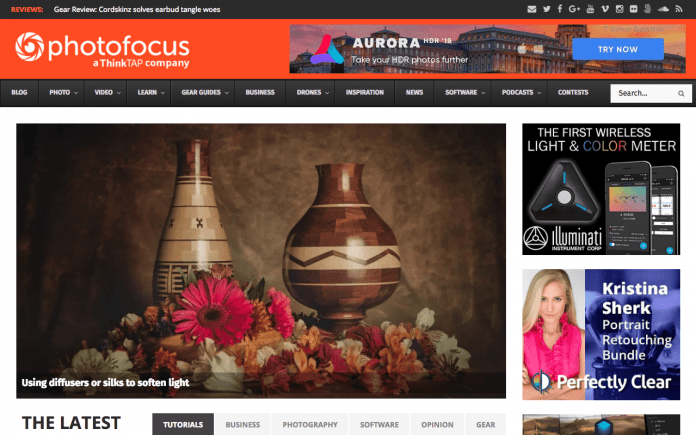 Our fifth photography blog is Popular Photography. Although Popular Photography was first and foremost a print magazine, it has since shifted some of its focus toward creating an in-depth online blog for photographers.
The website publishes content on gear, how-to tutorials, a buying guide, the latest industry news, galleries, video information, and contests for their readers to enter.
Examples of some of the content you would find on their blog include:
How to Create Striking Abstract Architectural Photography
Documenting What True Love Looks Like
Film Photography Gift Guide
One Instant Is a Peel-Apart Film from the Creators of the Impossible Project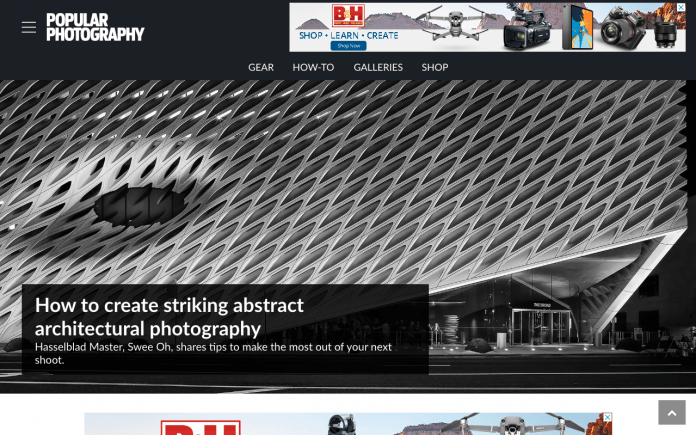 Our sixth photography blog is the SLR Lounge. This is an online learning platform that offers its readers an informative blog as well as the opportunity to sign up and enroll in workshops.
SLR Lounge offers tips and tricks, gear and application reviews, and news and insight for its readers. Article topics include:
Let's Double the SEO Traffic to Your Photography Website in 12 Weeks
Magbox Review for Wedding Photographers
5 Online Proofing Tips to Improve Your Client Experience
If you are looking for an array of article topics as well as the possibility to start more in-depth photography courses, SLR Lounge is the perfect fit for your photographic needs.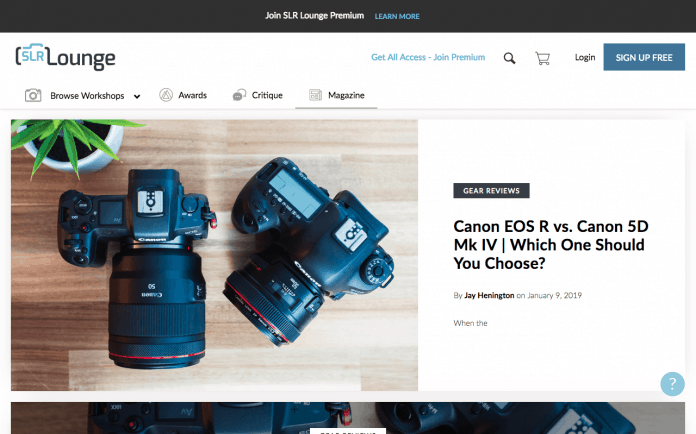 Our seventh photography blog is ExpertPhotography. The blog was built by a self-taught photographer who aimed to make the process of learning photography accessible and understandable for beginners. His goal was to make a high-quality website with photography examples that can help his readers to understand and apply the techniques from his content.
ExpertPhotography is a resource that has several guides for photographers, such as:
Photography for Beginners
Macro Photography
Portrait Photography
Landscape Photography
And more
Additionally, the website produces insightful articles that cover a range of topics within the photography industry. From photo challenges to step-by-step guidelines and content for inspiration, ExpertPhotography provides its readers with the tools they need to strengthen their creative skills.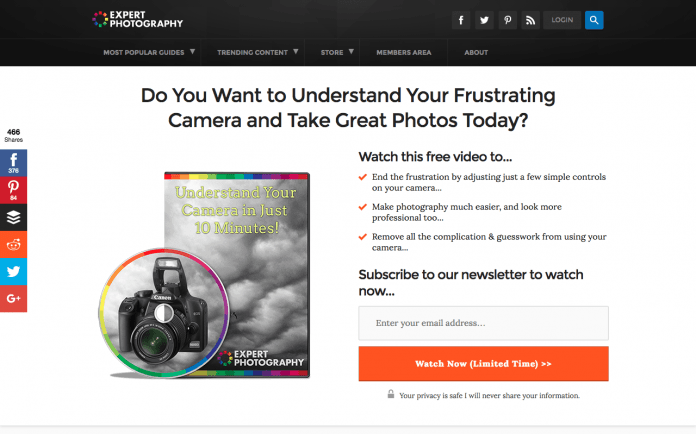 Our eighth photography blog is Strobist. This blog is a bit different from the others we have discussed in this article, as it solely focuses on teaching photographers how to use their off-camera flash.
According to their website, this blog is where you learn how to light. It is the world's most popular resource for photographers who want to learn to use their flashes like a pro.
The site provides a beginner's guide to new readers called Lighting 101. If you are satisfied with your learning experience, Strobist has further instructional guides on Lighting with sections 102, 103, and a Lighting Cookbook.
Their blog features an archive of photo stories and articles all in relation to utilizing your off-camera flash. This dedicated resource is extremely helpful for photographers looking to strengthen their knowledge of artificial lighting.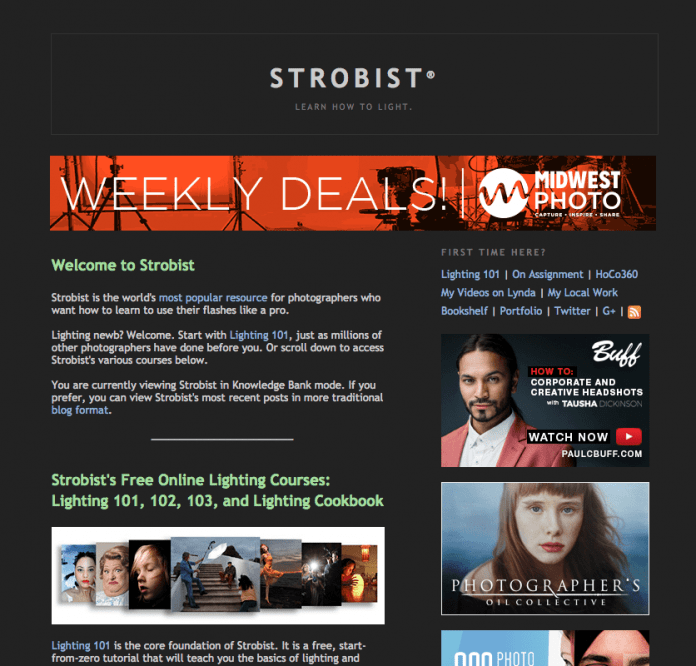 From technical reviews to tutorials and in-depth learning guides, these 8 online resources are ideal for any photographer looking to advance in the creative field.
Have you read any of these photography blogs? Did they help you learn more about the industry and craft? Share with us your thoughts in our comments below.