If you're a landscape photographer who loves doing (or wants to start doing) long exposures, a neutral density filter (ND filter) is a must-have for your kit bag. But if you're on a budget, finding a good quality ND filter that will do the job just right can be challenging. In this article, we've hand-picked the best budget ND filters.
All these filters will cost you under $50 apiece. If you have a sole landscape lens and a specific F-stop in mind, that means you're going to get the filter you need for less than $50.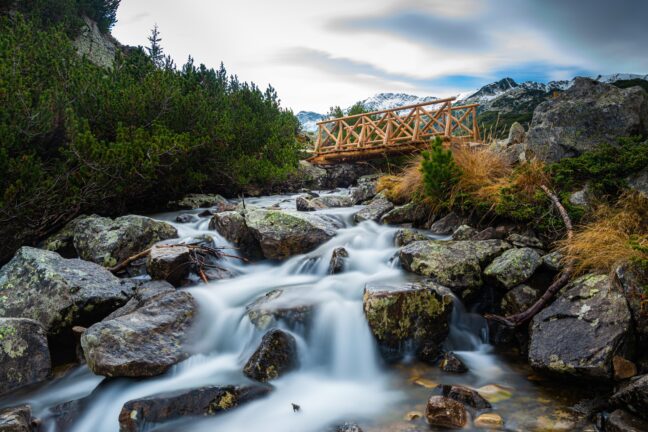 A Note On ND Filters
Before we dive into the best budget ND filters, there are a few things to note about choosing your ND filter:
You should pre-select the lens you intend to use your ND filter on. The diameter of your ND filter is fixed, meaning it won't fit on a lens with a different diameter. You can check the diameter of the lens by finding this symbol on your lens: ø. You'll see something along the lines of ø52. This means your lens has a diameter of 52mm, so you need a 52mm ND filter to fit the lens.
What you want to photograph will determine what strength filter you need. The higher the number, the more light the filter blocks. If you're not sure what strength filter you need, investing in a kit can be beneficial.
As with all camera glass, you get what you pay for. A cheaper ND filter is going to be more susceptible to ghosting, variability in strength, and color casting.
If you'd like to learn more about how to pick an ND filter, we wrote this article which is very informative and can help you make a decision on what ND filter to choose.
The Best Neutral Density Filters on a Budget
Gobe NDX Variable Neutral Density Filter
ICE 77mm ND1000 Filter 10 stop
K&F Concept 58mm Variable ND Fader
Lenskins 77mm ND 1000 Filter
Newer 52mm ND filter package ND2, ND4, ND8 and ND16
Alturo Photo Professional Photography filter kit
We decided to start this discussion with a variable ND filter. The Gobe NDX Variable is a great choice if you do want to utilize a range of F-stops.
This filter is available in several different filter thread specifications including 67mm, 72mm, and 77mm. In terms of its light-blocking function, the filter offers a variable light stopping power from ND 2 to 400. If you're really not sure what kind of filter strength you're looking for and a kit seems like too much hassle, this filter could be a great way of experimenting with a range of stops.
The only problem with this filter seems to be an 'X' mark that crops up on some images. You might not be able to take it to full-strength due to this, but you should still find yourself with a lot of room to play. Just be wary of the 'X' appearing and periodically check your images.
ICE is a reasonably well-known brand in the budget segment. They make different types of filters for the enthusiast photographer.
We picked their 10 stop ND filter model as it's a perfect mark for landscape photographers. If you're looking for a different strength, there are plenty of other options available offered by ICE.
In terms of quality, this ND filter is not the best, but also not the worst, especially for the price. You'll likely experience some vignetting from this filter, but if you have good quality lens glass, this shouldn't be too bad.
This is another ND filter that gives you a range of stops to work with. This one comes at a far cheaper price than the Gobe model and you can see that in your photos. At higher strengths, and on wider lenses, you're doing to see a lot of optical imperfections, including an uneven distribution of the filter strength.
If you're wanting to test out with a low-cost filter set (or variable ND filter), before committing to and purchasing a higher-quality ND filter, this is a great option. For people who just enjoy experimenting with photography, this is also a good choice.
If you're looking for one of the best ND filters you can get for under $50, this Lenskins ND Filter is exactly what you have been looking for. It offers 10-stops of light blocking, making it perfect for most landscape photography ventures.
The filter has received rave reviews from many users and we are confident that you'll love what it has to offer. You can get some truly stunning long exposure shots with this filter. Images retain accurate colors and don't have significant loss of sharpness.
Lenskins have also gone the extra mile with their design, ensuring the filter is sleek. While this might not make much of a difference for many, reducing the bulkiness of year gear is always a good thing!
Neewer is a well-known brand in the filter segment. They manufacture a wide variety of filters that are often suited to those on a budget. This filter bundle is perfect for photographers who dip their toes in various kinds of photography.
The kit offers an ND2, ND4, ND8, and ND16 filter. So this should cover all your bases in the field.
Don't let the price of this kit fool you, the filers are actually of high quality! The only flaw that we noted was a slight blue color cast being added to photos. But you can easily fix this problem with a little bit of post-processing.
This is the best budget ND filter set you can find on the market!
Altura Photo Professional Photography filter kit is a great budget offering with more than just an ND filter in tow.
With this bundle, you'll get a UV filter, a Circular Polarizing filter, and an ND4 filter. While ND4 isn't going to be the best for landscape photography, you might find it beneficial to use with general photography experimentation. The standard UV filter is great for adding a bit of extra protection to your lenses, preventing scratches on the glass and UV damage to internal parts.
For photographers looking to get a bit of everything, this professional photography filter kit is a great choice!
---
Disclosure/Disclaimer: As an Amazon Associate, we earn from qualifying purchases. Certain content was provided "as is" from Amazon and is subject to change or removal at any time.