In this article, we're going to share the absolute best cameras for astrophotography you can buy right now.
After hours of research, we've discovered stellar astrophotography cameras at every price point and from all the major camera manufacturers. The list also features a mix of DSLRs and mirrorless cameras.
So you're guaranteed to find the right camera for you.
Let's take a look at our top picks: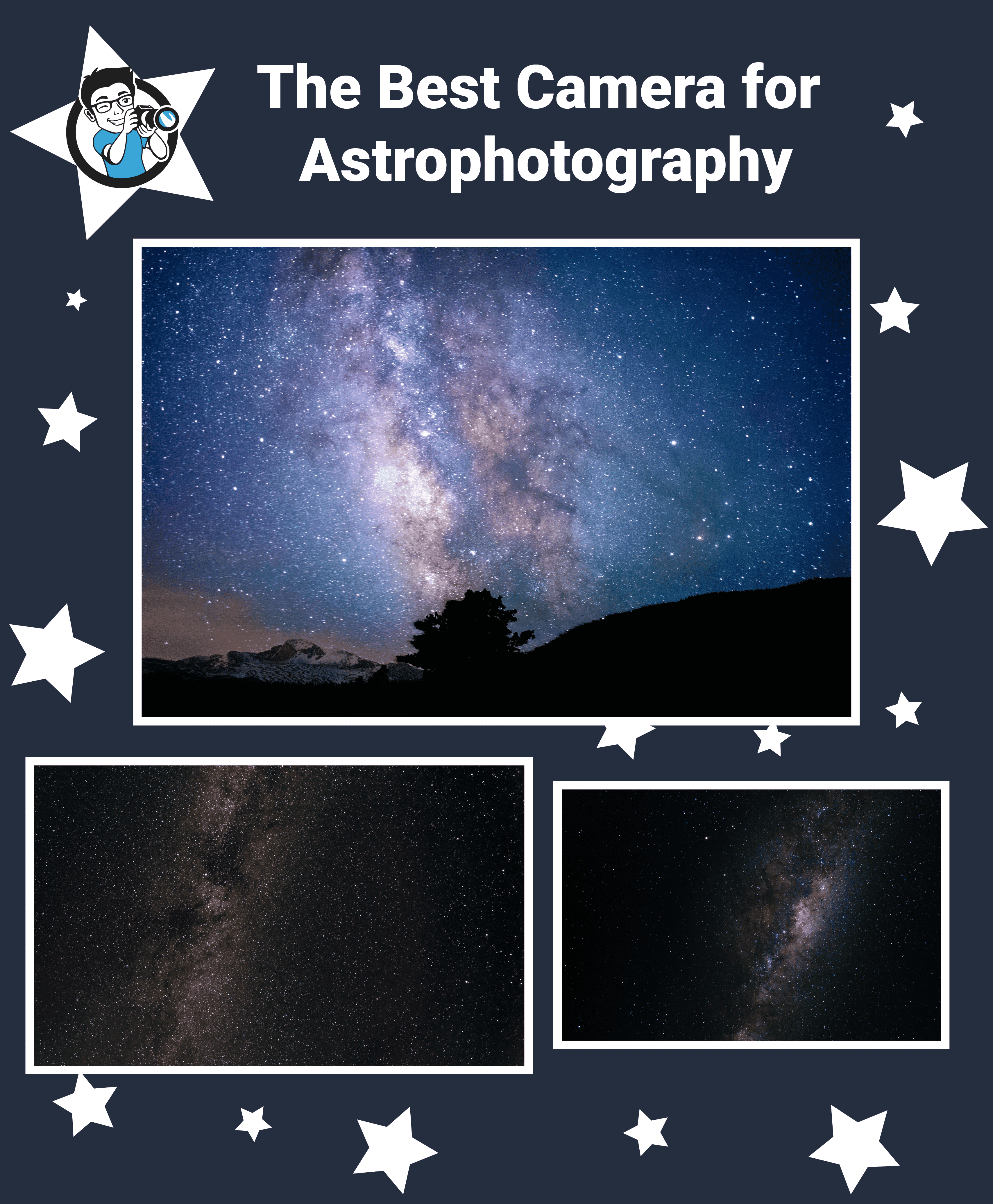 1. Nikon Z6
Our Pick
The best camera for serious astrophotography
The Nikon Z6 offers stellar low-light performance, great ergonomics, and a superb selection of lenses. If you're after pro-level astrophotography photos, the Z6 is a great choice.
Gorgeous low-light image quality
Comfortable design
Expansive selection of fast lenses
If you're after the absolute best astrophotography camera money can buy, look no further than the Nikon Z6, a camera that combines stellar low-light image quality, excellent ergonomics, and access to some of the most powerful astrophotography lenses on the planet.
The Nikon Z6 quite possibly offers the best high-ISO performance of any camera on this list. Noise doesn't become apparent until around ISO 3200, and you can comfortably shoot until at least ISO 12800 (and potentially past that, depending on your end goal for the image). In astrophotography, it's important to keep your shutter speeds below 20 seconds or so, which means you're often shooting at ISOs of 6400 and beyond; without the power of a Z6-like sensor, you'll often end up with unusably noisy images.
The Z6 also just feels great, and pressing buttons in the dark becomes very easy, very fast. You'll love the tilting LCD, which will help you compose when shooting at night.
An astrophotography camera is nothing without its lenses. Fortunately, the Z6 is very well-placed, offering access to both high-performing AF-S lenses (such as the 20mm f/1.8G) and excellent Z lenses (such as the 24mm f/1.8 S). Plus, there's always the option to shoot with third-party glass, such as the stellar Irix 11mm f/4, which tends to cost less while offering a similarly strong (or better) performance.
Yes, the Nikon Z6 costs a lot. And it offers a lot of camera, which makes it a poor option for photography beginners in search of a first astrophotography snapper. But if you're a serious shooter in need of the best astrophotography camera on the market today, then the Z6 is the way to go.
2. Canon EOS Ra
Also Great
Best for high-resolution shots of the night sky
The Canon EOS Ra is designed specifically for astrophotography u002du002d and thanks to an IR cut filter, you can capture unprecedented detail.
IR cut filter for enhanced detail
Powerful Live View magnification
Beautiful image quality
Mediocre high-ISO performance
The Canon EOS Ra is the only camera on this list specifically designed for astrophotographers, and that makes it special; it offers several astrophotography-focused features that you won't find elsewhere on this list.
First, the EOS Ra features an IR cut filter, which allows Hydrogen Alpha wavelengths to reach the sensor. Because H-Alpha wavelengths are a major component of certain types of starlight, the EOS Ra serves up improved detail — which makes for unusually stunning images of the night sky.
Second, the EOS Ra offers enhanced Live View and electronic viewfinder magnification; that way, you can ensure complete accuracy when focusing (which will prevent you from arriving home only to find a slew of blurry images on your memory card).
In every other way, the Canon EOS Ra is just like the EOS R, which certainly isn't a bad thing. The camera offers a very nice 30 MP sensor, plus decent high-ISO performance, even if it isn't quite as impressive as the Nikon Z6. Then there's the fully articulating screen, which is perfect for checking your composition and focus from odd angles. Access to a set of incredible Canon lenses is just icing on the cake.
Honestly, for dedicated astrophotographers, the IR cut filter alone makes this camera worthy of consideration. Add to that a relatively reasonable $2500 USD price, and you've got yourself a winner.
3. Fujifilm X-T30
Budget Pick
Best for astrophotography on a budget
The X-T30 delivers surprisingly strong image quality for a great price. If you're looking to get started with astrophotography, it's an excellent choice.
Reasonably priced
Impressive high-ISO performance
Compact build
Design doesn't suit everyone
If you're looking for a budget alternative to the full-frame cameras on this list, then check out the Fujifilm X-T30. While it's not as flashy as the Nikon Z6 or the Sony a7 III, and while it doesn't offer low-light shooting on quite the same level, you get a surprisingly capable body with access to a lot of powerful lenses.
Fujifilm isn't the most popular camera brand out there, but its image quality is consistently top-notch — exactly what you want in night sky photography. High-ISO performance is great for an APS-C camera, especially given the price. Realistically, the X-T30 can't hold its own against a full-frame camera like the Z6, but you can still shoot at ISO 6400 and come away with crisp, printable images.
Related Post: Fujifilm X-T30 Review: A Great Camera for a Great Price
The X-T30 is also an impressively compact camera, which makes it ideal for astrophotographers who spend time on the road, or who enjoy hiking with their camera in tow. And the design, while unorthodox, suits photographers who prefer a more tactile shooting experience.
Honestly, it's crazy that you can buy a camera this powerful for under $1000. And the Fujifilm astrophotography lens selection is quite excellent; you can shoot with several fast 16mm lenses, a 14mm lens, and you'll even be able to grab some powerful Samyang options.
So for enthusiast astrophotographers on a budget or beginners looking to get started with astrophotography, the X-T30 is the camera to beat.
4. Sony a7 III
Best for Sony photographers
If you're a Sony shooter interested in astrophotography, the a7 III is the camera to beat. Low-light performance is top-notch, and battery life is great for a mirrorless model.
Great low-light performance
Excellent battery life
Priced better than other Sony alternatives
The Sony a7 III is simple compared to some of the more high-end Sony cameras, such as the Sony a7S III and the high-priced Sony a9 II. And it isn't the sort of high-resolution behemoth that we've seen with the Sony a7R IV or the Nikon D850.
But it excels at low-light photography, and that is why it's a great astrophotography camera.
The camera sports a 24.2 MP sensor with a native ISO range of 100-51,200. As an astrophotographer, you wouldn't be using the lower end of this ISO range, but you can get astonishing results at the higher ISOs, which is perfect for those starry night images.
Plus, you get an impressive battery life (around 650 shots). If you like to spend long nights shooting in the field, this is a huge benefit.
The Sony a7 III certainly gives the competition a run for its money, and for Sony photographers, it's definitely worth considering.
5. Nikon D850
The best DSLR for astrophotography
The Nikon D850 may be getting on in years, but it offers top-notch resolution and impressive low-light performance.
Amazing high-ISO capabilities
45 MP resolution
Great ergonomics
If you're looking for the best camera for astrophotography but would prefer to stick with a DSLR camera, the Nikon D850 is a great pick.
The camera has a very extensive exposure and metering range, -5 to +5 EV and -3 to +20 EV respectively, both of which make it excellent for shooting in extreme low light while retaining detail at all brightnesses.
In terms of its low-light features, the camera has an ISO range of 64-25,600. This is perfect for low-light photography. And at higher ISOs, the camera still performs well in terms of noise. Another great advantage is the full-frame sensor housed within the camera, as this makes for larger pixels that can take in more light.
A more complex feature that aids the camera in low light is dual conversion gain technology, which helps with noise reduction at higher ISOs.
If we move away from the technical side of things, there are some nice additions that have been made with the astrophotographer in mind. These include backlit buttons and adjustable Live View brightness. These features make it easier to operate the camera in the dark without the need for additional equipment.
The D850 is pretty bulky, which makes it less travel-ready than its mirrorless competitors — but for those who don't mind the size and weight, it's an excellent choice.
6. Nikon Z7
Best high-resolution option for Nikon photographers
The Nikon Z7 is a megapixel monster, and low-light performance is pretty darn good, too. If you're after a Nikon camera that combines resolution and night capabilities, the Z7 is a great pick.
45 MP for outstanding detail
Excellent ergonomics
High-ISO performance
Looking for a mirrorless camera that can capture high-resolution astrophotography? The Nikon Z7 might be just what you're after, thanks to its 45.7 MP sensor, all-around excellent performance, and — like its sibling, the Z6 — access to an impressive array of lenses.
Now, the Nikon Z7 is one of the highest resolution cameras on this list, and there's an important tradeoff between resolution and high-ISO noise. Fortunately, while the Z7 can't quite compete with the Z6, it's certainly a strong high-ISO performer, offering usable images up to ISO 6400 and potentially ISO 12,800 (as I've emphasized throughout this article, what counts as an acceptable ISO depends heavily on both your personal tastes as well as your goals for the image). That way, you can capture beautiful, noise-free images long into the night.
Plus, 45 megapixels comes with its own advantages. You can make large prints, you can downscale for improved noise performance, and you can crop heavily. Can you imagine one of your astrophotography shots as a gorgeous 40×60 print? That's what the Z7 can do for you.
The Z7 also offers impressive dynamic range — great for retaining detail during sunrise and sunset shoots — which is why it's a great choice for anyone seeking to shoot both nightscapes and landscapes. And then there are the lenses: stellar Nikon AF-S lenses, outstanding Nikon Z lenses, plus third-party options, which all have the potential to capture tack-sharp shots of the night sky.
The Z7 is a great all-around performer, too, thanks to its in-body image stabilization, 8 frames-per-second continuous shooting, and 4K/30p video recording.
So if you're after a camera that can perform well in low light while capturing high-resolution files, the Nikon Z7 is a great choice.
7. Sony a7R IV
Best for high-resolution astrophotographers
The Sony a7R IV can't compete with the low-light capabilities of the a7 III or the Z6, but it offers the highest resolution of any camera on this list. If you want to create huge prints of the night sky, the a7R IV has you covered.
Jaw-dropping resolution
5.76M-dot electronic viewfinder
Stunning dynamic range
Sony's Alpha line of cameras really is powerful, and it goes without saying that the Sony a7R IV is a force to be reckoned with. At a whopping 61 MP, the resolution on this camera smashes virtually all full-frame and APS-C cameras available today.
Now, with this sort of resolution, you'd expect there to be a catch, but there isn't! In fact, it only gets better. The electronic viewfinder has a resolution of 5.76 million dots, meaning you'll get stunning visuals as you view your subjects through the eyepiece.
And even in the low-light department, you'll still be blown away. The camera comes with an impressive ISO range of 100-32,000 (plus 15 stops of dynamic range).
This is a great camera, and you'll be incredibly happy with the results you get from it, especially when shooting the night sky.
8. Nikon D5600
Best for DSLR fans on a budget
The Nikon D5600 is the best budget DSLR for astrophotography. It offers decent low-light performance, great ergonomics, and takes beautiful images for a reasonable price.
Low price
Decent high-ISO performance
Nice dynamic range
Image quality can't compete with full-frame models
The Nikon D5600 is an entry-level APS-C DSLR, and it's a good budget option for astrophotography. The sensor has a resolution of 24.2 MP, and the camera is capable of shooting at ISO 100 all the way up to ISO 25,600.
The dynamic range of the D5600 is one of the best at this price point. It performs admirably at the lowest ISO level when shooting with nothing more than street lights. When you push the ISO to 1600, noise starts to creep in — but even then, the overall results are decent.
And the autofocusing system of the camera can work in near darkness (down to -1 EV). This makes the D5600 one of the best entry-level cameras for astrophotography.
So if you are on a tight budget, or you're just wanting to dip your toes into astrophotography, the Nikon D5600 is an ideal starting point. You'll get good results for a great price.
9. Canon 5D Mark IV
The best astrophotography DSLR for Canon shooters
The Canon 5D Mark IV offers great low-light performance, plus you get access to Canon's lineup of excellent lenses. For Canon DSLR shooters, the 5D Mark IV is a great pick.
30 MP resolution
Good low-light performance
Excellent ergonomics
Expensive for an older DSLR
Canon's 5D series is a favorite among photographers, so it makes sense we'd include the latest model, the Canon 5D Mark IV. This camera offers one of the best low-light performances from a DSLR. Canon may have previously had a bad reputation for high-ISO capabilities, but the 5D Mark IV defies expectations.
Canon has produced some impressive on-chip signal conversion technology, which greatly enhances the low-light performance of this camera by reducing the noise present in images.
When it comes to the standard specs, this camera has a 30.4 MP full-frame sensor paired with Canon's DIGIC 6+ image processor. The processor makes for some fast shooting, allowing for high frame rates and faster autofocus.
In terms of ISO: This is where the 5D Mark IV really shines. With an ISO range of 100-32,000, you'll do just fine when out capturing night sky images. And at the higher ISO ranges (around 1600), your images will still be rather clean and noise-free.
One area where this camera falls short when compared to some of the other cameras on this list is in the ISO invariance department. Canon's 5D Mark IV is far from ISO invariant, which means that noise will creep if you choose to push up the exposure in post-processing. While it's not a major drawback, it is still something worth considering.
If you're a Canon user and you want a camera that will get you stunning astrophotography images, the Canon 5D Mark IV is the best Canon DSLR you can get for this purpose.
10. Fujifilm X-T4
Best APS-C camera for serious astrophotographers
The Fujifilm X-T4 is powerful, it can take stunning images, and it feels great in the hands. If you prefer the travel-readiness of an APS-C camera, the X-T4 won't let you down.
Compact body
Surprisingly strong high-ISO capabilities
Price
Limited third-party lens options
While the Fujifilm X-T4 doesn't offer the low-light prowess of the latest full-frame cameras, it comes pretty darn close — and it does it without breaking the bank.
The X-T4 is one of those cameras that looks unassuming, but once you're given the chance to use it, you won't want to put it down; it feels great in your hands, and image quality is absolutely top-notch for an APS-C camera.
As I mentioned above, high-ISO performance can't compete with most of the full-frame cameras on this list. But the Fujifilm X-T4 still does a great job in the dark, offering relatively clean images at high ISOs (personally, I wouldn't hesitate to take the X-T4 to ISO 6400, and ISO 12800 is still pretty decent). Your files will look beautiful, even blown up large and printed.
Fujifilm cameras are known for their retro-style ergonomics, and for astrophotographers, this is something of a mixed bag. On the one hand, it's difficult to make a mistake when using an aperture ring and manual dials to adjust your settings in the dark. But actually finding the dials in the dark can be tough, and old-school dials and rings aren't especially fast to work with.
Finally, it's worth mentioning the X-T4's lenses. You won't be able to shoot with all the Samyang and Irix manual focus lenses that make enthusiast astrophotographers salivate, but you will have access to a great lineup of (surprisingly cheap) Fujifilm glass.
Here's the bottom line:
While the Fujifilm X-T4 isn't a pro-level astrophotography camera, it's certainly a strong performer, and it offers a lot of appeal for photographers already a fan of the Fujifilm system.
The Best Cameras for Astrophotography: Buying Guide
There are certain aspects of low light photography that you need to bear in mind before you can begin the hunt for the best camera for astrophotography.
As you can imagine, astrophotography relies heavily on good low-light performance. You are shooting in the night sky, after all.
The best time to go out and shoot is in clear new moon light, or preferably with the moon below the horizon so as not to impact your exposure.
And the best locations are those far away from cities and/or highways. You want to avoid the glare of the city, the light pollution, and smog.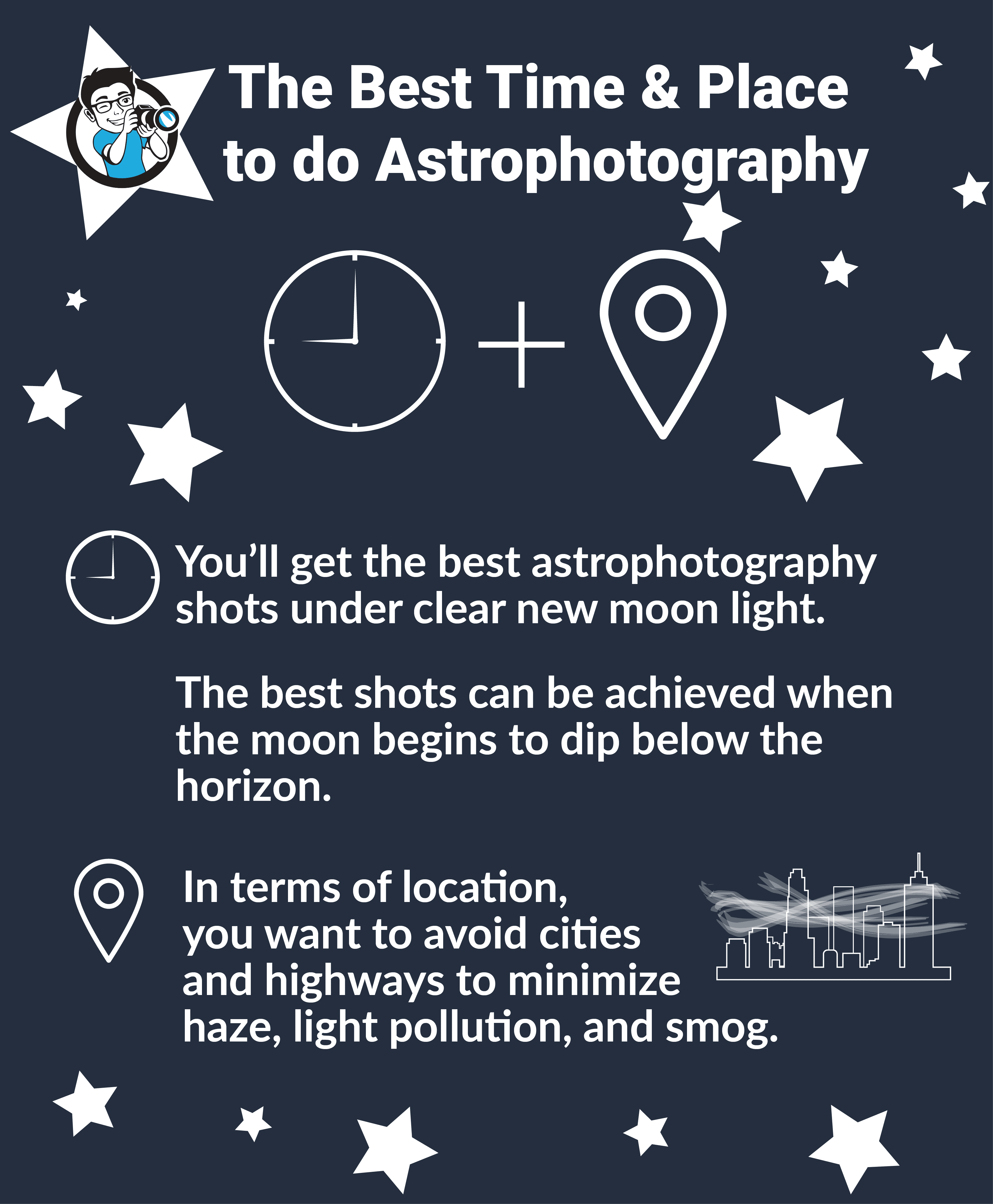 Problems When Shooting in Low Light
The problem with shooting in such a lighting scenario is that your camera's built-in meter will go bonkers thanks to insufficient light.
The camera will continuously indicate that you are underexposing the scene and that you need to increase the exposure. Handling this situation is where your experience and judgment come into play.
You will have to set your exposure manually.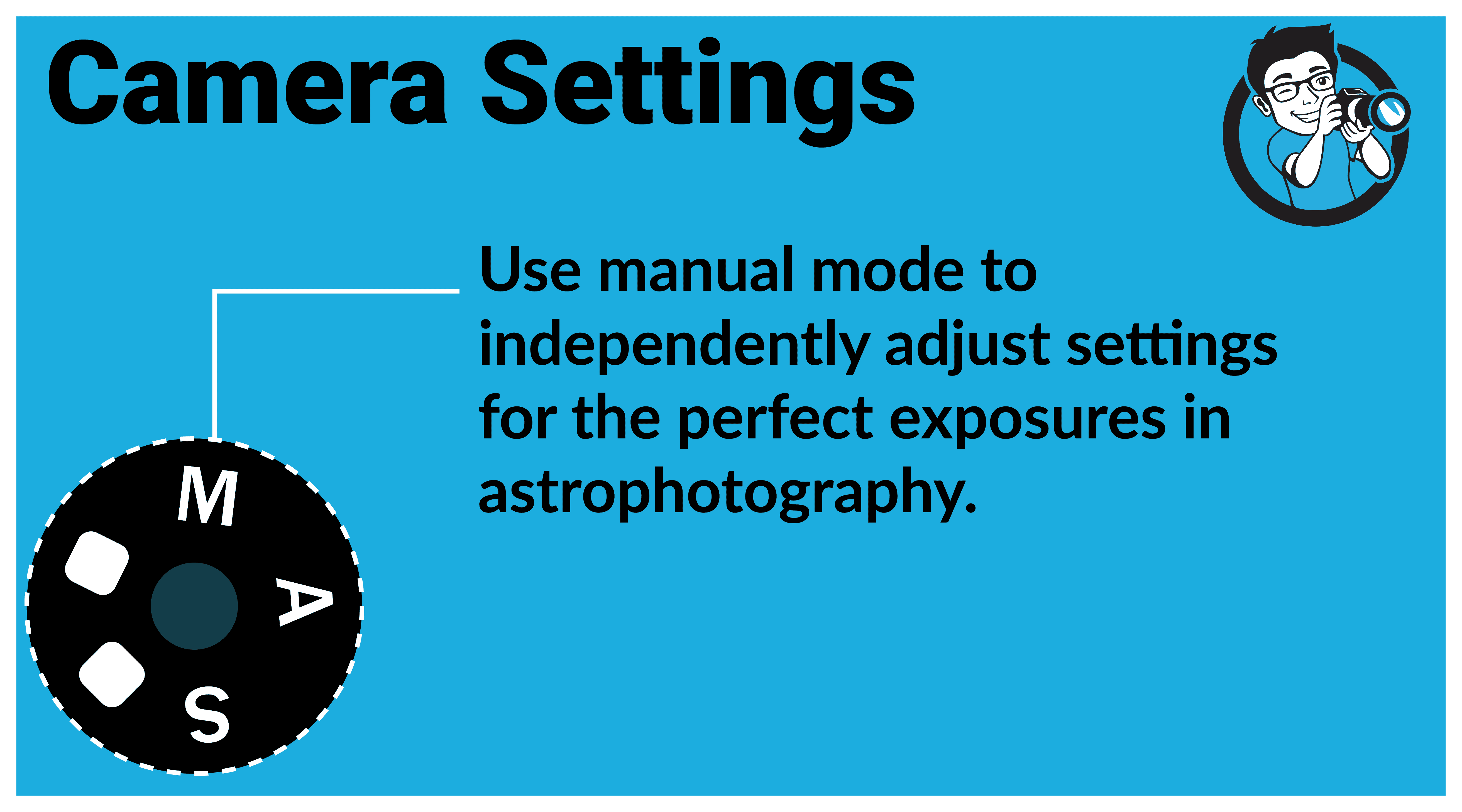 ISO
The best camera for astrophotography must have a good native ISO range. ISO is a term that you'll come across quite frequently in the context of astrophotography.
When shooting astrophotography, you'll typically be using higher ISOs, so the higher the ISO range extends, the better.
When you change the ISO, it amplifies the light signal, so you can capture well-exposed shots of pitch-black scenes.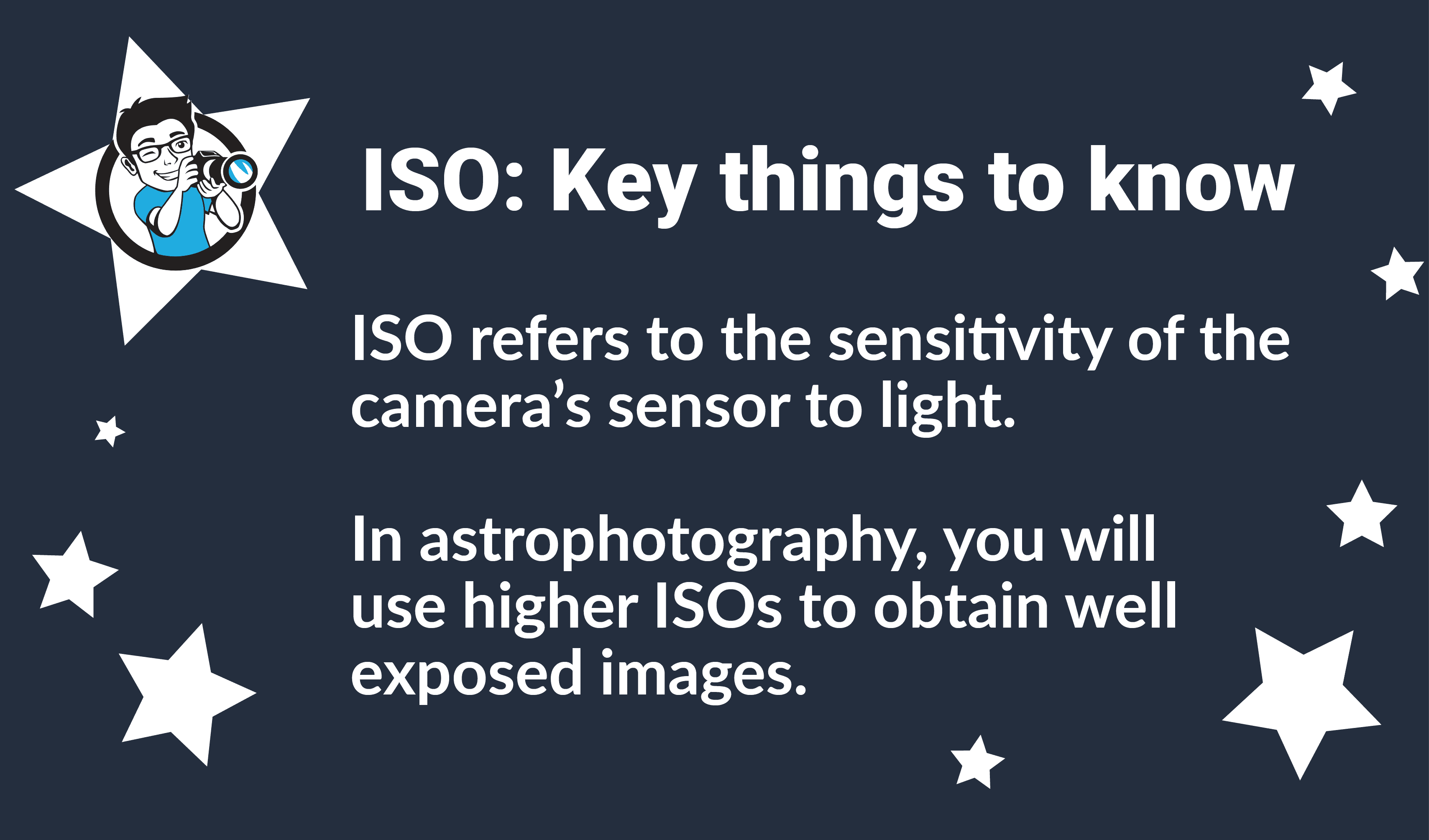 Sensor Size
Sensor size is an important consideration when selecting the best camera for astrophotography.
The larger the sensor size, the greater the ability of the sensor to capture light and the better the high-ISO performance (on average). With a larger sensor, however, comes the associated cost, because they are expensive to manufacture.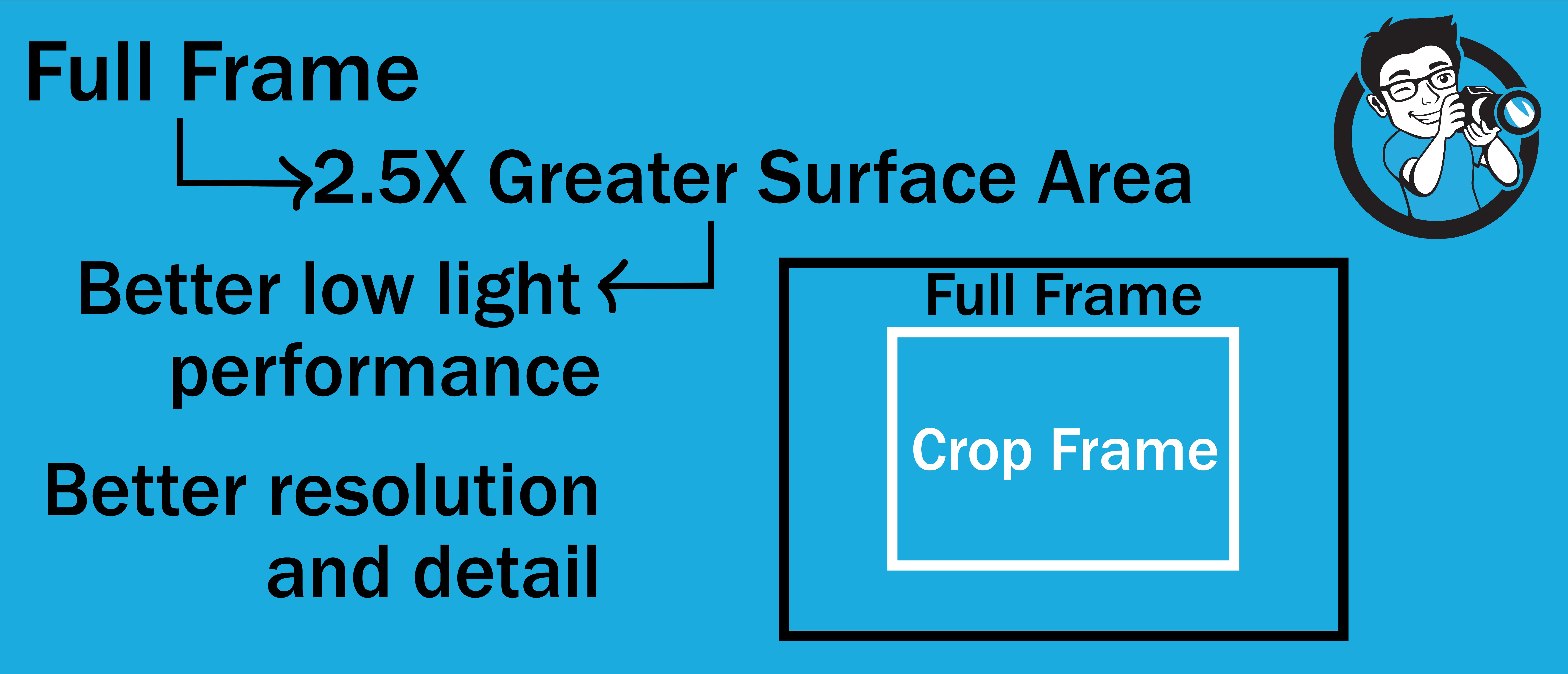 The best solution is to opt for 35mm cameras. They give the best value and offer the ideal balance between excellent image quality and affordable pricing.
Dynamic Range
Dynamic range is another term you will hear frequently.
Dynamic range denotes the ability of the sensor to pick up a wide range of brightness, from the brightest point right down to the darkest spot in the scene.
In pretty much every scene with a high dynamic range, your camera will either blow out the highlights, clip the shadows, or both.
Some cameras, however, have the ability to capture a much higher dynamic range compared to others. These are the cameras that work best when shooting in low-light situations.
You can capture a lot of detail in the shadow areas, which can later be recovered during post-processing. (Driving up the exposure during post-processing can, however, lead to noise.)
Related Post: Exposure Bracketing for High Dynamic Range (HDR) Photos
Which Astrophotography Camera Is Right for You?
To recap:
For serious astrophotographers looking for the best astrophotography camera available, get the Nikon Z6.
If you're after a camera offering unbelievable night sky detail, the Canon EOS Ra is a good bet.
The Fujifilm X-T30 is a great budget alternative and will especially appeal to frequent travelers, thanks to its solid low-light capabilities and compact build.
Finally, if you're a fan of DSLRs, go with the best DSLR for astrophotography available in 2021: the Nikon D850.
---
As an Amazon Associate we earn from qualifying purchases. Certain content that appears on PhotoWorkout.com comes from Amazon. This content is provided 'as is' and is subject to change or removal at any time.