Astrophotography can be one of the most rewarding photography genres if you're willing to put in the effort that comes with such a pursuit. You get stunning images of the vast cosmos across the night sky. Sometimes you can even capture the twinkles of planets.
But astrophotography demands late nights, cold nights, and a pursuit for clear skies. If you're going to (or already) make that sort of commitment, you're going to want the best gear to get you the best images. A key to this is finding the best camera for astrophotography.
In this comparison article, we'll give you a detailed rundown of the best cameras for astrophotography you can buy in 2021:
If you want to understand what makes a camera ideal for astrophotography, jump down to our buying guide section.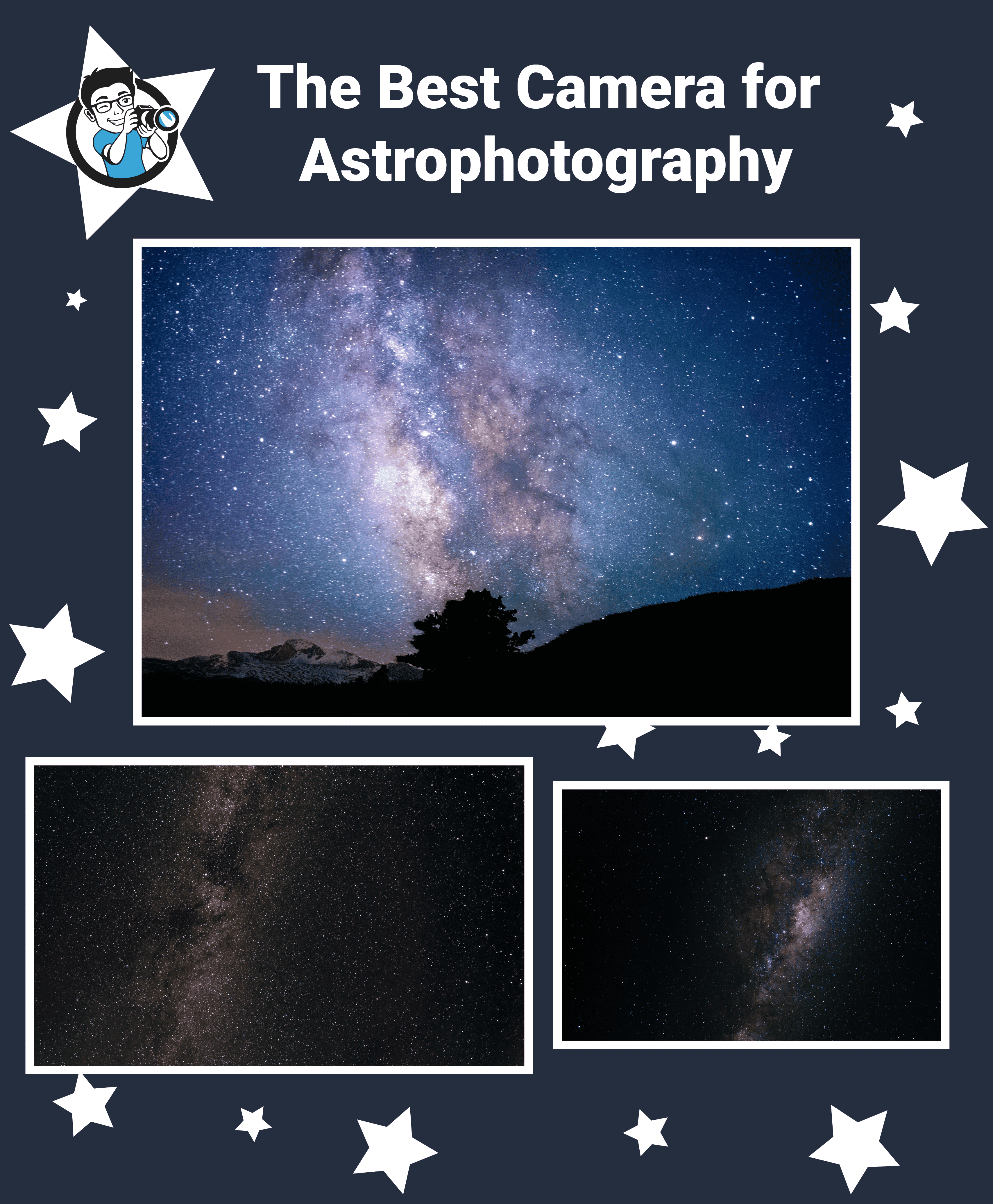 The a7S II is undoubtedly one of the best cameras for astrophotography that you could lay your hands on. Even though some incredibly powerful cameras have entered the interchangeable lens camera segment over the last couple of years, this camera still dominates the market.
The Alpha a7S II is a unique system as it is a full-frame camera with the lowest resolution of all the systems that we have discussed on this list.
Now, under most circumstances, a low megapixel count would be a major drawback, but when it comes to low-light performance, it is exactly that which makes it excel. The fact the megapixel count is so low makes the overall pixel size rather large. This means that there is a higher signal-to-noise-ratio, even at low lights and higher ISOs.
Speaking of ISO, the ISO sensitivity range of the camera is 100-102,400, which means you should be able to get a good exposure, even when shooting in the low-light of the night sky.
If you're looking for a camera that has truly been designed with low-light photography in mind, the Sony Alpha a7S II is the best option on the market.
Sony a7S II ILCE7SM2/B 12.2 MP E-mount Camera with Full-Frame Sensor, Black
full-frame camera with 5-axis image stabilization
fast and effective, enhanced fast hybrid af
12.2 megapixels 10 35mm full-frame exmor cmos sensor lens compatibility - sony e-mount lenses
bionz x image processing engine ; clear image zoom :still/movie: approx. 2x
in the box: rechargeable battery np-fw50; cable protector; ac adaptor ac-uud11; battery charger bc-vw1; shoulder strap; body...
If you're looking for the best camera for astrophotography but would prefer to stick with a DSLR camera, Nikon's D850 is a very close runner up to the Sony a7S II.
The camera has a very extensive exposure and metering range, -5 to +5 EV and -3 to +20 EV respectively, both of which make it excellent at shooting in extremely bright and extremely low light whilst retaining detail in the image at all brightnesses.
In terms of its low light features, the camera has an ISO range of 64-25,600. This is perfect for low-light photography. And at higher ISOs, the camera still performs well in terms of noise. Another great advantage is the full-frame sensor housed within the camera, this makes for larger pixels which can take in more light.
A more complex feature that aids the camera in low-light is dual conversion gain technology, which helps with noise reduction at higher ISOs.
If we move away from the technical side of things, there are some nice additions that have been made with the photographer in mind. These include backlit buttons and adjustable live-view brightness. These features will make it easier to operate the camera in the dark without the need for additional equipment.
All in all, this is a great all-round camera that performs exceptionally well in low-light. The added usability features make it really easy to work with!
Nikon D850 FX-format Digital SLR Camera Body
Nikon designed back side illuminated (BSI) full frame image sensor with no optical low pass filter
45.7 megapixels of extraordinary resolution, outstanding dynamic range and virtually no risk of moiré
Up to 9 fps1 continuous shooting at full resolution with full AF performance
8k6 and 4k time lapse movies with new levels of sharpness and detail; file system : DCF 2.0, exif 2.31, Pict bridge
Tilting touchscreen, focus shift shooting mode, outstanding battery performance and much more; total pixels: 46.89 million
The Fujifilm X-T2 is a mid-range unit that is designed for photographers who need excellent low light performance. This means that it is perfect for those pursuing astrophotography.
When it comes to the sensor, you get a 24.3-megapixel APS-C CMOS sensor coupled with an X-Processor Pro processing engine. This packs you with some of the leading tech from Fujifilm so you can snap rest-assured you have the best on the market.
With an ISO range of 100-51,200, the ISO range on the X-T2 is a little lower than some of our other options of the best camera for astrophotography. That being said, you shouldn't really crank up your ISO to the top end of the range anyway, so this shouldn't be an issue.
When it comes to noise performance, the X-T2 really doesn't add much noise at all, even at higher ISOs. Your shots should always be of good quality. And if you are wary of shooting at high ISOs, even when making adjustments in post-processing, very little noise is added.
This is definitely a top contender in our best camera for astrophotography list and one that you should really consider purchasing.
Fujifilm X-T2 Mirrorless Digital Camera (Body Only)
24.3MP X Trans CMOS III APS-C sensor reduces moiré and false colors to improve image quality and X Processor Pro engine...
Dust and moisture resistant body with approximately 63 points of weather sealing; Freeze resistance to 14 Degree Fahrenheit
High precision 0.48 inch, 2.36 million dot OLED viewfinder featuring a magnification of 0.77x and Ultra fast Real Time...
Full HD and 4K 3840x2160 30P/25P/24P shooting (Using a card with the UHS Speed Class 3 or higher)
Tempered glass 1.04 million dot high-precision 3 Inches tilting LCD monitor with three directional tilt and shutter type is...
Canon's 5D series is a favorite amongst photographers, so it makes sense we'd include their latest model, the 5D Mark IV. This camera offers some of the best low light performance. Canon may have previously had a bad reputation for low light performance but the 5D Mark IV has managed to revoke this label.
Canon has produced some impressive on-chip signal conversion technology which greatly enhances the low light performance of this camera by reducing the noise present in images. This conversion technology works by instantaneously converting light (analog) signals to electronic (digital) signals.
When it comes to the standard specs, this camera has a 30.4MP full-frame CMOS sensor and is paired with Canon's DIGIC 6+ image processor. The processor makes for some fast handling times, giving room for high frame-rates and higher resolution images with less noise.
In terms of ISO, this is where the 5D Mark IV really shines. With an ISO range of 100-32,000, you've got a good working range when you're out doing astrophotography. Not only that, at the higher ISO ranges (around 1600), your images are still rather clean and noise-free.
Related Post: Review of the Nikon D5
One area where this camera falls short when compared to some of the other cameras on this best camera for astrophotography list is in the ISO invariance department. Canon's 5D Mark IV is far from ISO invariant, which means that noise will creep if you choose to push up the exposure in post-processing. While it's not a major drawback, it is still something worth considering.
If you're a Canon user and you want a camera that will get you stunning astrophotography images, the Canon 5D Mark IV is the best Canon body you can get for this purpose.
Canon EOS 5D Mark IV Full Frame Digital SLR Camera Body
New 30.4 Megapixel full-frame CMOS sensor for versatile shooting in nearly any light, with ISO range 100-32000; expandable up...
4K Motion JPEG video (DCI cinema-type 4096 x 2160) at 30p or 24p; in- camera still frame grab of 4K 8.8-Megapixel images;...
Superb Dual Pixel CMOS AF for responsive and smooth AF during video or live view shooting; LCD monitor has a full touchscreen...
Excellent performance - up to 7.0 fps continuous shooting speed with high-performance DIGIC 6+ Image Processor for improved...
Use the EOS Utility Webcam Beta Software (Mac and Windows) to turn your Canon camera into a high-quality webcam, or do the...
The Sony Alpha a7 III is a little unfancied when compared with some of the more high-end Sony cameras. Namely the a7S II, and the extremely high-priced Sony a9.
It isn't the sort of high-resolution behemoth that we've seen with the Sony a7R IV or the Nikon D850. But it excels in low light photography and that is why it stakes its claim as the best camera for astrophotography.
The camera sports a 24.2MP BSI sensor with a native ISO range of 100-51,200. As an astrophotographer, you wouldn't be using the lower end of this ISO range but you can get astonishing results at the higher ISOs, perfect for those starry night images
Related Post: Best Camera for Nature Photography
Another worthy claim to the throne of the best camera for astrophotography is the fact that this camera has a high rating on DxOMark, placed above the Sony a7S II and just below Sony's a7 R III.
This camera certainly gives the competition a run for its money, and for the price, it is definitely worth considering.
Sony a7 III ILCE7M3/B Full-Frame Mirrorless Interchangeable-Lens Camera with 3-Inch...
Advanced 24.2MP BSI full frame Image Sensor w/ 1.8X readout speed
15 stop dynamic range, 14 bit uncompressed RAW, ISO 50 to 204,800. Compatible with Sony E mount lenses. Can be connected via...
Up to 10fps silent or mechanical shutter with AE/AF tracking. Battery life (Still Images): Approx. 610 shots (Viewfinder) /...
693 phase detection / 425 contrast AF points w/ 93 percent image coverage. Focus sensor: Exmor R CMOS sensor
In the box: Rechargeable battery (NP FZ100), AC adapter (AC UUD12), shoulder strap, body cap, Accessory shoe cap, Eyepiece...
Sony's Alpha line of cameras really are the leaders of the pack and it goes without saying that the a7R IV is included in that statement. The resolution on this camera smashes virtually all full-frame and APS-C camera's resolutions at a whopping 61MP.
Now with this sort of resolution, you'd expect there to be a catch but there isn't! In fact, it only gets better. The electronic viewfinder has a resolution of 5.76 million dots, meaning you'll get virtually true-to-life rendering as you view your subjects through the eyepiece.
And even in the low-light department, we're still blown away. The camera comes with 15 stops of dynamic range and an impressive ISO range of 100-32,000.
Whilst there is some more advanced technology under the hood that Sony has chosen to add, it doesn't warrant a discussion here since we're talking about the best camera for astrophotography.
So yes, this is a great camera and you'll be incredibly happy with the results you get from it, in both low-light and normal shooting opportunities.
Sony α7R IV Full-frame Mirrorless Interchangeable Lens Camera (ILCE7RM4/B)
Stunning resolution: world's first 61MP full frame 35 millimeter back illuminated Exmor R CMOS Image Sensor
High speed: up to 10Fps continuous shooting at 61MP with AE/AF tracking; 26.2MP in APS C crop mode
Fast Hybrid Autofocus: 567 Phase detection AF points and 425 contrast AF points to cover more area
Advanced subject recognition: real time tracking and real time eye AF for humans, animals and movies
Accurate color reproduction: 15 stop dynamic Range at low sensitivities for greater Color accuracy
The Nikon D5600 is an entry-level APS-C CMOS sensor powered DSLR and it is also a good budget option for the best camera for astrophotography. The sensor has a resolution of 24.2 MP and is paired with the Nikon EXPEED 4 image-processing engine. The camera is capable of pulling an ISO sensitivity from 100 all the way to ISO 25600.
The dynamic range of the D5600 is one of the best at this price point. It performs admirably at the lowest ISO level when shooting with nothing more than street lights. When you push the ISO to 1600 and above noise starts to creep in but even then, the overall results are decent.
Continuing with the low light performance of the D5600, the auto-focusing system of the camera can positively work at a very low LV. Down to even negative 0.9 EV. Thus making the D5600 one of the best cameras for astrophotography in the entry-level segment.
If you are on a tight budget, or you're just wanting to dip your toes into astrophotography (or any photography), this is an ideal starting point. You'll get good results at a reasonable price point.
D5600 DX-format Digital SLR Body
24.2MP DX format CMOS sensor
Ex peed 4 image processor; approx.; 0.82 x (50 millimeter f/1.4 lens at infinity, 1.0 meter (1))
3.2 inches 1.037 meter dot VARI angle touchscreen. Max video clip length: 1920 x 1080: 29 minutes, 59 seconds
Full hd 1080p video recording at 60 fps. Bluetooth version 4.1
Snap bridge Bluetooth and Wi-Fi with NFC
What to Look for When Choosing the Best Camera for Astrophotography
There are certain aspects of low light photography that you need to bear in mind before you can begin the hunt for the best camera for astrophotography.
As you can imagine, astrophotography relies heavily on good low light performance. You are shooting in the night sky after all.
The best time to go out and shoot is in clear new moon light, or preferably with the moon below the horizon so as not to impact your exposure.
And the best locations are those far away from cities and/or highways. You want to avoid the glare of the city, the light pollution, and smog.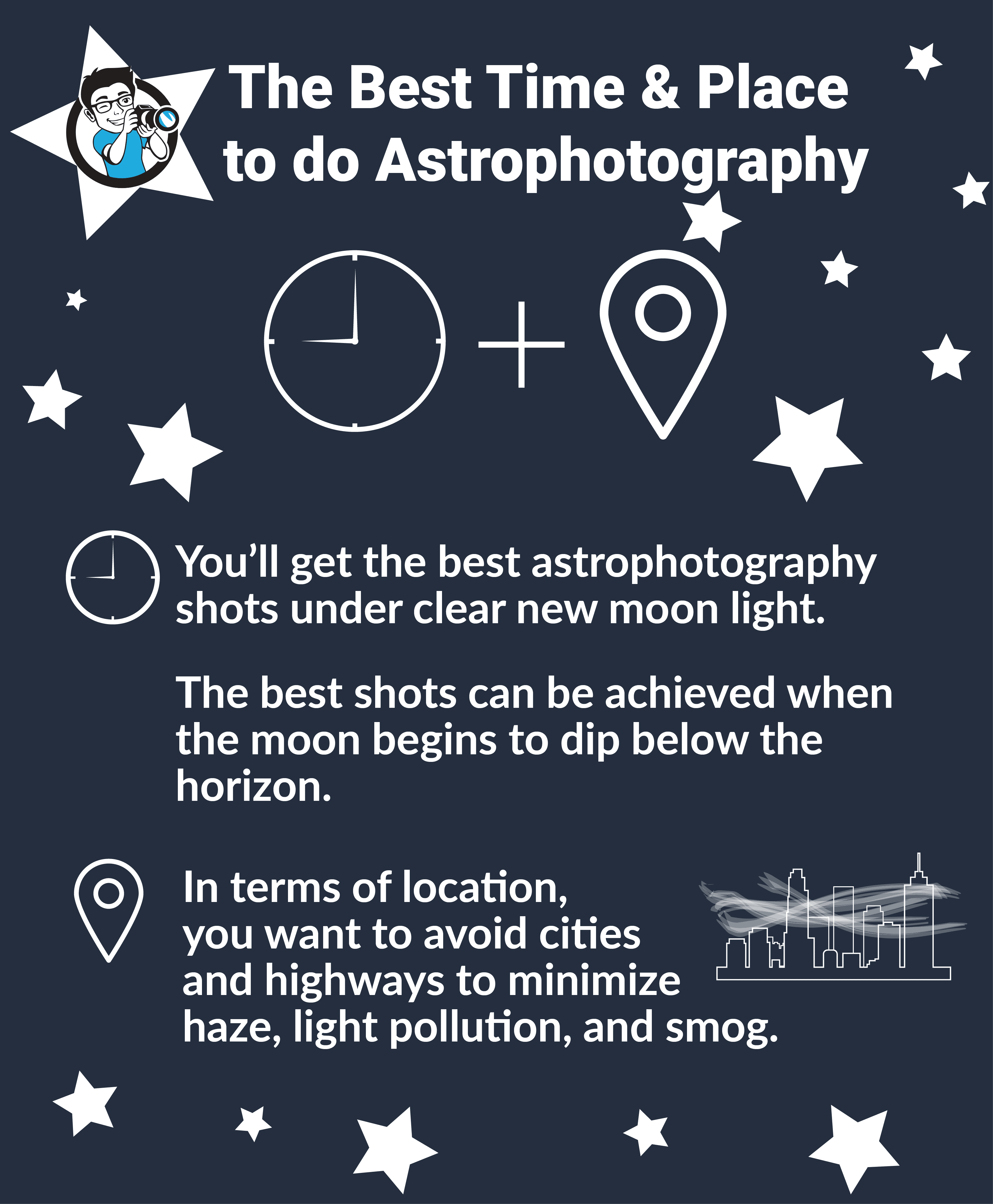 Problems of Shooting in Low Light
The problem of shooting in such a lighting scenario is that your camera's built-in meter will go bonkers without having sufficient light.
The camera would continuously indicate that you are underexposing the scene and that you need to increase the exposure. Handling this situation is where your experience of shooting in low light and your judgment comes into the picture.
You will have to set your exposure manually.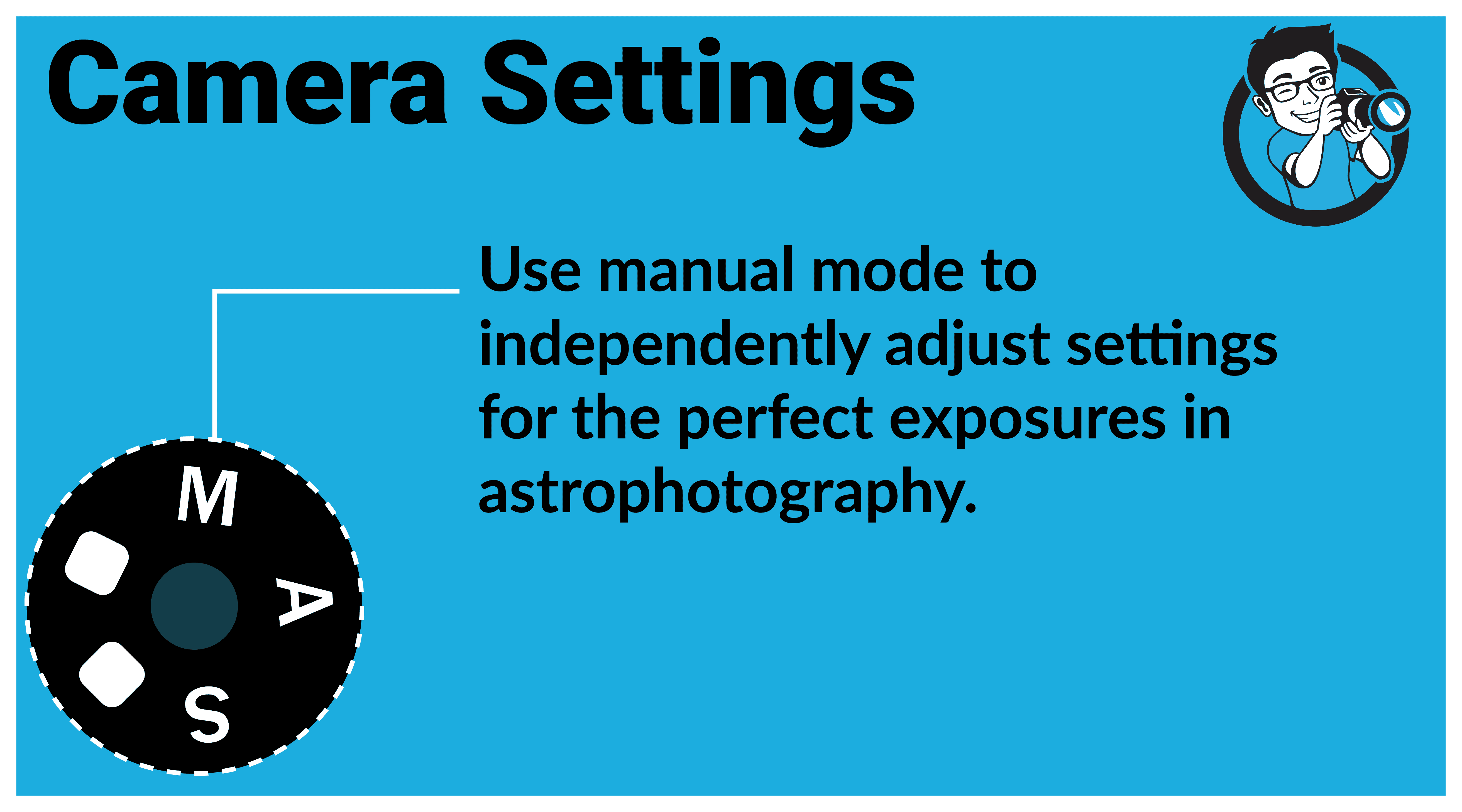 ISO
The best camera for astrophotography must have a good native ISO range. ISO is a term that you would come across quite frequently in the context of astrophotography.
When shooting astrophotography, you'll typically be using higher ISOs, so the higher up the range extends, the better.
ISO refers to the sensitivity of the sensor to light.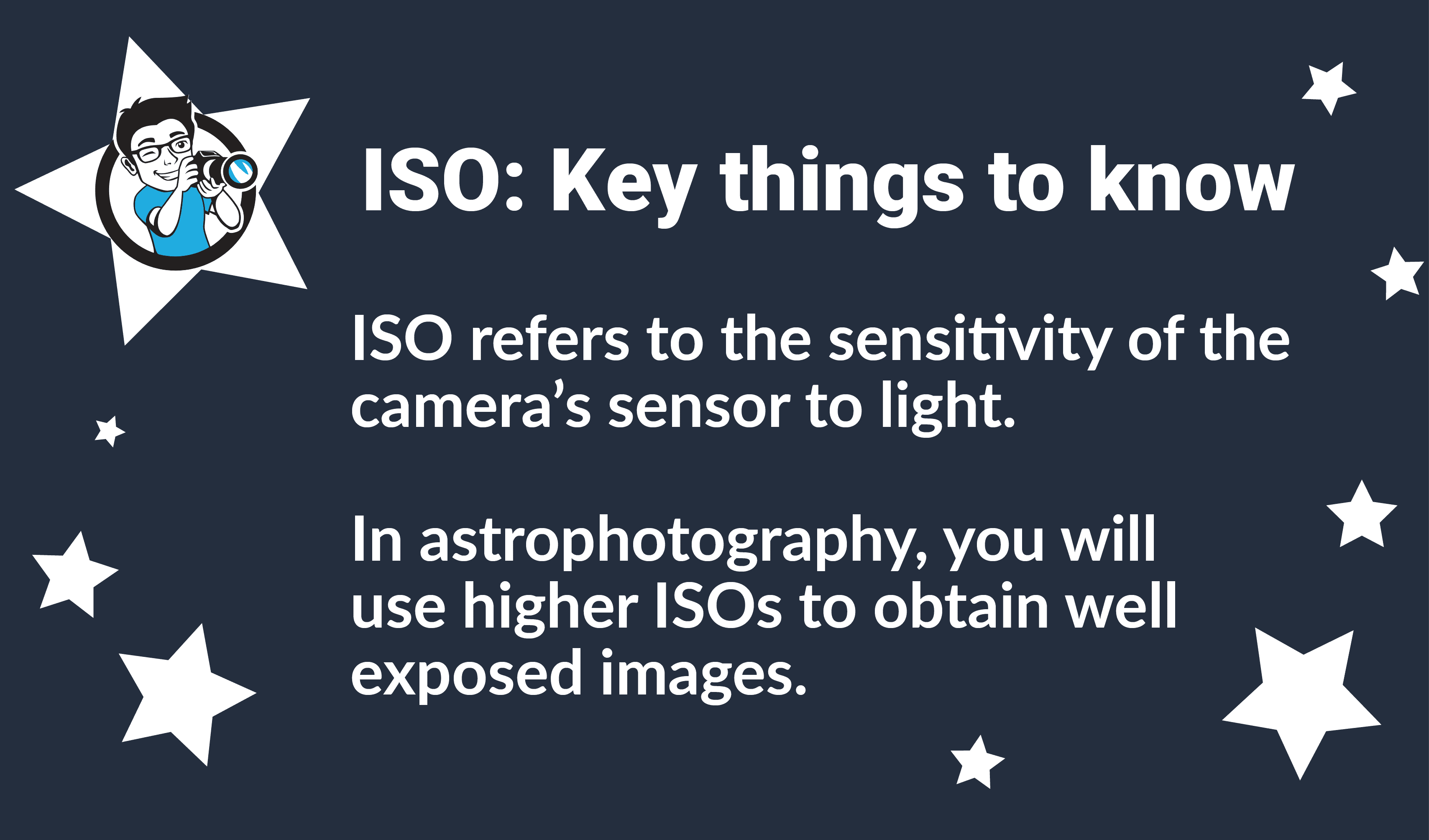 However, please bear in mind that, changing the ISO number in no way increases or decreases the sensitivity of the sensor. It remains the same.
When you change ISO, it merely amplifies the light signal. This is also why increasing the ISO increases noise.
Related Post: Best Cameras for Low Light Situations
Sensor Size
Sensor size is an important consideration for the selection of the best camera for astrophotography.
The larger the sensor size, the greater the ability of the sensor to capture more light. With a larger sensor, however, comes the associated cost! They are expensive to manufacture.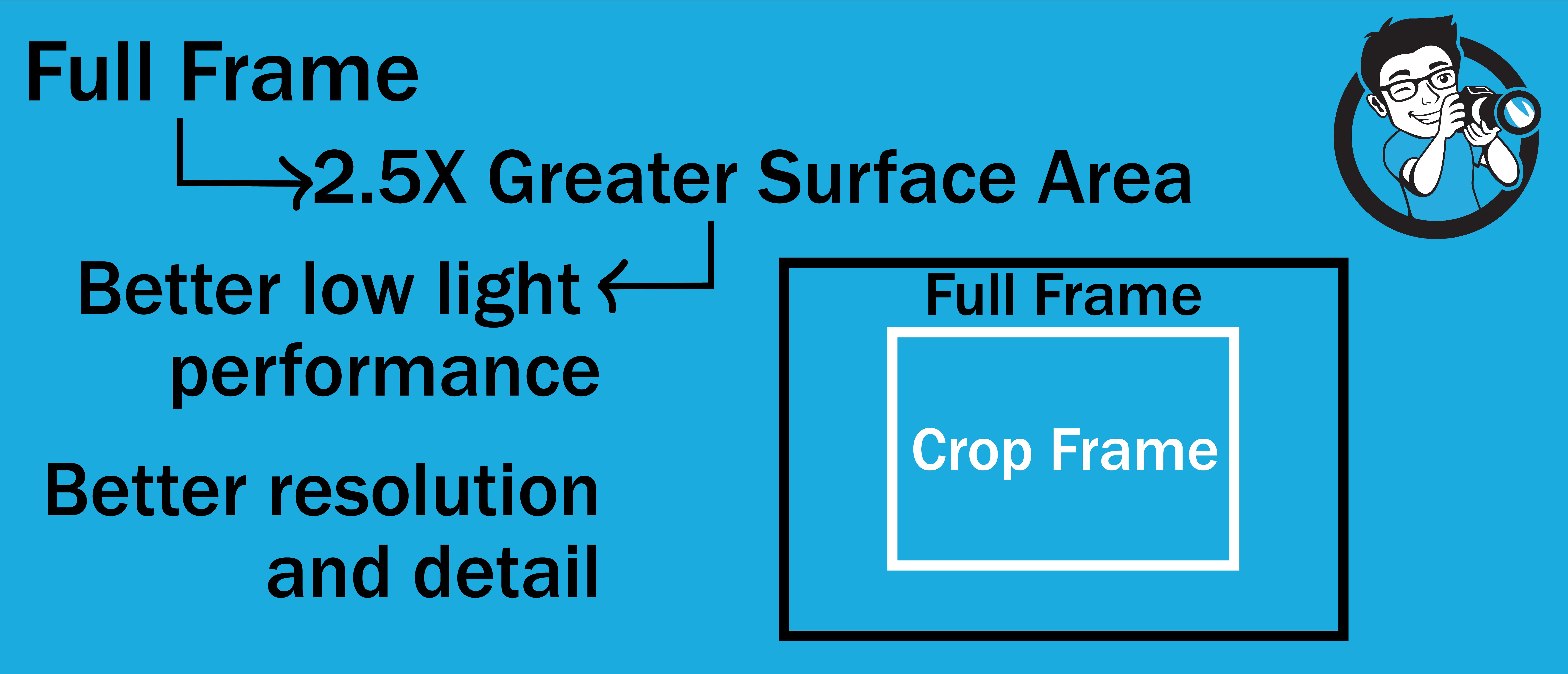 The best solution is to opt for 35mm DSLRs. They give the best value and the ideal balance between excellent image quality and affordable pricing.
Dynamic Range
Dynamic Range is another term you will hear frequently.
Dynamic range denotes the ability of the sensor to pick up a wide range of brightness, from the brightest point right down to the darkest spot in the scene.
Now, you'd expect that with advancing technologies, you'd get a good dynamic range. However, cameras are yet to successfully replicate the actual dynamic range of a scene.
Almost invariably in all scenes with high dynamic range, your camera will either blow out the highlights, clip the shadows, or do both.
Some cameras, however, have the ability to capture a much higher dynamic range compared to others. These are the cameras that work best when working in low light situations.
You can capture a lot of detail in the shadow areas which can later be pushed (recovered) during post-processing. Driving up the exposures during post-processing can, however, lead to noise.
Related Post: Aurora HDR Review
Now, there are cameras that are ISO-invariant. These cameras have the ability to capture a lot of dynamic range, even in the shadow areas of the image.
Plus, they don't add a lot of noise in the picture, which means you can push the exposure to make dark areas visible without any noticeable degradation of the image due to noise.
Back to the best cameras for astrophotography.
---
As an Amazon Associate we earn from qualifying purchases. Certain content that appears on PhotoWorkout.com comes from Amazon. This content is provided 'as is' and is subject to change or removal at any time.