Canva is an incredibly popular graphic design suite that you can use online. This platform allows you to produce graphics for various purposes such as social media and web content. But Canva isn't for everyone for one reason or another. Luckily, there are other options out there. In this guide, we look at seven of the best Canva alternatives so you can find a platform to suit your individual or business needs.
Most of these platforms follow a similar trend and platform. Usually, they have a free version with limited functionality and an upgraded monthly subscription that unlocks the full features. Also, these graphic design platforms typically feature a drag and drop editor that you use to create images and graphics. Most of them also have a large selection of templates and pre-made designs to give you creative inspiration.
We have scoured the web based on the above principles and found seven of the best Canva alternatives for your benefit.
7 Canva Alternatives:
When you buy through links on our site, we may earn a commission at no cost to you. We evaluate products independently. Commissions do not affect our evaluations.
1. Stencil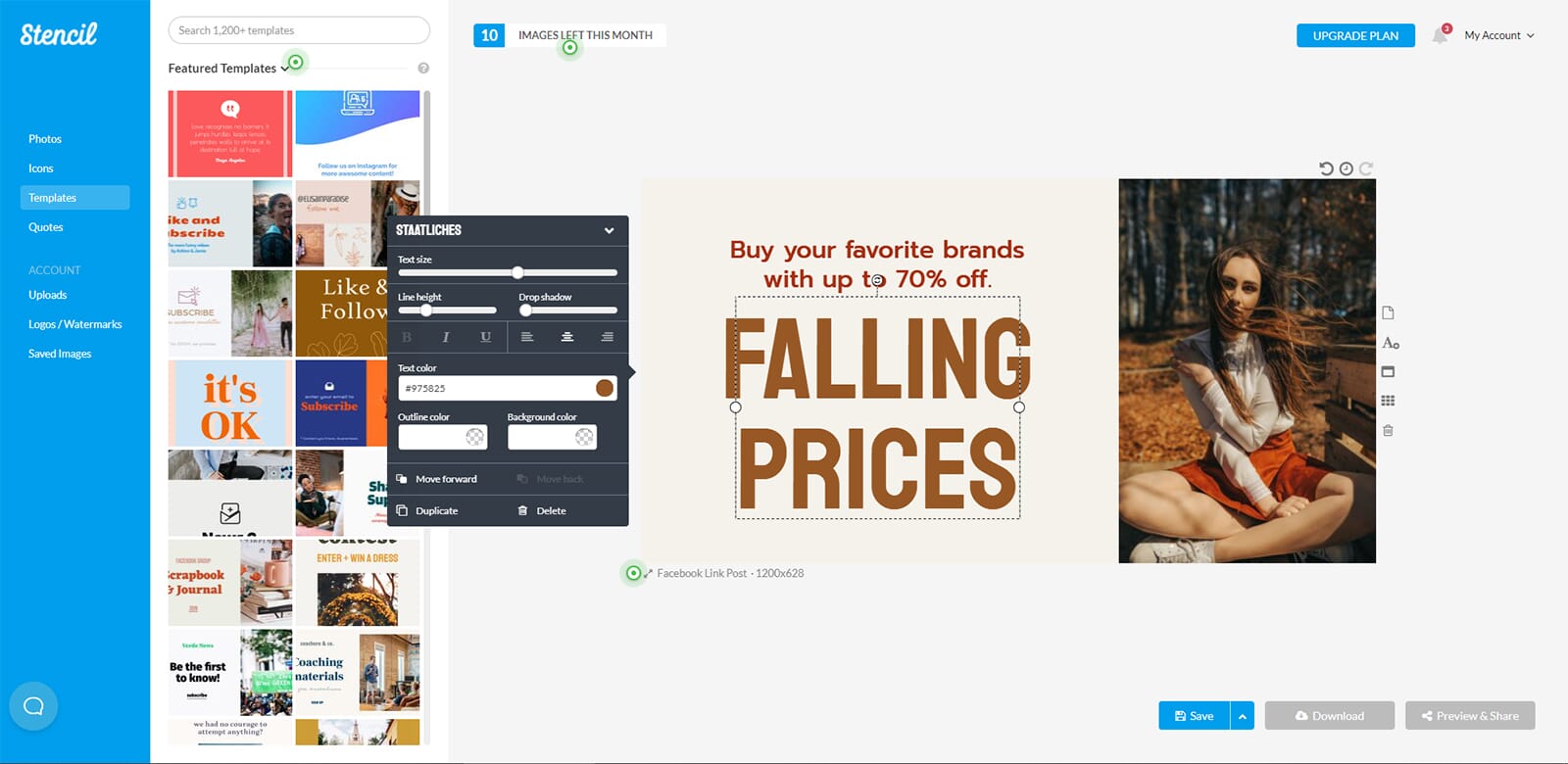 Pricing – Free, Pro, or Unlimited plans
Type – Graphic tool for social marketing and online content
Main Features – Has a large library of artwork and photos
Stencil is a fantastic product and one of the best Canva alternatives out there. It has three plans – free, pro, and unlimited. The free plan allows you to create a maximum of 10 images per month. The pro plan is reasonably priced and allows you to create 50 images per month for $9.00/month. Finally, the unlimited version gives complete creative freedom and access to more library features for $12/month.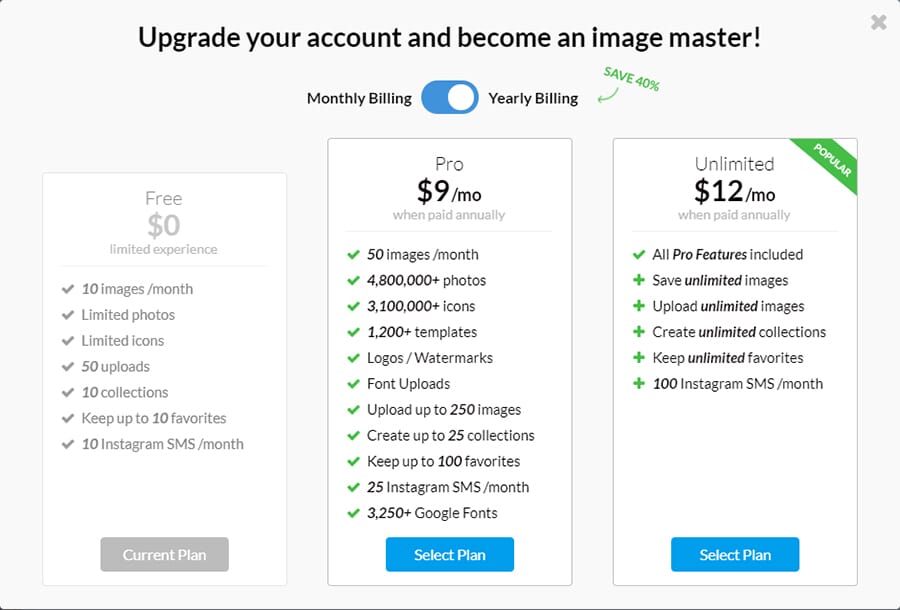 The graphic editor has a design that is easy to use. It has a drag and drop interface and the main menu is simple to follow. We like the huge array of photos and icons in the library. This allows you to easily create professional images even if you don't have your own source material.
There is also a good choice of templates including Facebook covers, Instagram stories, general social media posts, and Pinterest boards. You can also easily adjust single elements in your designs and change aspects like text color, shadowing, and size.
2. PicMonkey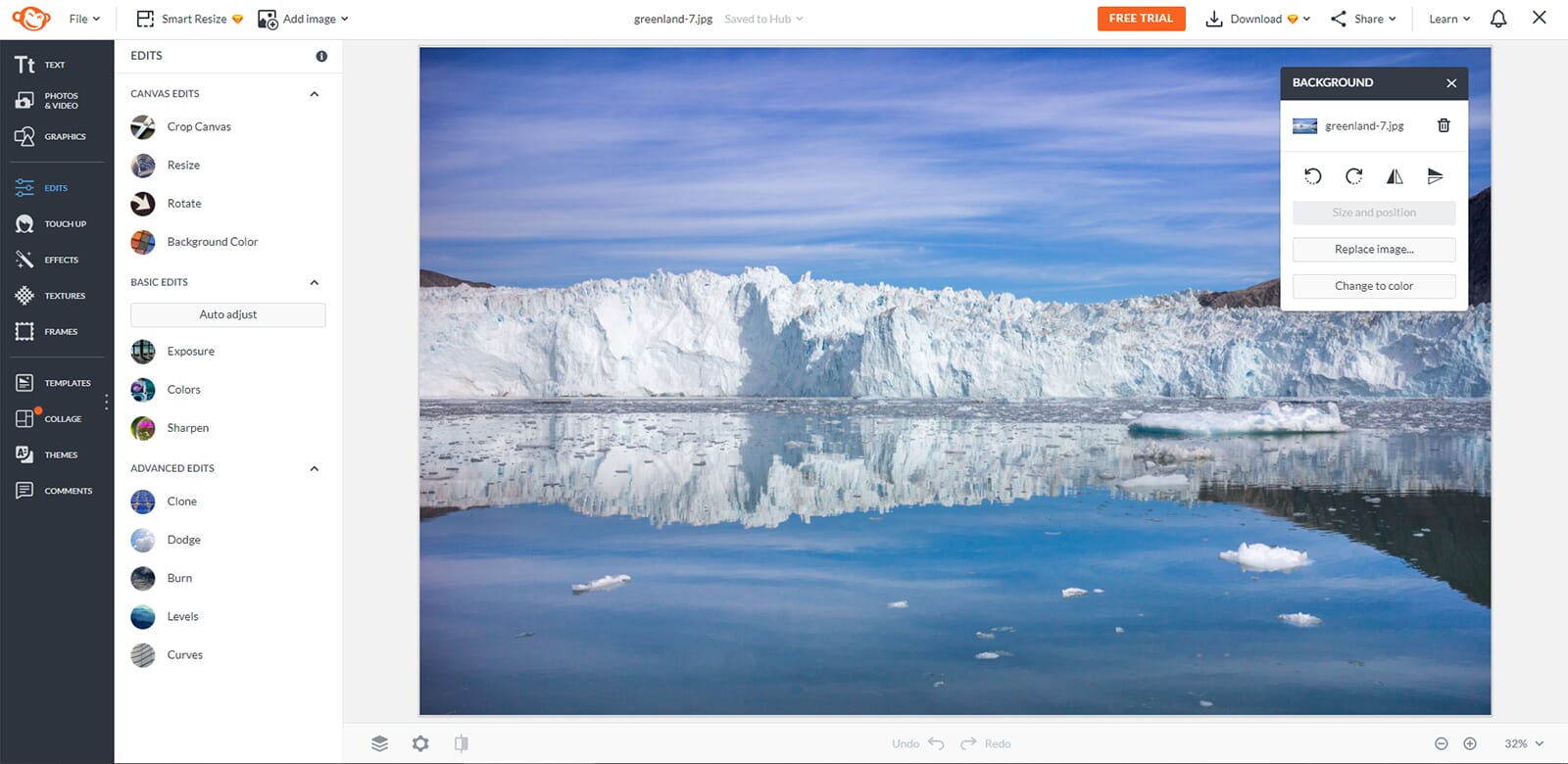 Pricing – Free, Basic, Pro, and Team plans
Type – Graphic design tool for multiple types of media
Main Features – Has a large range of preset collage templates
PicMonkey is another great product among the best Canva alternatives. There is a free version available and you can log in using your Google account. There are also three levels of premium price plans. The Basic plan is $9.08/month and gives 1GB of storage.
The Pro version is $14.12/month and gives unlimited storage and full access. Finally, the team version is $37.82 /month and is suitable for teams of three or more people.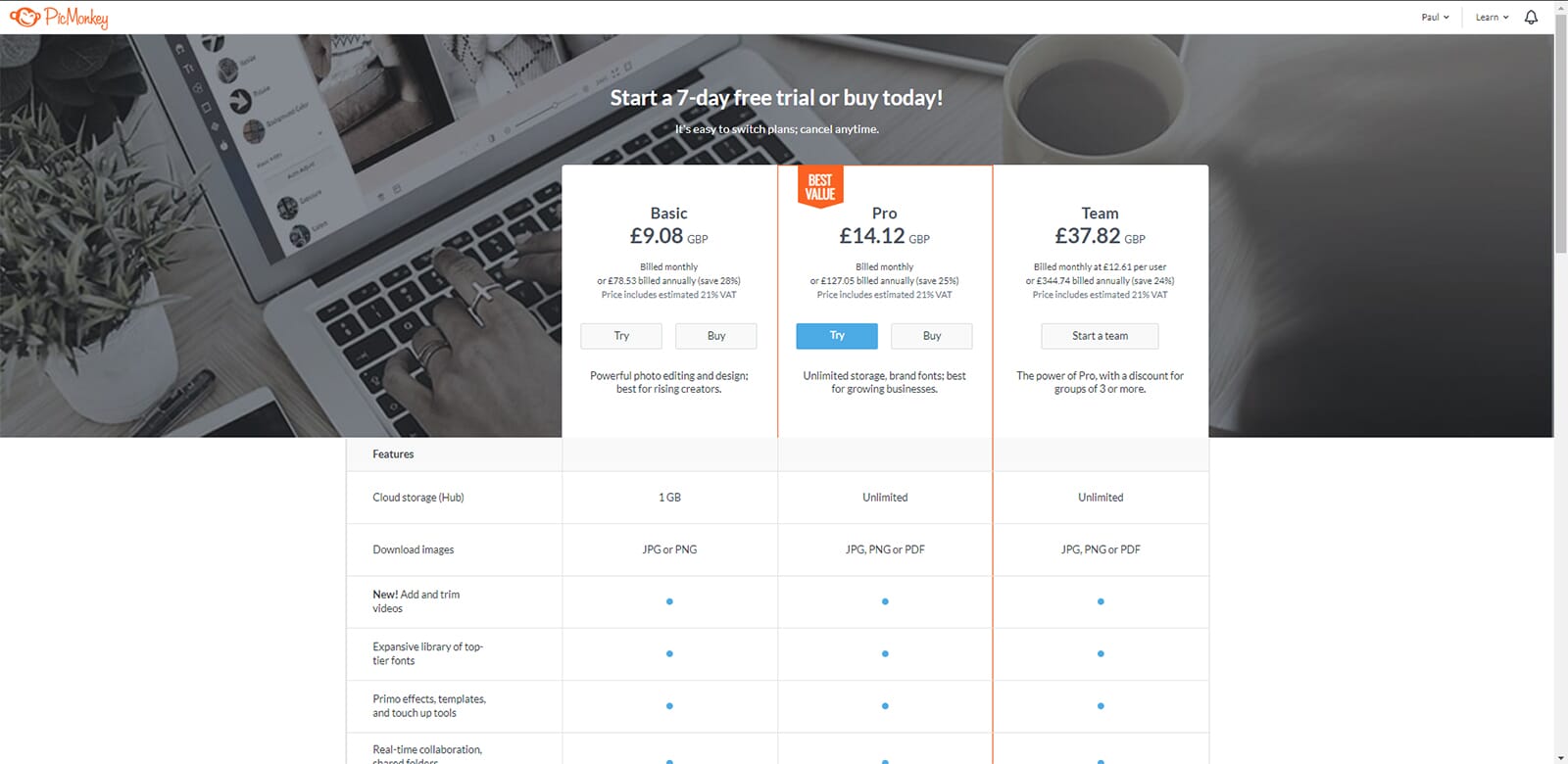 The editing platform has a minimalistic design that looks stylish but is also functional. It follows a conventional layout with a main toolbar on the left that contains different elements like collages, templates, and graphics.
Aside from creating fantastic social media content like Instagram collages, PicMonkey also has a basic photo editor. Using this tool, you can edit image parameters like exposure, colors, and sharpness. It also has a useful auto-adjustment tool. You can also add a solid range of "effects" to your creations which are similar to Instagram filters.
3. FotoJet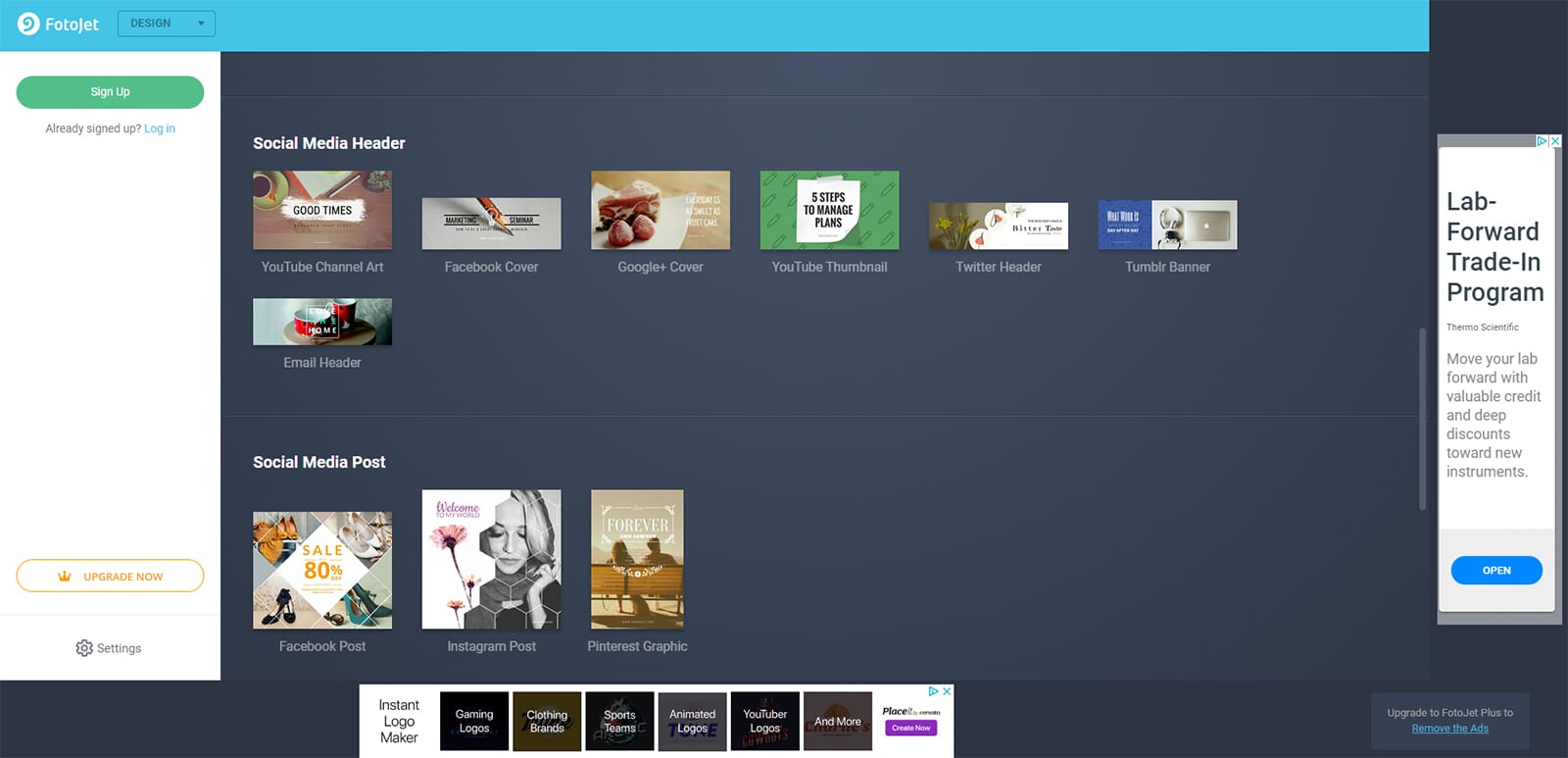 Pricing – Free (With Ads), or Premium
Type – Video editor, photo editor, collage maker, graphics maker
Main Features – Has a dedicated video editor
FotoJet is a solid platform that has a variety of tools including a video editor, collage maker, and photo editor. The free versions give full access, but it does have banner adverts along the right-hand side and bottom which can be irritating.
Alternatively, there is a premium version which is either $6.99/month, or it averages out at $3.33/month if you buy an annual subscription. The premium version removes the adverts and also gives more storage and access to more templates.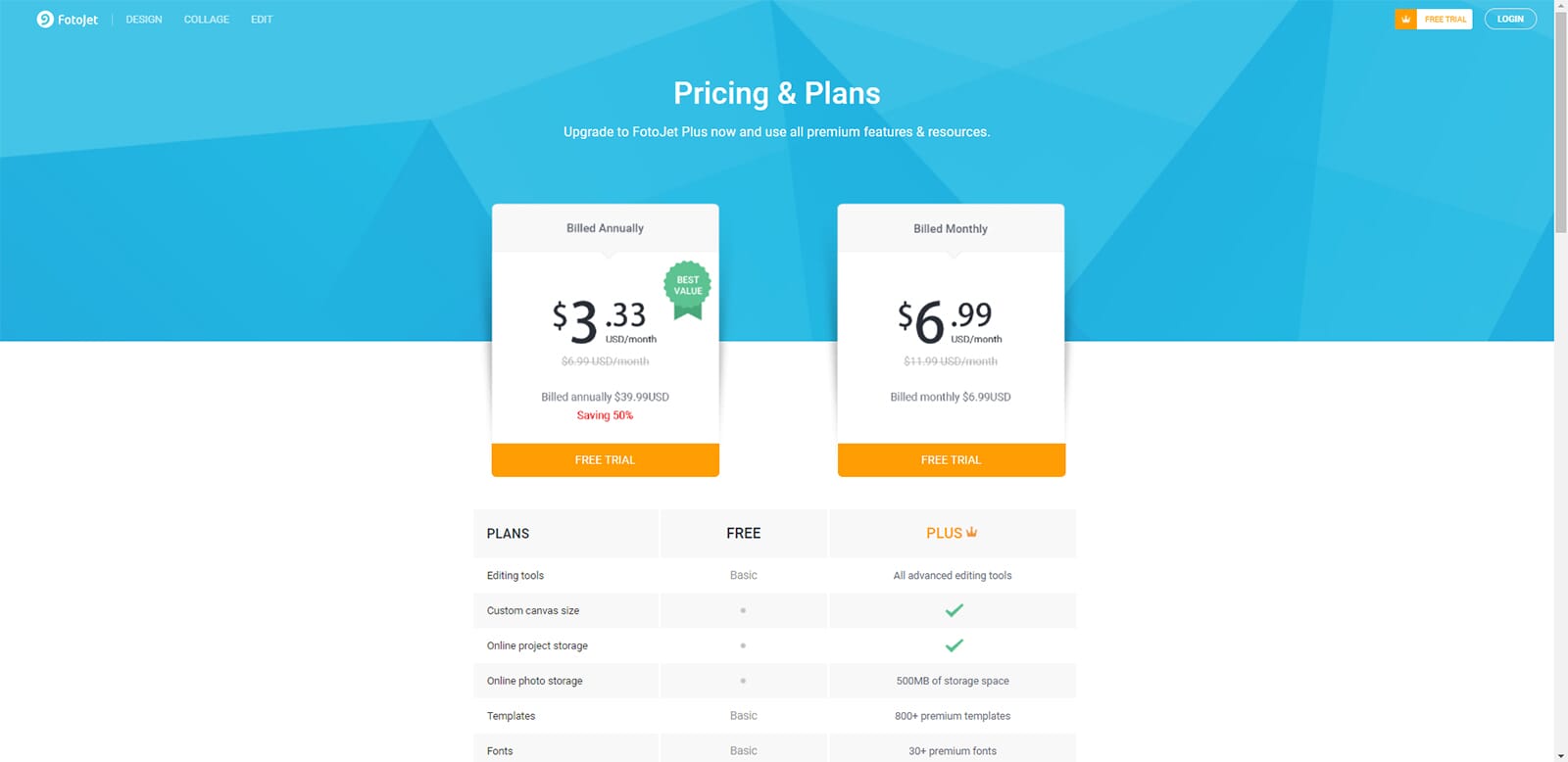 Each of the main tools is easy to use and has a standard layout similar to the other programs in this list. We like the photo editor as it gives full control over the image editing process. You can also apply stylish filters to your photos to help create artistic digital media.
The design section also has a large choice of templates including Facebook posts, email headers, Instagram posts, and YouTube channel banners. This is a well-rounded tool and one of the best Canva alternatives on a budget.
4. Desygner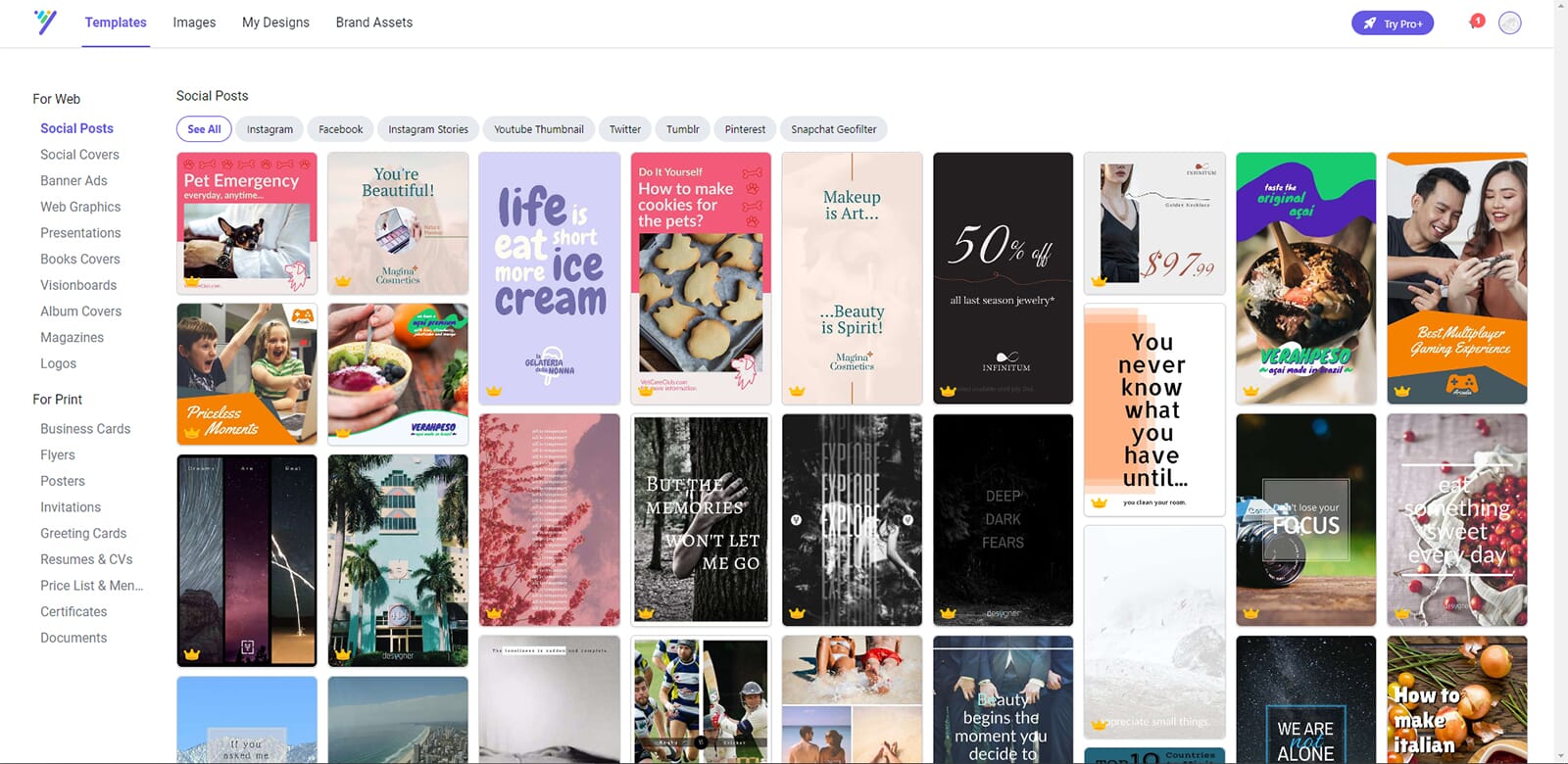 Pricing – Free, Pro+, and Enterprise
Type – Web and print media creation
Main Features – Has an easy-to-navigate template library
Desygner is a solid platform that places an emphasis on its templates and providing users with ideas. It is one of the best Canva alternatives and is great for those who want to create digital or print media quickly.
There is a free version of Desygner with limitations, and there are also two premium versions. The Pro+ upgrade is just $4.95/month which we feel is extremely affordable. Alternatively, there is the Enterprise version which is meant for businesses – the price of this is subject to your requirements and can be customized.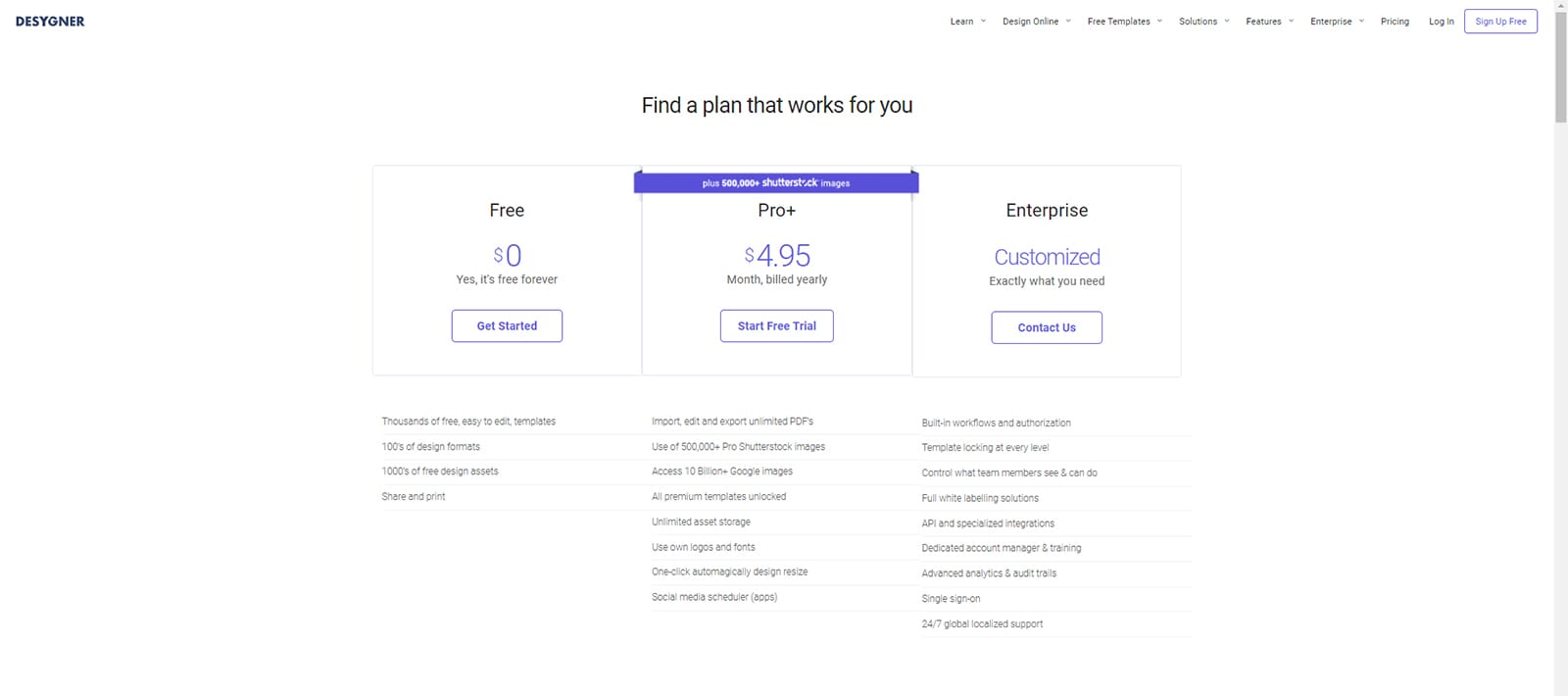 The first thing you will notice about Desygner is the immense template library and its effective layout. Everything is split into clear categories such as presentations, social covers, banner ads, and logos. Each category has a great choice of well-designed templates.
It also uses a similar editor layout to Canva but this editor has smooth transitions and looks much more stylish. We feel the menu transitions, however, could slow down the process somewhat. Everything is drag and drop, and you can easily use the templates or create your own designs from scratch.
5. BeFunky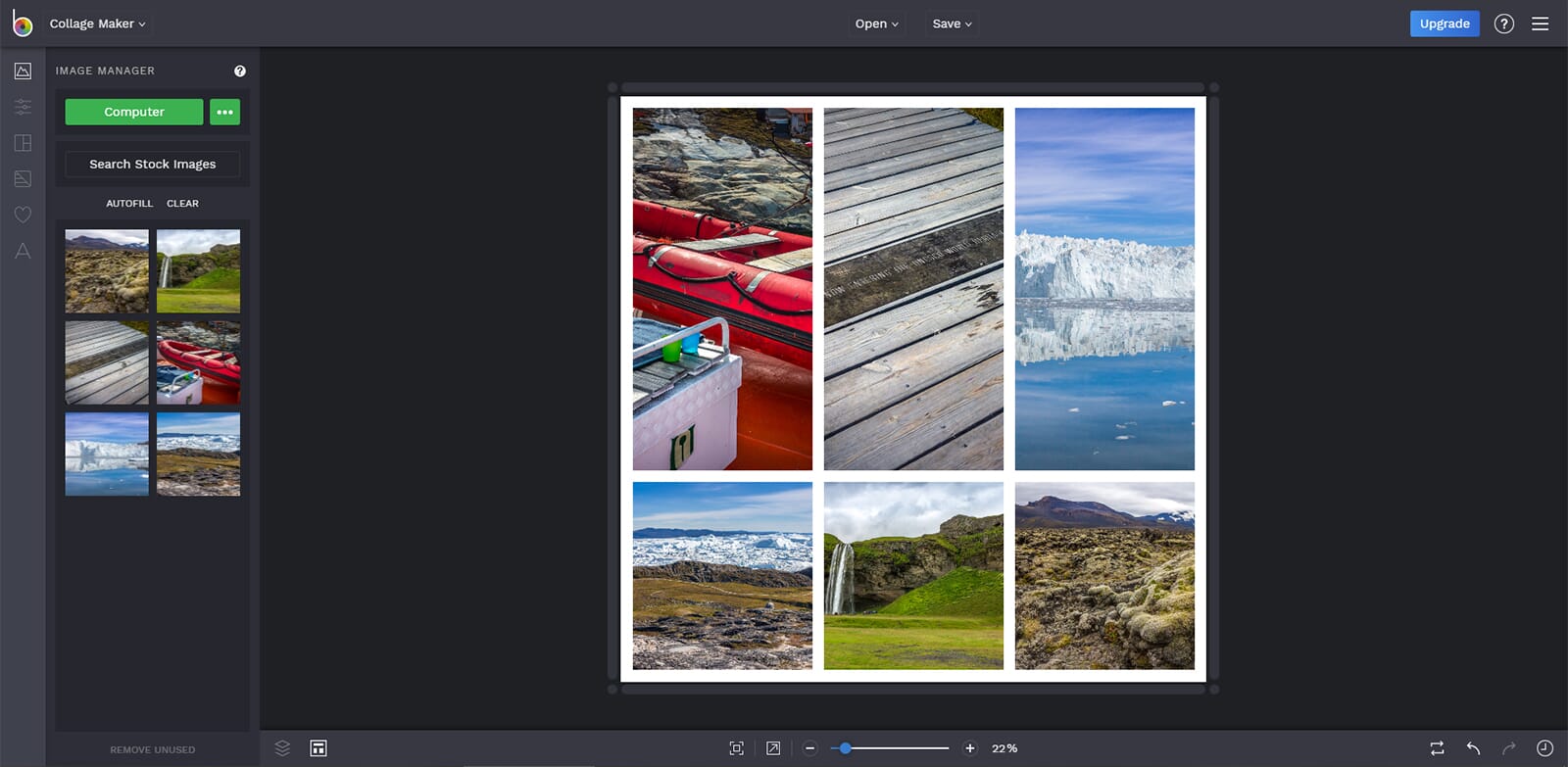 Pricing – Free or Premium plan
Type – Photo editor, graphic design platform, collage maker
Main Features – Full set of image editing tools
BeFunky is a multi-purpose platform that can be used as a photo editor, graphic design tool, or collage maker. It is one of the best Canva alternatives and is also relatively cheap. It has a free version and one premium version. The premium version is just $5.99/month ($3.99/month if billed annually) and gives you full access to the features and template library.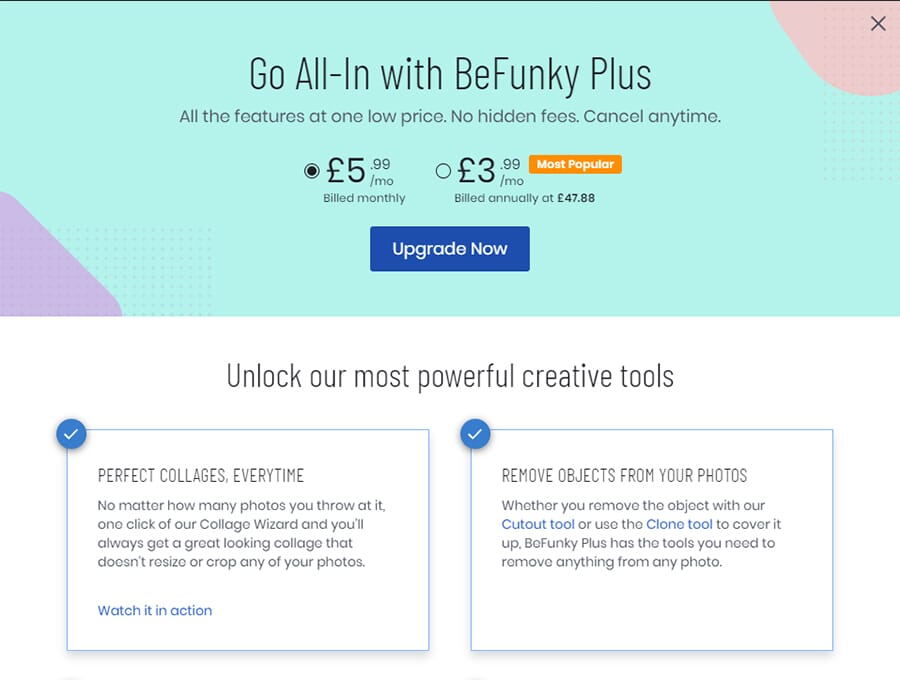 This graphic design tool is split into the aforementioned three main categories. A photo editor is a great tool and you can fully edit images in great detail.
Alternatively, both the graphic designer and collage maker provide a large selection of professional templates or allow you to create from nothing. All the tools are easy to use and have a beginner-friendly drag and drop interface.
We enjoyed using the collage maker and it has a fantastic range of templates that could be useful for making product pages or Instagram posts. The graphic design editor also has some great templates including social media, business marketing, online advertising, and events and cards.
6. Easil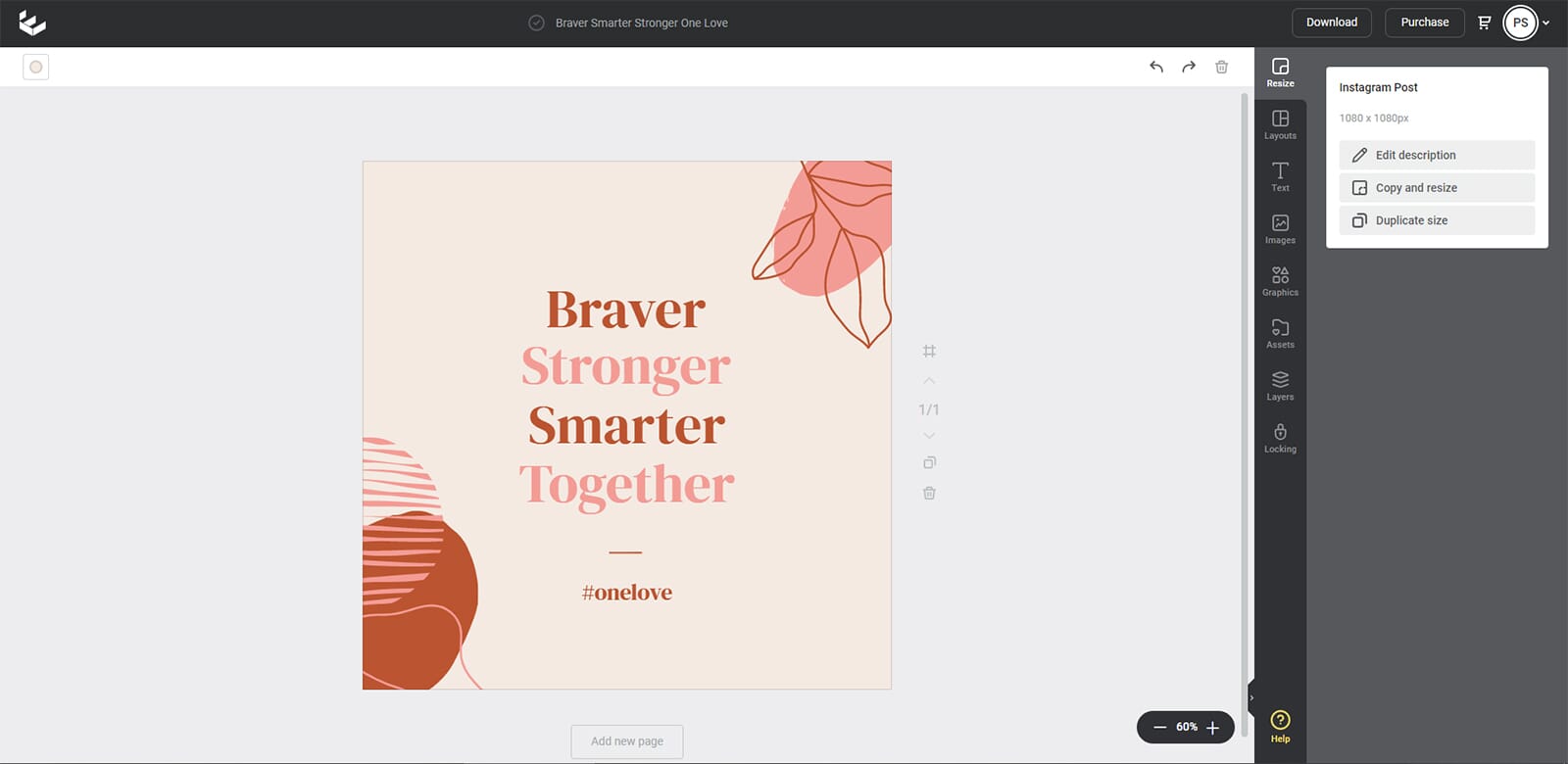 Pricing – Free, Easil Plus, or Easil Edge
Type – Brand marketing, graphic design
Main Features – Ability to create a brand kit
Easil is a great tool that is ideal for small to medium-sized businesses that need to create consistent content for their brand. It has a free version, and there is a Plus version at $7.50/month. There is also an Edge version which is $59/month which gives full access and is more suited to tailored business usage.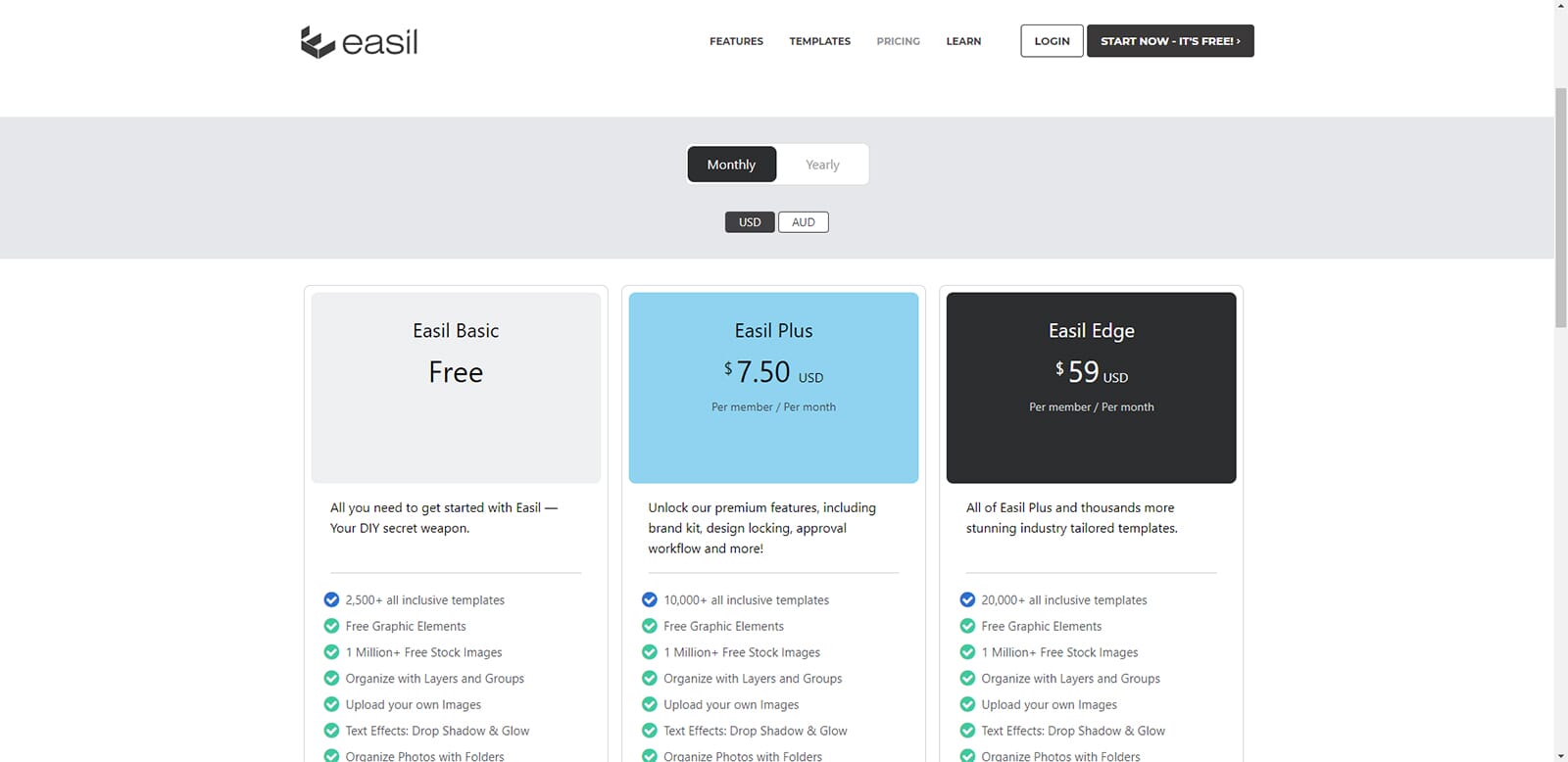 The basic graphic design kit includes templates, your own workspace, a section for branding, and a team section. We like the branding section as you can create different elements such as logos, fonts, and set color schemes for your designs.
There is also a good selection of templates split into categories like social media, digital screens, adverts, and generic documents. The graphic editor is also incredibly easy to use and has a similar layout to the other platforms in this list.
7. Crello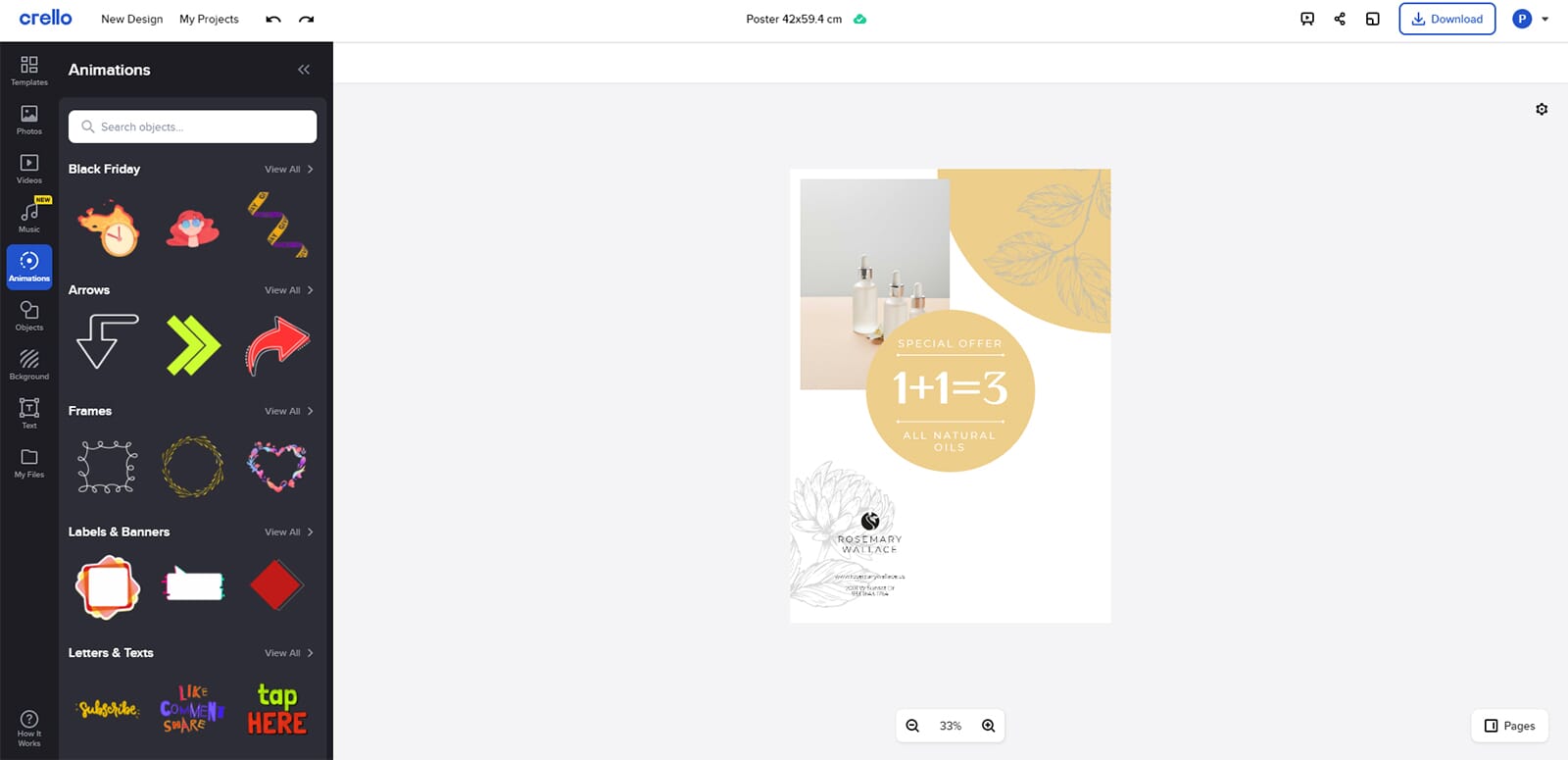 Pricing – Free or Premium
Type – Graphic design platform
Main Features – Ability to add animations and music into your designs
Finally, we have Crello, this platform features an incredibly similar design and user interface to many of the other best Canva alternatives. The free version is comprehensive, but it doesn't offer full functionality. There is a premium upgrade that gives full access and has a flat fee of $9.99/month.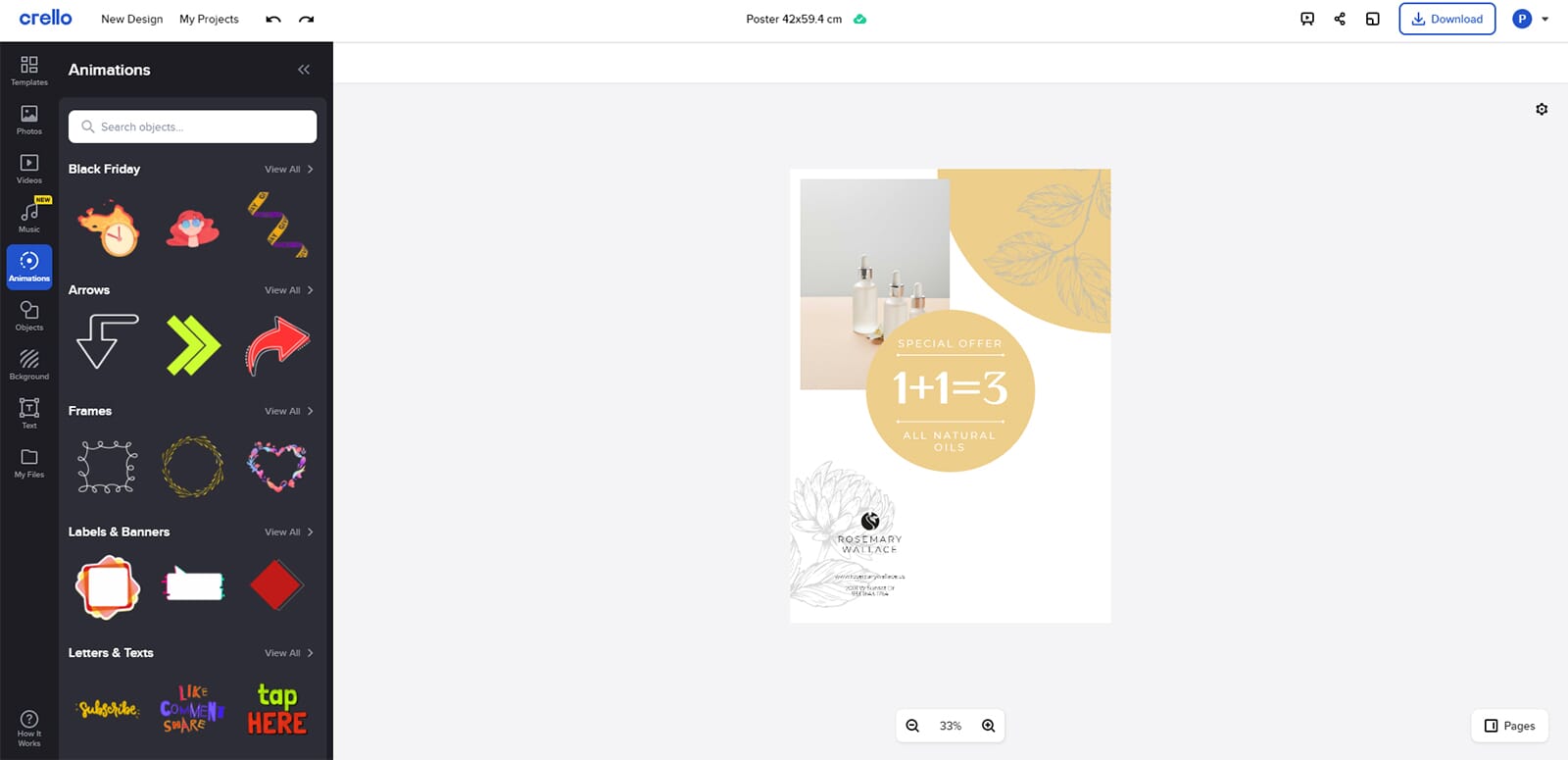 The main interface is split into three categories – home, templates, and my projects. The My Projects section easily allows you to manage your content and keep track of what you have created.
In the template section, there are hundreds of designs to choose from for various platforms including YouTube thumbnails, Instagram posts, Instagram stories, and even photo books.

We also like the simple and easy-to-use layout of the graphic editor, which is quite similar to Canva. Everything is drag and drop and you should have no issues using it.
Create Amazing Digital Media Today with the Best Canva Alternatives
Canva is an amazing platform, and it does have some great features like the slideshow maker. But it is not the only choice – hopefully, you now have food for thought and can see some of the other alternatives available. Let us know if we have missed any, or what your own experiences are with any of these platforms!