Once a Year Go Someplace You've Never Been Before
Let's face it. You can only experiment so much with your photography if you stay within the limits of your home or your own city. To make compelling images, or to produce images that speak a story, you have got to travel; preferably one of the best photography workshops. And when it comes to traveling, what better way to do that but in the company of like-minded shutterbugs and or under the close supervision of a pro photographer?
Related Posts: GuruShots Review
A pro photographer is someone who can help you fine tune your photography every step of the way. He is someone who can give you constant inputs to help you improve your compositions, as well as improve the way you look at a scene as a whole. Constructive criticism from a pro photographer can a go a long way in improving your work, quicker than it would have if you had to toil on your own for years.
Have a Camera? Let's Travel!
At Photoworkout we believe in providing quality information to our readers. That is why we have skimmed through countless photography workshops, tours and trips in the world, all of which are focused on photography, and listed here for you what we feel are the best in terms of uniqueness of quality and experience that is on offer. So all that you have to do is pick the one that best suits your interest and budget and start clicking right away.
So, here we go…some of the Best Photo Workshops in 2019…
1. Best Photography Workshops (Travel) for Amateurs
✓ National Geographic Photography Tours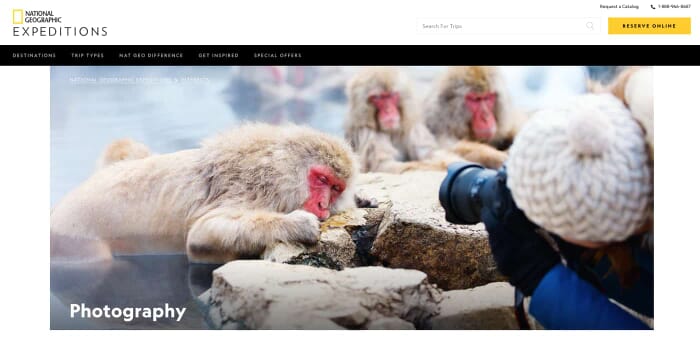 One of the best ways to dive right into the process of making exceptional, powerful images is to join the best and learn from them. There is no better way to do that than joining one of National Geographic's photography tours. They have a number of these tours to choose from. They are arguably the best photography workshops you could find.
The good thing about these tours is that they cover some of the most exquisite destinations and are also very well managed. But the best thing about these tours, undoubtedly, is that you get to work with a National Geographic photographer.
So, not only will you get to photograph some of the best destinations in the world, but you also get to learn directly from an accomplished photographer. You can dig into his/her experiences and the thought process that goes behind every image.
Further, just in case you are wondering, you don't have to be an expert photographer to join one of these workshops/photography tours. All you need is a good camera and an open mind.
2. Best in Landscape
✓ 56th Parallel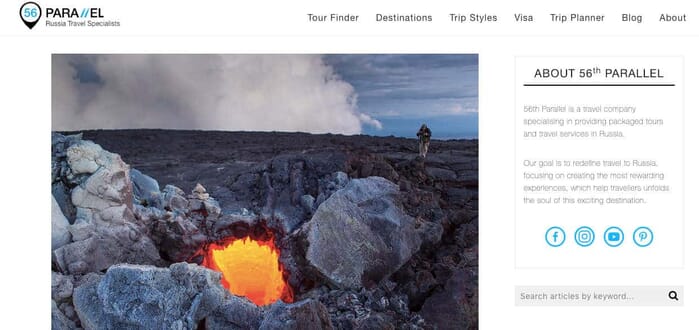 56th Parallel are Russian travel specialists. They arrange photo tours to various parts of Russia. But one particular tour covering a very special destination stands out from the rest. It is the Kamchatka Photography Tour.
Kamchatka is one of the least traveled destinations in the world. Very few people even know where it is on the map. But it is a place of stunning beauty and rugged yet breathtaking wilderness. Kamchatka is a place like no other in the world. Located right in the Pacific rim of fire, it is one of the most volcanically active areas in the world.
The wilderness is a fusion of Iceland and Alaska but unique in its own right. The tour begins from the capital of Kamchatka, heading through various Siberian villages, culminating in the valley guarded by the six majestic volcanoes of Kamchatka – the Krestovsky, Ushkovsky, Plosky Tolbachik, Ostry Tolbachik, Kamen and Kluchevsky. But beyond the natural beauty of this rugged land, there is plenty of fauna that you can capture in your camera.
Related Posts: Amazing Photography Spots Around the World
3. Best in Wildlife Photography in India
✓ Toehold Photo Travel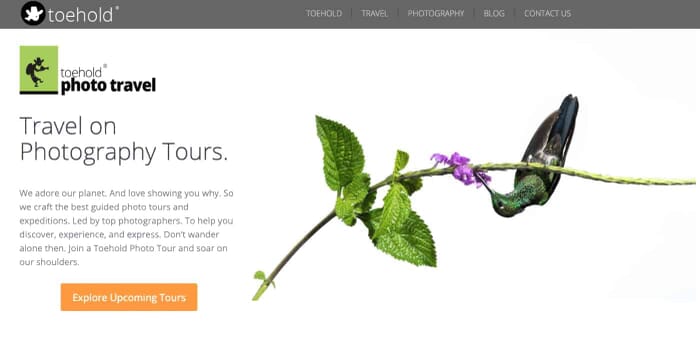 Toehold is a little known Photo Travel company based out of Bengaluru, India. Apart from a side business of photography equipment, they offer some of the best photography workshops in the wildlife photography genre. We, however, are only concerned with what they have to offer to travel photographers willing to experience and capture in the subcontinent.
India's diverse topographical features ranging from lush green tropical forests to deserts, oceans and rain-fed rivers offer a myriad of photo opportunities for the wildlife and landscape photographer.
Their hand-picked itineraries include guided tours to Bharatpur, a proverbial paradise for bird photographers and ornithologists, Ranthambhore, one of the best places to capture the majestic royal Bengal tiger and Gir, home of the Asiatic Lion.
Wildlife photography opportunities can be overwhelming. But don't let that get to you. Carry at least two extra lenses. One a 16-35mm (or the 14-24mm) for landscape and street photography and the other an 85mm lens for making the most of those rare portrait opportunities.
Related Posts: What to Photograph in Sikkim, India
While in India you would also have the opportunity to make some excellent street photography. India is a melting pot of cultures, languages and social believes. Nowhere in the world would you find so much in terms of visual diversity.
Needless to say, you can make good use of your spare time on arrival and before you head out to your predetermined itinerary to make some street and portrait images.
4. Best in Island Photo Safaris
✓ Photosafaris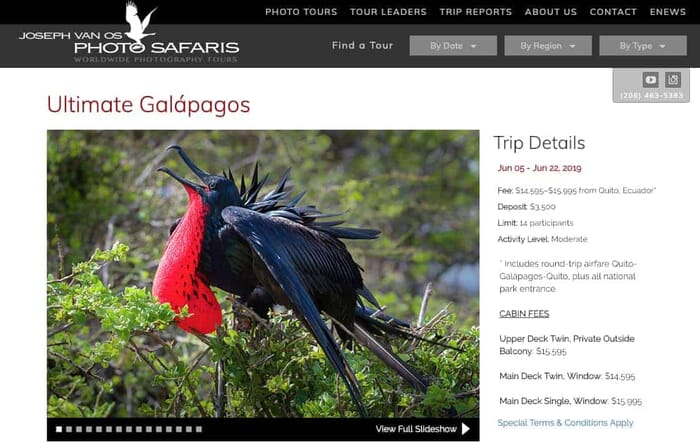 To visit Photosafaris' Ultimate Galápagos is a once in a lifetime opportunity to photograph some of the rarest living species on this planet. The name Charles Darwin would always be taken in the same breath as the Galápagos Islands. It is here on this islands that the whole theory of evolution, that was dominant at the time when Darwin arrived aboard the HMS Beagle, was completely revamped.
For a wildlife photographer, the Galápagos is both a trip down the lanes of history and an incredible opportunity to photograph some of the most unique creatures roaming on the face of the Earth. Arguably the best photography workshops you can join.
Many of these creatures such as Darwin's Finches, the giant Galápagos Tortoise, and the Marine Iguana are endemic to the archipelago. Especially, for a bird photographer, the Galápagos is a paradise. This is because many of the birds seem to be completely unalarmed at the sight of humans, thus allowing photographers to approach them within a few yards. Photosafaris' Ultimate Galápagos includes round trip airfare from Quito (Ecuador) and all fees for national park entrance.
5. Offbeat North American Photography Tour: Mexico
✓ Adventure Travel World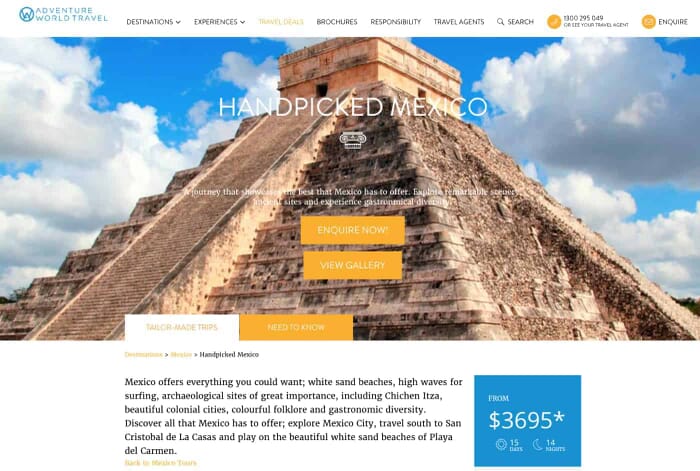 Handpicked Mexico from Adventure Travel World is a fantastic photography travel tour that promises great shots for your portfolio. When we think of North America, we tend to think of the USA and its' myriad of travel destinations across the 50 states. But down south just across the border is a destination that promises some of the most exquisite photo opportunities you could get in the whole of the Americas. These include the archaeological marvel of Teotihuacan.
The Aztecs revered the city. The main attraction being the Quetzalpapalotl Palace complex. Other attractions include the Pyramid of the Sun built-in 200 CE. The tour also takes you to the archaeological site of Uxmal. A string of low storied palaces arranged around courtyards bedecked with motifs and sculptures of ancient Gods.
Finally, if you are in Mexico how you can ever overlook the Mayan pyramid of Chichen Itza?
Note: The "Handpicked Mexico" tour was for the general traveler and not exclusively for photography enthusiast. If you are based out of the US and would like to explore Mexico along with an expert photographer, you may want to have a look at Jim Cline tour to Mexico coming in October 2019.
Bonus Pointers
Some bonus pointers if you are searching for the best photography workshops, tours or trips. There is no lack of photography workshops or tours and trips around the world. But not many can boast a unique itinerary that can interest a serious amateur or even a budding photographer looking to improve his/her portfolio.
Moreover, while all of these photo tours and workshops can take you to an exotic location, not many can boast of a mentor/expert who is a good photographer first and then a great communicator; someone who is really great at explaining the small nuances that go into making a truly amazing photo.
Anybody can be a tour guide but not everybody can be a photography mentor.
Check the Photography Mentors' Background and Experience
Alternatively, there are a lot of great photographers out there. They can help you reach the best locations to photograph. But they are not great mentors. They don't have great teaching skills, despite the fact that they are great at what they do (make photos). It is better to select a tour based on the mentor who is going to accompany the group.
Group Size Matters
Another thing to keep in mind is the size of the group you will be traveling with.
Smaller groups allow a mentor to give individual attention to every member of the group.
Larger groups are not only difficult to manage but difficult for you as the photographer to get proper feedback from the mentor. This is unless you are traveling with a professional well-managed tour organizer like National Geographic photo tours.
Logistics and Support During Travel
One more thing that you need to pay attention to is how well the tour is going to be managed, small things like a good quality transfer from the airport, or support staff at each location can go a long way to help you take your mind off the logistical issues and focus it into the creative aspect of the whole tour; i.e., take images.