While it's easy to learn the fundamentals of most things online (including photography), nothing quite beats going out into the field with an instructor on hand. With one of the best photography workshops, you really get the opportunity to learn on the go in some stunning locations with some of the best instructors out there. No matter your interests, there is something for everyone!
Best Photography Workshops Around the World
1. Jeff Parker's Workshops on Wildlife & Nature Photography


Jeff Parker offers highly curated workshops on wildlife & nature photography. He is an award-winning and well-published wildlife & nature photographer. He has been the recipient of countless prestigious wildlife & nature photography awards and prizes. His photos have made it to the pages and covers of several prestigious publications across the globe. Jeff Parker has been published in Outdoor Photographer, Audubon Magazine, NANPA's Expression, and American Airlines' Celebrated Living magazines to name a few. His works have also been showcased in Images for Conservation – Book Three: Borderlands of Laredo, in Wildlife in Focus IV and Wildlife in Focus V. Jeff Parker has been as much a wildlife & nature photographer as much as he has been deeply involved in conservation initiatives. Photographing with him and getting to know his methods, his approach and his thoughts behind his image-making is a study in itself.
Related Post: Best Cameras for Wildlife Photography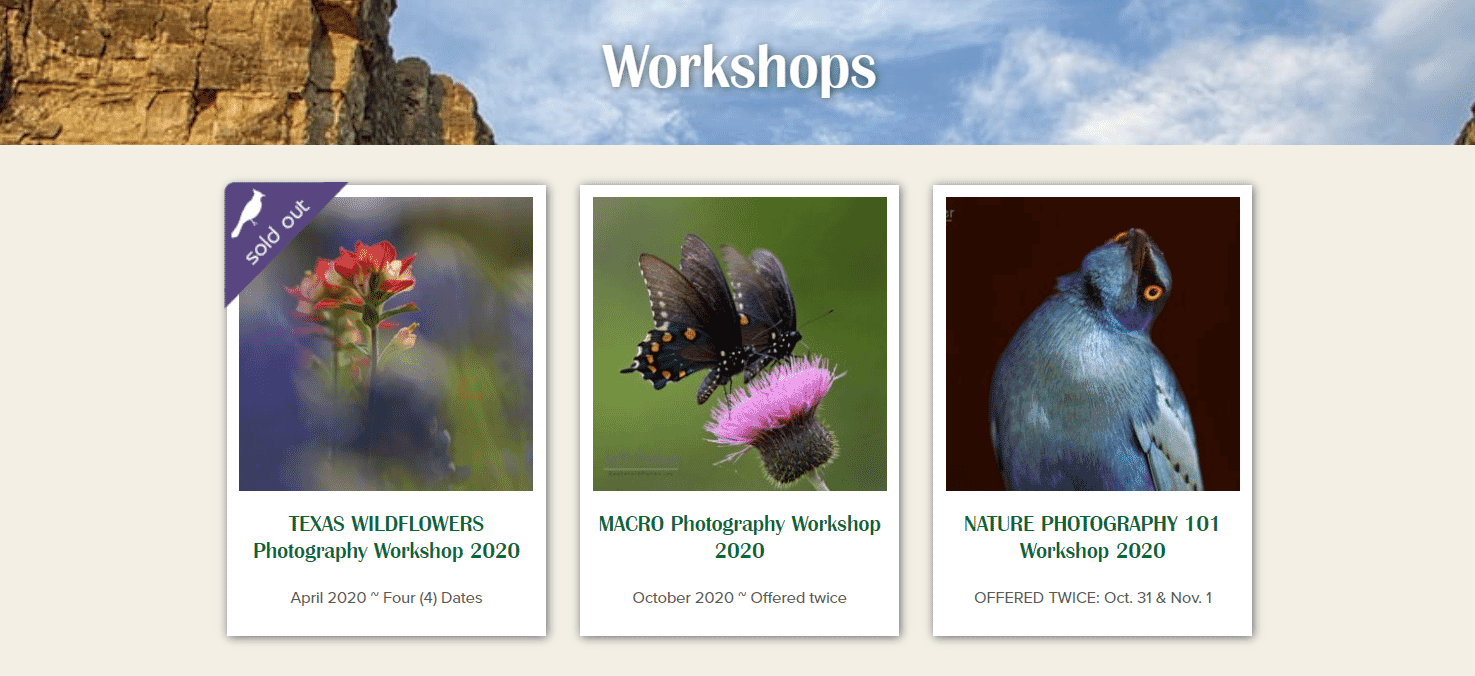 2. Nepal Photographic Adventure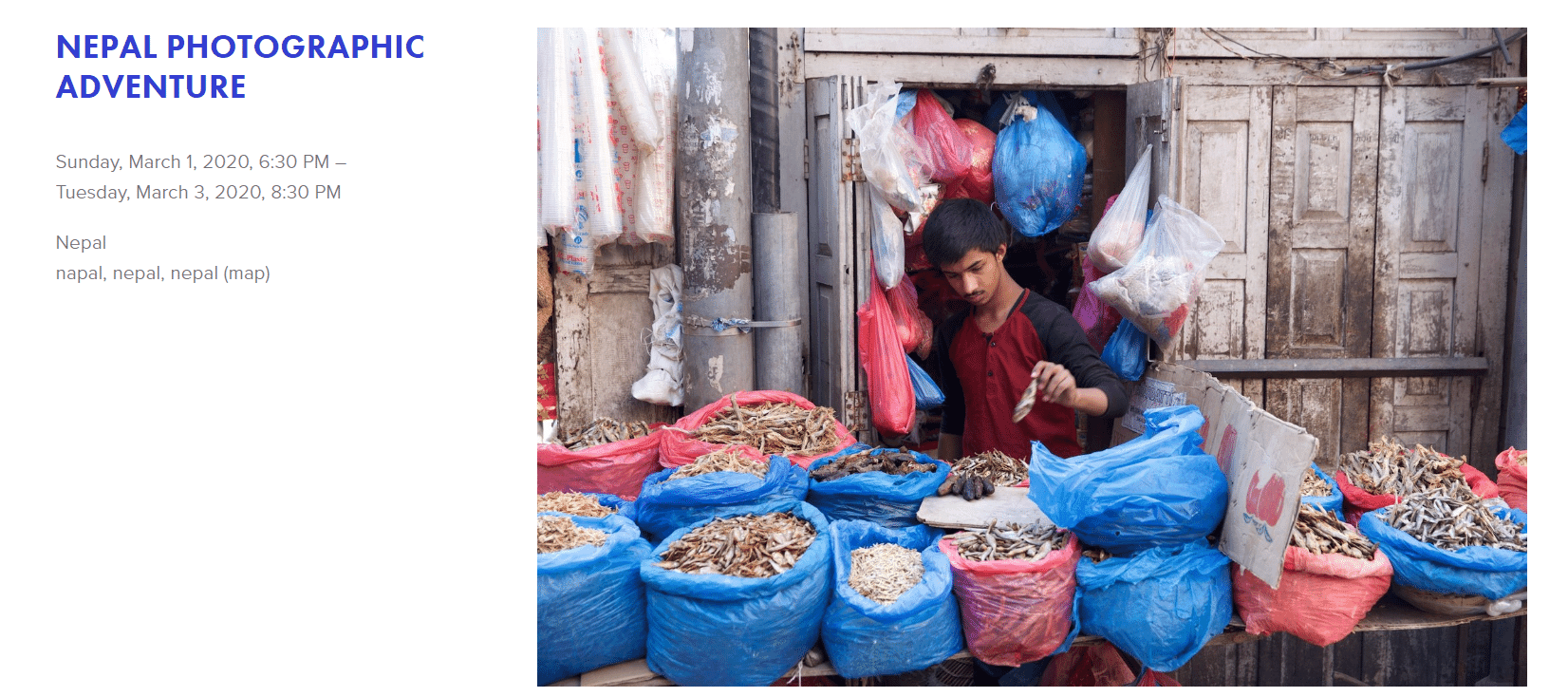 Nepal Photographic Adventure is a photography workshop run by Bruce Byers. Byers has and still works with some of the best guides in Nepal. One advantage of that being he is in a position to offer some of the most authentic experiences of this beautiful Himalayan kingdom.
When we think of Nepal, we think of Mount Everest, K2 and many of the other eight-thousand peaks. But there is a different side to Nepal that we seldom overlook or don't know about. Nepal is the only Hindu state in the world. The erstwhile rulers of Nepal were devout Hindus and that is why it is the official religion. So, the cultural side of Nepal is ostensibly linked with the religion that the Shah Dynasty (the ruling family of Nepal) patronized.
Related Post: Best Photography Holidays
Lalitpur which is the sister city of Kathmandu (the Capital of Nepal) is world-famous for its woodwork. The word Lalitpur is a conjoined term comprised of Lalit (meaning Art) and Pur (meaning City). Both Kathmandu and Lalitpur have majestic Durbar Squares which are some of the finest specimens of wood carvings you can find in the entire sub-continent. All around Nepal you will find specimens of the bygone era all around you. Durbar Square per se is one place where it seems like time has stopped.
And Nepal being an agricultural state too, harvest time is probably one of the best times in the year to explore the beautiful countryside. And just when you are thinking that Nepal is all about the Himalayas and its Hindu culture. You will find you are wrong again. There are 131 ethnic groups living in Nepal. Imagine what this means for someone looking for that unique image.
And if for nothing else, the 1 hour panoramic Everest flight is a once-in-a-lifetime experience for photographers and travelers alike.
For the uninitiated, the Everest flight starts from Kathmandu and takes you over and around most of the world's tallest peaks. There is also a helicopter service that does the same thing but takes you closer while giving you a slower-paced ride (more wow factor).
3. MPA Photography Tours


Run by David and Ally McKay, McKay Photography Tours or MPA was established in 2011. So far, they have taught more than 12,000 people. Having traveled to 45 countries on all seven continents, they are well-traveled and well experienced in different cultures around the globe.
The main objectives of MPA Photography Tours are engrained in the four values that they believe in. Those being Photography, Travel, Friendship, and Adventure. They firmly believe that anyone can fall in love with photography and everyone can master it. They also believe that everyone should travel and experience the world first hand. It is the perfect combination of traveling, experiencing the world and recording it all at the same time.
Related Post: How to Become a Pro Travel Photographer
The whole training process is full of fun and enjoyment. An environment of fun which makes learning easy. And the same methodology is maintained regardless of the location where the workshop is being conducted.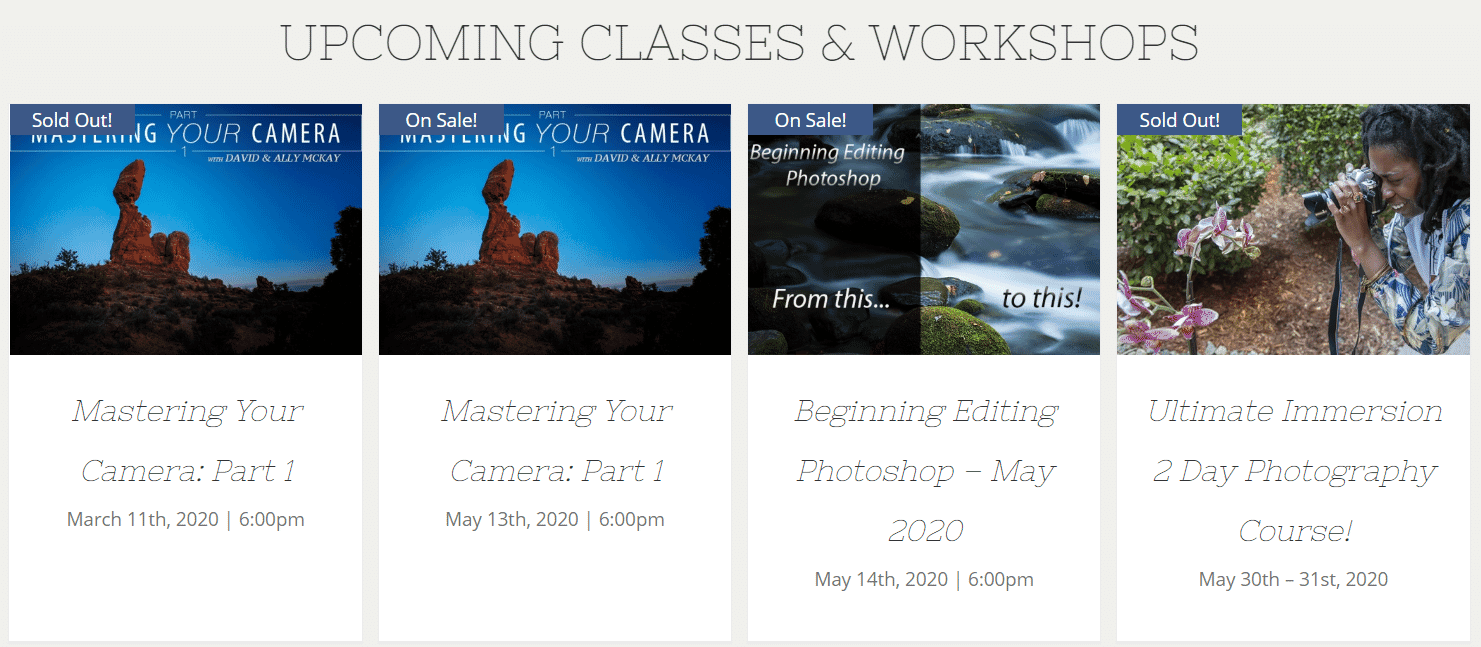 But the best thing about traveling with the McKays is that you are always in good hands. This is a team of dedicated professionals. They are a bunch of highly rated and highly accredited handpicked professionals. Each of them has a great deal of background experience in photography as well as team handling. You will always find them ready to help you, no matter the level of skill you have.
David McKay himself is a highly accomplished photographer, having won some of the highest photographic awards in the world. These include the Master of Photography award. He is also one of only 60 photographers worldwide to have received a Gold Medal from the Professional Photographers of America.
Ally McKay is a graduate from the prestigious Glen Fishback School of Photography and a recipient of the Master of Photography award from Professional Photographers of America. Winners of countless photography awards over a career spanning three decades, Ally McKay completes the team by bringing in her diverse photography and teaching experience on to the table.
4. Rediscover the Orient: Photography Vacation in Morocco


Morocco always occupies a special position in the heart of travelers. It is the place where Europe and Africa meet. This is a melting pot of cultures. A place where your senses can feast on the abundance of sights, sounds, and smells. For a photographer, it is a dream location to experience something new and to make images. And that opportunity is what Uptrek gives you. They give you the opportunity to explore the sights and sounds of Morocco and make images. The 8-day itinerary starts upon your arrival at the fortified city of Essaouira.
A total of 30 hours of actual one-to-one training is in store from instructor Darren Lewey. The maximum number of heads allowed to join the workshop is only 5. That means an ample amount of personal interaction and feedback. Plus a lot of shooting time with your mentor during the 8 days.

The course is suitable for beginners as much as experienced photographers. This is because it involves both a camera fundamentals workshop and a portrait shooting workshop. If you are looking to explore the countryside, you have plenty of opportunities to do that as well.
5. Namibia Photo Safari Adventure with Glen Campbell

The Namibian desert is one of the most inhospitable places on the face of the earth. It is dry, arid and devoid of vegetation for the most part. And yet life, somehow, has managed to find a foothold here. You'd be surprised by the diversity you can find here. And this is where Glen Campbell and his Namibia Photo Safari Adventure come into the picture. Quite literally.
This 13-day tour will take you through the heart of Namibia's countryside. The tour starts from Etosha and then continues through Spitzkoppe, Swakopmund, Sossusvlei, Namib Rand, Luderitz and Kolmanskop before culminating at Quiver Tree Forest.
Your tour guide and mentor will be Glen Campbell himself, an accomplished nature and wildlife photographer. He will guide you through the tour. Plus, he will give you hands-on coaching on both the artistic and the technical sides of nature photography.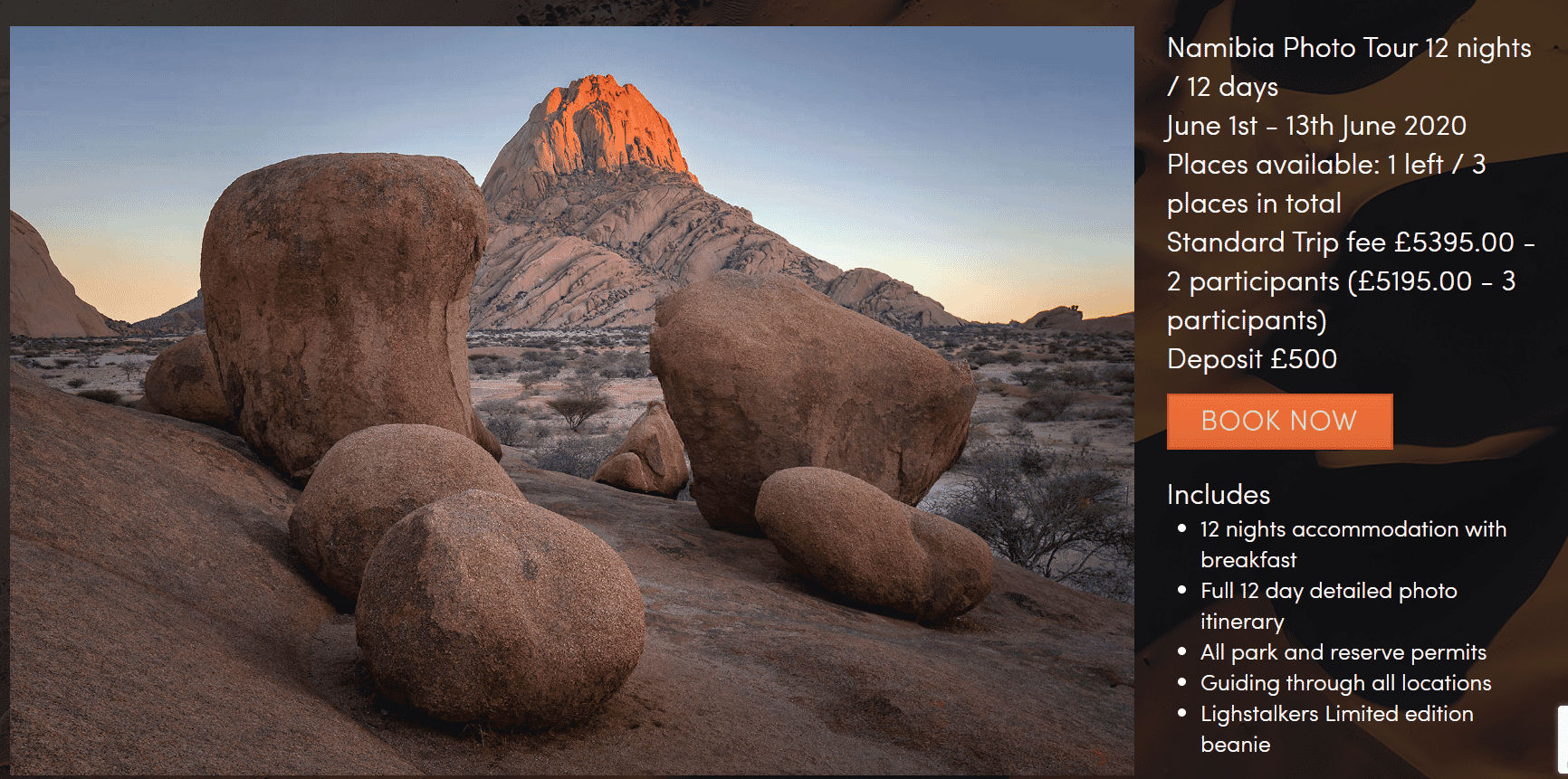 Being a small group of photographers (no more than 3 participants) has its own advantages. It means you will have ample opportunity to capture some good images of the large African beasts. Plus, you will get lots of one-to-one time with your mentor during the tour.
The best thing about the tour is that it has something to offer for photographers of every skill level. Whether you are a newbie nature photographer or an experienced individual doing nature and wildlife photography for years you will love this highly curated and meticulously planned tour. Accommodations are top-notch and all transportation to shooting locations and transfers are on 4×4 vehicles.
6. Havana to Trinidad Photographic Adventure with Bruce Byers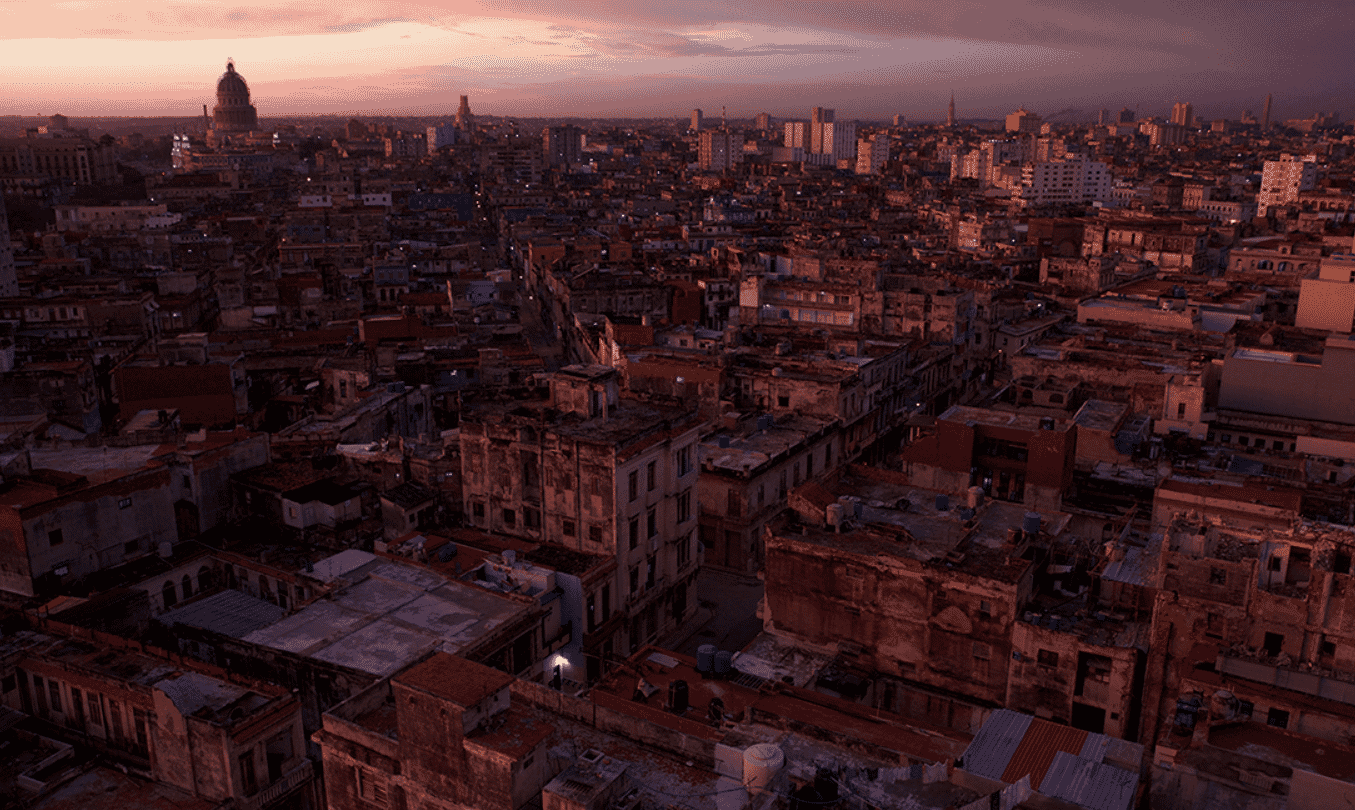 Havana's checkered history, wonderful natural beauty, and vibrant culture is the perfect backdrop for a wonderful adventure in photography. But why limit yourself to just one place when you can visit the rest of this beautiful country?
This photographic adventure starts off in Havana and ends in Trinidad to the South West of the country. So, you get to enjoy a wonderful experience of both these unique places and get plenty of opportunities to make some stunning images along the way.
Cuba is famous for a number of things but what's going to fascinate you most is its people and their culture. If you want to photograph something unique, this is probably one of the best places to be walking around with a camera in hand. And travel.
Experiences include having lunch with a renowned artist, visiting one of the most famous boxing gyms of the world, and photographing Spanish dancers dancing to a typical native tune and set against majestic 15th-century buildings.
Cuba is famous for numerous things, one of those things being their love for restoring and still driving old American four-wheelers. Beauties in their own right, these gorgeous vehicles cruise around the streets of Cuba. If you've ever wanted to photograph vintage American four-wheelers outside the USA, Cuba is the place to go.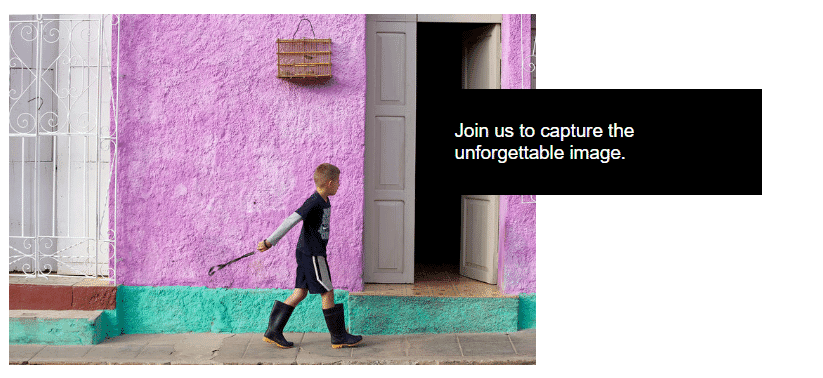 7. The National Geographic Expeditions and Photo Workshops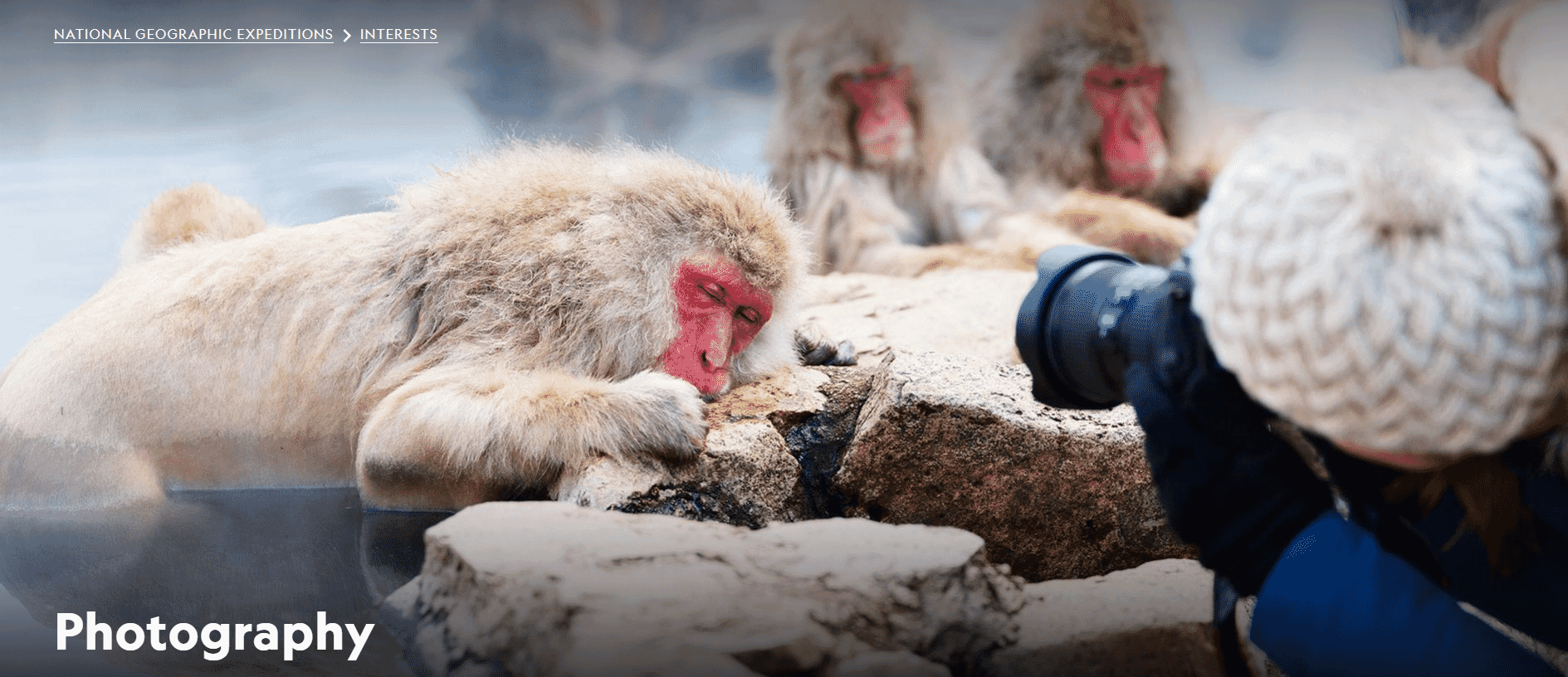 We can't conclude this discussion of the best photography workshops around the world without mentioning the National Geographic Expeditions and Photo Workshops. Their workshops are, by far, some of the most popular options around. This is because of the sheer variety of photographic tours that you can choose from.
One of the best ways to dive right into the process of making exceptional, powerful images is to join the best and learn from them. And in that sense, there is no better way to accomplish it other than joining one of National Geographic's Photography Tours.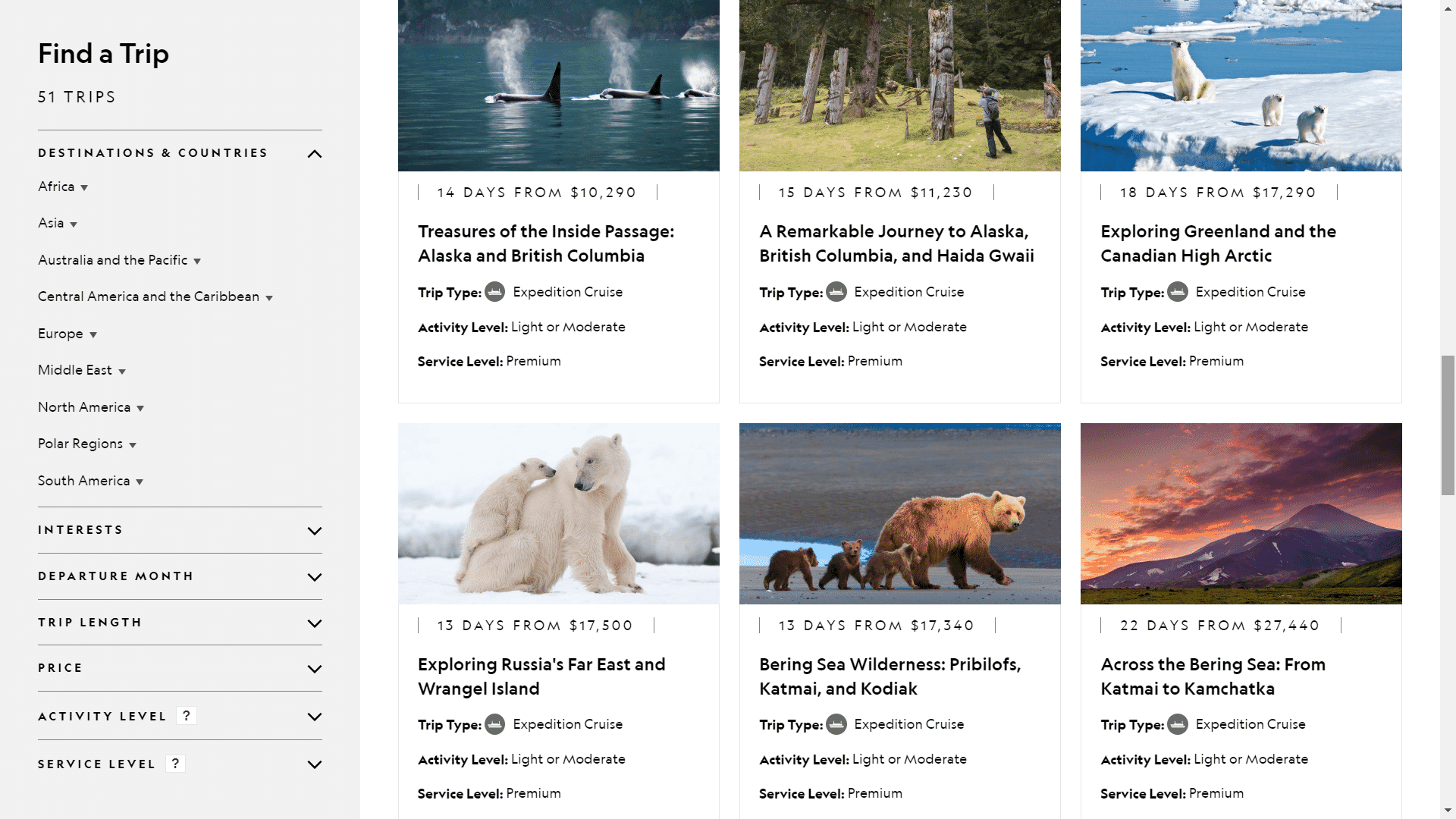 There are a number of good things about these tours. One of them is that they cover some of the most exquisite destinations around the world. These tours are also very well managed. But the best thing about these tours, undoubtedly, is that you get to work with a National Geographic photographer. And that is the highlight of the National Geographic expeditions and photo workshops.
So, not only will you get to photograph some of the best destinations in the world, but you also get to learn directly from an accomplished photographer. You can dig into his/her experiences and the thought process that goes behind every image.
You don't have to be an expert photographer to join one of these workshops/photography tours. All you need is a good camera and an open mind.