In this article, I'm going to take you through the preset installation process–for Lightroom Classic (both new and old versions), as well as Lightroom CC and Lightroom Mobile.
Then I'm going to give you some helpful tips for getting the most out of your presets!
How to Install Lightroom Presets:
Where Can You Find Lightroom Presets?
Lightroom presets are fantastic tools–but to get started, you'll need some presets to work with.
Now, Lightroom does include a number of in-built presets in the Develop module. However, these aren't especially impressive, so I'd really recommend you find (or make) your own Lightroom presets.
There are plenty of high-quality free presets you can download off the internet.
There are also quite a number of talented photographers who offer their own presets (i.e., presets that they use in their own work).
While these presets won't come free, they may be worth it, especially if you're looking to replicate a photographer's unique style.
But once you've found or purchased presets, you'll run into a dilemma:
How do you actually download and install them?
The answer isn't obvious–but it's very easy, I can assure you!
Installing Lightroom Presets: How to Get Started
Before you download any presets, it's important to first identify your version of Lightroom.
Why?
Because different Lightroom versions use different preset installation processes. What works for one version of Lightroom won't work for the others.
Now, there are four separate versions of Lightroom you might own:
First, you might own Lightroom Classic 7.3 or higher. If you have a Creative Cloud subscription and regularly update your software, then this will be your version.
Second, you might own an older version of Lightroom Classic (potentially Lightroom 7.2 or earlier, or even Lightroom 4, Lightroom 5, or Lightroom 6).
Third, you might own Lightroom CC, which is the more mobile-focused, cloud-based version of Lightroom.
Last, you might have some form of Lightroom mobile. This is a mobile app, which means that it only exists on portable devices.
How to Install Lightroom Presets in Lightroom Classic (Version 7.3 or Higher)
Installing Lightroom presets in Lightroom Classic is easy.
First, make sure you download your presets from the internet (I recommend putting them somewhere on your desktop).
Most presets come in a ZIP file, so you'll need to extract the presets. On a PC, right-click and select Extract All; on a Mac, simply double click on the ZIP file.
Next, open Lightroom Classic. Head over to the Develop Module, then tap File and select Import Develop Profiles and Presets.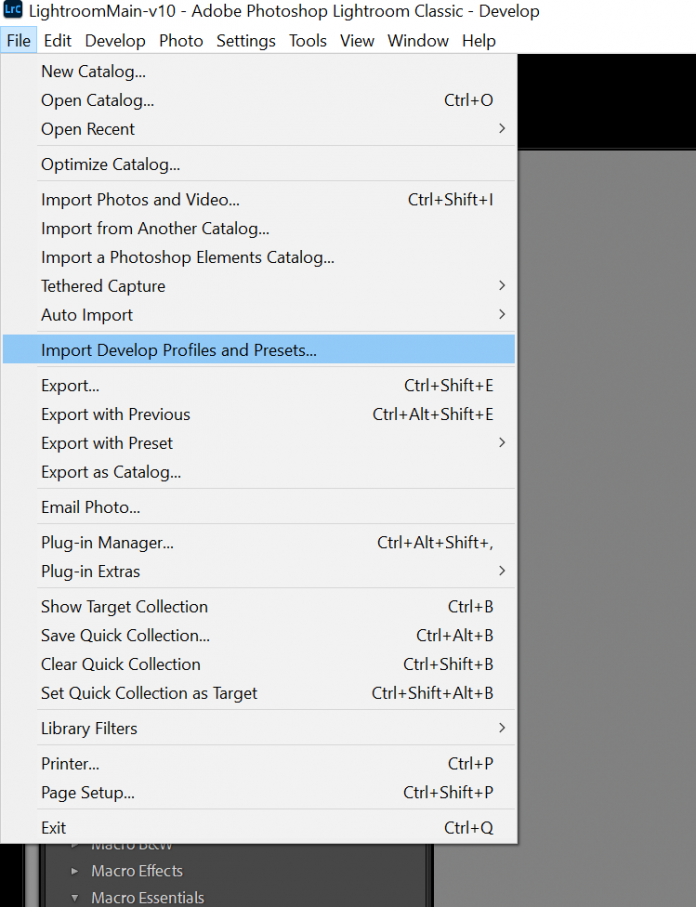 Alternatively, tap the Plus icon next to the Preset panel, and select Import Presets: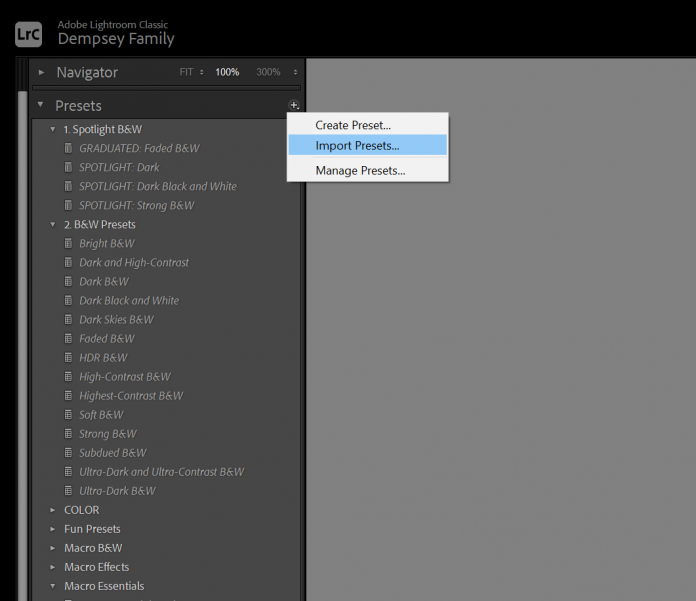 In either case, a Browse window will open, and you can select your new presets.
Once the presets have been imported, simply open the Preset panel, and you'll be able to apply them to images in seconds.
How to Install Lightroom Presets in Lightroom Classic (Version 7.2 or Earlier, Including Lightroom 6, Lightroom 5, and Lightroom 4)
To install presets in an older version of Lightroom Classic, make sure that your presets are downloaded to your desktop (and if they came in a ZIP folder, be sure to extract them).
Copy the preset folder.
Then open Lightroom and tap Edit, then Preferences.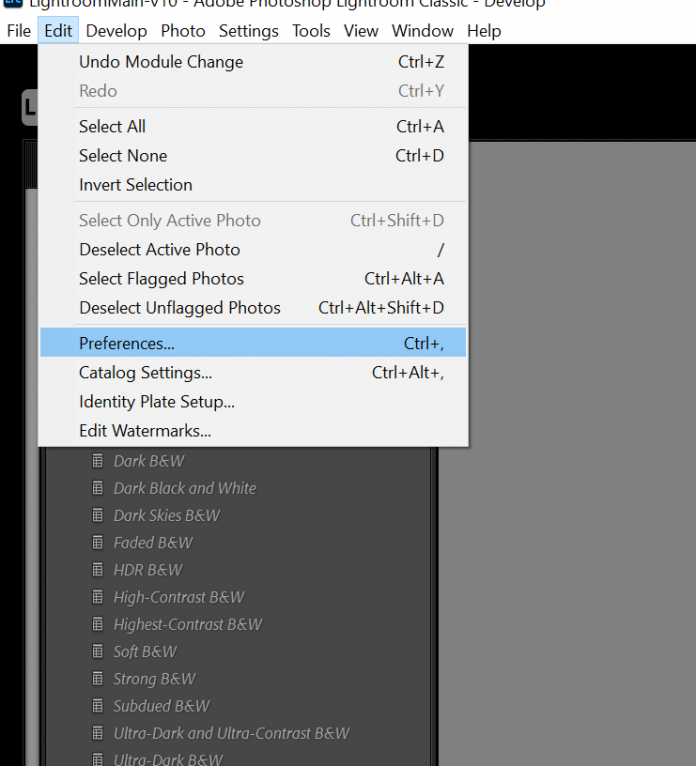 On a Mac, tap Lightroom, then Preferences.
Navigate to the Presets tab, and select the Show Lightroom Presets Folder button.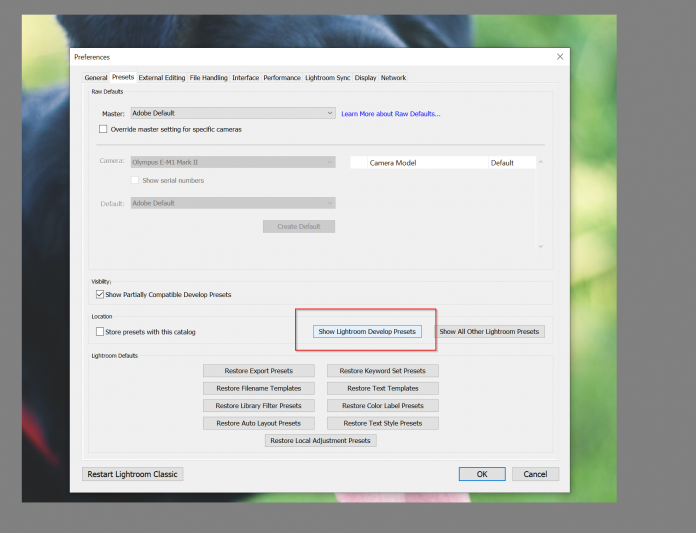 A browsing window will open. From here, navigate to Lightroom>Develop Presets folder.
And paste your presets directly into the Develop Presets folder.
Now you should be able to open the Preset panel in Lightroom and see your presets!
How to Install Lightroom Presets in Lightroom CC
If you're a Lightroom CC user, you'll want to start by downloading your presets and unzipping them.
Then open Lightroom CC and open an image.
Next, tap File, then Import Profiles & Presets.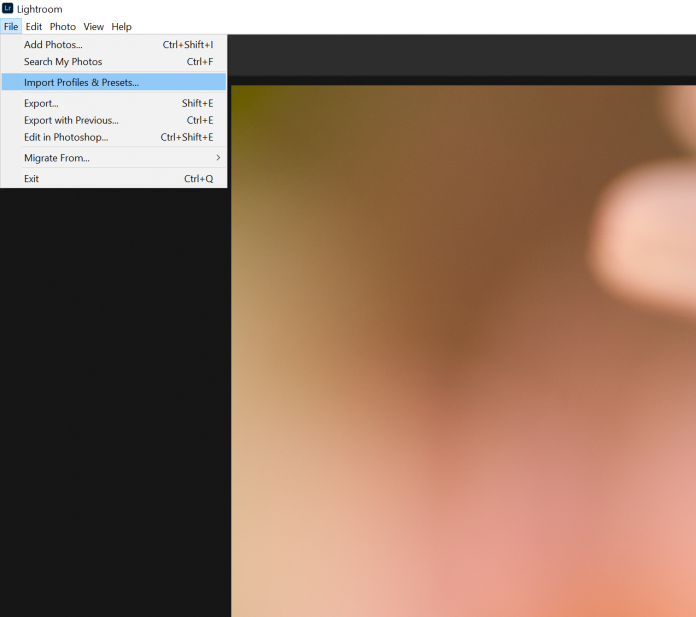 Finally, just find and select the presets!
They'll now be in Lightroom; to access them, simply tap Presets and select the preset collection: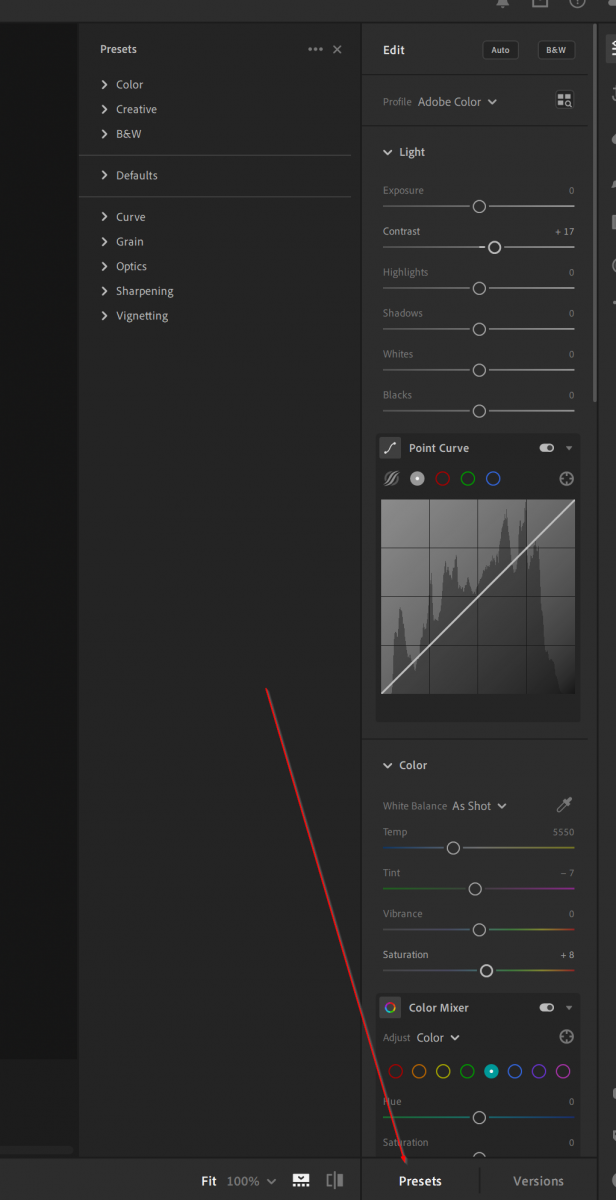 How to Install Lightroom Presets in Lightroom Mobile
Unfortunately, installing presets in Lightroom Mobile is a frustrating process; there's no easy way to add presets as a group.
But if you're dead-set on adding your presets to Lightroom Mobile, here's how it works:
First, you'll need to download your presets on a desktop and install them using one of the processes described above.
Next, you'll want to apply each preset to a different image in Lightroom Classic. The particular image doesn't matter–in fact, you can use the same image, just with several virtual copies, if it's easier.
Select all your presets and tap File, and then Export With Preset>Export to DNG.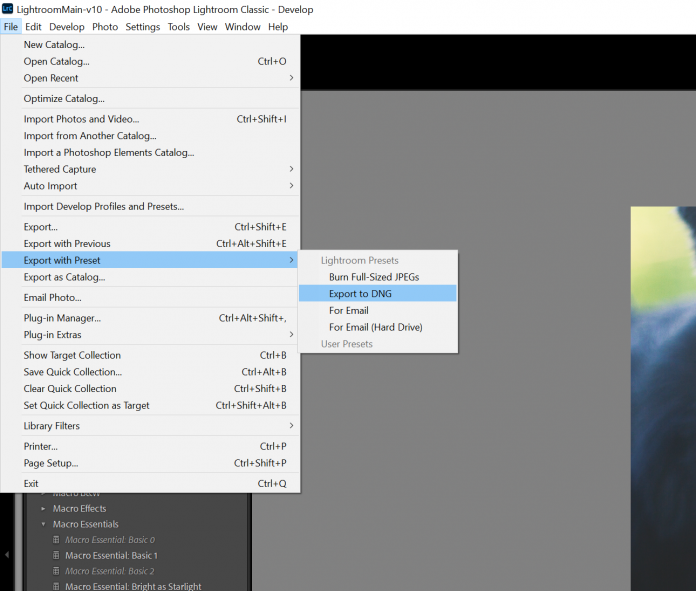 Then import the photos (which will have the presets applied) one by one into your Lightroom Mobile app.
Finally, for each imported photo, select the More option (the three dots at the top), then tap Create Preset.
Related Post: How to Create Lightroom Presets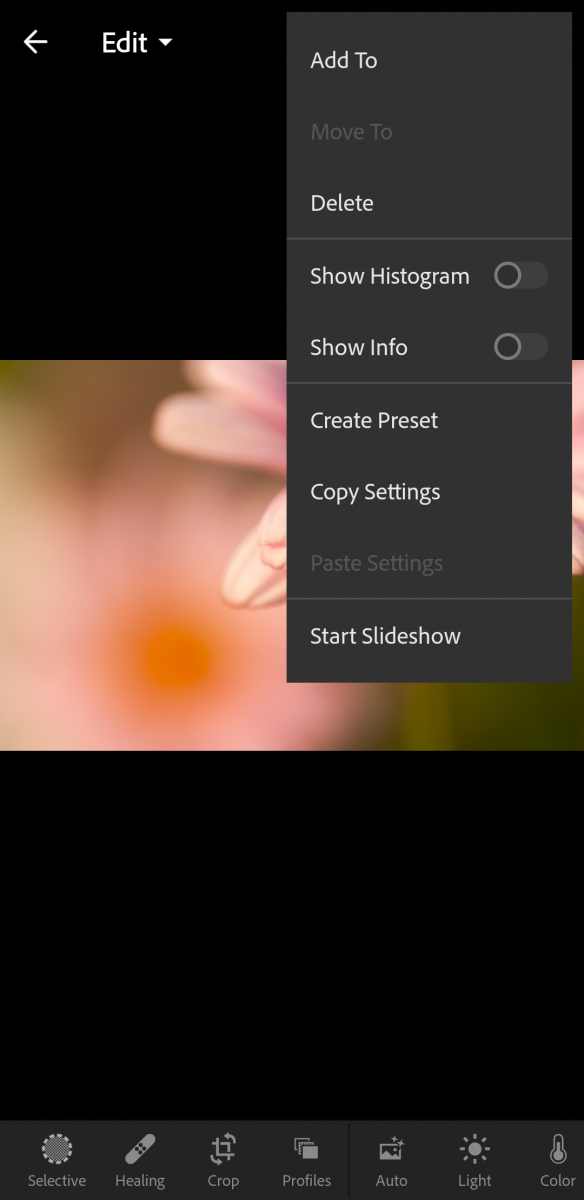 Once you've finished, you'll have a preset for each imported DNG, which should correspond to every preset you initially imported.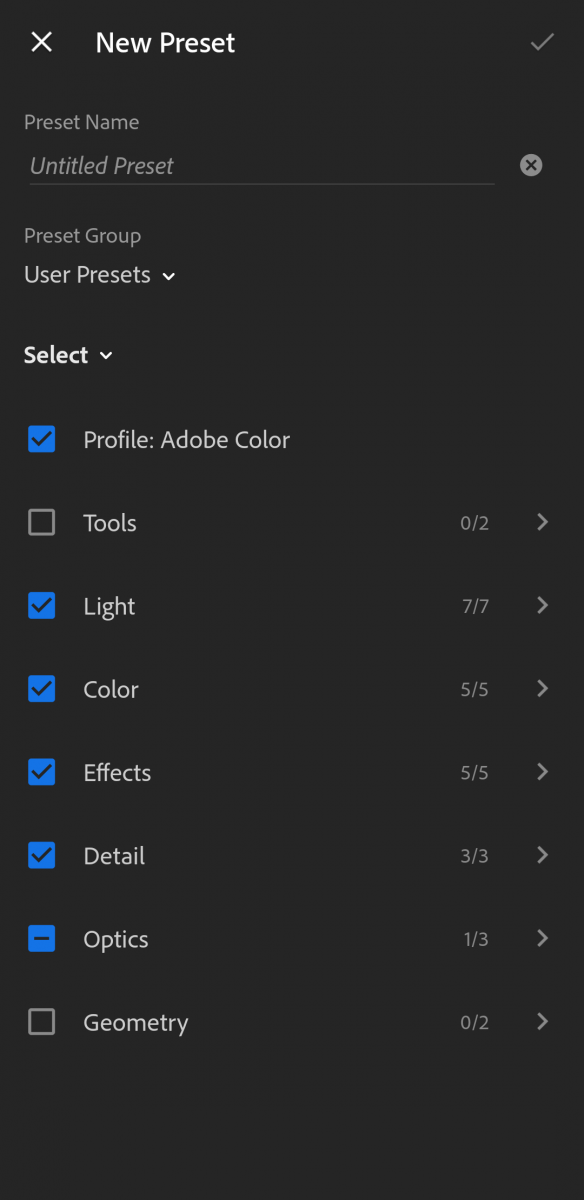 Make sense?
You'll be able to access the presets in the Presets menu at the bottom of the screen.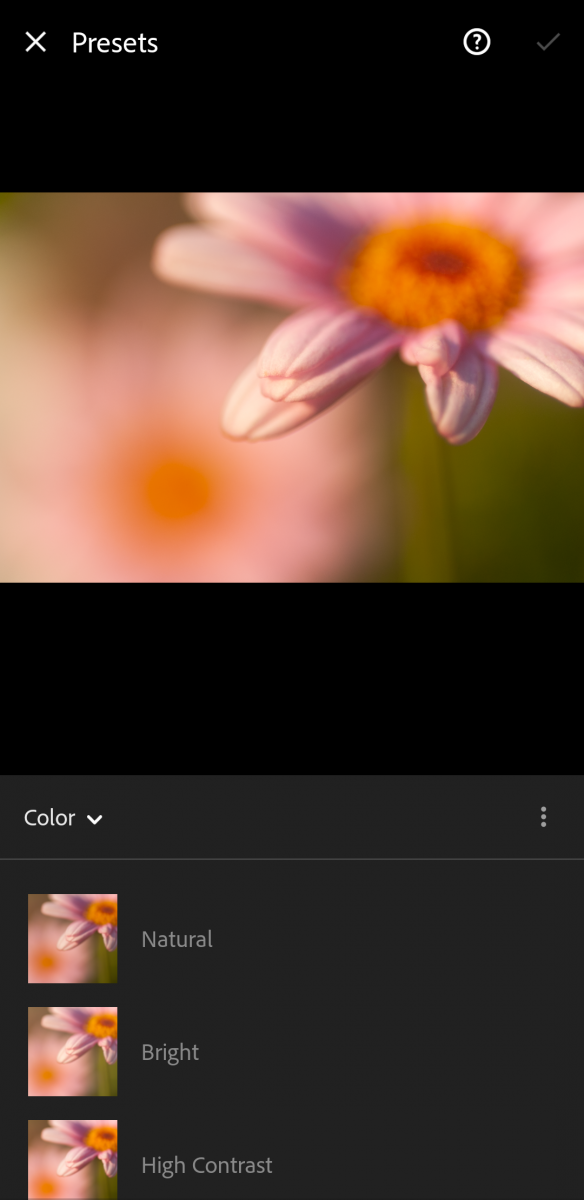 A Few Quick Tips for Using Presets in Lightroom
Now that you've successfully downloaded and installed your presets, it's time to look at the fun stuff:
How to actually use the presets for great results.
Now, you can just apply the presets blindly and hope for the best.
But as a preset user and developer, I've come up with some helpful tips for applying presets and getting consistently stunning images.
Group Your Presets According to Mood and Color
Here's the thing:
Not every preset works with every photo.
Instead, certain photos work well with certain presets, and other photos work well with other presets.
A shot with lots of cool blue tones might not look great with a warm preset, and a shot with warm tones may not look great with a cool blue preset.
Plus, different presets offer different moods. Cool presets tend to be darker and more haunting, whereas warm presets tend to offer a sunnier, happier feel.
Make sense?
So here's what I recommend:
Test out your presets.
And group them according to mood and color. Find the presets that look similar and place them together.
That way, when you're editing an image, you don't have to try every single preset. Instead, you can zoom right to the relevant preset folders, and test out only the ones that have a shot at working.
Related Post: Find Your Photography Editing Styles
Apply Your Presets, But Don't Be Afraid to Modify Them
Some photographers open Lightroom, apply their presets, and export the photo.
And that can work.
But it also prevents you from creating the best photos possible.
Because while presets are great, they're rarely perfect. And you can usually improve a photo slightly by tweaking the Lightroom settings.
So instead of exporting your photo as soon as you've applied its preset, try playing around with the settings. Consider brightening or darkening the shot. Consider boosting or reducing the colors.
That way, you can make your images shine even beyond your preset collection!
If You Hit Upon Gold, Save It as a New Preset
Say that you're playing around with a preset.
And you end up with a look that you really, really like, but that involves some adjustments that weren't initially part of the preset.
What do you do?
Save it as its own preset, of course!
There's nothing wrong with making new presets out of your old presets. In fact, this is something that I'd highly recommend.
But don't ever delete the old presets. Instead, organize your new presets with the old ones, potentially even as different versions (e.g., Warm 1, Warm 2, Warm 3, etc.).
That way, your preset collection is always growing.
And you're able to include all sorts of new looks in your photographic portfolio.
Don't Rely Too Heavily on Presets
Here's my final piece of advice for you:
Presets are great.
But don't overdo it.
You don't want to rely so heavily on presets that, without the presets, you're unable to do any editing at all.
Instead, use the presets to give you quick results, or to inspire you, or to help you get started as an editor.
But also take the time to understand why the presets work, and how they adjust different effects to give you a great edit.
So use presets.
But don't be afraid to go beyond them!
How to Install Lightroom Presets: The Next Steps
Now that you've finished this article, you're well-equipped to both install and use your Lightroom presets.
So go ahead and install your presets.
And start experimenting with different looks.
Presets are very powerful…
…which means your photos are bound to start looking better, fast!
Where do you download Lightroom presets?
Lightroom includes its own built-in presets, but if you want to get the best results, you'll often want to download third-party presets. You can grab these online–there are plenty of free options, and there are plenty of paid options, as well. If you're after the best-possible presets, purchasing paid presets is probably a good ideal (and you can get plenty for pretty cheap!). Generally, once you've paid, websites will give you a download link for the presets, which you can then put on your desktop and import into Lightroom.
How do you add presets to Lightroom?
Adding presets in Lightroom Classic is pretty easy; you can download the presets, then simply import them through Lightroom (see the article for step-by-step instructions). The same is true of Lightroom CC. Older versions of Lightroom Classic are more difficult, but still workable. And mobile presets take a lot of time and effort, but they can be installed if you follow the steps carefully!
Can you install presets on Lightroom mobile?
Technically, there is no way to import presets as a batch into the Lightroom mobile app. However, there is a workaround, where you import photos with the preset applied, then turn those photos into presets. I detail all of this in the full article, but bear in mind that it can be a complex and time-consuming process, so make sure you really want the mobile presets before moving forward!
How should you use Lightroom presets?
I'd recommend using Lightroom presets as a starting point in your editing. The fact is that presets just don't work on every photo, no matter how well-designed they are; there is too much variation in color and tones across images! So instead of relying on a single preset to give you an incredible look, test out different presets, then apply your favorite. From there, you can make additional edits until you get the look you're after!