What is the difference between Skylum's Luminar AI vs Luminar 4? Which program is better? And which one makes sense for your post-processing needs?
That's what this post is all about.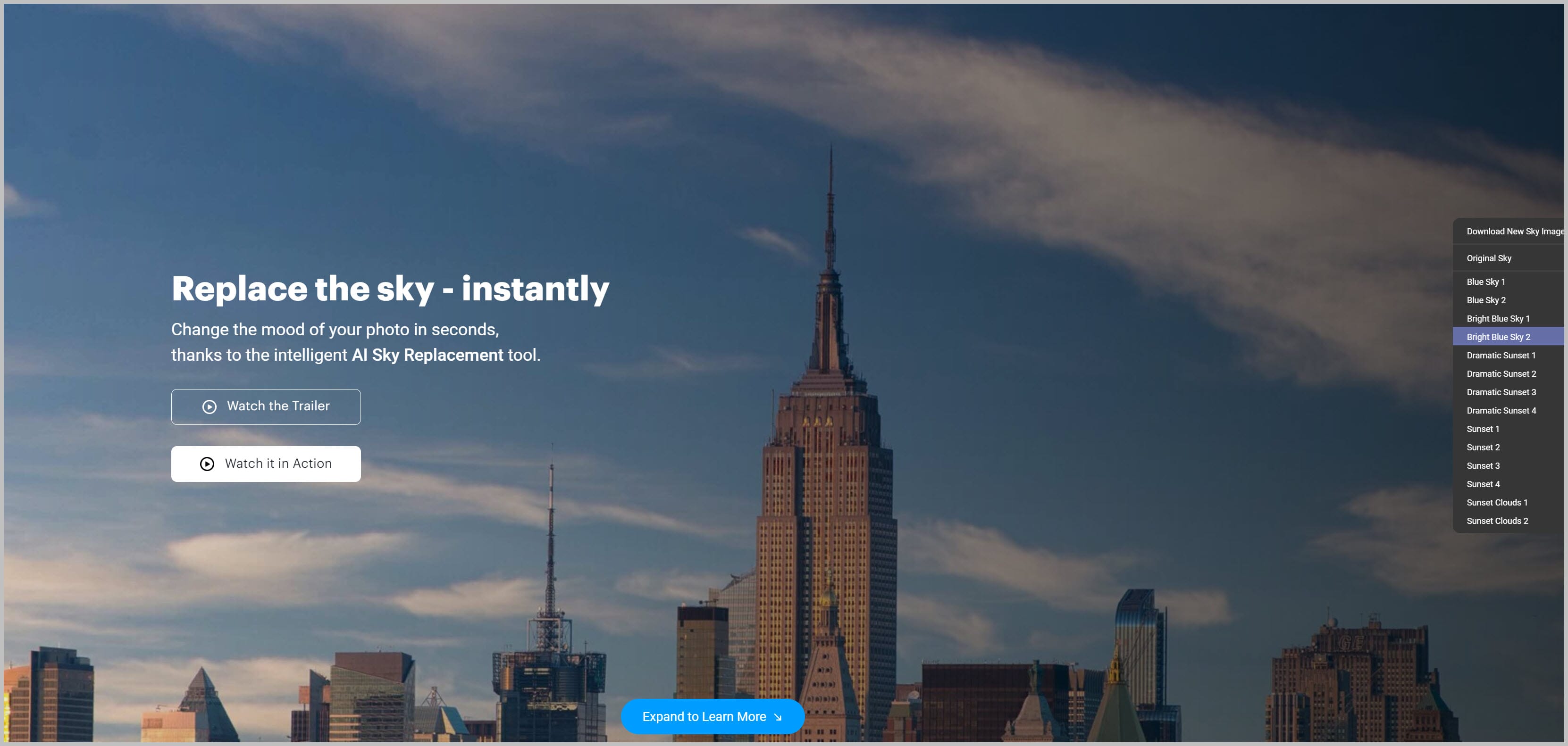 As a longtime Luminar 4 user and someone who has spent plenty of hours testing Luminar AI, I'm well-positioned to tell you everything you need to know about these two programs.
I'm going to cover the differences (and similarities) of Luminar AI and Luminar AI in-depth so that you can make an informed decision about your next post-processing program, whether you're thinking about upgrading from Luminar 4, or whether you're new to Skylum and wondering which program will get you the best results.
So if you're ready to dig deep and understand the key Luminar AI and Luminar 4 differences…
…then let's get started.
When you buy through links on our site, we may earn a commission at no cost to you. We evaluate products independently. Commissions do not affect our evaluations.
What Is Luminar 4?
Luminar 4 is a simple, streamlined, beginner-friendly alternative to Adobe Lightroom.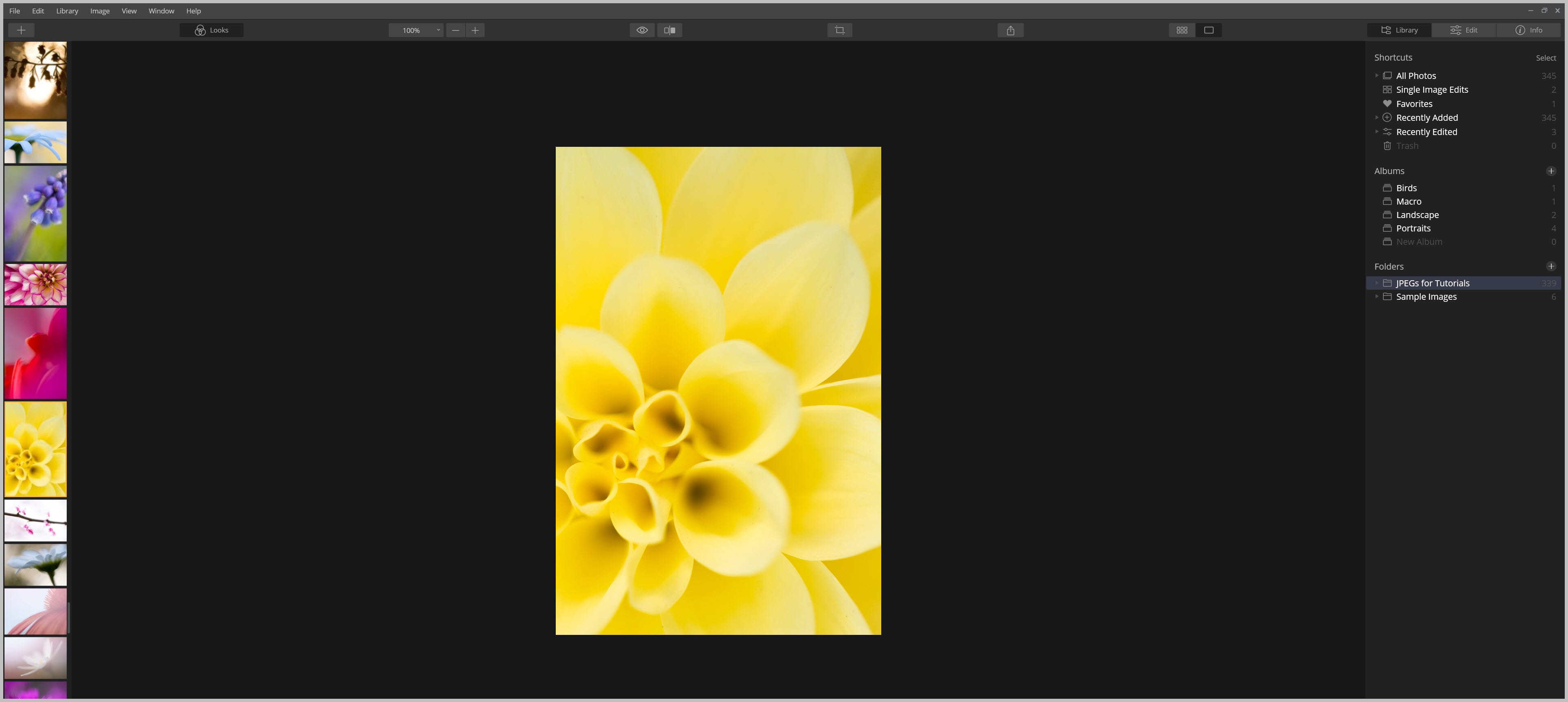 First, it offers plenty of basic image editing functions, such as color adjustments, tonal adjustments, cropping, lens correction, and more. These are mostly on par with what you'd find in any standard image editor.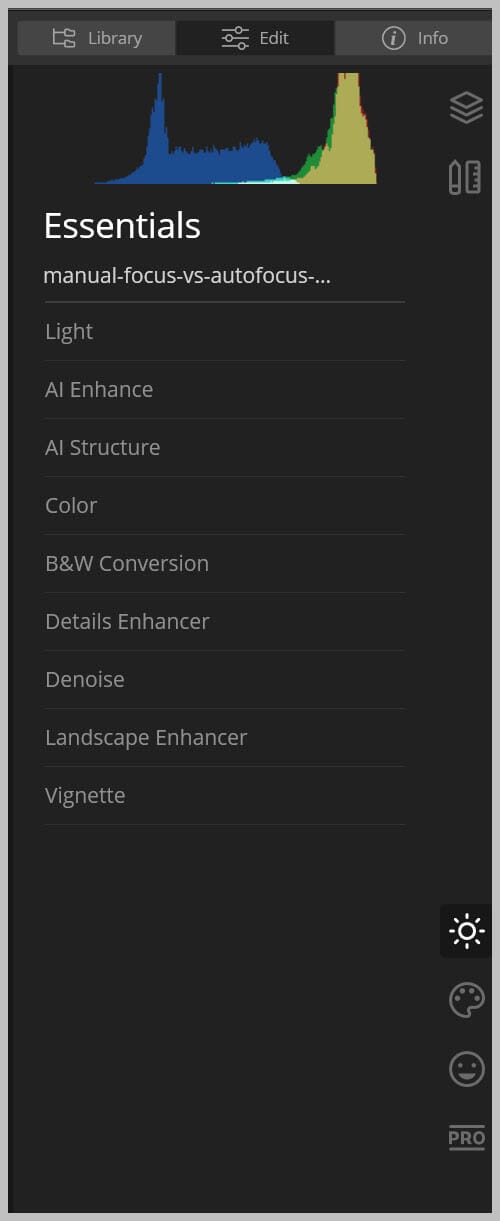 There's also a set of image organization tools, such as Albums for image categorization, plus flags and stars for identifying important photos.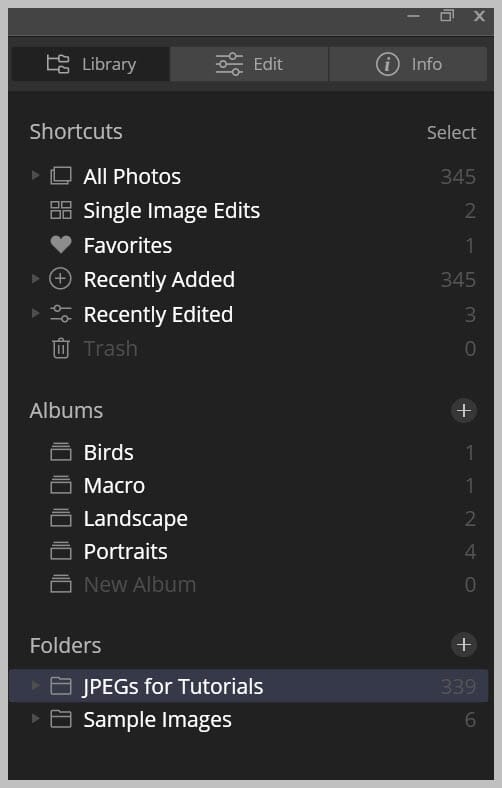 But Skylum took Luminar 4 a step further, adding in a handful of unique, creative features for cutting down on time while editing (while also making high-level edits accessible for beginners).
For instance, Luminar 4 boasts a sky replacement tool, which allows you to swap out skies in a matter of seconds. There's also a tool for adding sun rays to images, for improving an image's contrast and colors with AI technologies, and for adding objects to the sky (such as hot air balloons and giant planets).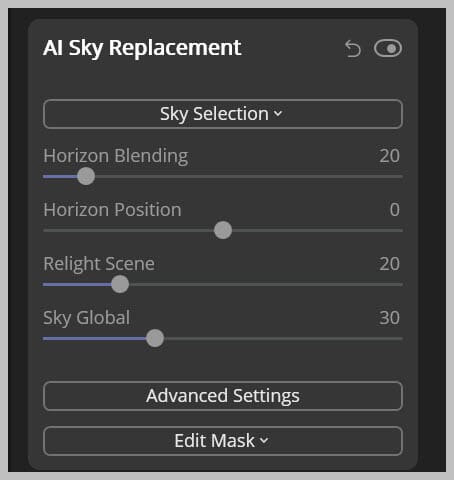 Luminar 4 also offers a collection of Looks, which are Skylum's version of presets and are a step beyond the competition's.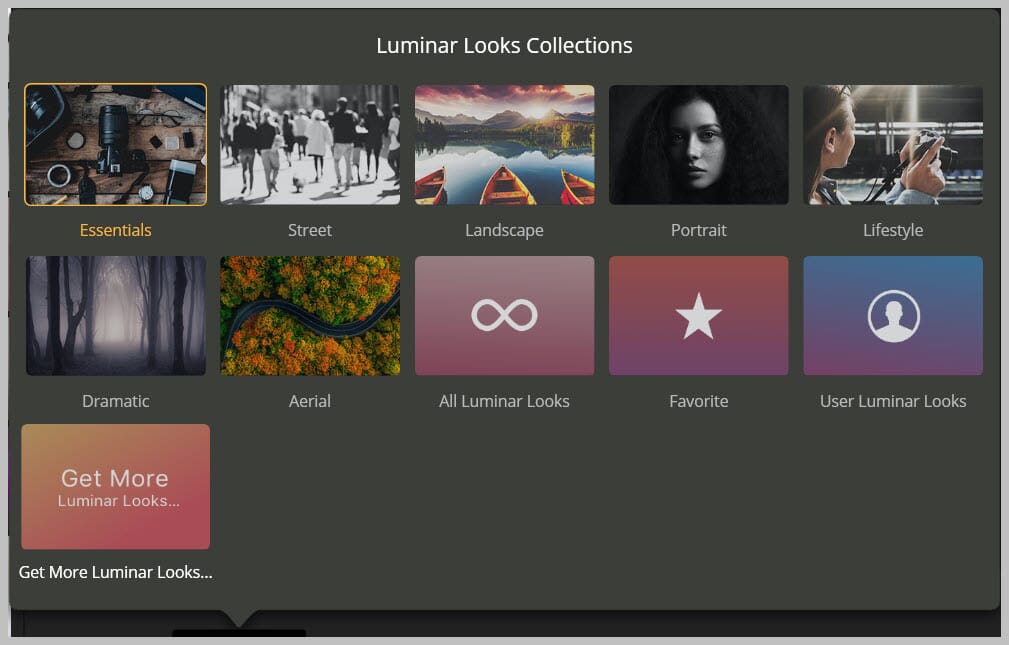 Luminar Looks are modern, they're powerful, and they can enhance an image with literally a single click.
(In fact, they're used by many professionals to stylize their images at the end of the editing process.)
Pros
Powerful editing tools
Faster than Luminar AI
Useful image organization tools
Gorgeous Luminar Looks (i.e., presets)
Bargain price
Cons
Doesn't offer expanded AI features
What Is Luminar AI?
Luminar AI is Skylum's latest post-processing program.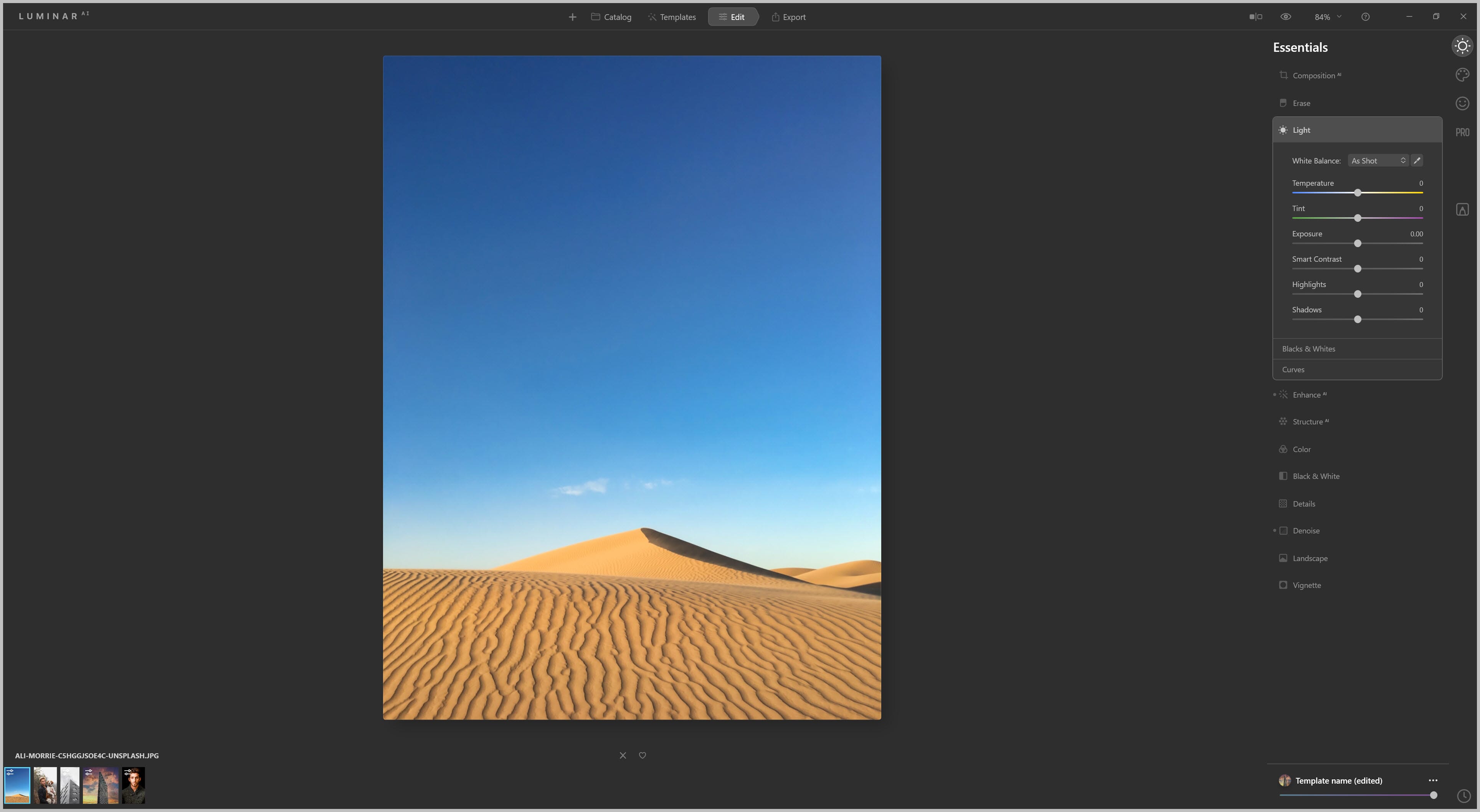 It launched in December of 2020 (Luminar 4 launched in November of 2019, just over a year prior).
While Luminar 4 included some clever AI tools, Skylum marketed Luminar AI as the world's first fully AI-powered photo editor.
What does this mean?
Well, in addition to all the basic editing tools and unique AI tools present in Luminar 4 (sky replacement, basic AI enhance sliders, etc.), Luminar AI includes an AI-driven workflow. Upon importing a photo, you have the option to open it in the Template View, where the AI software will analyze your photo, then suggest various edits (called Templates) for quick improvements.

Note that these Templates are essentially presets, except that they're recommended by Luminar AI's intelligent technology – though you also have the option of clicking through them yourself.
Luminar AI also expands Luminar 4's AI toolkit, with new tools such as Composition AI and Atmosphere AI (I'll discuss these in greater depth later on!).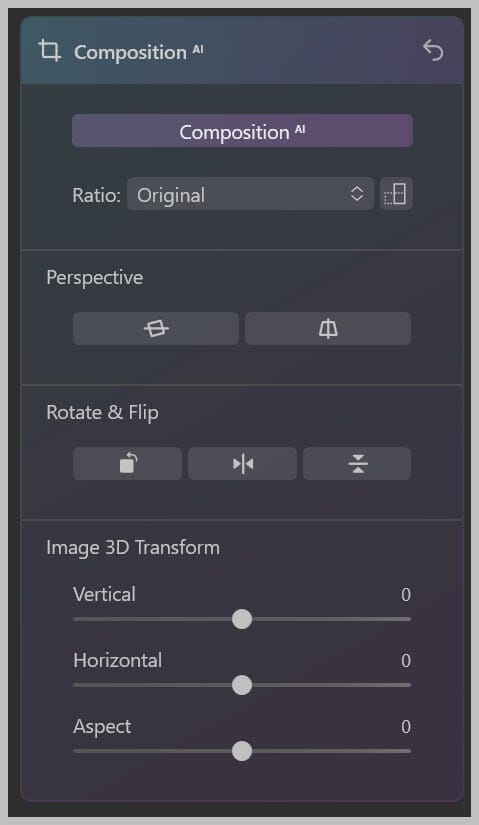 Now, before I get into the Luminar 4 vs Luminar AI nitty-gritty, it's important to recognize that Luminar AI is not a Luminar 4 replacement.
Skylum has been quite clear on that, claiming that "Luminar AI is a brand-new program, rebuilt from the ground up. It is not an upgrade to the previous version of Luminar…[W]e suggest [you] treat Luminar AI as an alternative to all traditional photo editors, including Luminar 4."
In other words:
While Luminar 4 is designed as an alternative to Adobe Lightroom, Luminar AI is something else entirely – a time-saving editor with an AI-focused workflow.
Pros
Incredible AI technology
Sleek, easy-to-use design
No editing experience necessary
Surprising amount of customizability
Cons
Slow
Lack of DAM capabilities
Ease of Use and Layout
I've always thought of Luminar 4 as an easy-to-use editing program.
The interface is simple. The layout is sleek and minimalistic.
But Luminar AI takes simplicity to a whole new level, offering a stripped-down program without any overwhelming menus, tabs, or buttons.
Take a look at Luminar 4's editing module: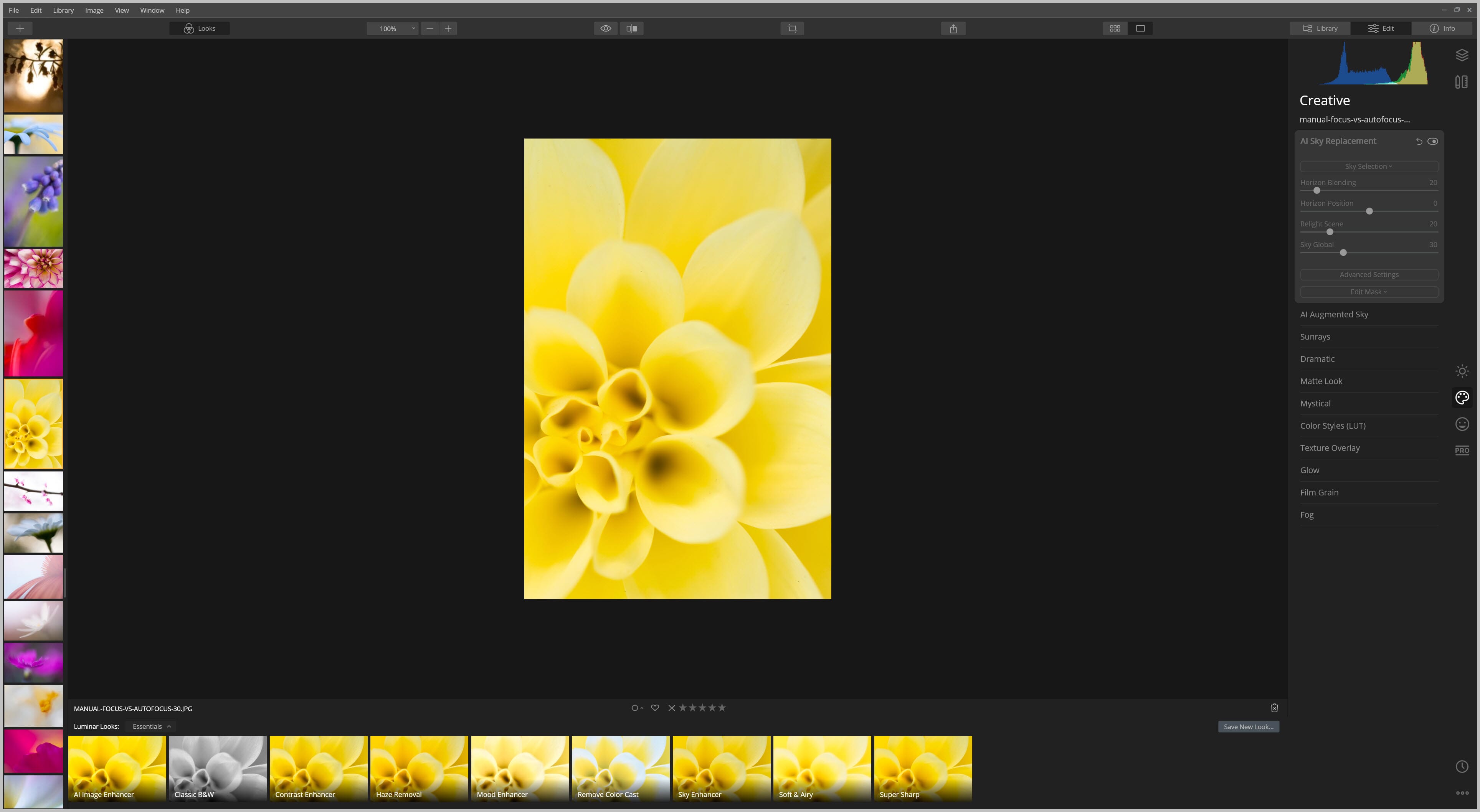 And then take a look at the equivalent module in Luminar AI: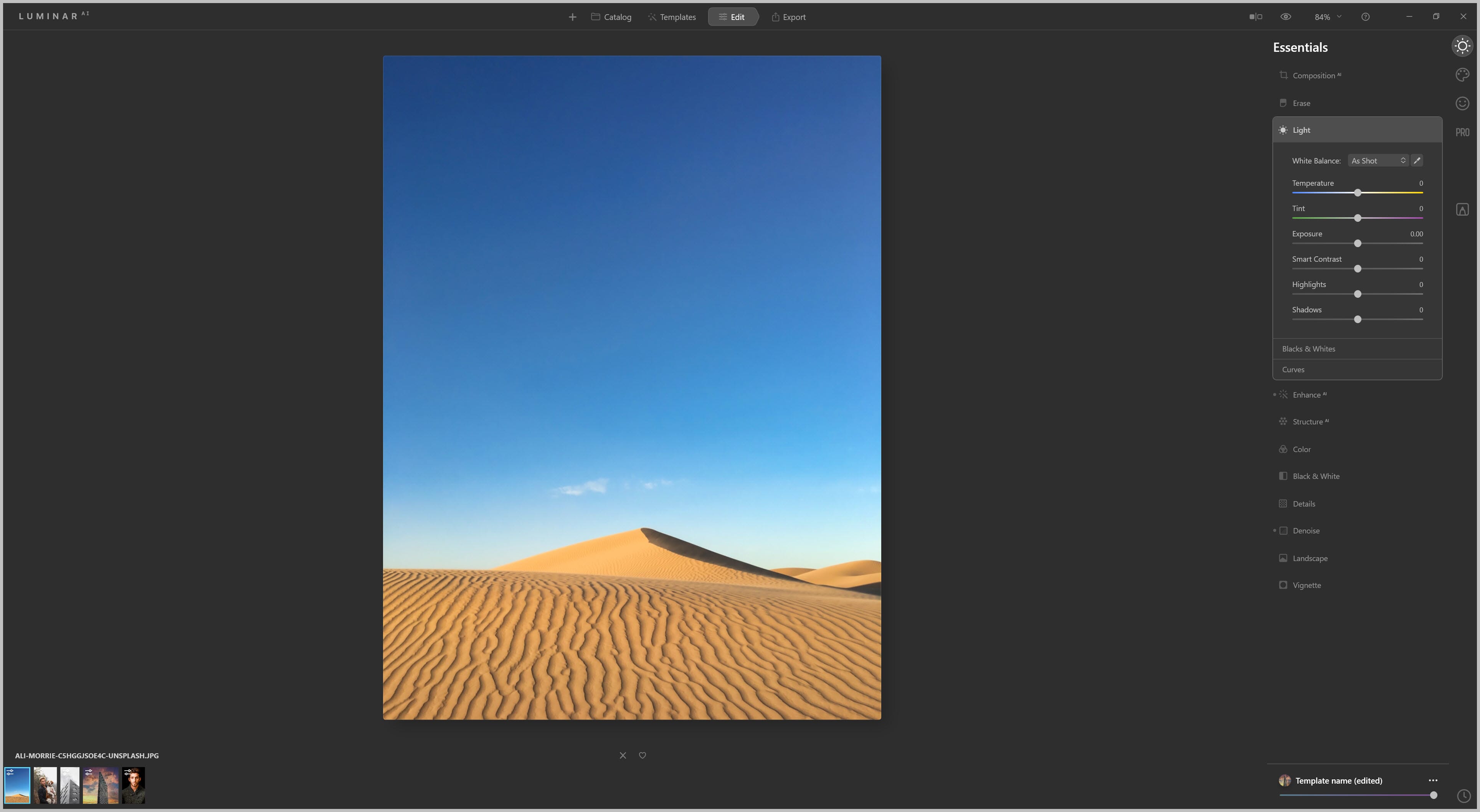 You should immediately see the improvements made to Luminar AI, such as the loss of top-menu items, the left-hand filmstrip, and more. Honestly, when working in Luminar AI, you can feel the difference; image organization and editing are cleaner, the whole program feels less cluttered, and you feel like you're working in a high-tech, futuristic software environment.
Unfortunately, Luminar AI's minimalism does come with some drawbacks. It's missing a few features present in Luminar 4 (to be discussed in a moment!), plus some tools (e.g., cropping, presets) are more difficult to access.
Overall, Luminar AI pushes past Luminar 4 in terms of simplicity and beginner-friendly design. But if you're already familiar with other editing programs (e.g., Lightroom, ON1 Photo RAW), then the difference probably won't be huge, and you might find the reduced feature set a little too frustrating.
Performance
Luminar 4 can be a sluggish program. Unless you have a PC with the top specs out there, you're probably going to notice some lag in places, such as when activating AI features, switching between photos, and applying masks.
Personally, I find Luminar 4 just fast enough to be worth using, at least on my current desktop, which uses 12 GB of RAM and a Core i7 processor.
Luminar AI, on the other hand…
Well, it's even slower than Luminar 4.
It's so slow, in fact, that I don't even bother working with certain features, such as masking. I don't consider myself an impatient person, but I'm sometimes frustrated by the lag I experience when using tools such as Composition AI and Sky AI (i.e., sky replacement).
If you're working on a fast computer, this won't be a problem.
Related Post: Best PCs for Photo Editing
But if your computer is like mine – decent, but nothing special – then I'd recommend going for Luminar 4, at least until Skylum has improved Luminar AI's performance.
Editing Features
When it comes to editing with Luminar 4 vs Luminar AI, you're going to notice a lot of similarities.
First, there's the basic editing toolset, which is almost completely identical. You get exposure adjustments, color adjustments, detail adjustments, denoising, and vignetting on both programs.
Same with a bunch of Skylum's creative tools, such as Film Grain, Sunrays, and Advanced Contrast/Supercontrast.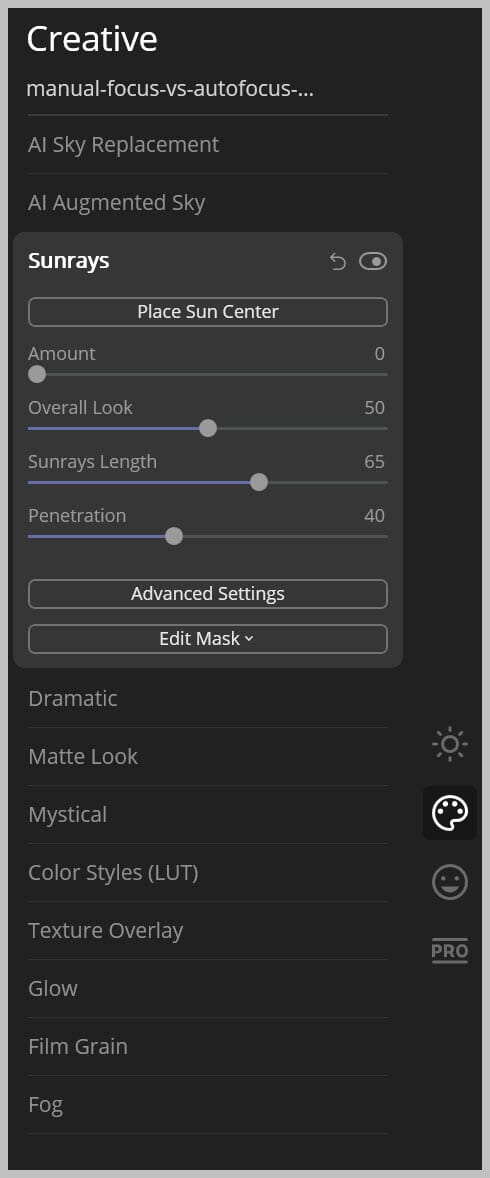 Even many of the AI tools offer the same functionality, including the AI sky replacement tool, the AI Enhance tool, and the AI Augmented Sky tool.
That said…
There are some fundamental editing differences between Luminar 4 and Luminar AI, such as:
Different preset implementations. Luminar 4 offers one-click Looks, but these are gone in Luminar AI, replaced by AI-recommended Templates. In Luminar 4, you could scroll through different Looks, then select the one you wanted. In Luminar AI, you head to the Template view, then consider the different Templates selected for you by the program's AI technology (though you can also preview different Templates on your own, and you're free to customize them to taste).
Expanded AI capabilities. While Luminar 4 included a handful of clever AI tricks, Luminar AI relies heavily on AI – first, for the whole Template-based workflow, but also for more of its editing tools, including cropping (which is now relabeled as Composition AI, and will crop for you in an attempt to achieve the best-possible composition, if you let it) and Atmosphere AI (which lets you add fog, haze, or mist to your photos in a realistic way).
Enhanced portrait tools. Luminar AI shines when it comes to portrait editing. The program takes Luminar 4's already-impressive suite of retouching tools and expands and reorganizes them into something very powerful indeed. You now have three AI tools, split up into Face AI, Skin AI, and Body AI, and every one of these options packs a powerful punch. If you're a portrait photographer, these tools alone are probably worth the upgrade to Luminar AI.
Masks and layers. Luminar 4 allowed for layer-based editing, but Luminar AI has moved its selective editing in a different direction. Instead of adding layers, you can create individual masks on a tool-by-tool basis, so that you can selectively apply color edits, contrast edits, and more to your images. You can also apply more comprehensive masks to your images via the Local Masking tab; here, you create a mask, then select from several possible local edits, including saturation, exposure, color temperature, and more. Note that Luminar 4 actually offered tool-based masking functionality in addition to layers, so you don't gain anything extra from Luminar AI, except the Local Masking tab (which, honestly, is a more limited version of Luminar 4's Layers tab).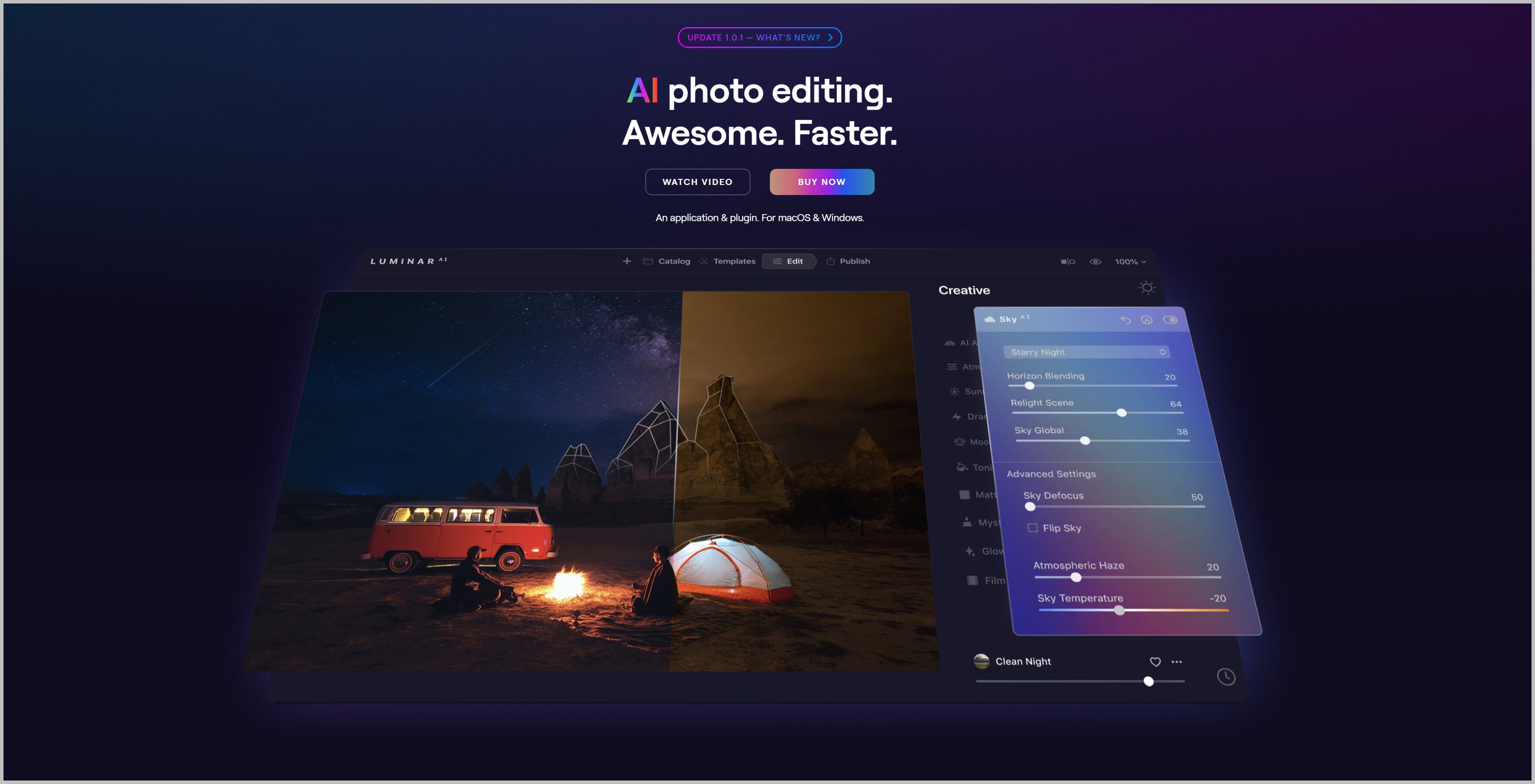 Image Organization
Image organization (also known as digital asset management, or DAM) has always been Luminar 4's greatest weakness. Compared to an editor such as Lightroom, you just don't get much flexibility for image categorization, image rankings and ratings, etc.
Don't get me wrong; Luminar 4's DAM capabilities aren't bad, they're just not great. If you have a small catalog of images, or you don't mind a minimalistic image organization workflow, then you'll be fine with Luminar 4. After all, you can do a lot of the basics, such as sort photos into Albums (which you can choose to categorize by photo genre, session date, location, or anything else you please), as well as apply ratings, favorites, and even colors to each image.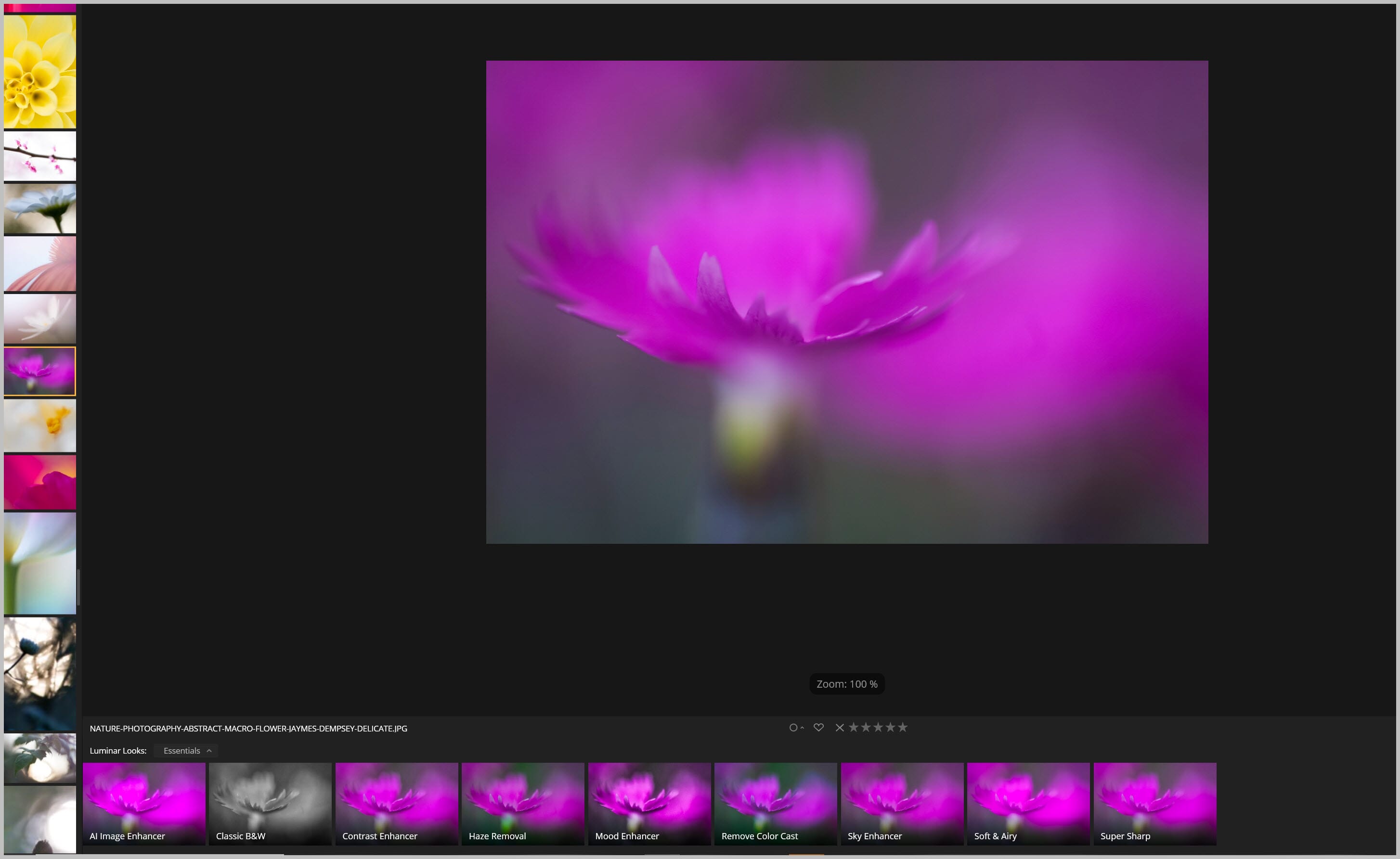 Weirdly, Luminar AI does away with some of this organization functionality, without adding anything new. It keeps the Album categorization options, but drops the ability to rate or color-code images.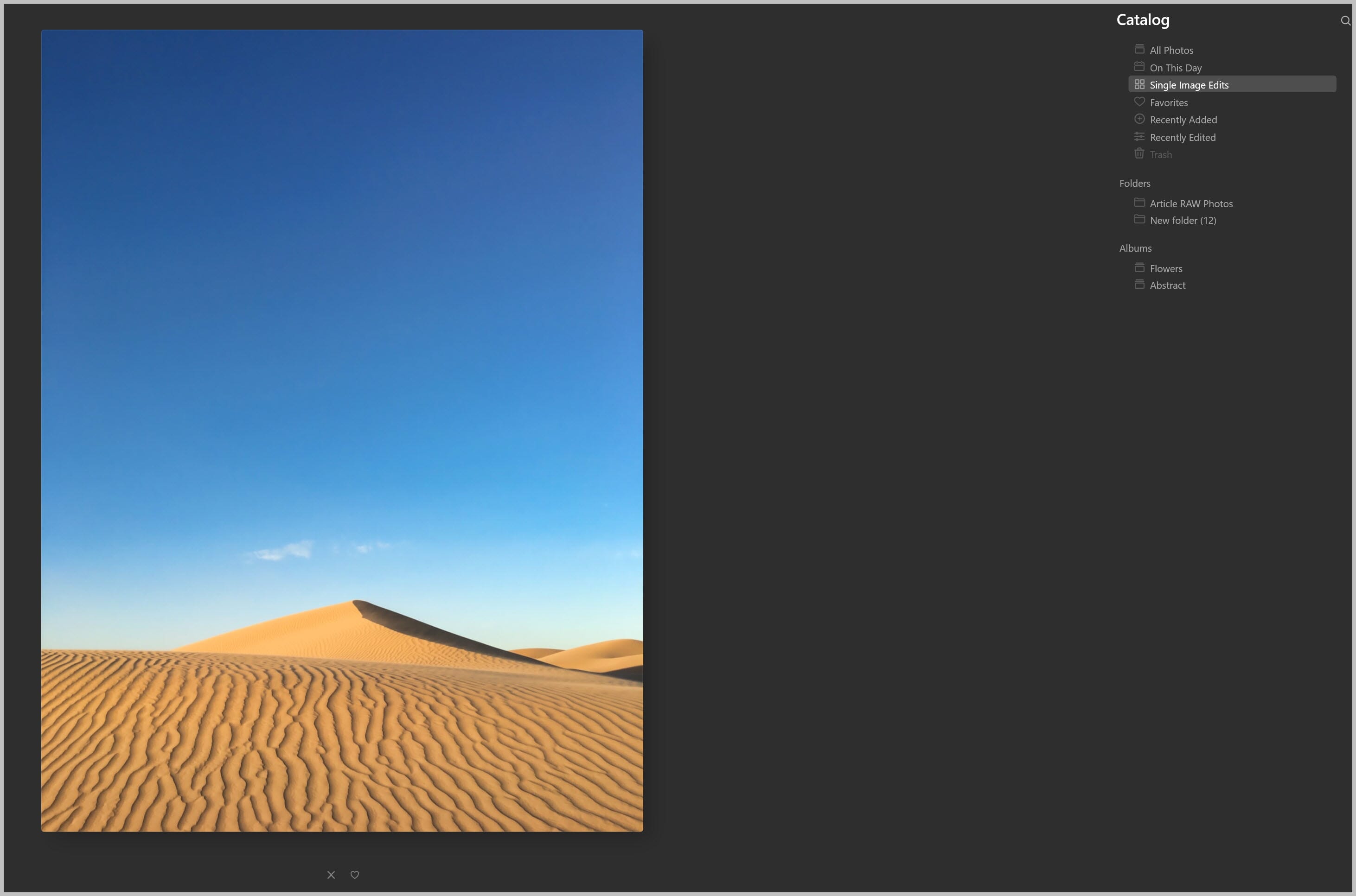 If you're a photographer who likes to sort your photos using a five-star rating scale, then you're out of luck. In fact, if you want to categorize photos within an Album by anything other than "Like" or "Dislike," then you're going to find Luminar AI wanting, which is why, in terms of digital asset management, Luminar 4 is the hands-down winner.
(It's worth noting, by the way, that both Luminar 4 and Luminar AI can be used as Lightroom plugins. So if you require a serious DAM suite but you like the tools offered by either program, or if you prefer Luminar AI but are bothered by the lack of DAM features, then you're free to purchase both Lightroom and Luminar, then use Lightroom for organization but Luminar for editing. Make sense?)
Price
Luminar 4 is the older editor, and this is reflected in the price. You can grab a single-installation copy of Luminar 4 for just $67 USD, and this jumps up to $89 USD for two installations.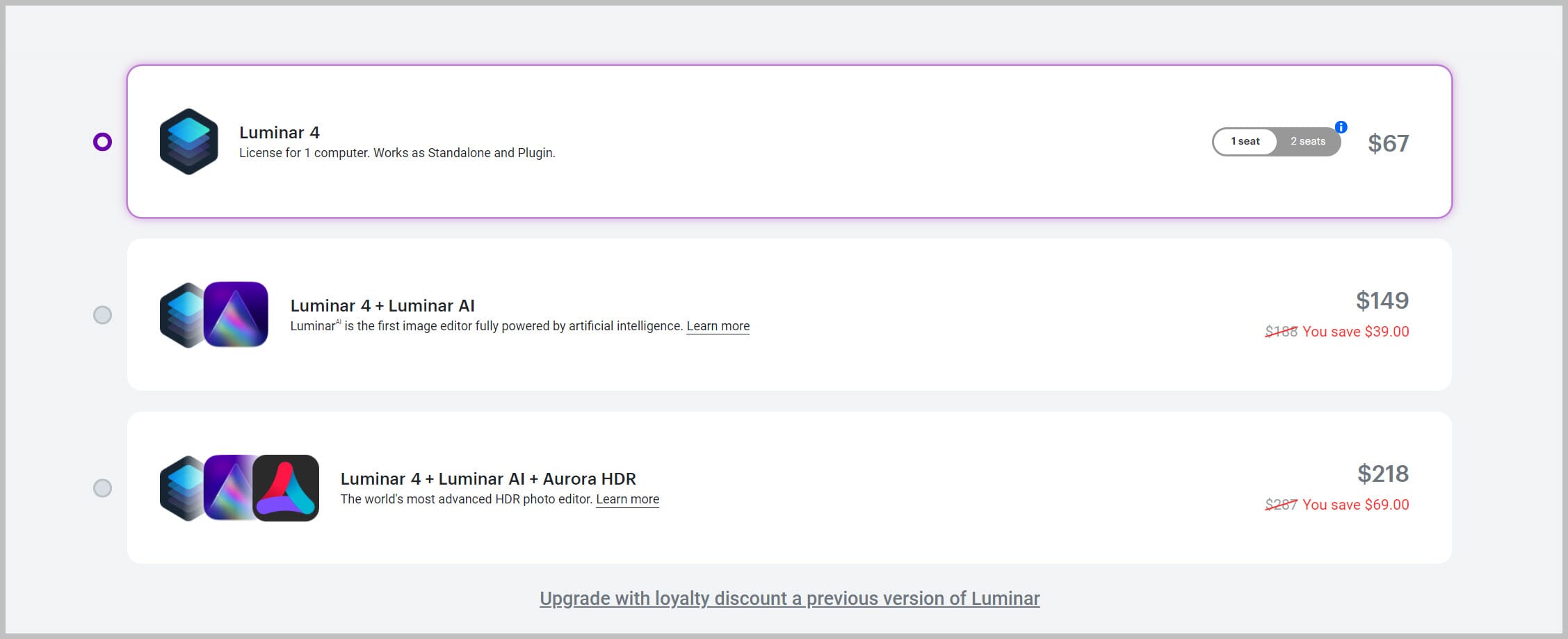 Luminar AI costs a couple of dollars more:
$79 USD for a single-installation copy.
$99 USD for a two-installation copy.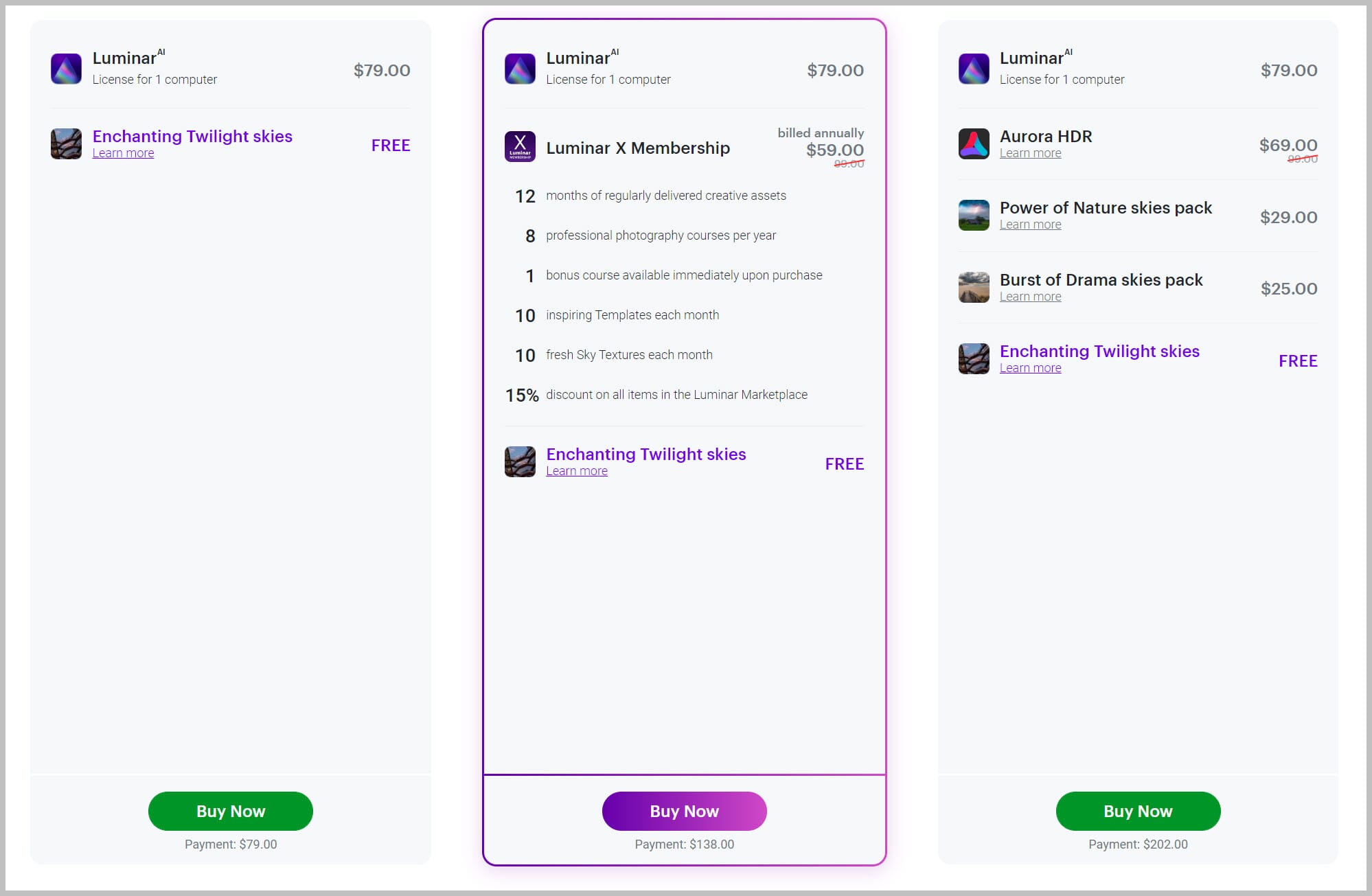 Honestly, these prices aren't hugely different (about $10 in either direction), and if you like the extra features in Luminar AI, then it's probably worth the upgrade.
Who Should Purchase Luminar 4 vs Luminar AI?
Luminar 4 and Luminar AI are both powerful editing programs, and it's tough to go wrong with either of them.
That said, if you're still struggling to decide whether Luminar 4 or Luminar AI is right for you, I'll give you my final set of recommendations.
After using Luminar 4 since its release, I can confidently say that it is a spectacular editor for beginners who want to improve as editors, especially if you're overwhelmed by programs such as Lightroom or ON1 Photo RAW.
Luminar 4 is easy to use, it offers plenty of powerful edits, and you can even get into some limited digital asset management. Plus, it gives you some room to grow, because it packs advanced tools that you can't find in any standard Lightroom alternative.
Related Post: Luminar 4 vs Lightroom – Which one is Better?
Luminar 4 is also excellent for serious photographers who want to add finishing touches to their images via the Luminar Looks collection, which you can do with the Luminar plugin for Lightroom, or you can do in Luminar as a standalone editor.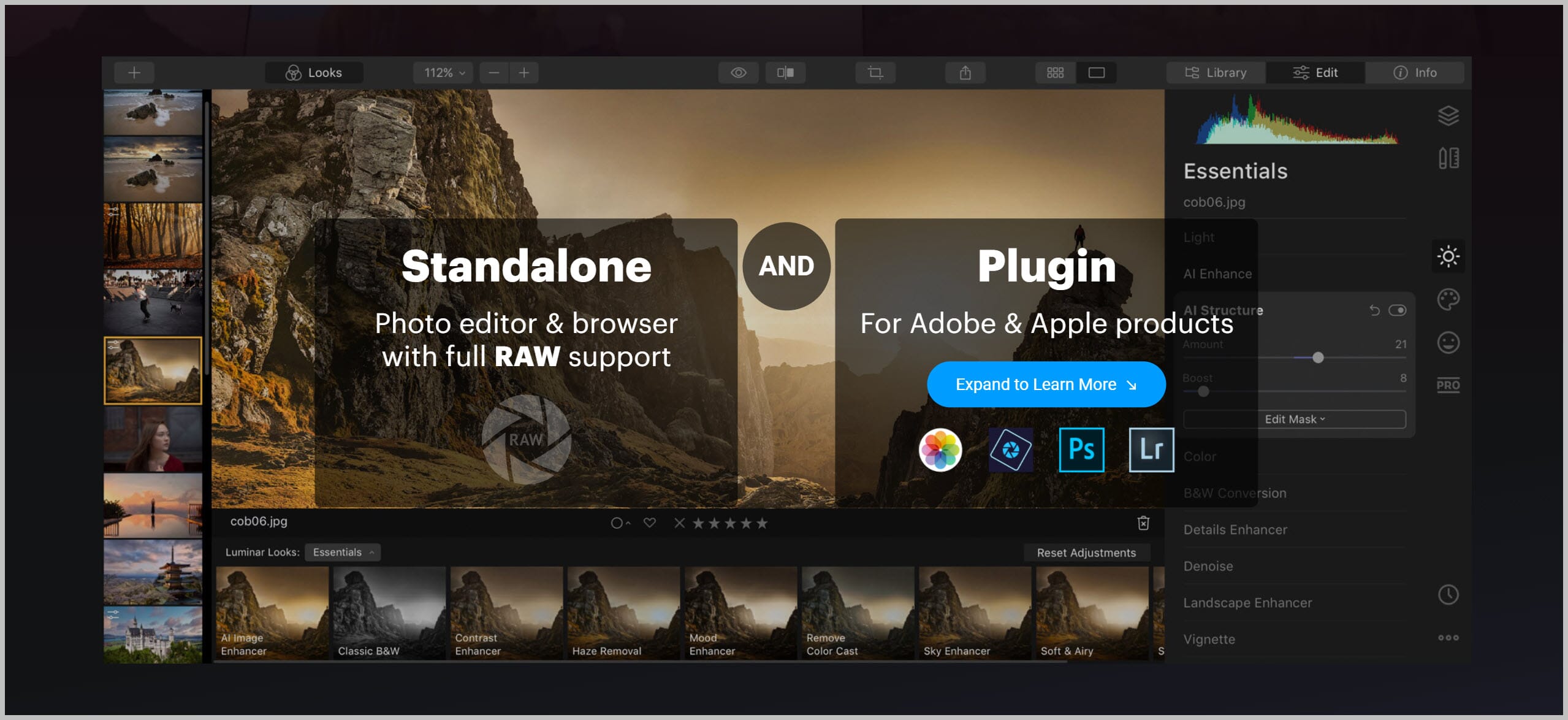 Luminar AI, while identical to Luminar 4 in many ways, is a simplified editor, and it's designed for a different set of users entirely:
Those who want beautiful results in as little time as possible.

Luminar AI isn't a program that you can grow with – at least, that's not what it's designed to be. The loss of layers and DAM capabilities, plus statements made by the Luminar AI team, suggest that Luminar AI is a time-saver, not a program that you're meant to really get on a deep level.
So if you're a beginner who doesn't really like editing, or you don't really have the time to get into editing, or you're a content creator who needs to make photos look good, fast, then Luminar AI is a great choice.
You can purchase Luminar AI right here: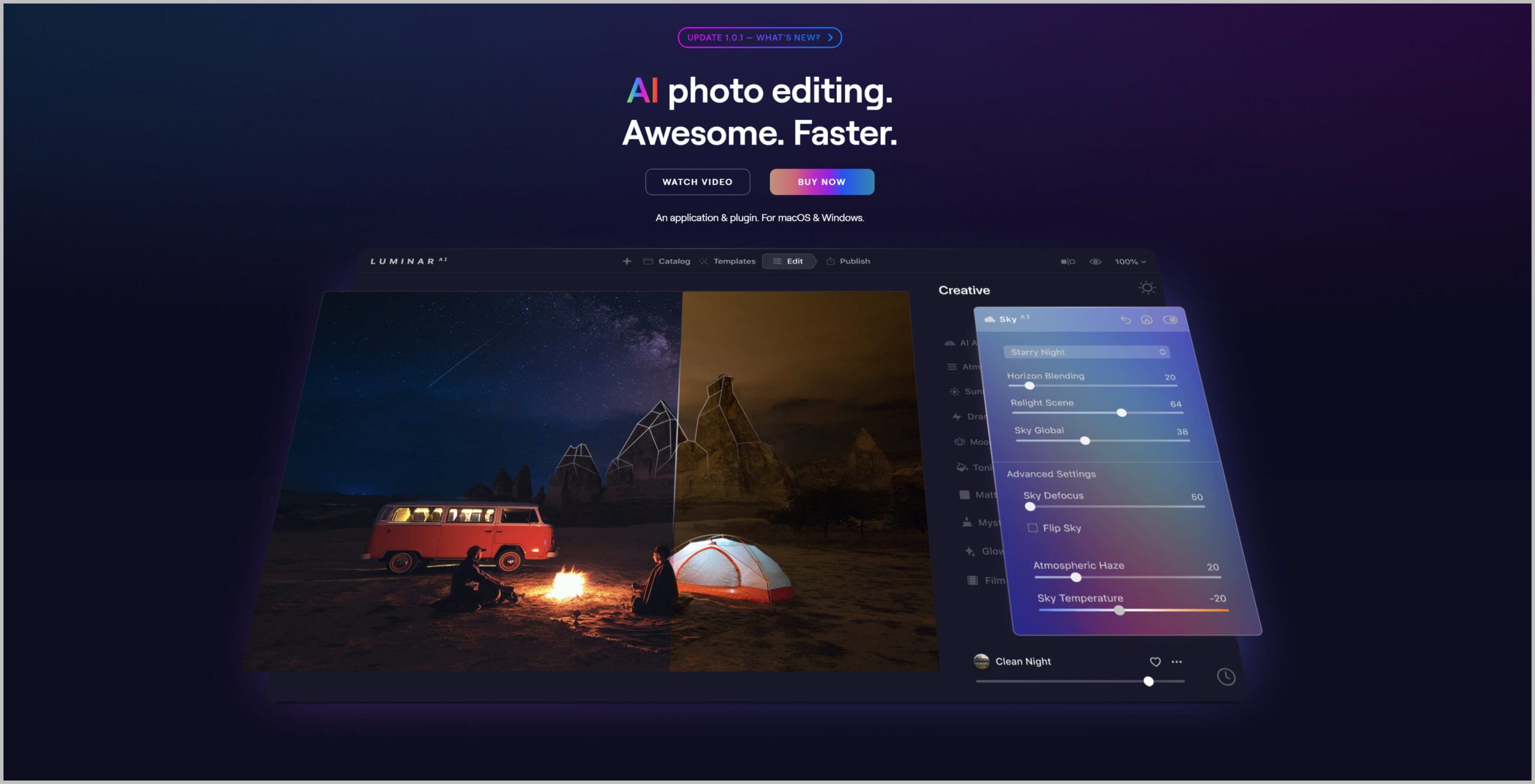 Best for non-photographers and photographers who dislike photo editing
Luminar AI offers cutting-edge technology that'll get you beautiful results in no time at all. It's not the most comprehensive editor out there, but it's impressively simple – perfect for those who'd like to save on time and effort.
And you can purchase Luminar 4 here: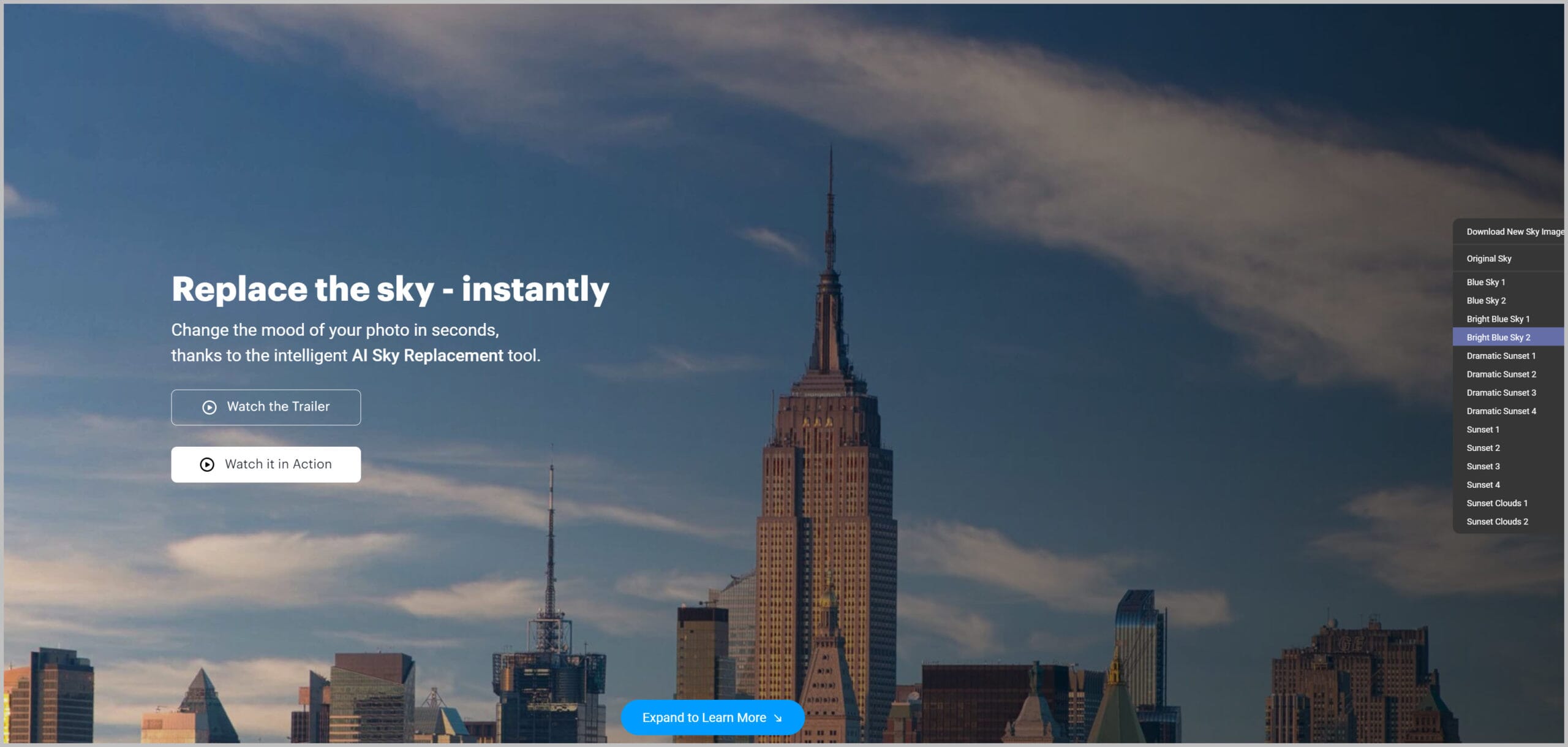 Best for beginners and serious photographers alike
Luminar 4 is an easy-to-use photo editing program that packs quite a punch. If you're a beginner looking to get started with post-processing, or you're a more serious photographer looking to get great results in less time, then Luminar 4 is a great buy.
What's the difference between Luminar 4 and Luminar AI?
Luminar 4 is designed to be a more comprehensive photo editor, one that packs basic- to intermediate-level editing and some significant digital asset management options. Luminar AI, on the other hand, focuses on giving the user a quick and painless editing experience, allowing for nice-looking edits with little time and effort. In truth, both programs offer a similar set of features, but Luminar AI simplifies the image editing process, whereas Luminar 4 has a slightly more comprehensive feature set overall.
Is Luminar AI subscription-based?
No, Luminar AI (and Luminar 4) are both available for one-time payments (the precise cost depends on whether you want one installation or two, but all options are under $100).
Is Luminar 4 any good?
Luminar 4 is an excellent photo editor, one that's perfect for beginners but also offers a lot to satisfy professionals, as well. You get plenty of cutting-edge technology that'll let you enhance your photos with minimal knowledge, plus gorgeous one-click presets, and even some decent image organization capabilities.
Does Luminar AI replace Luminar 4?
Technically, Luminar AI isn't a Luminar 5. Instead, it's a different type of program, geared toward a different group of users (specifically, non-photographers and photographers not especially interested in learning to dig deep when editing). But there won't be a Luminar 5. Skylum is firmly set on pivoting toward this new, time-saving focus, starting the transition with Luminar AI.
Will there be a Luminar 5?
No, there won't be a Luminar 5. Skylum has clearly stated that it plans to carry on the Luminar AI design, not the Luminar X design.
Is Luminar 4 better than Lightroom?
In some ways, Luminar 4 is better than Lightroom; in some ways, it's not. Luminar 4 is certainly easier to use than Lightroom, and it offers plenty of features for one-click edits that Lightroom just can't match, plus beautiful presets that are better than Lightroom's own presets. However, Lightroom is the more comprehensive editor, plus it features far better image organization capabilities.