If you're a photo editing beginner, or you're simply interested in taking your post-processing to the next level, then you've probably heard of Luminar AI.

But what is Luminar AI? What features will it offer? Does it really work? How much will it cost? And what's the Luminar AI release date?
In this article, we're going to answer all these Luminar AI questions, and more.
So if you want to get the low-down on the latest Luminar AI news…
…then keep reading!
What Is Luminar AI?
Luminar AI is an image processing program designed by Skylum and available for both Mac and Windows computers. It's geared primarily toward beginner editors, but also caters to advanced photographers who are looking to apply quick, powerful edits to their photos.
Unlike Skylum's current flagship editing program, Luminar 4, Luminar AI is claimed to be "fully powered by artificial intelligence."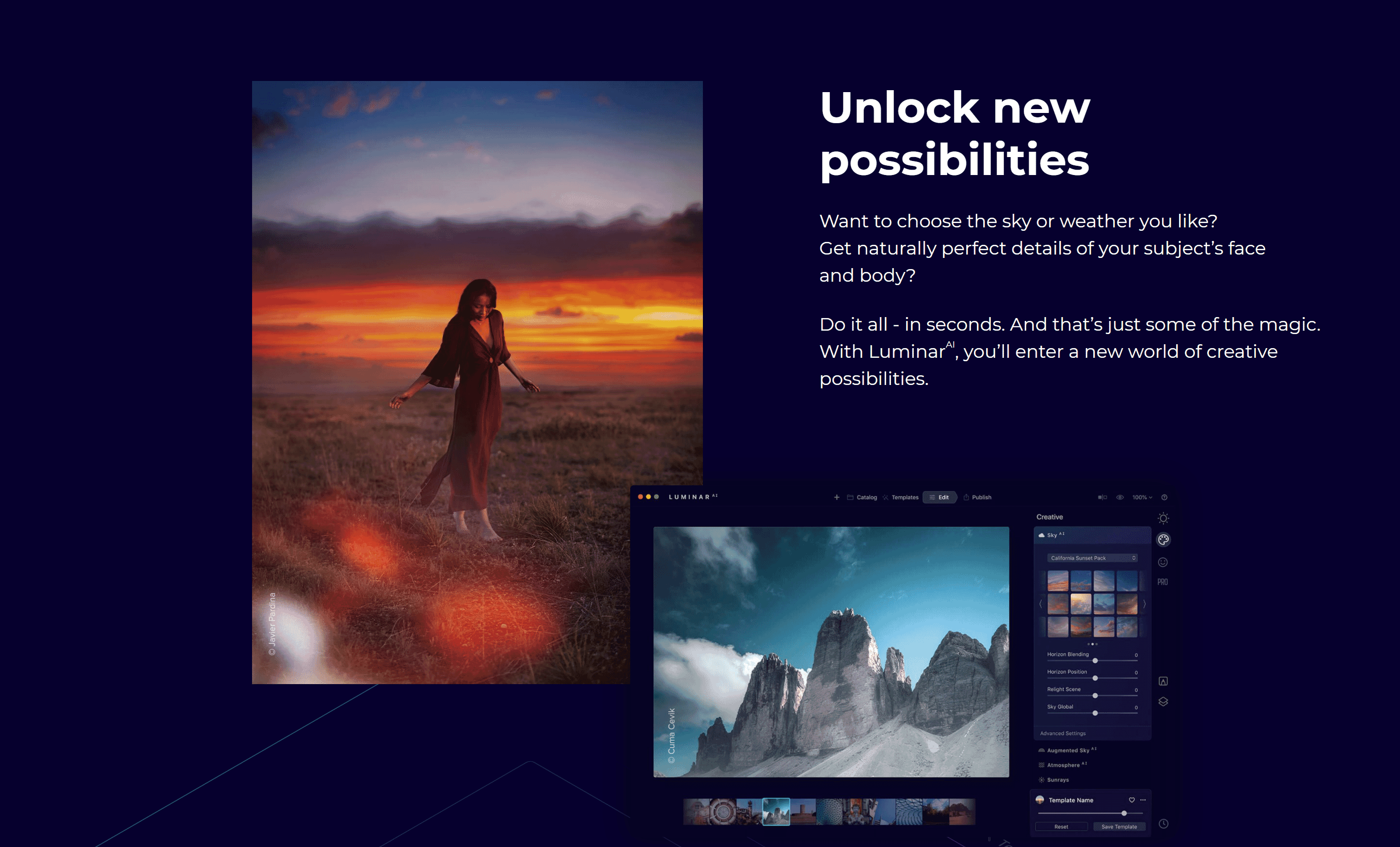 In practice, this means that Luminar AI uses artificial intelligence to evaluate your photos and give you suggestions for your images, called Templates. You can then select or reject these Templates with the click of a button.
(Think of Templates as presets or Looks, just much more far-reaching. And instead of scrolling through presets to find the one you like most, Luminar AI's "brain" offers up the best presets for you to use.)
Luminar AI also uses artificial intelligence to streamline editing. You can use various AI tools to swap skies, add atmospheric effects, enhance faces, consider better compositions, and much more–in just a few seconds.
If you're a Luminar 4 user, some of this will seem familiar. A few of these AI features are currently offered in Luminar 4, including the very-popular AI Sky Replacement. However, Luminar AI offers more AI features, plus AI-based Template suggestions.
What Is the Luminar AI Release Date?
Luminar AI will be released on December 15th, 2020.
Until then, you can see the power of different Luminar AI effects on Skylum's website, here.
You can also preorder Luminar AI; make sure to see the pricing information offered in the next section.
Luminar AI: Pricing
Luminar AI is currently ranges from $79 to $327, depending on the deal you grab.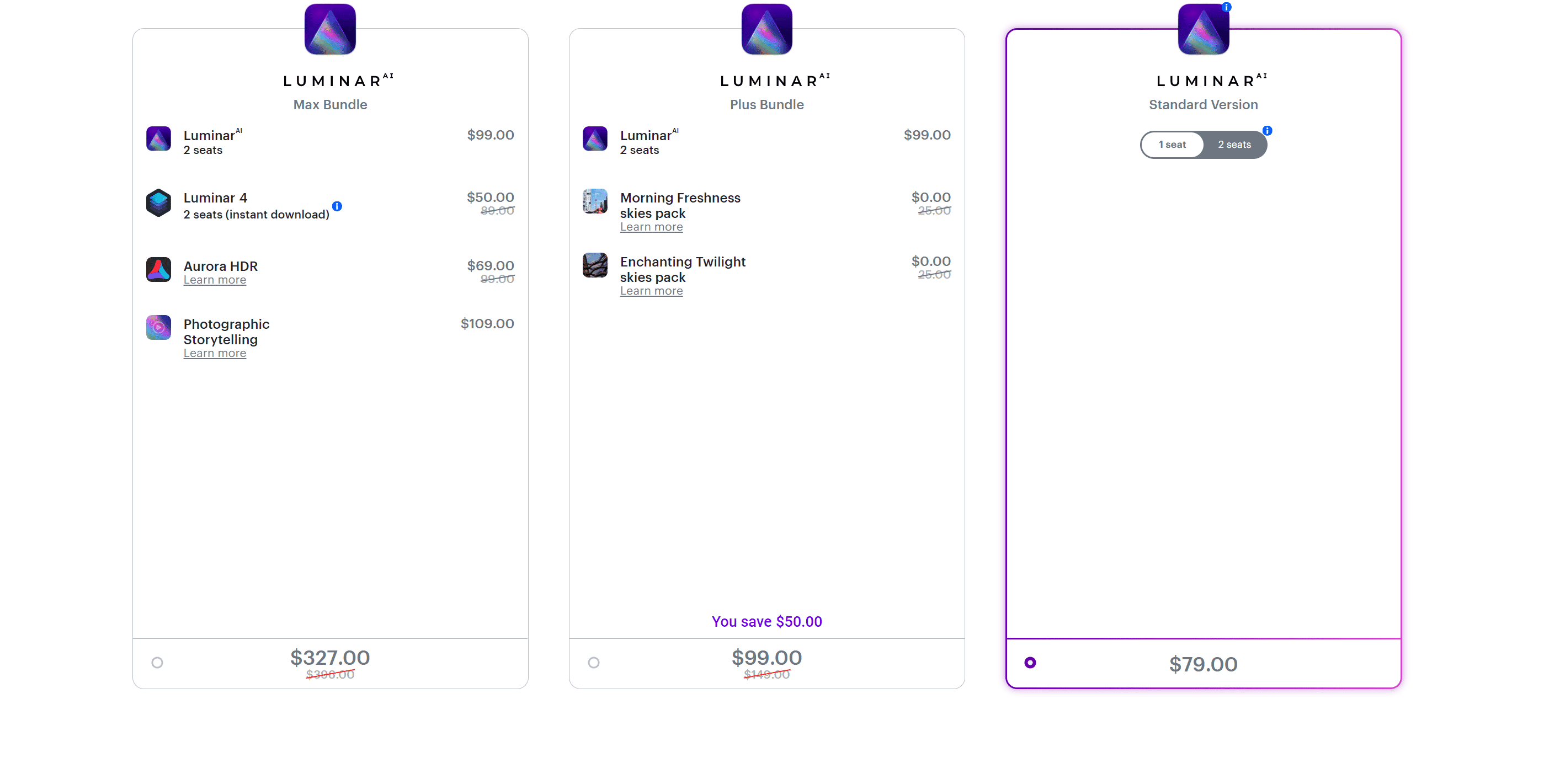 The most basic package gives you full access to Luminar AI on one computer (Skylum refers to this as "one seat"), which you can preorder for $79.
If you'd like to use Luminar AI on two computers, you can spend an extra $20 for another seat (this brings the price up to $99).
Skylum also offers another $99 package, which includes the two-seat Luminar AI download, plus two skies packs. Skies packs give you skies that you can import into Luminar AI for use in your photos, such as stunning sunset skies or bright blue skies with clouds. Note that there is no price difference between this Luminar AI bundle and the two-seat Luminar AI download, so if you do decide you need two seats, you might as well grab the skies packs as a free bonus.
Finally, you can spend $327 to get Luminar AI (the two-seat option), Luminar 4 (two seats), Aurora HDR, and a course called Photographic Storytelling. Luminar 4 is Luminar's current primary editing program, while Aurora HDR is designed specifically for HDR merging and blending. While you'll have to wait until December 15th for your Luminar AI download, you'll get immediate access to both Luminar 4 and Aurora HDR.
Luminar AI: Key Features
Luminar AI incorporates AI image enhancements and an AI foundation, but it's more complex and customizable than you might think. Here's what Luminar AI offers.
First, Luminar AI will include a catalog for organizing your images, housed in its own module. It's not clear how extensive this cataloging function will be, but I'd expect it to be comparable (or even identical) to the current Library view offered in Luminar 4.
Second, Luminar AI will include a Templates module. As I explained above, Templates are like presets; they're just a group of edits combined into a single package. You can use pre-existing Templates to enhance your photos, or you can make your own Templates and apply those.
The difference between Templates and standard presets is that Luminar AI suggests which templates you should use. So when you bring a photo into the Templates module, you'll get a set of suggestions on the right-hand side. These are chosen by Luminar's AI algorithms, but you can decide whether to use them, ignore them, or use and then customize them.
And speaking of customization:
The third key Luminar AI feature is the Edit module, which is where the actual editing happens. Here, you can access lots of editing tools, many of which you'll recognize from Luminar 4. The interface is essentially the same as Luminar 4, too, so you'll see an Essentials panel, a Creative panel, a Pro panel, and more.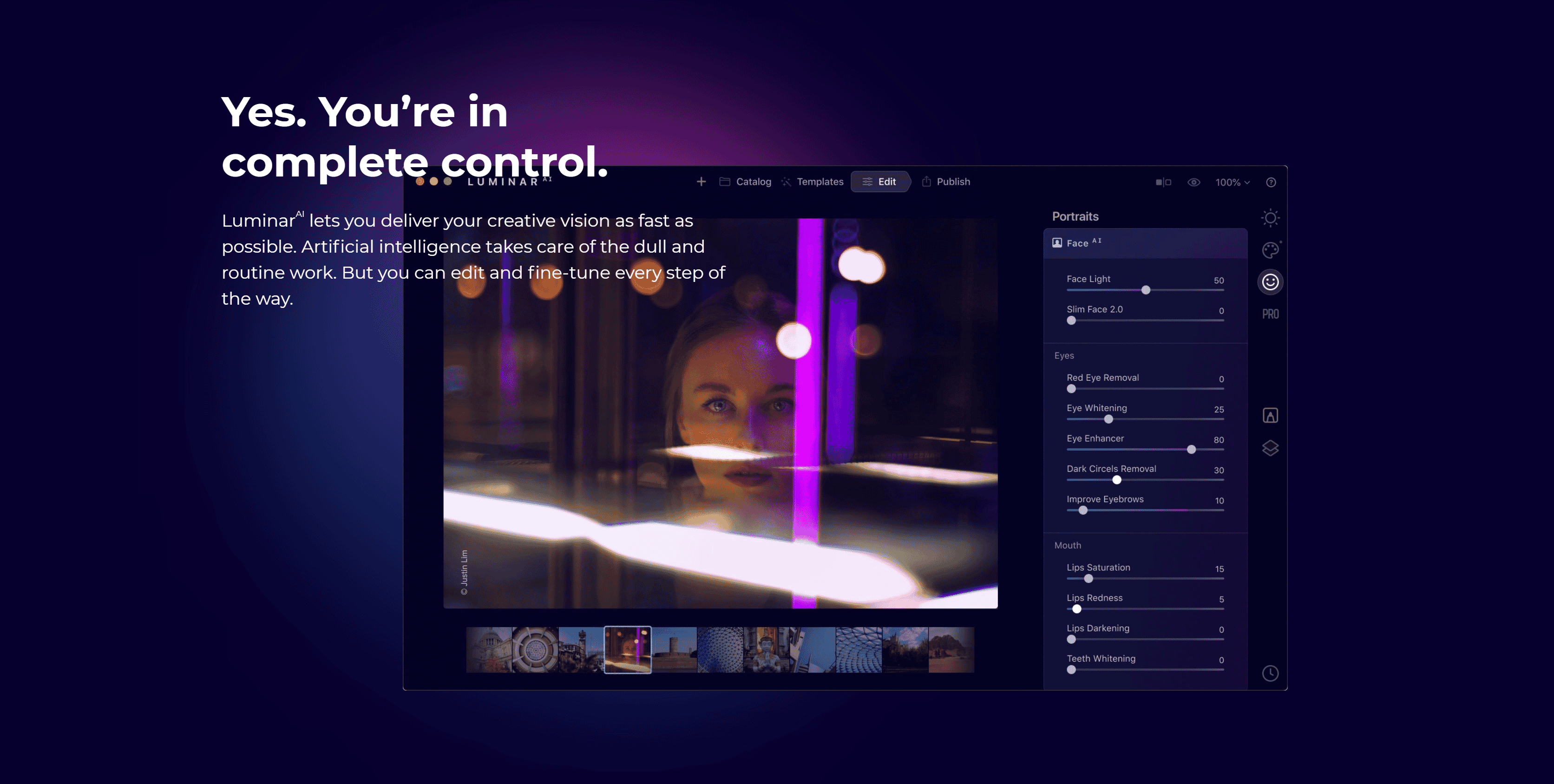 While plenty of the tools have been carried over from Luminar 4, others have been tweaked–and others are completely new. Here's a preview of the tools you'll be able to access in Luminar AI:
Composition AI, which suggests different crops to improve your composition
Atmosphere AI, which allows you to create realistic atmospheric effects, including fog, haze, and mist
Face AI, which allows you to tweak and enhance your portrait subject's facial features
Body AI, which allows you to tweak and enhance your subject's body shape
Sky AI, which allows you to swap skies with the push of a button
Augmented Sky AI, which allows you to add planets, balloons, and other interesting effects to your skies

Do You Need Both Luminar AI and Luminar 4?
This is a tough one. As we haven't actually used a copy of Luminar AI, it's hard to say whether Luminar 4 is still necessary. Interestingly, one of Skylum's pricing plans includes Luminar 4 (bundled with Luminar AI), which would suggest that Luminar 4 is still relevant for Luminar AI users. And on Skylum's website, they claim that "Luminar AI is a brand new product. It is not an upgrade to Luminar 4."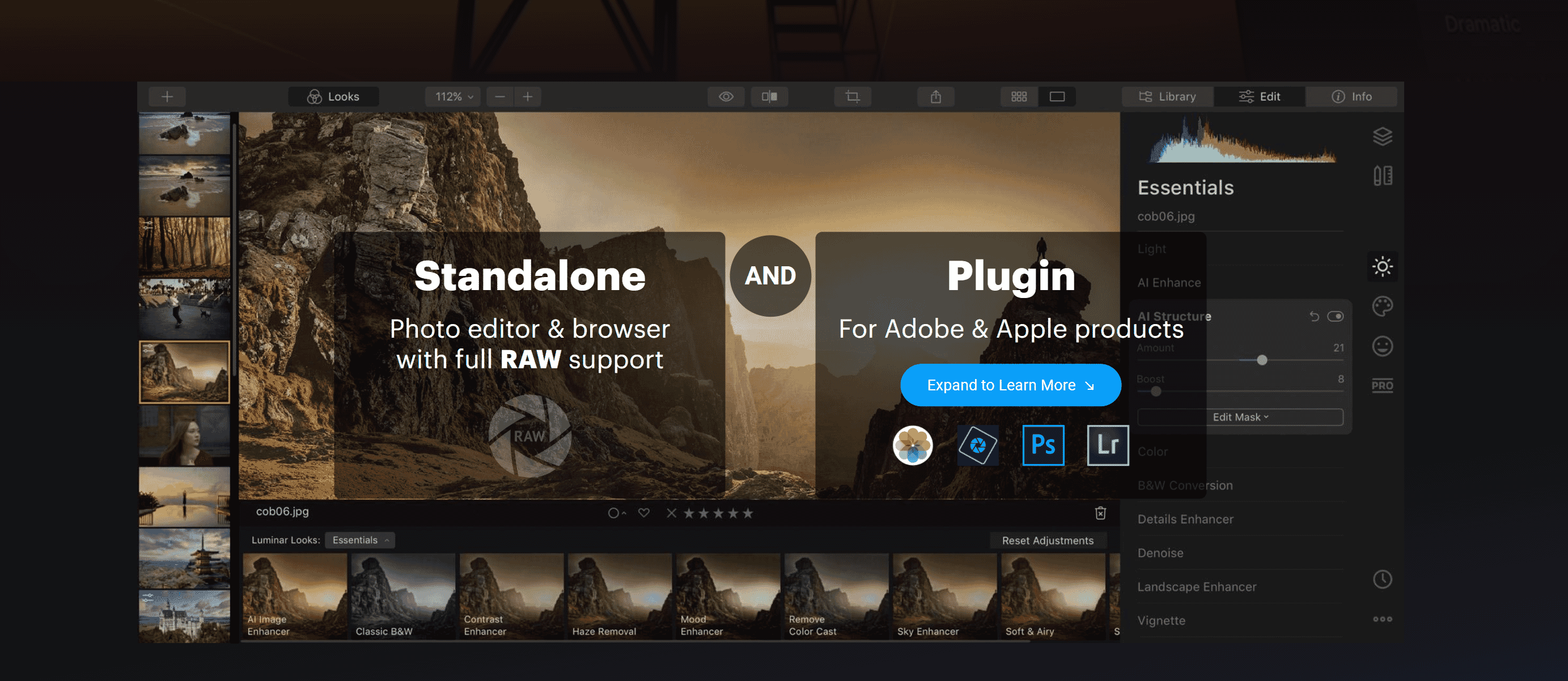 That said, everything I've seen indicates that Luminar AI offers all the same functionality as Luminar 4–including the editing features–and then some. Luminar 4 doesn't offer Composition AI, Atmosphere AI, and a whole bunch of other editing options (some of which are included within previously released tools, some of which are new in Luminar AI).
If I had to guess, I'd say that Luminar AI is essentially a Luminar 4 successor, though it may have some quirks that will make Luminar 4 still desirable to some (e.g., lots of lag, which I'd expect from such a powerful program).
Can You Get a Physical Copy of Luminar AI?
No. As with other Skylum products, Luminar AI is a download.
When you pay, you'll be given the opportunity to download and install the product on your computer. If you need to download Luminar AI on a second computer, you'll need to access the download link through your other computer (assuming you have a two-seat plan).
Is Luminar AI a Good Program for Photo Editing?
We can't know for sure, because the product isn't out yet! However, my guess is that Luminar AI will offer a lot of power in a well-designed interface, but that it'll include some flaws; for instance, the program may be very laggy.
Would I recommend Luminar AI?
Based on what I know, it's a good option for beginners looking to gain editing power without having to learn the ins-and-outs of Lightroom. It's also a good way to speed up your editing workflow if you're a more advanced user, though you'll lose some customizability compared to a program like Photoshop.
Luminar AI: Conclusion
Luminar AI isn't out yet, but it's bound to offer some impressive features.
And, like Luminar 4 before it, Luminar AI will likely make image editing quicker and easier than ever before.
So if you're looking for an intuitive editing program, you can currently preorder Luminar AI right here.
What is the Luminar AI release date?
Luminar AI will be released on December 15th. However, you can currently preorder it on Skylum's website for either $79 or $99, depending on whether you'd like to install it on one computer or two computers.
Does Luminar AI replace Luminar 4?
Skylum says Luminar AI doesn't replace Luminar 4, and that they'll "ship compatibility and performance updates for Luminar 4 for another year after Luminar AI is released." However, I suspect that Luminar AI will be Skylum's main focus. It seems like Luminar AI offers all the same functionality as Luminar 4, plus a bunch of bonus features (but this could turn out to be wrong).
Do you need both Luminar AI and Luminar 4?
That depends on you. But Luminar AI does seem to offer all the same options as Luminar 4, plus some time-saving bonuses. So Luminar AI may be enough.
How much is Luminar AI?
You can currently preorder Luminar AI for just $79 (if you only need to install it on one computer), $99 (if you need to install it on two computers, or $327 (if you want Luminar AI, Luminar 4, and a photography course, and Aurora HDR all in the same package).
Is Luminar AI a subscription?
No, you can purchase Luminar AI for a one-time fee.
What's the difference between Luminar 4 and Luminar AI?
Luminar 4 includes some AI-based tools, such as AI sky replacement. But Luminar AI is AI powered, so that you're frequently interacting with artificial intelligence technology. It also offers additional AI tools, as I discuss more completely in this article.