Do you want to know how to do Luminar masking, but you're just not sure how?
Or are you simply wondering what, if anything, you can do with masking in Luminar 4?
You've come to the right place.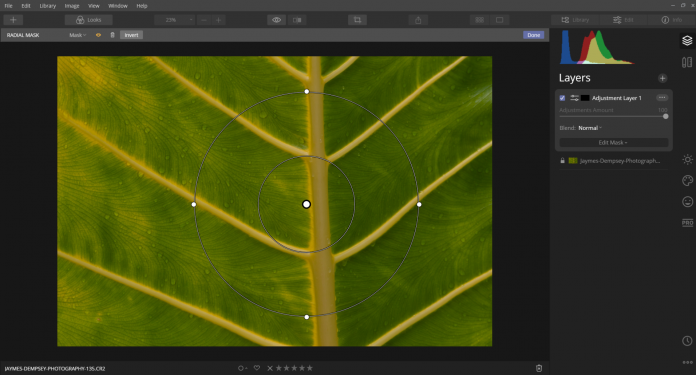 Because this article is going to tell you everything you need to know about masking in Luminar…
…so that you can harness the power of masking for amazing image edits.
Let's get started.
Luminar Masking Guide: Video Tutorial
If you'd prefer to learn about masking via video, then we've got you covered.
Because we've created a video tutorial that covers everything in this article – and will get you up to speed on everything mask-related.
Here it is:
Luminar Masking: A Guide to Masking in Luminar 4
Discover everything you need to know about masking in Luminar 4.
But if you prefer to read rather than watch, don't worry! The rest of this article will make you a mask expert in no time.
What Is Masking in Luminar 4?
First things first:
Masking is a post-processing function that allows you to hide, or mask, select areas of a photo from being edited.
Say I wanted to saturate the center of this photo, but I wanted the background to remain less vibrant: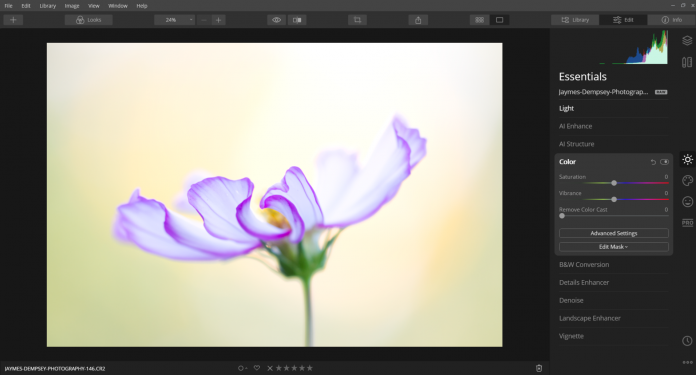 If all I have to work with is a saturation slider, then I'm out of luck. I can push the saturation slider upward…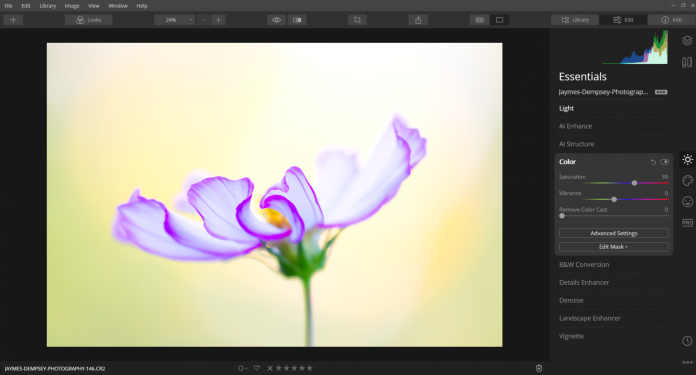 …but I would only end up with a photo that's more saturated everywhere.
Yet masking lets you do something different.
Instead of saturating everything, I can mask out the areas of the photo I don't need saturated.
And then, when I push up the saturated slider, I end up with a photo just like I wanted: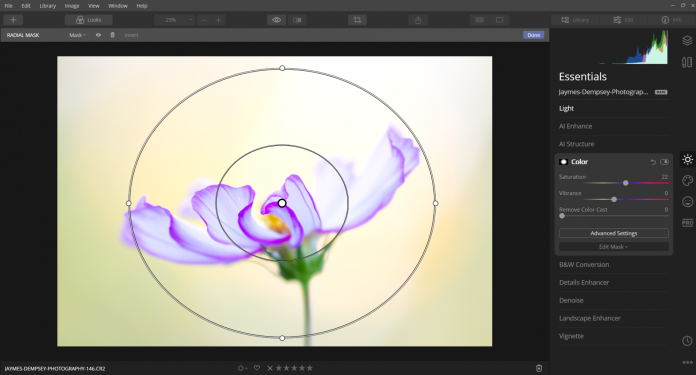 Saturated center, normal background.
And masking isn't just used for saturation adjustments. You can use masking with sharpening, noise reduction, white balance adjustments, and so much more.
Now let's take a look at how to use masking within Luminar.
Types of Luminar Masks: Your 4 Choices
In Luminar 4, you have several useful masking options.
In other words, you can hide (or reveal) certain areas of your photo in a few different ways.
First, you can use a masking Brush to paint on image adjustments. This is good for careful masking, when you need to selectively mask a complex area of your photo. For instance, if I wanted to create a mask around a leaf, I would use the masking brush – nothing else would allow me to easily work around the (complexly-shaped) leaf:
Second, you can use a Radial mask to apply adjustments to circular areas of your image. This is useful for times when you have broadly circular areas you'd like to apply adjustments to, such as a face, or even the flower I showed earlier: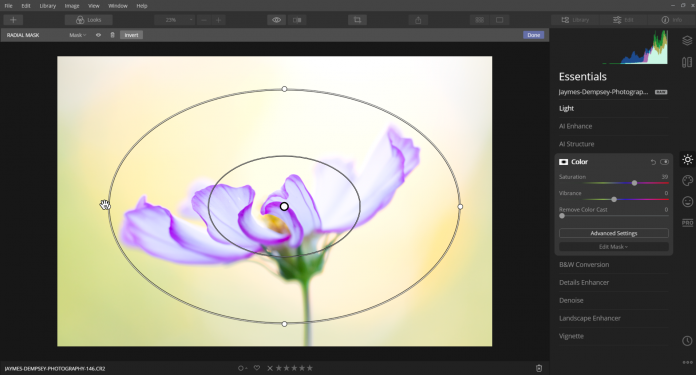 Third, you can use a Gradient mask to apply adjustments gradually, as a gradient. This is helpful when working with the landscape; you can use a gradient to selectively darken the sky and to selectively brighten the foreground.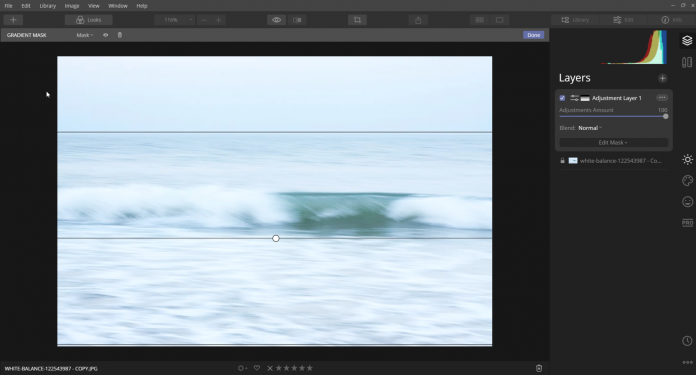 Fourth, you can use a Luminosity mask to apply adjustments based on different brightness levels in your image. However, this form of masking is more complex and requires careful explanation – so, for now, focus on your other three methods of masking (which are extremely, extremely useful).
Note that you can find these masking options in the Layers tab, by opening the Edit Mask dropdown:
Now that you're familiar with the different masking tools at your disposal, let's look at how you can use masking for beautiful edits:
Masking in Luminar: The 2 Methods
In Luminar, you have two options:
You can mask using layers.
Or you can mask without layers, where you mask on an adjustment by adjustment basis.
(You can also combine the masking options to create more complex edits, but this can get confusing. So be careful.)
Let's take a look at both of these options in turn:
Basic Adjustment Masking in Luminar
I want to start by explaining how to do basic masking in Luminar – masking without layers.
Then, in the next section, I'll explain how to do layer masking.
Sound good?
Masking without layers allows you to selectively apply edits on a tool-by-tool basis.
In other words, you can increase the saturation of your photo with the Color tool, then ensure that it's only applied to the center of your photo via a masking brush or a radial mask.
Then you can use the Details Enhancer tool to apply sharpening, but mask out a different part of the photo.
And so on!
(You can apply dozens of adjustments this way, if you like – all of them with different masks!)
To actually apply the mask to a single editing tool, you'll need to find the Edit Mask dropdown at the bottom of the relevant section, then select your preferred mask: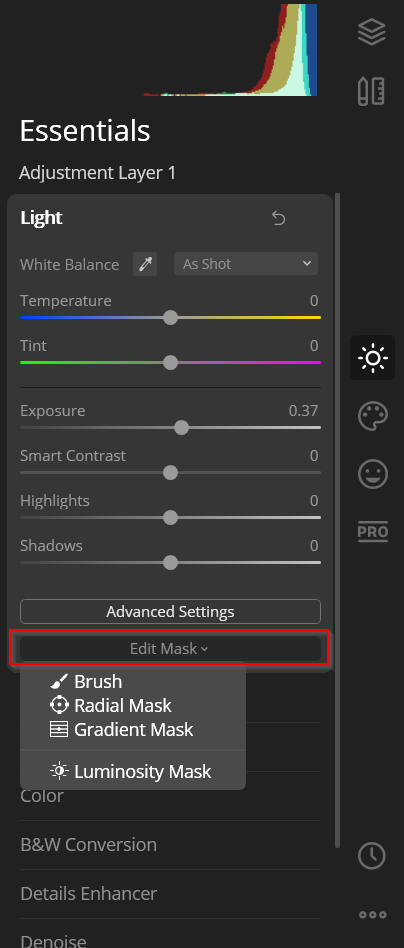 Luminar Masking with Layers
Luminar supports layers.
This means that you can create removable overlays on your photos.
Layers are like adding sheets of transparent paper overtop of your images. The layers give you a chance to change your photo – without permanently changing the underlying, true image.
So if you want to add an exposure adjustment on top of your photo, you can create a new layer, then make the exposure change.
And if you don't like the results, you can just delete the layer, and – voila! – the edits are gone.
(But the original image remains completely intact.)
Now, as I said above, there are two ways to mask in Luminar 4.
And the second way to mask is using layers. I recommend layer masking for situations where you'd like to make multiple adjustments to your photo that you'd like to be applied identically. In such a situation, it doesn't make sense to mask each adjustment one at a time. Instead, you should create an adjustment layer – and use a single mask.
It'll be much simpler!
Here's how you do it:
First, select the photo you want to work with and click on the Edit module: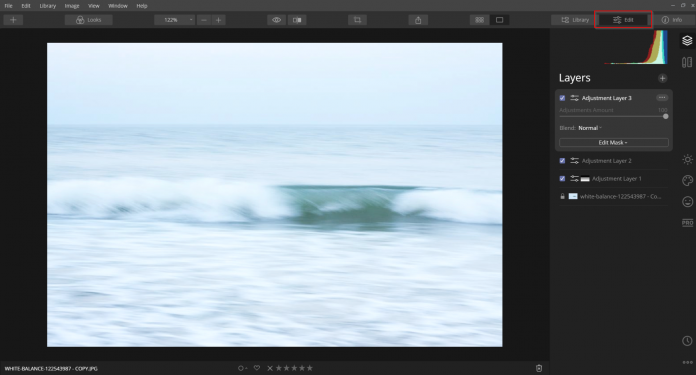 Then open the Layer tab: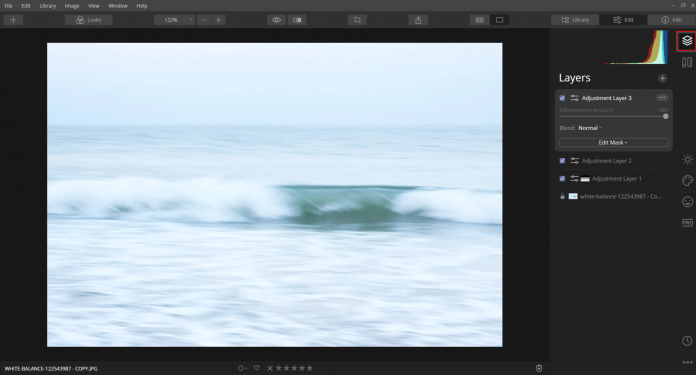 Here you should see your original photo, also known as a background layer, which is locked from layer adjustments: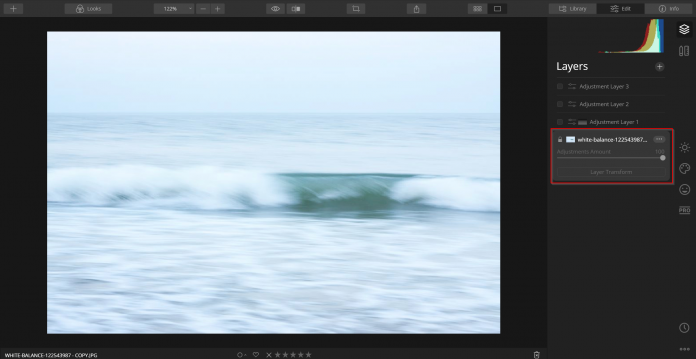 This means that, in order to use masking, you need to create a second layer. To do this, click on the Plus icon under the histogram: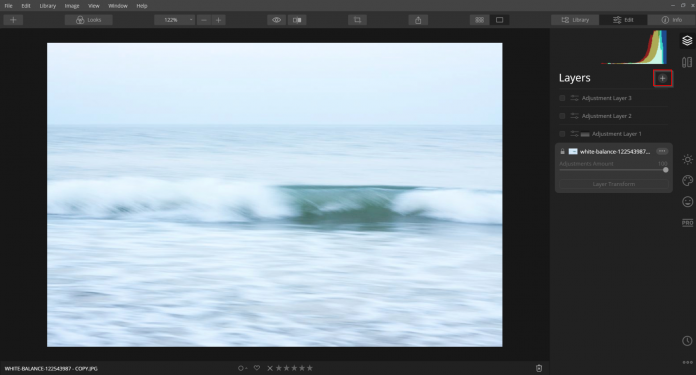 And select Add New Adjustment Layer: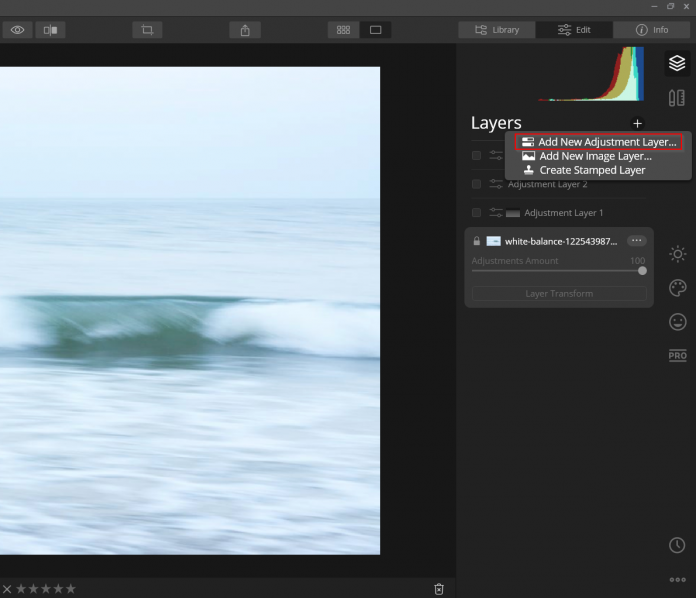 Note that you also have the option to Add New Image Layer. This allows you to composite a second image over the first. While this can be a cool effect, and you can also use masking effects on layer composites, it's something you'll use much less commonly – so I'm going to focus on masking adjustment layers instead.
So, once you have an adjustment layer, go ahead and make your preferred adjustments. You can do anything you want to the image, including (but not limited to!) exposure adjustments, color adjustments, noise reduction, sharpening, split toning, and lots more.
However, note that with layer masking, you have to mask all of your layer adjustments together – so you can't make 10 adjustments but decide you want to selectively apply five of them through masking. To do this, you'll need two (or more) separate layers, which will allow for separate masking.
Once you've finished your adjustments, it's time to do the masking.
Let's imagine you'd like to mask out the background of the photo, leaving only the subject affected by your adjustments.
Make sure that your adjustment layer is selected in the Layer tab.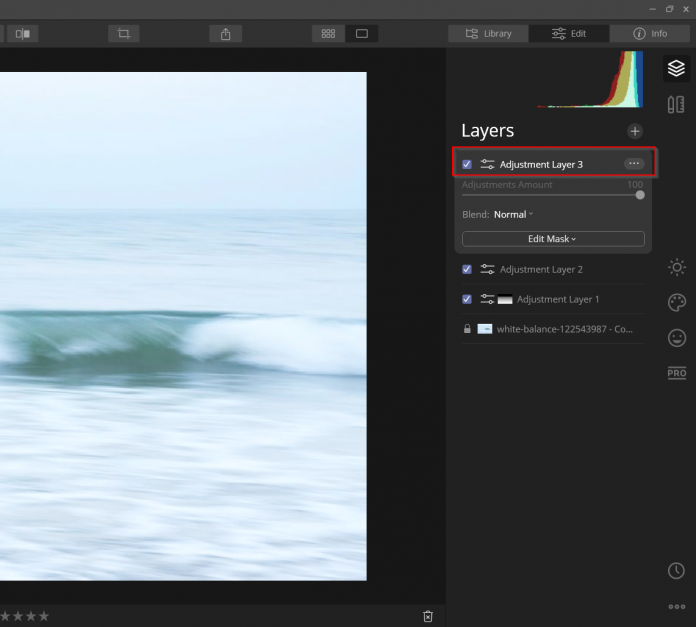 Then click Edit Mask, and select the type of mask you'd like to create. I like to use the Brush as my go-to mask, and that's a good way to approach the scenario described above: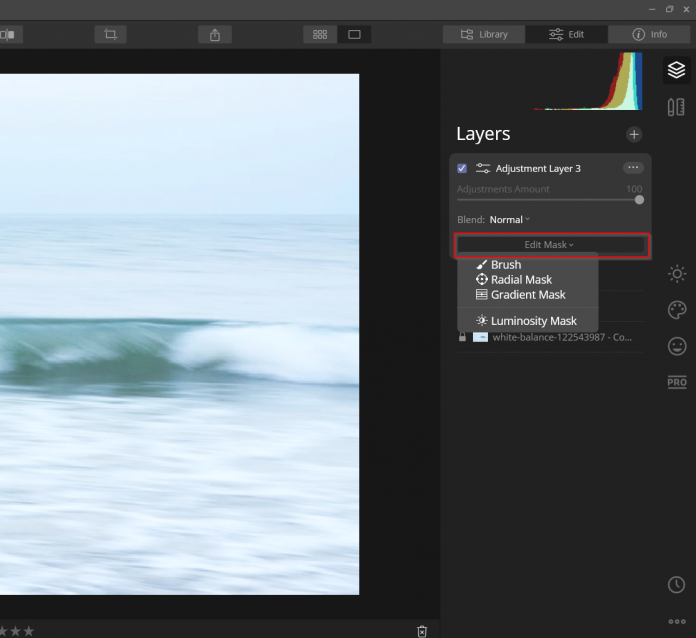 Next, paint over the areas you'd like to see affected by your adjustments.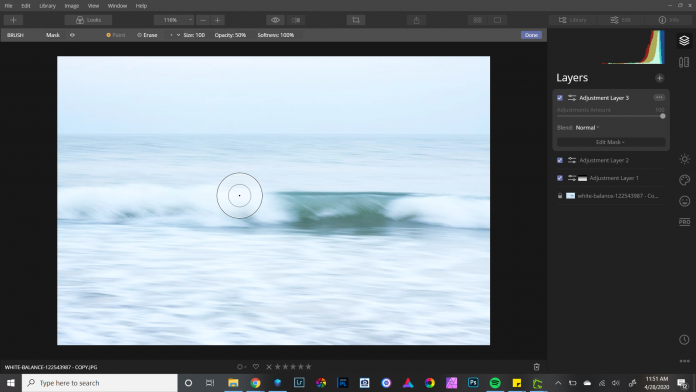 (You can adjust the brush features using the menu at the top of the window, or by right-clicking to open the brush menu.)
Once you're finished, go ahead and click Done: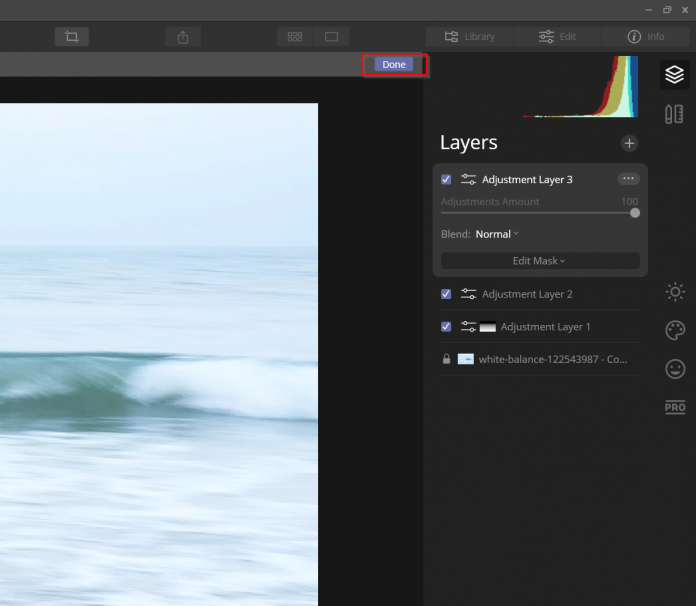 And that's it! You've successfully used a layer mask to selectively apply adjustments to your photo.
The process for creating a Radial mask or a Gradient mask is essentially identical to the one described above. You'll simply need to select one of these alternative options, then apply adjustments using the unique features of these masks.
Additional Masking Tools in Luminar 4
I've talked all about how you can do masking in Luminar 4.
But so far, we've been talking in terms of the default masking tools.
However, Luminar allows for a bit more editing functionality – though only when doing layer masking.
First, note that Luminar's default mask is black. You can see it once you've applied a mask and made an adjustment: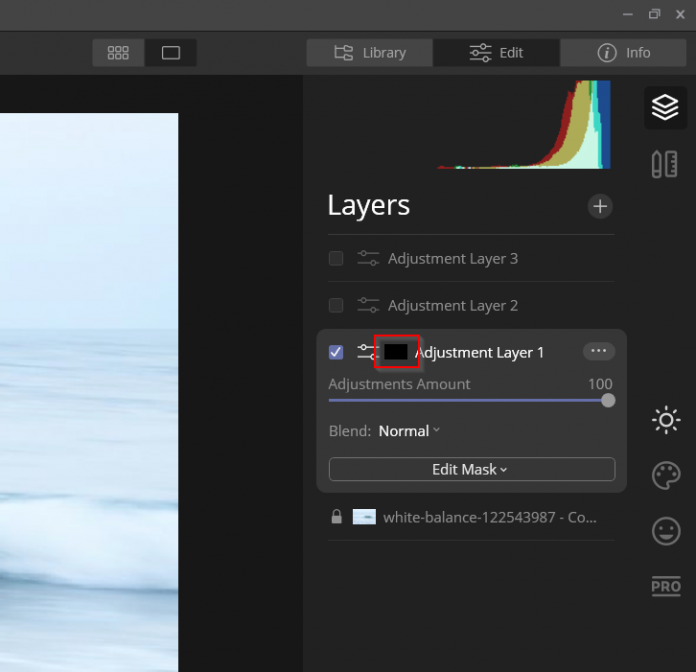 Now, there's an old masking adage that you can remember:
White reveals and black conceals.
In other words, black will mask out the underlying part of the photo, leaving it untouched (i.e., hidden) from the adjustment.
And white will reveal the underlying area, allowing the adjustment to be applied.
So when Luminar defaults to a black mask, it means that your layered adjustments won't be applied to the underlying photo – unless you use a brush, a radial mask, or a gradient to add in white and reveal the adjustments.
Make sense?
That's why you paint on the adjustments, rather than painting the areas that you want hidden.
However, if you prefer to work in the reverse manner – by using the brush, radial mask, or gradient mask to hide parts of your image – start by painting the areas you'd like to see hidden.
Then head to the Layers tab and select the Options icon: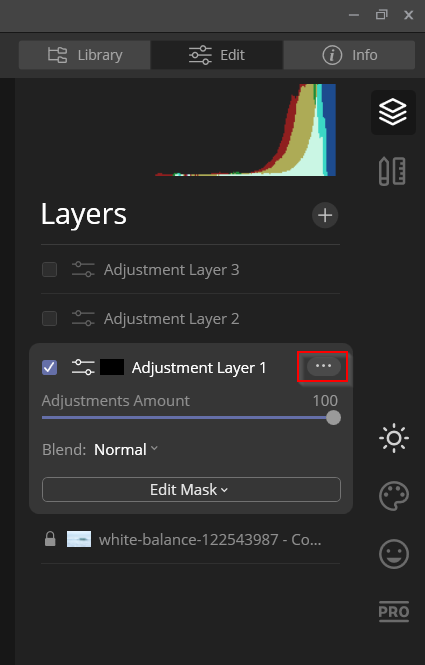 In the dropdown menu, go to Mask, then select Invert. This will make the white parts of your mask black and the black parts of your mask white. In other words, areas that were hidden will now be revealed, and areas that were revealed will now be hidden.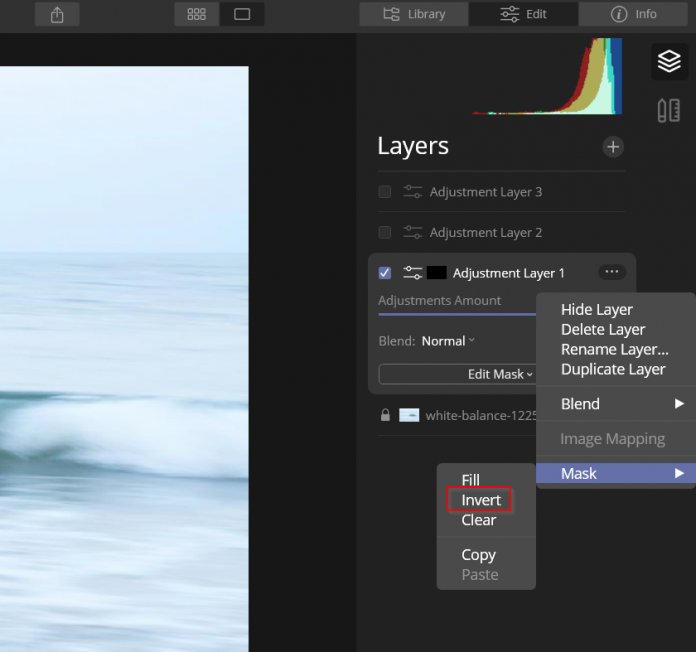 You also have a few other options:
Select Fill if you'd like to make the mask completely white, so that the entire adjustment layer is applied to your original photo.
And select Clear if you'd like to reset the mask to black.
Luminar Masking: Next Steps
You should now know all about masking in Luminar 4.
And you should be able to confidently use masks to hide and reveal your different adjustment layers, as well as your individual edits.
Masking is an extremely powerful tool, perfect for doing local edits to enhance your photos.
So don't squander your masking knowledge! Instead, use it when you edit.
And you'll end up with some beautiful images.
How do you use masking in Luminar 4?
You can do masking in Luminar 4 two ways: with Luminar Tools, and with layers. Tools allow you to mask on an edit-by-edit basis, whereas layers allow you to mask out a set of adjustments at once. Both are useful, and neither is necessarily best–it depends on the needs of your image.
Can you do layer masking in Luminar 4?
Yes! You can mask with layers in Luminar 4. In fact, Luminar offers four types of masks: Brush, radial, gradient, and luminosity. The four of these together allows for extreme precision and flexibility when working with layers.
Does Luminar 4 have an adjustment brush?
Luminar 4 does have an adjustment brush. You can find it under the Edit Mask dropdown for almost every tool. You can also find it under the Edit Mask dropdown for each layer you create.
Can you do gradient masking in Luminar 4?
Yes, you can do gradient masking in Luminar 4. You can access the gradient mask under the Edit Mask dropdown for your adjustment.
Can you create luminosity masks in Luminar 4?
Yes! To create a luminosity mask, go to the Edit Mask menu at the bottom of an adjustment layer or individual tool. Then select Luminosity Mask !