If you're struggling to determine whether Luminar is right for you, then this Luminar 4 review is precisely what you need.
First, I'm going to give you an overview of Luminar. I'm also going to tell you all about the Luminar interface. Is it easy to use? Hard? Is there a steep learning curve?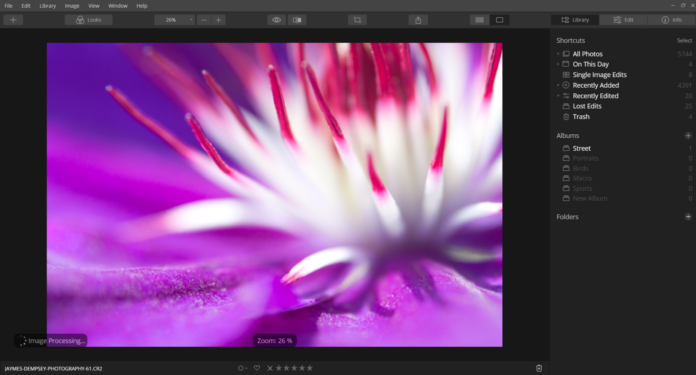 Second, I'm going to tell you about Luminar's organizational tools. I'll indicate whether I think Luminar offers photo management capabilities to satisfy beginners, as well as more serious photographers (and I'll compare it to the king of digital asset management, Lightroom Classic CC).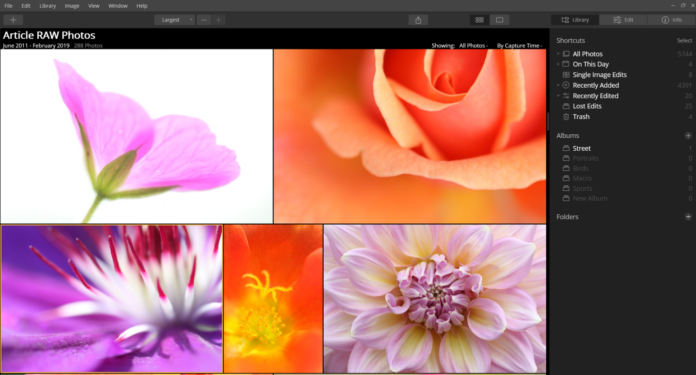 Third, I'm going to give you a window into Luminar's editing toolset. I'll show you some of the best tools Luminar has to offer – and I'll also indicate where I think Luminar could improve.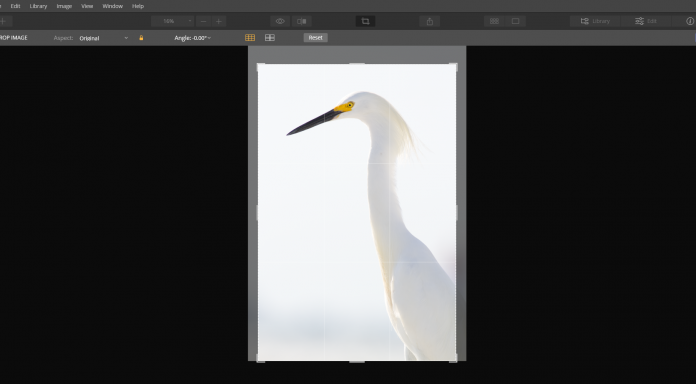 I'll close with a section about who should think about purchasing Luminar.
Sound good?
Let's get started.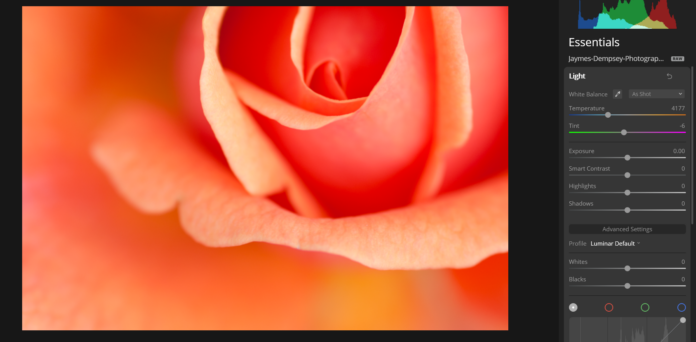 When you buy through links on our site, we may earn a commission at no cost to you. We evaluate products independently. Commissions do not affect our evaluations.
Luminar 4 Review: A Powerful AI-Based Image Editor
Luminar Review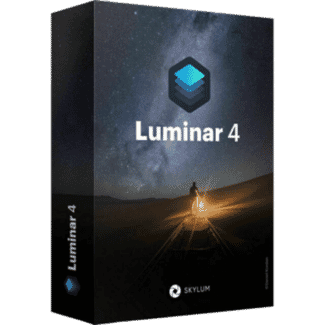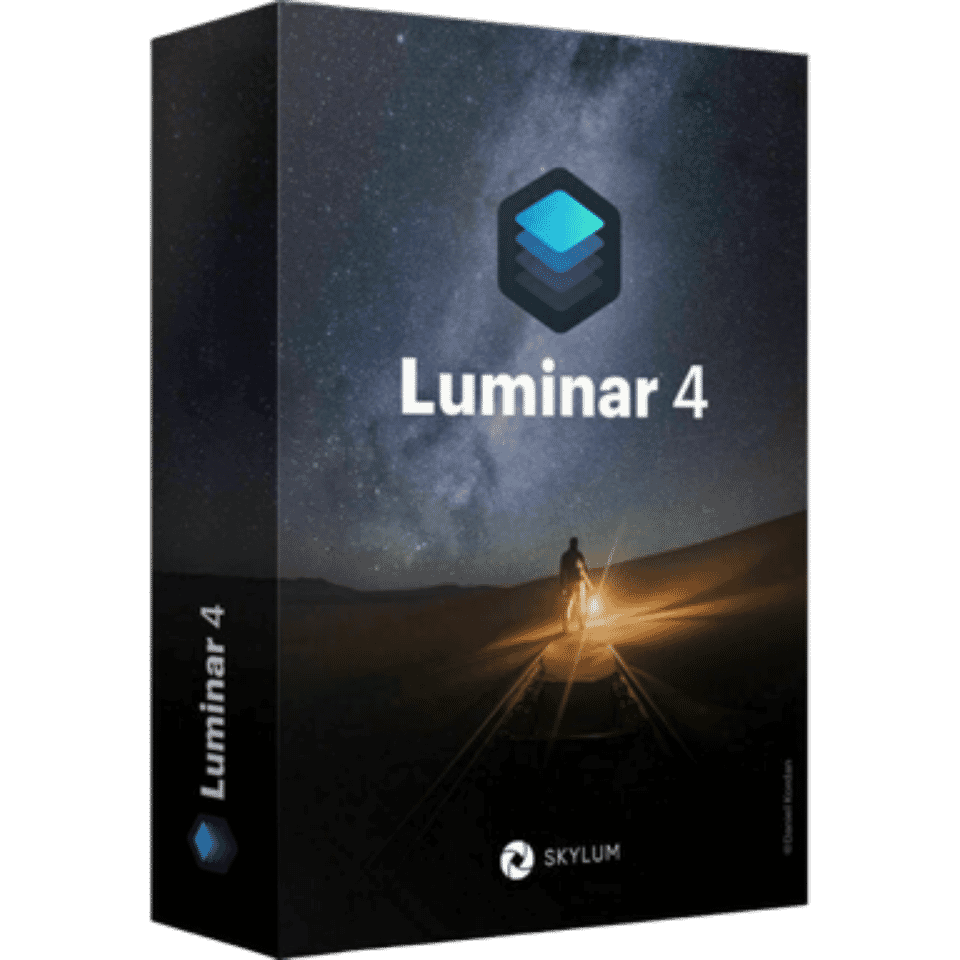 Name: Luminar 4
Description: Luminar 4 is a photo editing software with a basis on AI-based editing. The photo editor is good for beginners and advanced photographers alike.
Offer price: 81
Currency: USD
Operating System: Windows, Mac
Application Category: Multimedia
Author: Skylum
Overall Interface

Library & Photo Management

Photo Editing

Export Functionality

Price
Luminar 4 Review Summary
Luminar is creative, it's sleek, and it's powerful. It's the best editor for beginners on the market and it can offer some solid competition for Lightroom, even if its photo organization capabilities aren't up to snuff.
Pros
Simple interface
Sleek design
Powerful AI-based image editing
AI Sky Replacement
Very easy for beginners to improve photos
The Luminar Looks collection
Layer-based editing for more advanced users
One-time payment
Cons
AI features offer inconsistent performance
Cannot prepare images for print
Program can be slow
Image organizational capabilities are limited
Layer-based editing and masking is restricted
Lacks some advanced editing capabilities present in competitors
First things first:
Luminar 4 is a photo editing program developed by Skylum (formerly known as Macphun).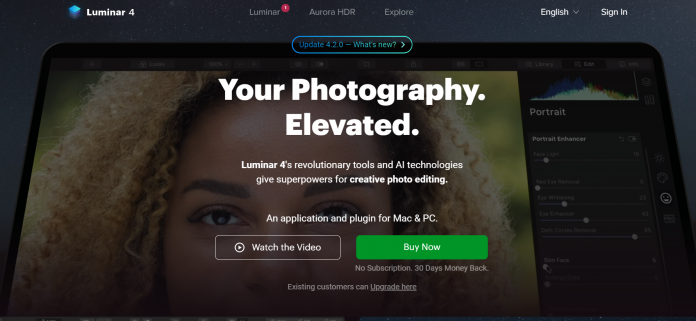 It's designed to be a cheaper Lightroom alternative (the most popular photo editing software by Adobe).
In fact, Skylum frequently contrasts its Luminar software with Adobe's subscription model – and you can grab Luminar for just $89 USD, compared to Adobe's Lightroom plan (which costs, minimum $119 USD per year).
Like Lightroom (and unlike programs such as Photoshop and Affinity Photo), Luminar offers a combination of editing and photo organizational tools. You can use Luminar 4 to organize your photos, group them into albums, give them ratings, flag your favorites, and more.
You can also use Luminar 4 to apply nondestructive edits to your photos, both RAWs and JPEGs. While Luminar packs many basic adjustments – from exposure to color to cloning and more – it's gained traction among photographers thanks to its artificial intelligence (AI) approach to more complex edits.
And while I'll explore some of these AI-based features later on in this Luminar 4 review, let me say right off the bat that Luminar's AI tools are impressive. Sure, they make mistakes (Luminar isn't going to put dedicated editors such as Photoshop out of business anytime soon), but it is remarkable what you can do with some Luminar AI power and a few clicks.
On a related note, Luminar is also known for its editing efficiency. You can make your photos look good in no time at all, thanks to Luminar's in-built set of Looks (or, as Lightroom users will undoubtedly refer to them, presets). While most image editors today offer presets of some sort, Luminar 4's set of Looks are just really high quality, compared to what you get from a program such as Lightroom.
By the way, if you're a photographer who refuses to give up Lightroom and/or Photoshop, but wants to explore the power of Luminar's AI-based editing and powerful one-click edits, you can use Luminar as a Lightroom plugin.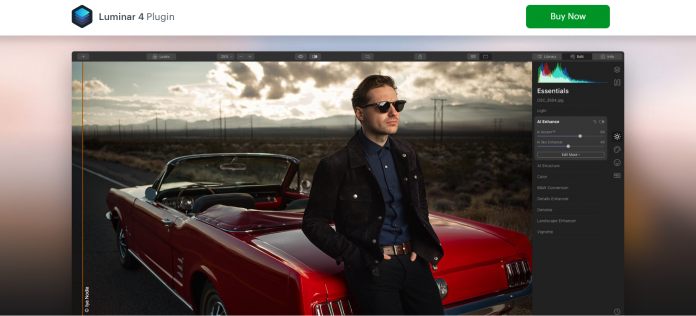 That way, you can have the best of both worlds – quickly moving from Lightroom/Photoshop to Luminar and back.
Related: Best Sky Replacement Software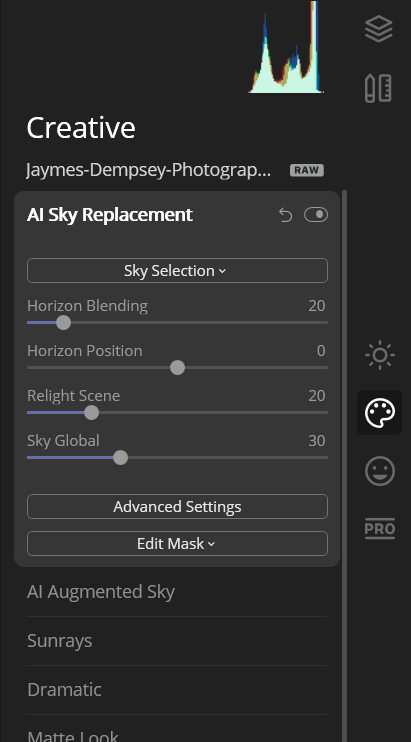 Related Post: Luminar vs. Lightroom: Which One Is Better?
Luminar 4 Pros:
Simple interface
Sleek design
Powerful AI-based image editing
AI Sky Replacement
Straightforward for beginners to improve photos
The Luminar Looks collection
Layer-based editing for more advanced users
One-time payment
Luminar 4 Cons:
AI features offer inconsistent performance
Cannot prepare images for print
Program can be slow
Image organizational capabilities are limited
Layer-based editing and masking is restricted
Lacks some advanced editing capabilities present in competitors
Now let's take a deeper dive into Luminar's interface and toolkit:
Luminar 4 Review: The Interface
Luminar's interface packs a one-two punch:
It's impressively sleek.
And it's also ultra-simple.
It's quite possibly the simplest interface I've encountered on a powerful photo editor, which means that the learning curve is remarkably shallow, and even beginners can start editing their photos within minutes.
You only have three modules (or Views), to keep track of:
The Library View.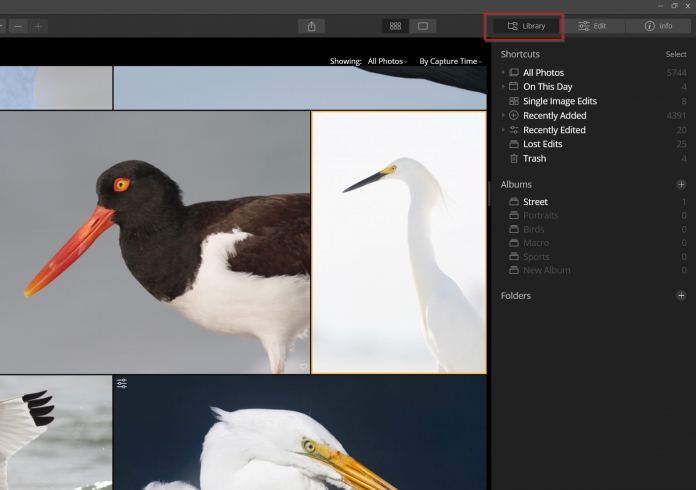 The Edit View.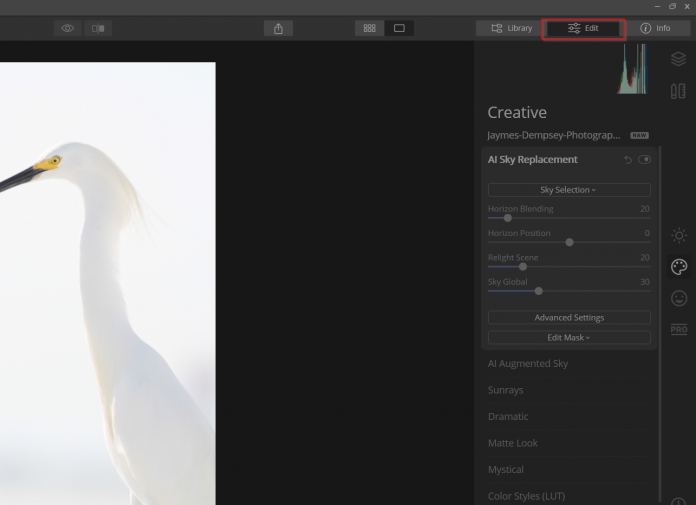 And the Info View.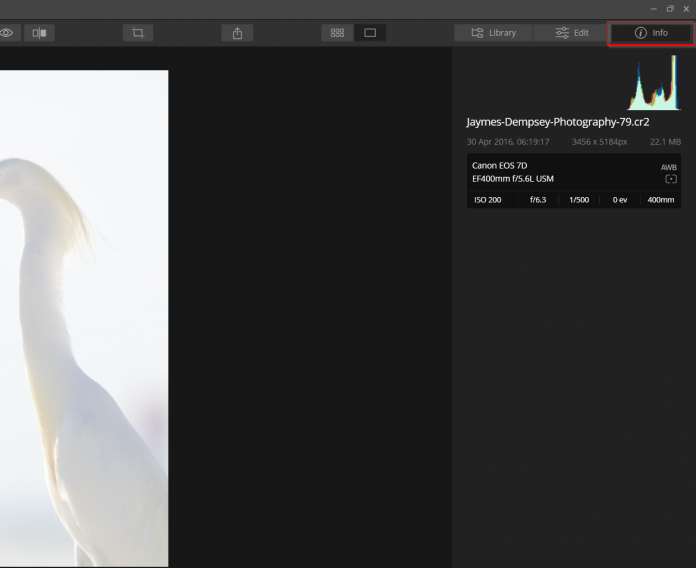 The Library View is where you do all your photo organization. Here, you can search through photos, quickly give them ratings, view them in a Grid fashion, organize them in albums, and more.
The design is very conservative, which means that you can find everything you need within seconds, even if you're new to Luminar.
The Edit View is where you do all of your image editing. Clicking on the Edit button brings up a single, minimalist toolbar, where you'll be able to access the Crop tool, the Looks panel, and the Export dialog, among other things.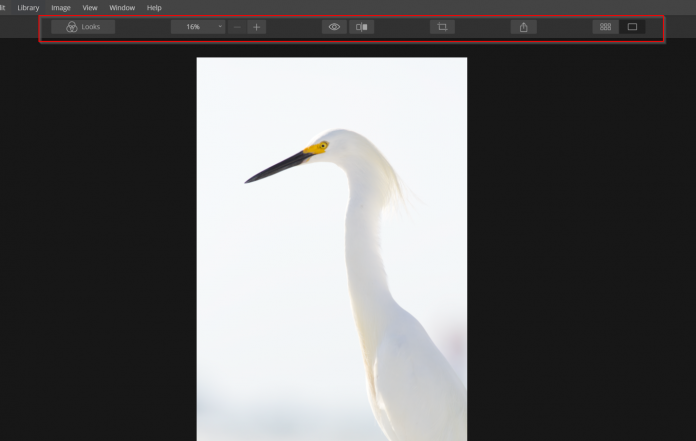 (Note that you can also gain access to this toolbar in the Library View, by clicking on the Loupe View button at the top of the screen.)
The Edit View also includes a set of tabs on the side, organized by theme (e.g., Essentials, Creative, Professional, etc.). And within these tabs you'll find all of the editing tools you'll need to really enhance your photos, including exposure adjustments, color adjustments, curves adjustments, split toning adjustments, retouching adjustments, and the much-talked-about AI Sky Replacement tool.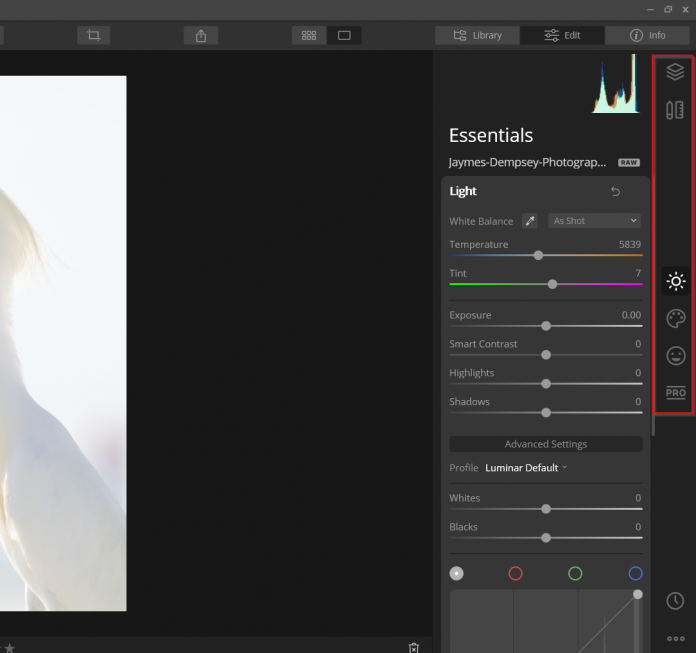 Finally, the Info View is really just a small window offering insights into the selected photo, including EXIF data, histogram data, and file sizes.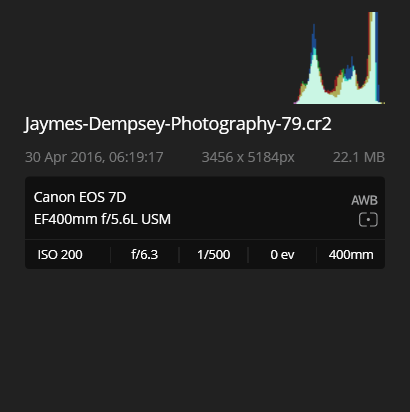 To begin organizing or editing your photos, simply click to import single photos, or batches of photos: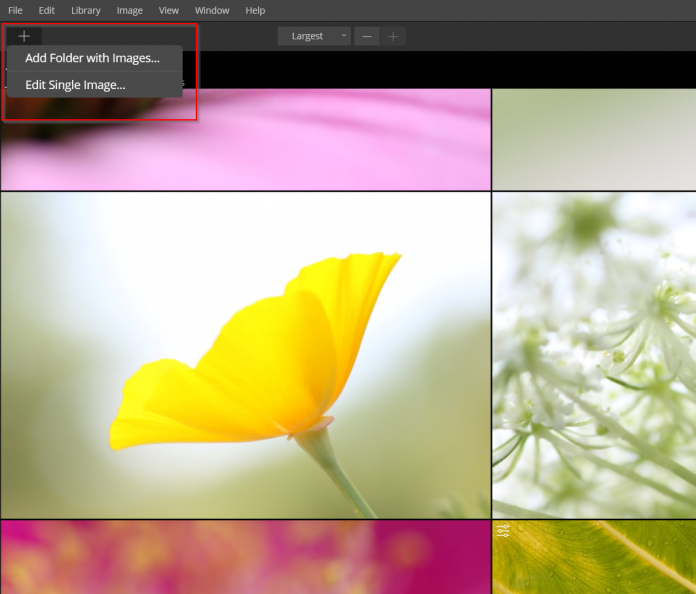 And you'll almost instantly be able to access them in the Luminar Library view.
Then, when it comes to time to export your photos, all you have to do is select the Export icon in the top toolbar: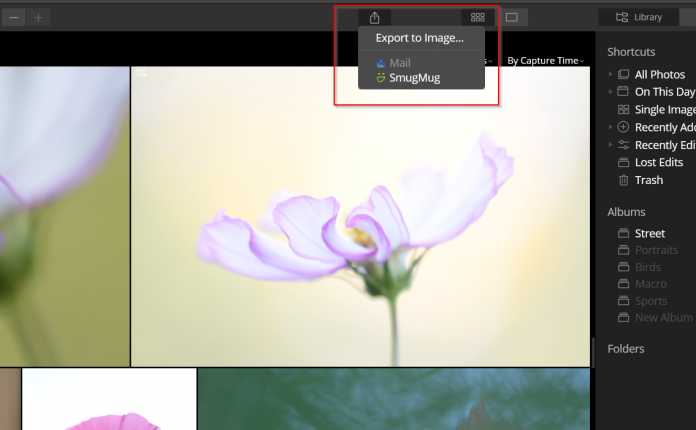 Select Export Image, and you'll bring up the Export Image dialog, which will give you the option to select your desired output settings – including file type, image size, image color space, and image sharpening options.
Here's the bottom line:
Luminar's interface is incredibly simple, allowing even beginner editors to familiarize themselves with the program and get editing, fast.
And advanced editors will undoubtedly appreciate the streamlined, sleek approach to editing – especially those who process lots of images in a short time span.
The Luminar Library: Are Luminar's Photo Organization Capabilities Enough?
As you can probably tell, I'm a fan of Luminar 4 (and I've been a fan since the moment I pulled it up on my computer).
I like the efficient editing. And I like the sleek interface.
But one area where Luminar really falls down:
Photo organization.
(Note that this is also referred to as digital asset management, or DAM, and I will use DAM and photo organization interchangeably throughout this review.)
Here's the thing:
Luminar positions itself as a Lightroom alternative from the very beginning – and if you're going to compete with Lightroom, you've got to be on top of your photo organization game.
And Luminar's photo organization game is just… mediocre.
Here's what Luminar offers in terms of digital asset management:
Folders for organizing images. These correspond to the desktop environment, and moving images into a folder actually transports them on the desktop. While you cannot create new folders within Luminar (instead, you have to import already-existing desktop folders), you can create subfolders, into which you can move images – though these subfolders will be mirrored on the desktop.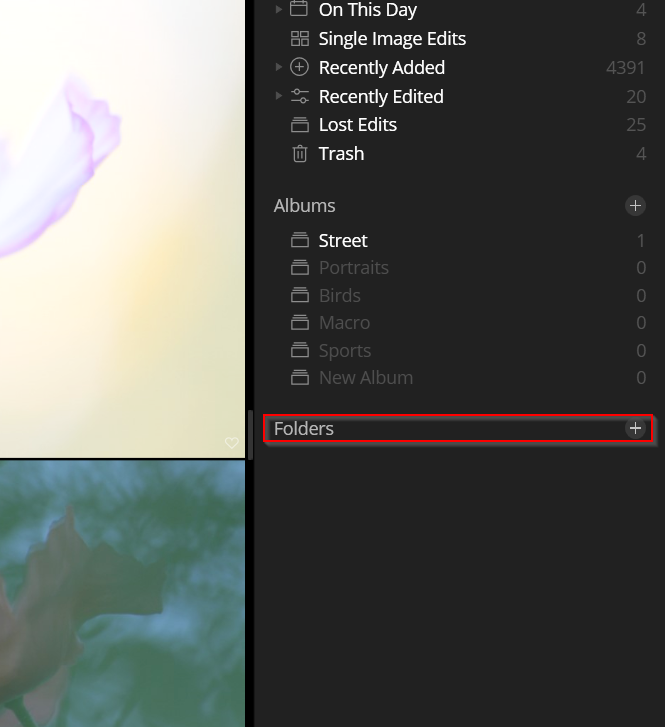 Personally, I never use Folders in Luminar. I don't want to mess with organization on the desktop. And if you use a program such as Lightroom in conjunction with Luminar, as I do, moving photos around could result in disaster.
Albums for organizing images. These exist strictly within Luminar, and are analogous to Lightroom Collections. But while Collections allow for all sorts of nesting and sorting possibilities, Albums are just a single level. You create an album, you put photos into it, and that's pretty much it.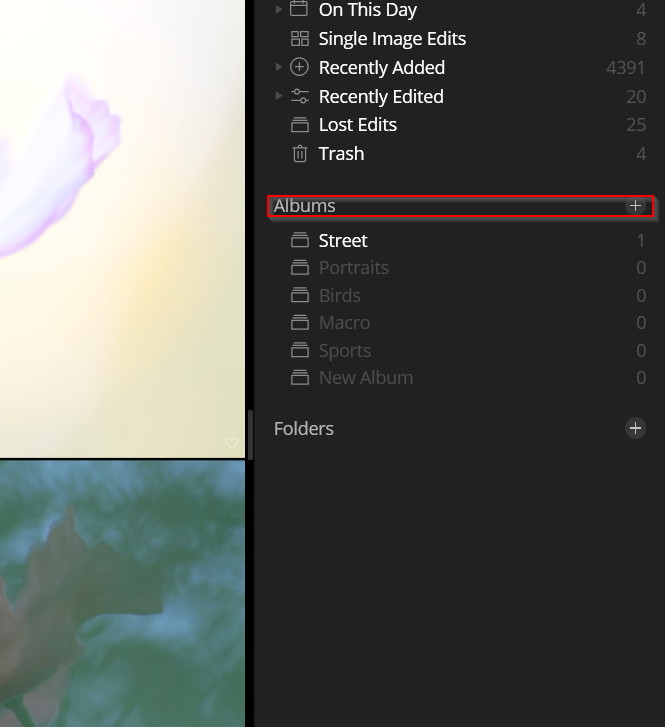 I'm sure the drawbacks of this organizational tool are already clear:
You cannot create any complex file structures – something that even beginner photographers will often require. For instance, I like to organize my images by genre, then by keepers within that genre, then (nested further) by portfolio-worthy shots.
And that's just not possible with Luminar albums.
I know others who prefer a session-based approach, creating a new Collection for each client, then sorting by keepers, edited images, etc. This is also impossible with Luminar (though note that if such a workflow appeals to you, I wholeheartedly recommend checking out Capture One, another powerful Lightroom alternative with insane image editing capabilities and a built-in Session-based organizational system).
So unless you don't mind working with desktop folders, or you just don't require much in the way of digital asset management, you're probably not going use Luminar as a Lightroom replacement – but maybe as a Lightroom supplement, based on some of the one-click editing tools and AI features I describe below.
A few more notes on Luminar's DAM system:
Like Lightroom, you can give images stars (out of five). You can also flag (i.e., favorite) images, and you can label them with different colors. But while you can use all these identifiers to search for images, you cannot use my favorite method of image search-and-retrieval: keywords.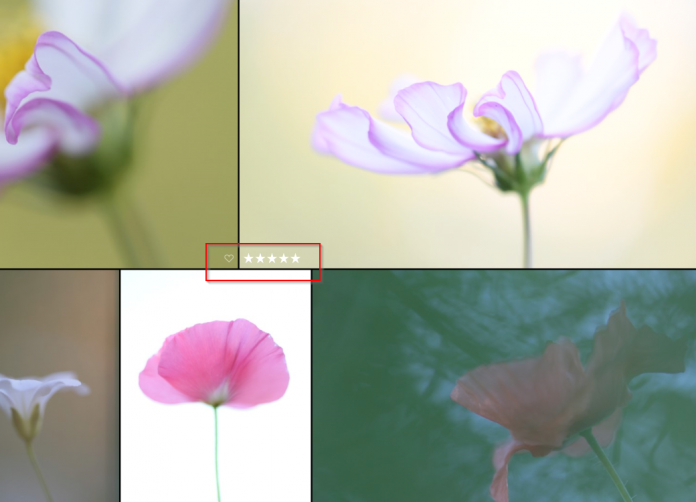 (Note that Skylum has promised to release a keywording capability in a future update.)
So, to recap:
While Luminar's Library interface is easy to work with, it's light on photo organization capabilities, and this is a non-starter for photographers requiring a dedicated DAM program.
The Luminar Edit View: Basic Editing, Advanced Editing, Layers, and AI
If you're thinking about purchasing Luminar, then you probably fall into one of three groups:
One: You're looking for a Lightroom alternative, which entails photo organization capabilities along with a powerful editing performance.
Two: You're looking for a quick-but-powerful way to edit your photos (or add finishing touches).
Three: You want to start editing photos but don't have much experience with post-processing programs. You're looking for something that's simple and easy to learn.
Fortunately, Luminar's editing capacity should satisfy you, no matter which group you identify with.
Because while Luminar isn't the most full-featured editor around, it does offer enough to impress even more serious photo editors and retouchers.
Luminar Workflows
First, note that Luminar offers two types of broad editing workflows:
Nondestructive, adjustment-based editing, as you'd find in Lightroom.
And layer-based editing, as you'd find in Photoshop.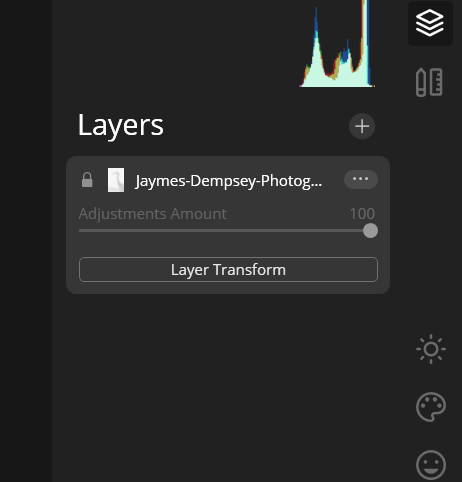 But you're not confined to one or the other; you can mix and match to your heart's content, or you can just stick to adjustment-based editing and keep it simple.
The layer capabilities are a nice touch for folks who have used an editor such as Photoshop or Affinity Photo in the past, though I do wish that Skylum had packed in more flexibility regarding layers and masking. Technically, you get a lot of the layer goods – blend modes, luminosity masking, and the ability to confine your edits to a one-click deletable overlay – but Luminar is missing some key features, such as the ability to view masks as you work with them, as well as the ability to select (i.e., via selection tools) aspects of the scene.
(This latter point is a big one, and something I really wish Skylum had implemented.)
The Top Toolbar and Luminar Looks
As I emphasized above, the Luminar Edit View is well-designed and nicely laid out. You have a toolbar across the top of the screen that offers some very basic options, the biggest one being cropping and straightening –which, if you're like me, you use all the time.
You have your Luminar Looks, the one-click presets that can immediately improve your photos. I'm a big fan of these, because they are very high quality, and can quickly enhance the mood of your images.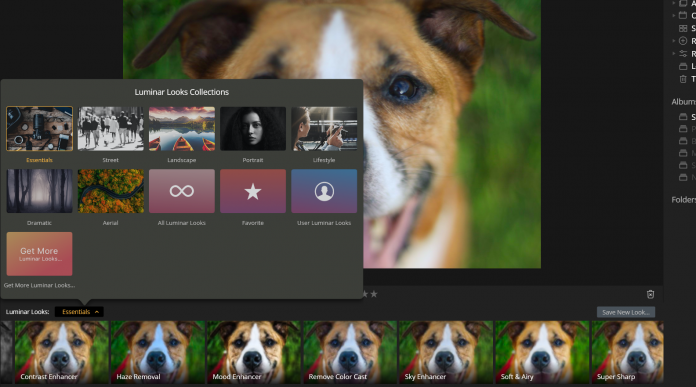 These include a number of categories, from Essentials: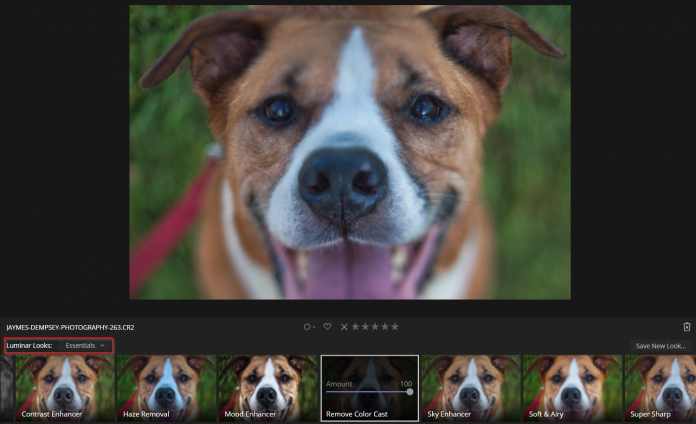 To Landscape: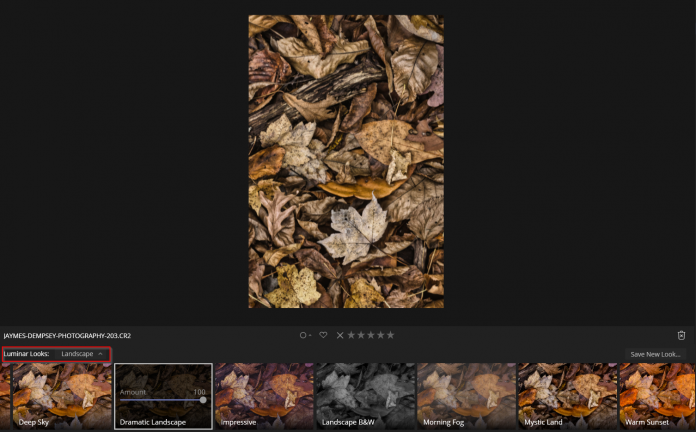 To Dramatic: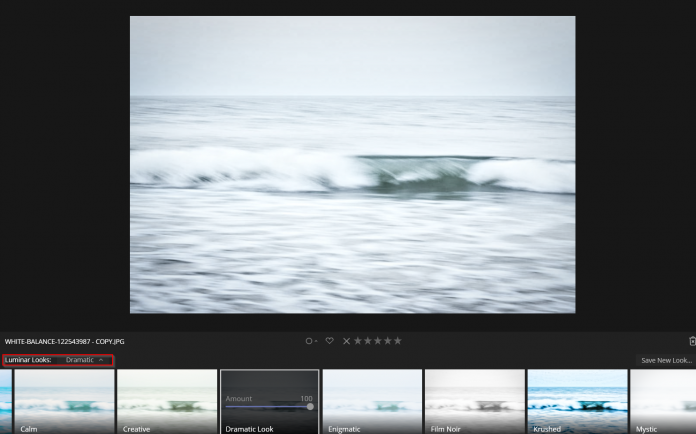 Very cool, right? With just a single click, you can instantly give your images a professional flair. You can also use these Looks as a starting point for editing – clicking on a couple of options, seeing what you think, and editing from there.
The Luminar Panels
You also have a set of panel options off on the right side, which include:
Layers
Canvas
Essentials
Creative
Portraits
Professional
The first three (Layers, Canvas, and Essentials) are geared toward basic editing functions, whereas the latter three (Creative, Portraits, and Professional) offer more complex, sophisticated editing options.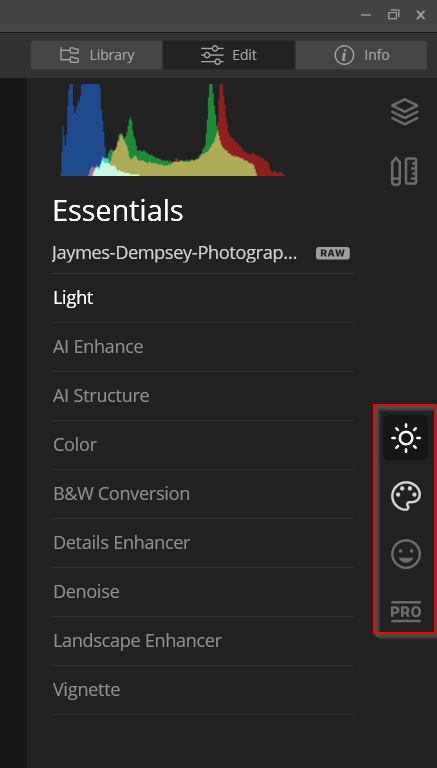 Basic Editing Functions in Luminar 4
If you're a beginner or more advanced editor, you're going to be satisfied with Luminar's basic editing tools – with a few small caveats.
Under the Canvas tab, you have access to the Clone & Stamp tool, which is good for the removal of basic objects. You also have the Erase tool, which is basically just a Healing brush, though I wish it were a bit faster and more streamlined in terms of its operation.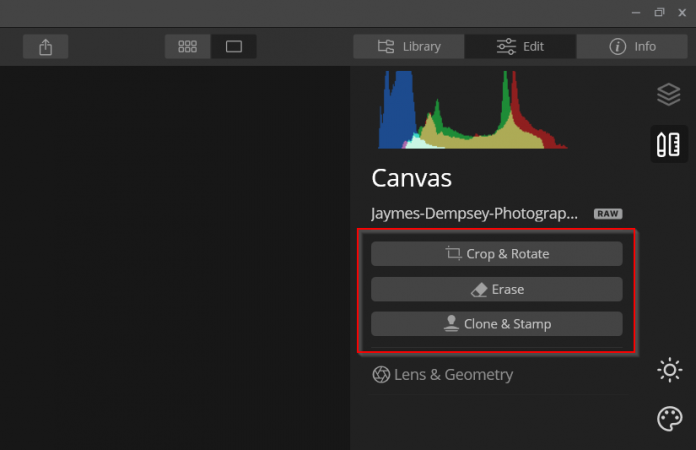 You also have access to the Lens & Geometry panel, which allows you to correct chromatic aberration, fringing, and lens distortion. Unfortunately, Luminar doesn't currently have the capability to load lens and camera types, though you do have the option to manually correct distortion via a number of useful sliders.
Move down to the Essentials panel, and you'll see the core of Luminar's editing suite. You have all the standard tools:
Exposure corrections, contrast corrections, curves, color corrections, black and white conversion, denoise, and sharpening. You also have a few bonuses thrown in, such as the AI Enhance tool, which does some AI magic and just makes your photos look generally better when you pull the slider to the right.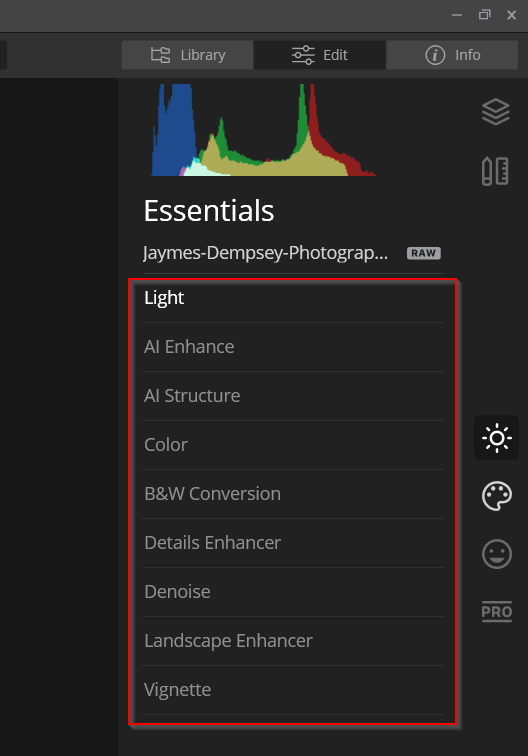 These are all mostly on par with Lightroom's editing sliders, though you'll find a bit of functionality missing here and there; for instance, you cannot click and drag on the photo to change the color in the HSL panel in Luminar.
One last basic feature worth considering is the masking option:
By tapping Edit Mask at the bottom of a tool, you can selectively apply it via a brush, a gradient, a luminosity mask, or a radial mask. In essence, this means that you have enhanced control over the application of your edits, which is great for situations where you want to make adjustments to, say, the background without impacting the subject.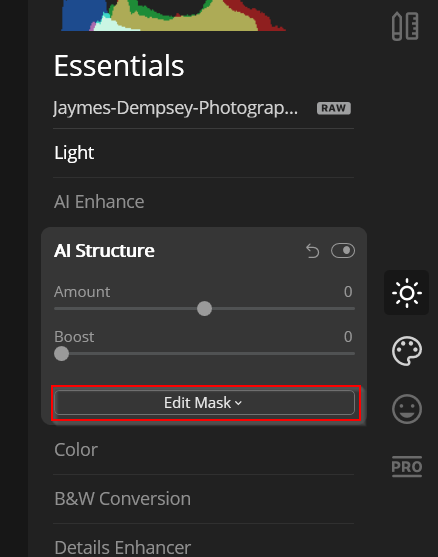 Advanced Editing Functions in Luminar 4
Moving on through Luminar's panels, you'll find yourself faced with a series of intriguing editing possibilities (though some of them, such Split Toning and Dodge & Burn, are fairly standard).
This is where Luminar shines – when it gets past the basic editing functions, and allows even a beginner to get very creative, very fast.
These advanced tools include:
The LUT tool for quickly enhancing your photos (similar to presets)
The Dramatic tool, which adds local contrast
The Glow tool, which adds an artistic glow
The Color Enhancer tool, for selectively toning the shadows, midtones, and highlights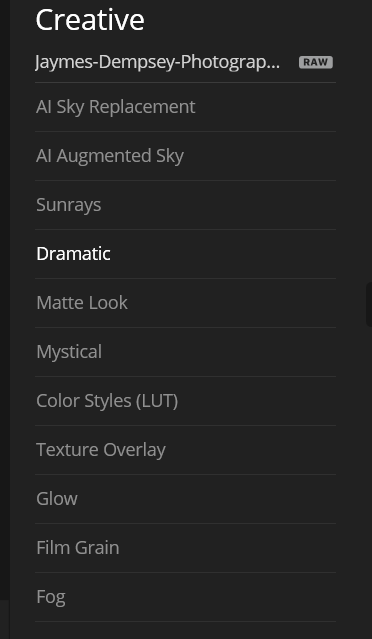 You also get a number of editing options that you'd normally have to rely on Photoshop for, such as:
The Fog tool, which adds several types of fog to your image
The Texture Overlay tool, which allows you to load a texture and blend it with your base photo
The Orton Effect tool, for a customizable glow
The Sunrays tool, which creates sunrays that are tailored to your image
These are great for adding a little extra flair to your photos, without having to spend years mastering Photoshop (and without having to purchase expensive Photoshop actions). For instance, the Orton Effect is a great way to kick your landscape and portrait photos up a notch, but it's just not something that's achievable in a program like Lightroom. Same with the effects of the Sunrays tool, which isn't perfect, but does a very good job considering how easy it is to work with.
Related Post: 10 Luminar Effects You Must Know
Finally, you have access to Luminar's AI tools, including:
The AI Skin Enhancer tool, for instantly improving the quality of skin
The AI Portrait Enhancer tool, for enhancing eyes, lips, eyebrows, and more
The AI Sky Replacement tool, for effortlessly swapping out skies
The AI Augmented Sky tool, for adding artistic objects (e.g., birds, balloons, moons, and mountains) to your skies
While all of these tools are impressive, these last two are Luminar's most famous and deserve a review section all to themselves.
Luminar's Sky AI Tools: Are They Worth the Hype?
You'd be forgiven for being skeptical, but I've done a fair bit of testing of the AI Sky Replacement, and it really does work consistently on basic skies.
For instance, you can easily take a sky like this: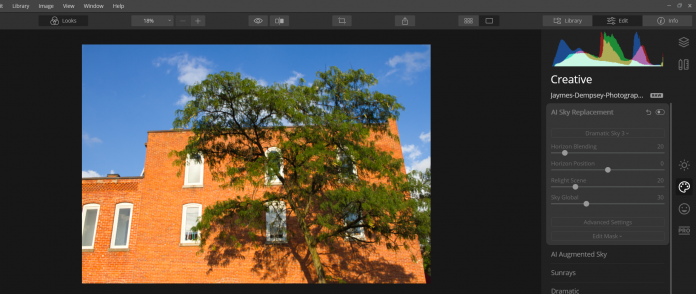 And change it to this:

Or this:

Or this: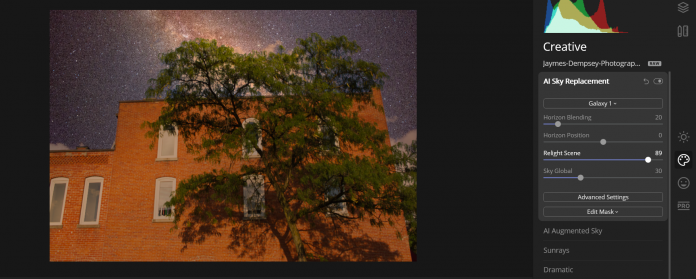 Where Luminar starts to struggle is with low-contrast edges. When the sky is similar in color or tone to the foreground, the tool will often fail to make a proper selection, so you'll start with a photo like this:

Turning into this:

And while you can mitigate the damage somewhat thanks to the tool's own sliders, as well as with the masking brush, you'll be hard-pressed to achieve something realistic.
As for the AI Augmented Sky tool, it's pretty cool to play around with, but unless you're loading in your own objects, folks are going to catch on pretty quickly – the moons, balloons, and fireworks don't look all that realistic to my eye.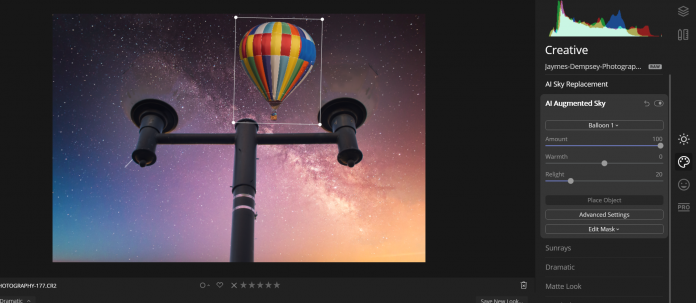 All in all, I think that the sky replacement tool is extremely impressive, though it has a ways to go, and it certainly isn't for everyone. But if you're looking to quickly switch skies without having to master quite a few Photoshop concepts, Luminar is worth a try.
Luminar 4 Review: Should You Buy It?
Now that you're familiar with Luminar's features, it's time to talk about what really matters:
Whether the program is right for you.
So let's get right to it:
First, if you're looking for a simple editor to get yourself into the world of post-processing, Luminar is a fantastic choice. In fact, I think it's the best editing software a beginner can buy, hands down, better than ON1 Photo RAW, better than Lightroom, better than Capture One, better than ACDSee.
Why?
Because it's easy to use, and it gets results. Sure, it's somewhat lacking when it comes to digital asset management, but every one of these options has drawbacks – and Luminar is, on the whole, a fantastic RAW editor for beginners.
Second, if you're looking for a Lightroom or Photoshop supplement, something that'll offer one-click presets and some quick-but-powerful edits, then Luminar is a good choice. The Looks collection is very robust, plus it's just super easy to use.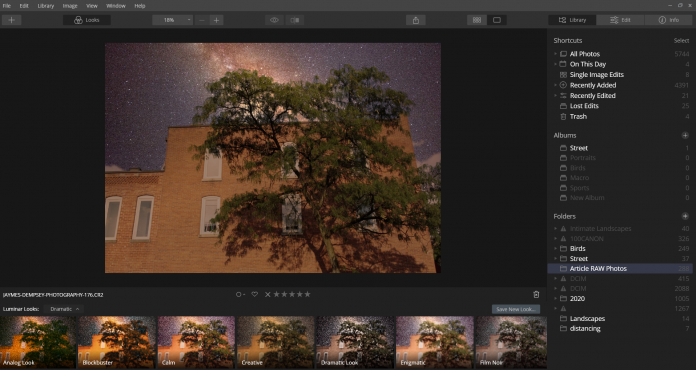 But what if you're looking for a more experienced editor looking to replace Lightroom completely? What then?
That depends on your photo organizational needs. As I've highlighted above, Luminar 4 just doesn't offer the DAM capabilities that Lightroom users have come to expect. For someone with a huge photo catalog and a tendency to nest folders, Luminar just isn't going to cut it. But if you're willing to organize via desktop, or you don't mind keeping things simple, Luminar could be just what you're looking for.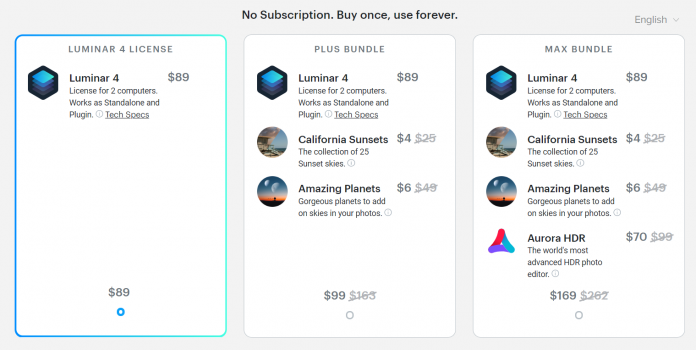 You can purchase Luminar for $89 USD, or you can grab a free trial from Skylum's website.
Luminar 4 FAQs
Is Luminar 4 a suitable alternative to Lightroom?
Yes. Luminar is a sleek, streamlined, simple photo editor that goes toe-to-toe with most of Lightroom's basic capabilities, and adds features that Lightroom just can't match. However, Luminar does fall down when it comes to digital asset management, which is why I'd generally recommend Luminar as a Lightroom supplement, unless you're willing to really pare down your DAM structure.
Does Luminar 4 offer digital asset management capabilities?
Yes. However, they're not especially comprehensive–while you can organize photos within Luminar via Albums, you cannot nest them, nor is it too easy to move photos from one Album to another. You do have the option to rate photos, designate color labels, and flag photos.
Can you purchase Luminar 4 for both Mac and PC?
Yes. Luminar used to be a Mac-only software program, but now it's available for both Mac and Windows.
How much does Luminar 4 cost?
As of right now, Luminar 4 costs $89 USD to buy–though there are other packages available, if you're interested in purchasing skies or even Aurora HDR, Skylum's own HDR editor.