Skylum has released the long-awaited Luminar 4 post-processing software. Luminar 3.1 and subsequent versions were a step in the right direction, but in our Luminar 4 review, you will see just how much this new release has to offer. Luminar 4 looks to be an exciting program packed full of artificial intelligence-enhanced tools such as AI Sky Replacement, and AI Structure. These AI tools aim to speed up the editing process and allow users to enhance multiple photos with minimal effort.

To create this Luminar 4 review we have spent time testing the program. We have extensively tested the new features and created a brilliant array of edited shots. Furthermore, we have looked at different aspects of the program like pricing, editing tools, usability, and performance. Hopefully, when reading this review, you will see the benefits of this superb new program:
Review Luminar 4
Summary
The new Luminar 4 has it all: photo management (library) and editing tools (including fast AI-tools, filters, and presets). The latest Luminar version performed fast and was a pleasure to use. We can recommend Luminar (by Skylum) to anyone who is looking for a Lightroom alternative or just wants a powerful and yet easy-to-use photo editing & organizing software.
Library & Photo Management

Photo Editing

Export Functionality

Price
Price Plans
As usual, there are several different packages available for Luminar 4. We have listed these packages together with current prices below:
Inspiration Edition – $81.00 – Luminar 4 + Inspiration Looks
Plus Edition – $91.00 – Luminar 4 + Inspiration Looks + California Sunsets
Max Edition – $155.00 – Luminar 4 + Inspiration Looks + California Sunsets + Aurora HDR
We advise checking the Skylum website for current prices as they do provide offers. In addition to this, the website uses a secure payment system, and there is also a 30-day money-back guarantee. We feel that the one-off pricing structure is reasonable compared to some other editing programs that require a monthly subscription.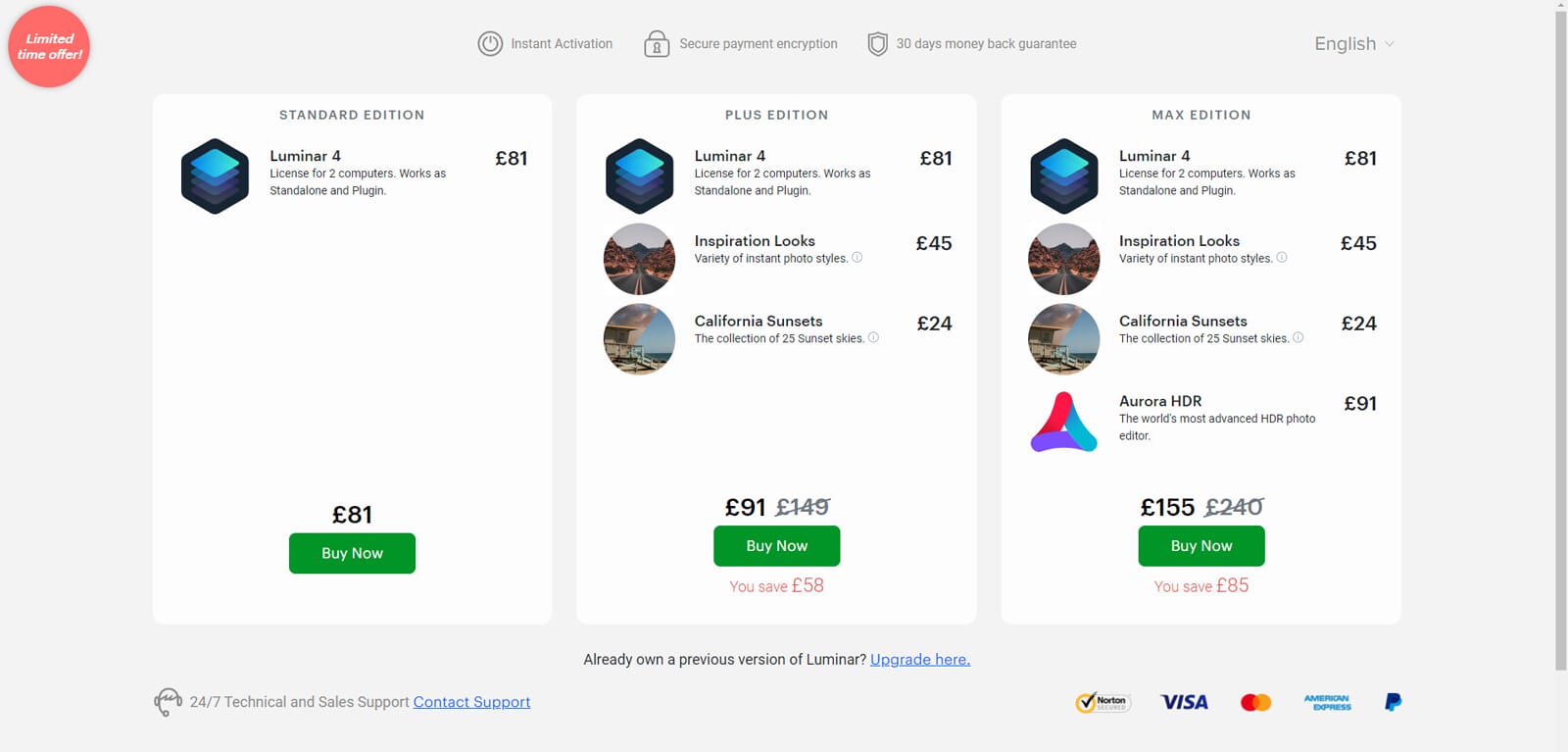 Minimum system requirements
Luminar 4 is available on both Windows and MAC devices. Compared to previous versions, this program appears to have higher system requirements – specifically RAM and storage space. See full details of minimum system requirements below:
Windows
Processor – Intel Core i5 or better
Memory – 8GB of RAM
HDD – 10GB of free storage space
MAC
Mac Model – 2010 or newer
Memory – 8GB of RAM
HDD – 10GB of free storage space
Luminar 4 Review – what new and revamped features are available?
As with any new software release, the first thing we often do is to look at the new features. Luminar 4 has a host of new features. Furthermore, several of the existing tools such as Accent AI have been improved. We have created a full list of new features below, and described some of the features in detail:
AI Sky Replacement
AI Skin Enhancer
Portrait Enhancer
AI Structure
Sunrays
AI Enhance
Smart Contrast
Improved Luminar Looks
Aside from this, Skylum has also improved the library functionality and denoise tools. We have expanded on some of the main new features below:
AI Sky Replacement
This is one of the features we have most been looking forward too. Skylum has been pushing the promotion of Sky Replacement for many months and finally got to try it when making this Luminar 4 review. People had reservations about this tool, but we can say with delight that it is fantastic! Sky Replacement can be used to completely change the sky of a landscape photo and insert a new skyline in its place.

AI technology is advanced and creates a logical mask around the sky areas. You can then select from a number of different sky options and the tool will automatically replace the masked area. In addition, you can change the lighting and temperature of the rest of the photo to match. This tool really does work well – it's simple, and the end results look amazing.

To ensure that the web isn't awash with hundreds of photos with the same replaced sky, users can also upload their own sky images – this provides an excellent level of creativity. We have provided some examples of the Sky Replacement feature in action below:
AI Structure
Another fantastic tool that we enjoyed testing is the AI Structure tool. It is difficult to describe this feature but it basically enhances specific details of the image. The artificial intelligence will analyze the contents of the photo and decide which areas to boost, and which to keep the same.

If we look at the example below, you can see that additional detail, clarity, and contrast has been specifically added to the Cathedral tower and the buildings in the background. These are the main focal points of the photo and thus have been improved. Using the filter, you can increase the amount that is applied and boost the strength.

Furthermore, you can edit the mask that the AI filter applies if you are not 100% satisfied with the selection that has been made. This is another useful tool that can be applied instantly. If you want to make quick edits and improve the details of focal points, AI Structure is a perfect tool.
Sunrays
The AI tools in Luminar 4 just keep on providing – as part of our Luminar 4 review, we looked at the new "sunrays" feature. This is exactly what you would expect – a tool that allows you to inset realistic sun rays into your images. The rays are volumetric – they will filter between objects. Furthermore, you can position the start point of the rays wherever you want on a photo.

In addition to this, there is a myriad of different ray types to choose from. You can also increase the strength of the ways and other settings. Whilst some sunray filters look contrived, Luminar 4 achieves a fantastic end result – the rays look realistic and blend seamlessly into photos:
AI Enhance
The AI Enhance tool combines two artificial intelligence features – AI Accent, and AI Sky Enhancer. Both of these tools are fantastic in their own right. Accent AI has been available since Luminar 3 – this tool analyzes the photo and uses complex algorithms to improve the basic quality of the image. This tool is human-aware and applies selective edits.

AI Sky Enhancer, on the other hand, improves the quality and effect of landscape skies. Let's say, for example, that you have a mundane sky with minimal detail and contrast. Using the AI Sky Enhancer tool, you can make that sky dramatic and have a greater impact on the photo. We feel that both of these enhancement tools are worthwhile – they are easy to use and as with the AI Structure tool, allow photographers to quickly edit their images.
Usability & Performance
Luminar has never been a program that suffers from performance issues. This is the same for Luminar 4. To create our Luminar 4 review, we used a computer that was below the minimum specifications – 8GB of RAM instead of the recommended 10GB. We experienced no issues – the software loaded quickly and the editing process was smooth. Furthermore, even when loading large RAW files, or hundreds of image thumbnails, the program still ran fine.

The general usability is also excellent. The three tabs are clearly split – library, edit, and info. This gives a clear definition to the separate parts of the program. Furthermore, the different menus are logically placed. Finally, the toolbars and editing controls are user-friendly. Most of the tools either use simple sliders or numerical values – users have excellent control and everything can be accomplished with minimal effort.

We would describe this program as the lazy photographer's dream. If you don't want to spend hours editing every last detail of each photo, Luminar is a brilliant alternative.
Photo Management – Library View & Info View
Aside from photo editing, Luminar 4 also has excellent photo management tools. In Luminar 4, the library tab has been improved – the interface looks fresh and clean. Furthermore, it is easy to navigate – by default, photos are shown in a tiled mode as shown below: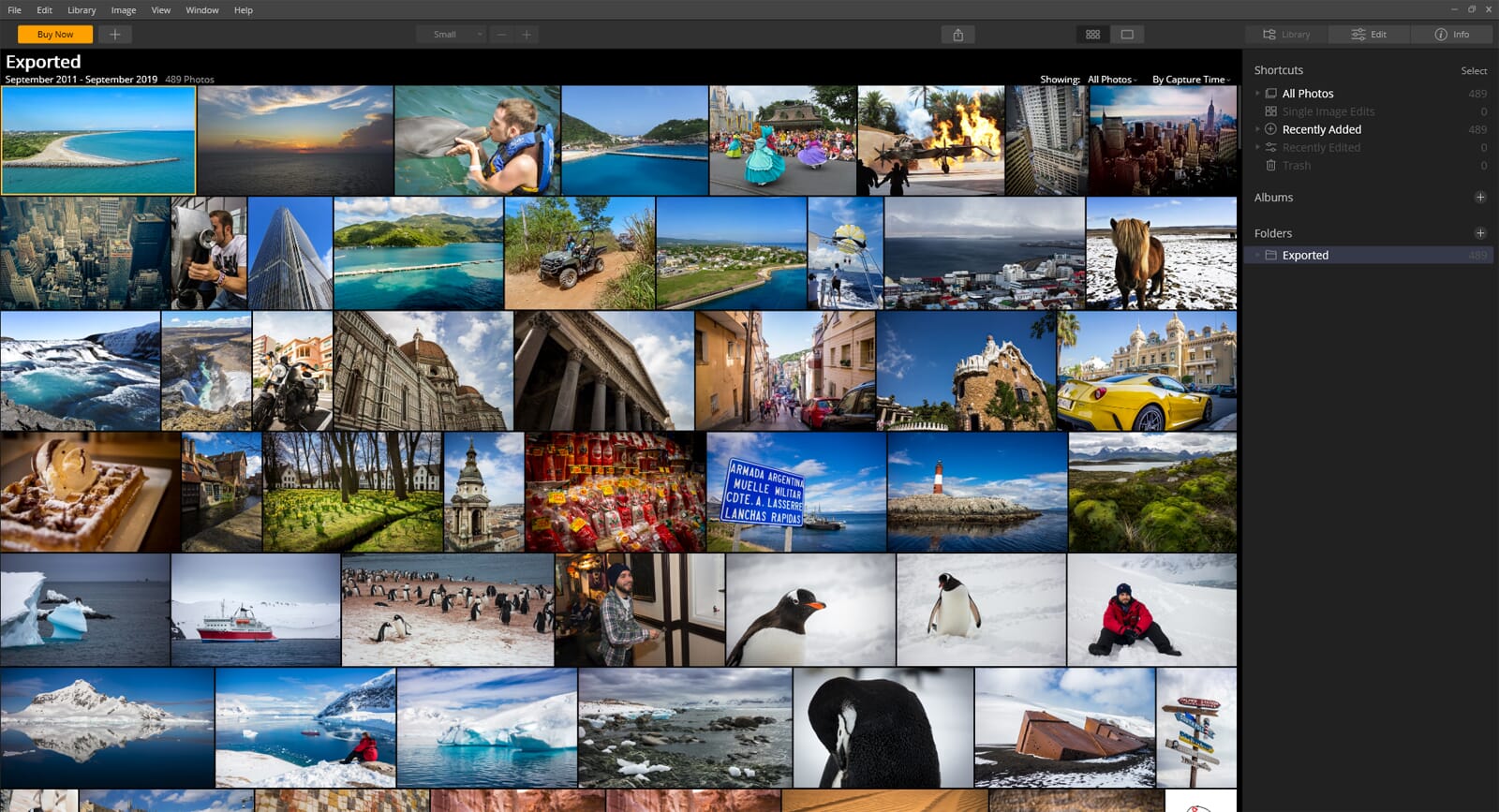 The right-hand panel shows shortcuts and a breakdown of your folder hierarchy. Using the Library view, you can quickly and effectively organize your photos. Even if you have a large volume of photos to view, the program loads thumbnails quickly with no lag. As with previous versions, photos can be assigned ratings including colors, flags, and star ratings. Finally, the library view can be switched to a single-image view – this allows you to scroll through each image separately and see more information and options relating to its editing.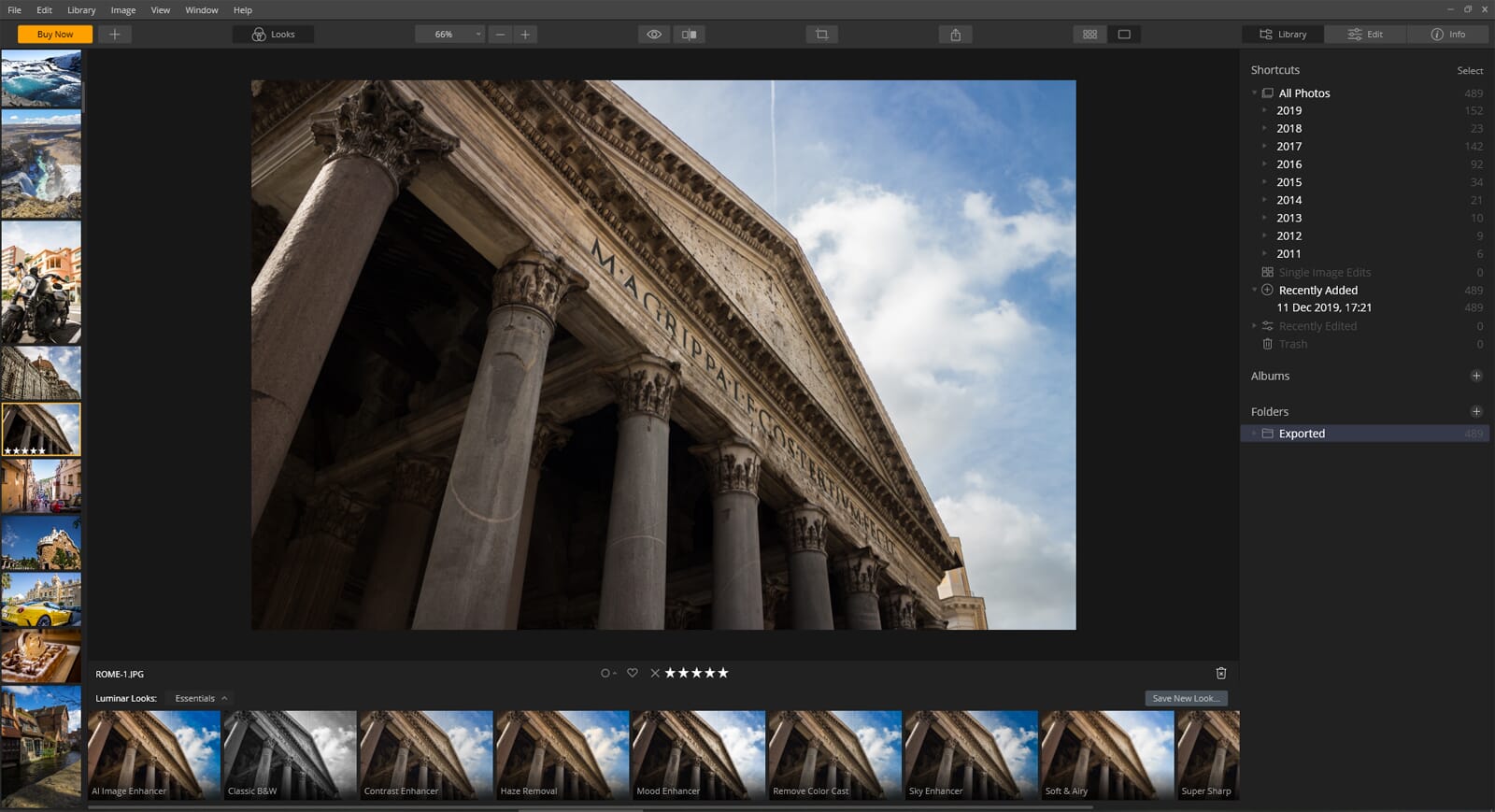 I great feature we noticed during our Luminar 4 review is the ability to find photos taken on the same day. If you right-click on an image and select the "Go to" menu, you can find images taken on the same date as seen below: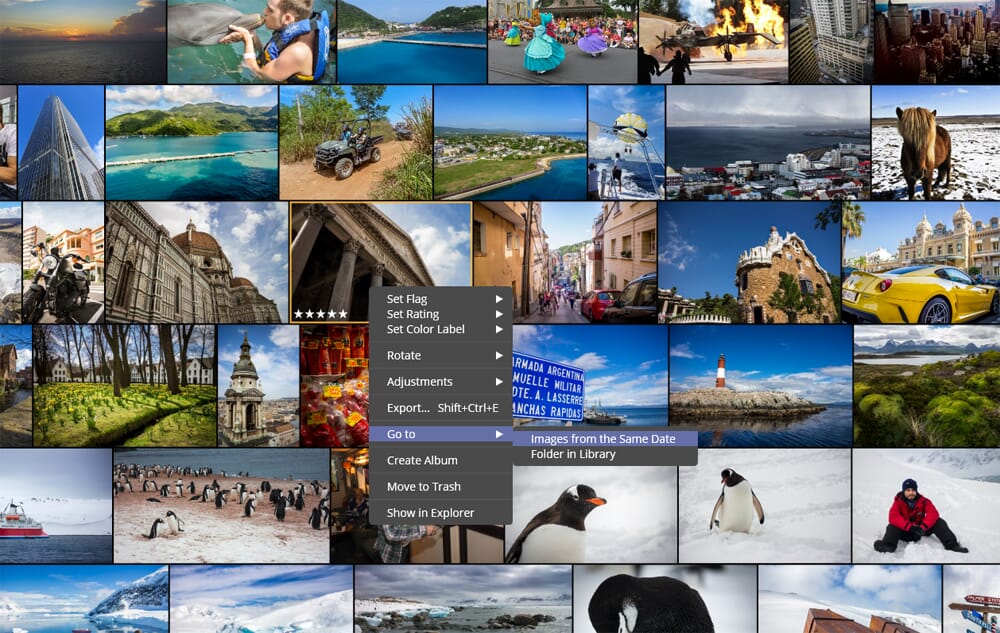 The info viewing tab works well with the library pane. If you click on this pane, you can see useful information such as the camera, lens, ISO, aperture, and shutter speed. This tab offers a quick overview of the image specs.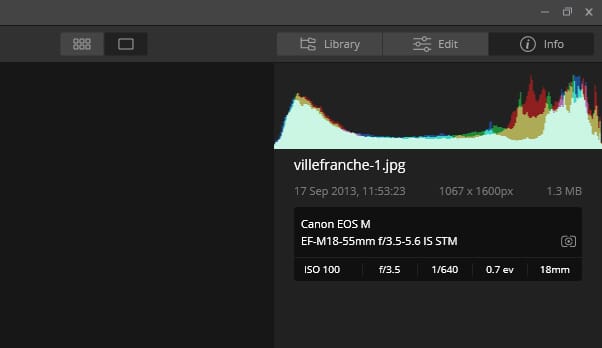 Photo Editing – Improved tabs and functionality
Aside from all the interesting AI tools and new features, we must consider the basic editing functionality. Can you use Luminar 4 effectively to edit RAW photos? Yes! The editing pane has been split into 4 main tabs – essentials, creative, portrait, and professional. Each tab offers a different set of tools and serves a specific purpose.
Essentials – Basic editing tools and AI features
Creative – Artistic filters like Sunrays
Portrait – Specific tools for editing portrait photos
Professional – Full range of tools
We feel this tabbed approach offers great control. Furthermore, it allows you to edit photos without having a huge array of unwanted tools and sliders to trawl through.

The basic editing remains fantastic. You can quickly apply AI filters using the sliders. Furthermore, all basic image parameters such as contrast, clarity, saturation, and temperature can be edited quickly. It is clear that despite the push towards AI editing, Skylum has still given Luminar 4 the basic tools most photographers still require.
Luminar Looks – a greater range of looks and pre-set filters
Luminar software historically includes a selection of "looks" – these are essentially pre-set filters that re-create different artistic styles. This software also has an improved range of looks available. These looks range from simple edits like black and white, and sepia, to detailed filters that emulate retro photography, for example.

We tested out a handful of these filters – the whole process is simple. The looks toolbar is located at the bottom of the edit screen – simply click on a thumbnail and the look is instantly applied. Furthermore, you can then change the intensity of the filter.

This remains a solid feature of Luminar and provides excellent creativity for photographers, and those creating digital marketing. We still feel that all the looks should be included in the basic price plan – as it stands, you have to purchase some looks, on top of the program price. We have created some examples of Luminar Looks below:
Should you purchase Luminar 4?
We hope you have found this Luminar 4 review enlightening. We would recommend this product based on the awesome AI tools alone. Features like Sky Replacement and AI Enhance are just too good to miss out on. If you want a quick and efficient editing program, Luminar 4 is a great choice.

Not only does it provide an easy editing process, but it also provides quality photo management and a superb set of basic editing tools. This is complemented by the intuitive layout, steady performance, and overall user-friendly design.
Pros
Fantastic AI tools
An improved set of Luminar Looks
Improved library management
Cons
Additional Luminar looks must be purchased
Get the new Luminar 4 by Skylum