There is a range of photo editing programs you can buy and two of the most popular are Skylum's Luminar 4 and Adobe's Lightroom. Both of these programs offer powerful RAW editing and a host of useful features for professional photographers and even more casual users. In this article, we give you a thorough Luminar 4 vs Lightroom comparison to see if there is a clear winner when it comes to these two editing programs.
When you buy through links on our site, we may earn a commission at no cost to you. We evaluate products independently. Commissions do not affect our evaluations.
Luminar 4: Overview
Luminar 4 is the flagship photo editing software from Skylum. It is a popular choice due to its ease of use and its emphasis on AI-enhanced tools. Luminar 4 is the latest version and has many improvements and new features.
Some of the fantastic AI tools include AI Sky Replacement, AI Skin Enhancer, Sunrays, and AI Structure. Using this program, you can quickly and effectively edit your photos with minimal effort. We have listed some of the pros and cons below:
Pros
Excellent AI-enhanced tools
A simple and user-friendly interface
Brilliant sky replacement tool
A good choice of presets
Cons
May not have as detailed photo management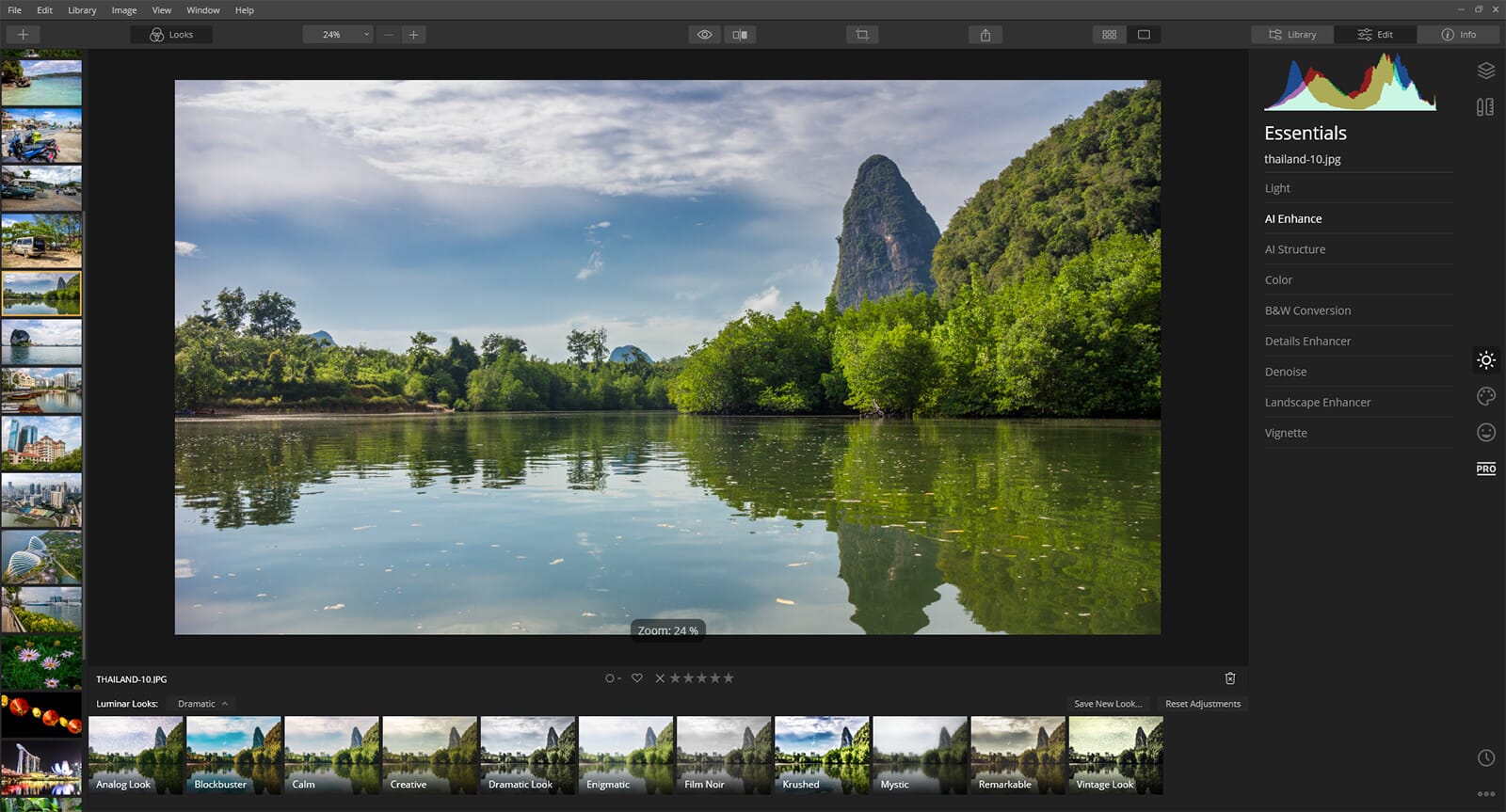 Lightroom: Overview
Before I jump into what Lightroom has to offer, let me make a distinction. In this Luminar 4 vs Lightroom review, I am specifically looking at Lightroom Classic. There is also a Lightroom CC version offered with the Creative Cloud package.
Related Post: The Difference Between Lightroom and Lightroom Classic Explained
Lightroom Classic is an amazing program that gives full control over the editing process. You can fully edit RAW photos with a high degree of control. This is due to advanced tools like graduated filters, radial filters, and adjustment brushes. I would say that Lightroom is geared more towards in-depth professional photo editing.
Pros
A reliable and robust set of tools
Great control with tools like Graduated Filters for precise editing
A superb photo management system
Full support for multiple cameras and lenses
Cons
Some could find it difficult to use at first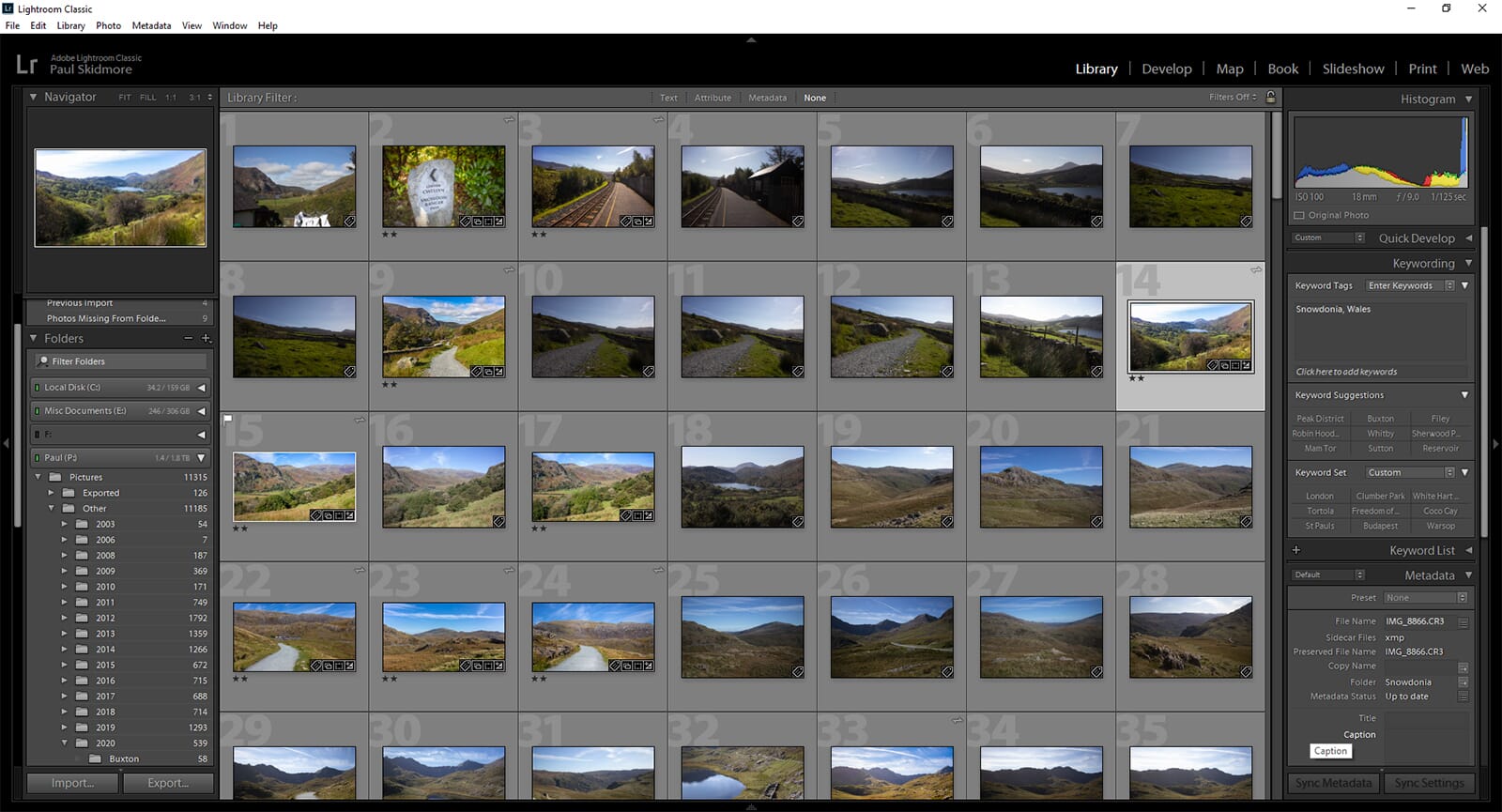 Luminar 4 vs Lightroom – Feature Comparisons
So how do these two editing programs compare? I use Lightroom Classic as my main photo editor so I have a lot of experience using it. I have also used multiple versions of Luminar in the past and I've spent time testing Luminar 4. Below, I break this Luminar 4 vs Lightroom comparison into different sections so you can see how the various features and aspects compare.
Usability
I generally find Luminar 4 easier to use. Some of the features are quite well-hidden, but overall, it's simple to follow. It has clear tabs like Lightroom and you can easily switch between the library and edit screens. There is also a useful info tab that shows all the photo metadata. It also uses simple sliders and everything is relatively self-explanatory
In contrast, Lightroom could be considered more difficult to use. The tools and features it has are user-friendly, but there is a lot of them. I like the simple sliders for editing. Also, I like the non-destructible editing and the simple way you can look at your editing history to undo specific changes.

Lightroom also looks great – it has a clean and modern interface and you can customize the layout to suit your needs. However, I still feel that Luminar 4 is the easier program to use for beginners.
Interface
Luminar 4 has quite an understated interface. You could feel that the main edit screen feels a little cluttered, but otherwise, it has a logical interface. Your image library is shown on the left, a preview pane is in the center, and on the right, there are the main toolbars. As mentioned above, the interface is clearly split into the edit, library, and info tabs which I like.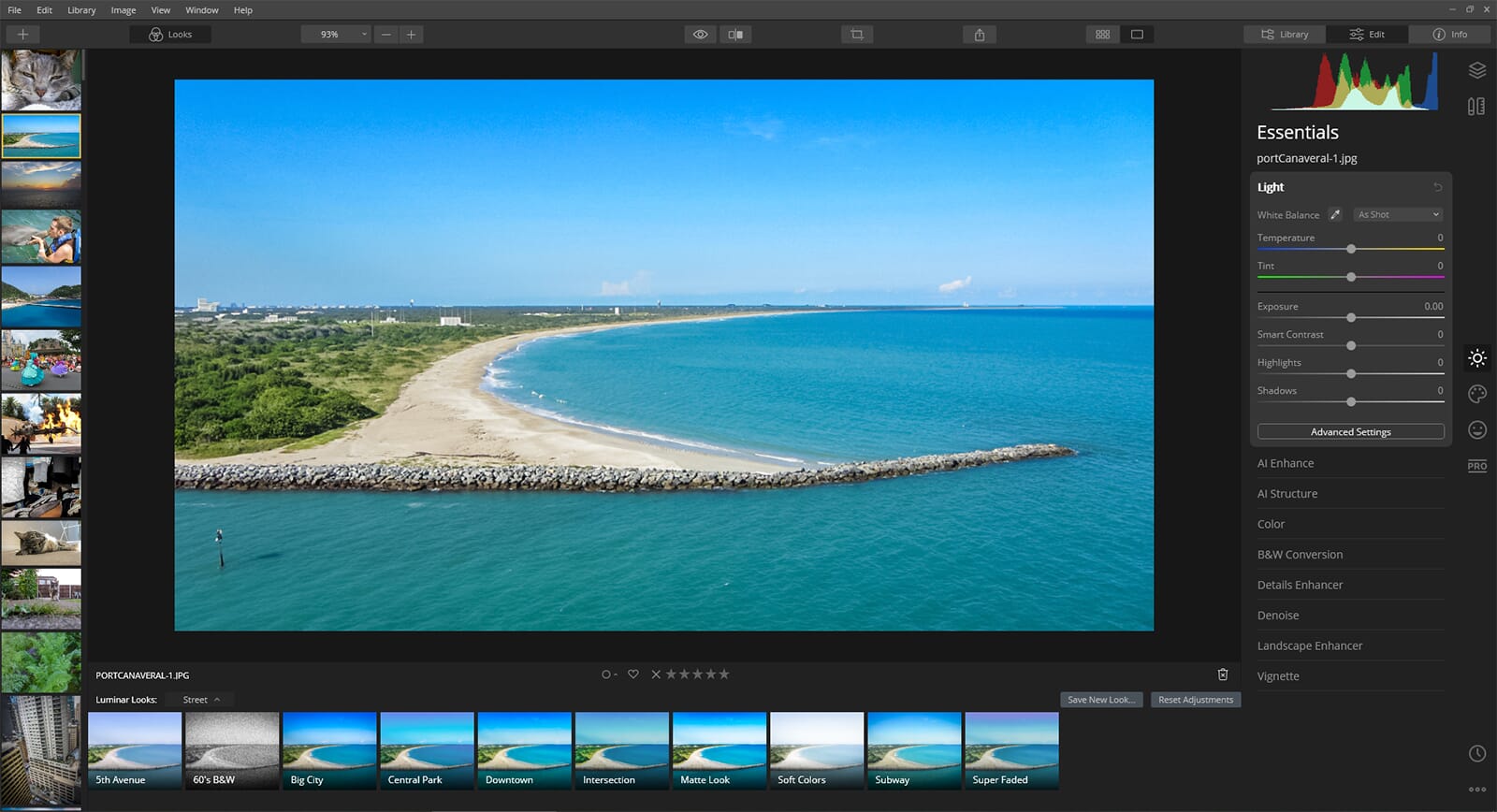 I feel that Lightroom's interface could be considered more complex and overwhelming. There is a lot going on. I have been using Lightroom for years, so I am comfortable with the interface. However, beginners may not know where to start.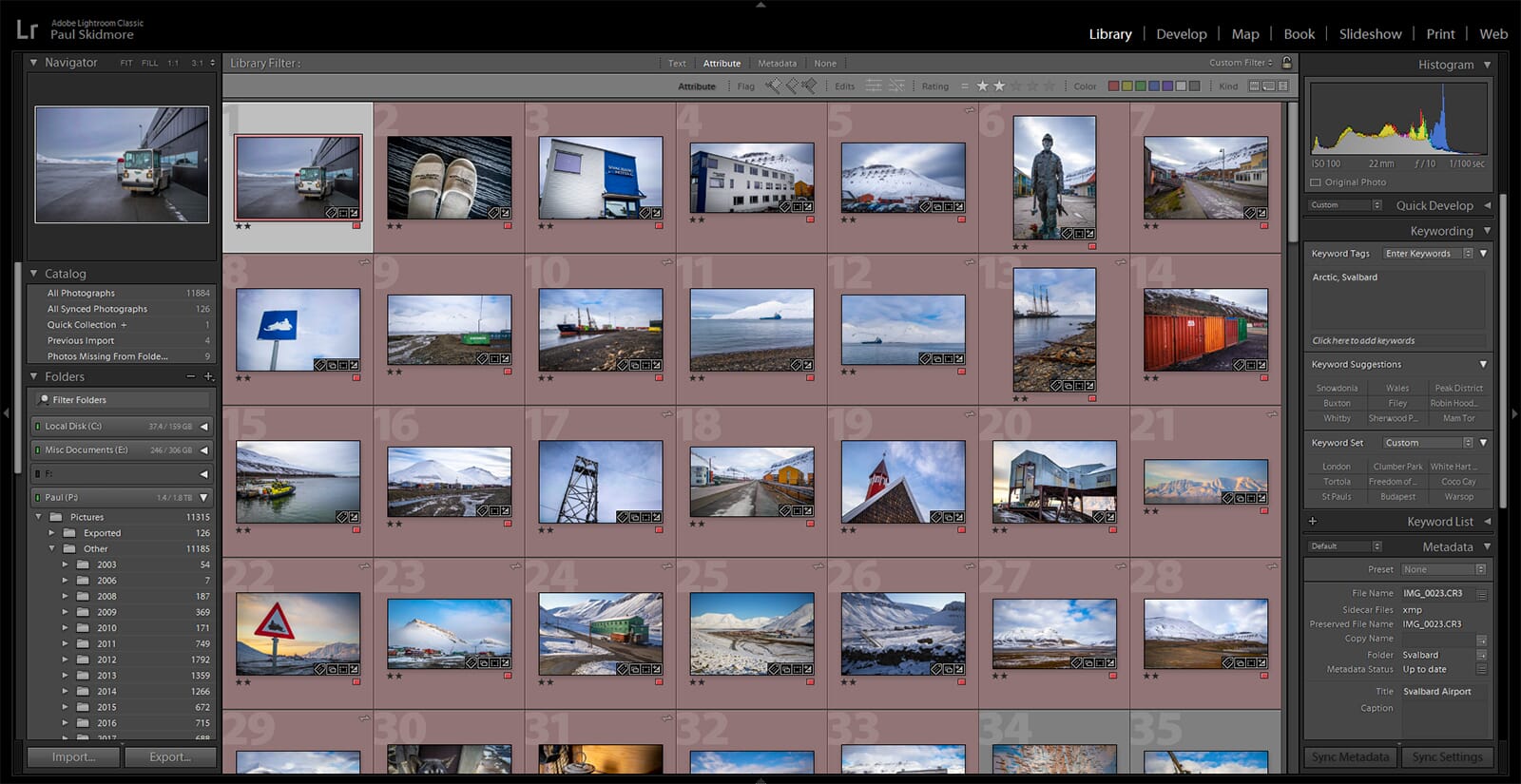 The basic interface is split into tabs such as library, develop, print, and web. This gives a clear process and clear sections. In addition, each tab generally uses a similar layout – a left-hand toolbar for management, a central viewing pane, and a right-hand toolbar for the editing/tools.
Photo Management
I feel Luminar's photo management is OK, but not fantastic. The library view is where you manage your photos. It shows all your photos in the current folder selected in a thumbnail display which is visually pleasing. Also, you can easily navigate through your photos using the right-hand folder navigation pane.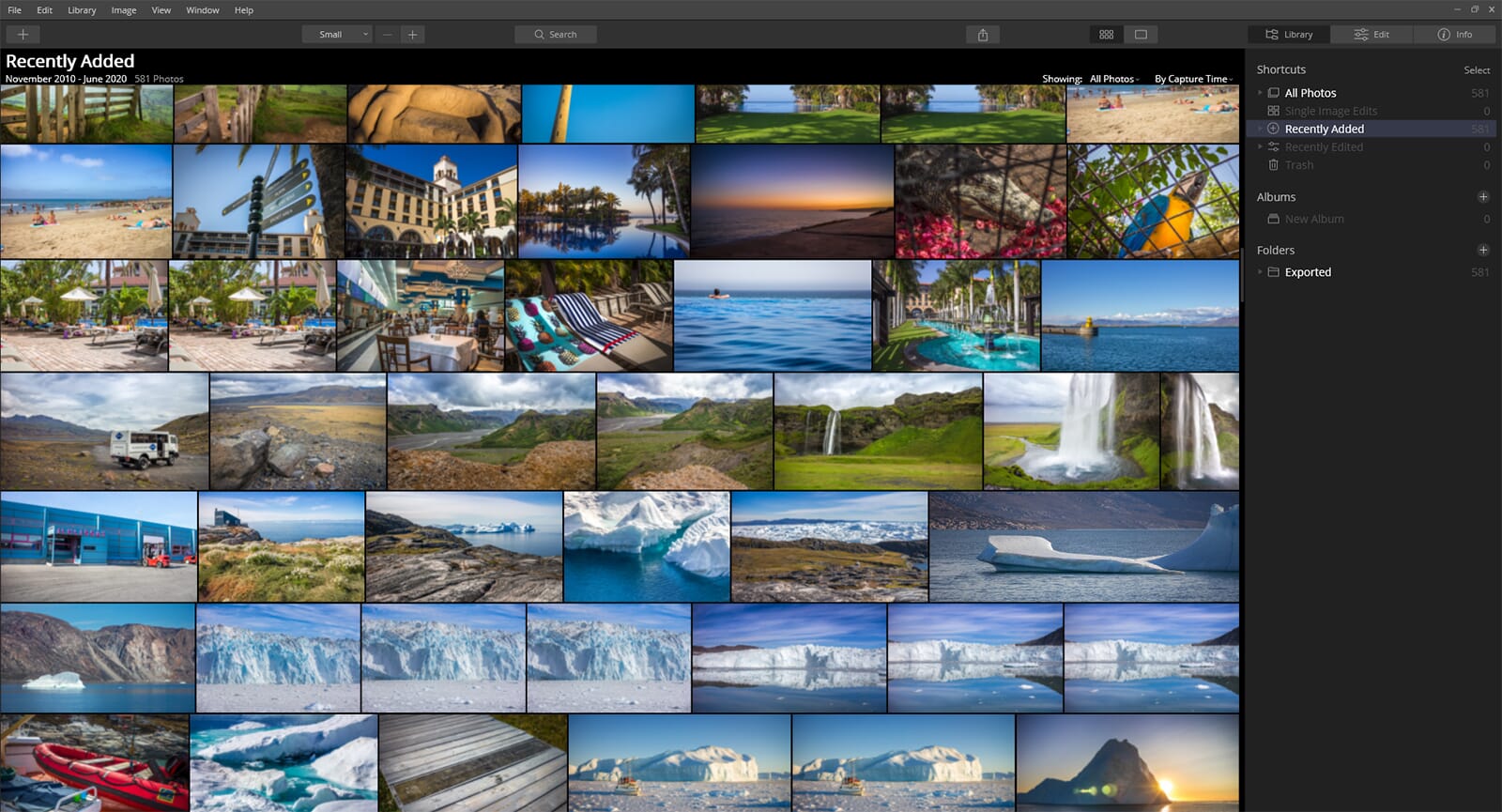 Also, like Lightroom, you can assign ratings such as star ratings and colors to your photos. This allows you to manage your images easily. However, I just feel the features and detail are lacking somewhat compared to Lightroom Classic.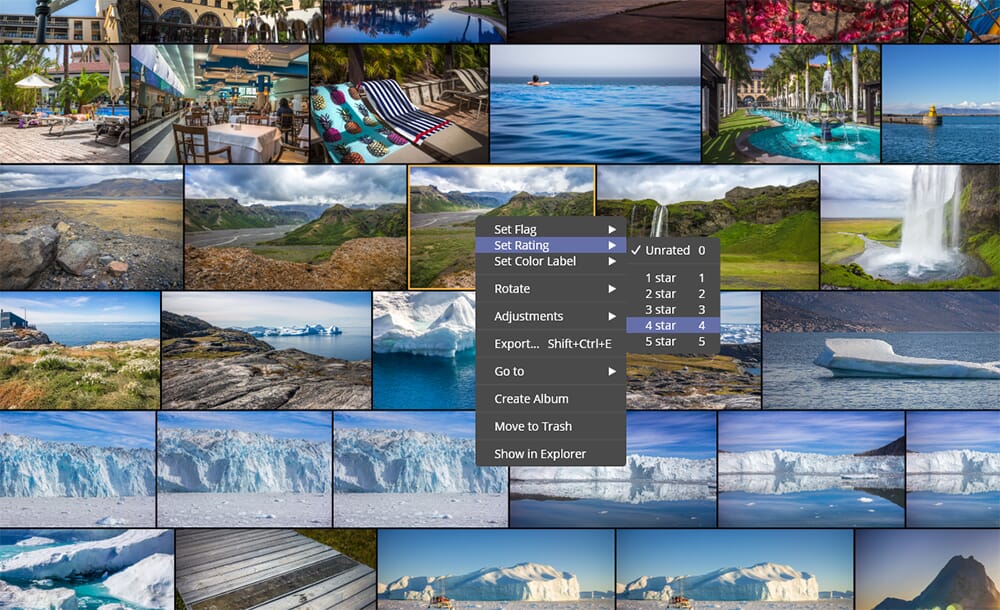 For me, Lightroom offers far superior photo management. The library tab has everything you need to manage your photos, and easily search for them. To start, you have a full folder view and you can create detailed folder hierarchies. Also, you can create "collections" that incorporate specific photos such as photos with a certain keyword.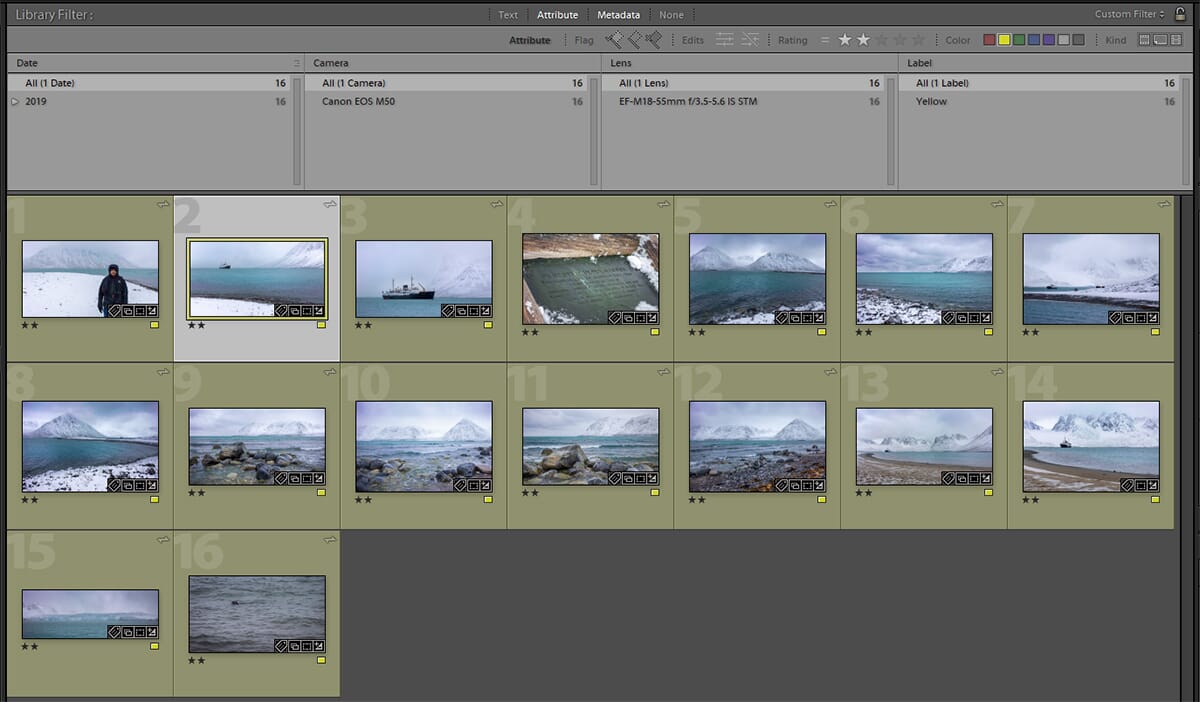 If like me, you have a huge photo collection, you need to be able to sort and find photos easily. Lightroom enables this in several ways. Firstly, you can assign photos star ratings, colors, and keywords. Secondly, you can then perform advanced searches using these different criteria. It really makes navigating a large photo collection simple. Additionally, you can enter a myriad of photo metadata such as title, caption, and GPS location.
Preset Editing
When comparing these two programs, I always look at the preset functionality. Most editing programs have presets that you can apply to quickly transform your photos into specific styles
Luminar 4 has a great selection of presets called Luminar Looks. I feel Luminar 4 offers a far greater selection of presets compared to Lightroom Classic. You can also create your own presets using current editing settings.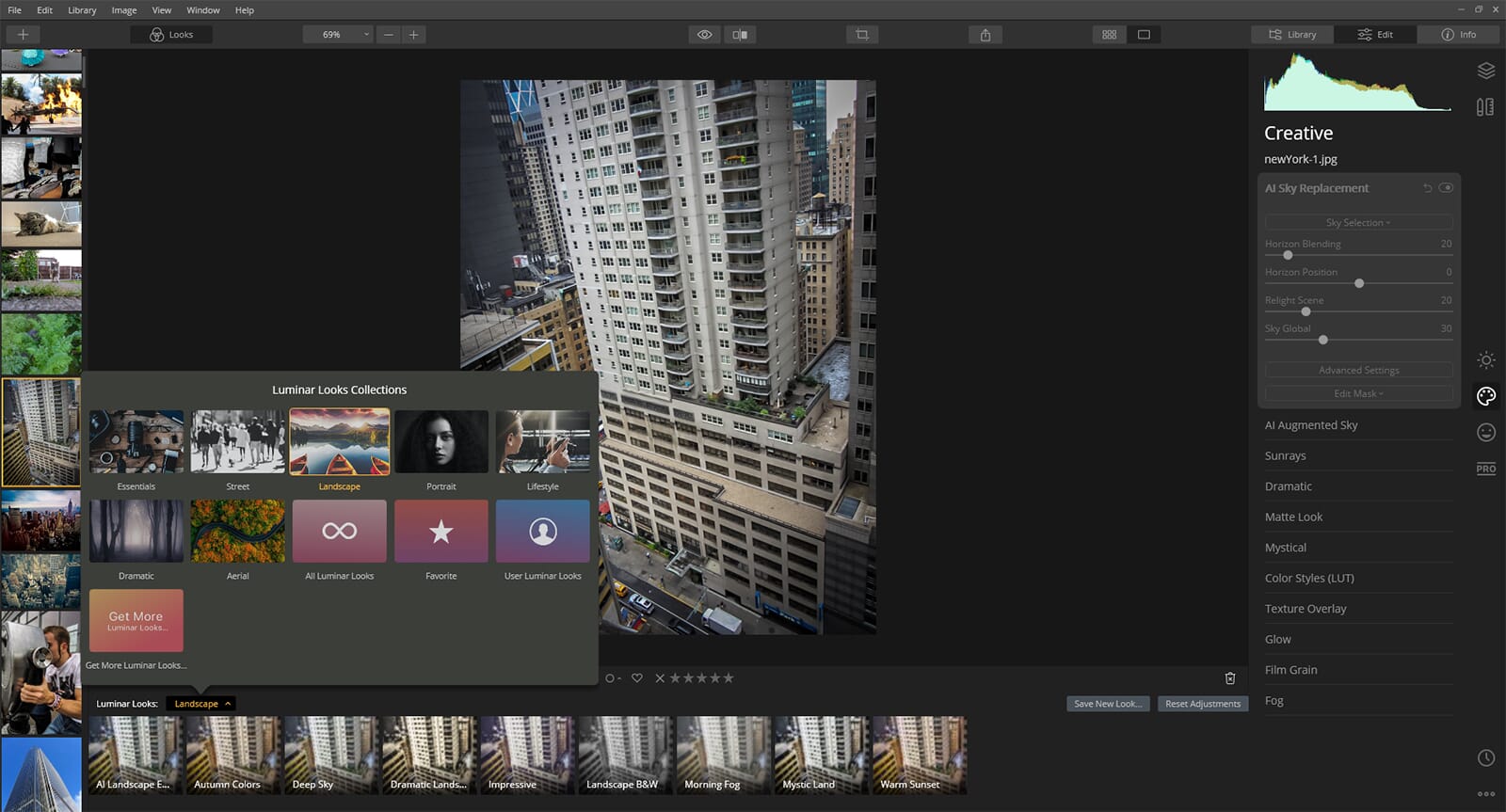 Lightroom has an OK selection of presets but it is by no means extensive. I feel Lightroom's presets should be considered a starting point – apply the preset to give a basic style, and then edit further. Like Luminar 4, Lightroom also offers the capability to save and create your own editing presets.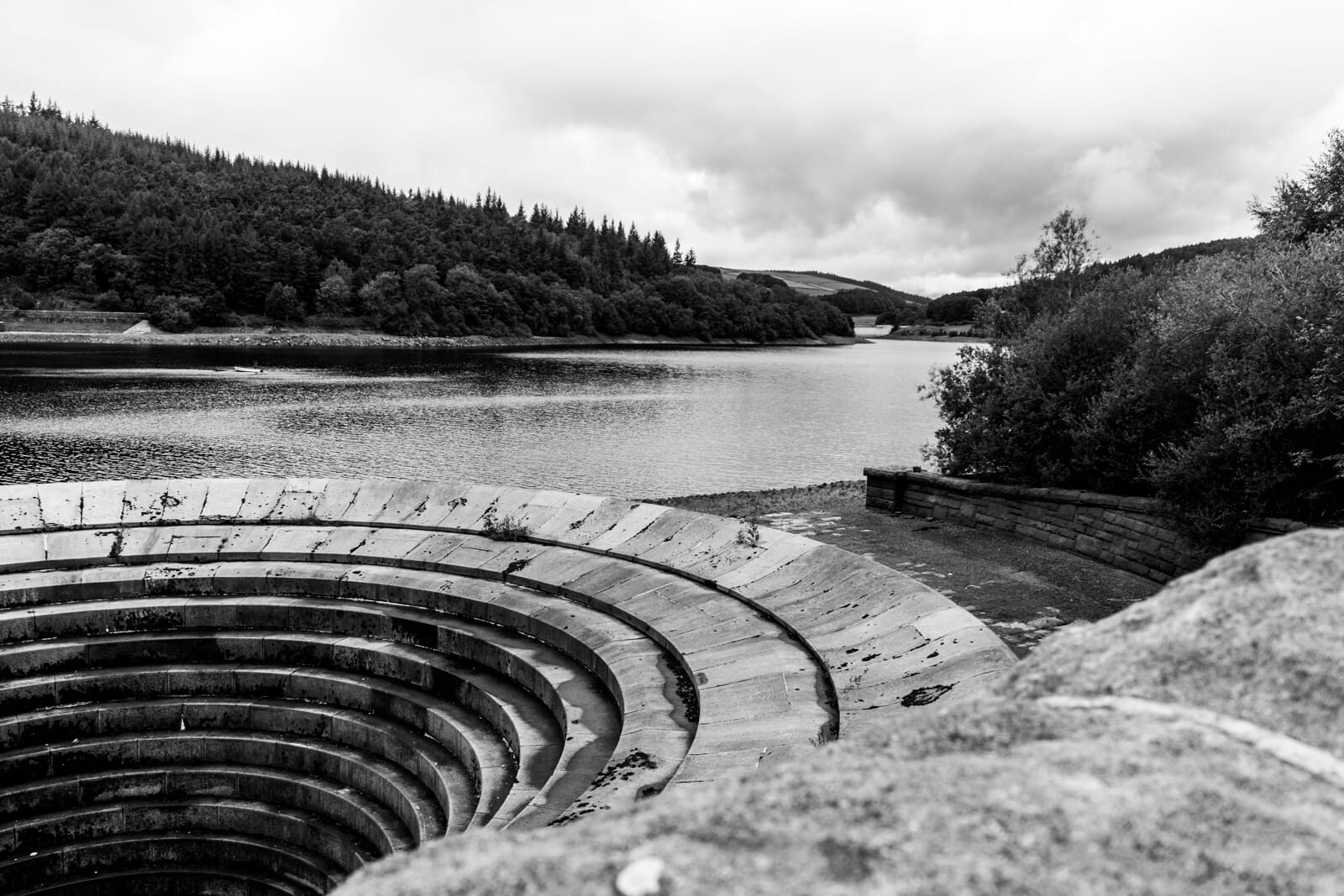 RAW Editing
One of the main aspects I look for in editing software is the RAW editing capabilities. Both programs are capable of editing RAW image files which gives you greater control
One of the main aspects I look for in editing software is the RAW editing capabilities. Both programs are capable of editing RAW image files which gives you greater control.
Luminar 4 has a full set of RAW editing tools. When in the edit tab, you can easily change basic image parameters. It really excels, however, with AI-editing. There is a mind-boggling array of AI tools including – AI enhance, Sky Replace, AI Structure, AI augmented Sky and Sunrays. These are easy to use and you can do some fantastic things to your photos with minimal effort.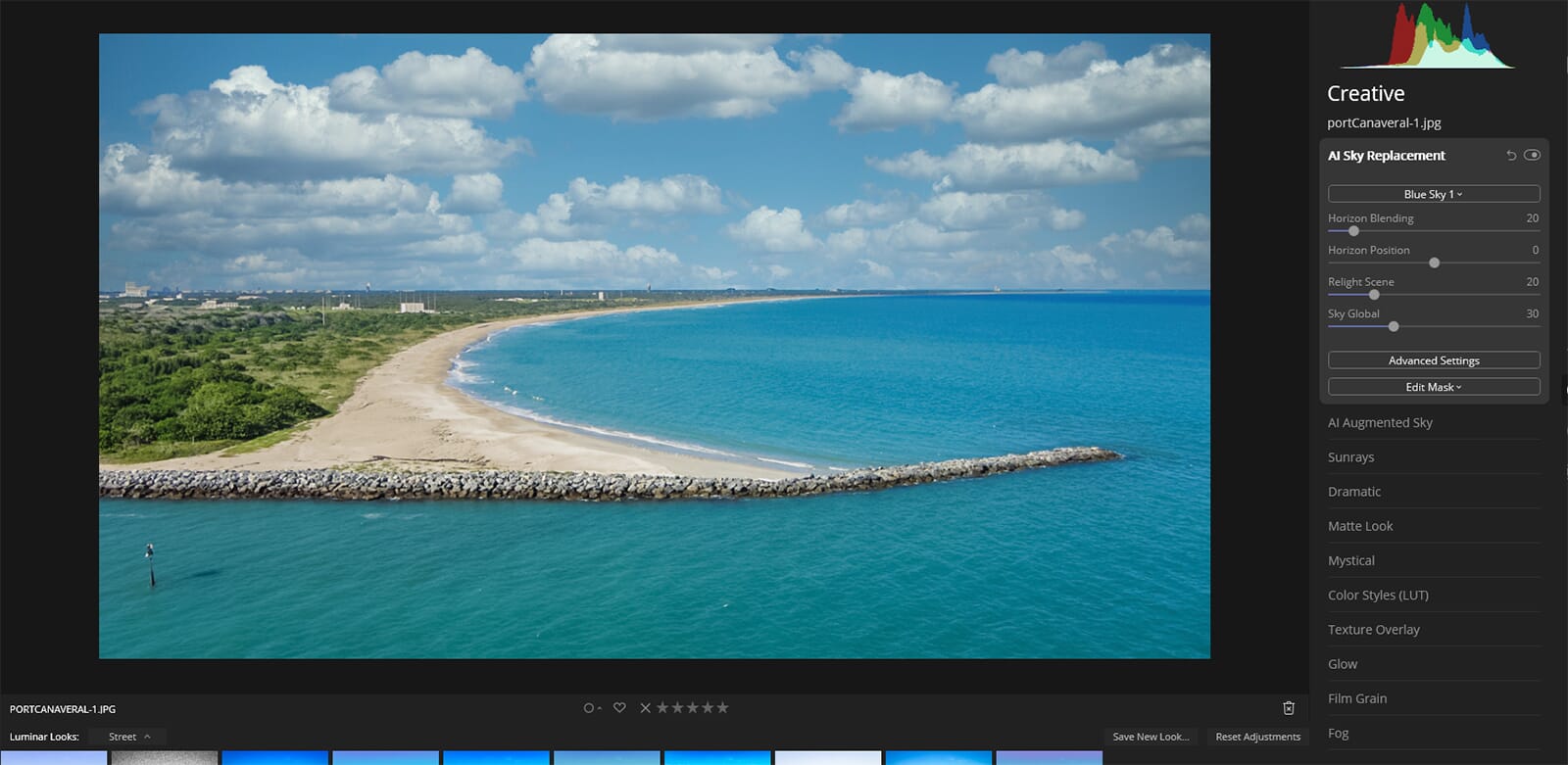 You can use adjustment tools to such as a graduated filter, and radial filter, but these are somewhat more difficult to find than in Lightroom.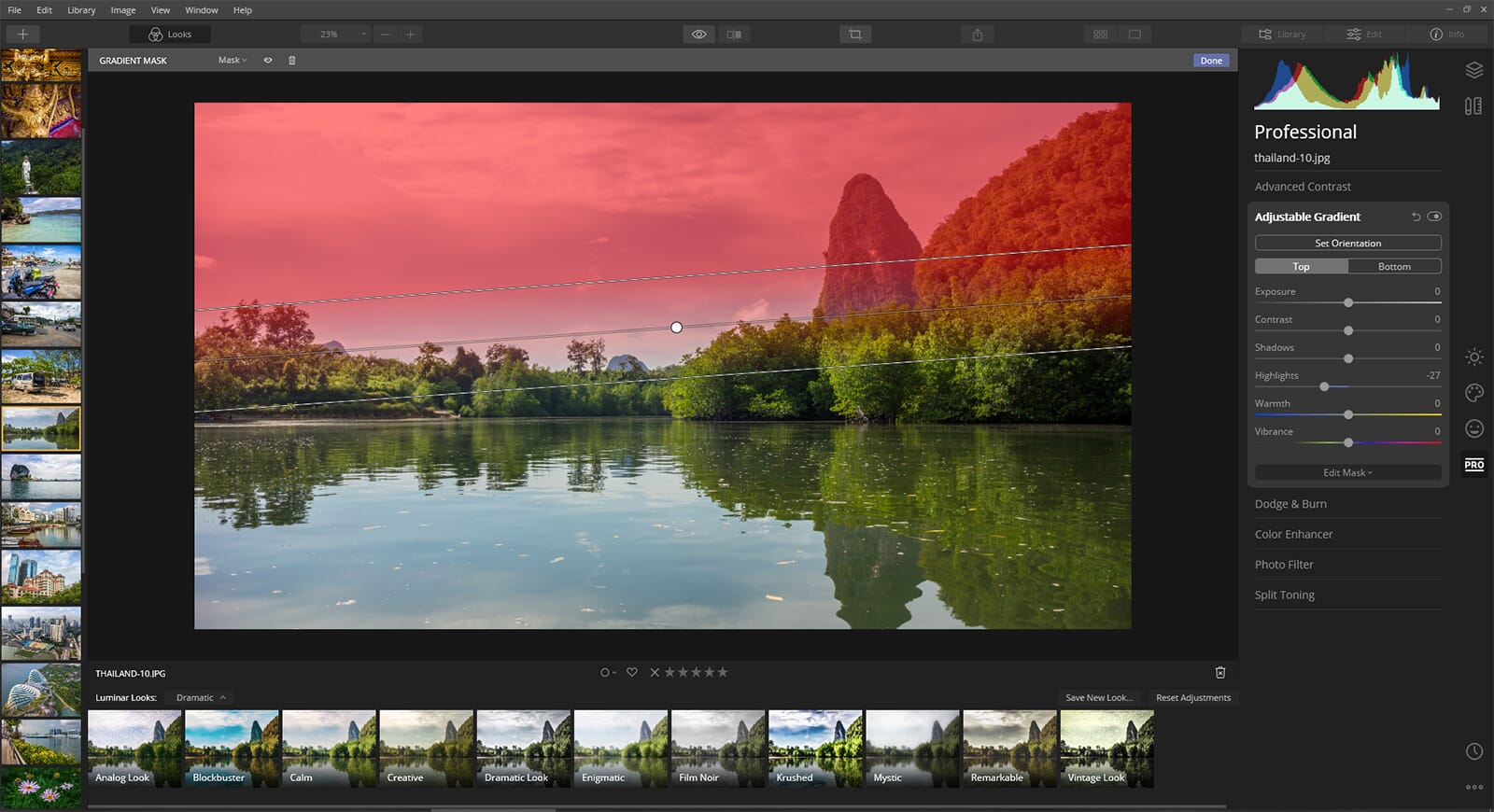 I feel that the RAW editing features for Lightroom Classic are superior to Luminar 4. The level of control you have is fantastic. You can edit photos to a minute detail using the various sliders such as highlights, saturation, and temperature.
Lightroom goes further than this, however, and has a selection of adjustment tools. The graduated filter tool, for example, allows you to apply an edit to a particular area of your photo that fades out towards the end. This is great for use on skylines, for example. Also, I love the radial filter tool which has a similar function but applies a faded edit to a circular area. These tools offer excellent control and allow you to edit specific areas of your photos.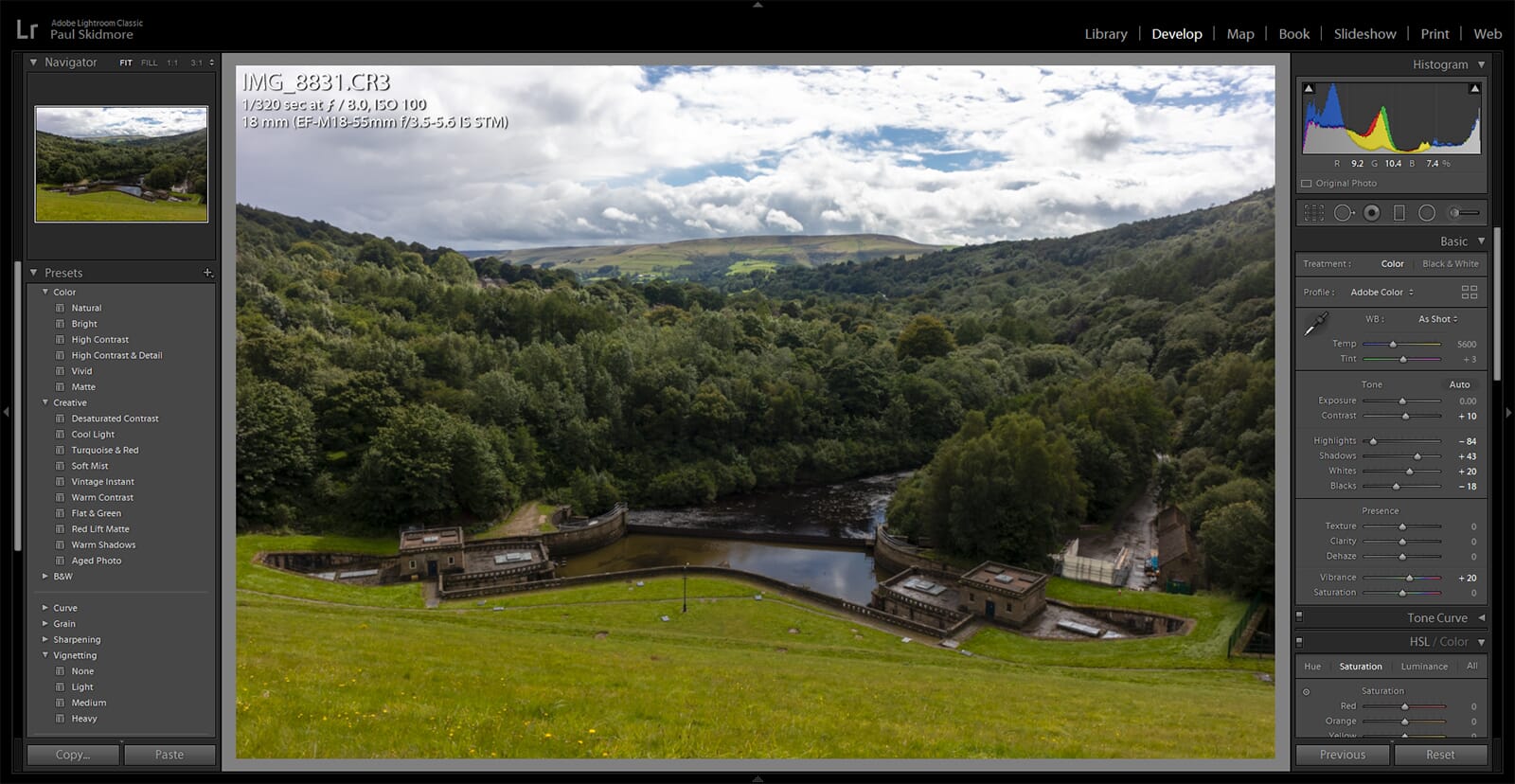 Healing and Object Removal
When photo editing, I often want to quickly remove objects from my photos. As a result, in this Luminar vs Lightroom comparison, I looked at the healing and object removal tools.
Luminar 4 does have erase, clone, and heal tools, and basic transformation tools. I found these tools difficult to find initially, however, compared to Lightroom – you have to open the "Canvas" toolbar in the main editing tab. The tools work fine and you can remove objects and clone areas with relative ease. One thing to note is that when you select one of the tools, it opens a whole new editing window which can be a little slow.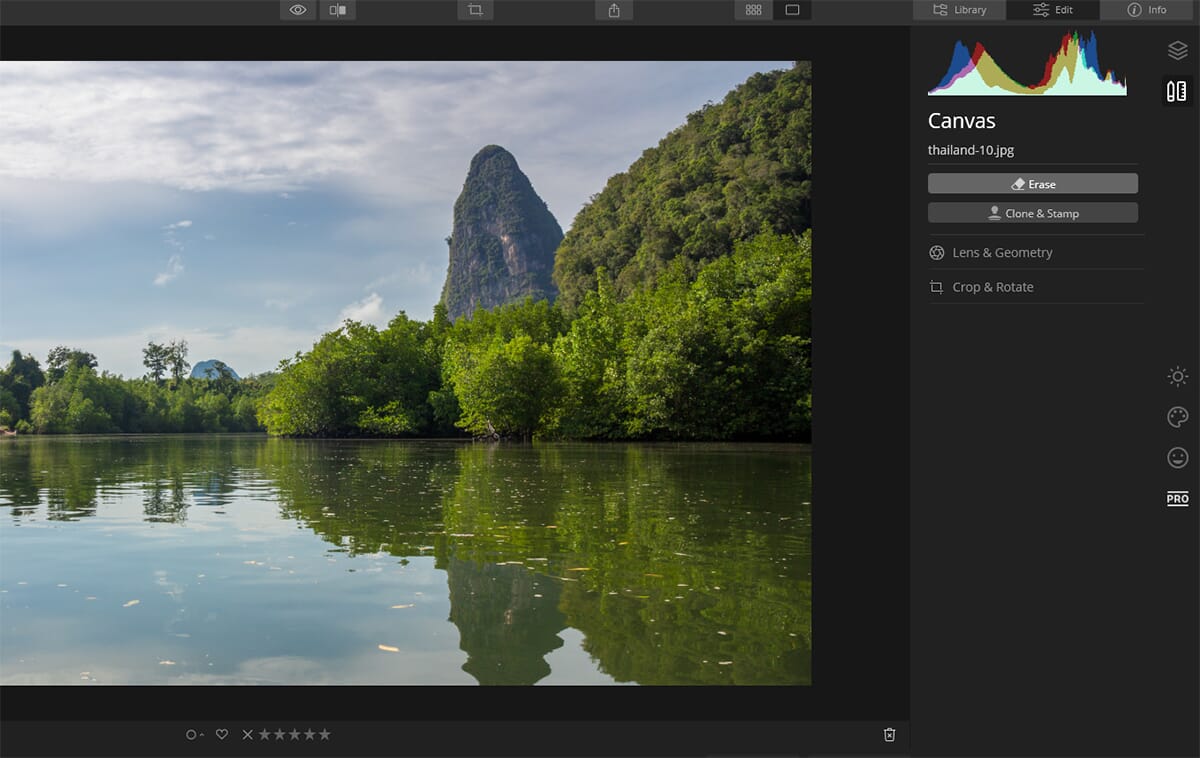 In Lightroom, you are given greater control and the healing process is largely manual. This is achieved via the clone and heal tools. They are relatively easy to use and the results are great. The clone tool duplicates similar areas whereas the heal tool uses AI to determine the best healing option. For both tools, you can manually adjust the cloned or healed selection areas afterward if the match isn't perfect.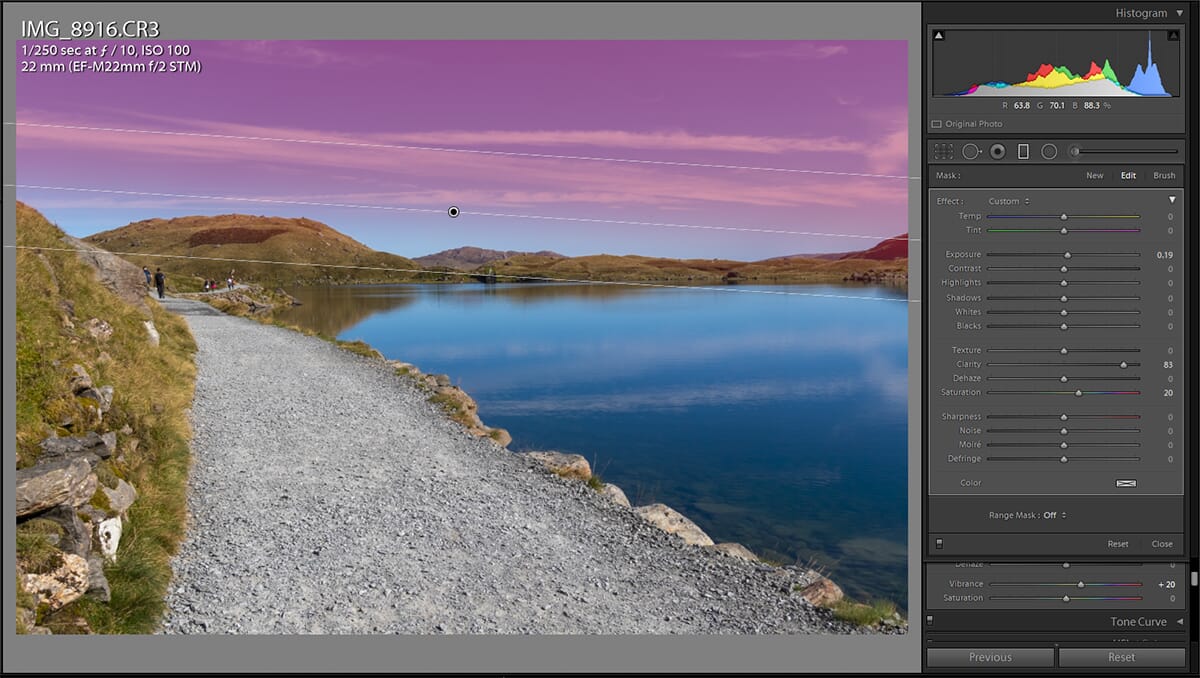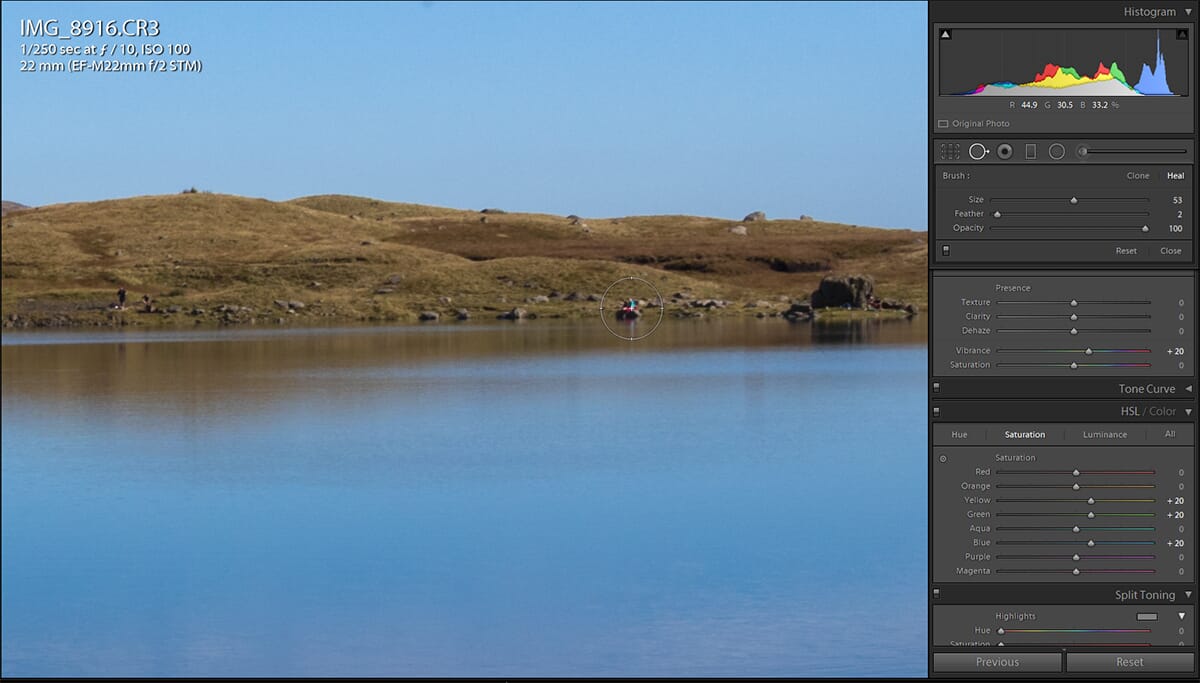 Camera and Lens Support
Support for cameras and lenses is also important for professional photo editing.
Luminar 4 has good support for a wide range of cameras and lenses. You can easily see the camera and lens info using the "info" tab. However, I feel Luminar 4 does not offer the same degree of control for automatic correction as Lightroom.
Lightroom has fantastic support for a huge range of cameras and lenses. It automatically detects the camera type and all the associated photo settings using the image file's metadata. When editing your images, you can also use the profile correction feature which automatically removes any distortion like vignetting or chromatic aberration.
Pricing
Pricing is always a factor when choosing what software works for you. Skylum and Adobe use a different approach to pricing. For example, Luminar 4 is available as a single-product purchase with a one-off cost. In contrast, Lightroom is only available via a monthly subscription
If you don't want to commit to a monthly subscription, Luminar 4 is definitely the better choice. For a single-user license, it costs just $54 which I feel is incredibly cheap for the features and utility you get. There are also upgraded packages that include other Skylum software like the upcoming Luminar AI, and Aurora HDR.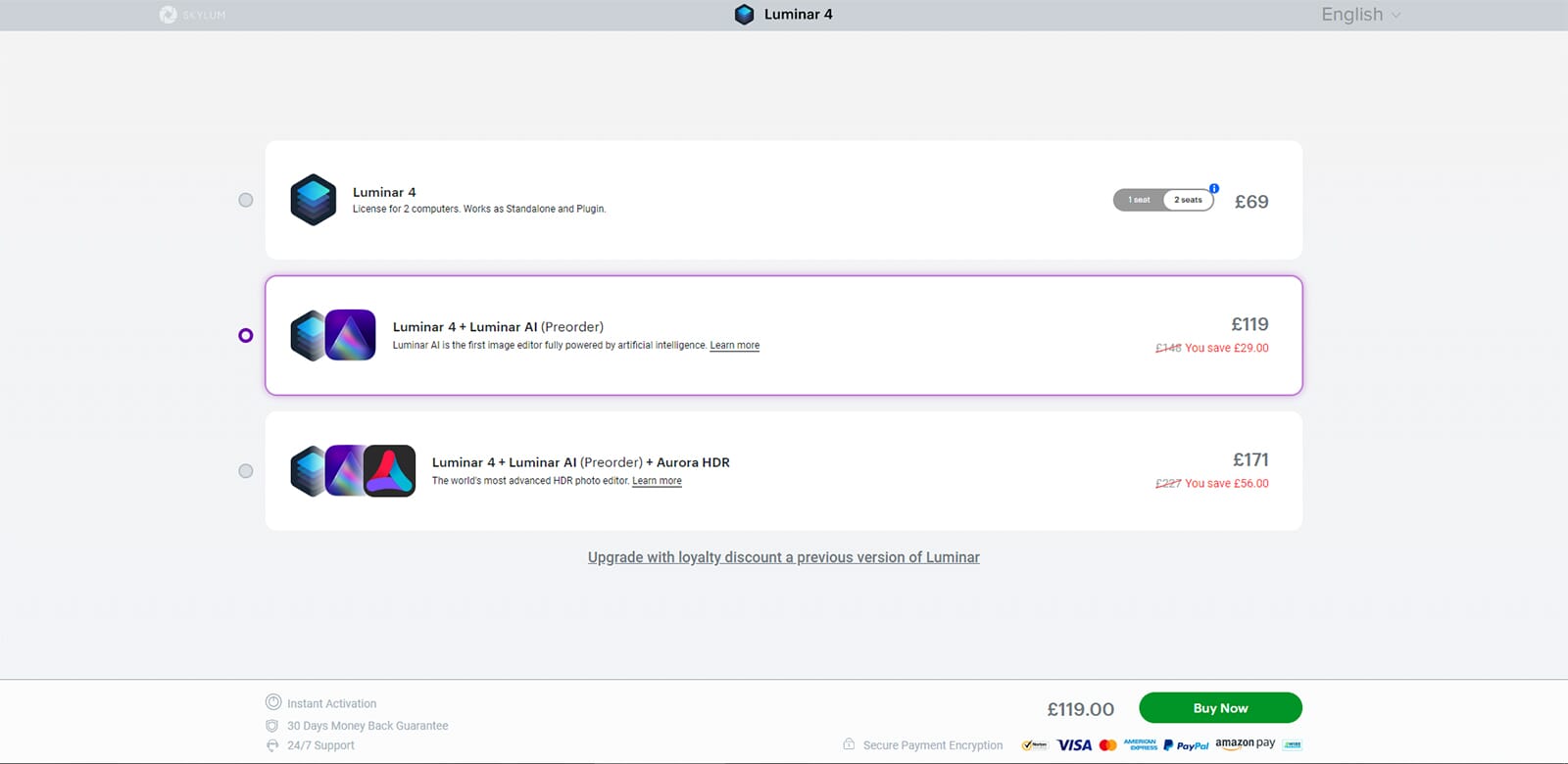 In contrast, the minimum you can pay for Lightroom is $9.98/month. The benefit of this, however, is that you get Lightroom Classic, Lightroom CC, Photoshop, and 20GB of free cloud storage. You also get access to a host of other Adobe Creative Cloud software like Adobe Express. I can understand that many people may be apprehensive about paying for a software subscription, but I feel the basic "Photography" package from Adobe is good value.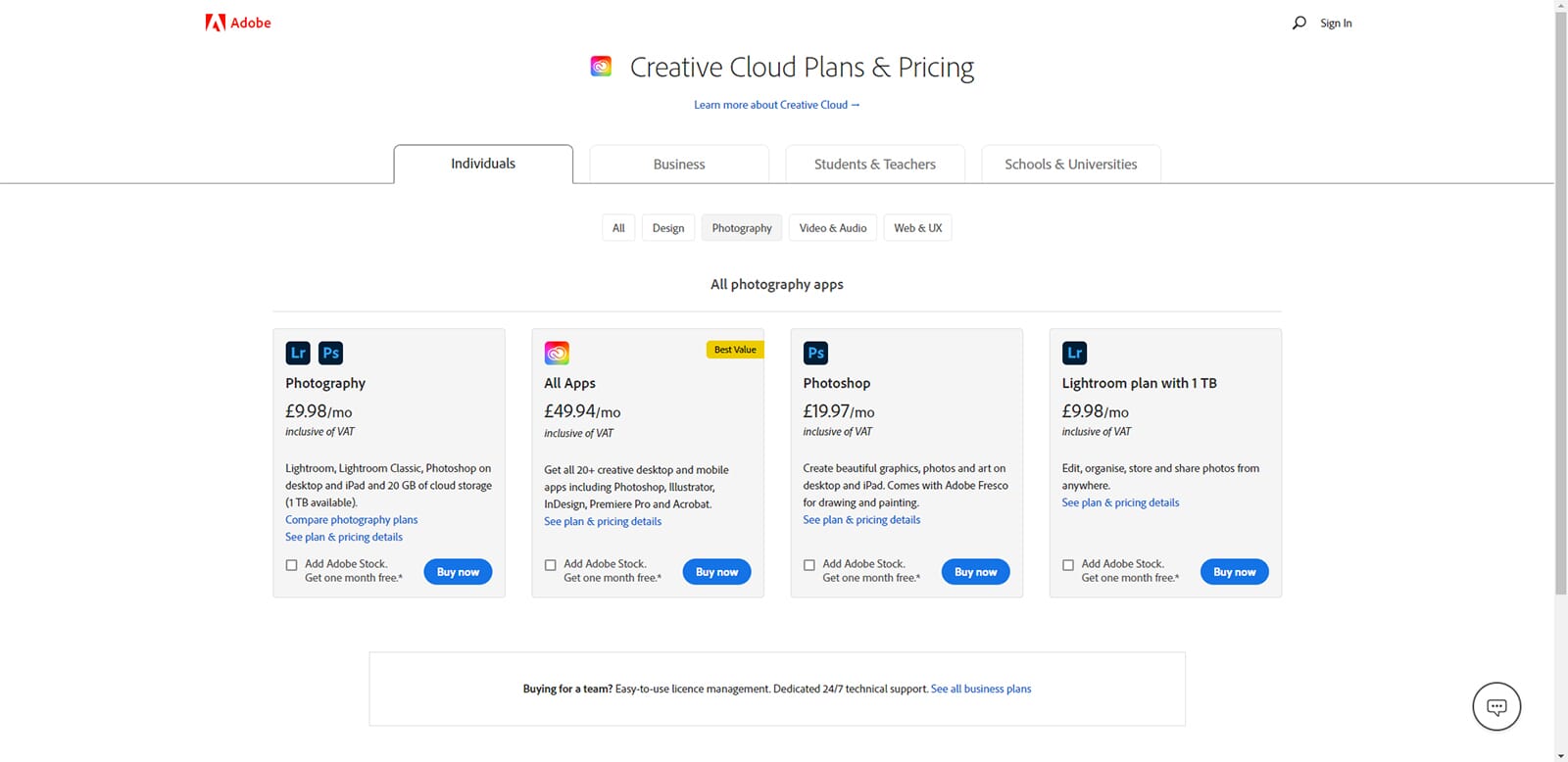 Edited Photo Examples
To show you what each program is capable of, I have fully edited some of my own photos so you can see what the software is capable of. To view a larger preview of each image simply click on the thumbnail: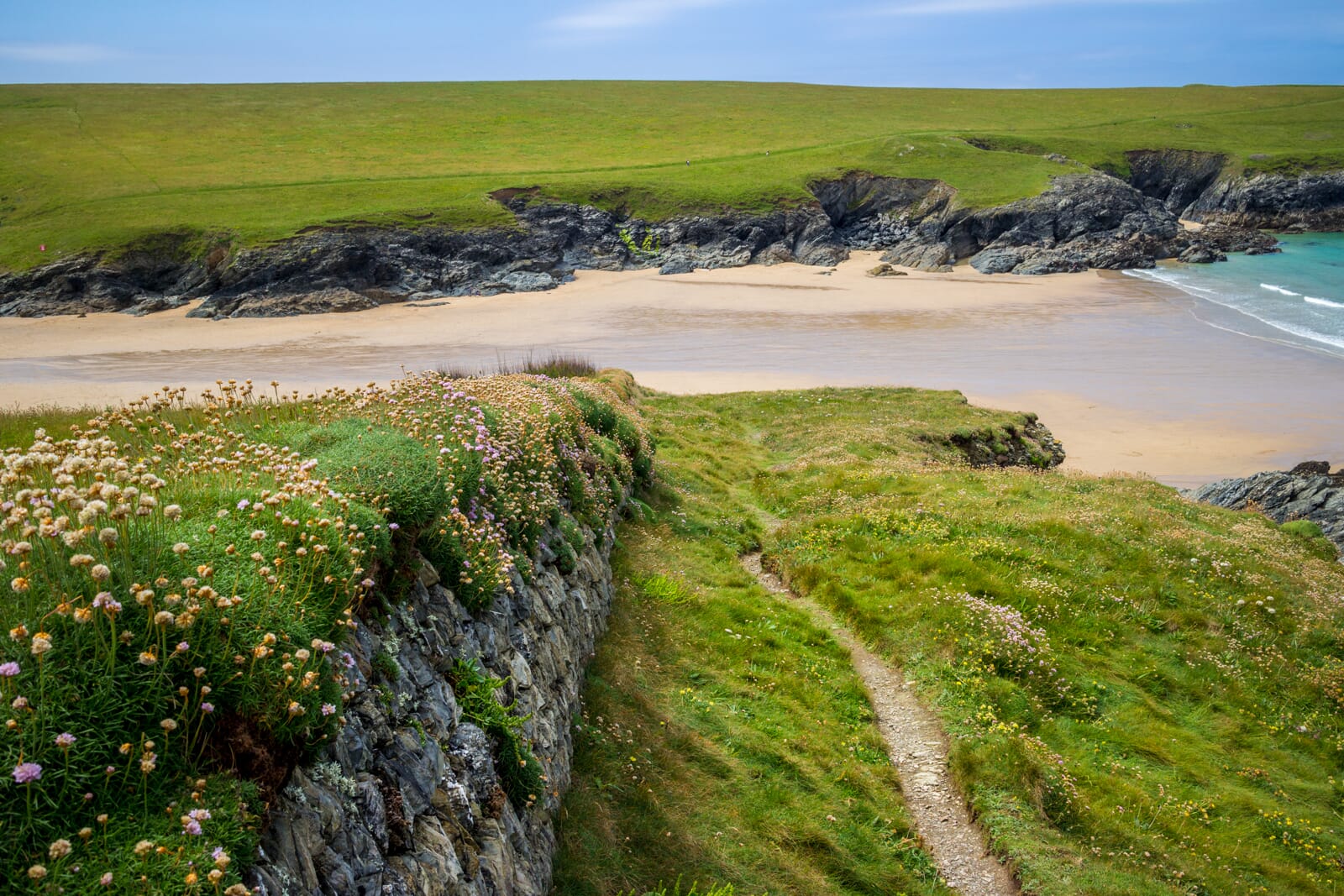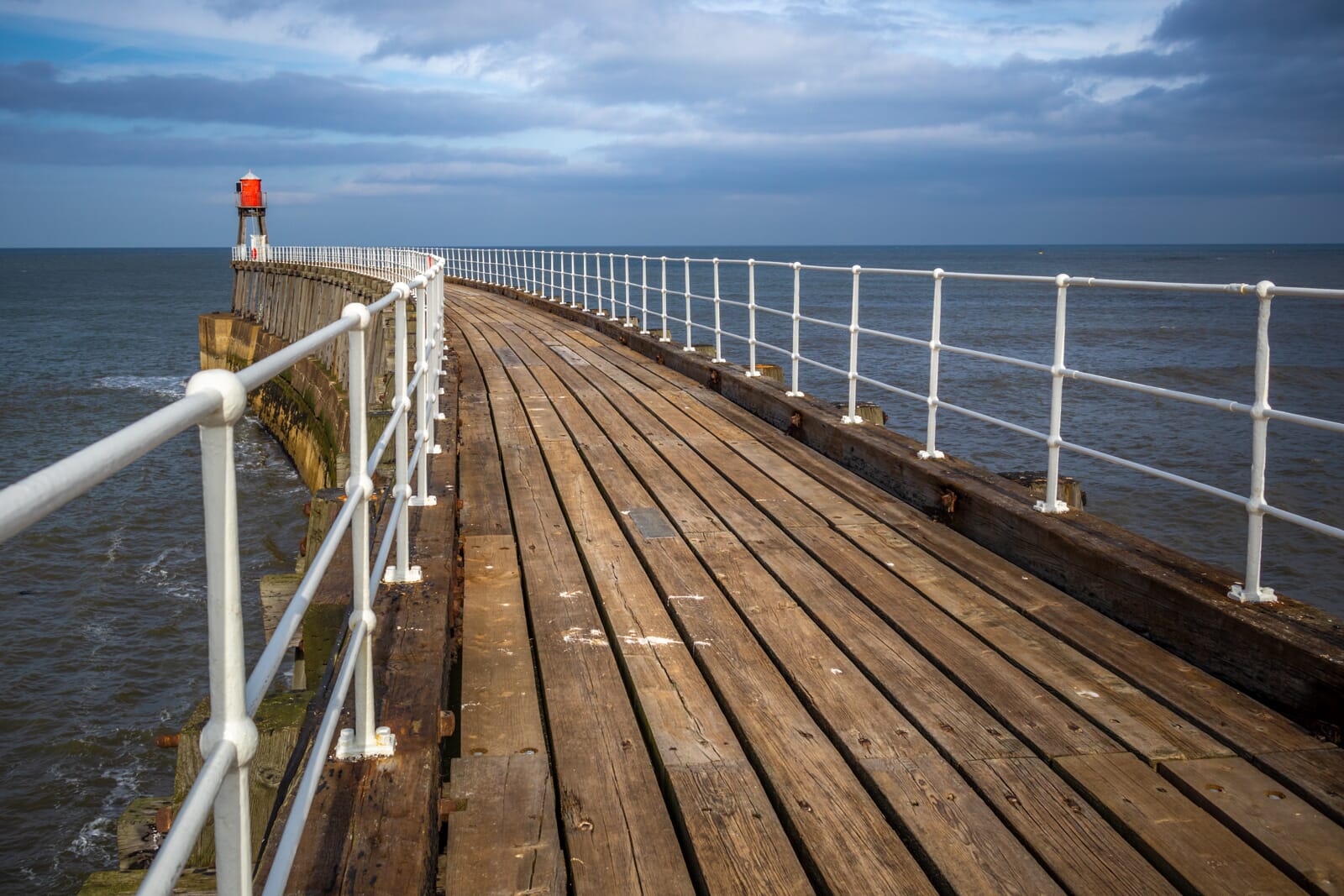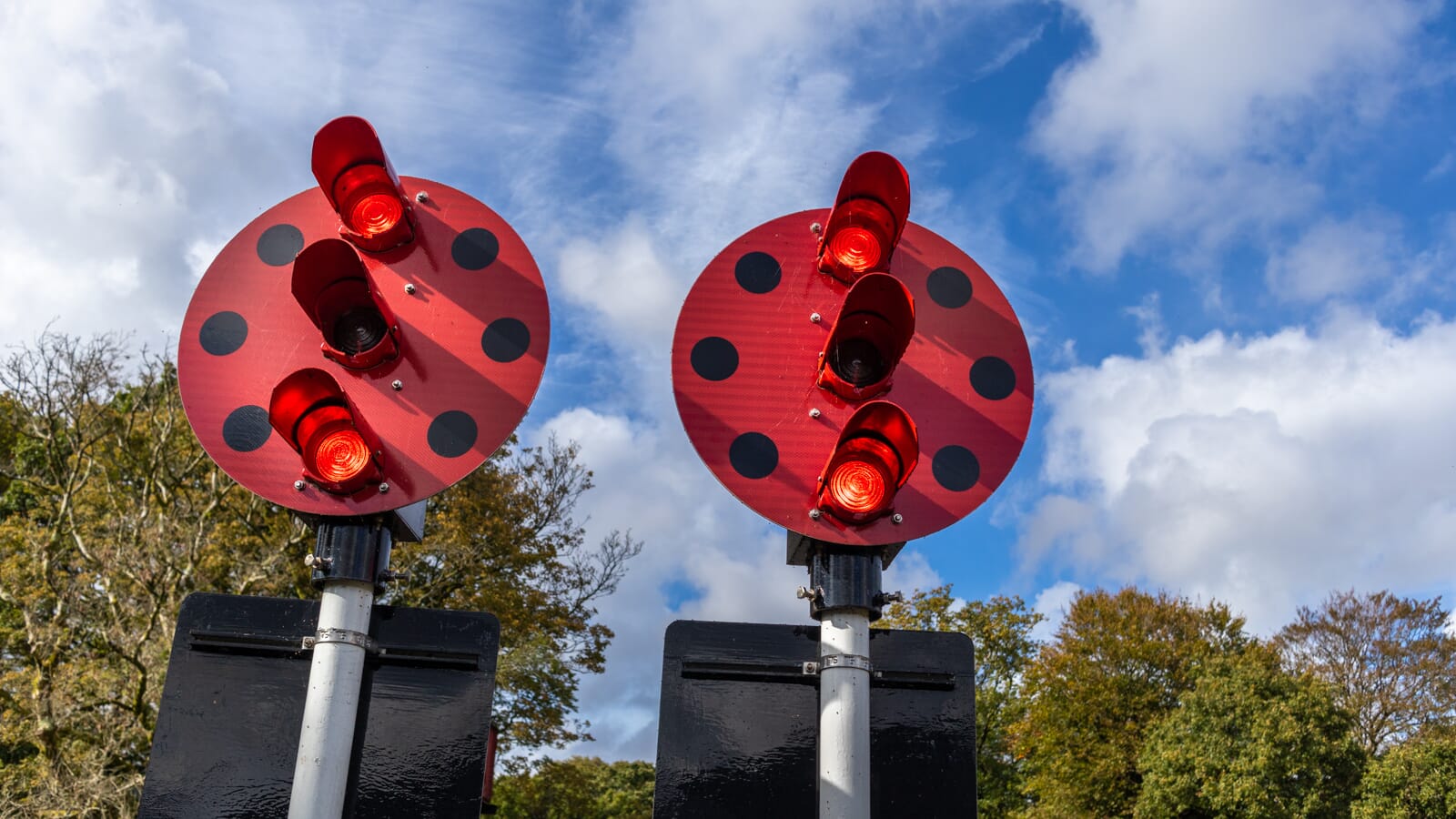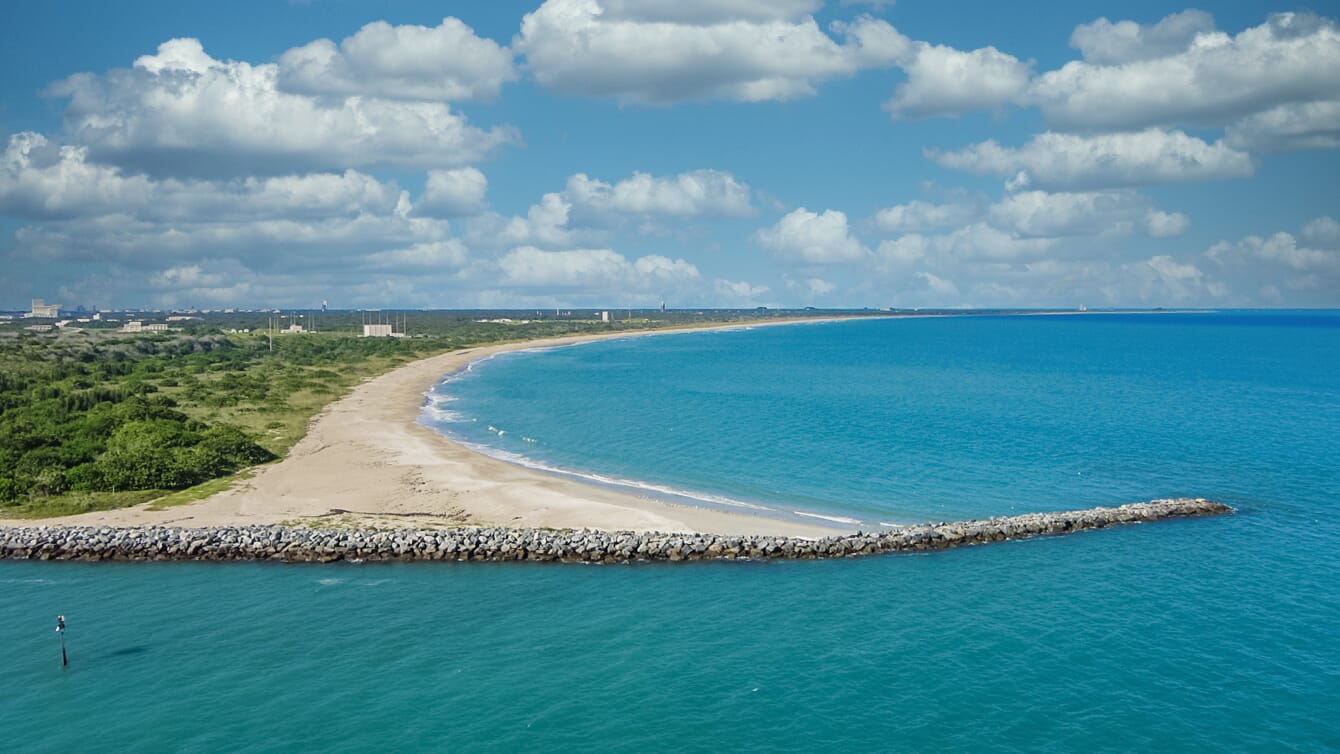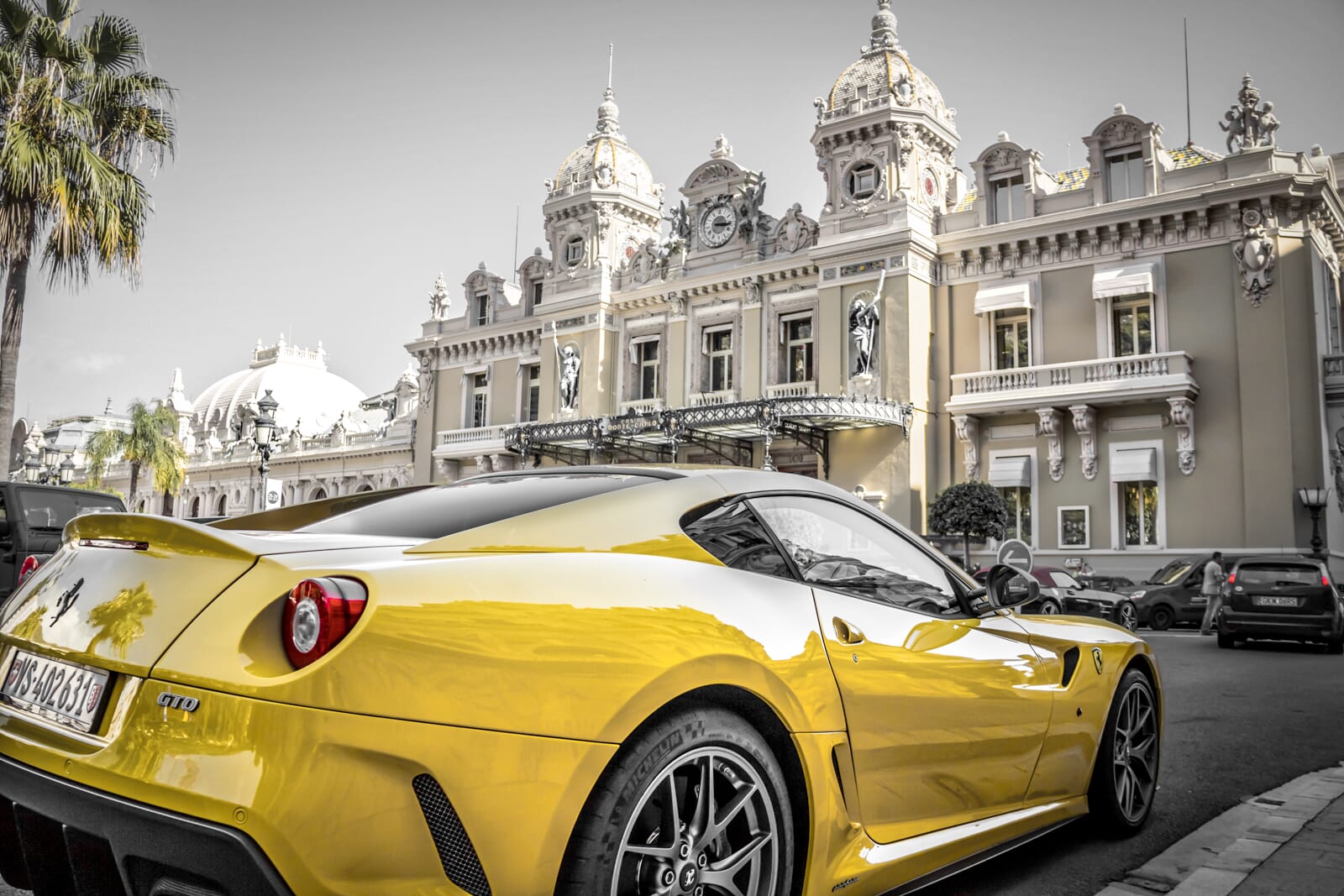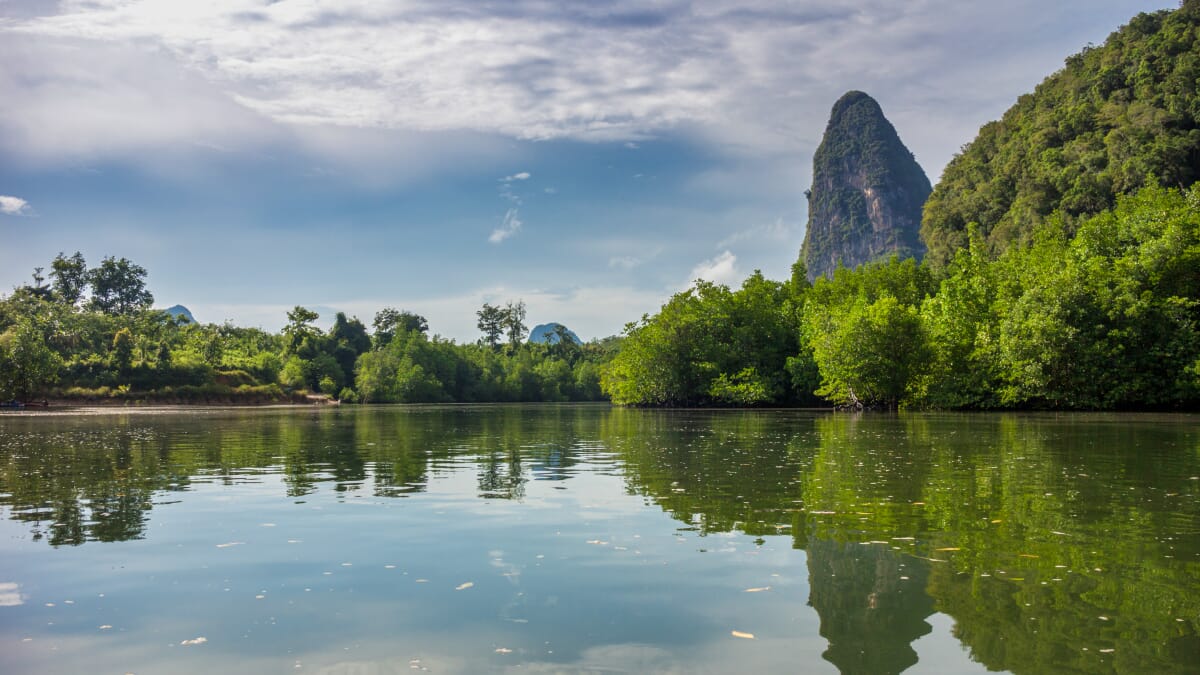 Luminar 4 vs Lightroom: Our Verdict
So which program would I choose? Both editing programs have their advantages, and I feel they could be suitable for different people/users.
Luminar 4 offers quick, simple, no-nonsense editing. For beginners, this would be the better choice. You can jump in and use the various AI-enhanced tools to create professional-grade edits. For artistic work like digital marketing and social media, Luminar 4's presets and looks are also great.
In contrast, I feel Lightroom Classic is the better choice for detailed, professional editing. For professional photographers editing clients' photos, Lightroom offers far greater control. It may be harder to use and more complicated, but for high-end photo editing, this is needed.
Luminar vs Lightroom – FAQ
Can Luminar 4 replace Lightroom?
They are like-for-like programs essentially so yes. Luminar 4 offers advanced photo editing and RAW editing capabilities just like Adobe Lightroom.
Are Luminar 4 and Lightroom available on mobile devices?
Yes, both programs have mobile versions, for example Lightroom CC is available as a mobile app for Android and Apple devices.
Can you purchase Lightroom Classic as a one-off license?
No, Lightroom Classic is currently only available as a monthly subscription
What is the difference between Lightroom Classic and Lightroom CC?
Lightroom Classic is the desktop version, whereas Lightroom CC offers cloud connectivity, and is available for mobile devices.