Newborns are never the easiest of subjects to work with. However, there are ways to make this task easier. One of the best ways to enhance your shooting experience, and ultimately the final product, is to incorporate some newborn photography props into your work.
These props will make your job a lot easier while also adding a creative and personal touch to your photos.

In this article, we'll give you a rundown of the best newborn photography props you can buy which will hopefully inspire your next newborn shoot.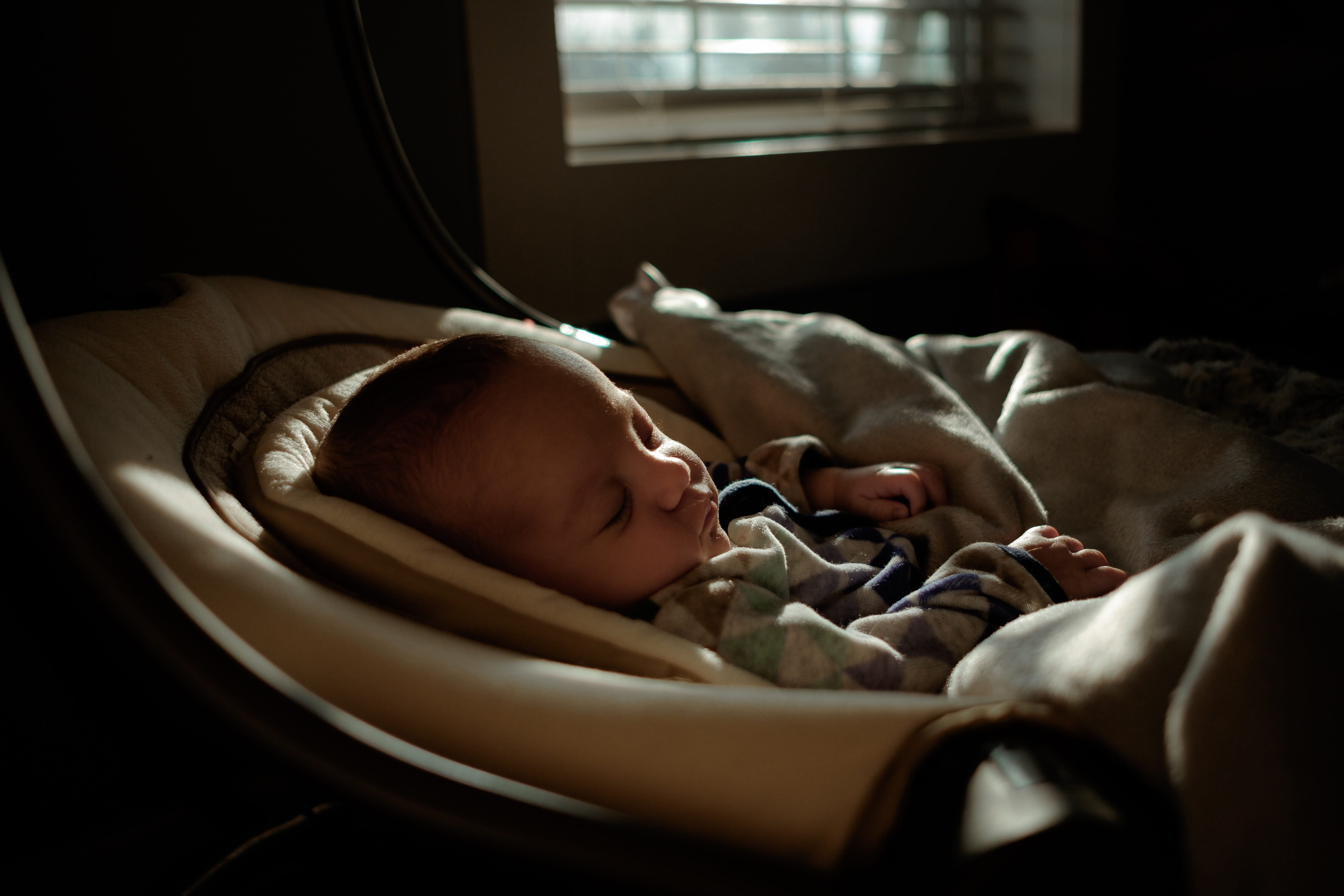 Where to Look:
Before we get too caught up in the details, let's go over where you can actually buy newborn photography props. There are a few options you may choose from:
Etsy. Filled with handcrafted and vintage odds and ends, buying props from Etsy has two major advantages. Firstly, it's a great way to support independent artists and small businesses. In addition, it's a great place to get one-of-a-kind items that really bring a shoot to life!
Amazon. It goes without saying that almost anything you could ever want – in and outside of photography – is available through Amazon. If you're working on a short timeline, they have the advantage of being able to deliver many goods within 48 hours.
Second-hand stores. You might have some trouble finding specialty items available used. Nevertheless, second-hand stores can be a great source of basic props like textiles and baskets. Best of all, going down this route will likely save you some money if you're working with a tight budget.
Specialty stores. There are several online shops that offer goods specifically designed for newborn photographers. If you're serious about newborn photography, take some time to browse sites like Beautiful Photo Props or Baby Bliss Props.
Straight from the client. Even if you have all the props in the world, it never hurts to have something personal on hand to make your photographs special. We'll talk a little more on that topic later on!
The Props You'll Need:
Alright – this might not necessarily count as a prop since you'll never actually see it in your final photographs. All the same, having a backdrop stand can significantly cut down on prep time and make for a more polished set.
Related Post: DIY Photography Studio
There's not much to a backdrop stand – in fact, it's little more than a metal or plastic frame. But with a few strategically placed clamps, you can use this humble tool to keep your backdrop secured.
The exact shape and dimensions of your stand aren't too important, so long as you are able to transport it and switch out backdrops without too much fuss. We do recommend getting a model with open sides, though. This will allow you some flexibility should you want to use a larger prop or posing pillow at any point.
Related Post: How to Plan a Photoshoot
The backdrop stand certainly isn't the most glamorous item we'll be covering today. However, you'll have a hard time imagining how you ever got by without one once it's in your hands.
For most newborn shoots, you'll need to find some sort of elevated platform for your baby to rest on. Especially for children too young to support their own weight, it's essential for capturing a variety of poses and angles.
Many newborn photography prop vendors sell beanbag ottomans designed specifically for the job. While the width of the posing pillow is a matter of personal preference, it should rise at least 18″ off of the ground for best results.
Be sure to select a posing pillow that's waterproof and easy to clean. You may also want to pick up some fitted fabric covers, as well. When working with newborns, you never know what messes or mishaps you might run into!
Any serious newborn photographer knows just how essential baby wraps can be as a prop. Though they're little more than fabric rectangles, they're versatile enough to get used on just about any set.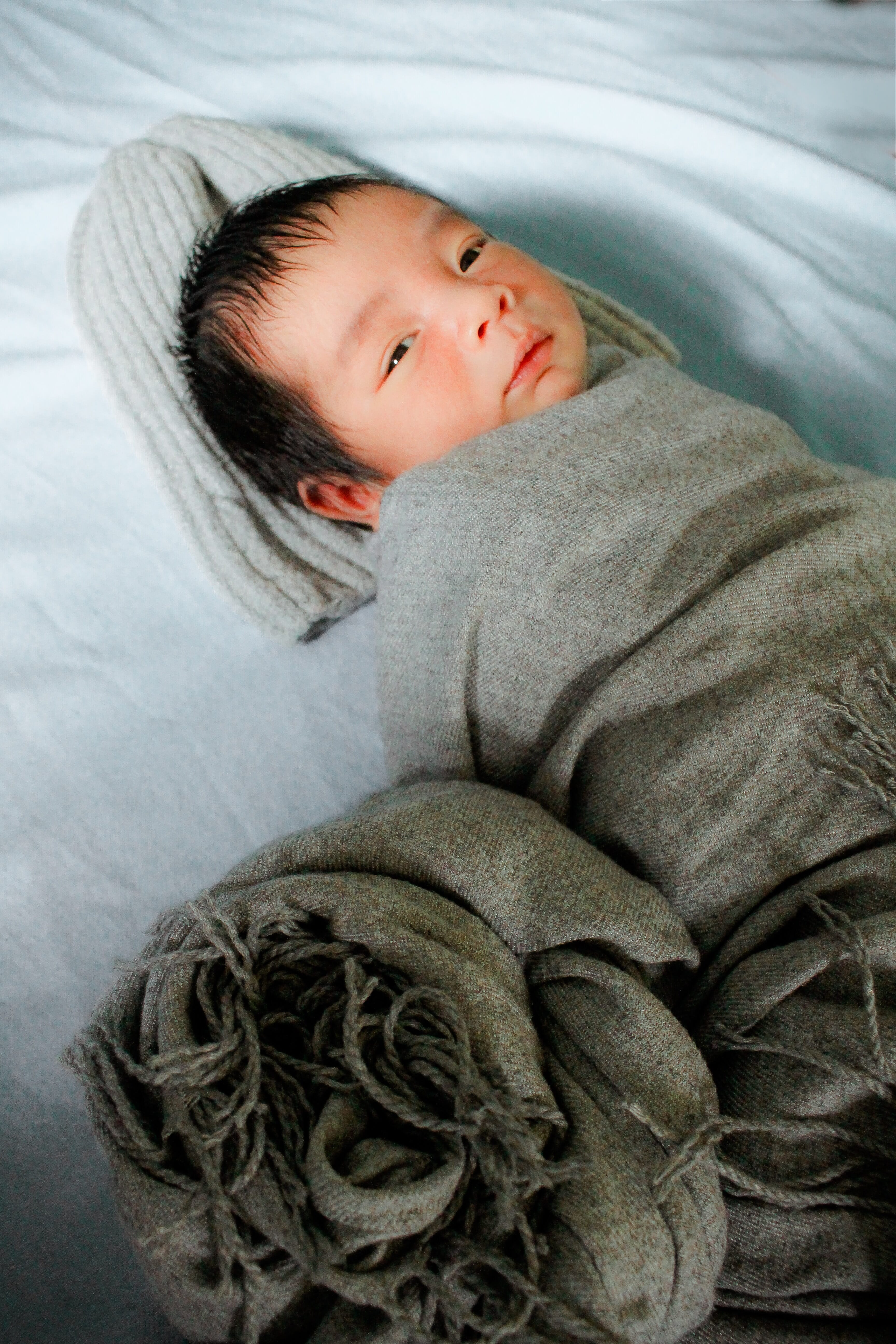 Generally, wraps utilize "light" materials, like hand knits, jersey fabrics, and cheesecloths. Available in just about any color, they're easy to match, contrast, and fit into a theme that you may have in mind. Best of all, they're relatively inexpensive. From newborn photography prop shops, you can sometimes snag them for as little as $5 a piece.
Wraps can be used to swaddle the baby, which simultaneously provides security and keeps wriggling limbs out of the way. But, in a pinch, they can also function as makeshift backdrops (dependent on the size of the wrap, of course).
Related Post: What Makes Photography Backdrops Great?
Since this prop is so easy to get your hands on, we recommend stocking up. Experiment to see which fabrics look best in a certain light or sport the most flexibility. Every client and every shoot is unique, so having plenty of options on hand will always work to your advantage.
When it comes to newborn photography, all things fluffy, comfortable, and cozy are your friends.
As cute as they are, newborns aren't exactly the most dynamic subjects. Part of the challenge of being a newborn photographer is building an interesting scene that compliments the baby. Textiles are an incredibly accessible building block to helping you tackle the task head-on.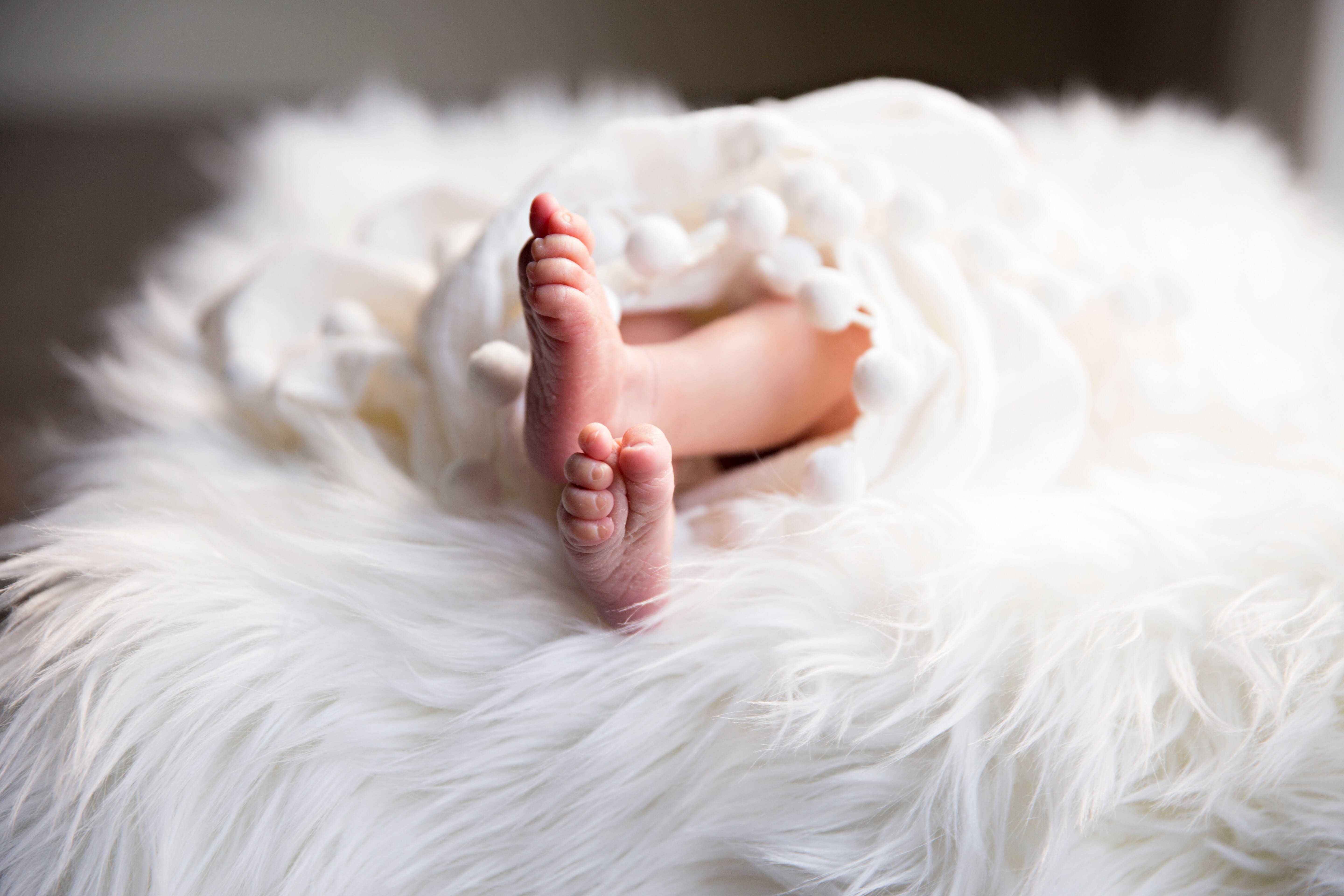 Use them as a buffer between the baby and the cushion, or wrap your baby up inside. Either way, they'll add a little something extra to your shot to catch the viewer's eye. Just like your wraps, you'll benefit most when you take the time to play around with different colors, textures, and materials.
For wraps and other textiles alike, you don't have to purchase directly from a specialty vendor. In fact, your local craft store likely has plenty of fabrics suited for the job at a fraction of the price. Just be careful to pick out washable materials suitable for a baby's sensitive skin.
Need to add a little bit of flair to your photograph? Want to show off your newborn's personality? Fixing something to a little one's head is an easy way to get them "dressed up" for a photo.
Bows, flower crowns, and other headbands add a feminine touch to portraits of little girls. knit hats are another option suited for any gender. Your client may already have a few on hand, but it also never hurts to have some at the ready if you feel that your shoot needs something extra.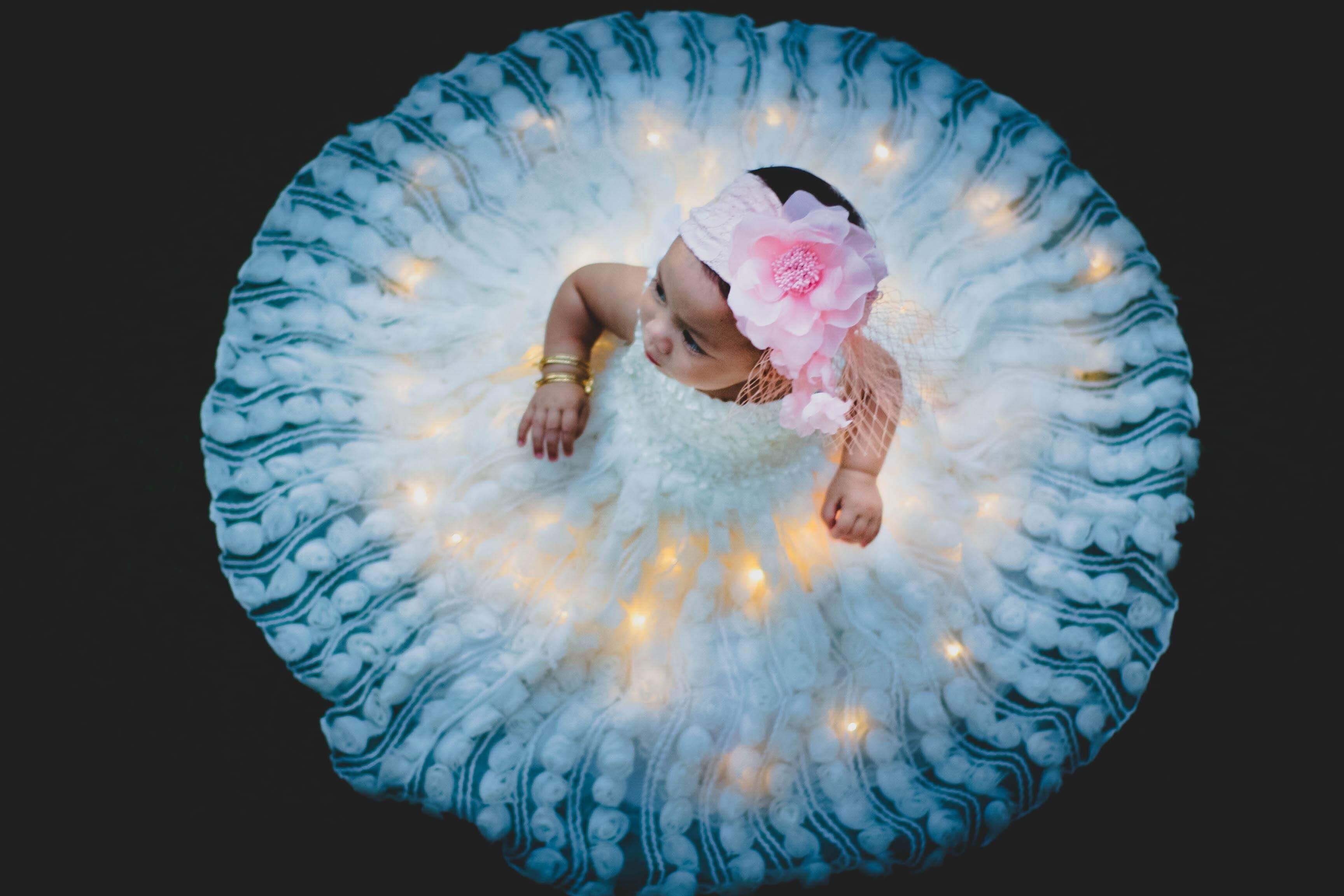 If you're working with multiple babies, keep a few different sizes on hand. You always want your accessories to be proportional to your subject. Be just as prepared to cater to a three-month-old in the 95th percentile as you would be one in the 25th percentile.
Newborn photographers love crates, baskets, and the like because they are dual-purpose props.
Firstly, you could use them as an alternative to a beanbag or posing pillow. Flipped upside down and covered with a little bit of fabric, any old storage bin can suddenly become a platform to showcase baby.
Alternatively, you can place a baby inside a box or basket. Aside from keeping your subject in one spot, these props make for a sweet, low-effort photograph. Just add some cushioning and photograph from above for this classic newborn pose!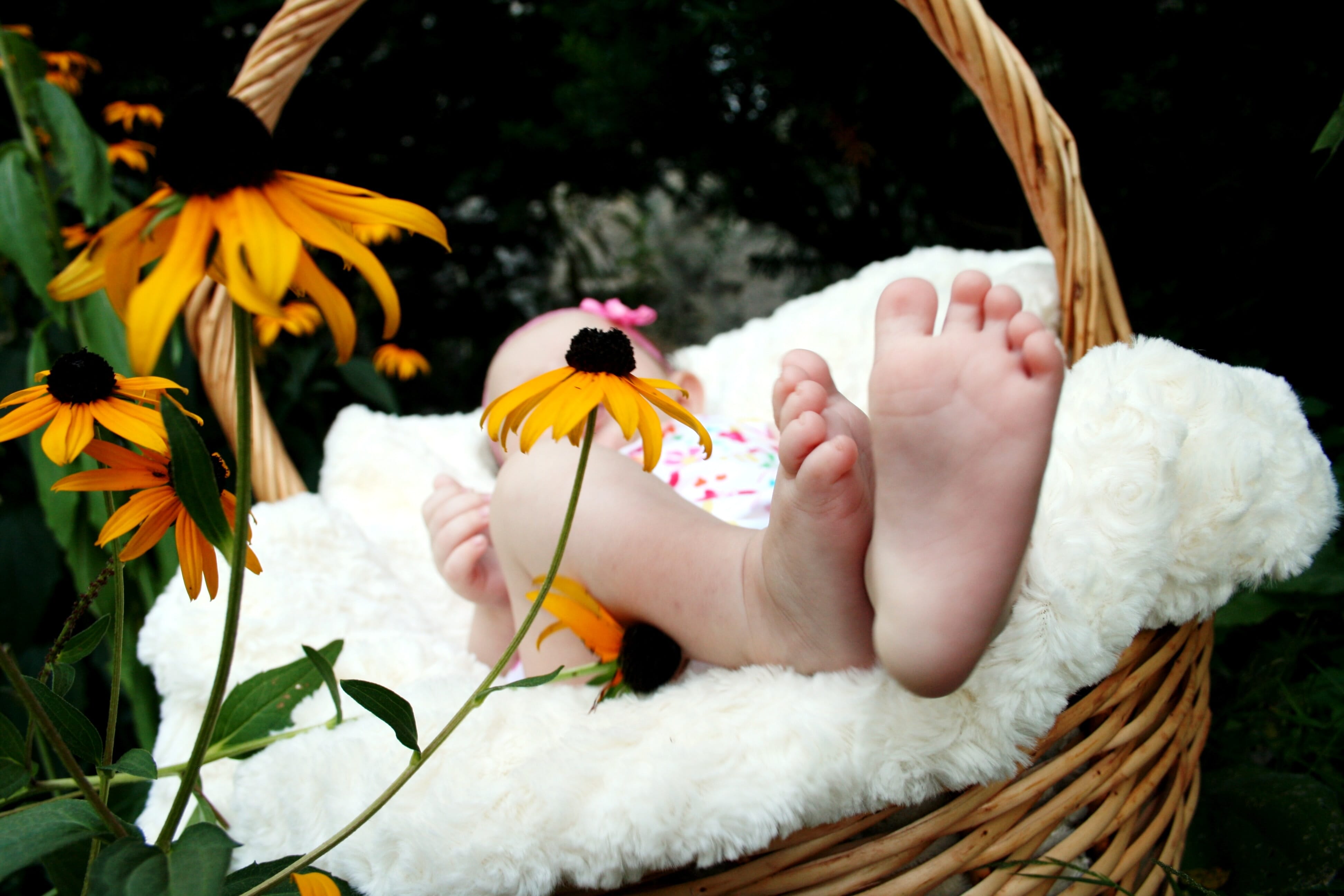 Available everywhere from flea markets to online auctions, these are a cheap and attainable must-have item. What's more, they're easy to get creative with. For instance, a traditional wicker basket can easily be swapped out for something a little more exciting, like a suitcase.
When choosing an appropriate prop, be sure to thoroughly clean and keep an eye out for any potential hazards. "Vintage" wares could hold dangers ranging from lead paint to exposed nails. Also, be sure to keep any baskets or boxes low to the ground for added safety and security.
Milestone blocks might be a bit trendy at the moment, but they do serve an important purpose.
Infants grow fast, but it's not always easy to see the differences when you see your little one all day, every day. So, many parents book several sessions with a photographer, with each shoot capturing different stages of growth.
These blocks are pretty straightforward. Printed with numbers, they're placed directly in photographs, telling viewers exactly how many weeks or months old the baby is.
Of course, your camera's metadata can track the time and date of a photograph down to the second. But that information doesn't transfer to a paper print. Looking back in the future, these blocks are a less clinical way of letting viewers know exactly where a baby was in its development.
Milestone blocks come in a variety of styles, ranging from polished and timeless or cutesy and colorful. What's more, they are easier to get a hold of than one might expect. Brick-and-mortar retailers like Buy Buy Baby often keep a wide selection in their inventory.
The prospect of suspending your subject may seem a bit scary at first. But there's plenty of awesome options for swings if you really want to bring your shoot to the next level.
If you have a bit of experience photographing newborns under your belt and want to try something new, look no further. We found quite a few baby-safe swings and hammocks available through newborn photography prop shops.
To put your mind at ease, prop swings are reinforced with sturdy wood or metal frames, then cushioned with yarns and other soft materials. Coming in creative shapes ranging from hot air balloons to the moon, they're great for themed photoshoots.
If you're more of a minimalist, you may prefer a cloth or macrame swing. Without the frills of a fancy structured swing, they're less expensive and make for a more timeless image.
9. Seasonal Props
Getting your baby's photos done at the peak of autumn leaves, or just before Christmas festivities? Looking to do something a little more elaborate than what the traditional shoot entails? Showing off the seasons can bring a little bit of life to your newborn session.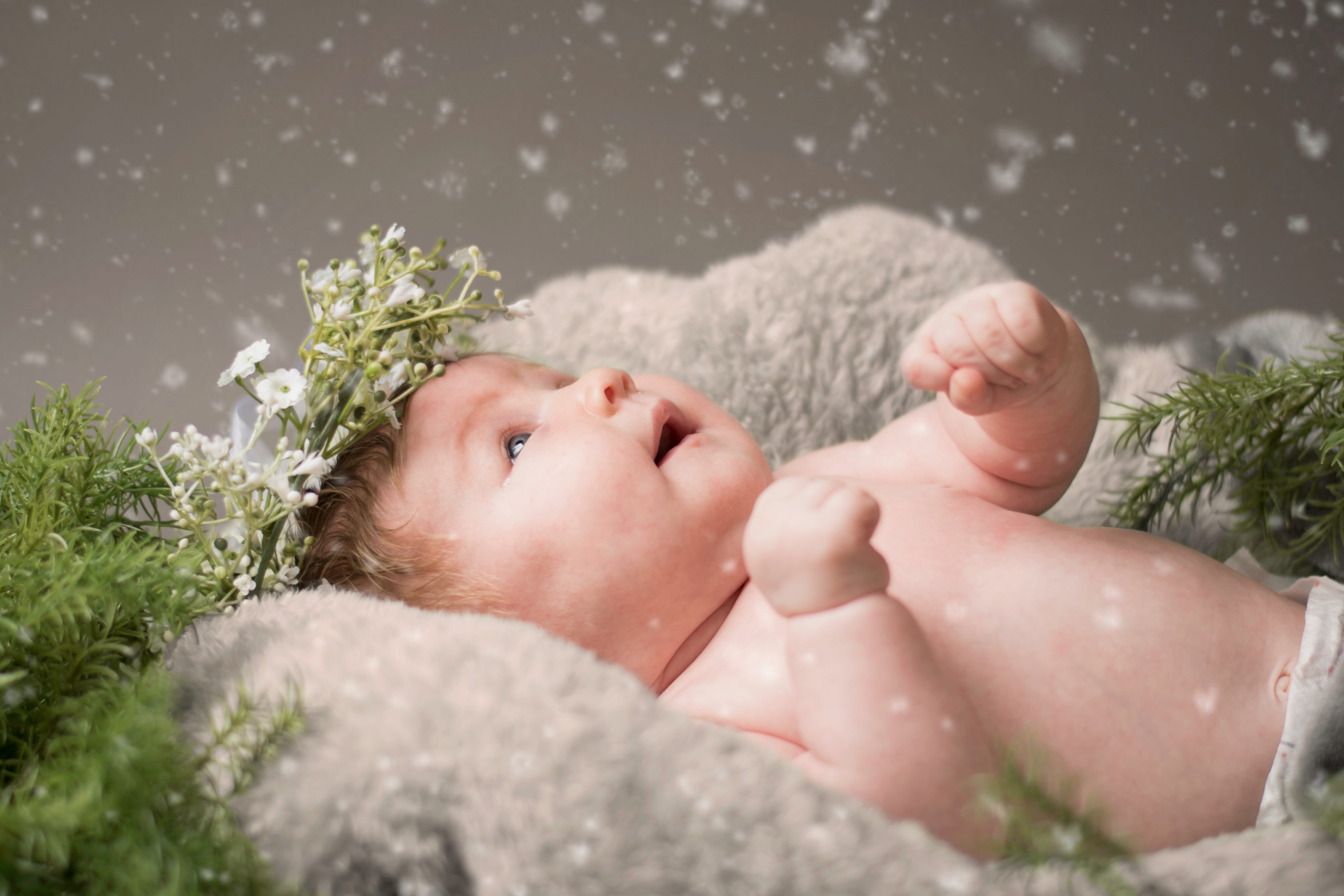 Obviously, the exact items you would want to use is dependent on the time of the photoshoot. Visiting sites like Pinterest or stopping by a seasonal retailer could provide some inspiration.
You may even want to consider taking your shoot outside if the weather permits. This could open up the door to using larger props that wouldn't normally fit in the studio, such as wagons. But even if you're restricted to indoor sessions, having a set of twinkle lights or a few fabric flowers can really enhance a photograph.
10. Personal Effects
As great as it is to have your own props on hand, sometimes sourcing something personal from your client can really make a photoshoot special. Never underestimate the strength of sentimental details.
Take the time to talk to your clients. Learn about what makes their family unique. For farmers, a worn and well-loved pair of work boots might mean a lot. Musicians might like their infant cradled in the curve of a guitar.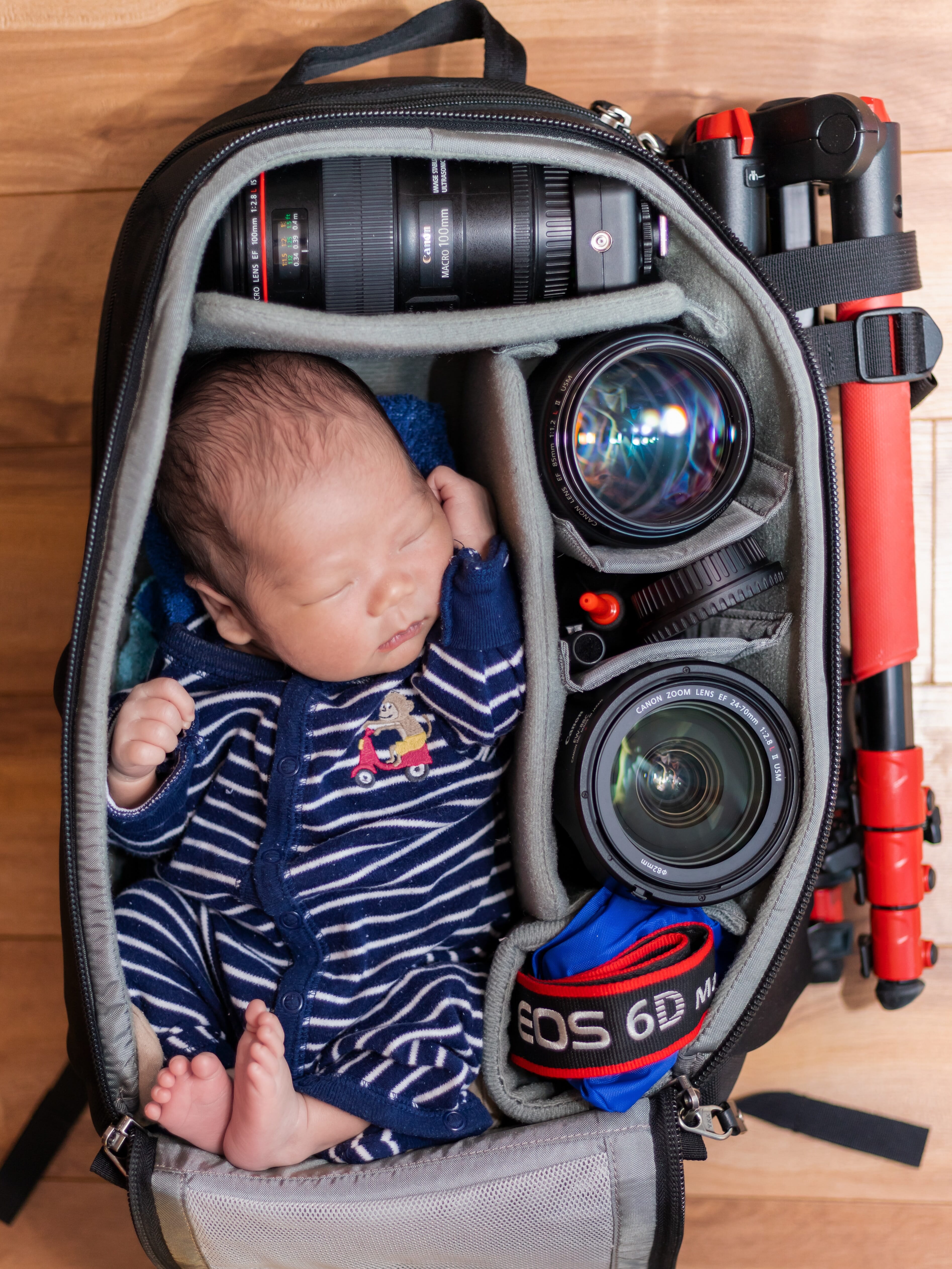 Of course, you don't need to go over the top with a theme to make an image meaningful. Even something as simple as a baby blanket knitted by grandma can mean a lot when incorporated into a scene meaningfully.
Bring Your Baby's Photos to Life!
It takes some practice to get the hang of photographing newborns, but there are endless directions to go in once you've mastered the basics. Props are your gateway to bringing sentiment, humor, and personality into your shots.
Don't shy away from newborn photography props, whether they're subtle or over the top. Keep in mind that the images you make are ones that your client will treasure forever. When you take the time to coordinate colored fabrics or add an accessory, you create a memory that will last a lifetime.
---
As an Amazon Associate we earn from qualifying purchases. Certain content that appears on PhotoWorkout.com comes from Amazon. This content is provided 'as is' and is subject to change or removal at any time.