ON1 has its main photo editing software – ON1 RAW, but it also has a superb range of AI-enhanced plugins for different editing tasks such as resizing, reducing noise, and creating HDR images. A relatively new plugin that offers great functionality for photo management is ON1 Photo Organizer or ON1 Keyword AI.
This software takes the hassle and manual effort out of organizing and searching for your photos via a range of AI analytics together with a streamlined interface and plenty of options for sorting your images and creating a usable folder hierarchy.
In this ON1 Photo Organizer review, I have spent time testing the standalone software to see what it has to offer and how useful the AI functionality is.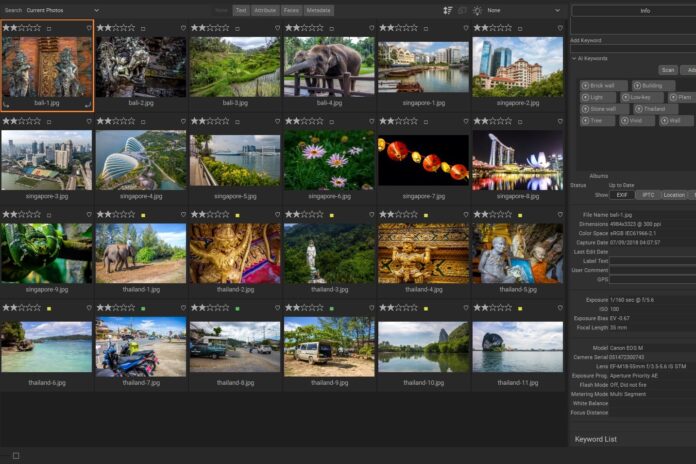 ON1 Photo Organizer Review
When you buy through links on our site, we may earn a commission at no cost to you. We evaluate products independently. Commissions do not affect our evaluations.
ON1 Photo Organizer: Overview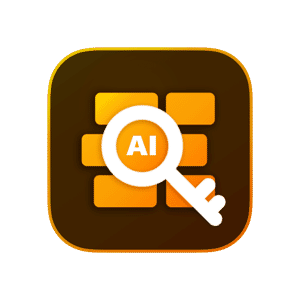 Great for managing large photo collections
ON1 Photo Organizer works fantastically as either a standalone photo organizer, or within ON1 Photo RAW and makes searching for photos easy with its excellent AI-enhanced tools.
Pros
Great photo rating options
Extensive import and export tools
Automatic face detections
Automatic keyword additions
Great performance
Cons
The interface can initially be daunting
The batch renaming tool is confusing at first
The initial AI folder scan takes a long time
ON1 Photo Organizer is available as a standalone product for a one-off purchase fee, or it is included within the ON1 Photo RAW photo editing software. Essentially, it is the photo management tool within ON1 Photo RAW and offers a comprehensive selection of organizational tools together with extensive search functionality.
AI is sprinkled throughout the tools and in particular it makes for the easy adding of keywords and detecting faces in your photos. The performance is great, the tools are on par with the best photo-organizing software, and it's reasonably priced too.
The only drawbacks are the steeper learning curve for beginners, the initial confusion when using the batch renaming tool, and the slow speed of the AI folder scans to automatically identify faces, metadata, and keywords.
ON1 Photo Organizer Review: An In-Depth Look
In this ON1 Photo Organizer review, I spent extensive time testing the software using my own photo collection to see how it performed. So you know exactly what to expect, I have broken the review into different sections including pricing, system requirements, and AI searching features.
System Requirements
Historically, ON1 software has been rather process-heavy and you often need a beefy photo editing computer to run its programs smoothly. ON1 Photo Organizer / ON1 Photo Keyword AI isn't too process-hungry and I've compiled the minimum and recommended system specs below to run the software:
Windows
OS: Windows 10 or later.
Processor: Intel or AM processor with 64-bit support and 2GHz or faster clock speed.
RAM: 8GB (16GB+ recommended)
Hard Drive: 2GB for installation
Graphics: DirectX 12 or layer, GPU with 2GB of VRAM (8GB VRAM recommended)
macOS
OS: macOS 10.15.6 or later.
Processor: Intel or AM processor with 64-bit support and 2GHz or faster clock speed.
RAM: 8GB (16GB+ recommended)
Hard Drive: 2GB for installation
Graphics: Metal, Vulkan 1.1, OpenGL 4.2 compatible with 2GB of VRAM (8GB VRAM recommended).
This is pretty standard for most photo organizing and editing software today and most affordable family computers have at least 8GB of RAM and a decent Intel Core-i5 or i7 processor so I don't foresee anyone having issues running it.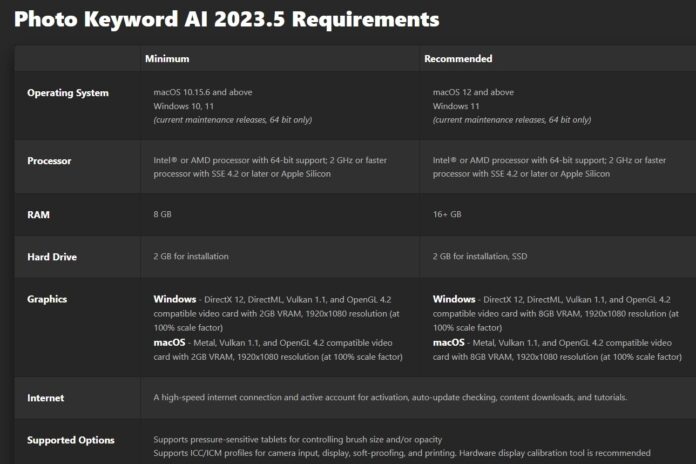 Performance
If you have read any of my previous ON1 reviews then you know I've been disgruntled with its software performance. They are historically bad in terms of performance and have released many software versions that are sluggish.
To my immense shock, I found the performance of ON1 Photo Organizer to be excellent! Everything loaded quickly including photo thumbnails, full-screen image previews, and metadata. Navigating folders was easy, and it could cope with my large photo collection too.
The only slow part was the initial AI folder scans. This did take quite some time, especially if you scan multiple photos at once. However, I don't see how this can be improved due to the complexity of what the AI is looking for, i.e. metadata, keywords, and faces.
Folder Management
Being able to manage your underlying photo folder structure is a key part of any organizing software and ON1 Photo Organizer scores big marks here. I like that when you first open the software you are prompted to either browse your current folders or create new catalogs to get started – it means you aren't wasting time trying to find the import option.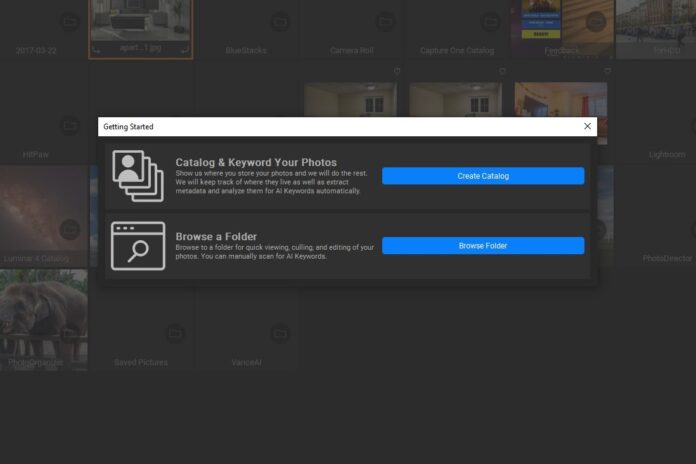 The importing process is easy and there is an option on the right-hand side to browse your hard drive. You can make changes to your folder structure here too like in File Explorer.
The main premise behind AI technology, however, is catalogs. These are essentially virtual folders that you create using your existing folder hierarchy. These catalogs are then scanned by the AI algorithms and things like face detection and keywords are automatically detected which I discuss later in this ON1 Photo Organizer review.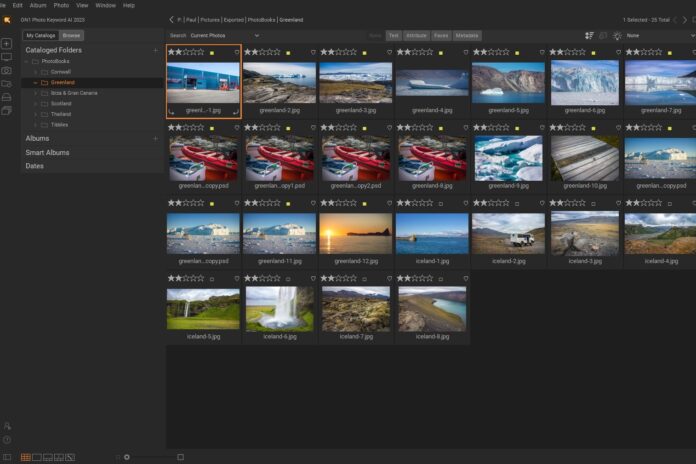 Overall, it offers perfect folder management and there are no limitations as to what you can do. It's got a few useful folder management features too like changing the default folder location when you open the software, and quickly being able to access your main HDD. You can also import photos from external devices like external drives or import photos into Lightroom and Photoshop.
Individual Photo Management
Individual photo management is something I always look for as I use things like star ratings and colors to denote which photos are keepers and which have been edited, etc.
ON1 Photo Organizer has excellent tools available and it's certainly on par with other photo-organizing software like Adobe Photoshop Lightroom and Excire Foto 2022. For individual photos, you can change the following:
Start ratings (1-5).
Colors (Red, green, blue, yellow, purple).
Like / Dislike.
Metadata (Keywords, author, description, EXIF, IPTC, Location).
File management (Rename, delete, etc.).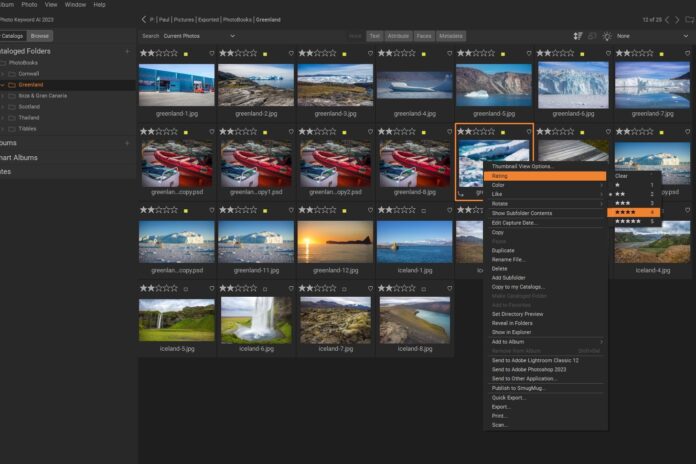 If you already have metadata on your photos before exporting them into ON1 this data is transferred over which I find incredibly useful as it means you don't have to do it all again. The usability is great and if you have used any software like this before it should be a doddle as it sticks to photo management conventions in terms of the layout, right-click features, and the thumbnail views of your photos.
The folder and preview views are versatile too and I like the five different folder view options you have, particularly the map view. Now, I ALWAYS forget to turn geo tagging on my camera so as of yet I haven't been able to use this function. However, if you do use it, you can switch to the map view which shows the world map and pins of the locations of your photos.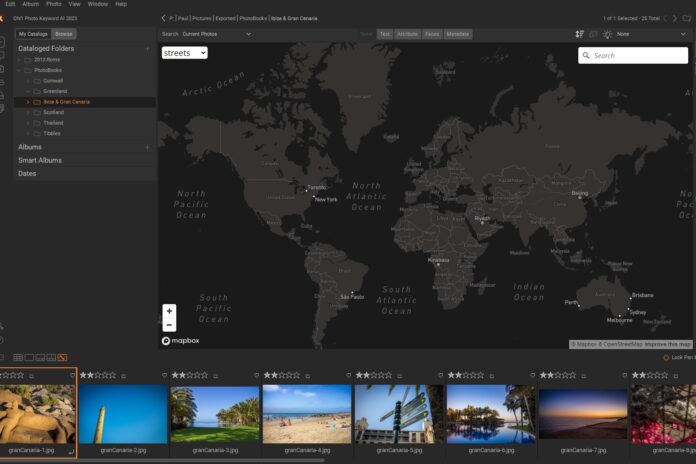 The different panels are customizable too and you can easily change the size of image thumbnails if you want larger previews without loading the entire image.
Other Useful Tools
Aside from the folder and photo management, I spent time during this ON1 Photo Organizer review getting to grips with the various tools like photo searching, keyword generation, and face detection.
Automatic Keyword Generation
One of the best features of ON1 Photo Organizer is the AI scan tool. Once you have created a catalog, the AI algorithm automatically scans all the photos inside. This is a pretty slow process and definitely one of the drawbacks but I guess it is to be expected with the complexity of the AI.
Once scanned, ON1 automatically suggests relevant keywords that relate to what's in each photo. I like that it only suggests the keywords – you then have the option to add or reject them. This is great because it doesn't get the suggestions right every time!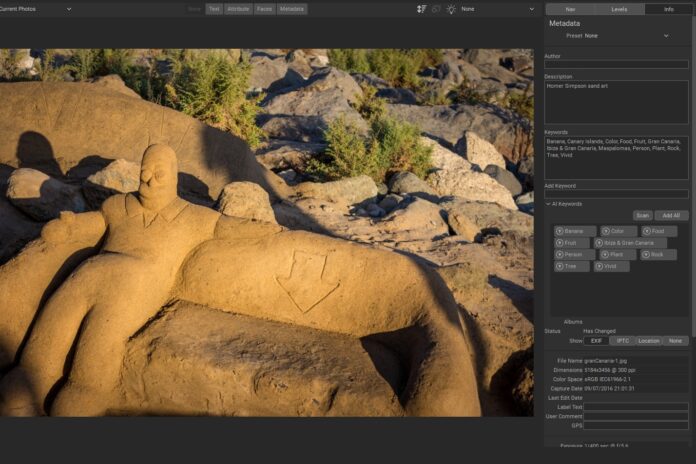 For example, the above photo, suggests keywords including banana and fruit. Now, unless I've gone blind, I'm 100% certain that there are no bananas or fruits in this image! Regardless, for the most part, it gets it right and the automatic keyword generation improves your workflow and cataloging infinitely.
Automatic Face Detection
ON1 Photo Organizer also has an advanced face detection tool. As with the keyword generation, you have to scan your catalogs first and the AI will detect any faces on your images. The AI really does seem accurate and I like the range of filters you can choose to find a variety of people.
In the search bar at the top, if you select the "faces" option, you can choose the following:
Count (I.e. number of faces in the photo).
Age (It has different categories like baby, toddler, and adult).
Gender
From what I can see, it's really accurate and I used it in multiple folders to find photos of myself and my friends. The only downside is that I couldn't find anything where you can say "This photo is of Paul Skidmore", for example, so it doesn't seem to have any biometrics that can pick out individual people.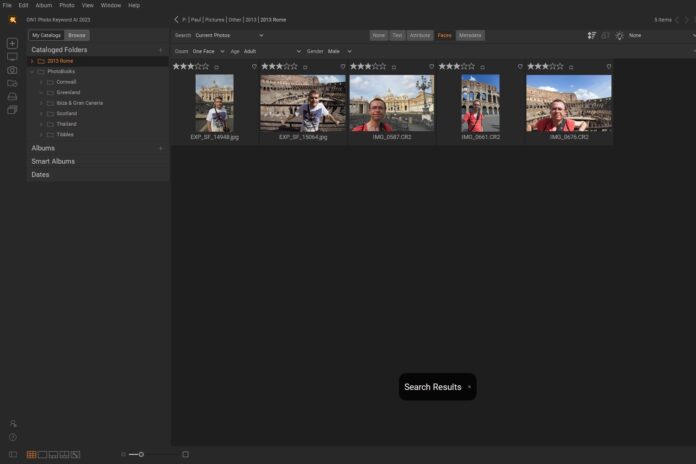 Still, it's especially useful because you can use the search filters to narrow down your options and find the person you want in most instances. I think this area still has the potential to be expanded on, but for now, it's fine.
Photo Searching
If, like me, you have a huge photo collection with thousands of images, you need an easy way to search for specific images. While creating this ON1 Photo Organizer review I imported my own photo collection and tested the search functionality – it held up really well.
At the top of the preview pane, you have the search toolbar. This is extensive and it has virtually the same functionality as Adobe Lightroom Classic. You can select which folders the search encompasses such as the currently selected one, or your entire collection.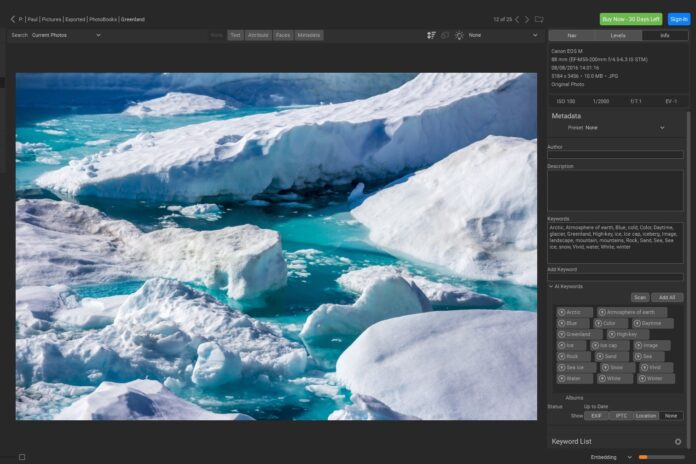 There are then advanced options like searching for text, specific attributes, faces, and metadata. Unlike Lightroom, however, you can select more than one of these parameters to search for at once which means you can get incredibly specific. For example, I can select the "text" attribute and search for file names containing the word Greenland, but also include the "attribute" options, and search for images that are rated 3 stars or higher.
This makes photo finding a doddle because you can get specific as you want to pinpoint the exact image you want. What makes it better is that the search time is virtually instant too, even if you have complicated search queries.
Batch File Renaming
At first, I was a little confused with the batch file renaming tool as it wasn't very clear and it's different from similar tools on programs like Lightroom Classic. To start, you have a blank text box where you can simply type a file name.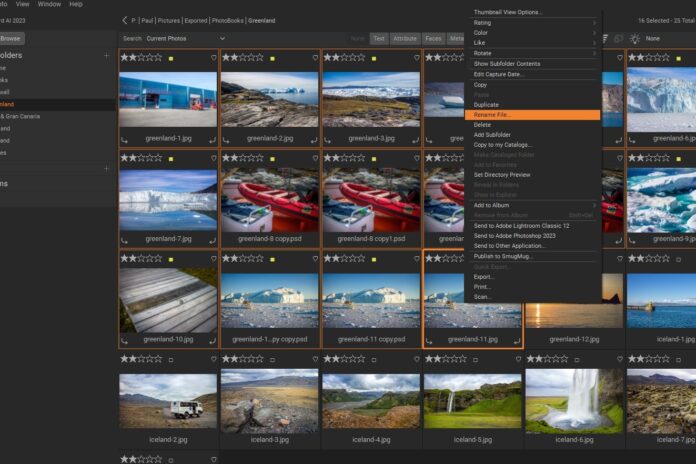 However, there is also an "add token" button. Tokens are essentially dynamic sections of a filename that you can add. I think this system is incredibly useful and it gives you fantastic flexibility over your filename structure.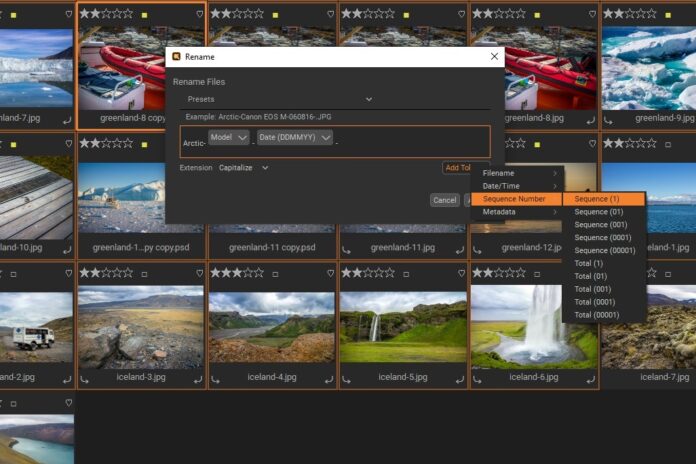 In the example above, I included two tokens – one to show the camera model, and another to show the date the photos were taken. You can then type anything you want around these tokens – I separated them with a hyphen for example.
There are so many different token options including all your photo metadata, and number sequences so I could rename that batch of 20 selection photos to be something like Arctic-1.jpg to Arctic-20.jpg. This is really useful if you want to use your photos in a specific order for a blog or a slideshow for example.
File Exporting
Exporting functionality is hugely important and during this ON1 Photo Organizer Review, I looked at how you could transform your RAW photos into other file types.
The export dialog box is really detailed and I like the four default export options which is something I haven't seen in other photo editing or photo management software. For example, you can automatically export files as a 1200px JPEG to your computer desktop which is great if you want to quickly get a few images to upload to social media for example.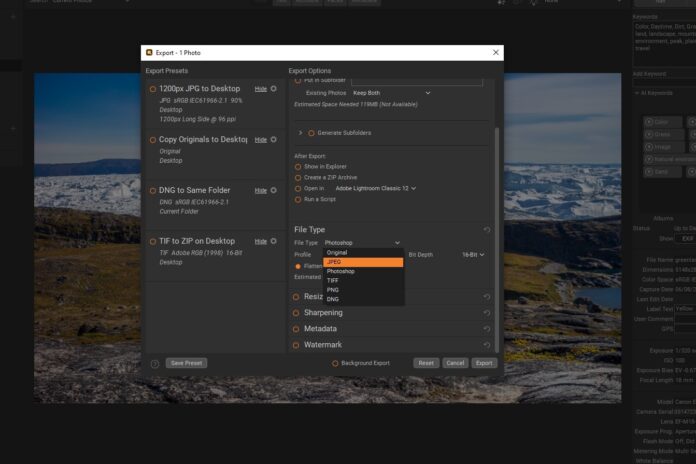 Aside from that, you have a range of export options such as folder location, renaming, changing the file type, resizing, sharpening, and adding watermarks. As I often use the same exporting options, the "save preset" option is really handy too, and saves a heap of time.
Pricing
The pricing of ON1 Photo Organizer is a little complex as it's available as a standalone software, but also as part of On1 Photo RAW 2024. Additionally, ON1 offers both one-off purchase prices and a subscription plan. Current prices for the different versions are as follows:
ON1 Photo keyword AI 2023.5 – $34.99 ($69.99 standard price).
ON1 Photo RAW 2024 – $99.99.
ON1 Everything – $7.50 per month.
ON1 Everything Plus – $12.50 per month.
For $34.99, I think ON1 Photo Keyword (ON1 Photo Organizer) is incredibly affordable and certainly competitively priced. It's on par with other standalone software like Excire Foto and ACDSee Photo Studio Home.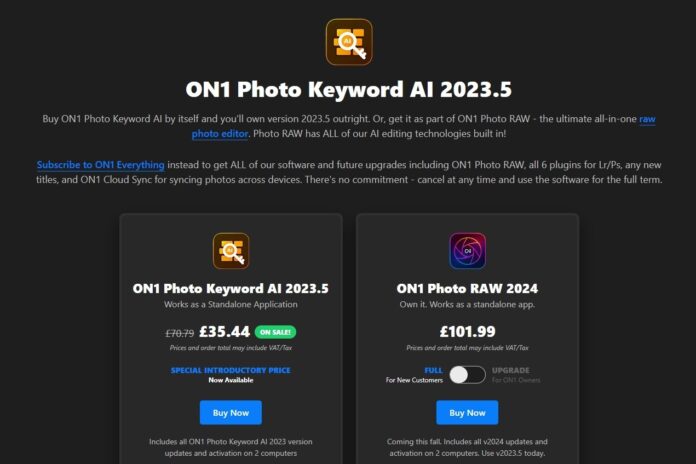 The subscription packages are something to consider too and they are actually cheaper than the lowest Adobe Cloud subscription package, which is $9.99 per month and gets you Photoshop, Lightroom Classic, and 1TB of cloud storage. ON1 Everything is just $7.50 per month and for this, you get ON1 Photo RAW 2024 plus all the plugins and access on two computers.
ON1 Photo Organizer Alternatives
Throughout this ON1 Photo Organizer review, I continually compared it with other organizing software and it holds up well and is certainly one of the best options available. If you are interested in other choices, the following all have similar features:
Adobe Photoshop Lightroom Classic
Excire Foto 2022
ACDSee Photo Studio Home
Google Photos
Magix Photo Manager Deluxe
Lightroom Classic can be compared to ON1 Photo RAW 2024 which includes ON1 Photo Organizer and many argue that it has more to offer in terms of features.
Other standalone products like Excire Foto and ACDSee Photo Studio Home are great if you just want an organizer without editing capabilities. I give the edge to Excire Foto here as it also has some incredible AI searching and cataloging tools.
If you want something cheaper there are always free options like Google Photos that are ideal for people who just want to manage a few holiday snaps on their computer or tablet.
Is ON1 Photo Organizer Right for You?
I really like ON1 Photo Organizer and as a standalone photo management software it's one of the top options available, up there with Excire Foto 2024. I don't feel it's suitable for beginners though or those who have never used photo editing or photo management software before.
This is because the layout and tools could feel overwhelming whereas someone who has used any type of management software before will easily be able to follow the layout and get to grips with the management and searching tools.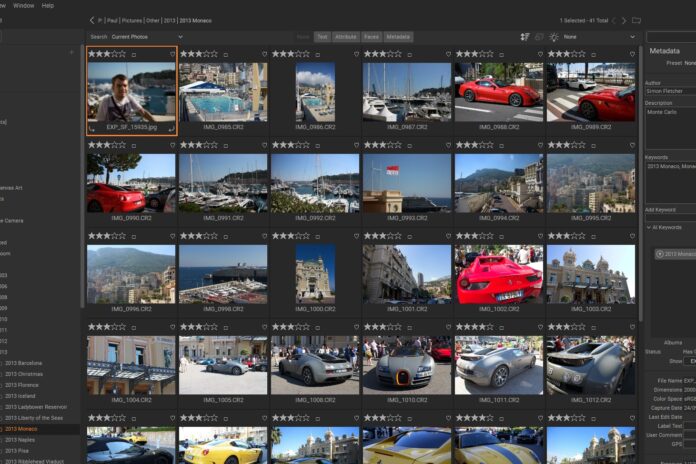 After creating this ON1 Photo Organizer review, I think there are two scenarios where this software could be the right choice for you. Firstly, if you want an advanced standalone management tool to organize and search your large photo collection.
Secondly, if you are either looking to upgrade from basic photo editing software or want to invest in photo editing software that also has advanced photo management capabilities. In these instances, ON1 Photo RAW 2024 including ON1 Photo Organizer is a great option.
ON1 Photo Organizer Review
Performance

Usability

Folder Management Tools

Photo Management Tools

AI Searching & Organizing

Price
ON1 Photo Organizer
ON1 Photo Organizer has a brilliant set of AI-enhanced tools that make cataloging, organizing, and searching your photos simple.
Pros
Great photo rating options
Extensive import and export tools
Automatic face detections
Automatic keyword additions
Great performance
Cons
The interface can initially be daunting
The batch renaming tool is confusing at first
The initial AI folder scan takes a long time