ON1 has a great range of software programs for photo editing and printing. One top-rated product is ON1 Resize, which is designed to help photographers effectively upscale and downscale images for printing and sharing.
In this ON1 Resize review, we evaluate the current 2022 version, see what it has to offer, and consider its latest upgrades.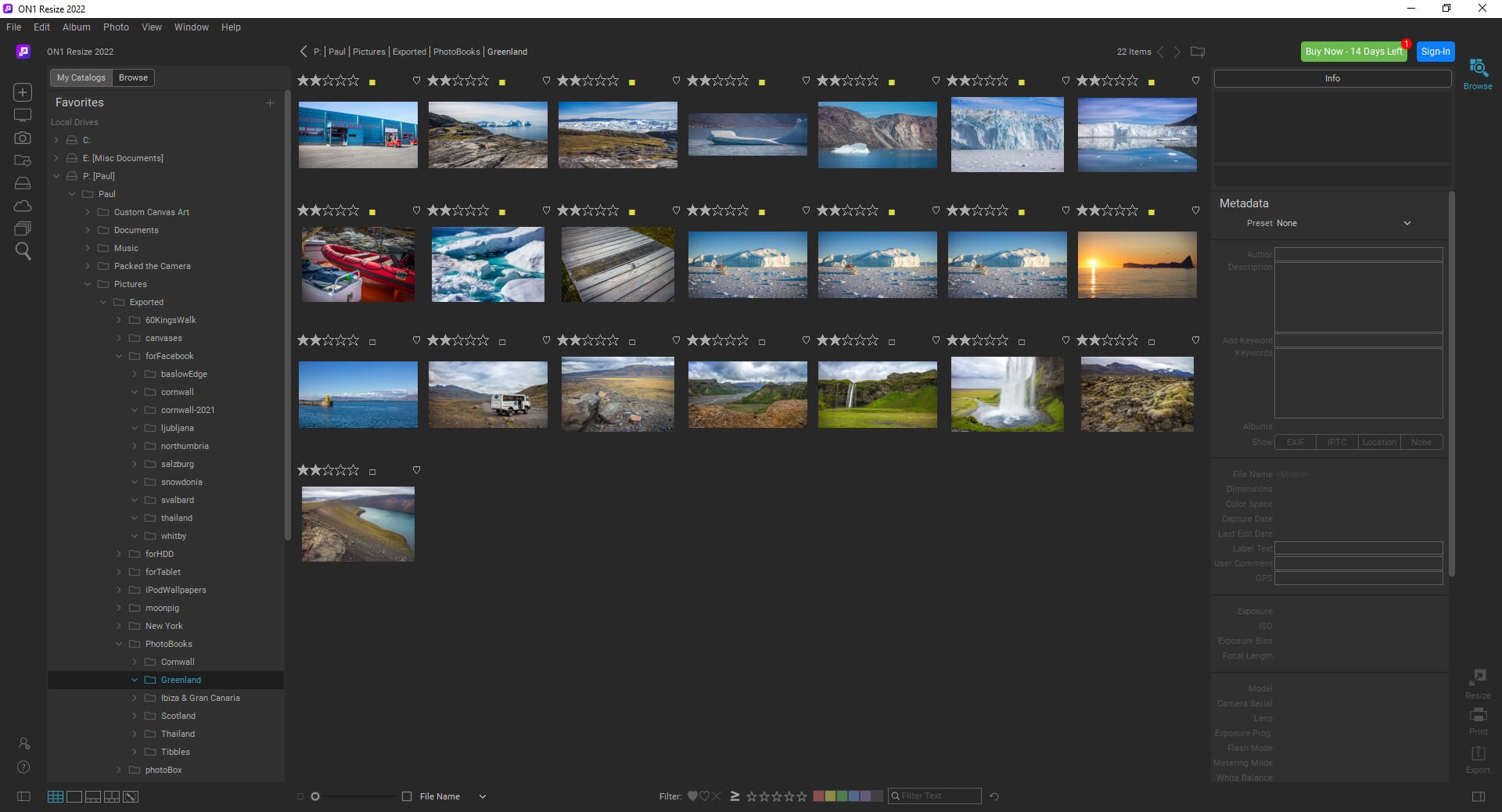 When you buy through links on our site, we may earn a commission at no cost to you. We evaluate products independently. Commissions do not affect our evaluations.
ON1 Resize 2022: Overview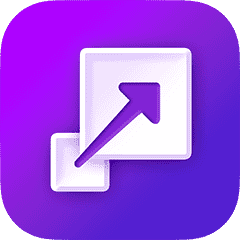 Great for professional resizing work
ON1 Resize 2022 works as a standalone program or as a plugin and has a useful array of tools for high-quality image resizing.
Pros
Generally has a smooth and lag-free performance
Resize tools and presets are extensive
Excellent file-management tools
Improves editing workflow when used as a plugin
Has a relatively simple tabbed interface
Cons
The interface could be a little confusing for novice users
Switching between tabs can result in a minor delay
Selecting a preset size doesn't immediately change the resolution
ON1 Resize 2022 is the latest version of this photo enlarger software from ON1. It is designed for high-quality photo enlargements as well as general photo management.
ON1 Resize 2022 is especially useful if you want to resize images for printing. For example, it has a range of resizing presets for Canon, Epson, and HP paper types and canvases. And if you are working with a large image library, you'll appreciate the extensive file management and organization tools.
What's New in ON1 Resize 2022?
The current ON1 Resize software has a handful of upgrades and improvements from the previous version. However, it is unclear exactly what has been improved. There is no list of updates to be found on the ON1 website.
ON1 simply states that the program has performance improvements relating to browsing, organizing, and batch processing. ON1 Resize 2022 also offers updates from ON1 Photo RAW 2022 systems and modules. For example, ON1 Resize 2022 features the latest Browse photo-management module and the latest RAW processing engine from ON1 Photo RAW 2022.
Related Post: ON1 Photo RAW 2022 Review
Note: ON1 Resize AI, the latest version of ON1 Resize, is currently under development. The new program will offer several major upgrades; you can preorder it here.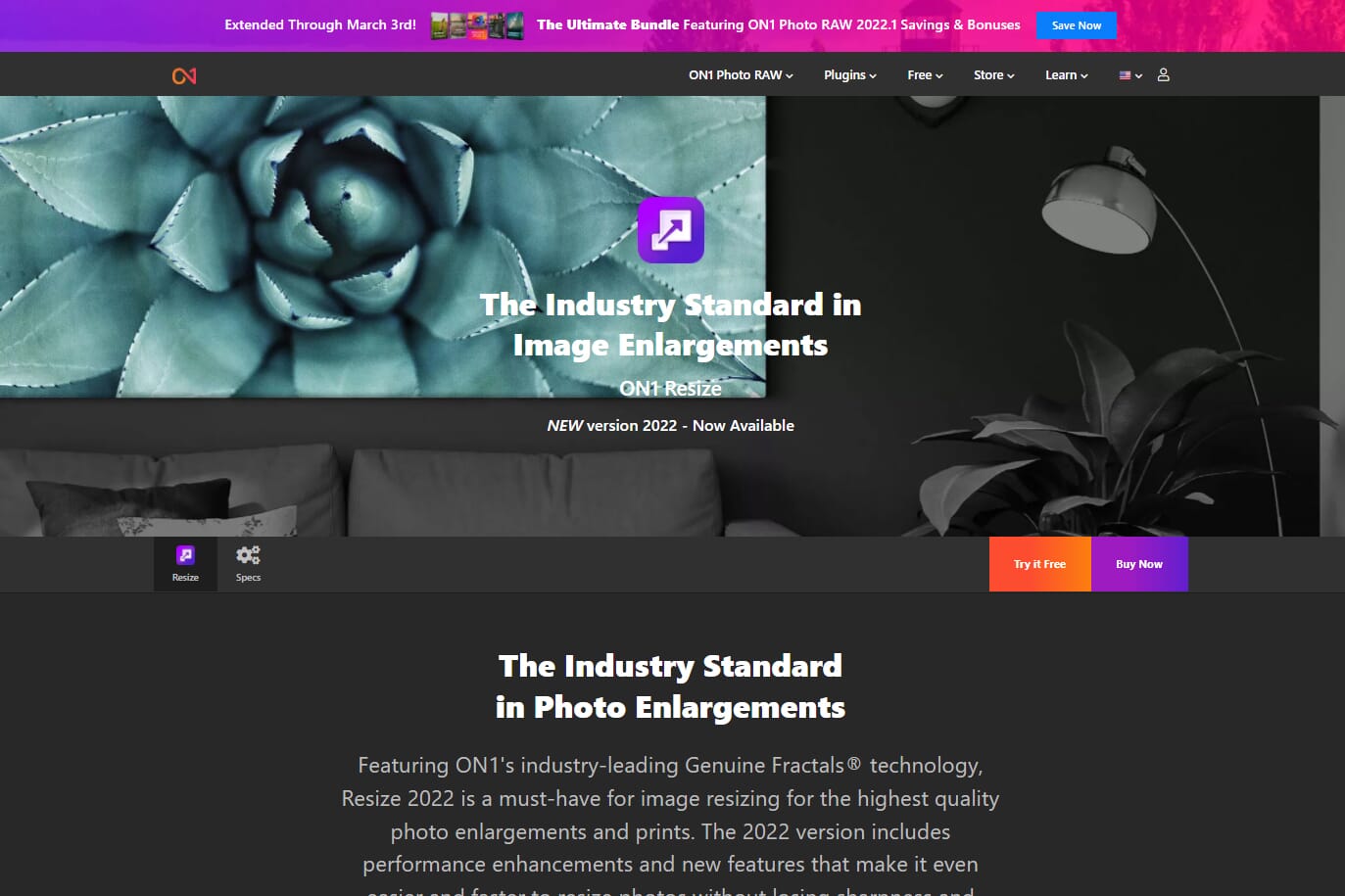 ON1 Resize Review: Features, Usability, and More
To create an in-depth ON1 Resize review, we spent time testing the software using a photography catalog. Overall, the software is pleasant to use and has some handy tools. We look in greater detail at different aspects of the software below.
Performance
For this ON1 Resize review, we tested the software using a desktop computer. The computer has an Intel Core i5-2500K processor, 24 GB of RAM, and an NVIDIA GeForce 1050 GTX GPU with 2GB of VRAM. These are essentially on par with the recommended system requirements (listed at the end of this review).
As a result, we expected flawless performance. This was mostly the case. When using the Browse tab, we could easily navigate through different folders with great loading times, and the thumbnail previews generally loaded quickly.
The different toolbars and features also loaded quickly and changes were generally made in real time. The only performance issue we found was when moving between the different tabs; switching between the Browse and Resize tabs resulted in a noticeable delay of up to five seconds.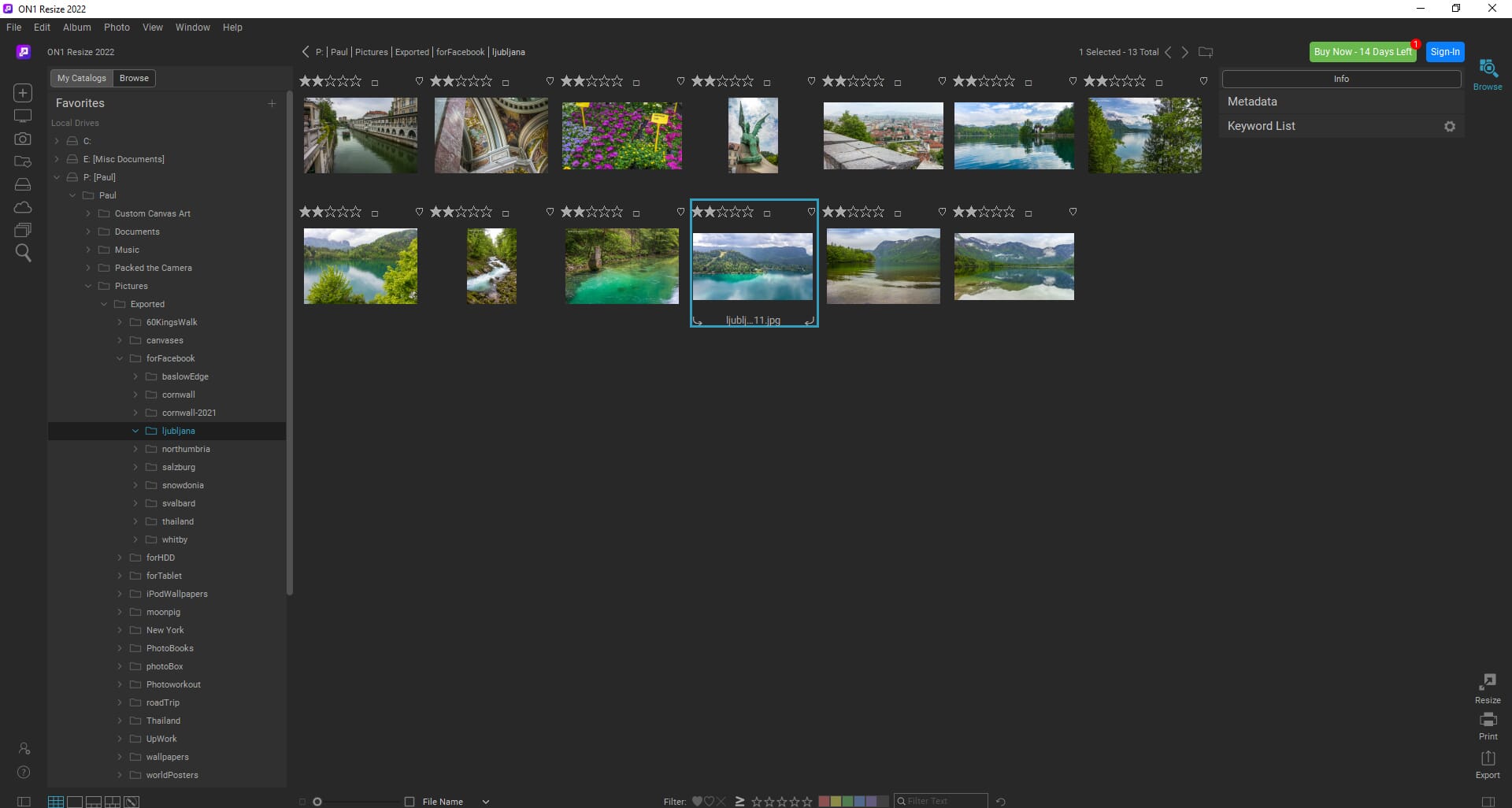 This is not a major issue, but it is something to consider and something we would not expect when using a device with the recommended system specs.
Usability
The usability of this software is a major part of this ON1 Resize review. We tested this software extensively and found the usability to be very nice. Anyone with prior experience using photo-editing software or similar programs should have no issue using ON1 Resize; it follows common conventions for layouts and toolbars that are present in most software. For example, on most screens, there are toolbars on the left- and right-hand sides and a central image preview pane.
The main tools are also easy to access once you've found the buttons. They are located on the right-hand side, and you can quickly switch between the Browse, Resize, Print, and Export modules. New users who do not have prior software experience could find the various toolbars and options a little overwhelming. However, compared to most software, ON1 Resize has a relatively minimalistic interface.
The actual Resize tool – which is the main feature of this software – is easy enough to understand. You can clearly see the different presets, and the various resize options (like sharpening, film grain, and tiling) are for the most part self-explanatory.
Photo Management
A great feature of ON1 Resize is the photo management toolset. Many programs like this only offer simple file management. In contrast, ON1 Resize 2022 includes the complete ON1 Browse module. This is a detailed photo-management module that is present in ON1 Photo RAW 2022.
On opening ON1 Resize 2022, you'll see the Browse module. On the left-hand side of the main screen, there is a folder navigation toolbar. You can browse files on your HDD, and you can also browse connected cloud storage platforms such as Dropbox and Google Drive. There is also a handy "Recent" tab that displays a list of recent images you have opened in the program.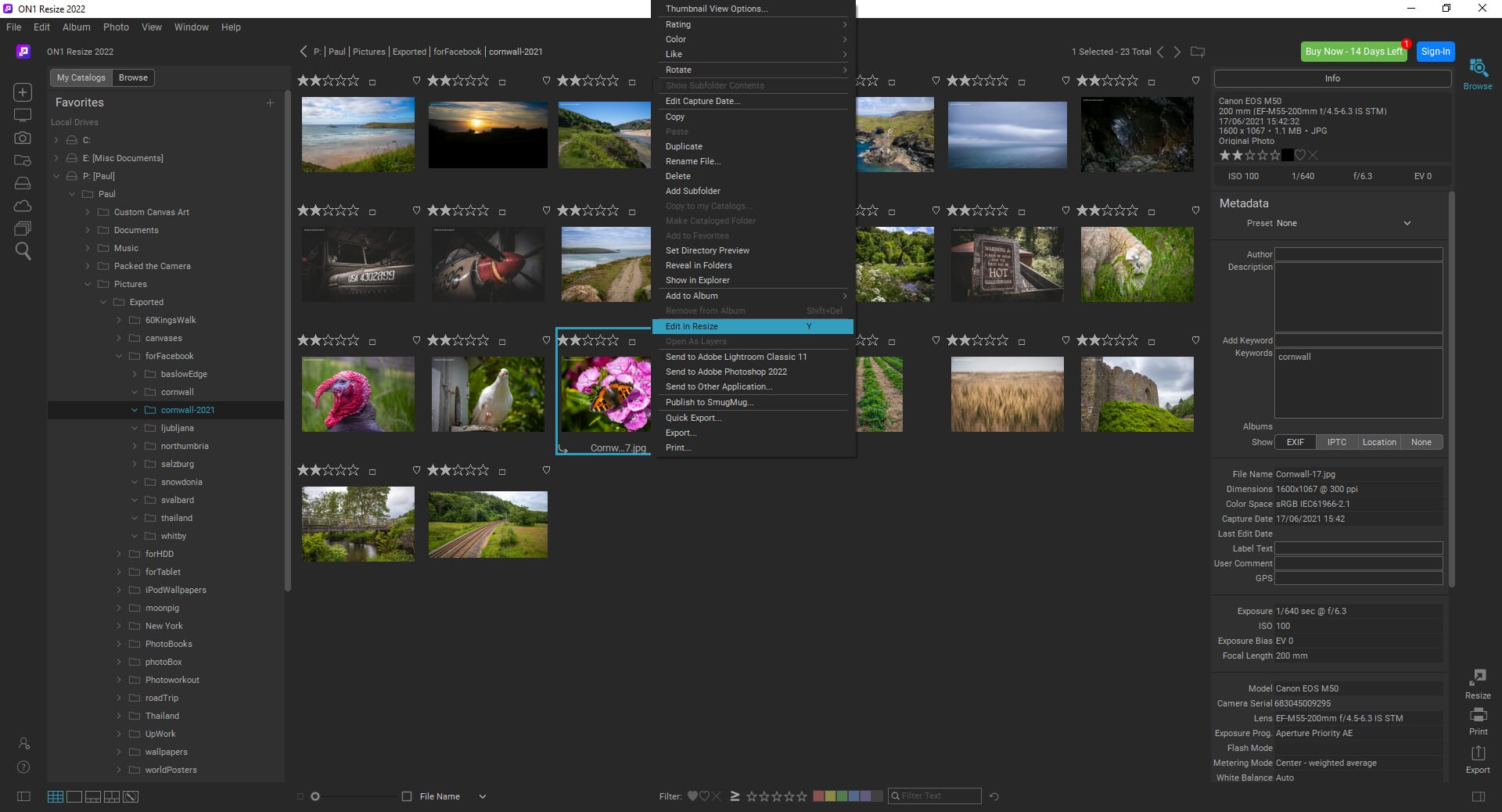 The folder views give you full control over your file structure. This means that you can create, rename, delete, and move folders and photos. You can also create separate albums, which operate in a similar manner to Collections in Adobe Lightroom.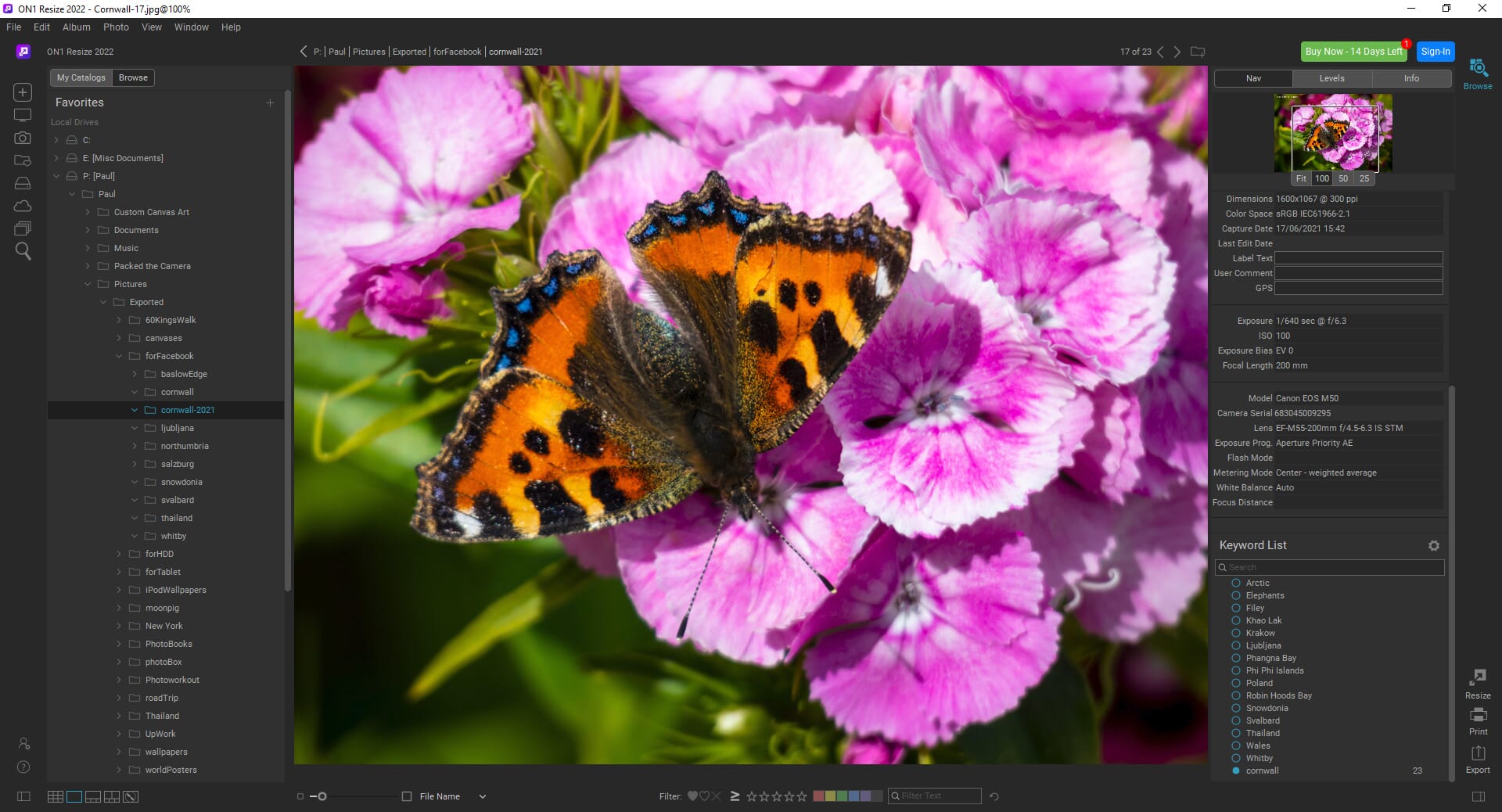 Aside from file management, ON1 Resize 2022 also has rating options and the ability to edit metadata. For each image, you can choose a star rating out of five, pick a color, and flag the photo as your favorite. With an image selected, you can also see the Metadata tab on the right-hand side. Here, you can change EXIF, IPTC, and location data. ON1 Resize 2022 also scans and finds associated keywords so you can easily search for specific photos.
Resizing Tools
The main feature of ON1 Resize is obviously the Resize module. Here you can select from a range of toolbars, including:
Pixel Dimensions
Document Size
Sharpening
Film Grain
Tiling
Gallery Wrap
It's a comprehensive set of tools that allows you to resize and edit your images in numerous ways. The Document Size tab lets you edit the resolution and dimensions. You can choose from various preset sizes or enter dimensions manually in pixels, inches, centimeters, or millimeters.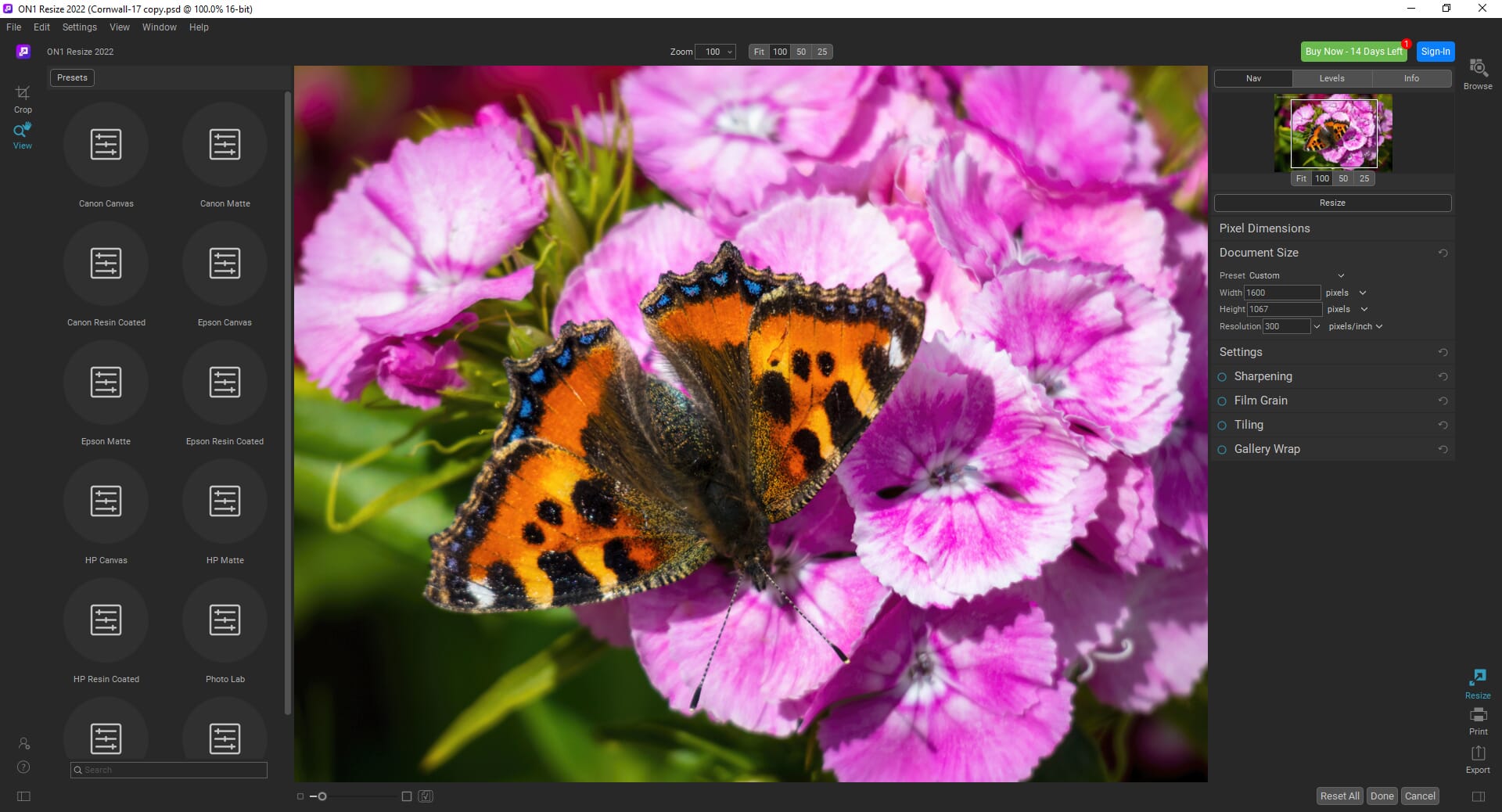 Once you've set the size, you can then apply various post-processing options. Film Grain allows you to apply retro-looking grain to your photos, while the Sharpening tool allows you to sharpen photos for printing.
The Tiling option is used to split a single photo into multiple prints or place multiple photos on a single page to print. And the Gallery Wrap option is useful for creative canvas prints. You can choose from several wrap modes, including Reflect, Stretch, and Reflect Soft. You can also select the thickness of the wrap to suit different canvas depths.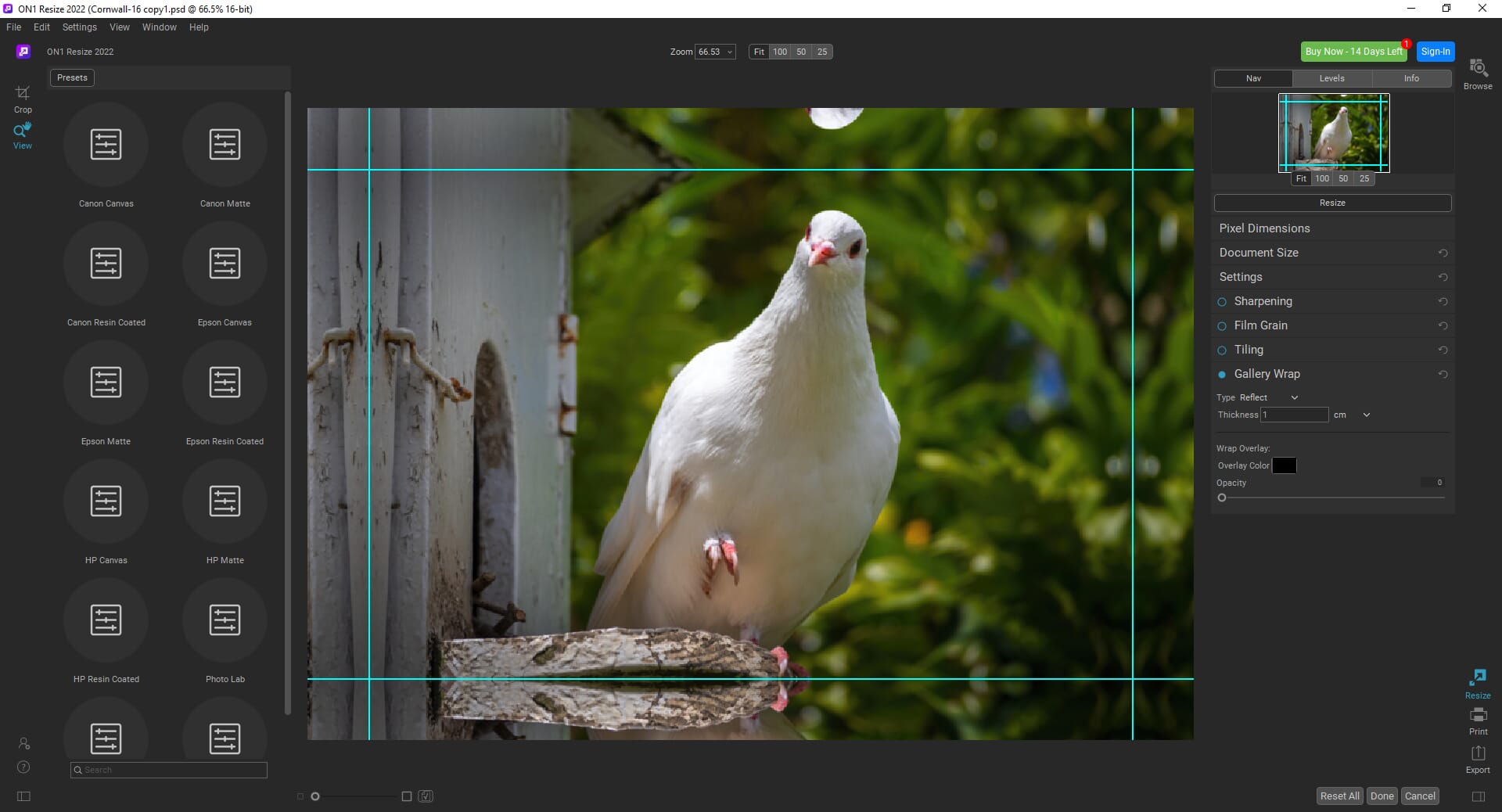 The resizing tools are easy to use and mainly self-explanatory. The quality of the photo enlargements is also great. The Genuine Fractals proprietary technology means that you can easily enlarge photos without loss of detail or sharpness. It is possible to enlarge photos up to 1000% of their original size!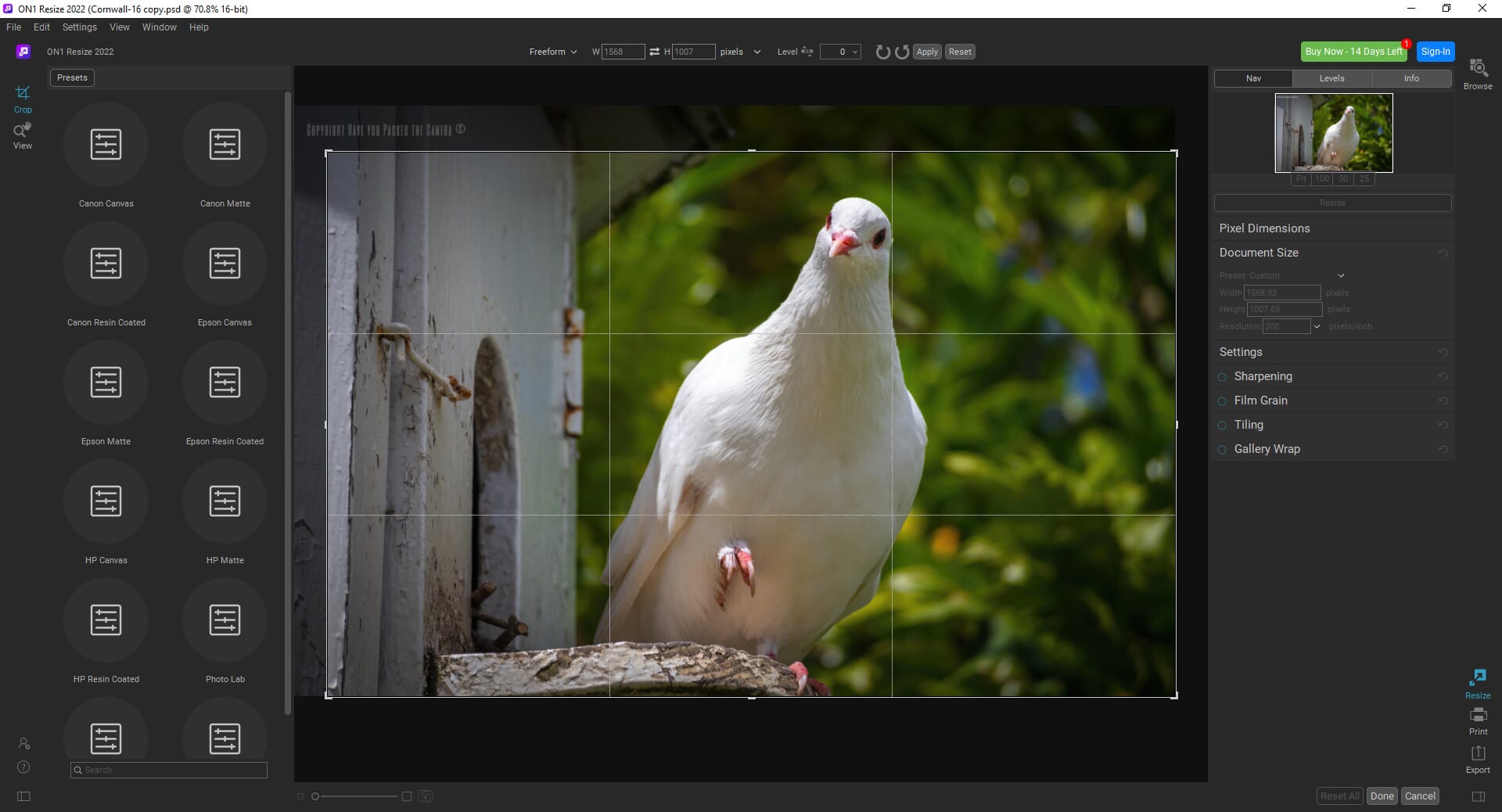 Resizing Presets
To make the resizing process easier, ON1 Resize 2022 has a wide selection of presets available. These are meant to be used in conjunction with specific paper types or export options. The set of presets includes options from manufacturers and for specific purposes such as:
Canon
Epson
HP
Photo Lab
Video
Web & Email
For each manufacturer, there are different paper and canvas types such as Canon Resin Coated, HP Matte, Epson Canvas, and HP Resin Coated. And for each of these options, there is an excellent range of preset sizes. For example, the HP Matte category contains presets for 4×5, 4×6, and 5×7 photos.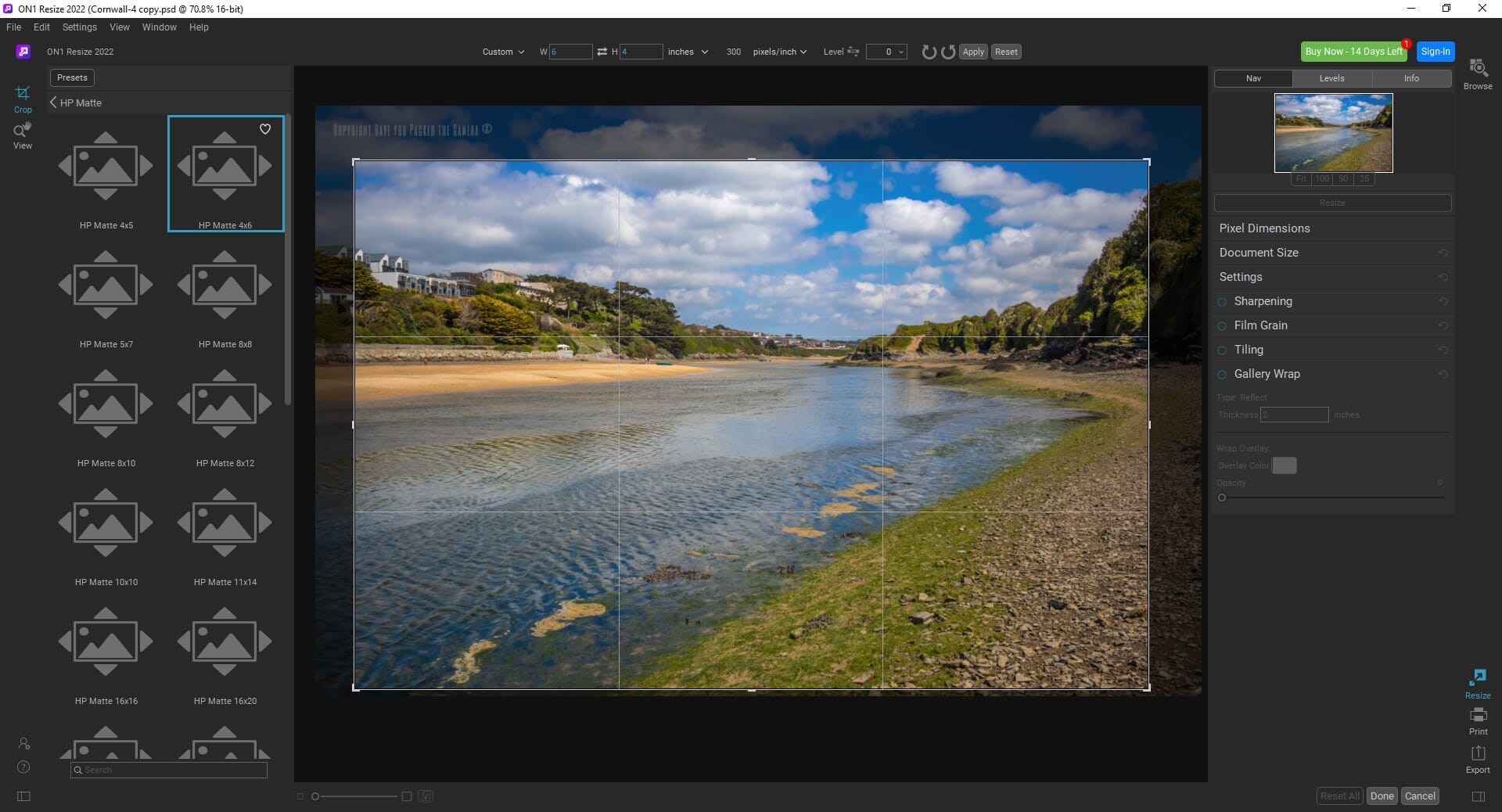 This is incredibly useful if you want to manually print your photos on specific photo paper. It is also useful if you want to send your photos for third-party printing.
We do have one issue with the presets: Selecting a preset simply creates a fixed-ratio crop box matching the selected size. You then need to apply the crop manually, and the image isn't resized until this is completed. We think this process could be streamlined and simpler to understand.
Print Management
ON1 Resize 2022 also has a comprehensive print-management tool. After selecting a file (or multiple files), simply click the Print button in the bottom right-hand corner. This opens the print dialog box.
The list of print options and settings is extensive; this is great if you have a high-quality home printer. You can choose the printer and set the paper size (there's a list of default sizes including A3, A4, A5, and Letter).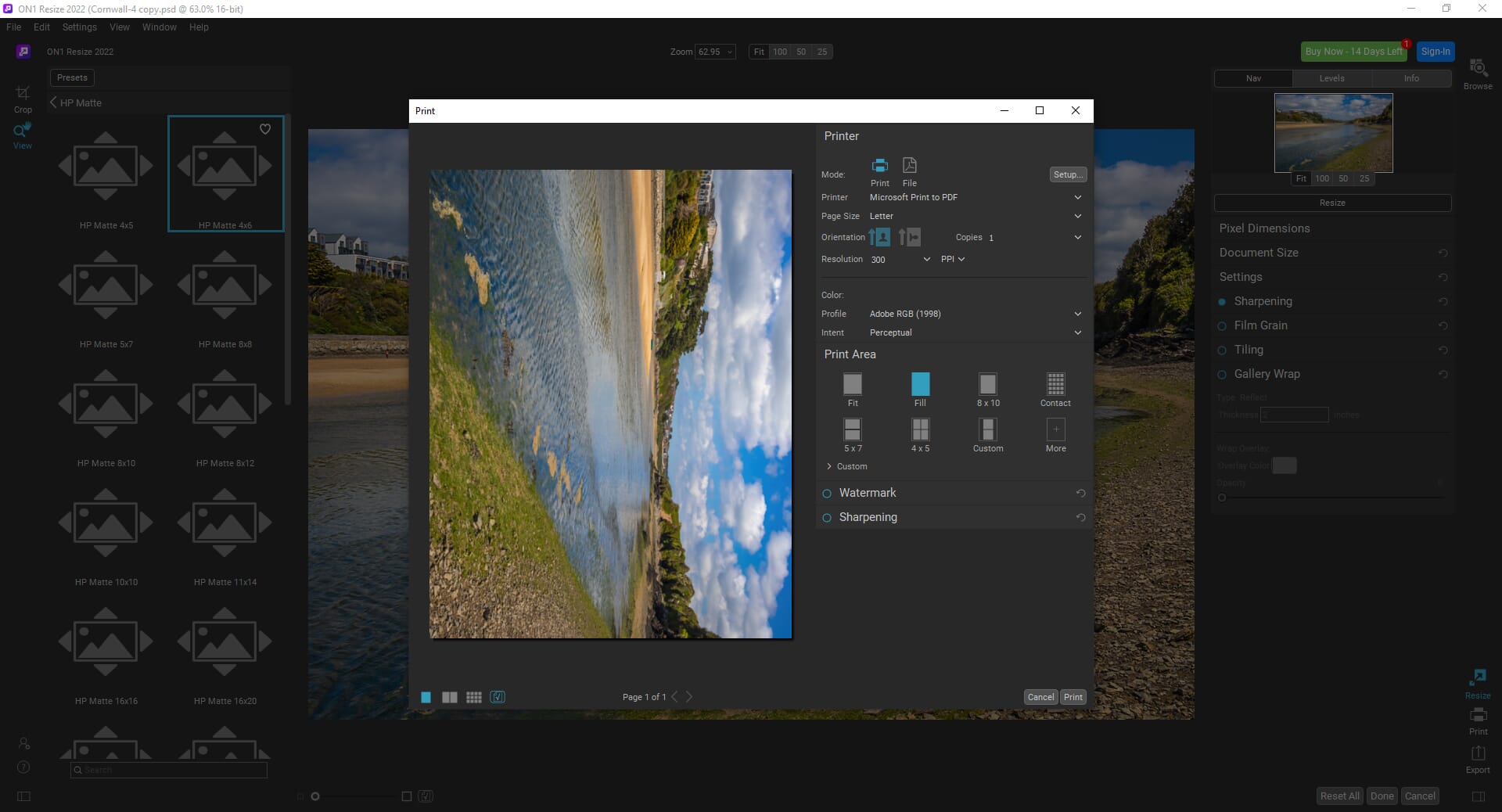 You can also set the print orientation, add a resolution in PPI, and choose the number of copies to print. We also like that you can select the color profile. This is important for high-end printing. The profiles include popular options like Adobe RGB and sRGB.
Lastly, there are different print area settings. These include fit, fill, 8×10, 5×7, and 4×5, for example. You can also choose custom settings and create print area presets. Overall, the print dialog box is highly useful and offers plenty of customization options for photo prints.
Exporting
In this ON1 Resize review, we also tested the exporting features. The Export tool is in the bottom right-hand corner of the main screen. Clicking it with files selected opens the Export dialog box.
This dialog box has extensive features and options. It gives you full control over the exporting process and is also ideal for batch exporting.
The left toolbar shows a list of export presets. These are useful for exporting specific file types like JPEGs and DNGs. The right toolbar contains the different exporting options. These include Naming, Resize, Sharpening, Metadata, and Watermark.

Using the Naming tab, you can choose the export destination and apply various renaming criteria and rules. You can also select the file type, including PSD, TIFF, JPG, PNG, and DNG. The Resize tab allows you to resize the image on exporting. You can select from a list of common sizes or enter custom dimensions in pixels, inches, centimeters, or millimeters.
Lastly, you can choose to apply post-editing sharpening, select metadata to include, and add a custom watermark for copyright protection.
Plugins
ON1 Resize is also available as a plugin for:
Adobe Photoshop Lightroom Classic
Adobe Photoshop
Apple Photos Workflows
ON1 Photo Raw 2022
It is relatively simple to use as a plugin; however, when you access the plugin, it still opens as the complete standalone software.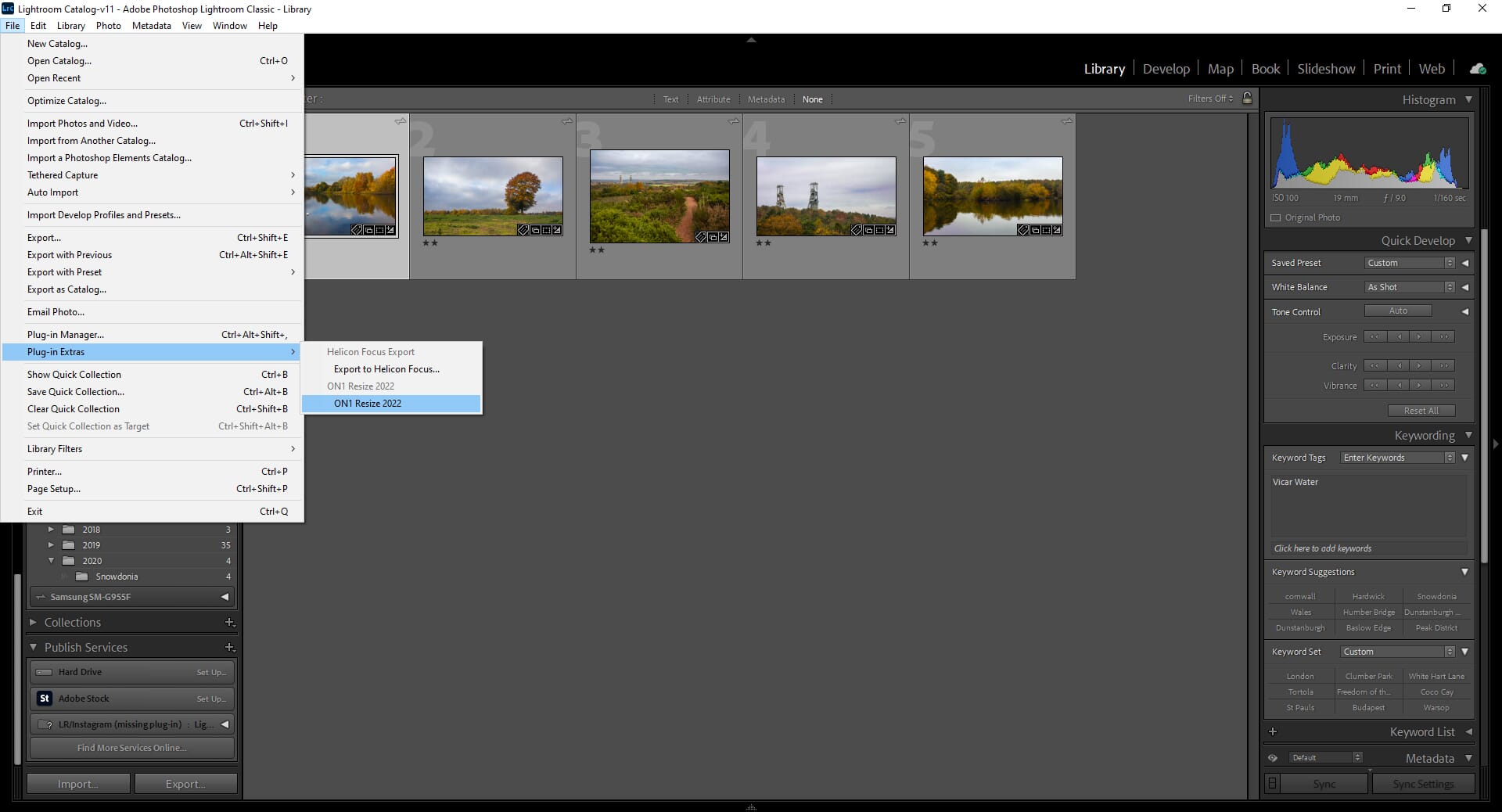 The plugins are nice, but due to how they function, it is just as easy to use ON1 Resize 2022 as a standalone program.
System Requirements
It is also important to look at ON1 Resize's system requirements. This has a direct impact on the software's performance. We have listed both the minimum and recommended system requirements below:
Minimum System Requirements
Operating System: macOS 10.14, Windows 10
Processor: Intel Core i5, Xeon, or Apple Silicon
RAM: 8 GB
Storage: 1.5 GB for installation
Graphics: OpenGL 3.3 compatible with 512 MB of VRAM
Recommended System Requirement
Operating System: macOS 12, Windows 11
Processor: Intel Core i5, Xeon, or Apple Silicon
RAM: 16 GB
Storage: 1.5 GB for installation
Graphics: OpenGL 4.2 compatible with 2 GB of VRAM
These system requirements are nothing too extraordinary. Most computers for photo editing have at least 8 GB of RAM and an Intel Core i5 or AMD Ryzen processor.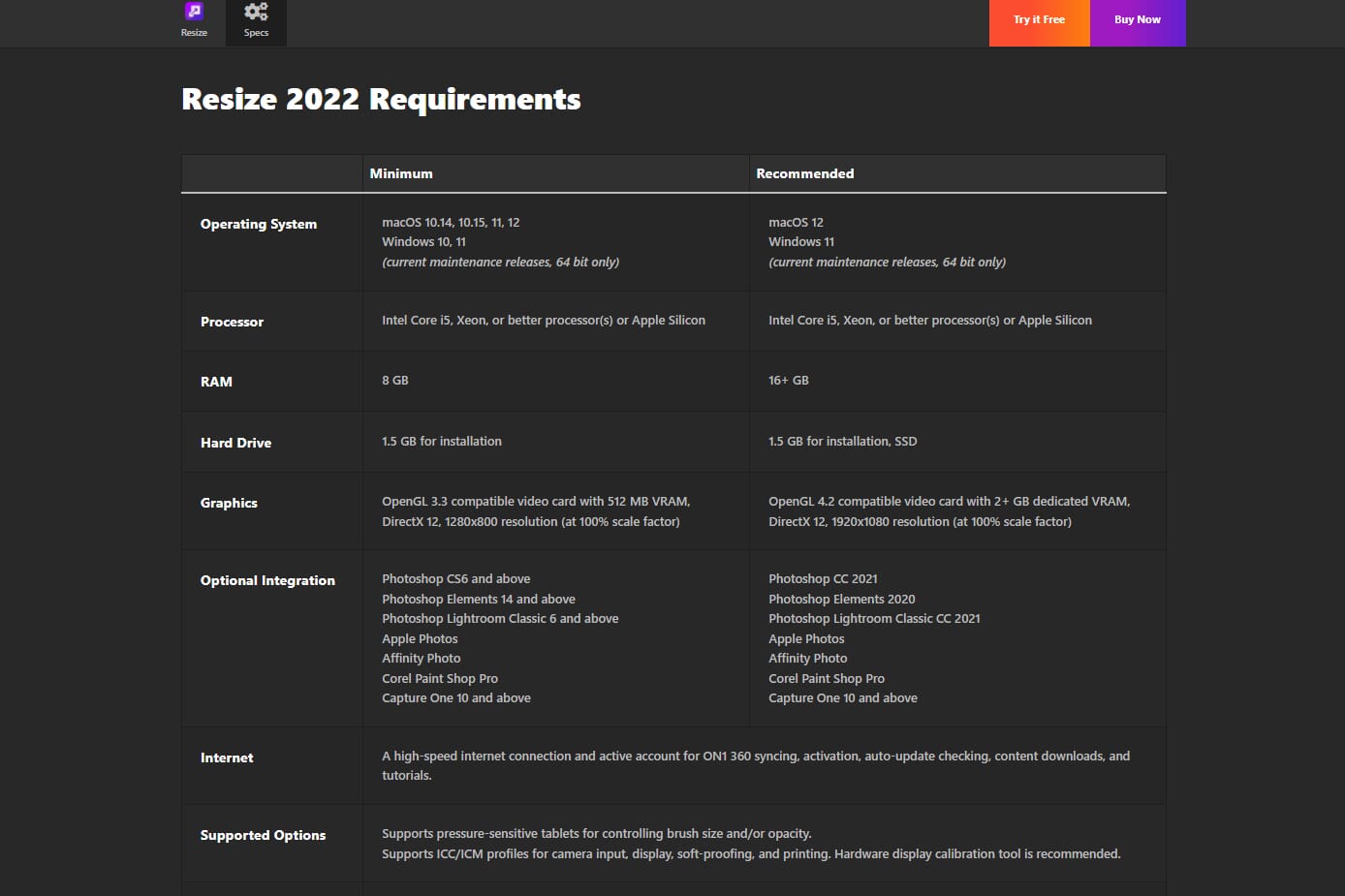 If you're using the minimum specs, expect ON1 Resize 2022 to run decently well. There may be some delays, and things like image previews may take a little longer to load. We tested the software using a computer with 24 GB of RAM and an Intel Core i5 processor and experienced no issues.
Pricing
How expensive is the software? We appreciate that not everyone can afford a monthly subscription or large one-off payments. ON1 Resize 2022 is available as part of three different packages, which are listed below:
ON1 Resize 2022 Standalone Product: $60.00
ON1 Professional Plugin Bundle: $149.99
ON1 Everything: $89.99 per year
If you simply want to use ON1 Resize 2022, you can buy it for a one-off fee of $60.00. This gets you full file-management and resizing features, and we think that's a reasonable price.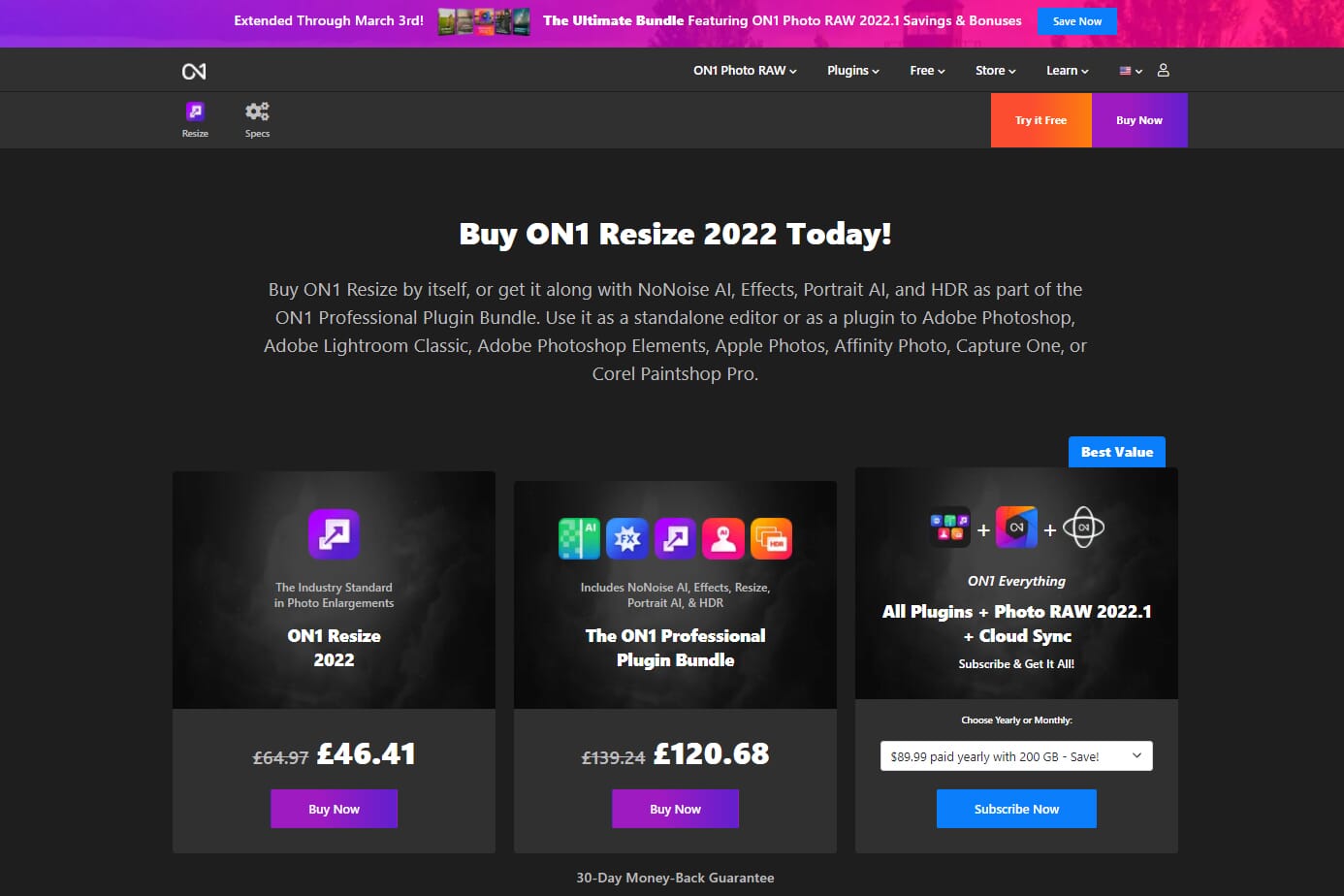 Alternatively, if you want more, there is the ON1 Professional Plugin Bundle. This includes NoNoise AI (Denoising), Effects, Resize, Portrait AI, and ON1 HDR 2022. Considering ON1 Resize 2022 is $60.00 as a standalone product, $150 for this package is a great value. You get five high-quality programs that can be used for professional photo editing.
The last option is a subscription. This is now common practice and other companies like Adobe offer software subscriptions. For $89.99 per year ($7.50 per month), you get ON1 Photo RAW 2022, all the plugins previously mentioned, and cloud syncing. If you prefer ON1 Photo RAW over Lightroom or other competitors, this is certainly a cost-effective subscription plan.
Grab ON1 Resize 2022 and Start Resizing!
We hope you have found this ON1 Resize review useful. The updated version certainly offers an improvement over the previous iteration. This includes improved performance and updates to the various modules.
But who could use this software? Due to the features, tools, and system requirements, we don't think novice users or hobbyists would benefit from ON1 Resize 2022. You can essentially perform the same functions (albeit in slightly more complex ways) using other photo-editing software. However, if you are regularly working with large volumes of photos in a professional capacity, ON1 Resize 2022 is a great option. It can improve your workflow when used as a plugin, plus the batch tools, file management options, and preset resize formats are incredibly useful.