There are so many different online graphic design platforms available that it can be difficult to know which are worthwhile. One of the top options is Picsart, but is it really worth using?
As you will see in this Picsart review, the platform offers a comprehensive editor and some useful tools for marketing and graphic design, but it also comes with some serious drawbacks.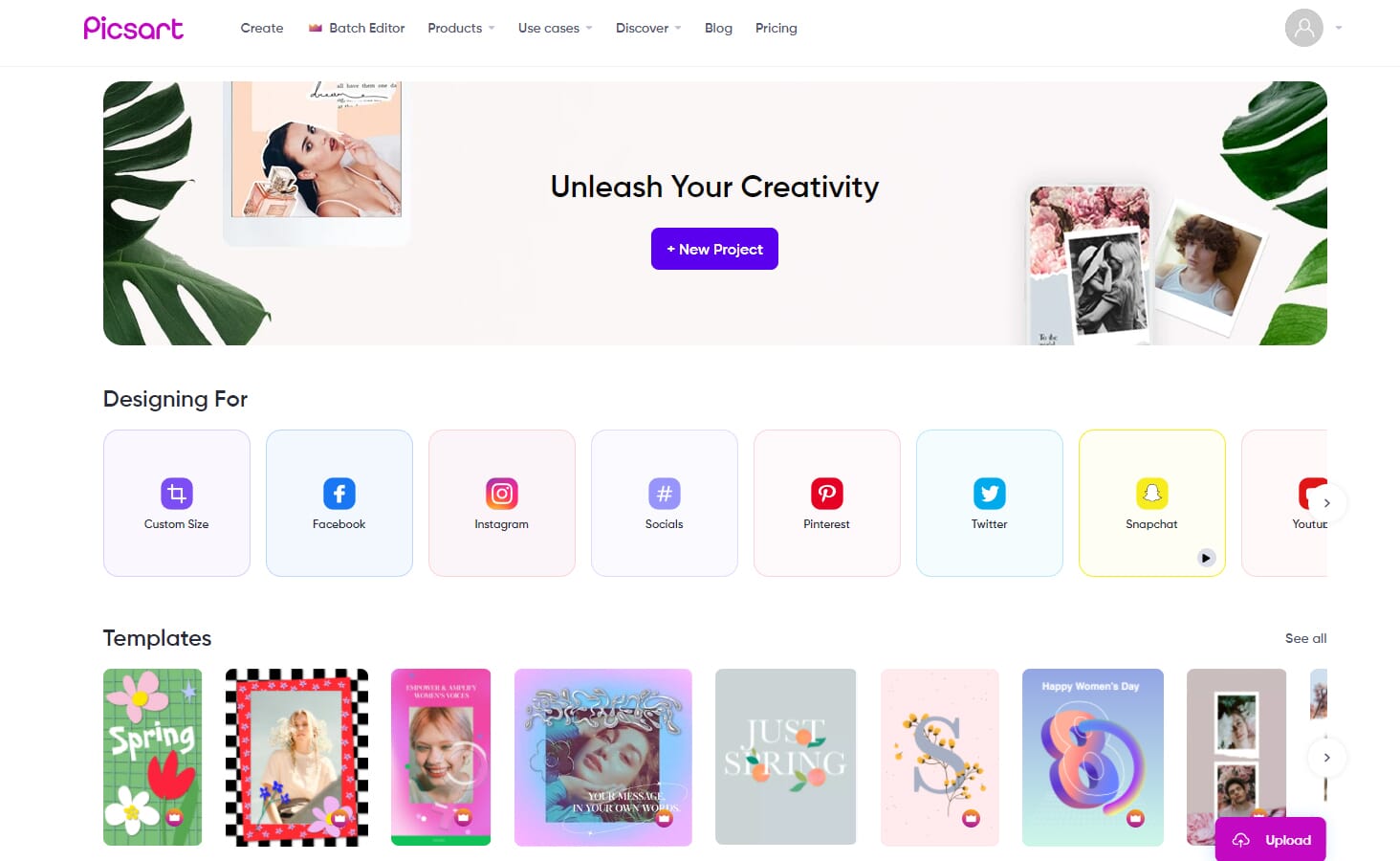 When you buy through links on our site, we may earn a commission at no cost to you. We evaluate products independently. Commissions do not affect our evaluations.
Picsart: Overview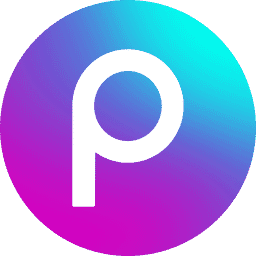 Great for creating complex marketing designs
Picsart has an amazing online editor that gives designers full control over the creative process.
Gold plan starts at $3.24/mo. Free version available.
Pros
Photo editing tools included in the editor
The editor has impressive functionality with many useful tools
You can choose from a large range of template layouts
The editor allows for the creation of multi-layered designs
The Gold price plan is great value for solo users
Cons
The free version is limited in its usefulness
The 7-day free trial requires payment details to be entered
The Picsart app is confusing
Too many ads on the mobile app
Picsart is an online graphic design editor that offers both desktop and mobile versions. The desktop editor is one of the best available and is a highlight of the platform. It is comprehensive and easy to use. With a bit of effort, anyone can create complex, multi-layered graphics for a variety of purposes.
Picsart also benefits from an excellent library of preset layouts and templates. These are high quality and are available for many purposes, including Facebook cover photos and Instagram stories. Picsart also has one of the most affordable pricing plans for solo users.
Unfortunately, Picsart is not without its flaws. Some strange tactics are used for the free trial which could result in accidental payments. And the mobile app, while great for editing, has far too many ads and trial links. Lastly, while there is a free version of Picsart, it is limited in its usefulness; many features are locked.
Picsart Review: A Detailed Breakdown
To create this in-depth review of Picsart, we spent time testing the editor. This included creating random sample designs and trying all the different tools. We had fun! Picsart features a comprehensive editor, and while it is easy to use, it offers plenty of functionality. For this review, we also looked at pricing, the mobile app, and the Picsart template database.
Picsart Desktop Editor
The best aspect of Picsart is its desktop editor. The editor is incredibly detailed and allows you to create complex, multi-layered designs with relative ease. If you need an editor to make graphics for marketing, Picsart could be a perfect choice.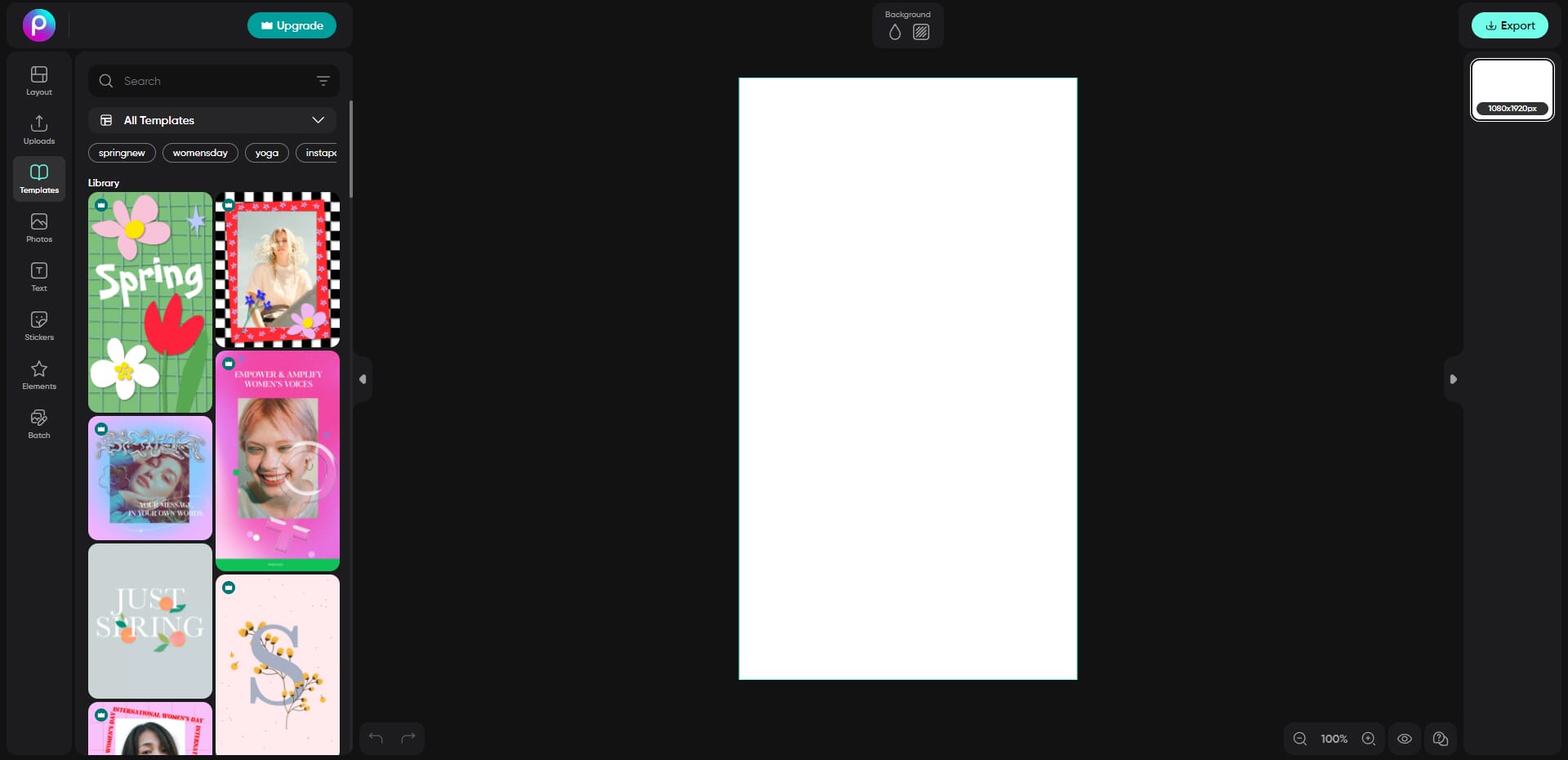 Generally, the tools are easy to use and the layout is logical. The main editor has a toolbar on the left-hand side and a central panel that shows the image. On the right, you can see the different layers and objects included in your current design. It's easy to understand and allows for efficient image management.
It is important to note that, when using the free version, you can only export designs if they contain no premium items. You can tell if an object is premium as it will have a small crown on it. Even if a design has no premium items, you still have to sign up for the 7-day trial to export it.
Layout
If you are struggling for inspiration or require an image of a specific size, you can use the Layout tab. This is an excellent feature that contains hundreds of different preset layouts. You can also choose to create a custom layout size if you wish.
There are hundreds of different layouts, including Instagram Square, Instagram Story, Facebook Ad, Pinterest Pin, YouTube Thumbnail, Twitter Cover, and Zoom Background.
Uploads
We also like that there is an Upload section where you can add images and fonts.
This means that you don't simply have to rely on the fonts and images available in Picsart. The image upload feature is easy to use: Simply click on the Upload button and a new file management dialog box opens. You can then navigate to the relevant folder to insert an image.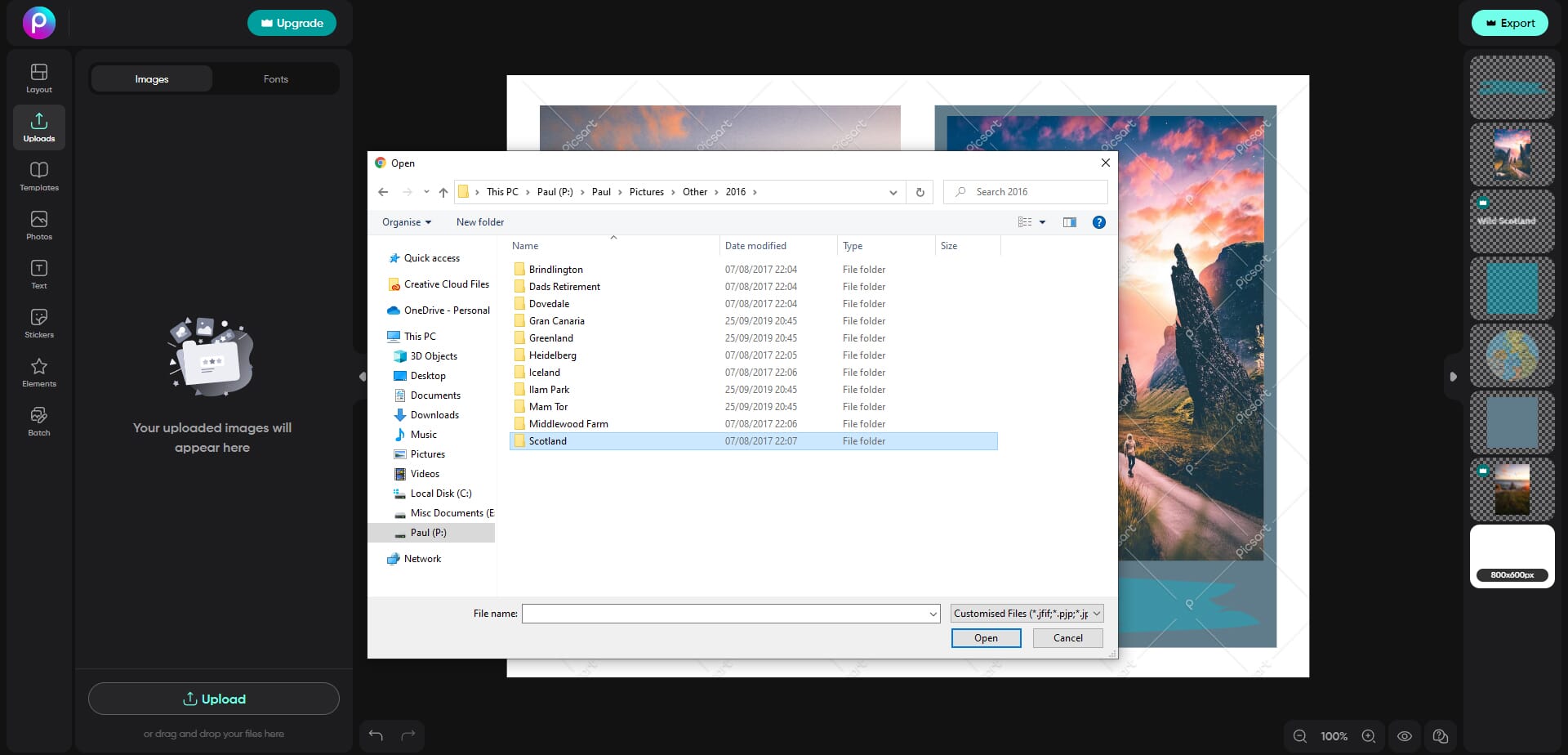 You can also use special fonts relating to your business. The range of Picsart fonts is extensive, but there are literally tens of thousands of fonts available on the internet, so this is a great feature.
Templates
You may not know where to start when creating a new image, and that's okay! That's what the Templates toolbar is for. The Templates toolbar has a search function, filters, and previews of the different templates.
The search function is useful as the templates all have various associated tags. This means that you can search for keywords and Picsart will return a range of relevant designs.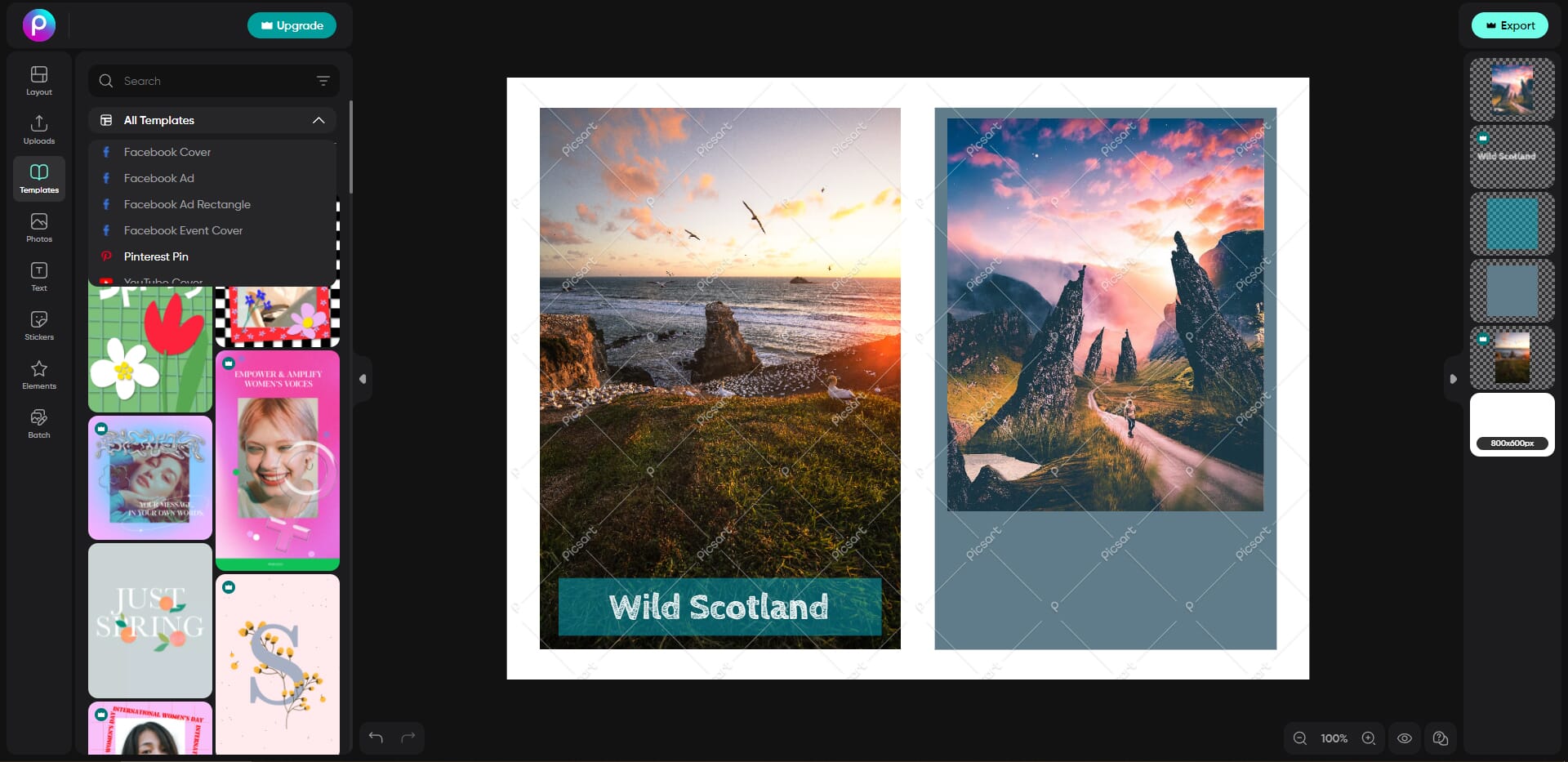 The filters option is also highly useful. You can choose to select between premium and free templates, and templates for personal or commercial use. You can also use the templates dropdown box to select from different categories. These categories are essentially the same as the different layout options – but instead of a blank layout, there is a range of pre-designed templates.
We discuss the quality and variety of templates further down in this Picsart review.
Photos
Picsart also has a large catalog of photos that you can insert into your designs. The quality and variety of photos are excellent. Like the Templates tool, the Photos toolbar has both search and filter tools. You can filter the photos to show only free files or files for personal use, for example.
When creating our sample design, we simply typed "Scotland" into the search bar. It immediately returned a large range of images, including some fantastic landscape photos of Scotland which worked with our design perfectly. We really like the simplicity and effectiveness of this. You can use royalty-free photos to enhance your designs, which is a huge plus.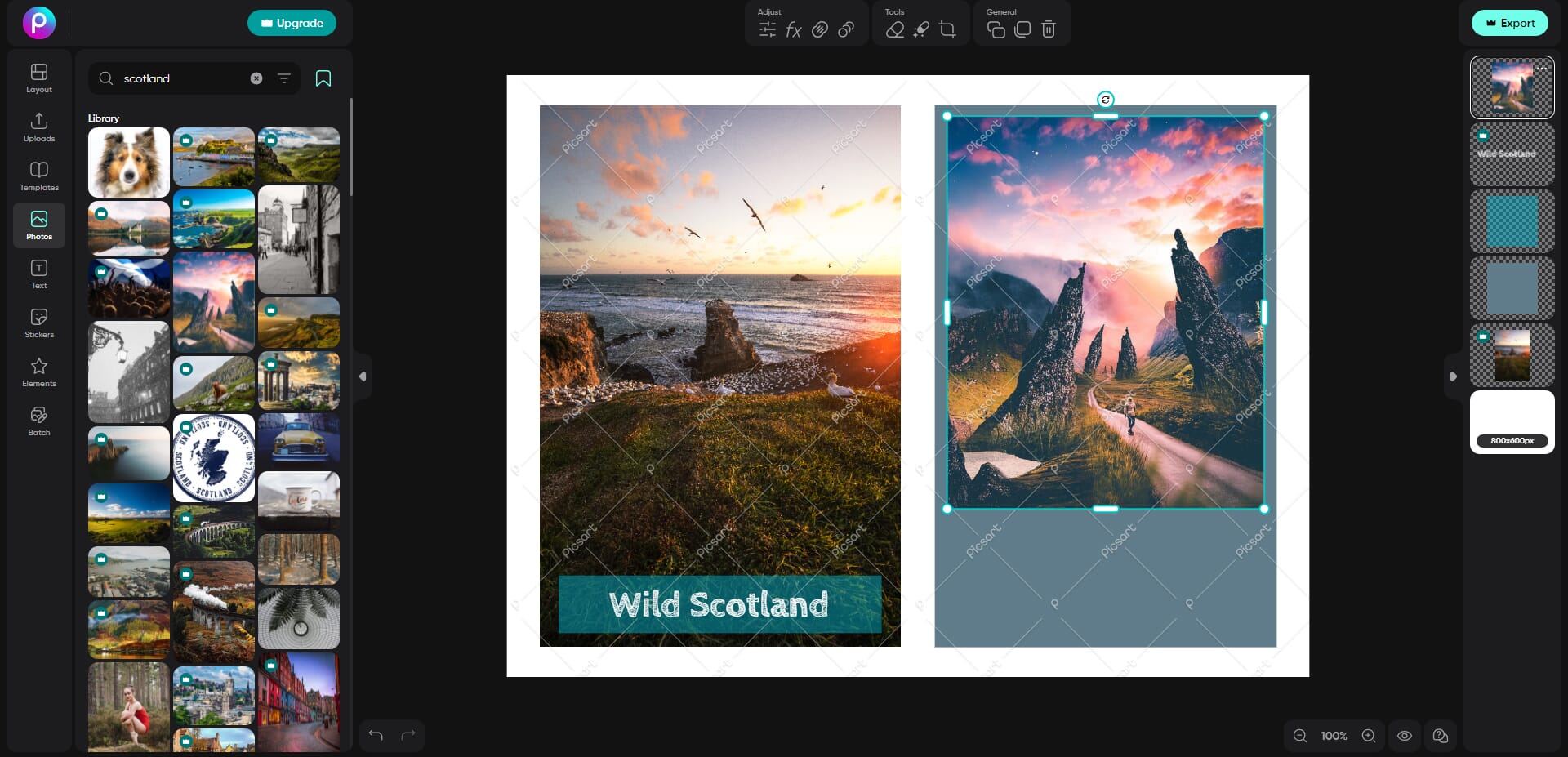 The only downside here is that, for free users, the variety of free photos is limited. Most of the photos are only available for use if you have a paid subscription.
Text
Adding text to your images is an essential part of graphic design; fortunately, the Picsart editor has advanced font-editing tools.
Upon opening the Text tool, you can either insert generic text – which you then customize – or you can choose from some funky preset text styles. The preset styles are only available for premium users, and to be honest, they're a little extreme. We wouldn't recommend using them.
The generic text option offers far more creative freedom. You can choose to insert a heading, subheading, or body text. After selecting a category, a text box appears on your design, and you can input your text.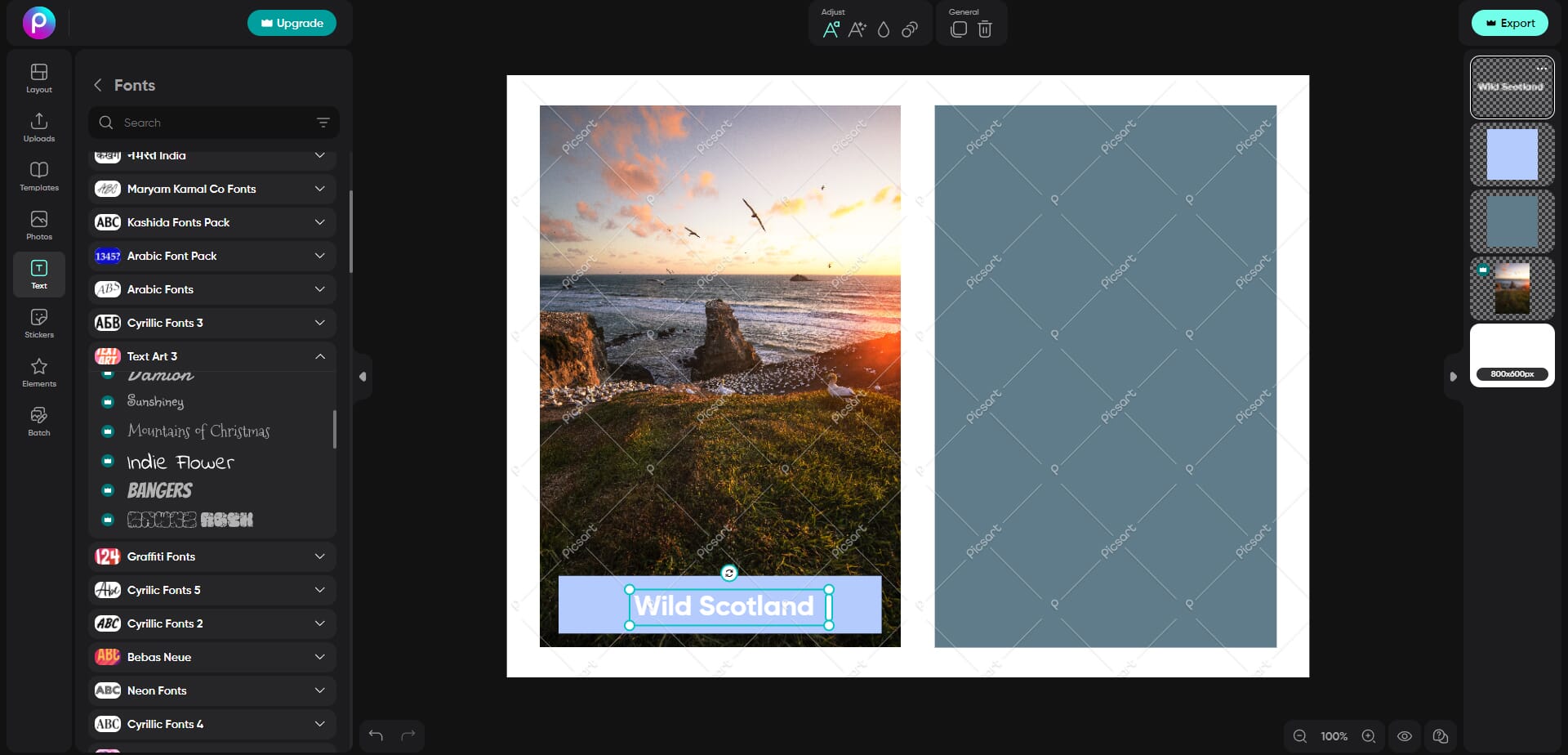 The Font tool allows you to change the font type, size, alignment, and spacing. You can then change the color and opacity, and add useful design features like a shadow or stroke using the Color tool. These tools are all easy to use and mainly use simple sliders to change the values.
The variety of available fonts is quite good! You can choose from many different parent font categories, and each contains a large selection of fonts. A preview of the font style is also shown, which makes selecting a font easy.
Stickers
We are not usually fans of stickers in graphic design editors like this. However, we had fun looking at the different stickers and trying to use them in our designs.
Surprisingly, the stickers are useful. Sure, there are some ridiculous stickers that you would never include in your designs, but for the most part, they are of excellent quality. We performed a simple search for "Scotland" stickers and Picsart returned a surprising number of options. These included flags, famous Scottish people, and even some soccer team badges.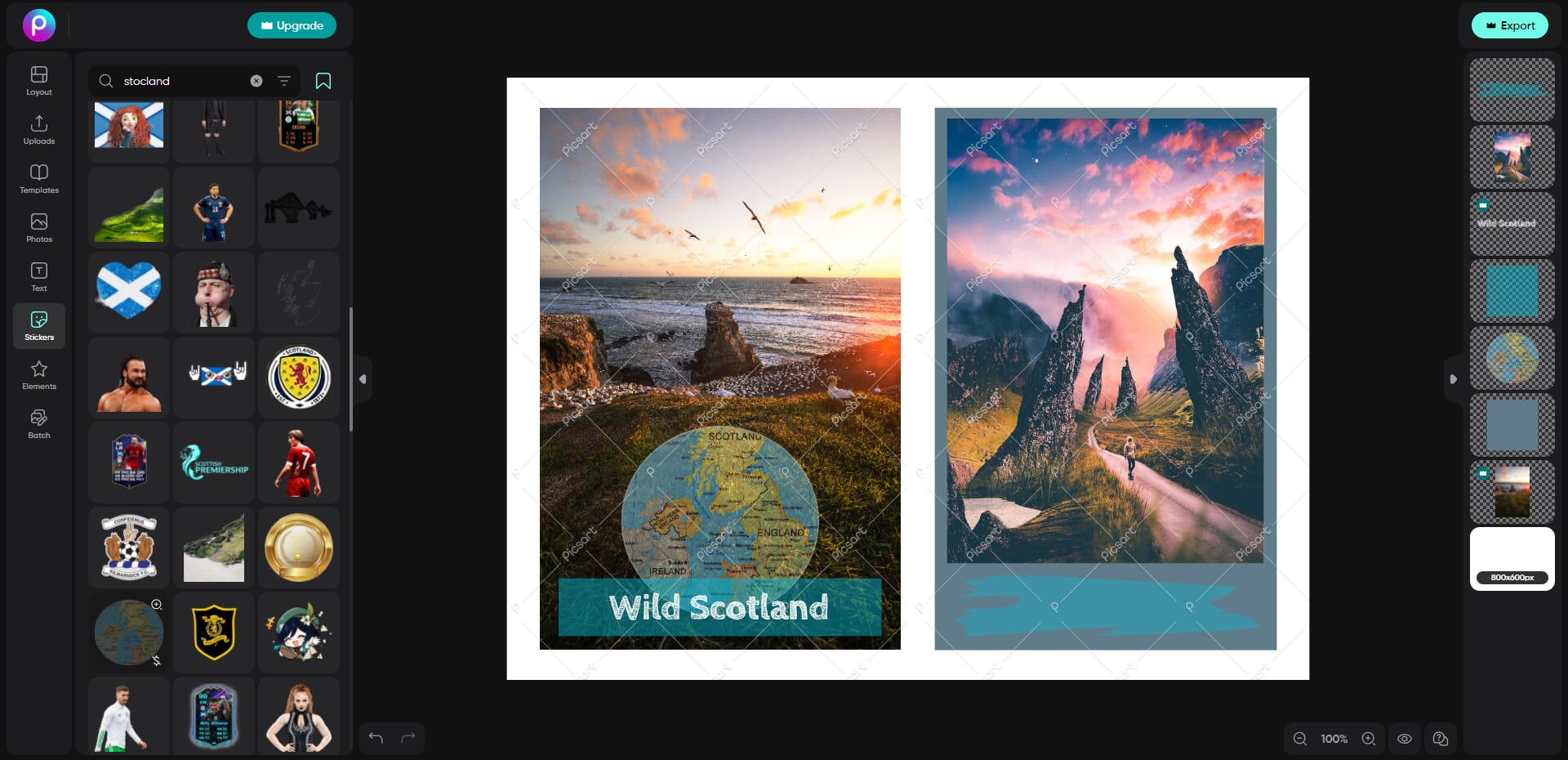 The stickers are easy to manage within your images. You can use the Adjustment tool to change the basic properties of the stickers. We really liked this as it gives you great control over each item. For example, you can change the brightness, contrast, saturation, and clarity.
Unlike many graphic design programs, Picsart produces great stickers that you can genuinely use!
Elements
An online graphic design editor needs the ability to create simple geometric shapes, and that's what the Elements toolbar does.
Elements splits the shapes into different categories, including Simple Shapes, App Icons, Organic Shapes, Decorative Shapes, and Abstract Shapes. There is, however, no tool to make a geometric shape from scratch.
This shouldn't matter because you can freely customize elements once they are inserted into your image. For example, we wanted to include a simple rectangle in our design that we could then overlay with text. We started by inserting a square from the Simple Shapes category. With the square inserted, we could simply select it and use the resizing arrows to resize it into a rectangle!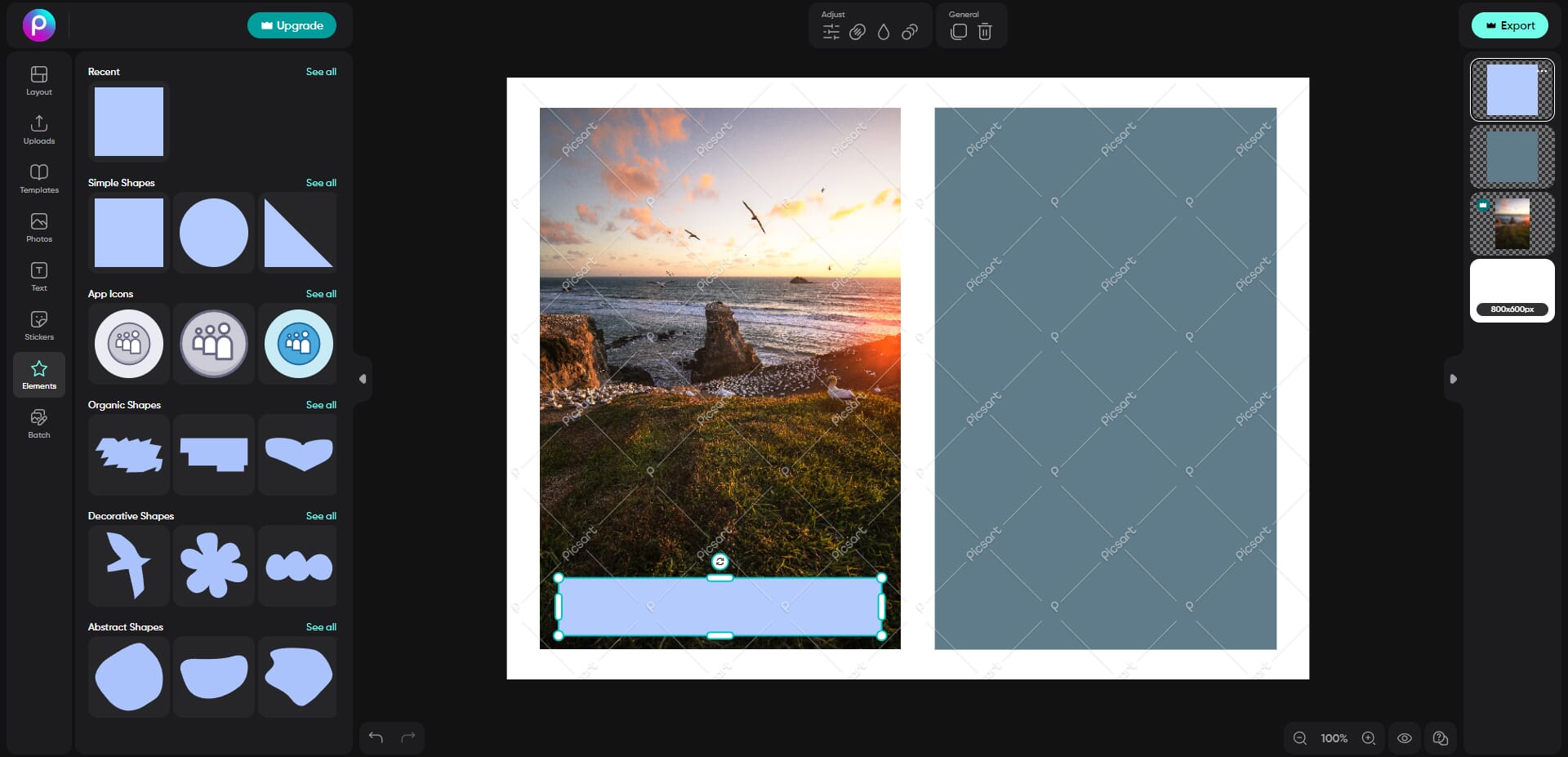 For each element, you can change the opacity, saturation, brightness, contrast, and corner radius. And you can choose different blending modes so that the elements blend in different ways with the layers beneath them.
Batch Editor
Picsart also has a dedicated Batch Editor that works as a standalone tool separate from the main editor. This is an excellent tool that is useful for making blanket edits to multiple images.
The Batch Editor is simple, but it is very powerful. As demonstrated in the screenshot below, you can select an unlimited number of images and make changes to each one. The tools you might use include upsizing, background editing, cropping, and even adding watermarks.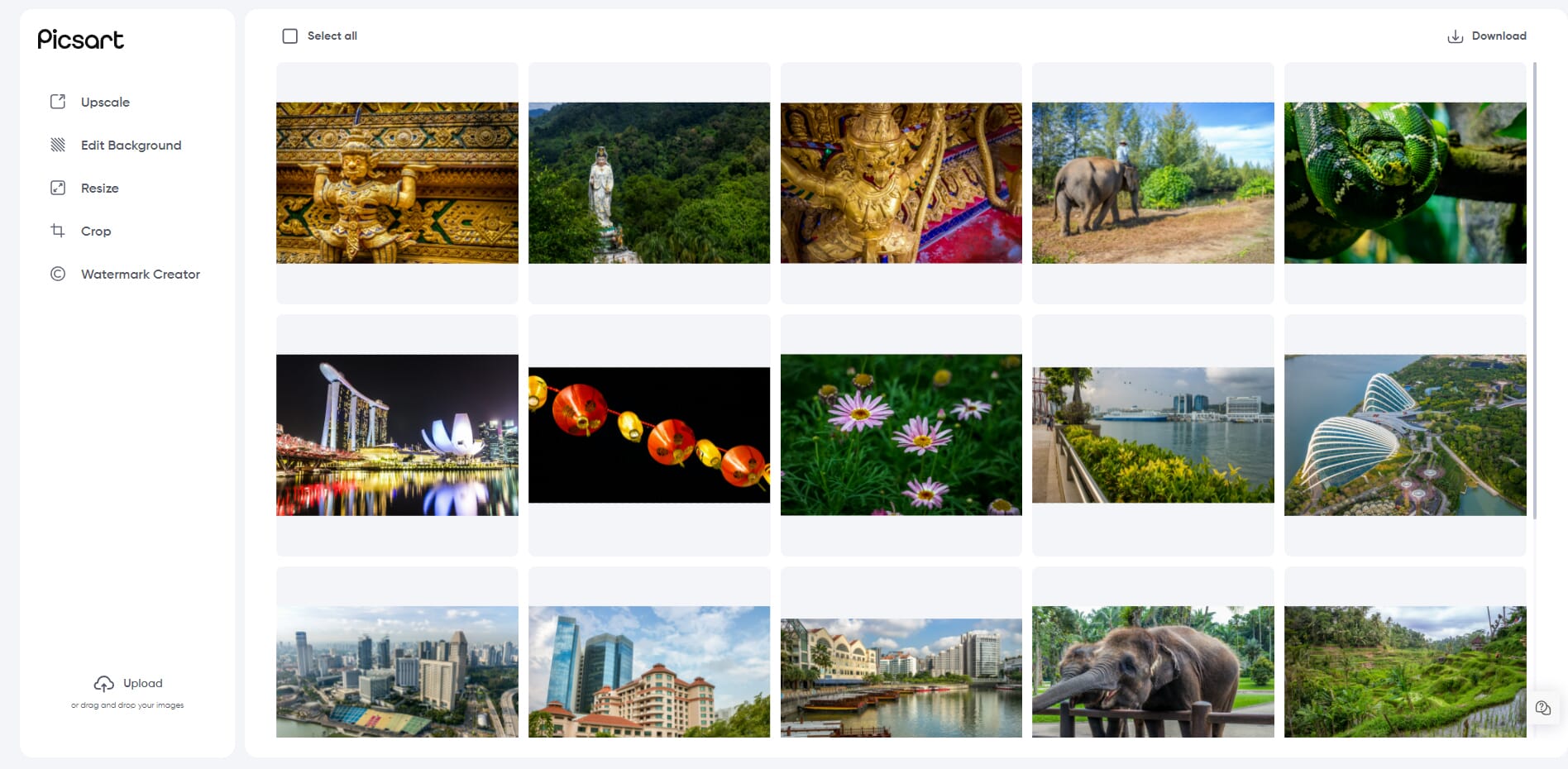 The Watermark tool, in particular, is handy to have if you want to protect your marketing media.
Picsart Template Database
A great part of Picsart is the large template database. This includes thousands of stock photos, template layouts, and predesigned templates.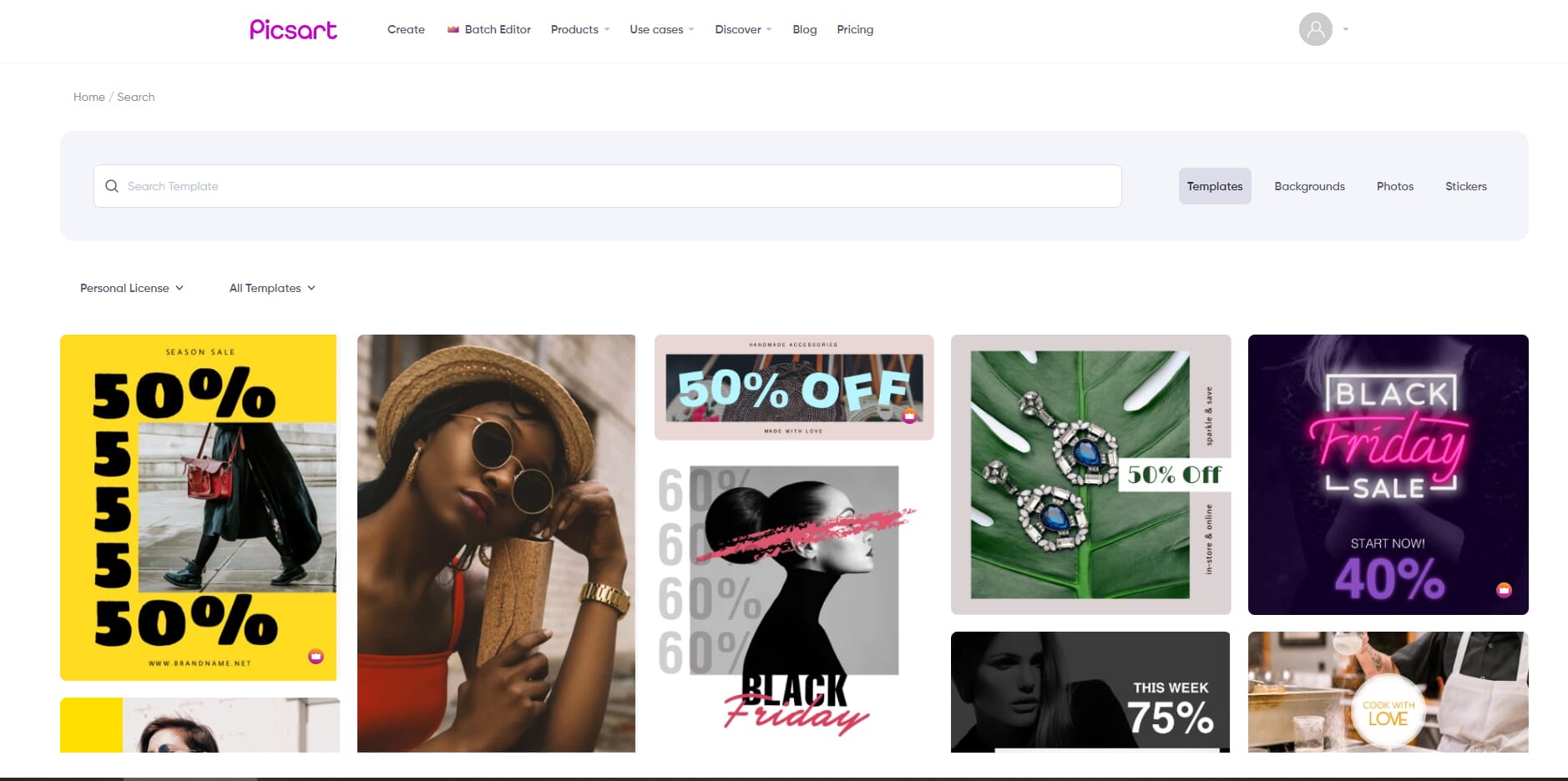 Generally, the templates are high quality and professionally made. They use modern design principles and work great as the basis for marketing media.
Picsart Mobile App
Picsart is also available as a mobile app for iOS and Android. We found in our review that the Picsart app is a mixed bag. On the one hand, it offers great functionality and editing tools. The touchscreen controls are easy to use, and you can easily make some fantastic creations. It also allows you to easily share your designs with others and export them to your mobile device storage.
The main issue with the mobile app, however, is the advertisements. There are simply too many ads, and they quickly become intrusive and detrimental to the overall experience. There are multiple banners and links encouraging you to sign up for the free trial, and virtually every time you open a new screen or menu, a full-screen banner is displayed featuring third-party companies. There are even small banner adverts continuously shown at the bottom of the editor.
Bottom line: The ads detract from the experience of using the app and make it frustrating and confusing to work with.
Pricing
A major part of this review is the pricing. How does the editor compare to others in terms of affordability? Picsart has three pricing plans:
Free: $0
Gold: From $6.79 per month ($3.24/mo if billed yearly)
Team: From $6.85 per month ($4.64/mo if billed yearly)
Free
The free plan is okay, and if you sign up for a free account, you can work with the editor, photos, templates, and more. However, access is limited. You can still benefit from the predesigned layouts, but there are not many templates and photos to choose from.
Many of the editor features are locked and for premium users only. In addition, it's incredibly difficult to export images without watermarks. In our opinion, the free version is essentially unusable for any type of business purpose. The free version is basically for those who want to try the editor to see if they want to purchase it.
Gold
The Gold plan represents the best value for solo users. The $6.79 per month pricing is also more affordable than Canva, which only offers a basic plan at $9.99 per month. The Gold plan gives you full access to the editor, full access to the template library, and full access to the photo library.
Team
If you have a large team and/or want multiple people to access the editor, there is also a Team plan. This offers a range of collaboration and team management tools. The prices here are okay, but more expensive than Canva. If you have a design team or need access for multiple users, Canva is the better, cheaper option.
Free Trial: Caution
A large issue we have with Picsart is the free trial. You have to be incredibly careful if you want to try the program; otherwise, you could end up losing money.
Why? When signing up for the free trial, you must enter card payment details. You also have to select either a monthly or annual subscription. There is no way to avoid this. While no initial payment is taken, if you do not cancel the subscription manually before your 7-day free trial is ended, automatic subscription payments will be taken! This could result in you being charged the full annual subscription fee.
We simply don't agree with these aggressive tactics, and if you do a simple Google search, you can see that many people have indeed been unknowingly charged when using the free trial.
Update: Here is a 3-month free trial – remember to cancel your trial if you don't want to continue using premium features.
Get Picsart and Start Designing
We hope you found this Picsart review insightful. This graphics editor has great potential, and if you require great control over your designs and plan to create regular graphics for online marketing, Picsart is a great choice. For solo users, the reasonable Gold plan prices are very nice. However, if you want access for multiple team members, Canva offers more features and far cheaper prices.
Picsart Review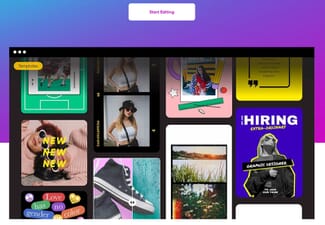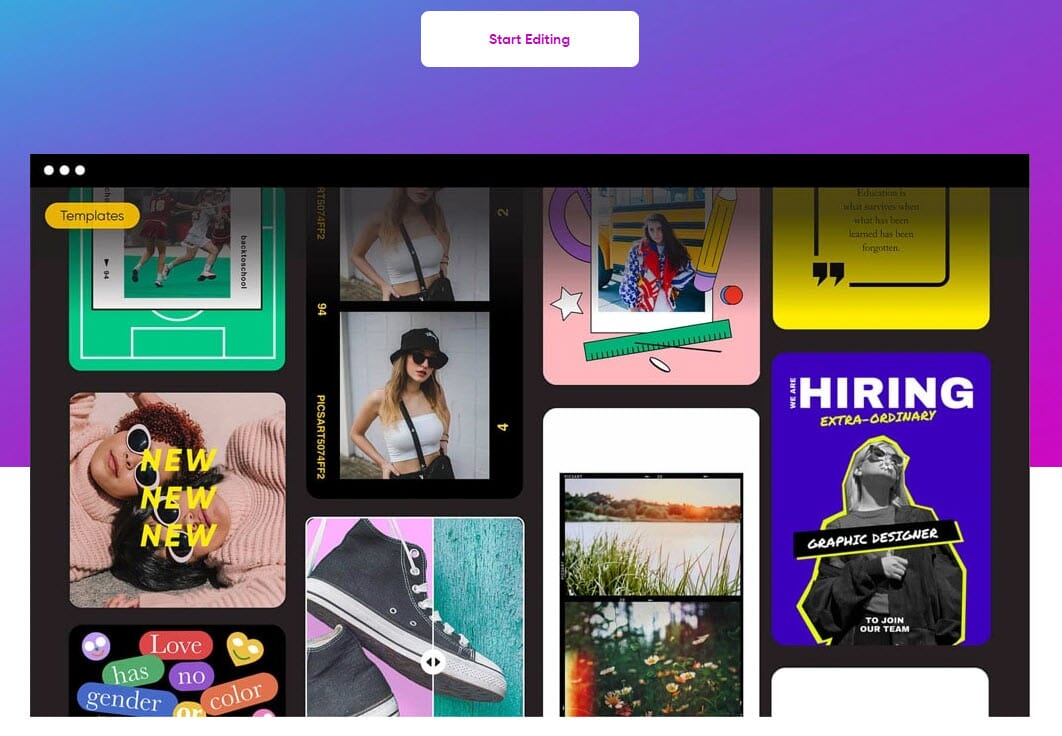 Product Name: Picsart
Product Description: Picsart is an online graphic design editor offering both desktop and mobile options.
Offer price: 55.99
Currency: USD
Online Editor

Ease of Use

Pricing

Templates
Summary
Picsart is an online graphic design editor featuring both desktop and mobile versions. The desktop editor is one of the best available; it is comprehensive and easy to use. With Picsart, anyone can create complex, multi-layered graphics for a variety of purposes.
Pros
Good photo editing tools
Impressive editor functionality
Can choose from a large range of template layouts
Reasonable pricing
Cons
Free version is limited
Picsart app is confusing
Too many ads on the mobile app