Tamron is one of the largest third-party lens and accessories manufacturing companies in the world. The Tamron 18-200mm f/3.5 – 6.3 Di II VC is a wide-angle – telephoto zoom lens. At a price tag of just $249.00, this is one of the cheapest wide angles – telephoto zoom lenses you would find for your Canon and Nikon Digital SLRs.
The Tamron 18-200mm f.3.5-6.3 Di II VC is an All-In-One Zoom Lens for Canon and Nikon APS-C Digital SLR and was first available at Amazon on August 11, 2015.
When you buy through links on our site, we may earn a commission at no cost to you. We evaluate products independently. Commissions do not affect our evaluations.
Tamron AF 18-200mm Video Review
Tamron 18-200mm f/3.5-6.3 Di II VC lens review (DSLR lens) with samples
Don't confuse this Tamron 18-200mm lens with their other 18-200mm lens for mirrorless cameras! This lens is for DSLRs …
Tamron AF 18-200mm Specs
Construction
The construction of this Tamron lens includes one hybrid aspherical element and one low dispersion element. These are so that lens distortion, as well as aberrations, are prevented when shooting. In real-world situations, though, chromatic aberrations are present when you shoot at 18mm and all the way to 100mm. some amount of barrel distortion is also seen at 18mm. As you zoom in, a bit of pincushion distortion is also noticed. All these can be corrected using the lens profile correction option, though.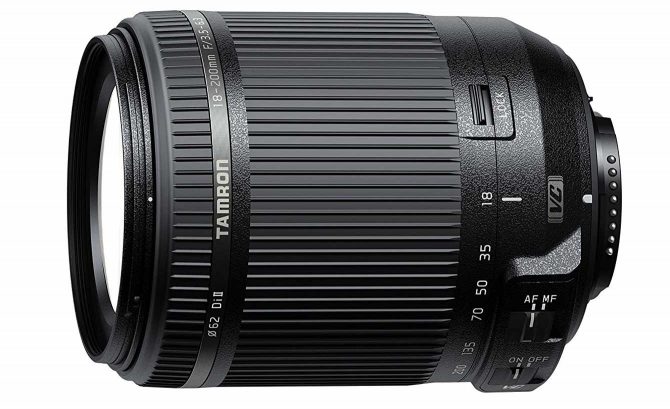 Tamron 18-200mm Telelens: For Nikon & Canon
Focal Length
This is a Di II lens. Meaning, the lens is designed for smaller crop sensor (APS-C) DSLR camera systems. There is another version of this lens as well. That one is designed for mirrorless systems. It is labeled as the Di III. Please do not confuse this lens with the Di III.
When mounted on a crop (APS-C) system camera, the lens' focal length becomes the equivalent of a 27-300mm lens on a 35mm format camera. We have considered a camera like the Nikon D7200 (Ranked Best Nikon $1,000), which has a crop factor of 1.5x for this. This means this becomes a decent telephoto lens for crop systems.
Aperture
The maximum aperture of the lens is f/3.5. It can stop down to f/40. At f/3.5 the lens would be reasonably performing and not something out of the ordinary. It would struggle in low light conditions.
The lens aperture consists of 7 rounded blades, and that means the quality of bokeh shouldn't be too exciting.
Vignetting
Don't even try using this on a full-frame system. Vignetting will be massive and images would be unusable. This is designed for APS-C systems and works best with these cameras only. With the intended APS-C systems, vignetting is negligible and is easily rectified using the lens profile correction feature in Camera RAW and Lightroom.
Auto-Focusing
This lens comes with a new generation DC Motor-gear train AF mechanism. This is a better performing, faster and quieter system than the older DC motor based AF systems. In the real world, it does make a faint bit of purring noise. But I could live with that.
The focusing ring sits at the front of the lens. This lens does not have full-time manual focusing override. If you need to switch to manual focusing, make sure that the selector switch is set to manual focusing before turning the focusing ring.
The minimum focusing distance of the Tamron 18-200mm is 49cm. It has a maximum reproduction ratio of 1:4. In other words, this is lens is not cut out for macro work.
Image Stabilization
Image stabilization is useful for shooting hand-held, especially when shooting in low light conditions. It compensates for the requirement of slow shutter speed in such situations. For a telelens that extends all the way to 200mm image stabilization is a must-have.
Tamron calls their image stabilization technology as Vibration Compensation. The 18-200mm's image stabilization works better for stills than for videos. During video shooting the 'stabilized' footage appears a bit wobbly. You can always switch to a PTZ tripod and ditch image stabilization altogether when shooting videos.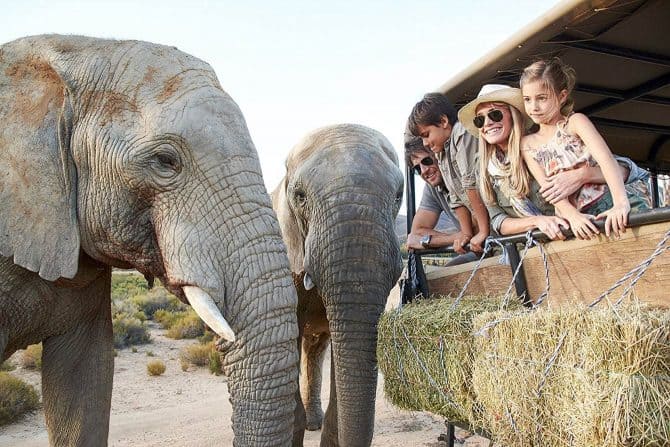 Sharpness
Shooting at 18mm with wide open aperture f/3.5 the lens is only reasonably sharp at the middle. The corners are anything but better. Stopping it down to f/5.6 and then further to f/8 increases sharpness both at the center and the corner of the image.
Center area sharpness improves more dramatically than the corner as you stop down the lens. Zooming the lens improves sharpness slightly till about 100mm. After that image quality softens again. Chromatic aberrations, however, is visible at 18mm and all the way to 100mm.
Build Quality
Being budget lens one wouldn't expect too much of metal on this lens. True enough there isn't much. However, the mount does come with a few metal elements. Overall there is a lot of plastic used in the designing of the lens.
One thing you will probably notice straight away as you zoom in and out is the lack of feedback from the zoom ring. The resistance on the ring is not the same across the zoom range. Sometimes it feels too stiff and sometimes too light.
Tamron mentions that the lens comes with moisture-resistant construction. But don't read too much into it. This is not the lens you would be willing to take with you when shooting outdoors especially in inclement weather. The focusing ring is a much better one to use. It gives better feedback.
Weight
It weighs about 400 grams the 18-200mm Di II lens.
Tamron AF 18-200mm: Final Verdict
Overall the Tamron AF 18-200mm F/3.5-6.3 Di-II VC is an average performing one. There are certainly better choices around. But you will need to shell out a lot more than 200 bucks to own them. This lens makes no attempt at hiding the fact that it is a piece of a budget optic.
Should you buy it? Well if you are looking to invest in a lens that you hope to use for the next 10 years then no. There are far better choices for a slightly more money.
If $249.00 bucks are all that you can spare and you are an occasional photographer looking for a one-lens-does-it-all kind of a solution, then this lens is worth looking at.
Tamron AF 18-200mm for Nikon
Tamron AF 18-200mm for Canon
---
As an Amazon Associate, we earn from qualifying purchases. Certain content was provided "as is" from Amazon daily and is subject to change or removal at any time.