BenQ is a premier manufacturer of monitors and other computer peripherals including projectors, and accessories. Their range of high-quality monitors is hugely popular and renowned for display quality, and ease of use.
The BenQ PD3220U is a top-rated model and perfect for photo editing. In this BenQ PD3220U review, we dissect this exceptional monitor and look at its specifications, pricing, aesthetics, connectivity, and performance.

If you are looking for a high performing monitor to use for photo or video editing, the BenQ PD3220U is a great choice. We understand that choosing a monitor is often difficult – it is an important decision to make.
BenQ PD3220U Review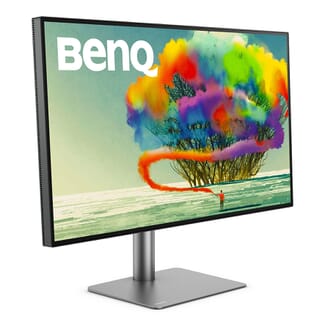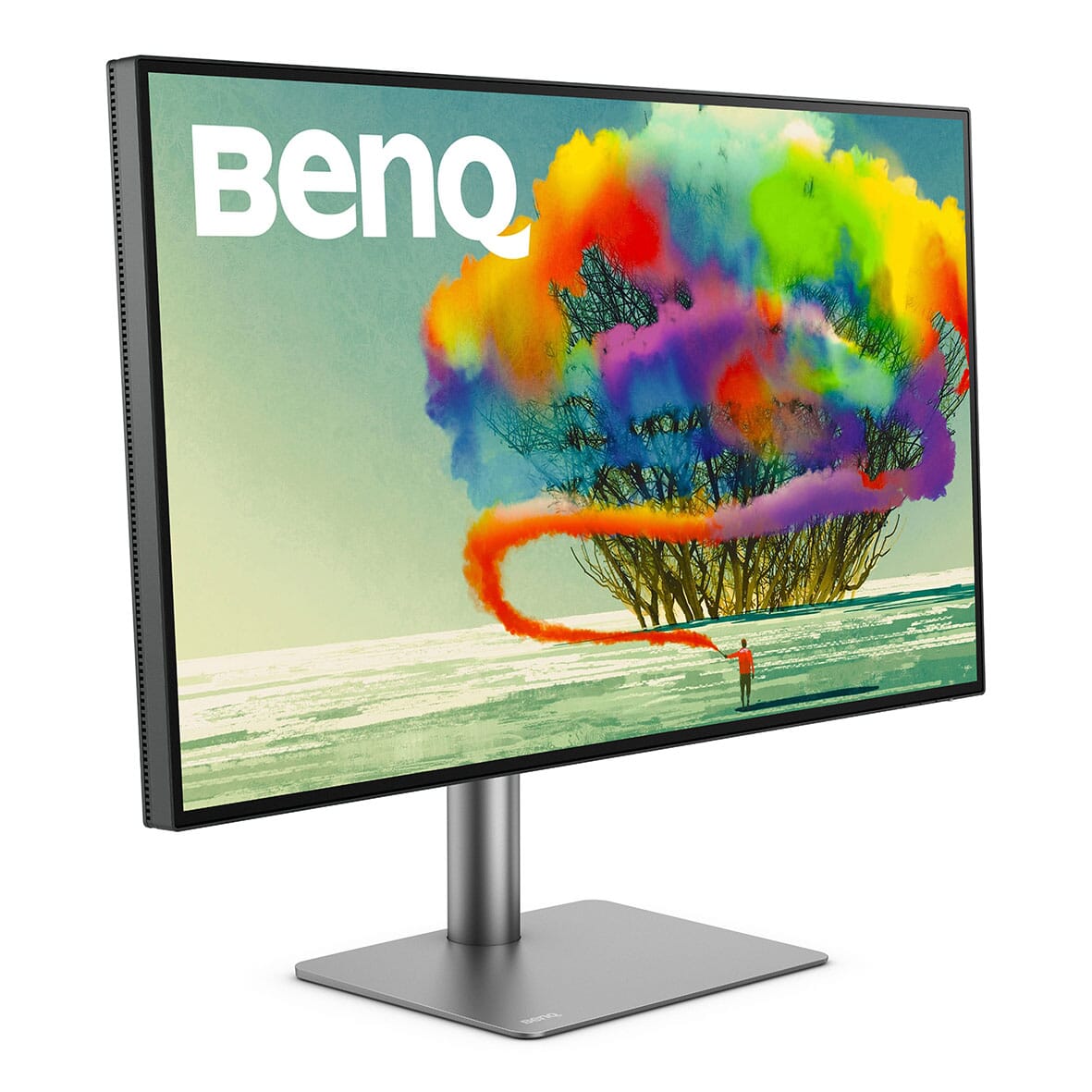 Product Name: BenQ PD3220U
Product Description: The BenQ PD3220U monitor has a 4K 3840x2160 resolution. It is ideal for photo editing and video users have a large display area to work with.
Offer price: 1199.99
Currency: USD
Availability: InStock
Price

Design

Connectivity

Performance
BenQ PD3220U Summary
Overall, the BenQ PD3220U is a fantastic monitor. The 4K 3840×2160 resolution is a big plus and offers superb display quality. For photo editing and video, users have a large display area to work with. Furthermore, color recreation and tones look vibrant but sharp. In addition to this, the monitor is surprisingly affordable compared to some of the other 32" models available. The device is certainly one of the best options available in this corner of the peripheral market.
Pros
Wide color gamut support
Fantastic color recreation
Flexible viewing angles
Affordable price
Cons
Simplistic design that could be considered boring
Limited functionality for gaming
When you buy through links on our site, we may earn a commission at no cost to you. We evaluate products independently. Commissions do not affect our evaluations.
Why is a quality monitor important?
Having a high-quality monitor can make a huge difference in the look of your photo editing. Using a basic monitor could result in a distorted representation of your images. What appears to be perfection, could actually look poor quality in reality. Furthermore, the following factors are important when choosing a monitor:
Ease of use for bulk-editing
A display screen that doesn't strain your eyes
Accurate color representation
Fast refresh rates for quick display
Color calibration facilities to fine-tune the device
Adjustability to provide comfortable viewing
We feel that the BenQ PD3220U offers all of the above and more. To create our BenQ PD3220U review we tested its various features and looked at its performance – read on to find out what we thought of this 32" monitor:
Basic Specifications
First, let's look at the basic specifications. This gives us a fantastic overview of what you can expect from the monitor in terms of performance and quality. These specifications are taken directly from the BenQ website – full listings are found here – BenQ PD32200U Specifications.
Basic performance specs
Screen Size: 32"
Resolution: 4K HD – 3840x2160px
Panel Type: IPS
Backlight Technology: LED backlight
Brightness: 300 nits
Contrast Ratio: 1000:1
Viewing Angle: 178/178
Response Time: 5ms
Refresh Rate: 60Hz
Aspect Ratio: 16:9
Display Colors: 1.07 Billion Colors
The 32" screen size is complemented by 4K HD resolution, and an IPS panel (In-plane switching). IPS panel technology is considered the best available for monitors as it offers superb color representation and viewing angles. Furthermore, the ability to display 1.07 billion colors and a contrast ratio of 1000:1 provides fantastic color visualization.
Connectivity specs
2x HDMI Port
1x DisplayPort
3x USB 3.1 Port
1x USB Type C Port
Card Rader slot
Headphone Jack
The BenQ PD3220U has a brilliant array of ports – this means it can be connected to your computer in a variety of ways. Furthermore, it means that you can connect different devices to the monitor such as cameras, video recorders, and SD memory cards.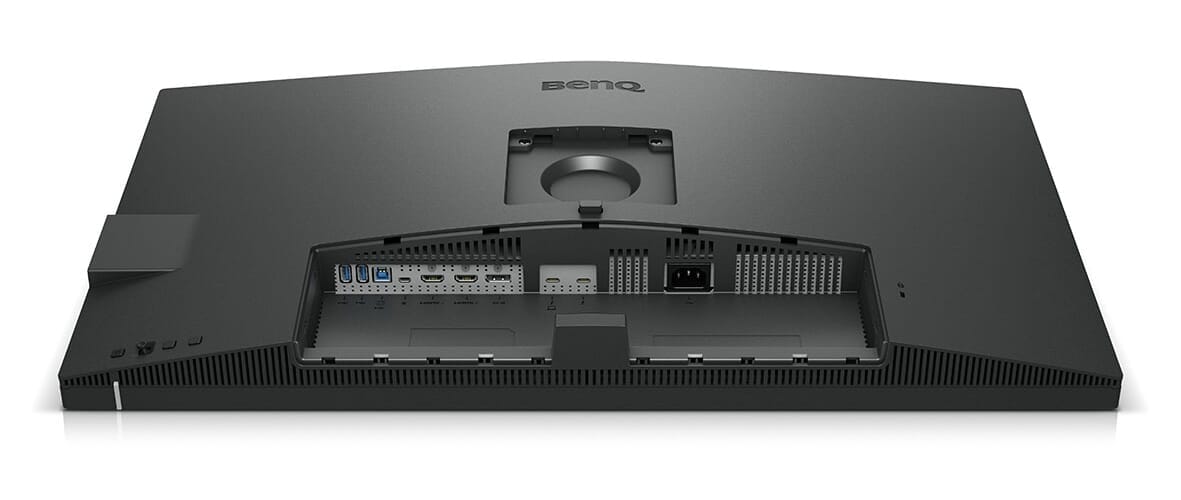 Size and weight
Dimensions: 412mm x 714mm x 86mm
Weight: 13.3kg
One of the main downsides of this monitor is that it is quite heavy – 13.3kg isn't exactly light. This is expected however due to the 32" size. When moving the device, take care and lift it carefully – ensure it is placed on a stable surface.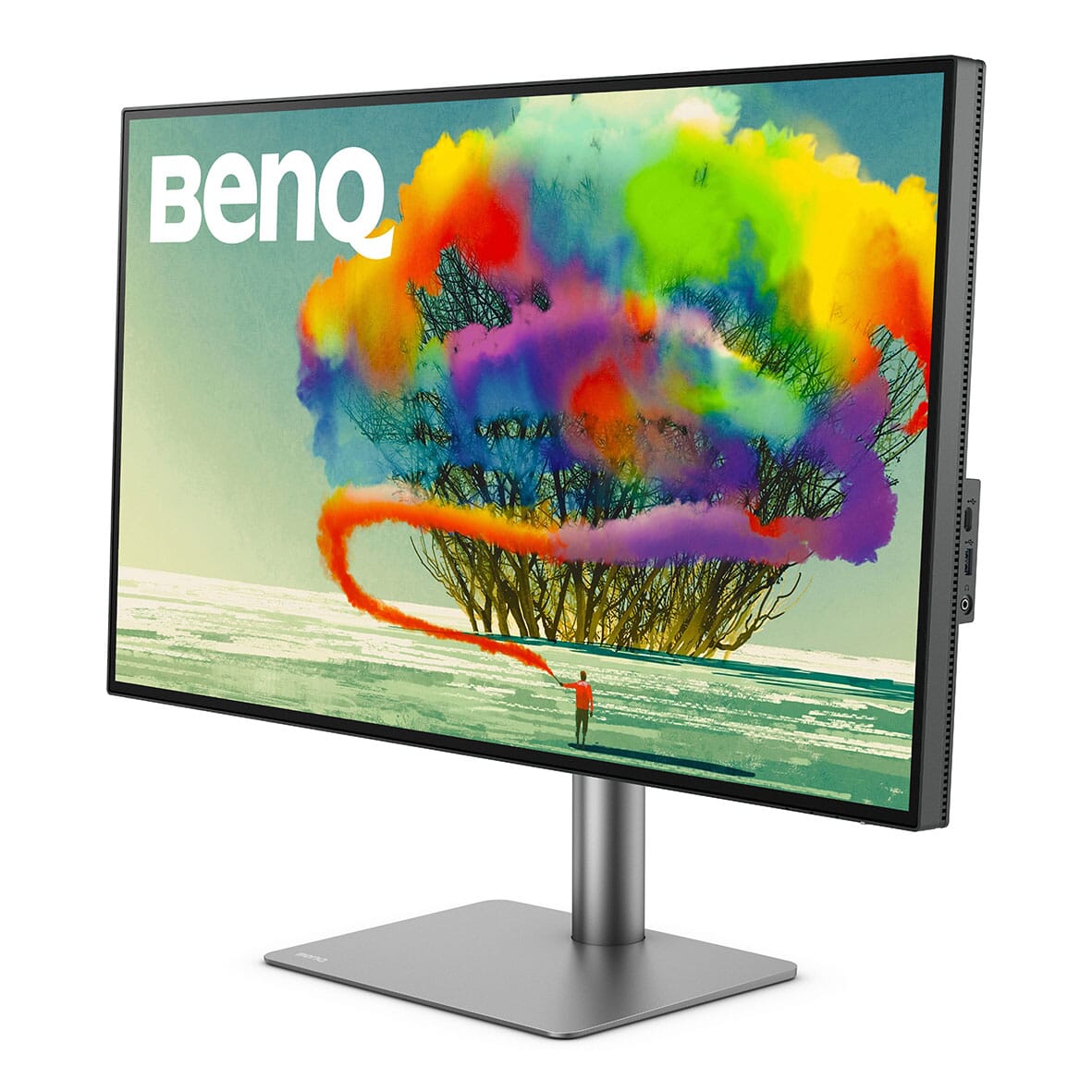 Price and Availability
Price shouldn't be the main consideration when choosing a monitor. We appreciate that everyone has a budget, however. In terms of price, the BenQ PD3220U is affordable compared to some of the other 32" monitors available. We have provided some price comparison information below (price as of 30 October 2019, may change at any time):
BenQ PD3220U: $1,199.99
LG 32UL950-W 4K UHD Monitor: $999.97
ASUS PA329Q 32" 4K / UHD: $995.00
Dell Ultrasharp UP3218K: $3,500.00
Eizo ColorEdge CG319X: $3,840.00
Acer BM320 32" IPS: $409.97
As you can see, the BenQ PD3220U is a mid-high range priced device. It isn't the most expensive model available, but it isn't the cheapest either. If you want the best monitors, the price increases sharply i.e. the Dell Ultrasharp UP3218K at $3,500 – this is for enterprise level usage, however. At $1,199.99 the BenQ PD3220U is certainly affordable.
For professional usage, this monitor has a great price tag. If you intend to use it for business purposes, the investment is certainly worth it.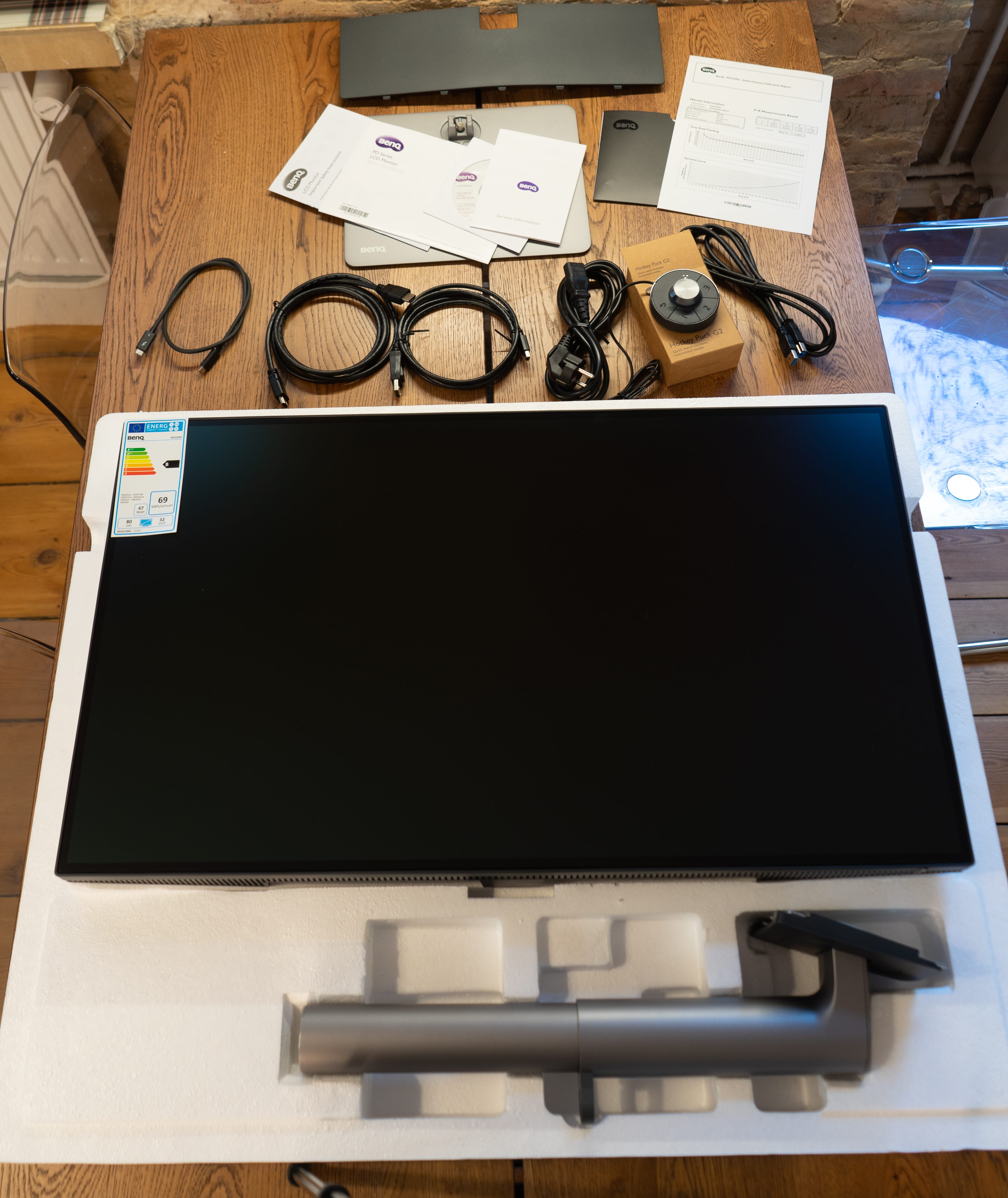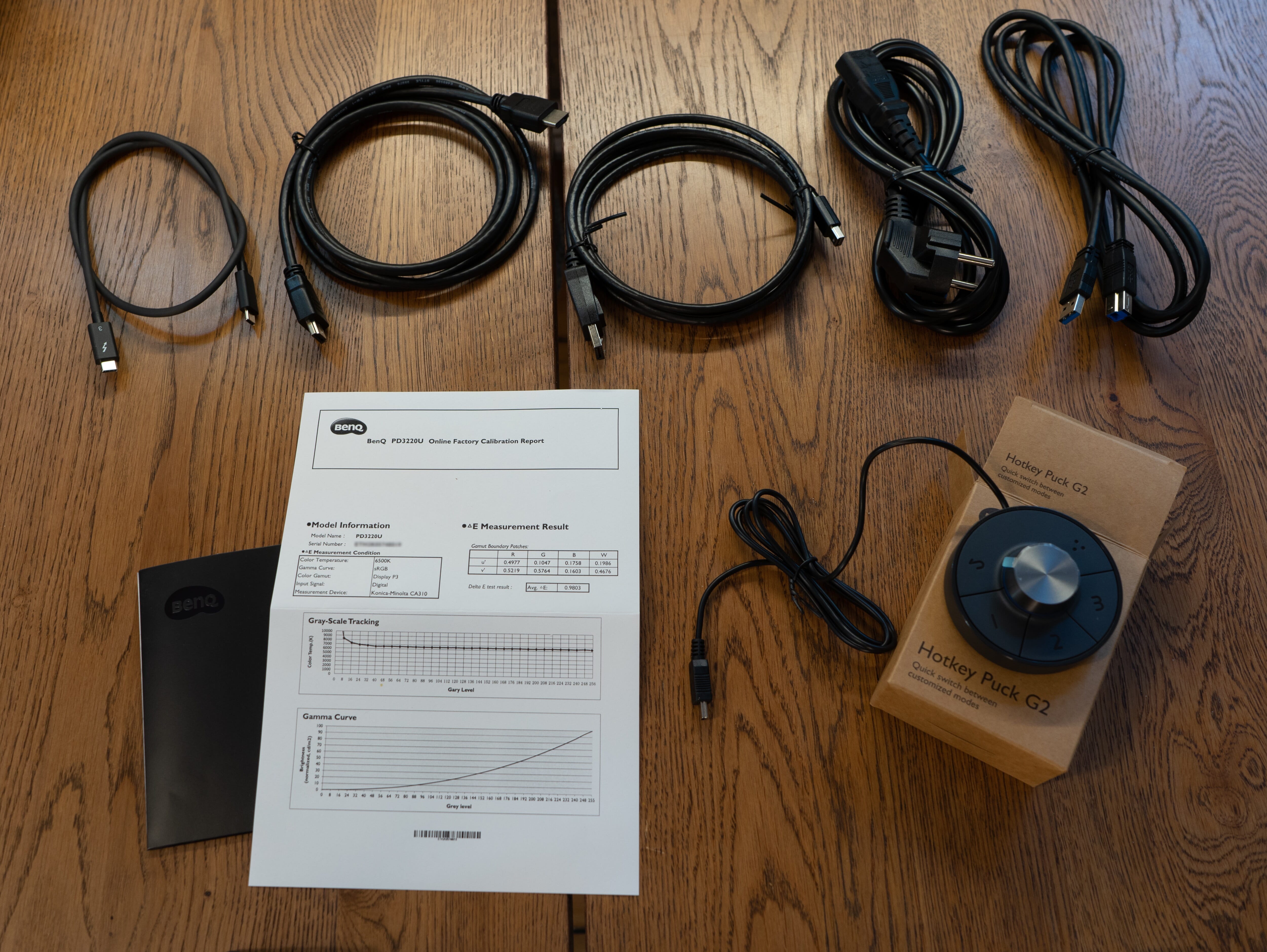 Design and Aesthetics
How the monitor looks and sits is an important aspect of our BenQ PD3220U review. Sometimes, aesthetics and design features are overlooked. Professionals usually concentrate on performance and specifications. Whilst these are important, a monitor should also be comfortable, flexible, and able to fit in your workspace without issue.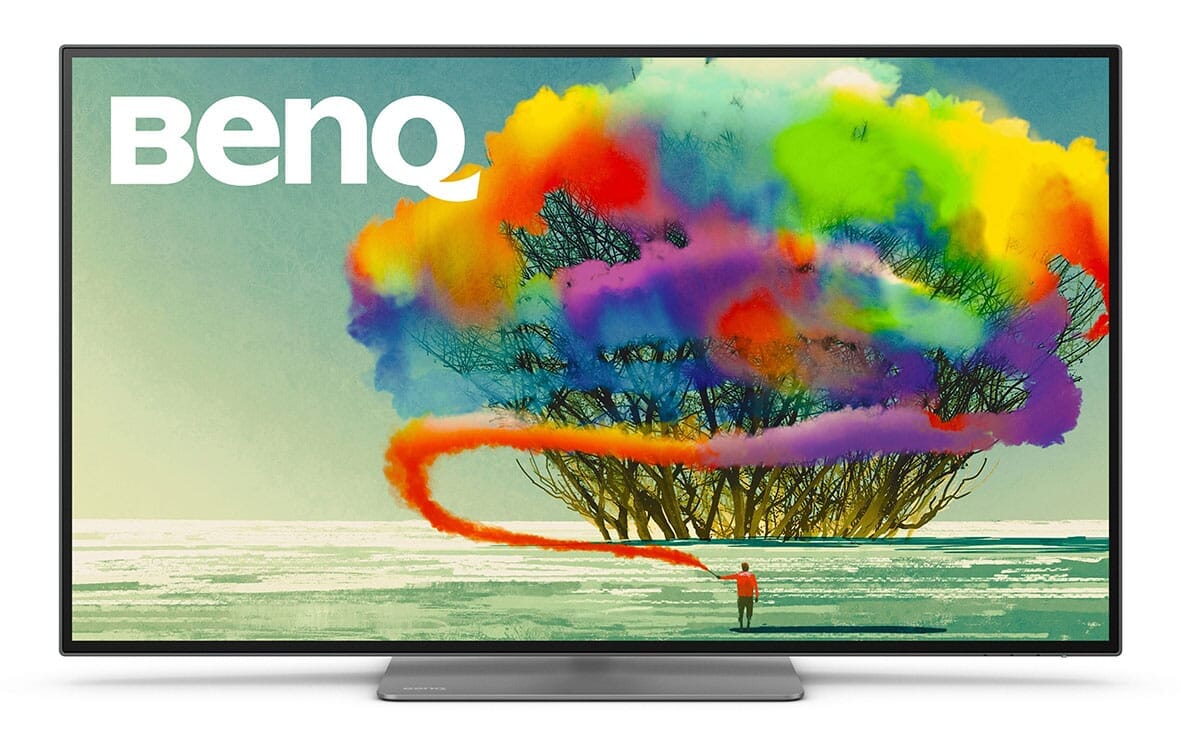 Stand
The stand is elegant and simplistic – it provides a stable base from which the monitor frame stands on. The light grey material is robust and resistant to scratches and abrasions. Furthermore, the stand easily connects to the monitor frame. The following are some basic pointers about the monitor stand:
Swivel adjustment for 30 degree left and right
Tilt adjustment for -5 degree down, and -20 degree up
Pivot adjustment for 90 degree
Height adjustment to a maximum of 150mm
As you can see, the PD3220U has a fantastic array of adjustments – the stand is flexible and allows for perfect positioning within your workspace.

It is also important to note that the monitor frame can be tilted 90 degrees clockwise. This means that the screen can be used in both portrait and landscape modes.

For designers and photographers, this offers unbelievable flexibility. For example, the image you are editing a portrait shot. When editing in a landscape, the zoom level of the image has to be decreased. However, rotating the BenQ PD3220U would allow the image to be review in portrait mode, at a much higher resolution.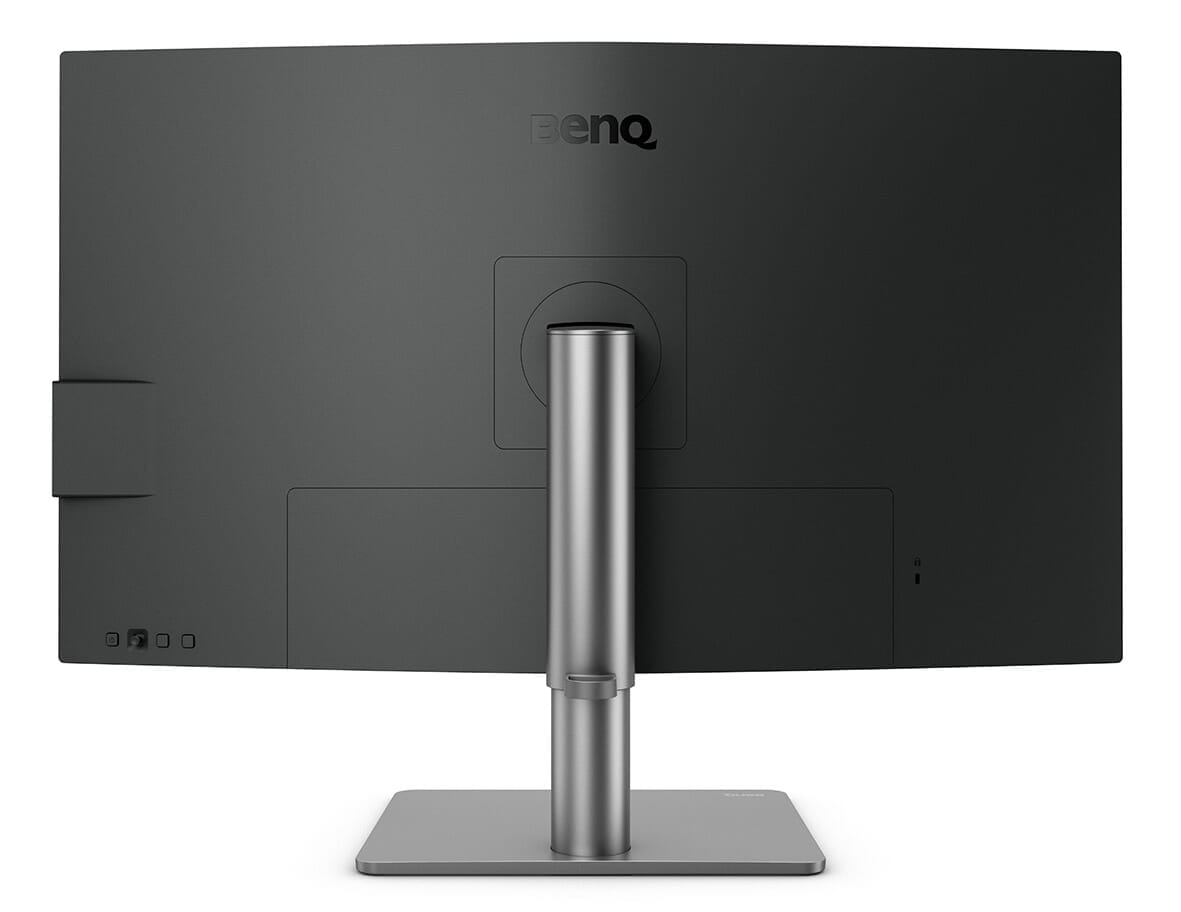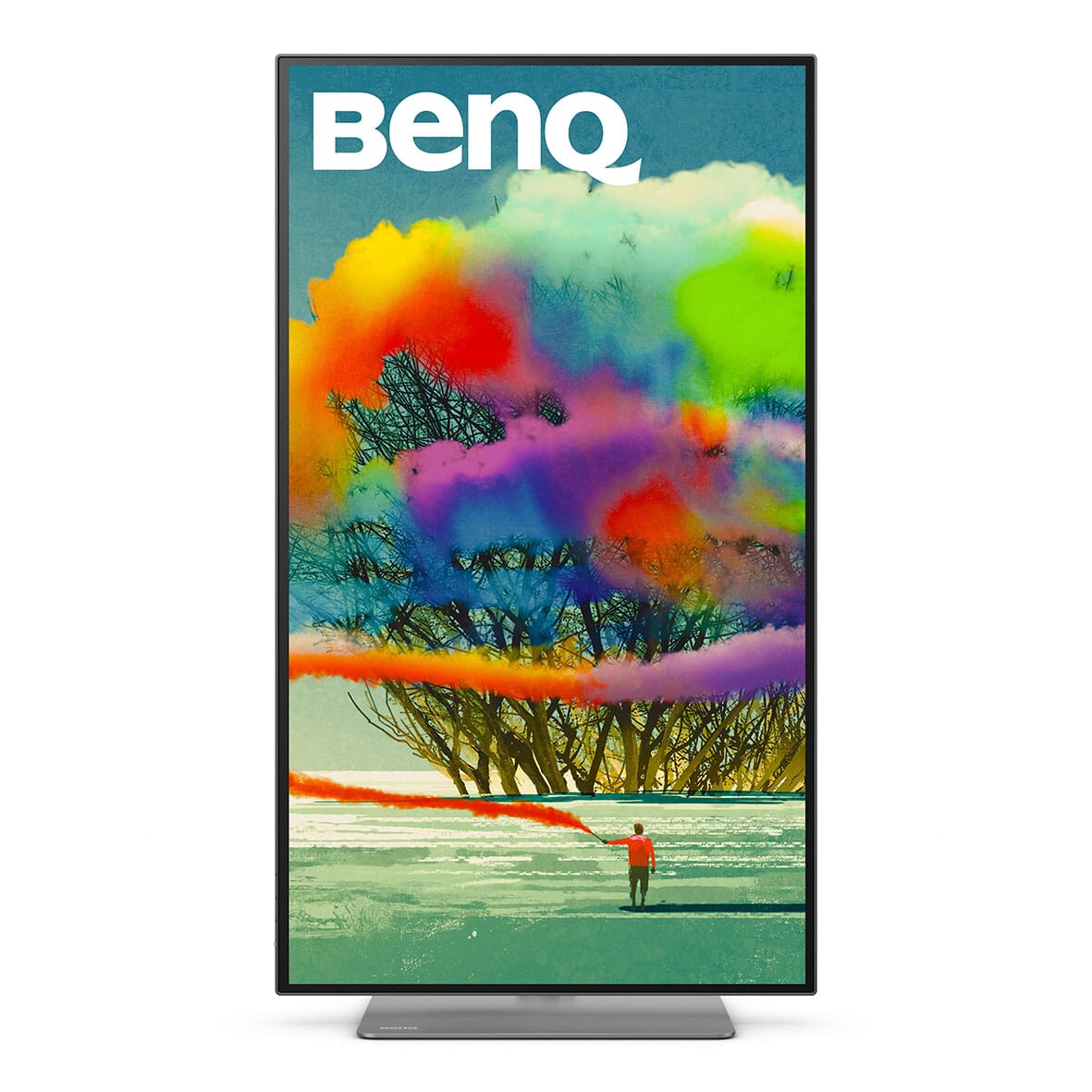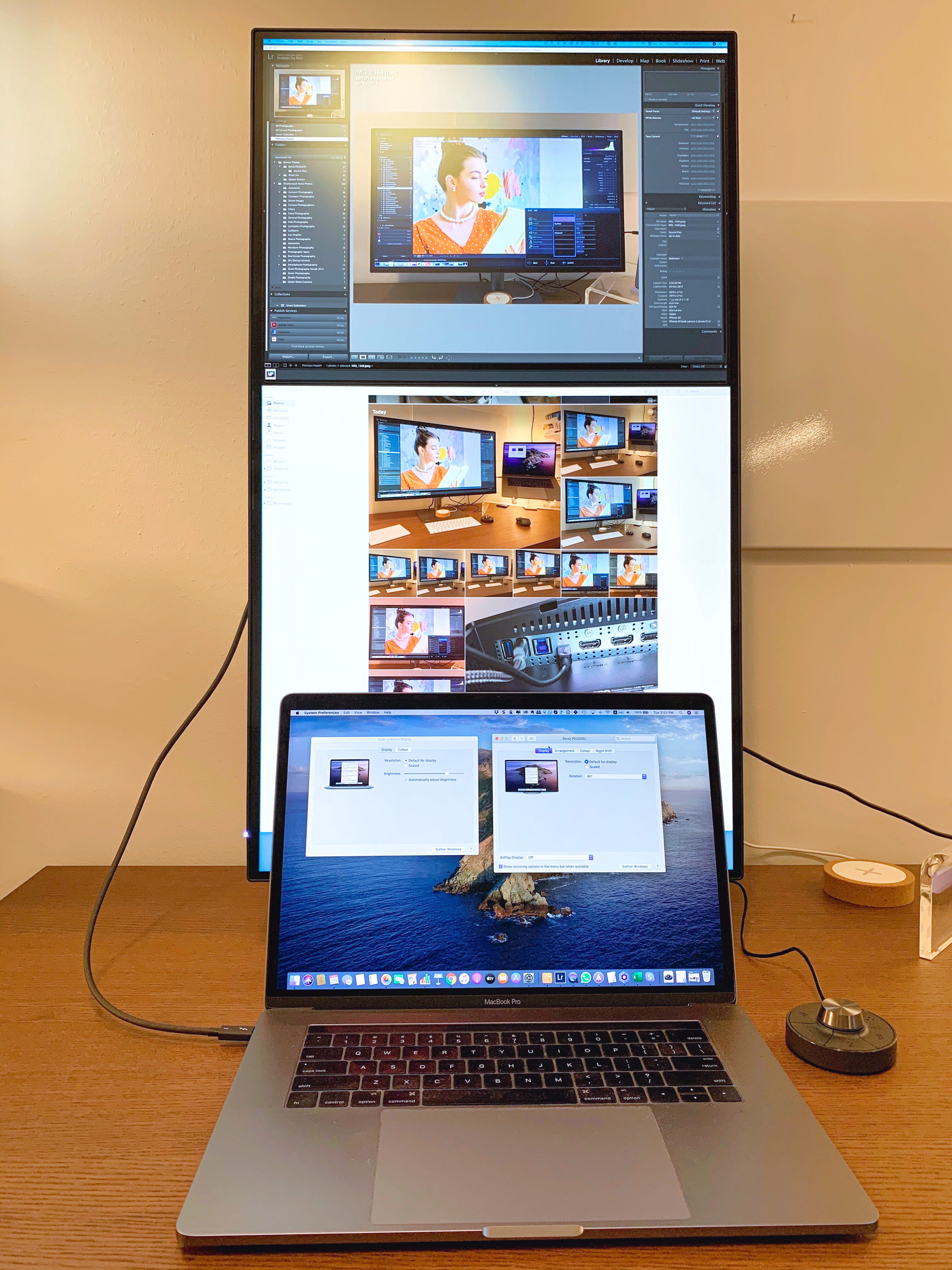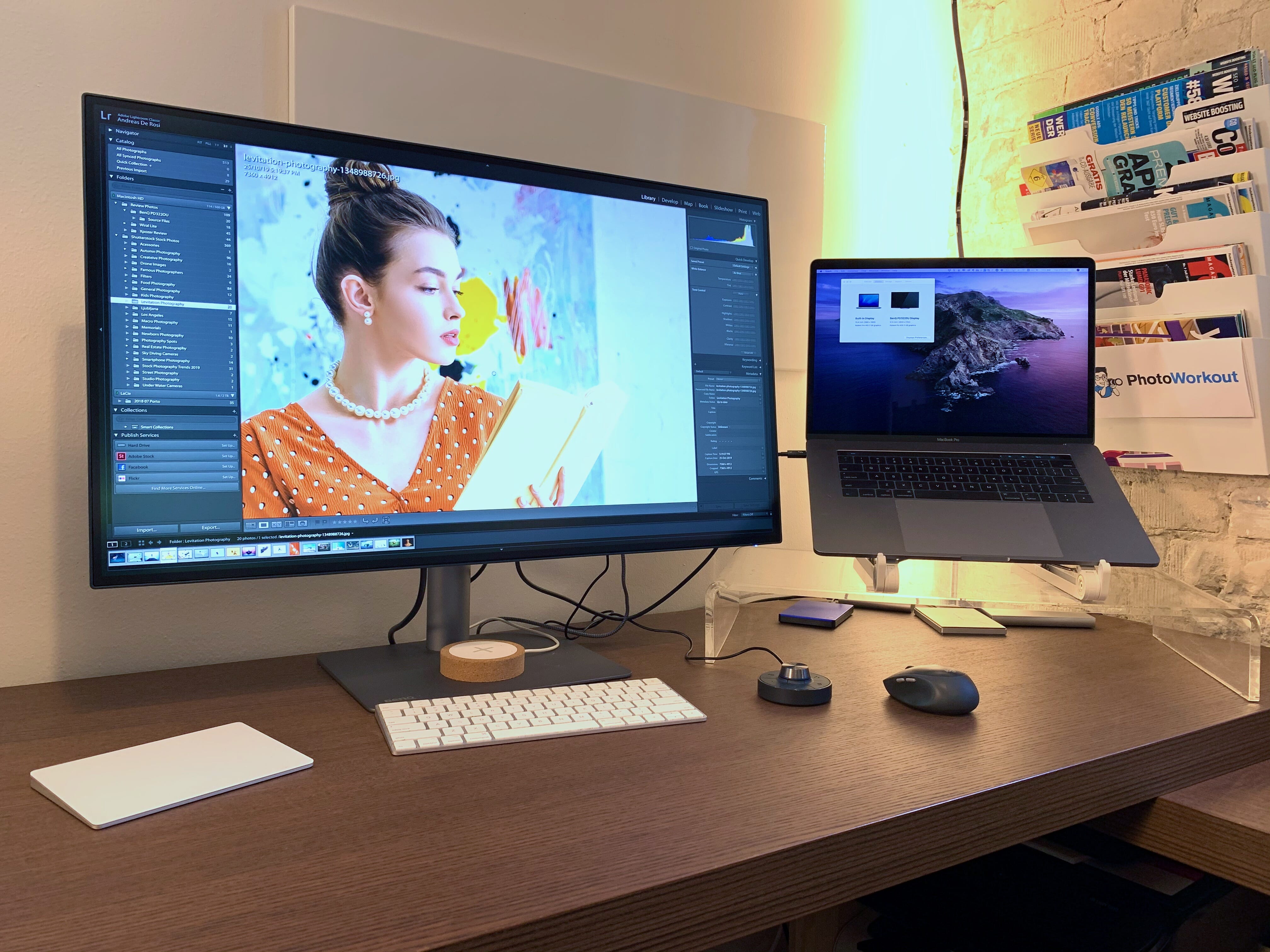 Monitor Frame
The frame is a matte black material and contrasts nicely with the light grey stand. There is not much to say about the frame – it is functional and serves a purpose. The design certainly isn't attractive and there are monitors that offer better looking frames.

We don't see that this causes an issue, however – the stand and flexibility of the monitor is much more important. The frame is slim-line and only protrudes from the screen by approx. 10mm. If you want a stylish monitor with a dazzling frame, this isn't the best choice.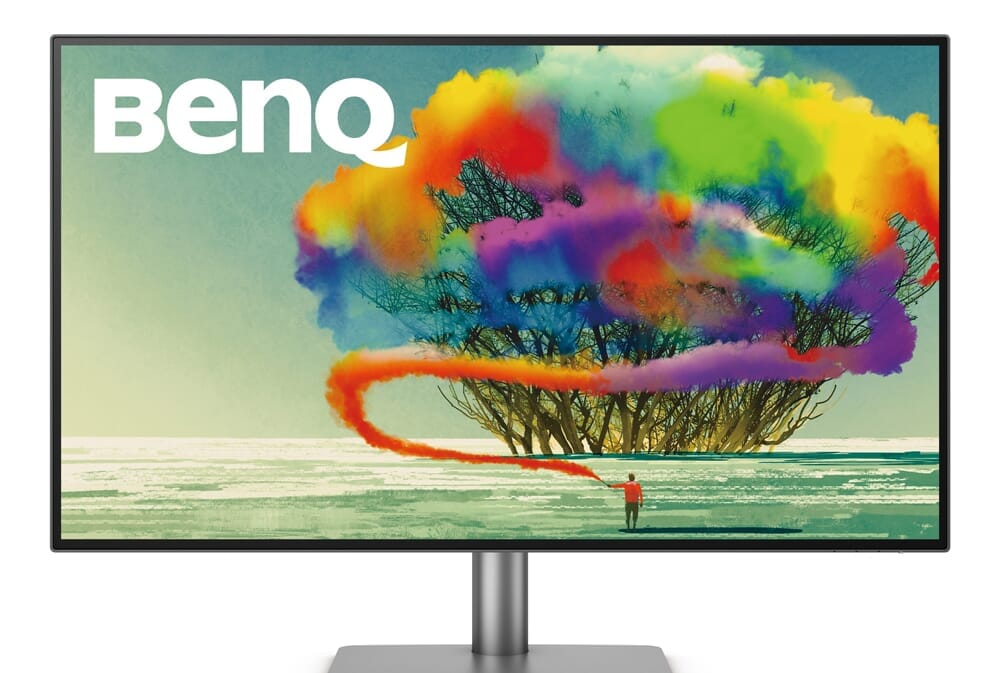 Connectivity
The PD3220U is built for modern computers. It is practically future-proof and concentrates on providing connectivity for modern devices and motherboards. If you want to use this peripheral with an old graphics card or motherboard, an adapter may be required.

Aside from this, the ports are logically placed and easy to access. Firstly, a side panel contains three different ports including a headphone jack and USB port. Moreover, the remaining ports are located at the back of the monitor in a neat panel layout.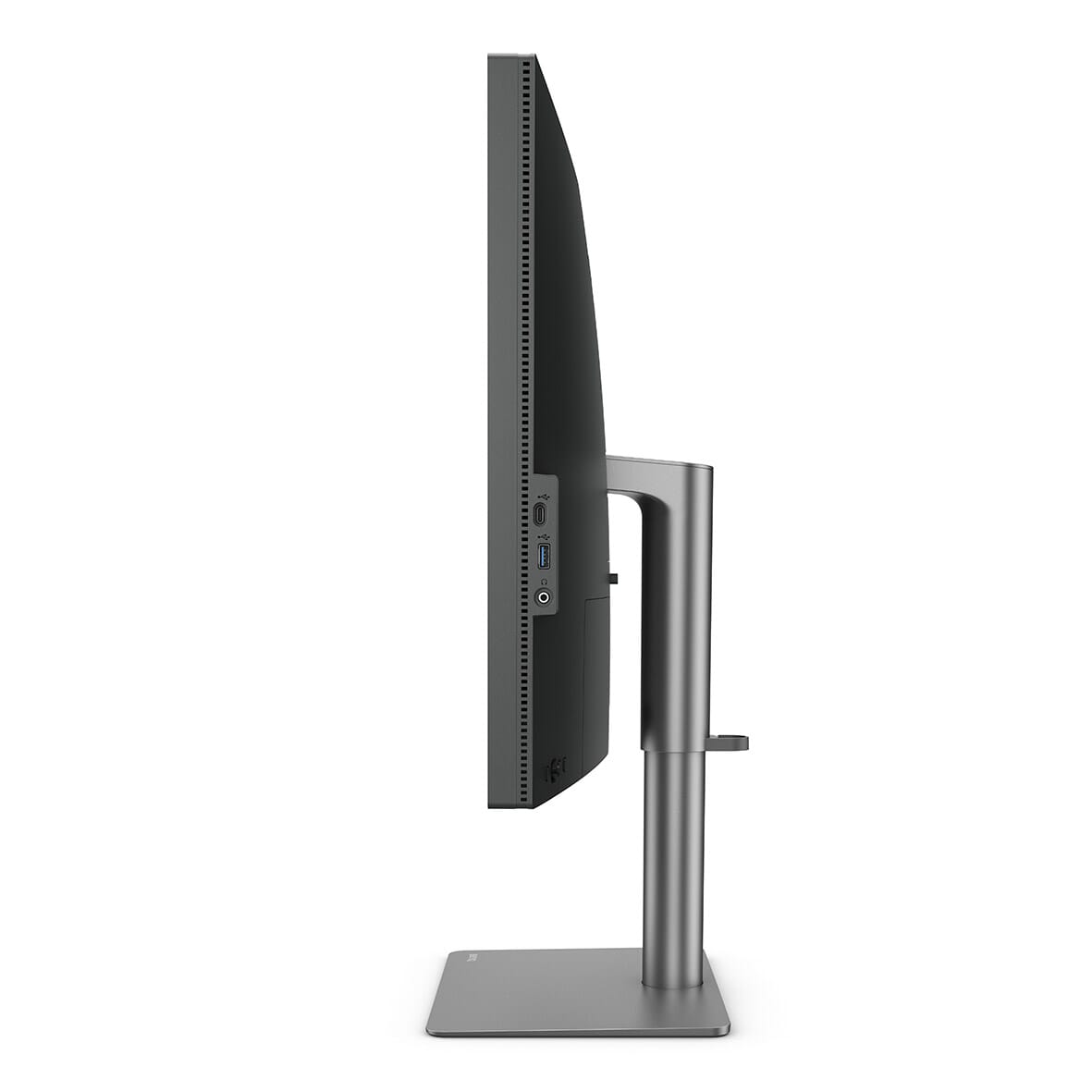 Available Ports
One thing we love about this monitor is that it has a brilliant selection of ports. The following are the available ports:
HDMI v2.0 x2
DisplayPort v1.4 x1
USB 3.1 Downstream x3
1x USB 3.1 Upstream
USB Type-C (Thunderbolt)
Card Reader
The USB ports, in particular, offers fantastic connectivity. Furthermore, due to the addition of the USB Type-C Thunderbolt port, it is not unreasonable to see this monitor being usable for the next decade.
Performance
Whilst connectivity and design are important aspects, how does this monitor perform? For our BenQ PD3220U review, we tested the monitor using a myriad of functions such as photo editing and gaming.

Color display & resolution
The color display of this monitor is one of the main selling points. The 4K resolution combined with BenQ's patented technology provides exceptional color recreation. Moreover, colors look bright, accurate, and sharp. The following color space options are supported:
sRGB – 100%
Rec.709 – 95%
DCI-P3 – 95%
Adobe RGB – 100%
HDR is of course supported, and the monitor is pre-calibrated before shipment. This means you can use it immediately without having to complete an arduous calibration process. In addition to this, the brightness level of 300 nits means that colors stand out but at the same time don't look too imposing.
Image & Video display
For both images and videos, the display looks superb. Photos and images in post-processing software burst with color and life. BenQ's AQColor technology certainly makes a difference – if you compared an image on this monitor and a basic LED display, the difference would be noticeable.
Related Posts: Best Monitors for Video Editing
Photo Editing
We tested the monitor with Lightroom and Photoshop. The responsiveness was excellent – no lag, and the refresh rates were consistent, even when loading RAW images. This monitor is certainly not built for gaming, but it excels at displaying images and graphic design work.
Calibration Tools
When using this monitor for graphic design work and photo editing, you may need to calibrate the color settings. Luckily, the BenQ PD3220U has a separate hotkey puck – this is used specifically for calibration.

The design is ergonomic and easy to use. It has a rotatable toggle in the center, and four buttons in a circular configuration. This device is extremely easy to use and allows for quick editing of calibration settings. If you regularly need to change calibration, the BenQ PD3220U has excellent support.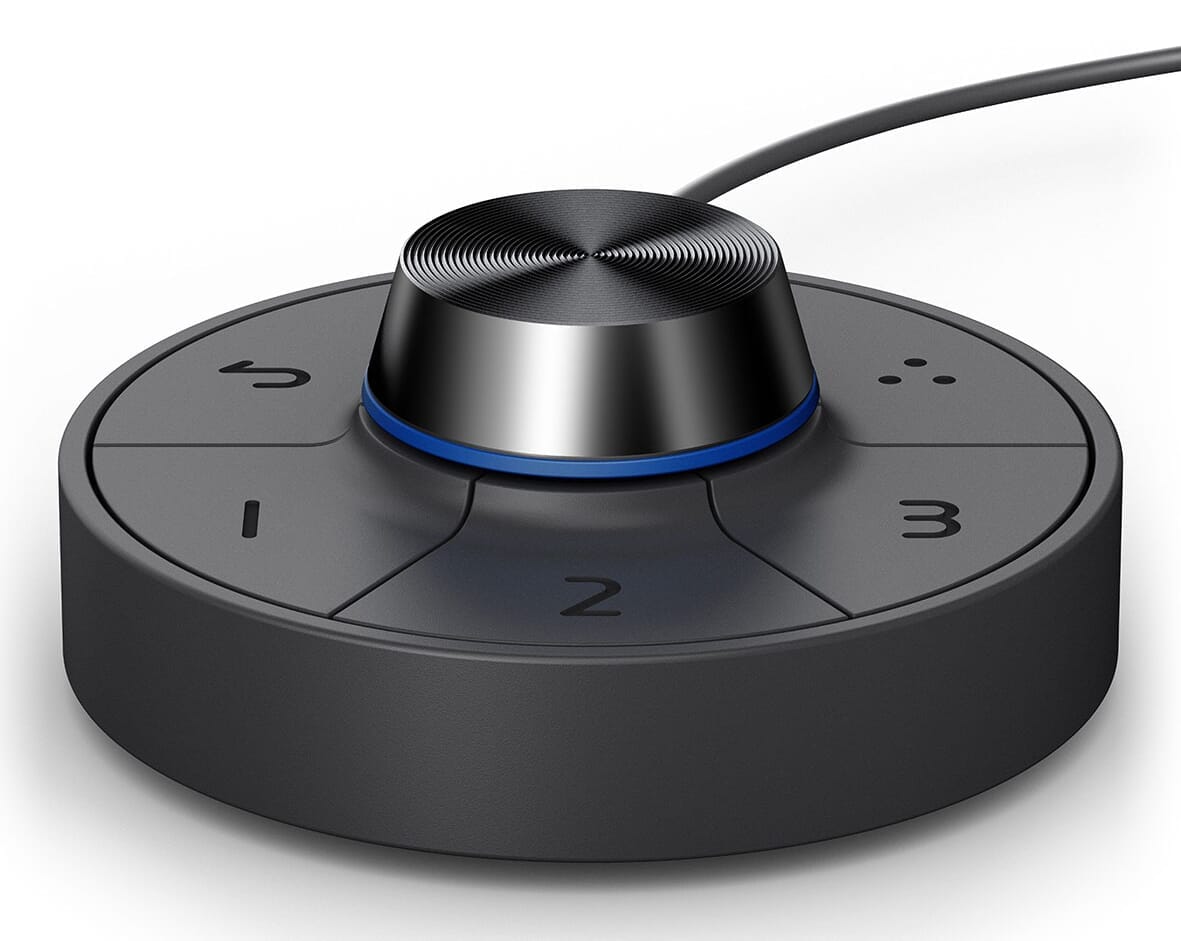 BenQ PD3220U Review – Conclusion
So what did we think after creating our BenQ PD3220U review? This monitor is a superb choice. Furthermore, it offers excellent value for money. It fills a gap in the market for a mid-range priced, 4K monitor with fantastic color recreation and accuracy. Cheaper than many Eizo and Dell models, the PD3220U could be used as a professional monitor for those needing high-end visuals without breaking the bank.

For advanced graphic design work and photo editing, this monitor is undoubtedly a top choice. To finish, we have listed the pros and cons of this device:
Pros
Wide color gamut support
Fantastic color recreation
Flexible viewing angles
Affordable price
Cons
Simplistic design that could be considered boring
Limited functionality for gaming
Where to Buy the BenQ PD3220U?
The best place to buy the BenQ PD3220U at the time of publishing this article is on Amazon on Amazon.
---
As an Amazon Associate, we earn from qualifying purchases. Certain content was provided "as is" from Amazon daily and is subject to change or removal at any time.