BenQ offers some of the best monitors for professional photo and video editing, including the SW271, which sets a benchmark for color accuracy and quality.
These days, however, the SW271 is over four years old, and the BenQ SW271C, the SW271's successor, has been released.
In this BenQ SW271C review, we break down the specs, design, and performance of the new monitor, and see if it is a worthwhile purchase for professional photo and video editing.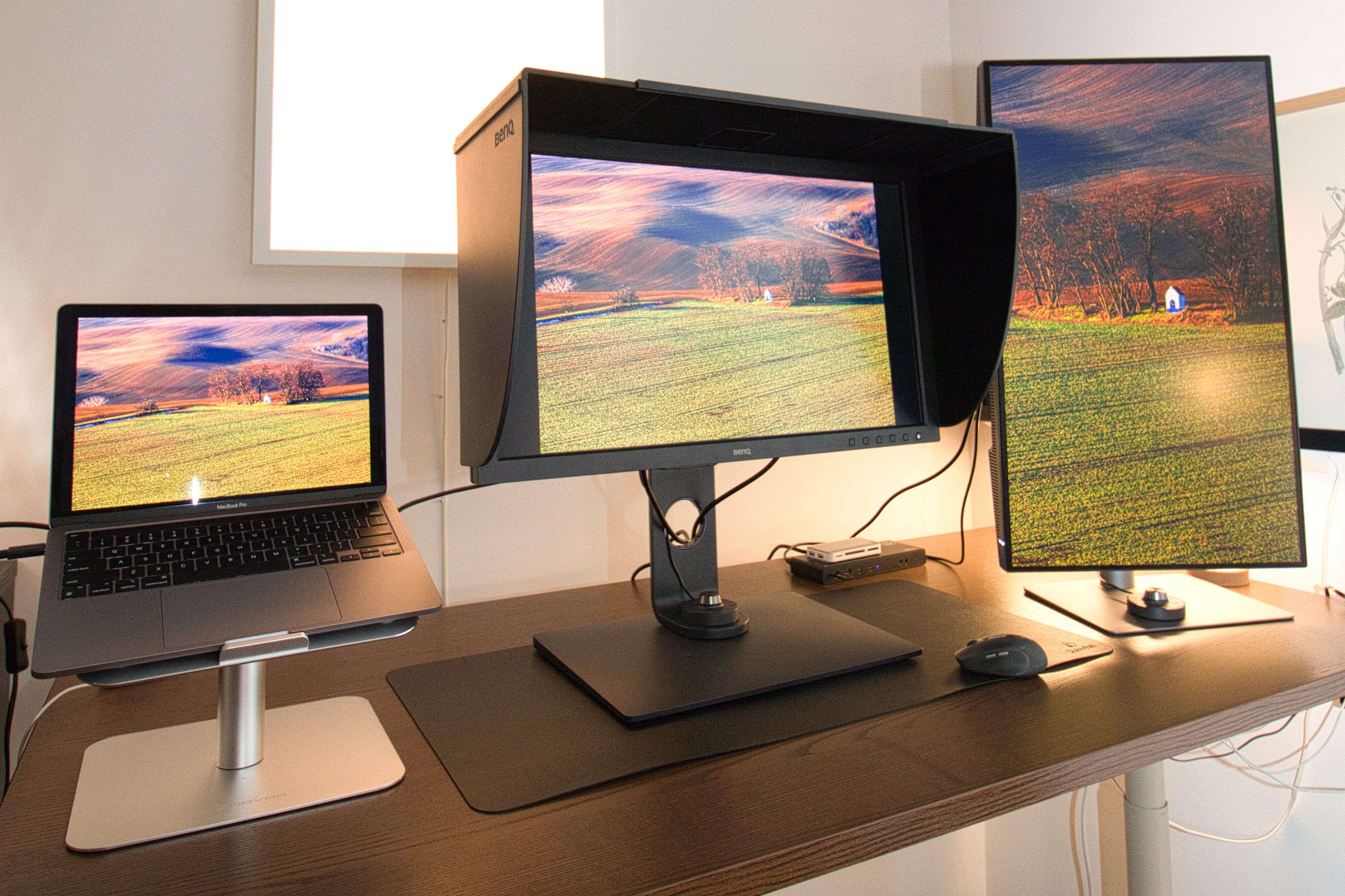 When you buy through links on our site, we may earn a commission at no cost to you. We evaluate products independently. Commissions do not affect our evaluations.
BenQ SW271C Monitor: Overview
The SW271C is a professional-grade monitor and definitely one of BenQ's best monitor for photo editing.
It has a range of features that make it perfect for this task, including support for 99% Adobe RGB, 10-bit color depth, 4K 16:9 resolution, and an upgraded Hotkey Puck G2.
The design and style of this monitor are not universally praised, and it is a heavy and bulky monitor. However, its performance cannot be questioned. It delivers excellent color accuracy, great uniformity, and is factory-calibrated out of the box.
The monitor also has a useful range of ports including HDMI 2.0, USB Type-C, and an SD card reader.
Overall, it is a flexible piece of equipment that has some great features for photo editing.
Great for high-end photo editing
The BenQ SW271C represents a sizable upgrade from the original SW271 monitor, thanks to an improved hotkey puck, improved ports, and amazing color accuracy and uniformity.
Pros
Excellent brightness uniformity
Fantastic color accuracy
Useful paper color sync feature
Improved port options
Improved Hotkey Puck G2
Can be used either horizontally or vertically
Cons
Has a relatively large monitor base
Lacks 90W power delivery for USB-C port
Not amazing for HDR editing
BenQ SW271C Monitor Review: What to Expect from This Professional Editing Monitor
We have split this review into different categories. In the first section, we look at the technical specifications. We then assess the design and features and finish with monitor performance.
Technical Specifications
Dimensions: 27.5 x 24 x 7 in/70 x 60 x 17 cm

Weight: 27.1 lb/12.2 kg
Screen size: 27 in/68.6 cm
Resolution: 16:9/4K
Color Coverage: 99% Adobe RGG with Delta E<2
Connectivity: HDMI 2.0 x2, USB Type-C x1, USB Type-A x2, SD reader, DP, headphone jack
One of the first things to note is the weight of this monitor. At 27.1 lb/12.2 kg, it is incredibly heavy, though it is not one of the heaviest BenQ monitors available; the SW270C, for example, weighs 40 lb/18.1 kg. That being said, we advise care when accepting the package, lifting the box, and carrying the monitor.
Important specs include the 4K resolution and color coverage: 99% Adobe RGB, 100% sRGB, 100% Rec.709, and 90% DCI-P3. This gives photo editors and video editors a wide range of color spaces to work with.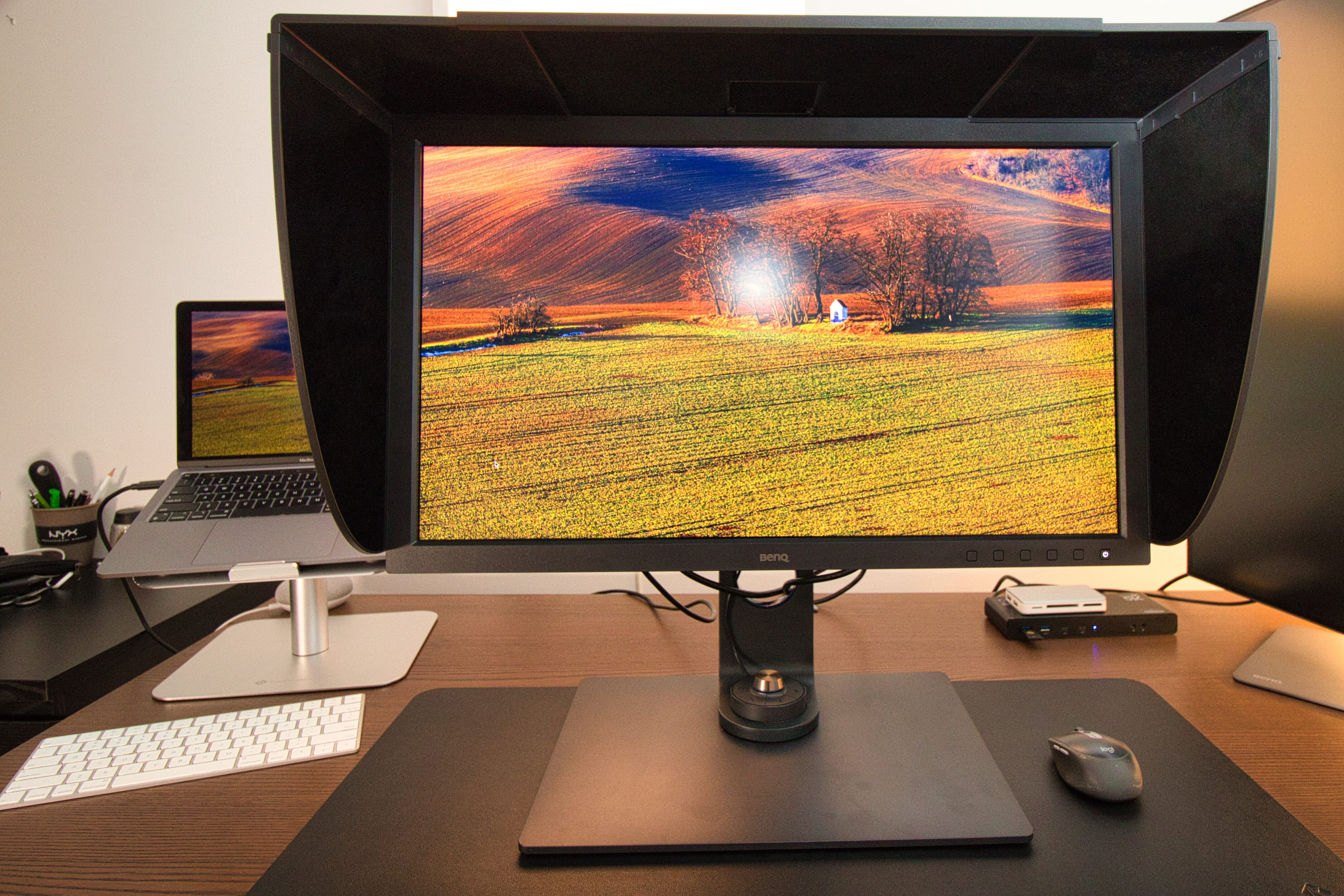 Design and Features
Now that you can see the basic monitor, we can look at its design. Please remember that design and style are subjective. What we consider to be stylish may not necessarily work for everyone!
Design
The design and style of this monitor hasn't changed from the original BenQ SW271 monitor. It has the same black plastic trim, the same style menu buttons, and the same monitor stand. The optional monitor hood is also identical.
Some people may like the chunky style of the BenQ SW271C and others may not. We would call it an acquired taste. The monitor hood is huge, but it serves its purpose. The menu buttons are relatively chunky, but they are easy to use and make for smooth control of the monitor.
Overall, the monitor is more functional than fashionable. And to most people, the functionality of the monitor is far more important than its looks.
One drawback? The monitor stand of the BenQ SW271C is quite big, so it takes up quite a lot of desk space – something to consider if you have limited space to work with.
We do love the rotation capabilities of this monitor, however. It can be rotated 90 degrees and used as a vertical monitor, which gives photo editors great versatility. That way, you can view portrait-orientation photos in full resolution simply by rotating the monitor.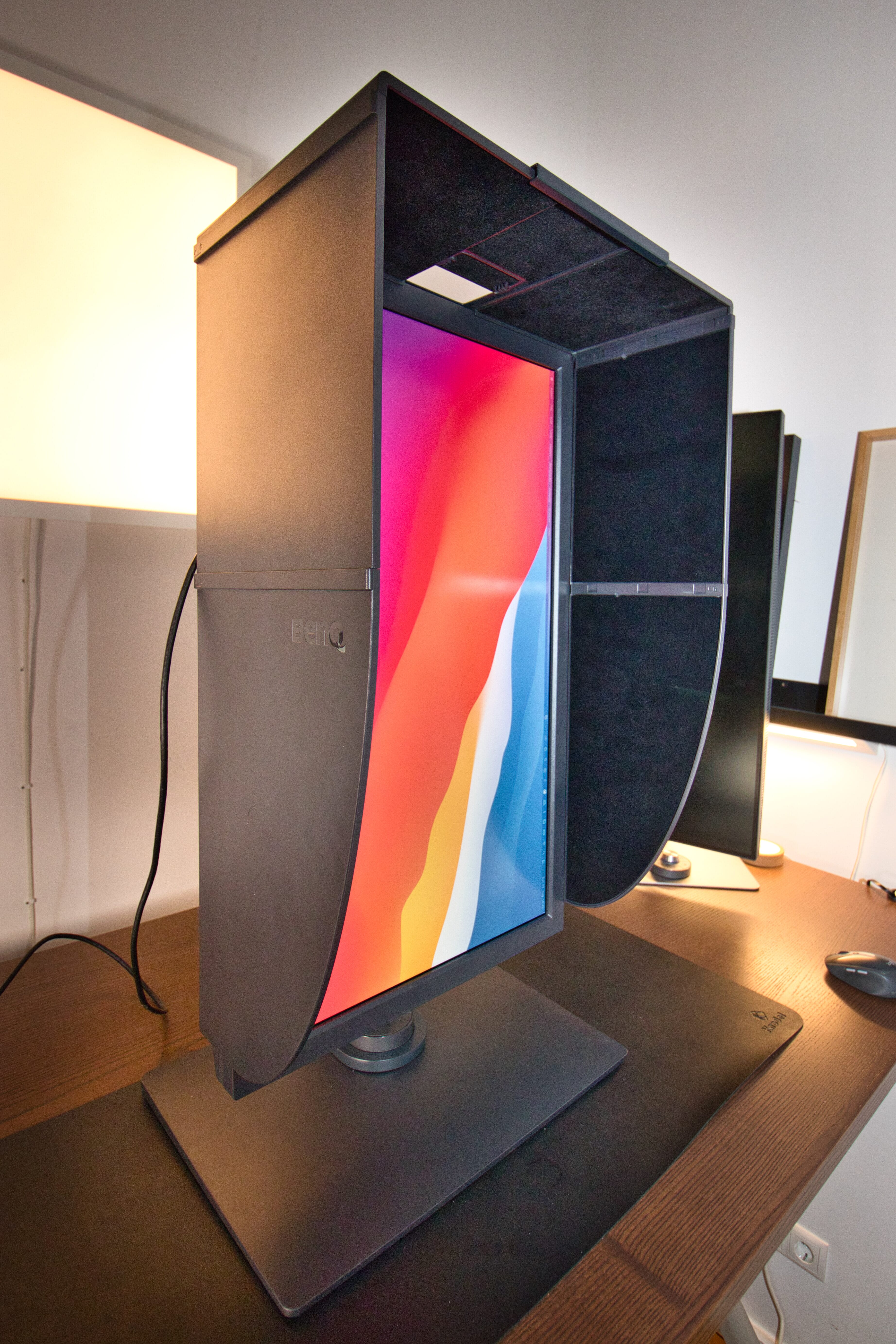 Hotkey Puck G2
One of the main updates to the BenQ SW271C monitor is the addition of the Hotkey Puck G2. This is an upgraded hotkey puck and is far more useful than the version available on monitors like the BenQ SW2700PT.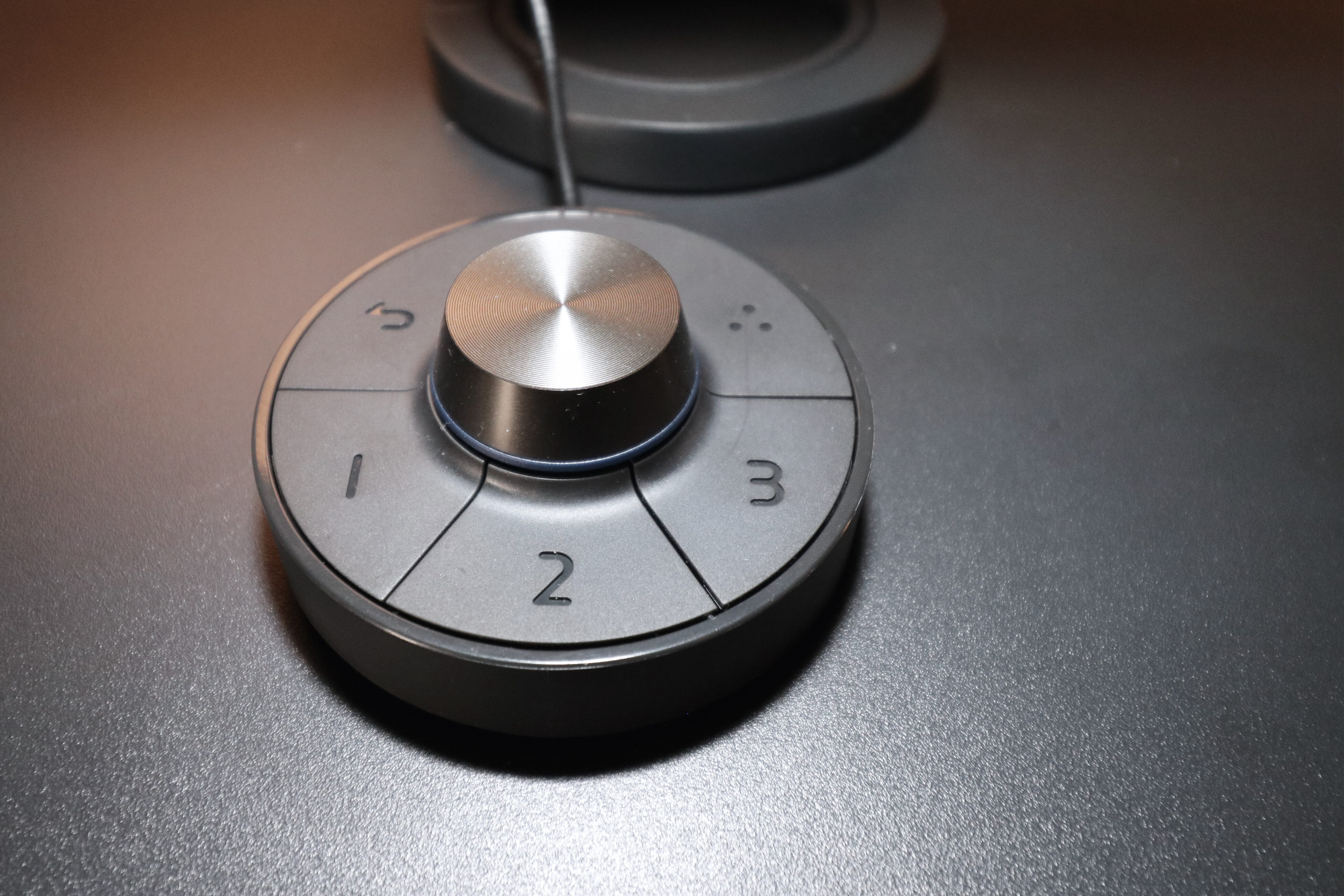 The Hotkey Puck G2 has a simple and stylish design with an array of buttons and a central dial. It is connected via a cable and isn't too large, so it won't take up too much space on your work surface.
The puck can be used for a range of functions, from accessing preferred color modes and switching color spaces to toggling display inputs and even adjusting screen brightness. We are certain that users, particularly those interested in high-end video and photo editing, will find the Hotkey Puck G2 incredibly helpful.
Port Selection
Another great feature of the BenQ SW271C monitor is the selection of ports. The original SW271 had a good set of ports, but the USB-C port was somewhat lacking in power at 10 W. The BenQ SW271C monitor features the following ports:
1x USB Type-C
2x HDMI 2.0
1x DisplayPort 1.4
Headphone jack
2x USB Type-A
1x SD card reader
As you can see, this is an impressive set of ports. It gives a versatile set of options for photographers and videographers who want to directly connect their devices to the monitor. The SD card reader is also a great way to read photos and videos directly.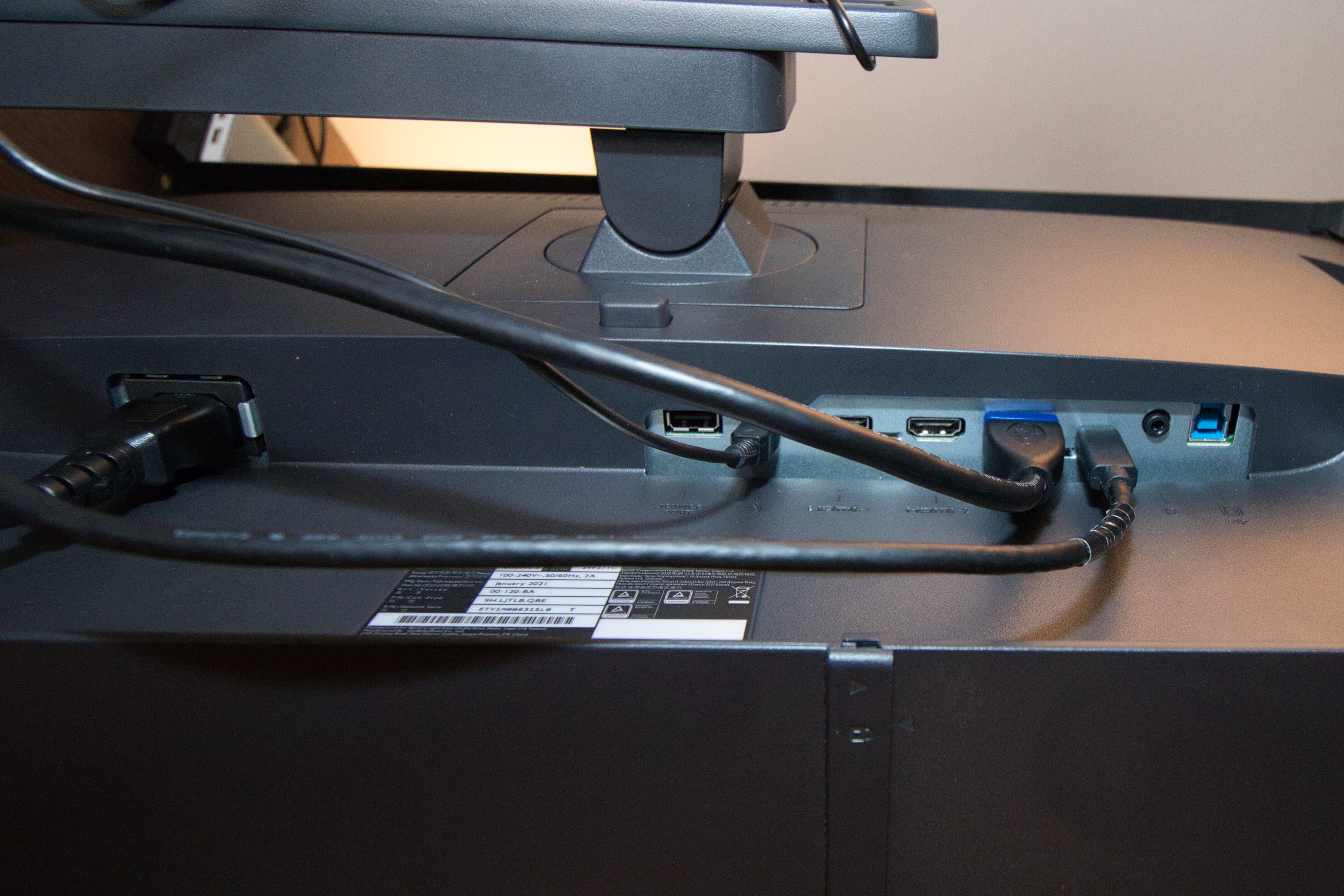 The USB Type-A ports have all been upgraded to USB 3.1, whereas the old monitor features USB 3.0 ports. Also, the USB Type-C port has an upgraded power delivery of 60 W. This is much better than the previous 10 W, although it would be nice to see a 90 W power delivery available for connecting larger laptops, etc.
Performance
So how does this monitor perform? Is it useful for photo and video editing?
Absolutely! The BenQ SW271C provides amazing color accuracy and brightness uniformity, two important factors for professional photo editing.
At its most basic, the BenQ SW271C provides support for a range of color standards including 99% Adobe RGB, 100% sRGB, 100% Rec.709, and 90% DCI-P3. The monitor can display 1.07 billion colors, plus it offers support for HDR 10 and HLG HDR formats. As a result, it can be used to a certain degree for HDR editing (though it is not the best option for this).
In short, in terms of raw viewing quality and accuracy, this is a fantastic monitor. Potential buyers should have no reservations about using this monitor for photo and video editing. You will get excellent performance and the display quality is magnificent. The BenQ SW271C is definitely one of the best monitors for photo editing currently available.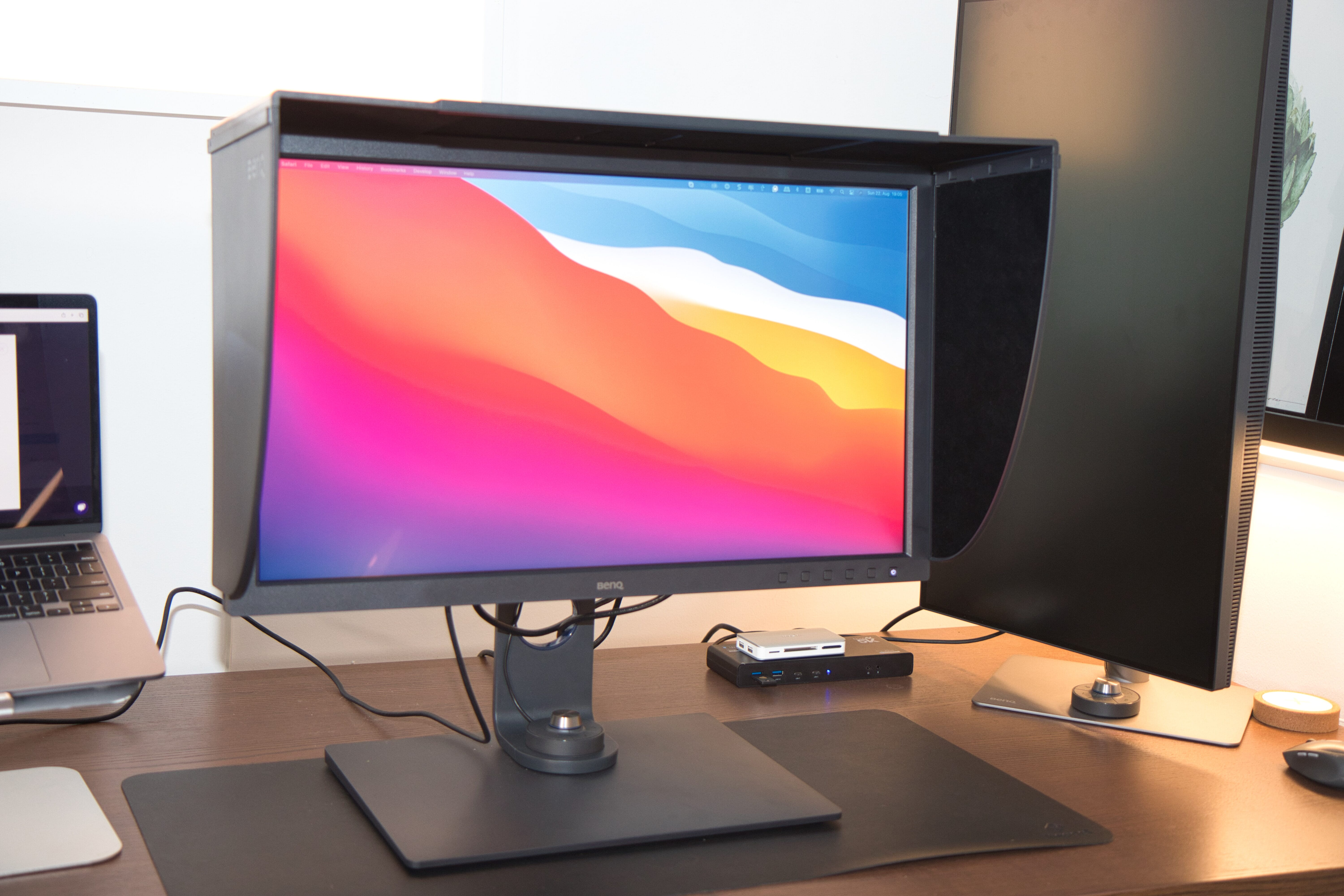 Other Features of Note
Aside from the monitor features, the BenQ SW271C also has two other notable features that photo editors may find useful: Paper Color Sync, and limited support for third-party hardware calibration.
Paper Color Sync
Paper Color Sync is an excellent feature that is great for those who regularly print their photos or digital artwork. Oftentimes, an issue with printing photos is that the preview does not accurately represent how the final print will look.
Paper Color Sync looks to adjust this, and could be described as a hardware calibration for print proofing and previews. You have to use the companion app to access this feature. However, it allows you to select the color gamut, the output printer, and the paper type so that Paper Color Sync can automatically adjust the monitor to provide an accurate print preview!
Support for Third-Party Hardware Calibration
The second useful addition to the BenQ SW271C is support for third-party hardware calibration. Hardware calibration of the monitor is always superior to software calibration. As a result, the addition of any support for this type of feature is a bonus.
However, the two-color calibration solutions supported are CalMan Studio, and ColourSpace by Light Illusion. These are two advanced color calibration solutions and are generally only used by those involved in high-end cinematography. As a result, due to the associated cost of these solutions, the hardware calibration support will make no difference for most users.
Is the BenQ SW271C Monitor Right for You?
Design

Price

Color Accuracy

Performance for Editing
The BenQ SW271C Monitor: A Worthy Choice for Photo Editing
This monitor is great for editing due to its wide support for color standards, high color accuracy, and excellent brightness uniformity. It also has a useful hotkey puck for quick display changes and can be used in both portrait and landscape orientation.
We hope you have found this BenQ SW271C monitor review useful. This monitor is certainly a decent upgrade from the older SW271 model. In particular, we like the Hotkey Puck G2, the improved selection of ports, and the paper color sync feature.
In terms of quality, the BenQ SW271C delivers consistently. It has a wide range of support for color standards, including 99% Adobe RGB, which is a major benefit. It also delivers great color accuracy and uniformity. As a result, for photo editing or video editing, this monitor is a great choice – if you can get past the steep price.
Bottom line: If you want a versatile monitor for photo editing in a professional capacity, this is a solid option.
---
As an Amazon Associate, we earn from qualifying purchases. Certain content was provided "as is" from Amazon daily and is subject to change or removal at any time.