If you're looking to commemorate a photograph – or just create a thoughtful gift – then why not turn one of your gorgeous files into a custom puzzle?
Of course, picking the best custom photo puzzle can be a bit overwhelming, which is why we wrote this article. Below, we share our top eight favorite puzzle products, all of which allow you to upload a file and create a beautiful puzzle of your own.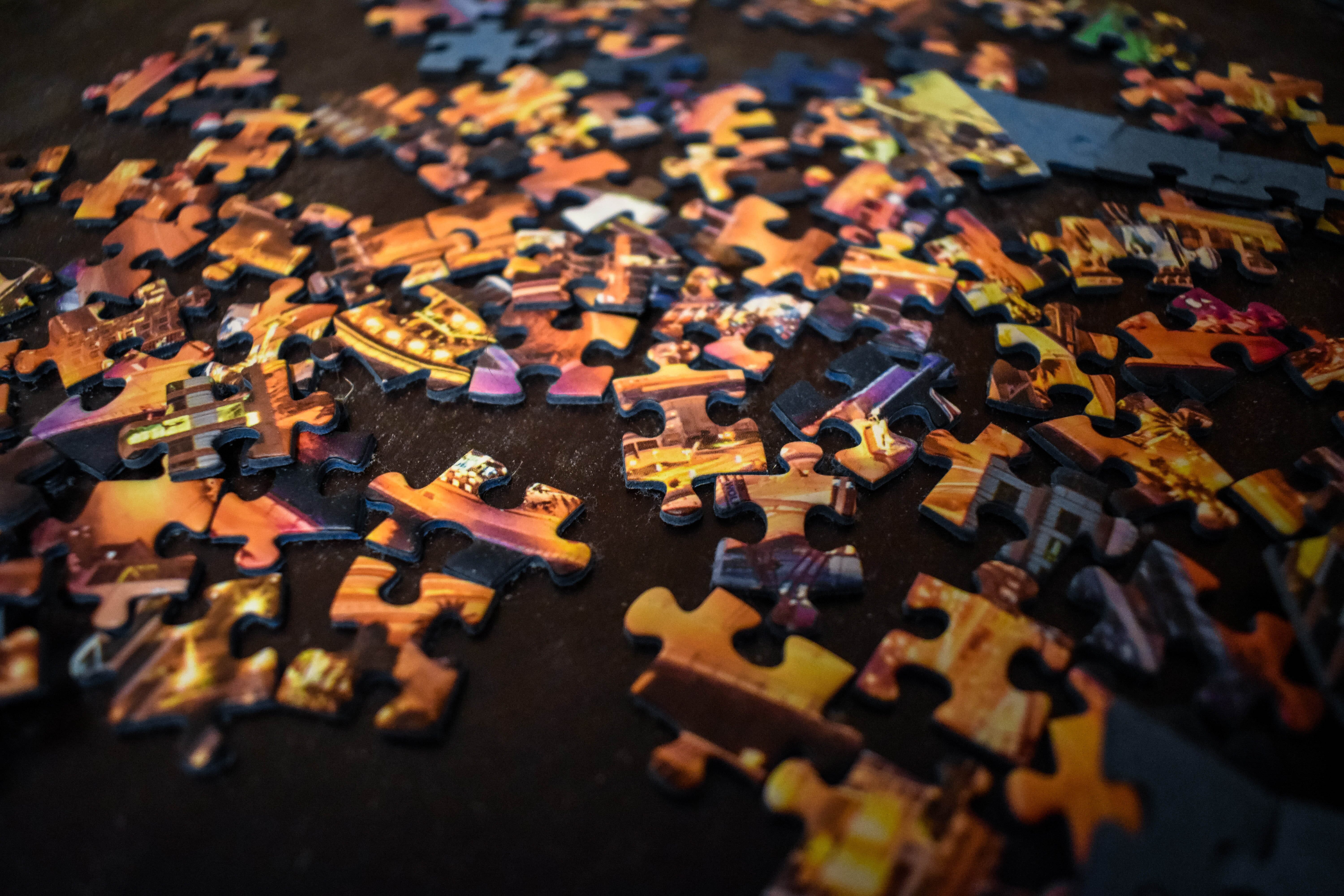 Best Custom Photo Puzzles:
When you buy through links on our site, we may earn a commission at no cost to you. We evaluate products independently. Commissions do not affect our evaluations.
1. Pictorem
Our Pick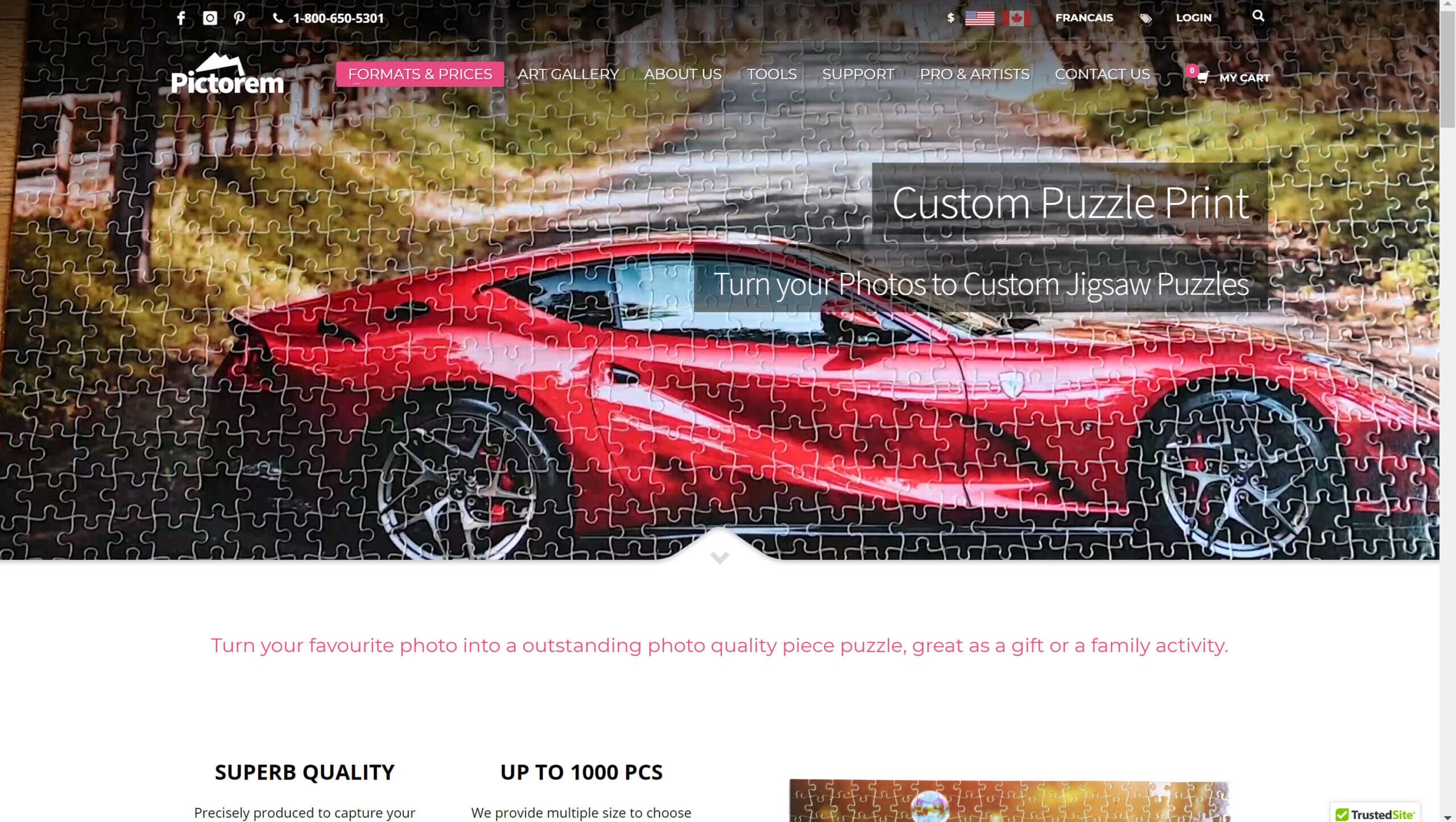 Best for color images
If you like vibrant and flashy colors, you've found the right puzzle!
Pros
Excellent color
Sell beautiful, heart-shaped puzzles
Real human doing quality control
Cons
Heart puzzles only have 25 pieces
Pictorem is a well-rounded print lab that lets you print your favorite images on various products, including puzzles, and boy, do they look grand! Pictorem's puzzles are very vibrant and rich in color, thanks to a dye sublimation process you'll typically only see in high-end prints.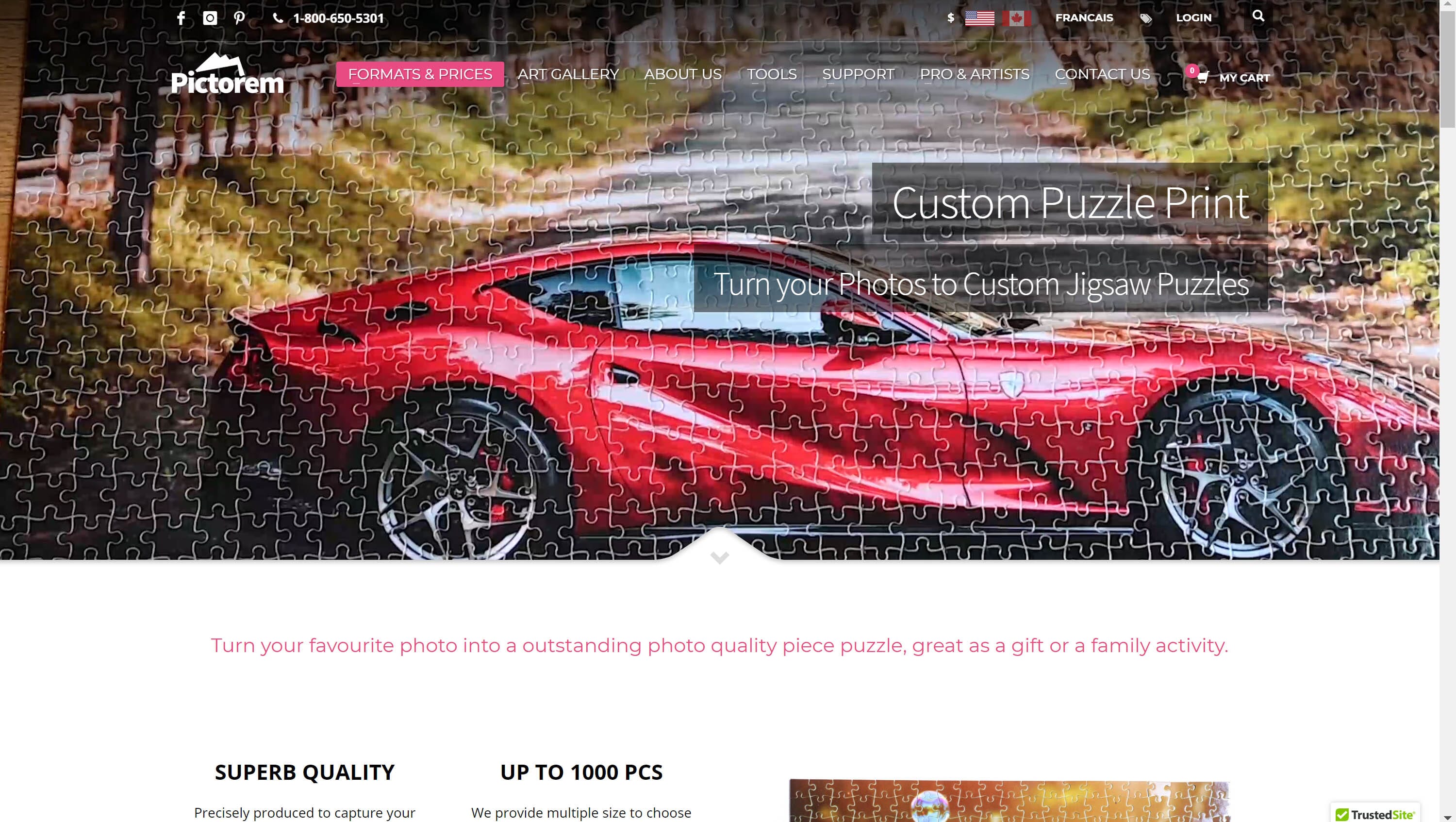 Also, unique are the shape options; you can actually make a heart-shaped puzzle, for instance, rather than just your average rectangle or square. Sure, the heart puzzle is only 25 pieces, but it can make for a fun family game night for children, not to mention a nice coffee table display. And Pictorem also offers puzzles up to 1000 pieces geared toward adults.
With a satisfaction guarantee and a real human reviewing all puzzle orders, you'll love your Pictorem puzzle for years to come.
2. Piczzle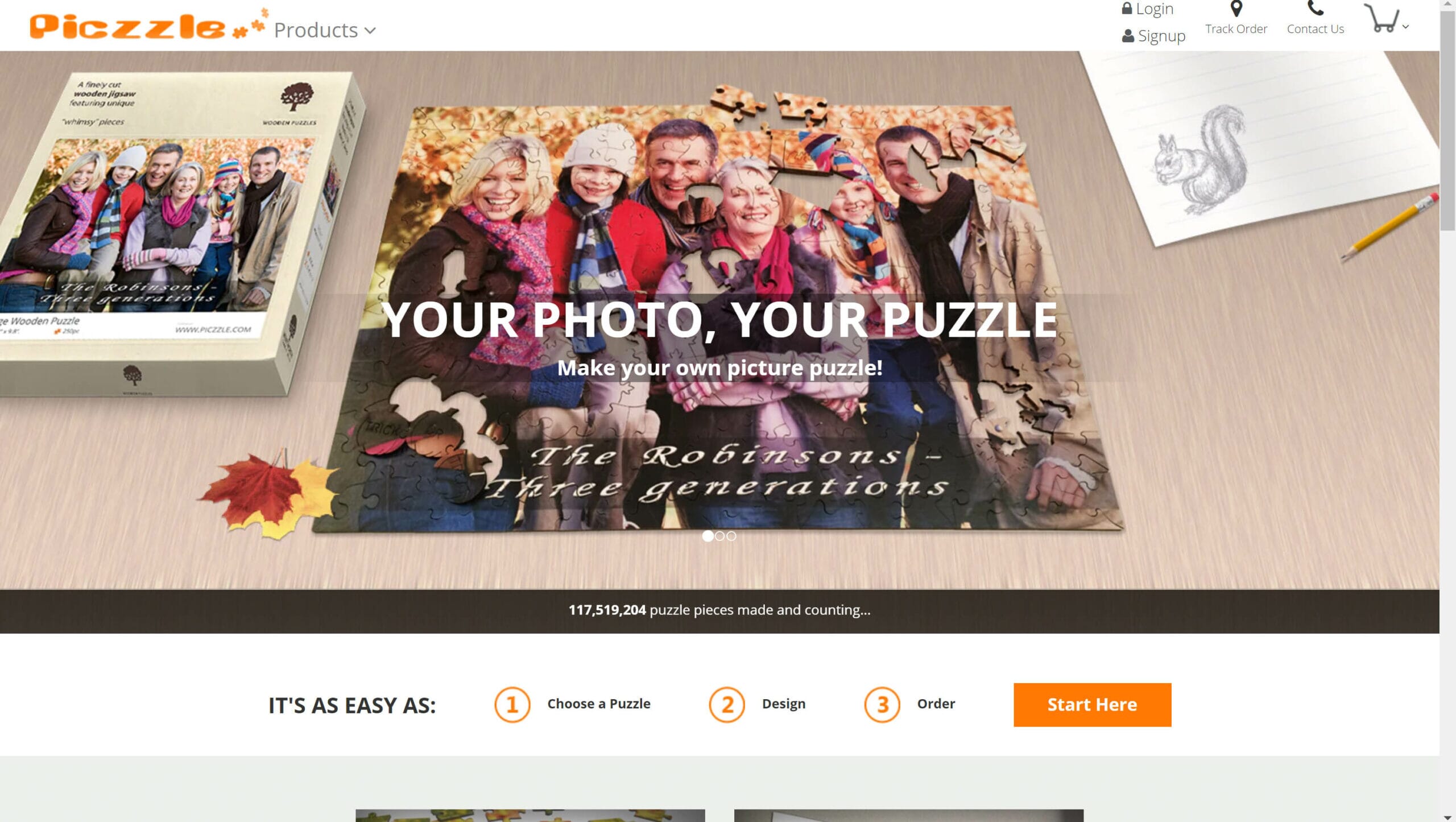 As fun to say as it is to play
If traditional puzzles aren't your jam, this lab offers magnetic puzzles, too.
Pros
Option to make magnetic puzzles
Great customer service
Cons
Can have significant delays during the holiday season
With a name such as Piczzle, the company sounds like fun; fortunately, they don't disappoint. While Piczzle offers many of the same products as other puzzle companies, they stand out thanks to their magnetic puzzle option. Although the magnetic puzzles are more for a beautiful display than a fun game (they're low in piece count), they still look quite eye-catching and lovely.

Thanks to a decade of experience in the puzzle business, Piczzle knows what they are doing. The prints are beautiful and look quite glossy, while customer service has been touted as top-notch by independent reviewers, though with a complaint here and there about product delays during the holiday season (December).
For those who want to add a bit more excitement to their puzzle, there are also drag-and-drop designs.
3. CanvasChamp
Best Value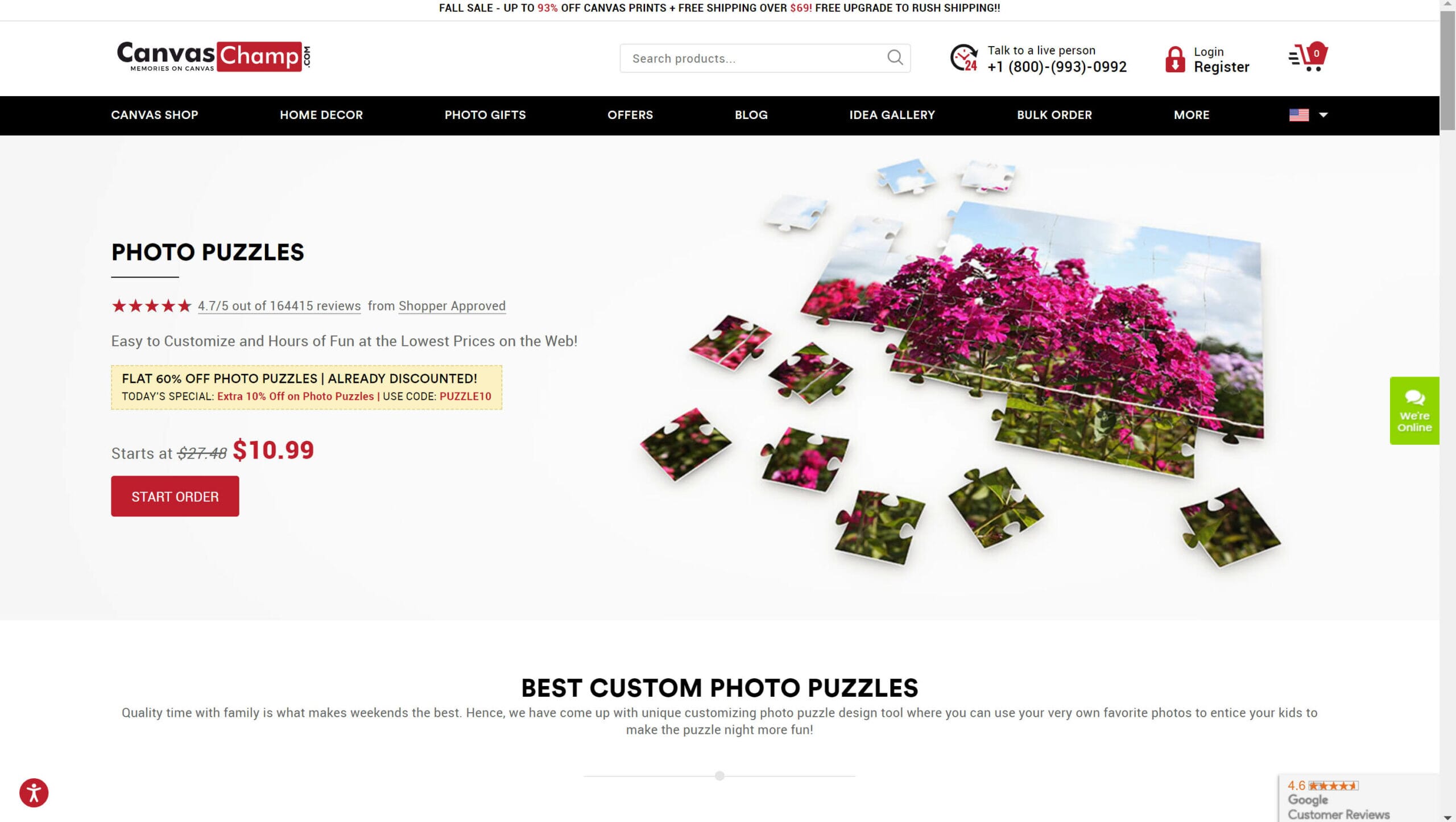 Long-lasting puzzles
Made with long-term use in mind, CanvasChamp makes durable puzzle pieces.
Pros
Up to 1056 piece puzzles
Puzzle pieces are hardy and intended for lots of use
Reasonable prices
Cons
20 x 20 is the largest puzzle size
CanvasChamp puzzles range from six pieces all the way to 1056 pieces, and at very reasonable prices, too. The company offers a tremendous amount of print product options, from 3D photo lamps to plaques, and their puzzles are some of their best.

CanvasChamp emphasizes longevity, making the puzzle pieces thick and supported by a firm backing; that way, they can be assembled, taken apart, and reassembled countless times without wear and tear.
However, the largest size they print is 20 x 20, which is smaller than leading competitors (though still on the large side, of course).
4. Shutterfly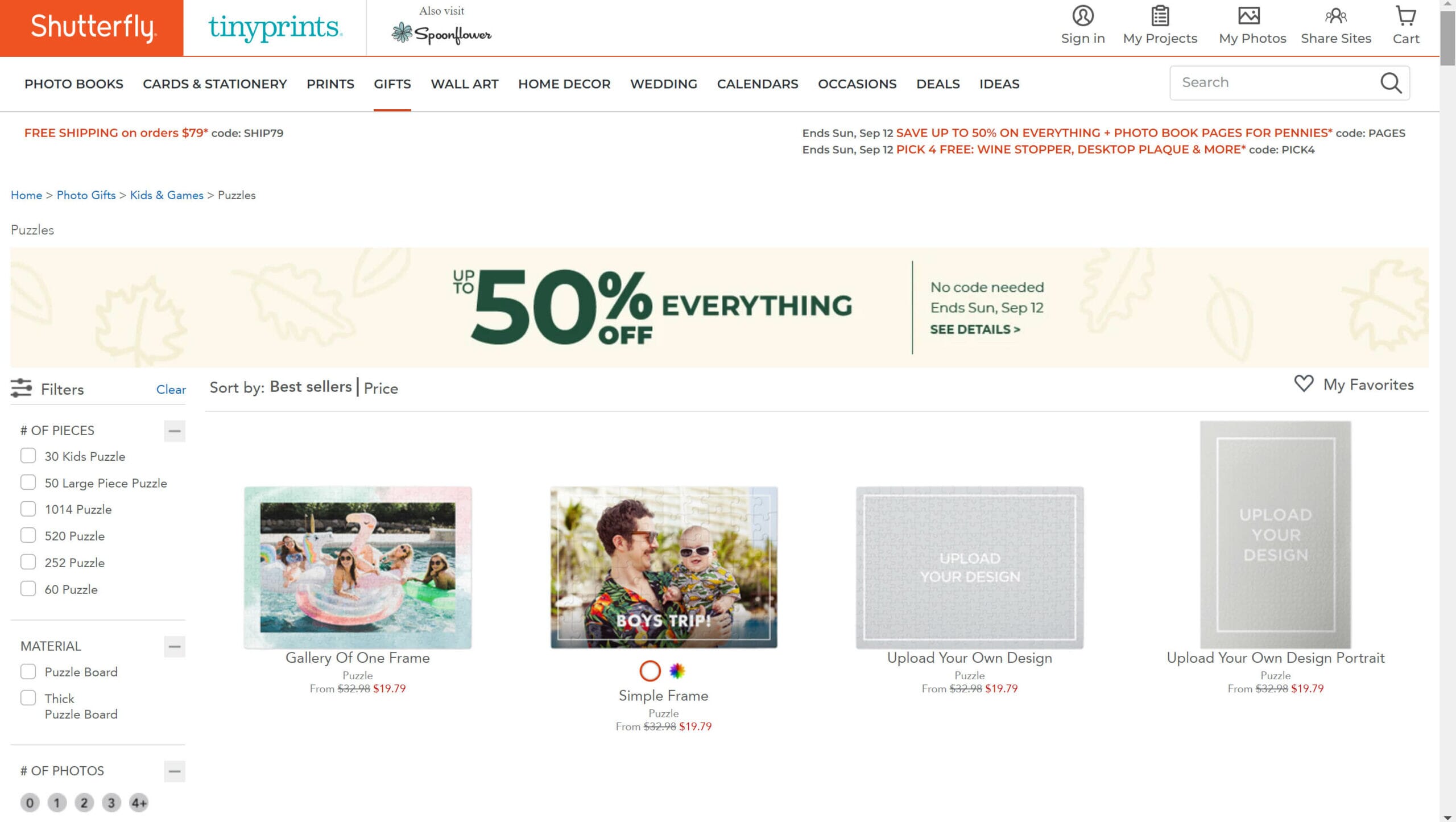 A one-stop shop for puzzles (and more)
Shutterfly is a big name in the print and product world; while you're shopping, grab a puzzle.
Pros
Well-known
Decent quality
Great prices
Cons
Does not specialize in puzzles
One of the biggest names in the photography print world, Shutterfly is a consumer-oriented print lab. It's used by photographers of all stripes, from professionals to complete beginners, and Shutterfly has a long-standing reputation as a convenient and versatile print store.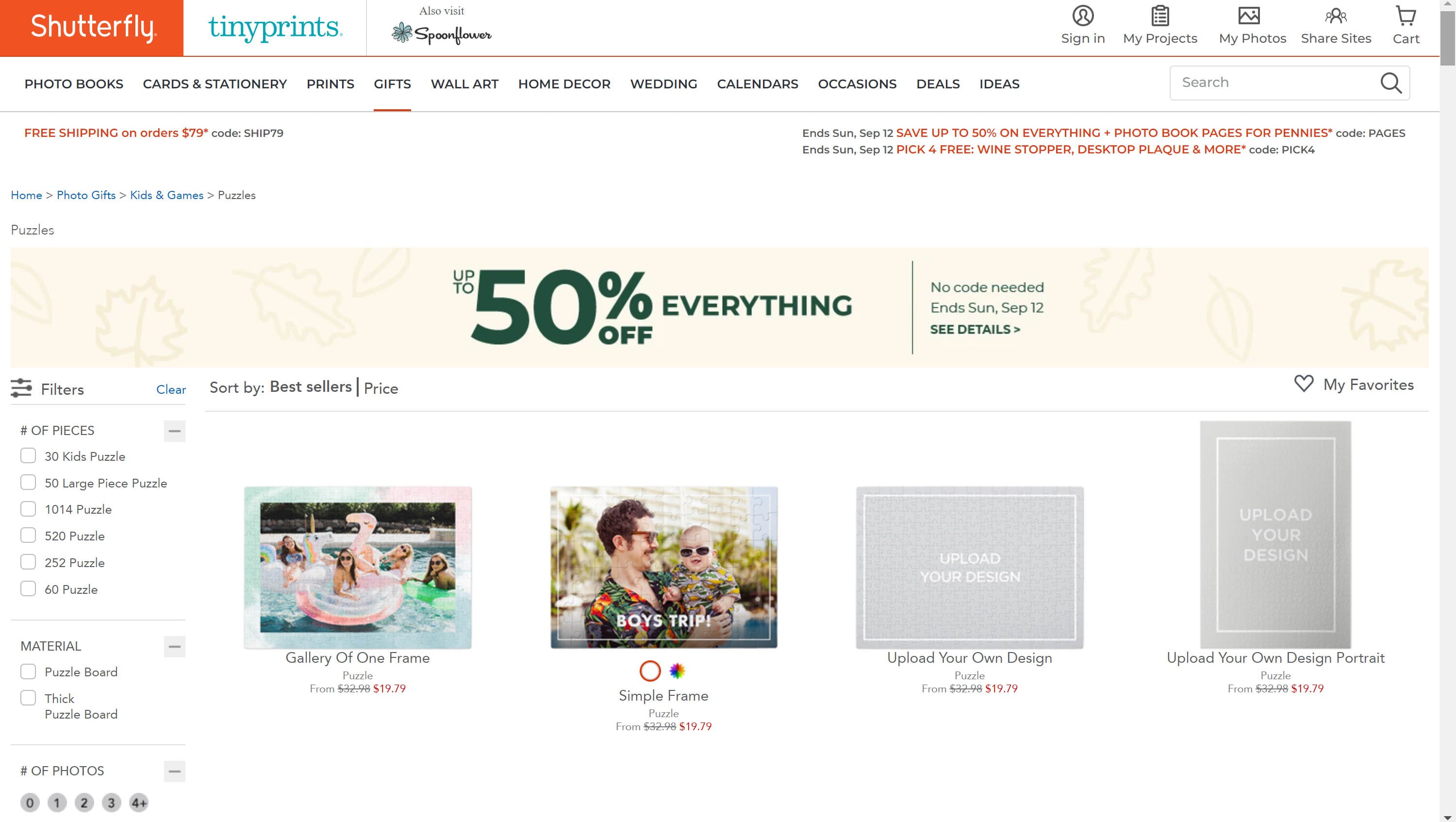 Now, puzzles aren't necessarily Shutterfly's specialty, though if you're ordering a slew of different products and add are looking for a nifty little custom puzzle, you can pop one into your cart (and you certainly won't end up dissatisfied).
Shutterfly puzzles have various pre-made designs you can choose from, or you can just upload one full-page image. The results are still beautiful, but may not be as thick as alternative options.
5. PuzzleYou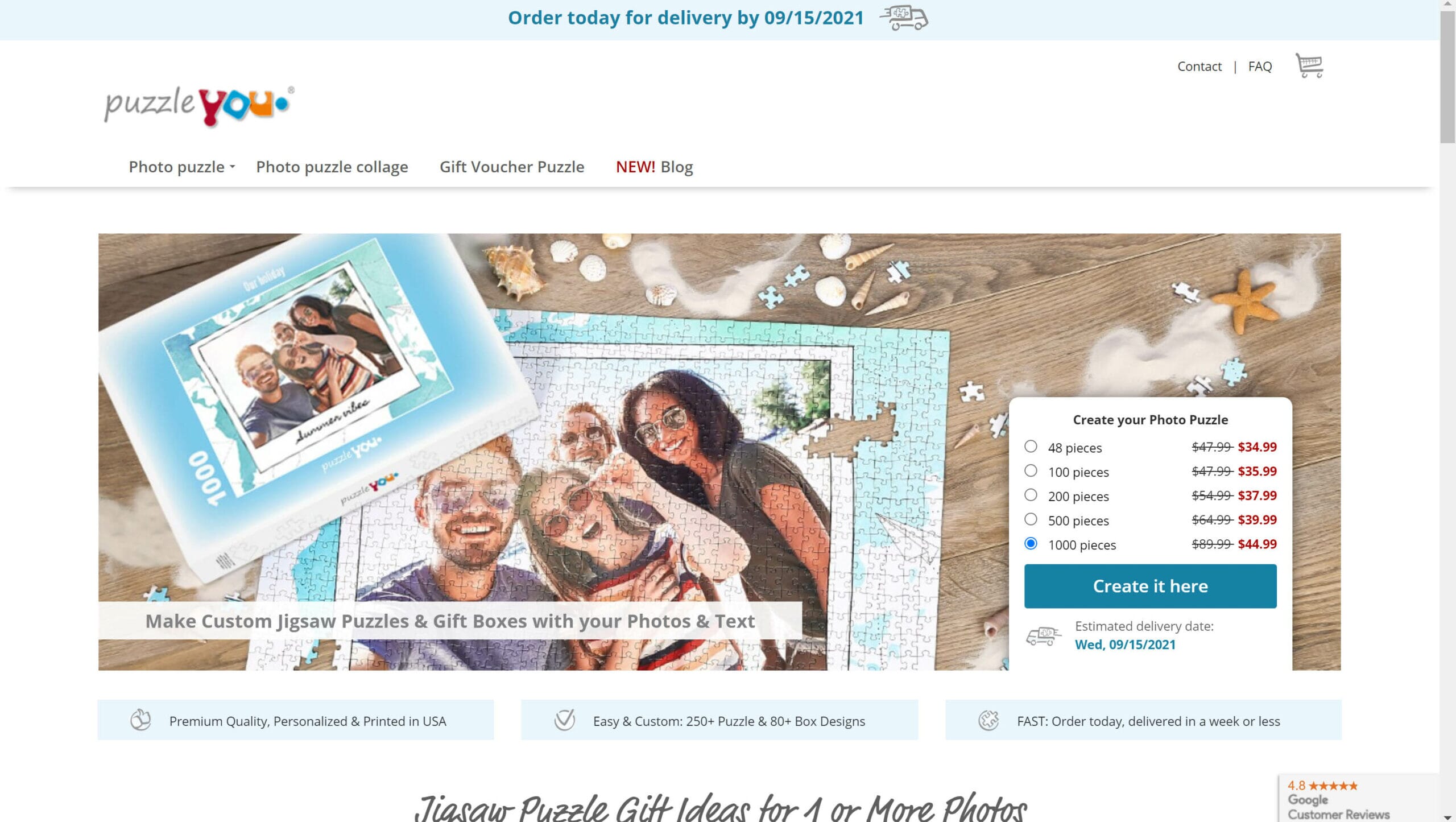 Another specialty shop
If you really can't choose what photograph to use, why not use them all!
Pros
Specializes in puzzles
Add up to a 65-image collage
High-quality piece cuts
Cons
No top-notch quality control
PuzzleYou is another specialty store, capable of creating various puzzles for clients and photographers. You can add up to 65 photographs to a single puzzle (though if you add the maximum number of images, each one will be pretty small in the final product).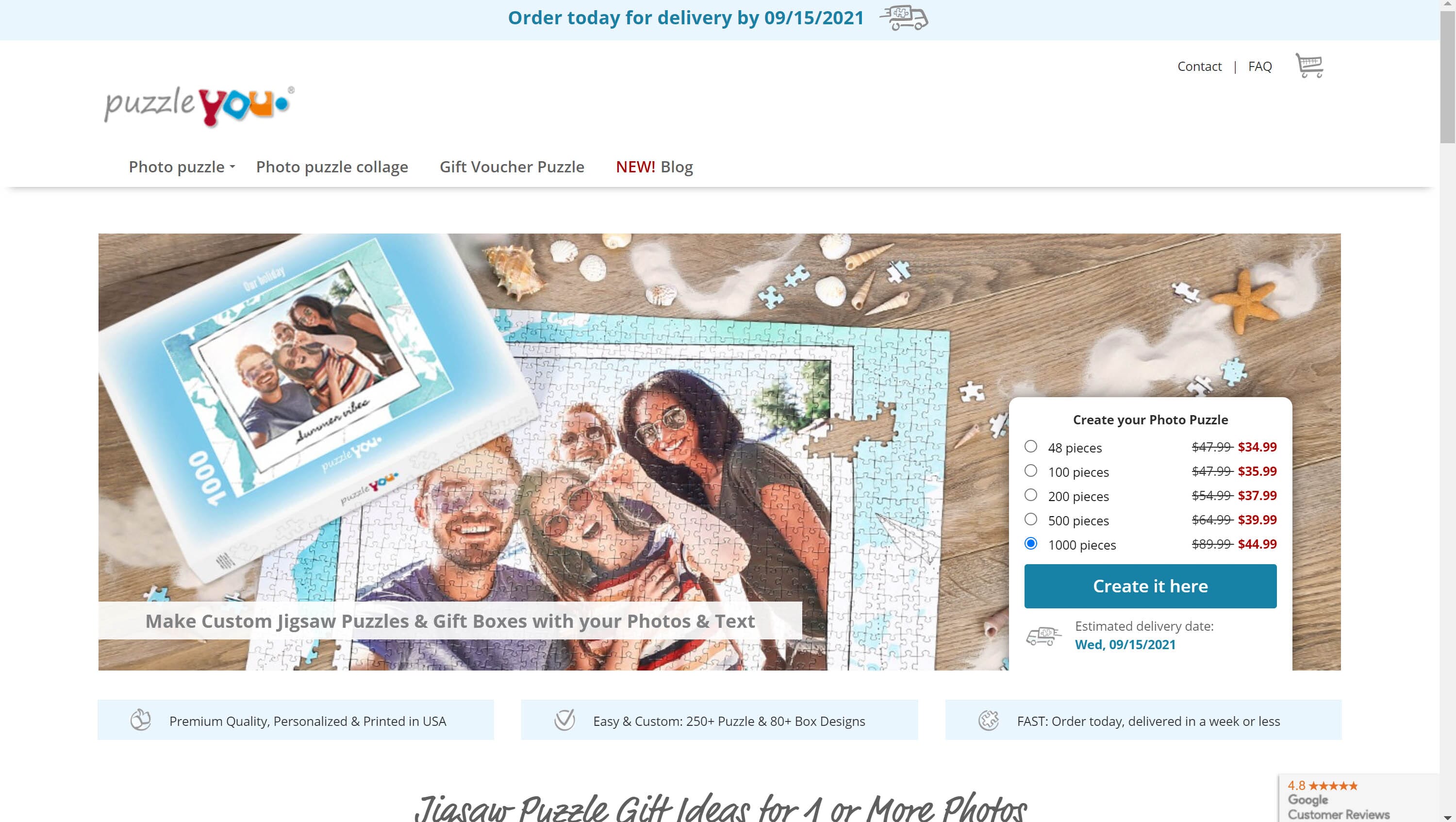 All the pieces feature high-quality cuts, which helps them fit together beautifully, along with a matte finish. To sweeten the deal, PuzzleYou offers a 15-year replacement guarantee should something happen to your puzzle (or a piece or two goes missing).
Note that you should upload a high-quality image for printing because PuzzleYou doesn't monitor pixelation as much as other brands.
6. Wentworth Wooden Puzzles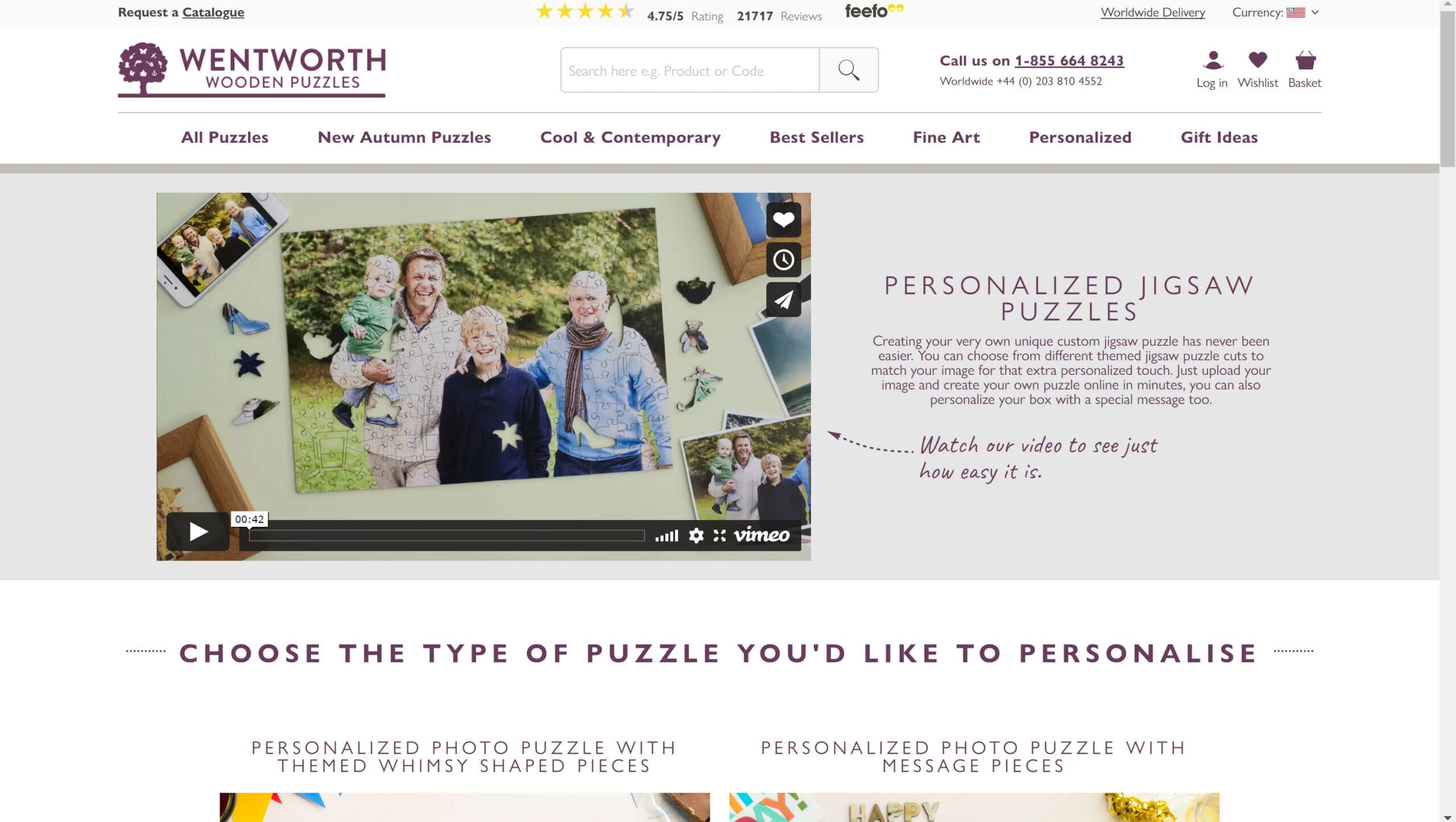 Unique puzzle piece shapes are their specialty
For ultimate personalization, you can make differently shaped puzzles pieces.
Pros
Specialty company with very high-quality results
Make custom puzzle piece shapes
Wentworth staff can help you decide on piece shapes
Cons
Longer creation time (it can take about 10 days to make a puzzle)
Who needs boring old puzzle pieces, anyway? Wentworth Wooden Puzzles lets you select stilettos, flowers, hats, toys, and so much more than custom puzzle piece shapes. And if you're not sure what shapes would work best, you can let Wentworth professionals pick out the piece style.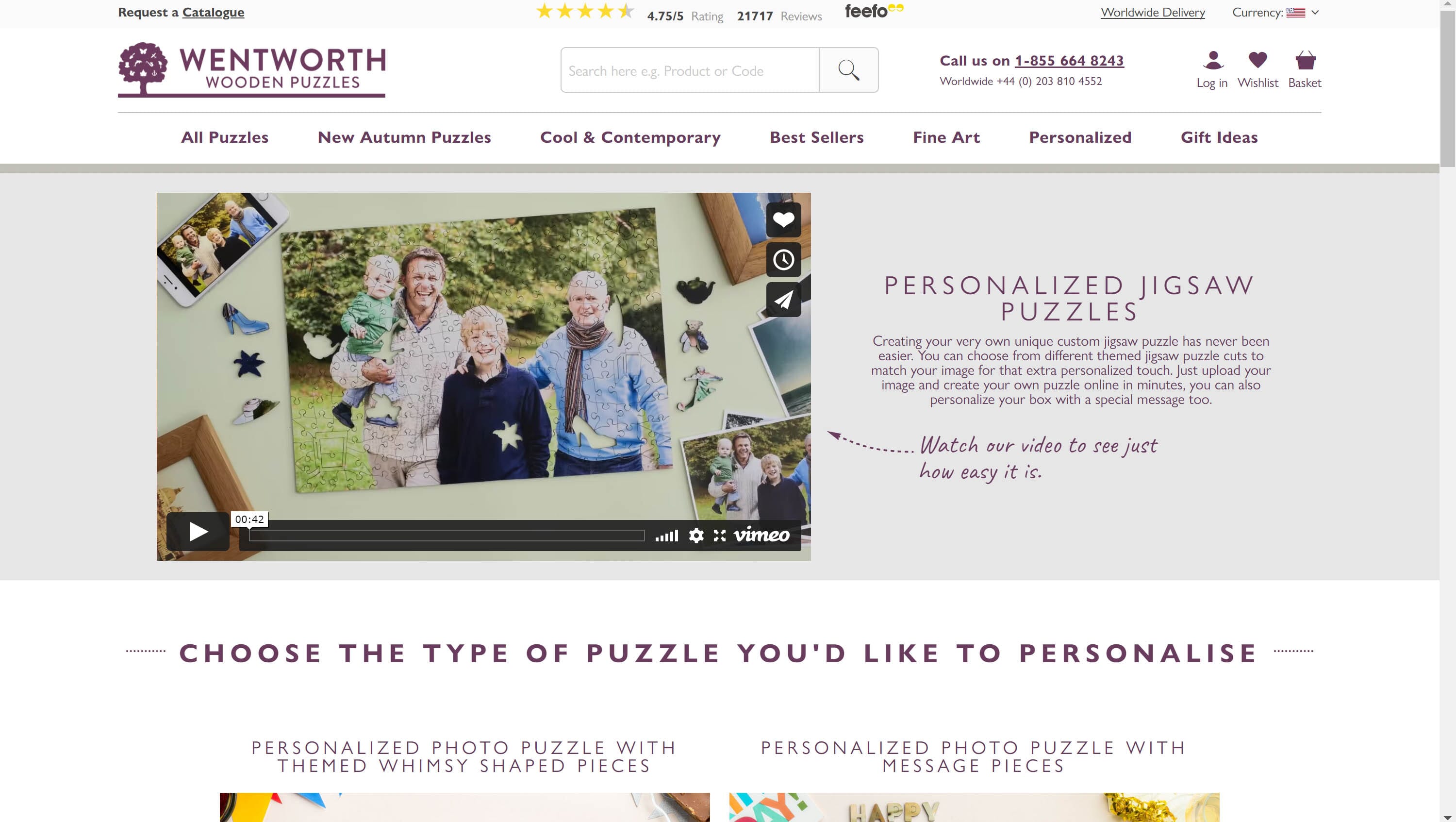 To go even fancier, you can even have letter-cut-out pieces! This allows you to personalize a message in words, making the puzzle even more memorable.
It does take about 10 days to make the puzzle, so you should factor this in if ordering as a gift. But the wait is well worth it!
7. Ravensburger (Only Available In-Store)
Also Great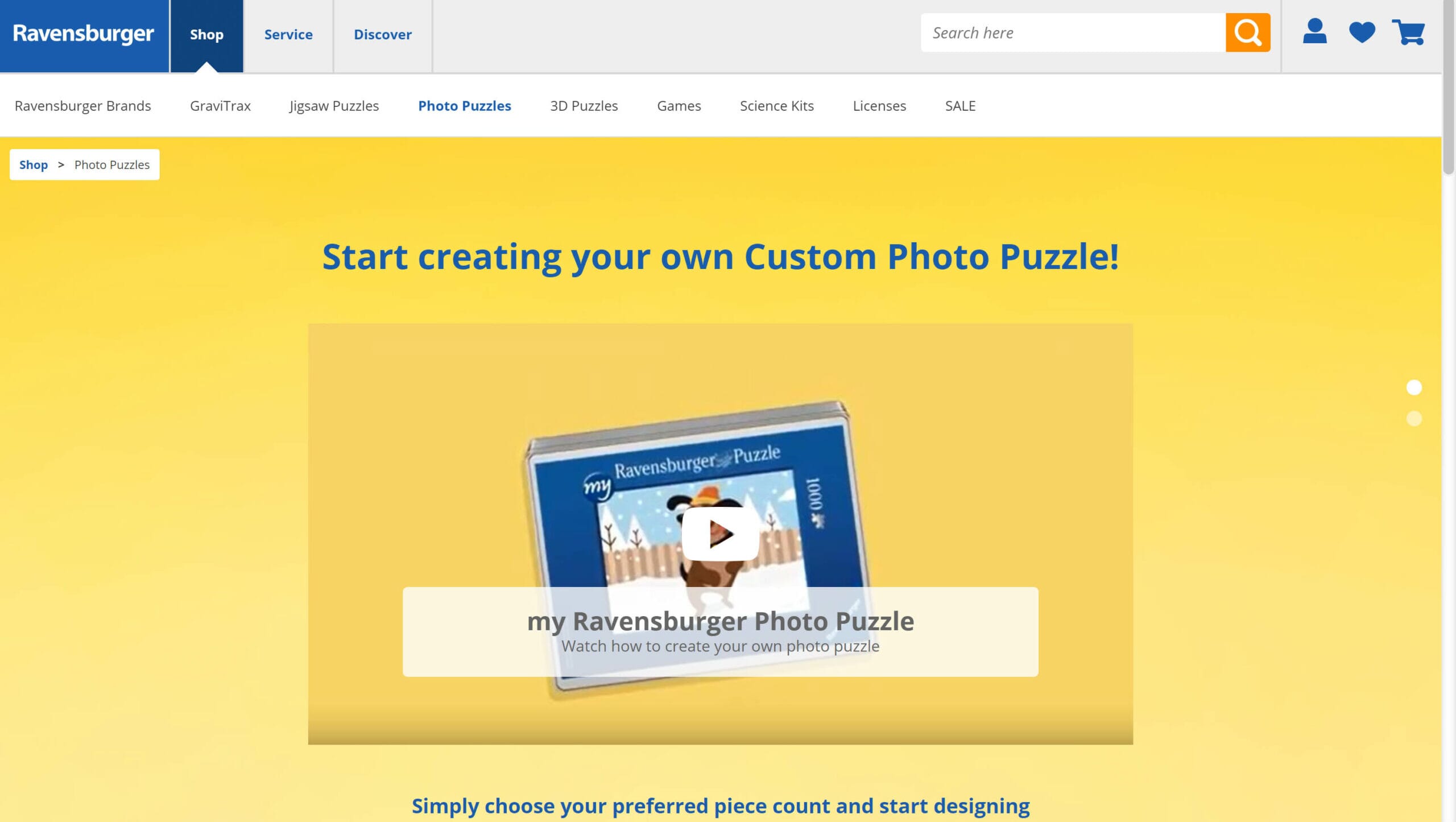 Specialty shop for puzzles
If the beautiful quality of German games strike your fancy, this is the way to go.
Pros
Incredible quality
Specializing in puzzles
Amazing traditional puzzle tin included
Satisfying click when pieces come together
Cons
Can be a long delivery time
Ravensburger is a well-known name in the conventional puzzle industry, but in addition to high-quality standard puzzles, they've been creating custom photo puzzles for a long time.
Ranging from 100 pieces all the way to 1000 pieces – there are numerous options to choose from – puzzles come in a traditional puzzle tin, which may (depending on your age) bring back childhood memories. The box can even be personalized with a greeting of up to 40 characters.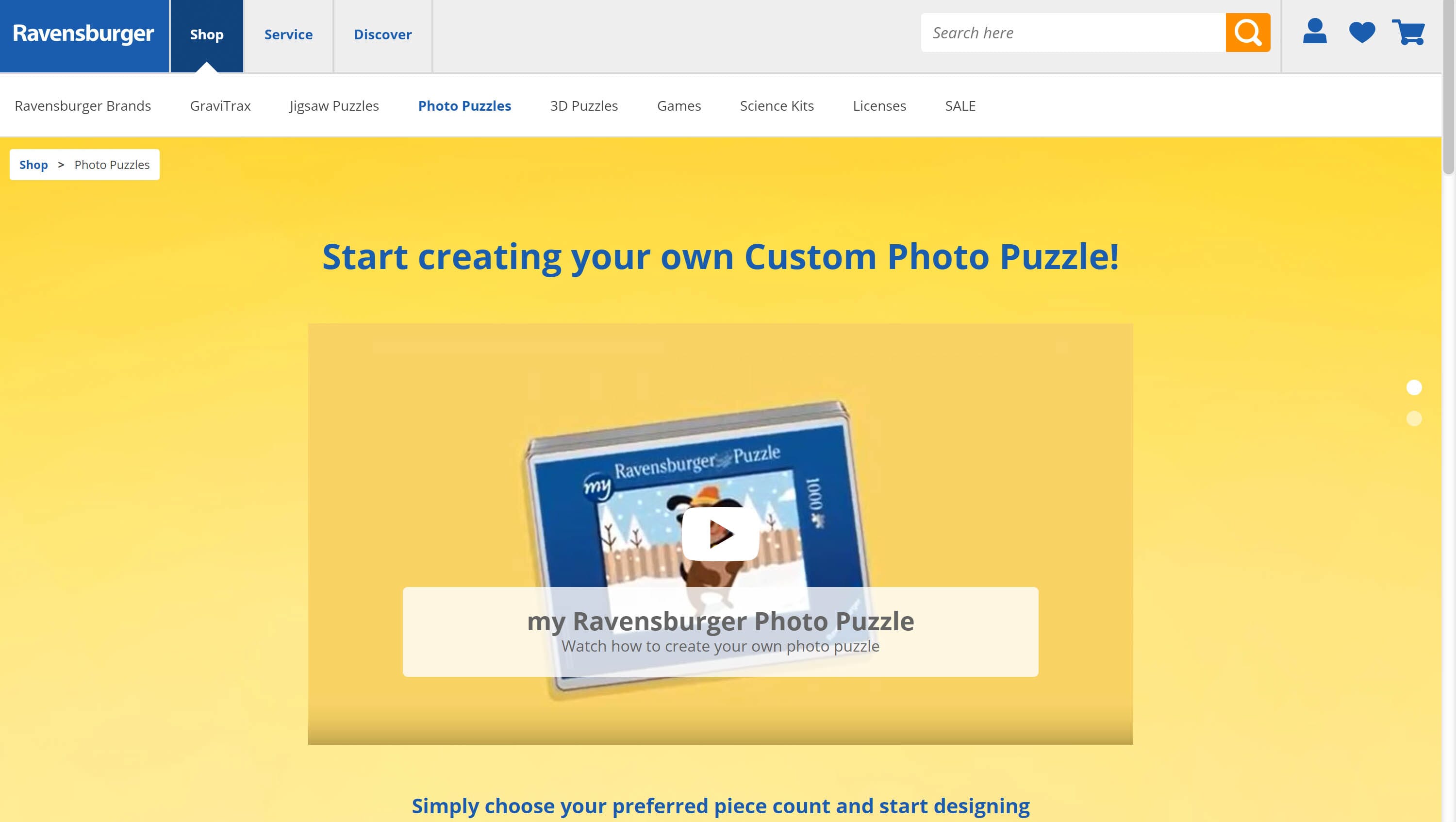 What makes this brand stand out? Primarily the incredible quality. Pieces make a satisfying click when put together and are designed to be both sturdy and solid. The finish is a nice matte texture.
Which Custom Photo Puzzle Is Right for You?

Jigsaw puzzles may all look the same at first glance, but they are certainly not! Although the best custom photo puzzles depend on personal preference, our overall favorite is Pictorem. Their puzzles are quality, and it really shows!
CanvasChamp seemed to offer the best value overall, especially with their frequent sales, though if you want a truly unique touch, Wentworth Wooden Puzzles is the option for you!