There are so many ways to decorate your walls with photography. From acrylic prints to metal gallery displays, the options seem endless. But what if there were an easy way to create a gallery wall with almost zero fuss?
That's where a new trend becomes relevant: photo tiles, a product that allows you to mix and match square prints whenever you feel like it. Here is our list of the 10 best photo tiles available to order in 2023:
Best Photo Tile Printing Companies:
When you buy through links on our site, we may earn a commission at no cost to you. We evaluate products independently. Commissions do not affect our evaluations.
Best Photo Tiles for Your Wall
1. Mixtiles
Our Pick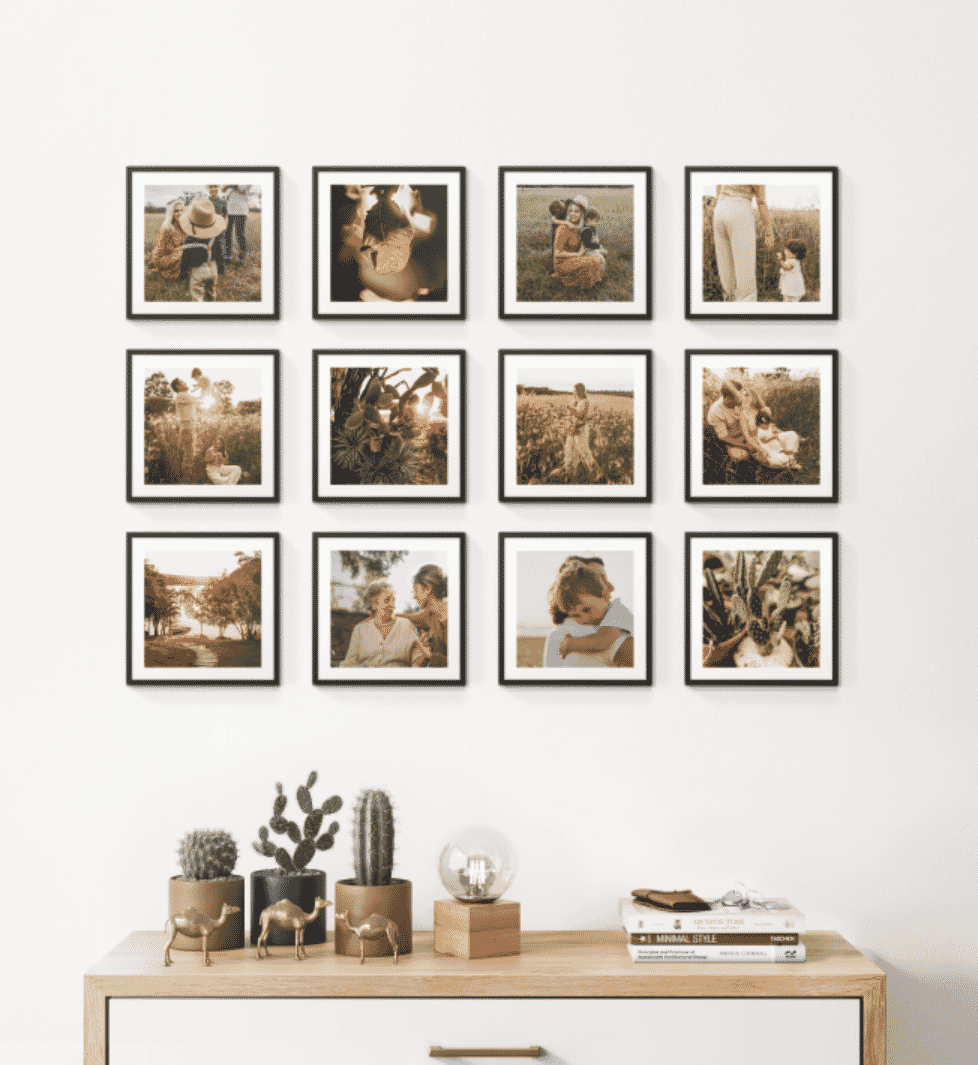 Beautiful-quality photo tiles
Mixtiles offers amazing photo tiles at a great price – so if you're looking for a cost-effective way to decorate your home, it's a great choice.
Pros
Specializes in photo tiles
Super easy to use with a multitude of great reviews
Reasonable price
Lots of framing options
Cons
Offers a limited array of sizes
If you search for photo tiles, Mixtiles pops up first – and for good reason. Mixtiles is a tile specialist, which means you can expect outstanding quality even at a good price.
Mixtiles uses a simple sticky adhesive on the back of the frame to mount on walls, and the company claims the adhesive can stick and restick with ease. Many reviews showcased the multiple times tiles were stuck, unstuck, and re-stuck with stickiness still intact. Of course, the adhesive will eventually struggle, but reviewers found it pretty easy to just put on new adhesive.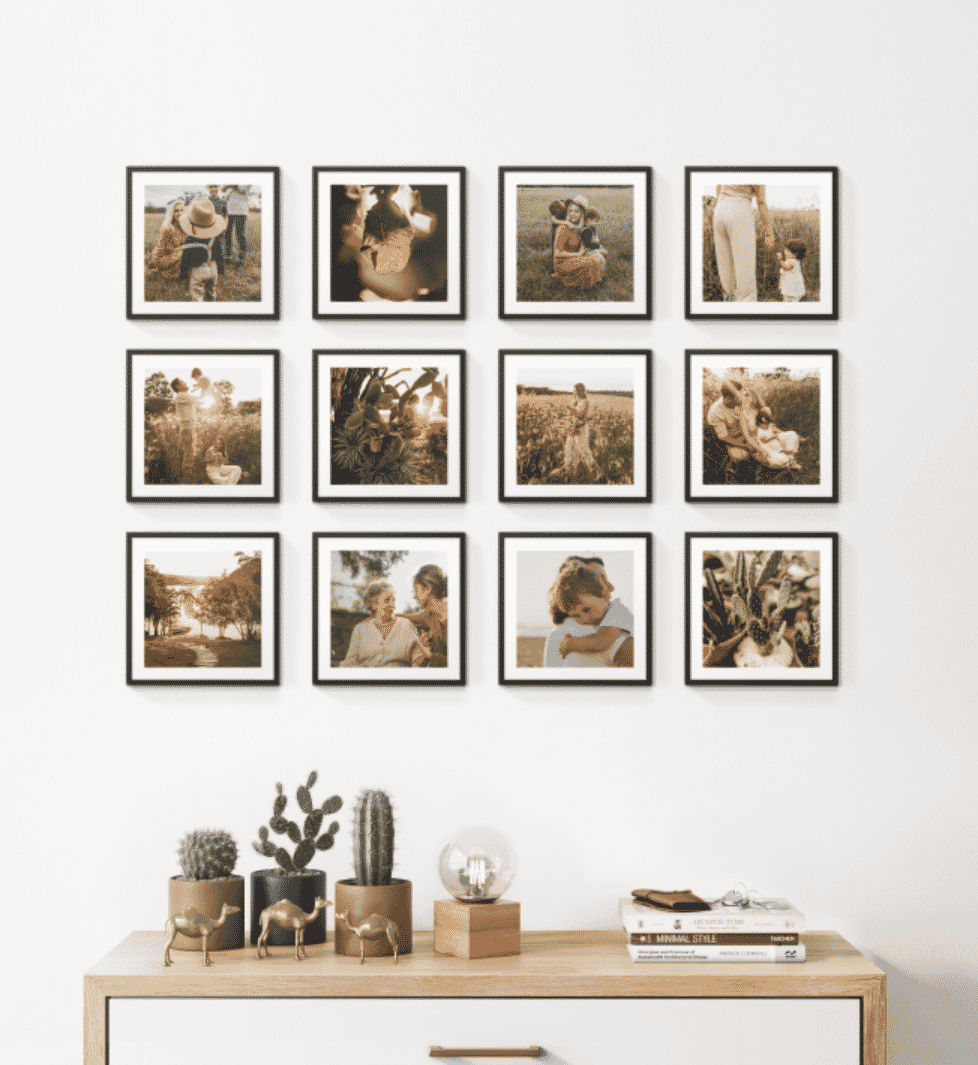 Although some users reported images printing a bit softer than they would have liked, the majority didn't have this issue – which tells me that there may have been a problem with image file resolutions. Especially since Mixtiles's suggested print resolution is, in my opinion, way too small for a quality print.
Mixtiles prices their tiles reasonably, and it's cool that you can print directly from your social media accounts. There are lots of different framing options to suit almost any style.
2. Printerpix
Also Great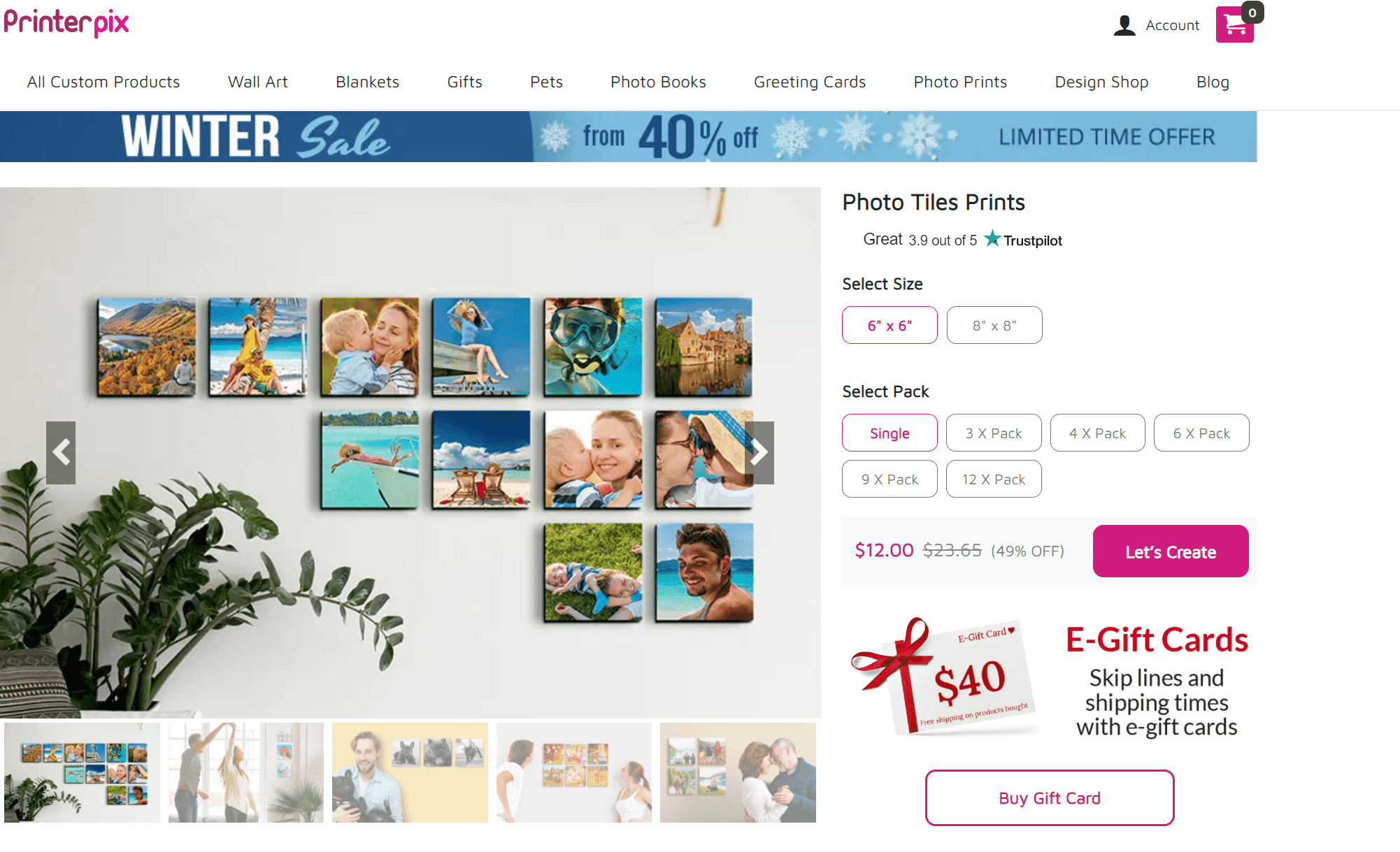 Best for small wall galleries
Printerpix offers a unique tiny size for your micro galleries.
Pros
Offers a smaller size than the rest
Good-quality prints
100% satisfaction guarantee
Cons
Only two sizes available
One of the pricier options
Printerpix is very similar to Mixtiles and offers lightweight prints with a neat little adhesive strip on the back. The printing quality is vibrant and lovely. The entire concept of photo tiles is about making a gallery wall with ease, and Printerpix's offering fits the bill perfectly.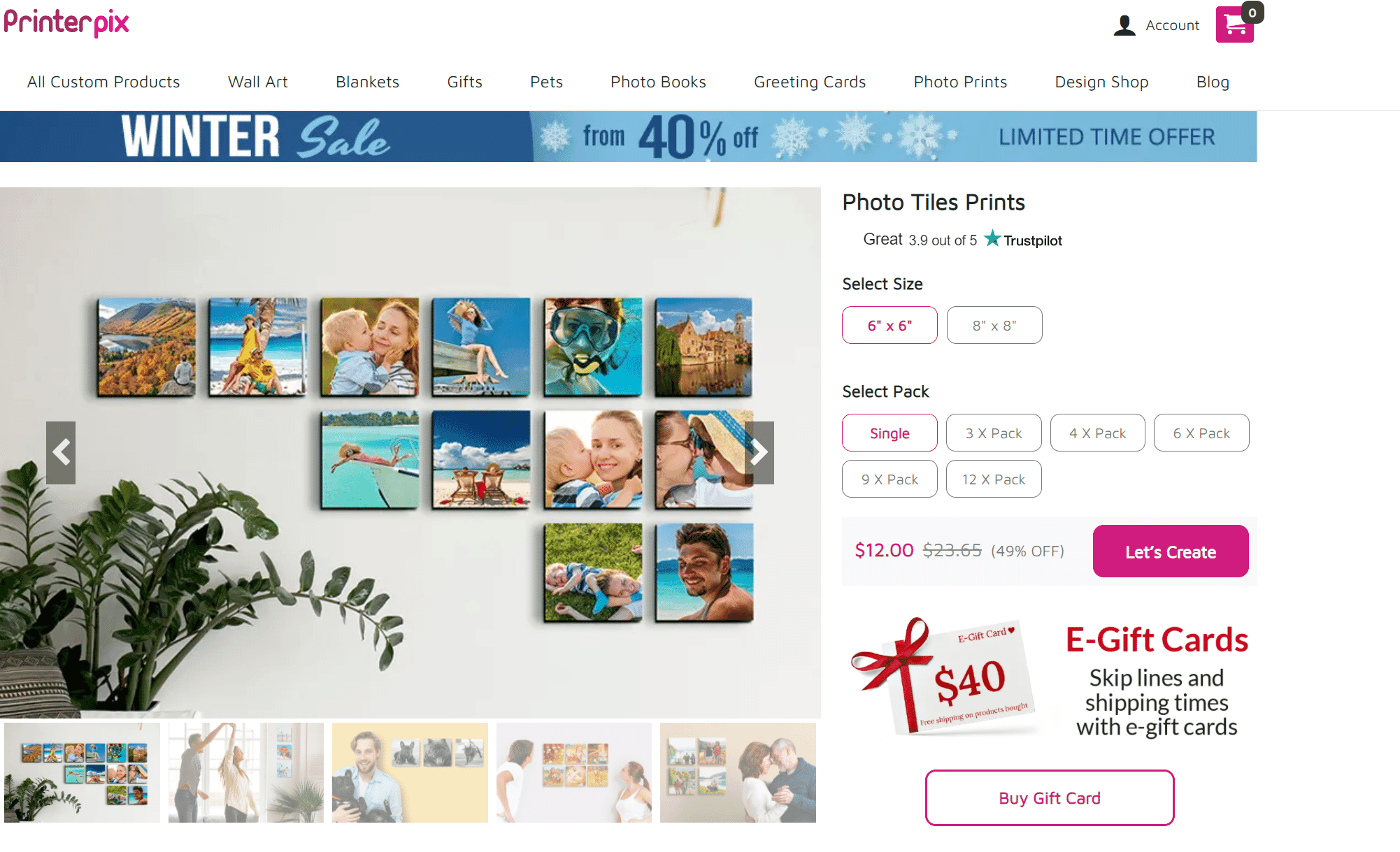 Their 100% satisfaction guarantee means you can order with confidence. And Printerpix offers an extra size that Mixtiles doesn't, which makes the company a great choice for those who need a 6 x 6 print rather than an 8 x 8 print (or larger)!
Printerpix is slightly more expensive than Mixtiles. However, Printerpix does have bulk ordering discounts, which you can utilize if you're looking to add more than 12 tiles!
3. CanvasDiscount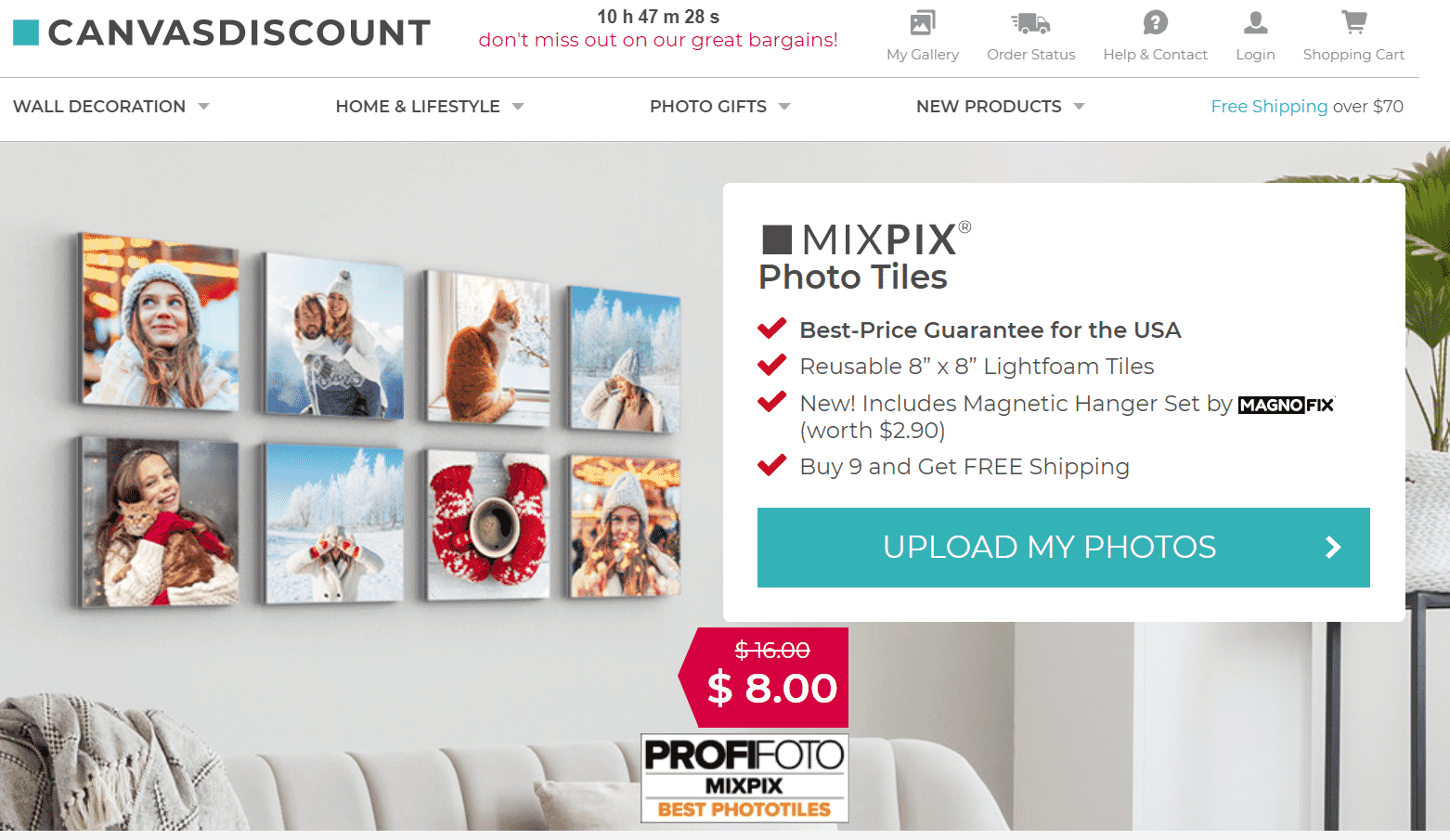 Best for creative hanging
This lab offers their own type of photo tile called MIXPIX, which features a unique magnetic hanging system.
Pros
Uses a magnetic hanging system that makes it easy to change the order of the tiles
Nice print quality
No registration needed
Cons
Flat shipping fee is pricey for only a couple of tiles
Another neat photo-product store, CanvasDiscount, has its own version of photo tiles that they proudly call MIXPIX (it rolls off the tongue quite nicely, if I say so myself!). MIXPIX is similar to other options on this list: Images are placed on thin frames, and the display is lightweight enough to safely hang on walls.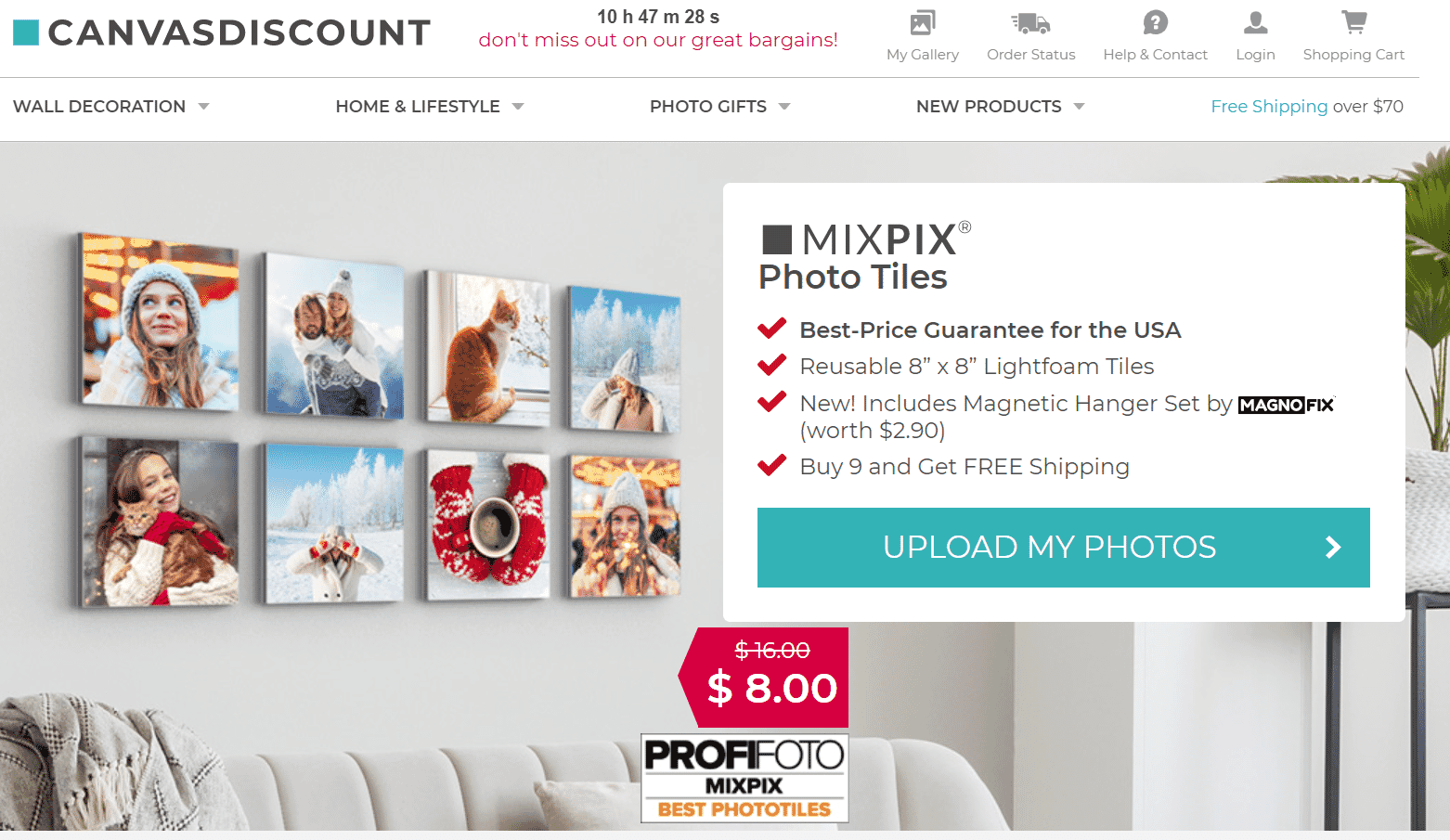 However, MIXPIX actually has a bit of a different hanging system compared to others on the list: they use magnets. The company's Magnofix hanging system has you stick a simple little square with a magnet onto your wall – then the MIXPIX tile magnetizes right onto it! This allows you to switch around the order of your tiles as many times as you want without needing to remeasure and straighten your gallery.
No account is required to order, and it's so simple, you can do it from your phone.
4. Shutterfly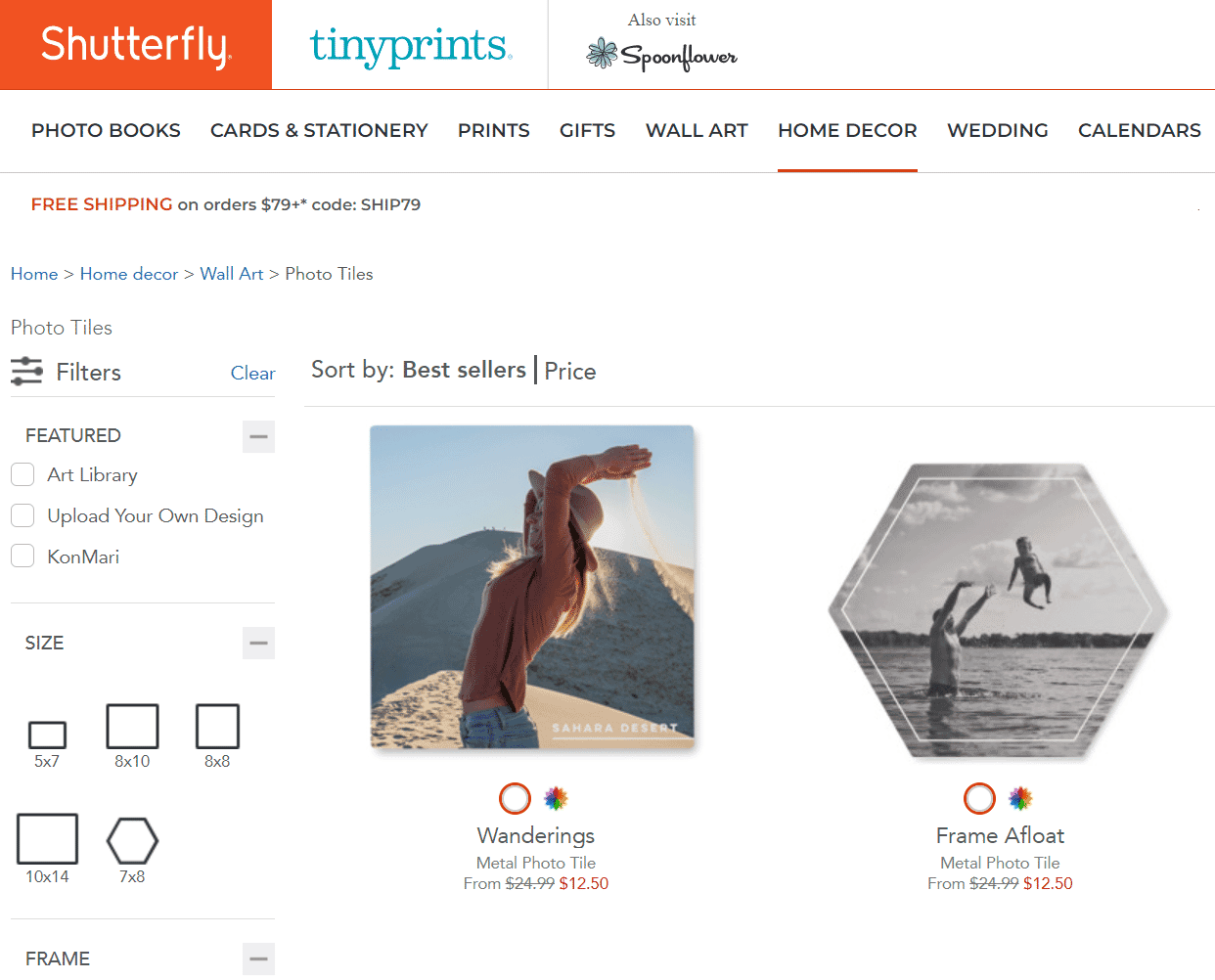 Best all-around functionality
This lab offers such a slew of products that it isn't surprising to see photo tiles on the list.
Pros
Offers a large array of sizes for photo tiles
Hexagon photo tiles are a unique offering
Lots of design presets available
Cons
Print quality isn't up to pro standards
If I had a nickel for every time Shutterfly appeared on a print product list, I'd be wealthy! There is a reason that this jack-of-all-trades lab keeps appearing, and that's because their options are pretty endless.
For photo tiles, Shutterfly goes far beyond the square format and offers other shapes as well, such as rectangles and hexagons. This can help make your gallery wall especially unique!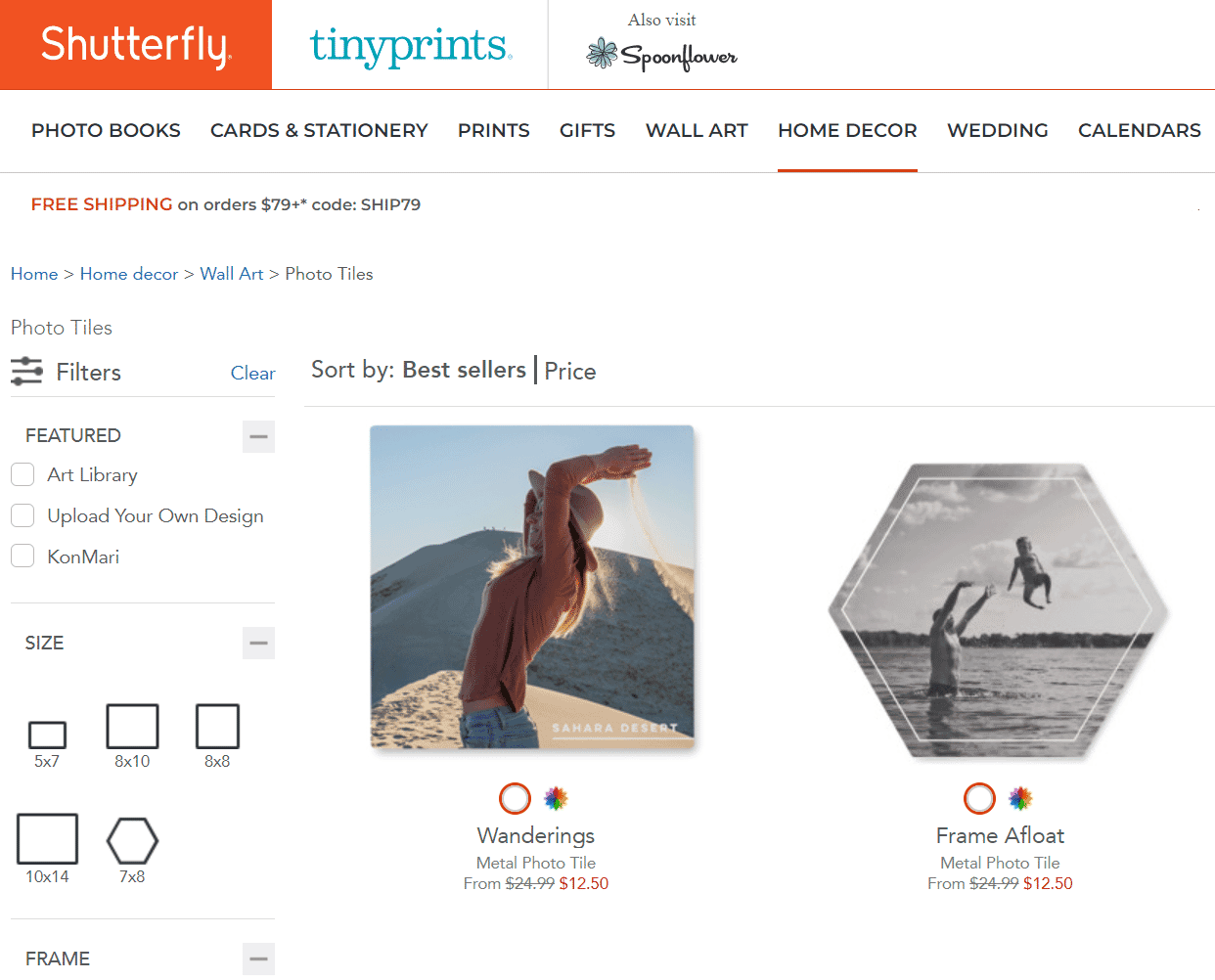 Although the pixel-peeping professional photographer may not be completely satisfied with the print quality, most everyday shooters sure will be.
Images come out vibrant and quite true to life, but may suffer from some minor color-rendition issues and softness. That said, not many individuals will stick their noses close enough to your wall print to notice these problems.
The tiles are made of aluminum rather than foam board, and they paste to the wall with reusable adhesive strips.
5. StoryBoards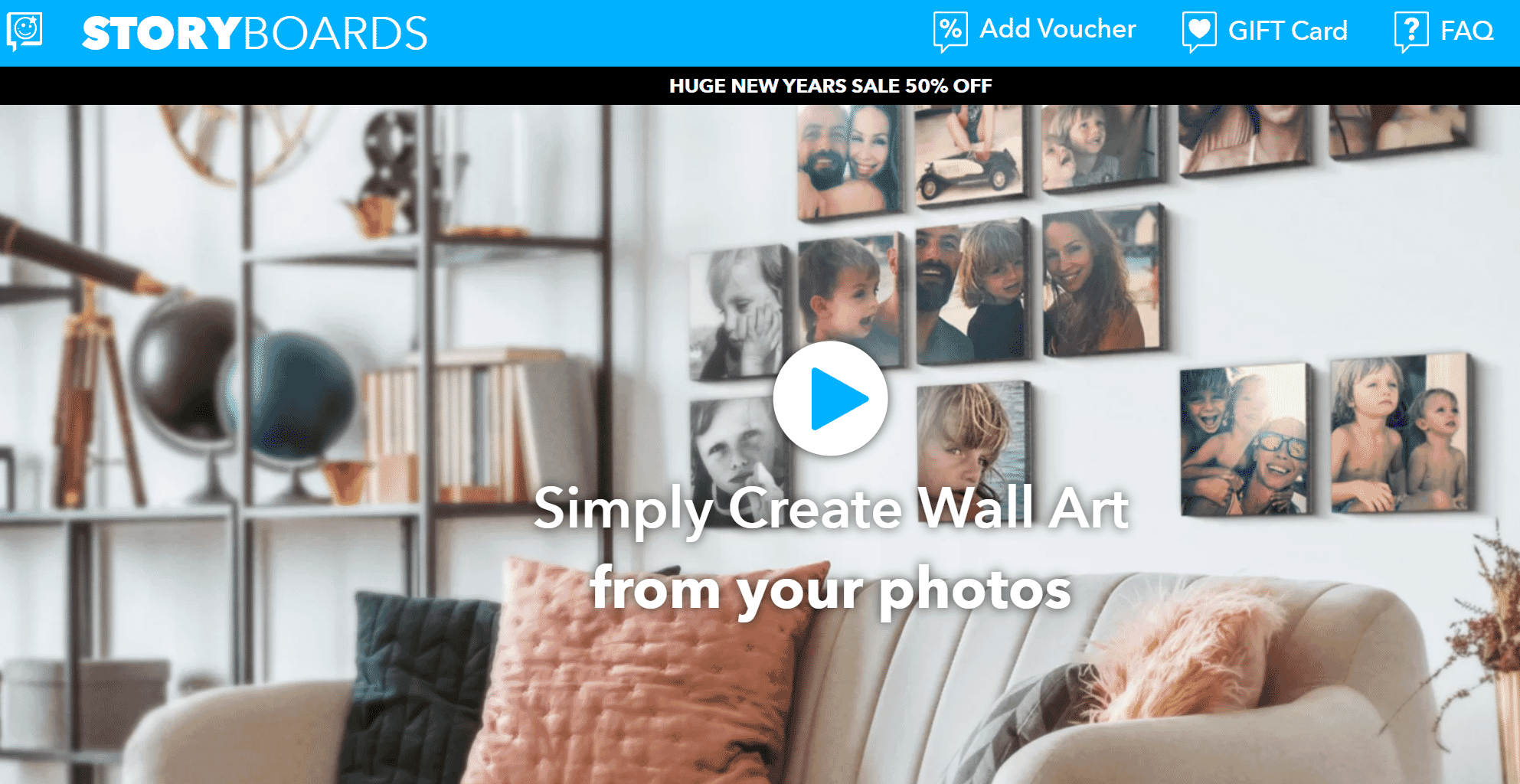 Make a narrative out of your prints
Photographs capture a moment and tell a story, and this lab helps you display it on your walls.
Pros
Great price
The company will send you free adhesives whenever yours dry out
Cons
The quality is nice, but not outstanding
By definition, a storyboard is a frame-by-frame visual that depicts a narrative, most often used for film and television planning. Our photography can show a narrative as well, so the StoryBoards company is quite aptly named!

At only about $6.50 per tile, StoryBoards is definitely one of the most inexpensive options on our list. The tiles work the same way as other options: you simply apply adhesives to the wall without damage. The print quality is nice and will make most people delighted!
A fun little bonus: the company will actually send you new adhesives for free if your existing ones wear out from too many sticks and unsticks!
6. Snapfish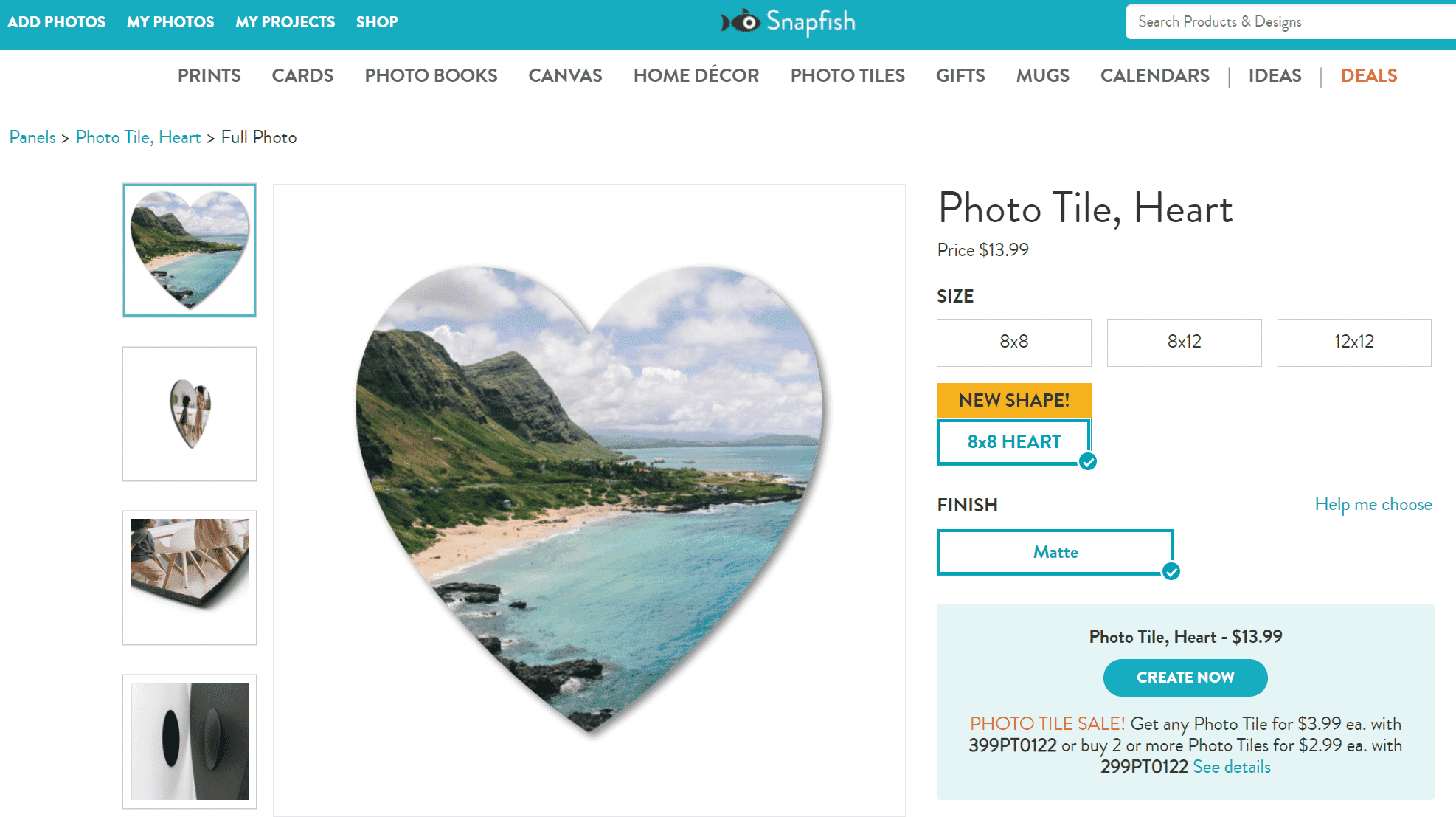 A good budget buy
Snapfish is a jack of all trades, but you do get a handful of options at a low price.
Pros
Slew of sizes
Heart-shaped tiles is one of their exclusive offers
Prints can be done on either matte finish or metallic finish
Cons
The print quality is hit or miss
Will not adhere to textures or coarse walls
Like Shutterfly, Snapfish offers more shapes than just squares. For instance, one fun photo tile option is a heart: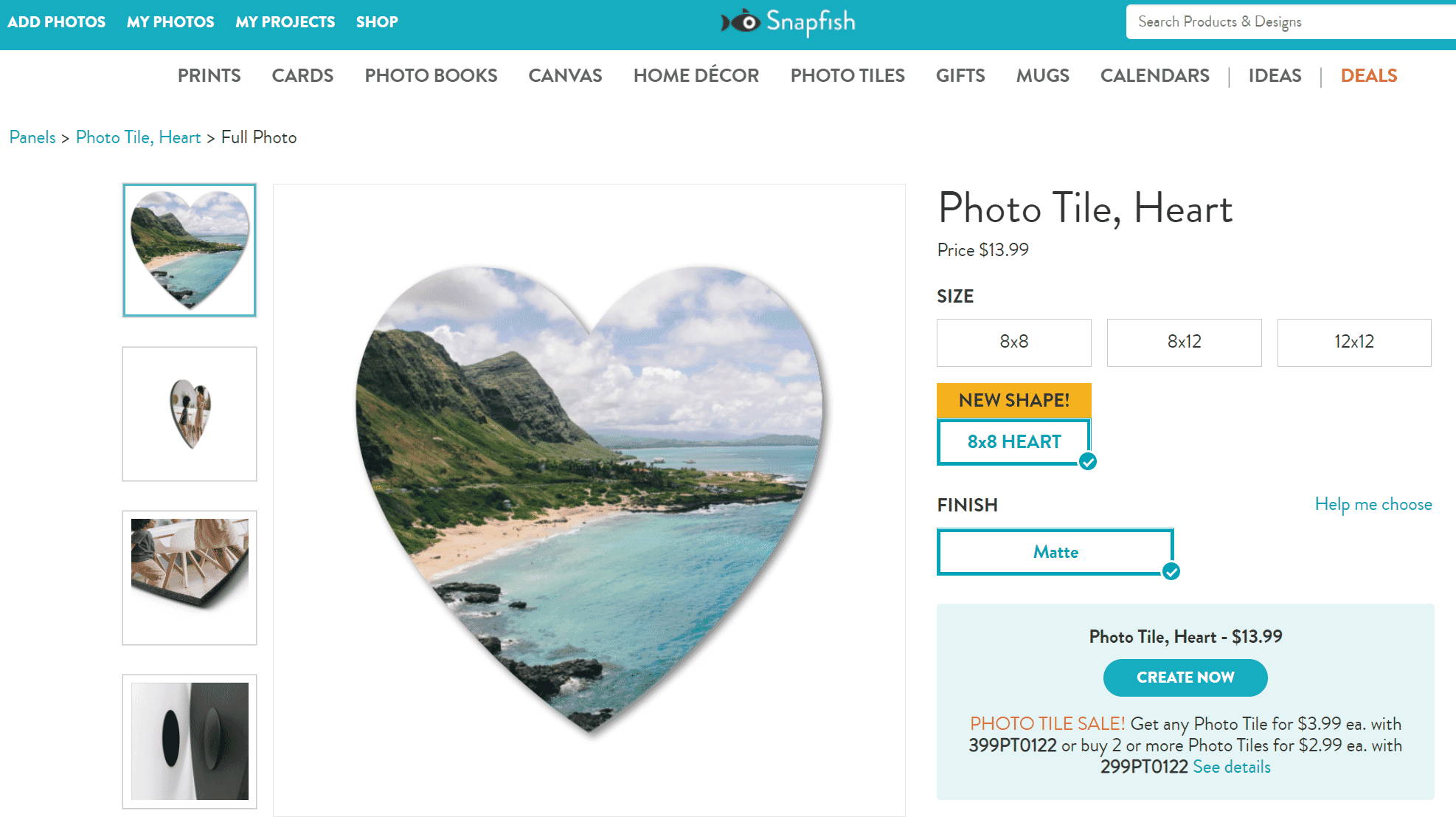 Only three sizes are available (plus the heart shape), so the variety isn't immense, but it's better than some of the other labs that only offer a single size. Snapfish offers matte and metallic finish options, and the metallic sheen is quite nice for black and white photography!
These tiles go on the wall with an adhesive strip. Keep in mind, however, that the strip does not work on coarse walls.
7. FreePrints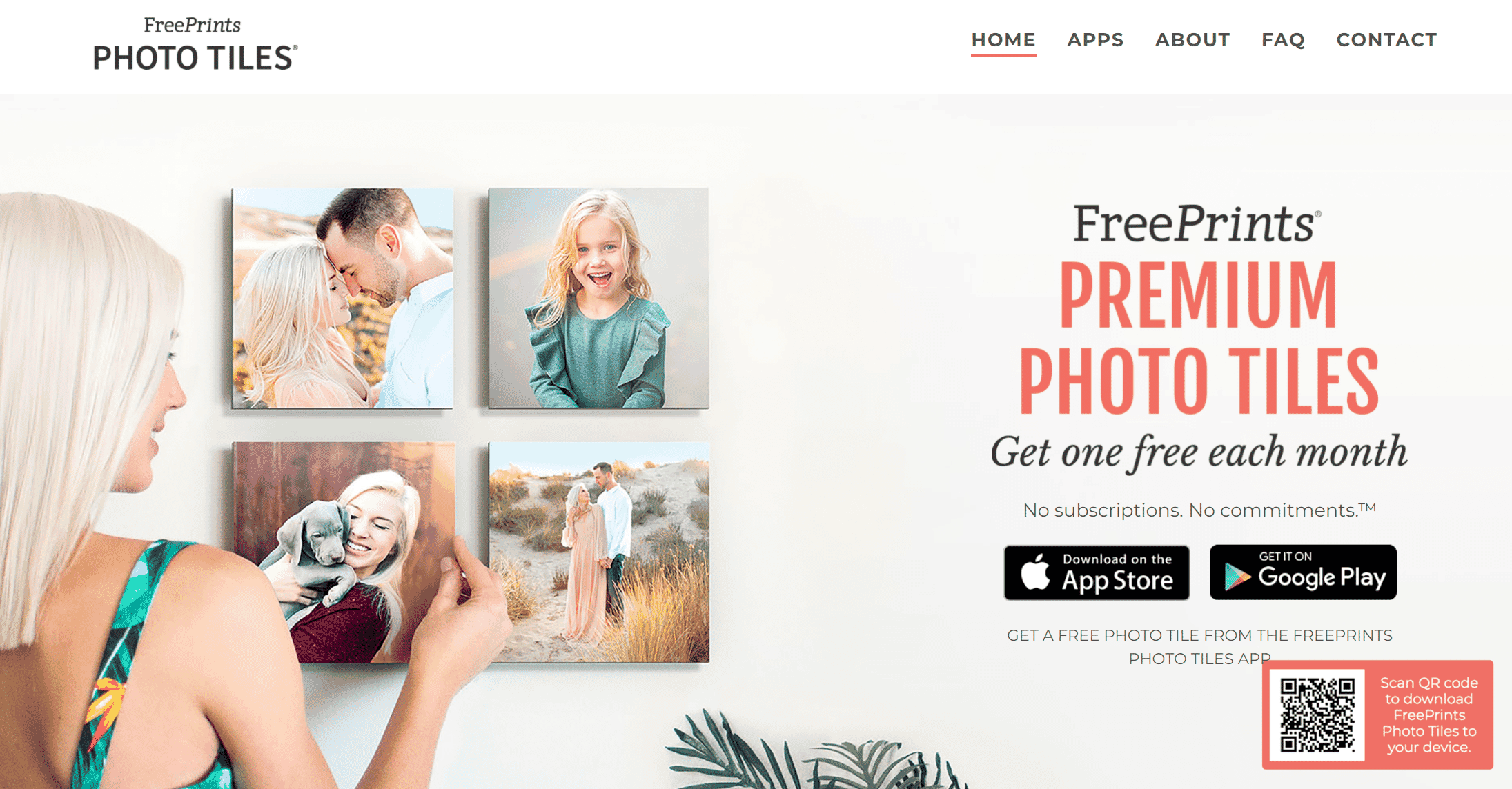 Get one free tile per month
Although the name implies you can get a batch of free tiles, you only get one a month – but you can keep ordering every month to have 12 by the end of the year!
Pros
You can get one free tile a month
Very mobile friendly for easy printing of social media images
Cons
Shipping is expensive if you're only ordering a few tiles
The FreePrints name is a bit misleading because you don't actually get multiple photo tiles for free. Each tile is about $9 and the shipping is always a flat $7.99. However, the company does offer one free tile per month of ordering their product.
So, that's something to look forward to, right? The company's FAQ states that your free tile resets at midnight at the end of the month, so you should theoretically be able to keep ordering one free tile per month.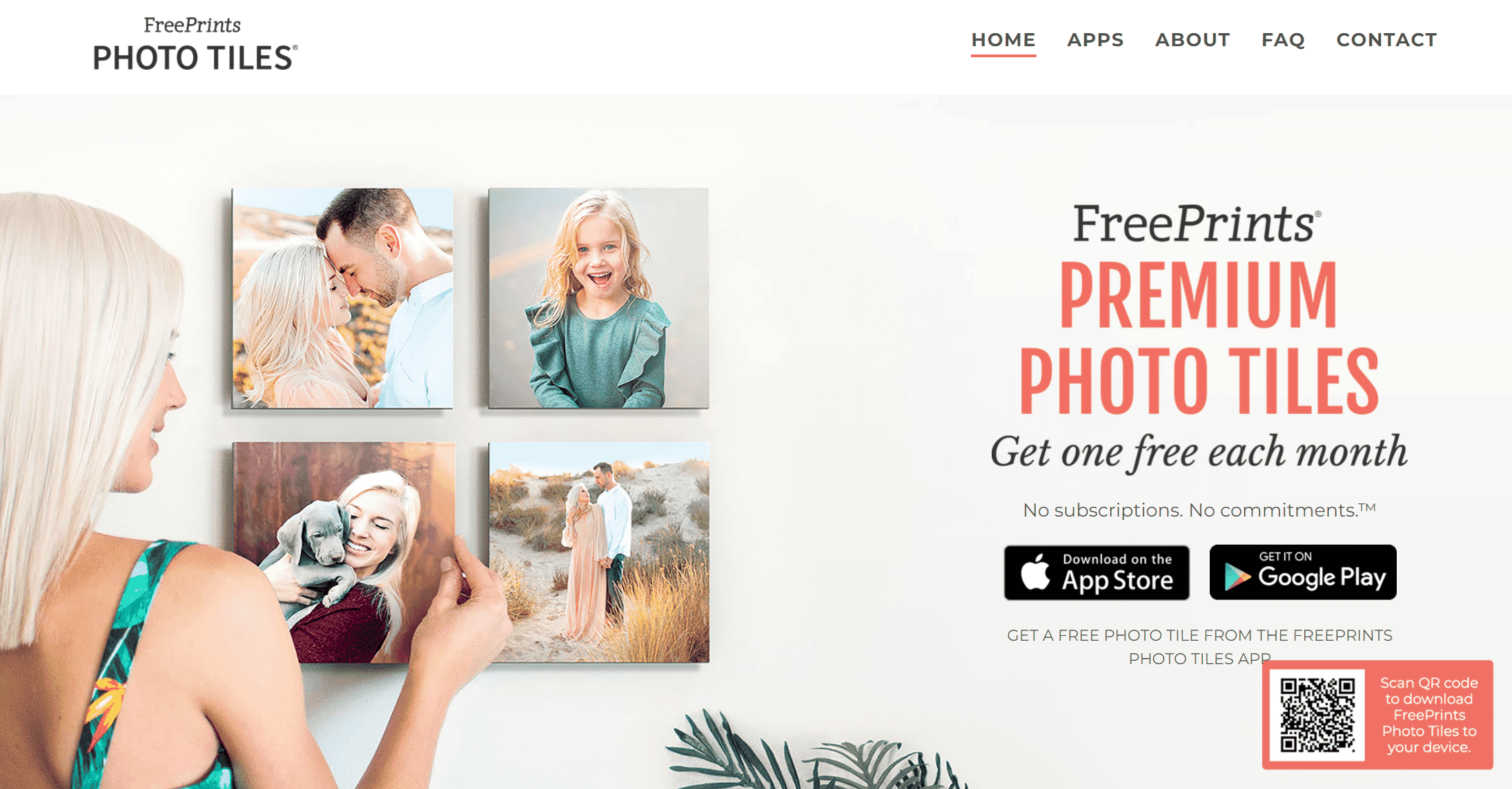 What makes FreePrints stand out alongside the free tile per month is their mobile friendliness. The site is designed to help you print your social media images quite effectively!
8. Wallpics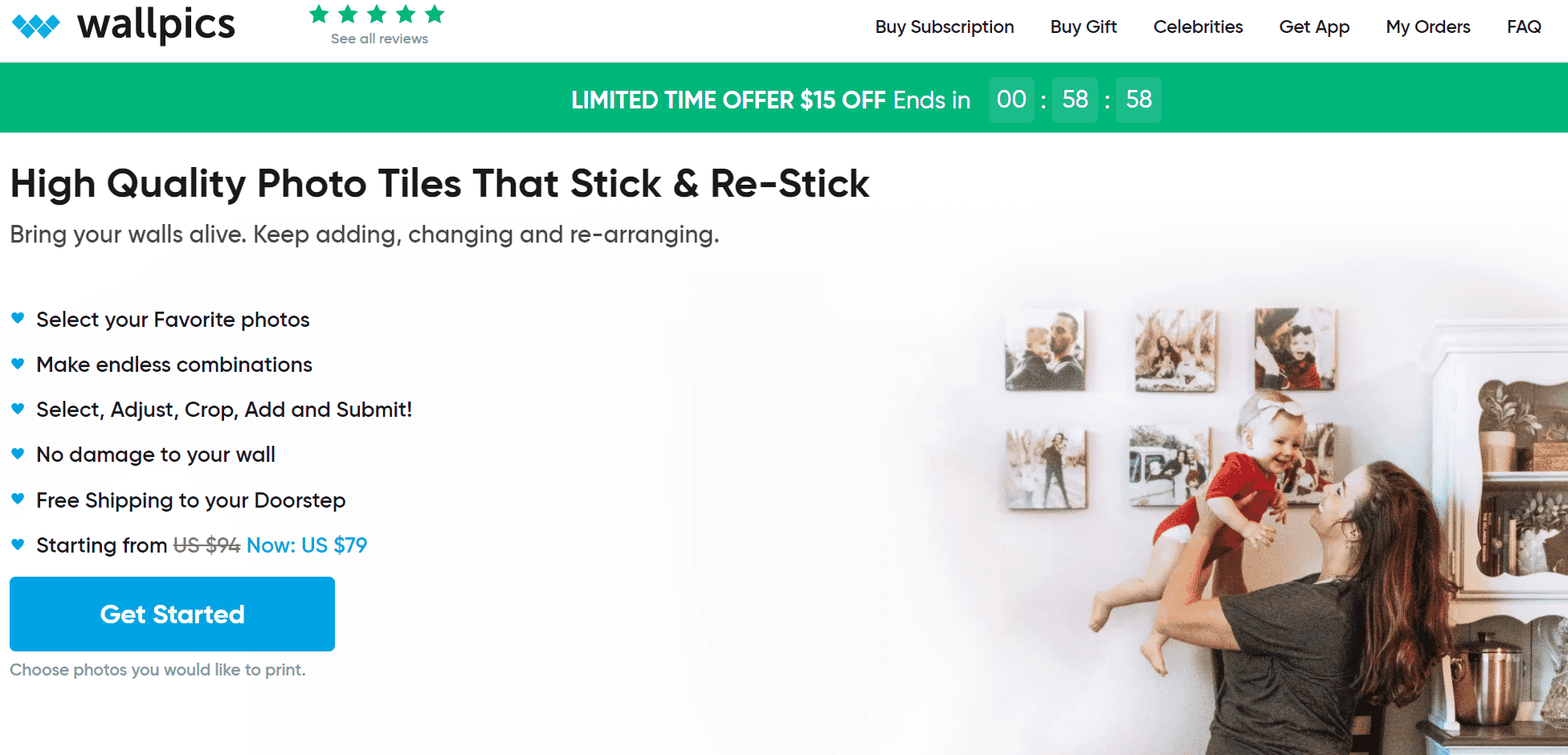 Best for simple photo tiles
Wallpics helps you make pics for your wall! In other words, it features a very easy and straightforward approach to photo tiles.
Pros
Nice quality at a decent price
Lots of real-life examples
Celebrity presence
Cons
Doesn't do anything special to stand out against competitor companies
You can't get simpler than a company whose name is Wallpics! These tiles do exactly what they ought to: stick on that wall and create quite the gallery. Their offering isn't unique, but the quality is pretty, and I quite like how they use social media to show the prints in action.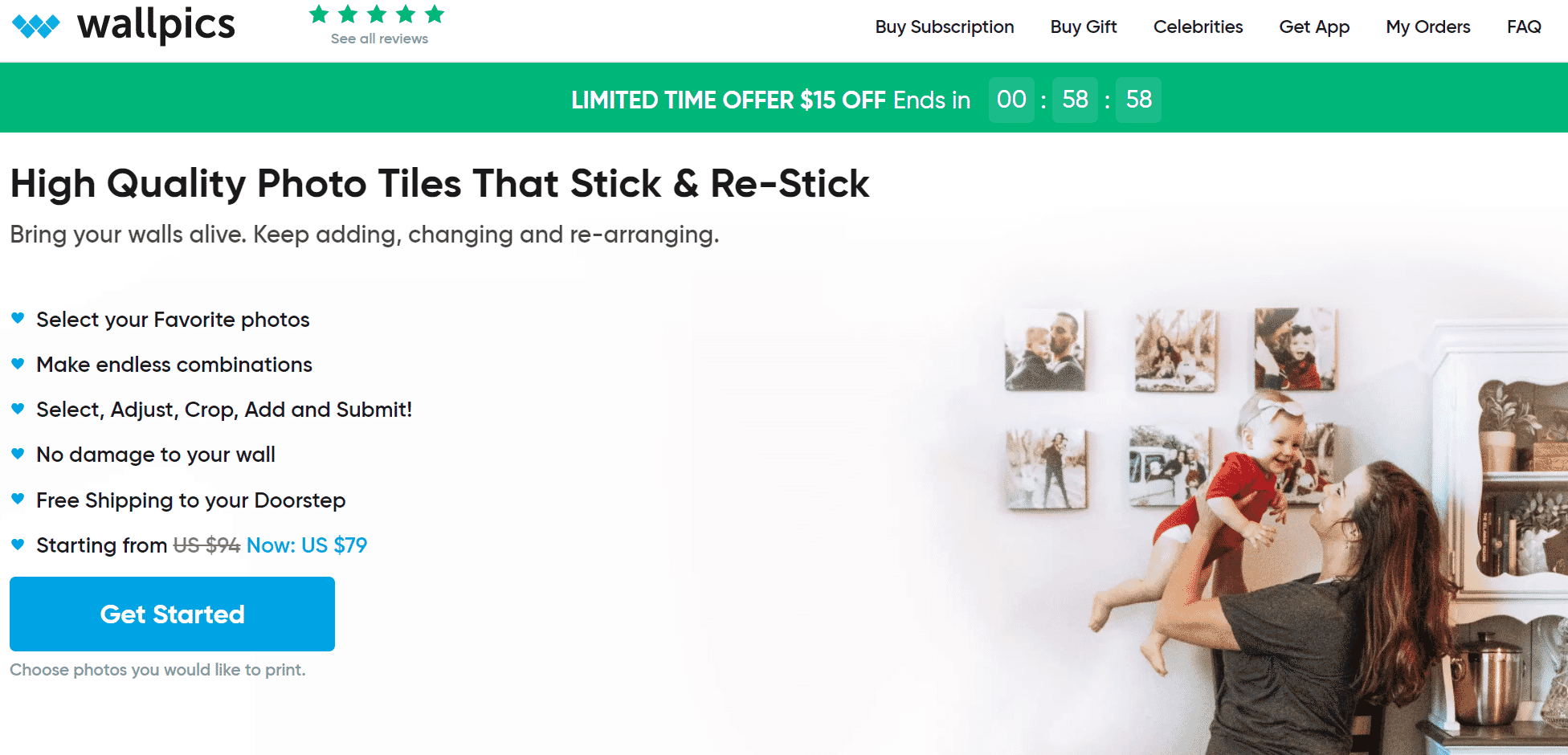 Speaking of social media, it looks like they have quite the celebrity following, with notable faces from reality television and pop culture (all of them enjoying some photo tiles!).
9. Artiv Photo Tiles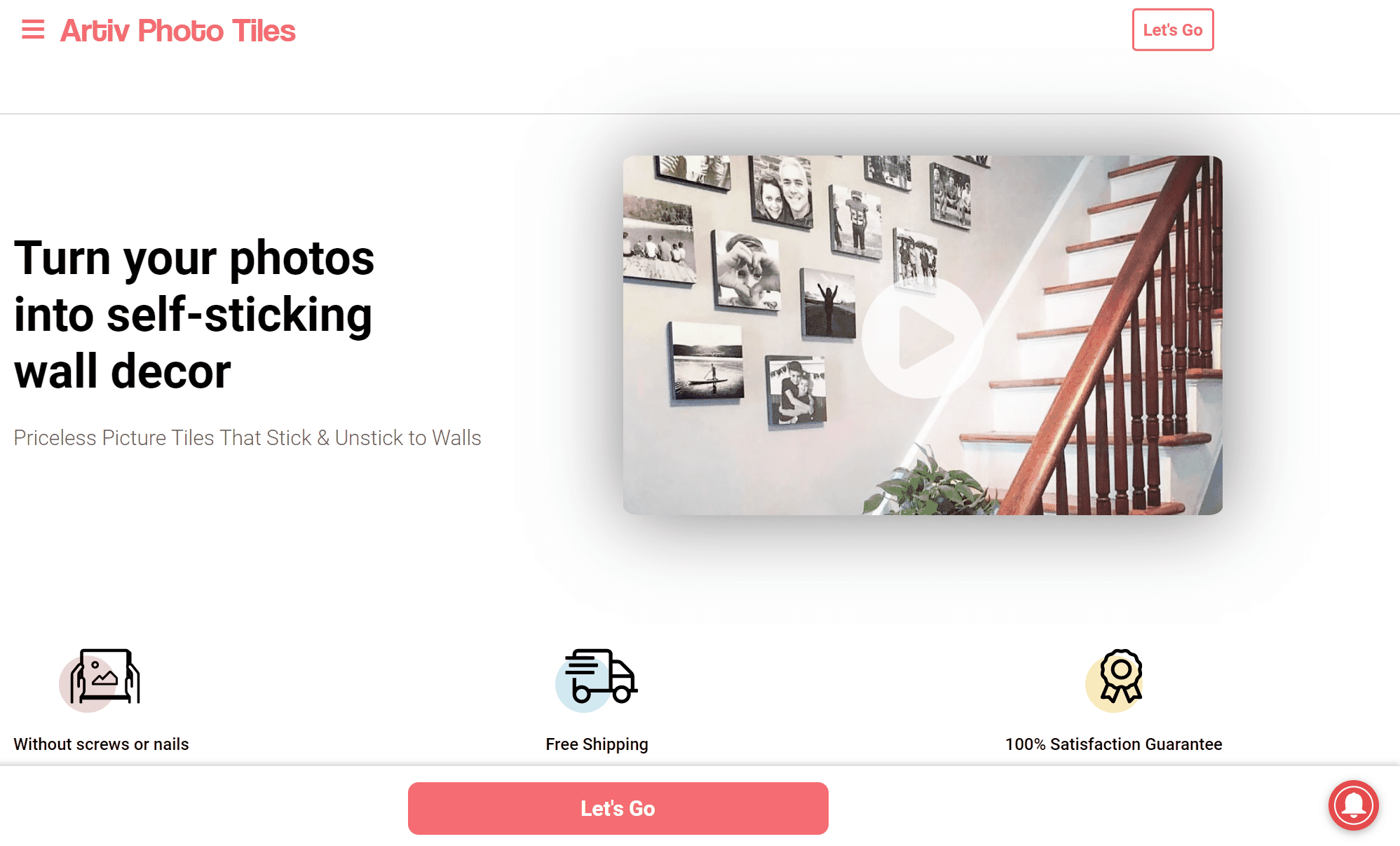 Best for professional-level displays
Artiv is a tile specialist, and it pays off: the products are truly gorgeous.
Pros
Really nice printing quality
Offers discounts for bulk orders
Good customer service
Cons
Only one size available
Artiv is a specialty lab that only makes photo tiles, and they certainly know what they're doing. Artiv tiles follow the standard adhesive design, but what makes Artiv notable is the quality of their prints. They are vibrant and wonderful!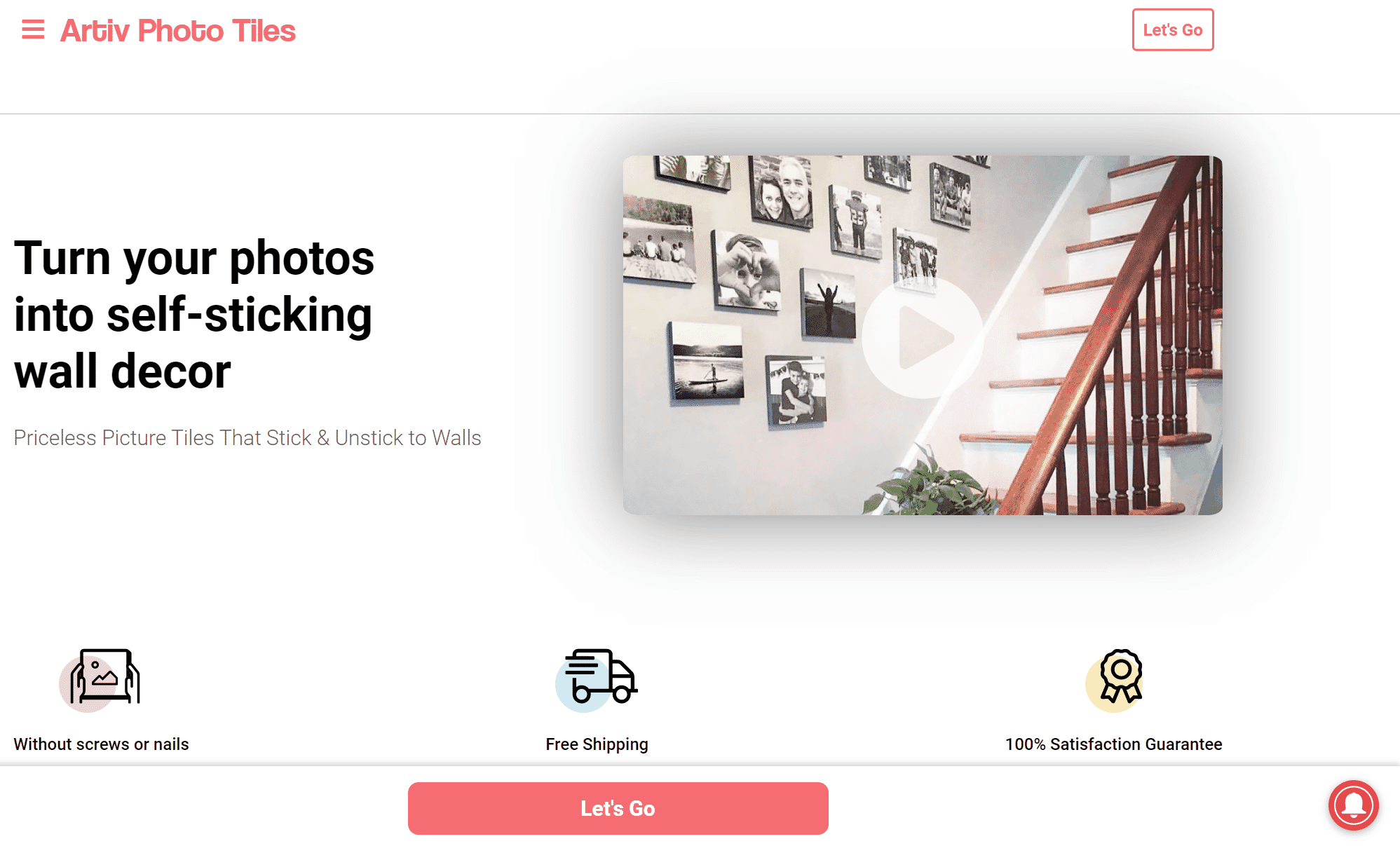 The price is pretty midrange at approximately $28 for the first three tiles and $8 for all subsequent tiles, so it's best to order all your tiles up front. Shipping is free and fast, so you'll get your prints in a jiffy! Artiv also has great customer service that is happy to assist you as required.
10. Bay Photo Lab

Photo tiles with a unique twist
Professional lab Bay Photo takes photo tiles to a whole new level by making actual ceramic tiles.
Pros
Can use tiles with grout
The photo tiles are real ceramic tiles
Able to be used indoors and outdoors
Tiles can be ordered with backings such as magnets, cork, and adhesives
Cons
Tiles are heavier than traditional photo tiles
Expensive
Bay Photo Lab is a popular professional print lab based out of the Bay Area in California. Alongside its slew of printing options and photographic offerings, the lab offers unique ceramic photo tiles – and the printing quality is absolutely superb.


The tiles genuinely are proper tiles; you can even lay them out and add grout! This takes the concept of photo tiles to a whole new level. The tiles, made of such a strong material, can be used indoors and outdoors and will withstand a bit of abuse.
If placing your display down as an actual tile doesn't interest you, Bay Photo offers a variety of backings, such as magnets, cork, plastic hangers, and disc hangers.
Decorate Your Home with a Wall of Tiles
Which photo tiles are right for you? The absolute best photo tile producer is Mixtiles, as they're a specialty lab that only produces these nifty tiles, and they definitely know what they're doing.
Printerpix is a good pick, as well, especially if you're looking for tiles in a much smaller size.
Finally, if you want unique, eye-catching tiles, the ceramic offering by Bay Photo Labs is really cool.