Best Online Photo Print Services (6 Top Picks in 2018)
A frequently overlooked step in the photo editing process is printing.
With multiple options for digital hosting and sharing, many photographers don't spend the time or money making physical prints of their images anymore.
Why bother making a print when you can view albums of your work online, or filed neatly in folders on your computer?
Related Post: Best Photo Book Printers (Top 11 in 2018)
Printing your photos gives you the opportunity to view your work in a different way and provides you with a tangible product you can give to your clients, display in galleries, or even just hang on your walls.
It's important that your financial investment results in impressive, high-quality prints, so you want to be sure you're spending your money with companies that have a reputation for offering solid products and reliable service.
Here are five of the best professional photo print services that will consistently provide great results, giving you quality images that you can share with customers, loved ones, or keep for yourself.
1. Pro DPI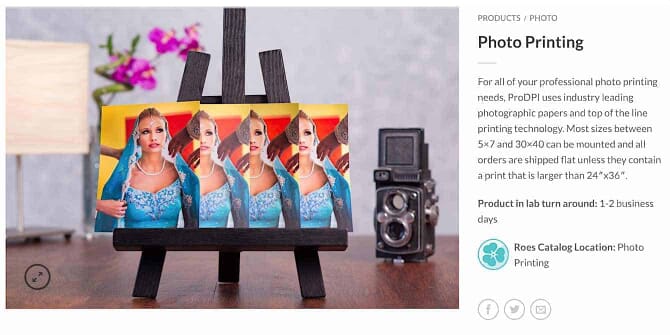 While this site states that it's for "professional photographers only," amateur photographers are welcome to use the service.
The restriction serves to remind photographers that this site is not for clients, so you (as an end-user) should be printing your images only from professional photographers having an account with ProDPI.
Related Post: Best Canvas Printing Services (Top 10)
Please note, ProDPI only services professional photographic businesses and studios. If you are an end-user, please contact your photographer and order prints and services through them.
Pro DPI offers very reasonable rates both for printing and for shipping within the United States, as well as expedient shipping.
Image quality from this service has also been rated very highly, which means that as a professional photographer you can feel confident ordering here for prints for clients or galleries.
The only real drawback to this site is their actual website, which is not terribly user-friendly and requires a bit of practice to navigate successfully.
Still, because of the beautiful prints and lower rates, it's worth the effort.
Related Post: The Best Epson Photo Scanners (Top 5 Picks)
2. Mpix

With a huge range of products, Mpix provides tons of options for photographers who are looking to market themselves or satisfy demanding clients.
Shipping is very quick and reliable, and customer service from Mpix is prompt and helpful.
This site is geared to the consumer, not the professional.
The main disadvantage here is the price, as Mpix's rates are considerably higher than many other print services.
The quality of the images is very good though, especially with their black and white prints. You'll be able to enjoy a full range of monochromatic shades while retaining detail in your highlights and shadows.
Related Post: The Best Home Use Photo Printers
3. Nations Photo Lab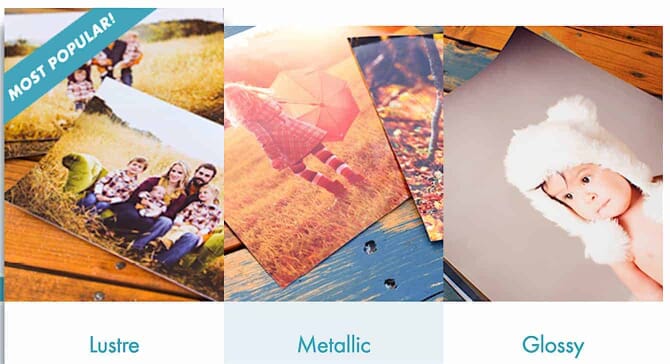 Canvas wraps, metal prints, gallery blocks – this site has it all.
You can order photo books, cards, themed albums, wall décor and photo gifts from keychains to pillows.
Prices here are very reasonable, and the site frequently offers discounts on particular products.
NationsPhotoLap.com's print quality is also very high and shows a significant amount of detail at any size.
Customer support is reliable and friendly and ordering from the site is quick and easy.
Many reviewers recommend this photo printing website for photographers seeking excellent prints at a decent price, especially portraits, as their reputation for color rendering is fantastic.
Related Post: Best Commercial Photo Printers
4. Bay Photo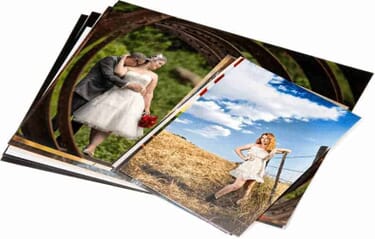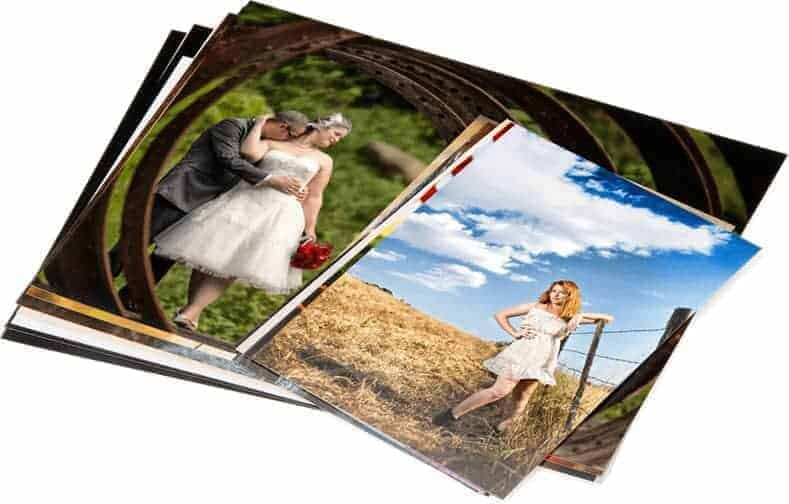 Providing a great balance between price and quality, Bay Photo is a reliable option for professional photo printing.
New customers will receive 25 percent off their first order, which is a great incentive for anyone looking to try them out. They also have plenty of regular sales and specials customers can take advantage of.
BayPhoto.com also provides prompt shipping and fantastic customer support, making this company worth the slightly higher rates you'll pay for your prints.
The packaging is also top quality and a significant advantage here, as shipping can sometimes cause prints from other suppliers to bend or wrinkle.
Related Post: How to Sell Your Photos Online
5. Miller's Professional Imaging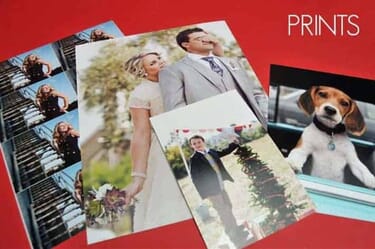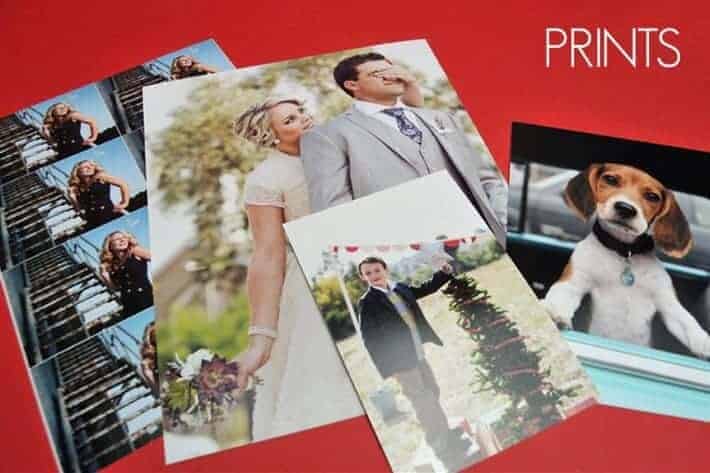 With beautiful packaging, quick shipping, and beautiful prints, MillersLac.om's online photo printing service is a great way to impress your clients.
Miller's is the professional, high-end version of Mpix, and does charge a bit more than some other print services. The site requires you to apply for an account before you can place your first order, but then you're all set.
There is a nice variety of products here, but it's not as overwhelming as many of the other options.
Related Post: Best Online Photo Portfolio Websites (Top 11)
These are more common & classic products which you would expect from a professional photo print service.
The site also has a unique "toolkit," which provides additional resources for photographers looking to expand their product offerings.
By entrusting your images to these professional photo print services, you can place your order and feel confident that you'll get the high-quality finished product that you're looking for.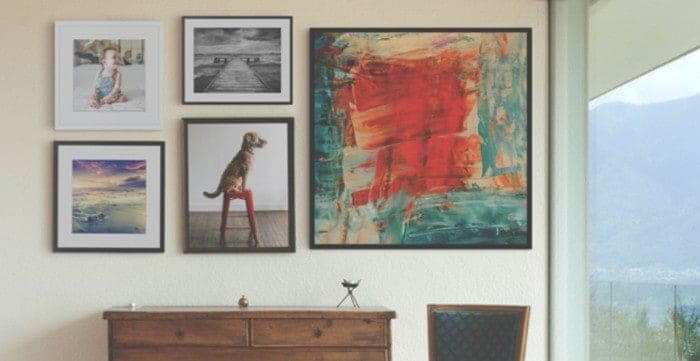 If you are looking for a professional printer that can frame your photo prints, then CanvasPop may be the best choice for you.
Even though they are more known for their high-quality canvas prints (in fact, CanvasPop is our pick amongst the best canvas printers), they also excel in printing your photos on premium 255gsm fine art paper and ship them to you in a fully mounted frame ready to hang on your wall.
Their frames are handmade and come in three different wood vinyl coatings: black, white or espresso. The glass is a clear, low-glare plexiglass and you can decide if you want to add a white border or not. In terms of size, you can choose amongst many custom and standard picture frame sizes.
Related Post: Best Collage Printing Services (6 Top Picks Compared)
The framed photo prints by CanvasPop are not cheap, but that's for a reason: a designer will adjust and optimize your image (contrast & sharpness) so it looks perfect before its sent for print (you can get a digital proof at additional cost). Finally, each framed art print that ships out of their North American facility is hand-inspect by a professional craftsman to ensure you get a perfectly framed photo.
In order to save some money, make sure to check out their coupons and deals section for special discounts (in case you can't find any seasonal coupon code, use the promo code "photoworkout" at the time of checkout to get 45% off).
Related Post: CanvasPop Review
There are several other sites online that may boast lower prices or quicker turnaround times, but these six best photo printing companies provide reliable, beautiful prints at reasonable rates.
You can rest assured that your images will be printed exactly how you expected them when you order from these sites.
Related Post: CanvasPop Photo Magnets Review