Metal photo prints look elegant, and they're all the rage in home decor. They offer a more modern aesthetic than canvas prints, and they can handle humid environments far better than paper products. So what are the best metal prints you can buy in 2023?
We've examined all the companies out there, paying careful attention to aesthetics, accessibility, and cost. Below, we share our nine favorite metal photo print options!
Best Metal Printing Companies in 2023:

When you buy through links on our site, we may earn a commission at no cost to you. We evaluate products independently. Commissions do not affect our evaluations.
Best Metal Prints
1. Bay Photo Lab
Our Pick
Stunning quality and plenty of options
Bay Photo is one of the most famous labs in the US, and the metal prints look incredibly professional.
Pros
Five great finishing options
Very fast turnaround
Framing options available
Affordable for a metal print
Cons
Prices can add up very fast
Bay Photo Lab, a well-known professional printing service in Northern California, offers an assortment of high-quality metal prints.
Many customers are impressed by Bay Photo's Single MetalPrints, which infuse dye directly into the surface. The results are beautiful, but Bay Photo doesn't stop there; the lab also produces unique Curved MetalPrints, Creative Edge prints, and much more. If you're after an especially modern look, you might consider purchasing a Double Float MetalPrint, which will give your photos an unprecedented amount of depth.

Bay Photo has six finishing options to choose from: High gloss, mid-gloss, satin, sheer glossy, sheer satin, and textured. Each renders photographs in its own unique way.
And if you're rushing, don't worry. Bay Photo Lab works fast. Production times are often as little as 2-3 business days.
If you're on a budget, you'll also love Bay Photo's prices. A petite 4×4 print costs just $15.75.
That said, prices do add up fast. Bay Photo's largest prints can easily exceed $1000, and there are added fees for mounts, frames, and specialized coatings. So just bear that in mind as you choose your perfect metal printing service!
2. Nations Photo Lab
Also Great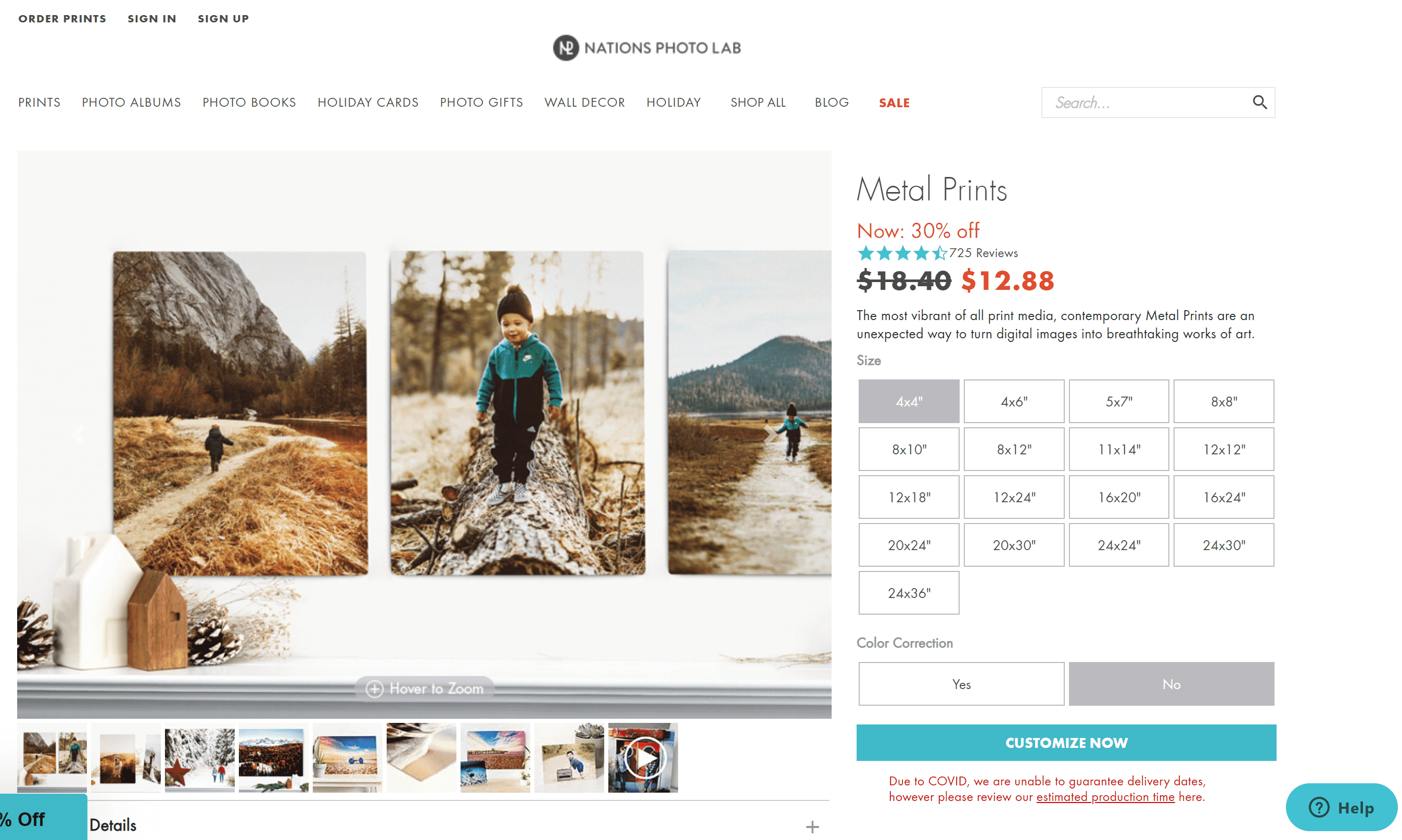 Another fantastic metal option
Nations Photo Lab offers consumer ease, professional quality, and great prices.
Pros
Fantastic metal print quality
Ordering is straightforward
Fast shipping
Offers retouching services
Cons
Low-quality print stands
Nations Photo Lab is an outstanding printing company that produces a great array of photographic products, including acrylic prints, paper prints, and photo pillows. Metal prints, however, are some of the company's most-loved options.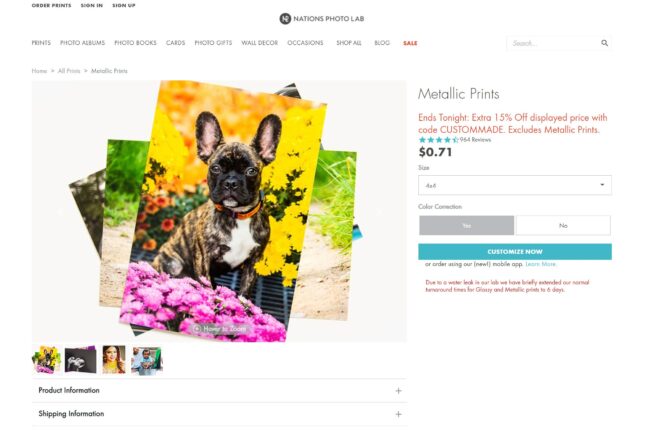 Related Post: Nations Photo Lab Metal Print Review
In our view, their metal offerings are definitely worth purchasing. Ordering is a breeze that doesn't require any excessive technical knowledge; just upload your files, select your prints, and hit the "Place Order" button! Nations offers plenty of sizes, ranging from little 4×4 prints all the way up to large 30×45 prints (with prices from $0.71 to $108).
And although the print stands are a bit difficult to use, the quality of the prints is truly superb.
3. Pictorem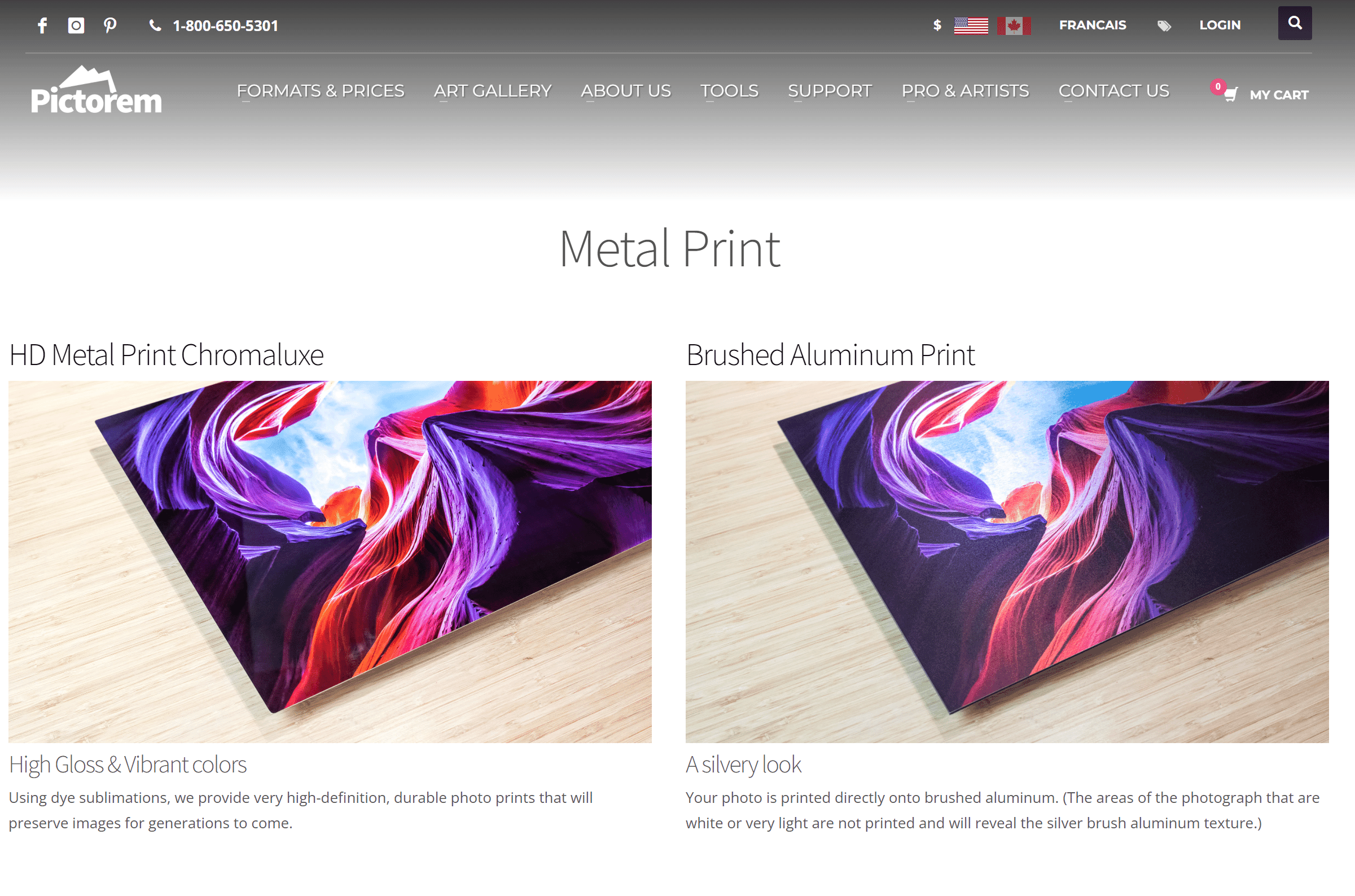 A fully customizable metal print lab
None of the standard options strike your fancy? This lab lets you customize down to the inch.
Pros
Create custom-sized prints
Lots of mounting options
Archival-grade prints
Cons
Can be pricey (though sales bring down costs to a reasonable level)
Pictorem is a multifaceted printing company that offers a slew of gorgeous options.
Related Post: The Pictorem HD Metal Print Will Blow You Away
For instance, there's the stunning Metal Aluminum Print, which is printed directly onto the metal. There's the HD Sublimation Metal Print, which uses a dye-sublimation process to transfer your image onto aluminum. You can also opt for an Epoxy Metal Print, which protects the final product with a high-gloss resin coating.

Pictorem allows users to fully customize sizing by the inch, and every print is made with archival, museum-grade materials. UV-cured ink prevents yellowing and fading from the sun.
While you can order a metal photo print without a mount for a slight discount, back-float mounts and frame boxes can elevate the presentation. Lightweight build and built-in mounting make these prints easy to hang straight out of the box!
Pictorem has a huge range of print sizes, styling options, and prices. The largest prints can cost you around $1000, which is actually pretty fair for a metal photo print measuring around 16 square feet!
You don't have to spend big to enjoy Pictorem's metal print selection, though. A simple aluminum print can cost as little as $44. Plus, sales and promotions can drive prices down by as much as 40%.
4. Printique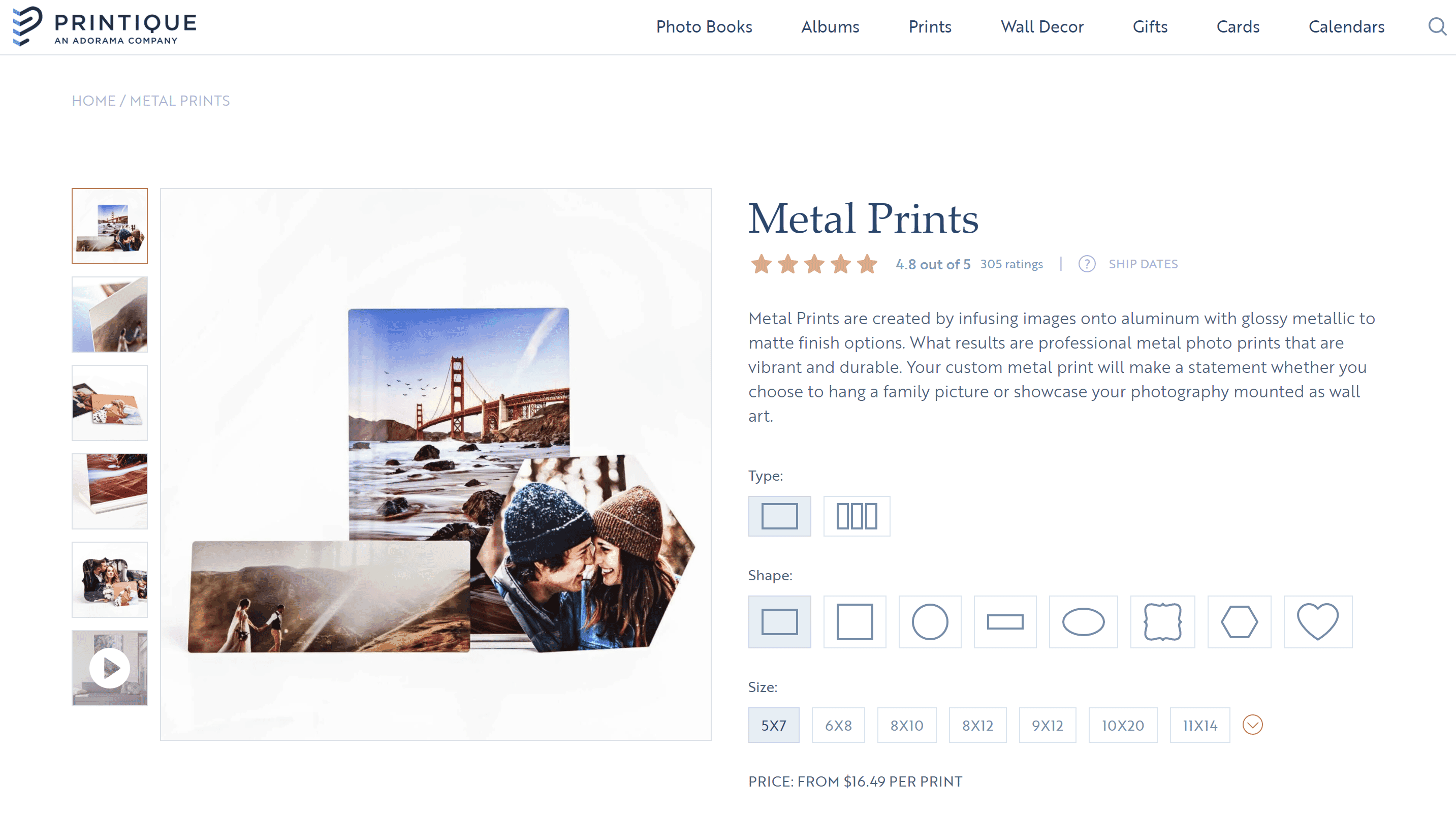 Best for creative metal prints
Adorama's own lab is capable of doing metal prints with lots of customization, and the results are truly impressive.
Pros
All sorts of print shapes available
Very durable build
A great selection of mounting displays
Printique currently only offers one type of metal print, but the quality is outstanding, and the company offers plenty of options for customization.
For instance, there's no need to stick to standard rectangles and circles. The prints are available in a variety of different shapes, including circles, hexagons, and even hearts!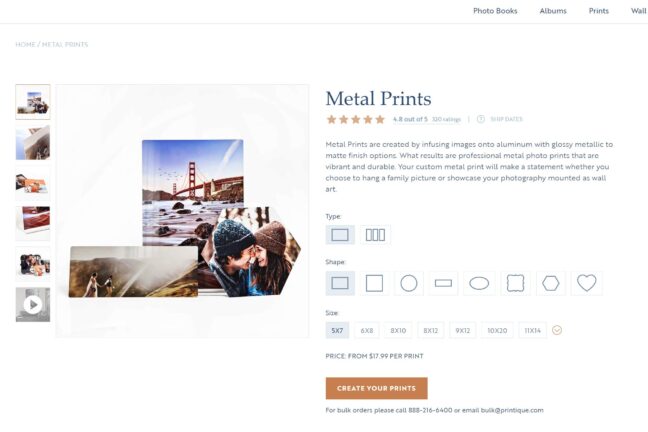 Printique metal prints are highly durable, too. In addition to the standard heat and moisture resistance, every print is dry-erasable. Printique also offers a remarkable selection of display options, such as float mounts, easel props, magnetic backing, and even acrylic "pedestals" that allow prints to stand freely on their own.
Related Post: Printique Review
A calculator will automatically give you an estimated price and turnaround time based on the shape and size of your desired print. And a virtual-room simulator provides an idea of how your room will look with a brand-new set of metal prints. You can even place orders straight from the editor!
Prices are consistently low. Small prints (5x7s) are available for just $17.99. Even the largest pieces, at 40×60, cost only $650.
5. Bumblejax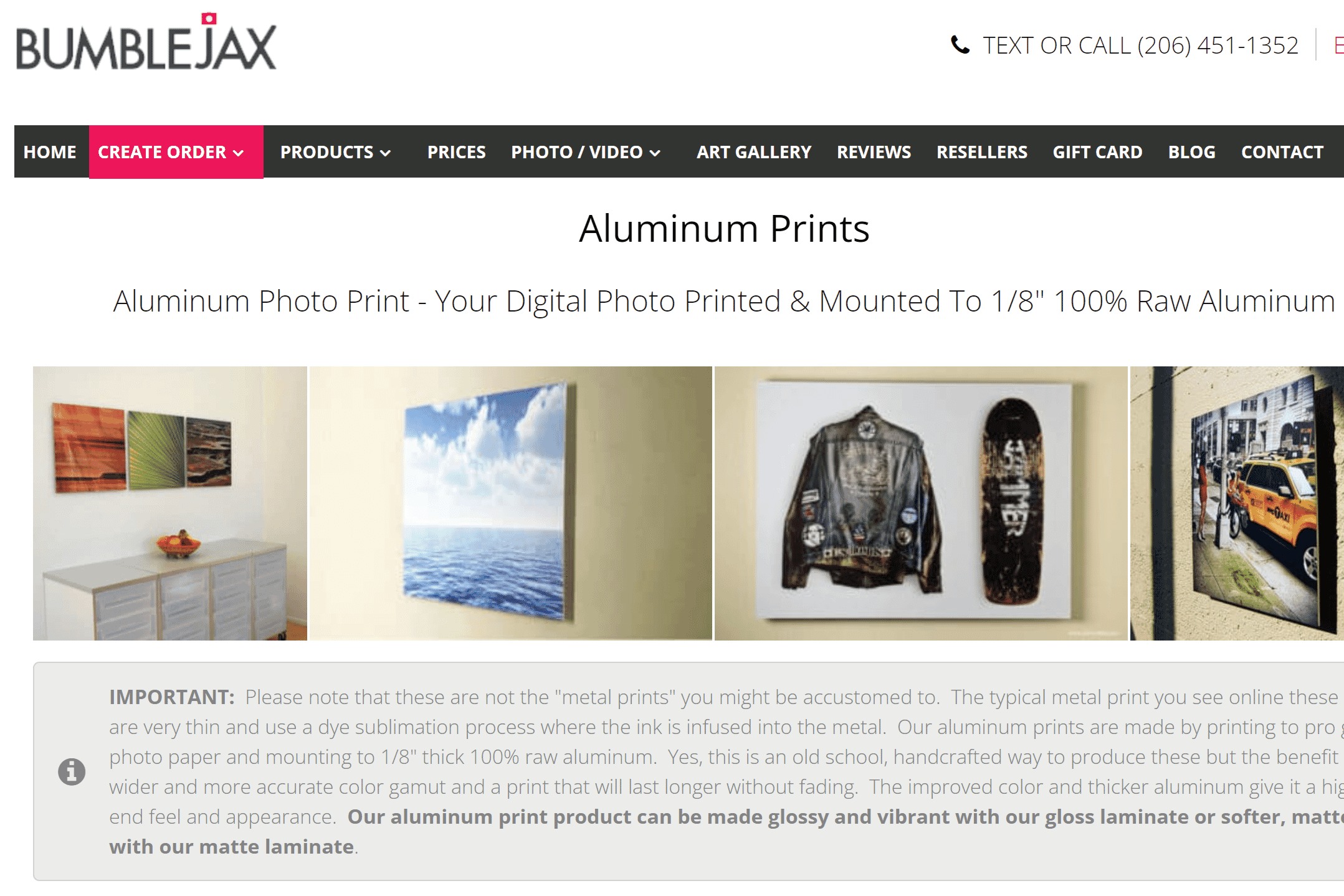 The print quality is amazing
Bumblejax is something of an industry secret. The aluminum prints look incredible, and the customer service is great, too.
Pros
Superb color accuracy and consistency
Various metals to choose from
Good customer service
Fast shipping
Cons
Website is a bit outdated and loads rather slowly
The prints don't necessarily look like metal
Bumblejax may not be the most popular company on the planet, but there's more to this lab than meets the eye. Bumblejax is a subsidiary of (the major brand) Revolution Inc. and has been in business for a whopping 30 years! The lab's customer base is very loyal, and many professional photographers are very careful not to reveal the company's secrets.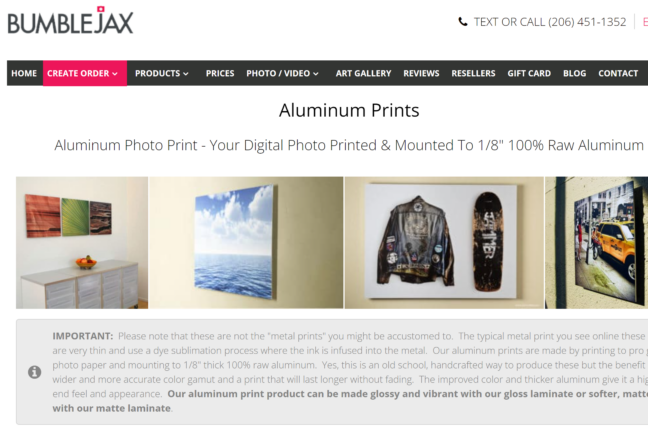 The color consistency of the prints is superior to many other labs; Bumblejax essentially guarantees vibrant and genuine colors. Various metal types are available, and the customer service is also impressive.
Note, however, that the products made by Bumblejax are not what you might typically get from a metal print lab. While you do have the option to purchase prints that use the more conventional dye-sublimation process, some metal prints from this facility are produced by printing images on professional photo paper and mounting them on thick aluminum.
6. Mpix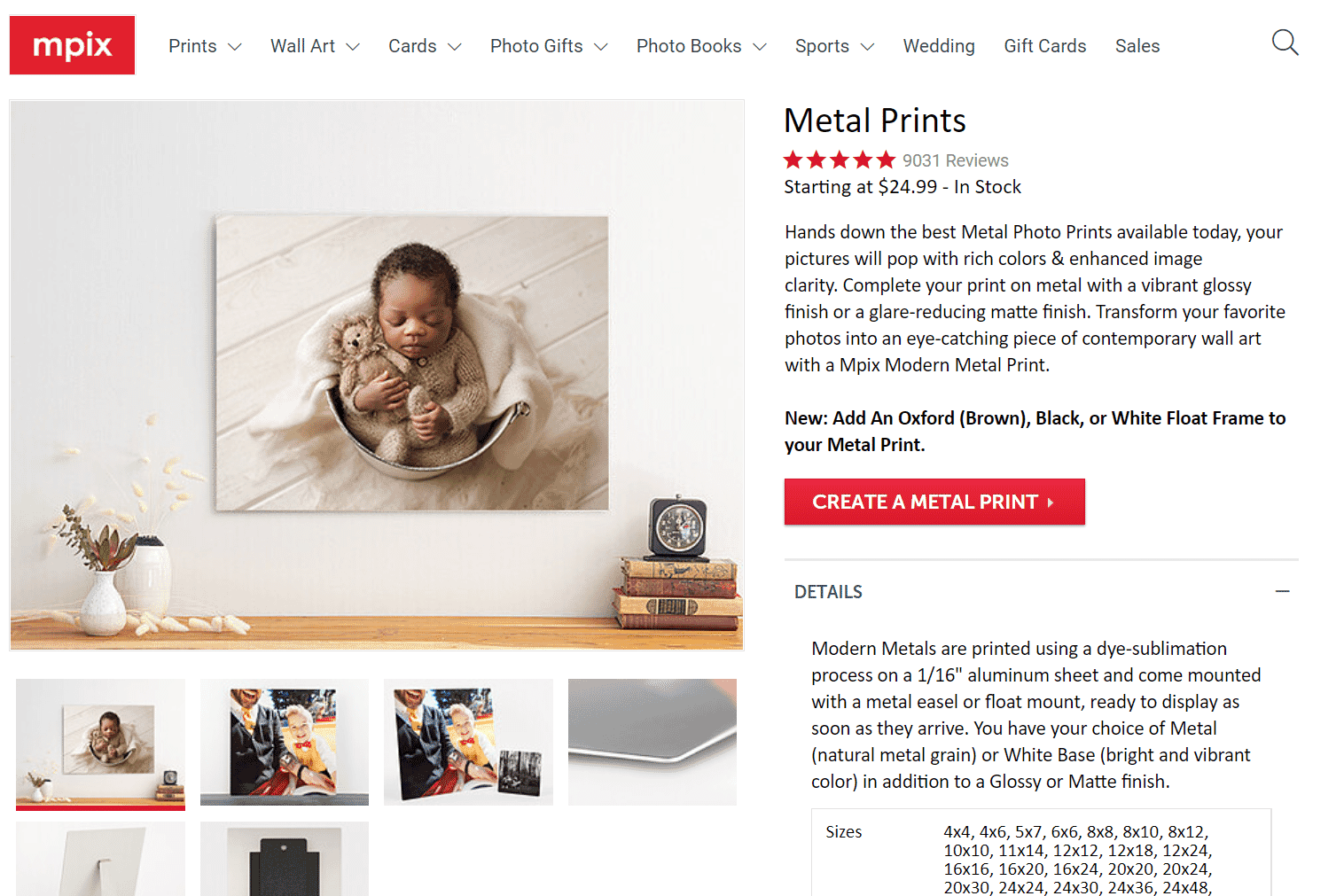 Great for serious photographers
Mpix's metal prints come straight from a pro lab, so you get access to the company's excellent color-correction and retouching services.
Pros
Amazing quality offered in 27 sizes
Various floating-mount base color options
Fast and free shipping for orders over $35
Can color correct and retouch for you
Mpix is the consumer division of the professional print lab, Miller's – but that certainly doesn't mean you get a drop in quality! Mpix has made itself beautifully accessible to the general public, and its metal print offerings are completely in line with Miller's sterling reputation.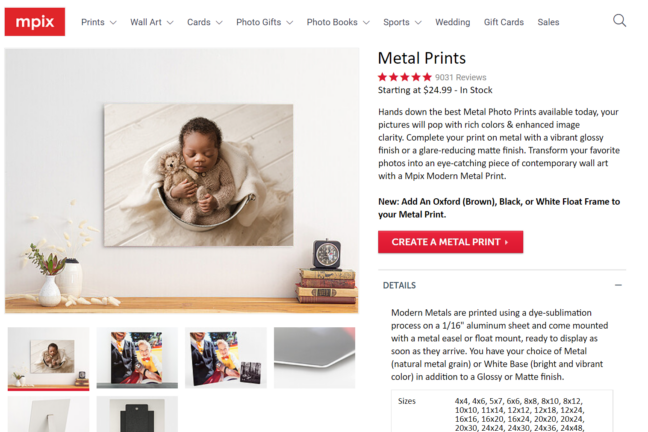 With 27 sizes to choose from, including options as large as 40×60, there is plenty for everyone! That said, Mpix doesn't offer custom sizing, so this might frustrate consumers in need of unusual print ratios. The metal prints can be finished with a metal easel or float-mount base and are placed on an aluminum plate that is 1/16th of an inch thick. The float mounts offer some level of customization (you can choose from three different colors).
Mpix does come from a professional lab, so customers can have their images retouched or color corrected by the printing pros. And for those who do know what they're doing, it's simple to opt out of the color-correction service.
Mpix's shipping is free for orders over $35, and the company tends to produce and send the prints very quickly (in fact, our tests indicate that Mpix is one of the fastest printing services in the US). It's perfect for those too excited to wait!
7. MetalPrints.com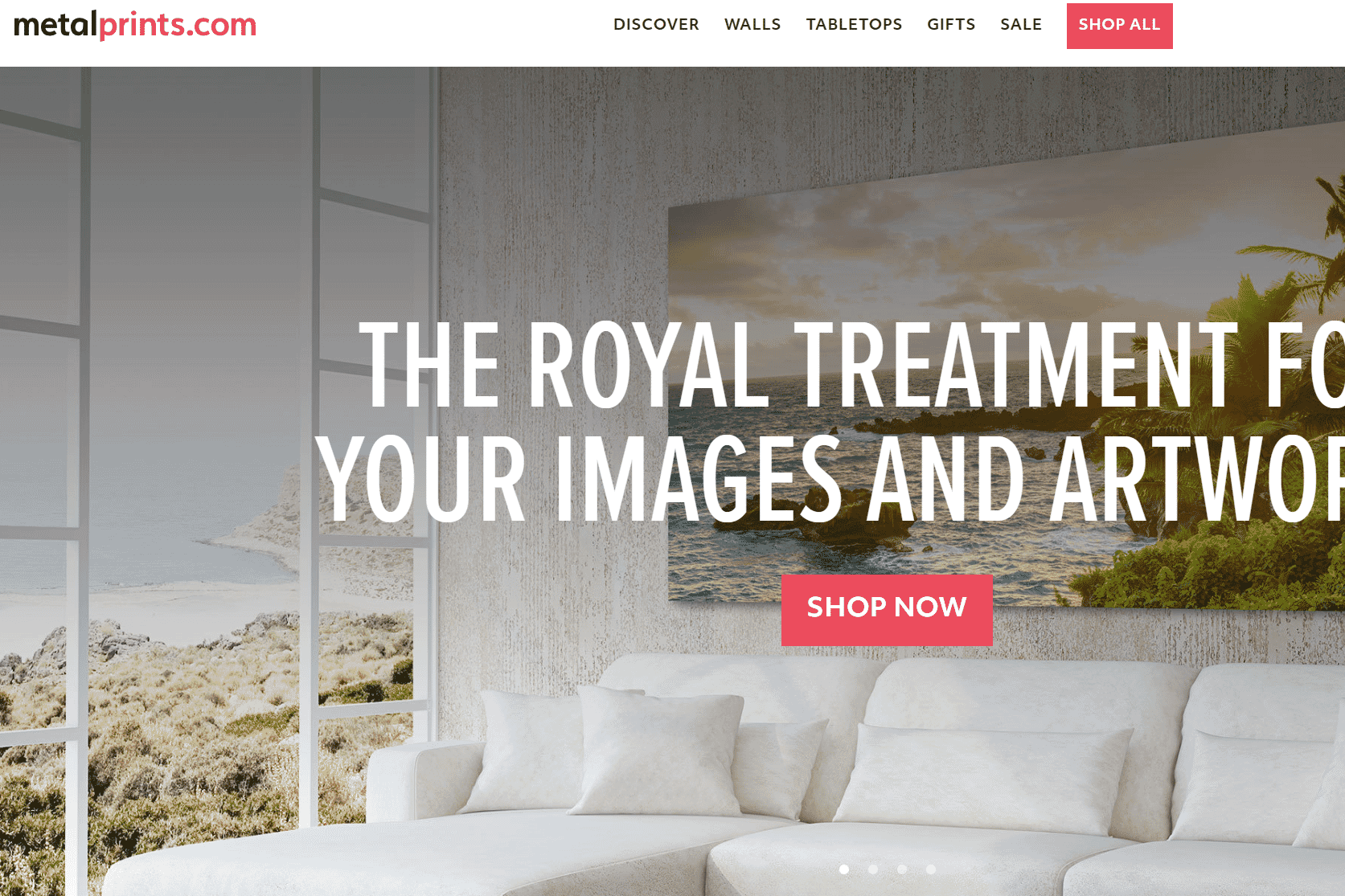 Great for easy printing
Metalprints.com is a straightforward printing service that offers a slew of metal options.
Pros
Large variety to choose from
Metal prints are a specialty
Durable metal print option for outdoor decor
Cons
The shipping can be rather pricey
MetalPrints.com offers a rather large variety of metal print products, more than most of the labs on our list! It's great for the photographer who really wants to ensure their metal prints match the style of the home.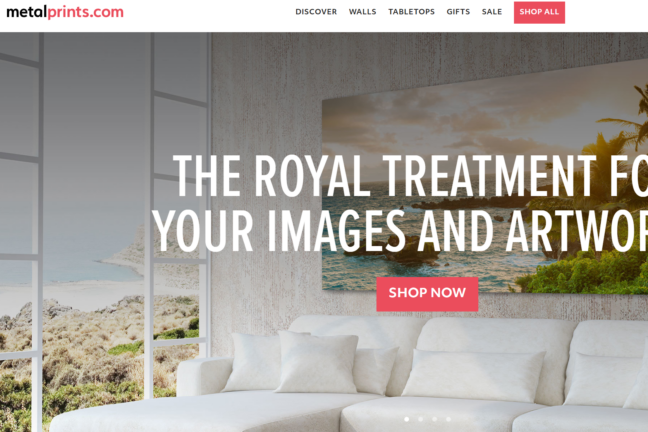 There are conventional frame options, including inset, flush, and rear frame mounts, as well as acrylic, bamboo, and metal-easel supports. In addition, the wall-art section offers dozens of distinct styles, over 60 different sizes, and over 10 different types of wall-sized art.
An added bonus is the outdoor metal prints, which are created using high-performance EXT metal. This ensures that your print can survive the elements (such as weather and sun).
8. CanvasChamp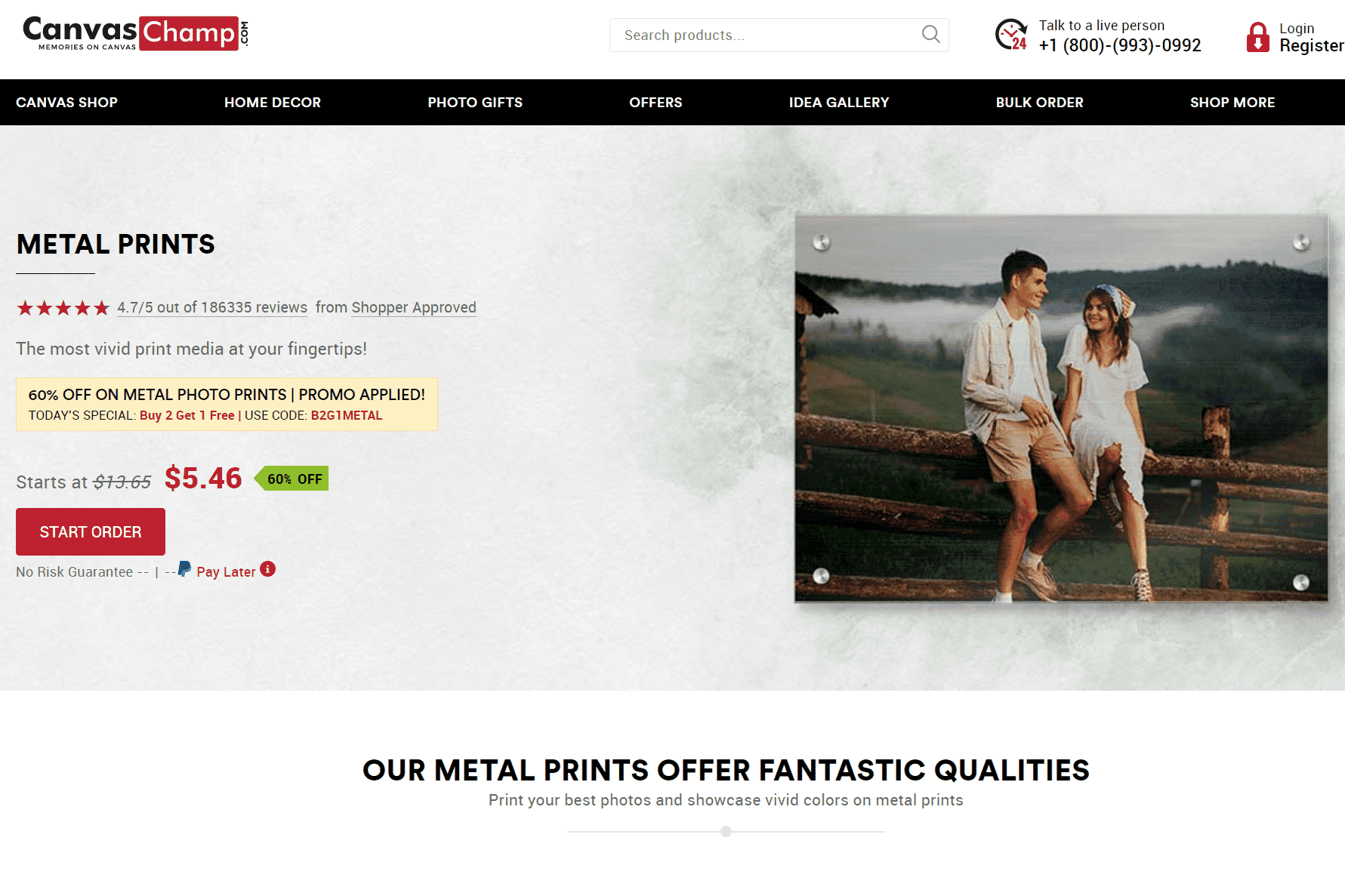 Decent metal prints on a budget
Canvas prints aren't the only thing CanvasChamp can do! If you're looking for reasonably priced metal prints, this lab is a great choice.
Pros
Good budget option
Very vibrant and rich prints
Cons
Quality control may be a factor
Although the name implies that the company only does canvas prints, CanvasChamp shouldn't be overlooked for metal work. If you're after a good deal, this shop offers metal prints at a fraction of the cost of many other services.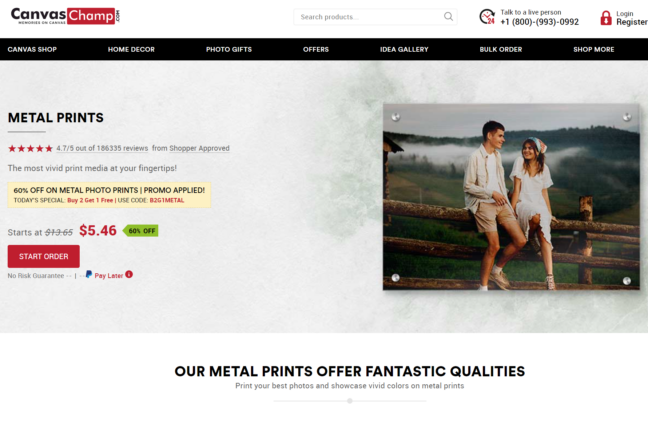 Just be aware that your metal print can originate from a country other than the USA, which means that the quality control may not be as good (simply because CanvasChamp isn't an in-home lab with techs who check production). The company focuses on reducing costs so that it can provide excellent rates.
Related Post: CanvasChamp Review
That said, the prints tend to be rather vibrant and poppy in color, which is great for photographers whose work is full of bright hues. Be sure to order your metal prints with the frame or mount attached; otherwise, you'll just receive a metal slab!
9. ChromaLuxe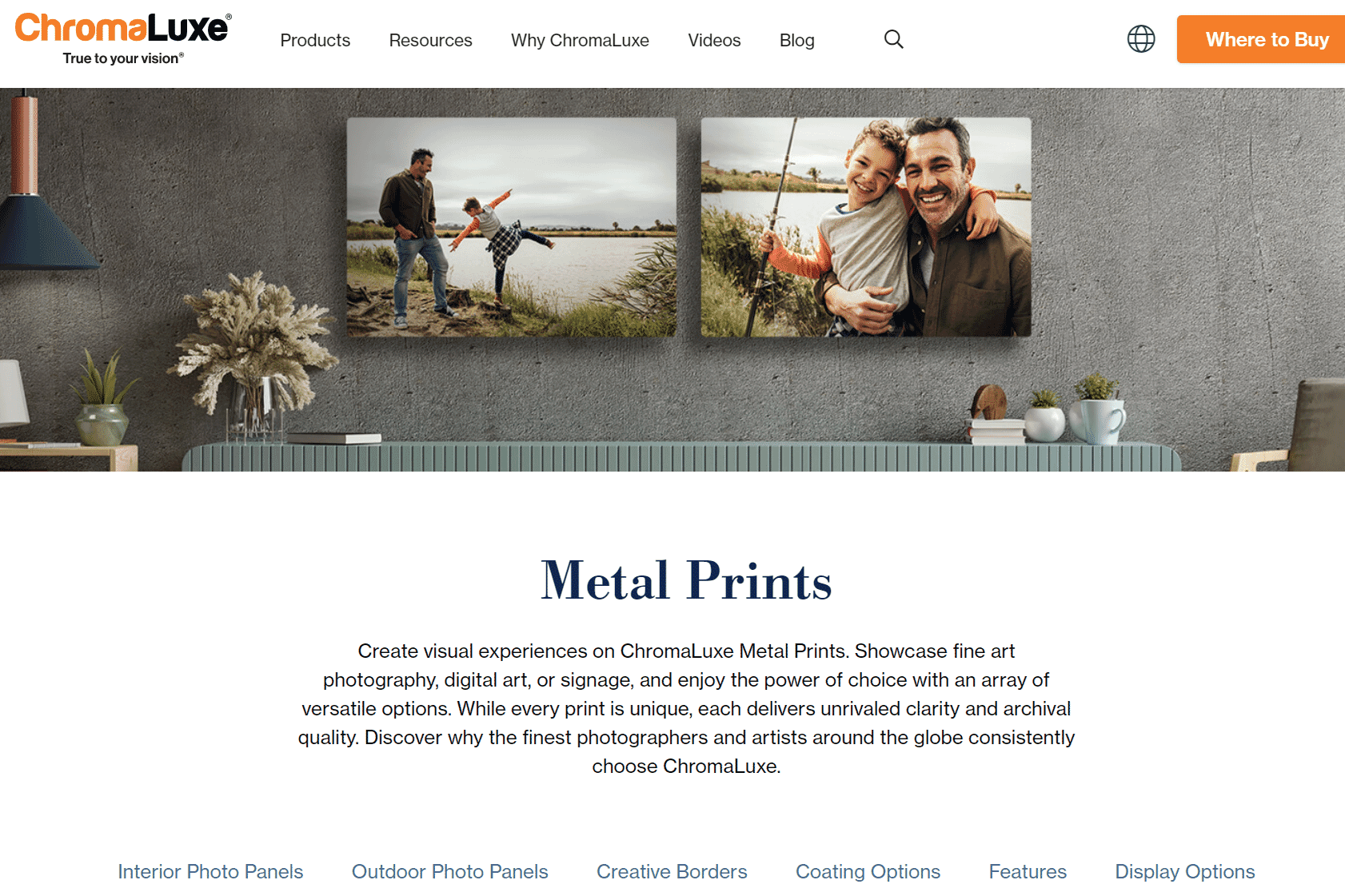 The ultimate high-quality metal print
ChromaLuxe products may be expensive, but they're the best of the best – and perfect for photographers in need of pro-level metal prints.
Pros
Quality is outstanding
Prints are sharp, detailed, and vibrant
The high-quality ink doesn't fade
Cons
Cannot be ordered directly
ChromaLuxe is an unusual addition to this list. Technically, it isn't a company you can order from; instead, you have to find ChromaLuxe products through distributors and third parties. But we've included ChromaLuxe because once you do find its products, you'll be blown away.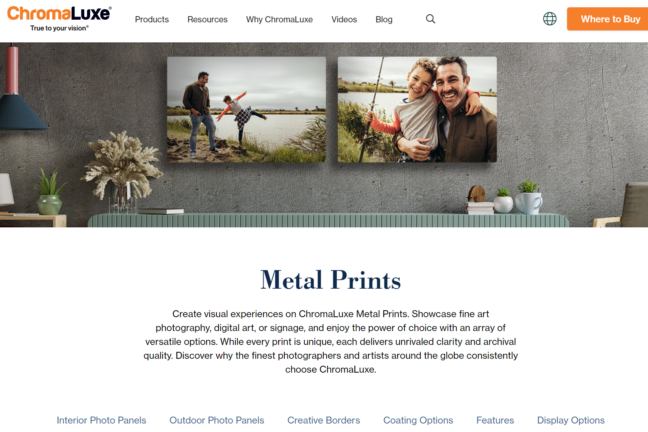 ChromaLuxe sets a high bar for metal prints that are considered high-definition. These prints are tack-sharp, vibrant, and beautiful; they almost look like three-dimensional masterpieces. The inks last longer than other types of ink printed on metal, so you can rest easy knowing that your prints will not fade with time.
Pick a Metal Print Producer and Get Printing!
As you can see, there are plenty of great metal prints to choose from. Our top choice is Bay Photo Lab as it offers gorgeous-quality results and wonderful prices. Nations Photo Lab is also great and offers similarly high-quality prints.
Metal prints look amazing – especially when they're produced by a great online printing company. So choose a photo, select a printer, and within a few weeks, you should have your new metal print hanging on the wall!