Elegant and pristine, a metal photo print may be one of the best ways to display an image.
But where, exactly, is the best place to get a metal photo print of your own?
While some customers hunt for the lowest price, others may value the ability to customize their photographs above all else.
We've scoured all of the options out there to find the most exciting offers available. Considering aesthetics, accessibility, and costs, we've identified the four most promising metal print labs:
Pictorem
Our Pick
Pictorem uses high-definition Chromaluxe photo panels, the perfect medium for displaying artwork and photography.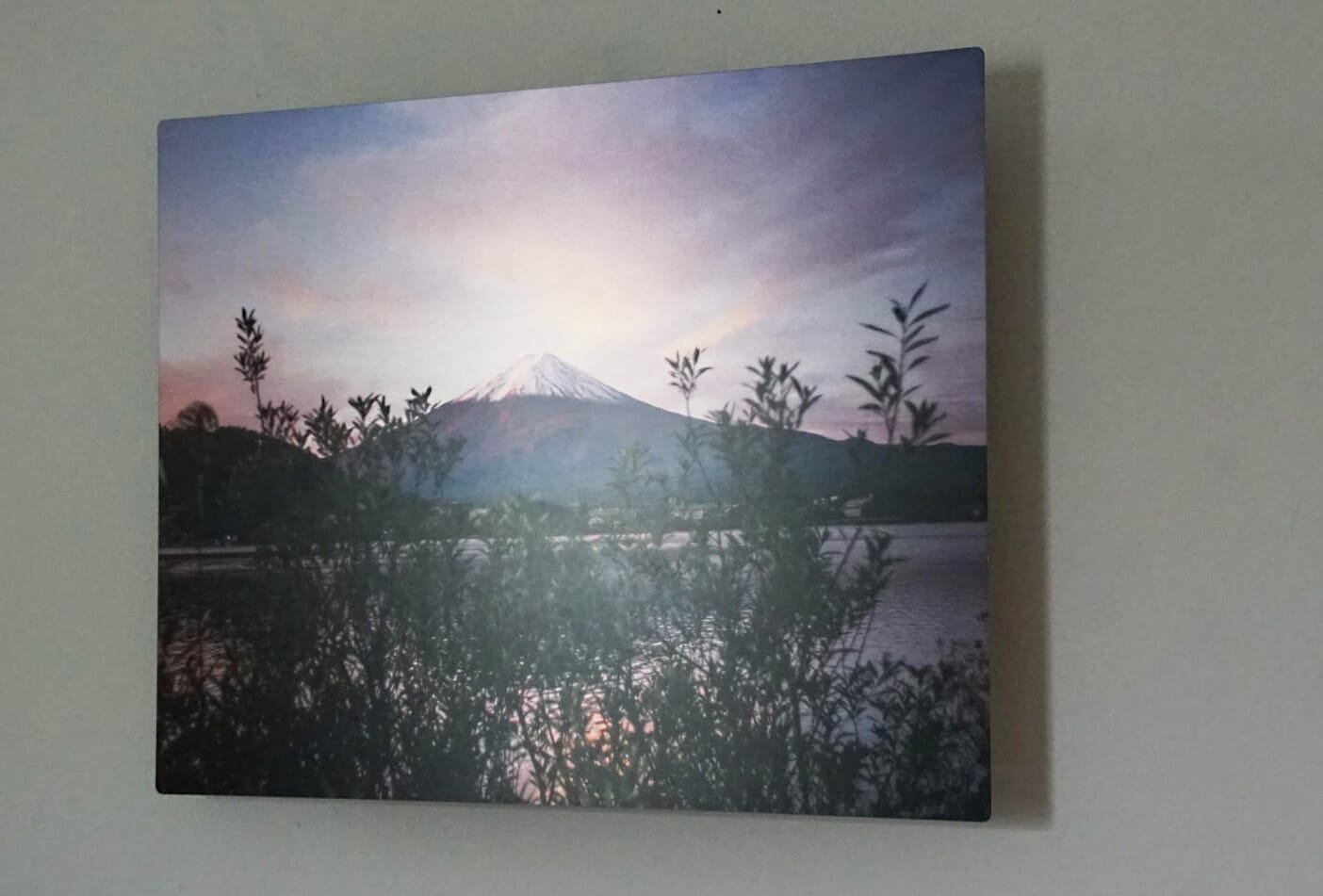 Printique
Also Great
Vibrant and resilient HD metal prints. Fabrication options: glossy white, glossy silver, white satin or silver satin.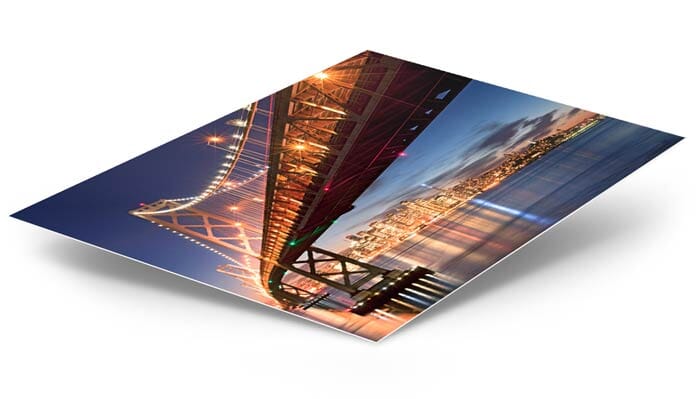 BayPhoto Labs
Big range of sizes, incl. custom size. Six surface option, corner and display options, plus fast production time make BayPhoto a good choice.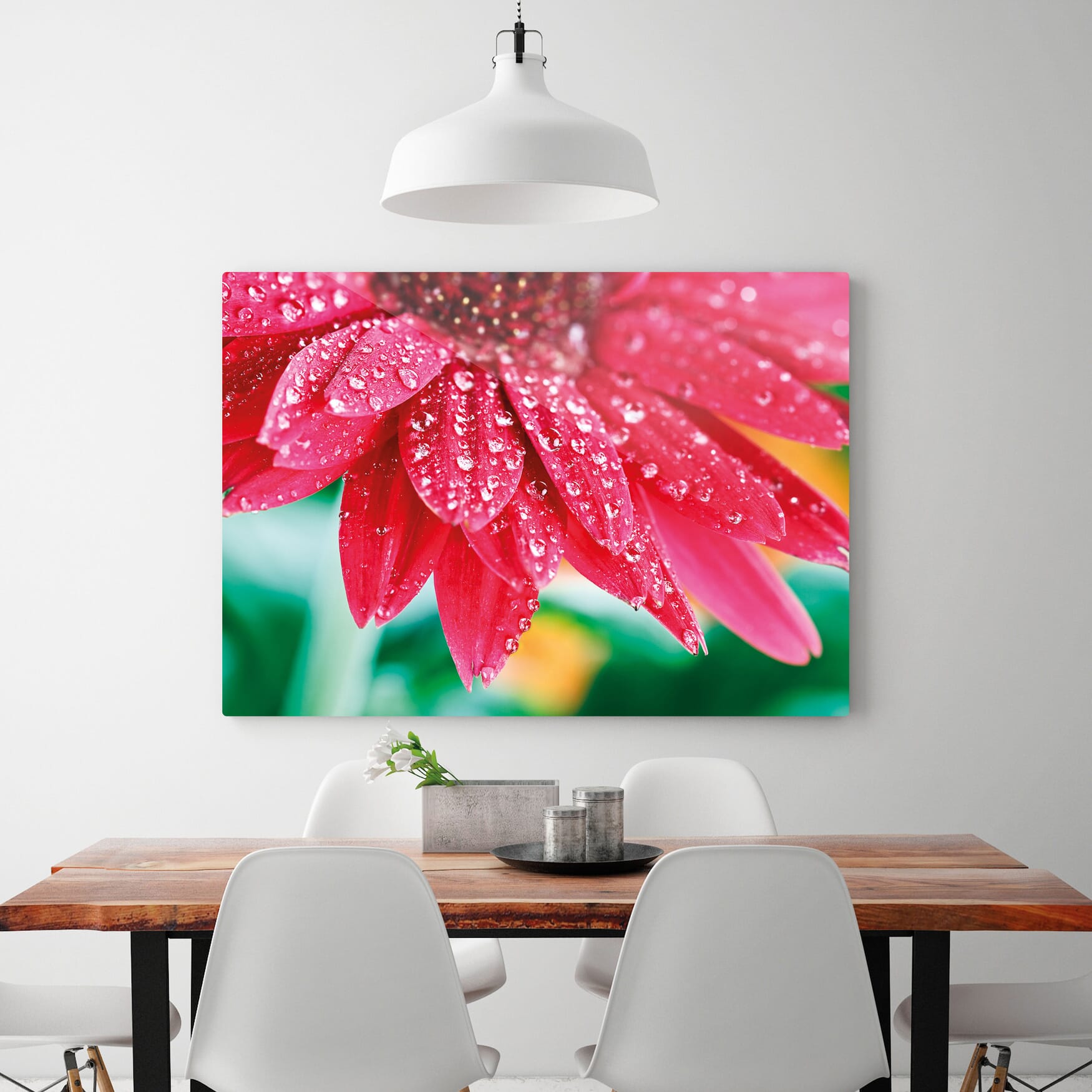 Chromalux
Panel Manufacturer
ChromaLuxe metal prints are the perfect High-Definition medium for displaying artwork and photography. Note: They don't sell directly to consumers, but through vendors like Pictorem.
Best Metal Printing Services in 2021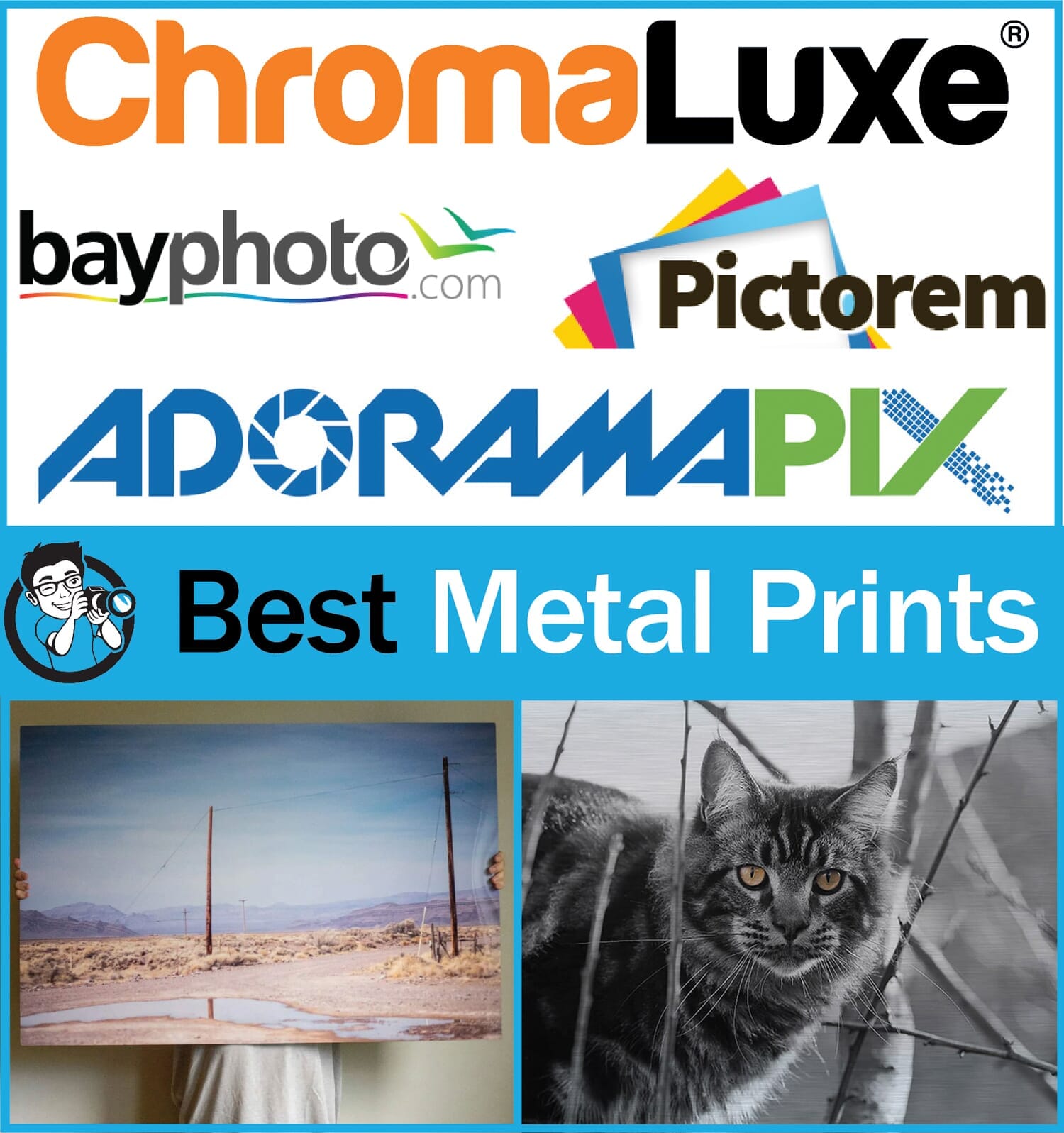 The Brushed Aluminum Print is the most straightforward product from Pictorem, directly printing onto metal. These panels are fit for indoor or outdoor use. But Pictorem also has other options to offer.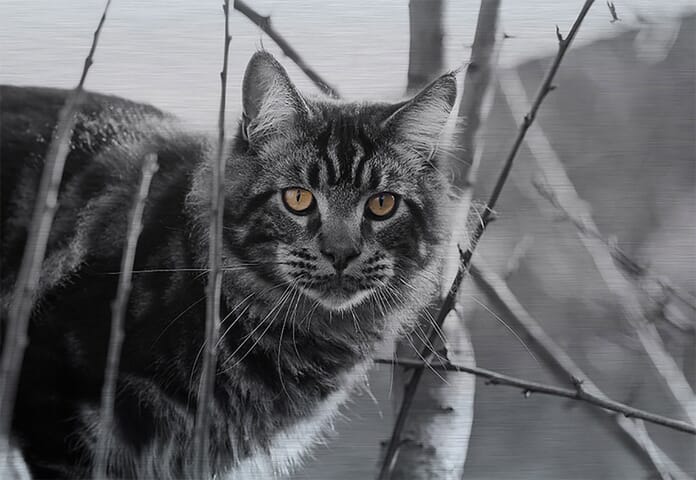 They also have HD Chromaluxe Metal Print, which uses a dye sublimation process to transfer images to aluminum.
But we'll get a little further into that later on!
You can also opt for an Epoxy Metal Print, which protects prints with a high-gloss resin coating.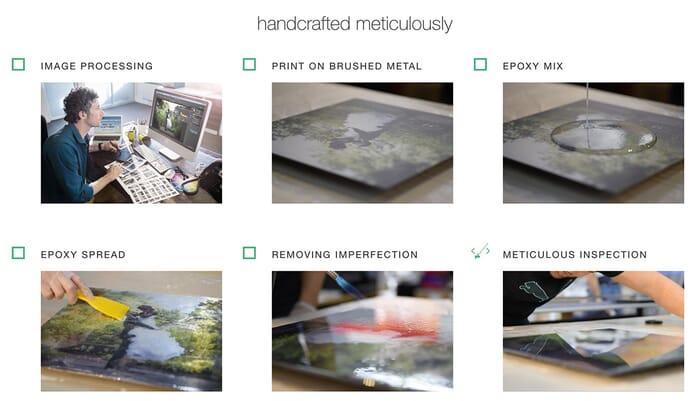 Notable Features:
Customize the size. Pictorem allows users to fully customize sizing by the inch, with pieces as large as 96×60″ available. Applies to aluminum and epoxy prints only.
Built to last. Every print is made with archival, museum-grade materials. UV cured ink prevents yellowing and fading from the sun. Metal prints are also not prone to damage from humidity.
Multiple mounting options. While you can order a metal photo print without a mount for a slight discount, back float mounts and frame boxes can elevate the presentation.
Easy install. Lightweight build and built-in mounting make it easy to hang straight out of the box.
Deal alert. Some may find Pictorem's base prices to be a bit steep. However, frequent promotions significantly cut down on costs.

What's the Cost?
24×16″ print prices by product (Pictorem)
Brushed Aluminum (no mount)
$127.00
Brushed Aluminum (back frame mount)
$155.00
HD Chromaluxe (no mount)
$165.00
HD Chromaluxe (back frame mount)
$187.00
HD Chromaluxe (frame box)
$260.00
Epoxy Metal (back frame mount)
$182.00
Pictorem has a huge range of size and styling options that affect pricing. The largest sizes can cost you a little over $2000 – which is actually a pretty fair price for a metal photo print measuring 5×8 feet!
Related Post: Pictorem HD Metal Print Review (It Wowed Us!)
You don't have to spend big to enjoy Pictorem's metal print selection though. A brushed aluminum print at 8×8″ can cost as little as $22. What's more, sales and promotions can drive prices down by as much as 40%.
Order Metal Prints from Pictorem
Printique (previously named Adoramapix) currently only offers one type of metal print, but it does it well! Keep reading to hear more about the different ways you can customize your order. 
Notable Features:
Get your pictures in shape. There's no need to stick to standard rectangles and circles with AdoramaPix. Metal prints are available in a variety of different shapes including circles, hexagons, and even hearts!
Compliment your image. Though Printique only has one metal photo print product available, that doesn't mean you don't have other any options. White and silver bases impact how much the metal base shines through. Glossy and satin finish the surface sheen of your image.
Durable build. Printique metal prints withstand just about any opponent. Aside from standard heat and moisture resistance, every print produced is dry-erasable!
Choose your display. Printique offers the greatest selection of display options of the bunch. Aside from standard float mounts, customers can request easel props or magnetic backing. Also available are acrylic "pedestals" that allow prints to stand freely on their own.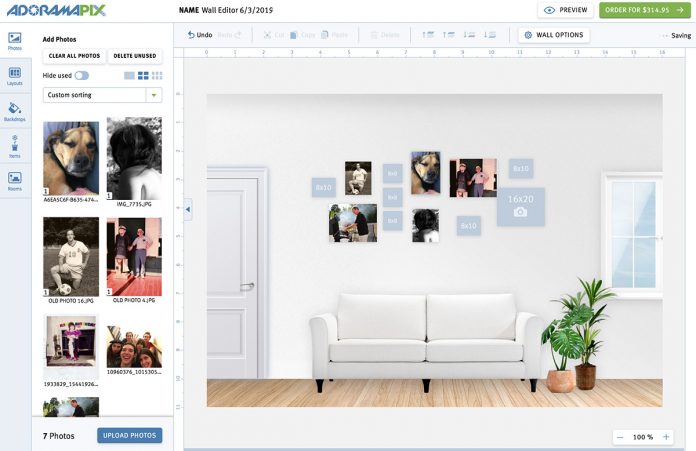 What's the Cost?
24×16″ print prices by product (AdoramaPix)
Metal Print (no mount)
$98.99
Metal Print (wall float mount)
$98.99
Overall, they're consistently low. Prints sized 5×7″ are attainable for the extremely reasonable price of $16.50.
Even the largest pieces, at 40×60″, cost around $600 – not bad for a photograph the size of a human being!

One thing we love about Adorama's metal photo prints?
Mounting is built into the price. There are no additional fees added regardless of your mounting preference.
Order Metal Prints from Printique
Most customers are enamored by Bay Photo's Single Metal Prints, which infuse dye directly onto a metal surface. Using the same basic technique, Bay Photo deviates to create a number of unique products. However, unlike other contenders, Bay Photo produces unique convex and concave curved MetalPrints.
Another creative display option is the double float MetalPrint, which gives images a bit of dimension.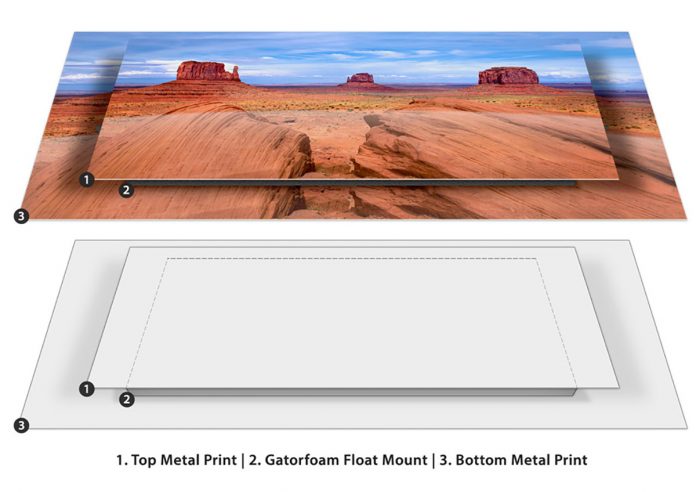 Notable Features:
Find the perfect finish. Bay Photo has five finishing options to choose between. High gloss, mid-gloss, satin, sheer gloss, and sheer matte finishes each render photographs in their own unique way.
Quick service. This company works fast. Production times are often as little as 2-3 business days.
A layer of protection. Optional acrylic coatings can help preserve metal photo prints for long-term enjoyment.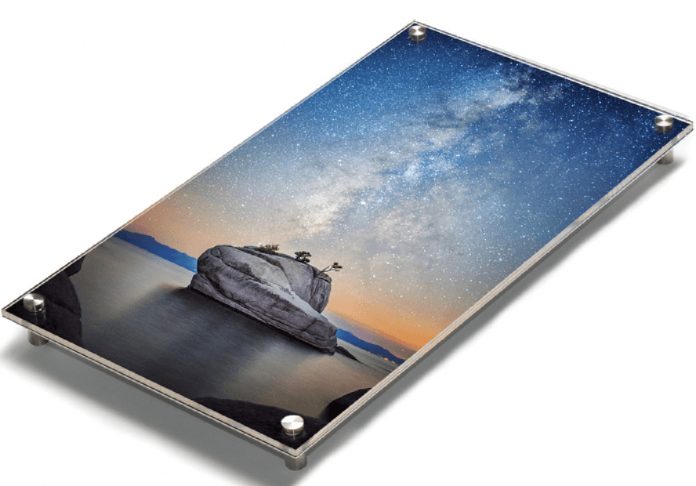 Save a few dollars. Of the metal photo print providers covered today, Bay Photo boasts the least expensive starting prices.
Framing available. Whatever your taste happens to be, Bay Photo can deliver. Choose between more than 45 framing finishes.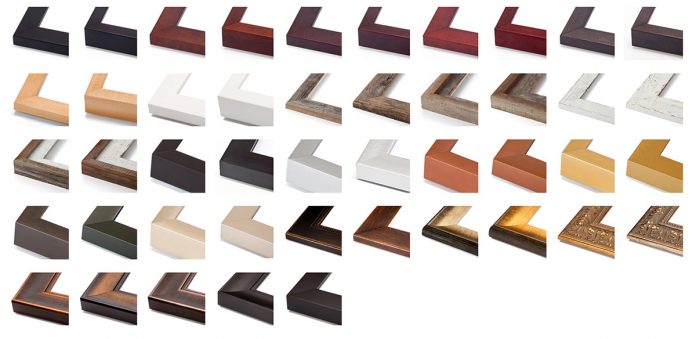 What's the Cost?
24×16″ print prices by product (Bay Photo)
Single MetalPrint (no mount)
$85.00
Single MetalPrint (float mount hanger)
$92.50
Single MetalPrint (inset frame)
$108.00
Single MetalPrint (5/8″ post, 1/4″ acrylic finish)
$155.00
Single MetalPrint (5/8″ post, 1/2″ acrylic finish)
$198.00
Single MetalPrint (1″ post, 1/4″ acrylic finish)
$162.00
Single MetalPrint (1″ post, 1/2″ acrylic finish)
$205.00
A petit 4×4″ print costs just $11. However, prices easily add up fast.
Bay Photo's largest available prints can easily exceed $1000. What's more, there are added fees for mounts, frames, and specialized coatings.
While it's possible to get a bargain through Bay, adding on a bit to your budget can make a worthwhile difference.
Order Prints from Bay Photo Labs
Chromaluxe is a bit different from other metal photo print producers. Our other listings are marketed directly to customers. Chromaluxe, on the other hand, offers its services to outsourcing partner labs.
The company is best known for its line of High Definition Metal Prints. They're very high-quality. In fact, they're nice to the extent that many vendors (like Pictorem's HD Metal Prints) buy their print medium ans work closely together.
Notable Features:
Breaking the mold. The Chromaluxe print process is unique, using a dye sublimation technique that creates more vibrant results. Their labs are staffed with professionals that have mastered the art of infusing images into metal.
Superior damage resistance. Chromaluxe prints can't be damaged by water or chemicals, including all-purpose cleaners. Tests have shown they resist yellowing and sun damage for years at a time. As if that weren't enough, these metal prints can even withstand fires!
Make it your own. Base and finishing options allow customers to customize the look and feel of their images. Two side coating is available upon request, as is custom sizing.
PhotoWorkout seal of approval. Recently, we reviewed one of Chromaluxe's prints. Needless to say, the end product was practically flawless.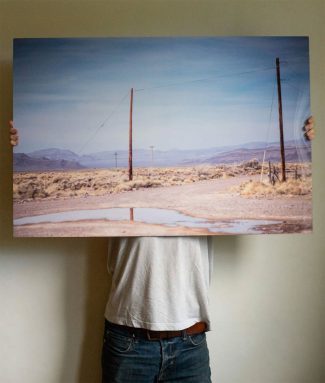 Worldwide presence. Chromaluxe runs studios in the US, Belgium, and Australia. This allows the lab to ship prints to every continent except Antarctica, catering to a worldwide audience.
What's the Cost?
While Chromaluxe metal photo prints are incredible, you'll likely have to purchase through a partnering lab. Every lab sets their own prices, so compare a few different options to find the best price.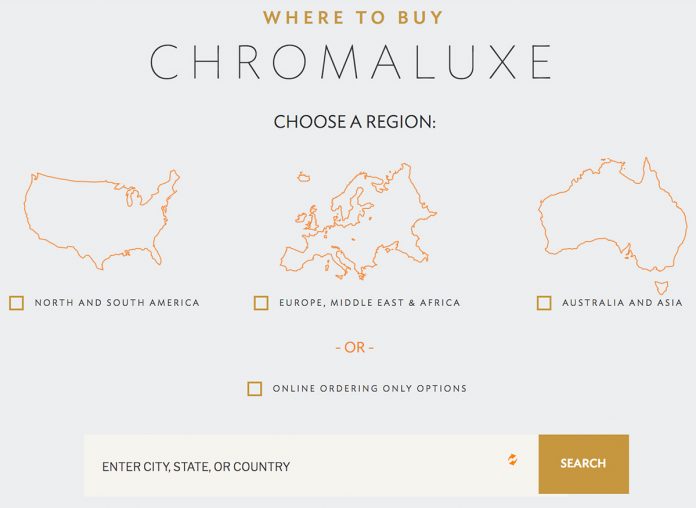 The Chromaluxe website has an extensive list of print labs around the world where their products can be purchased. A few larger online vendors carry Chromaluxe prints. However, it might be worth your while to check out some smaller independent options as well, such as Aluminyze and Metal Mouth.
Not All Metal Photo Prints Are Created Equally
The truth is, there are a lot of companies out there who offer metal photo prints. We find the four photo printers listed above to offer the highest quality prints at reasonable prices.
That being said, we'd love to hear about your favorite metal photo prints and who made them for you. Let us know in the comments below!