Film photography is a traditional medium that has withstood the test of time. Chances are, if you're reading this article, you have an interest in learning more about film. So to get you started creating beautiful and timeless images, we are going to cover the best film cameras in 2023!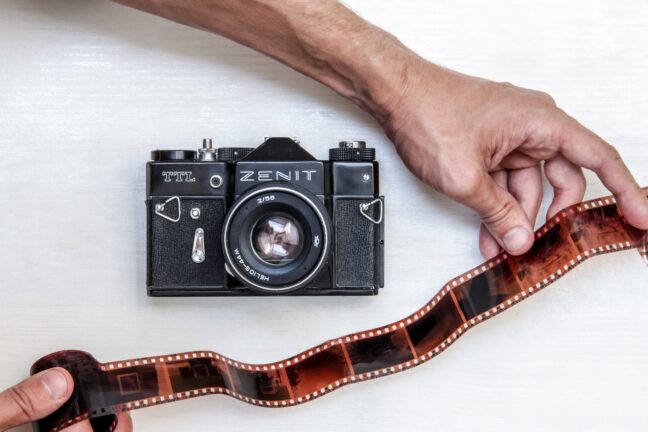 Best Film Cameras in 2023:
When you buy through links on our site, we may earn a commission at no cost to you. We evaluate products independently. Commissions do not affect our evaluations.
1. Holga 120 GCFN
Also Great
Great for colorful images
A great lomography option, this camera lets you play with a built-in color wheel.
Pros
Spinning color wheel and other fun lomographic effects
Affordable price
Simple to use
Cons
Body is made of plastic
Our first film option is a toy camera, the Holga 120 GCFN – which is a fun little guy to take with you on a variety of adventures! It's priced very well for what it is, and it can still be purchased new on Amazon.
This camera is sleek and comfortable. Despite the plastic construction, it is actually fairly durable. The glass lens offers all of the things you'd want in a toy camera, such as light aberrations galore! This might make some digital photographers squirm, but in film photography, it's beneficial.
To make things even more interesting, there is a spinning color wheel built into this camera that allows for random bursts of color to appear in your shots! You can spin this little dial and watch the magic happen.
The Holga 120 GCFN has a built-in flash for darker scenes, can record 12 to 16 frames per second, and accepts 120 roll films.
2. Lomography Simple-Use Reloadable Camera
Best Budget
Best budget option
Thanks to its combination of a cheap price and simple features, this camera is an excellent introduction to film photography.
Pros
Inexpensive
Super easy to use
Cons
No additional features or effects
Films are hard to load
For those that remember the days of great disposable cameras, the Lomography Simple-Use Reloadable Camera will remind you immediately of those disposable Kodak vacation cameras! But unlike Kodak's products, this camera can be reloaded with film, so there's no need to discard it after use. 
At only about $25, this is the least expensive camera on our list. The Lomography Simple-Use Reloadable Camera is a 35mm film camera that's perfect for both brand new photographers and those who have been in the photography game for some time.
This camera doesn't have any fancy features; instead, its charm lies in its simplicity. It's a film camera, through and through!
The built-in flash allows for colorful filters and gives photographers ample opportunity to play with color, tones, and effects. Although loading in the film can be a little bit of a hassle in comparison to other cameras, the overall ease of use makes up for it.
3. Nikon F6
A great SLR camera
The Nikon F6 is a wonderful SLR option from a well-known brand.
Pros
Fantastic build
Great SLR features
Beautiful exposure options
The Nikon F6 is a powerful SLR option that combines several film and digital features.
This camera unfortunately cannot be found new, but there are used models still stocked on Amazon. It was very popular back in the film days as it is full of advanced features such as autofocus and various exposure modes. But as it still uses film, you still get some really lovely classic results.
This camera offers a fantastic construction paired with superb image quality, most of which is aided by the advanced features I mentioned above. Fortunately, the F6 is easy to use, and pretty much anyone can pick it up and start snapping! It is heavier than a lot of modern cameras, but not by too much.
4. Canon AE-1
Another fantastic SLR option
Where there is Nikon, there is also Canon! This SLR is packed full of lovely features.
Pros
SLR camera with lots of good features
Nice exposure meter
Amazing lens options
The Canon AE-1 is also an SLR camera, and it is one that is still very popular among film users. With a fantastic exposure meter to help ensure your shots look just as you want them to, the Canon AE-1 continues to showcase a beautiful fusion between digital and film.
The AE-1 offers features similar to the Nikon F6 featured above. It also offers a uniquely impressive array of lenses; while it generally comes with a 50mm lens, it has many more options available for purchase. Images appear crisp, clear, and vibrant, primarily due to the wonderful lens lineup.
5. Olympus OM-10
One of the best Olympus (film) cameras
A beautiful piece of equipment with a ton of potential for intermediate photographers.
Pros
Full aperture, ISO, and shutter speed control
Nifty DOF preview button
Nice transition from DSLR to film SLR
Cons
Can only be found used
Olympus is one of the better-known names in the film world, and the Olympus OM-10 shows why! Although you can't find a brand-new OM-10, plenty of used options are available on popular marketplaces (including Amazon).
This is an SLR, but like most film cameras, the focus is manual. To help with this, the Olympus OM-10 has a DOF (depth of field) preview button.
You can set your own ISO, shutter speed, and aperture values. This is a great camera for a DSLR user getting into SLR film photography!
6. Pentax K1000
A film photography classic
This Pentax camera was a popular option for photography students and is still a great pick for intermediate and advanced photographers.
Pros
Very durable
Straightforward film camera with good metering
No batteries needed
Cons
No additional features whatsoever
The Pentax K1000 was once heavily associated with photography students, and while I don't recommend it for beginners, it's a great option for serious photographers.
The K1000 includes nothing fancy. It's a film camera through and through – it doesn't even require batteries! You can simply load the film and start shooting.
The Pentax K1000 has really stood the test of time and remains a very reliable option. There are only three elements to adjust, which really forces you to focus on your craft. An exposure and aperture meter is included in this camera to aid you when selecting settings.
7. Lomography La Sardina 8Ball Camera
The most unique film camera
If you're looking for something interesting, this ultra-wide camera certainly fits the bill!
Pros
Incredible ultra-wide lens
Sharp construction that is comfortable to use
Body finish encourages customization
Cons
Very specific look
Adds unintentional glare to photographs sometimes
The Lomography La Sardina 8Ball Camera has a unique name for a reason: It can genuinely capture an 89-degree field of view thanks to its ultra-wide lens! It offers lots of potential for funky shots.
The construction is superb, and the retro design really adds to the character of this little camera. What's more, this camera's finish encourages its owners to paint and draw on the body, adding a level of fun customizability.
The image quality is also worthy of note. Although the lens can sometimes add unwanted glare to images, this is due to the extreme field of view. Over time, you'll learn how the lens fully operates, and you'll be able to avoid the glare as needed.
8. Fujifilm Instax Mini 90
Great for parties and casual photography
The Instax Mini 90 isn't a classic film camera, but it's still worth mentioning!
Pros
A great instant camera
Lovely vintage feel to each produced image
Includes several different modes
Cons
On the pricier side (for what it is)
Instant cameras are still film cameras, and the Fujifilm Instax Mini 90 is a fantastic option. To be clear, it's an instant film camera developed in the modern age, but it still offers plenty of film-shooting fun!
The design is rather beautiful, and those who take aesthetics into consideration will certainly appreciate the shiny metal construction and comfortable grip. The Fujifilm Instax Mini 90 also offers many digital features, such as an LCD display, a tripod mount, and shooting modes such as "Sport" and "Macro."
This camera is fun to use at parties and with friends thanks to the instant prints. The images all come out with a classic vintage vibe. However, the Instax Mini 90 can be temperature sensitive, so be mindful of extreme cold and heat. The Fujifilm Instax Mini 90 is also a bad camera to use in the dark; lots of light is necessary.
The Perks of Shooting Film (Even in 2023!)
There are several reasons why you should shoot film:
1. It Helps You Learn the Technical Aspects of Photography
Film cameras are usually fully manual machines, so to get great shots, you must understand the principles behind photography. These include aperture, shutter speed, and ISO.
With a digital camera, you can make a mistake and just try again. Yet with film, you can't see your final result until you have the images developed. This pushes you to learn and fully understand how each aspect of the photography process works before capturing any images.
They often say that to become a better digital photographer, you should try film!
2. It Forces You to Take Your Time
The second reason why you should shoot film is that it forces you to take your time.
With a film camera, you only have a handful of shots. You need to make sure everything is in order before clicking the shutter button. That means you need to pay attention to your subject and find the right moment to capture your photograph.
Plus, it allows you to truly think about your composition and framing.
3. Film Is a Creative and Unique Format
The final reason why you should shoot film is that it offers a lot of room for creativity. I don't mean to say that digital photography is lacking – but film does offer a completely different experience that can be refreshing for a student of photography.
With film, for example, you can test out various formats (35mm, 120mm, and more). And you can change the look of your images by sampling various film stocks.
Pick the Perfect Film Camera!
As you can see, shooting film is a unique and creative experience for many photographers. It allows you to enhance your technical skills, slow down your shooting process, and create beautiful images.
With regard to the best film cameras in 2023, our favorite is the Holga 120 GCFN. The spinning color wheel is a lovely extra touch!
For those on a budget or for photographers who aren't sure they want to devote themselves fully to film, the Lomography Simple-Use Reloadable Camera is a great, inexpensive option that also acts as an introduction to film photography.
Film vs. Digital: FAQs
Is digital photography better than film photography?
Neither digital nor film is better. They're just different, and they offer different advantages to different photographers. If you're the type of photographer who prefers more deliberate, artistic photography, film may be right for you. On the other hand, if you're a fast-paced photographer who likes to take many photos, digital will be the better option.
Is film photography dead?
Absolutely not! There are plenty of photographers that still shoot in film, including a number of very respected professionals. Film has certain advantages, as listed in the article, that digital can't compete with (though digital has its own advantages!).
Does film photography offer higher dynamic range compared to digital?
Not really. This used to be true, but modern digital sensors have gotten to the point that they can go toe-to-toe with film dynamic range. However, the dynamic range in film tends toward the highlights (as in, it's difficult to blow out highlights when using film), whereas dynamic range in digital tends toward the shadows (that is, you can recover a lot of shadow detail).
Does film photography offer higher resolution compared to digital?
Not really. Old digital sensors were inferior to film in terms of resolution, but now you can buy digital sensors that offer higher resolution than 35mm film.
One area where film does do better is in terms of affordable medium format options–digital medium format is ridiculously expensive, whereas film medium format is a lot more accessible, and offers crazy amounts of resolution.
One last note: While digital may offer higher resolutions compared to film, film resolution is certainly enough for professional-quality prints.
Is film photography cheaper than digital photography?
That depends on how you look at it. Buying a nice film camera and a few nice film cameras will be a lot cheaper than buying digital equivalents. So, the up front costs are a lot cheaper. But once you really get going as a film photographer, you're going to start spending on film and film development, which can quickly become expensive.
Eventually, I'd estimate film photography to be more expensive than digital, assuming you shoot and develop your images with some regularity.
---
Disclosure/Disclaimer: As an Amazon Associate, we earn from qualifying purchases. Certain content was provided "as is" from Amazon and is subject to change or removal at any time. Product prices and availability: Amazon prices are updated daily or are accurate as of the date/time indicated and are subject to change. Any price and availability information displayed on Amazon.com at the time of purchase will apply to the purchase of this product.