Are you a film enthusiast? Or perhaps a photographer interested in learning how to use film? Then, read on to discover the best film cameras in 2019 and why you should still shoot film.
Film photography is a traditional medium that has proven to withstand the test of time. In fact, there are still many photographers who practice shooting film for creative and professional projects. Plus, many new and growing photographers are testing the waters with film photography.
Chances are, if you're reading this article, you have an interest in learning more about film. So, to get you started on your journey toward creating beautiful and timeless images – we are going to cover why you should still shoot film and the best film cameras available in 2021.

Why You Should Still Shoot Film
There are several reasons why you should still shoot film. While this choice is solely up to the photographer and their personal style, film can be a refreshing change from our digital world.
It Helps You Learn the Technical Aspects of Photography
Shooting film will really help you learn the technical components of photography.
Film cameras are usually fully manual machines, so you will have to understand the principles behind taking a photo. This includes aperture, shutter speed and ISO.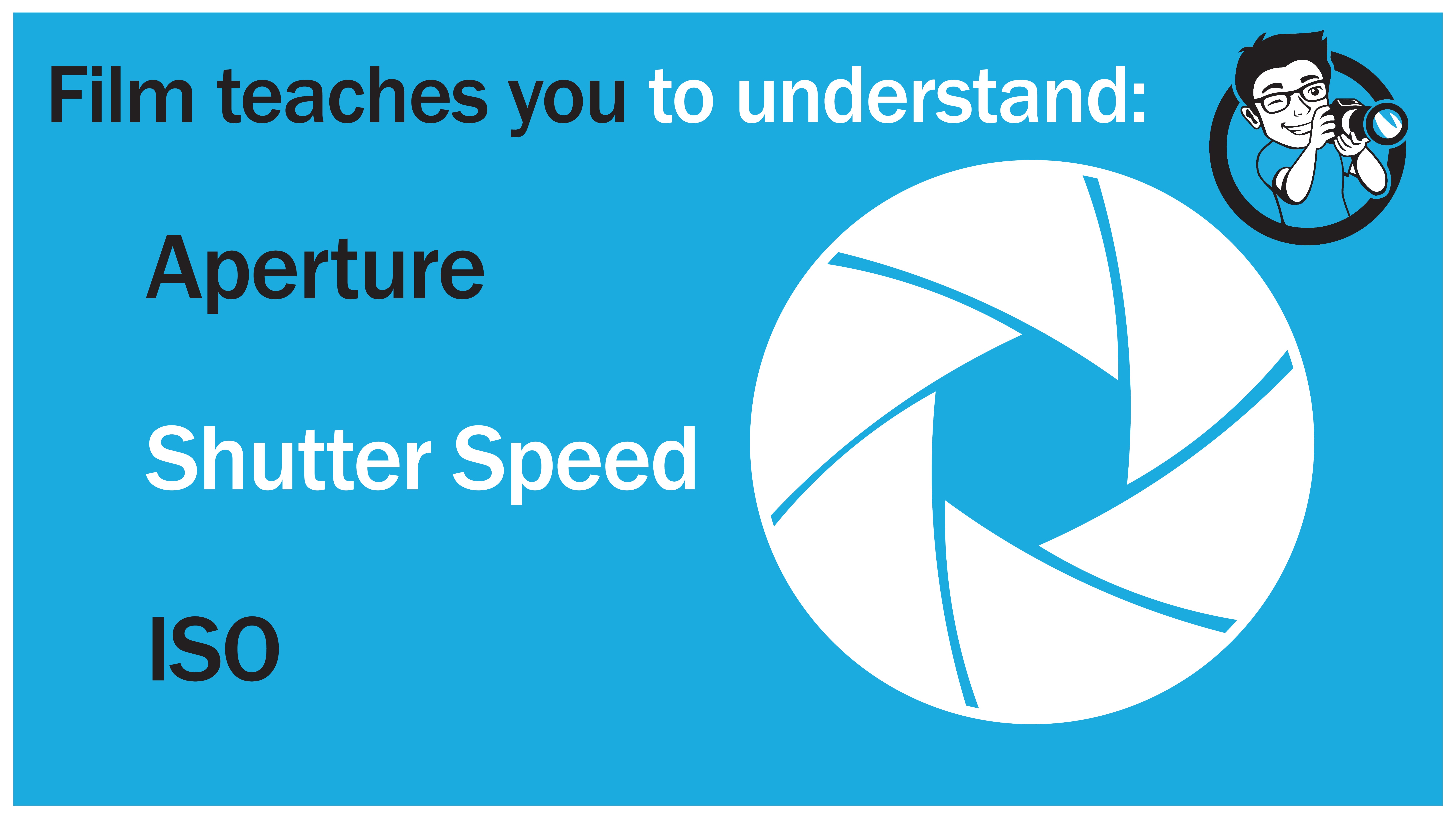 With a digital camera, you can make a mistake with the values and just try again. Yet, with film – you can't see your final result until you have the images developed.
This pushes you to learn and fully understand how each aspect works before capturing any images.
They often say that in order to become a better technical photographer, film is a great resource to utilize.
It Forces You to Take Your Time
The second reason why you should still shoot film is that it forces you to take your time.
With a film camera, you only have so many shots. You need to make sure everything is in order before clicking the shutter button.
This means that you need to pay attention to your subject and find the right moment to capture your photograph.
Plus, this allows you to truly think about your composition and framing.
Film Photography Is a Creative and Unique Format
The final reason why you should still shoot film is that it is a creative and unique format.
This isn't to say that digital is lacking, but film offers a completely different experience that can be new and fresh to a learning photographer.
For example, with film you can test out various formats (35mm, 120mm, large format). And, you can switch the look of your images by utilizing various film stocks.
Why You Should Still Shoot Film: Summary
In short, film photography can offer a lot of new insight and education for both young and experienced photographers. Learning how to shoot film can be tough at first, but it often results in captivating imagery that can change the look and feel of your professional work.
Now we've given you a compelling argument for shooting film, let's take a look at some of the best film cameras out there!
The Best Film Cameras of 2021
The Best New Film Cameras
The Nikon F6 is an autofocus, SLR film camera with an electronically controlled focal-plane shutter. It's one of the best new film cameras on the market.
It has multiple exposure modes such as Aperture Priority, Shutter Priority and Manual. The camera takes standard 35mm images and has a fixed eye-level viewfinder.
This is a great camera because of its autofocus capabilities.
A digital photographer can easily get used to this camera as it's built quite similar to many DSLRs. You can feel confident knowing that you will take high-quality, in-focus images.
Nikon F6 AF 35mm Film SLR Camera (Body Only)
Type of Camera - Integral motor autofocus 35mm SLR (Single Lens Reflex) camera with electronically controlled focal-plane...
Exposure Modes - Programmed Auto, Flexible Program, Shutter priority, Aperture Priority and Manual
Picture Format - 24mm x 36mm (standard 35mm film format)
Viewfinder - Fixed eyelevel pentaprism, built-in diopter adjustment (-2 to +1m-1)
Eyepoint - 18mm (at -10m-1) ; Power Source: Battery Holder MS-41 provided (two 3V Lithium batteries) Optional Multi Power...
Leica's M-A camera is a powerful rangefinder-style camera.
This camera from Leica is easy to use and allows the photographer to concentrate on focusing, aperture and shutter speed.
The design includes an all-metal body with chromed brass top and bottom covers.
You can be sure this is a quality camera as Leica is a leader in the analog community. They not only craft the highest quality of cameras, but the images you capture will be stunning and captivating.
If you're looking for a quirkier style of camera, Diana F+ by Lomography is an excellent choice.
This is a medium format film camera – which means it uses 120mm film. And, it has an electronic flash unit which will need a AA battery.
Lomography is known for developing cameras that offer unique and different images in comparison to traditional units. So, if you're looking for an exciting introduction to film photography, then this would be a great camera for you.
Lomography Diana F+ Medium Format Camera with Flash
Electronic Flash with color flash capability. Uses one AA battery
Variable shutter (daytime &for unlimited long exposures)
The Diana Flash works via a two-pronged plug adapter just like the original. It plugs directly into the Diana F+ camera body.
Film format 120 two adapters are included so that both the Diana Flash and Diana F+ are hotshoe-compatible
The Best Used Film Cameras
Another option from Lomography is the Belair X Jetsetter.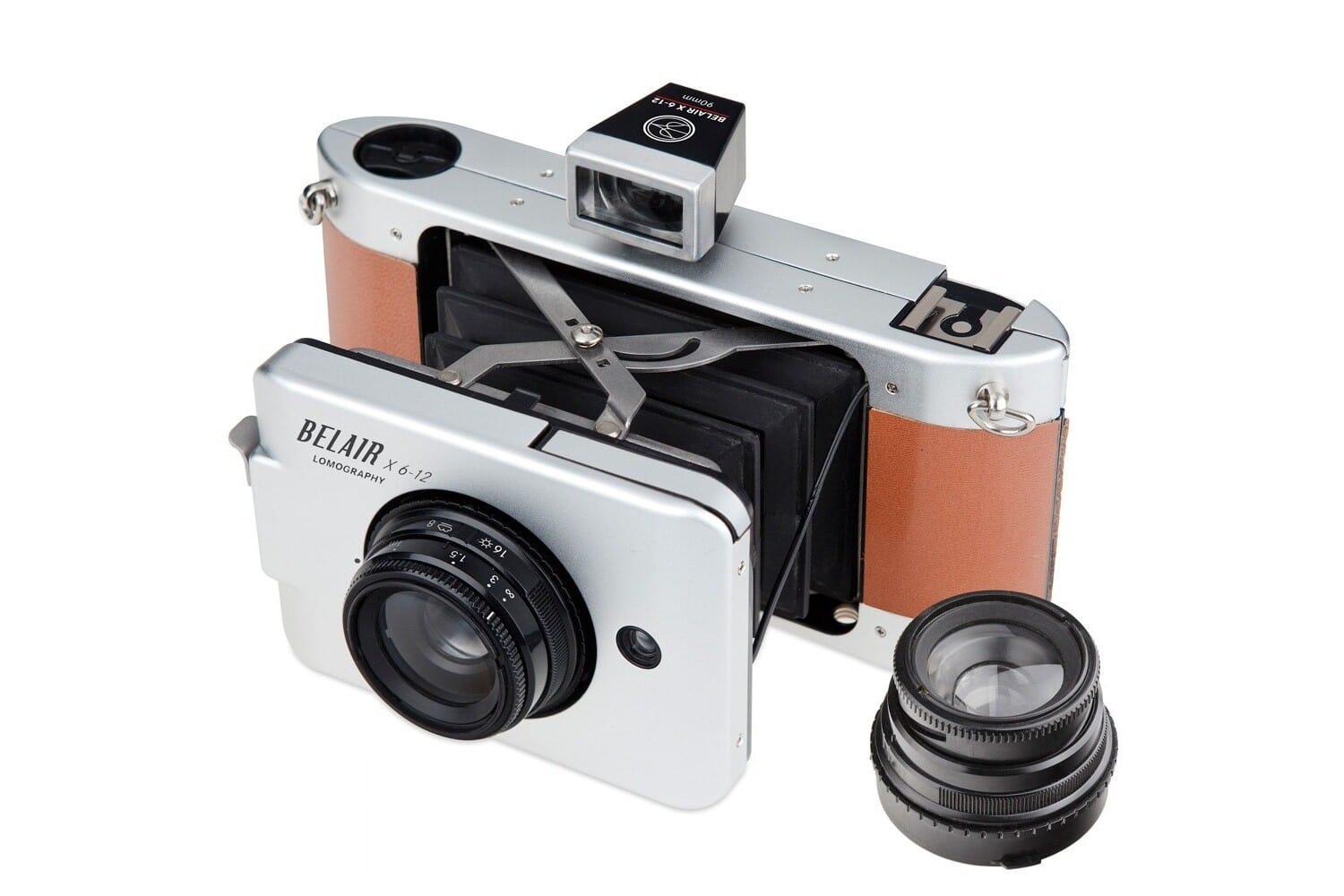 This is also a medium format camera with a folding design, making it easy to use and take with you on the go.
It comes with an automatic shutter setting and captures 6×12 panoramic photos as well as 6×6 square images and 6×9 format. And, it includes a 90mm and 58mm lens.
Again, another unique and creative camera developed by Lomography. Give it a go and see how it works for your photography style.
Now we head on to the used market. These cameras are generally more reasonably priced and will give you a real authentic feel. The cameras are also likely to be better quality than new cameras at the same price point.
Related Post: Tips on Buying a Second-Hand DSLR Camera
First up we have the Canon AE-1 35mm. It comes with a 50mm f/1.8 lens.
Canon's AE-1 has an automatic exposure reader which will help you determine the proper settings for shooting. The camera is compatible with a range of lenses to meet your shooting style needs.
Overall, this is a very intuitive camera with straightforward mechanisms.
Canon AE-1 35mm Film Camera w/ 50mm 1:1.8 Lens
35mm SLR (Single-Lens-Reflex) camera with electronically controlled AE (Automatic Exposure) and focal plane shutter.
Canon FD series interchangeable lenses with full aperture metering and AE coupling. Canon FL series with stopped-down...
Standard lenses for the Canon AE are Canon FD 55mm f/1.2 S.S.C, Canon FD 50mm f/1.4 S.S.C, Canon FD 50mm f/1.8 S.C.
Canon Breech-Lock mount, Canon FD, FL and R lenses can be used. The viewfinder is fixed eye-level pentaprism with a field of...
Viewfinder information includes aperture scale with meter needle and stopped-down metering which also serves as a battery...
If you liked the F6 but didn't want to pay that kind of price the Nikon F100 35mm Camera is a great used alternative.
Like the Nikon F6, it has a strong build but is lightweight for comfortable shooting.
With its compact size and high-performance flexibility – this camera is great for any level of photographer. Plus, it has the ability to shoot up to 4.5 frames per second – a top of the line feature for anyone looking to capture the action on film.
NIKON F100 35mm SLR Camera Body
The F100 a 35mm SLR body geared to the professional and is situated beyond the N90 and behind the F5 as the #2 top camera in...
With its strong but lightweight Magnesium Alloy body, the F100 meets the needs of certain professionals seeking compact size...
Built-in motor drive shoots at up 4.5 frames per second
10-Segment 3D Matrix Meter plus Center-Weight and 5-Area modes
5 Area Autofocus system with Dynamic Autofocus
Pentax are a classic film camera company, so it's no surprise the Pentax K1000 35mm makes our list. This camera is popular among professionals and enthusiasts alike, and with good reason.
The Pentax K1000 is completely mechanical and needs no battery to run. Making it easy for shooting anytime, anywhere. The only battery you will need is if you want to use the built-in light meter.
The camera itself is straightforward and easy to use, which is why it makes it onto our list!
Pentax K1000 Manual Focus SLR Film Camera with Pentax 50mm Lens
The Pentax K1000 35mm SLR is one of photography's greatest, most popular and longest-lived cameras.
This Pentax film camera is completely mechanical and needs no battery to run, however, you must purchase an A76 cell battery...
Unlike other SLR and DSLR cameras, the K1000 is simple and has little to no learning curve. There is three shooting controls:...
An extraordinary simple camera that forces you to think about your picture instead of your camera. As a result, it's...
The Pentax K1000 is so brilliant that you never need to turn the meter or camera on or off: both are always on for instant...
If you're looking for a truly retro-style camera, the Rolleiflex Type 2 Camera is an excellent choice.
These cameras have always been a popular choice among photographers. In fact, many famous photographers such as Vivian Mayer shot beautiful street imagery using this very camera.
It's a perfect camera for classic medium format images.
If you want something less intrusive and without all the confusion of selecting a lens, the Contax T2 Point and Shoot is a perfect option.
Contax is a very popular and trendy film camera company among photographers. Not only are their cameras made with top of the line craftsmanship, but they are also compact and easy to use.
As the only point and shoot option on our list, the T2 doesn't disappoint. Bring it with you anywhere and be amazed by the sheer quality of your photographs.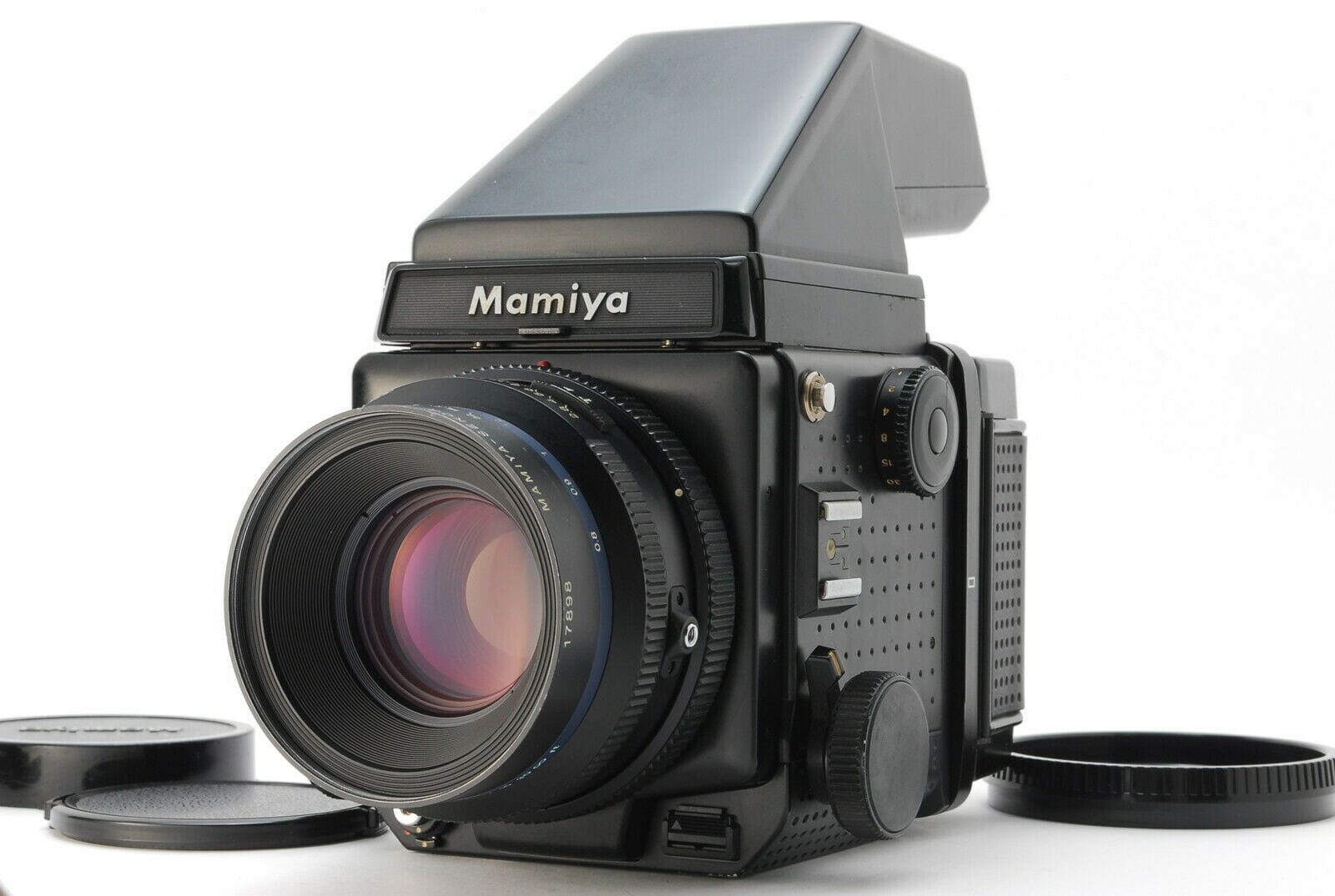 Our final used film camera option is the Mamiya RZ67. This is a medium format, SLR camera that is often used in both professional and personal projects.
Plus, it creates a 6 x 7 format that produces impeccable image quality with crisp details even when enlarged. It is also compatible with any RZ67 lenses and has the ability to change out focusing screens, finders, backs and lenses.
This camera is a workhorse and you'll be amazed by the images it produces.
The Best Film Cameras: Closing Thoughts
As you can see, shooting film is a unique and creative practice for many photographers. It allows you to enhance your technical skills, slow down your process and create beautiful images.
Plus, there are many top film cameras, both new and used, for you to get started shooting with.
Do you use any of the cameras we included in our list? Let us know in the comments below!
Also Read: Best Minolta Film Cameras
---
As an Amazon Associate we earn from qualifying purchases. Certain content that appears on PhotoWorkout.com comes from Amazon. This content is provided 'as is' and is subject to change or removal at any time.