Sharpening can correct an array of image errors, including motion blur, lens softness, and camera shake. Different sharpening tools use various methods to effectively remove blur, enhance details, and add dehazing to images.
Photo sharpening software is available in two categories. First, there's dedicated sharpening software. Second, there's general photo editing software that also has sharpening tools. If you want to correct blur, then one of these types of software is essential. Luckily, we have found seven of the best photo sharpening software solutions!
Best photo sharpening software: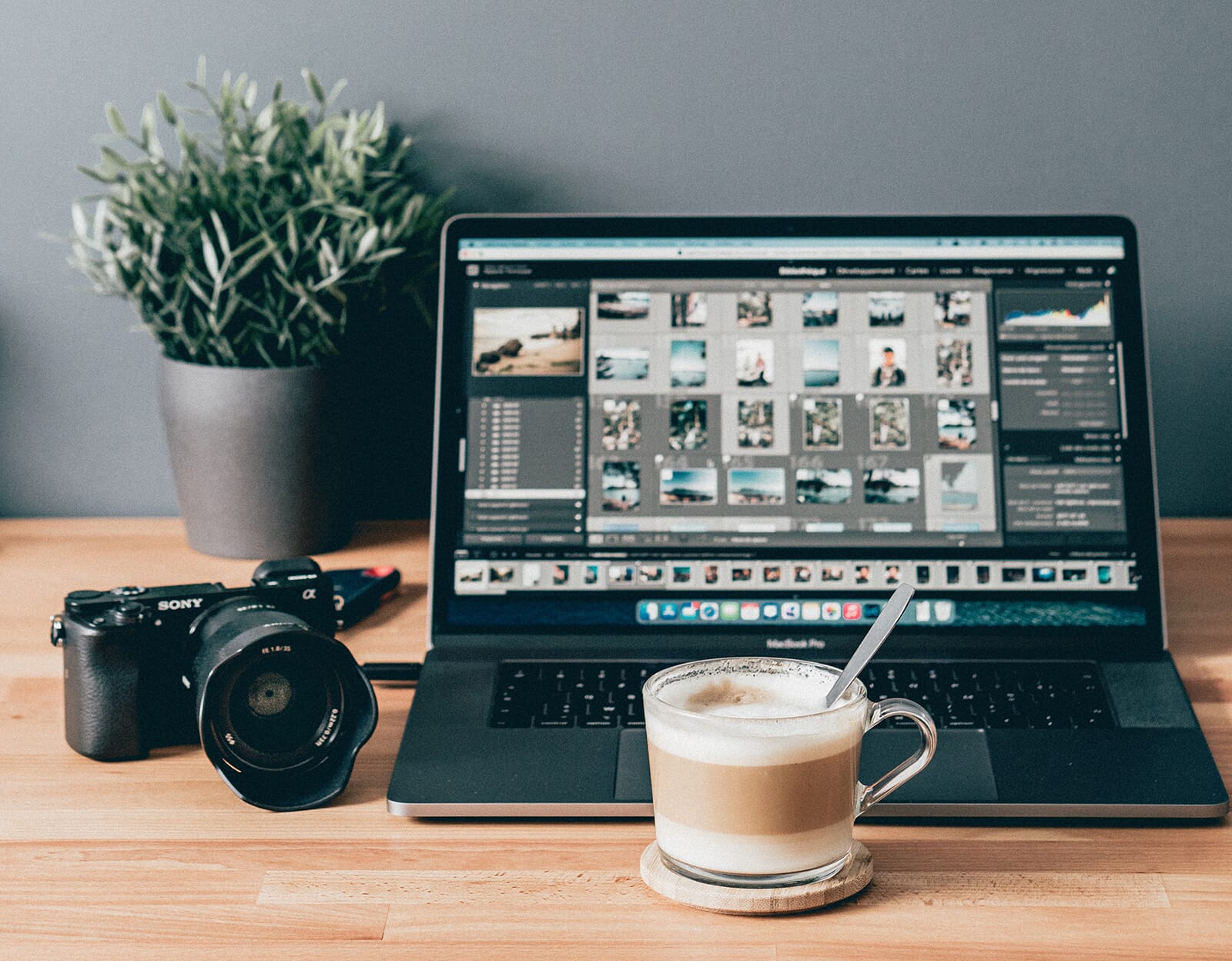 When you buy through links on our site, we may earn a commission at no cost to you. We evaluate products independently. Commissions do not affect our evaluations.
1. Adobe Lightroom
OUR PICK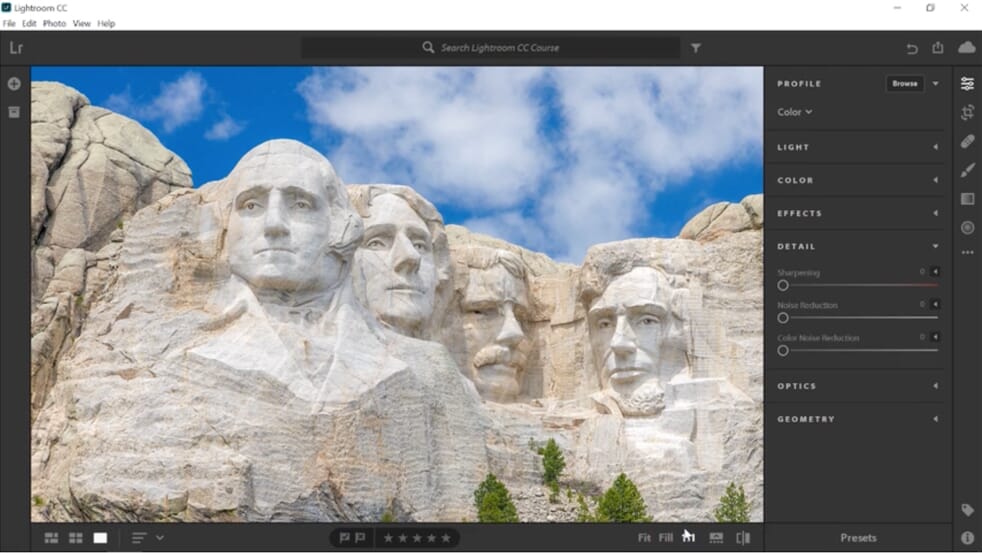 Great for full photo editing
Adobe Lightroom Classic is a complete photo editor that also has sharpening tools. It is great for professional photographers.
Pros
Sharpening masks to see exactly what areas are affected
Has a complete editing suite
The sharpening tool is easy to use
Cons
Some may not want to pay a monthly subscription
Adobe Lightroom is a multi-functional editing program that can be used for various purposes. Lightroom does include a sharpening tool, which is highly effective and is a great alternative to buying dedicated sharpening software. As a result, it's our top pick for the best photo sharpening software.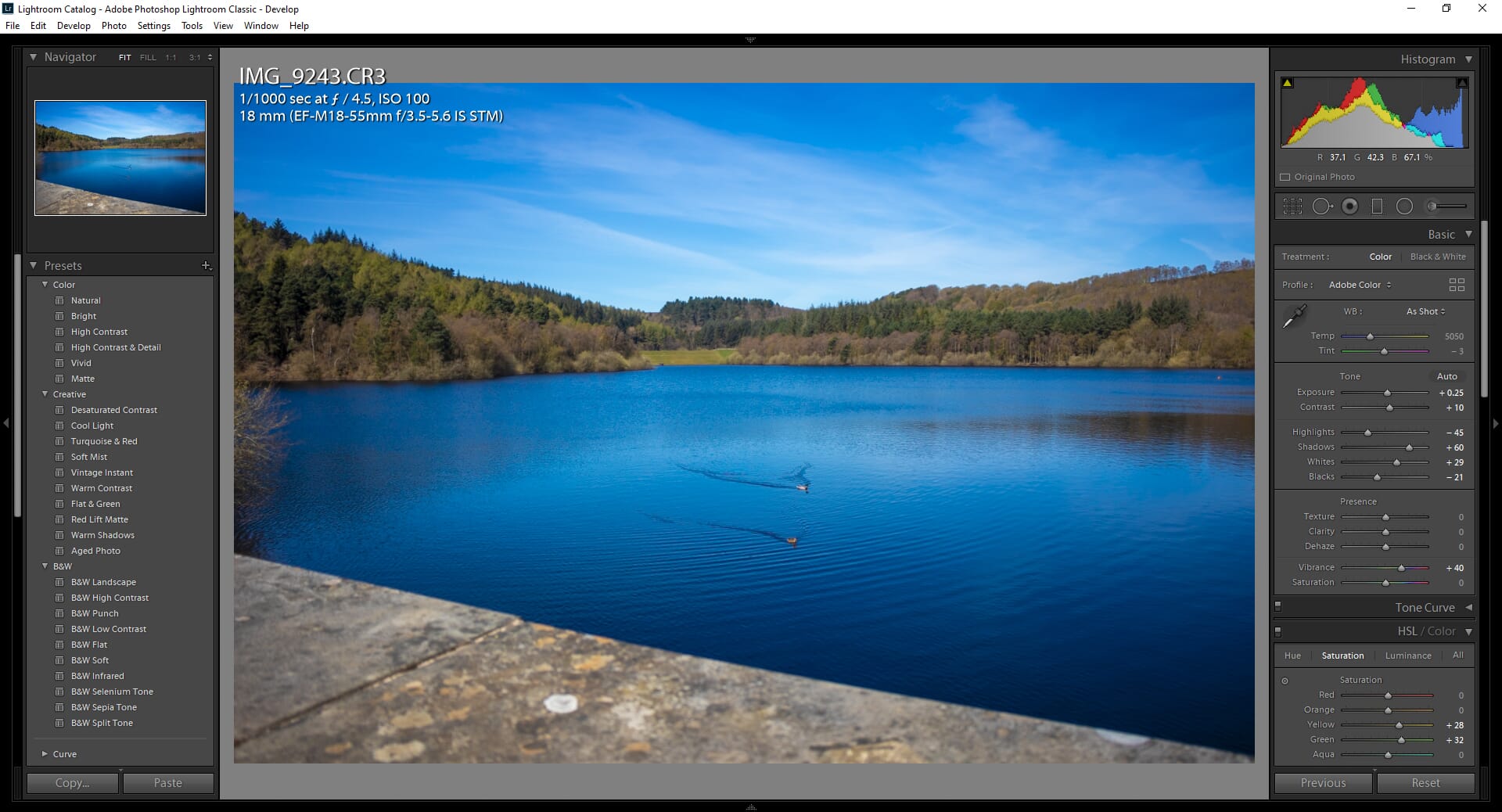 The sharpening tool is found in the Detail tab of editing tools on the right-hand side of Lightroom Classic. This tool has four options: Amount, Radius, Detail, and Masking. These are pretty self-explanatory, and they give a little more control than some other software. You can easily change the options using the different sliders.
We like the masking option, which essentially allows you to control what areas of the photo the sharpening effects. If you select the masking slider while holding the "alt/option" button on your keyboard, it will show a black and white line version of your photo (shown below). This makes it incredibly easy to see where the sharpening is applied.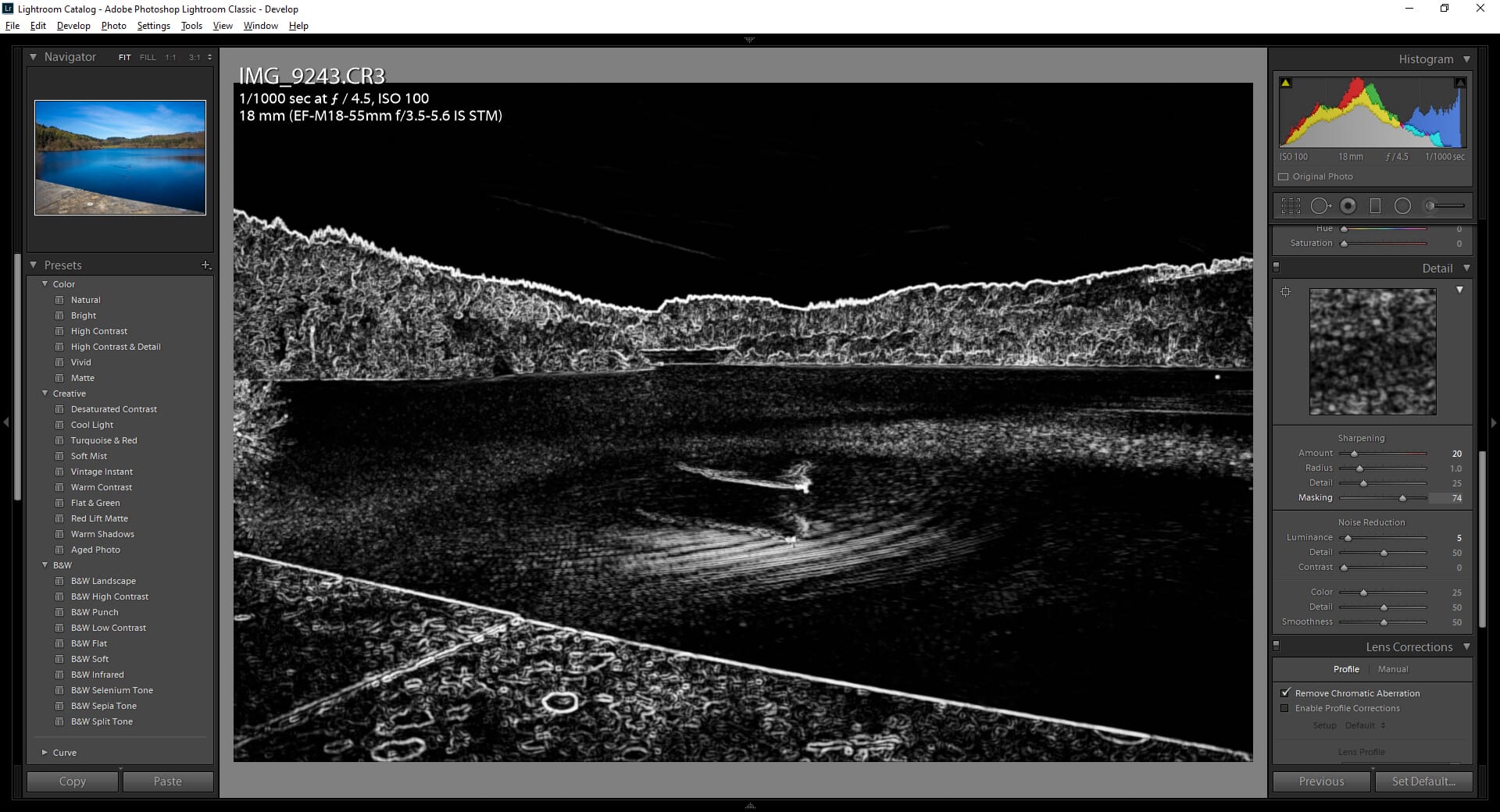 Lightroom Classic is one of the best photo sharpening software choices for those who require a complete editing package. The sharpening tool itself is highly effective, but it is just one aspect of the software. If you need a professional photo editing program with sharpening tools, this is the top choice.
2. inPixio Photo Focus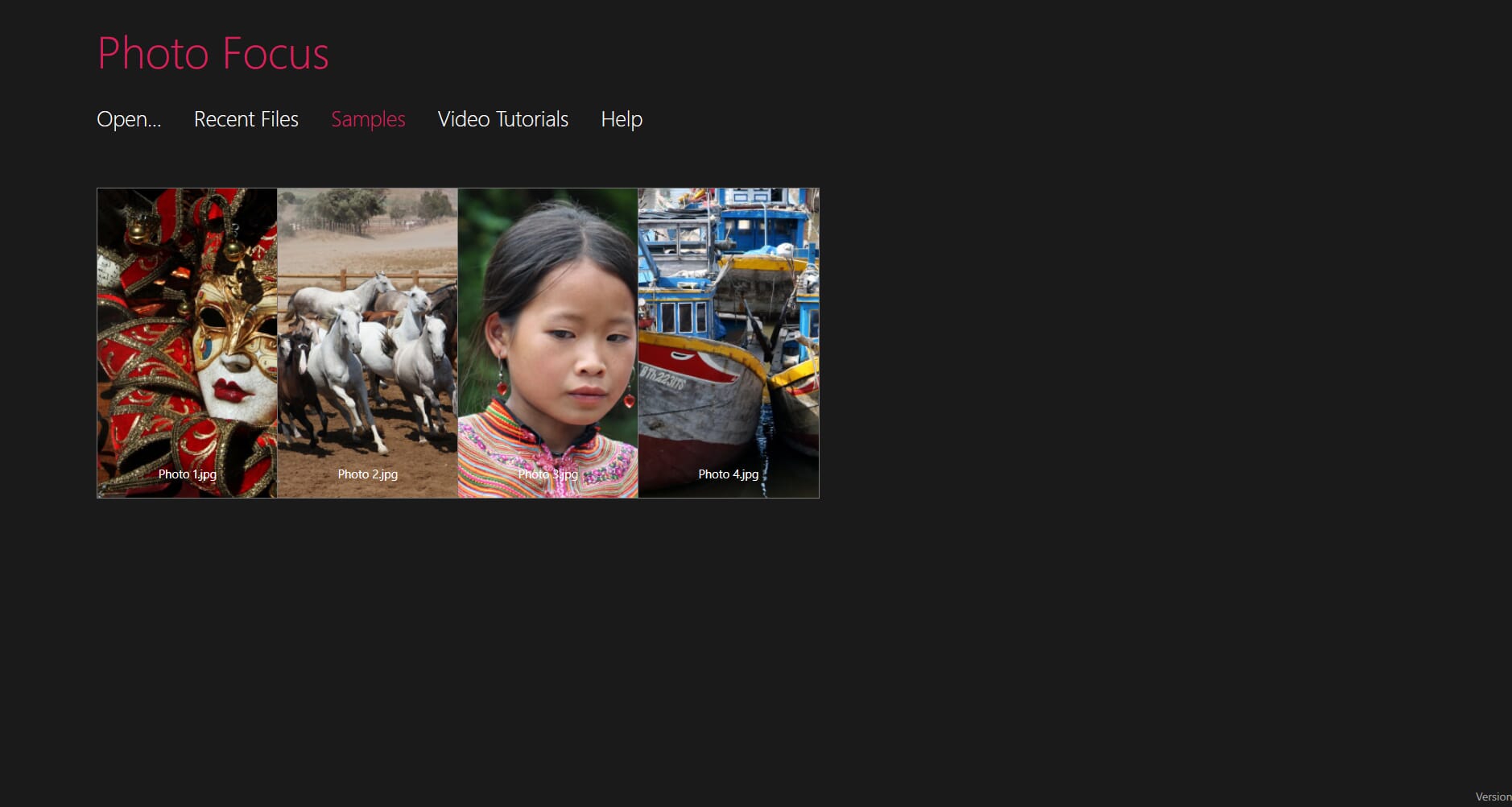 Great for beginners
inPixio Photo Focus is one of the simpler sharpening programs available. It has a clean, simple interface and a sharpening tool that is easy to use.
Pros
Easy to use
Also has other basic editing tools
The sharpening tool is effective
Cons
The sharpening tool doesn't offer as much control as other software
inPixio has a range of photo editing tools, including Photo Studio. They also have a dedicated program for sharpening photos, inPixio Photo Focus.
This is one of the best photo sharpening software choices due to its simplicity and ease of use. inPixio software in general is aimed at beginners, and Photo Focus is no different. The interface is minimalistic, and the tool sets are all clearly defined on the right-hand side. Each tool also has a tooltip if you hover over it, which is a great touch.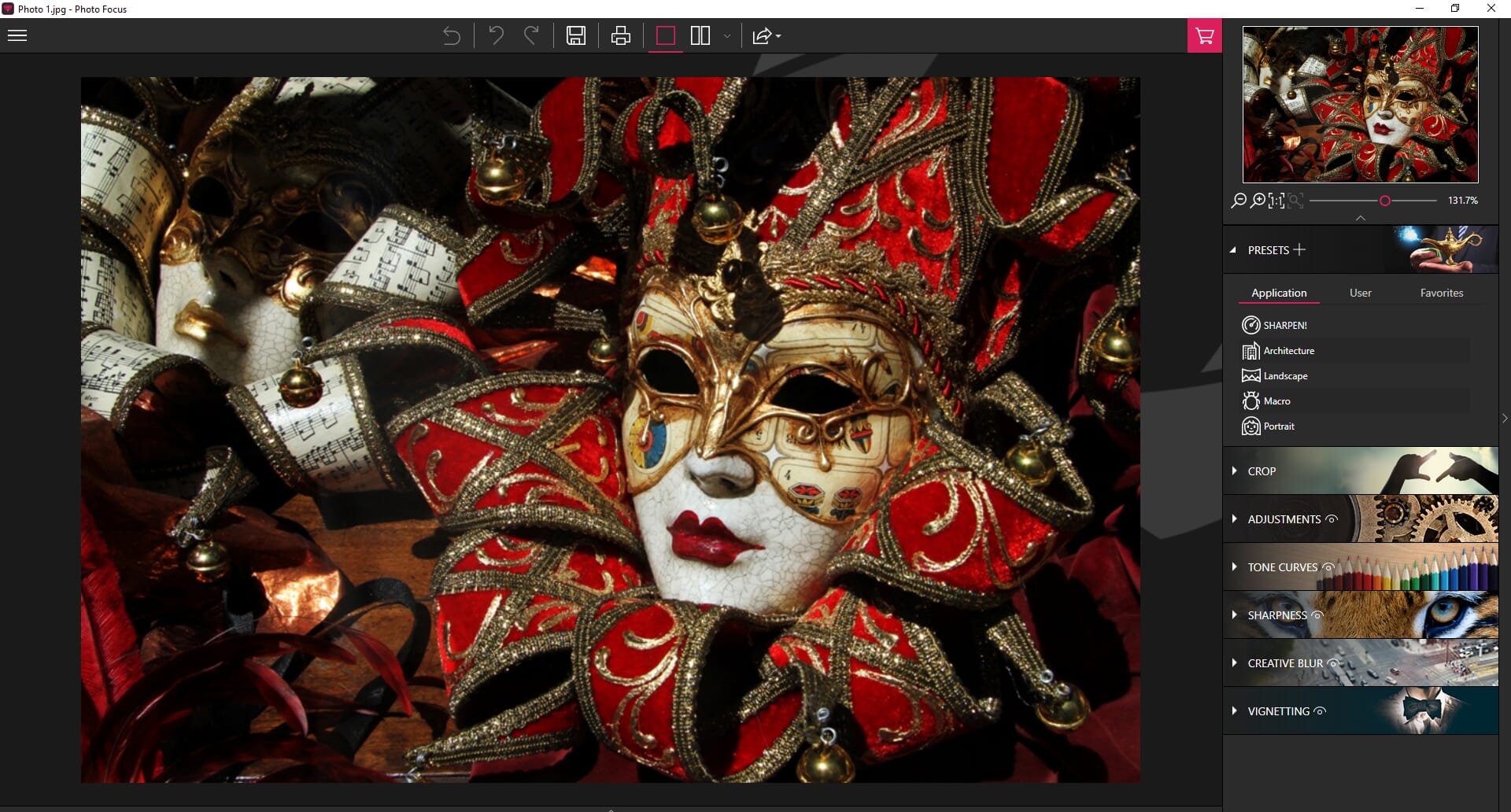 The sharpening tool is incredibly easy to use. Simply choose the amount of sharpening to apply using the top slider, then select the radius of the sharpening using the bottom slider – that's it. We also like that you can change the preview pane to show a before and after preview. This means that you can compare the two photos and gauge the sharpening effectiveness.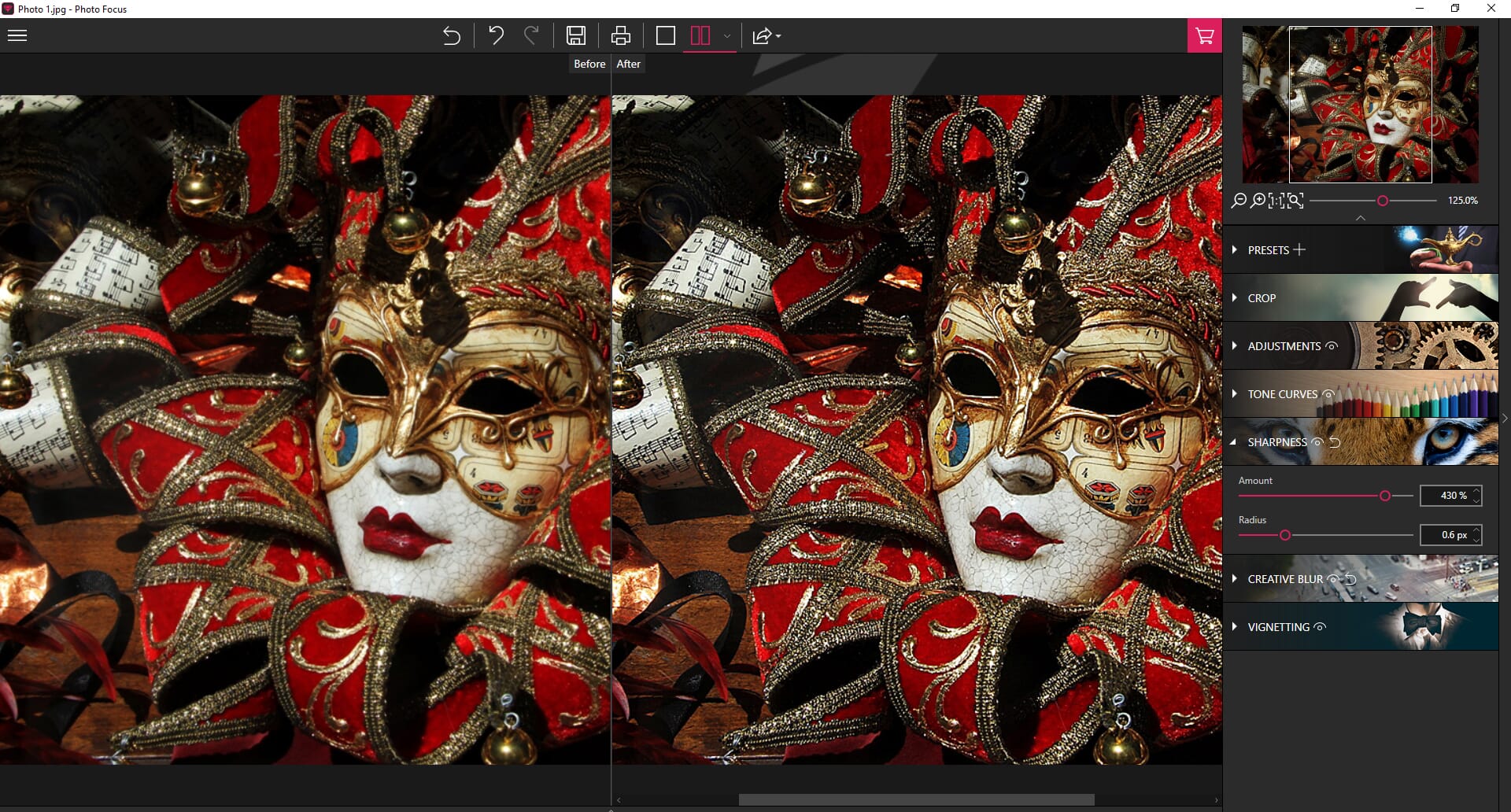 A minor drawback is the price. inPixio Photo Focus is not the most expensive program on this list, but it is $36.20 for a one-off purchase. You must consider if this is worth it for sharpening functionality. The upside, however, is that Photo Focus also has other editing tools, too. There is also a pro version, which costs $43.45 – this adds the ability to save editing presets, along with two other filters.
3. Topaz Labs Sharpen AI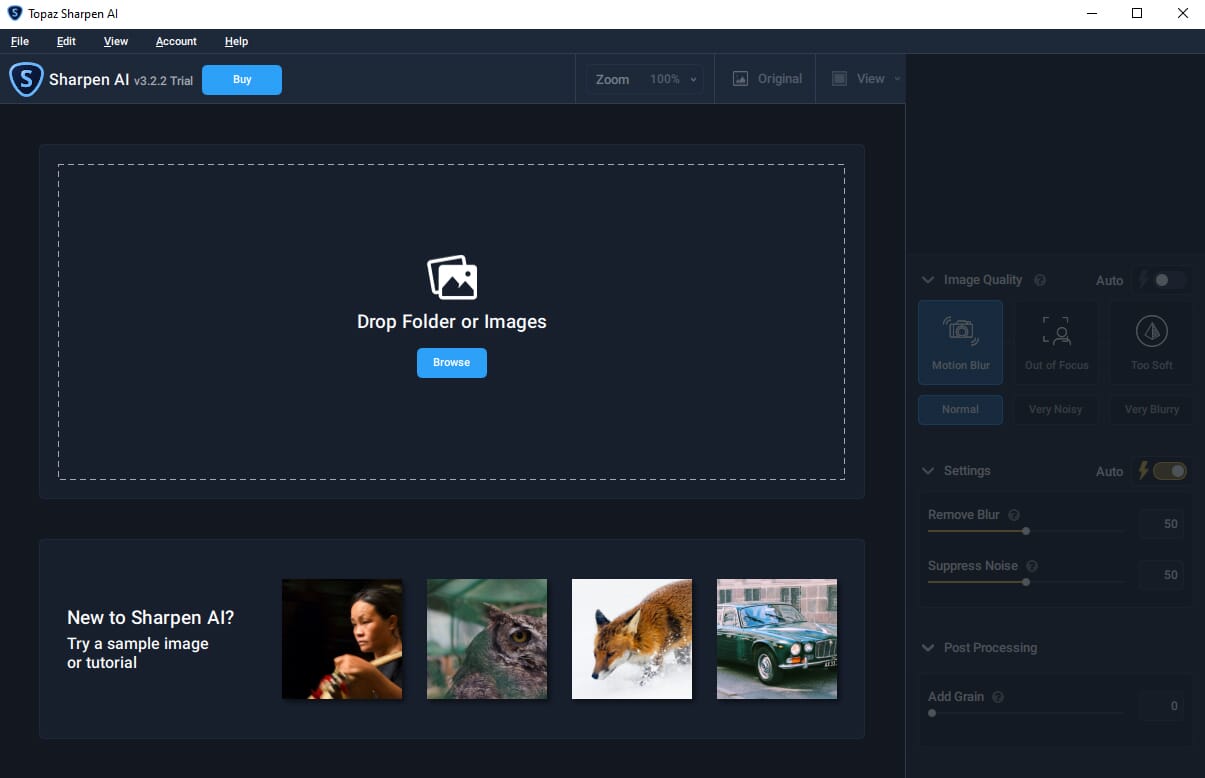 Great for professionals
Topaz Labs Sharpen AI offers a professional solution to sharpening. It uses AI tools to provide the optimal results required for high-end photography.
Pros
The AI technology is effective
The software is also easy to use and largely automated
You can tackle different types of blur problems
Cons
Doesn't have any additional editing tools
Topaz Labs has an easy-to-use suite of photo editing tools that are suitable for all levels. One of the best programs is Topaz Labs Sharpen AI, a dedicated sharpening program that utilizes advanced AI technology to provide excellent sharpening results.
Many sharpening tools simply make the edges of objects crisper. Topaz Labs Sharpen AI takes this one step further and tackles three specific types of blur: motion blur, focus blur, and softness. This means that you can generally get better results without hurting the quality of the original image.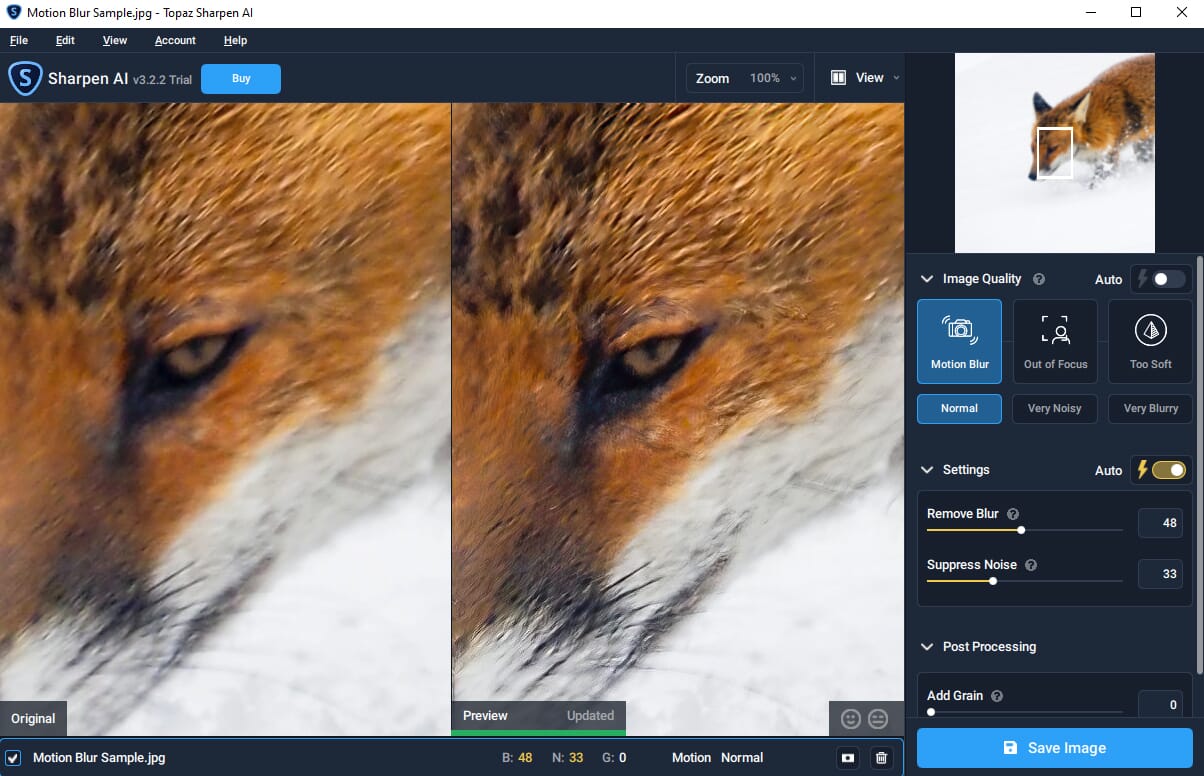 We like that Topaz Labs Sharpen AI offers a relatively automated process. Once you have loaded an image, the AI algorithm will automatically apply sharpening. You can easily change this using the options and increase or decrease the amount of sharpening applied.
In total, there are six defaults to choose from: motion blur, out of focus, too soft, normal, very noisy, and very blurry. You can combine the noise level with the type of blur together to handle different problems.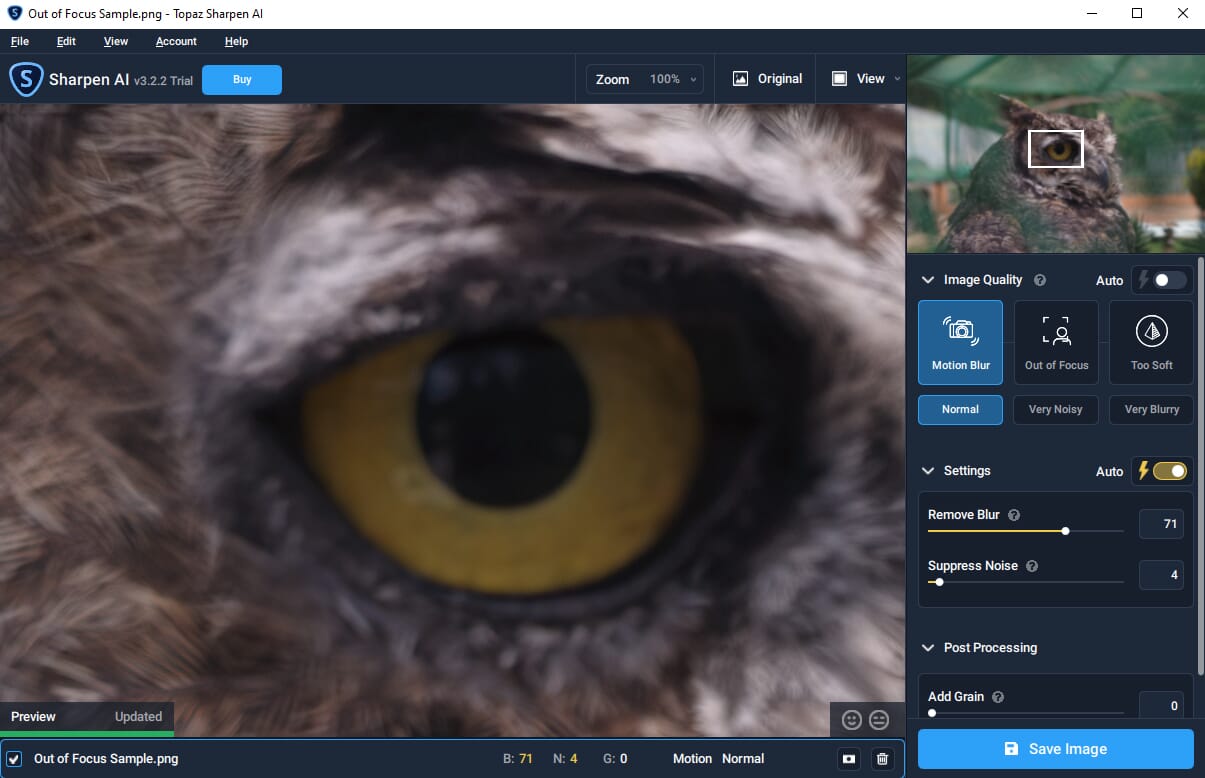 This is undoubtedly an effective tool. The AI sharpening is high-quality and produces some fantastic results. However, the software can be a little slow. It does take a while to apply the AI sharpening filter. Also, Topaz Labs Sharpen AI is available for a one-off purchase of $79.99, and some people may feel that is a little expensive.
4. Adobe Photoshop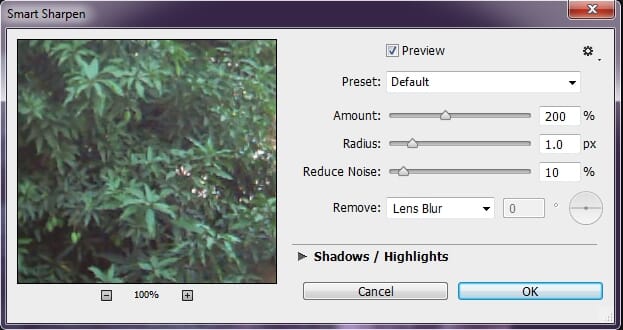 Great for different types of sharpening
Adobe Photoshop has a larger variety of sharpening tools, including the useful AI Smart Sharpen tool that automatically applies the best sharpening filter.
Pros
Various sharpening tools
Includes a wide variety of photo editing tools
Relatively fast and easy to use
Cons
Requires a $9.99 monthly subscription
Similar to Adobe Lightroom Classic, Adobe Photoshop also has a set of sharpening tools. In fact, Adobe Photoshop has a greater range of sharpening tools designed to give you even more control. And Photoshop also features a great set of editing tools, and you can use the various raster graphics tools to create artistic images.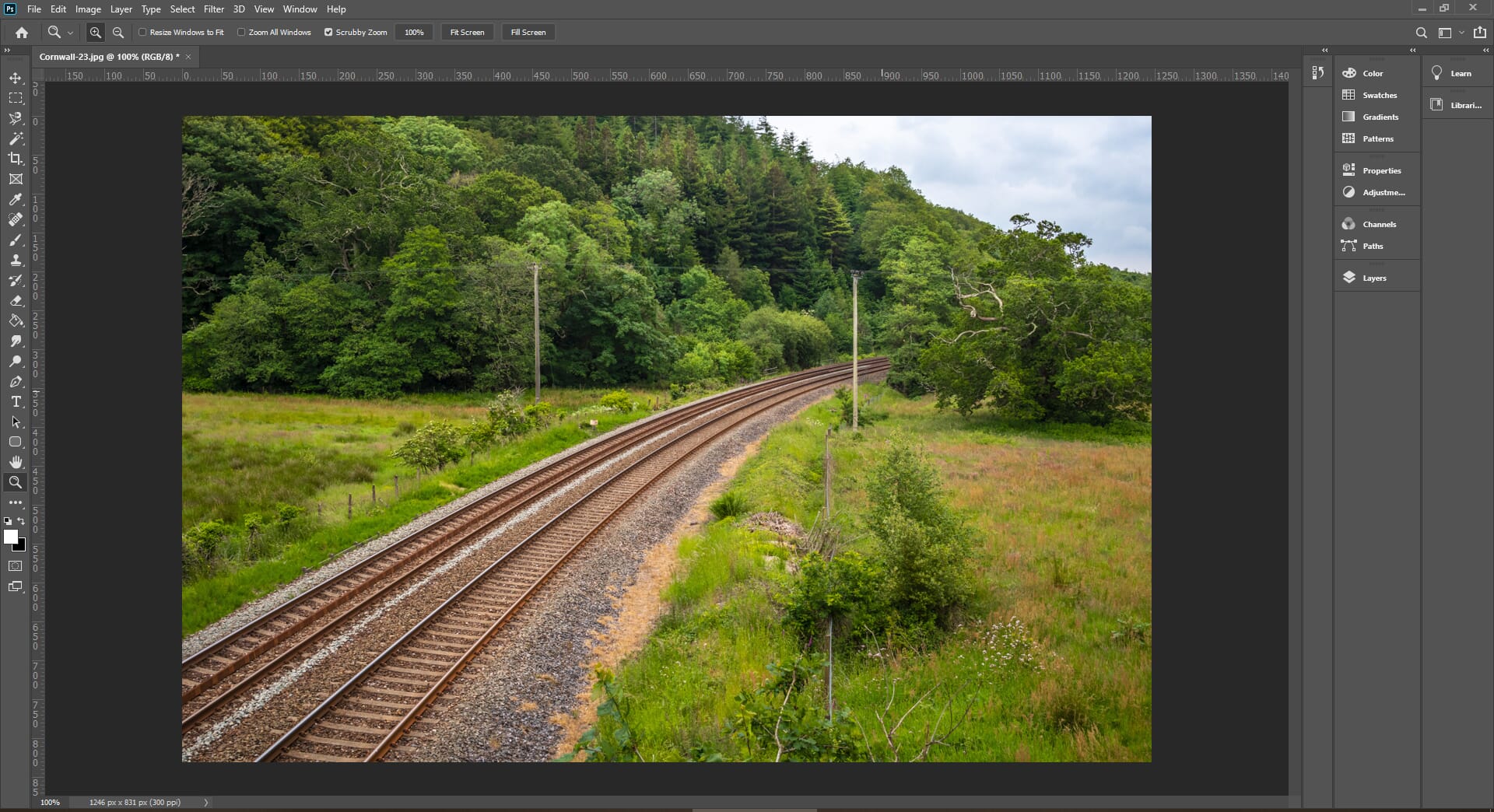 To get sharpening, you must open the filter menu in the top menu bar. Here, you have a variety of different sharpening tools including Sharpen Edges, Shake Reduction, and Sharpen Mask. This gives you fantastic control and allows you to tackle a range of common blur problems with your photos.
The Smart Sharpen tool is one of the best available. This uses AI technology to automatically sharpen your entire image. This tool works fast, and once you have opened it, it immediately applies the filter so you can see a live preview. If you feel the sharpening is too strong, you can easily change the parameters. Alternatively, you can use basic Photoshop sharpen tools to apply simple but effective sharpening passes to your photos.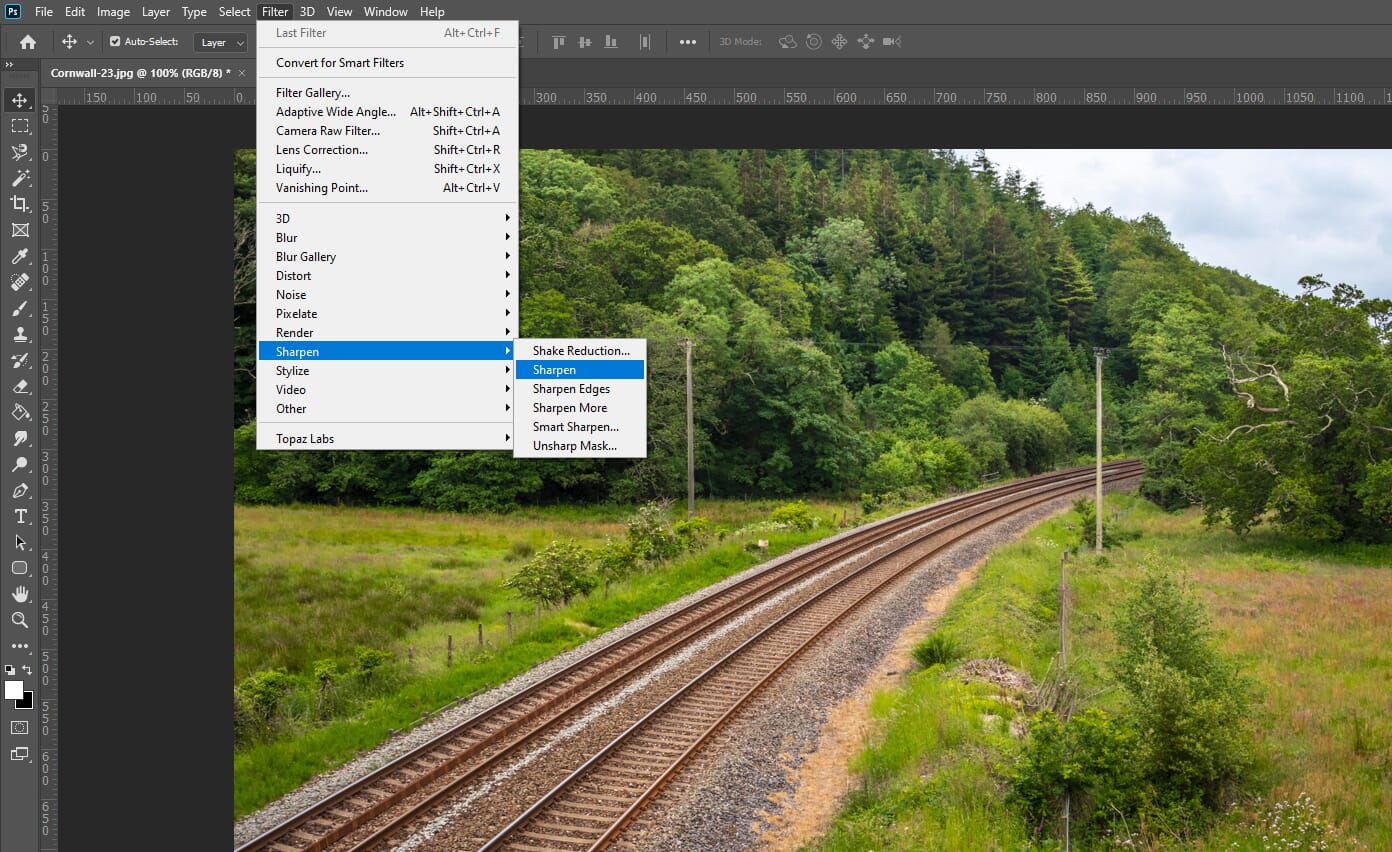 Adobe Photoshop is definitely a great program for sharpening. However, one must consider the monthly subscription cost. The cheapest package currently available is the Adobe Creative Cloud Photography Plan. This costs $9.99 per month and includes both Lightroom Classic and Photoshop, plus 20 GB of cloud storage.
5. AI Image Sharpener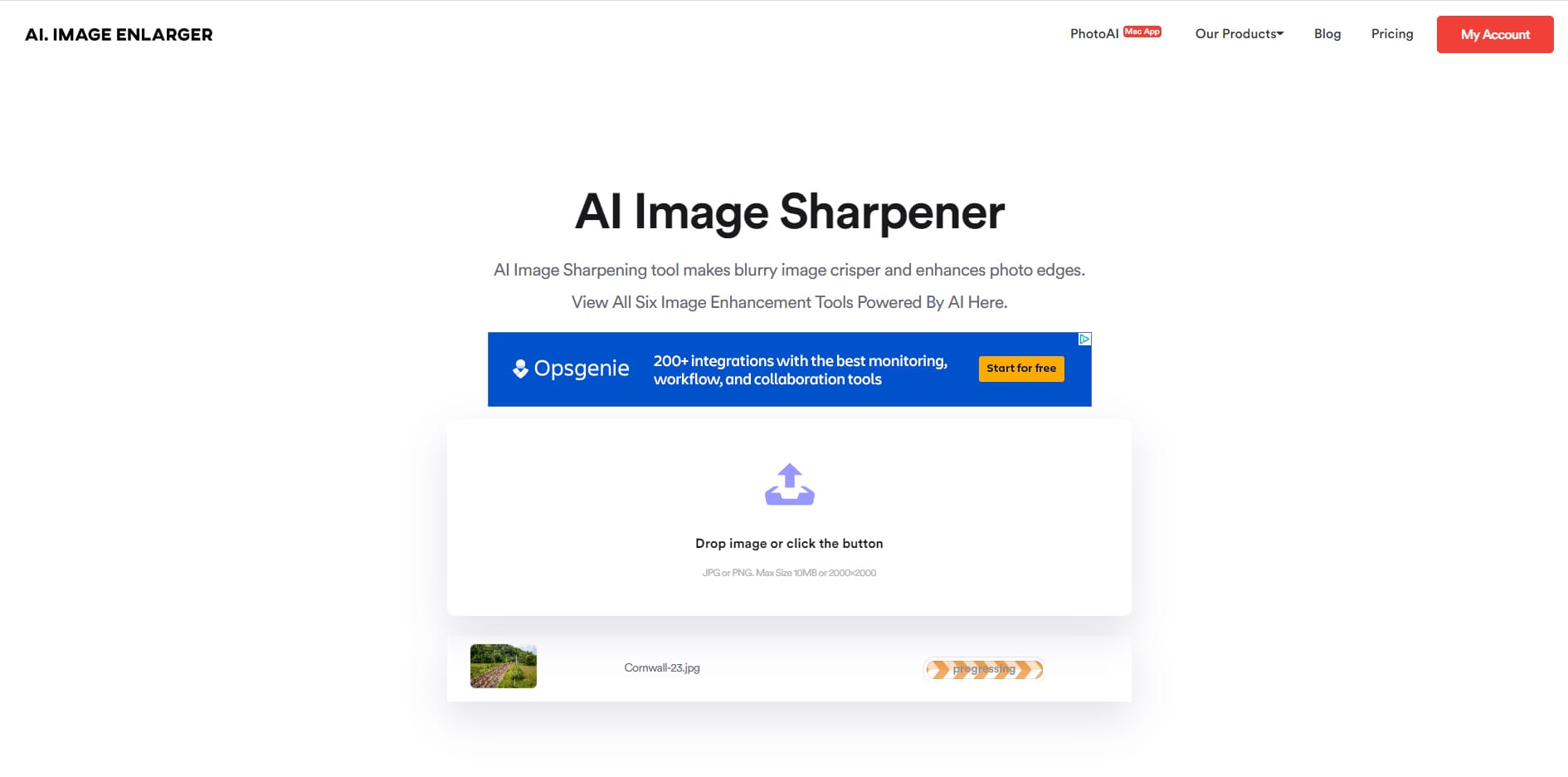 Great for occasional use
AI Image Sharpener is a basic web browser tool that is ideal for those who may occasionally want to sharpen their images.
Pros
No software download required
Easy-to-use tool
Cons
No control over the level of sharpening
Did you know that you can find some sharpening tools online? AI Image Sharpener is a web browser tool and part of the imglarger suite. This company provides a range of online image enhancement tools including image enlarging and noise reduction.
To use AI Image Sharpener, you must first create a free account. This is a simple process and should take only a few minutes. The free account does have limitations, however. For example, the maximum photo dimension and size you can upload is 1200 x 1200 and 5 MB. As a result, this web browser tool is only suitable for basic use and for those who occasionally want to sharpen the odd photo.
The browser tool is easy to use. All you have to do is log into your account, open the sharpening tool, and upload your photo. The AI algorithm will then automatically apply a sharpening filter. The results are okay; it essentially applies a sharpening pass to the entire photo. The only downside is that you cannot customize the amount of sharpening added.
6. Blurity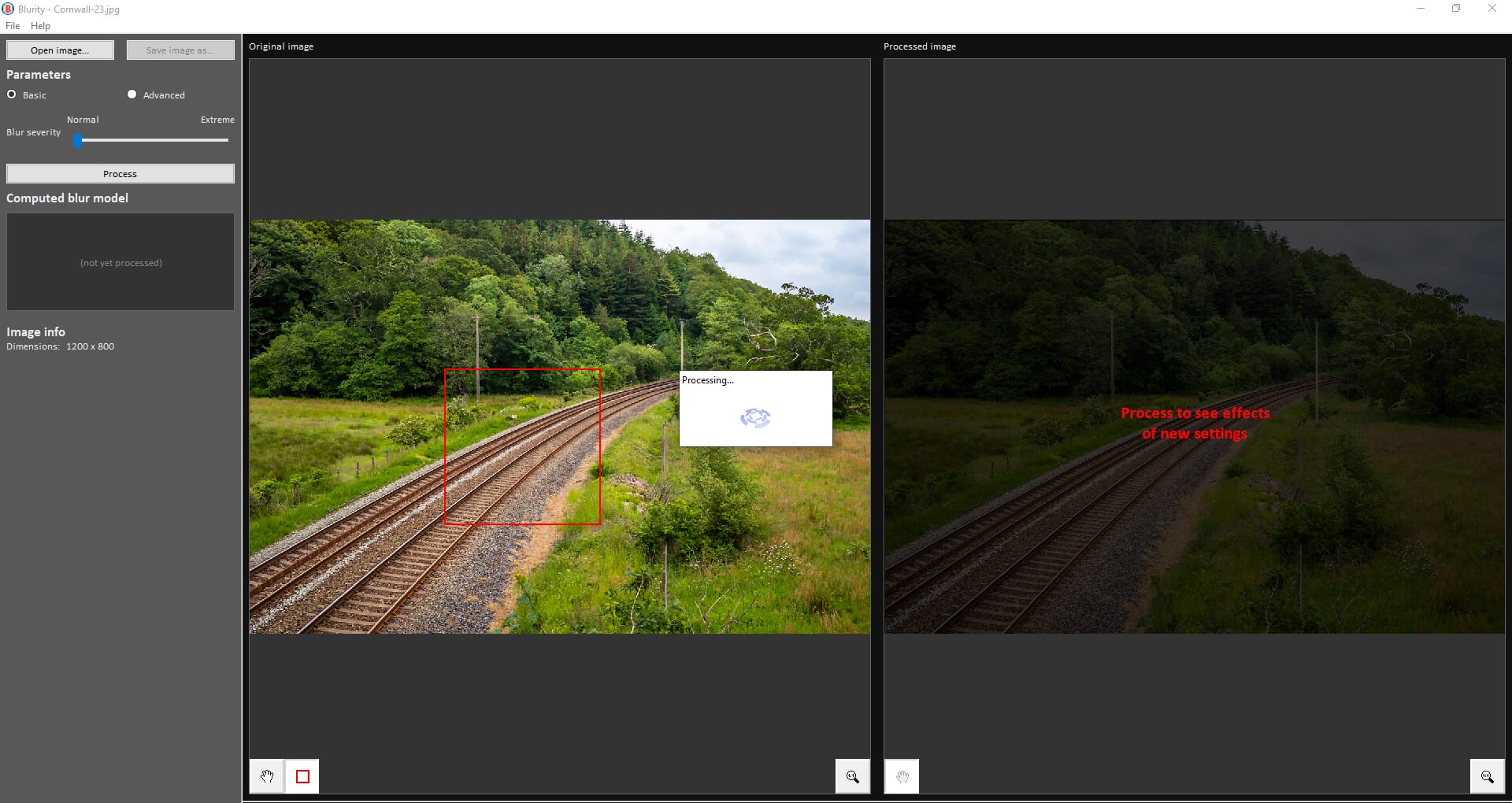 Great for reducing motion blur
Blurity is well suited for sharpening images that have noticeable motion blur.
Pros
Fast and intuitive software
Great for tackling motion blur
Requires minimum system resources
Cons
Results can vary if you select the wrong input area
One of the best photo sharpening software options available for basic and simple use is Blurity. This is a dedicated sharpening software and there are both free and paid versions. The free version does have limited usage, while the paid version is available for a one-off purchase price of $79.99. For what it does and the quality, some may find this expensive.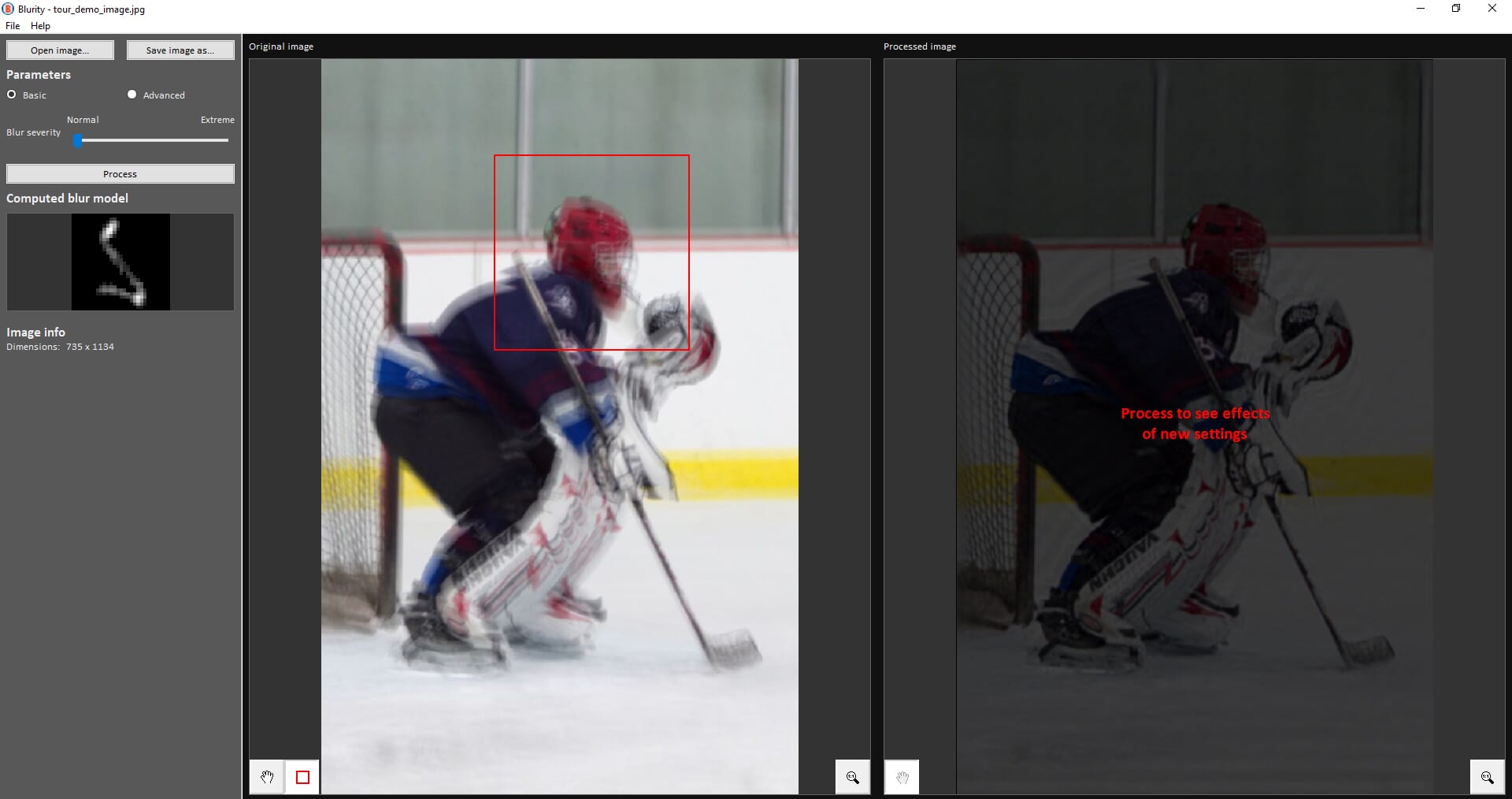 We do like the simple interface of Blurity and the initial tutorial that it provides. Make sure that you read and follow the tutorial, as this will explain exactly how to use it.
First, you must first open your desired image. Next, you must select an area of the photo that requires sharpening – i.e., an area that has a noticeable blur. With the area selected, press the proceed button. This will analyze the photo and apply the sharpening filter.
The results can vary greatly. For example, if you choose a part of the photo that has minimum blur, the end result could look terrible. As a result, this sharpening software works better for photos that have noticeable motion blur.
7. Focus Magic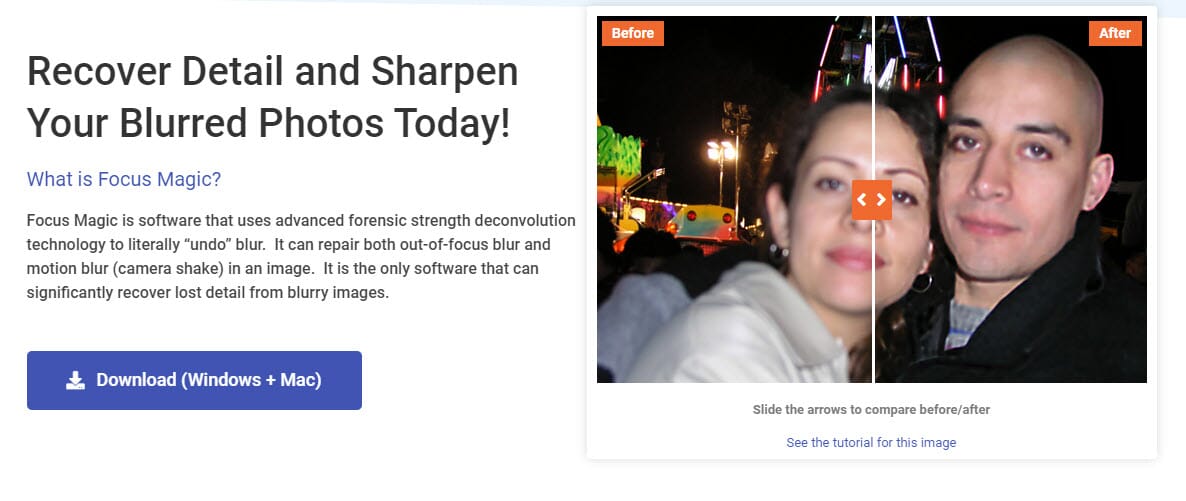 Great for advanced sharpening
Focus Magic has a varied set of sharpening tools that give you greater control over the process.
Pros
Great results
Has a range of sharpening filters
Can improve images with motion blur
Cons
Not suitable for beginner use
Aside from standard sharpening, there is some software that allows you to use advanced sharpening techniques. One such software is Focus Magic. Focus Magic uses advanced forensic strength deconvolution to effectively undo motion blur and other types of blur. This means it can be used to sharpen images, repair out-of-focus photos, and improve motion blur/camera shake.
There is a free version of Focus Magic; however, you can only use this for up to 10 images. Once you have sharpened/saved 10 images, you must register (otherwise, the export function is disabled). The software is available for a one-off cost of $65.00, which is on par with most of the other photo sharpening tools listed above. Also, considering that it does provide advanced control and tools, professional photographers may find the cost justified.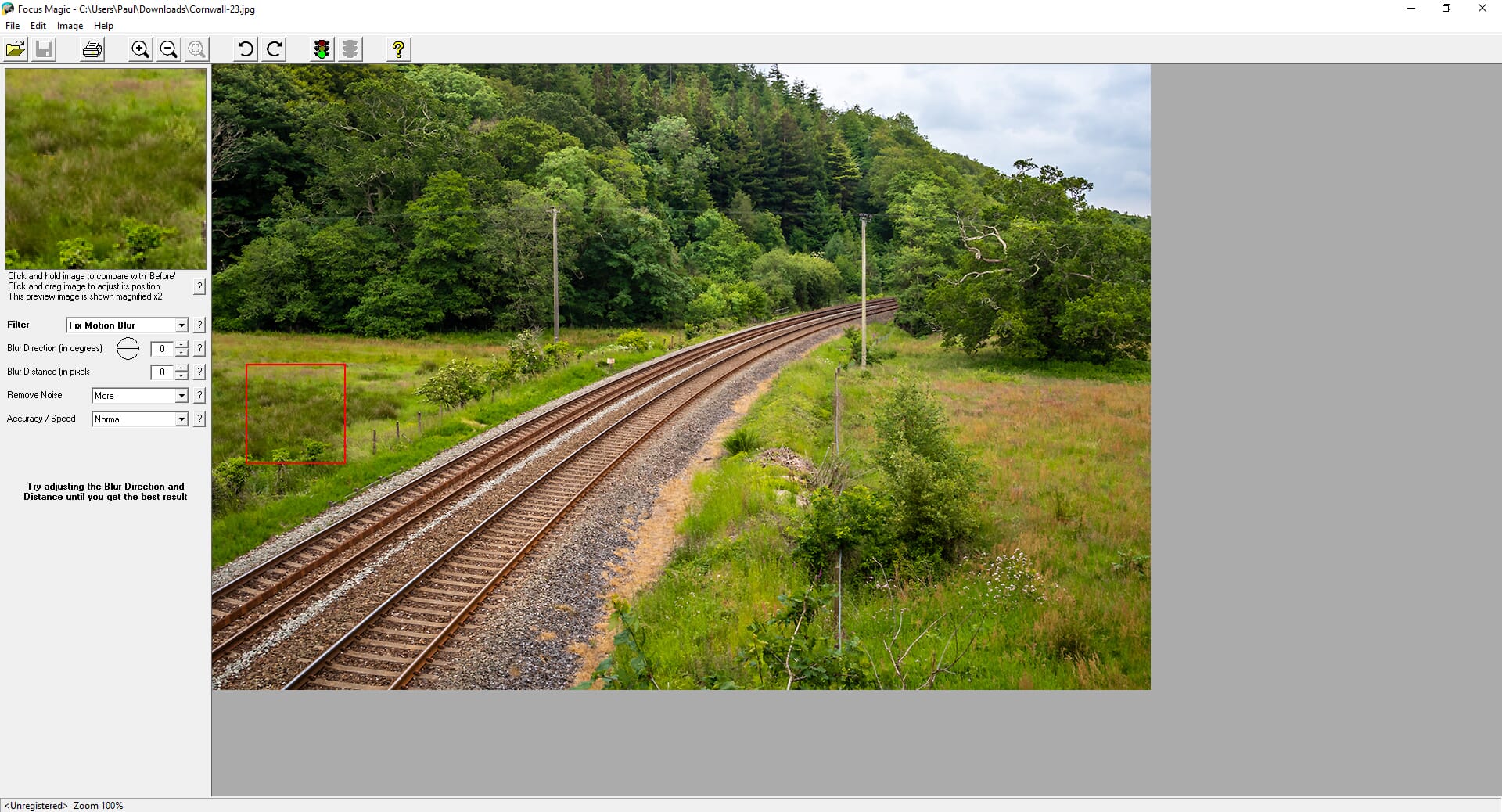 The interface is simple, but the tools do ideally require some knowledge of photography and blur. You can select from several sharpening filters including Fix Motion Blur, Increase Resolution, and Despeckle. With each of these filters, you have other options. For example, when using the Fix Motion Blur filter, you can choose the blur direction in degrees.
Due to the complexity of this software, it may not be suitable for beginners. However, if you require greater control over the sharpening process, Focus Magic is a good choice.
Which Is the Best Photo Sharpening Software for You?
The perfect photo sharpening software can greatly improve the quality of your images. You could use any of these programs to reduce things like motion blur before a comprehensive processing session.
But which software is right for you? If you want a dedicated photo editor that also has sharpening tools, something like Adobe Lightroom or Adobe Photoshop is a suitable option.
Alternatively, if you want dedicated software that is easy to use, basic programs like inPixio Photo Focus or Topaz Labs Sharpen AI is a good choice.
Lastly, if you want advanced sharpening tools, a detailed program like Focus Magic could be a great option.