Even with advancements in camera technology, noise is still a serious issue for photographers. We've all taken a beautiful low-light photo only to find that it's virtually unusable because of the intense background noise.
All is not lost, though! We're lucky to have access to superb software that can reduce noise without damaging the overall image quality. These programs don't require any specialist knowledge, and they're easy to use, too.
If you constantly struggle with noise and want a powerful solution, we've handpicked nine of the best noise reduction software programs available in 2023. This list includes dedicated software for serious work as well as general photo editing software that boasts effective noise reduction capabilities and is perfect for hobbyists.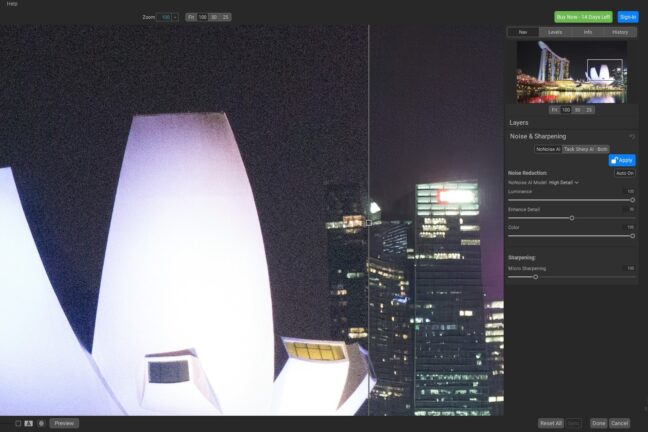 The Best Noise Reduction Programs in 2023:
When you buy through links on our site, we may earn a commission at no cost to you. We evaluate products independently. Commissions do not affect our evaluations.
1. Topaz Labs DeNoise AI
Our Pick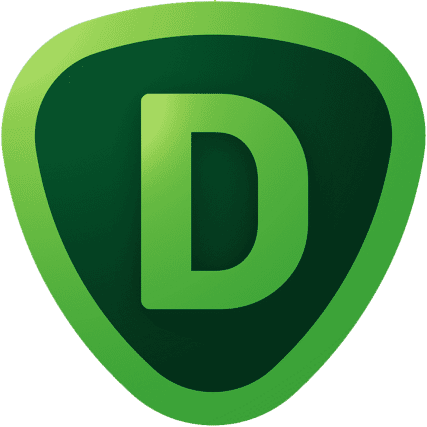 The best standalone software
Topaz DeNoise AI is an amazing option if you want a standalone product that offers excellent control over the noise reduction process.
Pros
Easy to use
Available as a Lightroom and Photoshop plugin
Great control over noise reduction
Sleek interface
Cons
No additional functionality
Our top pick is Topaz Labs DeNoise AI; it's a great choice if you want a powerful standalone noise reduction program. The software has gone through many iterations, and the latest utilizes advanced AI to help maintain image quality while still reducing noise effectively.
The interface is simple and the controls are easy to understand. The biggest drawback is that it only offers noise reduction. You'll need another program if you want to edit your files more comprehensively (though DeNoise AI is offered as a Lightroom and Photoshop plugin, which makes it easy to incorporate into a general editing workflow!).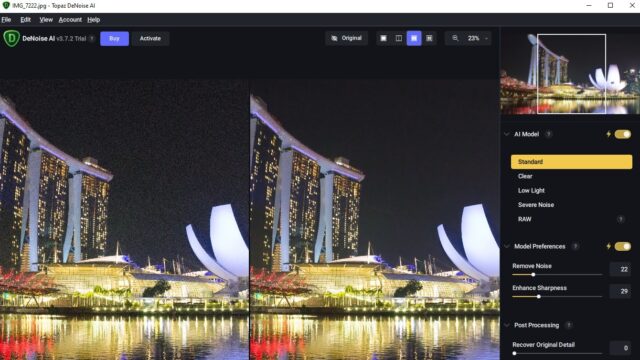 On the right side, you have a range of noise reduction options. The AI Model panel allows you to run specific noise reduction filters such as Low Light and Severe Noise. I thought this was excellent as it made it easy to handle groups of photos that required similar amounts of denoising during my tests.
You can then choose the level of noise reduction and sharpness together with how much of the original detail you want to retain. It really gives you full control and allows you to tailor the noise reduction to suit different photos as opposed to applying a blanket noise reduction process that may yield random results.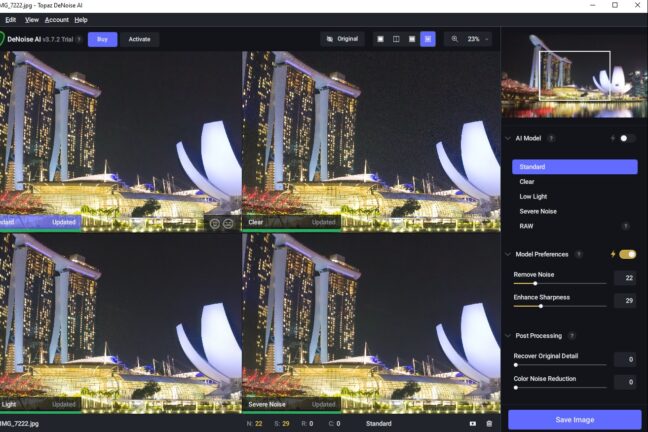 The comparison view is great for determining how to proceed with each photo. It splits the preview pane into four sections, and each one shows the image with a different AI model applied. This is especially useful for identifying the best AI model when processing several images with different levels of luminance and color noise.
2. DxO PureRAW 3
Also Great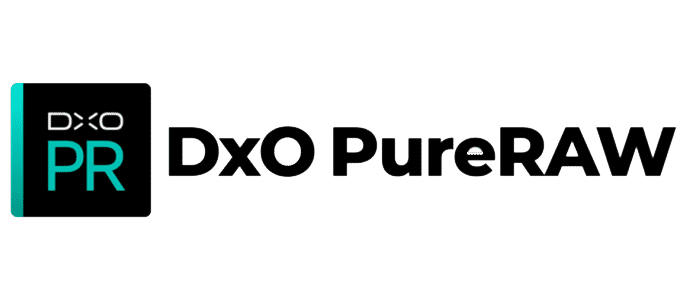 Great for batch processing
DxO PureRAW 3 allows you to clean up multiple RAW files prior to editing in other post-processing software.
Pros
Simple batch processing interface
Great for working with large collections
Amazing DeepPRIME XD noise reduction
Cons
The generated DNG files are incredibly large
DxO PureRAW 3 is a batch processing tool designed to enhance the basic quality of your RAW files before you run them through separate photo editing software.
Related Post: DxO PureRAW 2 Review
Here's the standard workflow: You open DxO PureRAW 3, select your photos, run the batch processing tool, and new DNG RAW files are created. You then load these files into software such as Lightroom Classic or ON1 Photo RAW for further editing.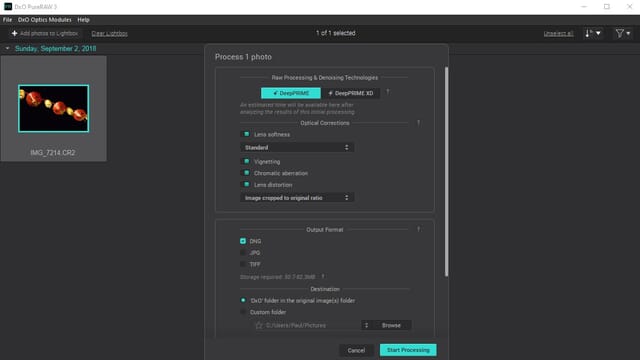 This might seem inconvenient, but it's a relatively simple process and the software makes it incredibly easy. The interface is intuitive, and you can select the batch processing options quickly. For noise reduction, DxO PureRAW 3 has the PRIME, DeepPRIME, and DeepPRIME XD tools, which all offer fantastic AI-enhanced processing.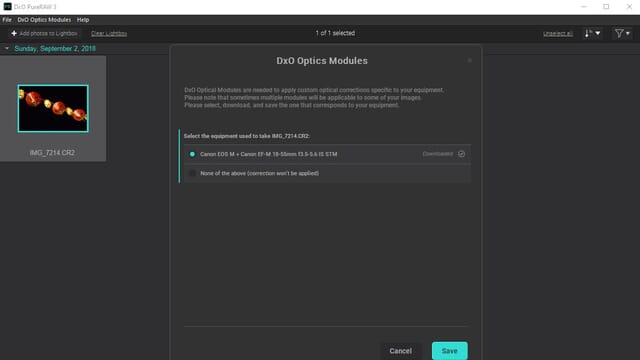 In my tests, the DeepPRIME XD (Extra Detail) tool displayed the most advanced noise reduction by far, and while it did take a decent amount of time to render, the results were amazing. PureRAW doesn't just do noise reduction, though; the program also offers corrections to handle problems such as vignetting and chromatic aberration, so it's great for anyone looking to enhance the quality of their files.
3. Nik Dfine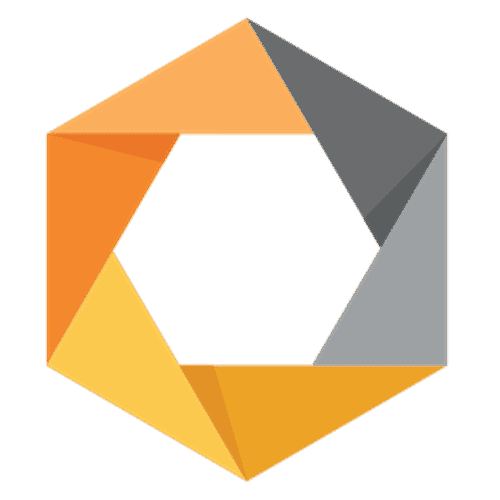 Great for selective noise reduction
Nik Dfine works great as a plugin and uses AI to reduce noise only in the areas that need it.
Pros
Selective noise reduction
Simple and fast application
Works great as a plugin
Amazing results
Cons
You must buy the entire Nik Collection
Nik Dfine is part of the Nik Collection, which consists of plugins that offer specific editing functionality such as sharpening and color effects. Dfine is a dedicated noise reduction plugin, and it can be used with Adobe Lightroom Classic and Adobe Photoshop CC, though you can also use it as a standalone program.
Related Post: Nik Collection 4 Review
The noise reduction processing is highly advanced and uses sophisticated AI algorithms to target problem areas and preserve image details. It takes just a few clicks to apply the denoising, which means you can blast through large volumes of photos easily.
What's especially impressive is that the AI first analyzes the photo and determines where noise reduction is needed, whereas most noise reduction tools simply apply a blanket reduction. As Dfine targets only noisy areas of each file, the original image quality is better preserved.
What's more, if you feel the AI hasn't effectively identified areas in need of noise reduction, you can use control points to refine the selection. When testing the tool, I found the different viewing options invaluable. I especially liked the dual view where you can see the original and the noise-reduced version of the photo at the same time.
Working in Photoshop, I found that once I opened the Nik Collection pane, I could select from several preset noise reduction options like Sky, Background, and Heavy Noise. This really sped up my workflow and allowed me to make quick adjustments that were often still targeted to specific areas of the image.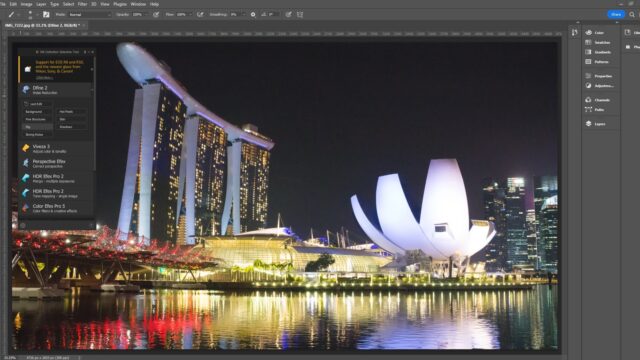 Overall, it's an excellent plugin. The main drawback is that you must buy the entire Nik Collection to gain access to Dfine, and it doesn't come cheap.
4. ON1 NoNoise AI 2023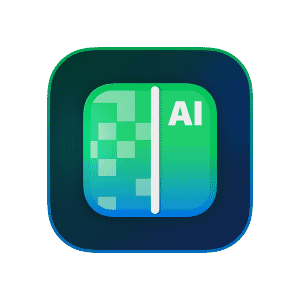 Great as a plugin
ON1 NoNoise AI 2023 is available as a plugin for various editing programs and offers excellent AI-based noise reduction.
Pros
Available as a plugin or a standalone product
Effective detail preservation
Additional sharpening tools
Cons
Can struggle to remove noise in certain scenarios
ON1 NoNoise AI 2023 is a dedicated noise reduction program that relies on advanced AI to get the best results. It can be used as a standalone application or as a plugin.
The plugin is compatible with Photoshop CC, Photoshop Elements, Lightroom Classic, Apple Photos, Affinity Photo, Corel Paint Shop Pro, and Capture One Pro. This makes it incredibly versatile, and the one-off purchase price is a bargain, too.
ON1 NoNoise AI 2023 offers support for over 800 cameras and the most common image file types, including various RAW formats. When applying noise reduction, it leans heavily on AI, and the end results are fantastic. The noise is removed, but thanks to the AI technology, the details are kept and image quality doesn't degrade.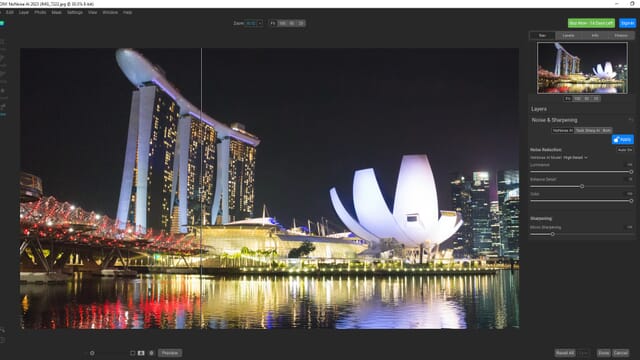 There is also a sharpening tool to deal with any softness. Despite the complexity of the program, the tools work fast, and you have a great level of control.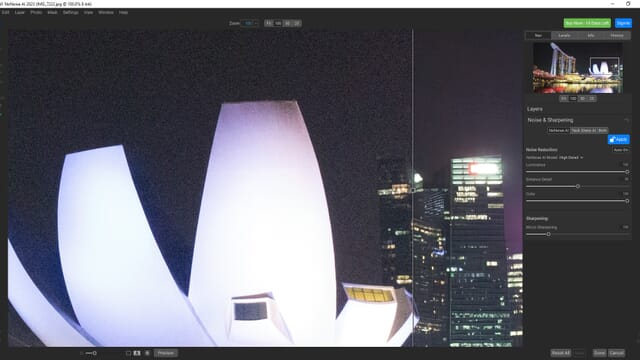 I spent a while testing the AI noise reduction, and I found that the split before/after preview was invaluable as it allowed me to clearly see improvements. While I generally felt the tools were consistent, there were a couple of instances where the program struggled to remove all the noise from larger areas (e.g., a night sky).
5. Adobe Photoshop Lightroom Classic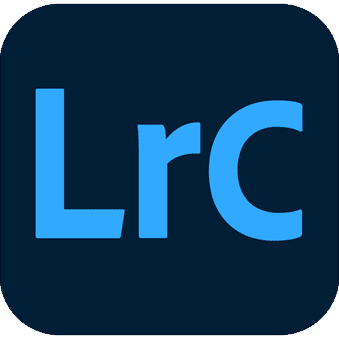 Great as a general editor
Adobe Photoshop Lightroom Classic is the best option if you want a complete editing program that also has solid noise reduction capabilities.
Pros
Simple noise reduction toolbar
Full photo management capabilities
Quick workflow with batch editing
Cons
Limited control over noise reduction
Not as an advanced as dedicated software
If you're looking for photo editing software that also offers noise reduction, Adobe Photoshop Lightroom Classic is the best program to buy. While I previously felt that Lightroom Classic was merely average, Adobe recently released an update with a new AI Denoise tool, and it makes a huge difference.
In addition to the traditional noise reduction sliders, you now have a Denoise button. Simply give it a press to open the dialog box with the new AI noise reduction workflow. I found it a little clunky and unresponsive at first, but it's very easy to use as there are only a few options to choose from.
The results are pretty incredible, and the only downside is the processing time. Enhancing a basic RAW image (displayed below) took 15 minutes!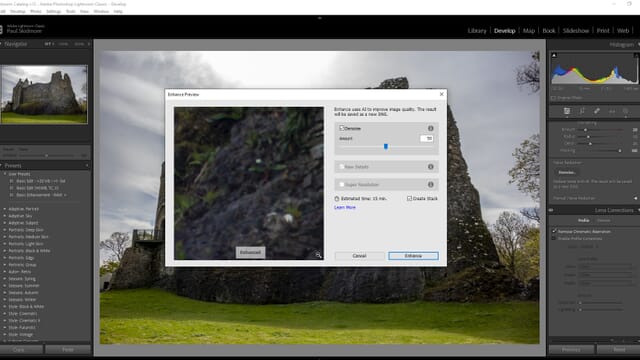 Considering the advanced AI technology, I guess this makes sense, but the process is still quite slow compared to the competition. On the other hand, I got some great results in my tests (even with photos taken at higher ISO settings such as 25,600).
The software is also great for photo organization. You can assign keywords to files, manage folder hierarchies, and just generally keep your image library in order. Additionally, editing in Lightroom Classic is very easy, and the program has batch-processing features to speed up your workflow!
6. Adobe Photoshop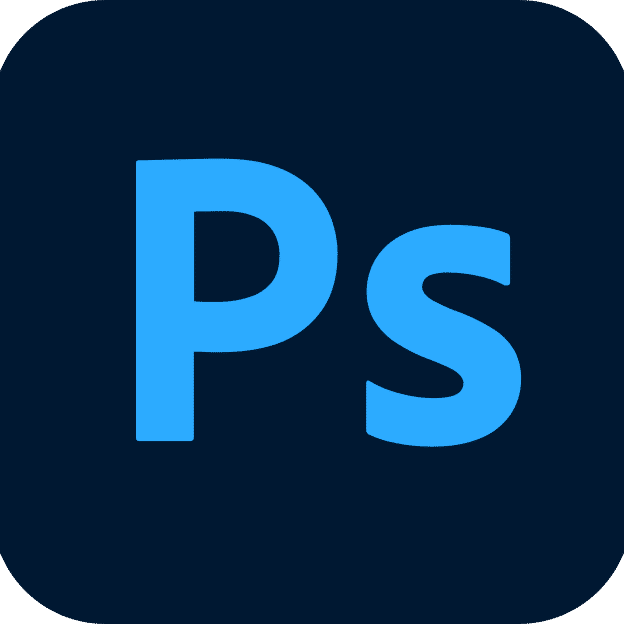 Great for flexible noise reduction
Adobe Photoshop offers several noise reduction methods and includes advanced options to reduce noise using channels.
Pros
Powerful photo editing capabilities
Excellent raster graphics tools
Simple noise reduction processes
Cons
Not as effective as other software
The interface can be overwhelming for beginners
Adobe Photoshop is a great editor that contains several capable denoising tools. It doesn't pack the power of dedicated denoising software, but you do get the benefit of a fantastically simple noise reduction process.
Just head to Filter > Noise > Reduce Noise, and you'll find several handy sliders for effective denoising. You have a slider to change the strength of the noise reduction, and there's a Preserve Details slider to minimize any smoothing effects.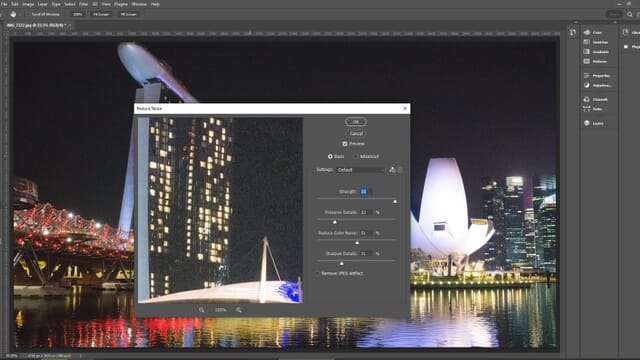 Aside from this basic method, the filter boasts advanced noise reduction options involving channels. I also like working with the Camera Raw plugin (which comes with Photoshop); it gives you access to the same noise reduction tools you can find in Lightroom (minus the AI Denoise option).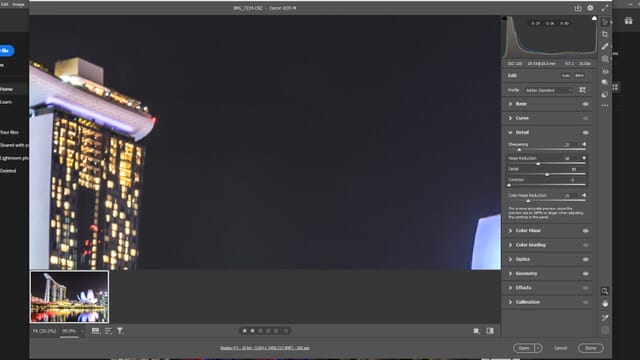 If you want a capable raster graphics program that has excellent general editing tools as well as effective noise reduction options, Photoshop is a fantastic choice, and it performs better than competitor programs like Affinity Photo. Just remember that Photoshop can only be purchased as a subscription, so if that's not your cup of tea, you might want to look elsewhere.
7. Capture One Pro 23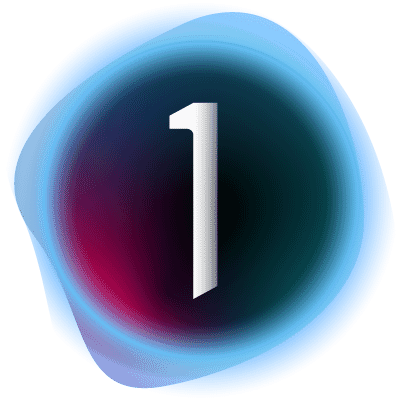 Great for RAW editing
Capture One Pro 23 offers a dedicated noise reduction tool that is easy to use as part of its powerful RAW photo editing suite.
Pros
Simple but effective noise reduction
Extensive photo management tools
Great selective editing
Cons
Can be sluggish
Monthly subscription is not the cheapest
Like Lightroom Classic and Photoshop, Capture One Pro 23 is a processing program that includes a noise reduction tool, so while it's not ideal for folks searching for a dedicated denoising application, if you're in the market for a comprehensive editor, it's a great choice.
When testing the program, I liked how simple the noise reduction tool was to use; you can just drag various sliders to get the level of denoising you want. I also liked that you can save your noise reduction settings as a preset; I did this for the shot displayed below, then used the preset to quickly edit my other photos of the same scene.
Overall, it works really well and gives you a decent amount of control. The program also offers a great set of general editing tools that'll help you get the most out of your RAW images. It supports a vast array of cameras and lenses, and the latest version (Capture One Pro 23) boasts improved image management and better layer editing.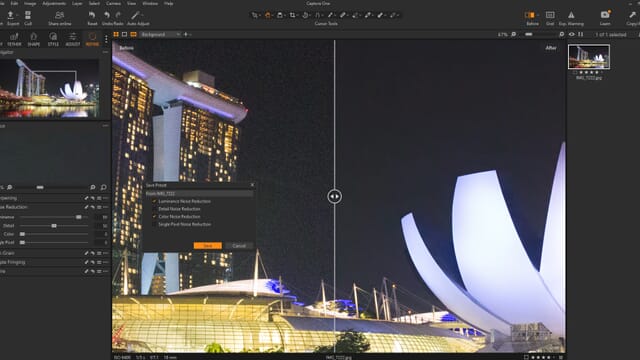 A slight downside is that the monthly subscription is more expensive than a Lightroom/Photoshop bundle. Capture One Pro 23 can also be resource-intensive and does need a powerful editing computer to consistently run smoothly.
8. NeatLab Neat Image

Great as a budget option
Neat Image is an inexpensive standalone program that has a quick and simple denoising process and batch editing capabilities.
Pros
Doesn't need a powerful device to run
Batch processing for large photo collections
Advanced mode available for professionals
Cons
Some images turn out a little smooth
The interface may be confusing
NeatLab Neat Image is an excellent option if you need inexpensive noise reduction software that is capable of batch processing. It's available as a Photoshop plugin or as a standalone program for Windows, macOS, and Linux devices, and there are two versions to choose from: Home and Pro.
The Home version caps the batch processing at 100 images and is unlicensed for commercial use. With the Pro version, you can batch process an unlimited number of files, use your edited photos commercially, and more.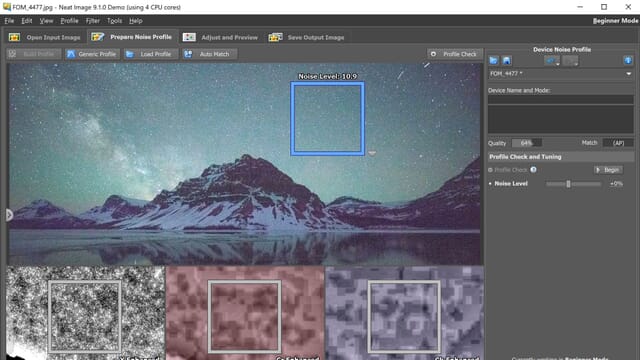 The software looks pretty basic, and it does have a dated interface, but it runs smoothly. Once you get a handle on how the denoising process works, it's really easy to use. To get started, you simply load an image (or multiple images), prepare the noise profile, make final adjustments, and then generate the output file(s).
The program is quite powerful, and it's pretty fast, too. That said, it doesn't completely avoid softening details, so you may want to apply some sharpening with your standard photo editing software afterward.
9. Skylum Luminar Neo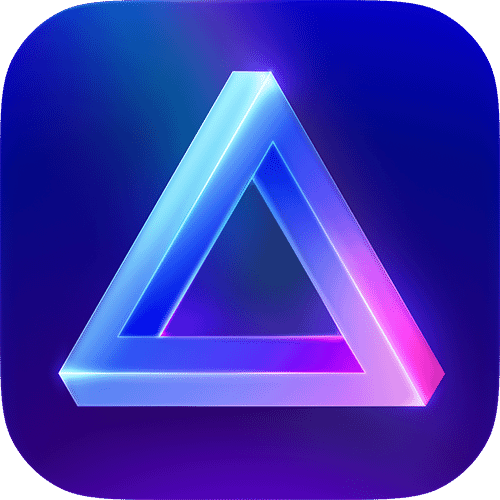 Great for beginners
Skylum Luminar Neo offers AI-powered noise reduction that's extremely easy to apply.
Pros
Simple layout and interface
Excellent AI-enhanced tools
Noiseless AI is easy to use
Cons
Not as effective as dedicated noise reduction software
If you're just delving into photography, you may not want a complex program. That's where Skylum Luminar Neo is a great alternative; it makes noise reduction, and all photo editing, extremely simple.
Luminar Neo is one of the best AI-enhanced processing programs available. Many of the tools, including the denoising feature, rely on AI to give great results with minimal effort on your part.
The Noiseless AI tool is what you use to clean up problematic images, and it reduces noise effectively without degrading the image quality. You can essentially apply the denoising with a couple of clicks, which is perfect for beginners (as well as folks who don't have time to mess around with complex software).
I liked the Boost feature below the Luminosity Denoise and Color Denoise sliders – I used it when I encountered a particularly stubborn patch of noise that couldn't be completely removed with the standard sliders.
I also found the masking tools useful as they let me target areas of my photos for denoising. In other words, you can be selective and avoid potentially softening areas of your photos that don't have noise issues.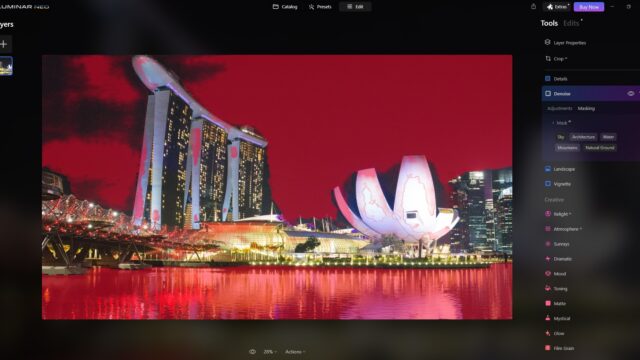 You don't have to worry about dealing with a complicated layout or toolset, either. Skylum likes to keep things simple, and the editing process couldn't be easier (as we discovered when reviewing Luminar Neo). The program doesn't offer tools quite as comprehensive as Capture One Pro 23, nor does it offer noise reduction that competes with Topaz Labs DeNoise AI, but it's an excellent option if you want to get started with photo editing and apply basic noise reduction to your images.
Choose a Program to Remove Noise
When looking for the best noise reduction software, you must consider your goals and interests. If you're a hobbyist and just need basic noise reduction tools, then a comprehensive photo editor with denoising included is the way to go.
Programs like Adobe Lightroom Classic, Adobe Photoshop, Skylum Luminar Neo, and Capture One Pro 23 are all primarily designed for photo editing but have noise reduction tools. They'll allow you to edit photos as a hobbyist and reduce noise effectively.
But if you're a professional or you specialize in low-light photography, dedicated denoising software could be the better pick. Options like Topaz DeNoise AI, DxO PureRAW 3, ON1 NoNoise AI 2023, and Nik Dfine all offer advanced controls and can be used for noise reduction before or after applying edits in a more comprehensive program.