Which Lens to get for Full Frame DSLRs?
Special Focus on EOS 6D Mark II and Nikon D750 DSLR
One of our readers had recently asked us about the best lens choices for two cameras she has zeroed in for real estate photography (see our post on the best real estate cameras).
She has her choices narrowed down to two fine full-frame cameras – the Canon EOS 6D Mark II and the Nikon D750.
She wanted to know which specific lenses would work the best with these cameras for real estate photography.
"thanks for the Canon EOS 6D Mark II and Nikon D750 DSLR camera recommendations for real estate photography…

…can you also please recommend:

A specific lens for real estate photography

….and which tripod, flash to use?"
Being both full-frame cameras, the best lenses are the ones which are optimized for the full frame sensor. These will collect enough light to utilize the full sensor real estate. They will result in less of cropping and provide a wider perspective of the scene.
Both these cameras have a resolution of 24 megapixels + (the Canon has a resolution of 26 megapixels). Thus, sharp lenses will be able to capture a highly detailed image and exploit every pixel on those sensors. Let's start with Nikon.
Related Post: Best Software for Real Estate Photography
1. Nikon PC Nikkor 19mm f/4E ED Tilt-Shift
The first lens that I shall be writing about is the Nikon PC Nikkor 19mm f/4E ED Tilt-Shift Lens.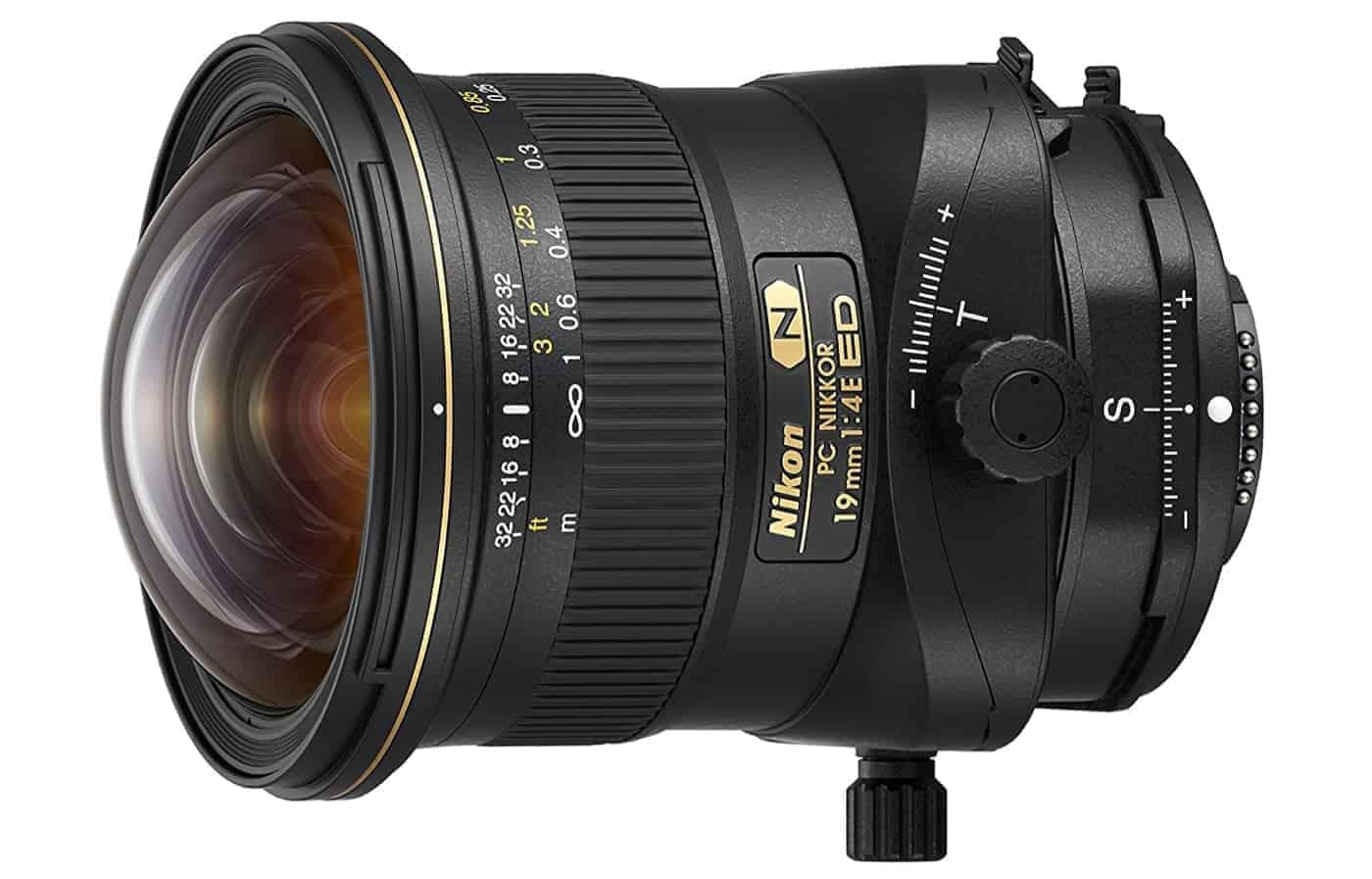 This is a special purpose lens, just like macro lenses. But these lenses are even rarer and used mainly for architecture photography. These lenses have a unique ability. Real estate and architecture photography often revolve around shooting a lot of straight lines as well as parallel lines – walls, ceilings, columns etc.
The problem when photographing these architectural elements is that the lines tend to meet at a distance. This is known as convergence. Tilt-shift lenses are capable of correcting the problem of convergence of straight lines and therefore the ability to demonstrate parallel lines perfectly parallel.
Related Post: Real Estate Photography Checklist
One aspect that needs to be mentioned here is that these lenses do not auto-focus. Neither with pro bodies and certainly not with the entry-level models. You will have to manually focus the lens. But that shouldn't be a problem. You can also magnify the view at the back of the LCD screen, dial in the focusing accurately, zoom out and take the shot.
The PC Nikkor 19mm f/4E ED Tilt-Shift isn't the easiest of lenses to use. It will take a bit of getting used to its many features and controls. But once you get the hang of things the lens will be a permanent feature in your bag especially when shooting architecture and real estate photos.
The lens constitutes three extra-low dispersion glass elements and two aspherical elements as well. Additionally, the lens comes with Nano crystal coating as well as super integrated coatings. Both these two coatings ensure that the lens is able to suppress flares and ghosting well.
Although, when shooting indoors, you are likely not going to face these problems with the lights being in your control. But when shooting outdoors and in broad daylight, these features will come in handy.
Additionally, the front and the rear elements of the lens come with fluorine coating. These coatings prevent the lens from becoming a dust and fingerprint magnet.
2. Nikon AF-S Nikkor 14-24mm f/2.8G ED
Arguably the most voted choice for real estate photography and architectural photography. You can also shoot great landscape photos with it.
I recently included the Nikon AF-S Nikkor 14-24mm Lens on a review of the best Nikon lenses for landscape photography. I love the focal length range that this lens brings on to the table.
This lens has all the goodies you would come to expect from a top of the line Nikon lens. It comes with two ED glass elements and three aspherical elements as well. Nano crystal coating ensures that the lens remains largely unaffected by flares and ghosting. On top of that, the lens also comes with a super integrated coating to assist in this.
Auto-focusing is powered by Nikon's silent wave motor. The lens has full-time manual focusing override as well. This comes in handy when precisely dialing in focus. The best thing is this is an extremely sharp lens. You would enjoy shooting with this paired with your D750.
Related Post: How to get Natural Looking Interior Photos
3. Nikon AF-S Nikkor 24mm f/1.8G ED
This Nikon AF-S Prime Lens that has a fixed focal length of 24mm.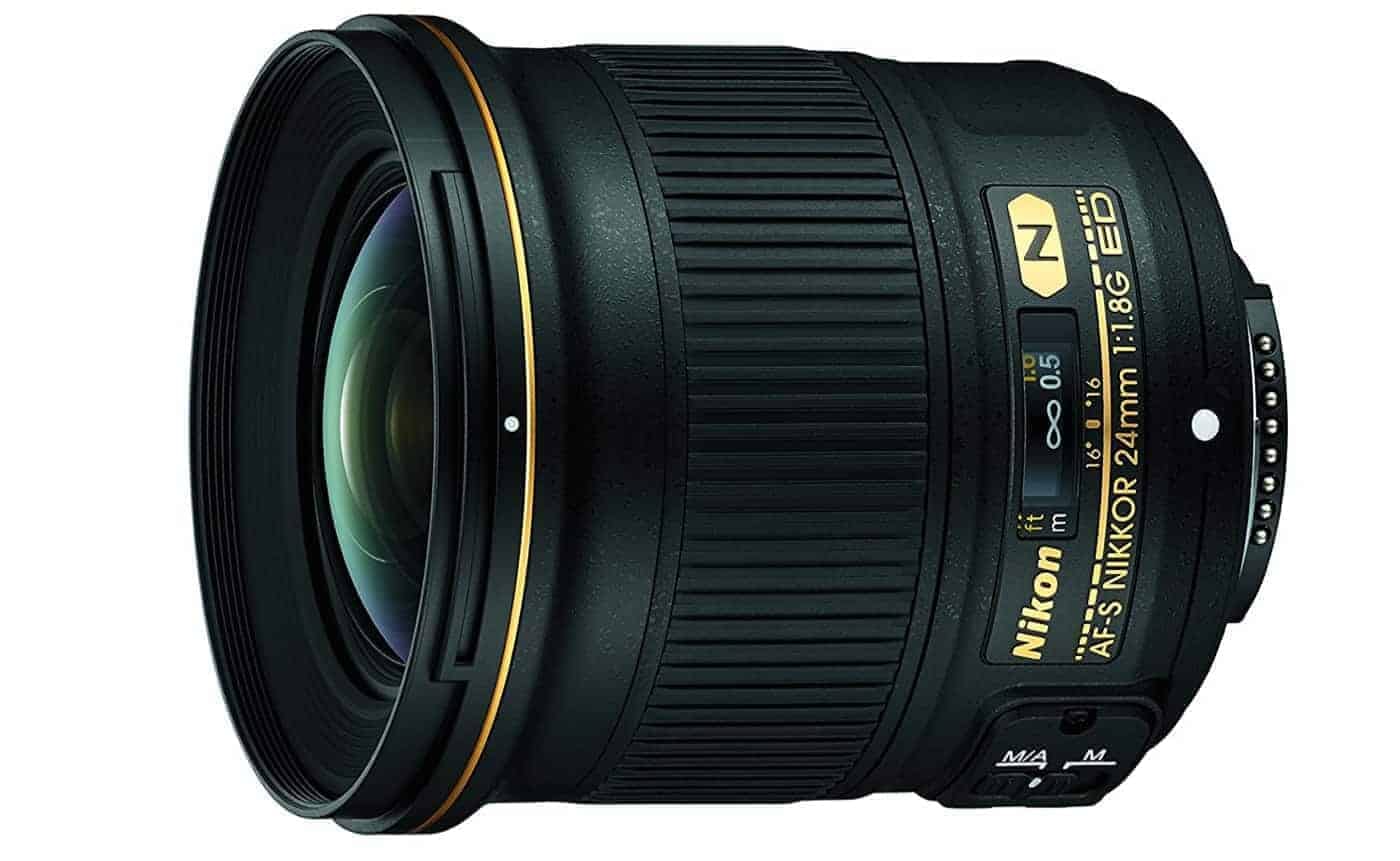 This is one of Nikon's highest rated and sharpest lenses. When paired with the D750 DxOMark rates it with a score of 37 and a sharpness rating of 22. Not bad considering that the Carl Zeiss Distagon T* Otus 55mm f/1.4 ZF.2 comes with a sharpness rating of 24 when paired with the D750.
The lens has been designed primarily for the full-frame Nikon DSLRs. But it can also be used with DX format DSLRs as well as 35mm film cameras.
The internal construction of the lens includes two ED elements as well as two aspherical elements. These ensure that the lens is able to suppress aberrations and distortions well. On top of that, the lens comes with Nano crystal coating and super integrated coating as well. These coatings ensure that the lens is able to handle bright lights fired straight at it. Especially, when shooting outdoors with the sun lower in the horizon and in the frame.
Auto-focusing on the lens is powered by Nikon's Silent Wave Motor technology. This technology promises near silent and very accurate focusing. Maybe not so important when shooting outdoors, but comes in handy when shooting indoors. The less of a whizzing sound the AF motor makes the better when shooting real estate photos. In an empty room, the sound can sometimes be disconcerting. Additionally, the lens also has manual focusing override.
The only thing that probably limits you is that this is a prime lens. That means the only way you could zoom in with your feet. But the optical quality of the lens more than makes up for that.
4. Nikon AF-S 16-35mm f/4G ED VR
The Nikon 16-35mm f/4F ED VR is yet another excellent lens that you can try your hands on.
Significantly cheaper than the 14-24mm f/2.8G I discussed above, the 16-35mm gives a slightly 'demure' field of view, but at the same time, the lens does not compromise on the optical quality. This is an excellent walk around lens for everyday photography purposes. Certainly, this is a great lens for shooting landscapes, architecture as well as real estate.
Auto-focusing on the lens is powered by Nikon's Silent Wave Motor powered AF system. This system is a faster and quieter auto-focusing mechanism compared to the older technology.
Plus, you also have manual focusing override which comes in handy when shooting indoors and in poor light or where the camera is unable to lock in focus precisely and you can control the focusing by hand. The lens comes with internal focusing elements. This ensures that the barrel length of the lens does not change when the lens focuses.
The lens construction consists of two ED lens elements and three aspherical lens elements. These elements will suppress problems of distortions and chromatic aberrations.
The lens also comes with Nikon's patented Nano Crystal coating. This coating helps in suppressing flares and ghosting which is a common problem when shooting with a wide angle lens. Especially, when shooting with the sun lower down in the horizon.
The front element of the lens is large with a filter thread specification of 77mm. The lens comes with a nice rounded 9-bladed aperture diaphragm.
Canon Picks
These lenses are compatible with the EOS 6D Mark II.
5. Canon EF 16-35mm f/2.8L II USM
The Canon 16-35mm f/2.8L II USM is the answer to the Nikon 16-35mm lens that I discussed above. This is an L lens and is designed specifically for full-frame Canon DSLRs. The lens comes with one UD element and three aspherical elements to counter the problem of chromatic aberrations and distortions.
As already explained above the 16-35mm focal range is a sweet one. It covers the most essential focal length range that is necessary for shooting landscapes, street, real estate, architecture and interiors. The 16-35mm probably loses out to the 14-24mm in terms of field of view but it more than makes up for that with its image sharpness and versatility.
Focusing on the lens is powered by Canon's ultrasonic auto-focus motor. This motor also comes with manual focusing override. I have discussed the advantages of manual focusing override many times.
Being an L lens has its advantages. The lens is well-built. It comes with good weather sealing as well. You would be able to take this lens outdoors even in inclement weather as well. Such as shooting from the lawn of a large mansion and getting stunning images, even in inclement weather. It weighs about 635 grams and feels very solid in the hands. The front element is pretty large. At 82mm it dwarfs many other lenses.
6. Canon EF 16-35mm f/2.8L III USM
There are two more options in the 16-35mm focal range in the Canon line up. You can opt for either the EF 16-35mm f/4L IS USM or the faster and better built EF 16-35mm f/2.8L III USM. The f/2.8L III is the updated version of the f/2.8L II that we discussed above. I have left the f/4L out of the purview of this discussion. Even though that lens has image stabilization.
The EF 16-35mm f/2.8L III USM is a step above the EF 16-35mm f/2.8L III USM. The lens features latest lens coating technologies and elements to suppress various distortions and aberrations. These elements include two large diameter GMO dual surface aspherical elements as well as a ground aspherical element. These elements will help maintain the same optical sharpness and brightness at the corners of the image as at the center of the image.
These also include two ultra-low dispersion glass elements as well which is ideal for suppressing chromatic aberrations. Finally, the lens also comes with a Subwavelength Coating and an Air Sphere coating for suppressing ghosting and flares. It basically has everything that you need for shooting great quality landscape, architecture, real estate, and interior photos.
Related Post: Real Estate Photography Tips
Auto-focusing on the lens is handled by a ring-type AF ultrasonic motor mechanism. The lens' internal focusing mechanism and full-time manual focusing override gives greater versatility. Being an L lens comes with some advantages. One of them being that the lens has great weather sealing. That means you can take the lens outside to shoot in inclement weather as well.
7. EF 11-24mm f/4L USM
The 11-24mm is an ultra-wide angle lens designed specifically for real estate, architecture and a bit of landscape photography as well. In many ways, this is a great lens for interior shots where you may not have enough room to capture the grandeur of a room but somehow have to manage that. The EF 11-24mm f/4L USM would be perfect for that.
Just like the lens we discussed above, the EF 16-35mm f/2.8L III USM, the EF 11-24mm f/4L USM comes loaded with all the technical gizmos that you would need. The construction of the lens includes a Super UD element, one UD element and a total of 4 aspherical elements as well. These elements take care of chromatic and other aberrations.
Additionally, the lens also has Subwavelength coating, Air Sphere and Fluorine coatings.  These coatings takes care of ghosting and flares. You will probably not need them when shooting indoors. But they will come handy when shooting outdoors.
Auto-focusing on the lens is powered by a ring-type USM motor. The AF mechanism comes with internal focusing mechanism as well full-time manual focusing override.
"I'm interested in bracketing too. If that has any influence on which lens/camera."
Bracketing is a term which signifies that you take multiple shots of the same scene, each time adjusting a specific shooting parameter. It primarily deals with the exposure parameters, aperture, shutter speed, and ISO.
But it can also be used for shooting at different focusing distances for capturing a vast depth of field, something that may not be entirely perfect when shooting even with a small aperture. This process is also known as focus stacking (process has been explained below).
Bracketing would also allow you to exploit HDR photography techniques. This is something which you probably have in mind when you attempt real estate photography.
Bracketing does not influence your camera/lens buying decision. Except of course the fact that the camera should have the functionality for shooting in bracketed mode. Mainly, in the Auto Exposure Bracketing (AEB) mode. Auto Exposure Bracketing will allow you to shoot multiple exposures, each time auto adjusting the exposure parameters, without having to touch the camera in between frames in order to trigger those chances and then take the exposures.
Again, not all cameras allow you to shoot more than 3 bracketed frames. So, if you need more than 3 bracketed frames, check the features of the camera to confirm it. The Nikon D750 allows you to shoot 9 bracketed shots.
For focus stacking (bracketing several shots where the focus is changed after each shot), you need to do this manually. Set up your shot, select your aperture, exposure and focusing point. Take the shot. Shift the focusing point without changing the exposure, take another shot. Repeat the process until you have enough shots to blend together and create one image with a large depth of field.
"Would you ever recommend buying used camera and lens?"
Yes, why not? If you get a great camera or lens, in good working condition and at a price significantly lower than what you had to dish out had you opted for the mint new one, then why not? This gives you a chance to own a great product for half the price, probably even less. I did put in my thoughts on buying a used DSLR previously. You can check that out.
"To add to my earlier question. Do I need two options for a lens? A wide angle lens and then a more general range?"
Personally, I would prefer to pack light. Carry just the equipment that I am going to use and that means nothing that is not going to add value to the production will find a place in the camera bag. That usually means I often carry just one lens. The one that I am going to use. I prefer a wide zoom. Something like the 14-24mm or the 16-35mm. This will give me the opportunity to use the variable focal length to shoot close up and then push back the architecture, interiors for a wider perspective.
Tripods Choices for Real Estate Photography
It is a given that you need a sturdy tripod for shooting real estate photography. The best tripod choices would be the ones which gives you great support on both grass, soil and slippery marble / tiled floors.
In other words, you need retractable spiked feet. These are very versatile. They can be popped out when needed such as when shooting in the lawn, and then retracted when shooting indoors on a smooth surface. Most would come with rubber feet which allows traction when shooting on slippery floors. I wouldn't recommend getting one of those cheap, slender-legged tripods with dubious construction, and poor weight bearing capacity.
The pan-tilt head is a very specific head design that comes in handy when shooting real estate, architecture. You need a level plane at all times and don't need the camera to be at weird angles, the sort of that we need for other types of photography. The PT head is best for that purpose. Here are a couple of choices that I can recommend.
Manfrotto MT055CXPRO3 Carbon Fiber Tripod with MHXPRO-3W 3-way Pan/Tilt Head kit
The Manfrotto MT055CXPRO3 is a carbon fiber tripod with a total load carrying capacity of 9 kilos. That should be enough for both the D750 and the EOS 6D Mark II along with a kit lens paired with it. Being a carbon fiber design this tripod is a lightweight yet tough design.
The MHXPRO-3W is a three-way pan/tilt head with retractable handles. That means you can attach them or detach them as required. The tripod features Manfrotto's proprietary Quick Power Lock System. This mechanism allows the tripod legs to be extended fully with just one hand. Freeing up the other for holding your camera. When you don't have an assistant to help you out, this small things goes a long way to help you set up without a hassle and get your job done in time.
There are a total of two knobs which ensure that the friction or the tripod head when panning and tilting are maintained and the camera is steady. To make sure that the leveling is accurate there are three bubble level indicators.
Related Post: Real Estate Photography Checklist
Manfrotto MT055CXPRO4 carbon fiber tripod with junior geared head
For the very same reason, I picked the MT055CXPRO3 carbon fiber tripod, I pick the Manfrotto MT055CXPRO4 with the junior geared head. With the geared mechanism, it becomes very easy to make the precise movement of your camera and lens combo.
The pan head allows you to move the head in three different directions – 360 ˚ when panning, +90 to -30 ˚ of front tilt, and +90 to -30 ˚ of lateral tilt.
The head also comes with a large camera platform to place your camera, plus a bubble level indicator. The screw of the camera will travel through a 2″ slot that will allow the camera to balance the camera's center of gravity according to its weight and bulk.
Flashes
The need for flashes comes in from the fact that the lighting inside rooms isn't always absolutely perfect for photography. Even in daylight with Windows wide open, lighting isn't always perfect. Bracketing is something that you must try from time to time. Especially when shooting with bright and dark areas in the same scene. Such as a bright sunlit outdoors which you can see through the window and then the dark indoors of a room. As a result, flash is something that you would need to use most of the times.
There is a whole bunch of flash units that you can choose from both proprietary and third party. Plus, you can opt for either strobes or flash depending on the kind of work that you plan on doing. We would try to do a separate article on the topic of flash units as it needs some amount of detail. Just, keep in mind that the flash unit(s) that you buy should offer TTL.
Related Post: How a Slave Flash Works (and 8 Great Picks)
---
As an Amazon Associate we earn from qualifying purchases. Certain content that appears on PhotoWorkout.com comes from Amazon. This content is provided 'as is' and is subject to change or removal at any time.