Selfies are one of the most popular photographic options for many people. Usually, we look to our smartphones to capture these photos but if you want some high-res selfies, you might want to choose one of the best selfie cameras out there.

Below, we've compiled some of the brightest and best selfie cameras money can buy. No two offer exactly the same thing, but you can rest assured that each is capable of producing stand-out shots!
What Goes Into a Great Selfie Camera?
Before we get too far into things, there's an important question to address – what makes a camera good for taking selfies, anyway?
The answer isn't quite as straightforward as you'd think. Here are a few of the qualities we sought out in our search for the best selfie cameras:
The ability to see yourself/your composition as you're taking your photograph. After all, it's pretty difficult to take a truly great selfie if you're shooting blind.
Fast and accurate autofocus is a must. Features like tap-to-focus and movement compensation make a difference when you're focused on getting a perfect pose.
A wide-angle lens (or the ability to attach one) is a plus. This allows you to capture more of your surroundings in the shot and accommodate larger group pictures.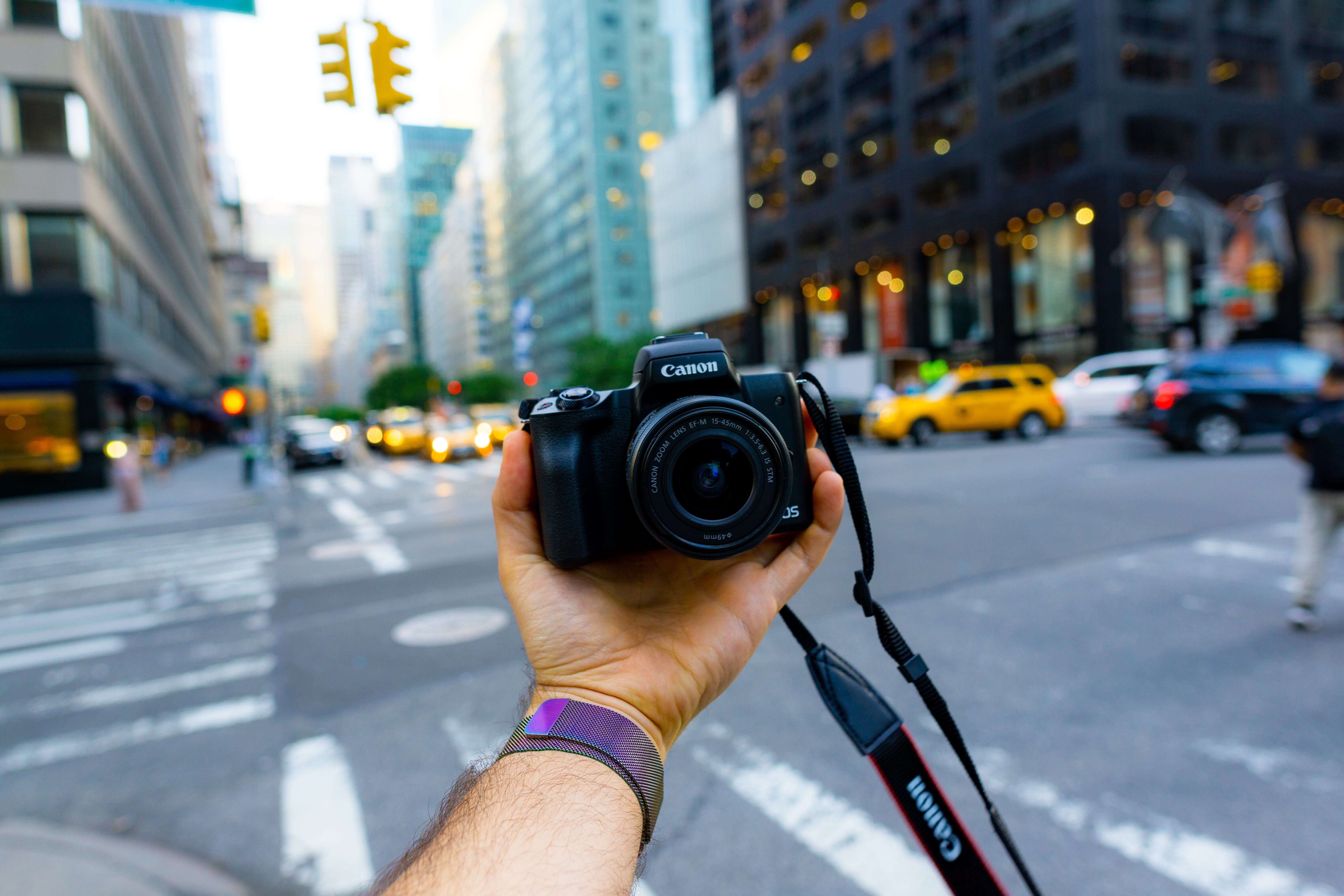 Selfie cameras need to be portable. If you're lifting your camera with one arm, you're going to want something that's portable and lightweight.
Bluetooth and WiFi connectivity is a big bonus, allowing you to share your best moments while they are happening.
Without further ado, here are our picks for the best selfie cameras!
1. Instax Square SQ6
Some may write off plastic Instax cameras as little more than toys, but don't knock them until you've tried one! These super fun analog cameras are coming back en vogue, and they're better suited for your next selfie than you may think.
This particular model, the Instax Square SQ6, comes with a designated selfie mode, which adjusts the fixed lens to get your arms-length image in focus. The lens even has a tiny mirror attached that allows you to see your frame before you press down on the shutter. However, if you prefer to work a little outside the box, you can also make self-portraits using the camera's self-timer function.
The greatest draw to the Instax is the unique aesthetic of the individual prints. Though you may not be able to post your photos to Instagram right away, instant film produces saturated selfies that are sure to stand out. On top of that, huddling over your friend's shoulder to watch prints magically develop is something that never gets old.
An Instant Selfie Printing Camera!
If you love having prints, this is the camera for you. The polaroid print design is a classic that will provide a beautiful border around images that can be decorated to your taste. Get stunning, instant selfie prints with the SQ6!
2. Sony CyberShot DSC-RX100
Advanced hybrid autofocus far surpasses the norm for compact cameras
LCD screen tilts and flips, allowing users ability to view and focus in real time
No wireless image uploading
The Sony Cyber-shot DSC-RX100 is often cited as one of the best cameras around for vlogging purposes. But, a lot of what makes it a great vlogging tool also makes it an excellent choice for taking selfies.
Being a point and shoot, it's relatively lightweight and easy to use. However, it still manages to pack in some advanced features, making it a camera that's easy to fall in love with. Particularly impressive is the ultra-fast hybrid auto-focus. Utilizing 315 phase-detection AF points, it goes above and beyond to deliver crystal-clear images. Another useful feature is the LCD screen, which tilts and flips 180°.
Our main gripe? The connectivity of this camera is pretty outdated. It lacks wireless capabilities entirely, meaning that you'll have to transfer images to your devices the old-fashioned way. That means you'll have to wait a little while to share your best selfies on Instagram.
For Vloggers and Selfie-Lovers Alike!
This camera is optically impressive, made for normal photography endeavours and casual videography, what's not to love with this camera? Not only that, tou can get some great selfies thanks to the high-power sensor!
3. Canon PowerShot G7 X Mark III
The Canon PowerShot G7 X Mark III bears a lot of resemblance to the Sony CyberShot we just reviewed. So, a lot of the features we love about the CyberShot are also present in the PowerShot. That being said, there are a few differences that are worth pointing out.
Like its Sony counterpart, it sports a 20.1 CMOS sensor that provides excellent image quality. It also has an LCD capable of flipping and tilting 180° around. However, the PowerShot is optimized for modern vloggers, even sporting a "vertical video" mode that's well suited for selfies.
Related Article: Best Canon PowerShot Cameras
More importantly, it's capable of live streaming 4K video to social media. Sending still shots wherever you'd like is also easy, thanks to the camera's excellent connectivity. Unfortunately, the greatness of this device comes at a high cost – don't expect a point-and-shoot price tag here.
A CyberShot Competitor with Enhanced Connectivity
A compact camera designed for the selfie enthusiasts, this is a great option for anyone! Not only that, if you enjoy some casual photography, this camera should be more than enough for your hobby!
4. DJI Osmo Action Camera
Screen on the front of the camera for live view of selfie
Extremely durable
Voice control features included
No way to easily mount camera to stabilizer
Oftentimes, the best selfies are made when we're out and about adventuring through life. For this reason, action cameras make some of the best selfie cameras. In particular, we're fans of the DJI Osmo Action Cam.
What makes the Osmo stand out from the competition, you ask? For starters, the camera is equipped with two screens, including a fixed front-facing LCD. Paired with voice control features capable of snapping pictures for you, making exciting selfies a breeze.
On top of that, the camera is tough. It's waterproof up to 11m and can withstand temperatures as low as -10°C. Multiple protective layers protect both the lenses and the LCD panels. If you want something other than a GoPro, it's well worth your consideration.
Voice Control, Waterproof, Adventure, the Perfect Selfie Package!
There's nothing the DJI Osmo Action can't do. Take it swimming, take it skydiving, no matter your activity or location, you'll get some incredible selfies. You can easily compose your selfies using the front facing screen, too!
5. Sony a6400
Interchangeable e-mount lenses offer more shooting options
Ability to identify human faces, uses eye recognition technology
Pricier option because of camera's advanced features
If you're looking for a camera with a little more power than your average selfie camera, Sony's a6400 mirrorless camera is a promising option. Many of its most impressive features are helpful for taking self-portraits, but versatile enough to use in other scenarios as well.
For instance, a whopping 425 phase-detection points make autofocusing on the fly a bit less complicated. As an E-mount camera, it accepts a wide variety of different lenses to change up the look of your selfie. The A6400 even has eye recognition and track capabilities capable of identifying human faces.
In short, it's a well-balanced pro camera that's still pretty easy to use. It's not too intimidating if you truly just want to stick to selfies, but it provides just enough to keep more seasoned shutterbugs happy. For those reasons, it's worth every penny (even though it's worth quite a few more pennies than some of our other choices).
Versatility and High-Performance All Bundled into One Camera
If you want a top-notch mirrorless system that's also perfect for taking selfies, this is the way to go. An added bonus of this camera is it's size, perfect for fitting in any bag!
6. Asus Zenfone 6
Some readers may sneer at the fact that I included a smartphone on this list, but the fact of the matter is that smartphones are great for taking selfies. We always have them at the ready, and their cameras continue to improve at exponential rates.
Related Article: 10 Best Smartphone Cameras
One of the more impressive phone cameras on the market at the moment is the Asus Zenfone 6. The Zenfone's powerful back cameras use a stepper gear to physically rotate the camera module. You can also fully control the angle of the cameras a full 180°. Most phones sacrifice quality to include front cameras. But this innovative design allows users to take advantage of the main camera's full 48MP.
Paired with a 6.4″ full view HD display, the Zenfone is capable of making just about any situation look stunning. Unfortunately, there is one catch – the phone is only compatible with GSM cellular networks. In most places, this isn't a big deal. However, US users won't be able to use the Zenfone with national widespread brands like Verizon, Sprint, and US Cellular.
A Fully Rotating Camera
The Zenfone is designed for some gamechaging selfies. You can use the camera with a 180-degree field of rotation and perfectly show your surroundings!
7. Apple iPhone 11 Pro
Including the latest iPhone on our list of best selfie cameras may seem like a bit of a cop-out. But the iPhone 11 Pro has some great features that are difficult to overlook. Specifically designed with photographers in mind, it's got a few incredible additions to fawn over.
Related Article: Smartphone vs Camera
The phone's most notable improvement is its one-of-a-kind triple camera system. Included along with the standard camera lens is a 26mm f/1.8 wide-angle and a 52mm f/2 telephoto. However, there have been some improvements to the good-old-fashioned front-facing selfie cam, as well.
For one, Apple has taken some major steps as far as accommodating for low light scenarios, and portrait mode has been tweaked as well. Another feature selfie-fans will love? A brand new "slofie" feature allows you to take slow-motion selfie videos at up to 120 fps.
The Classic Mobile Option
Apple's iPhone 11 Pro is designed with the selfie in mind. Not only that, there's no way you'll leave the house without your cell, so you'll always have a chance to capture those essential selfies.
8. Panasonic Lumix ZS200
Hybrid Optical Image Stabilizer compensates for movement and blurring
Powerful sensor, despite retaining small body size
Fixed LCD screen can make framing your selfie difficult
We've often praised Panasonic's Lumix series as one of the best multi-functional camera collections. This list is no exception – these cameras excel at self-portraiture. Though each Lumix has its own merits, we feel that the ZS200 has the most to offer our selfies.
Despite being small enough to fit in a pocket, it sports a one-inch 20.1 MP MOS sensor that performs well in low light. It's got everything needed to start making stunning 4K footage, which you can actually pull high-res photos from directly. Thanks to its depth from defocus technology, it's able to accurately autofocus almost instantly.
We gave the ZS200 a bit of an edge because of its powerful in-camera image stabilizer, which compensates for movement and blurring. So long as you can learn to live with the fixed LCD screen, this Lumix is a solid choice that won't let you down.
A High Res Compact Camera
Despite it's fixed screen the enhanced technology in this camera is perfect for capturing selfies. Its small size means you can take it anywhere and get a postable shot!
9. Ricoh Theta S
Creates 360° spherical panorama full HD images
Live stream capabilities
Weighs only 4.4 oz
Better suited for video than it is still imagery
If you're looking to create selfies that are a little outside the norm, the Ricoh Theta S may be for you. Don't let its small size fool you – it's capable of taking some larger-than-life images thanks to its twin-lens optical system.
In other words, the camera's unique design allows users to create 360° panoramic still and videos. With a handful of imaging options to choose between, you can experiment with capturing all your surroundings with the Theta. The camera itself can support shutter speeds as long as 60 seconds and apertures as wide as f/2.
What's more, it's convenient. The device supports near-instant transfers to a smartphone and has the capability to livestream on social media. Charging is as easy as plugging into your nearest USB port. And, perhaps the sweetest part of all, the camera can be yours for just under $200!
A Camera With a Unique POV
If you want to really capture your surroundings with your selfie camera, this unique piece of kit from Ricoh is a top-notch choice!
10. Olympus OM-D E-M10 Mark III
Besides 180° LCD tilt screen, also includes live view EVF
Touch to focus and shoot capabilities
Excellent in-body stabilization compensates for movements
Body design isn't especially well suited for taking selfies
Last but not least, we've got the Olympus OM-D E-M10 Mark III. Admittedly, it's not the catchiest name. Nevertheless, this camera packs a powerful punch, but isn't too daunting.
The 180° LCD tilt screen is incredibly convenient for viewing your composition. Touch to focus or shoot makes taking picture-perfect selfies a breeze. And, like the Lumix ZS200, excellent in-body stabilization will compensate if your arms ever start to get shaky.
Unlike many of our other entries, the Mark III doesn't have any catchy gimmicks selling their selfies. Instead, Olympus just happened to package everything you need to make a great selfie into this convenient camera. Considering the flexibility its lens mount provides, the Mark III also comes at a reasonable price.
Perfect for Budding Photographers Who Enjoy Selfies!
If you want an interchangeable lens camera with lots of flexibility, whilst keeping a small size this Olympus camera is a perfect selfie option!
How Do You Express Yourself(ie)?
We tried to look at selfies from every angle possible for this article (no pun intended). That being said, we realize that we may have missed your selfie camera of choice.
What device do you feel deserves the title of best selfie camera? What features make the biggest impact on your self-portraits? Share your thoughts in the comments below!
---
As an Amazon Associate we earn from qualifying purchases. Certain content that appears on PhotoWorkout.com comes from Amazon. This content is provided 'as is' and is subject to change or removal at any time.