Megapixels and Print Sizes
"Megapixel" is a camera manufacturer's favorite word.
For a newbie photographer too, the word has immense significance. I am not going to go too deep into what professionals think because opinions are beyond the purview of this discussion.
The fact remains that megapixels do matter.
You need a sufficient amount of megapixel to produce a good print and for that matter even to share an image online with your friends and loved ones.
But there is more to megapixel than that. It has wider connotations and deeper ramifications. These days camera manufacturers are going head over heels trying to promote megapixels of their new camera sensors. Some of that is meaningful. Some of it is baseless propaganda. There is a limit to how much megapixel is necessary.
What is a Megapixel?
Let's start from the very beginning.
Megapixel Definition
Megapixels refer to a cluster of pixels. How many exactly? Well, one million. So one megapixel is one million tiny individual pixels. If a full-frame camera has, for example, 22 megapixels; that is 22 million pixels. That is a lot of tiny pixels packed on to a small sensor surface.
What are Pixels?
That invariably leads to this question: What are pixels?
Pixels are Picture Elements. The tiniest element that is controllable on the sensor. Each digital image that you see on a computer screen is made up of millions of these tiny pixels.
Each tiny pixel is a light sensitive photodiode. They have a small space to capture the photons in the light. On top of that, the individual pixels also have micro filters. These filters will absorb either red, blue or green light and reflect every other wave length of light. At the bottom of the pixel, a wiring connects it to the image processor.
Pixels, in fact, are what make up the surface of the digital sensor. They play an important role in the print size of your images.
How to Determine Print Sizes from Digital Cameras
There is no standard print resolution that will work for all print sizes. For small 4 x 6″ postcard sized prints the standard printing resolution is 300 DPI. That is 300 dots per inch.
Conversely, for a large billboard, the printing resolution could very well be 50 DPI or much less. Here dots and pixels are loosely considered the same. They are not the same though. But for the sake of understanding, this concept let's say that they are.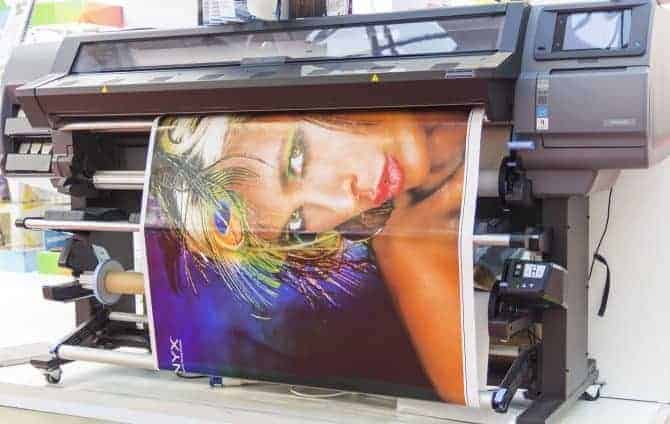 Now, the maximum size that you can print an image to will depend on the number of megapixels on your pictures. This is where quantity does matter. More the megapixels your images have larger is the size you can print them on.
It may appear though I am suggesting that you opt for a higher resolution camera. I am not. Read the rest of this discussion before you make up your mind.
Formula to Determine Print Size from Image Resolution
This is the formula to determine the number of megapixels required for a 5 x 7″ print at 300 DPI.
5 x 300 x 7 x 300 / 1,000,000 = 3.15 Megapixels.
Surprised? Wondering why you fell for that gimmicky ad that promised a 30-megapixel sensor when all you needed was merely 3.15 megapixels to make a decent print? Don't feel that bad. After all, your high-resolution camera has some other advantages as well.
| Megapixel | Resolution | Print Size at 300 DPI |
| --- | --- | --- |
| 42 MP | 7952 x 530 Pixel | 20 x 30 Inch |
| 30.4 MP | 6720 x 4480 Pixel | 16 x 24 Inch |
| 24.3 MP | 6016 x 4016 Pixel | 16 x 20 Inch |
| 20.1 MP | 5456 x 3632 Pixel | 11 x 14 Inch |
Purpose of the Print
Small Prints (High DPI)
The purpose of the print determines the resolution that you need. Let's say that you need to print a couple of your vacation photos with your significant other. A mere 5 x 7″ size is what you are looking for. These prints will be seen from a distance of about arm's length. Which means a minimum resolution of 300 DPI is necessary to ensure a homogenous image.
Well, the thing is, if you are only going to print occasionally and that too not more than 8 x 11″, then you don't need a very high-resolution camera. If you are only going to share your images online, any camera will let you shoot good quality, shareable images.
Large Prints
For Close View
But let's say that you do want to print large. Really large. Something around 30″ x 40″. For printing this large you will need a pretty high-resolution sensor. Even if you want to view the image from a distance of 3 or 4 feet away, you will need around 40 pixels or higher to make a good image that won't show up pixelated.
Billboards
Another example is a bill board. Billboards are always viewed from large distances; 50″ or more. For printing these big you hardly need 15 – 40 DPI. That means images produced by even a relatively small resolution sensor will be good enough for printing them in large billboard sizes.
Viewing Distance
The recurring thing that comes up in this comparison is the viewing distance.
The greater the viewing distance, the larger is the print you can make with the same sensor.
If the print size remains the same but the viewing distance changes, then you will need a higher or lower resolution sensor depending on whether you walk up to the print or walk away from it to view.
Standard Print Sizes for Images
Examples of Different Cameras / Sensors
Here is a comparison of some of the popular digital cameras that are currently being sold (across different sensor sizes), along with their megapixel resolution and the maximum image size you can print.
Please note that we have selected the largest acceptable size, which is one size larger than the size that is the best. We have considered a minimum distance of 3 feet from the image to viewer's eyes and that allows a slightly more leeway than the best resolution situation.
30.4 megapixel (effective) resolution
Maximum image resolution 6720 x 4480 pixels
Largest print size at 300 DPI – 16 x 24″ (in acceptable resolution)
Canon EOS 5D Mark IV Digital SLR Camera Bundle (Body Only) + Professional Accessory Bundle (14 items)
This Canon Camera Bundle comes complete with All Standard Canon Supplied Accessories and 1-Year Canon USA Limited Warranty and Includes:
Canon EOS 5D Mark IV 30.4 MP DSLR Camera; 0.4MP Full-Frame CMOS Sensor, DIGIC 6+ Image Processor, 3.2" 1.62m-Dot Touchscreen LCD Monitor, DCI 4K Video at 30 fps; 8.8MP Still Grab, 61-Point High Density Reticular AF, Native ISO 32000, Expanded to ISO 102400, Built-In GPS and Wi-Fi with NFC
2x SanDisk 64GB Ultra Class 10 SDHC UHS-I Memory Card - Great choice for compact to mid-range point and shoot camera, Twice As Fast As Ordinary SDHC Cards, Allowing You To Take Pictures And Transfer Files Quickly, Class 10 rating for Full HD video (1080p), Wireless remote, Spare LP-E6 Battery, High speed memory card reader, Hand Grip Strap, Professional Monopod
Backpack Camera Case, Vivitar DF-372 TTL Flash with 18mm-180mm Zoom Function, Red Eye Reduction, Professional 60" tripod, AC/DC Charger, Power Battery Grip
24.3 megapixel (effective) resolution
Maximum image resolution 6016 x 4016 pixels
Largest print size at 300 DPI – 16 x 20″ (in acceptable resolution)
Sale
Nikon D750 FX-format Digital SLR Camera Body
Full frame 24.3 megapixel CMOS image sensor and EXPEED 4 image processor
Full HD 60/50/30/25/24p video
Built-in Wi-Fi connectivity and compatibility with the WT-5a + UT-1 Communication Unit
Shoot up to 6.5 fps at full resolution. Frame size (pixels) : 1920 x 1080
Pro Video feature set including: Simultaneously record uncompressed and compressed, Manually control ISO, shutter speed and aperture while recording-even use Power Aperture control for smooth iris transitions and Auto ISO for smooth exposure transitions.
20.1 megapixel (effective) resolution
Maximum image resolution 5456 x 3632 pixels
Largest print size at 300 DPI – 11 x 14″ (in acceptable resolution)
Sony Cyber-shot DSC-RX100 V Digital Camera (1″ Sensor)
20.1 megapixel (effective) resolution
Maximum image resolution 5472 x 3648 pixels
Largest print size at 300 DPI – 11 x 14″ (in acceptable resolution)
Sony Cyber-shot DSC-RX100 V 20.1 MP Digital Still Camera with 3" OLED, flip screen, WiFi, and 1" sensor
ELECTRONIC VIEW FINDER: retractable Tru-Finder EVF provides sharp resolution, bright self-illumination, and high contrast to view shots and adjust settings through a ZEISS T* coated eyepiece.
AUTO FOCUS: World's fastest (0.05 sec.) hybrid AF system (contrast + phase) which is great for action and wildlife photography
AF DETECTION: The most comprehensive phase detection coverage in a compact camera utilizing 315 Auto Focus points
SHOOTING SPEED: World's fastest continuous shooting speed at 24fps3 w/ autofocus and auto exposure tracking to ensure exceptional high-speed photography
IMAGE SENSOR: 20.1 megapixel 1" Exmor RS stacked back illuminated CMOS sensor w/ DRAM for outstanding image quality and continuous shooting
42 megapixel (effective) resolution
Maximum image resolution 7952 x 5304 pixels
Largest print size at 300 DPI – 20 x 30″ (in acceptable resolution)
Sale
Sony a7R II Full-Frame Mirrorless Interchangeable Lens Camera, Body Only (Black) (ILCE7RM2/B)
World's first Full-frame back-illuminated Exmor R CMOS sensor-42.4MP, 5-axis in-body image stabilization optimized for 42.4MP full-frame, 4K movie recording with full pixel readout and no pixel binning
2.4-million dot XGA OLED Tru-Finder w/ ZEISS T* coating, Simple connectivity to smartphones via Wi-Fi and NFC w/ camera apps, Fast focal plane phase-detection AF realized with A-mount lenses
Shutter vibration suppression, first curtain shutter, and silent shutter, Resolution meets sensitivity 42.4MP up to ISO 102,400 / 4K up to 25,600, Durable, reliable and ergonomically enhanced for professional use
Fast Hybrid AF with 399 focal plane phase-detection AF points
Lens Compatibility: Sony Full Frame E-mount lenses
20.2 megapixel (effective) resolution
Maximum image resolution 5184 x 3888 pixels
Largest print size at 300 DPI – 16 x 20″ (in acceptable resolution)
Sale
Canon PowerShot SX620 Digital Camera w/25x Optical Zoom - Wi-Fi & NFC Enabled (Black)
Powerful 25x Optical Zoom with Intelligent IS helps optimize image stabilization for virtually shake-free images.
Built-in Wi-Fi* and NFC** allows for easy sharing and transferring of images and videos. Maximum f/number : f/3.2 - f/6.6
20.2 Megapixel*** CMOS sensor with DIGIC 4+ Image Processor helps deliver stunning image quality even in low light.
Capture spectacular 1080p Full HD video. Focusing Range : 1cm (0.4 Inches) - infinity (W), 1.0m (3.3ft.) - infinity (T)
Large 3.0-inch (approximately 922,000 dots) LCD allows easy viewing even from a wide angle.
24.2 megapixel (effective) resolution
Maximum image resolution 6000 x 4000 pixels
Largest print size at 300 DPI – 16 x 20″ (in acceptable resolution)
Sale
Sony Alpha a6500 Mirrorless Digital Camera w/ 2.95" LCD (Body Only)
24.2MP APS-C Exmor sensor w/ advanced processing up to ISO 51.200
Wide 425 phase detection AF points, Fast 0.05 sec. AF acquisition
5-axis in-body image stabilization steadies every lens. Silent Shooting
11fps continuous shooting to 269 frames at 24.2MP w/ AE/AF tracking
4K movie w/ 2.4x oversampling4, full pixel readout, no pixel binning
FREE eBook:
10 Photography Beginner Mistakes & How to Avoid Them