Being on a limited budget can make buying the best gear seem like an intimidating task but it doesn't have to be. If you're looking for the best tripods under $100, you've come to the right place. We've scoured the web for a range of tripods at this price point, giving you various options to pick and choose from. Whatever your need, we've found the tripod.
To kick us off, let's take a look at the best tripods under $100.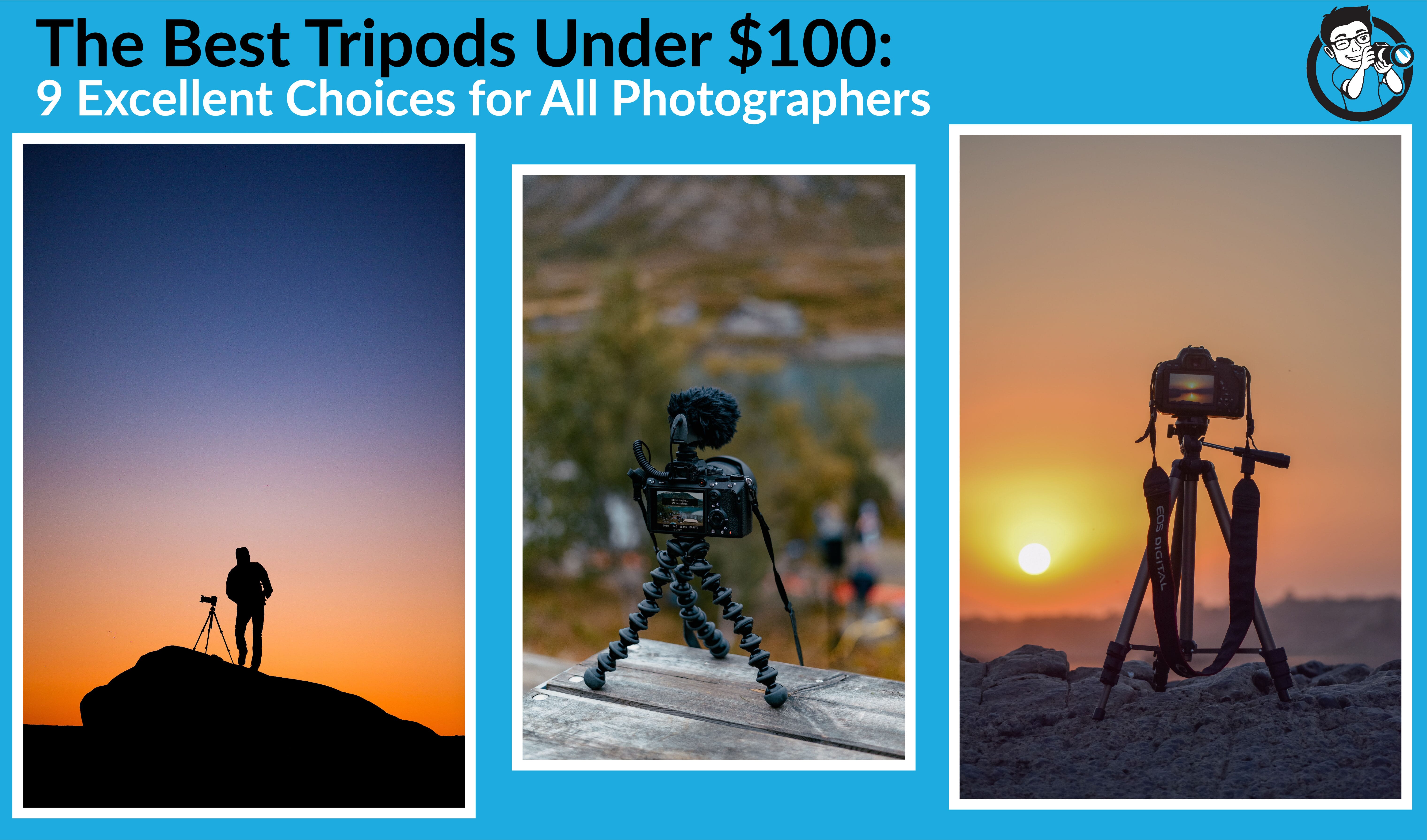 The Best Tripods Under $100 You Can Buy Right Now:
Manfrotto's PIXI EVO tripod is a firm favorite of ours. This tabletop tripod is bound to keep you happy with your photographic ventures when on a budget.
In terms of its overall function, the tripod can withstand a little over 5.5lbs of camera gear despite it only weighing around 0.5lbs! This small size means that this tripod is perfect for a range of different photographic pursuits, capturing anything from vast landscapes to tiny macro close-ups.
Another great thing about the design of the PIXI EVO is that the ball head that it comes with is great for adjusting your camera whilst mounted to the tripod. You can change your camera's orientation from landscape to portrait or even just make minor adjustments to change your composition.
In terms of table-top options, this is, by far, one of the best tripods you can get for under $100.
Best Table-Top Tripod
The best option for those looking for a table-top tripod.
For those on a budget looking for a small and compact tripod, this is the perfect option. It's super lightweight and easy to use.
Joby makes a range of tripods that are ultra-versatile and appropriately scaled to fit various camera bodies. The Joby GorillaPod 3K is one of their newer models which is perfect for DSLR and mirrorless camera systems. It'll hold 6.6lbs of gear which should be more than enough for most standard lens and body combos.
If this weight limit doesn't fit the bill for you, there is also a GorillaPod 5K which will hold a larger load of 11lbs.
One of the great things about Joby's GorillaPod tripods is their adjustable leg designs. The tripod legs will bend to wrap around objects and can also be used just how normal tripod legs would be. You can easily adjust the angle, height, and general position simply by pushing the legs around until you're happy with them.
This tripod also comes with a ball head, which is great for all of your photographic needs!
Another Table-Top Tripod
A flexible option for all-round use!
The GorillaPod is a highly versatile tripod option which can be used in almost any situation! It can handle a max load of 6.6lbs, which is great for most beginner photographers.
With less than 100 bucks to shell out, you might think that tabletop tripods are your only option. This is not the case. In fact, you can get your hands on a nifty 2-in-1 tripod from Neewer. This tripod is a full-sized option that even gives you the ability to make use of it as a monopod, as well!
This tripod really does offer a lot of creative freedom. The central column that mounts your camera can be adjusted to be used at varying angles. What this means is you can use this tripod for various different photographic genres and be confident you'll be able to work with it and get pleasing results.
In terms of the construction of the tripod, the magnesium-aluminum alloy is strong and can handle a maximum load of 33lbs. If you have a lens on the longer side, this tripod might be just what you're looking for!
For those looking for a 2-in-1 system, this is the best tripod you can buy for under $100.
Related Post: Best Beginner Tripods
Best 2-in-1 Tripod
A nifty piece of kit with plenty of functionality!
This 2-in-1 tripod system is perfect for those looking to use a tripod more frequently. It provides users with the option to use the tripod in two ways giving you lots of creative freedom.
Aluminum tripods aren't always the lightest option on the market. But BONFOTO has pushed that boundary and produced a lightweight aluminum tripod for less than $100. With a total weight of 2.6lbs, you should find carrying this tripod around a breeze. This means it is perfect for travel photographers and landscape photographers who do a lot of hiking to get their shots.
Related Post: How to Capture Sharp Images: The Ultimate Guide
For flexibility, the central column can rotate 360 degrees, giving you plenty of creativity when it comes to shooting photos.
In terms of the tripod design, it is a full-size tripod so you don't have to deal with the restrictions of a table-top tripod. You can simply set up your tripod and shoot on any terrain.
One area where this tripod falls short, compared to other full-sized tripods, is in terms of the maximum weight it can withstand. Compared to the Neewer 2-in-1 Tripod, the BONFOTO Lightweight Aluminum Tripod can withstand a fraction of the weight at 17lbs.
Top Full-Size Option
The tripod that's a breeze to carry around.
This aluminum tripod is super-lightweight, perfect for the travelling photographers. The design of the tripod means you can be as creative as you want.
The Zomei Aluminum Alloy Tripod should grab the attention of every traveling photographer. This tripod is made for those looking for a lightweight full-size tripod that is under $100. The maximum working height of this Zomei tripod is 65" and when folded down the unit is just 18" height. At a foot and a half, you've got the perfect size for holding this in some kind of bag!
Similar to the Neewer 2-in-1 tripod, you can also turn this tripod into a monopod, giving you freedom and flexibility to use this tripod however you want.
In terms of the design of the tripod, you've got the option to hang a bag or weights to the tripod to enhance the stability of the tripod when you're in situations where the stability might be limited. Using weights shifts the center of gravity right down and is a method that should definitely be utilized.
Related Post: Essential Travel Photography Gear
At the camera mount, you get a dual lock mechanism that allows you to pan the head and adjust the angle. You also get a quick-lock mechanism for easy release and mounting of the camera.
Best for Travel Photographers
Freedom and flexibility for travel photographers!
This tripod is the perfect size for carrying in a bag and using when you are out and about on trips. For added flexibility you can use the tripod as a monopod, perfect for tight spaces.
Finding the ultimate lightweight tripod for under $100 is a difficult task. Thankfully, Neewer makes this task easier, offering a carbon fiber tripod for a low-price. You get a decent amount of working room, offering a 66-inch maximum height. As we've already discussed, ball heads have a great benefit for photographers and Neewer has ensured to include this feature in one of their best tripods for under $100.
Surprisingly, the leading edge of this tripod doesn't stop there. You can work with around 26lbs of kit on this tripod which is generous enough to withstand most camera-lens combos. You also get that bonus of losing two legs of your tripod to give you a reliable, lightweight monopod!
Neewer has really made sure this tripod will suit most, if not all, photographers' needs. Offering essential features that might otherwise be cut to keep the price under $100.
If you're looking for an absolute steal, this is the best value tripod under $100 you can buy.
Top Choice
Carbon fiber at a fraction of the price!
This is the only carbon fiber tripod you will find for such a low price! It meets all your needs, offering a lightweight design whilst also being highly functional.
This is another tripod geared towards travel photographers thanks to its lightweight design. When we say light, we're talking 2.8lbs. Nothing too major for hauling around on foot, wherever your adventures take you.
Not only that, but it is also highly functional, meaning it should satisfy most photographers' needs. You can hold 17.6lbs of gear on the tripod which is more than enough for most standard setups. The 360-degree ball head is on par with the other competitors on this list.
Similar to some of the other designs we have discussed, this tripod doubles as a monopod. Which is great for getting stable shots in tight spaces. If you have an awkward angle you want to work at, this tripod should allow you to handle it with ease. You get completely adjustable legs and the central column can be flipped for use upside down to get lower angle shots.
This tripod should make it to the top of your list if you're a travel photographer looking for the best tripod under $100.
Another Travel Option
Another lightweight travel tripod option.
This tripod offers many design features allowing for great versatility. It is lightweight whilst still being able to withstand a fair amount of weight.
K&F's Concept tripod is another great option for travel photographers. It's compact and pretty lightweight!
For most photographers, the working height of 62″ should be more than enough to get by with. However, those on the taller side might desire something more to prevent strain on their backs. At just under 3lbs, you should find this tripod to be relatively lightweight and easily carried alongside your other gear on hikes and long trips.
You can pack 22lbs worth of gear on this tripod without a problem. As long as your set up isn't super heavy, this should be more than enough to work with.
One feature that might be welcomed by some photographers is the flip-lock mechanism legs. These are often easier to use than standard twist-lock tripod legs which can take a while to adjust.
While this tripod isn't the best of the best, it certainly isn't a bad choice for those looking for the best tripods under $100.
Best Alternative
A tripod with flip-lock legs!
If you find most tripods difficult to set up, the flip-lock legs of the K&F Concept tripod will make your life so much easier. This tripod if great for travellers looking for something compact and lightweight.
---
As an Amazon Associate we earn from qualifying purchases. Certain content that appears on PhotoWorkout.com comes from Amazon. This content is provided 'as is' and is subject to change or removal at any time.