In this review article, let us find out the best tripods under $100.
Tripods are quintessential for the purpose of stabilizing your camera for those long exposure shots.
But why stop at that? Tripods are necessary for almost any type of photography: landscape, portrait, fashion and pre-wedding photography. Anything really, where you need high precision, sharp images.
There are many different types of tripods available. In this article, however, we shall be restricting ourselves to the smaller varieties. Without further ado, here are the best tripods under 100 dollars that you could you.
1. Manfrotto 209,492 LONG
Tabletop Tripod with Ball Head Kit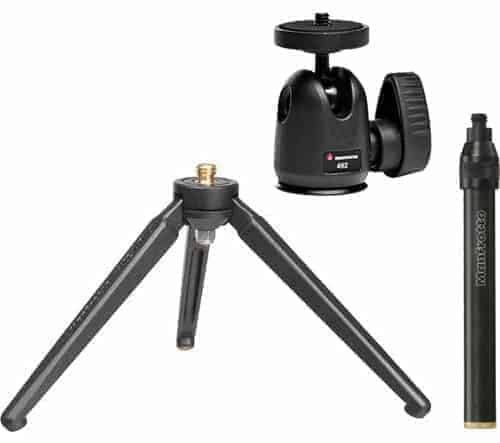 The Manfrotto 209,492 consists of two components. The 209 Tripod and then the 492 Ball head. You also get an extension column, the 259B, which is just a small table top tripod ideal for shooting products, etc.
In the package, you get everything that you need to start a professional set-up.  A tripod, an extension column, and a ball head.
Weighing below 400 grams for the whole set-up, this is a small tripod system. You carry it with you anywhere you go.
The tripod can support a camera system up to 2 kilos. Not exactly ideal for big bulky systems, but good enough for an entry-level DSLR like the EOS Rebel SL1 or a point & shoot.
One problem with cheap tripods like this is there is no quick release plate.
Related Post: 9 Best Tripods under $200
2. MeFOTO DayTrip
Tripod Kit (Titanium)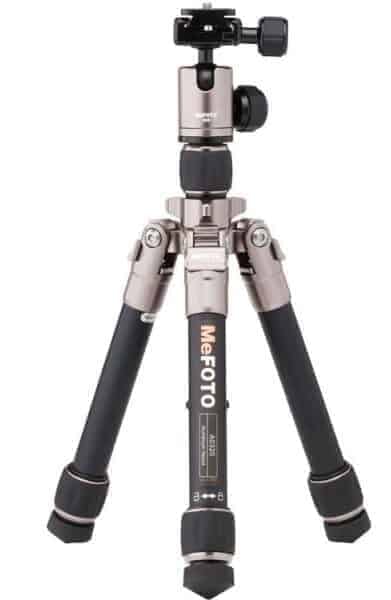 The MeFOTO DayTrip Tripod Kit (Titanium) has a maximum load bearing capacity of 8.8 lb. or 4 kilos.
Resultantly, you can use a slightly heavier camera than you could on the previous tripod we discussed above. You could alternatively, use a medium camera with heavier wide angle lens.
Ideally, though, this is a small tabletop tripod which would be best used for product photography or stop motion, if you are into those sort of things.
The tripod system comes with a ball head kit. The height of the central column is adjustable. Minimum height of the tripod is 9.4" and maximum being 24".
The legs extend in two sections, which gives you some flexibility. The best thing is that the ball head comes with a mini quick release plate. A quick release plate is perfect when you need to switch from tripod based shooting to hand-held shooting.
An essential requirement for tripod based shooting is to keep the horizon line straight. A built-in bubble level indicator on higher-end cameras is a must-have feature. Despite the low price, the MeFOTO DayTrip has this feature.
Plus the tripod is made up of aluminum alloy, which is extremely sturdy, capable of taking some abuse and despite that it is lightweight.
The MeFOTO DayTrip is one of the best tripods under 100 dollars! The MeFOTO tripod is available in a wide range of different colors and includes a carrying case with a shoulder strap.
Products from Amazon.com
‹
›
One feature we miss on the tripod is spiked feet. You don't need this when shooting a table-top photograph, but this is a feature you are going to when you head outdoors.
3. Pakpod Adventure Tripod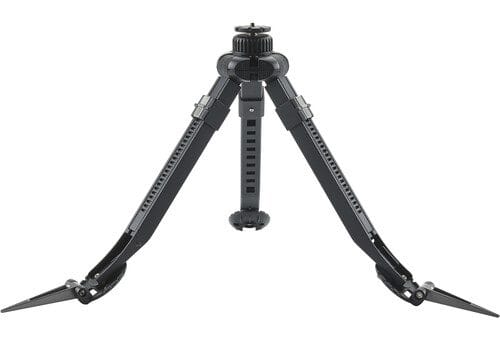 The Pakpod Adventure Tripod despite being a small tripod has a load bearing capacity of 11 lb. when the legs are fully retracted. That is a full 5 kilos.
When you fully extend the legs, however, the tripod can only support about 2.5 kg.
It reaches a maximum height of 17.75", giving you decent flexibility when shooting nature photos.
Small tripods are ideal for indoor table-top photography or product photography. But they have a useful contribution to make when you shoot outdoors.
If you have a small travel tripod that is sturdy and is capable of taking some abuse, you can take that instead of your regular bulky dinosaur when you travel.
The legs have retractable spikes made of stainless steel, which provides much-needed grip when working on slippery surfaces.
The Pakpod Adventure tripod is made of ABS and stainless steel. It is a waterproof design and therefore, can operate in wet situations without the fear of rusting.
The tripod does not come with a ball head. So you will need to attach a separate head mount.


4. Sirui 3T-35R
Table Top Tripod
The Sirui 3T-35R is a tabletop tripod, small enough to work in tight places for things like product and stop-motion work.
The tripod is extremely versatile. You can easily take it with you, on a day trip for stabilized shots.
The Sirui 3T-35R has a ball head, which gives you greater flexibility for shooting images. The central column is extendable and removable.
Plus, there is a quick release plate which gives you the added advantage of unmounting your camera quickly for those tricky handheld shots.
The maximum load-bearing capacity of the tripod is 8.8 lb. That is a full 4 kg.
You can use most entry-level DSLRs with their kit lenses, as well as medium range DSLRs with various lenses.
Related Post: The Best Monopods
A heavier tripod is ideal for outdoor work where the wind is stronger and strong blow can easily topple over a light tripod. The Sirui 3T-35R together with a DSLR, however, does give a bit of stability.
The maximum height that the tripod can reach is 13.4″ and minimum being 4.5".
Small tripods are extremely versatile especially when you need something to stabilize your camera in a tight spot. For example when you want to photograph a flower very low down larger tripods are cumbersome. Tripods such as the Sirui 3T-35R are perfect for such purpose.


5. Oben TT-200
Tabletop Tripod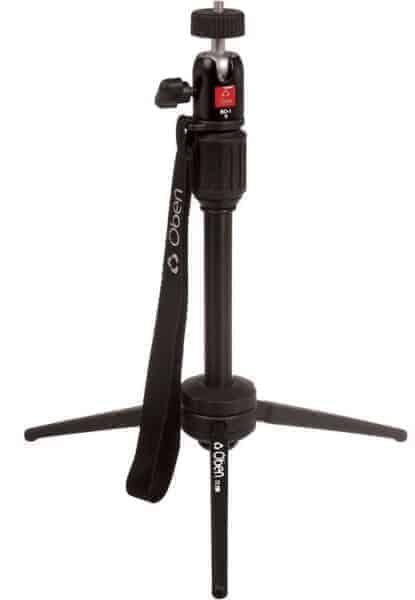 Oben's TT-200 tabletop tripod comes with a mini ball head. Using the mini ball head, you can adjust the camera position precisely and conveniently.
The maximum load-bearing capacity of the tripod is 6 lb. (about 2.7 kg). The Oben TT-200 is designed for smaller entry-level DSLRs with kit lenses.
The height of the central column of the tripod can be adjusted. Maximum height reached by the tripod is 14.5" and the minimum is 9.5".
Tripods such as these are perfect for the purpose of shooting objects that are closer to the ground level. Yes, you can mount the center column on larger tripods inversely and use it that way to photograph low-lying objects, but bigger tripods are never ideal for that purpose.
The body of the TT-200 is constructed using aluminum. That gives it some tensile strength and lightweight for easier transportation. A small hand strap mounted on the tripod is provided for that purpose.
6. Manfrotto PIXI EVO
Mini Tripod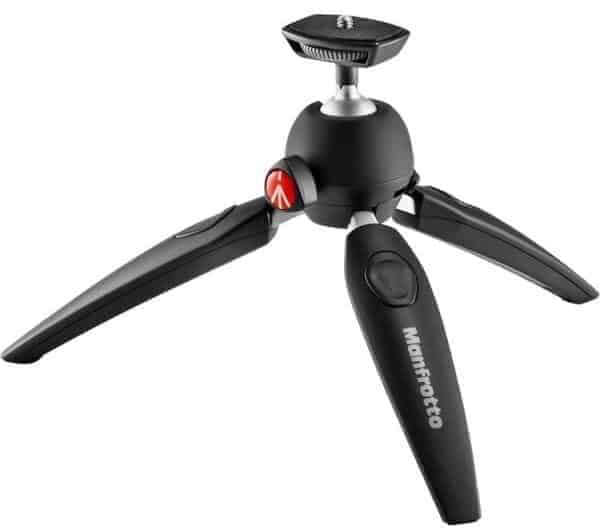 The load capacity of the Manfrotto PIXI EVO is just 5.5 lb. or 2.5 kilos. Just enough for a small DSLR and a kit lens.
As a matter of fact, the tripod itself weighs just 267 grams. It is so light that you can handhold your camera with it attached to the camera body and probably never realize that something is hanging from your camera.
The tripod reaches a maximum height of 7.7", barely enough to shoot from the top of the grass in your lawn. At its minimum height, it would be skimming over the ground at 2.4".
Those are impossible angles to shoot from with most traditional tripods. But the surprise does not end here. Even such a small contraption come with an integrated ball head!
There are no quick release plates. Not that too many people would be expecting it to offer one at this price either. You will need to mount your camera using the ¼" – 20 screw provided on the top of the integrated ball head.
Related Post: Best DSLR Tripods for Beginners
7. Joby Gorillapod SLR-Zoom
Flexible Mini Tripod w/BH1-01EN Head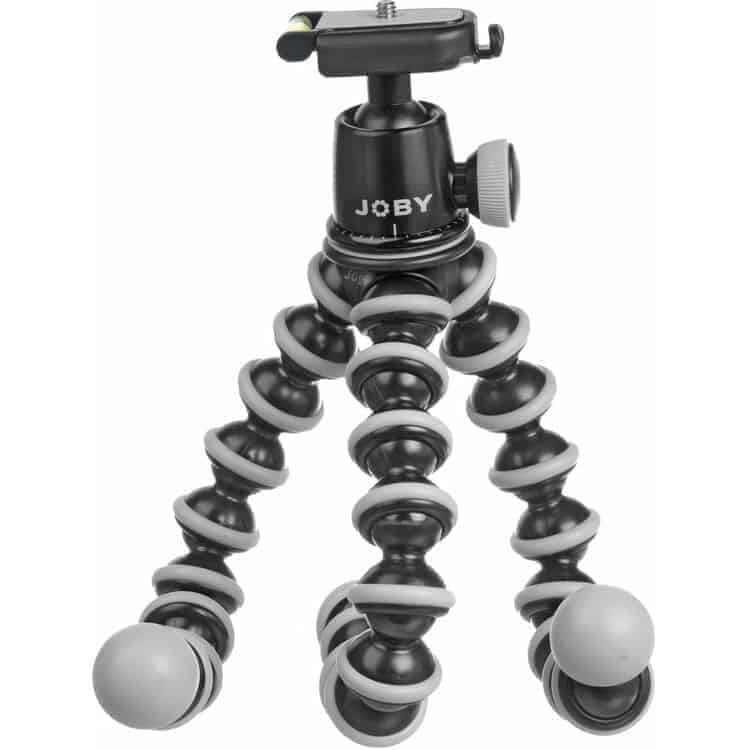 Really, can you get a good tripod that can support a DSLR and a kit lens at just 50 dollars? Yes, you can. And to make the deal even sweeter, they have thrown in a ball head. This one will give the MeFOTO DayTrip a run for its money.
The Joby Gorillapod is a small, highly flexible and extremely useful tripod designed for smaller entry-level DSLRs and point and shoot cameras. It comes with a built-in adjustable ball head for perfect positioning of your DSLR.
Besides, the ball head comes with a quick release plate for those unexpected moments when you need to unmount your camera and shoot handheld quickly.
In addition to it, there is a bubble level indicator at the base of the quickly released adapter. The bubble level indicator ensures that it is easier to line up the camera perfectly horizontal.
The total weight bearing capacity of the Gorillapod is 6.6 lb. or 3 kilos. Maximum height reached by the tripod is 11.7" and the minimum is 4.7". When folded the Gorillapod reaches a height of only 12.5".
The best thing about the Gorillapod is its flexible legs. The flexible joints allow you to shape them into any number of combinations for that perfect camera position.
You can even wrap the legs around a branch or pole to hold the camera into position what would appear an impossible angle to shoot from.
When the Joby was first released it revolutionized the way people used their tripods. From being a rigid three-legged contraption, the tripod quickly became a truly flexible stabilization system.
All thanks to Joby's Gorillapod, a top contender for the title of the best tripods under 100 dollars.